Photo by Nicky J. Sims/Redferns.
7 of Beyoncé's most iconic outfits
Of course, Queen Bey is an icon in her own right — can you guess which fits are her most memorable?
|
04 September 2020, 7:00am
Photo by Nicky J. Sims/Redferns.
She's known as Queen Bey for a reason. From her Destiny's Child days to her breakout as a solo artist, Beyoncé has blossomed from singer to full-blown pop culture icon over the last three decades. Her musical career is one of legends and has paved the way for pop stars into the 2010s and 2020s, from chart-topping and utterly timeless hits like "Crazy In Love" and "Single Ladies", to unprecedented event albums like Lemonade (only Beyoncé could drop an album by surprise, no prior announcement or marketing). And when it comes to her style, the thing is… by virtue of Beyoncé being Beyoncé, nearly every look she dons is one for the history books. Who could forget her 'We Can Do It' look from "Why Don't You Love Me", her sailor-chic in "Love On Top", the crimped hair of "Bills, Bills, Bills", those bedazzled "Virgo" jeans from the "Work It Out" video, her ingénue in "Countdown", a gold tooth and feathered fedora in "Bootylicious", that Marine Serre bodysuit in "ALREADY", or the myriad of Southern Gothic looks in "Formation"? On the event of the singer's birthday, we've narrowed down Beyoncé's innumerable iconic looks to seven outfits that chart her prolific and, ultimately, iconic career.
"Say My Name" music video, 1999
Before Beyoncé became the beloved solo artist she is today, she was one-third (previously one-fourth) of equally iconic musical group Destiny's Child, alongside Kelly Rowland and Michelle Williams. The group has left such an indelible mark on pop culture, there's almost no need to note its many accolades, which include 14 Grammy nominations, two wins and a Billboard ranking as the 9th most successful artist/band of the 00s. Of all Bey's iconic Destiny's Child looks — frequently matching outfits, sometimes designed by the singer's mother, Tina Knowles, herself — her monochromatic look from the group's "Say My Name" video stands out: metallic orange halter top, tie-dyed jeans, tangerine lip gloss and blonde braids.
"Crazy In Love" music video, 2003
Sometimes the best looks are the simplest. Beyoncé exemplifies this in the iconic "Crazy In Love" opening scene: a plain white tank top, denim short-shorts and red heels. It's probably one of the most iconic dance sequences put to celluloid — and one that benefits from the simplicity of outfitting. The debut single from Beyoncé's debut album, "Crazy In Love" marked the beginnings of Beyoncé's now unparalleled solo career. Naturally, the single shot to number one on the US charts — a sign of things to come.
"Single Ladies" music video, 2009
Speaking of both iconic dance sequences and minimalist outfitting: Beyoncé's "Single Ladies". Although Bey lost out on the VMA for Best Female Video, the "Single Ladies" music video holds a special place in the proverbial MV hall of fame. Both boundary-breaking and timeless, the black and white, studio-set and dance-centric video was, in 2009, completely one of a kind and set the precedent for pop acts into the 2010s. The video's most iconic gesture — "If you like it then you should've put a ring on it" — Bey flashes her Sasha Fierce-era titanium glove, a "superpower" hand, handcrafted from a custom wax cast by Bey's longtime jeweller Lorraine Schwartz.
"Formation" music video, 2016
Who didn't freak out about this Beyoncé look? Remember the plethora of Tumblr gif-sets — of this very sequence — the night that Lemonade dropped? Beyoncé leaning out the window of a vintage car, fur chubby-clad arms spread, her braids floating through the open air, majestic. In addition to being a part of the "Formation music video, this very image — and outfit — graced the song's single cover. This particular look, the music video that surrounded it, and the Lemonade visual album as a whole, marked a watershed moment in Beyoncé's career as a creative: expansive, complex and salient visuals gave birth to a new and powerful kind of storytelling. In his review of Lemonade, Los Angeles Times writer Mikael Wood described "Formation", in particular, as "a statement of radical black positivity" — one that would resonate deeply with black fans and listeners around the world.
"Hold Up" music video, 2016
Another iconic look from Beyoncé's Lemonade visual album; this time from the amazingly cathartic "Hold Up" music video. In a graceful send-off to cheating husbands and disloyal boyfriends — a theme central to the album — Bey swings a baseball bat, smashes car windows, unleashes the blast of a fire hydrant, throws her head back laughing, all in a gorgeously sunny, ruffled number from Roberto Cavalli's autumn/winter 16 outing. Of the look, Bey's stylist, B. Akerlund, told the Hollywood Reporter: "With the context of the video being a little bit violent, we were really looking for something of the opposite to make it flirty and positive and sexy and to sort of enhance a woman's strengths."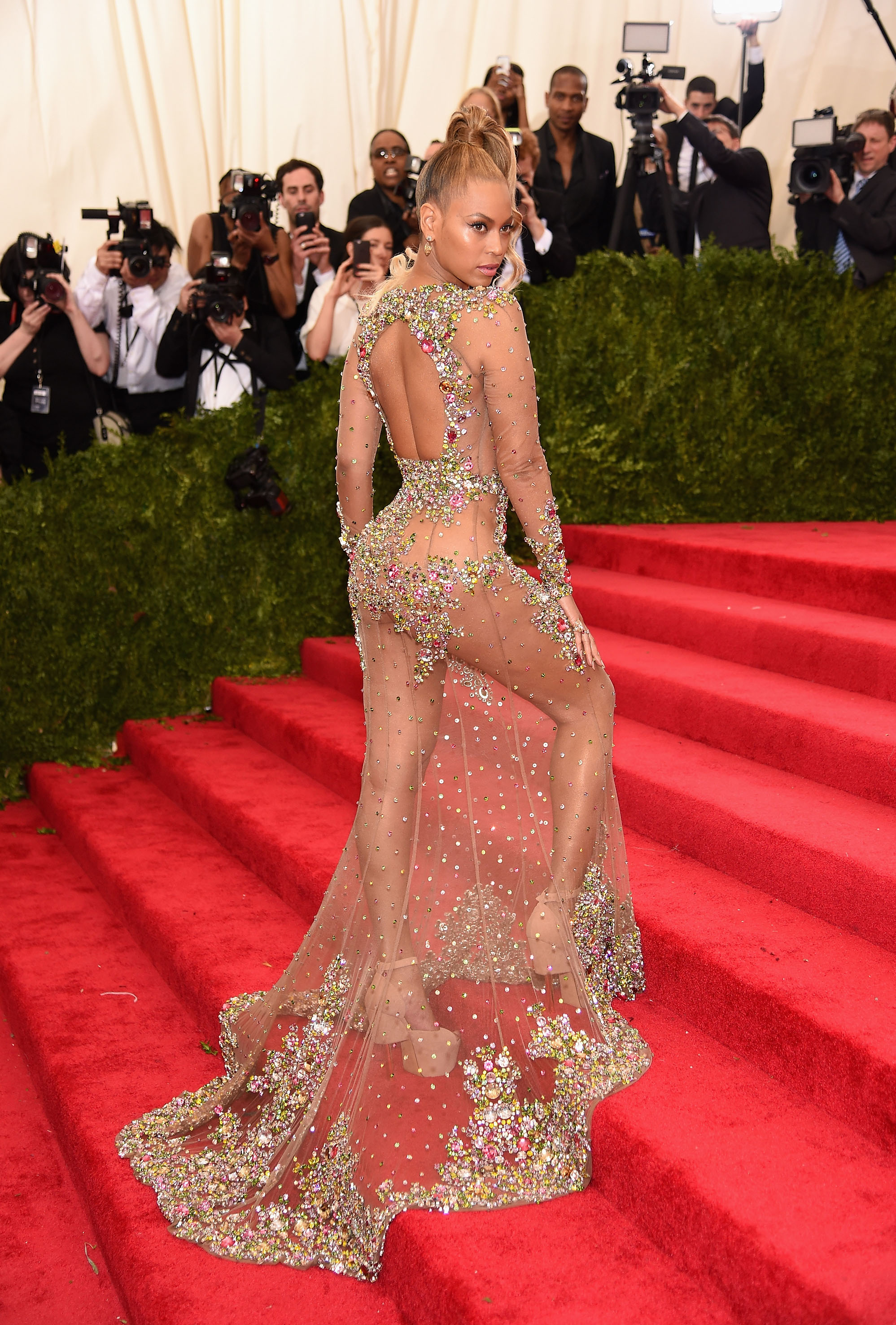 At the Met Gala, 2015
If we've learned anything from Bey's Met Gala looks, it's that she loves Givenchy. Five years in a row — from 2012 to 2016 — the singer wore the French house's couture dresses to the storied fashion event. Bey wore a skin-toned latex gown (with leg-of-mutton sleeves and floor-length skirt) to the 2016 event, a birdcage veil for 2014. However, her sheer, beaded 2015 look stands out as a singular example of the red carpet's ubiquitous "naked dress".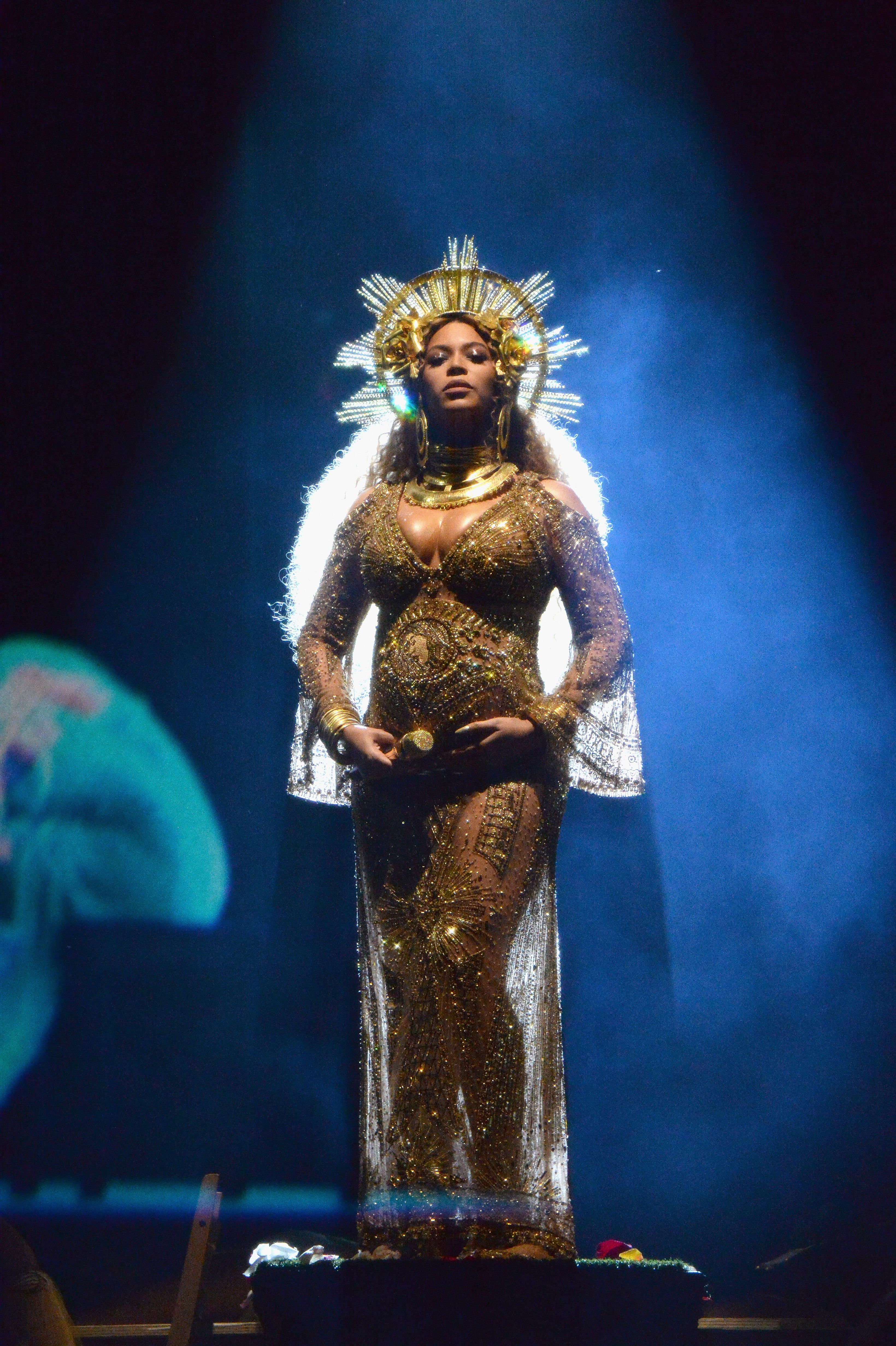 At the Grammys, 2017
Only two weeks after announcing his pregnancy — with a pretty iconic outfit, we might add — Beyoncé gave a career-highlight performance at the 2017 Grammy Awards. Singing two songs from the recently released Lemonade, "Love Drought" and "Sandcastles." While both songs delve into themes of infidelity and forgiveness — both central to Lemonade — for her Grammys performance, Bey channeled religious imagery (a fertility goddess, to be exact) in sunburst headdress and glittering golden gown to celebrate the splendor of both motherhood and womanhood.