Billie Eilish in anime form and everything you need to hear today
The best new music in one perfect playlist.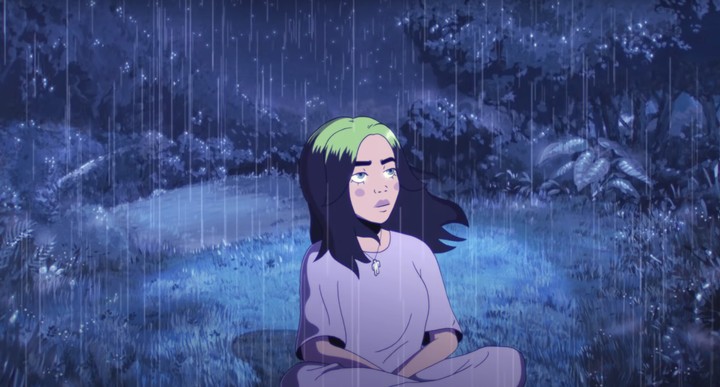 Billie Eilish, with her bright green roots and signature style has, let's face it, been quietly crying out to be turned into an anime character for years now. Melbourne illustrator Andrew Onorato -- whose work you might recognise from Childish Gambino's "Feels Like Summer" -- has done just that for her self-assured new single "My Future", which opens this week's playlist. Written during quarantine, the visuals for Billie's jazziest venture yet sees her avatar sit in the rain with a fat purple frog before rising to the top of a magical beanstalk. "It's a song that's really really personal and special to me," she says. "When we wrote this song, it was exactly where my head was at -- hopeful, excited and a craaaazy amount of self-reflection and self-growth. But recently it has also taken on a lot of new meaning in the context of what's happening in the world now."
Also out this week is Dominic Fike's very good new album What Could Possibly Go Wrong (which he celebrated by jumping out of a plane), another exciting moment in the evolution of Oklou's artist project with "unearth me", and young Londoner LCYTN's addictive "Every Thursday Night" complete with an impressive lockdown video made with friends. "Pillow", the comforting closing track of Daniel Blumberg's new LP makes an appearance on the playlist too, along with JPEGMAFIA's "living single", Octavian and Future's "Rari", and Schlomo's lovely "Looking at Plants". After a great deal more new music, proceedings close with "LA Who Am I To Love You" from Lana Del Rey's poetry project Violet Bent Backwards Over The Grass, featuring production from Jack Antonoff. Dreamy!