Hermès present a show without an audience for menswear SS21
Véronique Nichanian collaborated with Cyril Teste and Collective MXM for their digital show this season.
After months of will-they-won't-they speculation about how fashion brands can safely and considerately emerge from the global pandemic and stage its beloved fashion weeks, the jury has reached a verdict: The show must go on! In September, IRL shows will take place in Paris, and probably Milan. That might seem like madness for people still sensibly wearing face masks and practising social distancing, however in Europe, lockdown measures have been eased and there's a sense of making up for lost time; lost money; lost jobs. For now, the shows are digital and with that comes a need for true inventiveness. One of the first to go ahead and stage an actual show with actual models, albeit without an audience, is Hermès. For this, Véronique Nichanian collaborated with Cyril Teste, an experimental director whose Paris-based Collective MXM specialises in the poetic expression of live dramatic performance via streamed video.
Brands need to get creative with their digital shows, not just relying on rudimentary films of models walking up and down a catwalk. Teste's film was a prime example of how to use an online platform to create an original and artistic presentation, celebrating the "backstage" of the show without the clichés of "making-of" content. The livestream captured slouchy male models loitering around, flicking through Instagram, texting their mates and having their hemlines adjusted or their jackets fitted for the lookbook photos. They wandered around the airy halls and glass elevators of Pantin, the company's impressive headquarters and centre of its world-renowned leather production, where the neutral tones were echoed in Véronoique's collection.
She dispensed with the usual 40-or-so looks that she would usually present, and pared it back to just 18. Each one was as serenely and discreetly chic as the next in a summer's sky palette of pale blue blousons, chunky oatmeal pullovers, light cotton jackets and equestrian silk shirts tucked into wide-leg trousers in dove greys, boating whites and flashes of fluoro.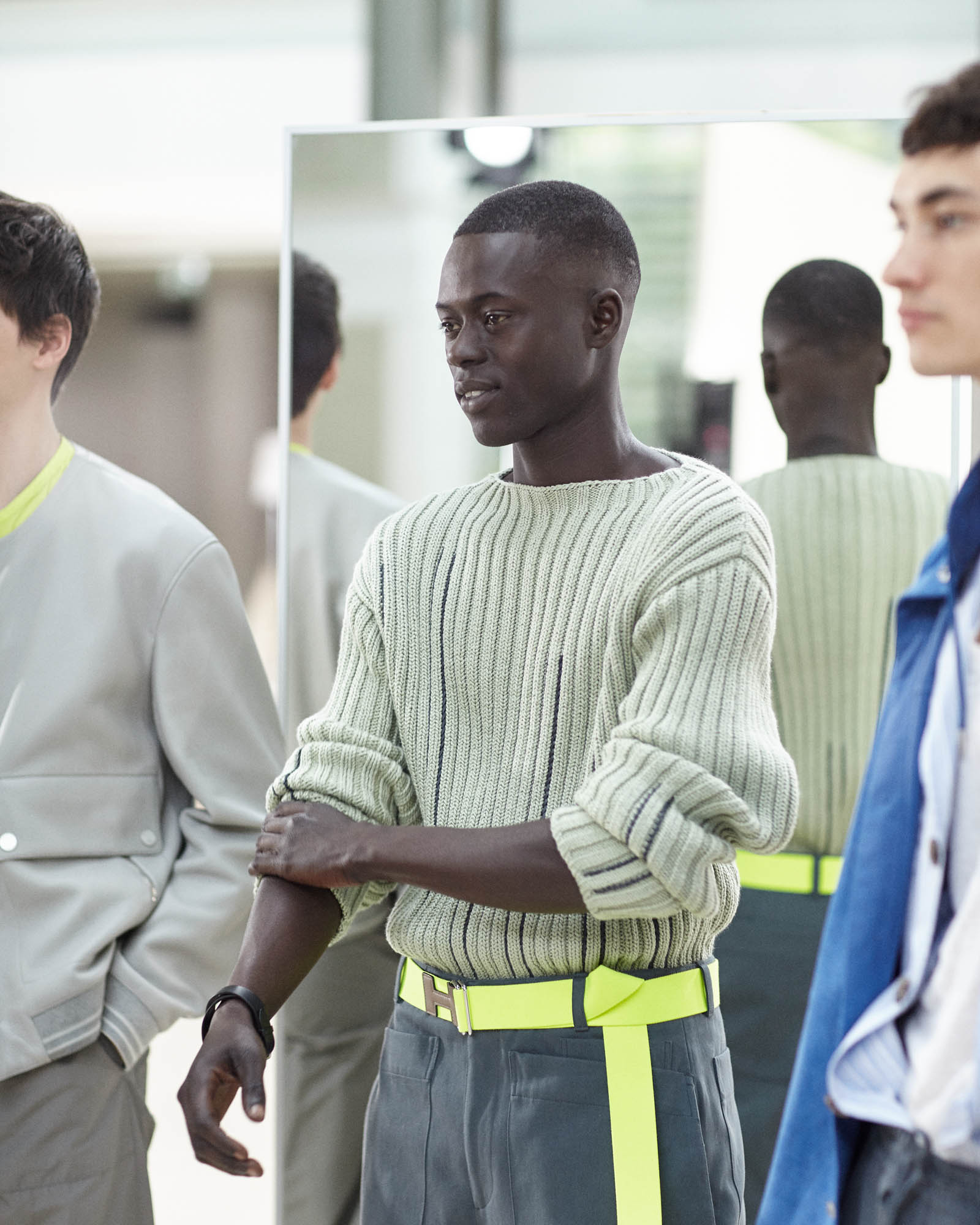 For fashion brands, the temperature of the current climate is still difficult to gauge. The world has been grappling with rising death tolls and international anti-racism movements and lavish globe-trotting spectacles that once comprised the circuit of fashion weeks and cruise shows now seems terribly passé, if not terrifyingly unsafe. The clink of champagne glasses and all the peacocking and people-watching surrounding them is its collateral. Then again, Hermès has always been the antidote to that notion of excess and endless consumption. It is about beautiful clothes and objects made with skill and care, designed to treasure forever and pass down through generations (and considering the prices, it counts as a considerable inheritance).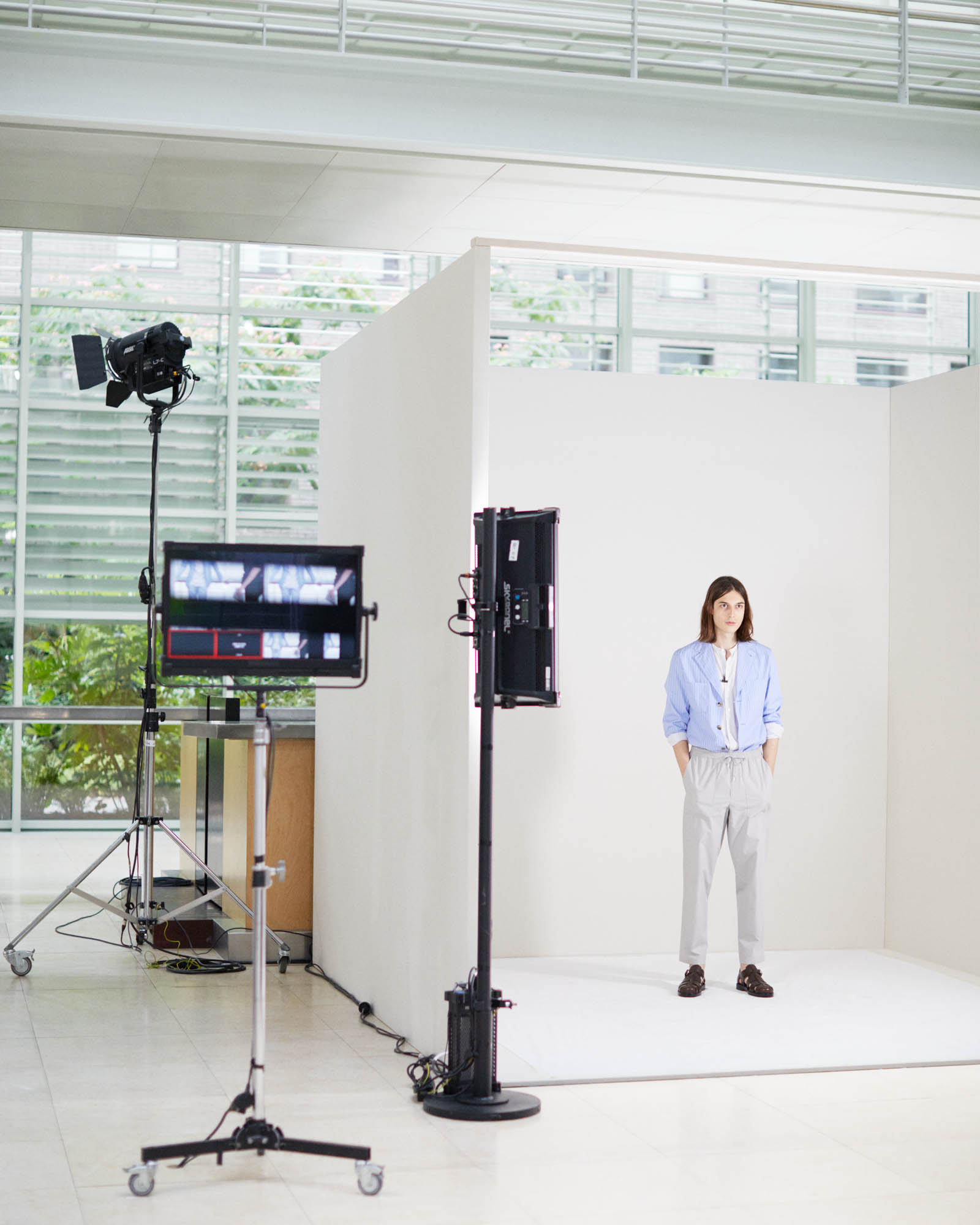 As fashion houses now approach a crossroads -- to go back to that outmoded system, or to retreat inwards and completely reconfigure it (just look at Gucci's announcement) -- Hermès chose the latter, inviting the world into its house and creating a digital show that felt both self-aware and heartfelt. "The frantic aspect of fashion does not interest me in the slightest," Veronique explained. "Here at Hermès we use an equestrian phrase that seems particularly apt in this day and age: 'Straight ahead, calm, and poised'."