All the new books you'll want to read in 2022
Promising debut novels, Korean translations and Hanya Yanagihara's 'A Little Life' follow-up (!!!).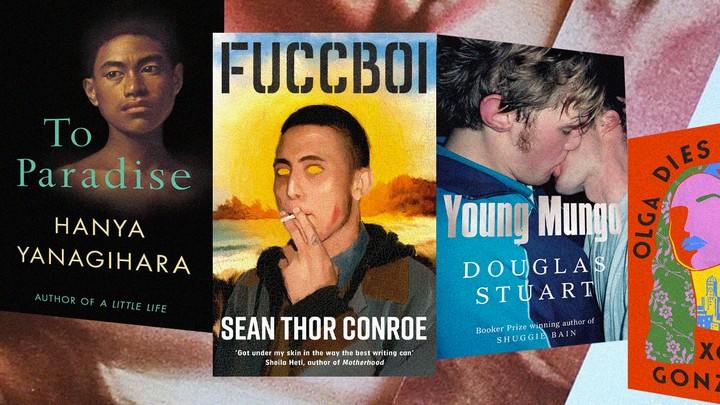 Escape the horrors of the outside world and your weekly screen-time notification with the humble book. While 2022 looks like it will be another hellscape year, 2022's literary calendar is bursting with debut gems, the return of literary superstars and radical non-fiction that will get you engaged with the world again. We break down some of the year's most exciting and provocative upcoming releases.
The next big thing
Every year promises the birth of the next literary superstar as debut novels fill bookshop shelves, and 2022 is no different. Coming with early acclaim from Marlon James, Eloghosa Osunde's VAGABONDS! is an exceptional debut, taking on queerness, capitalism and the societal vagabonds of Lagos' streets. Ryan O'Connor's first novel, The Voids, is a similarly sensory portrait of the city, set in a dizzyingly surreal Glasgow. Its young protagonist is left to contend with angels, devils and windy draughts of empty flats in the city's condemned tower blocks.
Sean Thor Conroe's blistering debut, Fuccboi, asks 2022's quintessential question: just how much fuckery is too much fuckery? Following the titular, freewheeling fuccboi around Philly, one year into Trump's presidency, the novel examines modern manhood, the gig economy and the hypocrisy of political promises. Masculinity also drifts through the streets of Liam Konemann's coming-of-age debut, The Arena of the Unwell, a sweaty, sticky mosh pit of a novel. Set in north London's music venues, pubs and NHS therapy rooms, 22-year-old Noah is torn between relationships with two older men while trying to escape his own oppressive mind.
In her atmospheric debut, Olga Dies Dreaming, Xochitl Gonzalez dissects the American Dream. Set during the deadly hurricane that devastated Puerto Rico in 2017, two siblings -- figureheads in their Latinx neighbourhood -- weather political, familial and literal storms while hustling to rise to the top in New York City. Argentine writer Pola Oloixarac will also make her UK debut in 2022 with Mona, a sardonic satire of literary elitism and diversity initiatives. Tired of being tokenised, a Peruvian woman escapes a claustrophobic Californian campus to join a writers retreat in Sweden. Gossip, backstabbing, and a ruthless lampooning of artistic institutions ensues.
In translation
When Bong Joon-Ho won a Golden Globe for his film Parasite, he told the English-speaking world that "once you overcome the one-inch tall barrier of subtitles, you will be introduced to so many more amazing films." The same can be said for reading books in translation.
Charco Press has been introducing UK readers to the best of contemporary Latin American writing for several years now. This year they'll publish the final part in Argentine author Ariana Harwicz's trilogy about mother-child relationships with a sucker-punch of a book: Tender, translated by Annie McDermott & Carolina Orloff. Phenotypes, written by Brazilian author Paulo Scott and translated by Daniel Hahn, a blistering examination of Brazil's fraught racial history told through two brothers, one light-skinned and one dark-skinned.
Ever-shifting notions of family also lie at the heart of Kim Hye-Jin's novel, Concerning My Daughter, translated by Jamie Chang, in which a daughter moves back into her mother's house – alongside her girlfriend. Care, loneliness and heteronormativity are explored through these dynamic, headstrong women. Another Korean novel, Violets, written by Shin Kyung-Sook and translated by Anton Hur, offers a mesmerising glimpse into Seoul and gender dynamics as its young, ostracised protagonist comes to the big city searching for human connection.
Written in diary entries, Self Portrait in Green by Marie NDiaye (and translated by Jordan Stump) is haunted by womanhood, as the book's unnamed protagonist encounters mysterious green women and falls into a spiral obsession. It's an eerie and powerful study of femininity. The narrator of the Vietnamese novel, Chinatown, written by Thuan and translated by Nguyễn An Lý, is similarly pursuing ghosts. On a metro ride, a young Vietnamese woman teaching English in Paris begins a monologue and stops time in an attempt to exorcise her history. It's a sublime and self-deprecating reflection on history -- both a person's and a nation's.
Worlds to get lost in
Author of A Little Life, Hanya Yanagihara returns with the literary equivalent of a blockbuster: a new novel, To Paradise. Her latest sprawling epic is set across three time periods in three alternative universes, encompassing themes of inheritance, shame and passion. It's a glorious and tragic exploration of America as a nation. Winner of the Booker prize, Douglas Stuart is also back this year with Young Mungo, a deeply moving portrait of two young men whose love affair gets caught in a battle of rival estates, hyper-masculine gangs and sectarianism in Glasgow.
Set after an environmental disaster, Missouri Williams's The Doloriad is a brilliant, unsettling, gothic take on a Greek tragedy. Ruled by The Matriarch, a family clings to existence in the post-apocalypse, falling apart as each child aches for salvation in their own way. Another strange and superb novel is Julia Armfield's Our Wives Under The Sea. When her wife returns from a catastrophic deep-sea mission, Miri thinks she's got her wife back safe and sound, but something lurking in the depths has followed her home. It's a deeply romantic and unnerving elegy to memory.
In Sheila Heti's new novel, Pure Colour, loss opens up a galaxy-sized hole in a woman's heart. Following its protagonist's life, from start to end, this astonishing novel is about life as a first draft and god as an artist. It's an explosion of surrealism, philosophy and creativity. Jessica Au's Cold Enough for Snow also explores big questions through seemingly mundane details. A daughter and mother visit Tokyo to walk and talk about everything: family, clothes, the weather. It's a beautifully crafted novel about connection that asks if we can ever truly know the people closest to us.
Stranger than fiction
Non-fiction offers its readers new perspectives, worlds and ideas. In East Side Voices, the first anthology of its kind, writers of East and Southeast Asian descent and diaspora in the UK reflect on identity, community and family. Coming after an especially traumatic few years for ESEA communities, East Side Voices is a dazzling and joyous celebration.
Another first of its kind, This Woman's Work, an outstanding collection of essays on music by women writers, aims to challenge conventional narratives of male-dominated music history. Edited by Kim Gordon and Sinéad Gleeson, this anthology has a superstar lineup of writers, including Margo Jefferson on Ella Fitzgerald and Anne Enright on Laurie Anderson. Meanwhile, in a new collection of essays, the beloved Zimbabwean writer, Tsitsi Dangarembga, tackles her identity as a Black woman in a world that has declared itself "post-colonial." Black and Female: Essays is a powerful vision of personal and collective liberation.
The latest in Pluto Press's radical "Outspoken" series is Tangled in Terror: Uprooting Islamophobia. Its author, Suhaiymah Manzoor-Khan, traverses Britain's Islamophobic culture in this uncompromising book that takes on, with piercing clarity, a seemingly convoluted historical narrative. Another reflection on identity politics in Britain is journalist Chitra Ramaswamy's deeply affecting book, Homelands: The History of a Friendship. Sensitive and sympathetic, Chitra's friendship with a Jewish refugee, Henry Wuga, is the subject of her book, which explores ideas of belonging, seeking refuge and resilience.