Keanu Reeves confirms he and Winona Ryder are married
The ultimate 90s union... both on film and apparently IRL too.
|
24 November 2021, 4:09pm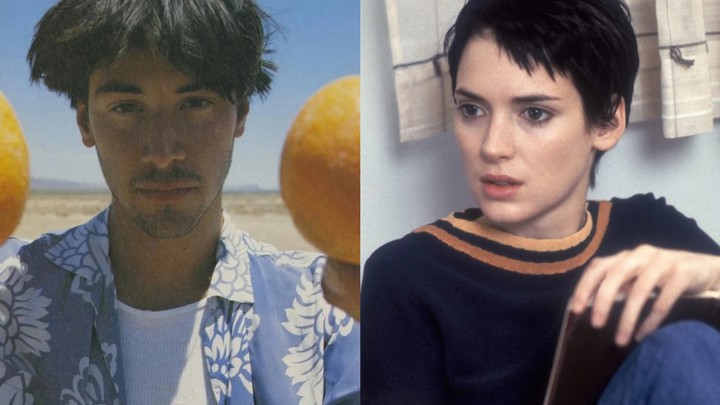 L: Keanu in i-D's The Sound Issue, no. 115, 1993. R: Winona in Girl Interrupted.
Sorry to ruin all your childhood dreams but it seems perfect boyfriend Keanu Reeves and effortlessly cool 90s queen of grunge Winona Ryder are in fact both taken. In fact, both have been married for 29 years now… to each other! In the ultimate relationship soft launch, The Matrix star doubled down in a new video for Esquire on Winona's previous suggestion that an authentic wedding scene in the pair's gothic 90s movie, Bram Stoker's Dracula, may have actually been binding.
In the 1992 American Gothic horror by Francis Ford Coppola (father of stylish 90s music video queen Sofia), Winona Ryder's character Mina travels to Romania to marry her lover, solicitor Jonathan (played by Keanu), while being stalked by Dracula who believes she is the reincarnation of his 435-years-dead wife. For authenticity, Coppola cast an actual priest to perform the wedding nuptials leading to confusion on set as to whether that meant the two were now genuinely married. "I swear to god I think we're married in real life," Winona said to Entertainment Weekly in 2018. "We shot the master and [the priest] did the whole thing. So I think we're married." She also shared that the scene was filmed on Valentine's Day, making the most romantic day of the year their anniversary. How cute! Half as many gifts though.
Now, in a video for Esquire answering the rumours of whether he's joining the MCU and knows martial arts, Keanu seemed to confirm Winona's theory that the two are actually husband and wife. "Winona says we are. Coppola says we are. So I guess we're married under the eyes of God." Hey, if they both say they're married, then they're married. Honestly, we can't tell which of the two we're more jealous of.
The Reeves-Ryders have acted alongside each other numerous times throughout their marriage — from the animated 2006 sci-fi movie A Scanner Darkly, to the ensemble rom-com The Private Lives of Pippa Lee (2009), and more recently, as fated lovers again in comedy drama Destination Wedding (2018). Although both actors are currently in relationships with other people — Keanu with visual artist Alexandra Grant and Winona with sustainable fashion designer Scott Hahn — the two are still close. Keanu shared on The Talk in 2019 that, "once in a while, I will get a text: 'Hello, husband'" from Winona.
Okay so technically they were never legally wed, but in a world where everyone is seemingly dating manic pixie dream boys, the idea that our fave 90s icons have managed to keep the spark alive (sort of) is heartwarming. Your 30th wedding anniversary is coming up though guys! Better get those pearl gifts ready.