Listen to Arthur Kar's ultimate driving playlist
To celebrate the arrival of the 968 L'ART in London – plus merch in Dover Street Market – fashion's favourite Paris car expert shares his go-to music.
|
25 November 2021, 12:46pm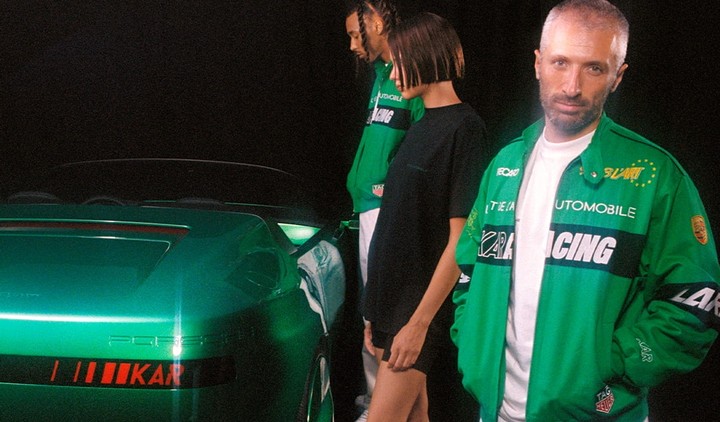 Think back to your early musical memories… you're on the road, right? Arthur Kar certainly was. Sitting behind his parents with Kris Kross' 1992 banger "Jump Jump" playing, the Paris-based founder of Kar and L'art de L'automobile had his mind blown. "I was a kid turning up in the back seat of the car with my parents laughing," he remembers. His childhood in Lebanon – where he worked in his father's garage and was apparently on the receiving end of a quality musical education – set him on the path to combine his passion for cars and design into a much-coveted brand.
His most recent collaboration with Porsche (a lifelong dream of his) saw him reinterpret the front-engined 968 into a real work of art. That shade of green! Those lettered taillights! After a launch at Paris Fashion Week, the design is currently on display at London's Brewer Street Carpark, with accompanying merch available exclusively at Dover Street Market. "It's the 30th anniversary of the 968 and I think it's interesting to do an underestimated shape of Porsche," he says of his car choice, "instead of doing 911s as usual." The move was unexpected, in other words, a quality that fans of his work have come to expect and admire.
Also unexpected is Arthur's charming appreciation for the "face" of a car; the personification of its features, with peering headlamps and beaming grill. So what sort of face does the 968 L'ART have, we wonder? "Eyes closed but safe on the roads," Arthur explains of its apparently antithetical visage.
Excited by the project, we called on Arthur to curate a very special playlist for us to listen to in our own cars — while daydreaming of driving the 968 L'ART of course. Across an hour and twenty minutes (long enough to soundtrack all manner of routes), the playlist offers up an insight into the musical world of Arthur Kar. "These are all the songs that remind me of nice moments in cars during my drives with friends or my girlfriend," he says.

His selection is eclectic to say the least, ranging from 80s pop like "All That She Wants" by Ace of Base to Baby Keem's "booman" and even Arthur's favourite song from the new Adele album. The track that means the most to him? "ODB's 'Goin' Down'… it's a piece of art and gives me good energy to drive some type of way." And the one he reckons might surprise people? "Sonique's 'It Feels So Good'". Consider us surprised, pleasantly of course, that he's a fan of the euphoric radio-friendly dance hit that catapulted British singer and DJ Sonique to the top of the charts back in 2000.
Get stuck in to the playlist and race down to the 968 L'ART's London installation asap.