Every important moment from the Met Gala 2022
From Kim Kardashian's Marilyn Monroe moment to a new injection of exciting men's looks.
All images via Getty.
A miracle has occurred on the red carpet: the 2022 attendees of the Met Gala — the fashion event of the year, dedicated, this time, to Gilded Glamour — seemed to almost unanimously understand the assignment. Under stormy skies (albeit guarded beneath awning) in New York, the upper echelons of society — actors, singers, designers, and all the rest — gathered to celebrate the second part of the The Metropolitan Museum of Art's In America exhibition, this time subtitled An Anthology of Fashion.
It was just September last year when we witnessed the off-calendar Met Gala dedicated to part one, A Lexicon of Fashion. Back then, designers reckoned with the idea of American Independence. Perhaps in fear of trodding into the murky, post-Trump waters of stars-and-stripes patriotism, the majority of attendees chose to side with American designers to fit the brief, some of them wearing gowns that questioned the power of the country itself (thanks AOC).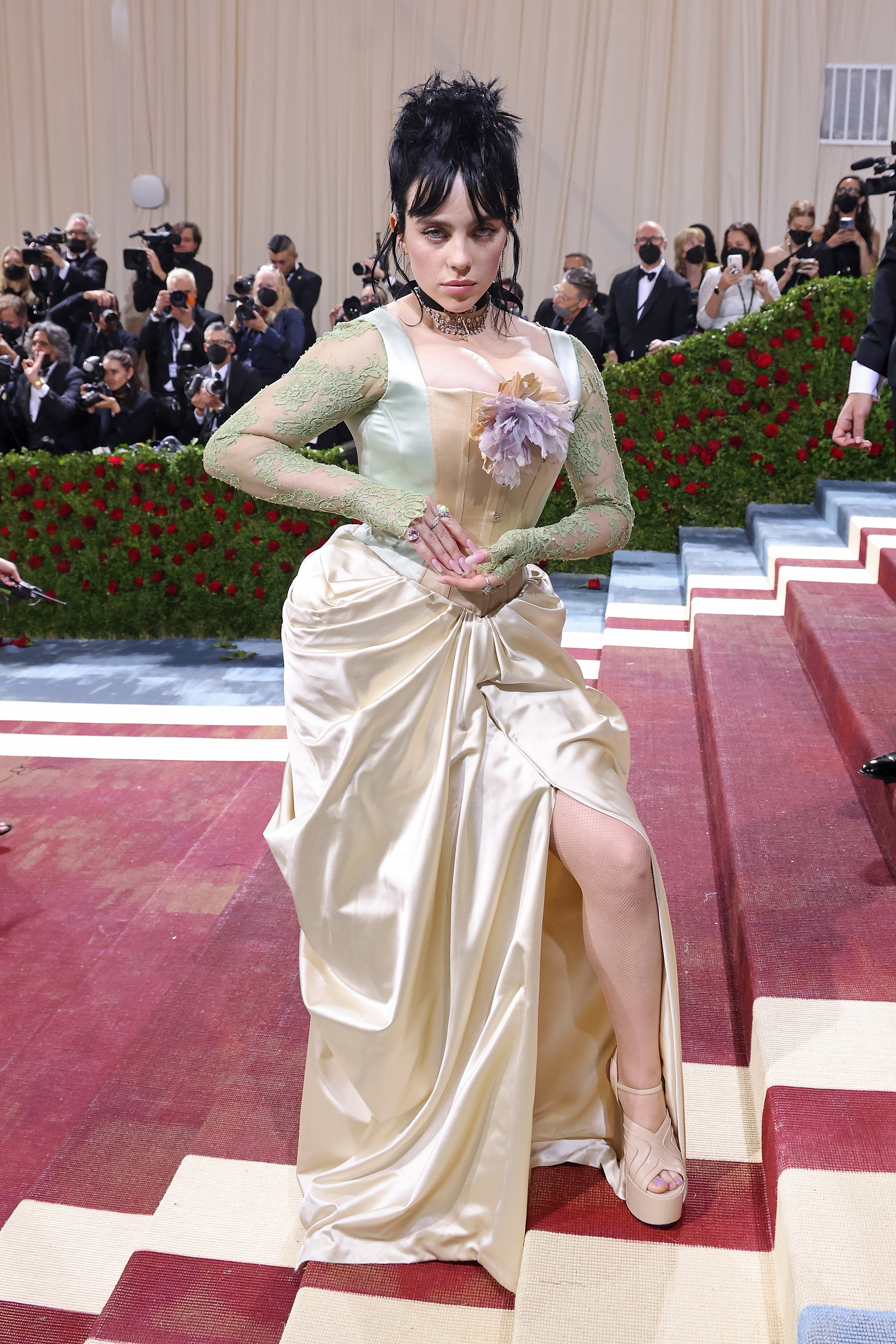 Gilded Glamour feels a little less combative and more playful, inspired by the period of American prosperity between the late 19th and early 20th century where the men of aristocracy wore white tie and the women wore sumptuous, embellished dresses. For more details into that, you can read our explainer on the theme here.
It provided a mishmash of thematic interpretations — from full-bodied opulence to more abstract takes. But the theme prevailed; few absconded it completely. But what are the moments worth talking about, both memorable and meme-worthy? Here's everything you need to know about the 2022 Met Gala.
2000s TV girls had a renaissance
Some of the most unassuming names in the Met celebrity rolodex caused the biggest red carpet stirs this year – including two whose early work in teen TV and film were so iconic that their most famous on-screen projects have since had contemporary reboots. Arriving early, one of this year's co-chairs Blake Lively — known best as Gossip Girl's Serena van der Woodsen — nailed the theme perfectly in a gorgeous and iridescent atelier Versace gown.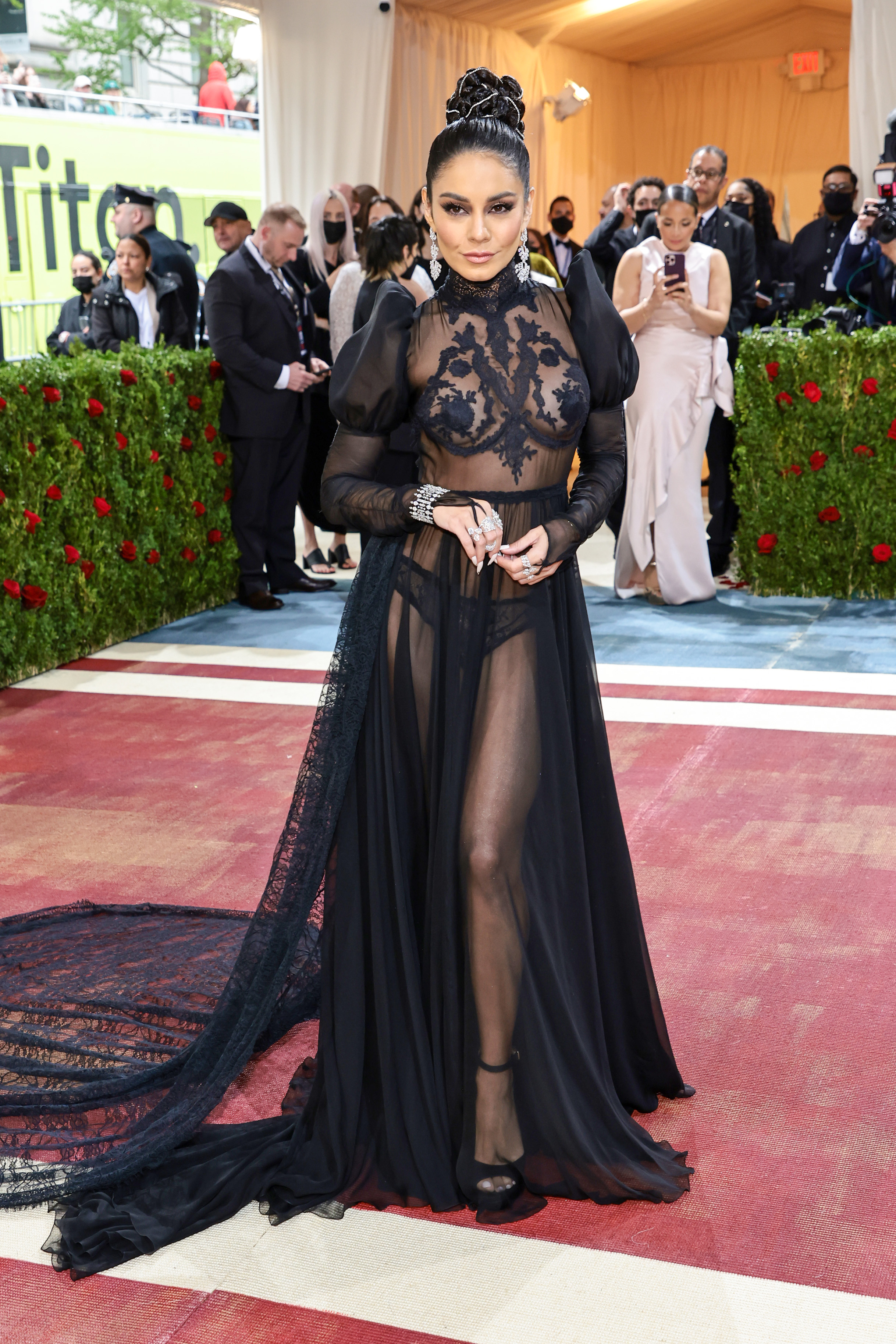 But she wasn't alone – Vogue's host for the red carpet show was High School Musical aka former Disney Channel star Vanessa Hudgens. Her sheer Moschino look balanced a contemporary fit with classic, guilded-style appliques. The double-hit of the two arriving in quick succession sent our heads spinning a bit — but they served, and that's all that matters, really.
Ethereal was in
Fairytale-like looks aren't the first things that one might call to mind when they hear Guilded Glamour, but the early 20th century also was a hotbed for dandyish whimsy and theatricality. That was the route Olivia Rodrigo went down for her look: a silvery-lilac Versace metal mesh look complete with sheer purple gloves and butterflies strewn through her hair. It seemed like she paired up with her best pal Conan Gray, who went down a similar route in custom Valentino. With pearls threaded through his hair, he wore a sheer embroidered shirt, dazzling sequin trousers and a billowing cape. Together, they looked like they were lifted from a Broadway production of A Midsummer Night's Dream from the Gilded Age.
Similarly, Emma Corrin — who last made her red carpet mark at the Olivier Awards in London in the Loewe balloon dress, continued to play with camp and theatricality. Her custom Miu Miu look — a gigantic tweed peacoat and top hat — referenced Evander Berry Wall, a New York socialite famed for his extravagance. She looked like she'd been lifted from the pages of the New Yorker.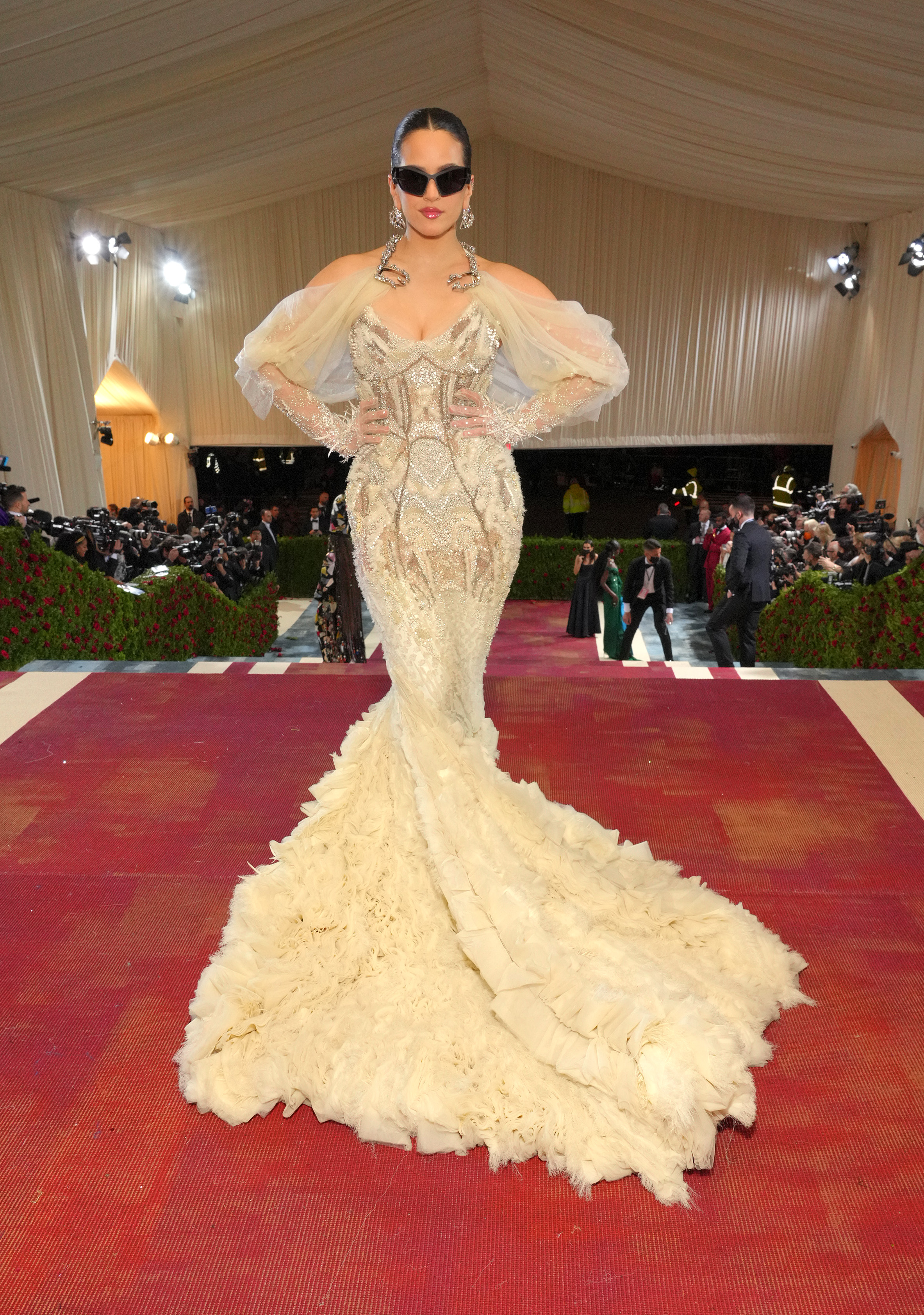 Still, the gowns were so, so good
Perhaps the most traditional gilded silhouette involved corseted uppers and flowing skirts, and my god, we got them in diverse droves. Top of our list was Rosalía's deliciously contemporary take on the silhouette courtesy of Matthew Williams and Givenchy: a dress made with jewel-encrusted shoulder-straps that felt like dinosaur bones, paired with an iconic set of sunglasses. i-D cover star Paloma Elsesser donned a flapper girl hairstyle for her luxurious corset-and-lace look, created with Coach's Stuart Vevers. And then there was Billie Eilish, in her playful, punky Gucci gown made entirely from repurposed materials.
The men killed it
The full name of this year's Met Gala theme was Gilded Glamour and White Tie. Men, for the most part, were expected to lean into the latter. But a beautiful spanner was thrown in the works, with many in attendance discarding traditional dress codes. The Power of the Dog star Kodi Smit-McPhee continued his streak of strong Bottega Veneta looks, with his baseball-style outfit, complete with crimson gloves and turn-of-the-20th-century Cartier jewels. Harris Dickinson, rocking a gentle mullet moment, made his debut in full Dior, with an embroidered organza wrapped shirt and high-waisted wrap-around black slacks. Meanwhile Gossip Girl reboot star Evan Mock was very much on theme with a lemon-hued corset top by Head of State.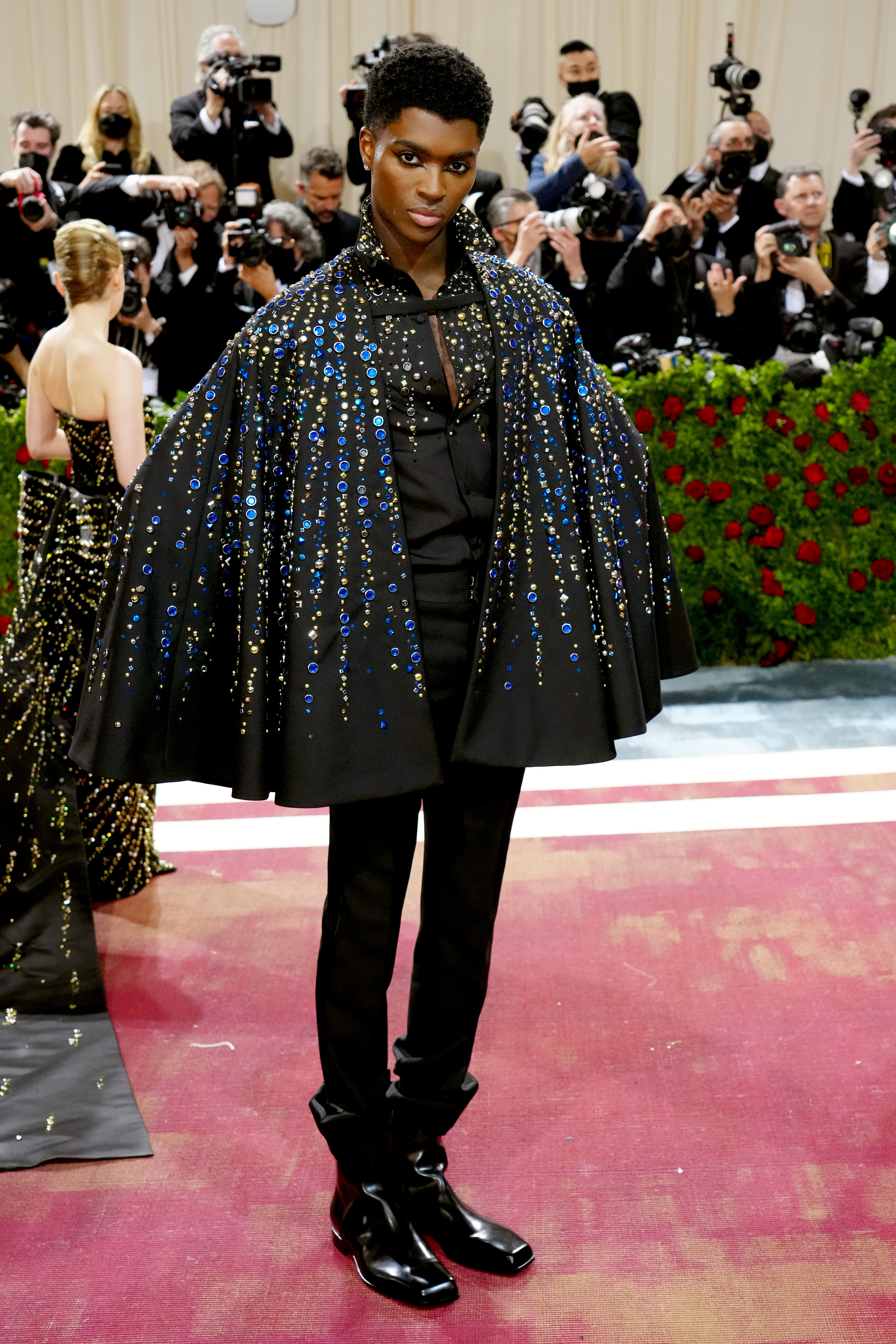 Capes also had a large presence — many of them direct homages to the late fashion legend André Leon Talley, like musician and documentary filmmaker Questlove's. Alton Mason called on Prada for his bejewelled moment, while, wearing Burberry, Stormzy opted for a clean, cream version.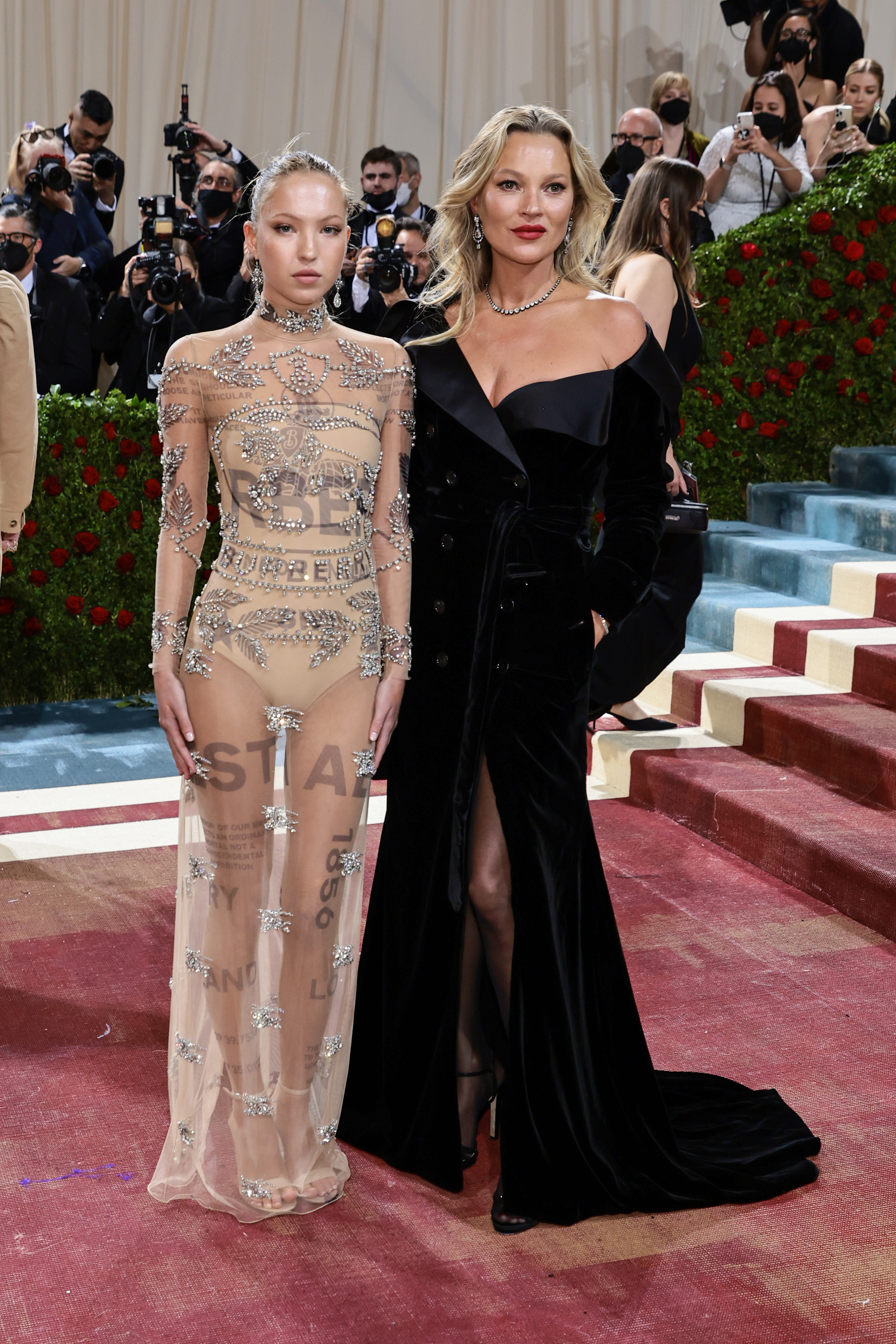 Cross-generation supermodels came together
Burberry brought the creme of the crop of fashion talent in their cohort. Dressed almost entirely in black, the group — which also included Jacob Elordi and Nicki Minaj — combined the eternal model power of Kate Moss, Naomi Campbell and Irina Shayk with brand new blood: namely, Kate's daughter, Lila Moss and Bella Hadid.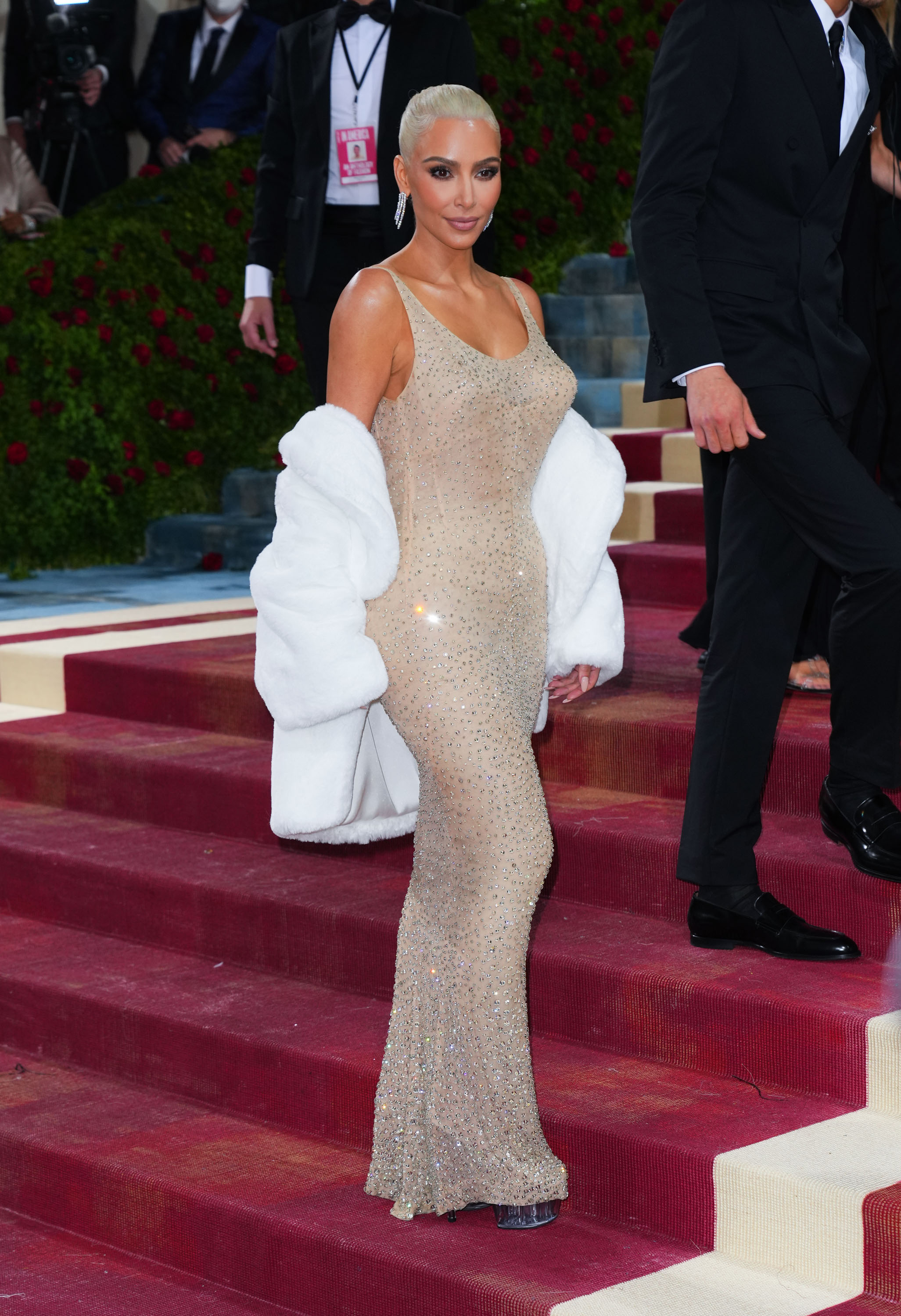 Kim Kardashian, once again, stole the night
With Rihanna taking a year off, the next megastar stepping in to claim the spotlight was, of course, Kim Kardashian. And after the blackout Balenciaga silhouette look of the 2021 affair, she made an even bigger shock this time around; one so unexpected that the jaws of everyone watching seemed to drop when they realised exactly what they were witnessing. At the landmark celebration of American fashion, she wore a truly iconic talisman of its history: Marilyn Monroe's over 60-year-old Jean Louis-crafted, Bob Mackie-designed dress that Monroe wore to sing "Happy Birthday" to the president. With bleach blonde hair to match, she walked the carpet last, arm-in-arm with new beau Pete Davidson.
It cements her status as the current archetypal symbol of American celebrity: of someone to whom mere existence and performance are practically synonymous. In a ceremony dedicated to Gilded Glamour, Kim switching eras didn't even matter. After all, no woman defined 20th century American opulence like Marilyn Monroe. Call it controversial, but tonight, a little part of her spirit was resurrected.