Photography Maxime Ballesteros
On tour with Belgian popstar Angèle
The Dua Lipa collaborator invited i-D to join her 'Nonante-Cinq' tour. Featuring BTS photos and candid conversations, here's what happened backstage.
Photography Maxime Ballesteros
This story originally appeared on i-D France.
Angèle clearly loves being on stage. She's midway through touring her second album, Nonante-Cinq, and there are just a few hours to go before her concert at Marseille's Le Dôme arena. The technical team are busy setting up the show for an audience of almost 10,000 fans, everyone's beginning to get restless, but the young Belgian popstar is still smiling. "It's only the seventh date of our big tour, but I'm so happy with how it's going," she says. "I felt like I was overwhelmed on my first tour, caught up in a success that came very quickly." And she's not wrong — her debut album Brol topped European charts in 2018, with Angèle soon bagging a guest feature on Dua Lipa's Future Nostalgia hit, "Fever". "This time," she says, "I've been able to prepare everything, to take singing and dancing lessons, to think about every detail. The last few years have been full of emotions. There's been a lot of soul-searching. Looking back, I almost feel like this is my first real tour."
Between two rehearsals, a costume fitting and various discussions about the evening's performance, Angèle tells i-D that, unlike when she toured Brol – designed for gig venues before being adapted in a hurry to fill arenas like Zenith and Bercy – this tour has been tailormade. For the occasion, she called on her go-to producer Tristan Salvati and, for the first time, collaborated with choreographer Mehdi Kerkouche – a dancer who is very much in-demand, following work with both Christine & The Queens and the Paris Opera. "I've wanted to work with Medhi for a while now," Angèle says. "He asked me to dance the way I felt on hearing various kinds of music – keeping a few moves but using the rest as inspiration for his choreography, which is simple but meticulous."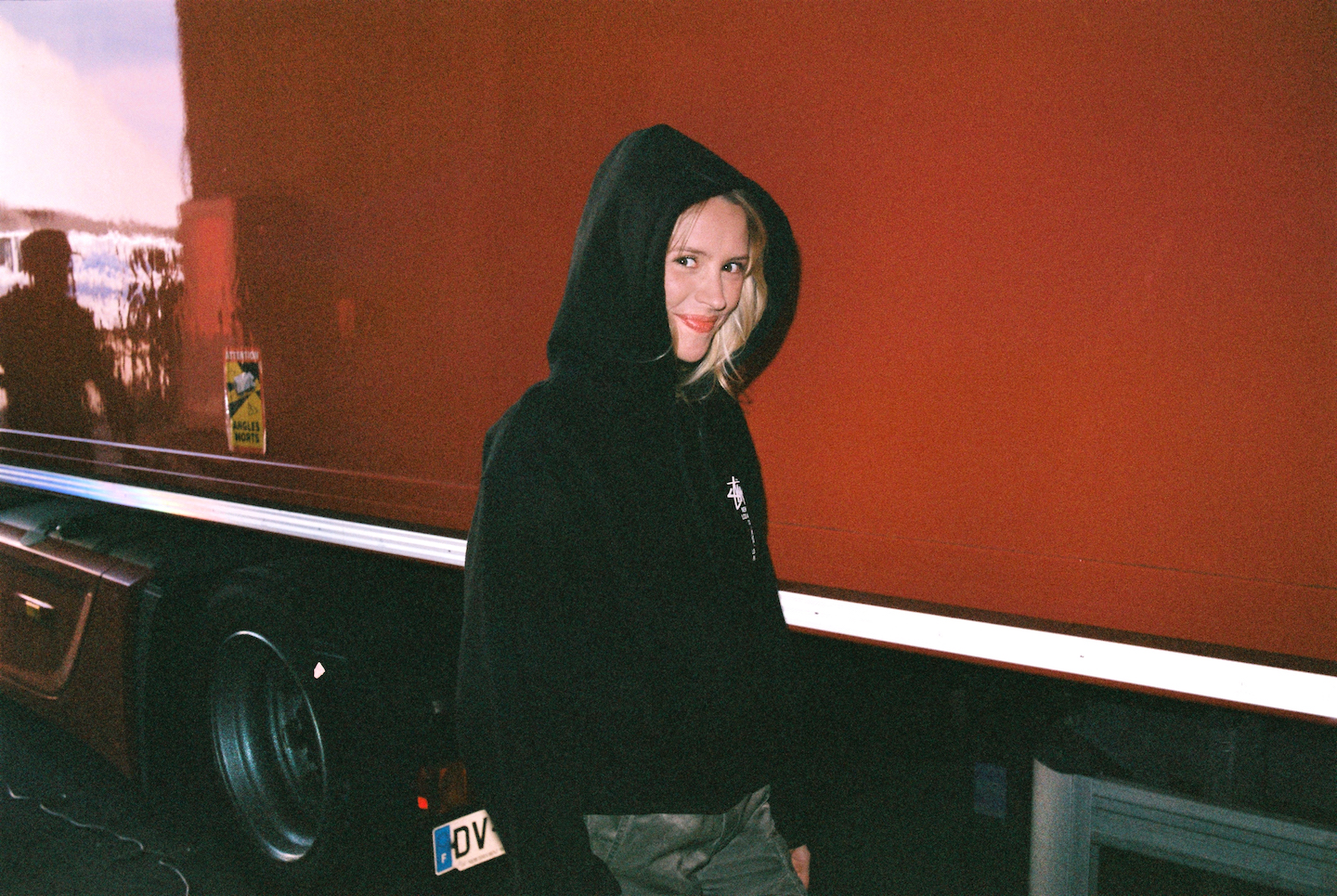 Anxious to stay in control, or at least to oversee her show as it came together, the Chanel muse also dreamt up her own outfits in collaboration with the house's artistic director, Virginie Viard. The result? Designs that are at once glittery and pure pop while nodding to the brand's spring/summer 1995 collection. This whole approach – striking a balance between stunning scenography and a playful, down-to-earth mood – says a lot about Angèle. In between the show's huge dance numbers, the Brussels-born singer takes a few moments to sit at the piano alone, bringing her music right back to its origins. It's clear though, on hanging out backstage before showtime, just how meticulously planned out and rehearsed everything is; that there's a huge production team at work here and that Angèle, over the course of just two albums, has risen to the head of an enormous machine.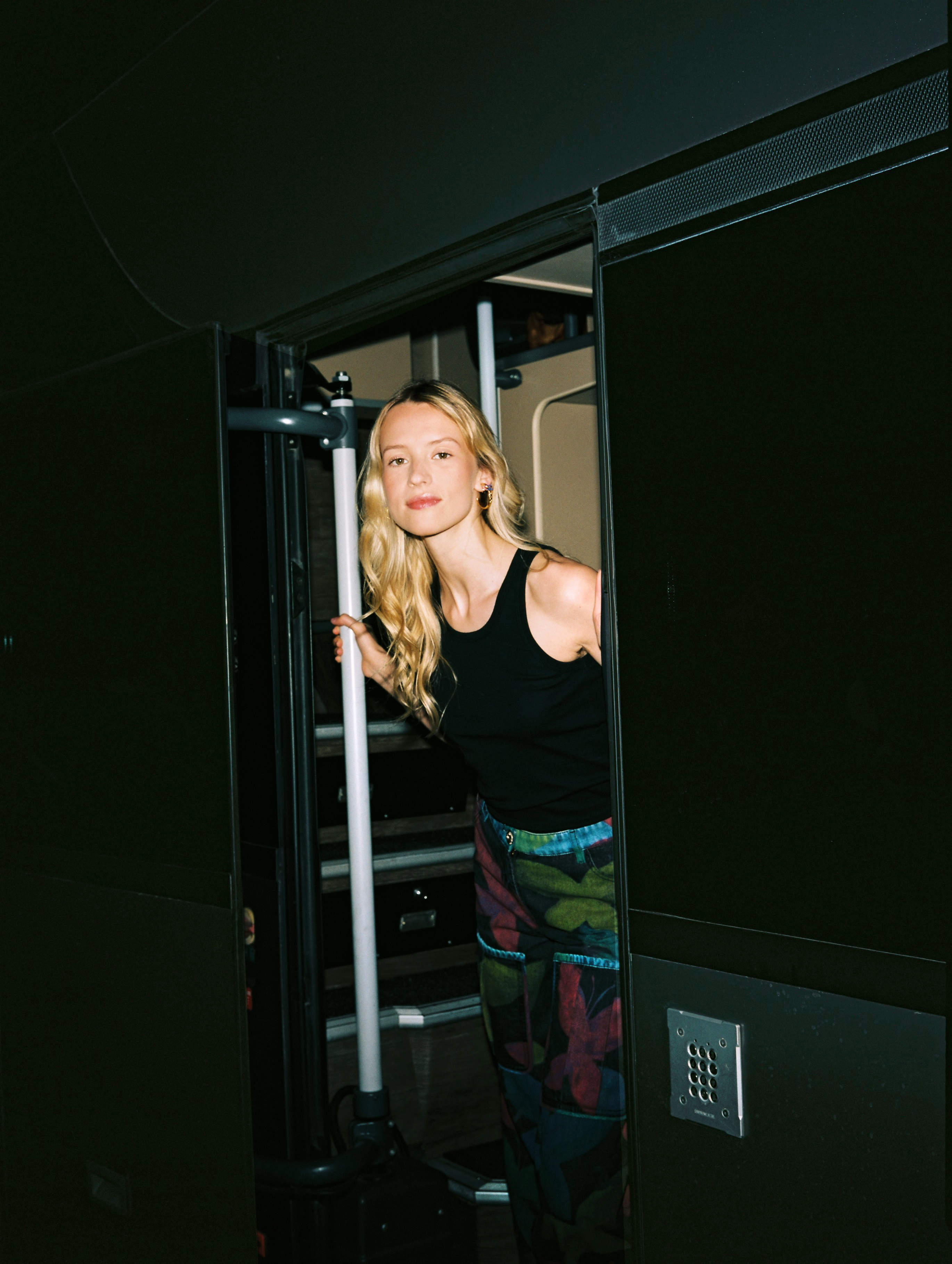 In fact, she's the first to admit it. When quizzed on the number of people involved in making her tour happen, she pauses, reflects and responds: "Honestly, if we're talking number of tour buses… there are three of them. Two buses for the technical staff: warriors who barely sleep, work improbable hours and make sure the stage is set up when we arrive on site. Then another one for my close team, musicians, dancers, a make-up artist, stylist, etc. and me. I feel like I'm living in a giant holiday camp!" The atmosphere backstage reflects that, with people screaming when Adele or Britney Spears hits are played, but a focus spreads over the team as times goes on. Every evening, Angèle repeats the same vocal techniques, guided by her coach, while dancers warm up in preparation for the show ahead.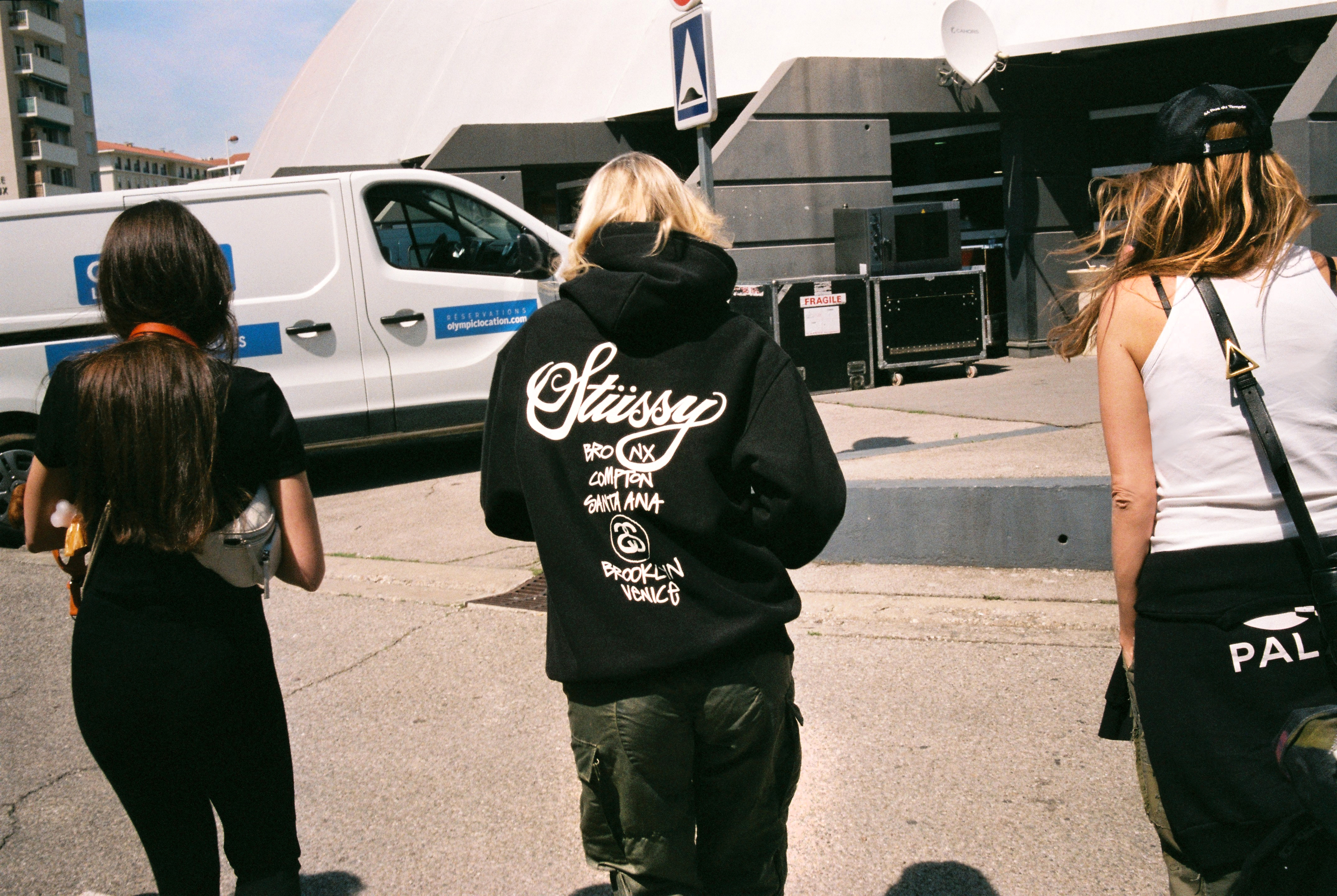 Avoiding feeling on edge is the real challenge for Angèle, who shares her fears of bursting into tears in front of her audience. "That's probably why I'm so in control," she muses. That said, there are several songs on the setlist that hold the power to make her squirm. Songs including "Tempête", one of the most popular tracks on the record, and a rarity in that on it, she doesn't distance herself from the subject one bit. "When I talk about domestic violence, it's with words that are close to my heart," she says. "Tristan and I had a hard time thinking about how to integrate the song into the concert, so we came up with the idea of creating a light show, to centre the lyrics at that moment instead of me."
For the other hour and a half, however, it is only her. There might be four musicians, seven dancers and an audience of thousands singing along to every word, but all eyes in that arena are on Angèle — shining on stage, like the natural popstar she has already proven herself to be.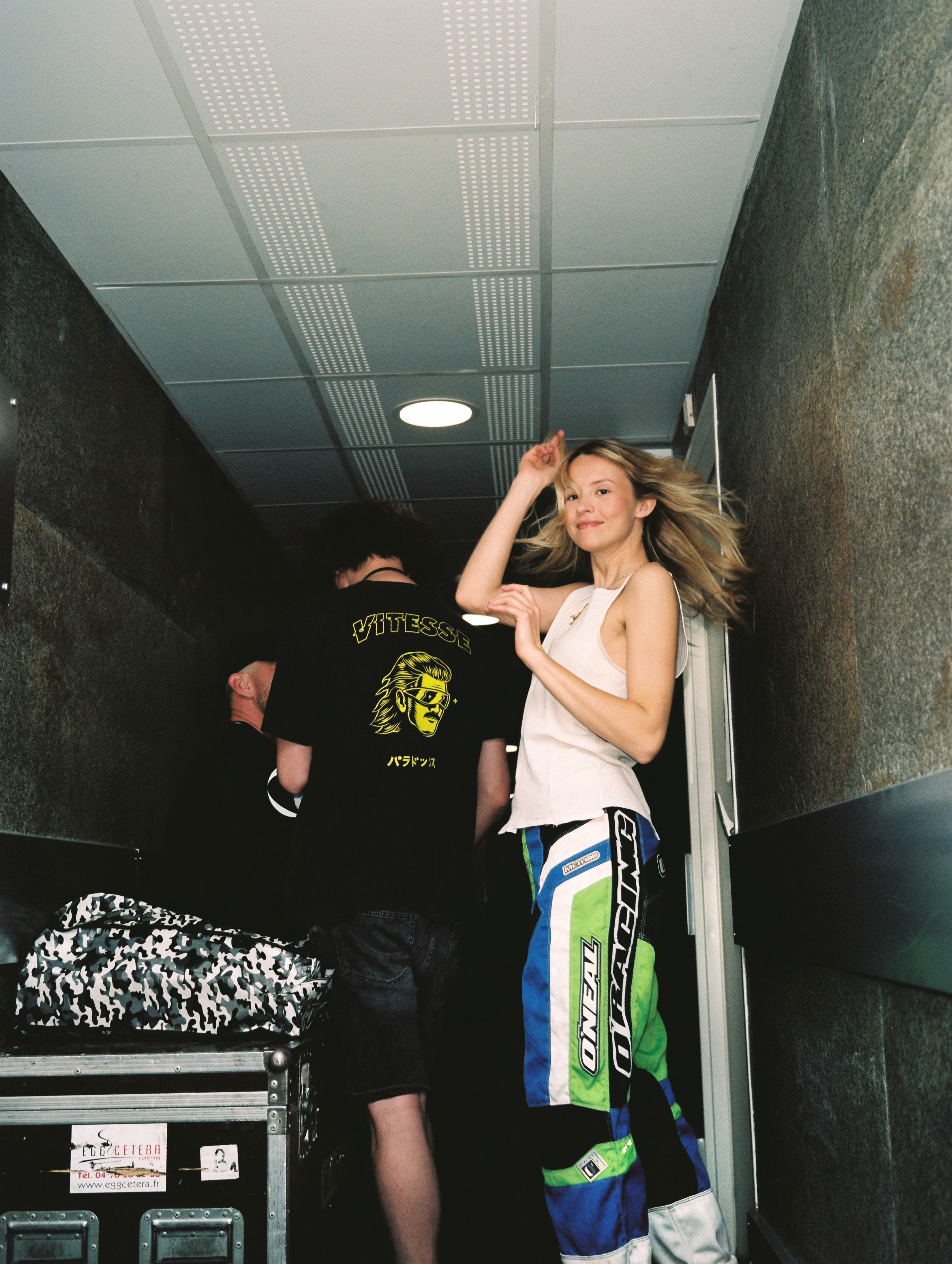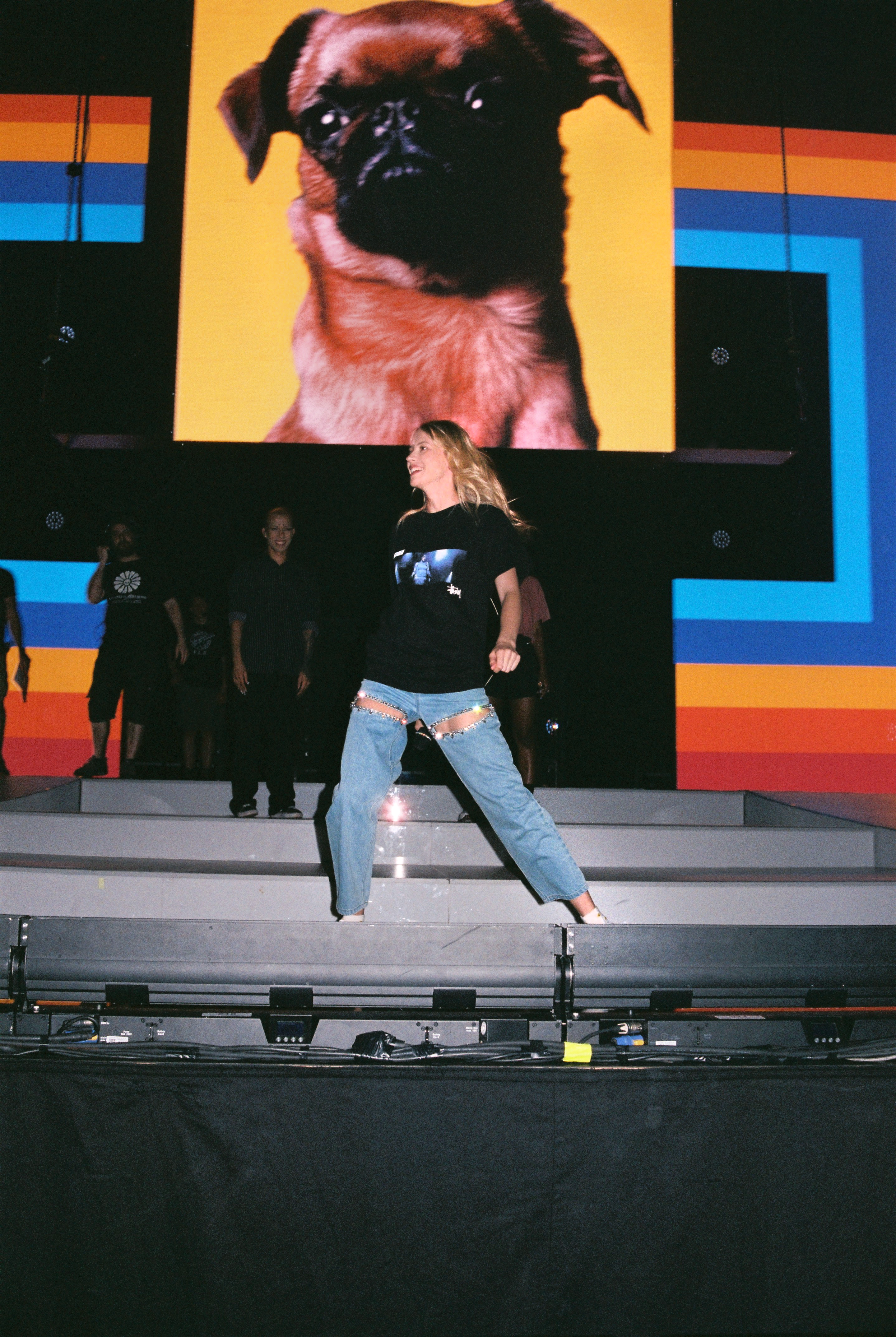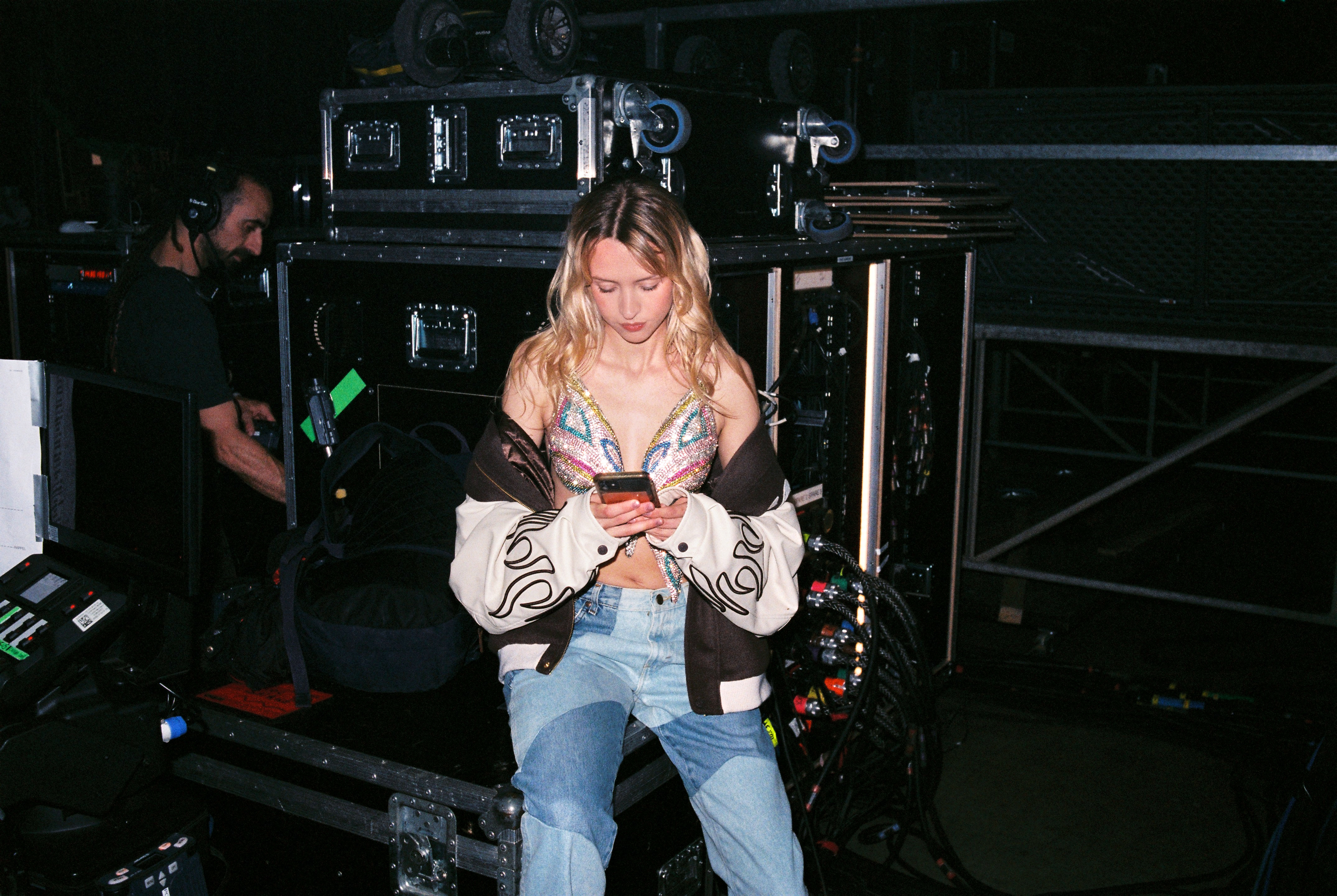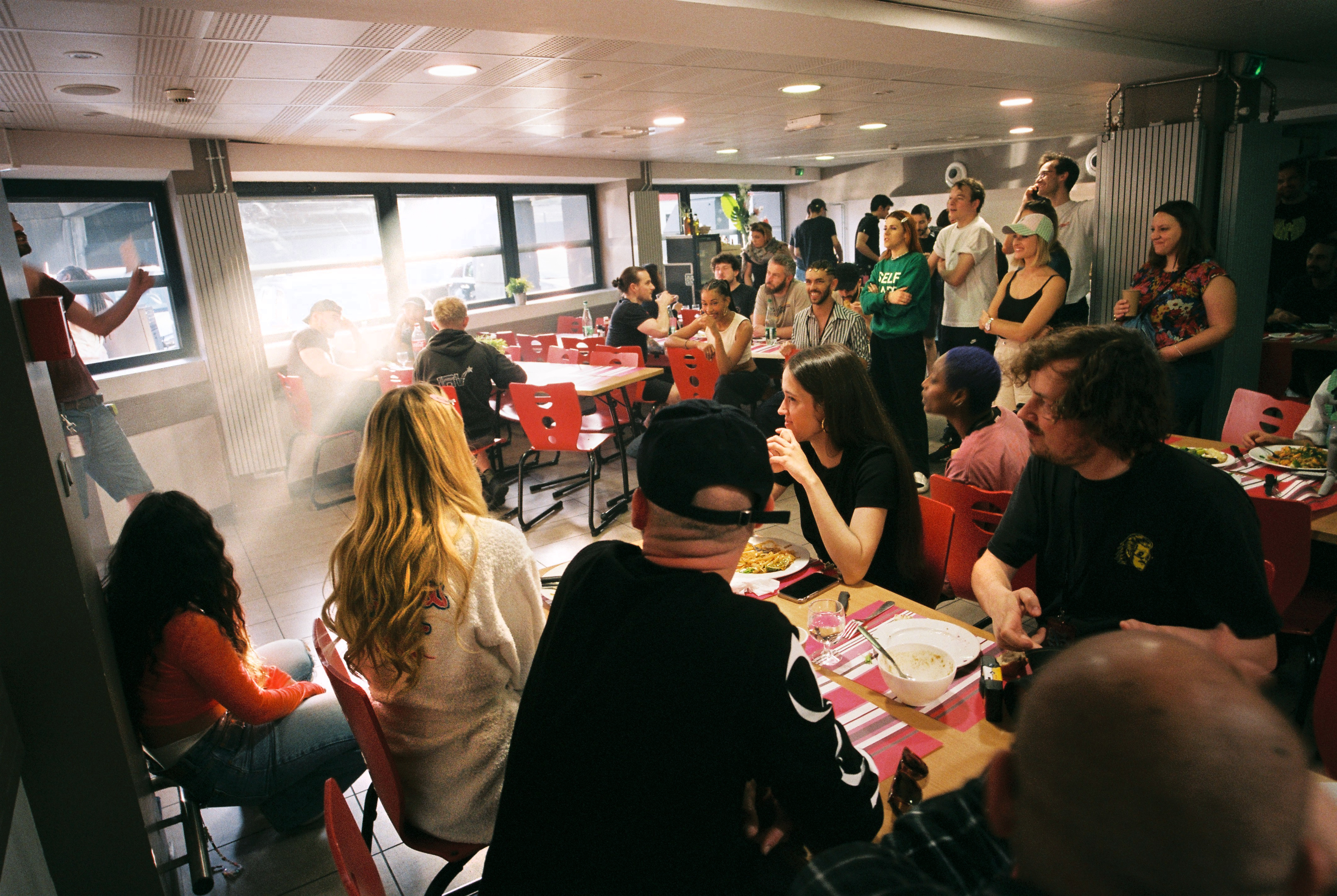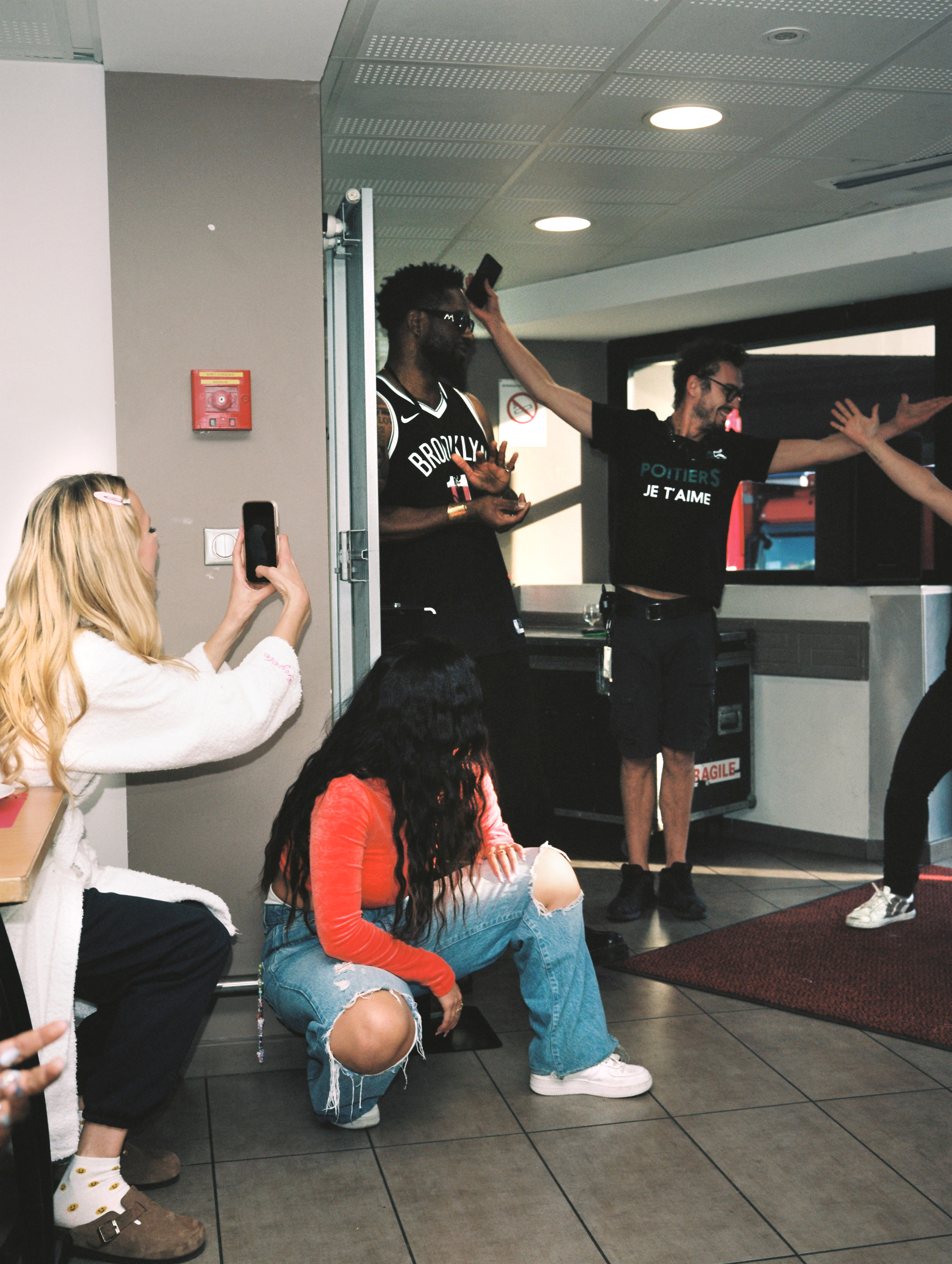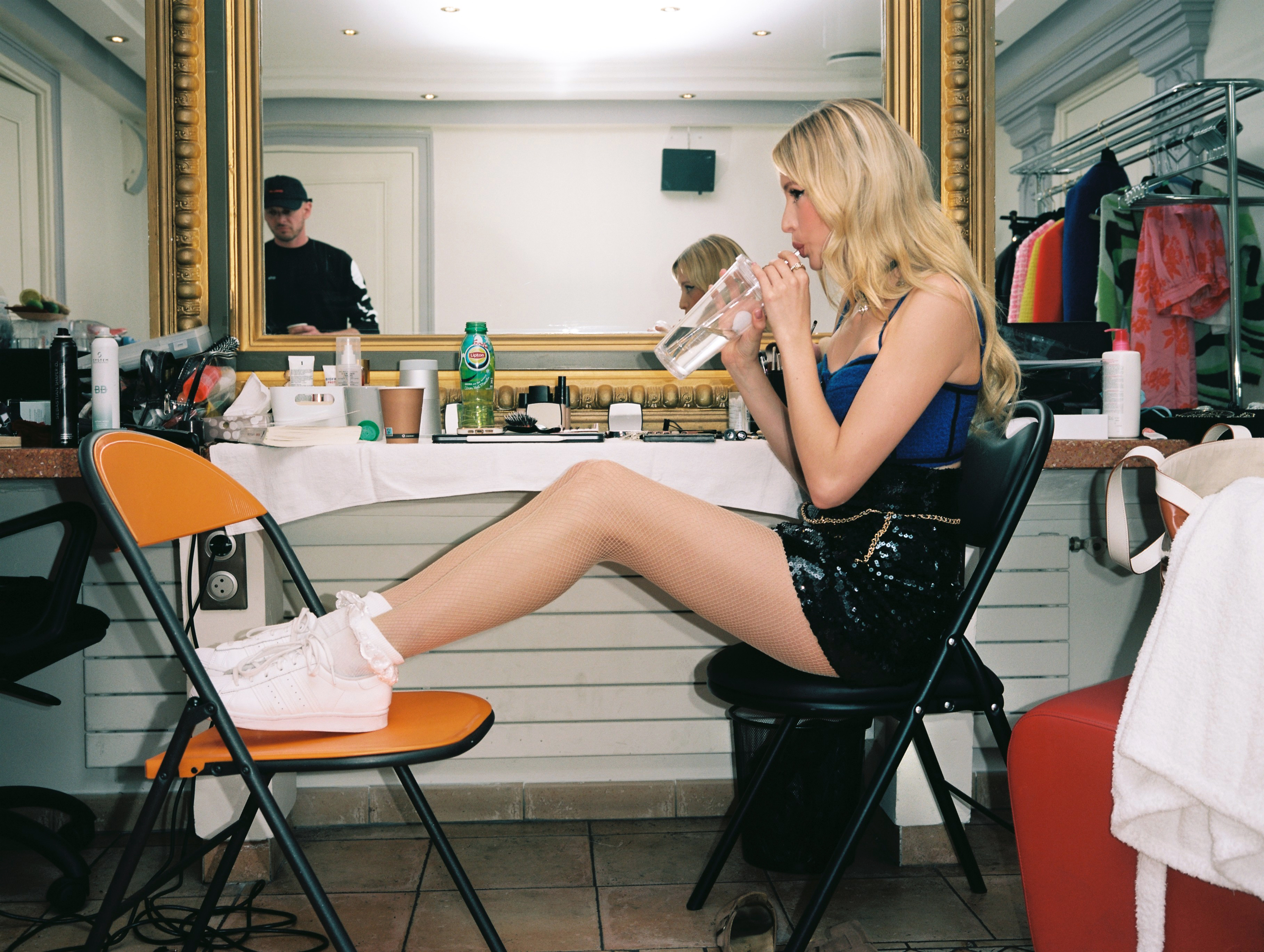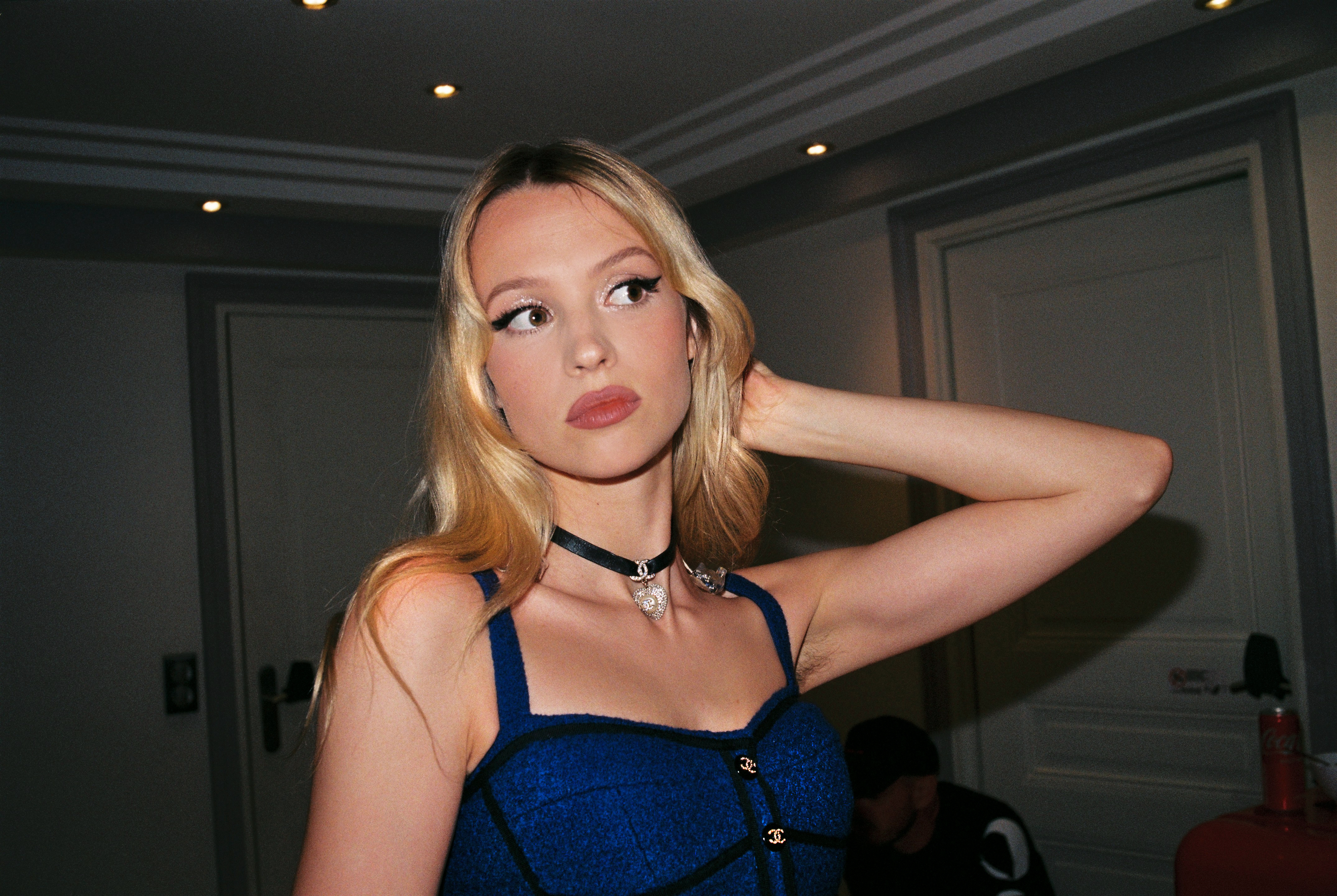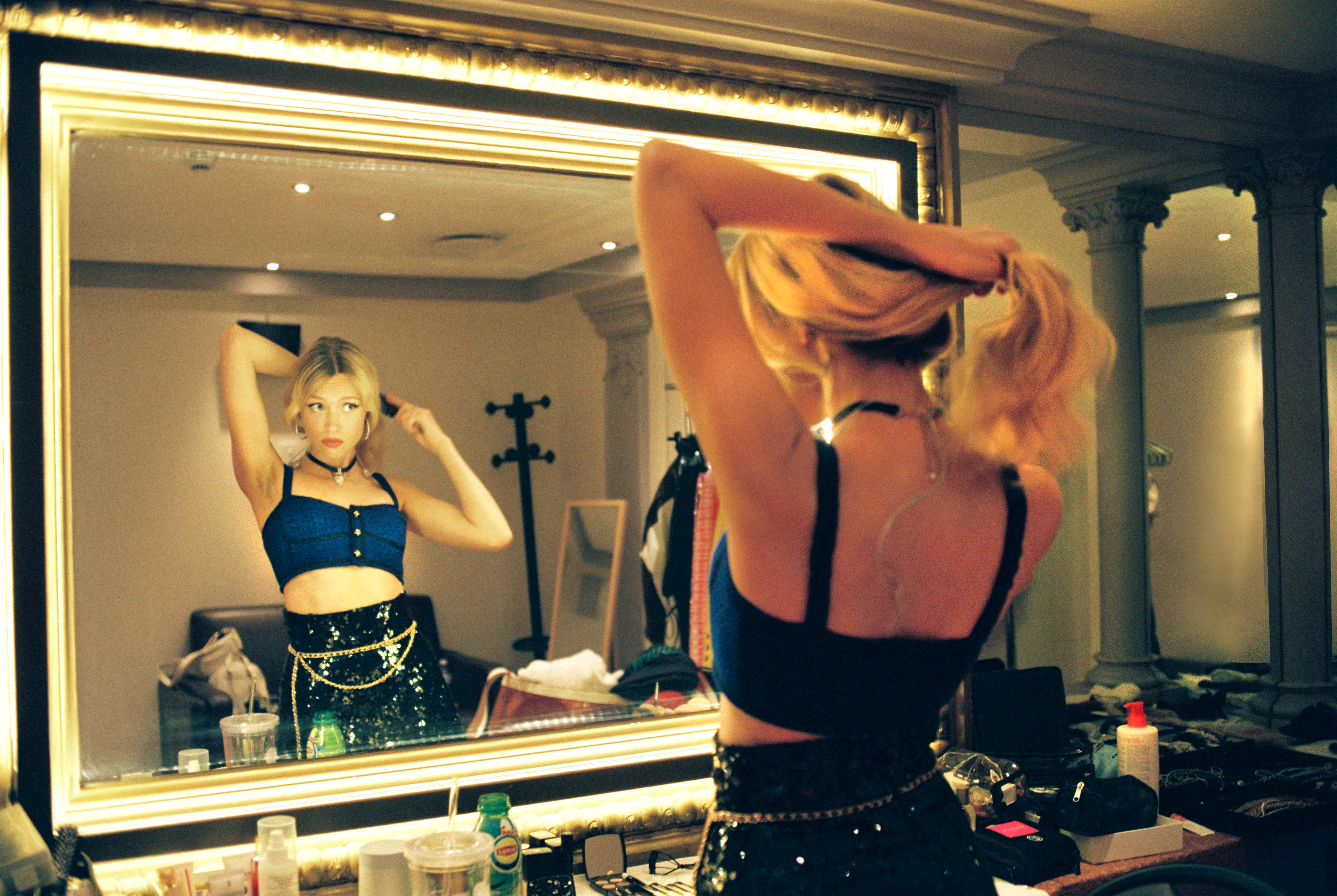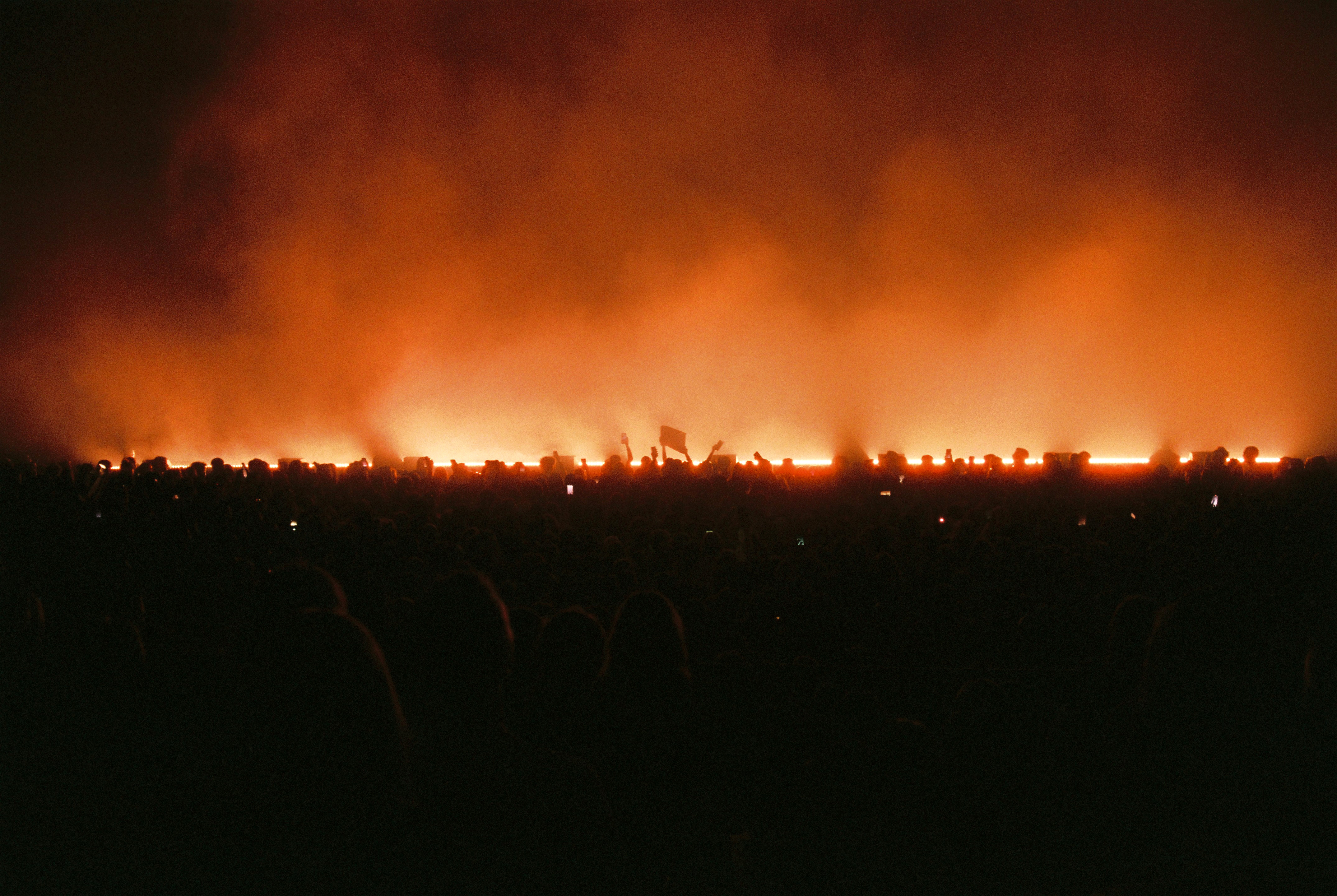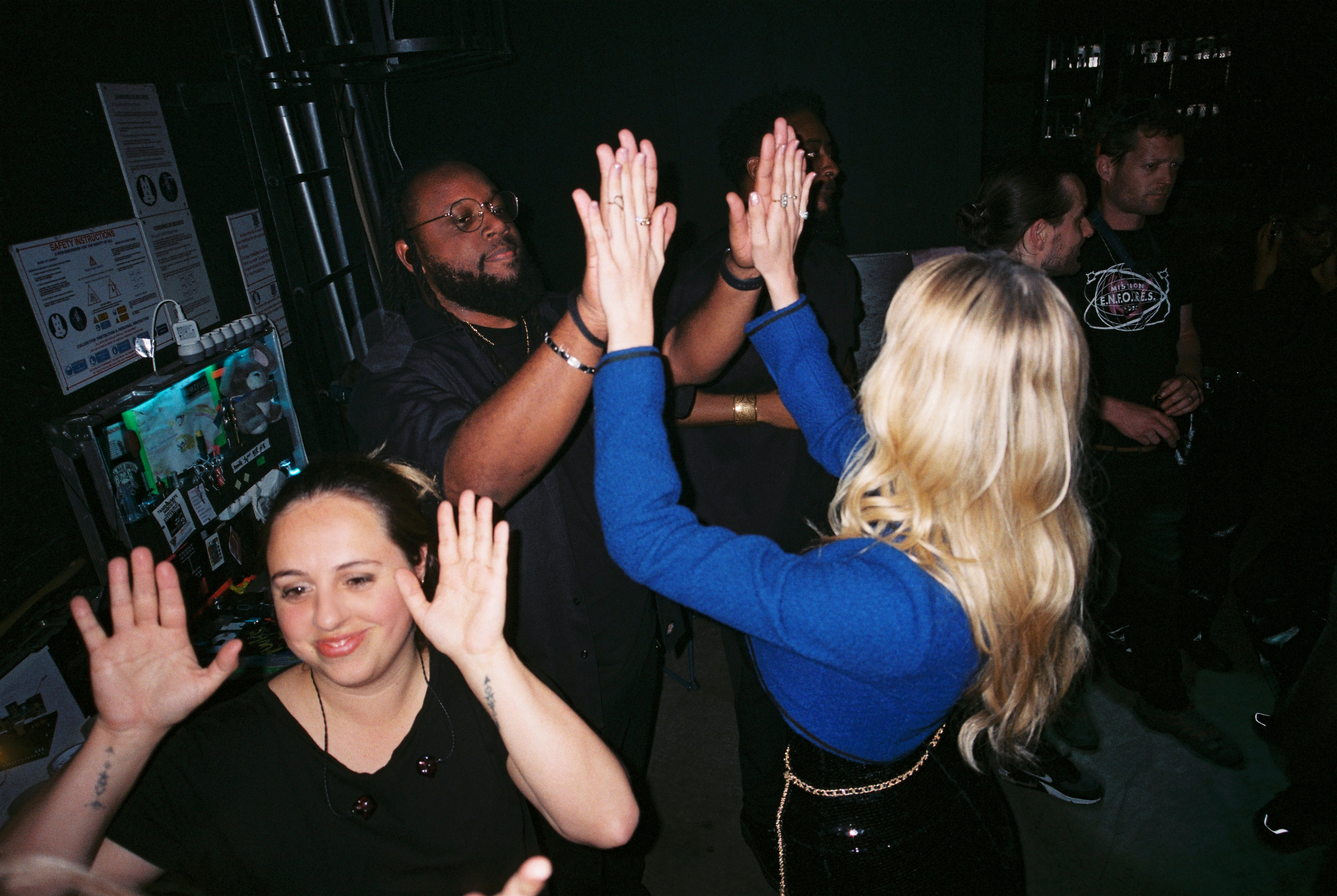 Credits
---
Photography Maxime Ballesteros
Styling Claire Thomson-Jonville
Directors Maxime Ballesteros and Sarah Little
Hair and makeup Ruby Mazuel
Styling Assistance Tiffany Pehaut and Agathe Auriffeille
Thanks to Florent Muset and the Nonante Cinq team