Labrinth says Nate's Euphoria music was inspired by flamenco & Kanye
Ahead of the finale episode, we spoke to the legendary producer about creating music for the show without actually watching it first.
|
25 February 2022, 10:45am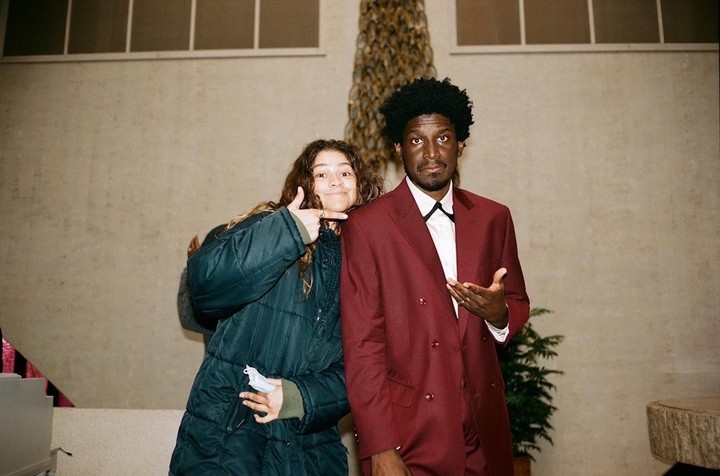 Image via Twitter
It's hard to spend more than five minutes on TikTok these days without hearing several variations of "Nate Growing Up", just one of the many pieces of music created for Euphoria by Labrinth. But it's not hard to imagine why. Just as much as the makeup, the costumes and the casting, music plays an incredibly important role in creating the Euphoria universe. It sets the scene and, in some cases — like the moving season one finale, a choreographed piece depicting Rue's relapse — it amps up the emotion and drama to dizzying heights.
It makes sense then, that as the world of Euphoria has grown into the show's second season, so too has the Hackney-born producer's creative involvement in Sam Levinson's intoxicating car-crash of a universe. He even appeared in episode four, as part of an emotional church scene hallucinated by Rue while high. Ahead of season two's finale episode this Sunday, we caught up with the legendary musician to find out more about his creative processes, whether he can give us any Euphoria spoilers, and what he really thinks about his music being rediscovered on TikTok.
Hey Labrinth! What has the reaction to season two of Euphoria been like for you so far?
It's been better than I expected. You just never know, especially when you have a cracker like the first season. You're like, I don't know how much better can we do? And then when I heard some of the stats, of how it doubled itself in viewers, I was like, that's crazy. And just how excited a lot of the fans are for the music is insane. I feel very honoured.
I don't know how much you're on TikTok but the music you've made seems to have created a life of its own over there…
I'm not on TikTok personally, just my management and label handler but I hear through the grapevine, through my nieces and nephews. For me, I just want to make some shit I love and then if somebody else loves it, then it's like, thank you, much appreciated. But my reward honestly comes from when I press play my chest just caves in with excitement and joy. You know, like, literally, that moment is the best moment when you make a record.
Do you have a favourite piece of music you've made for the show?
In season one I made this like, choral vocal for Kat. She was having a Game of Thrones scene, and we ended up doing another one of those in this show in this season, but I really just enjoyed doing some choral music because I'm a fan of it.
It seems like a lot of people really enjoy "Nate Growing Up".
Yeah, that's wild. That was one of my favourites as well. A lot of that stuff was literally made on the fly. Literally was like, I need a thing and then I'll just add to it — the show was inspiring me so much, especially then, when I had all my synths and stuff around me. I just thought 'okay I'm going ham'. And I had Flash Gordon in my head as well. So it's inspired by Flash Gordon, flamenco music and Kanye.
When you're looking at characters like Nate and Kat, how do you decide which music and what sounds go with each person?
I don't. Most of the time I'm just seeing the show and seeing the way that these characters collide, and thinking about my own experience as a teenager and the feeling of being a teenager. That energy of gnarliness, intense love, intense confusion… all of those things are insane inspirations for creating music. I can just write off that. I don't even need to see anything. And I didn't, especially for the first season. I don't think I saw the season for a while. I was writing songs way before I saw anything.
I haven't even watched this season. I just literally watch the scenes they want me to work on. Because I've been so insanely busy it's been hard to catch the show. So it's nice to see people's reactions and see them enjoying the show, from a distance. And I have kids you know, so I can't just put on Euphoria!
What is the weirdest influence you've channelled into a piece of music for Euphoria?
I guess [looking at] "Yeah I Fucking Did It"; we were talking about music, [Sam Levinson] was talking about Nine Inch Nails. And he was talking about Kanye, and he was talking about Danny Elfman, and all these people and then he would play me like just score music from other films. And I just digested it. That would inspire me.
It wouldn't be [Sam] literally going 'put the tambourine here and do this and do that'. And so the song has Nine Inch Nails influences with the great bass and the kind of electronic approach, but then it's got church tambourines. I was thinking of like, people just jumping up in Pentecostal churches. Then there's the raps, and that Kanye energy, and it's like, all of these things somehow just get into the music by someone saying these things to me. I'm kind of a bit of a sponge to what they say.
Seasons 1 and 2 of Euphoria are available to stream with a NOW Entertainment Membership.