Images courtesy of Hermès, Givenchy and Sacai.
The best of Paris Fashion Week AW22: Hermès​, Givenchy and Sacai
Our must-read guide to the key shows of the season — as they happen.
Images courtesy of Hermès, Givenchy and Sacai.
Last stop, Paris! Yes, after a marathon of shows, and a standout season for Milan, we're now gunning for the grande finale — a week jam-packed with some of the biggest shows there are. We're talking Chanels and Diors, Louis Vuittons and Saint Laurents, Rick Owens and Miu Mius. You know the drill by now, but we'll say it again — tune in here for all the latest, chicest news to know as and when it happens. Bisous!
Chanel
Come the first chill of autumn, many designers are hinting that you should opt for countryside cosiness. None more so than Virginie Viard, whose latest collection for Chanel was a tribute to the illustrious history of the house's tweed. On a catwalk designed to mimic the River Tweed in Scotland, Viard sent out her tweediest collection yet, in bright poppy colours — "psychedelic," she said — with plenty of cardigans, knitted stockings, and heavyweight layering to combat those frosty outdoor country pursuits. For the most part, Chanel's classic tweed suits were given a cosier feel — rather than the perpendicular boxiness of the usual style — and were worn with rubber Wellies, some of them thigh-high galoshes with knitted socks just as high, in an ever-so-slightly 80s style. Perhaps it was seeing the way that Kristen Stewart wore Chanel as Princess Diana in Spencer — or the buzz around another Chanel ambassador, Tilda Swinton, in her roles in parts one and two of The Souvenir. Either way, Virginie was thinking about the patrician huntin'-shootin'-fishin' look that has ostensibly captured the eyes of other designers over the last few weeks. For everything you need to know, read our full review here.
Miu Miu
Where do you go once you've staged the most viral show of the season? For Miuccia Prada, looking ahead and changing course of direction has never been a problem. In fact, it's where she excels. Six months ago, her chopped-up Miu Miu high school uniforms and corporate workwear made headlines. They struck a chord with a generation hankering for Y2K-flavoured skimpiness, elevating the banality of beige, and grey and blue poplin to incendiary heights as high as the hemlines of those teeny-tiny miniskirts. So, what next? Unafraid to reference the success of her last collection, Mrs P simply expanded on it by introducing a sportier, more gender-inclusive version of it. To find out more, read our full review here.
Dries Van Noten
Increasingly, we expect fashion designers to speak to and reflect wider cultural and sociopolitical conversations – and with good reason, too. Still, that shouldn't reduce the space available to designers whose work forgoes charged commentary in favour of the pursuit of a higher, transcendent beauty. Dries van Noten is arguably a designer who falls into the latter camp, with a longstanding commitment to creating clothes that push at the boundaries of what we expect in terms of shape, colour and texture. His clothes, while certainly wearable, feel otherworldly in the attention invested in their making – they're the sort of things that make you fall head over heels for fashion on its own terms.
While this season has seen has seen almost all – save for a handful of notable exceptions – of the big names of the Paris schedule return to the physical runway, AW22 saw the Antwerp-based designer take to an abandoned hôtel particulier on the Left Bank to stage an immersive static presentation of his latest collection. The stately setting befitted the lavishly opulent timbre of the clothes themselves – think knife-sharp tailoring encruster with clusters of hand-embroidered sequins, round-sleeved notch-lapelled blazers with rounded sleeves, gowns in tumbling violet silk jacquards, and pops of animalistic kitsch by way of swathes of cow, zebra and leopard, as well as a python-effect fabric created using 14000 hand-sewn leather scales. For all the hubbub around the runway, this was the sort of presentation that made you realise why a context like this, which allows you to pause and really drink in all the detail, is sometimes for the best. While these were certainly clothes created to be worn, they were also worthy of celebration as noble artefacts of the highest craftsmanship and creativity. Fashion for fashion's sake at its best. MS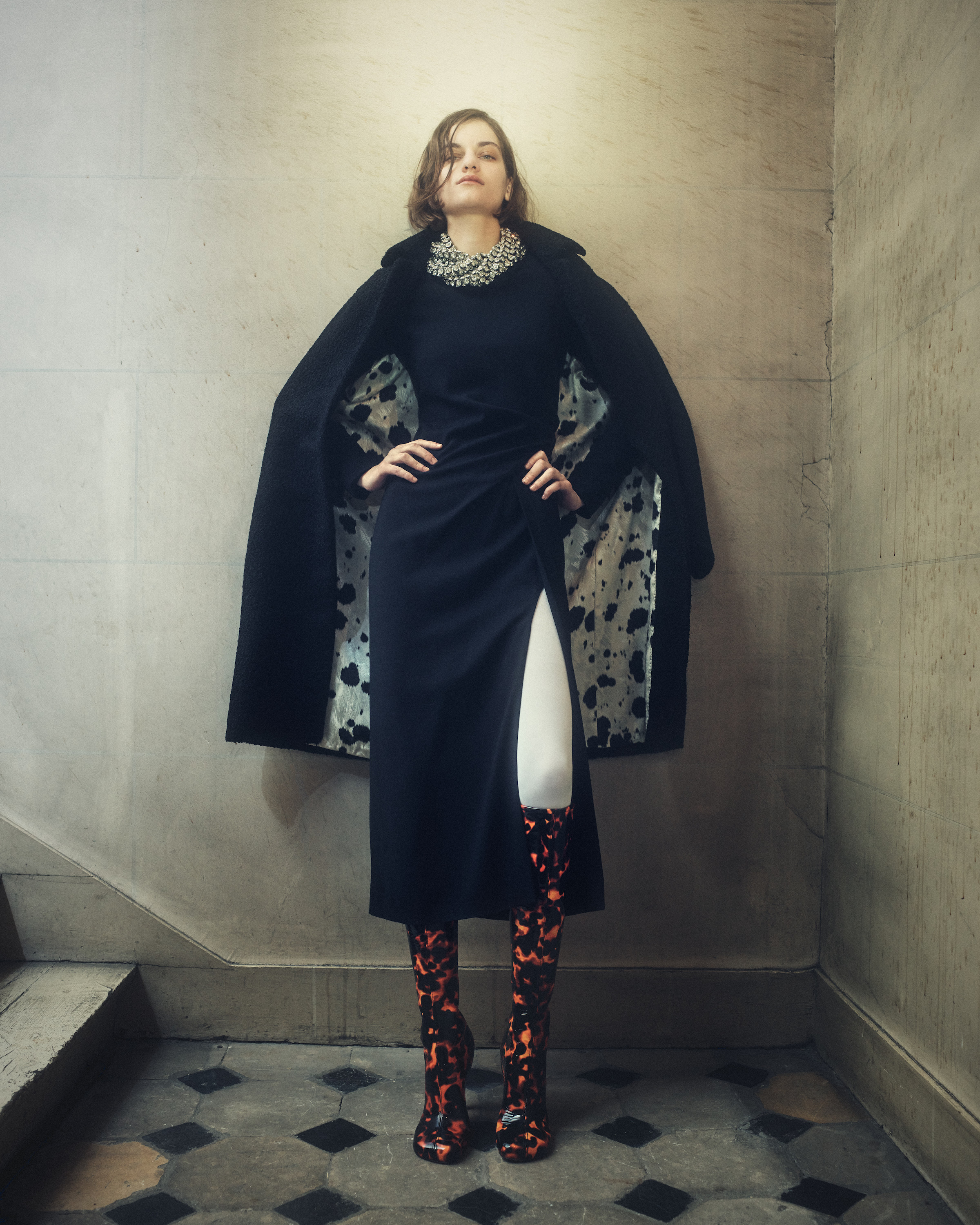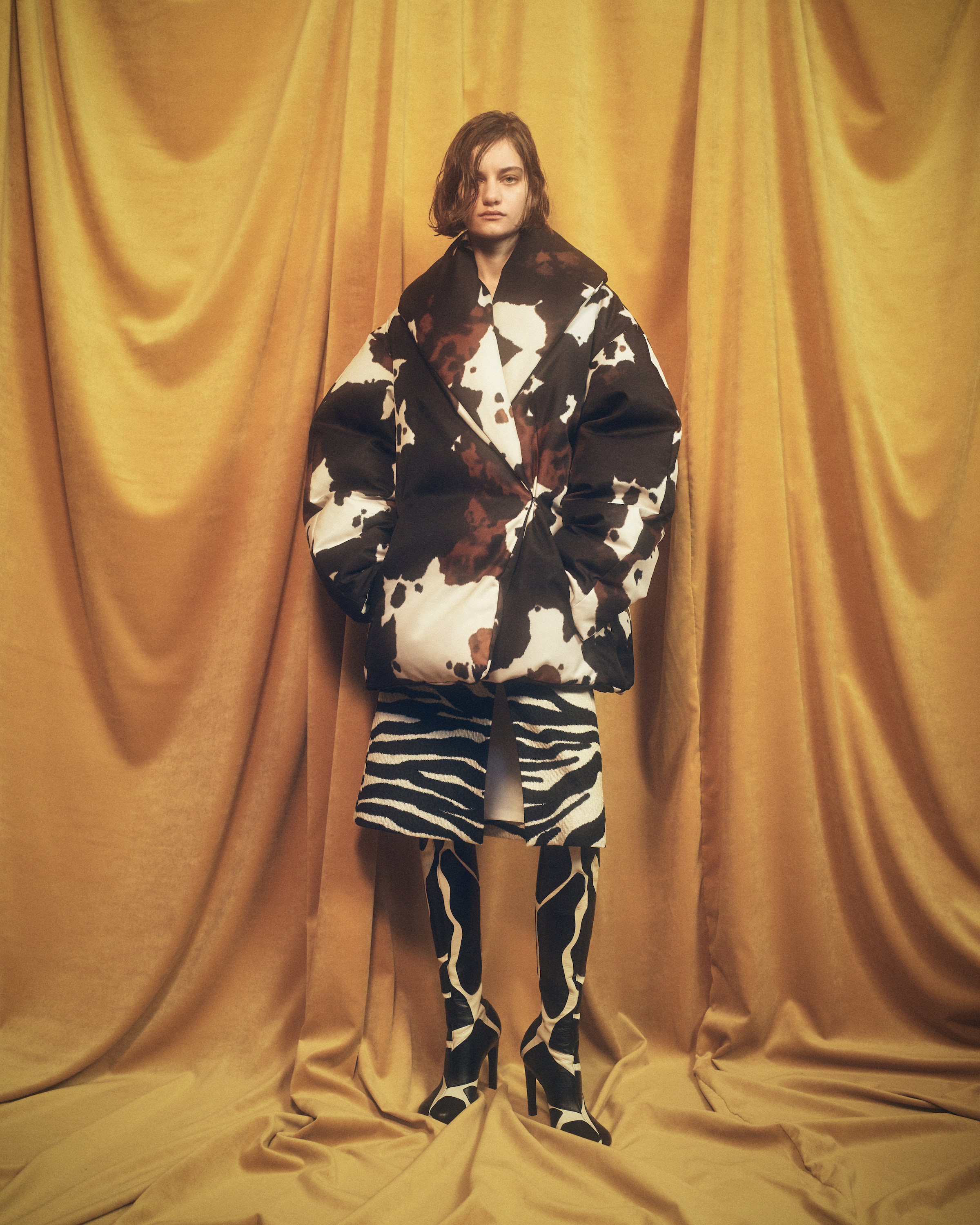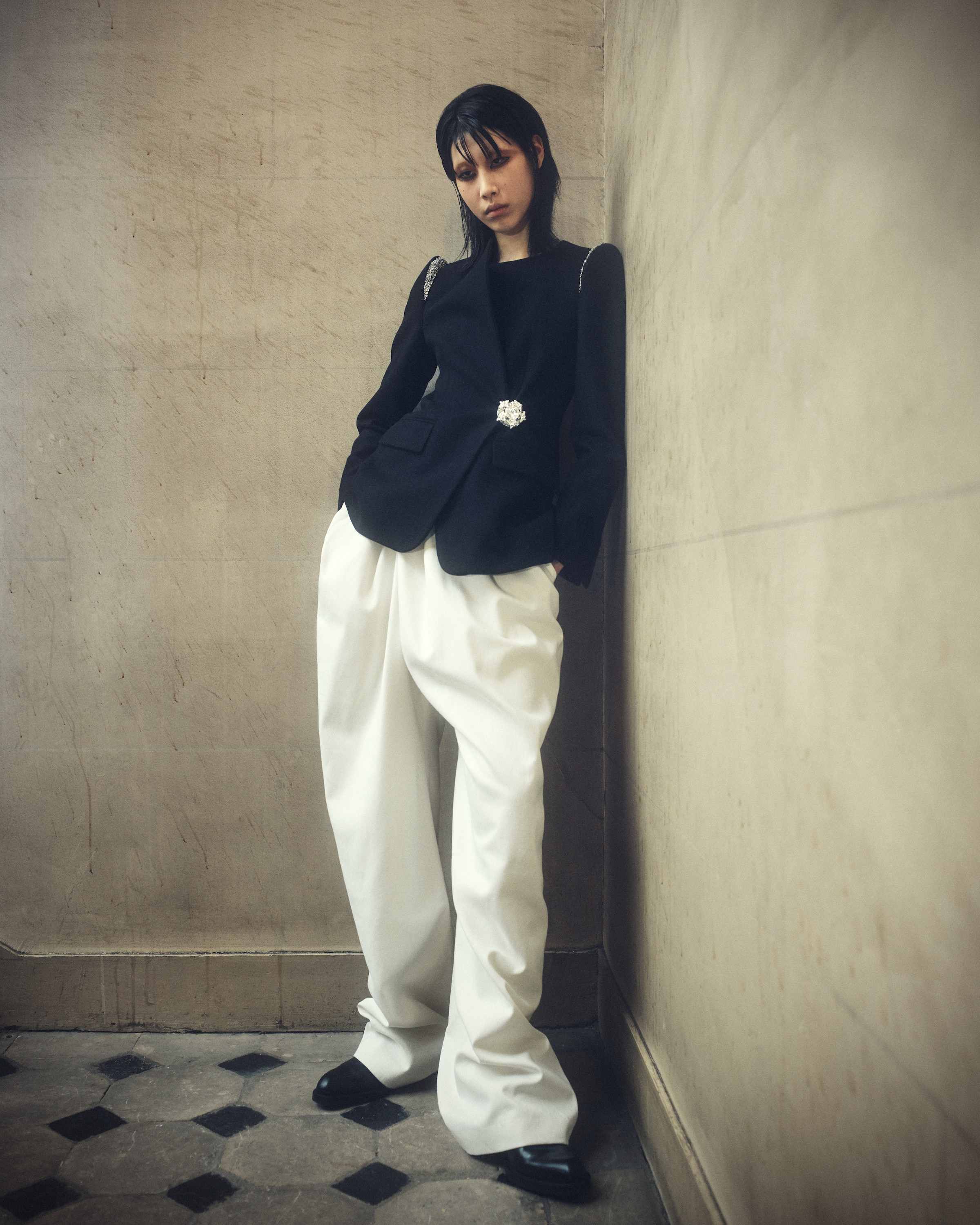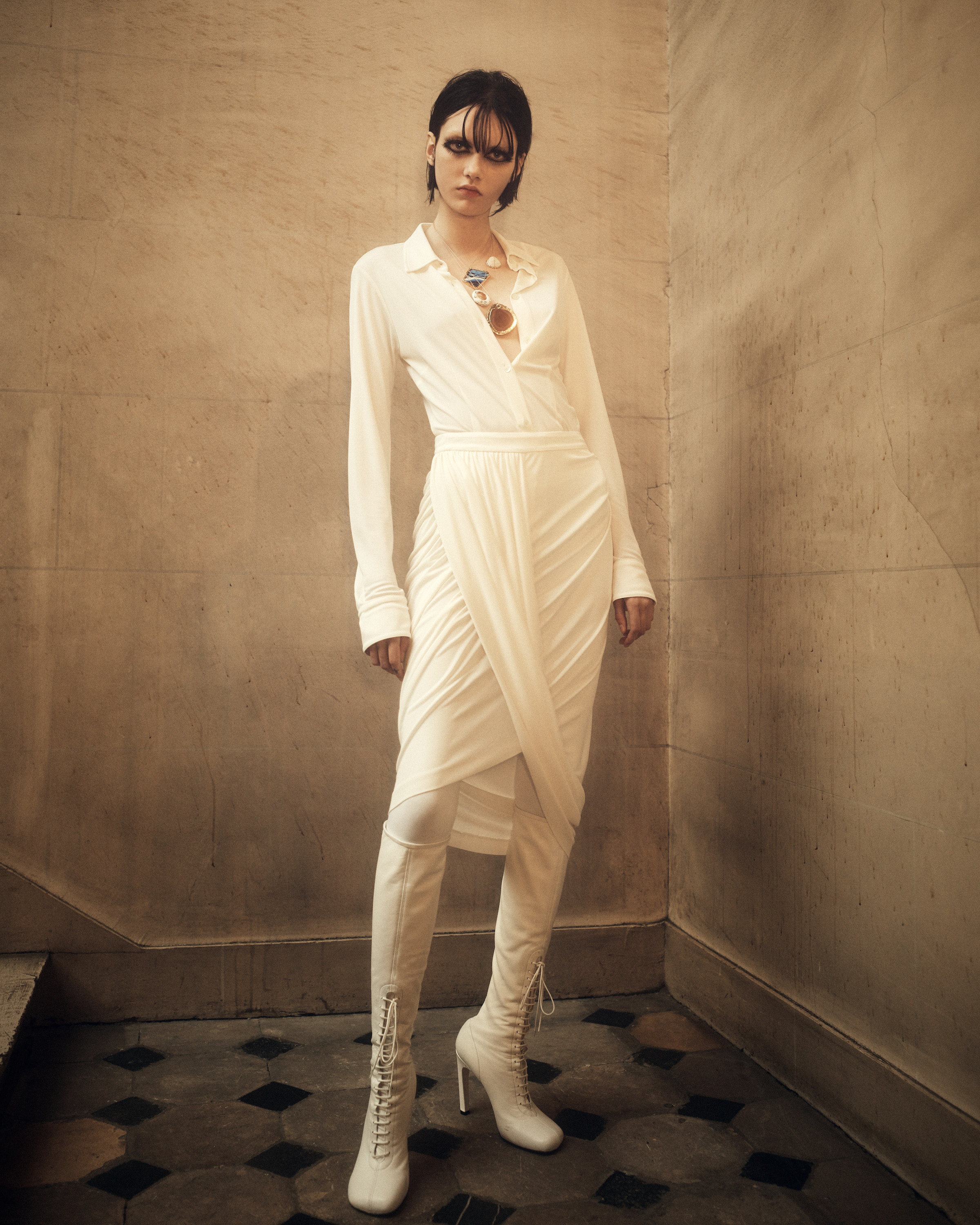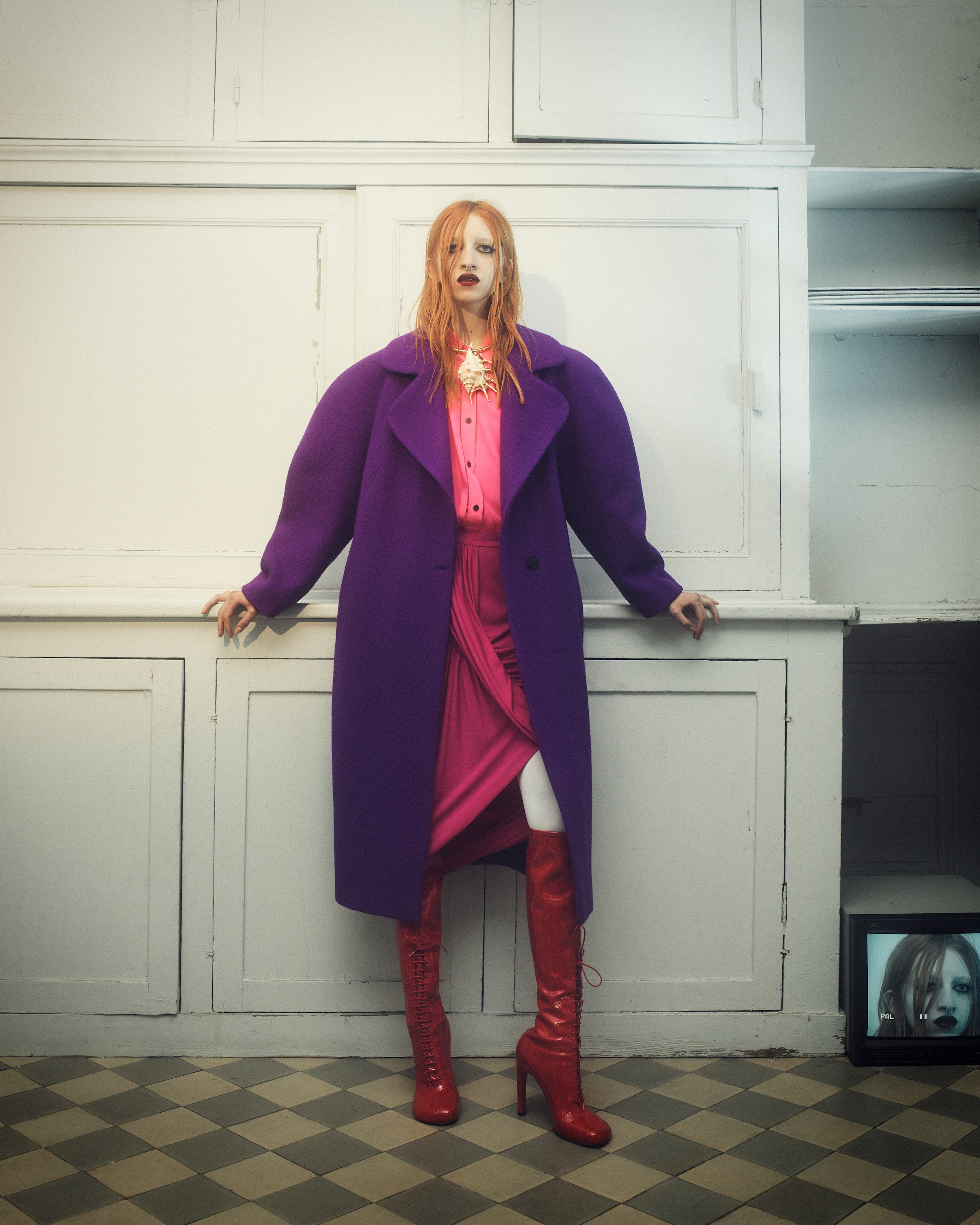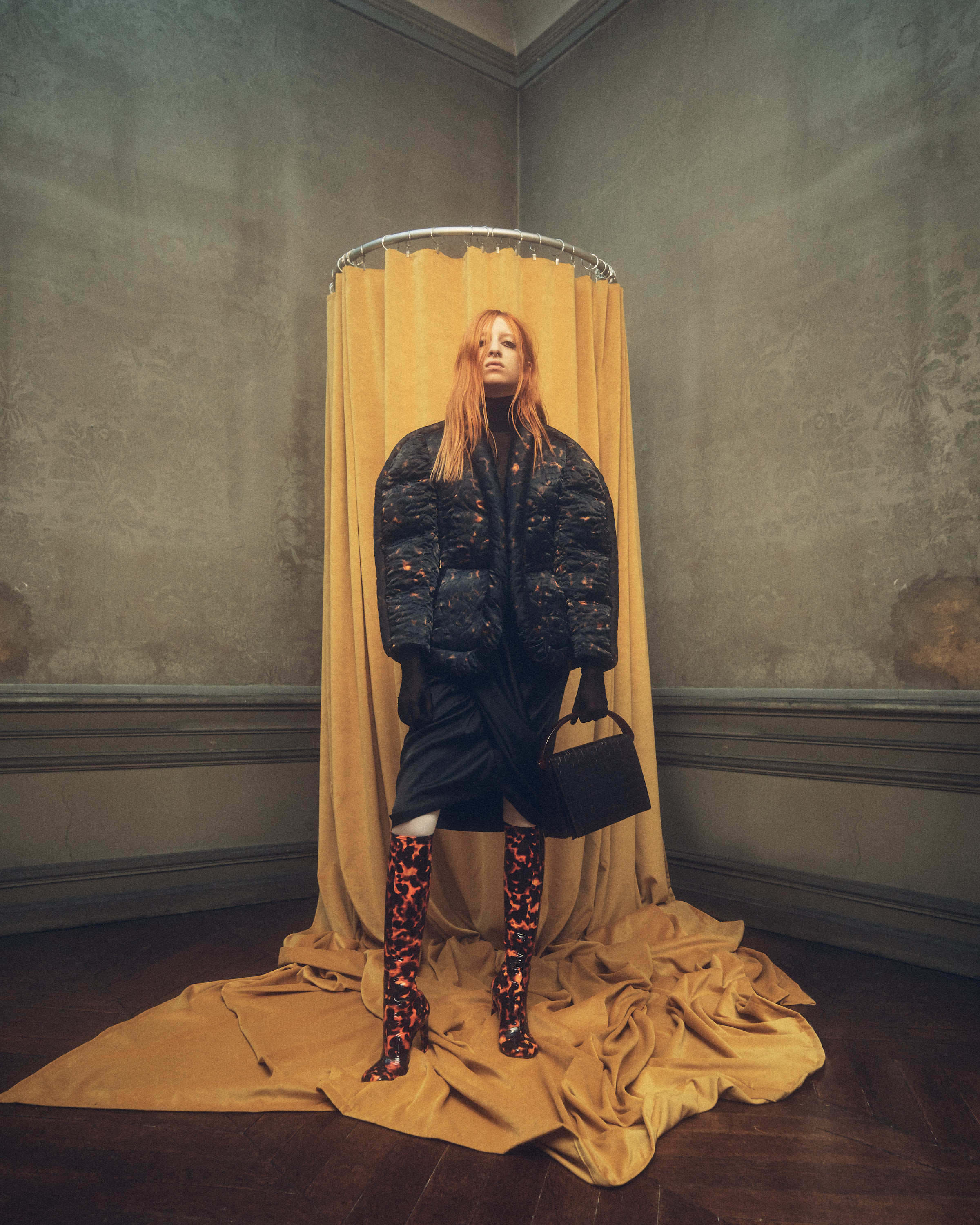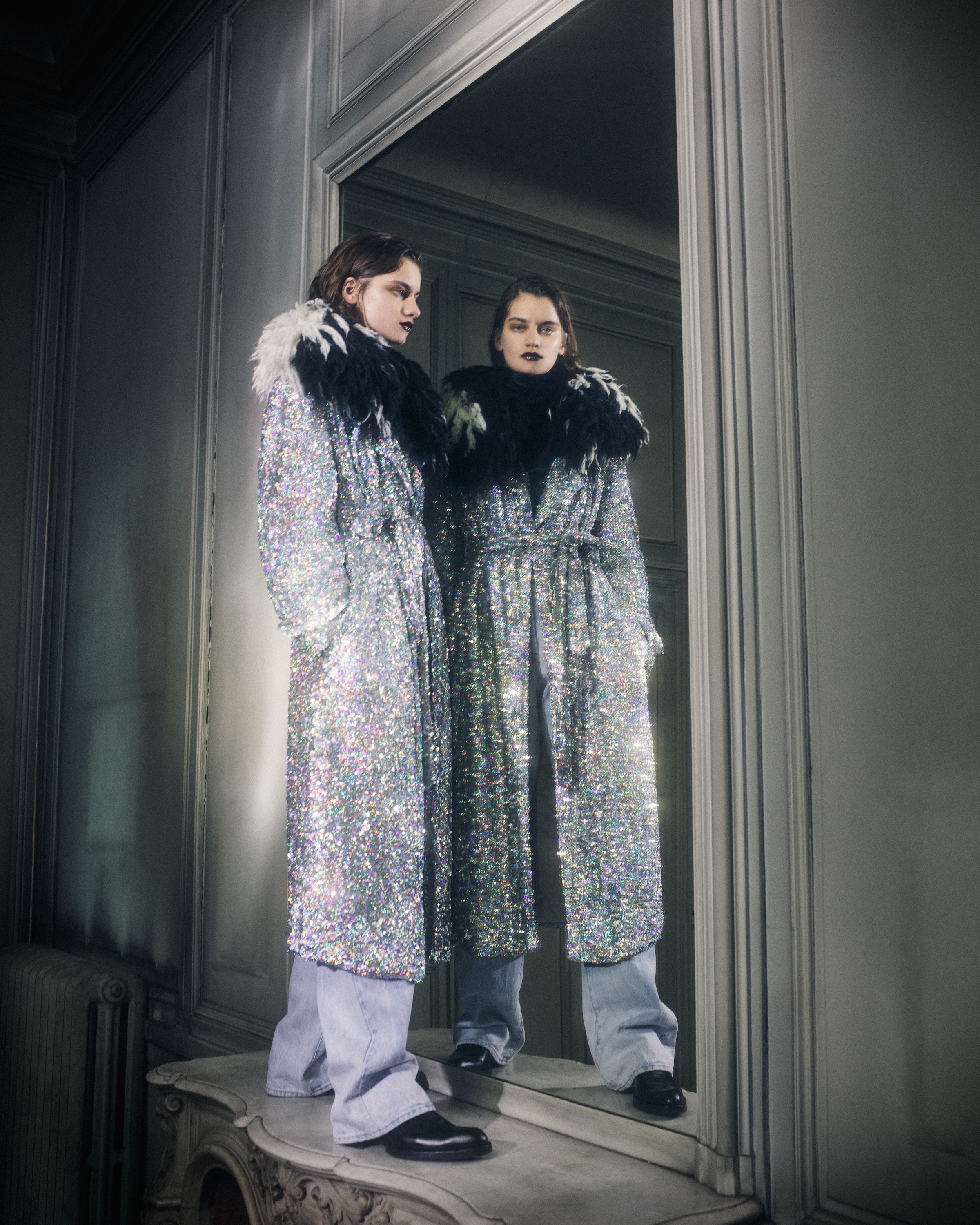 Hermès
Skimpy, clubby sensuality isn't what you usually come to Hermès looking for, but this season, Nadège Vanhee-Cybulski offered the audience at her AW22 show just that. Well, that could be said for the collection's opening looks, at least – which included a panelled micro-skirt in supple black calfskin and a sheer pleated dress with strategically placed columns of leather and knitted cashmere. That unexpectedness – a "marriage of ancestral techniques and a future that has yet to take place: Equestrian techno," the show notes read – is arguably what helped make for one of the most exciting womenswear collections from the house in recent years, bringing a zingy youthfulness to the maison's bon chic, bon genre codes.
That mission also played out in calf-cladding riding boots worn with ribbed cashmere thigh-high stockings, décolleté-bearing leather mini-dresses with chain belts at the waist, and sporty, thigh-cropped bodysuits in form-fitting ribbed knits. Counterposing this racy spirit were pieces that bespoke a self-assured poise – zippered riding coats in duck egg blue shearling, peak-lapelled leather tailoring, and country-chic coats and cropped in earthen-hued loden. Rather than two contrasting wardrobes – for a noble mother and her rebellious daughter, perhaps – the impression you were left with was that these were clothes that catered to the multiplicities of a woman who can be whatever she wants on any given day. MS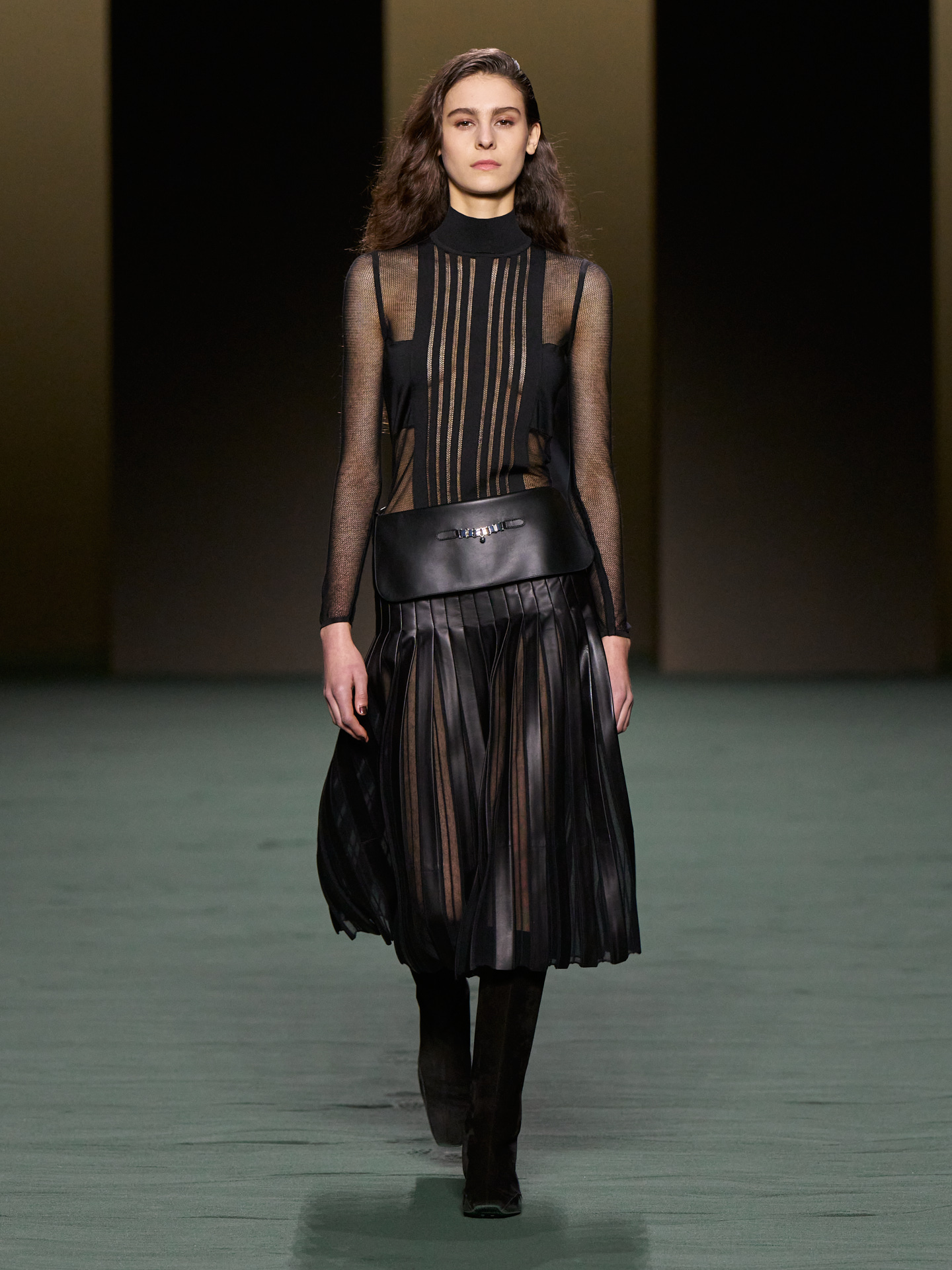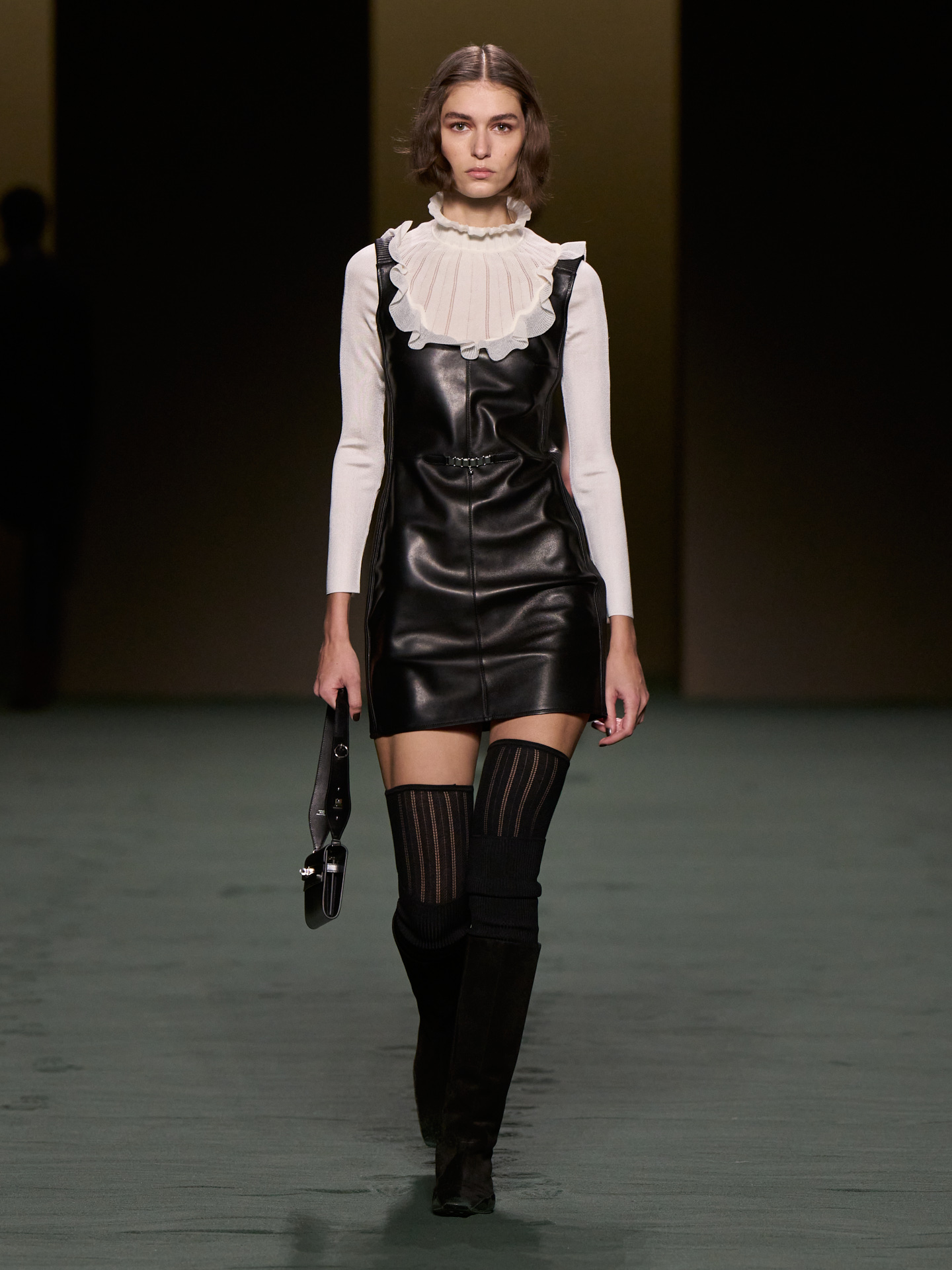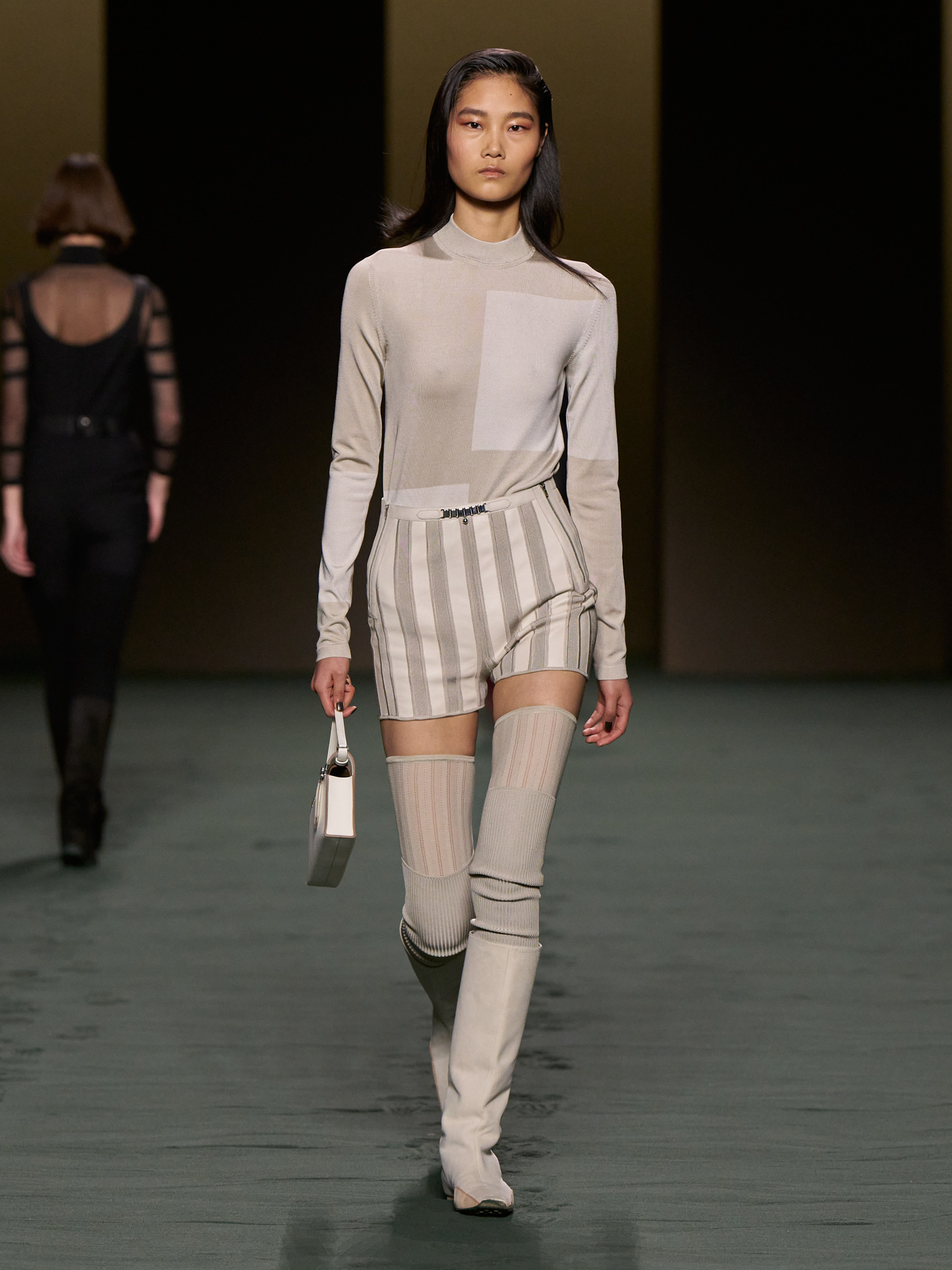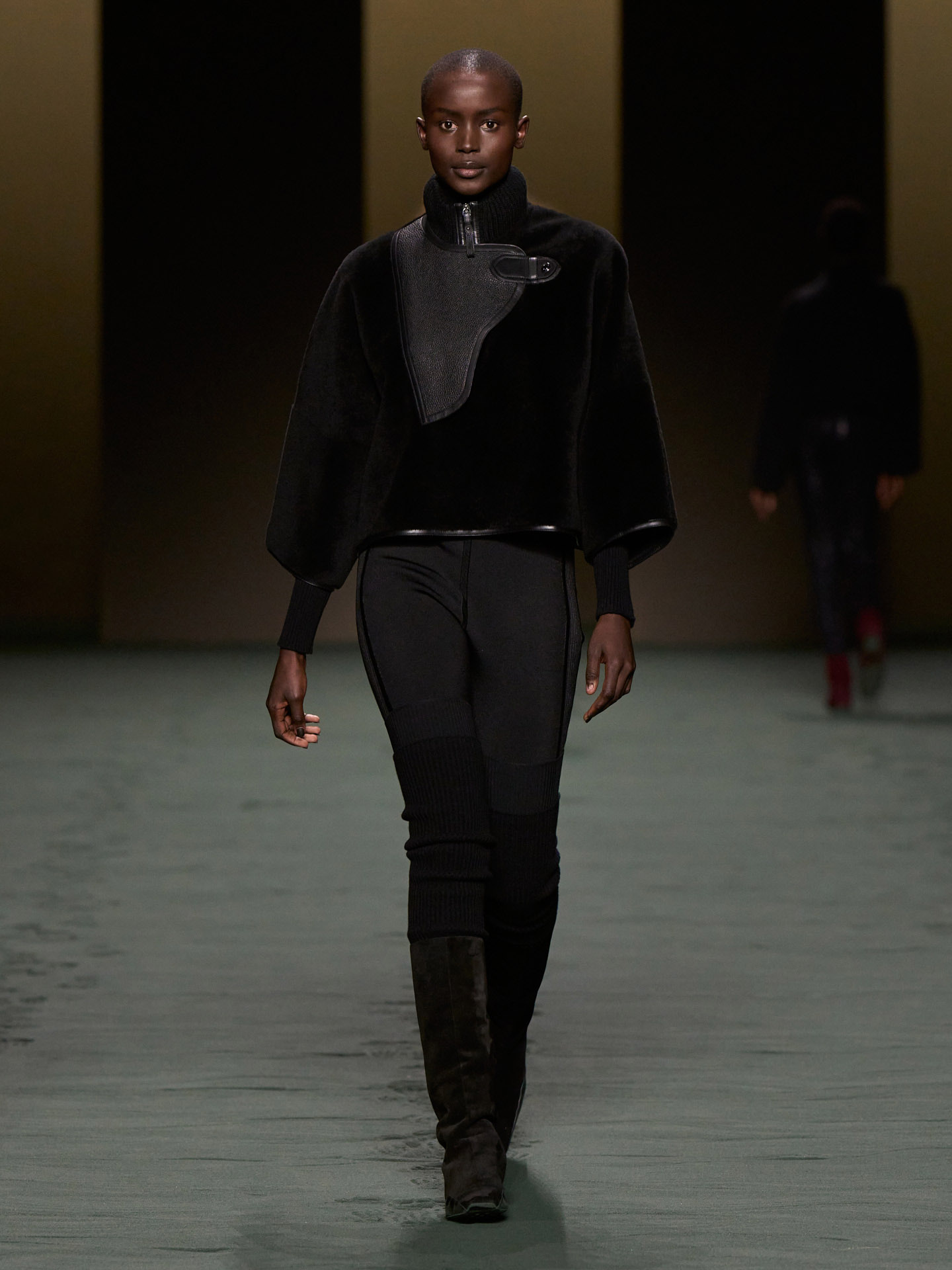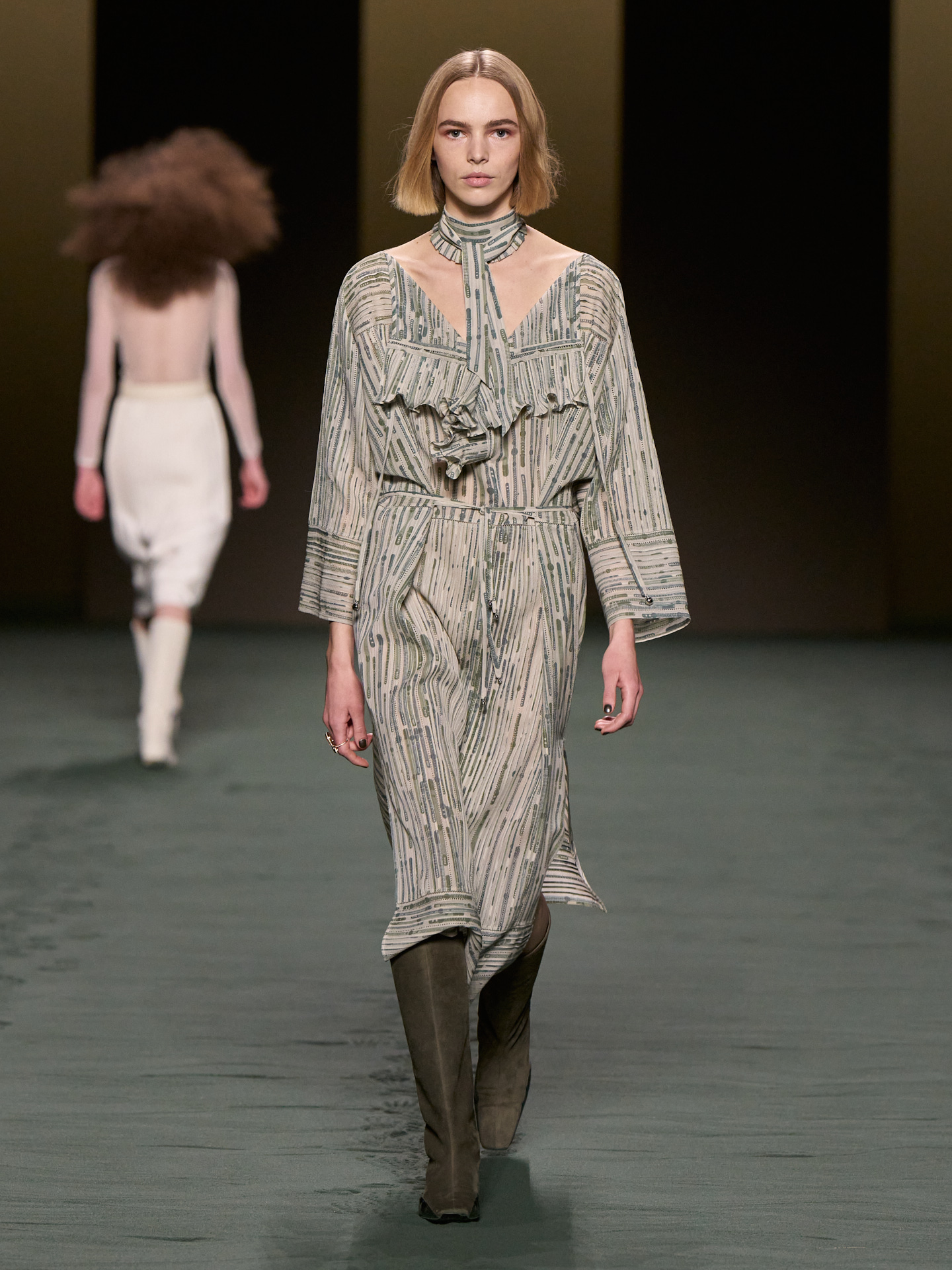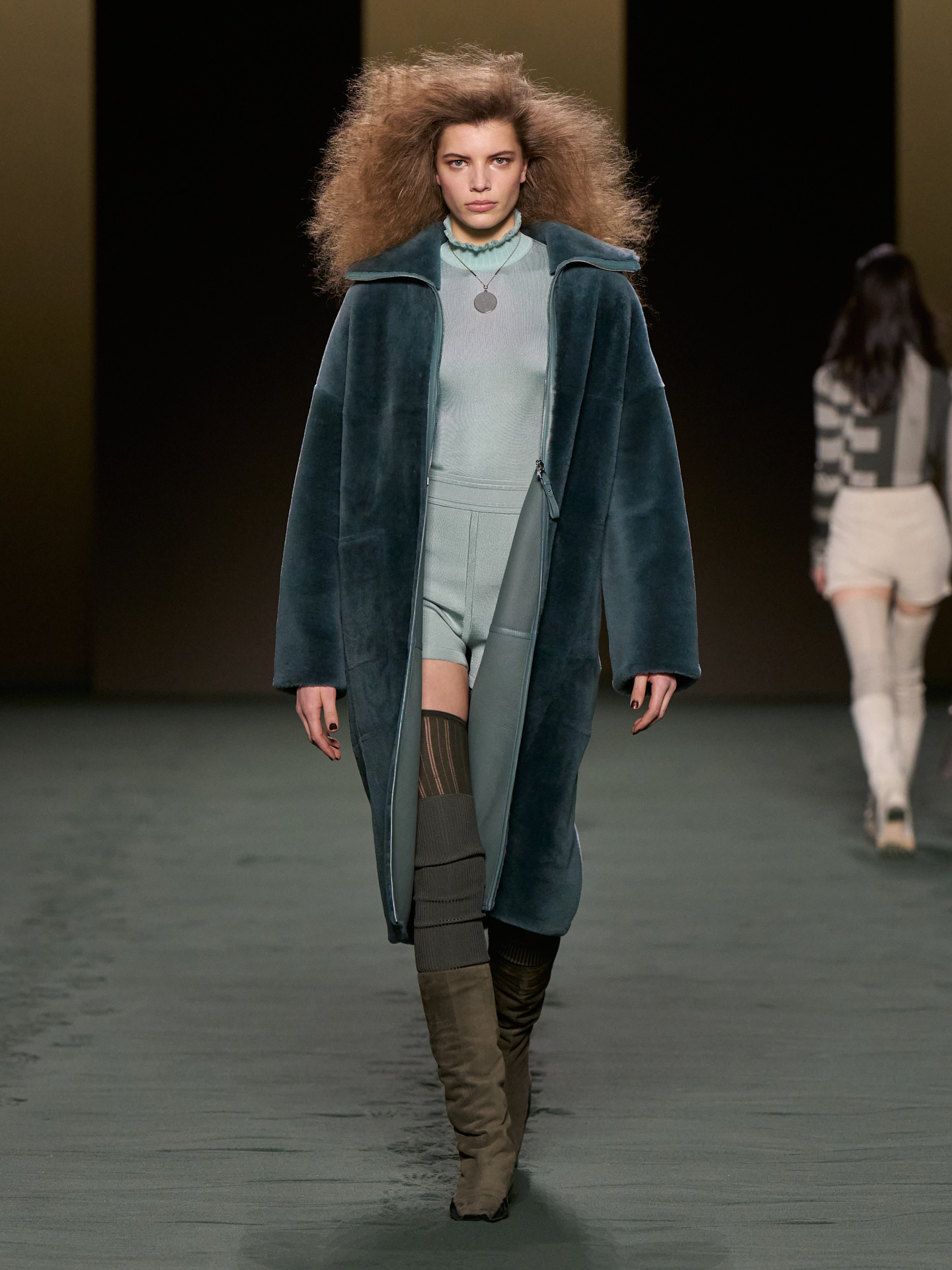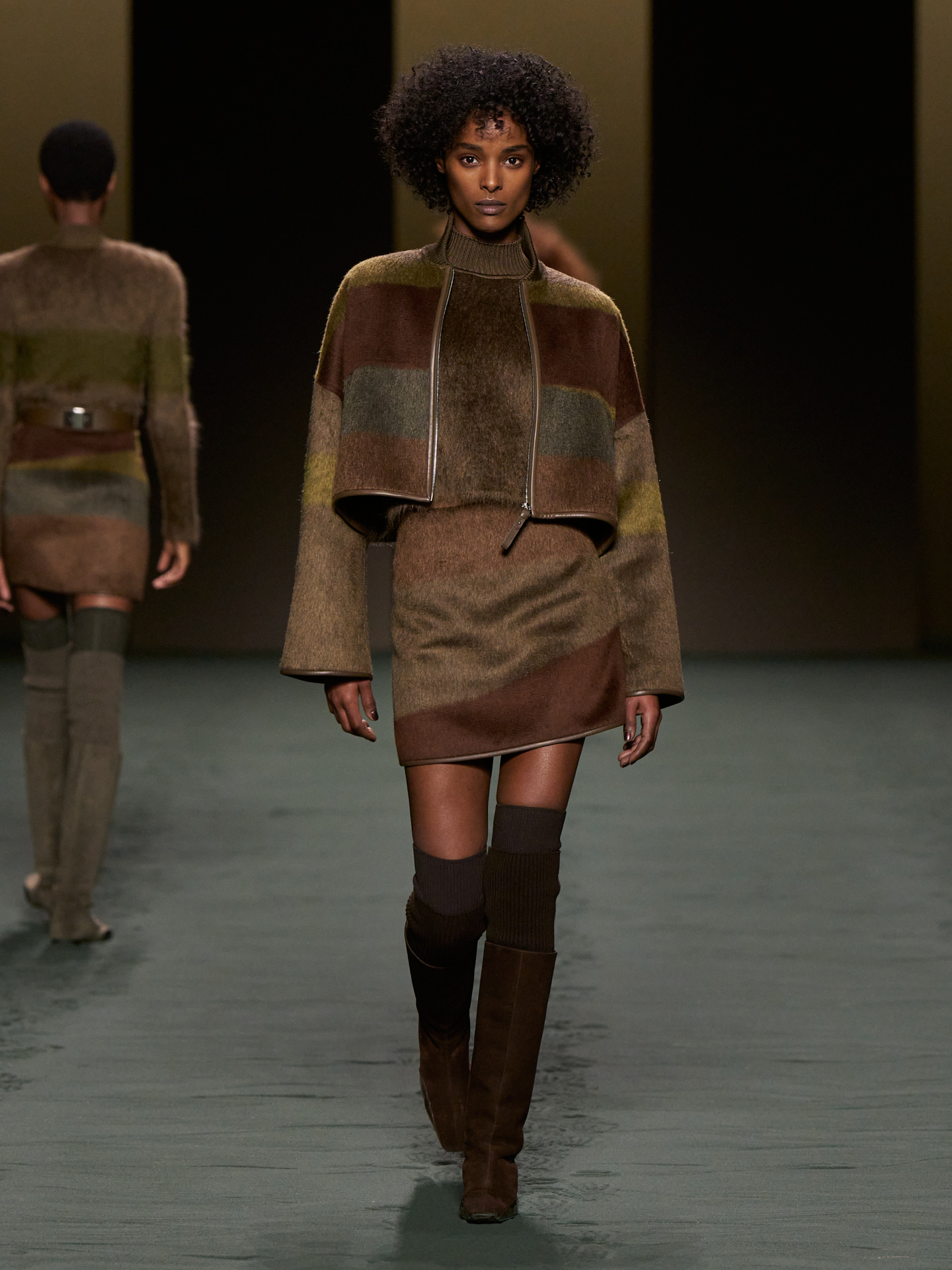 Andreas Kronthaler for Vivienne Westwood
Attending a show in a belle époque cabaret in Pigalle – the French capital's once-infamous red-light district – you naturally come expecting an all-out show. That's even more so the case when the name on the marquee above the entrance is Andreas Kronthaler for Vivienne Westwood. True to form, for AW22, Dame Viv's life partner presented "an elegant tribute to the world of theatre", he wrote in this season's show notes, a "space where people express themselves freely without censorship." Rather than look to create an ensemble cast of distinct characters, however, this season saw the designer look within for inspiration for the figures that took to the stage. "This time I concentrated on who I am. I tried to find the muse in me," he wrote, with the question "'Who is Andreas Kronthaler?'" at the heart of his creative process this season. Answers to that question came 62 times over, with new variations on the theme figuring on stage. They included: messy-haired New Romantics in brocade double-breasted jackets and swashbuckling batter leather boots; exuberant punk princesses in nude corsets, giant feather boas and bandanas; nomadic oracle-like figures cloaked in swathes of bright fringed tartan; city-slickers in prim pinstripe wools; and, to close, a virginal bride – played by Bella Hadid – in a veil strewn with scarlet brocade flowers. MS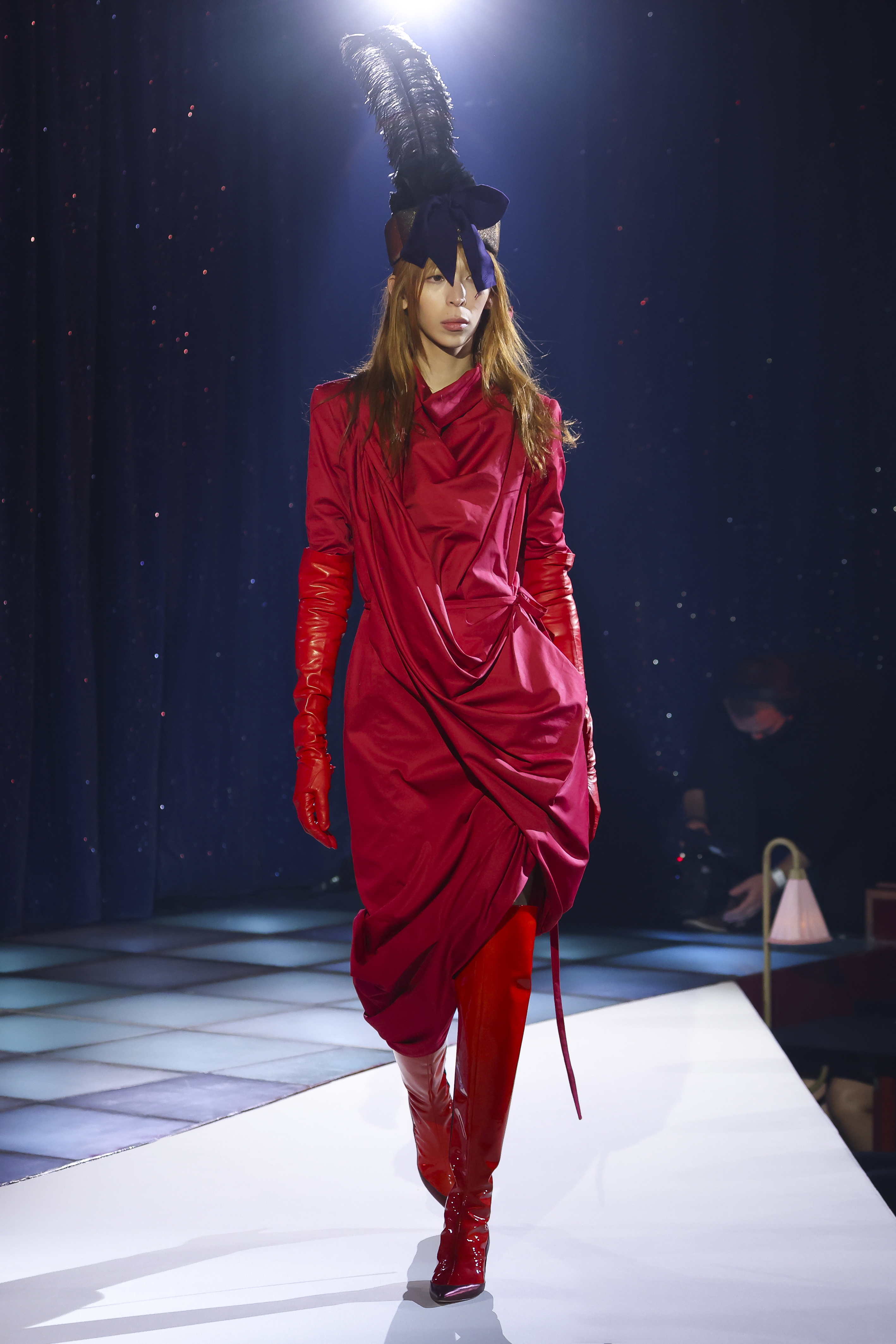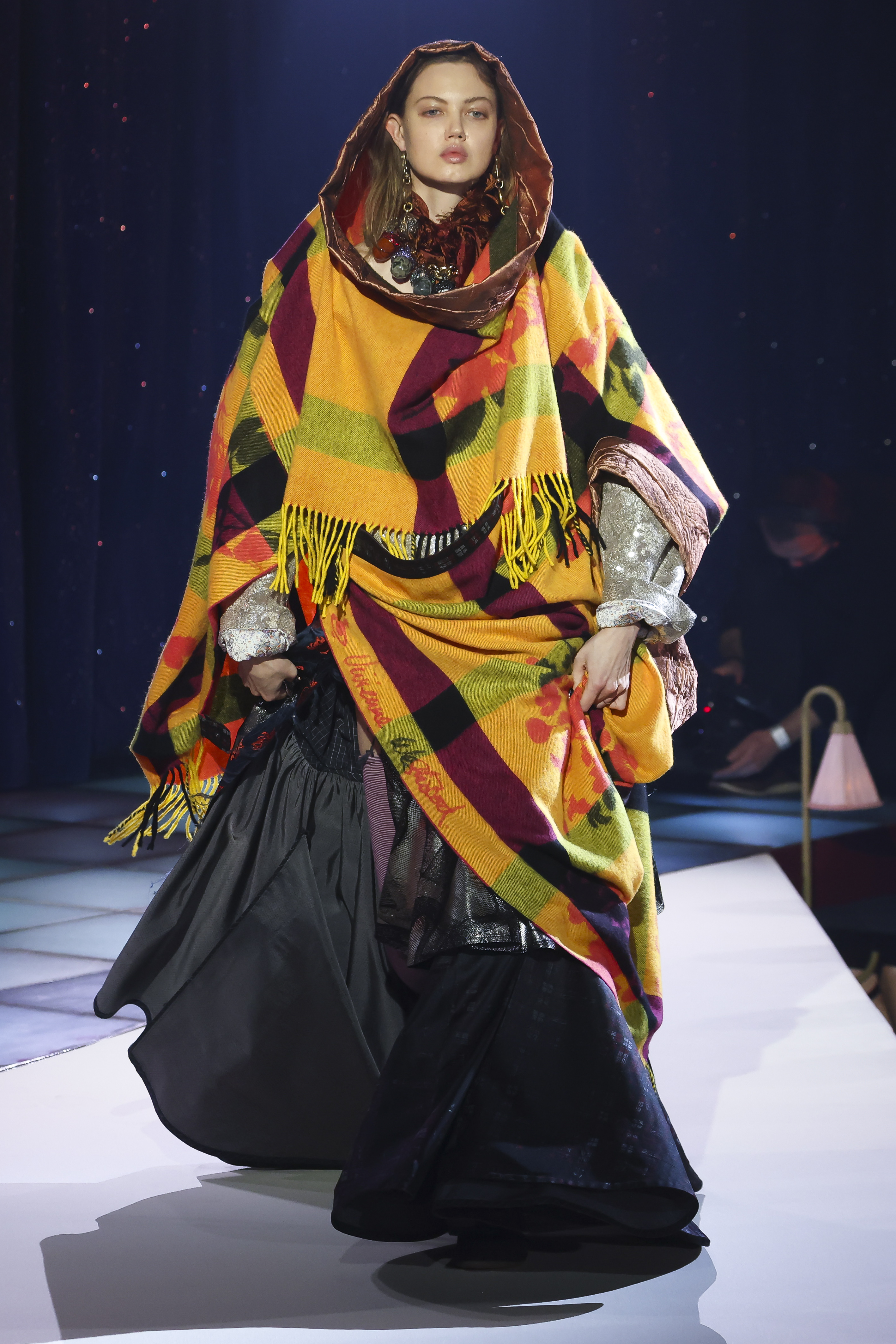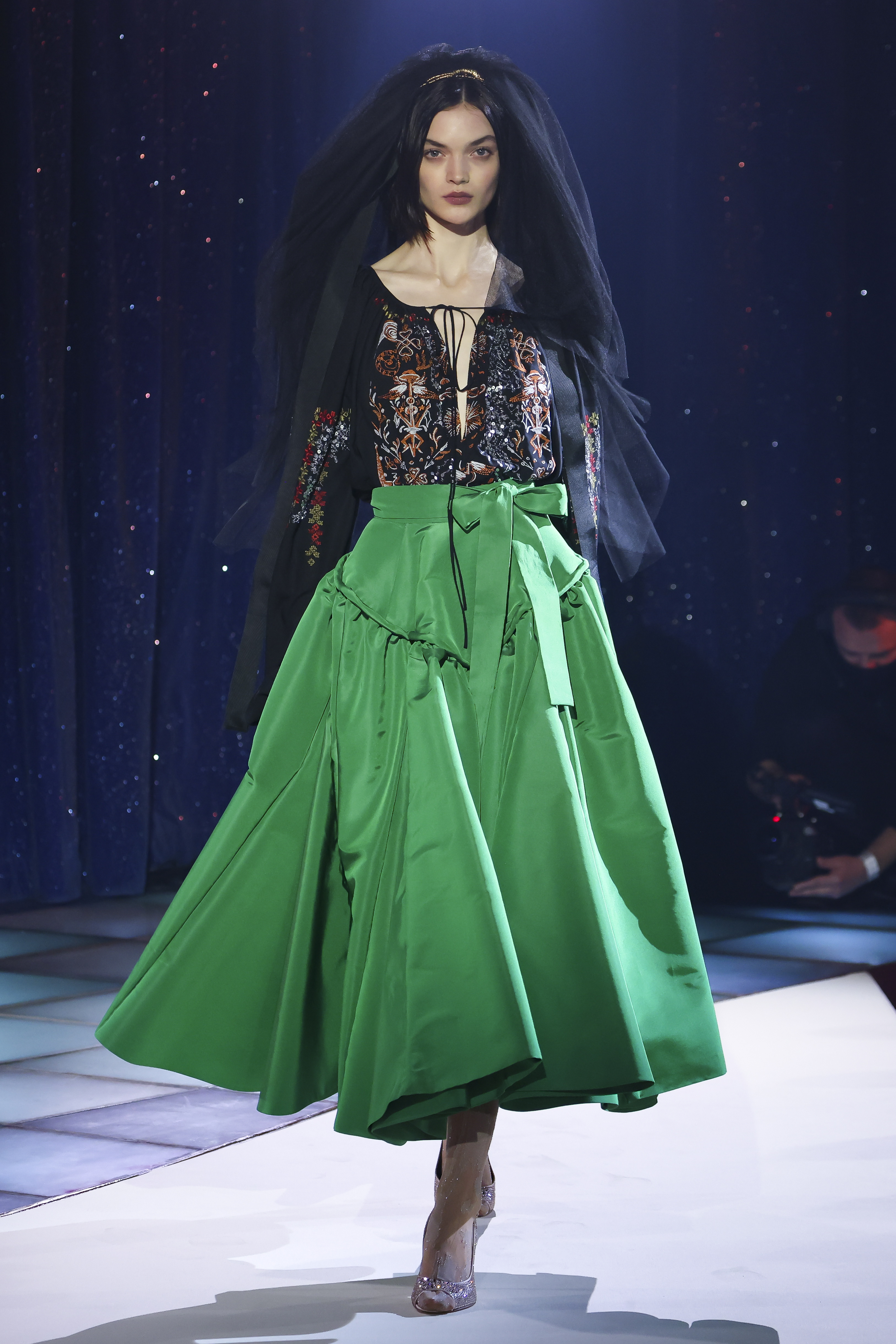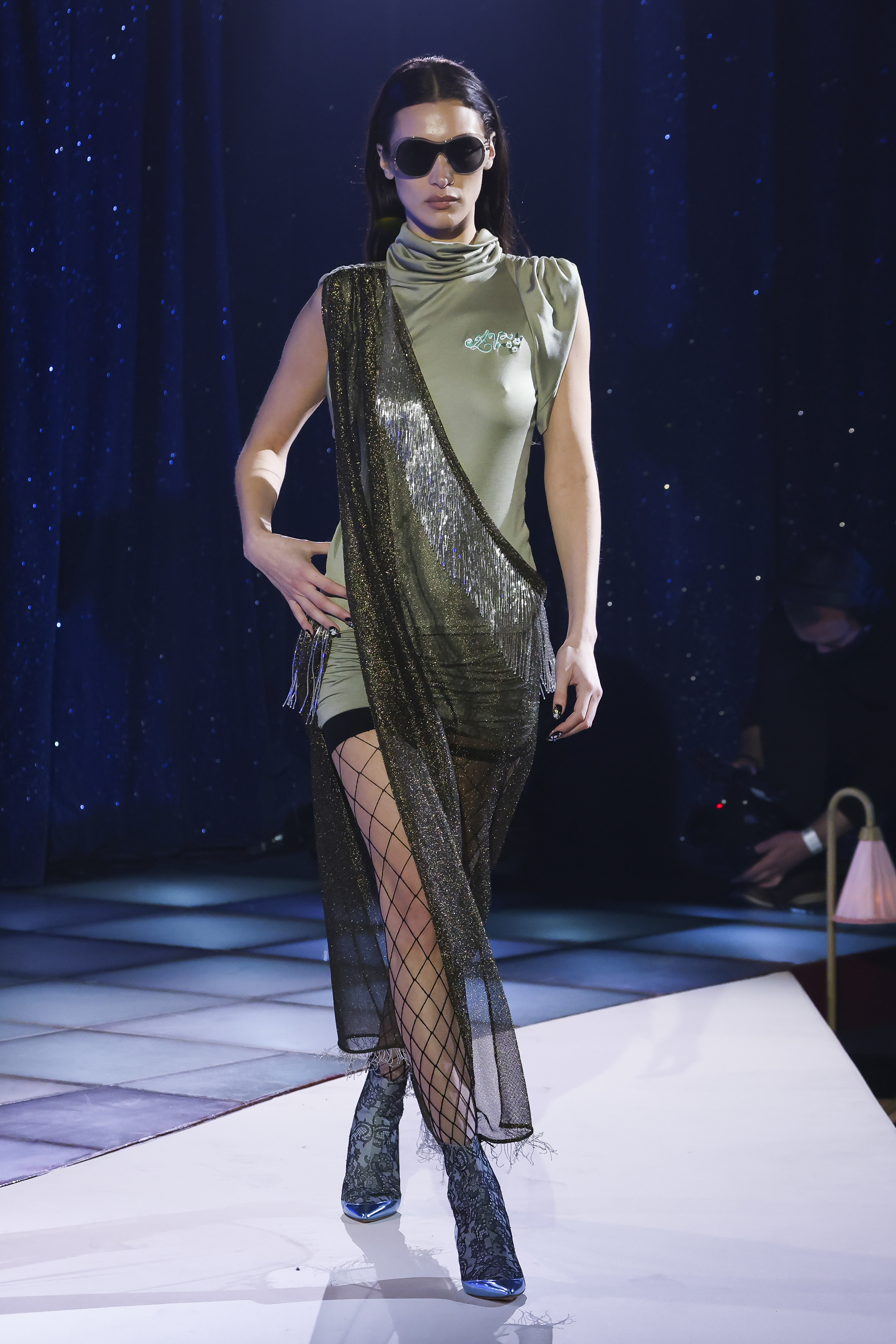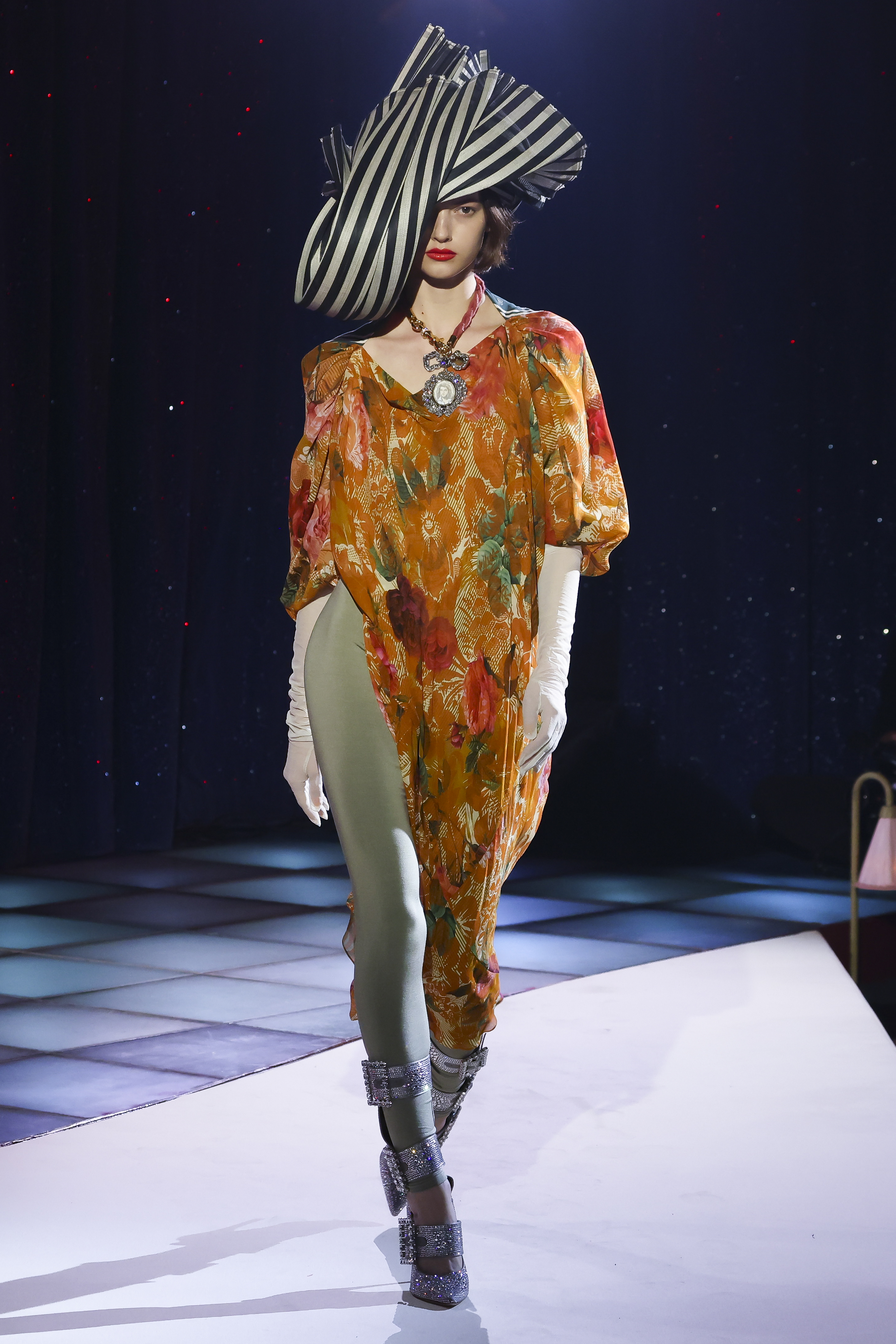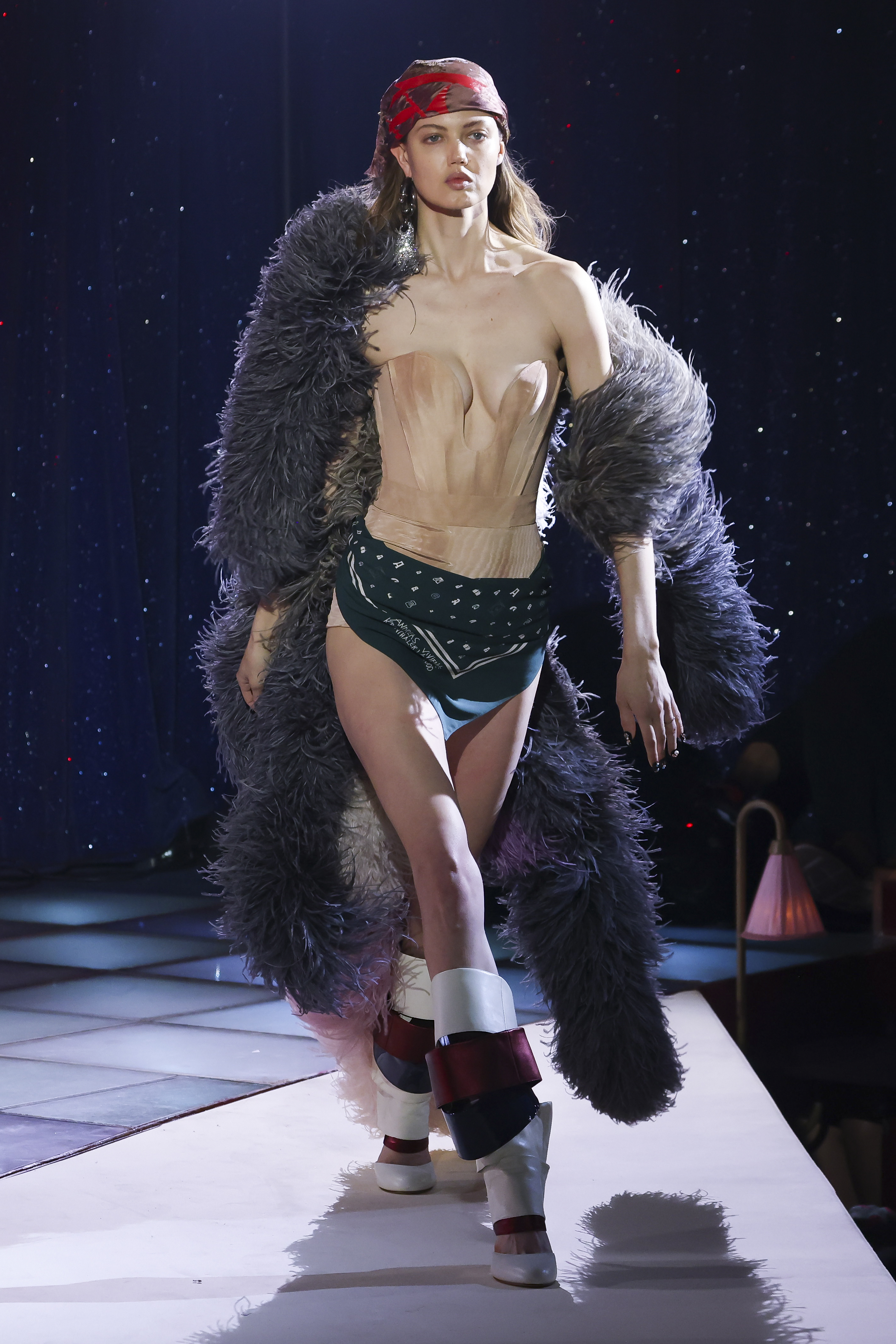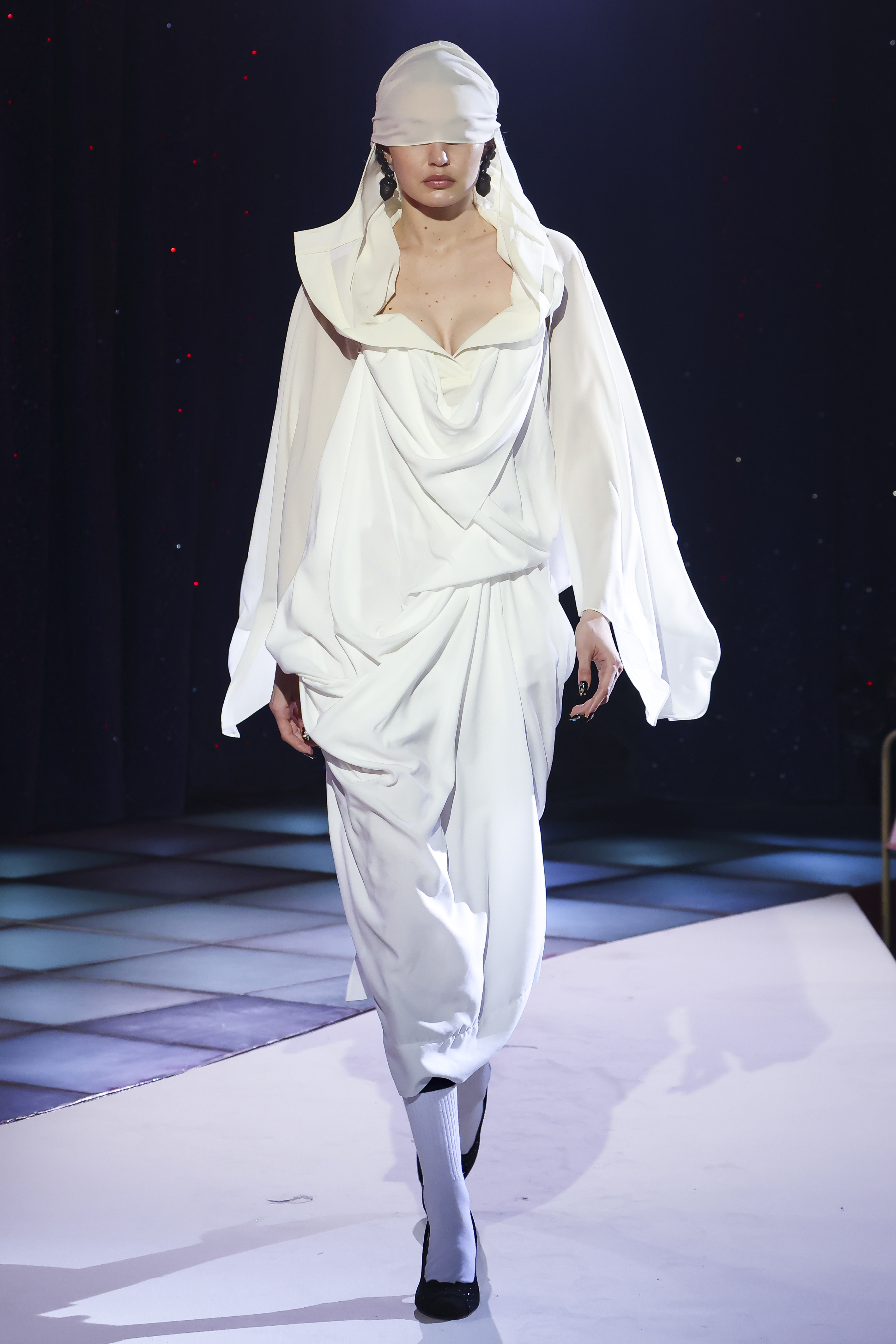 Lanvin
Hulking indigo faux-furs and slim tailored wool coats with severe shoulders and peak lapels; slick, sleeveless jumpsuits and campy gowns with poet sleeves in bubblegum pink bias-cut satin. These were just some of the contrasting poles between which Bruno Sialleli's AW22 collection for Lanvin oscillated. Drawing upon the contrasting inspirations that galvanised the house's namesake founder, Jeanne Lanvin, over a century ago, the Italian creative director set forth on a mission to explore the many contradictions that fashion can accommodate, and find a way to synthesise them into a cohesive aesthetic narrative. The haughty sensuality of lush velvets and jewel-tone calfskins is tempered by the cosiness of fuzzy cashmeres and playful graphic prints; the maison's iconic men's sneakers are elevated by motifs typically expected of dress shoes, proving that it's by bringing opposites together that perfect balance is found. MS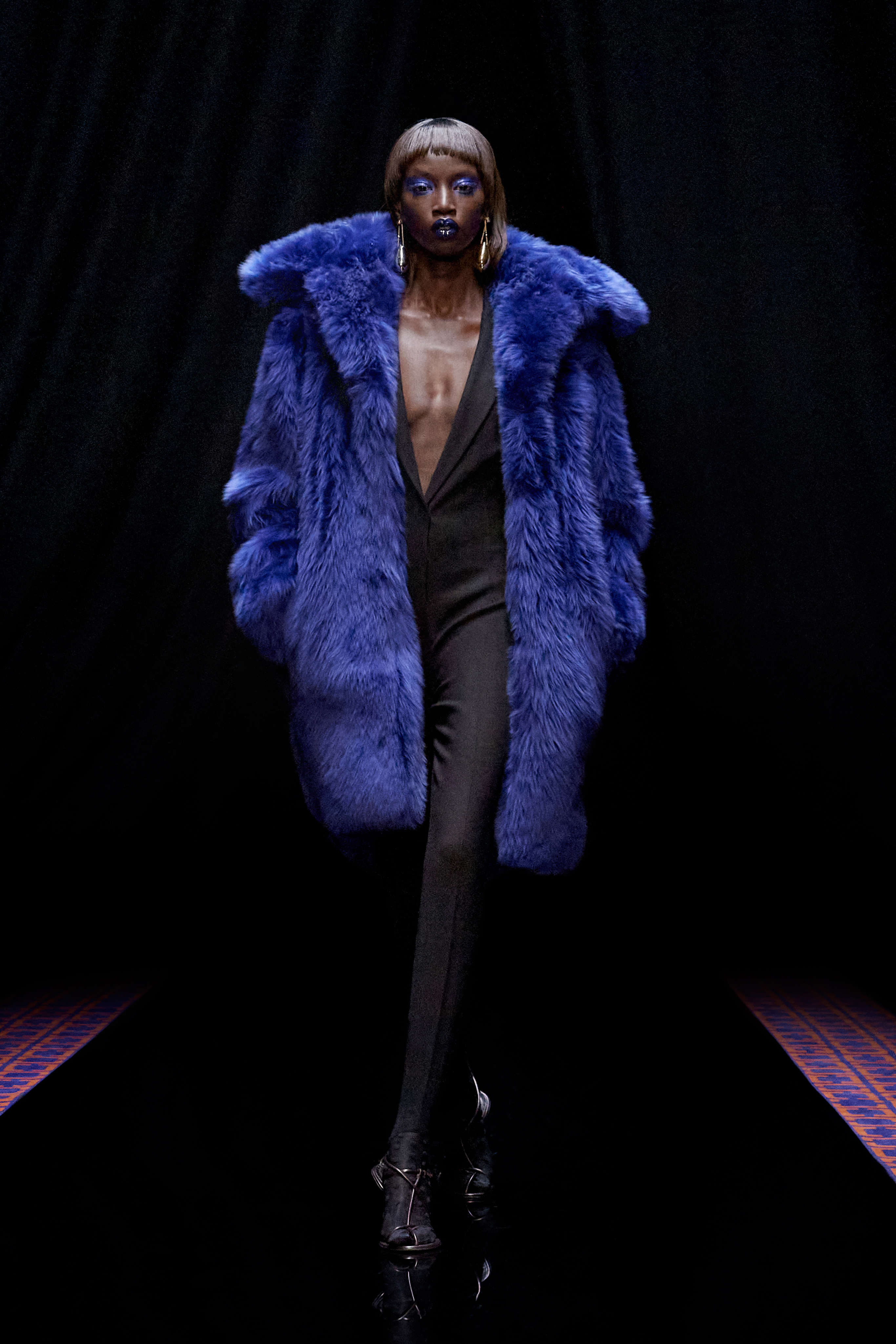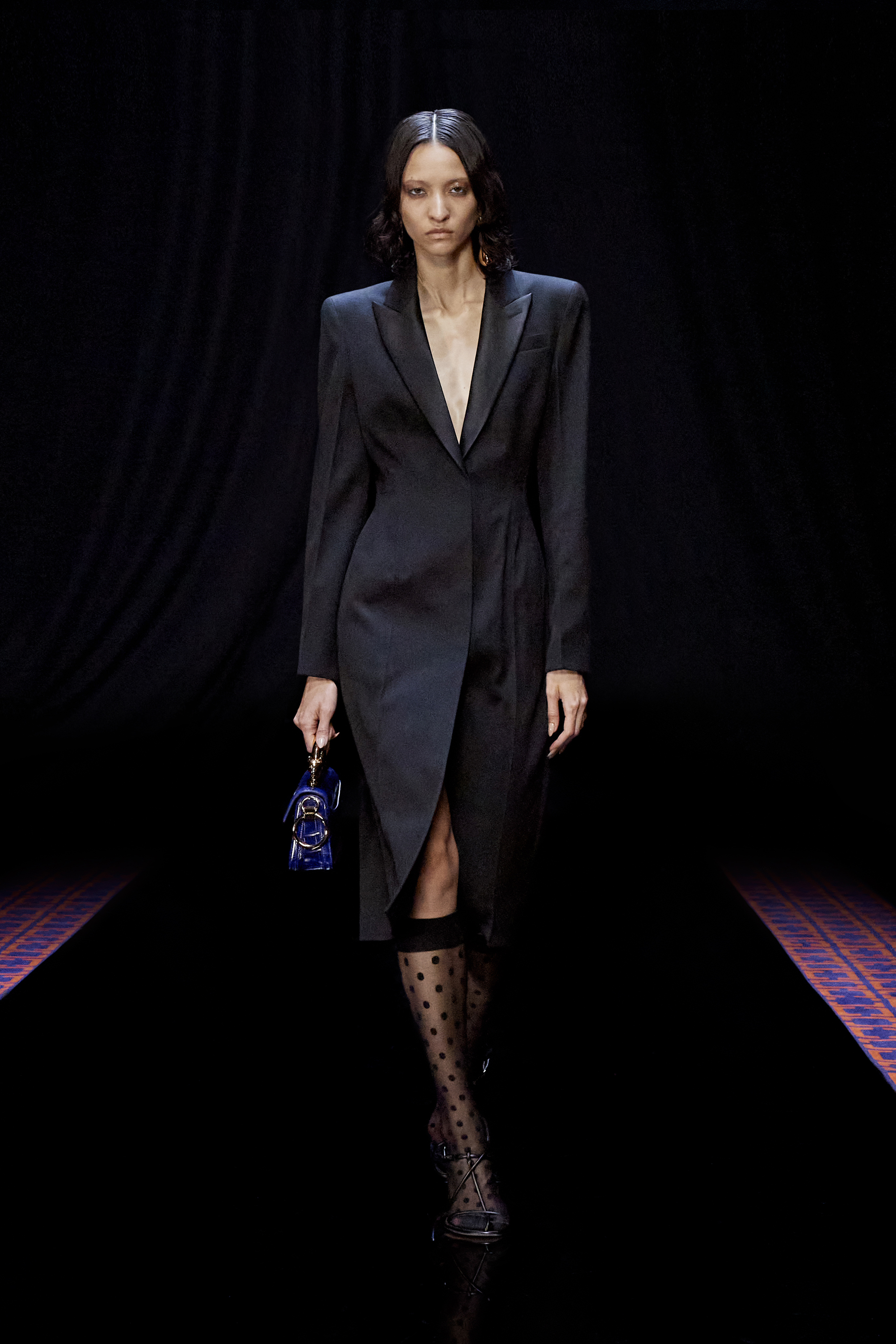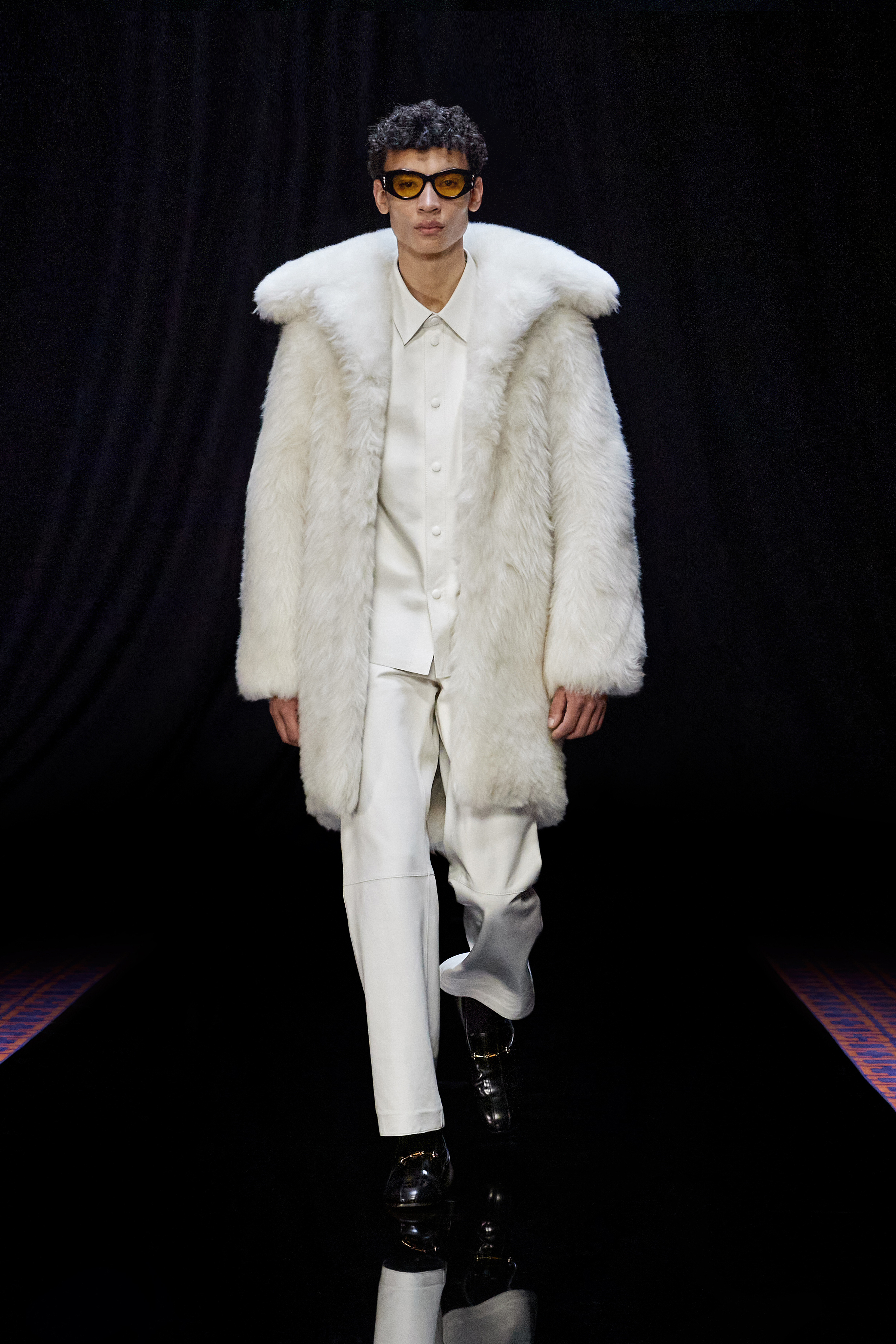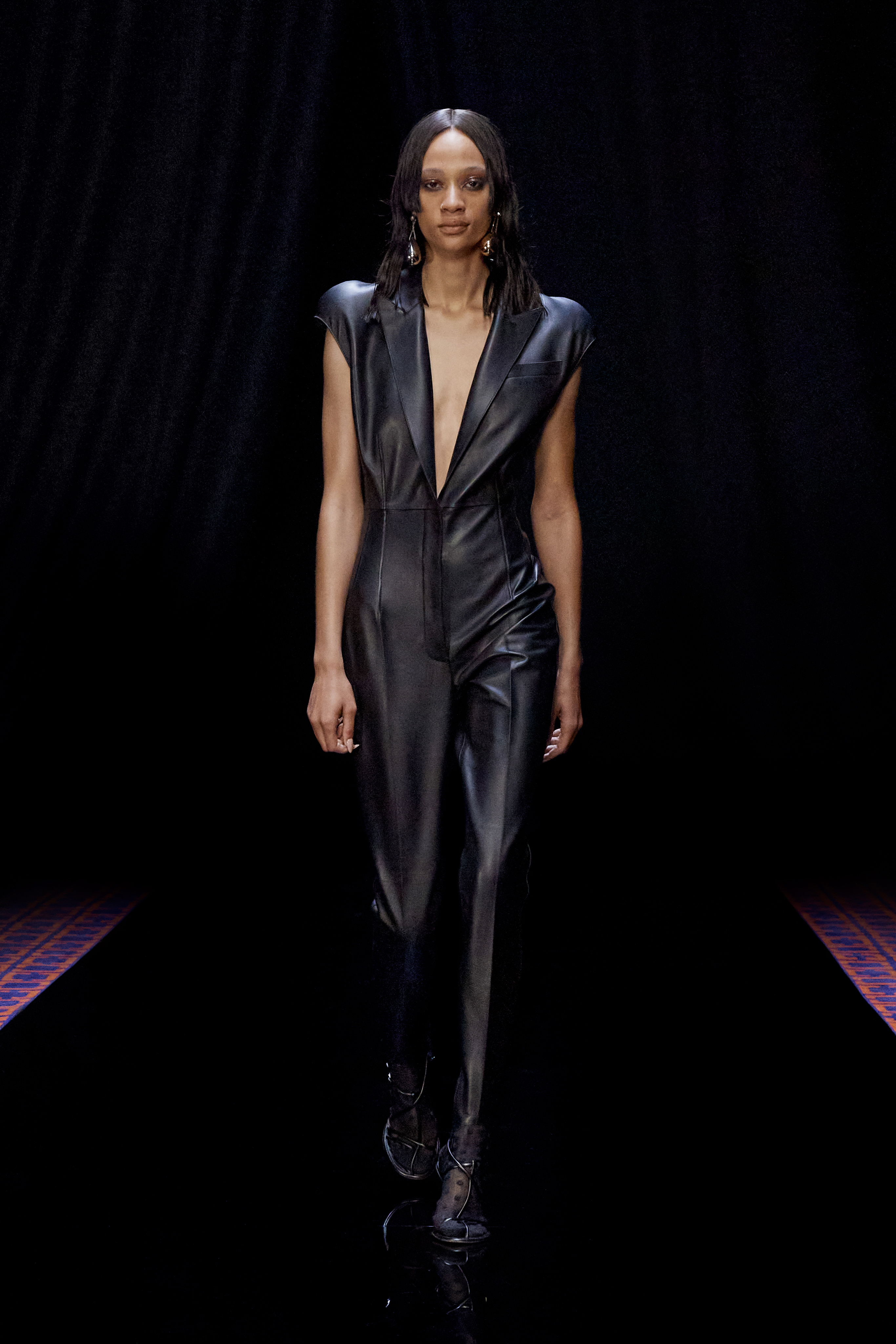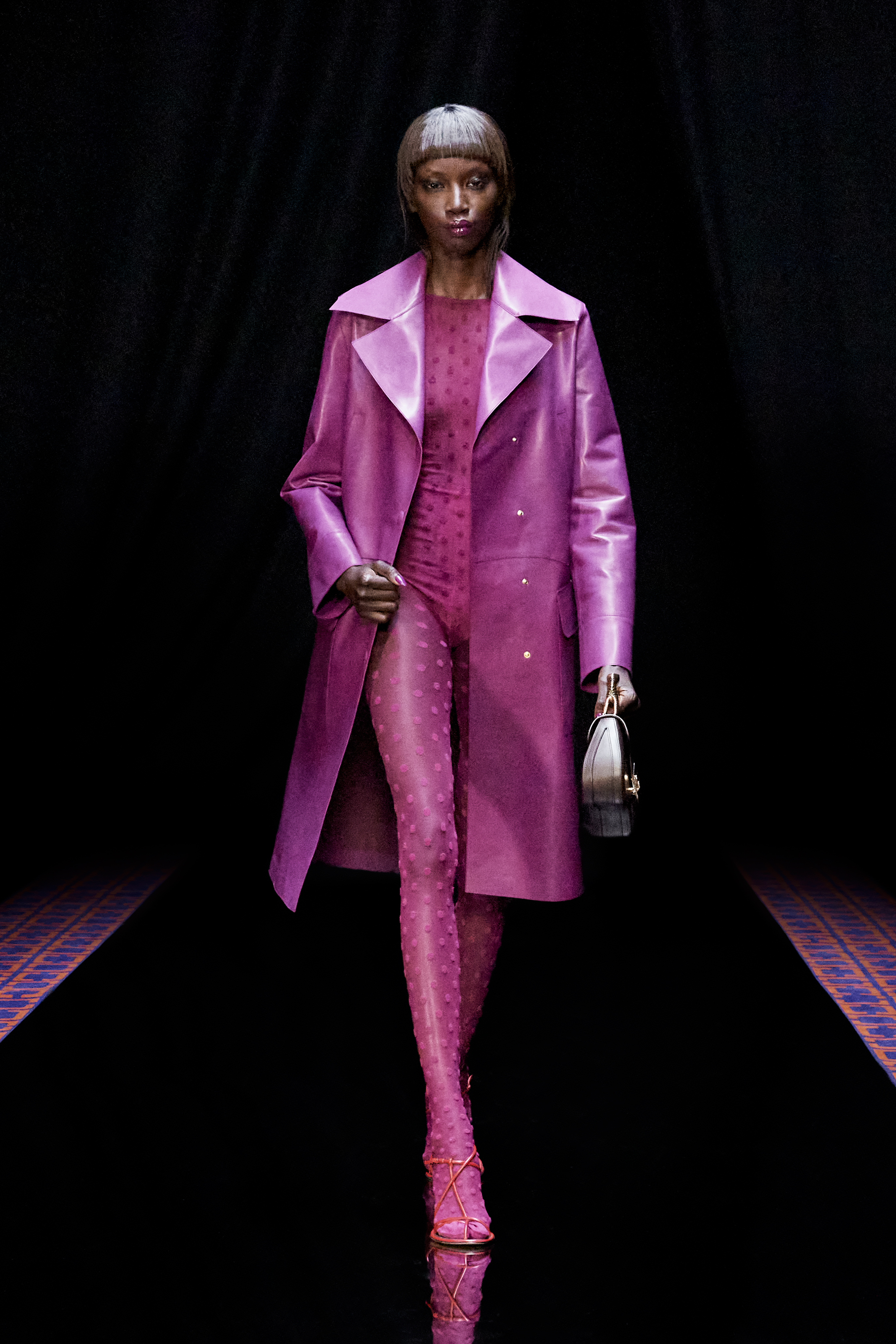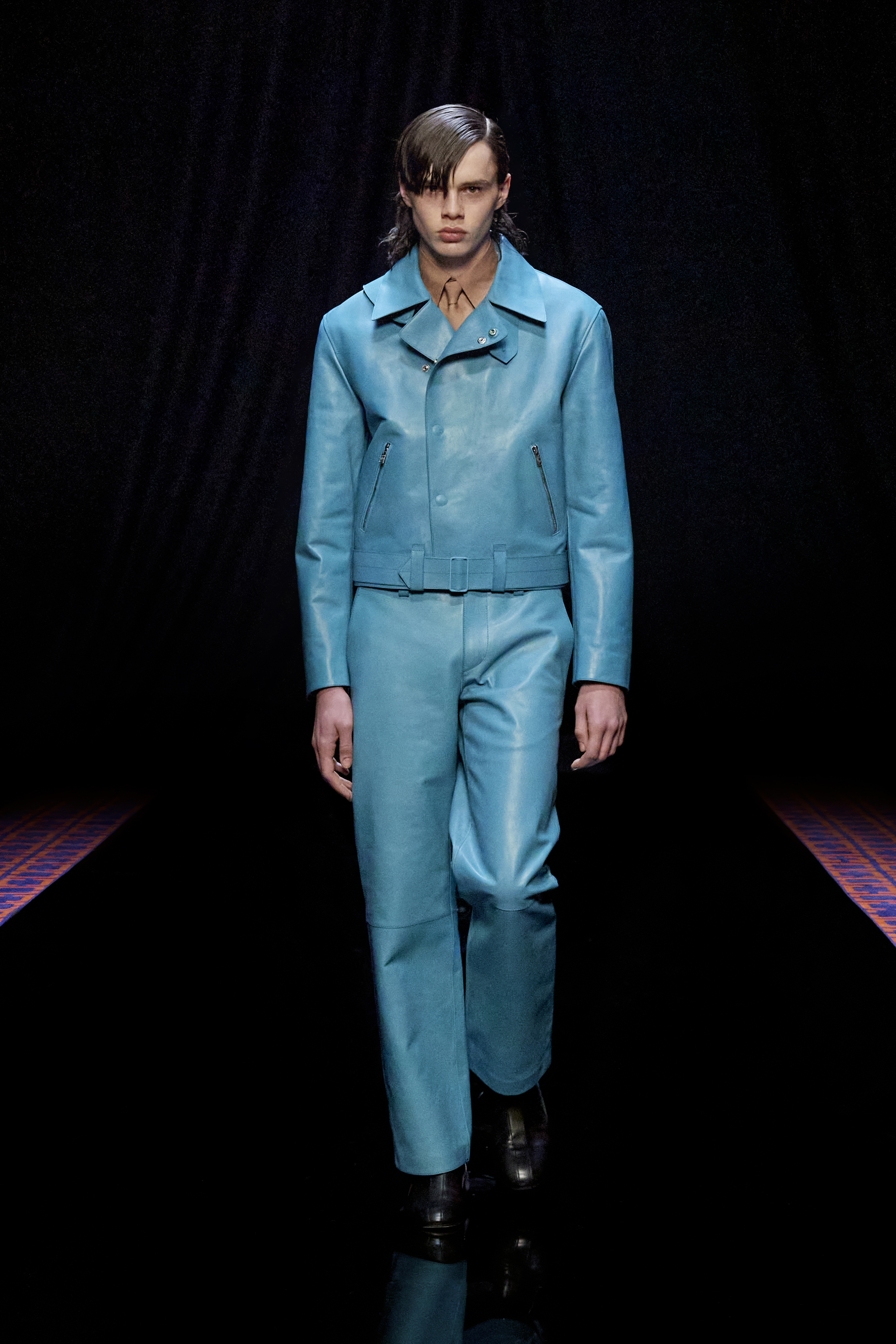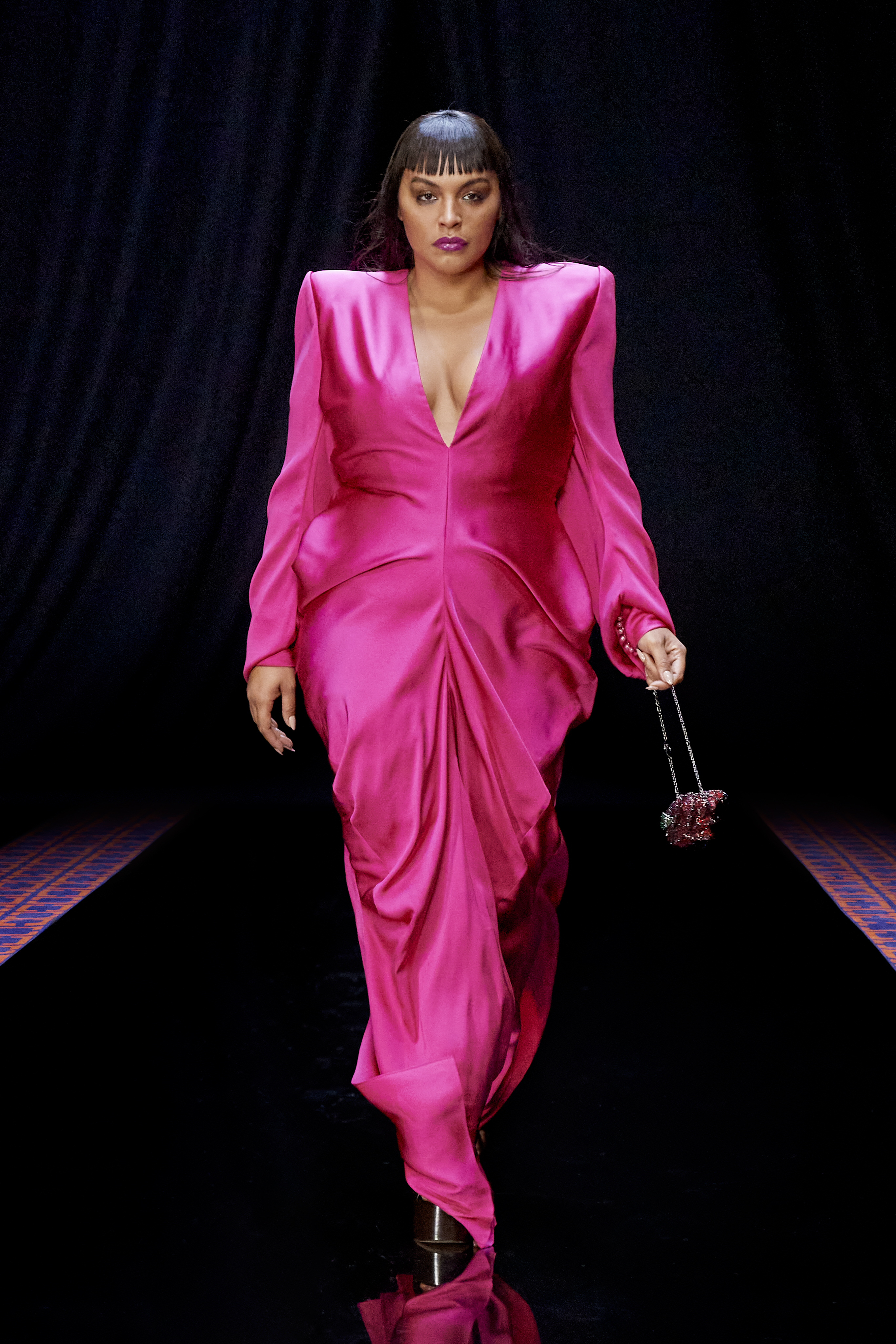 Comme des Garçons
Looking at the stony tones of Rei Kawakubo's AW22 collection for Comme des Garcons – replete with flint greys and charcoal blacks – you'd be forgiven that the designer had opted to take a sombre turn after the bright, geometric optimism of her spring/summer collection – sported by Binx Walton on the cover of our most recent issue. Rather than a mournful energy, however, this season, Kawakubo-san sought to channel the spirit of the Black Rose, a symbol of "courage, resistance and freedom", she wrote in her characteristically esoteric show notes.
Set to a dulcet soundtrack played by acclaimed Northern Irish flautist Ciaran Carlin, model slowly proceeded down a black runway in a tailored cloqué coat-dress with cut-outs at the skirt, out of which knitted panniers spilled; a dishevelled felt jacket worn over a gauzy black bubble dress; and an asymmetric hoop dress composed of what looked like clumped together wool balls covered with grey organza. If these staunch, armoured looks conveyed courage and resistance, then a spirit of freedom came by way of the underlays of layered rainbow tulle that puffed out through omitted panels of tailored coats, swathes of campy zebra stripes, and the bright headdresses created in collaboration with Gary Card, which took on the semblance of bright petals blooming from the looks' dark stems. MS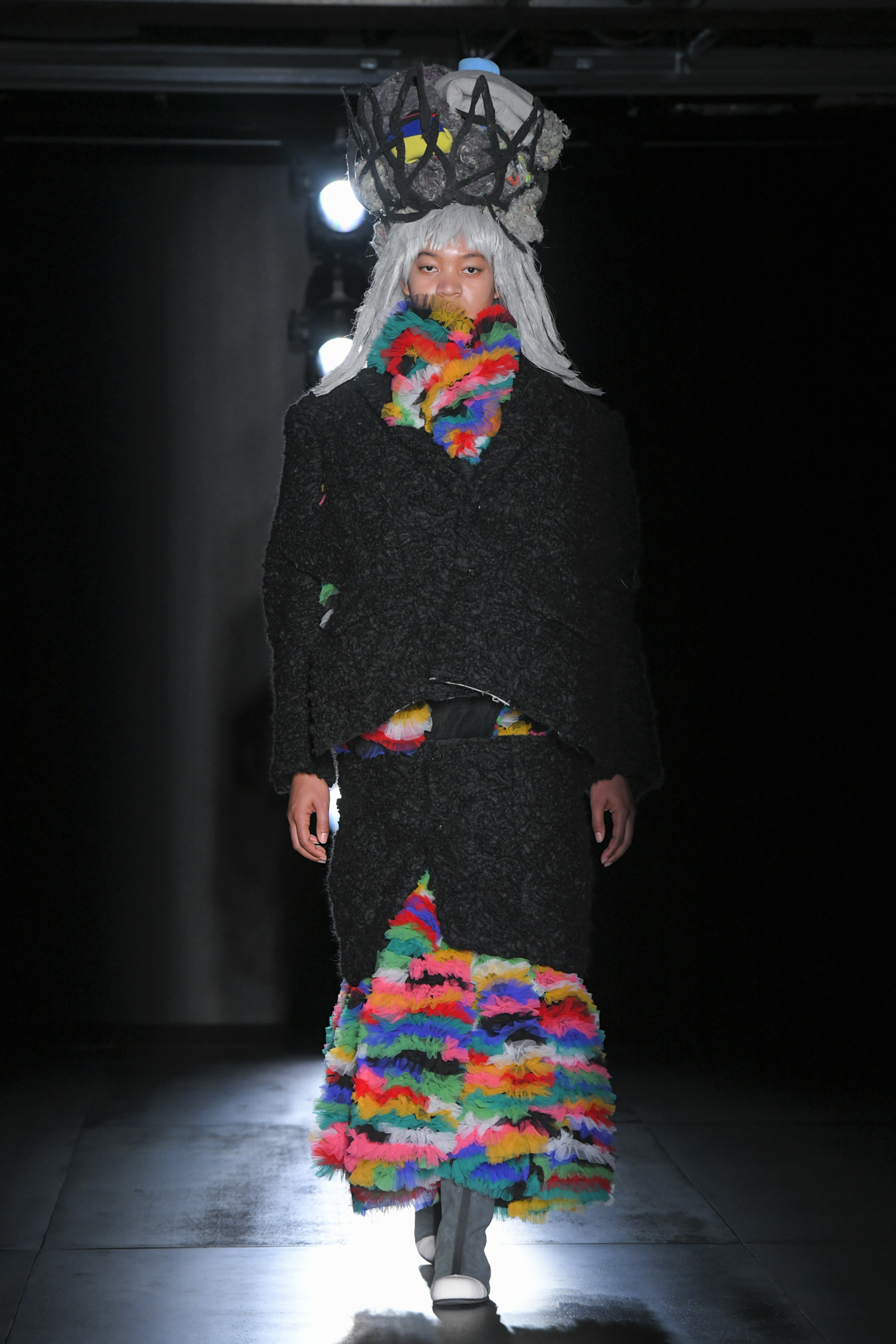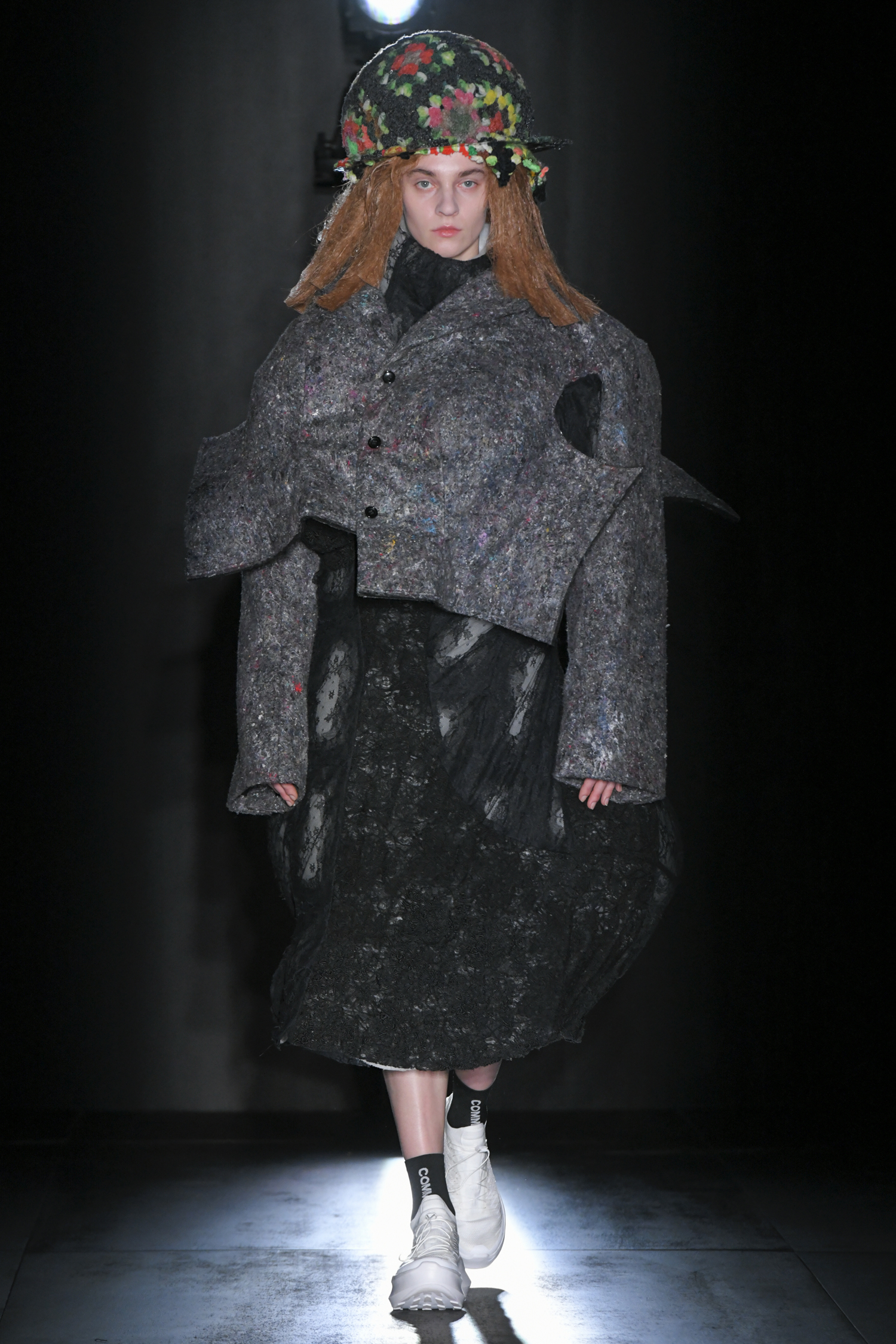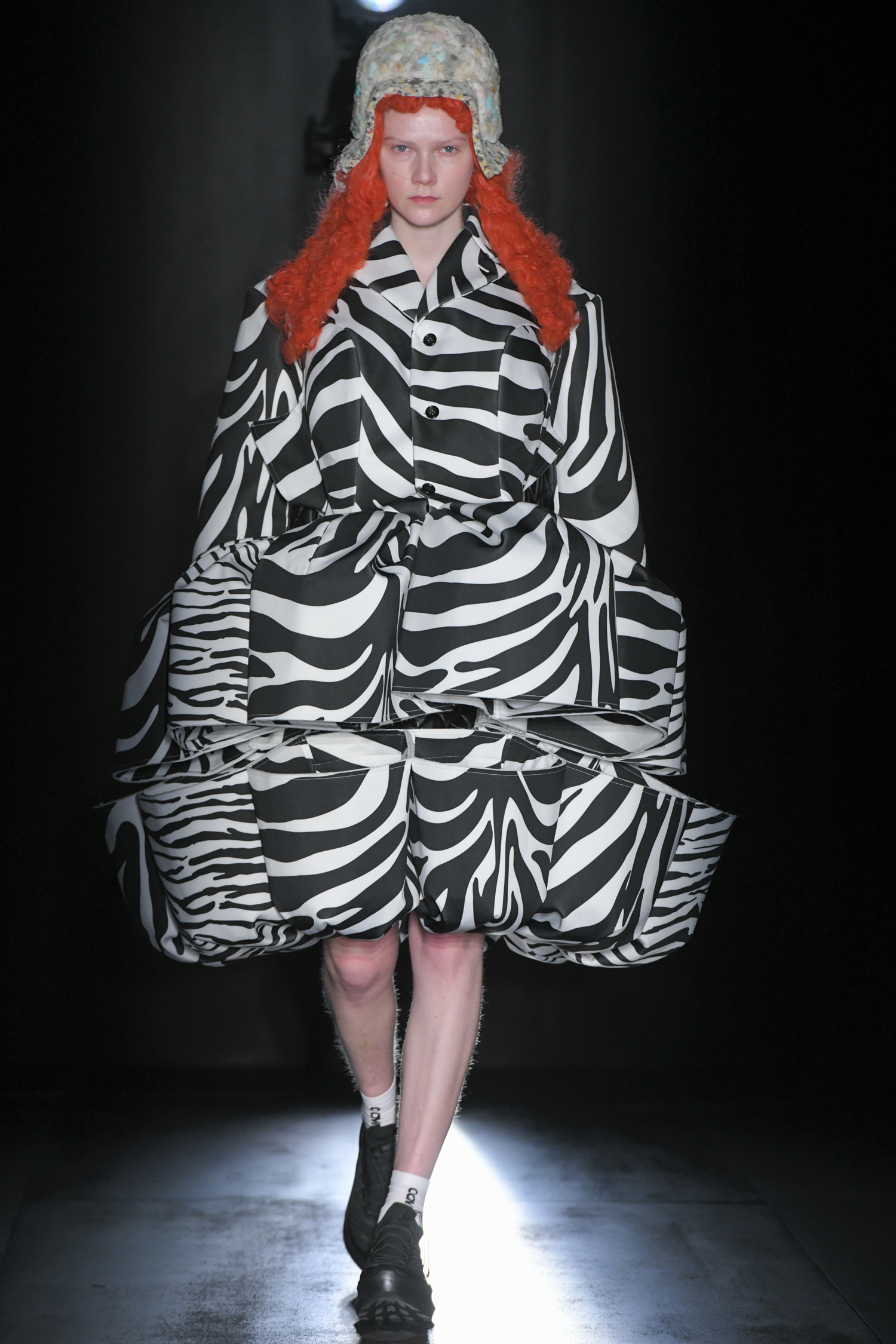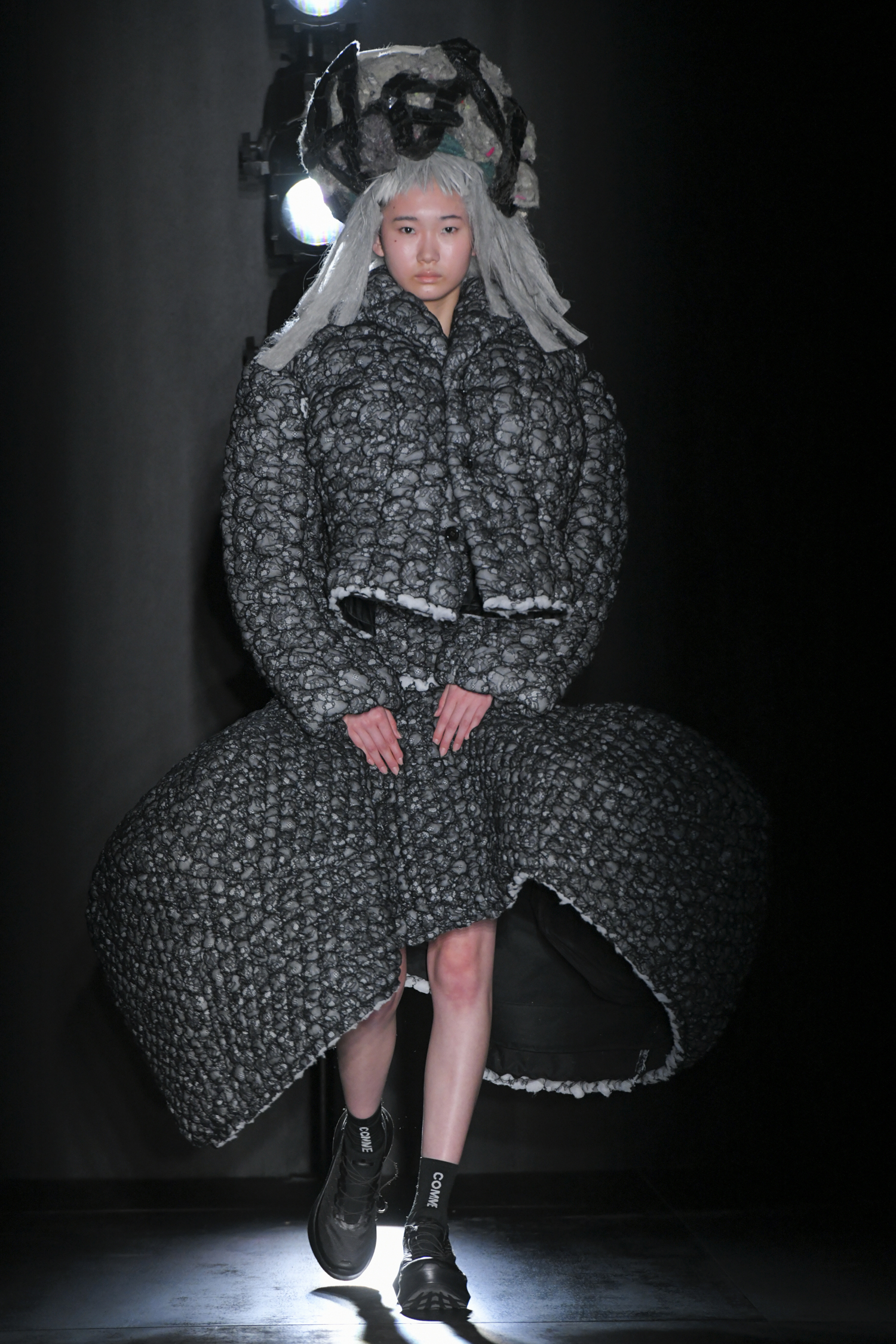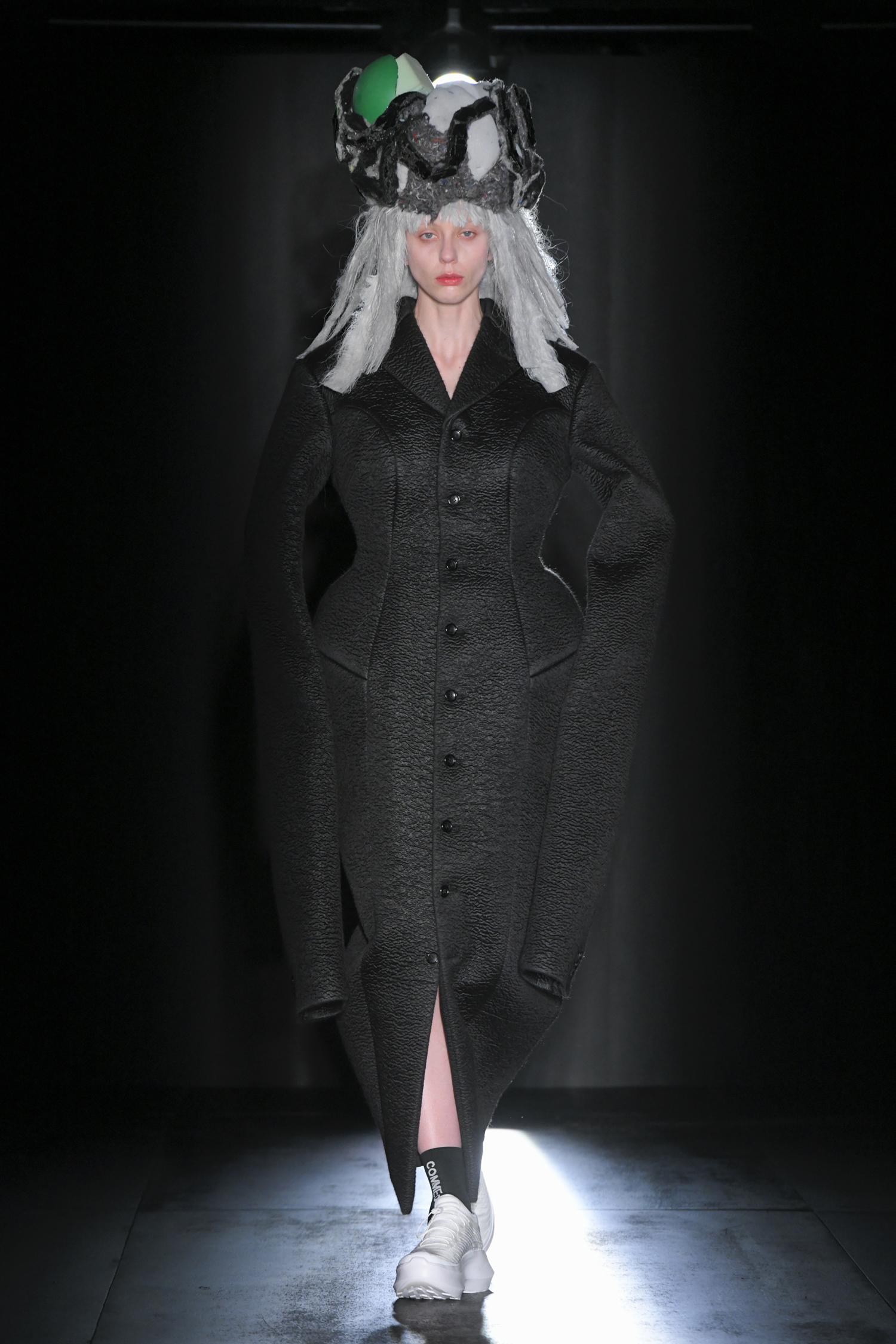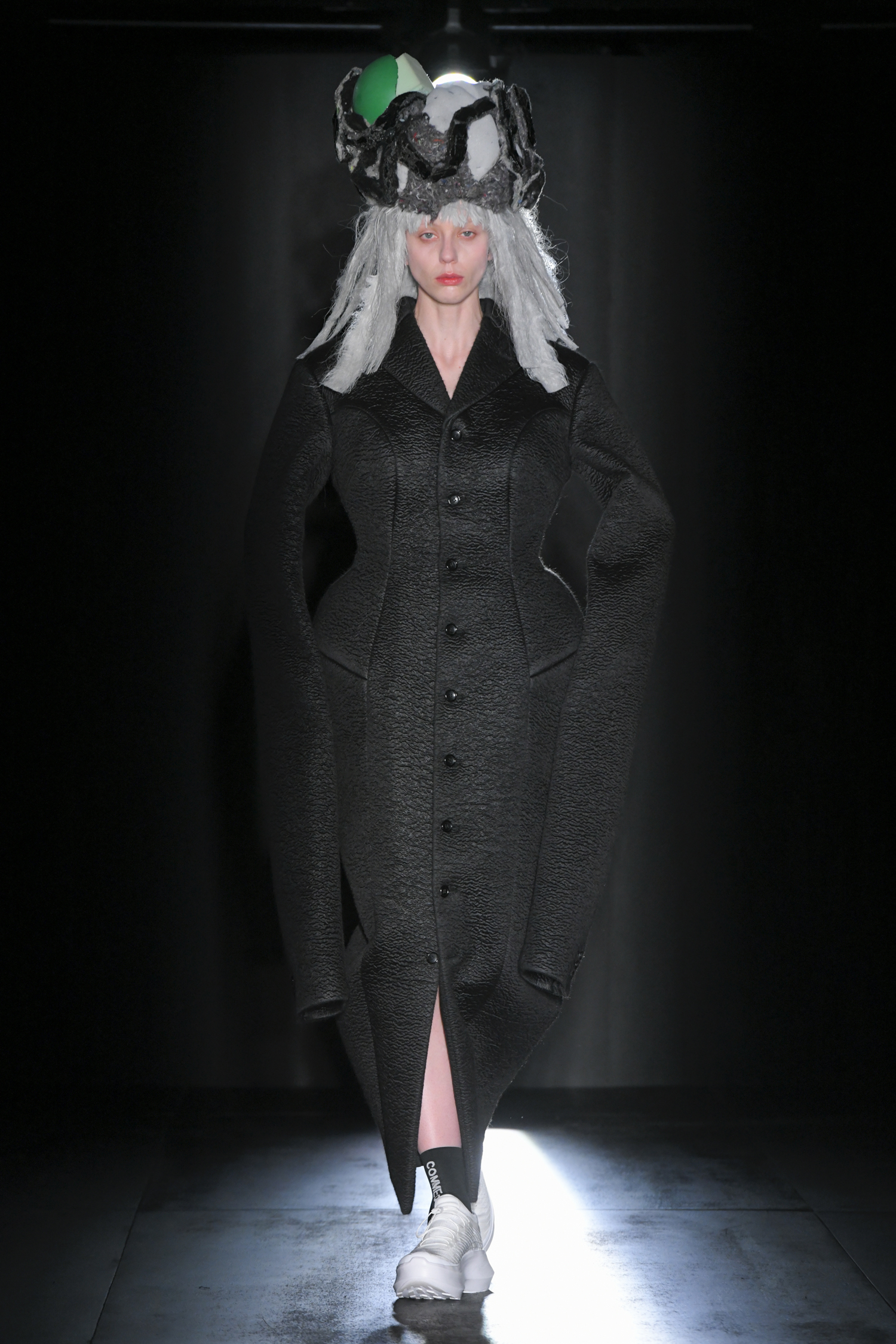 Givenchy
Backstage, after the Givenchy show, A$AP Ferg was among the scrum of journalists questioning Matthew Williams about his latest collection. "What really drove this collection for you?" he asked, to which Matthew replied: "I wanted to make clothes that were really effortless and wearable and things you could put on and feel easy." And although the collection opened with slinky leather leggings and reconstructed T-shirts, it traversed the hours between civilised aperitivo to late-night clubbing — with enough black clothes to help you fade into the darkness of night. Think flamenco-hemmed cocktail dresses with racer backs, and Audrey Hepburn's ropes of pearls interpreted as jangling, beaded hemlines. Matthew said that he revisited the archive of Givenchy for this collection, drawing on the refined simplicity of Hubert de Givenchy's illustrious career — and applying that approach to the everyday staples: denim, T-shirts, long black coats, baseball caps, balaclavas, hard-edged tailoring.
That's not exactly a new thing at Givenchy, but the creative director is totally transparent about the ways he has been influenced by Riccardo Tisci's tenure at the house, just as much as Hubert's. In fact, it laid the foundation for him to bring his elevated streetwear to the catwalk and juxtapose those everyday basics with a jaw dropping level of couture-like embellishment. Though that particular formula has become commonplace elsewhere, there's something about Matthew's conviction — the industrial-looking set, the thumping music, the truly diverse front row – that makes his Givenchy feel in line with the times. Besides, it's easy to forget that this is only his second IRL show. With it, he proposed a dark co-ed wardrobe of angsty clothes that resonated with his cult of devoted fans. And though the wide array of sartorial genres on offer may suggest otherwise, therein lies the simplicity that he said he wanted to achieve — super-sharp clothes for fashion-savvy goths. No complicated concept required. Sometimes, a winning formula is as simple as that. OA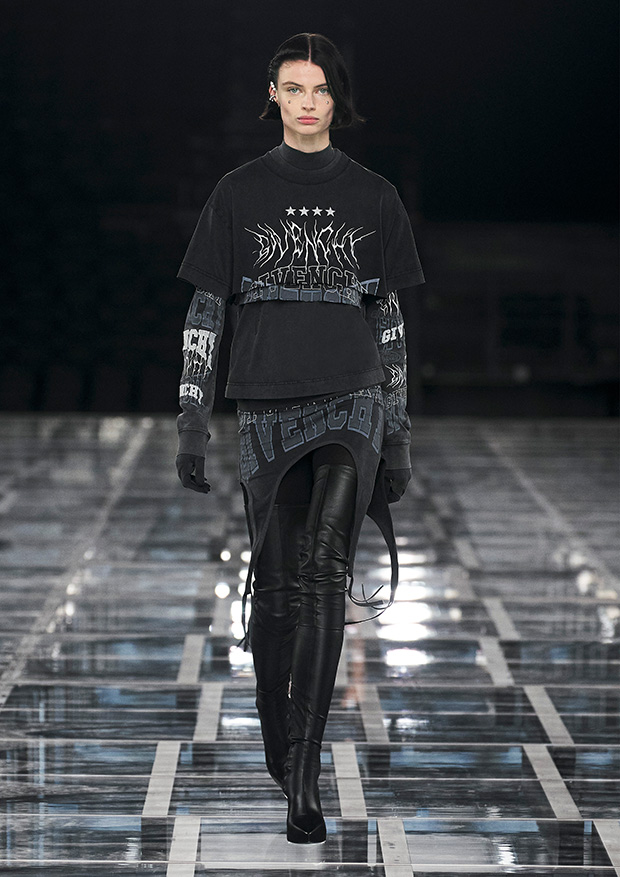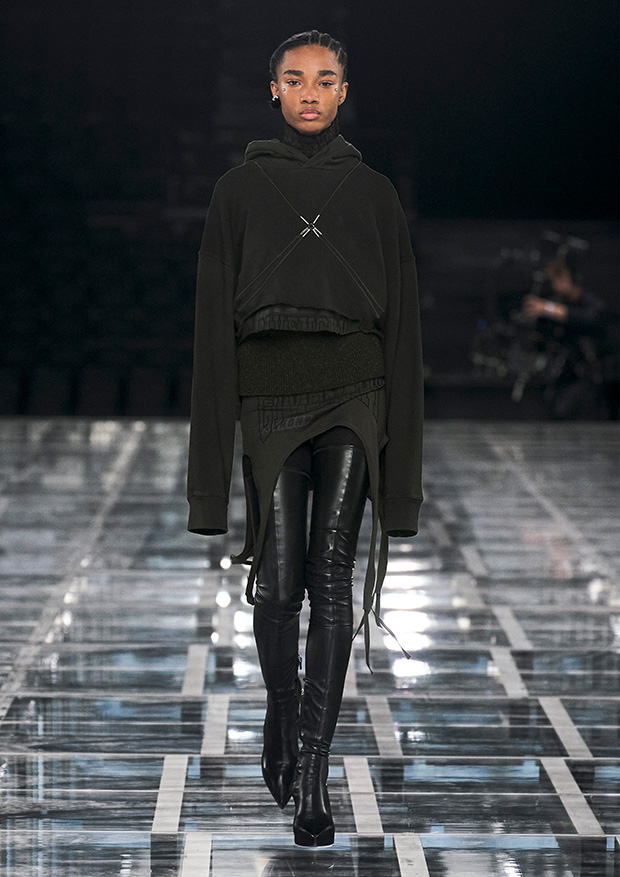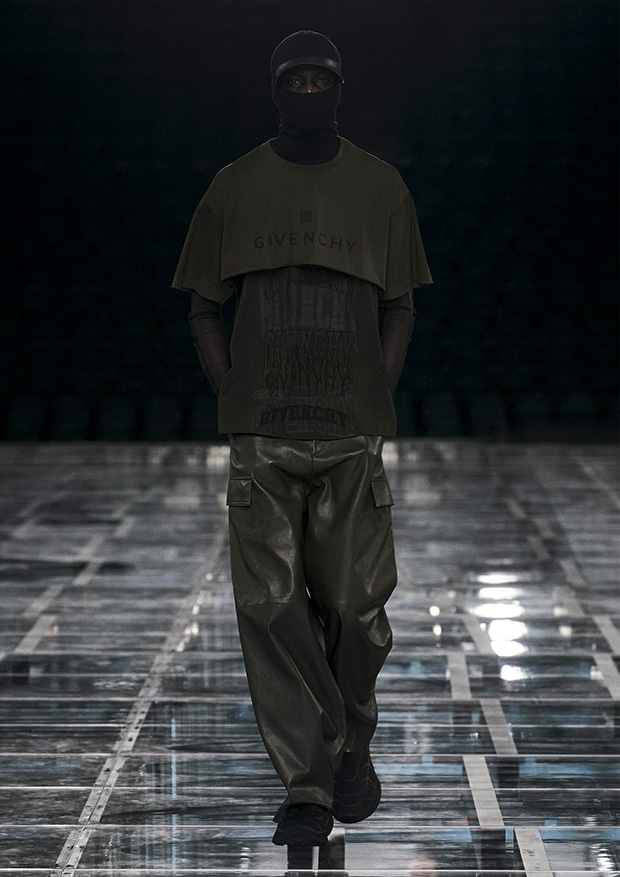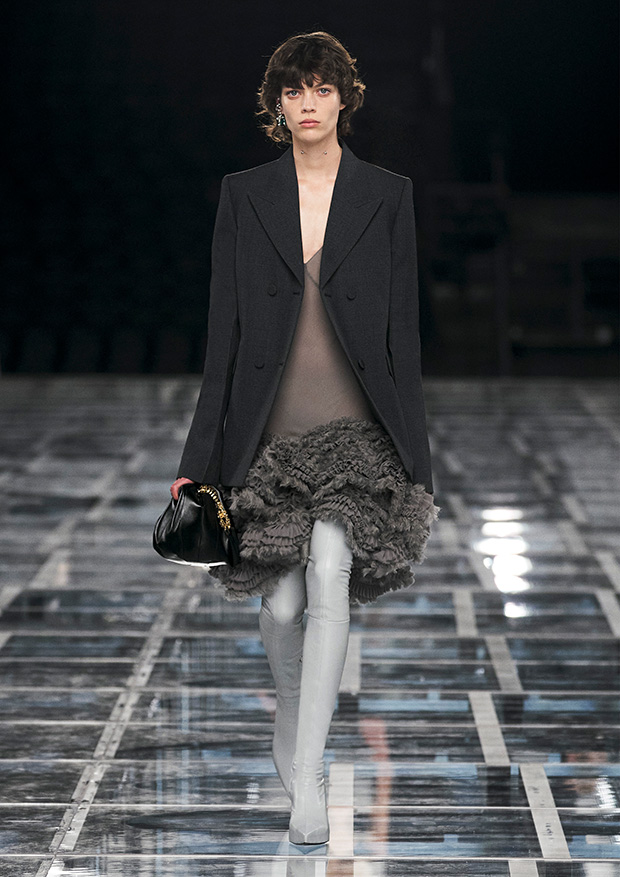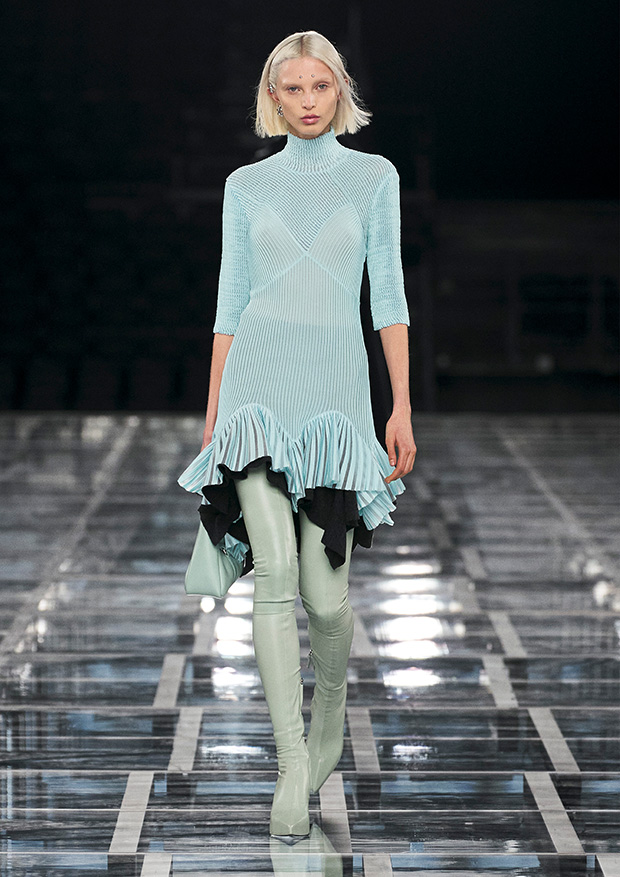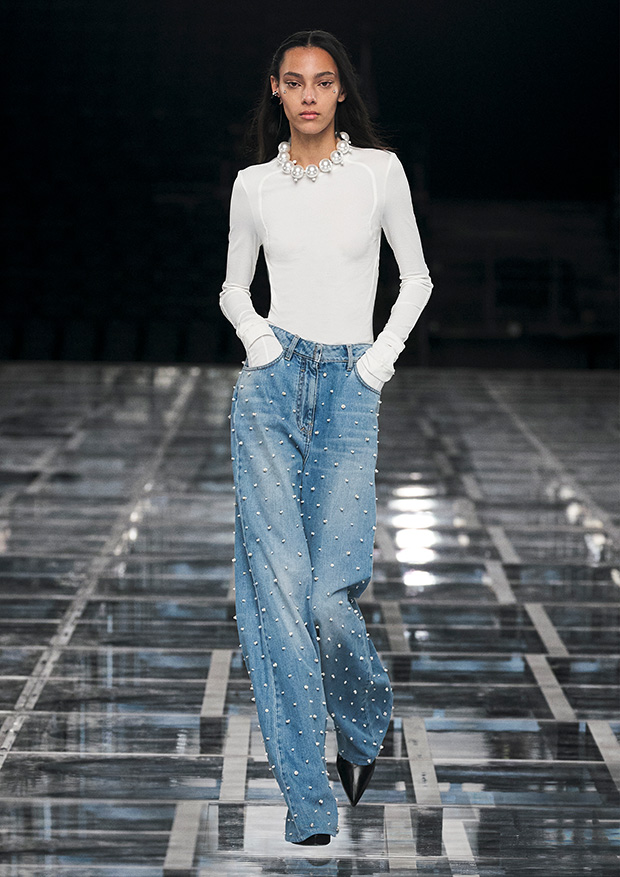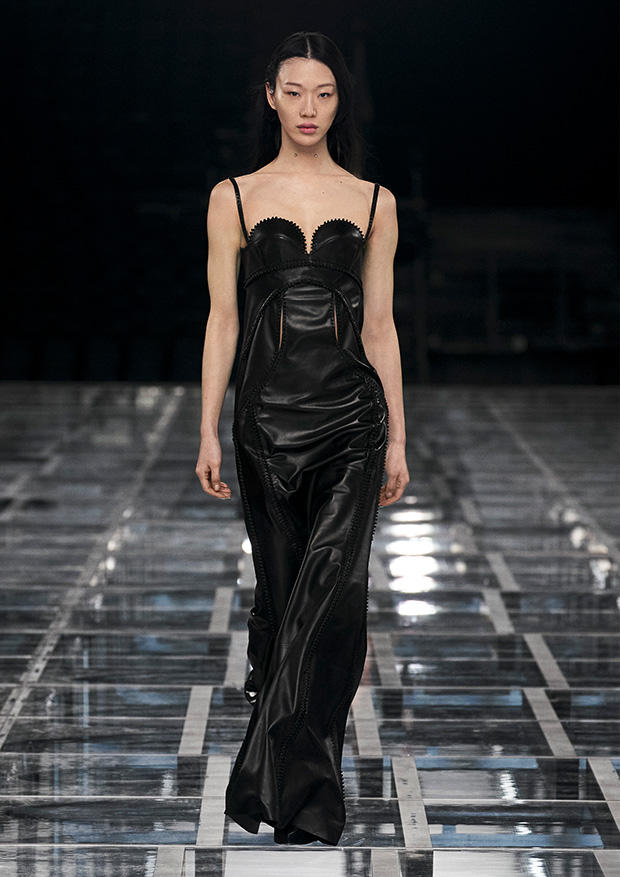 Sacai
The sacai show opened with the garment of the season: a white tank top. Julia Nobis arrived down the catwalk in the gilded halls of the Hôtel de Ville in a satin-edged tank, tucked into a voluminous drawstring-waisted black skirt. It set the tone for the collection that followed, a mix of menswear staples imbued with the silhouetted grandeur of Victorian bustles and puffball volumes. You could even call them couture volumes, given that Chitose Abe was the first designer to be guided through the revolving doors of guest designers at Jean Paul Gaultier. Perhaps the experience brushed off on her because, throughout the collection, there was a sense of dramatic go-big-or-go-home silhouettes applied to archetypal garments — more so, say, than Chitose's signature splicing of different garments together. Standouts included ballooned puffer coats in nylon and red satin, an exaggerated leopard damask parka, and traditional pinstripe suiting and trench coats as you've never seen them before. OA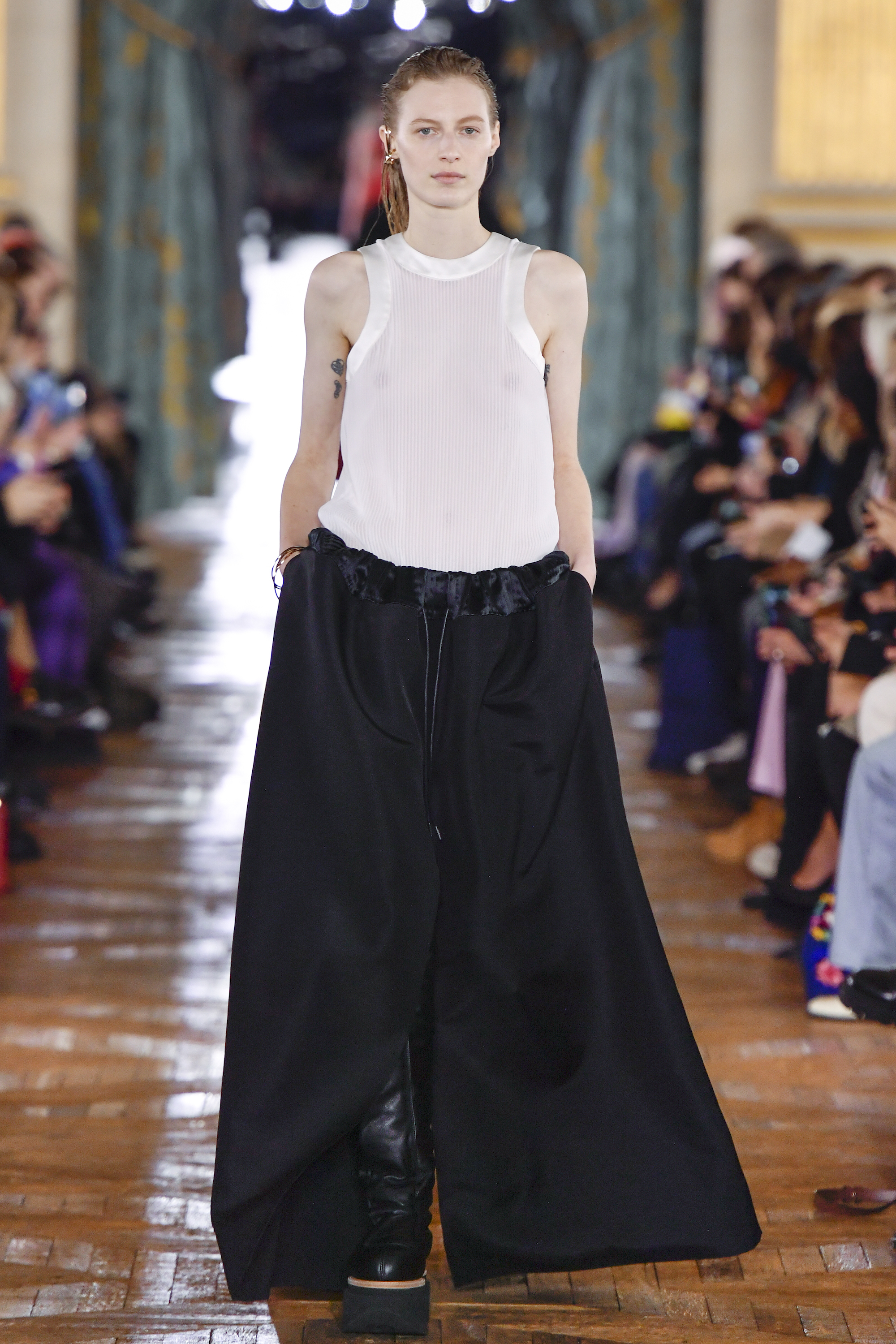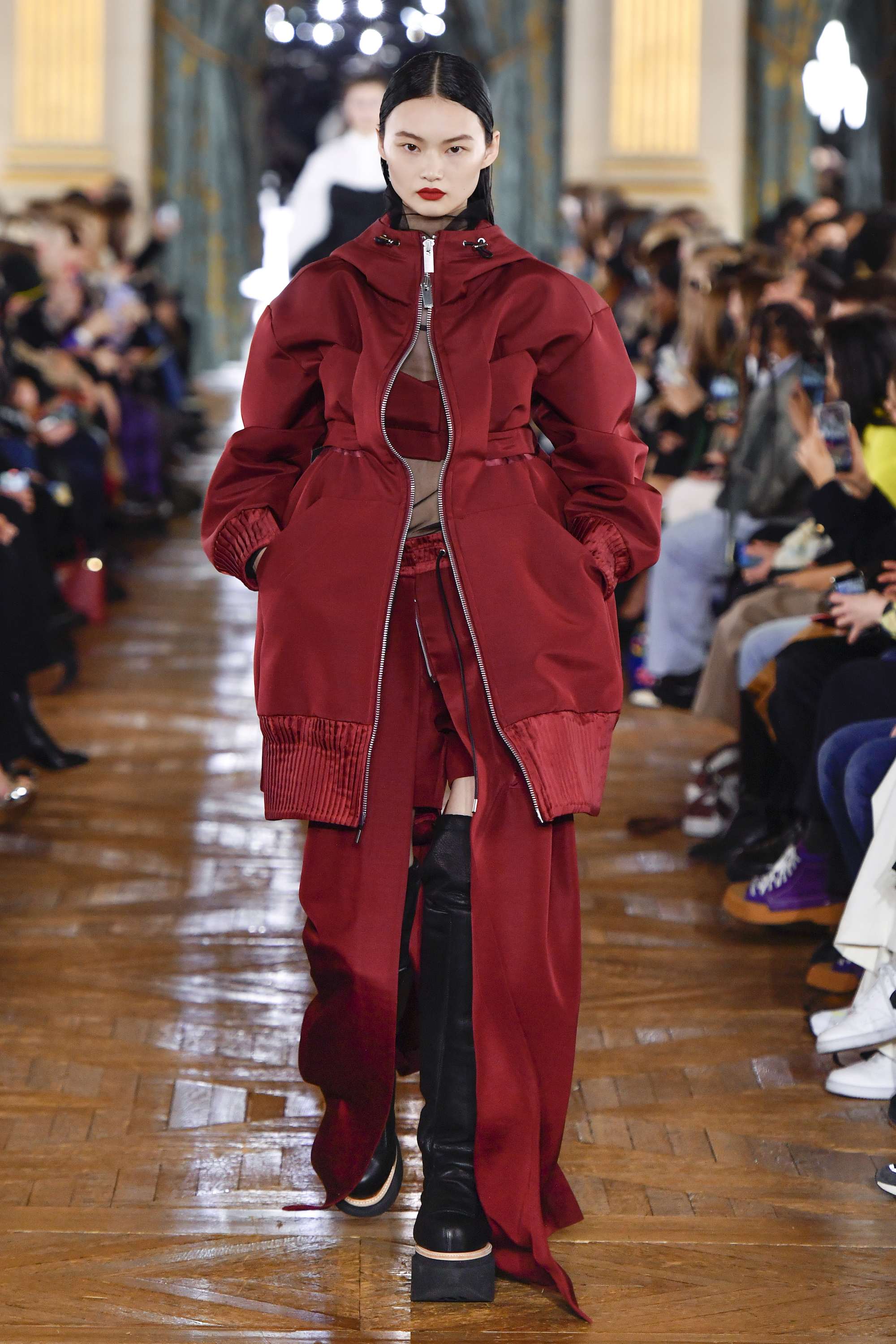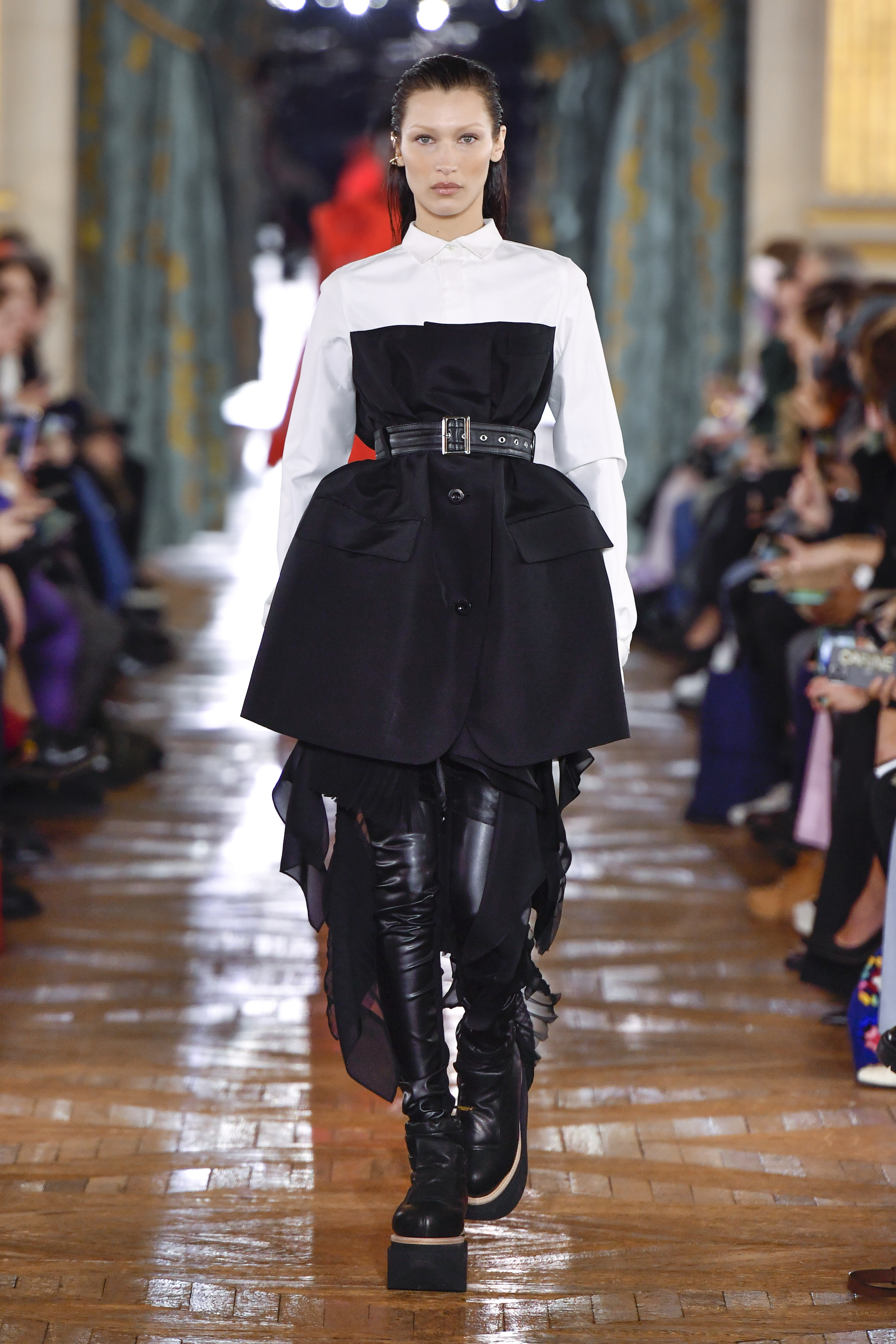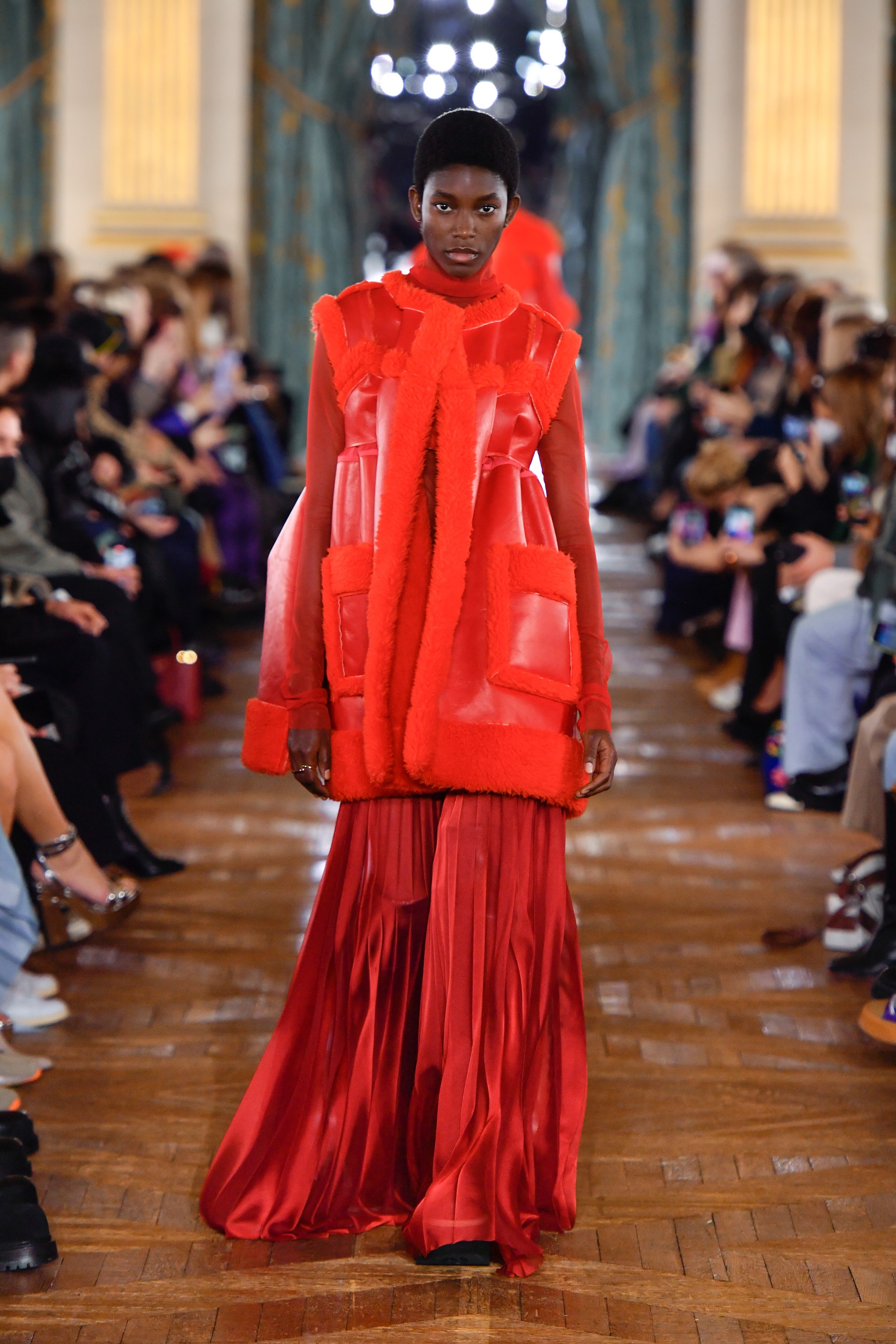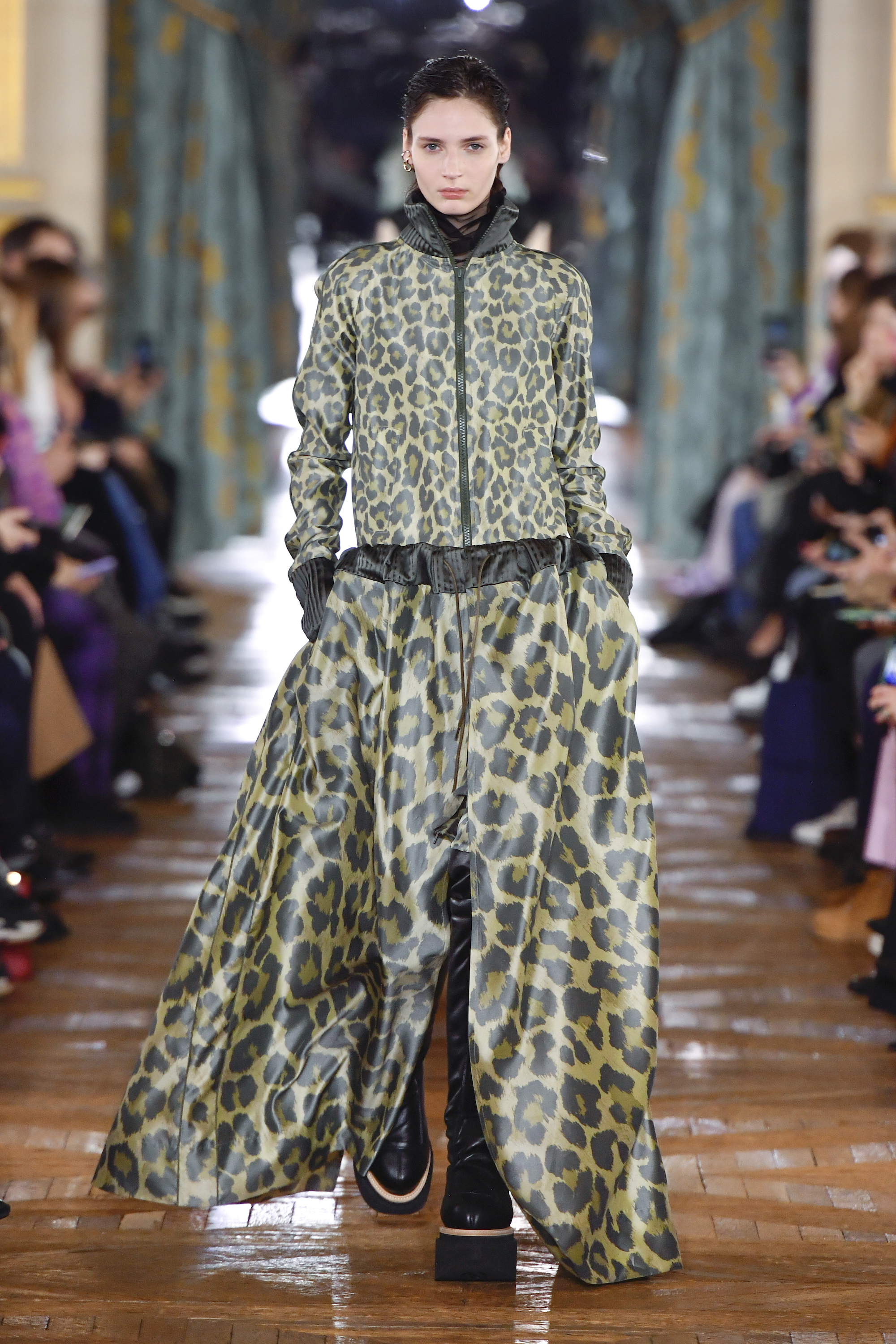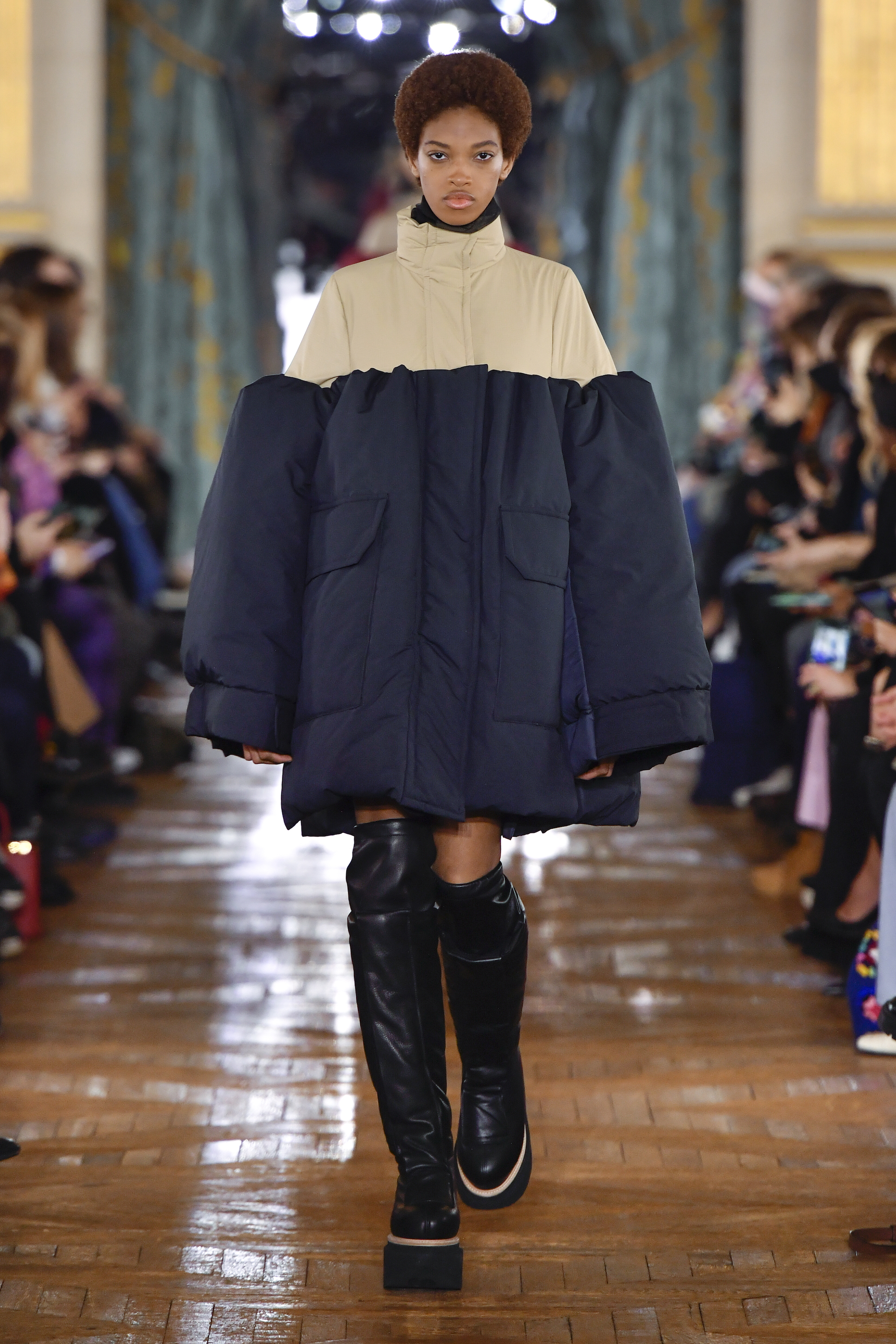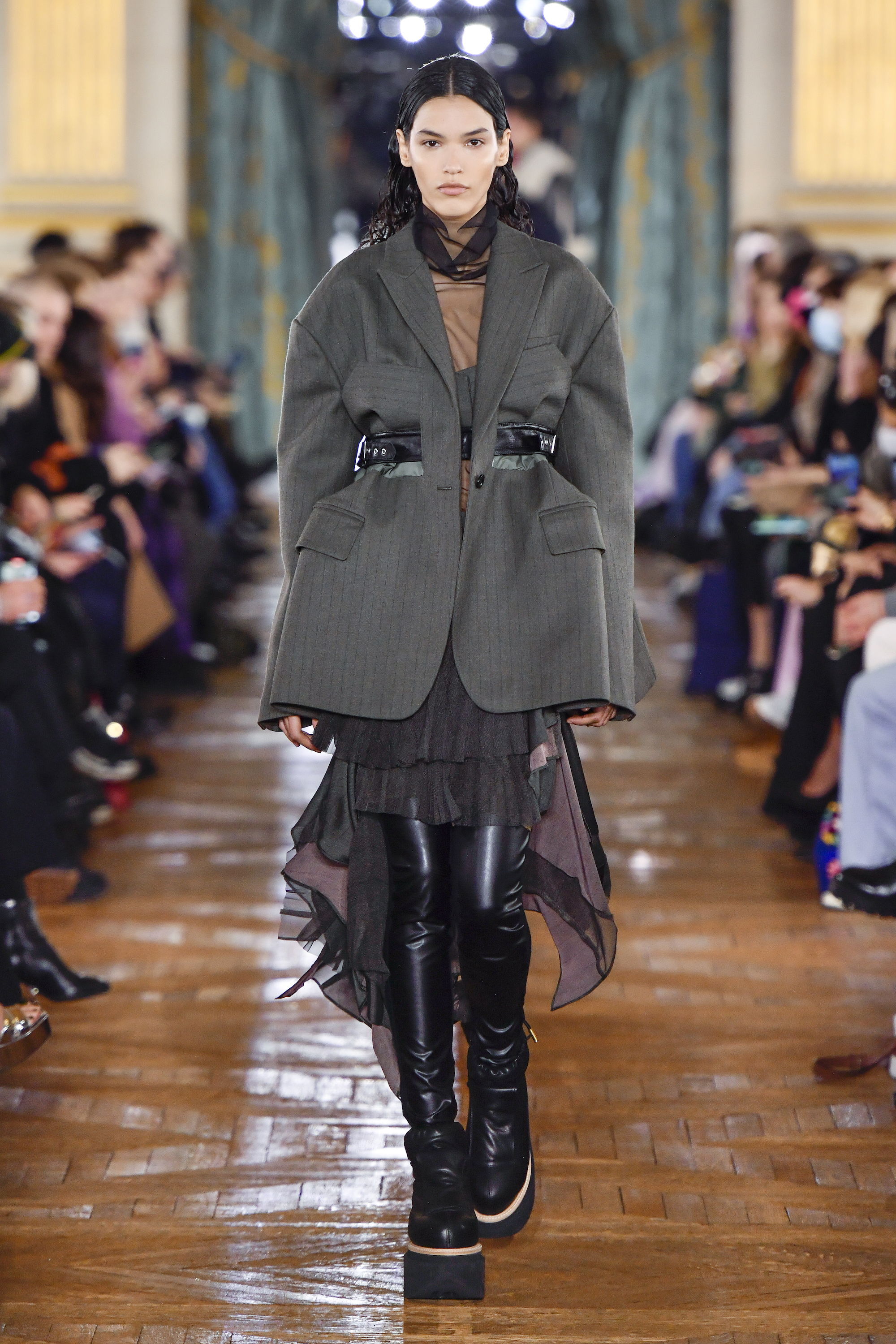 Chloé
Gabriela Hearst is all about climate solutions. Since joining Chloé last year, the Uruguayan designer has brought her environmental focus to the fashion house known for its earthy hues and 70s nostalgia. Her latest collection was an ode to climate solutions, inspired by a conversation Gaby had with the British author Isabella Tree, whose latest book Wilding — the Return of Nature to a British Farm charts the story of her pioneering Rewilding project on the West Sussex farm where she lives. The designer asked Tree how she deals with climate anxiety, to which she replied, "by living in the solution". By way of creating clothes, Gaby has rewarded the creative process of typical French fashion houses and instead introduced upcycling, waste-minimisation and collaborations with indigenous women's communities as part of her oeuvre.
Sometimes, it was literal — as was the case with recycled-cashmere shawls and tunic sweaters that had intarsia images of melting glaciers and burning forests on one side; lush greenery, sunny mountains and polar bears on the reverse. In other looks, there were collaborations with female communities, such as the Gee's Bend women quilters of Alabama, a community directly descended from enslaved cotton-pickers. The storied artist community used Chloé deadstock materials to create blankets and the gilet layered over a coat worn by Amber Valletta. Elsewhere, there were chunky cable-knit sweaters and ponchos were actually made from a hybrid of down puffer and cashmere. Not to labour the point, but there was a sense of thorough consideration to each and every look. Beyond the sculpted tan leather and gemstone jewellery, that's ultimately the beauty of what Gaby Hearst does — guilt-free fashion that is both socially and environmentally minded. OA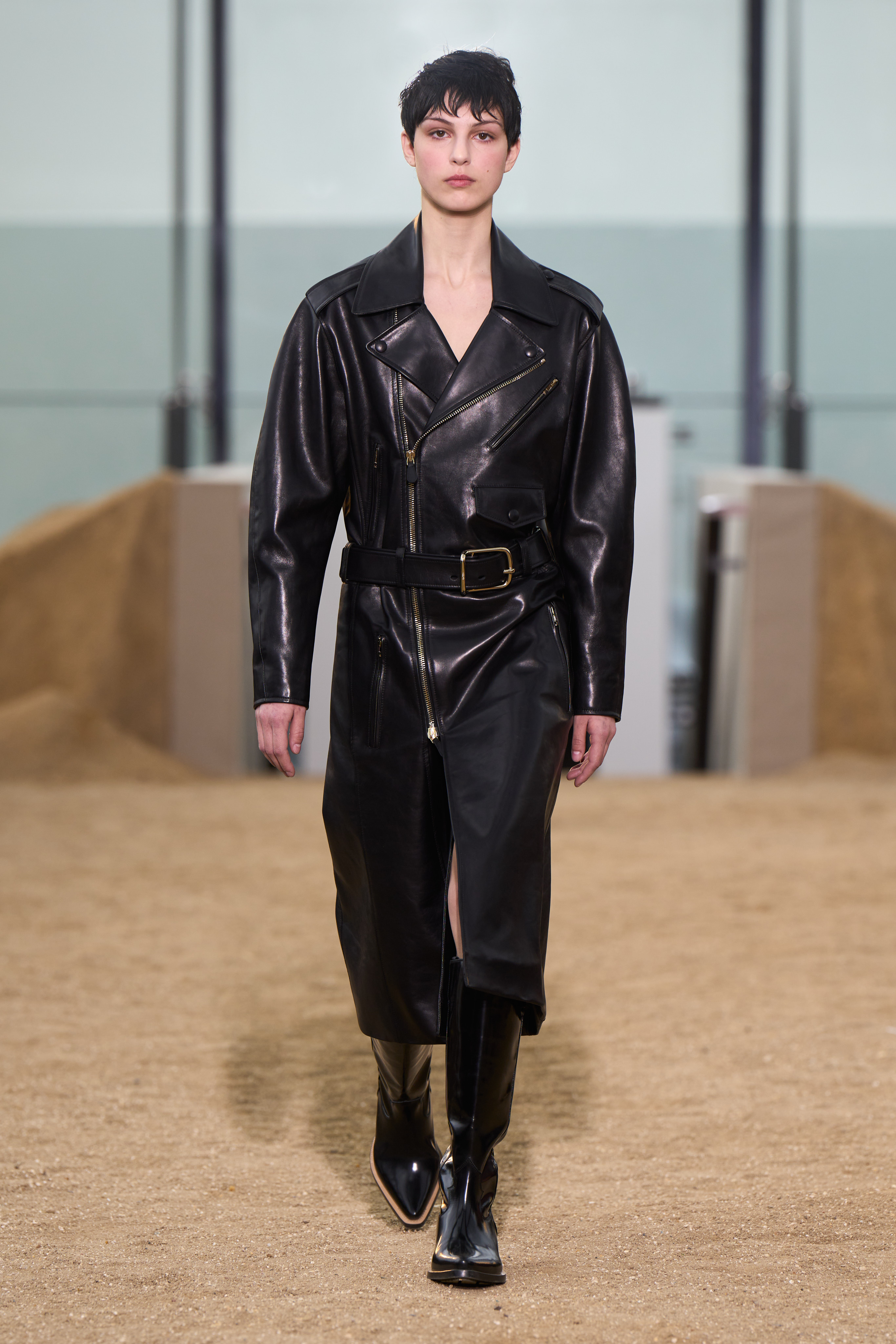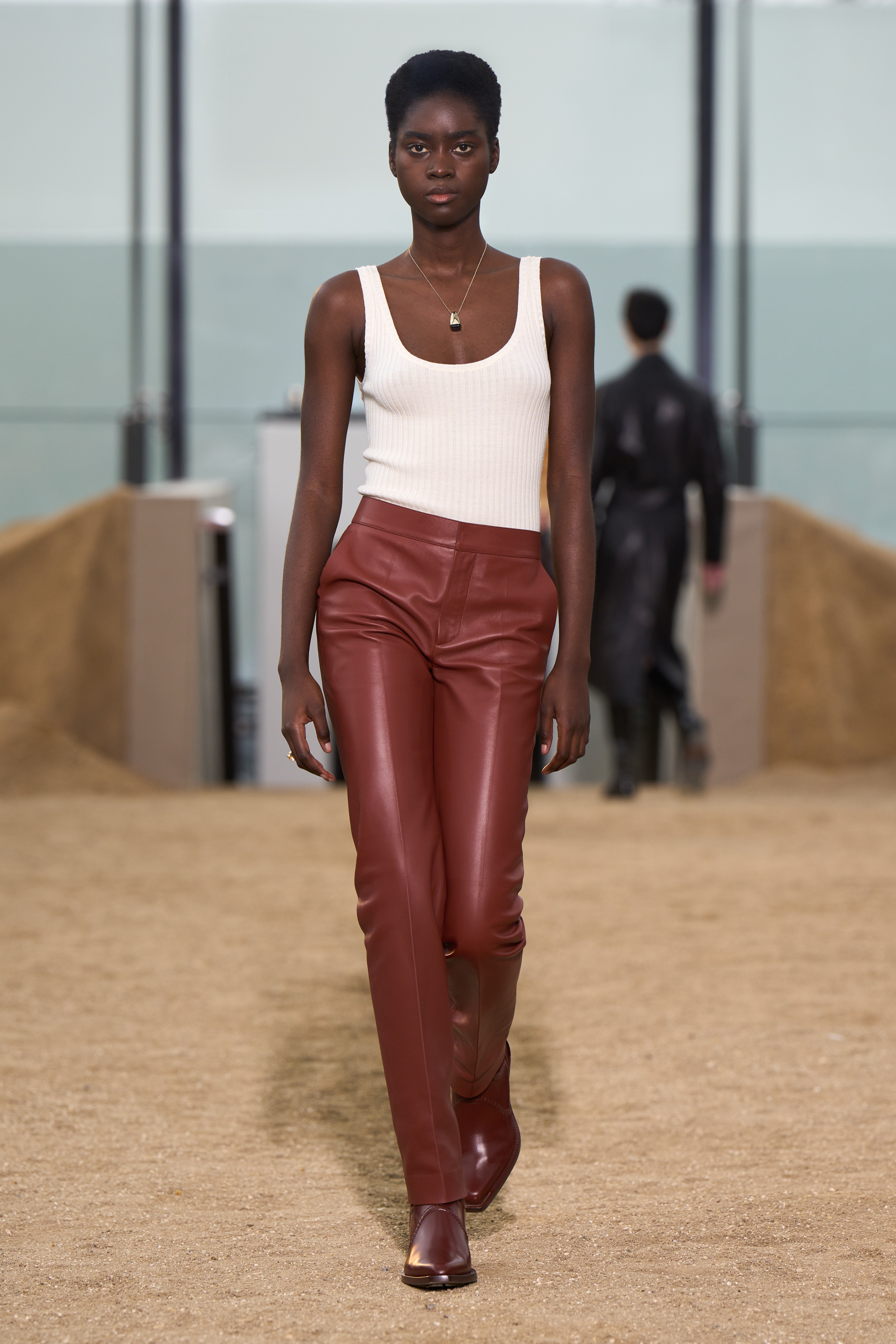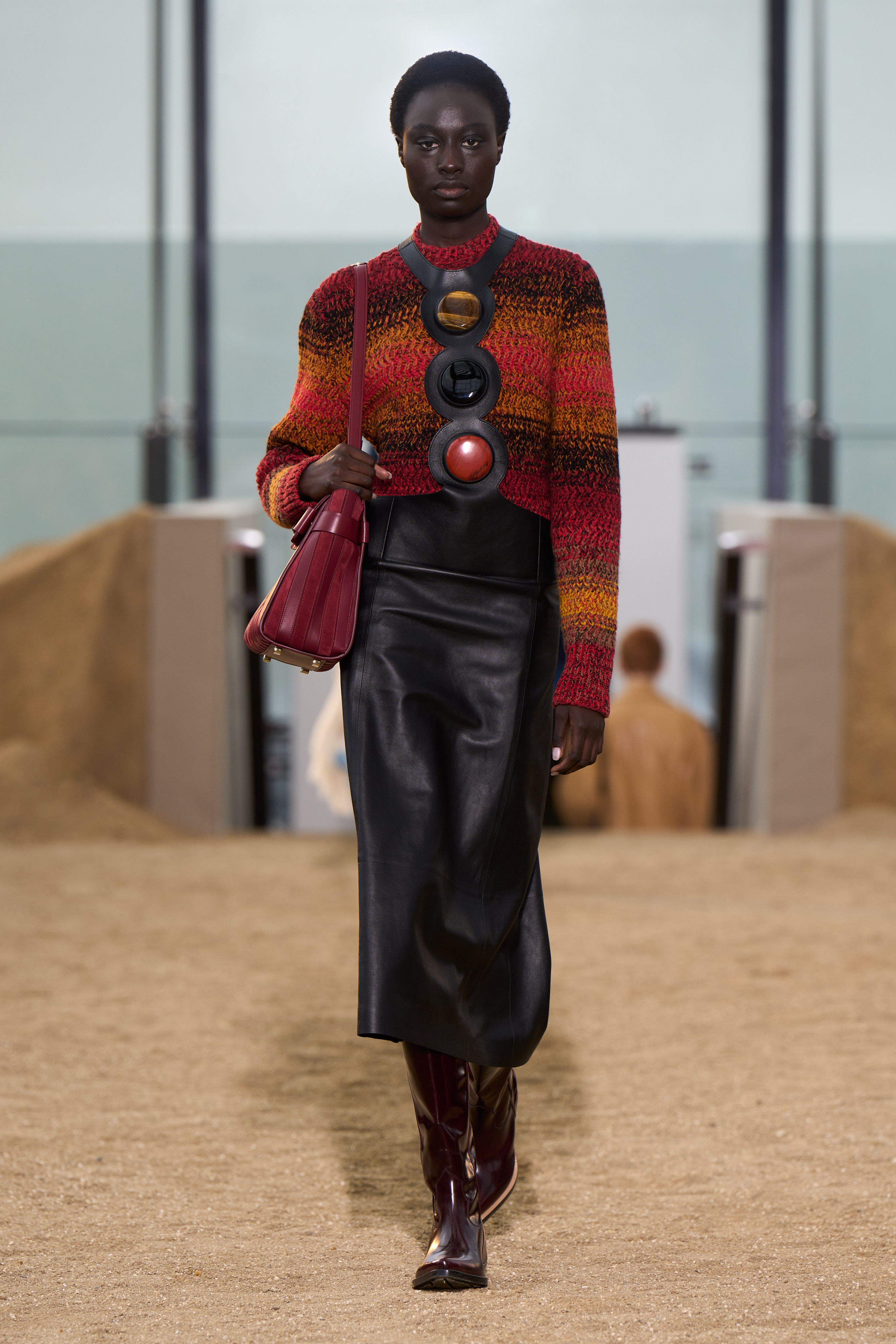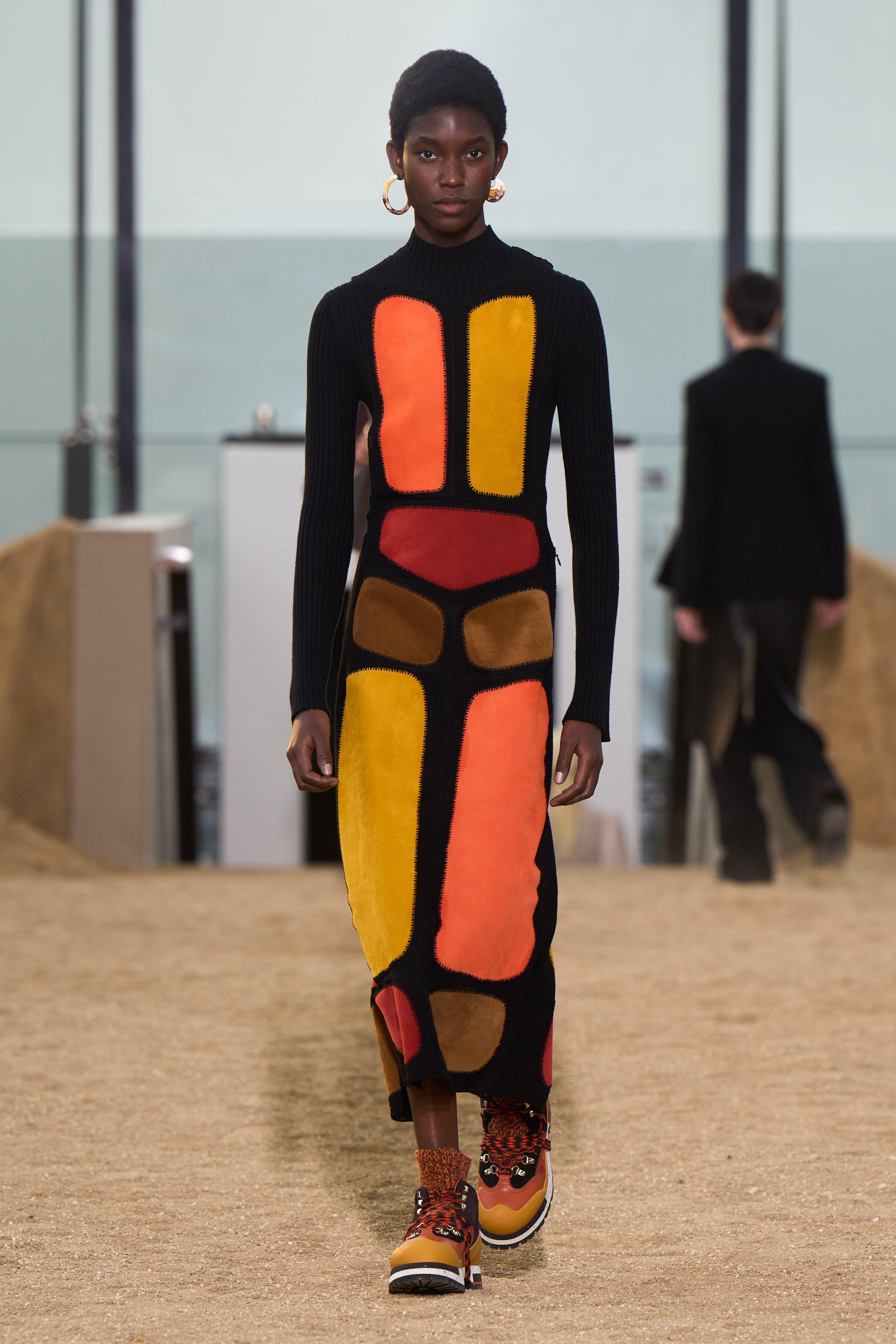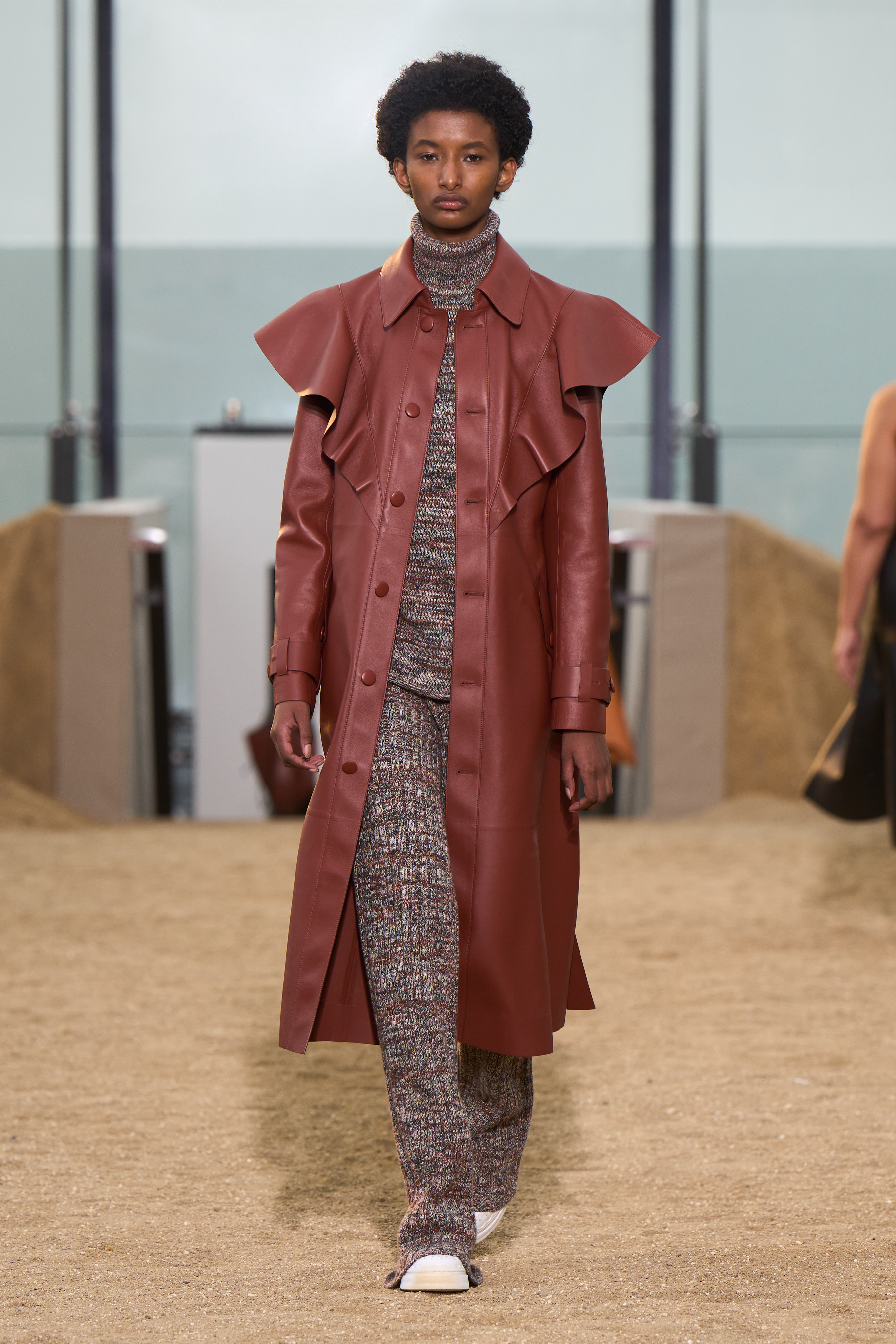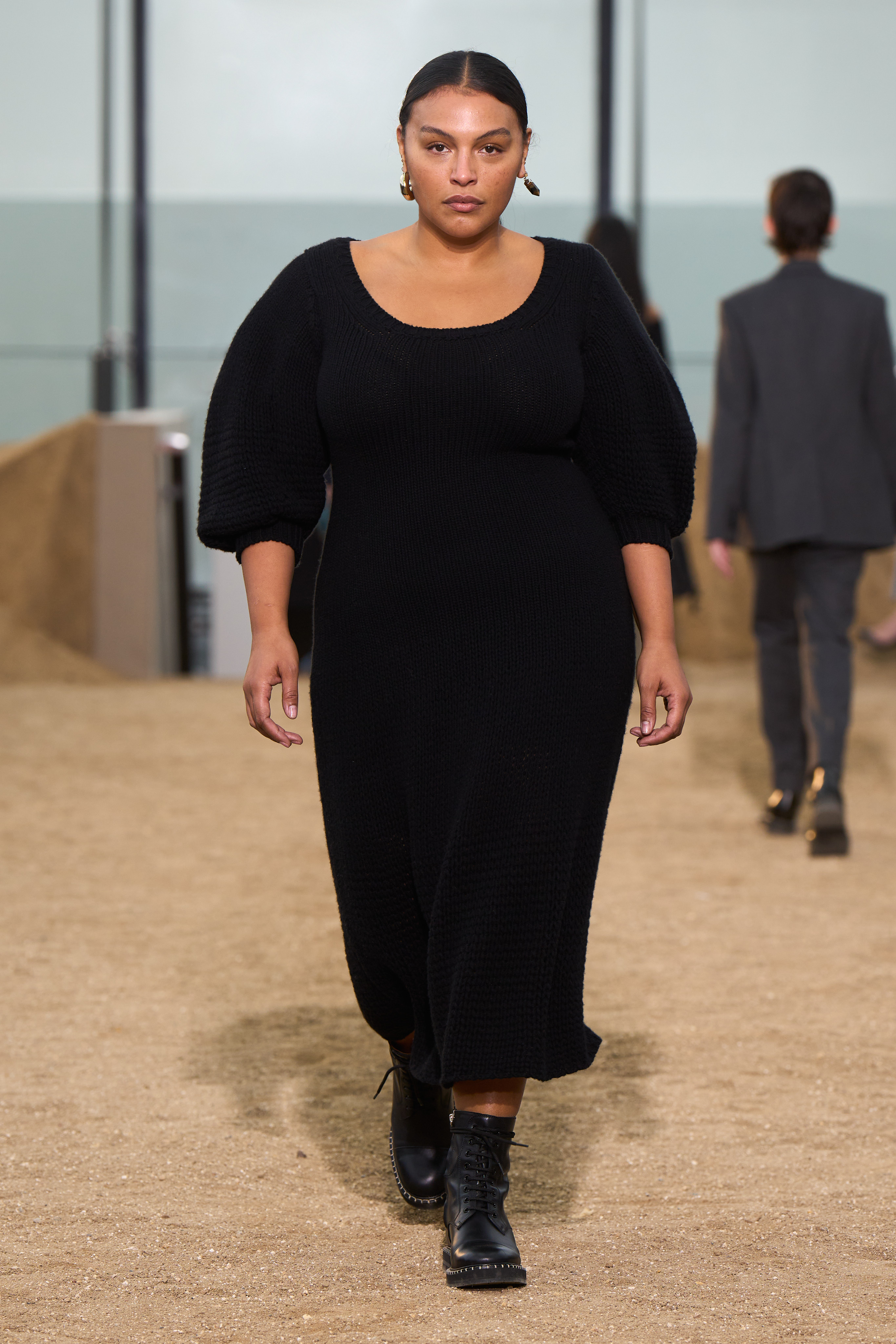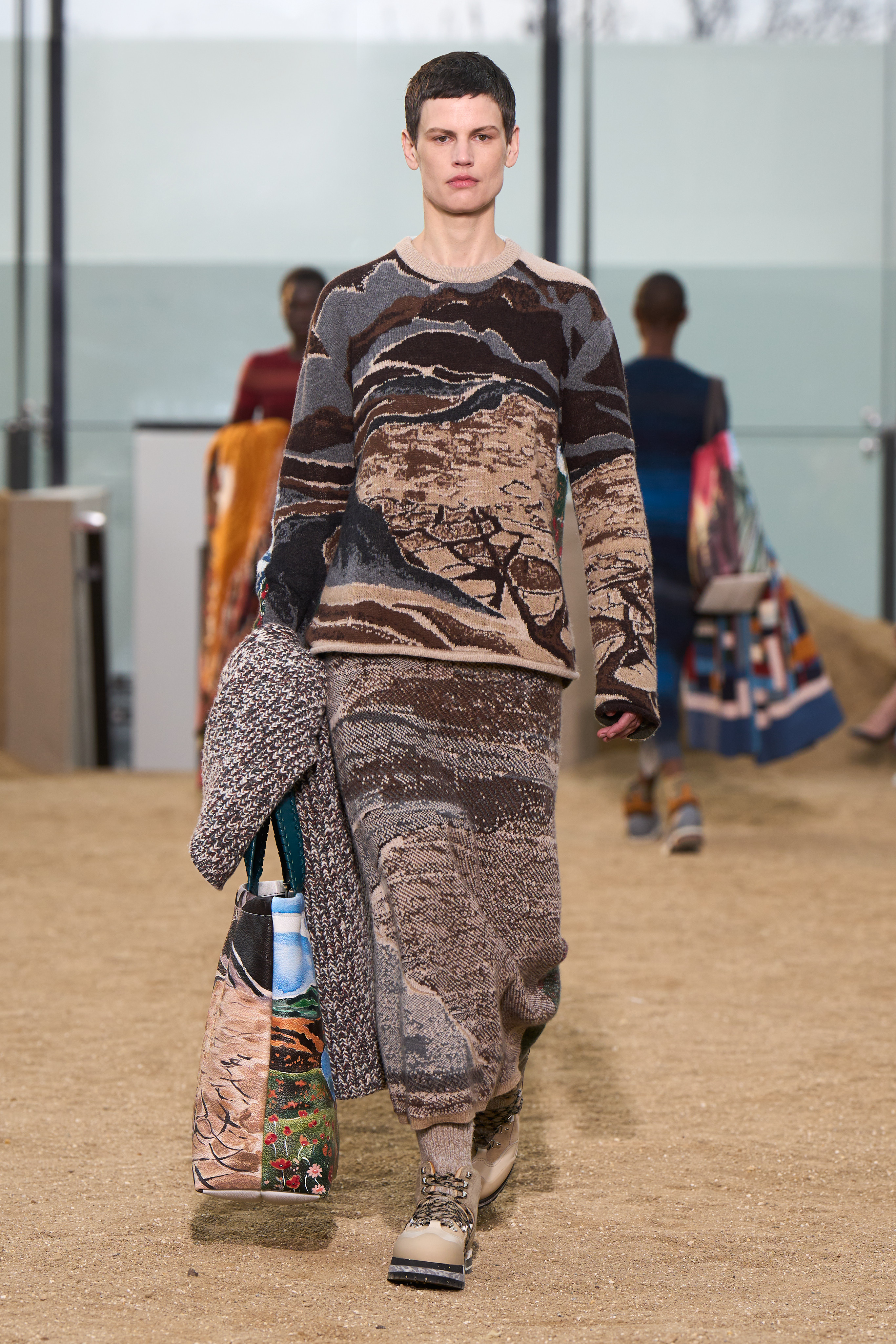 Jens Laugesen
Departing from what he describes as a "fascination with the utopian unisex concept of clothing", London-based designer Jens Laugesen yesterday presented the first chapter in a design trilogy titled INRECON. For the debut of the series, SOLARIS, he paired up with photographer and film director Jean-Francois Carly and film editor Maxim Young on a film shot in the brutalist bowels of The Rowe, a building close to the designer's home that he witnessed being de- and reconstructed over the course of the pandemic. The setting serves as the perfect atmosphere for bringing the collection's garments – a conceptually minded series of artfully deconstructed tailored pieces – into relief. Familiar garments like an oversized men's jacket are slashed at the seams to allow for a greater range of movement, and shirts are fashioned into slope shouldered-boleros. Trench coats are spliced and reconfigured as wrap skirts, and looks are overlaid with skeletal seam lines of garments that once were. MS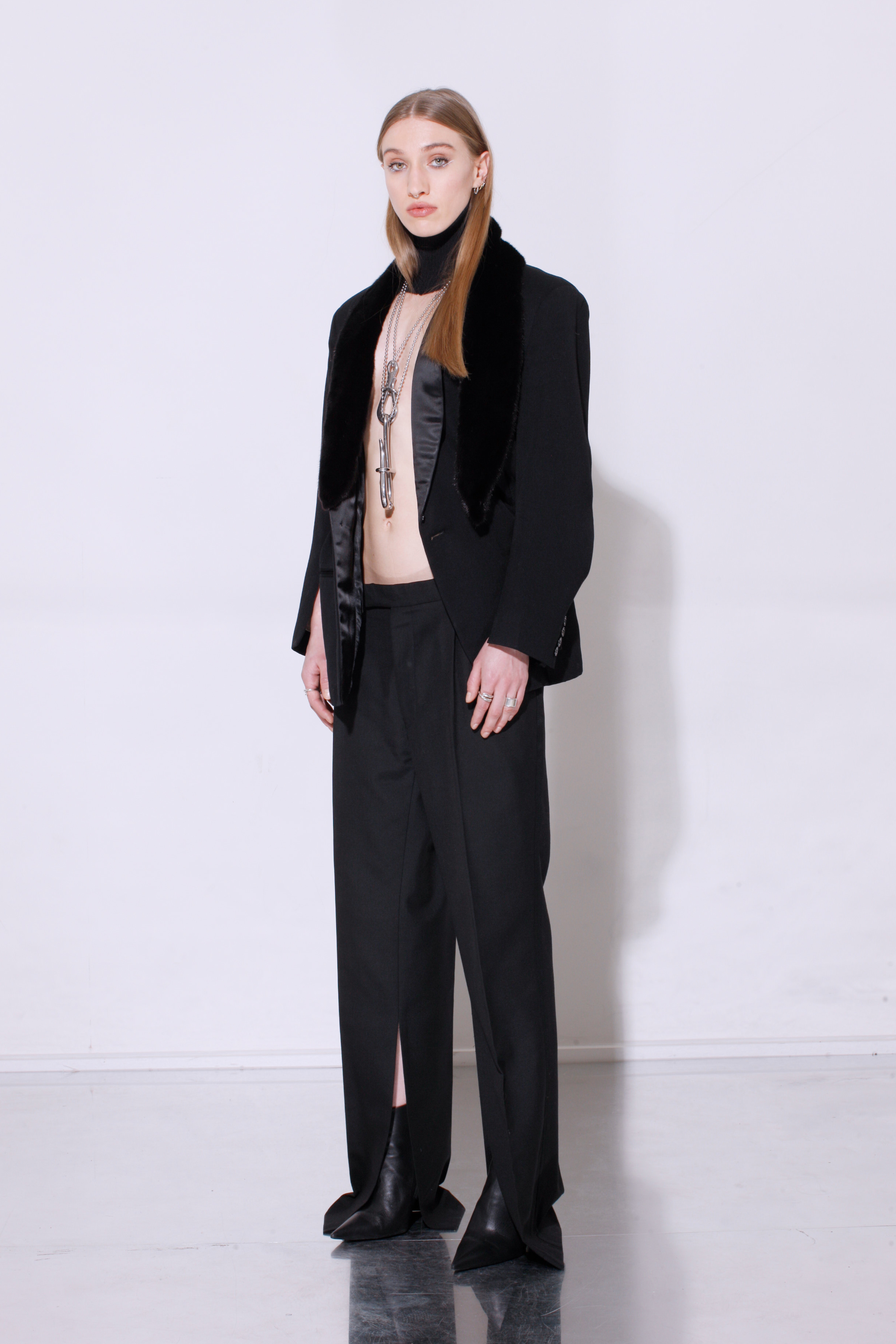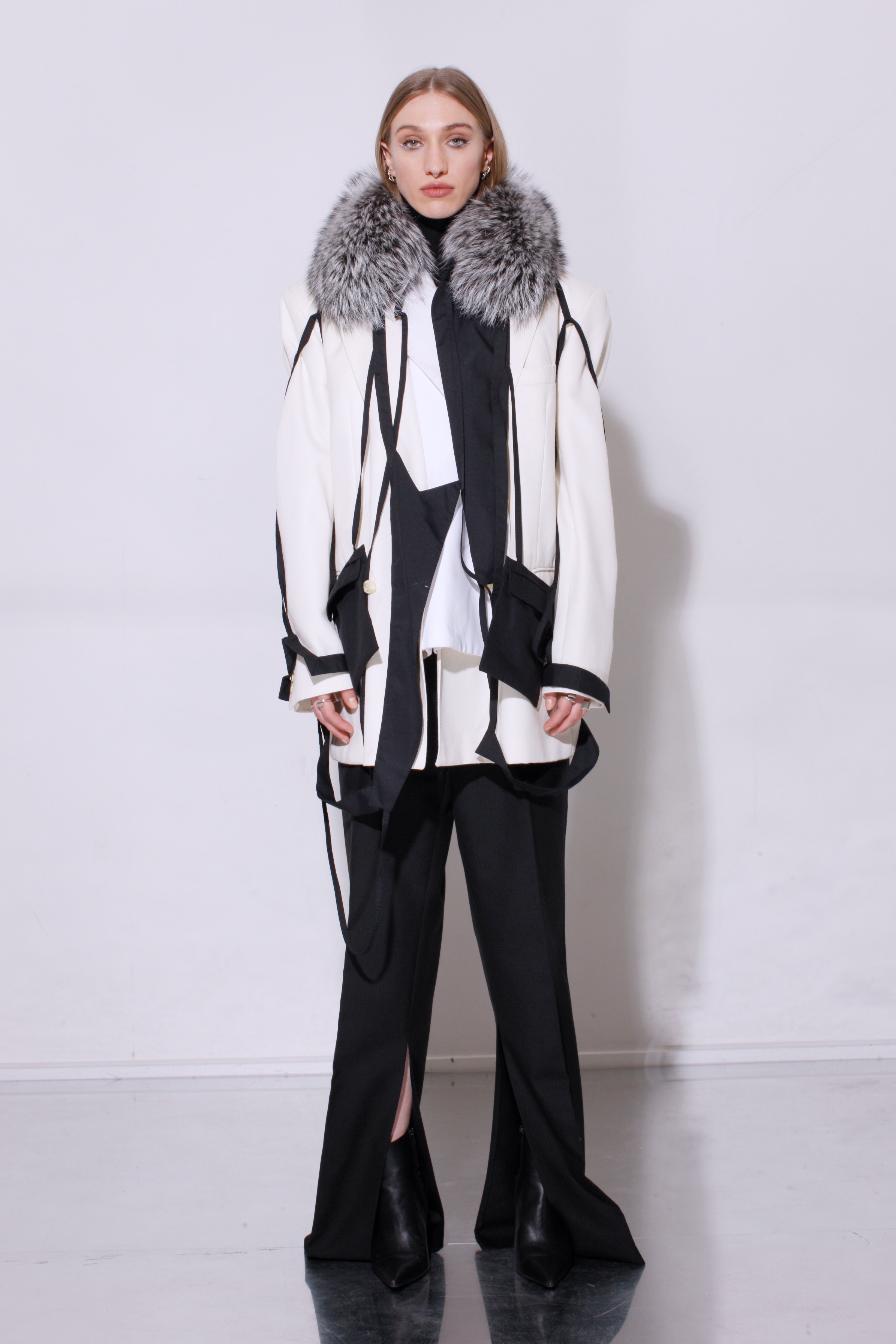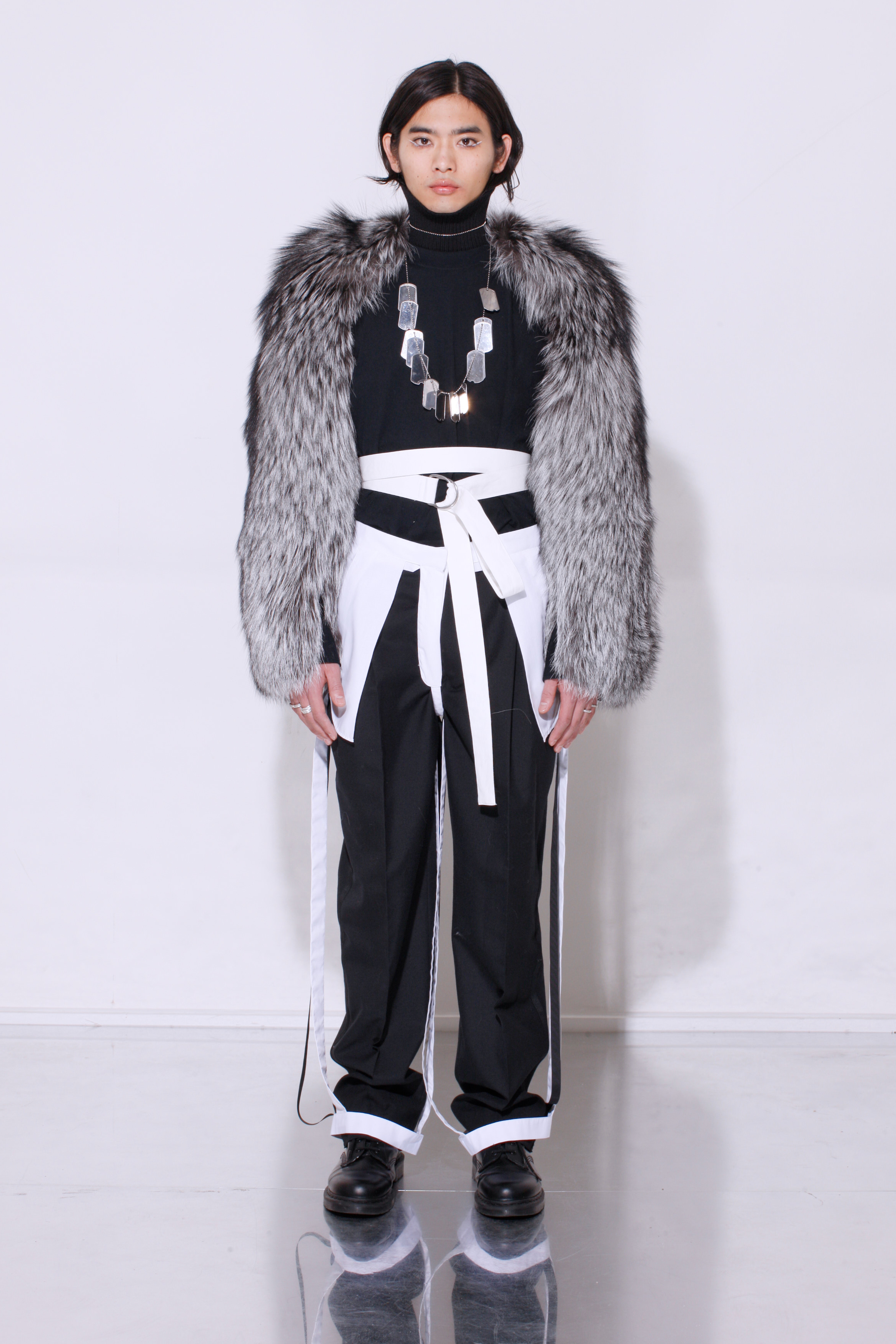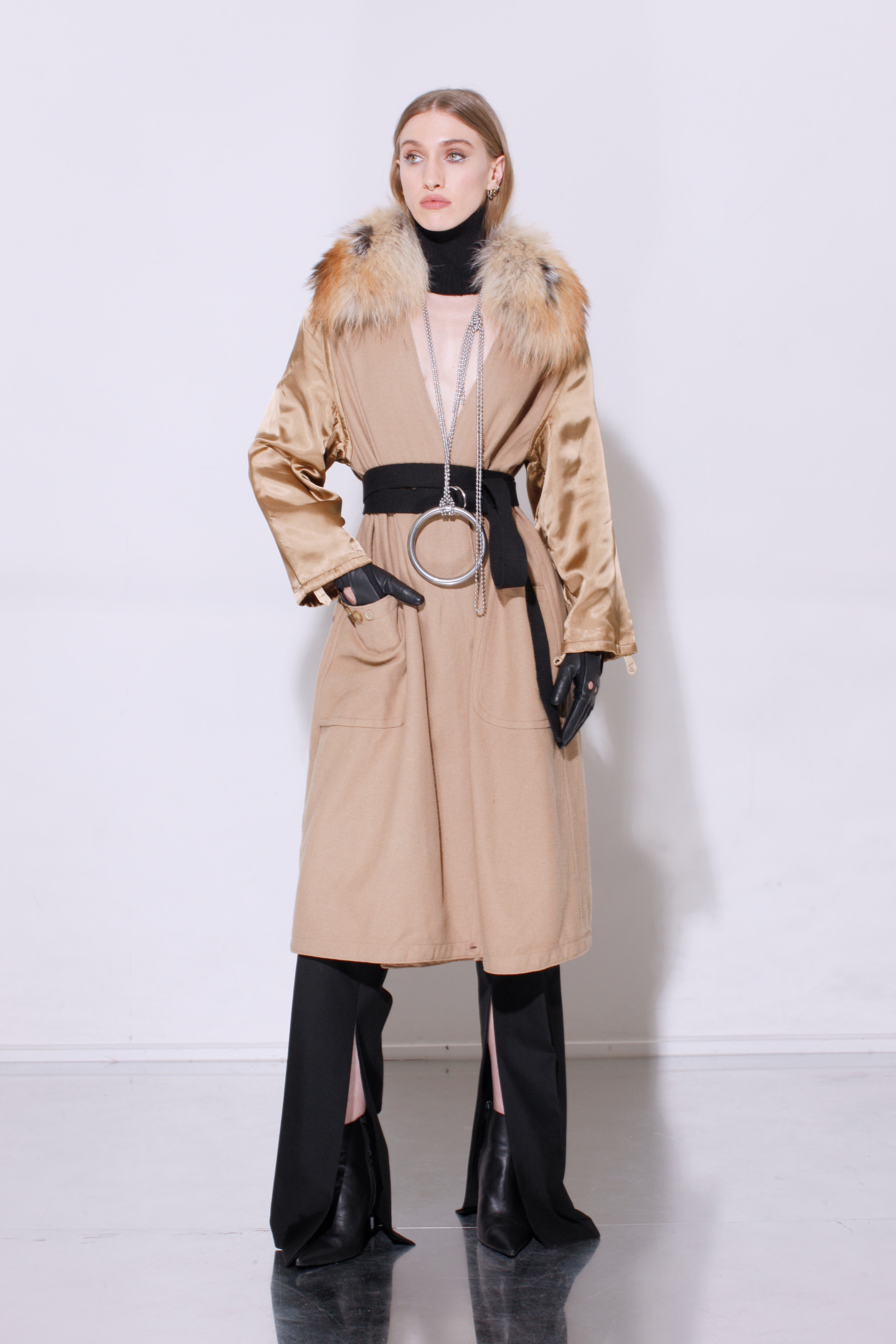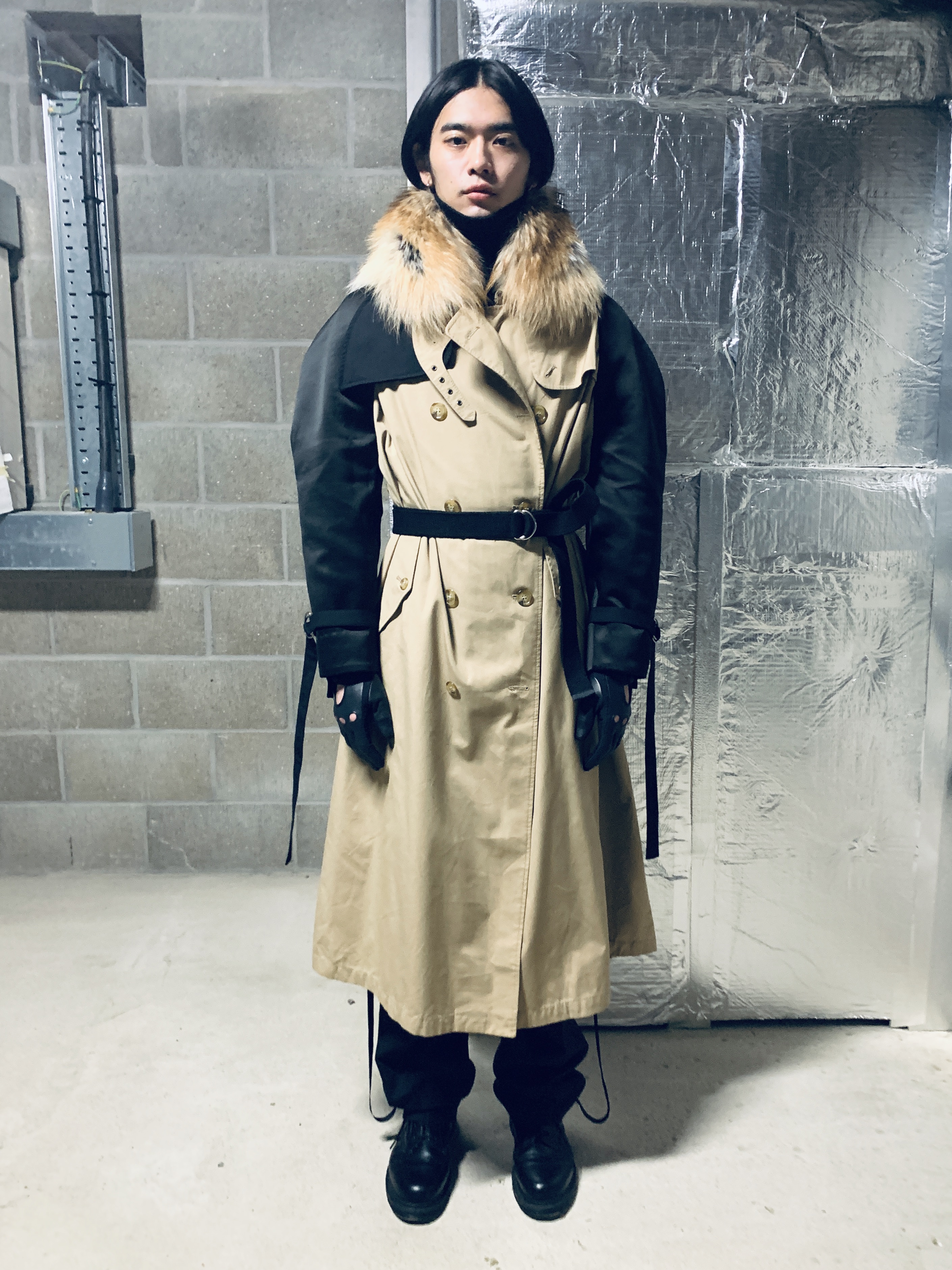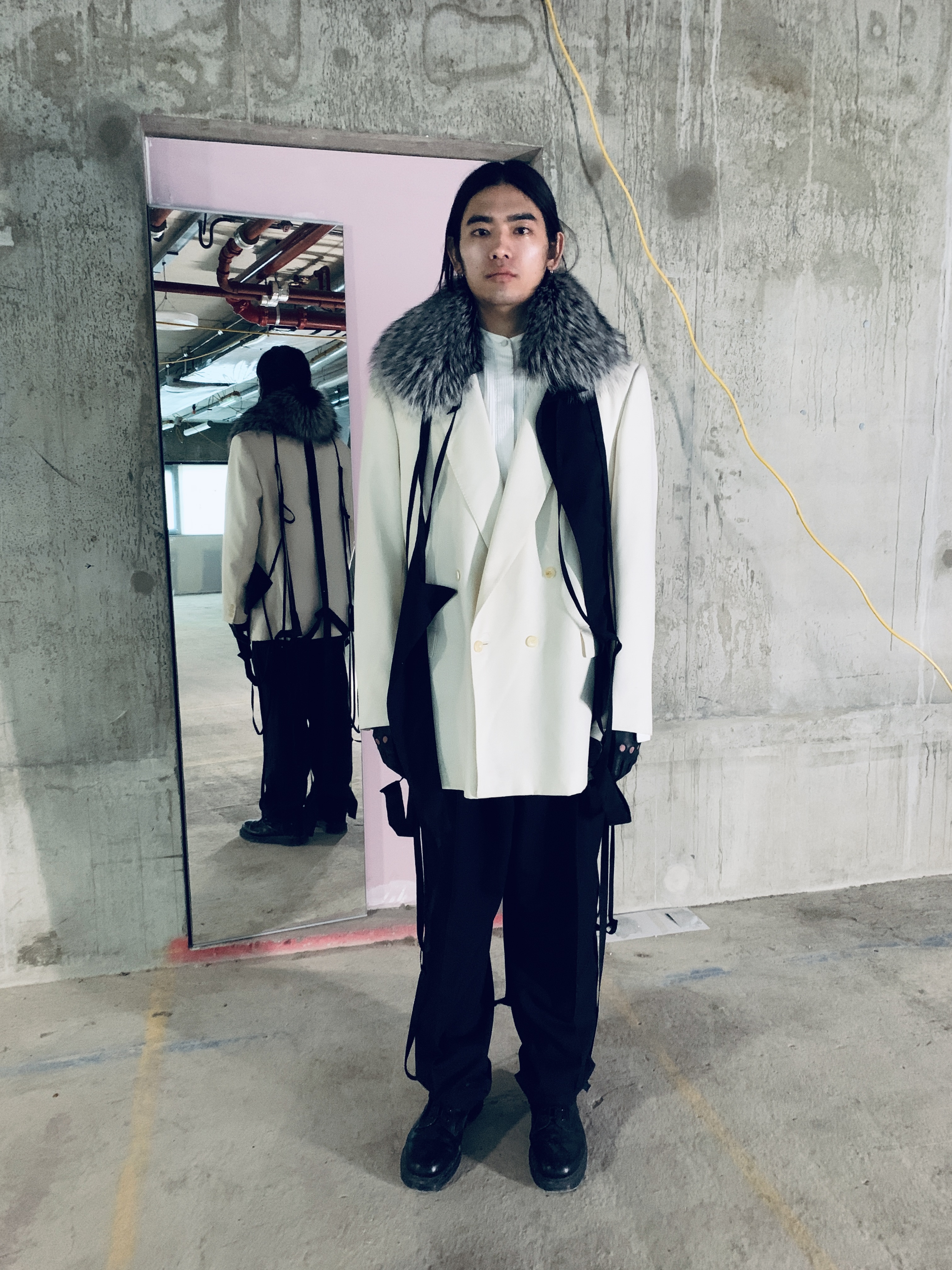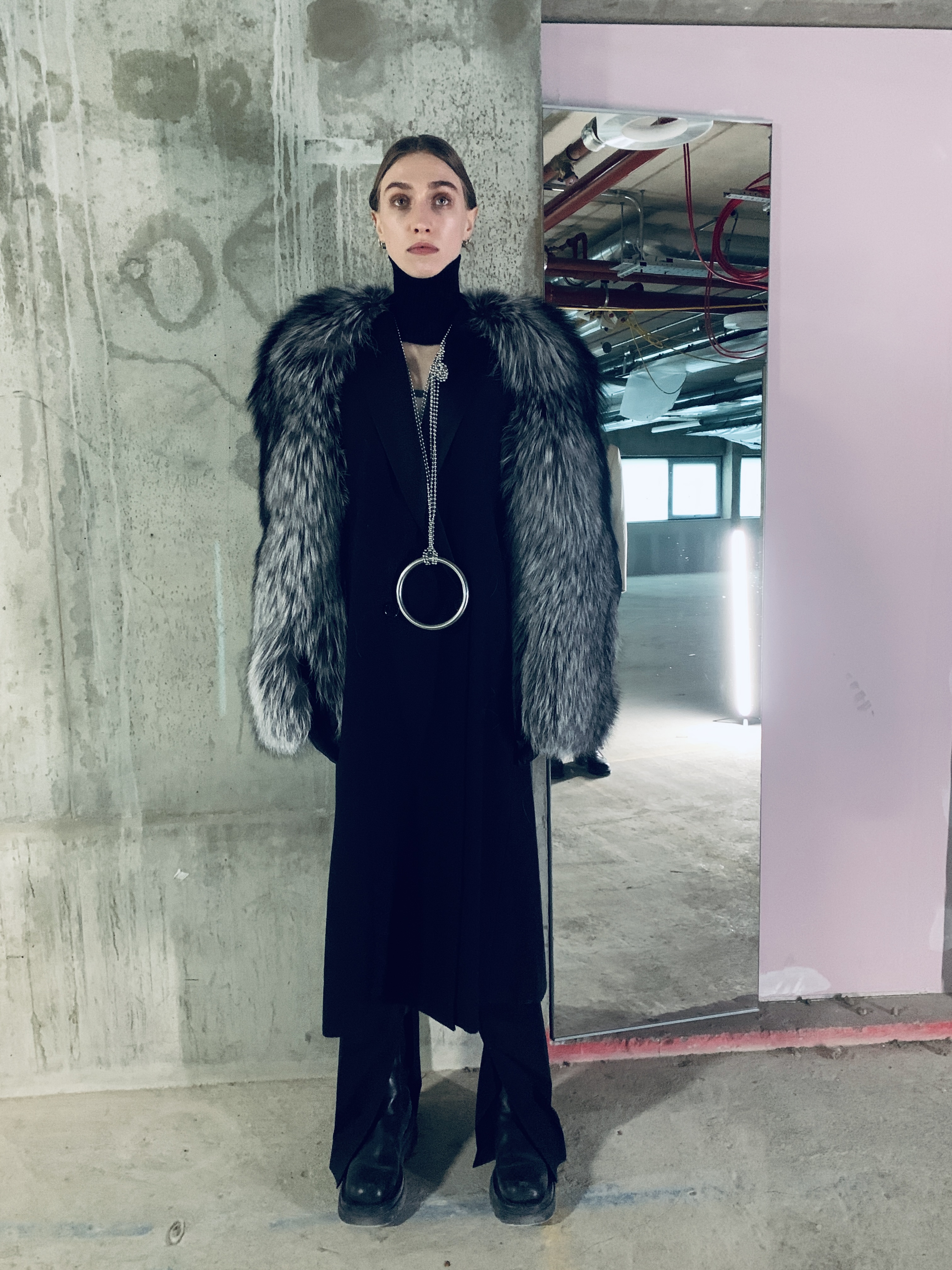 Margaret Howell
There are few brands whose clothes conjure a sense of comfort quite like Margaret Howell. Firmly committed to offering a no-nonsense, top-quality wardrobe for over half-a-century, the London-based label has made a name for clothes that genuinely warm the heart to wear – think: perfectly crisp poplin shirting, the softest cashmere pullovers, cosy tweed tailoring – and that only get better with age and wear. This season is no exception to that time-honoured rule, comprising a range of easy-wearing separates across an autumnal span of ochre, khaki, plum and berry hues, Margaret Howell proposes clothes that come to life in the landscapes they were inspired by. Tactile knit cardigans and merino pullovers protect against those first autumn chills, while cotton drill trousers and oilskin outerwear with welded seams are made for blustery walks over October dales. MS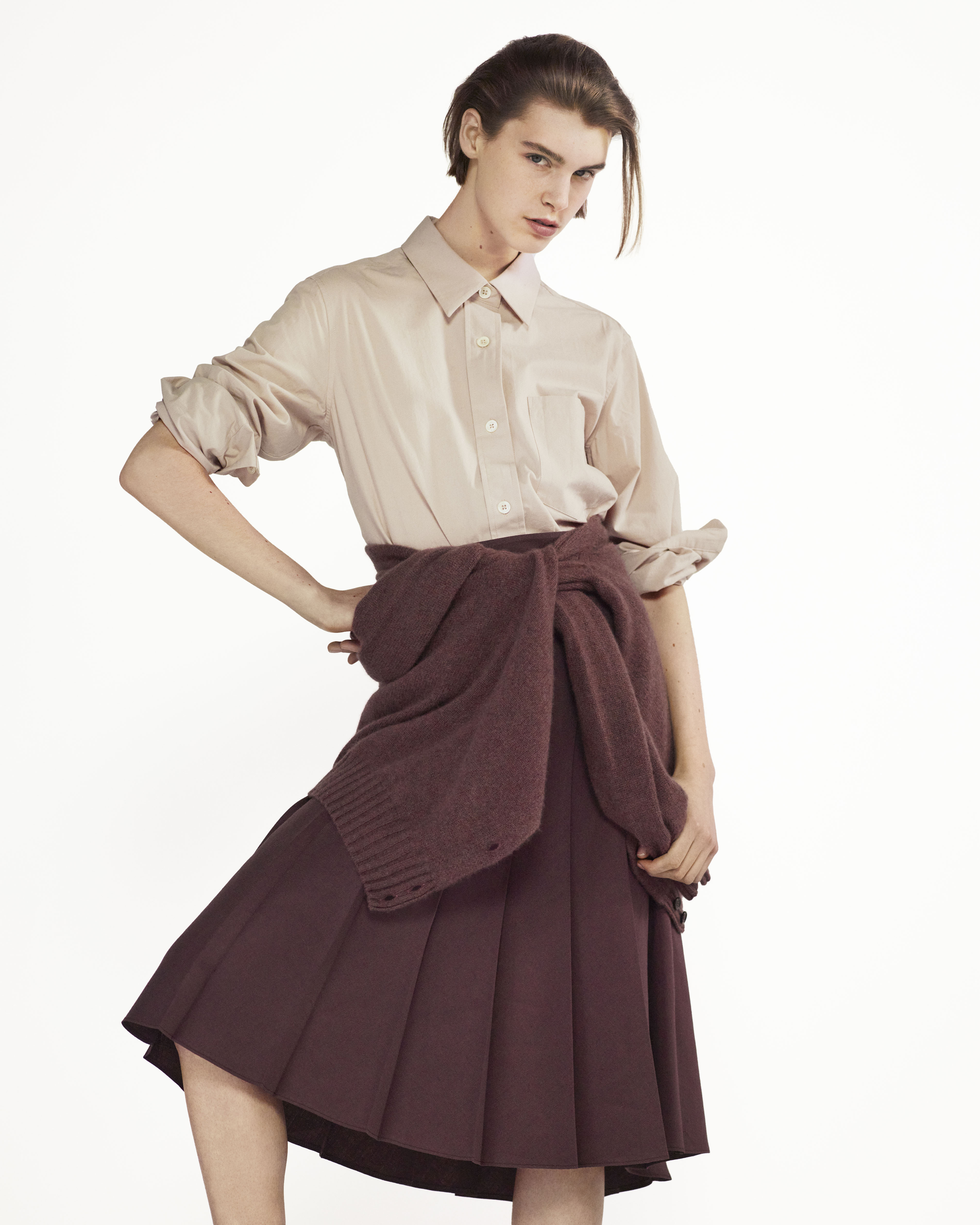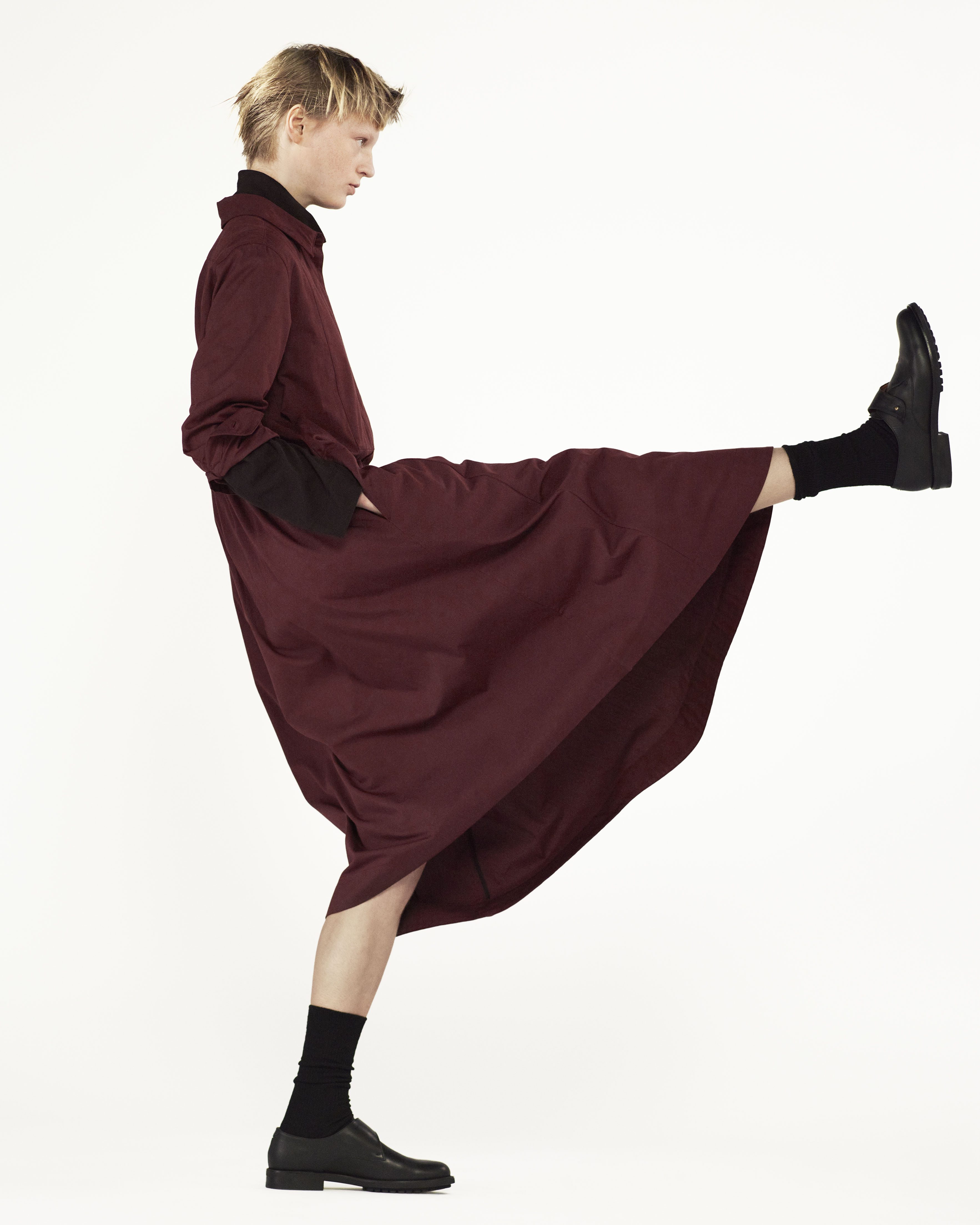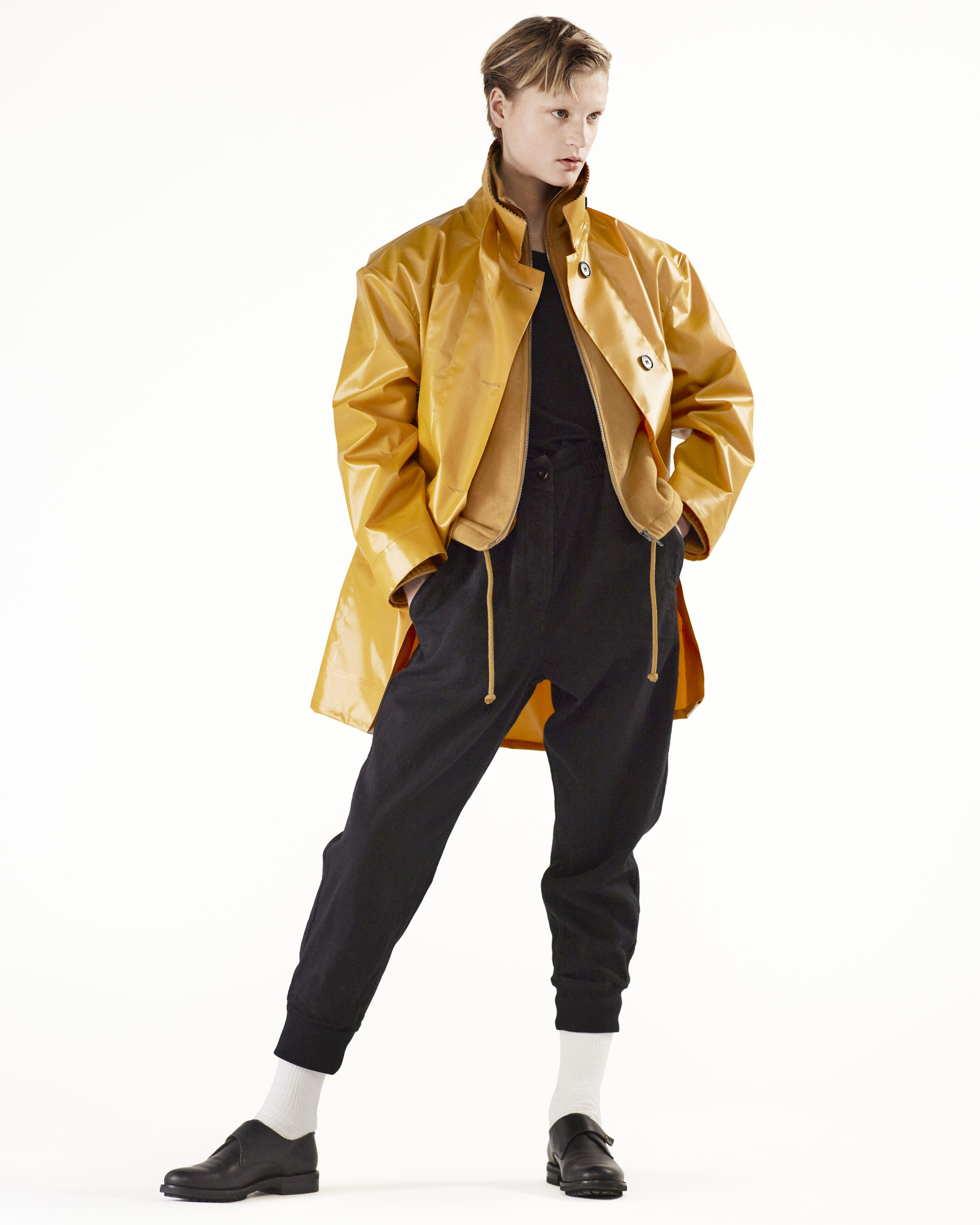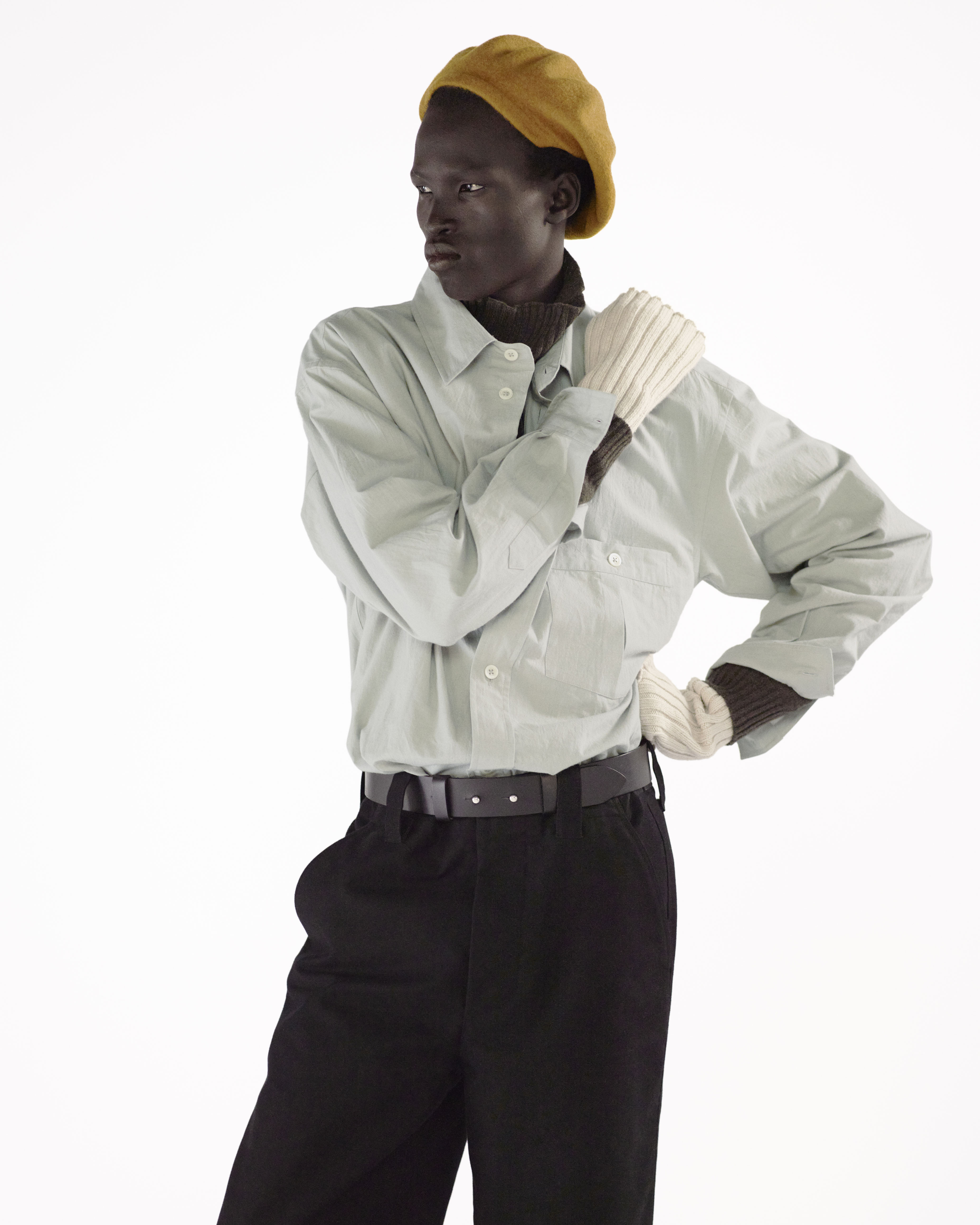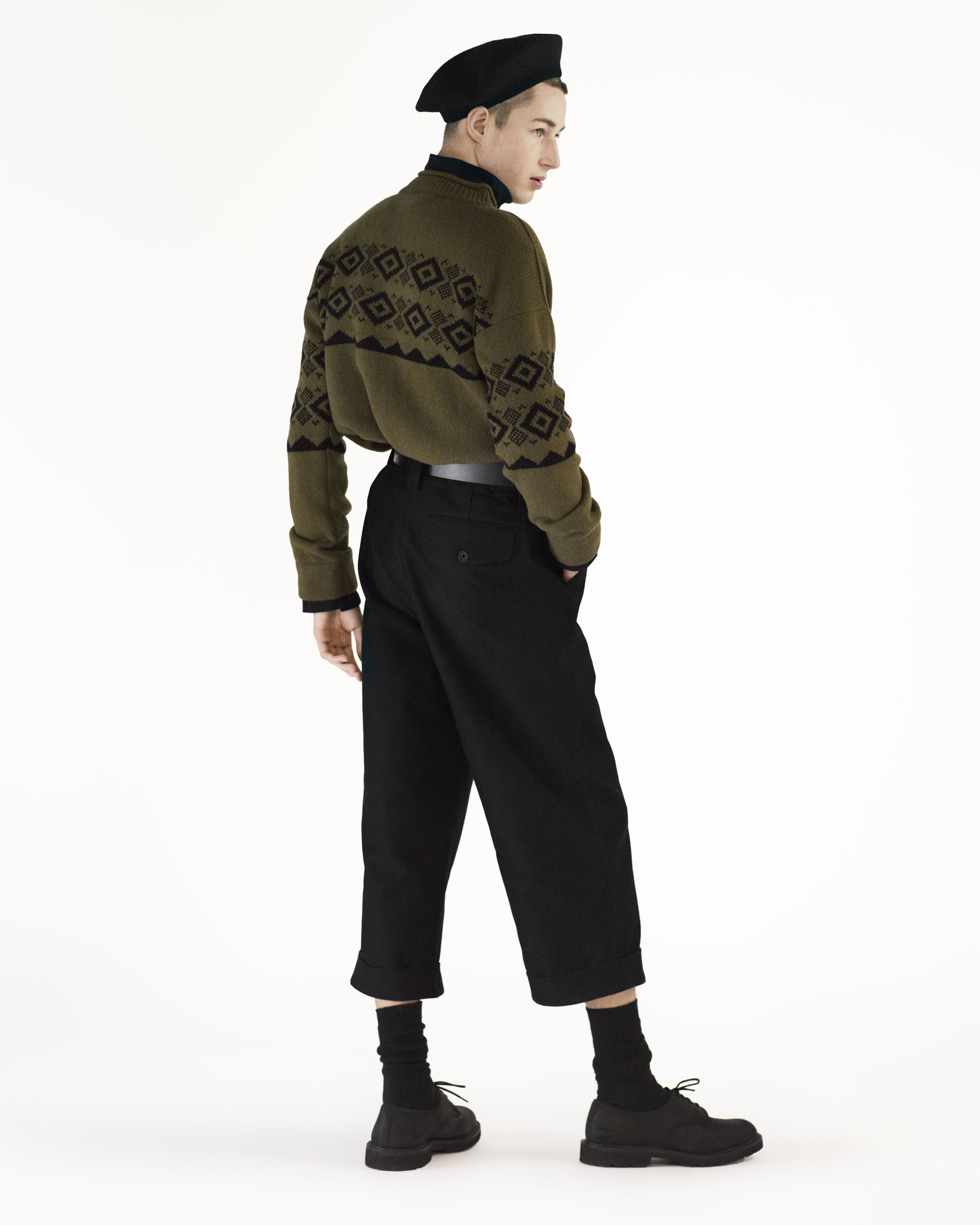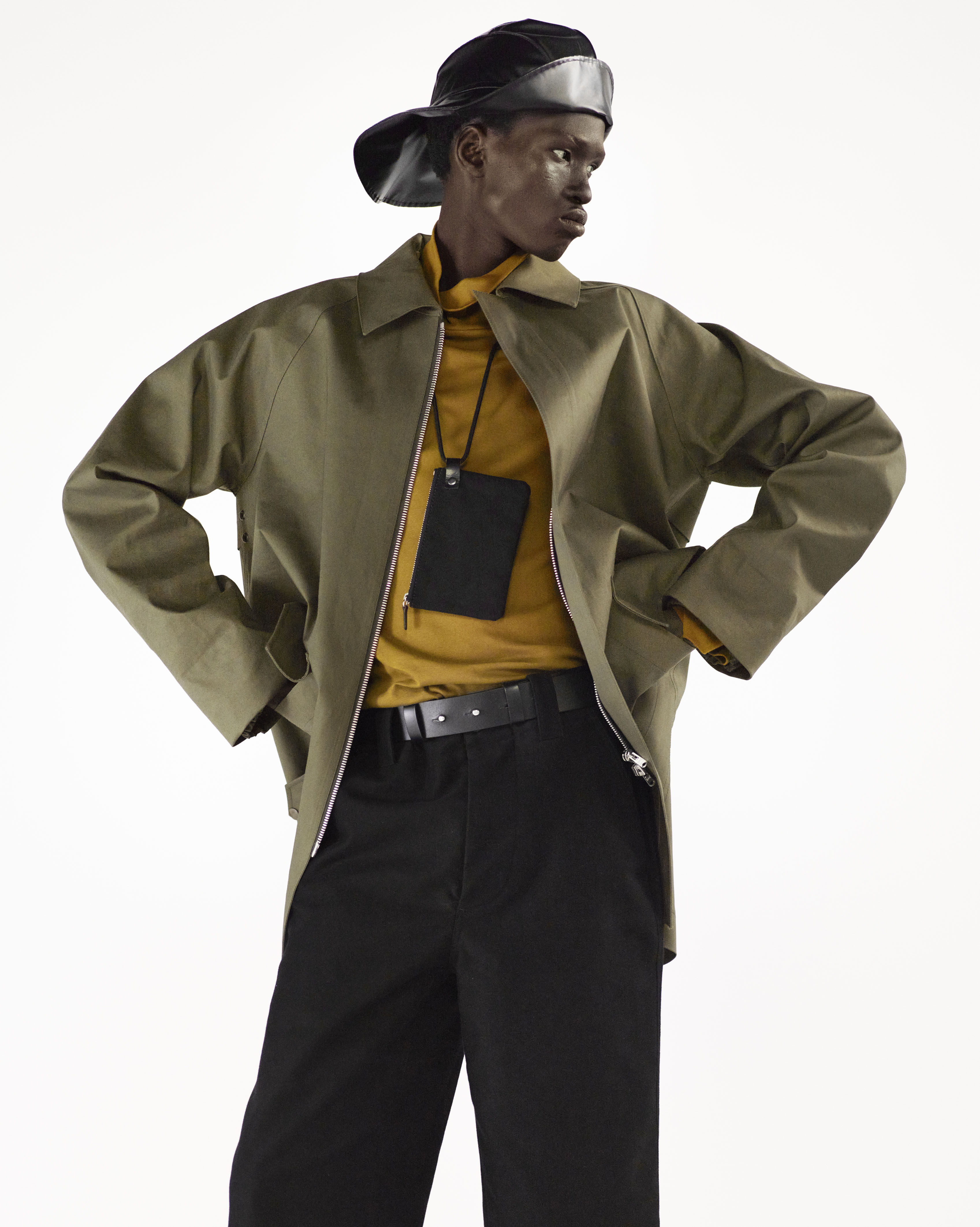 Kiko Kostadinov
Better known for their skewed, off-kilter-yet-elegant spins on familiar garment archetypes, glamour isn't necessarily something you instinctively associate with the work of Laura and Deanna Fanning, the twin sisters who head up Kiko Kostadinov womenswear. Indeed, it was partly on those very grounds that they chose to focus on it for their AW22 collection. "Glitter is such a dirty thing!" jokes Laura, noting how it's strewn across chunky knitted opera gloves, lacquered onto this season's spiralled bucket and Trivia bags, and even woven into the very fabric of pinstripe tailoring wools. "That said, we always like to challenge ourselves in that way," she continues, identifying a point of contention or even aesthetic revulsion, and trying to find a way to translate it into their unique design language.
"I feel like we were trying to dissect glamour, but through our own lens," Deanna follows up. "It's something that we've previously found it hard to naturally gravitate towards, and we've previously even made fun of it, but this time we really wanted to present something that felt a little more glamorous, and play with obvious tropes that people traditionally associate with glamour." So what exactly does to-the-nines dressing look like through the Kiko Kostadinov lens? Granted, you'd be mistaken to come here expecting a suite of bias-cut evening gowns, but some of that stately spirit carried over into black and ochre crepe shirt insouciantly fastened with a single hook closure, the liquid flow of an amply-cut nightshade satin jumpsuit with a twisted cutout at the navel, and a brushed mohair top that were wrapped around the shoulders like a sumptuous shawl.
Elsewhere, the sisters' yen for eccentric textures came through in pairings of blistered jacquards and thick-pile fleece on vest tops, with a similarly shaggy textile paired with what looked like a beige gabardine to create a coat that nodded to two glamour girl outerwear staples – a classic trench and a full length fur. A sense that the Kiko Kostadinov girl had all grown up could also be felt in this season's tailoring – the cropped zip-up houndstooth flight jackets and a hooded coat in the aforementioned sparkly pinstripe being particular standouts. Still, for all the elevated glamour on show here, moments of the endearing adolescent girliness that we saw last season still came through in appliqué cotton bubble skirts and Mary Janes hybridised with sneaker tooling. MS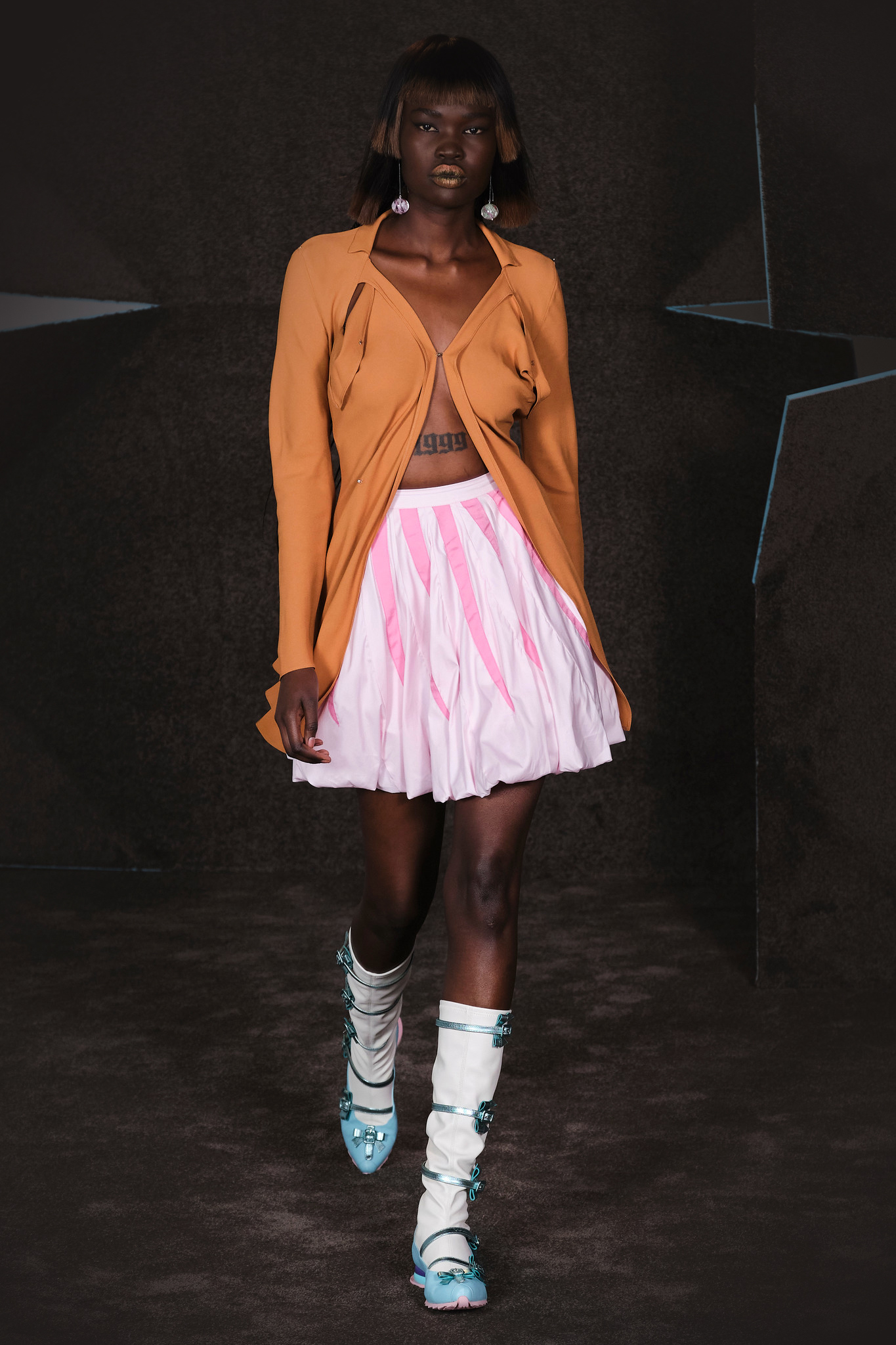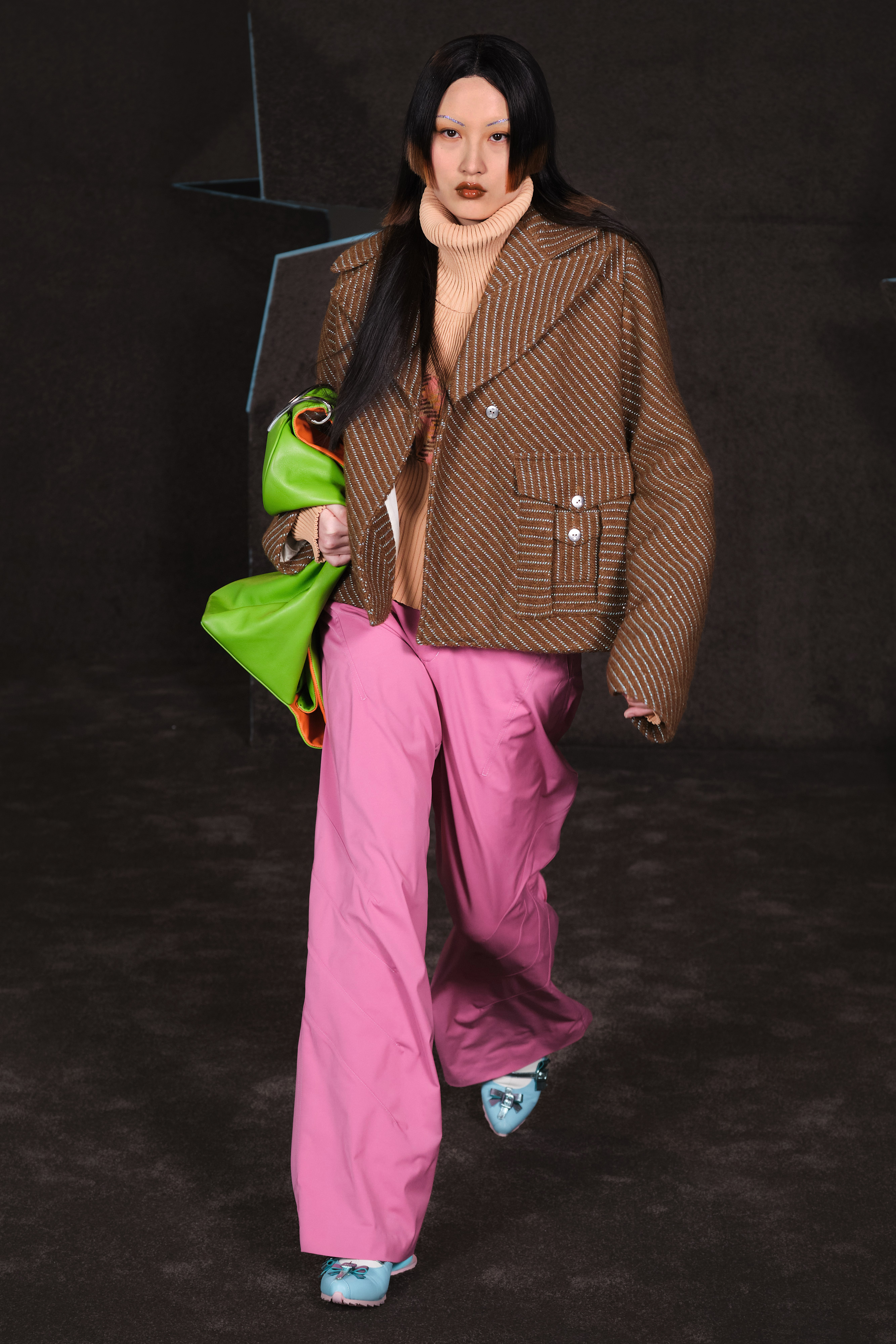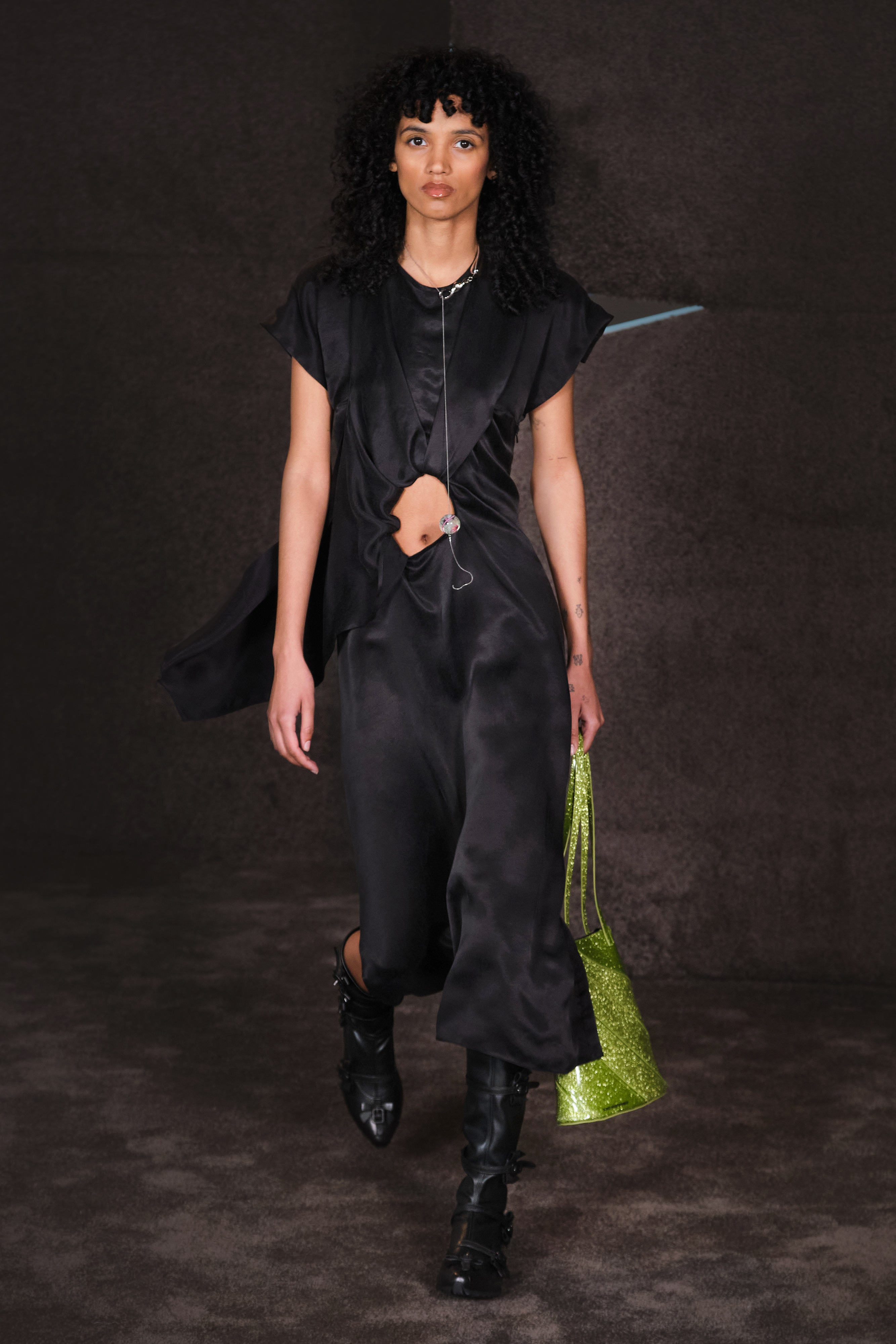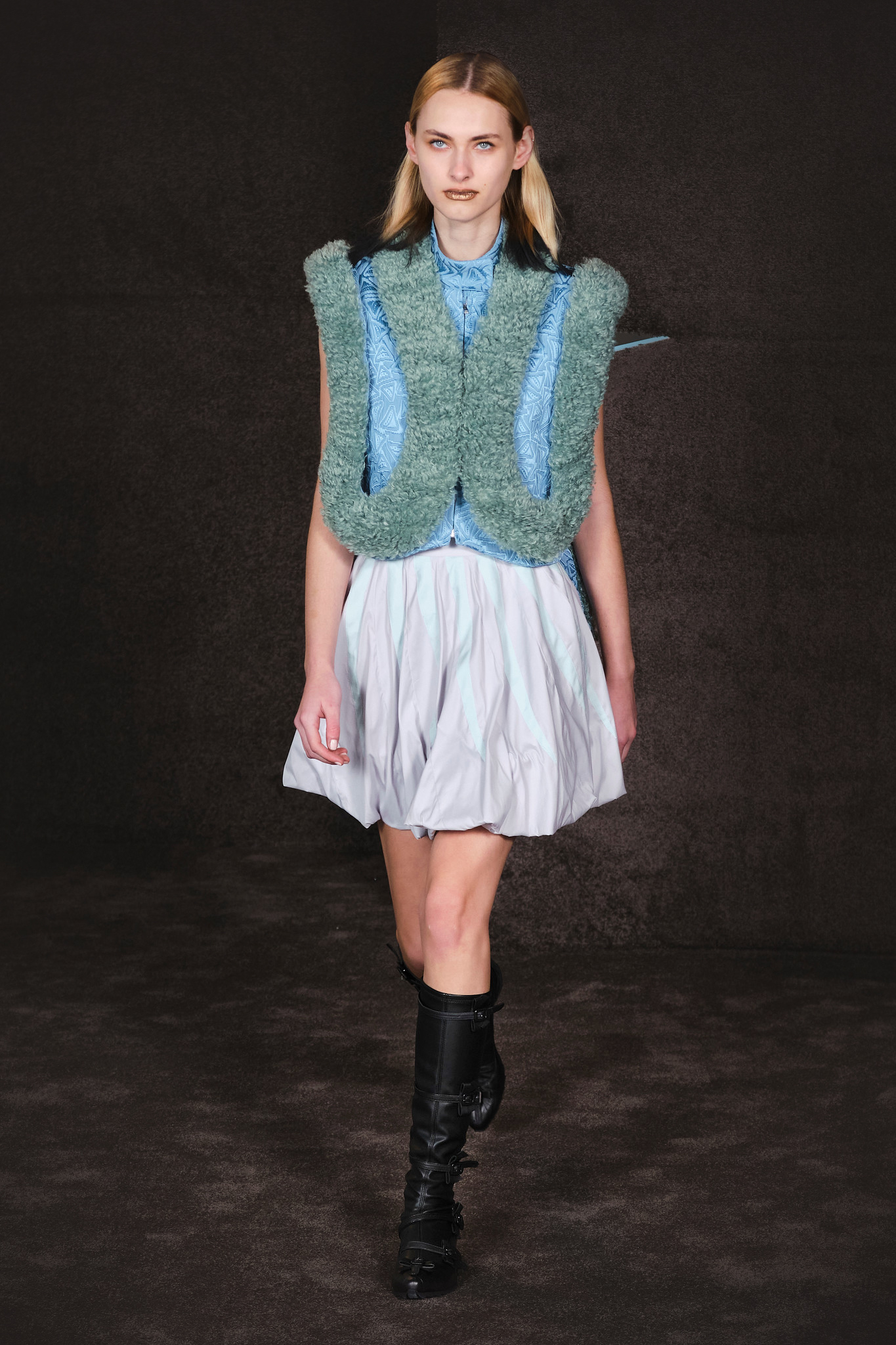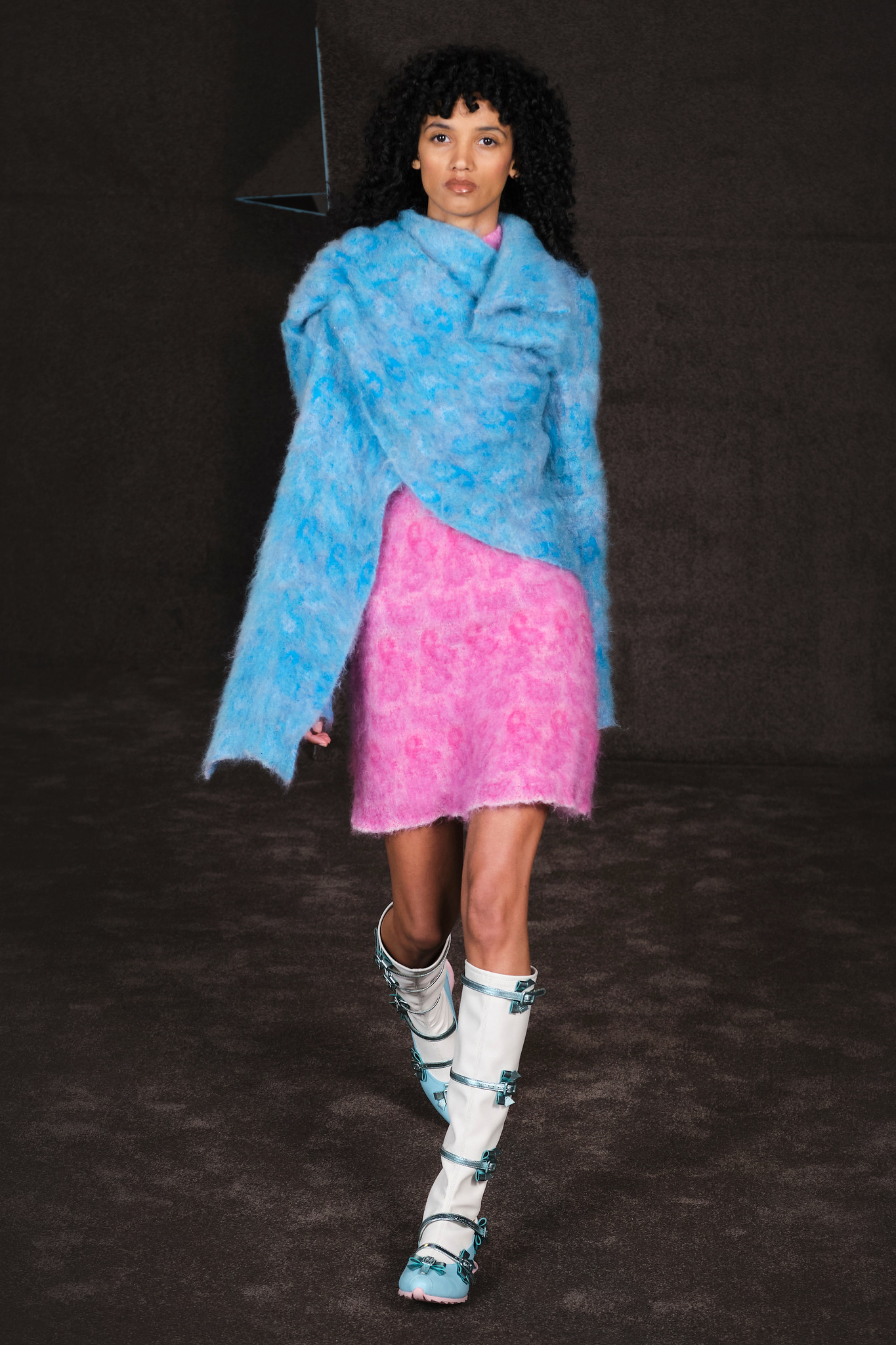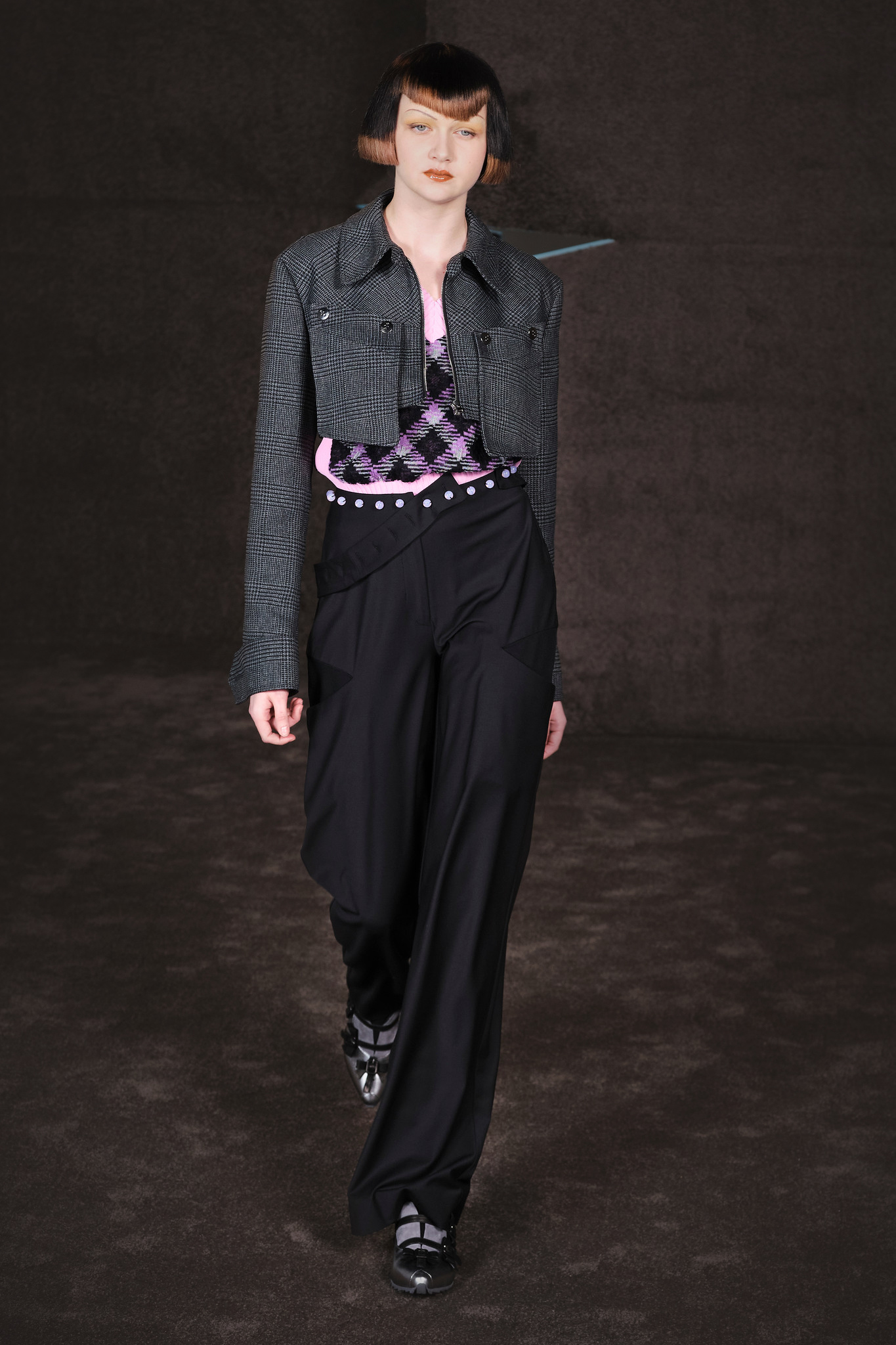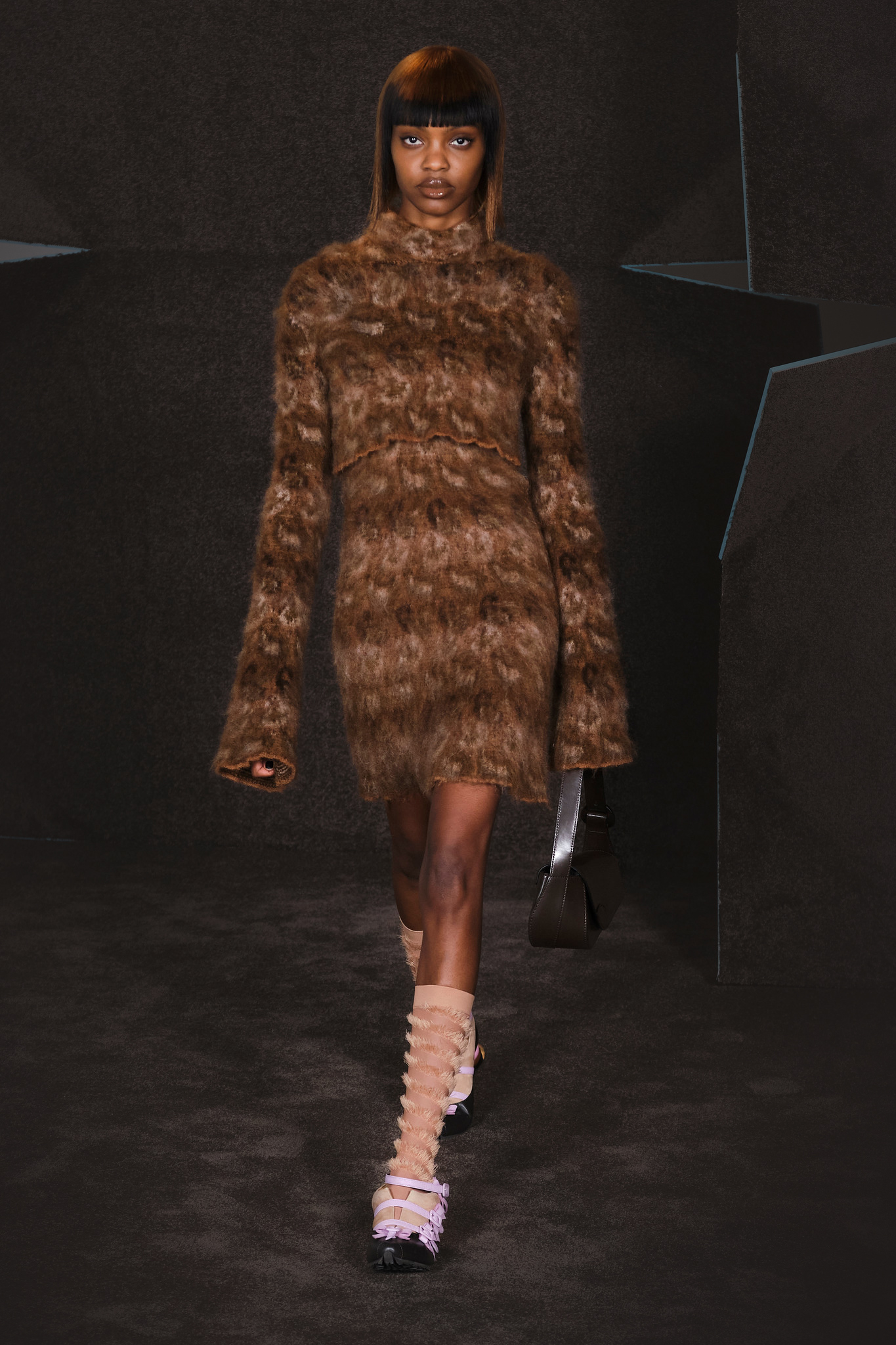 Balenciaga
There has been an elephant on the runway at most shows in Paris this season. The world may be watching a war unfold in Ukraine, but fashion has charged forward. It has been, for most, business as usual. The industry is in a strange predicament, struggling to both celebrate beauty and acknowledge suffering. In most cases, a statement of solidarity or a donation has been made — but, ultimately, due to how swiftly the conflict unfolded, there is little that we see on or off the catwalk that fully articulates the situation. Designers have spent months working on their collections, only for the context in which their work is presented to shift from a "post-pandemic" joy to violence on the continent in just 10 days. 1.5 million people have fled Ukraine in the fastest-growing refugee crisis in Europe since World War II. The fashion industry (many of the conglomerates have shut down stores and blocked trade with Russia) can play only a minor part in a much more complex geopolitical issue.
There is only so much that clothes can tell us about the world, but sometimes a fashion show can capture specific moments, even if only accidentally. Yesterday morning, on the outskirts of Paris, in a giant purpose-built snowglobe, Demna staged a Balenciaga show that will go down in history as one of the most powerful — and political — statements ever seen on the runway. The kind of show that will be talked about in decades to come, in the same way we reflect upon the pivotal McQueen, Galliano and Margiela shows today. For everything you need to know about the history-making fashion moment, head here to read our full review.
Kenneth Ize
The combination of elegant, long-lined silhouettes and the bright, poppy hues of his trademark striped aso oke has long been a winner for Kenneth Ize. This season, that was on offer in the collection he presented at 3537, seen in a fringed blazer and wrap skirt twinset and generously-cut suiting. What made this season such a powerful one for the Austrian-Nigerian designer, however, was seeing him step beyond expectations to take bold steps into new aesthetic territories. A gown, comprising a shimmering inky velvet top and a pleated chiffon dress, brought a discreet, evening-ready poise into the mix, while itsy-bitsy micro shorts in blue denim styled with a brown corduroy shirt gave camp-y Daisy Duke cosplay. That same racy spirit informed a mod-ish striped shift dress with a décolleté baring split down the bust, while graphite velvet trucker jackets with asooke trimmed welt pockets were ritzy in their elegance and endearingly unpretentious all at once. Was it an eclectic mix? Perhaps, but variety is the spice of life, is it not? MS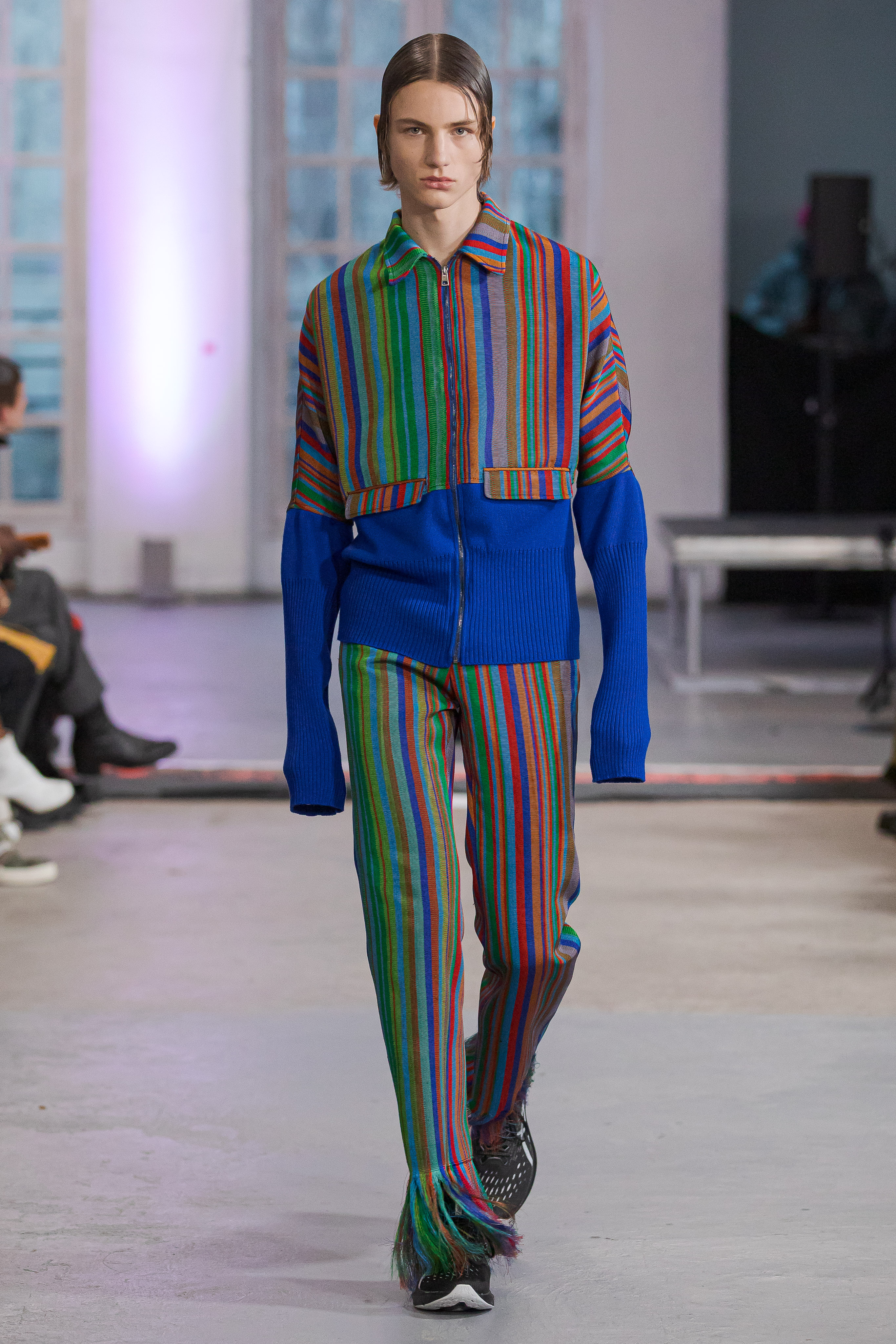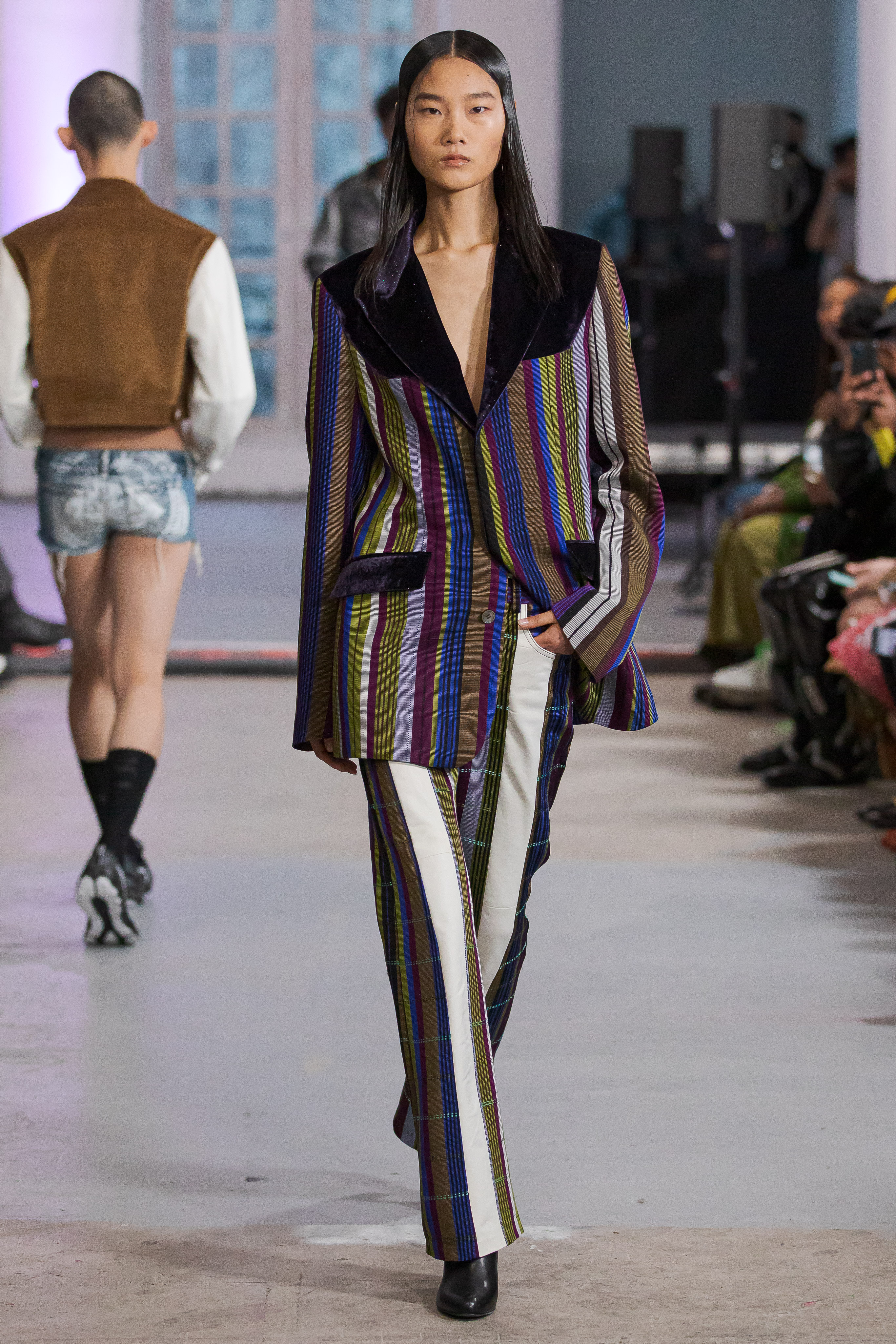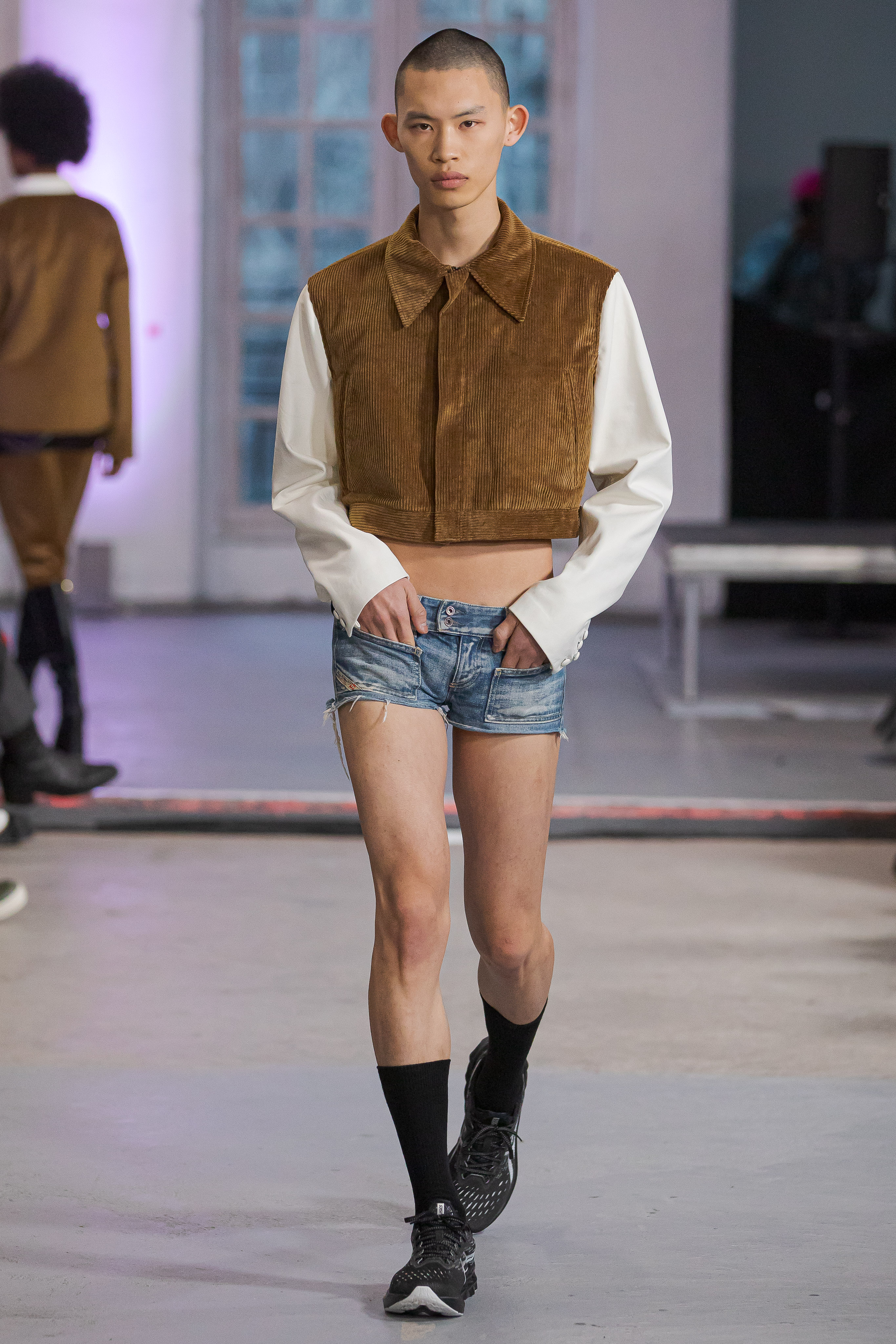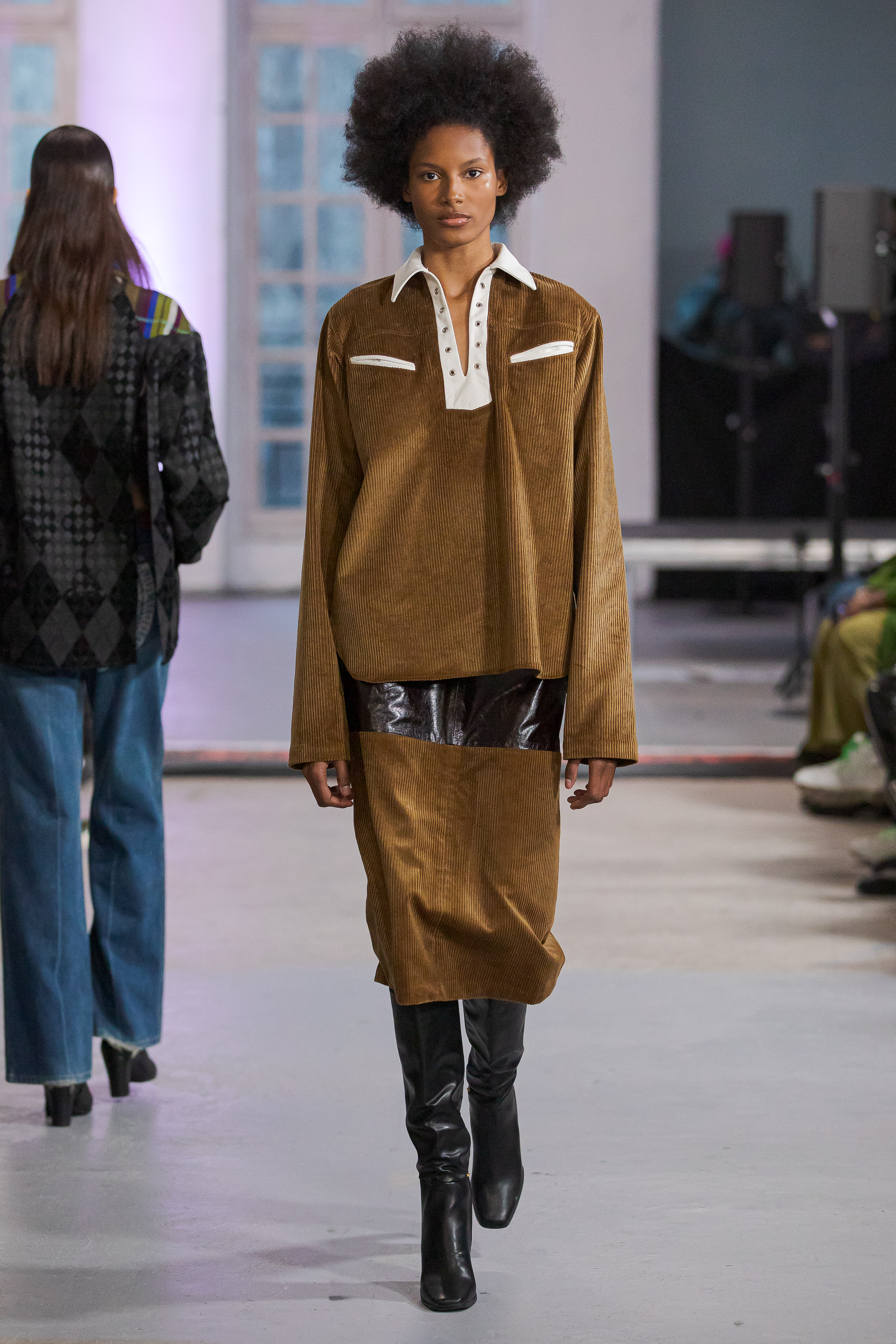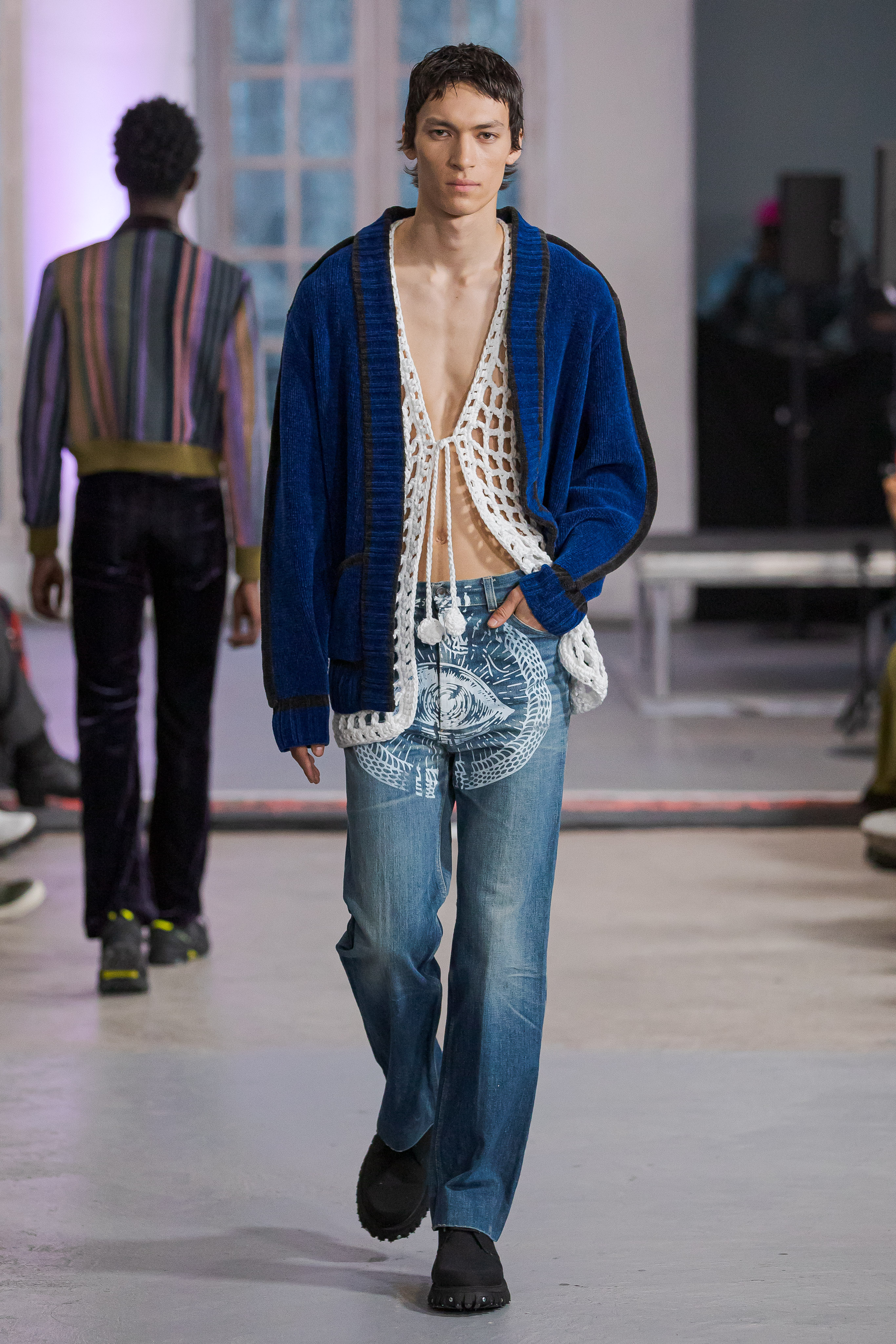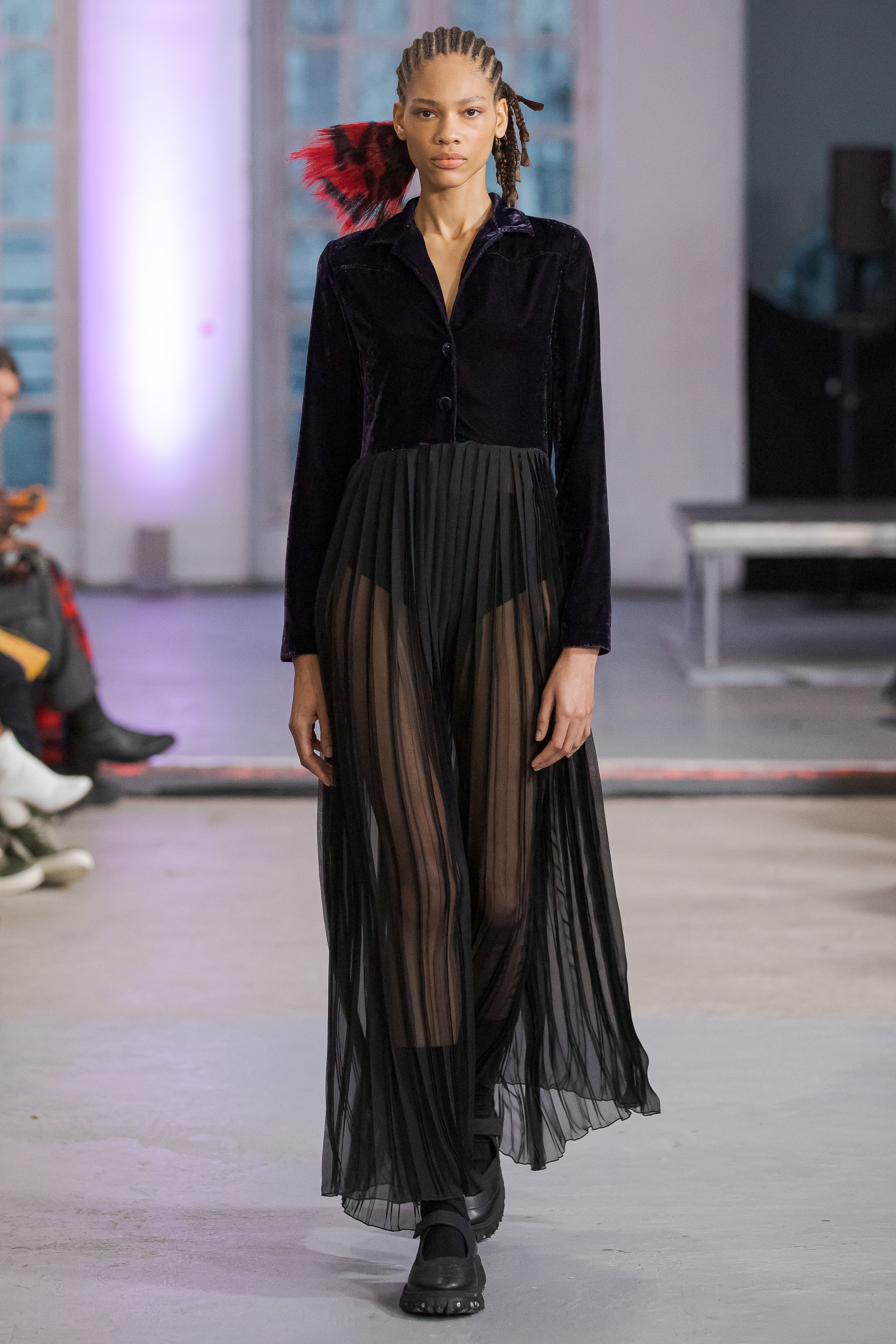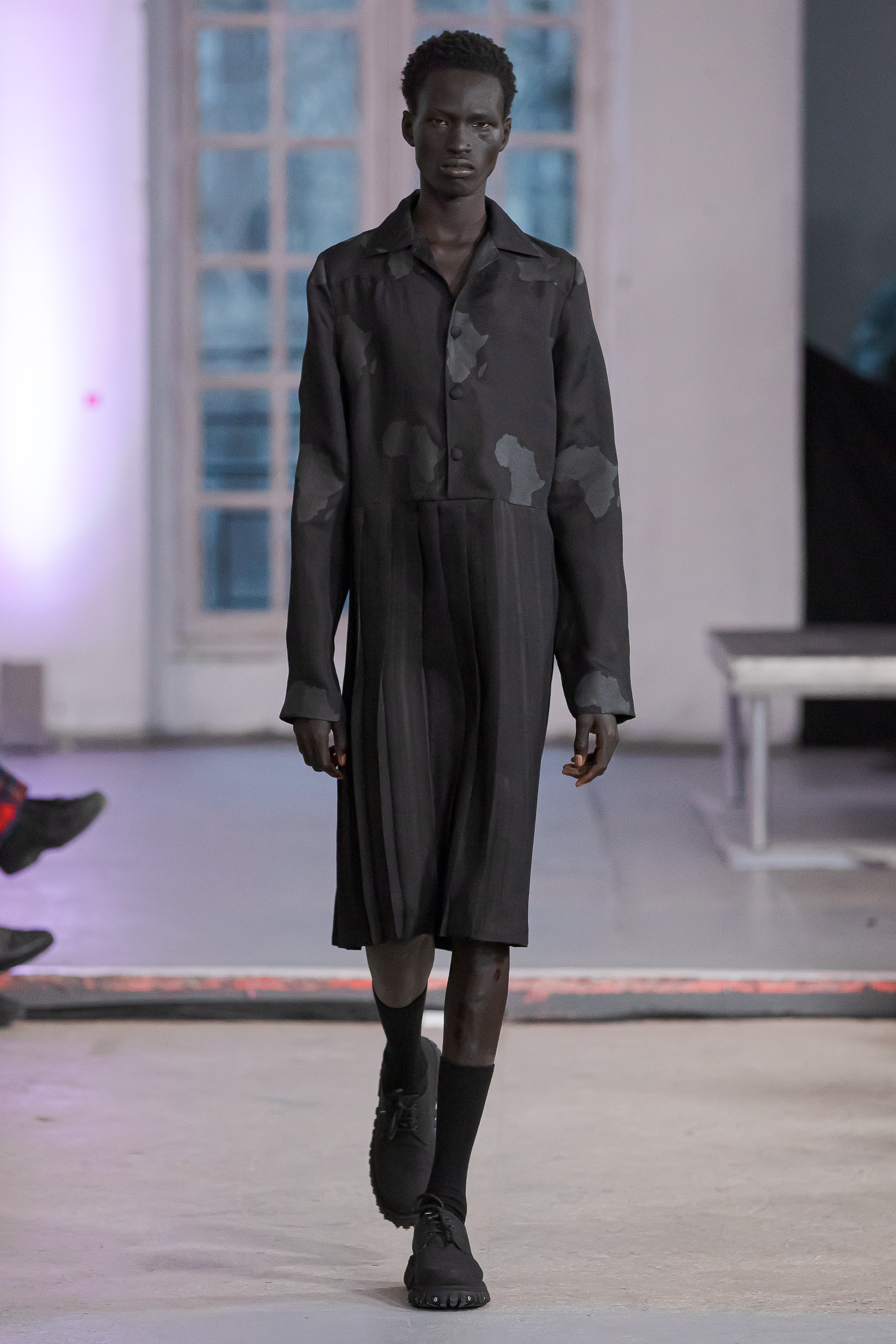 Valentino
What is it about pink? The colour – beloved by girly-girls, from Barbie to Barbara Cartland – was the subject of Pierpaolo Piccioli's fascination this season. His latest Valentino offering was titled "pink-out" — as in a blackout, but pink. Obviously. After all, pink is a colour associated with old-fashioned ideas of gender — even though, centuries ago, it was a colour predominantly worn by flamboyant men. Just decades ago, it was the unofficial colour of the punk movement and, ultimately, it is still a colour that is culturally symbolic, oftentimes politicised — think of the triangle used to symbolise AIDS protests, or even the "pussy hats" worn by women around the world marching for their rights in 2017.
And that's what makes it ripe for examination — or subversion, the word Pierpaolo used to describe his urge to think pink. Hence, everything – from the staircases that formed the set, to the benches that guests sat on, to the clothes worn by VIPs such as Zendaya and, of course, to the extensive coed collection shown on the runway – all came in a deep, bright hue of fuschia. Or 'Shocking Pink', as Elsa Schiaparelli would call it. Pierpaolo called it "monotone", the idea of which was to remove any distractions of palette to draw focus to the dramatic silhouettes on display. And of those there were many, from trapeze-shaped coats, Mediaeval-inspired cutouts and lots of sweeping capes with all the sequinned trimmings. But there's more! Halfway through the show, all-black looks arrived down to cut through the retina-sizzling shade of pink that had prevailed thus far.
The result was a show that was bold, experimental and extremely memorable — least so because of the casting. Sixties super Penelope Tree and Kristen McMenamy made appearances, the latter sauntering through the space fluttering her diaphanous chiffon gown like a real-life butterfly. It offered balm for the soul during an otherwise depressing news cycle. Seeing life through rose-tinted Valentino spectacles, in other words. OA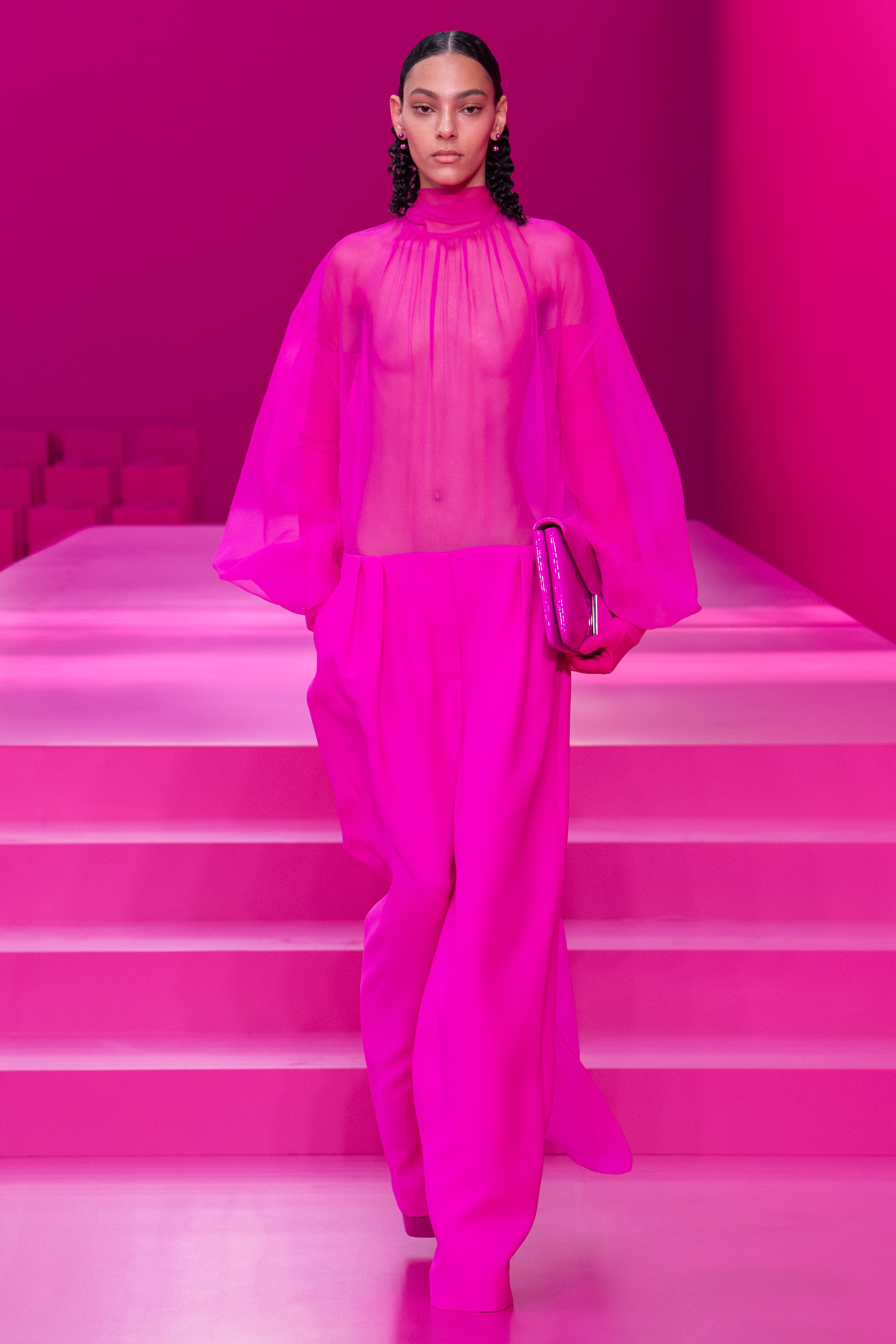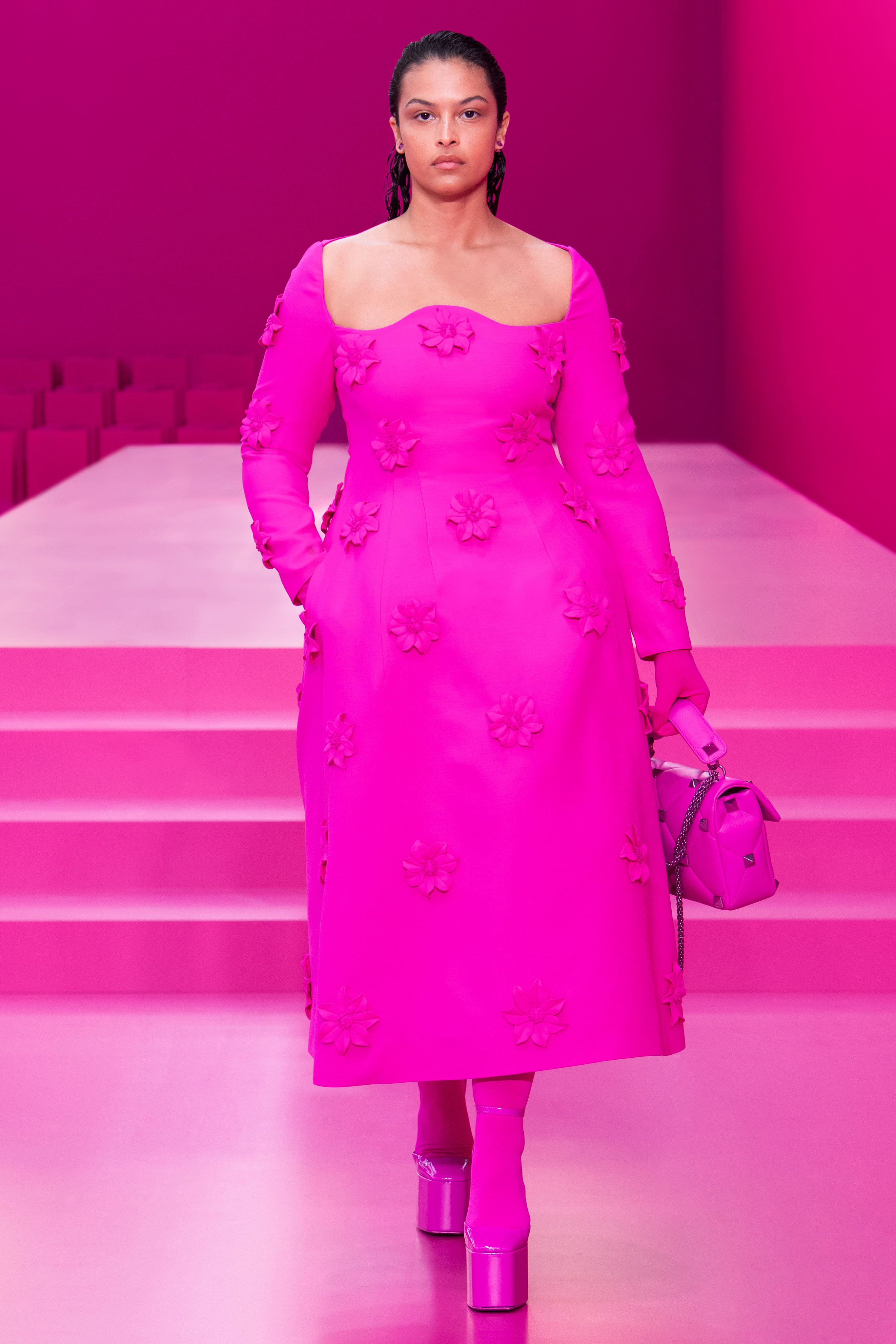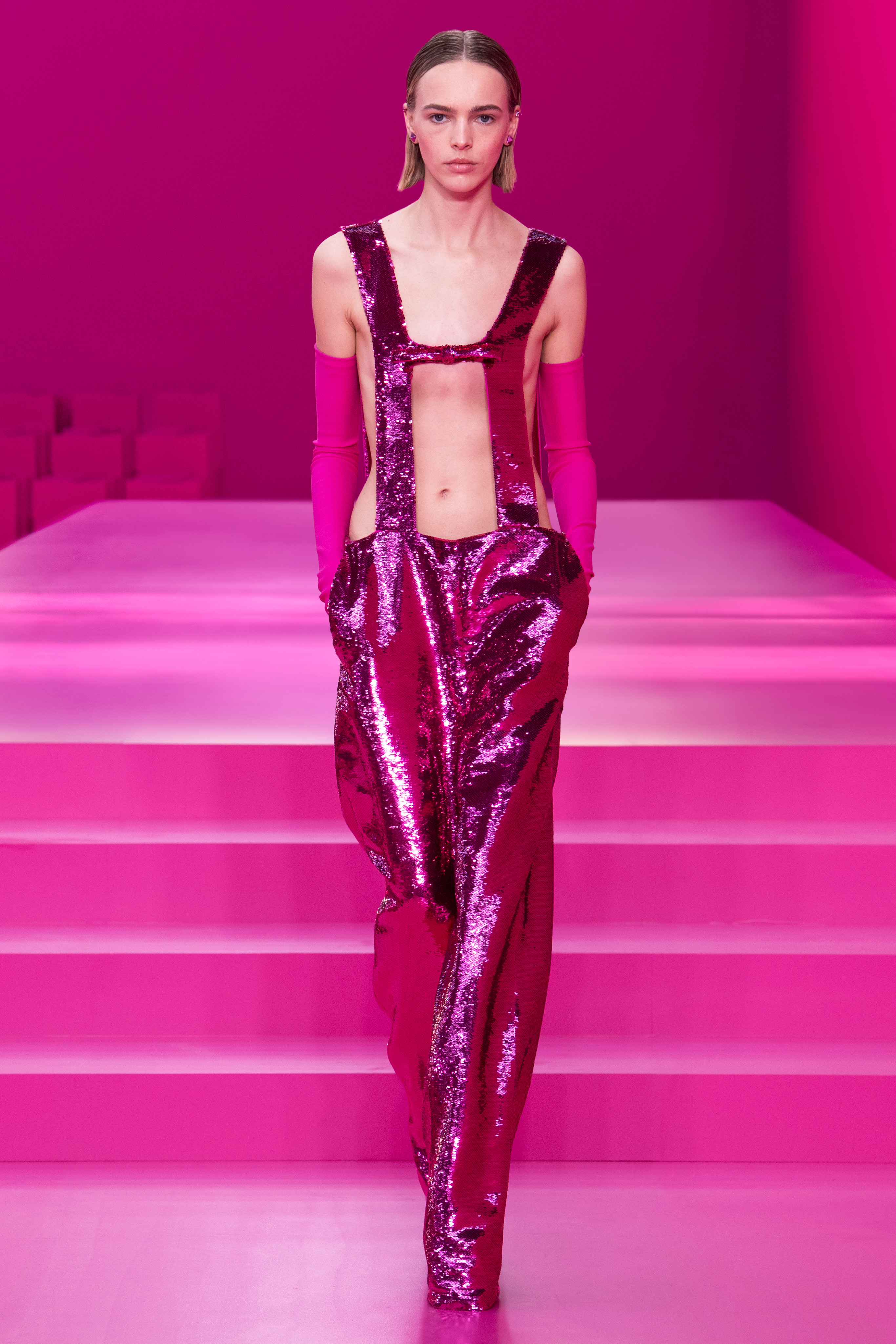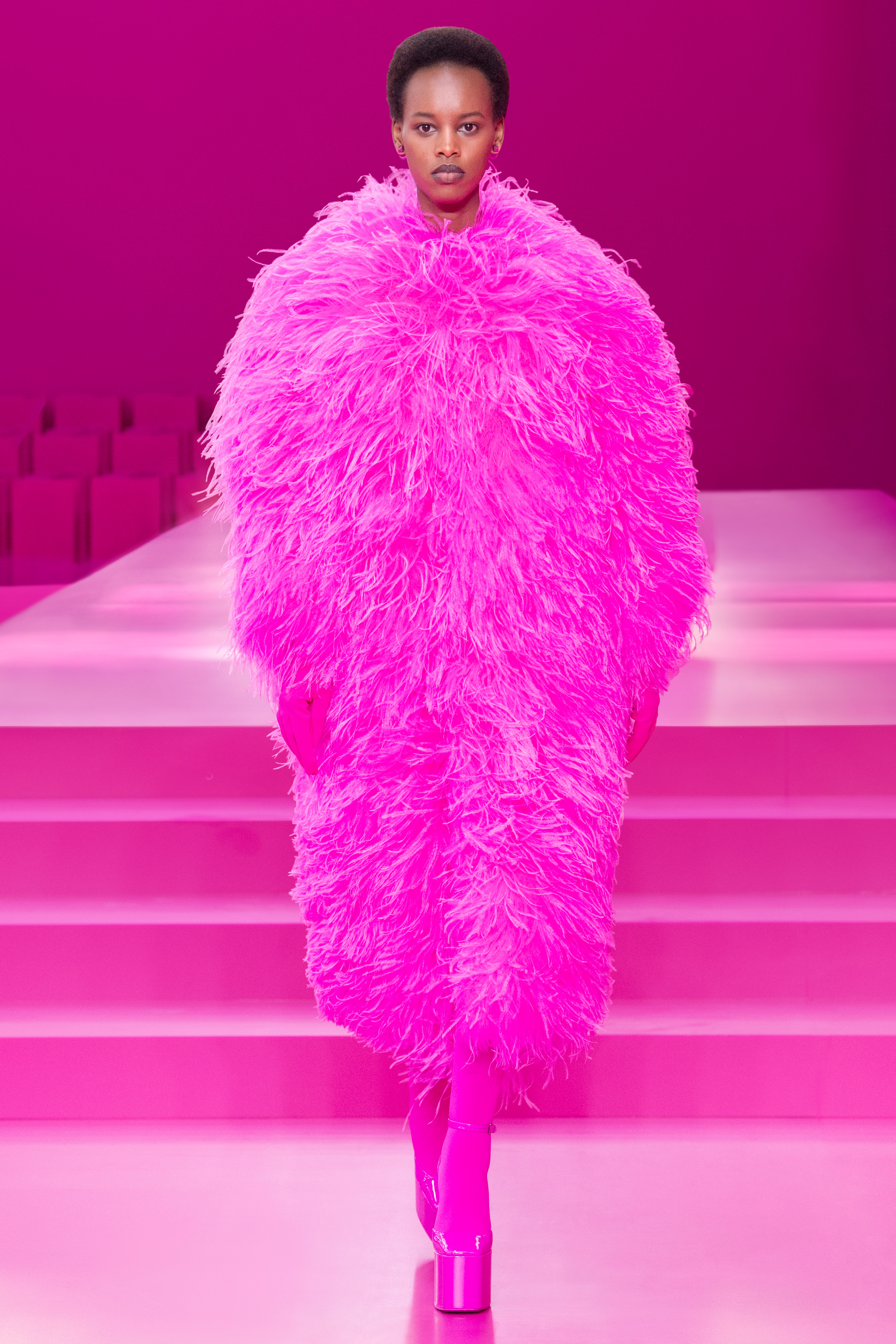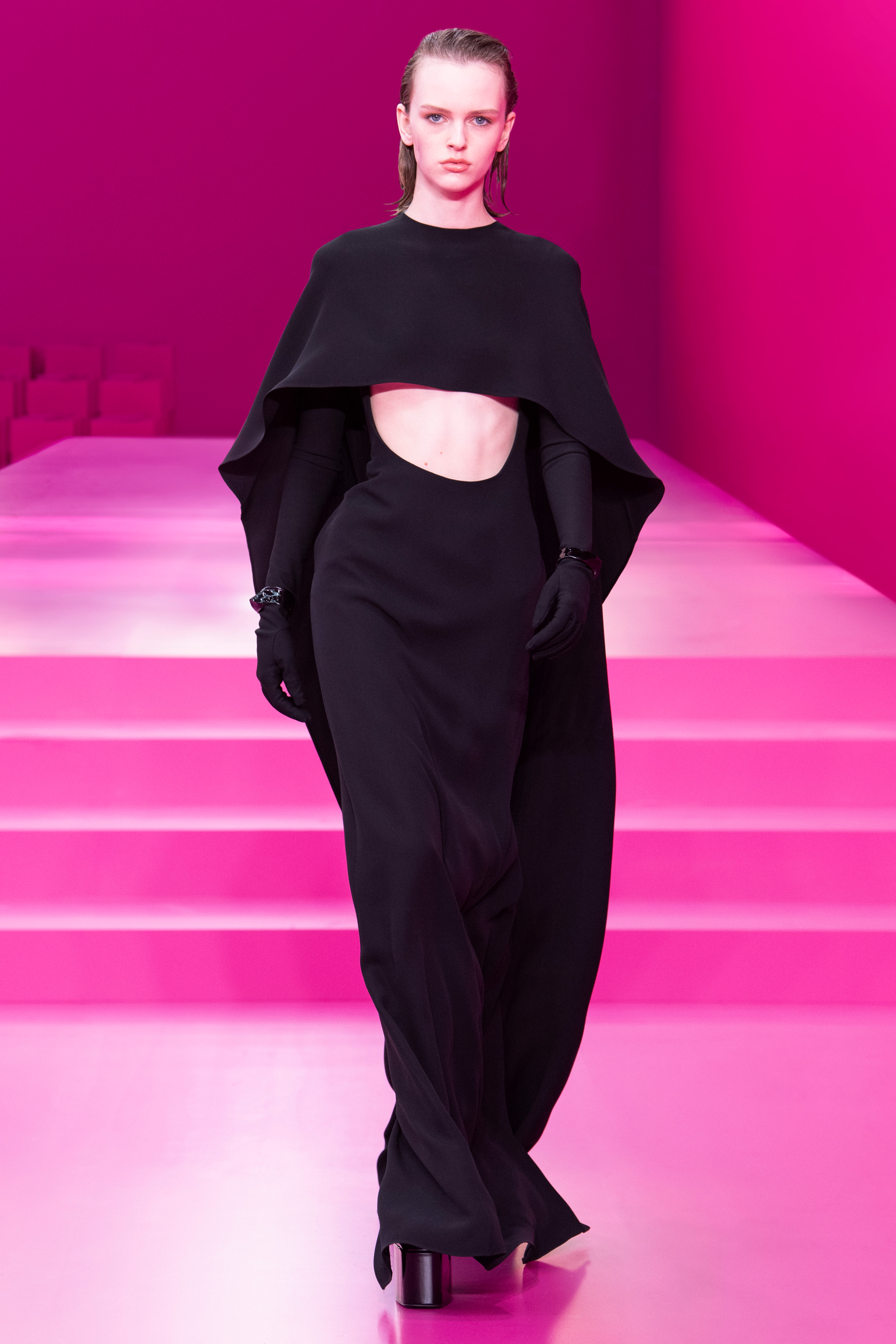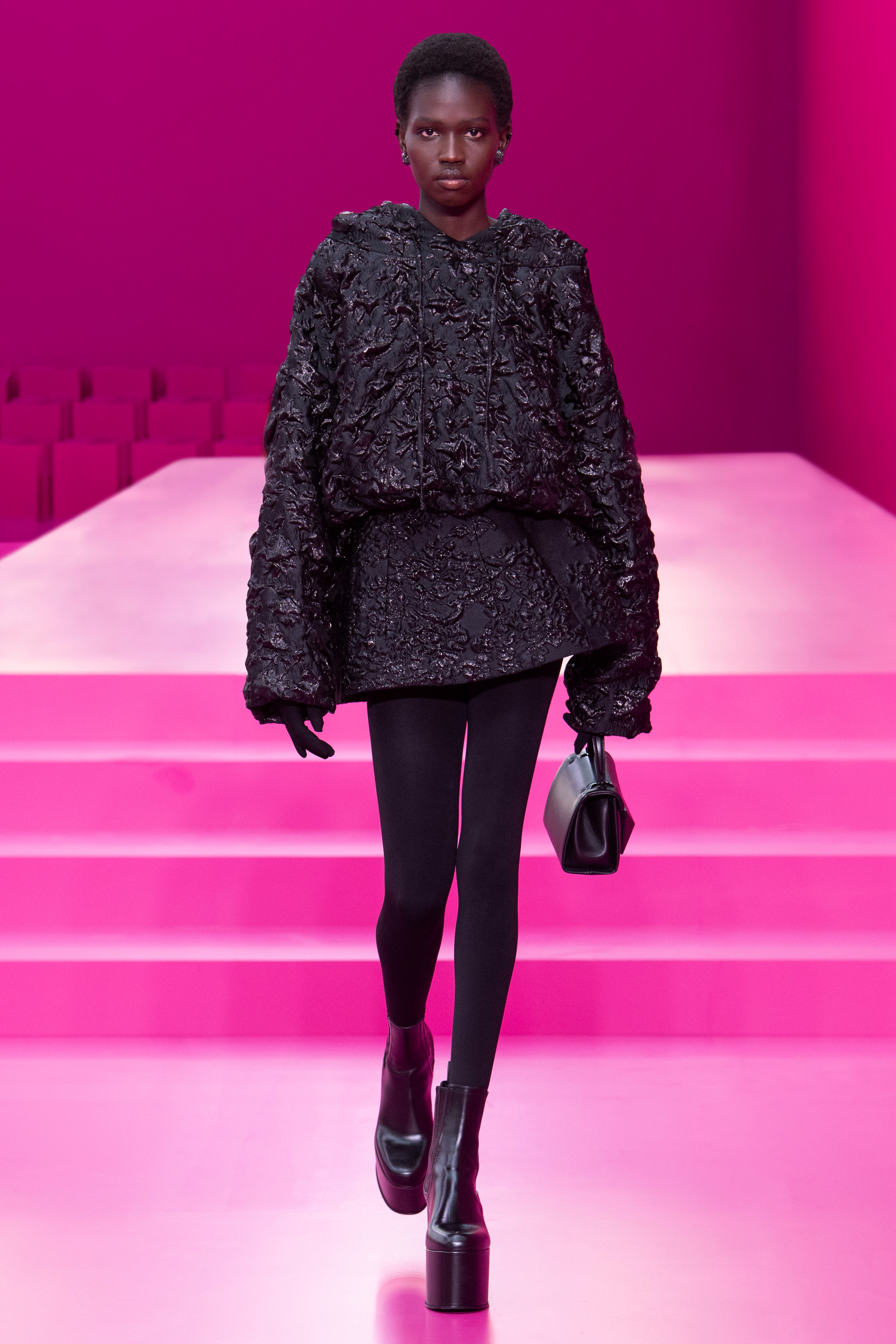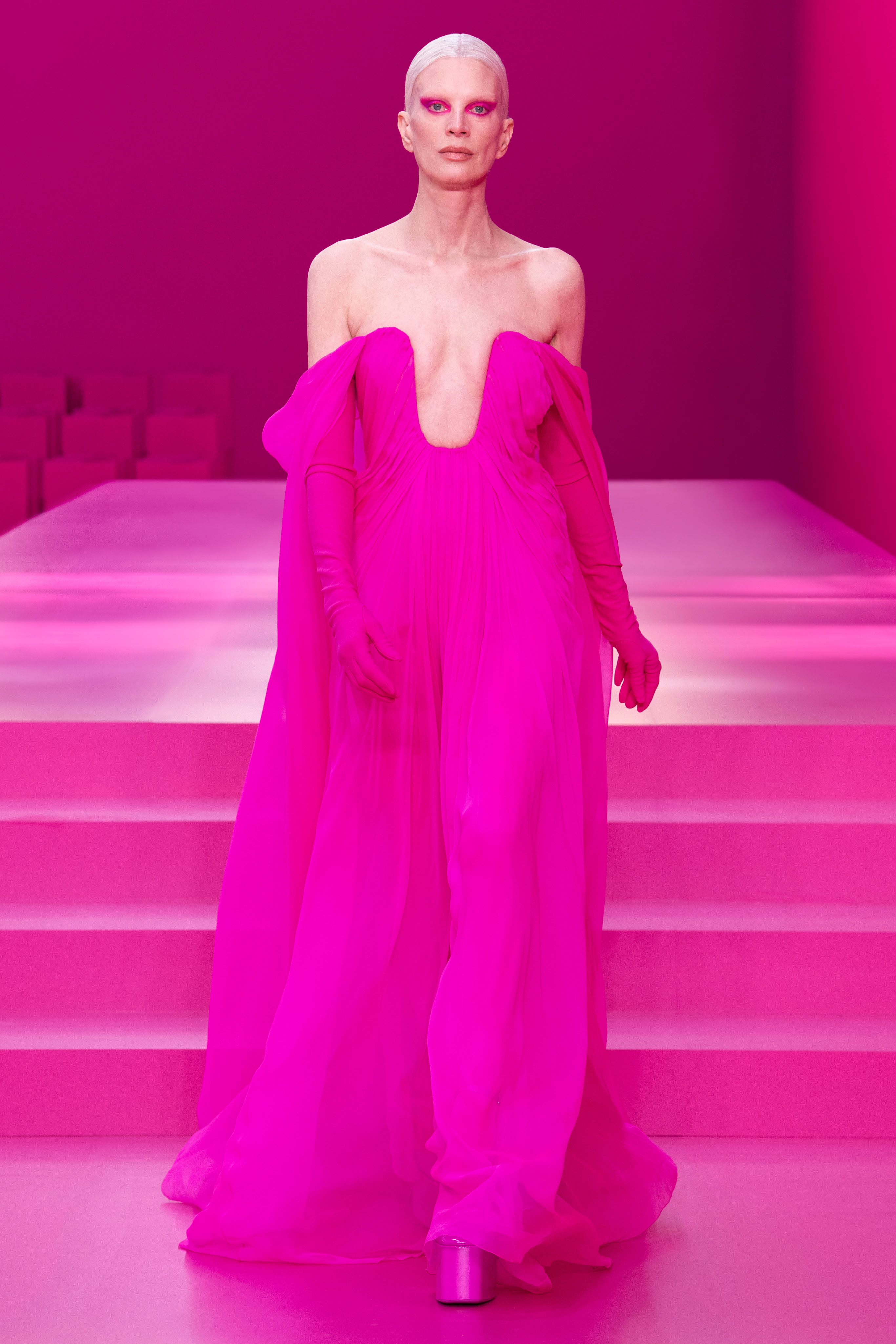 Isabel Marant
Back when Talitha Getty was holding court as the queen of Marrakech, she had a pair of boots repurposed from Moroccan carpets that saw plenty of parties in her opulent riyadh. Decades later, they are the obvious inspiration for Isabel Marant's latest outing of easy-breezy fashion for girls on the go. Except, given that this season Isabel looked to the spirit of Y2K rather than boho-Moroccan style, her versions came as thigh-high stompers, paired with mohair jumpers, cargo-style denim and oversized shirt dresses that hinted at a morning-after energy. Altogether, it was a more covered-up affair than the usual parade of leggy, tousled-hair girls that Isabel usually sends down her catwalk. The show opened with slouchy trousers paired with cosy-looking jackets, and later looks offered leather dungarees, plenty of perfectly-baggy denim, and oversized outerwear that had a sportiers, if not more casual, look than the going-out dresses the French designer is known for. But don't let that fool you. Never one to resist the allure of baring skin, Isabel had lots to offer for her devoted scantily-clad shoppers. Rianne Van Rompaey closed the show in a pair of relaxed-fit trousers and a crystal-laden string polo top that left little to the imagination. Isabel just can't stay a way from a bit of ooh-la-la, va-va-voom — and neither should you, come to think of it. OA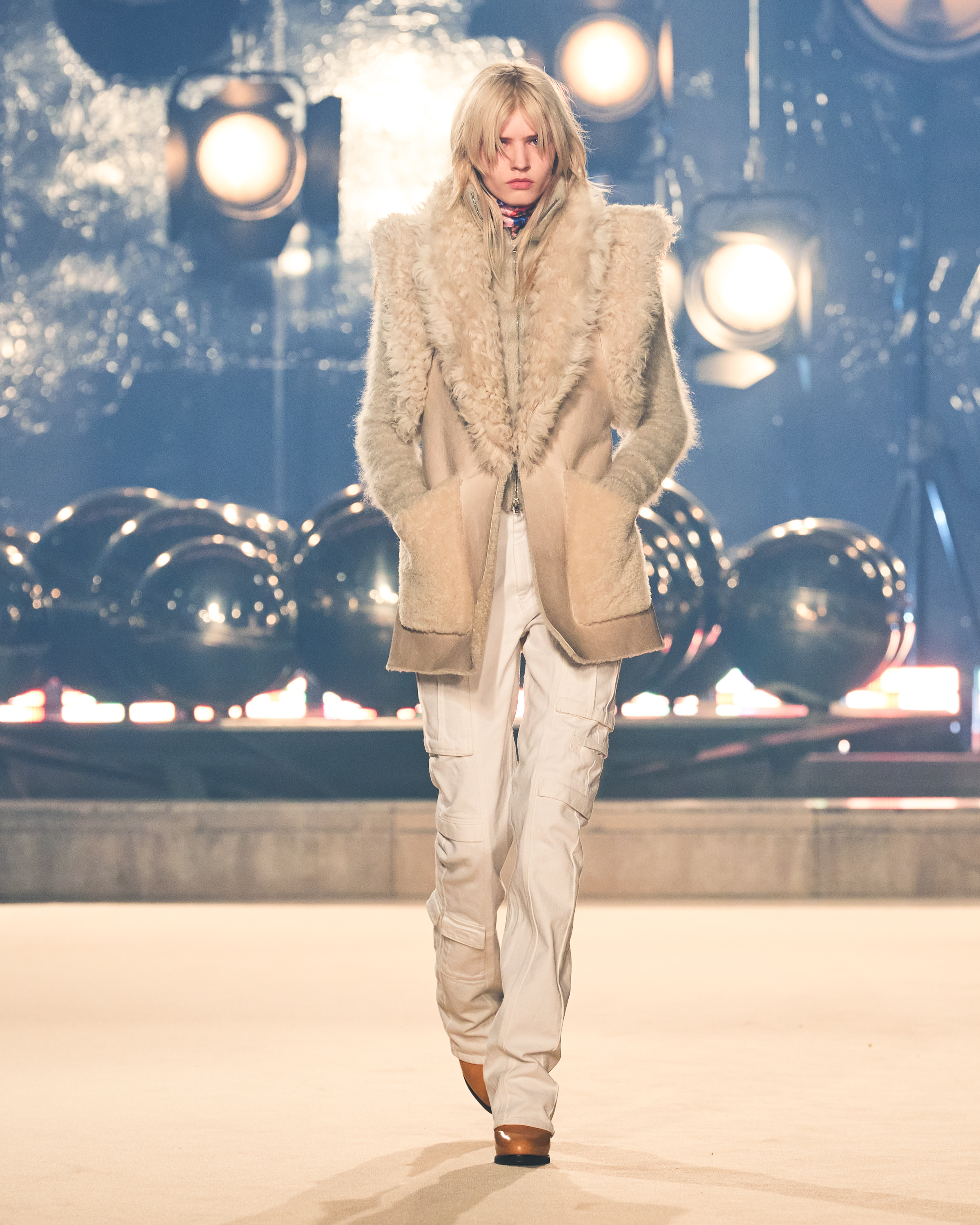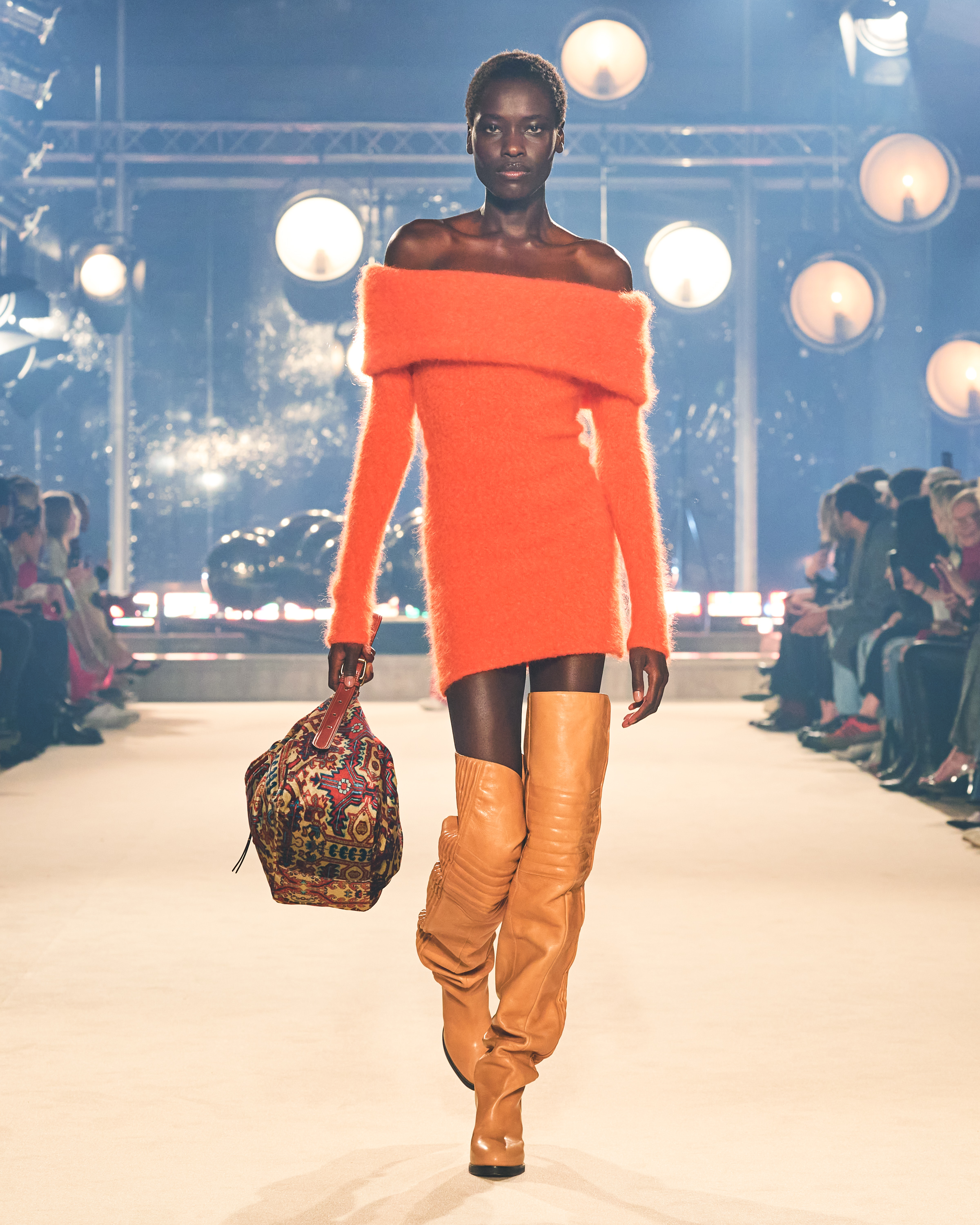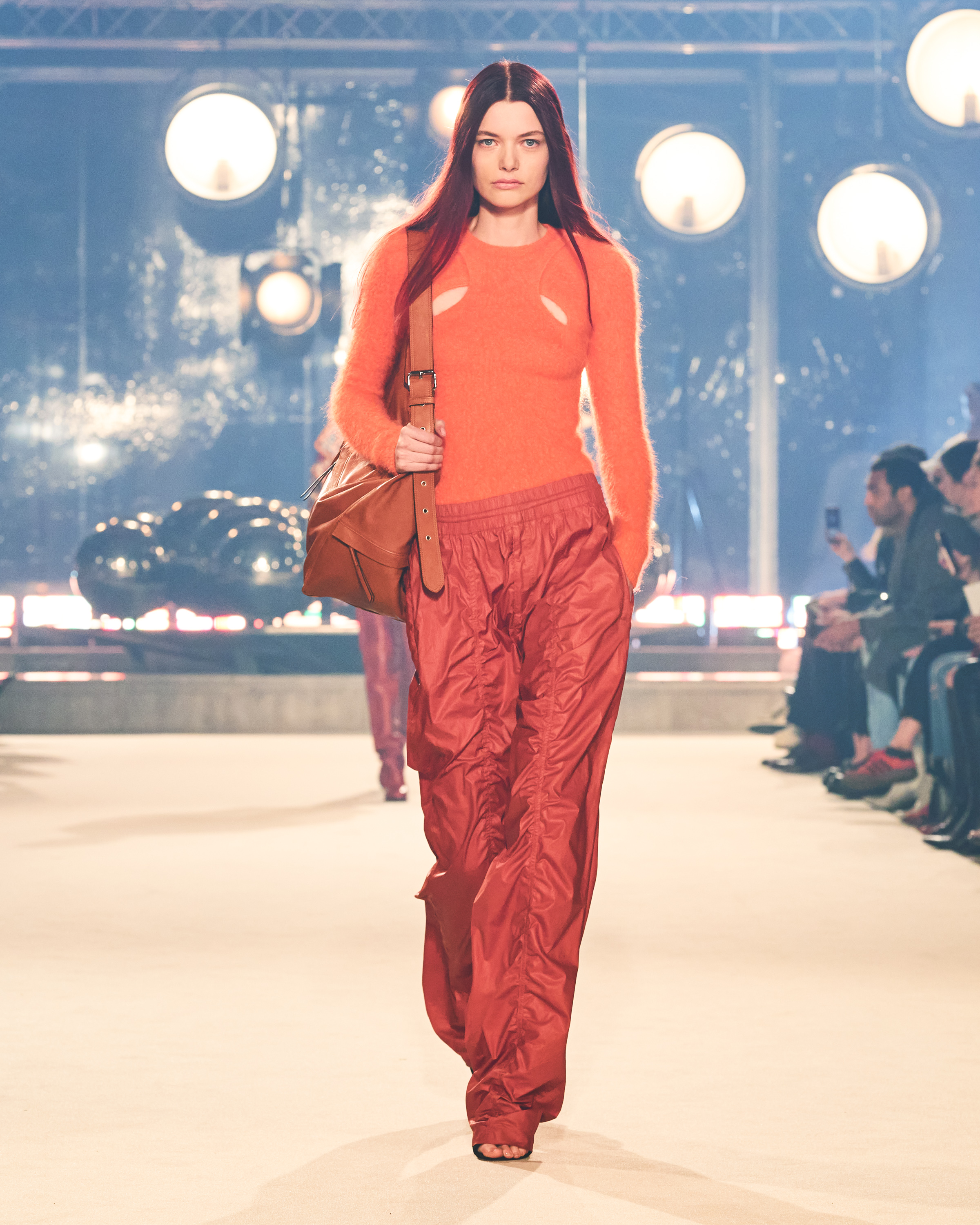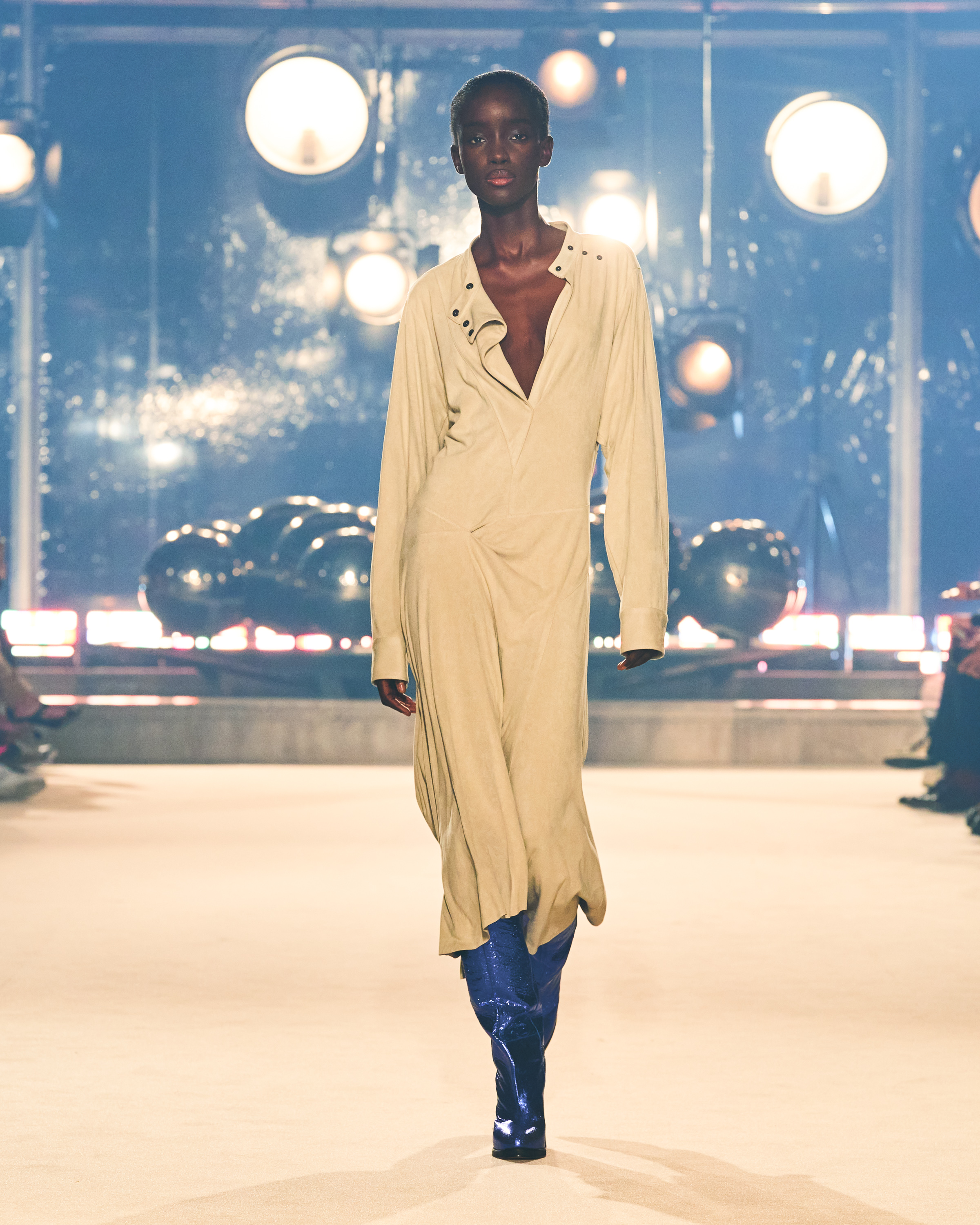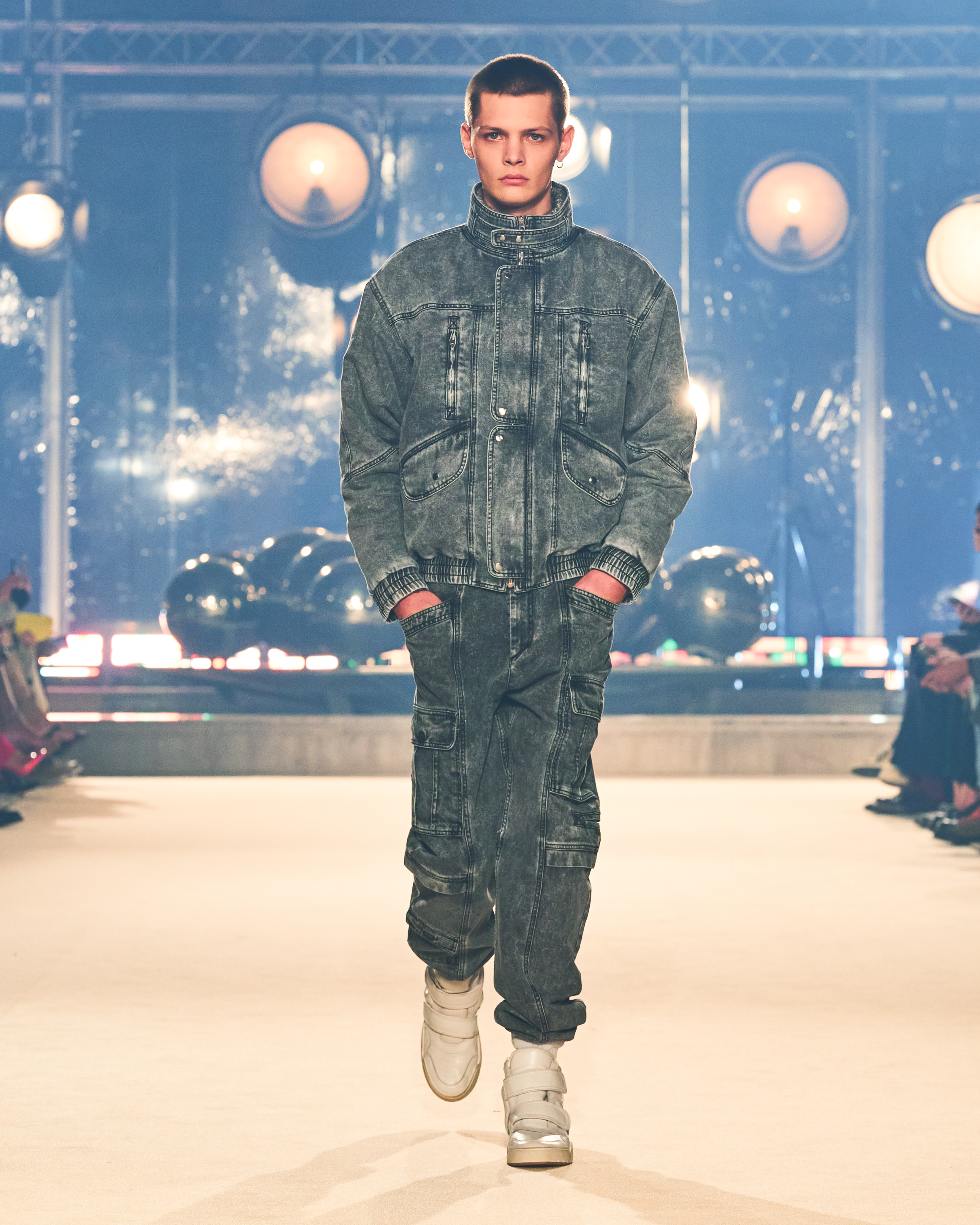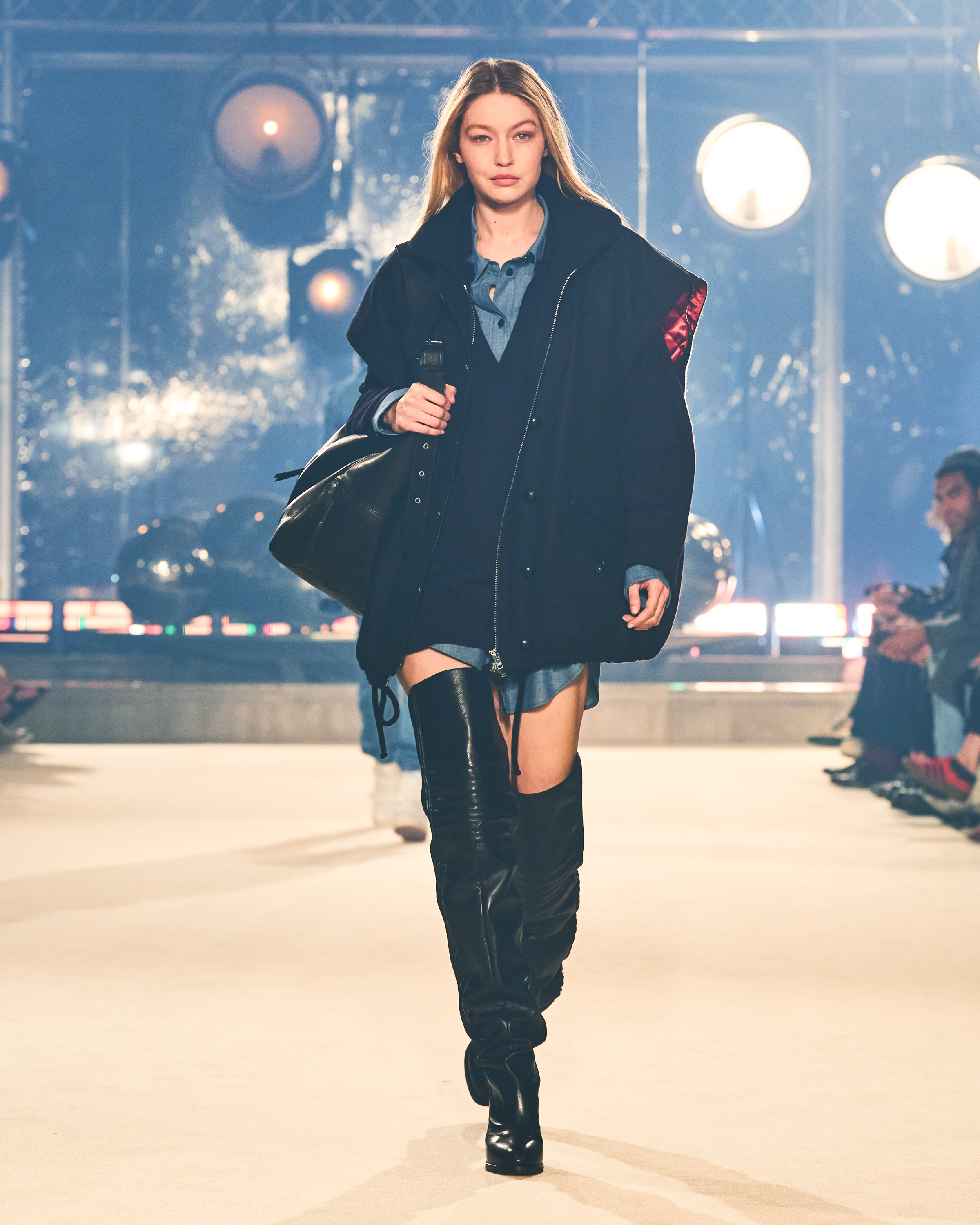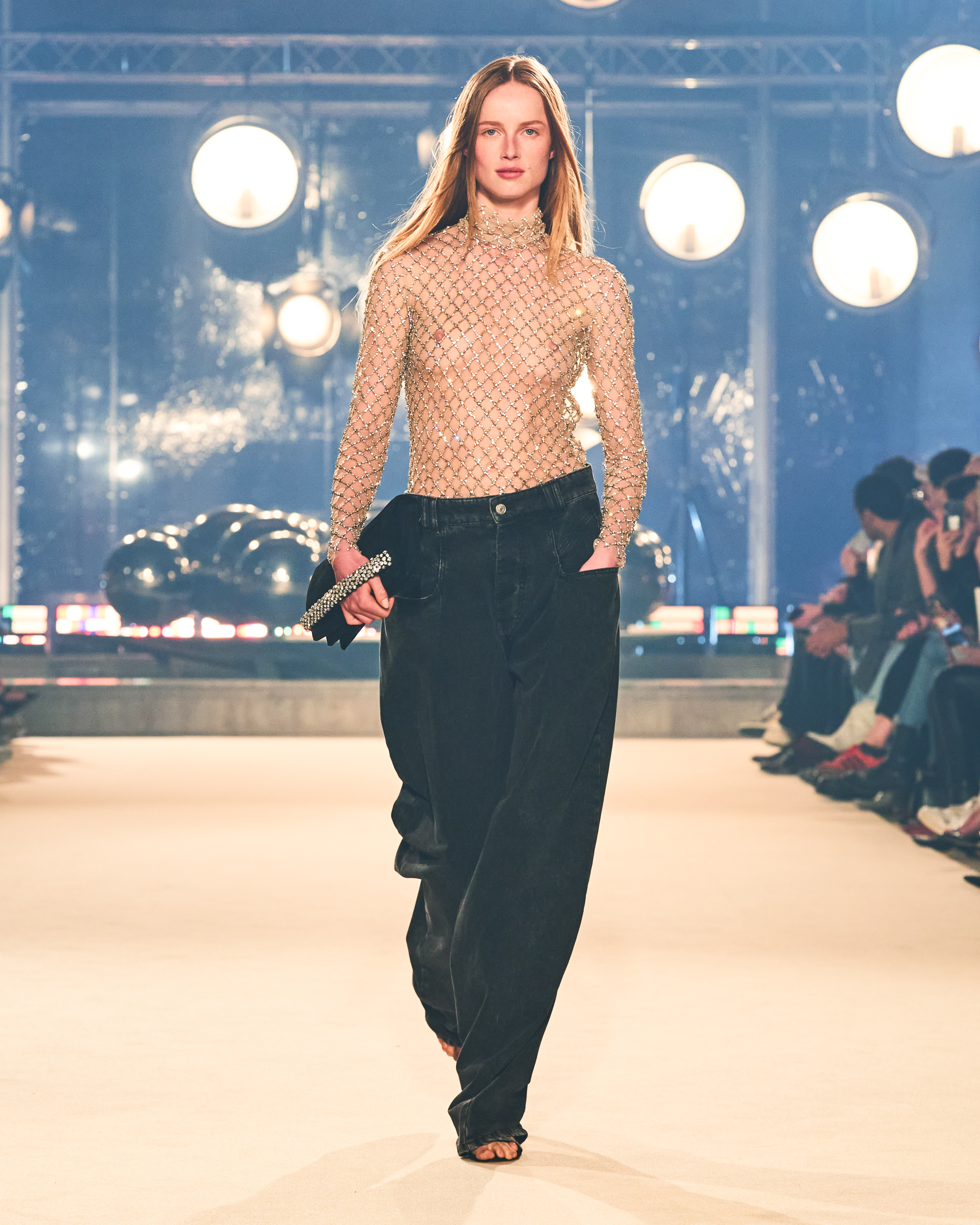 Marine Serre
If the baying crowd outside Marine Serre last night was anything to go by, the French designer has well and truly established herself as both a hometown hero, and a highlight of the Paris Fashion Week schedule. Rather than stage a typical, exclusionary runway show, though, she chose to invite the public in for 'Hard Drive', a weekend-long exhibition at Lafayette Anticipations – the same institution that hosted Martin Margiela's recent art show. A runway show presenting the brand's AW22 collection was indeed a central part of the proceedings, but around that it offered a holistic insight into the world of one of the most innovative, ecologically-conscious designers in fashion today.
With upcycling a cornerstone – rather than a decorative facet – of the label, the first floor hosted a staged production line, with the actual artisans that Marine works with seen sorting through deadstock and bulk-bought second hand garments, and giving them new life as pieces available for sale in the gallery's gift shop. On the second floor, you found an ode to the fabrics the designer works with, and on the level above was a selection of original paintings from the 15th to the 17th century, alongside bold reinterpretations of some of the most powerful, distinct female figures in art history.
Bringing these diverse facets and inspirations to life were the clothes themselves. A reiteration of the values at Marine Serre's cores – particularly of how found fabrics guide the designer's creative process – panels from kaleidoscopic knit jumpers were cobbled together into moto jumpsuits, and band t-shirts became a trailing hooded gown. Fringed tartan scarves were joined together to create punkish wrap skirts, as well as sharp tailored jackets and easy-wearing harringtons. Floral quilted blankets became cosy vests, while surplus army-issue camo was fused with richly decorative silk damask to create a prim tailored dress coat. MS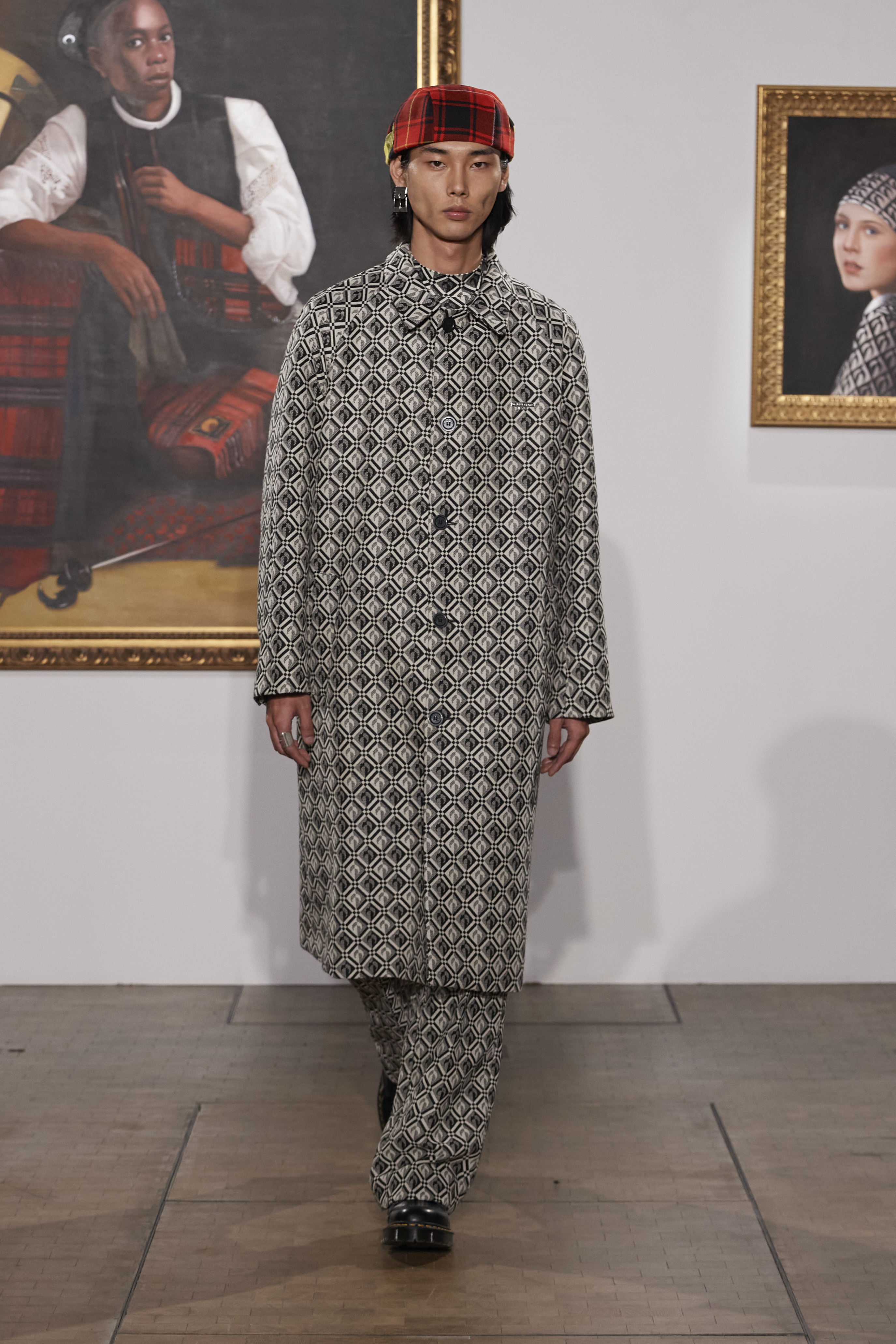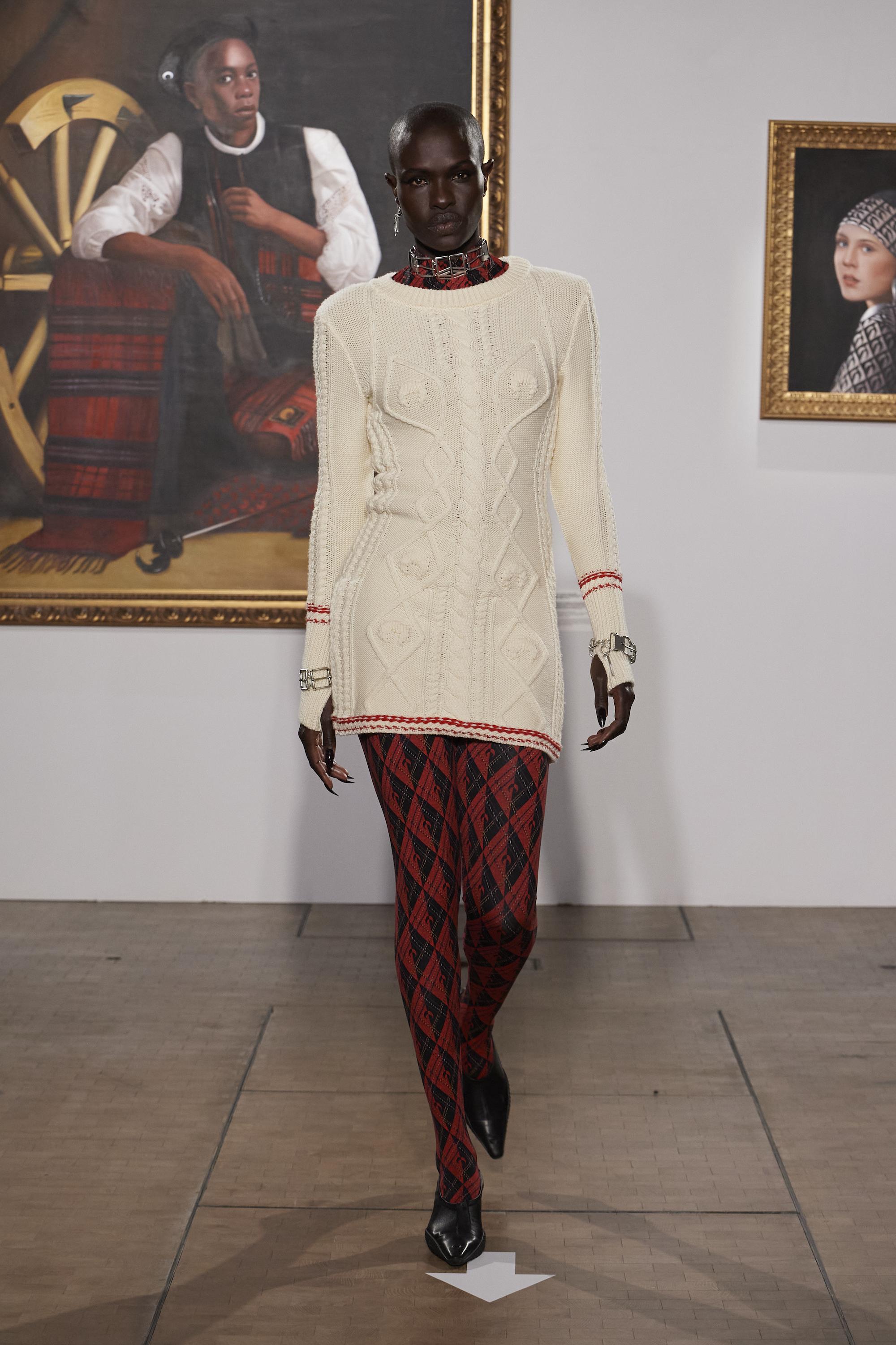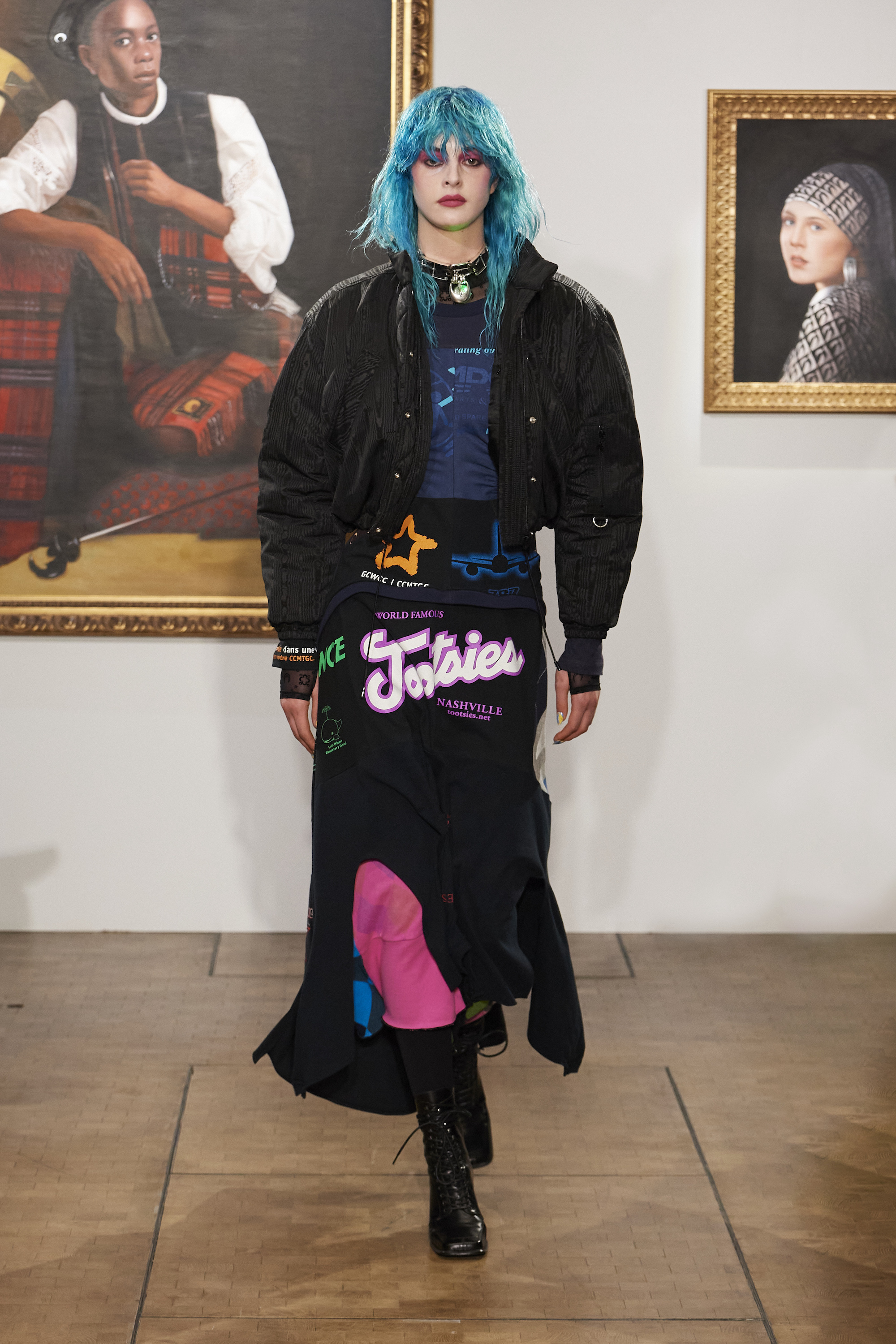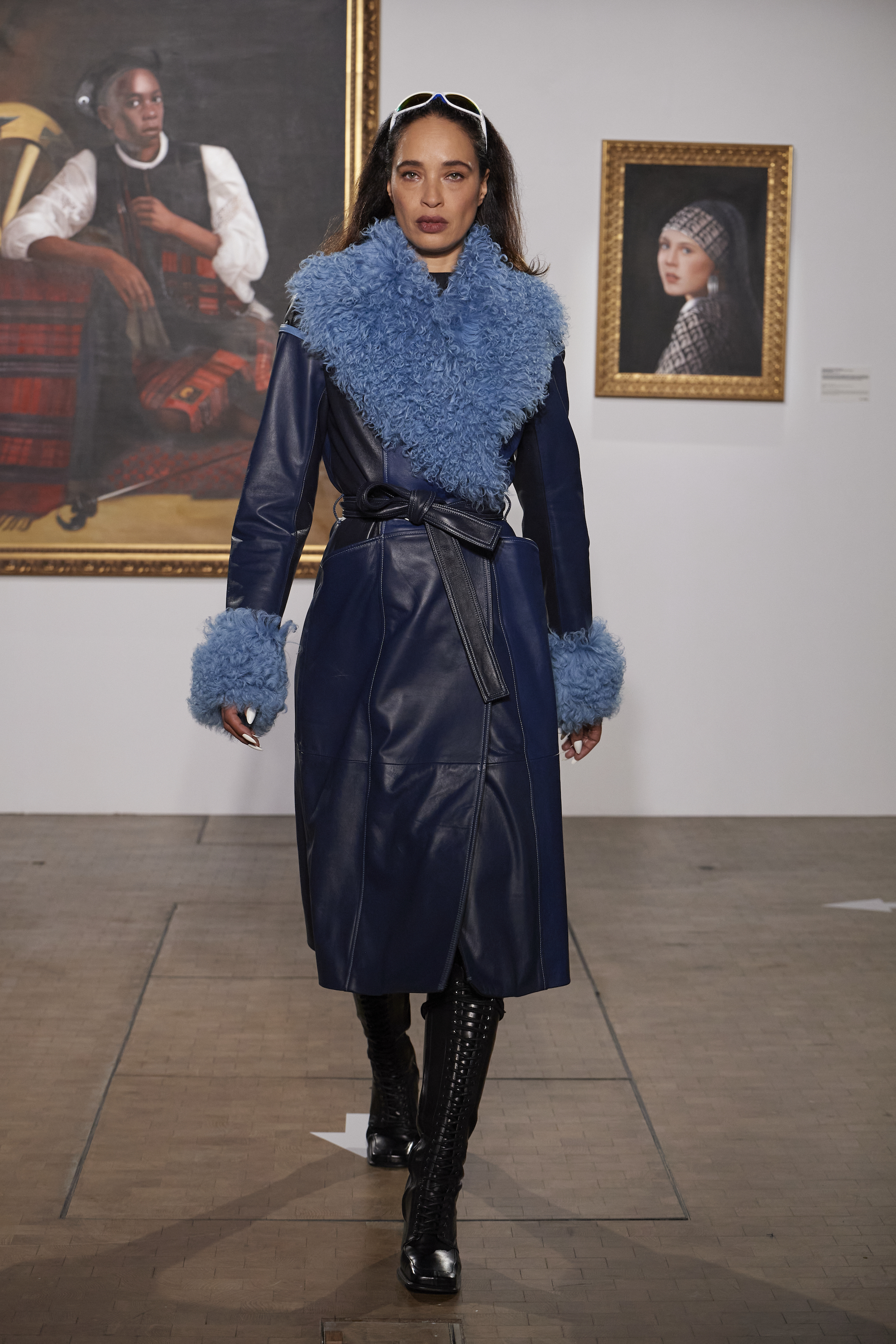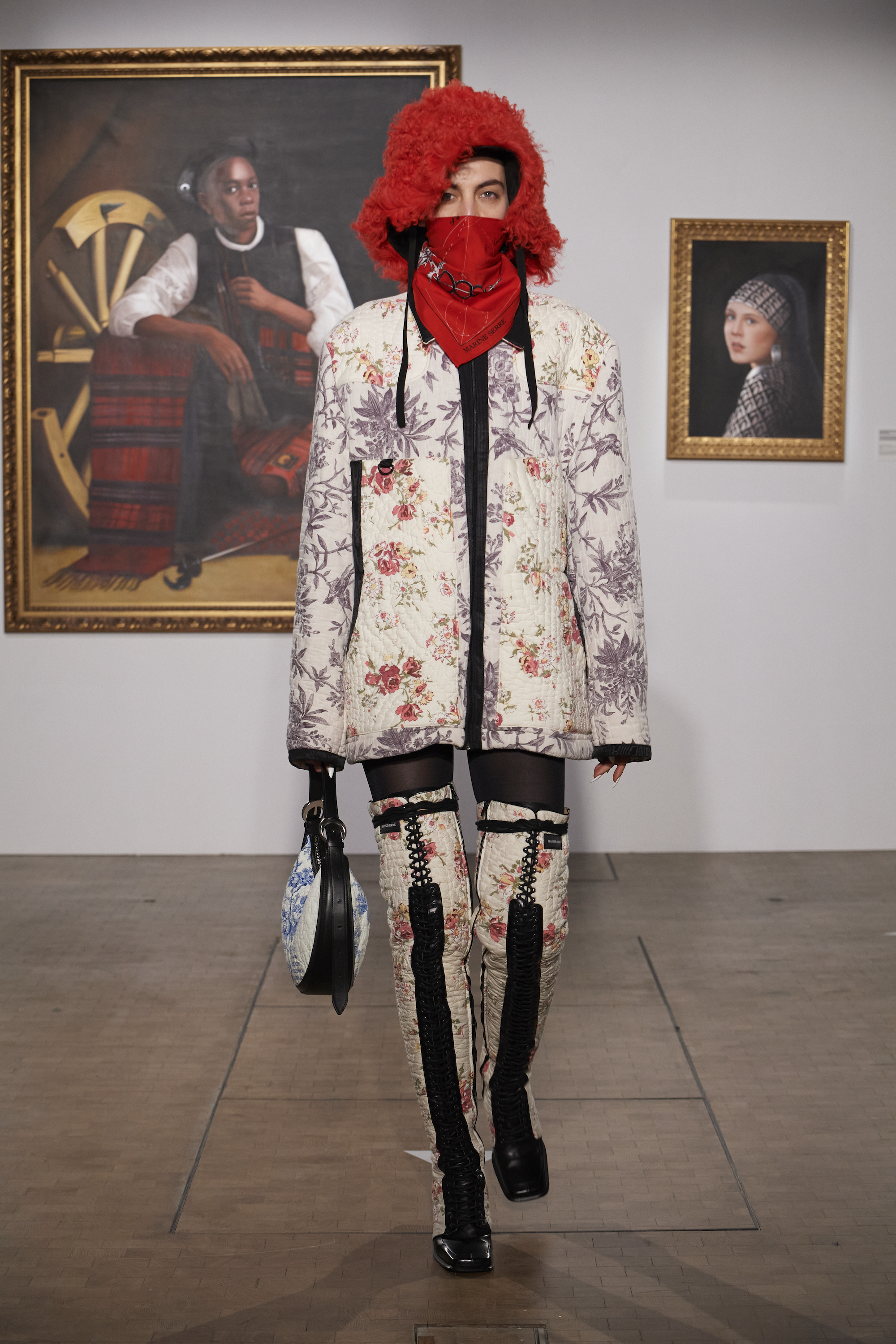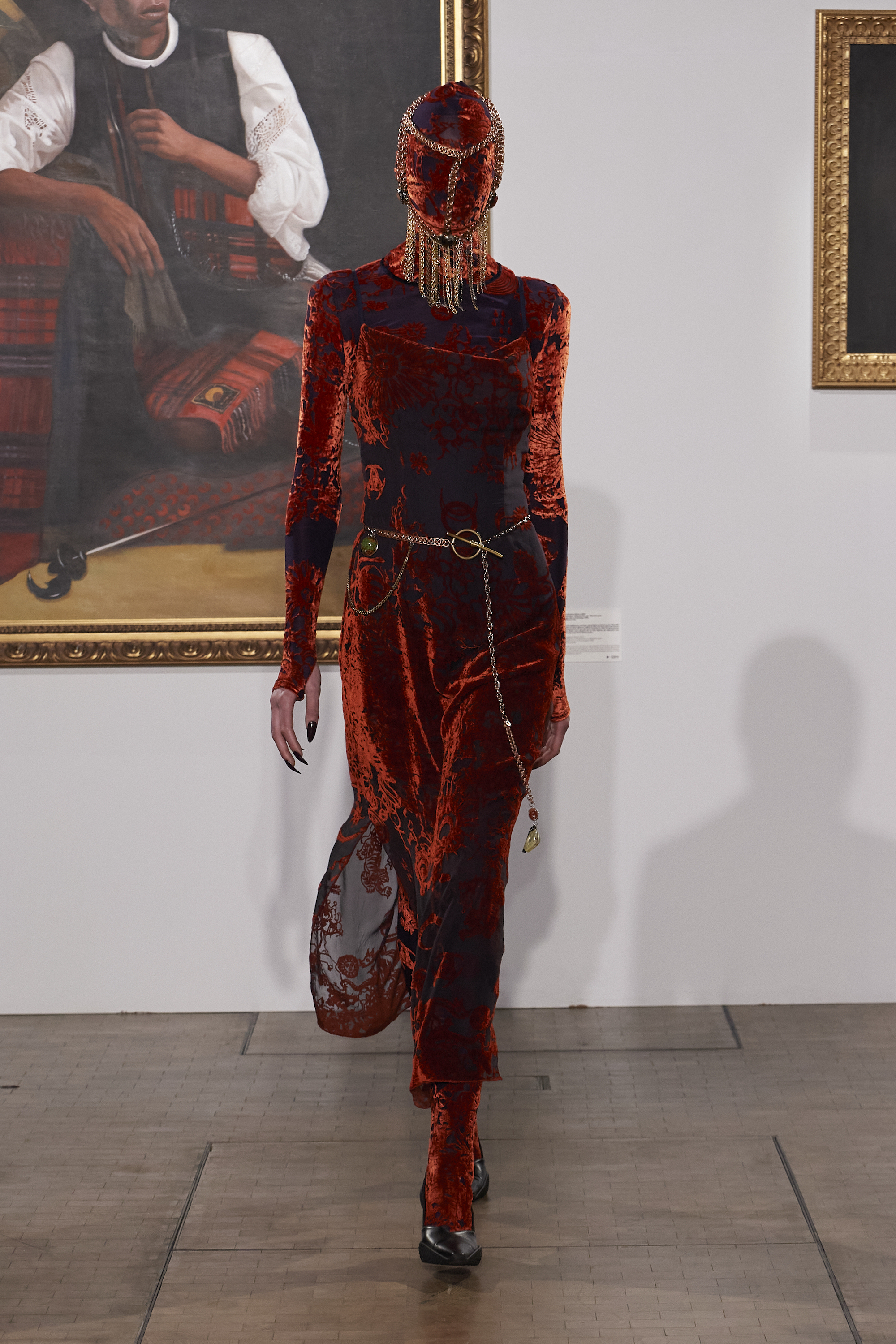 Loewe
Loewe's AW22 show opened with a series of stiff-yet-sculptural leather dresses that had a windblown effect, almost like the marble or bronze draped clothes worn by statues. Together with the earthen-hued set, which was scattered with British artist Anthea Hamilton's leather pumpkins, it set the tone for an elemental collection that Jonathan Anderson described as "primitive", "irrational" and "pleasantly disturbing" in the same sentence. Sounds fab, right? Well, hit the link below for the full scoop!
Rick Owens
Fashion is a creative medium that relies on imagery to communicate. When you come to us to read a review, for example, you're likely here as much for the sake of checking out the runway imagery as for relishing our top-tier prose. All that said, accurately conveying the experience of Rick Owens' AW22 show in Paris, through image or text, feels like an almost impossible task. Why, you ask? Well, click below for the full review and find out!
Ludovic De Saint Sernin
For this season's muse, Ludovic de Saint Sernin chose a person he knows better than any other: himself! Conceited as that may sound at first, however, the message at the collection's heart is a little more nuanced. A contemplation of the relationship between one's private and public personas, it echoes the ways in which designers before him — from Rick Owens to Yves Saint Laurent – have stepped beyond being anonymous clothes makers to become figureheads of their empires, relinquishing privacy and opening themselves up to public speculation.
Titled "All The Rumours Are True", the collection Ludovic showed yesterday offered a witty self-assessment, inviting us into a hyperbolised day in the Parisian designer's life. A suite of buzzy, rave-y looks comprised wrap-around crop tops, a chainmail plastron, Swarovski mesh boleros and monogrammed tank tops, styled – this season by Versace mainstay Jacob K – with laser-monogrammed denim jeans with flaking crystals. Of course, this overtly queer, sexy sartorial language is one that Ludovic has become well-versed in over the five years since founding his label. Where real development made itself felt, though, was in the decidedly-daywear looks. Cosy monochrome knit separates in grey, taupe and chocolate – the latter of which was sported by Ludovic himself in yesterday's show – sat next to vented trench coats in sumptuous cashmere, wool column dresses and pencil skirts and exquisite satin shirting. While this may have been a collection that drew upon the label's namesake face for inspiration, in opting a more tangible reference point over the usual steamy fantasies that have been peddled in previous seasons, this was Ludovic de Saint Sernin's most relatable, most accessible collection to date. MS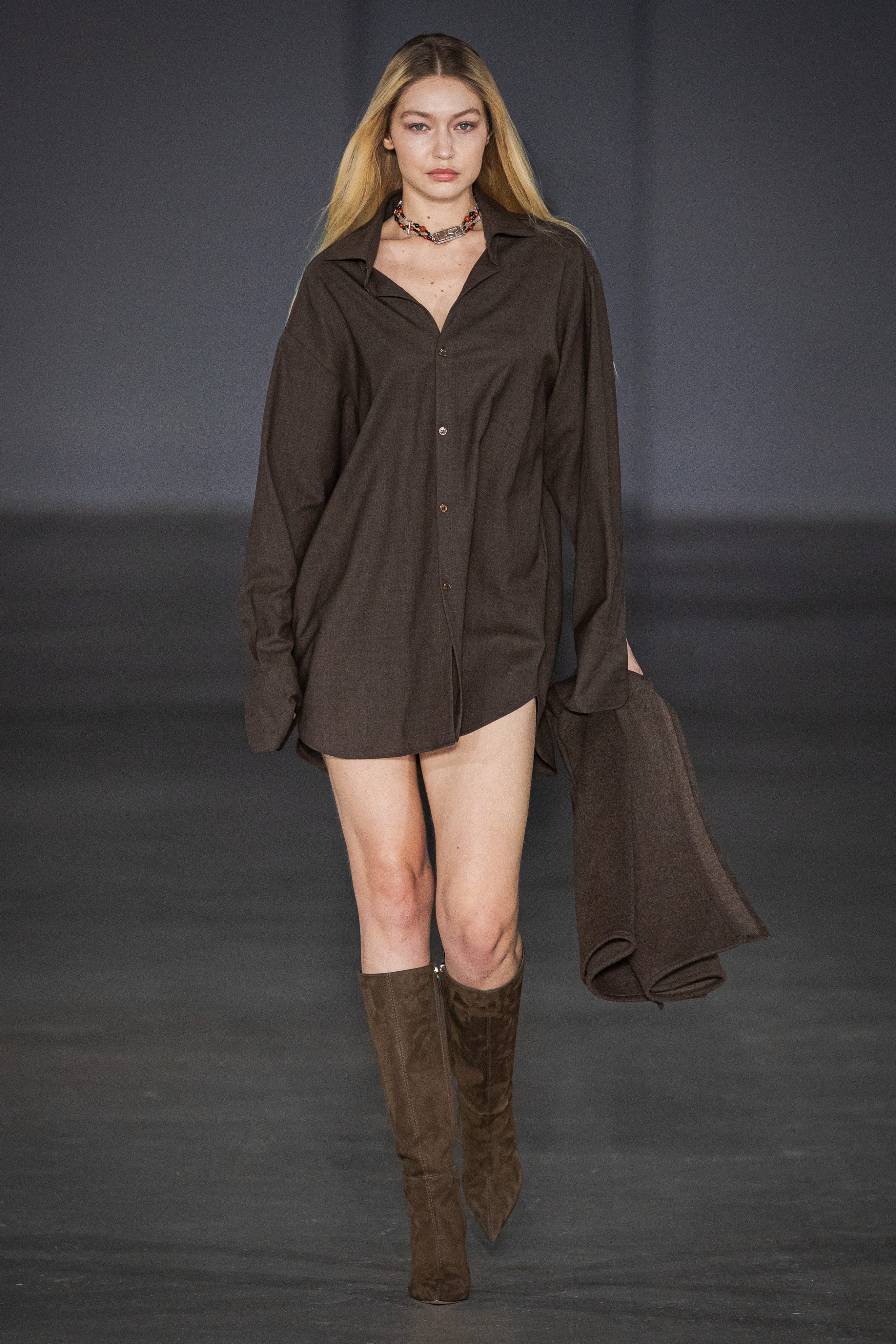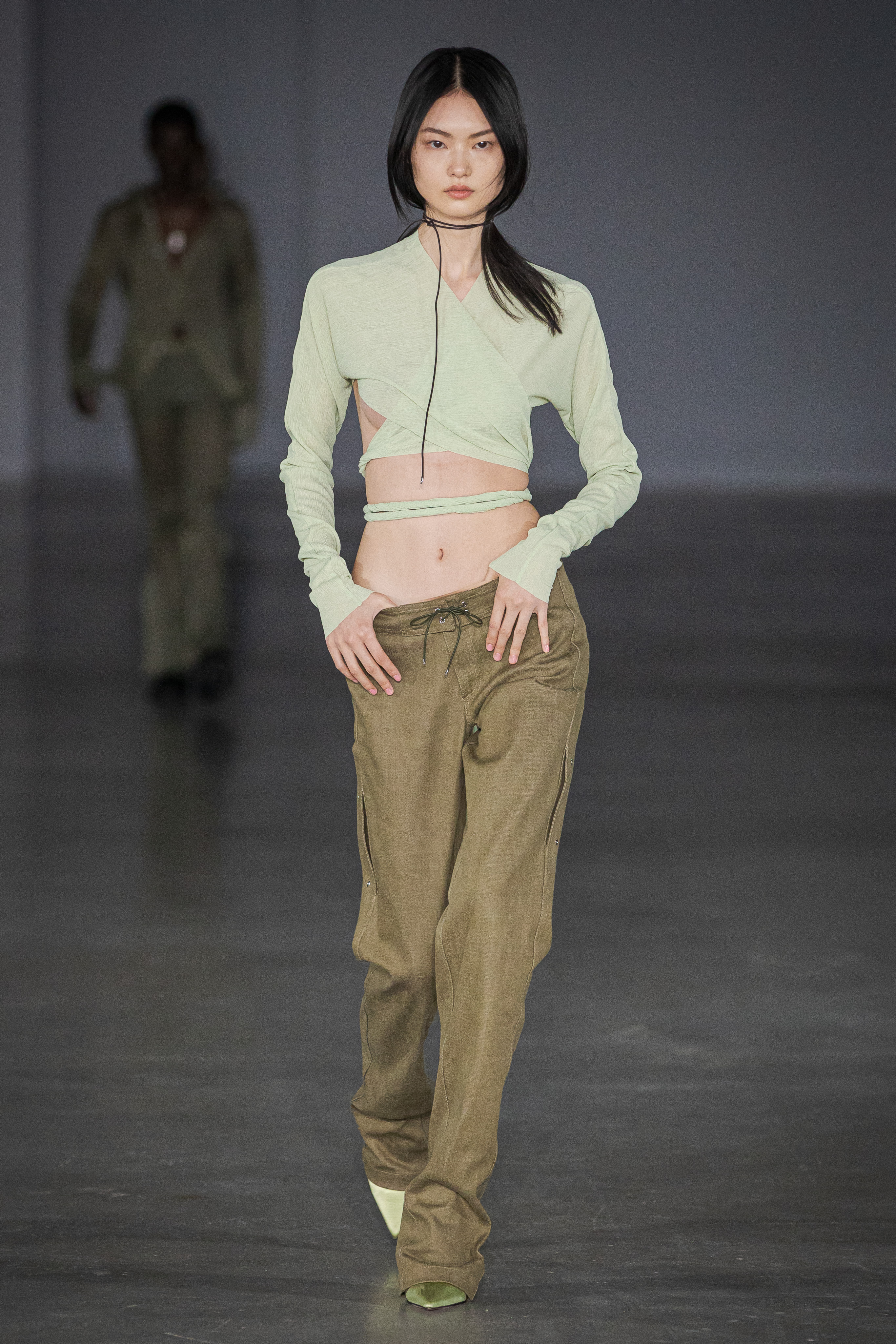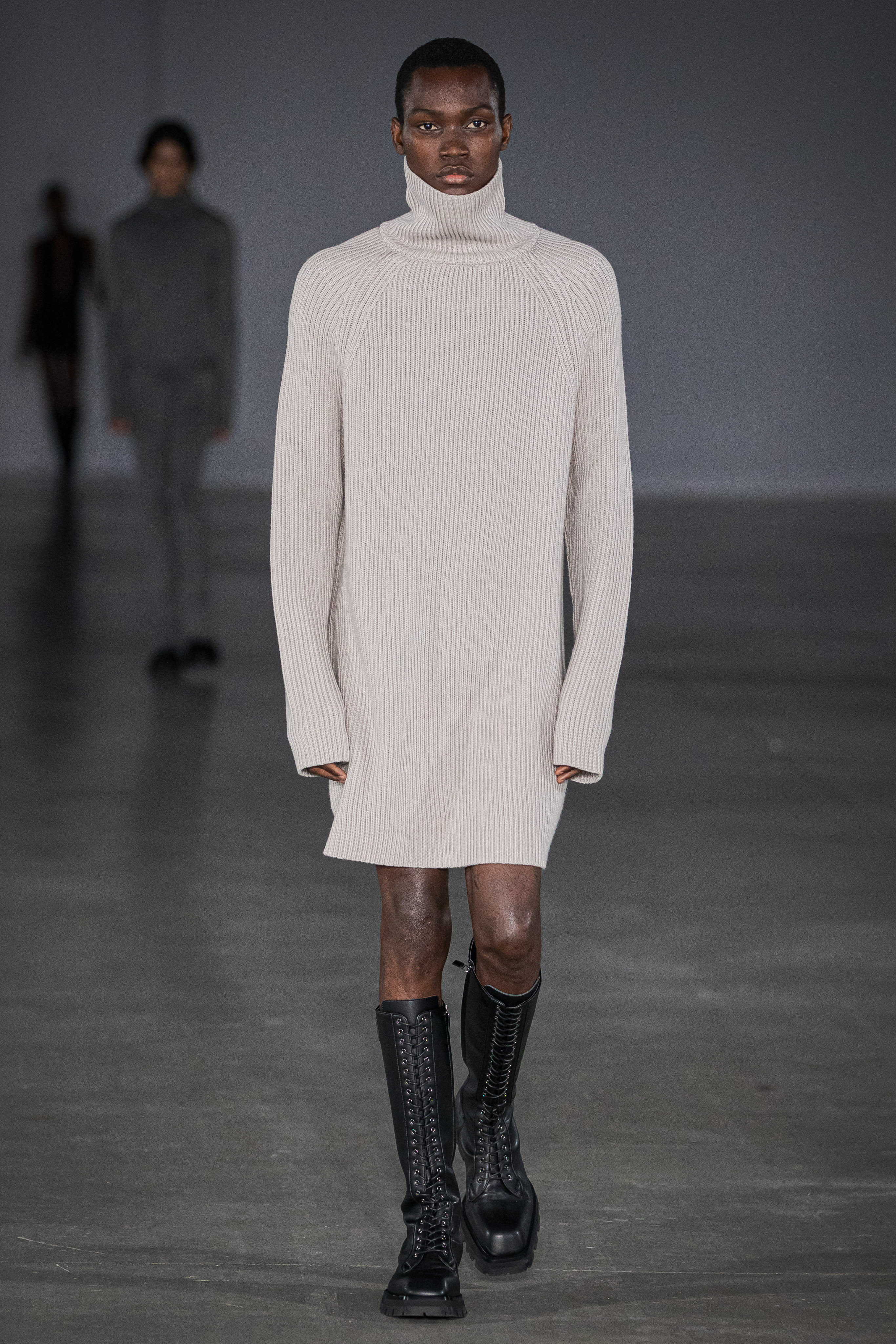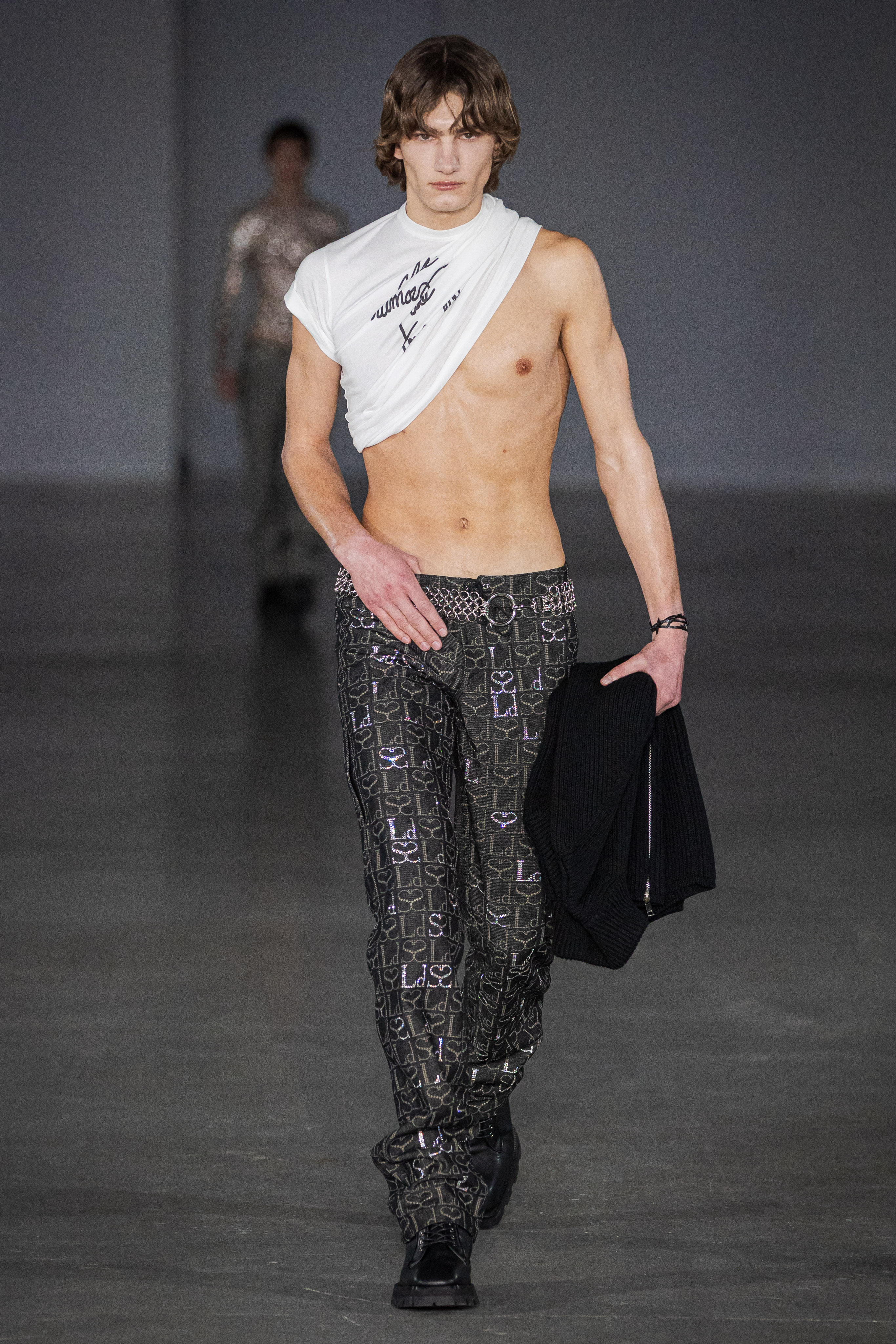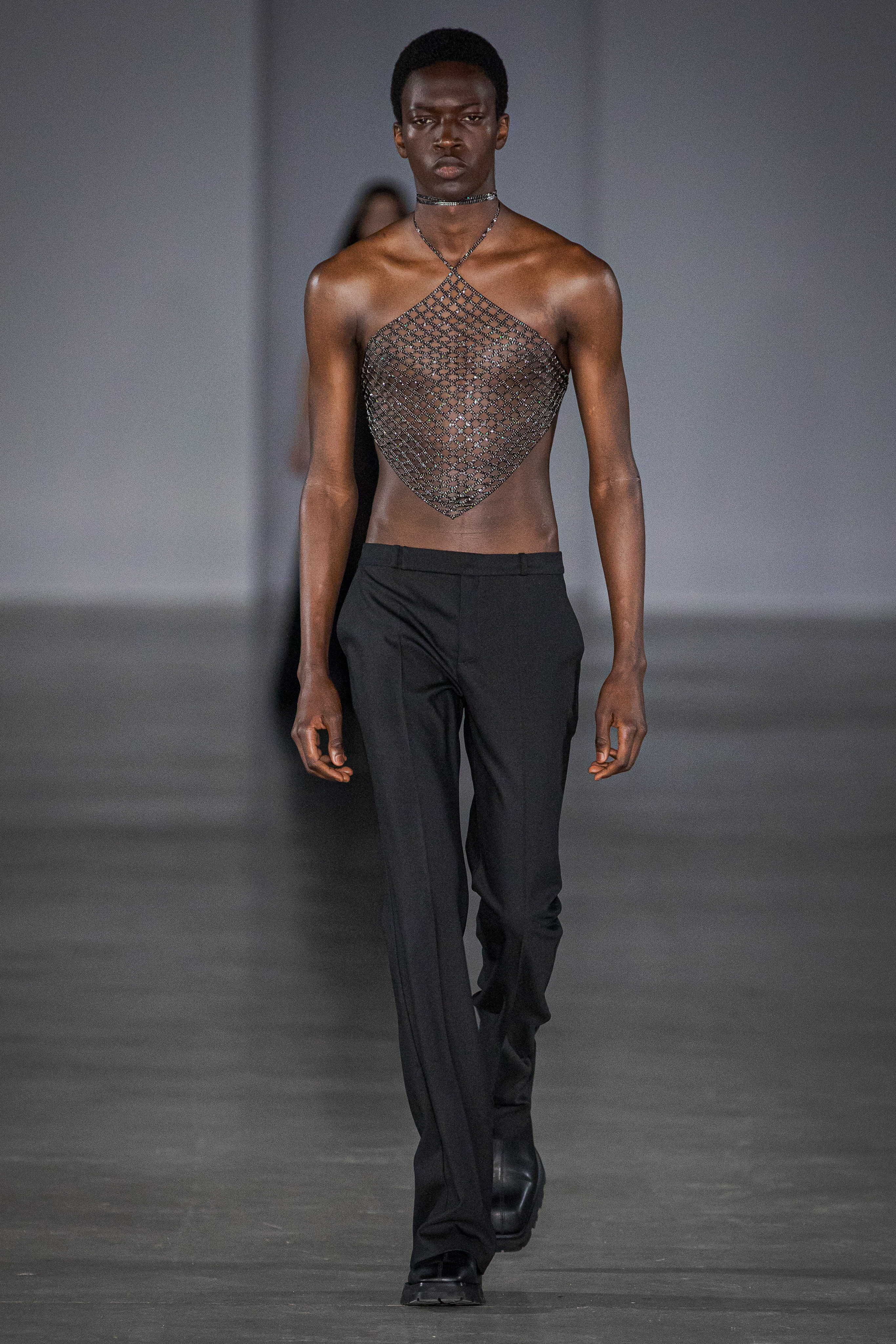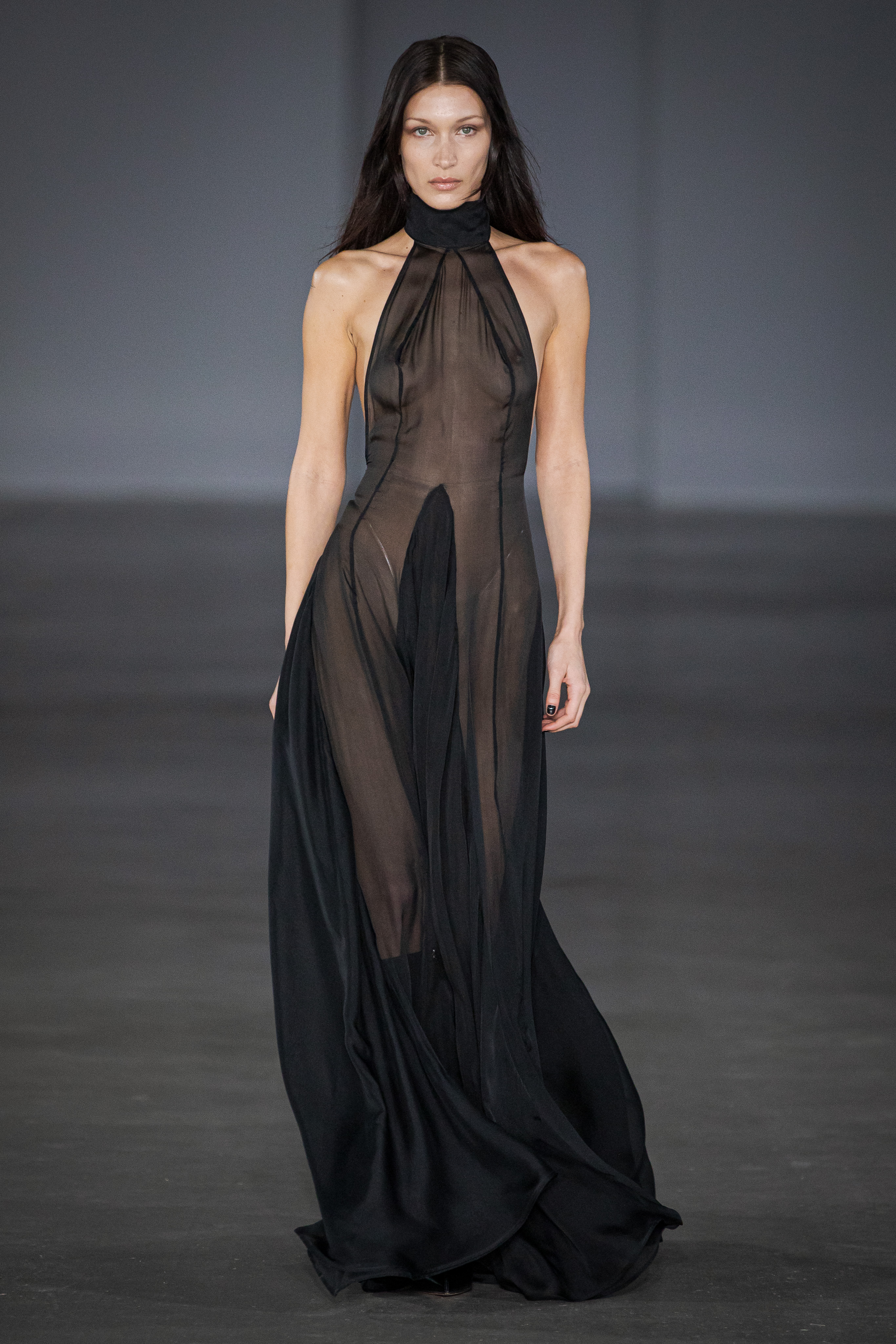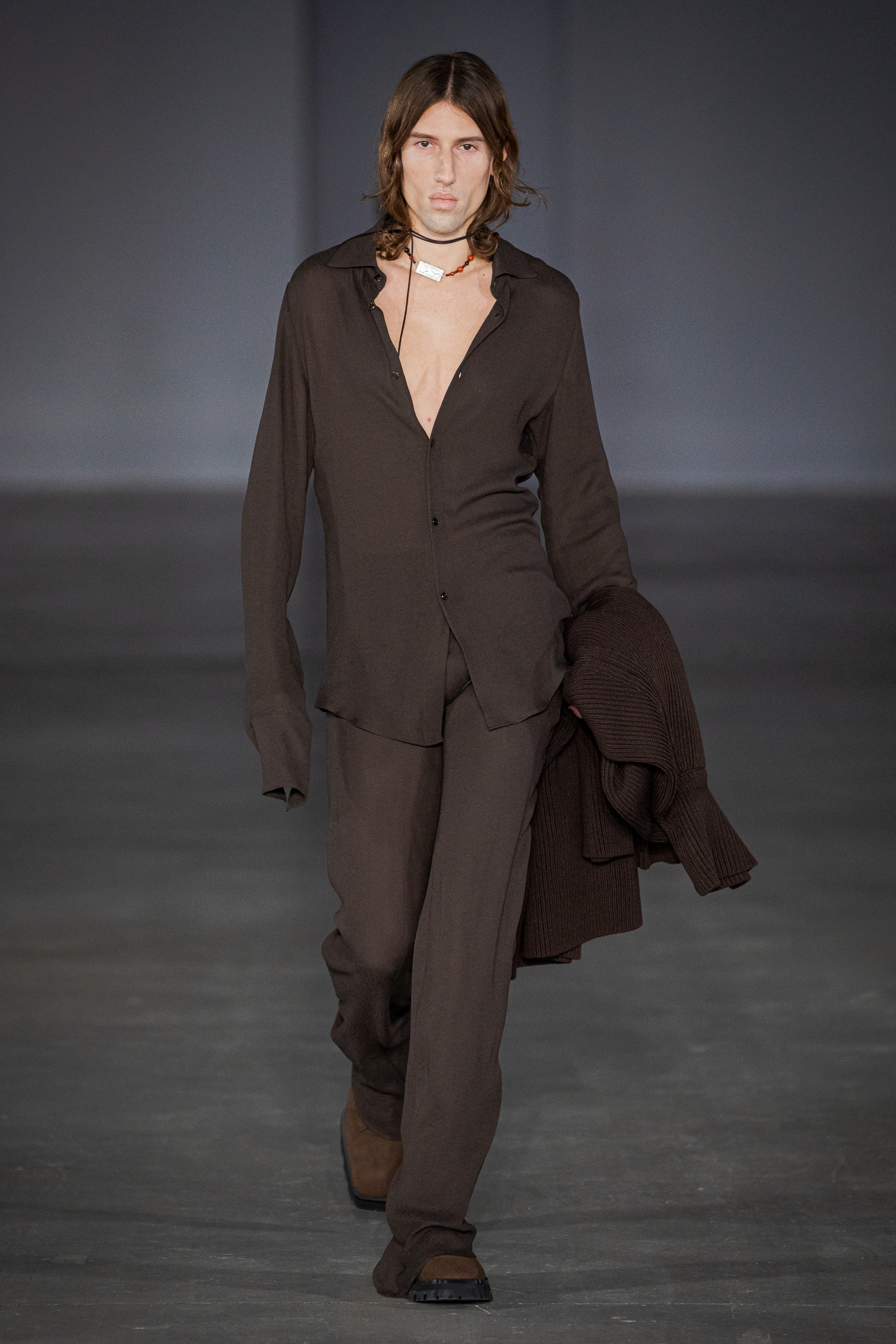 Coperni
Following on from the schoolgirl nostalgia we saw sweep the runway for SS22, the latest label to take things back to the classroom were Coperni, who opened the fourth day of Paris fashion week. An ode to youth – and to the many facets of what it means to "grow up in a world of unpredictability with the crisis we are in", the show notes read – that inspiration informed cowl-hooded wool minidresses with hemlines so high they'd probably land you in detention, thigh high stockings, cropped stone grey jackets with belted jackets and itsy-bitsy wrap skirts. Rather than satchels, i-D faves Mica Argañaraz, Adut Akech and Rianne van Rompaey carried blown glass iterations of the label's virally popular [TKTK] bag, created in collaboration with Danish artist, model and designer Peter Dupont and TKTK Breanna Box. Matronly blazers and trench coats were also sexed up with gaping, oblique-baring cut-outs. Prom-ready tube dresses in sparkly chiffon and knotted black satin featured wispy trains, and flirty pops of Y2K came through in form-fitting halter tops, pastel faux fur coats, and gossamer lace shirting styled with low-rise leather trousers. MS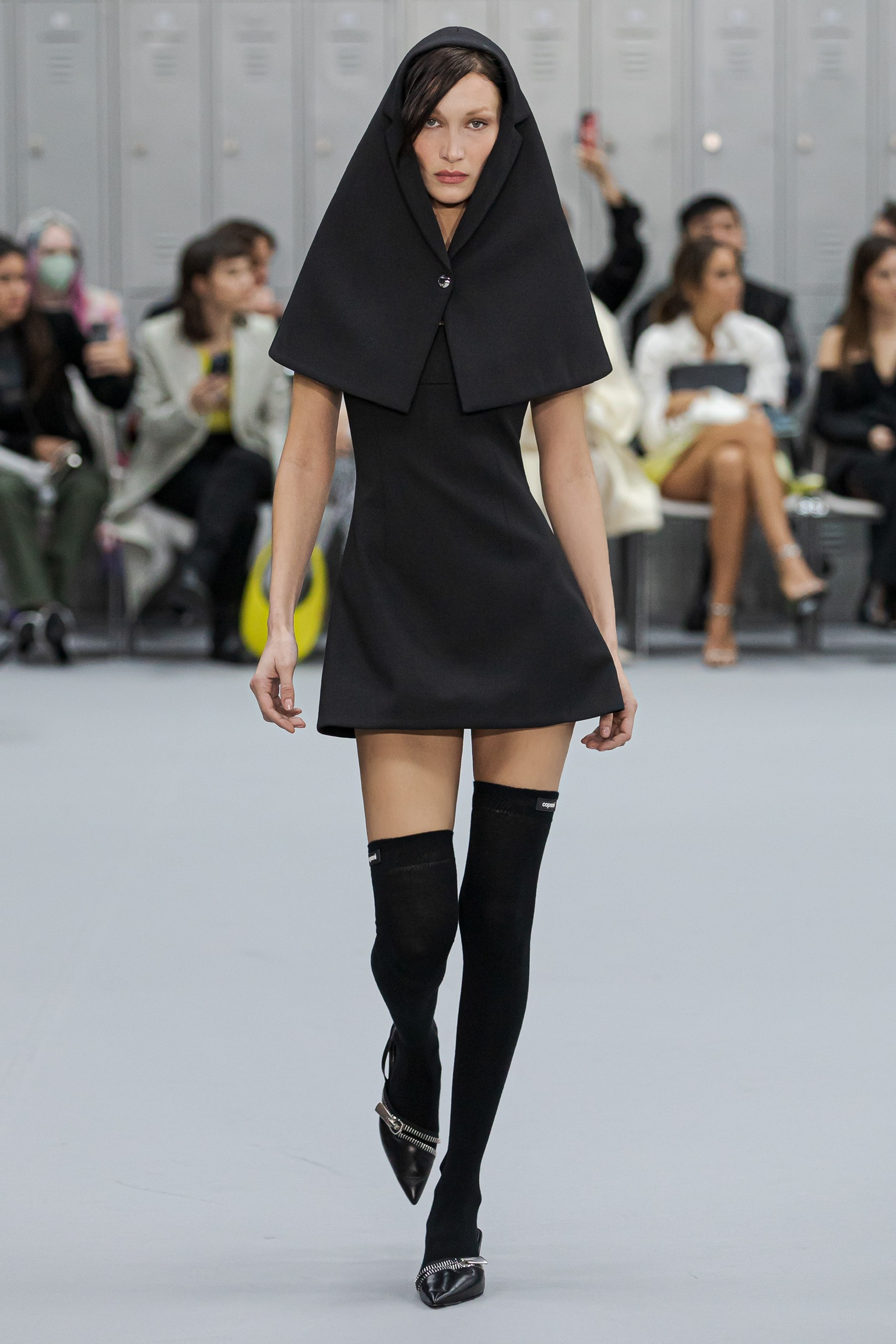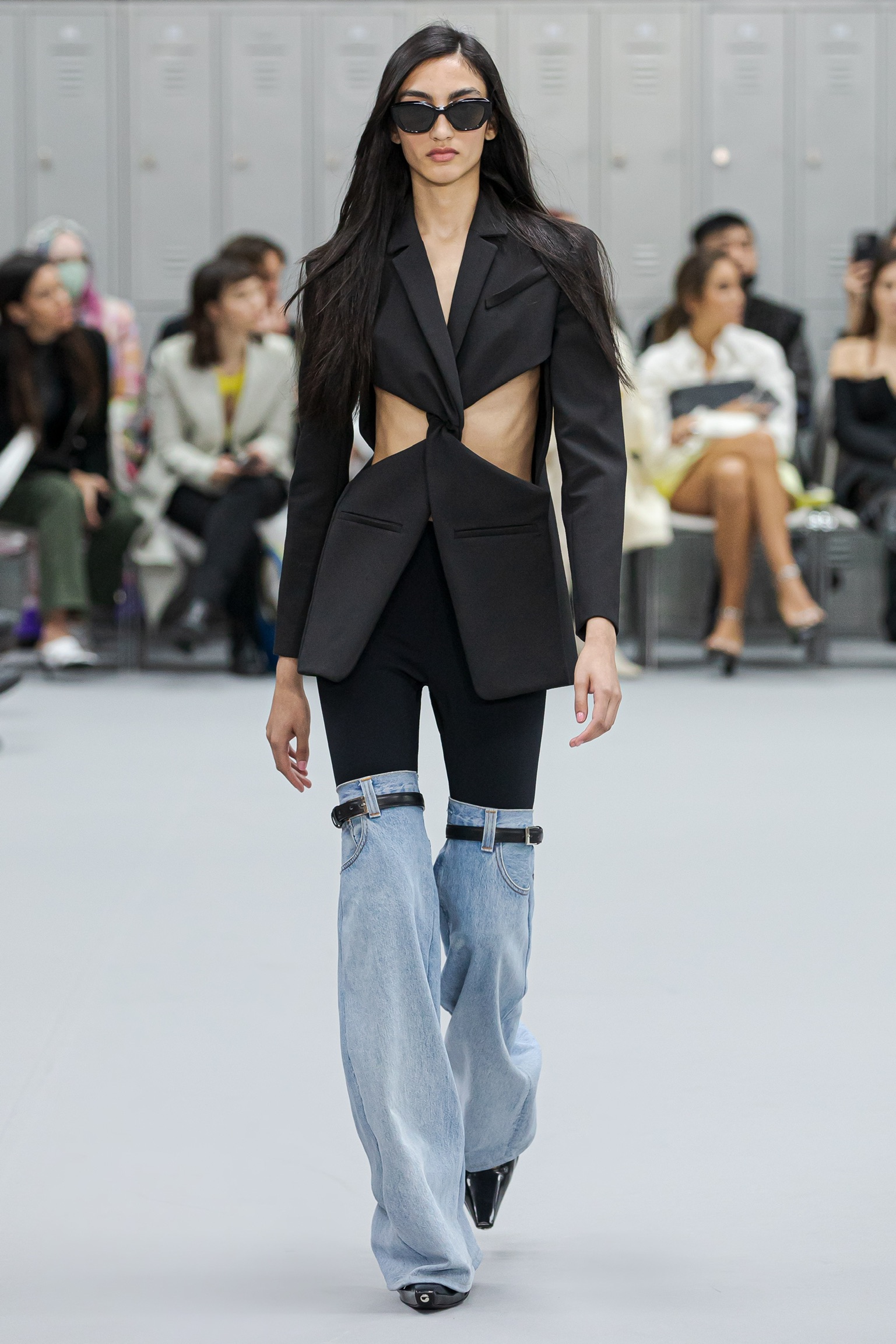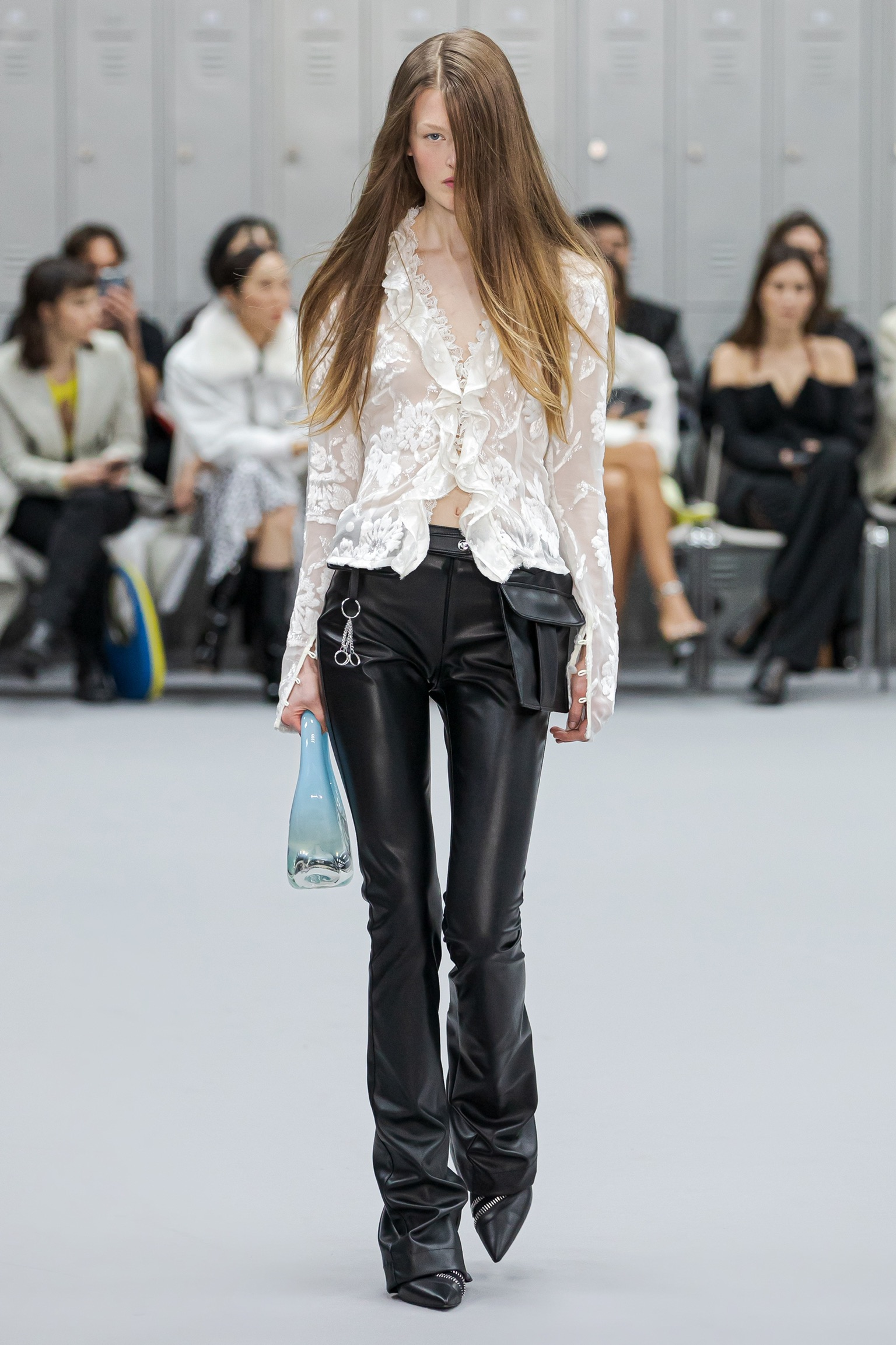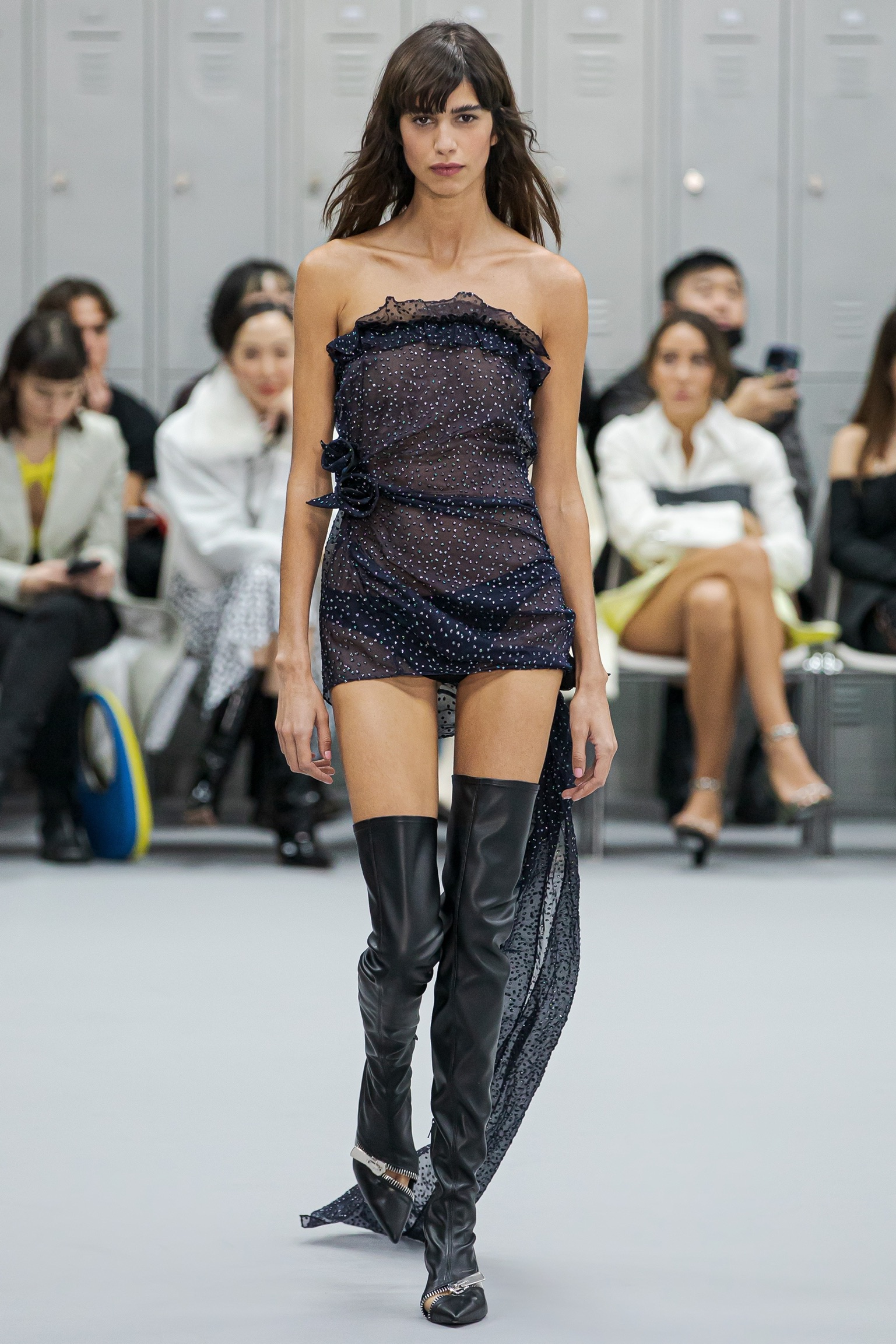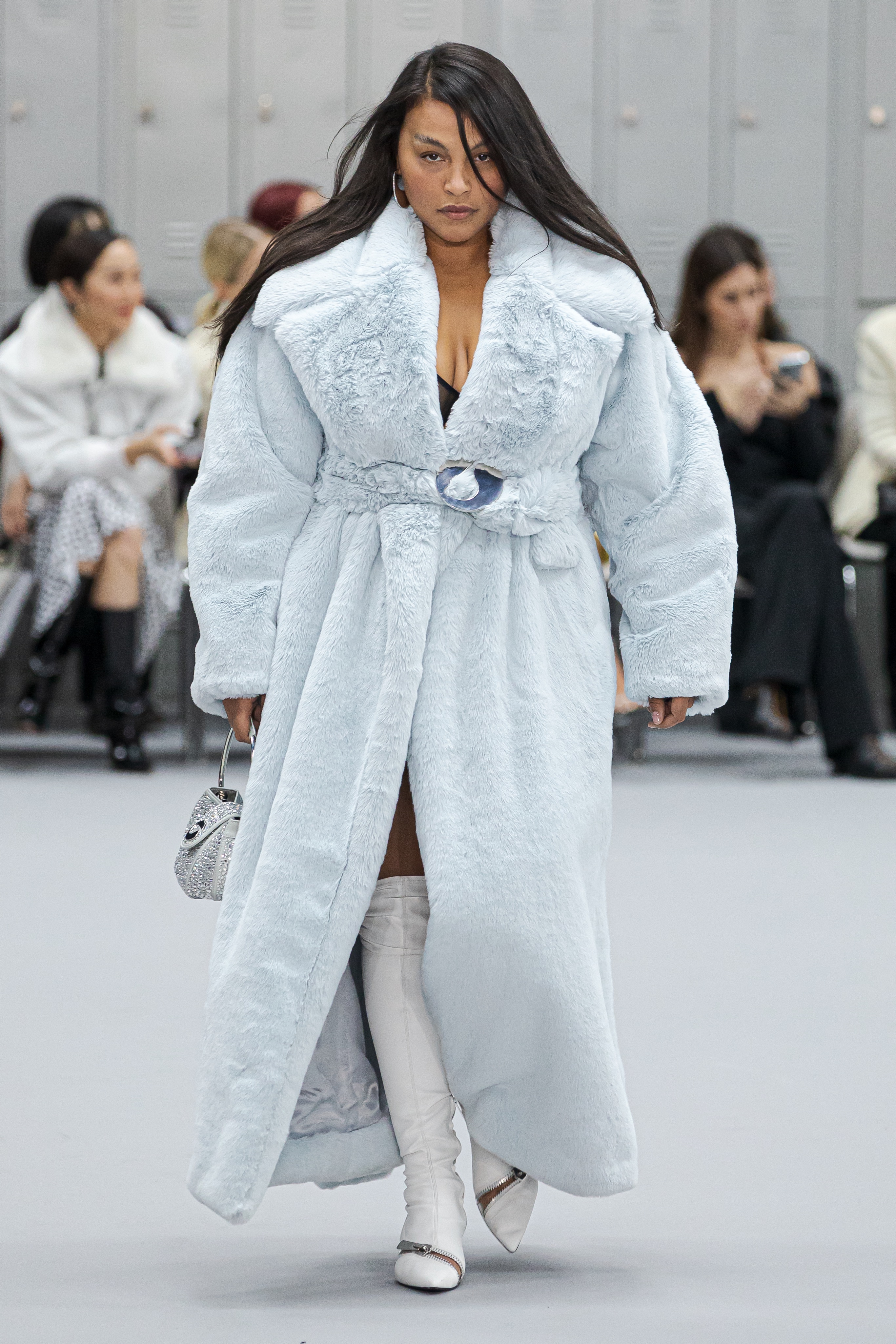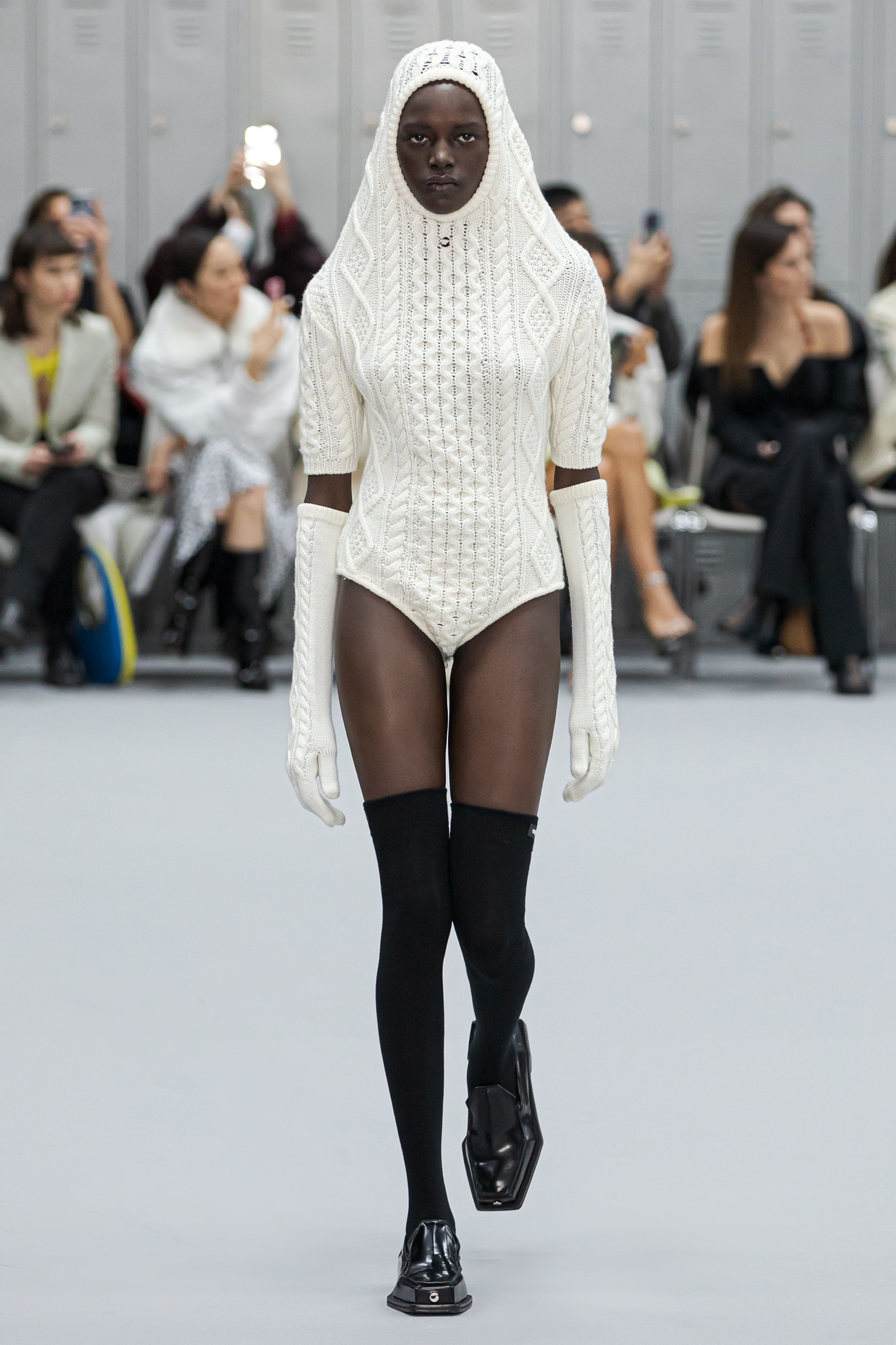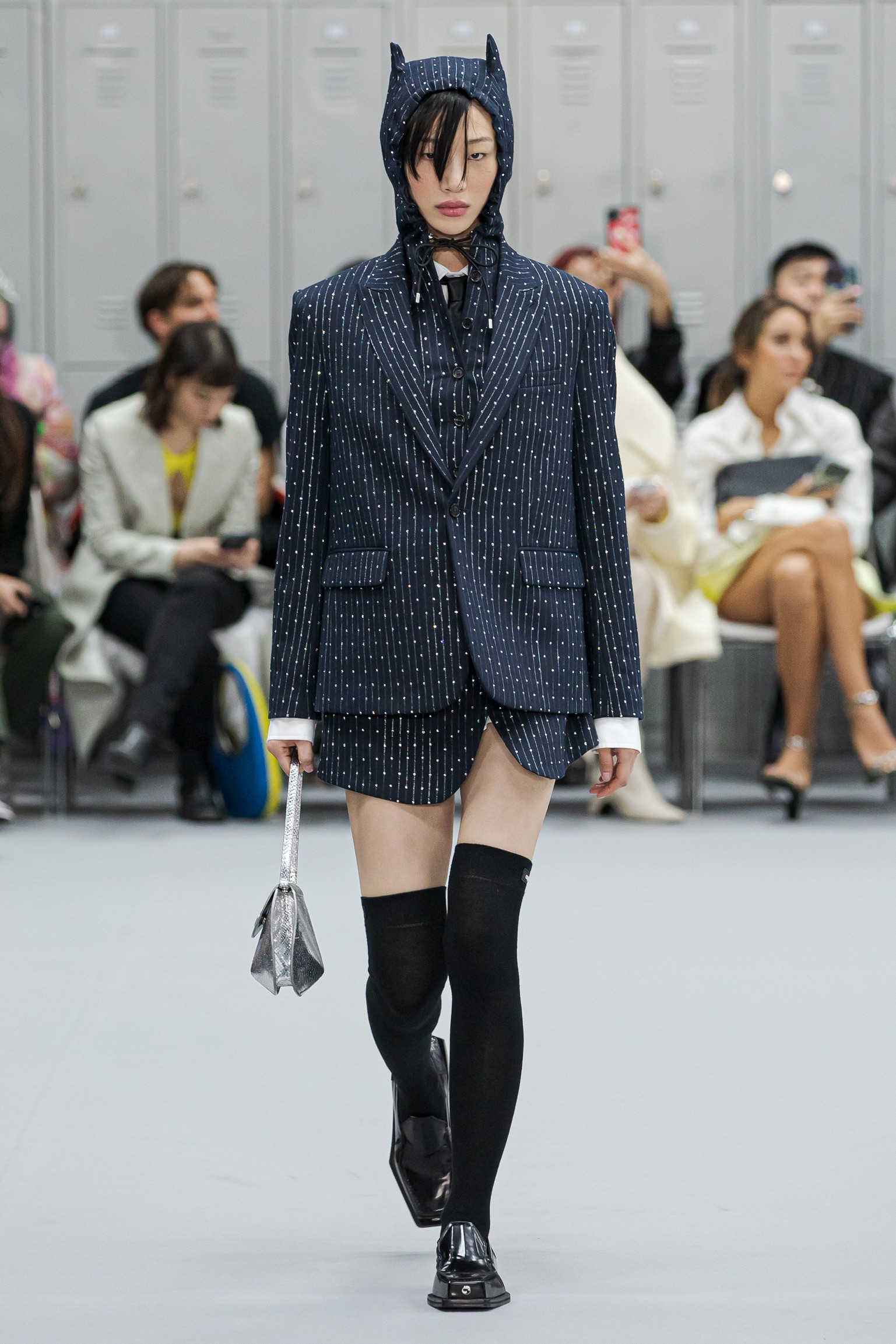 Courrèges
'Courrèges' and 'trash' are two words we never thought we'd write in the same sentence, and yet, here we are. That's not a reflection of the clothes on show in Nicolas Di Felice's third collection for the storied Parisian house, but rather of the context in which it was shown — around a square of crumpled drinks cans in a jet black room, which glistened like an artful arranged collection of the debris left behind from a wild night before.
Of course, there's been much said about the relationship between the incumbent creative director's vision and the club, but here the reference was in fact to a 1973 collection that Nicolas exhumed a video of from the archive. Shown in a junkyard, André Courrèges' exquisitely cut, geometric clothes were brought into relief — more importantly, though, the context anchored the garments in a gritty sense of reality, making them feel far more tangible than they would in an airy salon.
A similar spirit colours Nicolas' vision for the house. As stunning as his pieces look on Kendall Jenner walking down a runway, he is a designer who makes clothes that truly come to life when seen on passersby on the streets. The collection he presented yesterday excavated Courrèges's key aesthetic codes— graphic lines, body-confident sensuality, and stark geometries. "We really draped around geometric shapes. That was our starting point, and then we really moulded the body," he told us backstage after the show, nodding to cropped slant-pocketed coats with circular back panels and bulging sleeves, and abbreviated tube dresses with peel-off silver square panels. Elsewhere, dresses brought together triangular drapes of satin hooked onto bralettes with the maison's signature hirondelle neckline, and rhomboid cutouts punctuated high neck tops and the side seams of dresses and second-skin trousers mapping out the lines of the body beneath. MS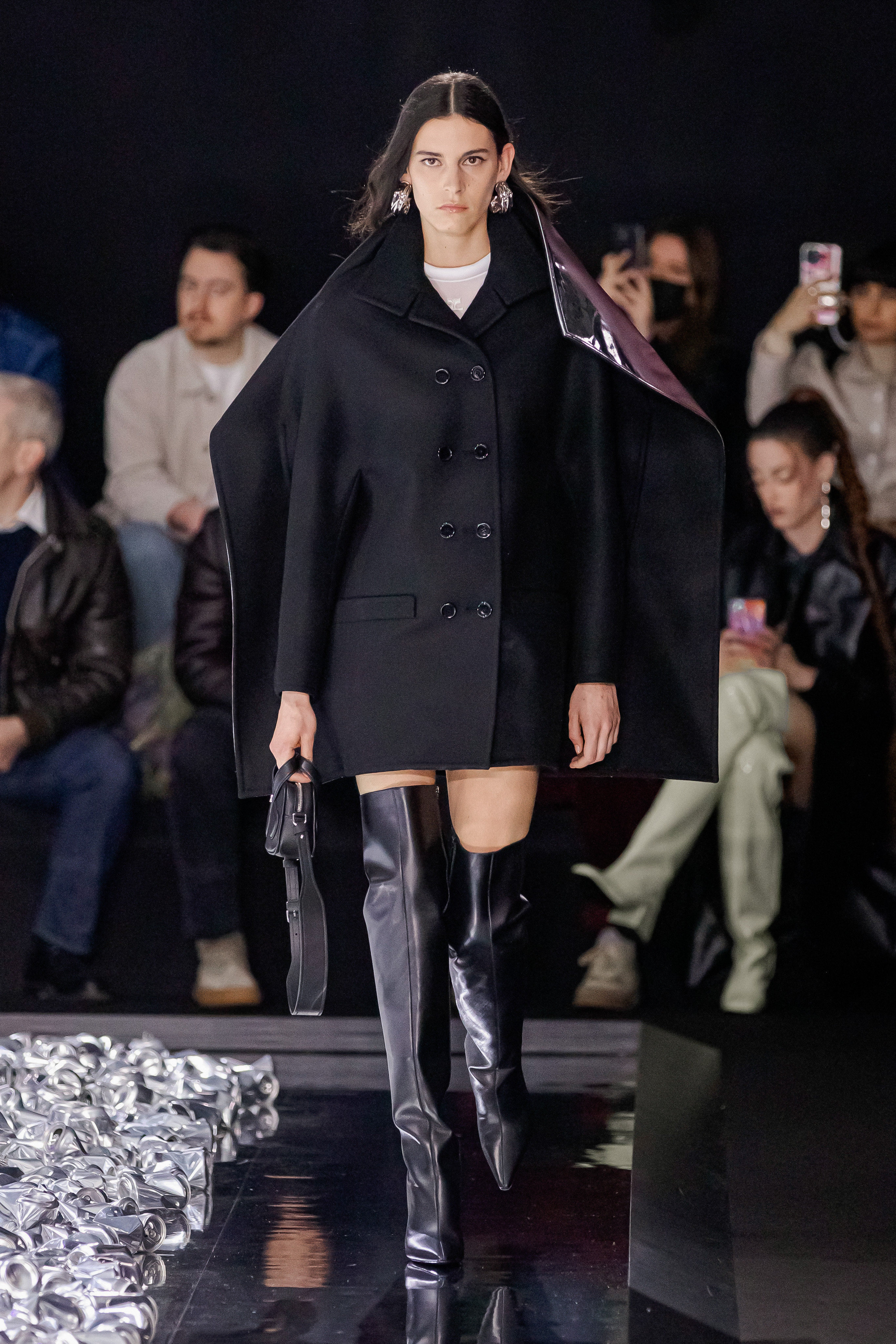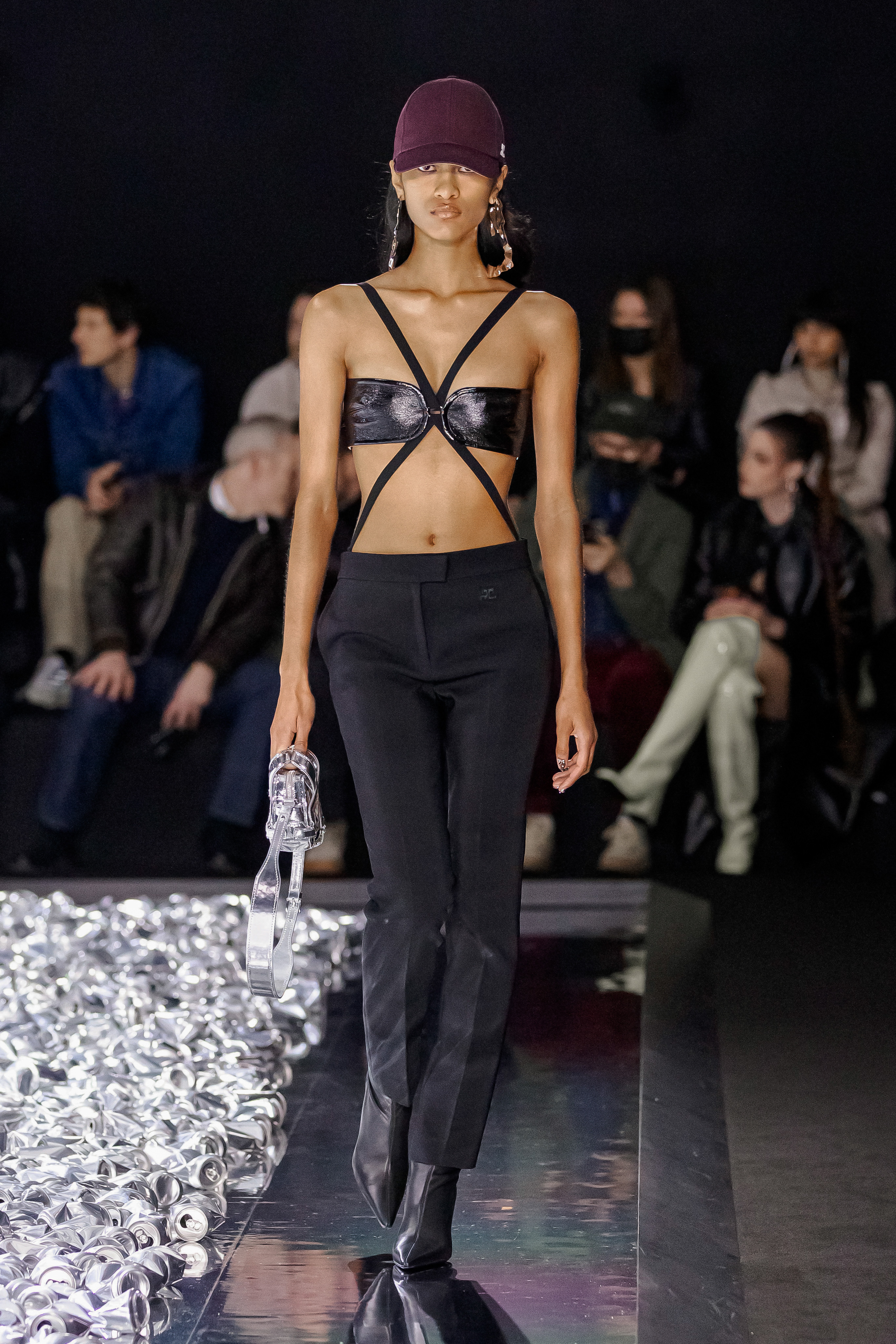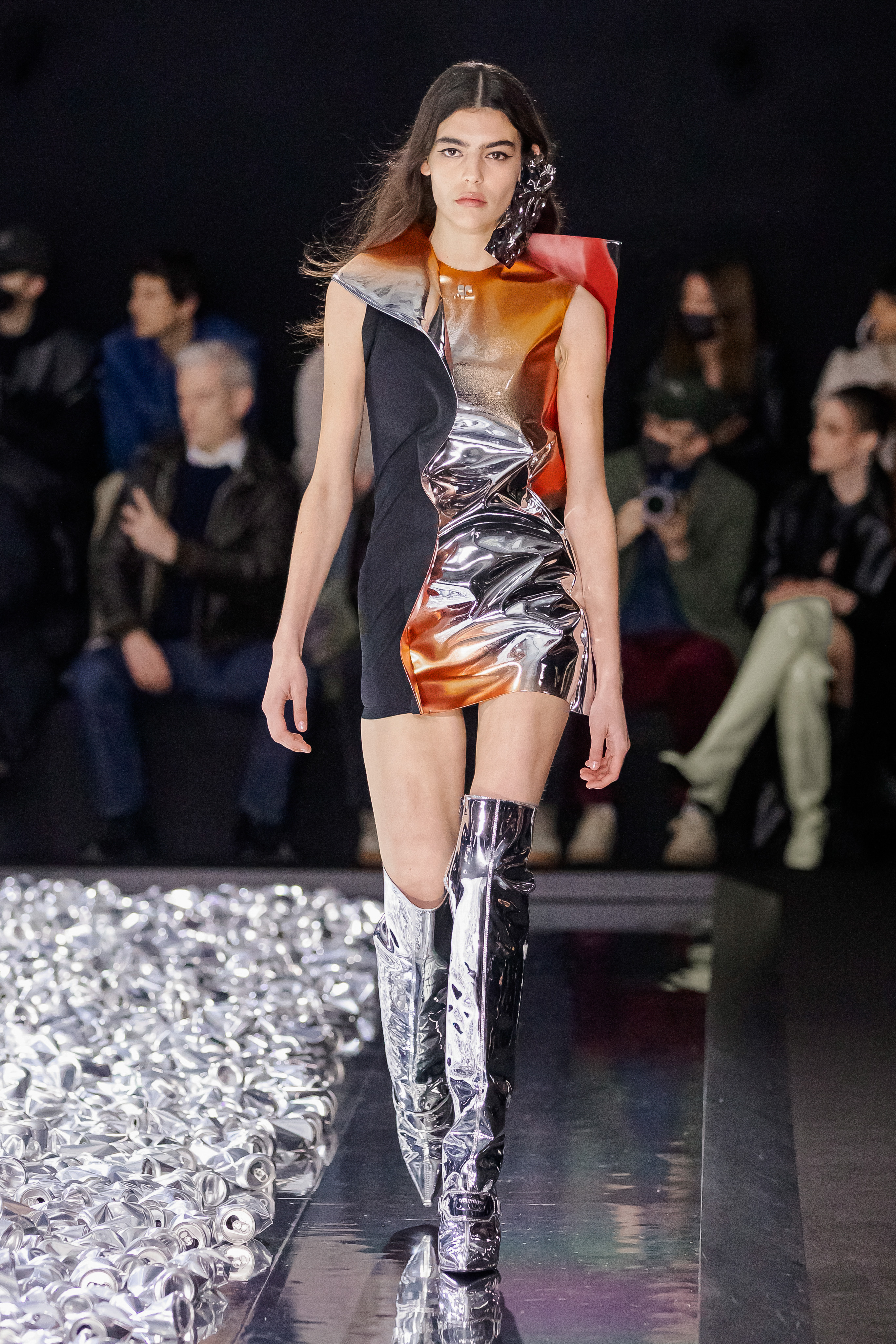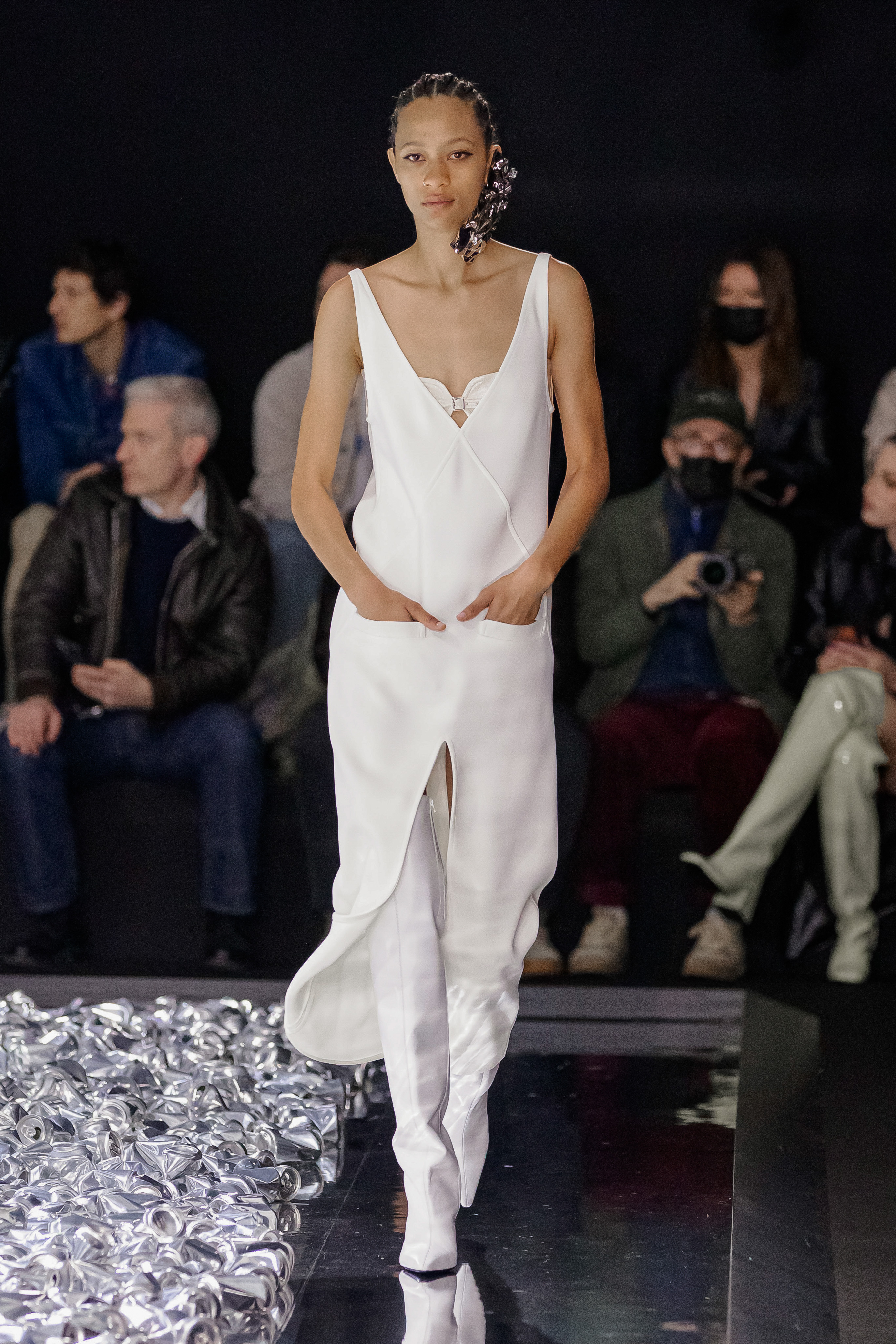 Balmain
If you're a fashion trivia head, you'll know that Olivier Rousteing's legion of loyal followers are best known as the Balmain Army. That being the case, it's tempting to draw the conclusion that the collection he presented yesterday in the cavernous hall of the Carreau du Temple was intended as a series of glamorous suits of armour for its members. With quilted, corsetted plastrons worn over lace tailoring, mattelassé leather moto trousers, gold-plated R2D2-y bodice dresses, and fishtail gowns with tactical vest details, it seemed as if this season's Balmain woman was being built up for battle.
Against the absurdly troubling headlines that have rocked the world over the past week, that may raise a couple of eyebrows. It should be noted, however, that rather than a kneejerk reaction to current affairs – it takes, after all, a little bit longer than a week to pull together a 100-look collection! The themes of protection it broached were of a far more personal nature. "Late last year, when I first began sketching these collections, my inspiration was a much more personal one: my response to not-always-pleasurable experiences on social media," Olivier wrote in his show notes, turning the militaristic tone of the collection into one of poignant self-preservation. Rather than overly defensive or sombre, however, the overall message was one coloured with optimism, as the collections palette of whites, creams and gleaming metallics well implied. It speaks to a realisations that Olivier said he'd made while working on the collection – that "the only possible response to the incredible shaming potential of social media is to face it head on—addressing it with honesty and clarity, while drawing courage from the support and love of others." MS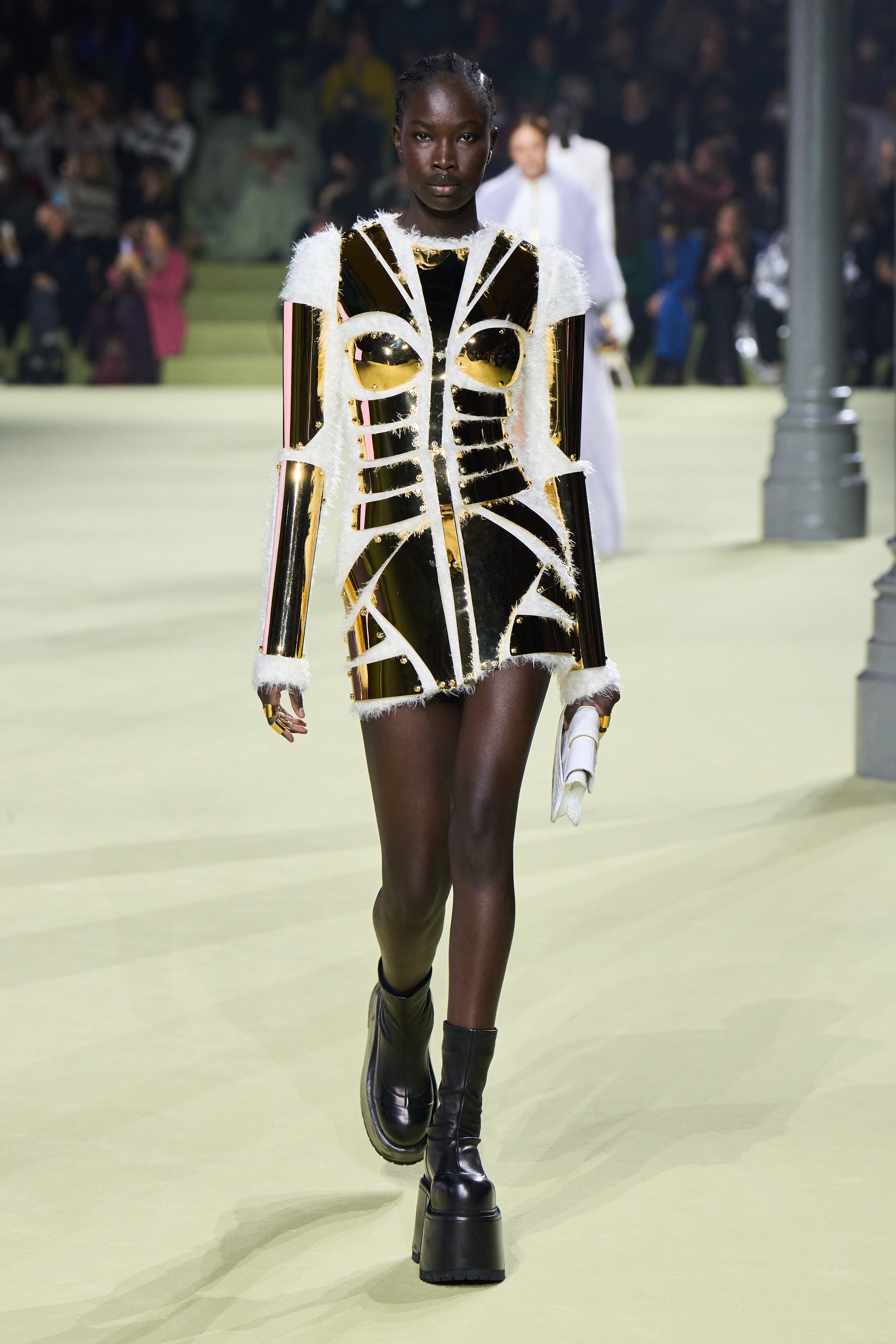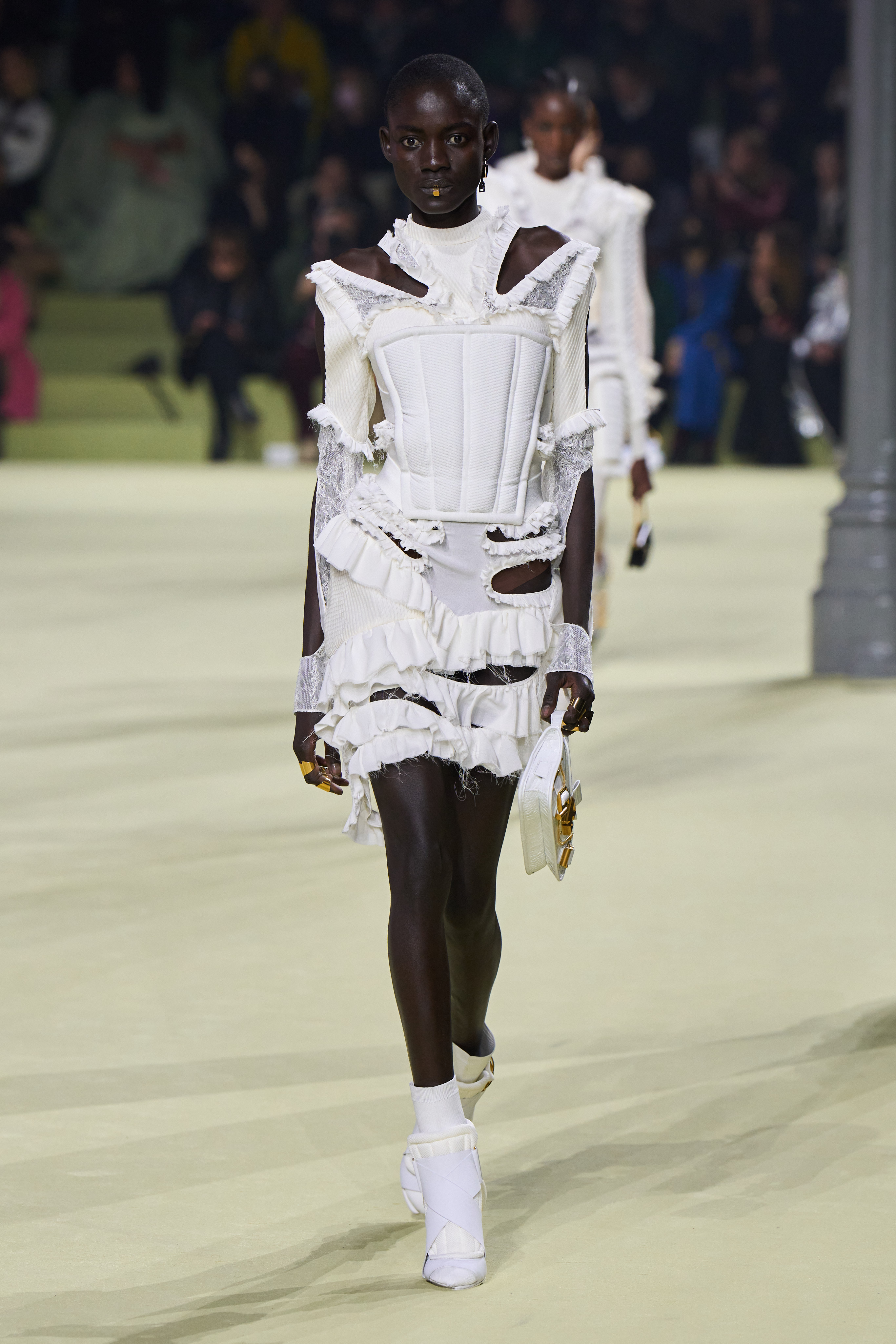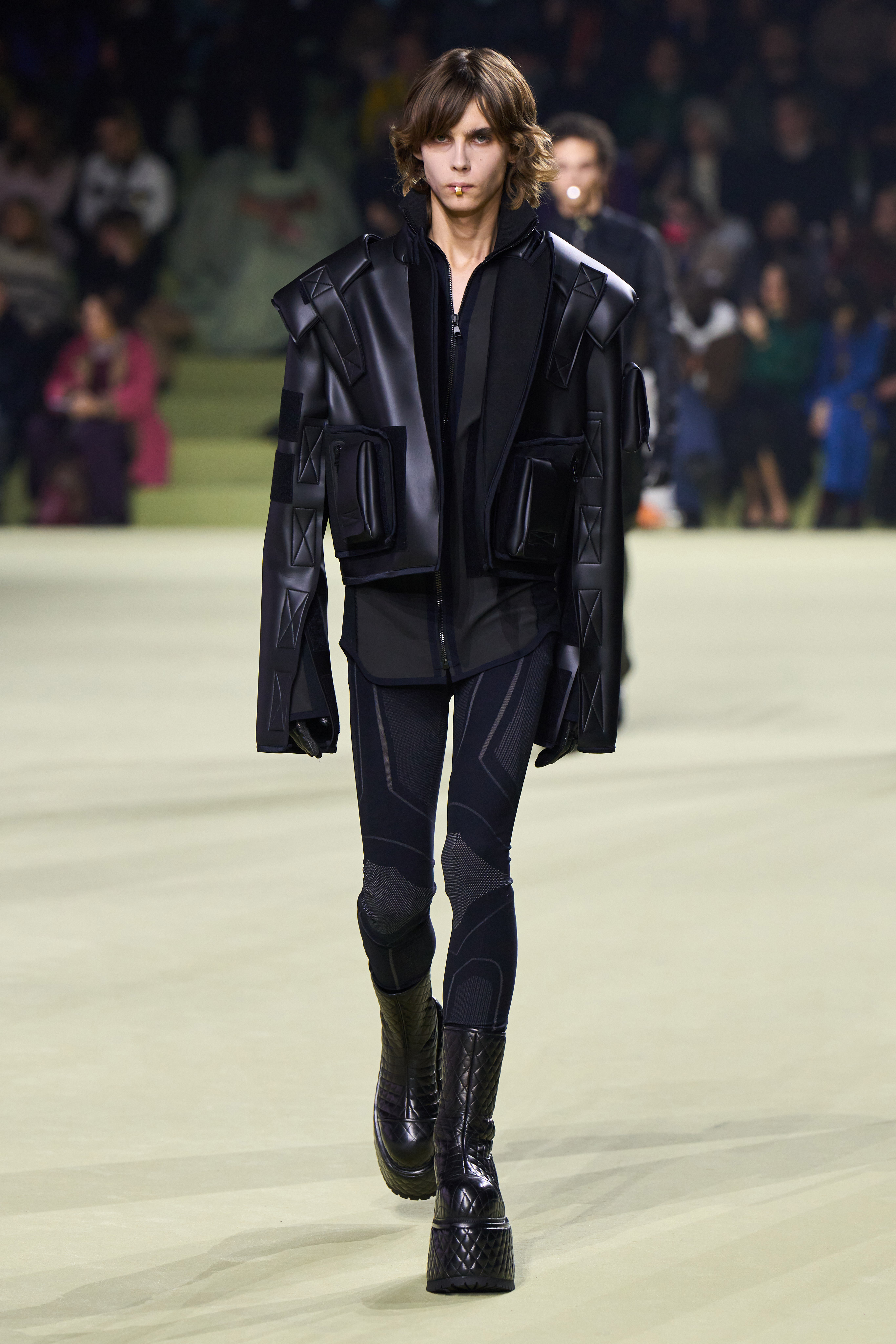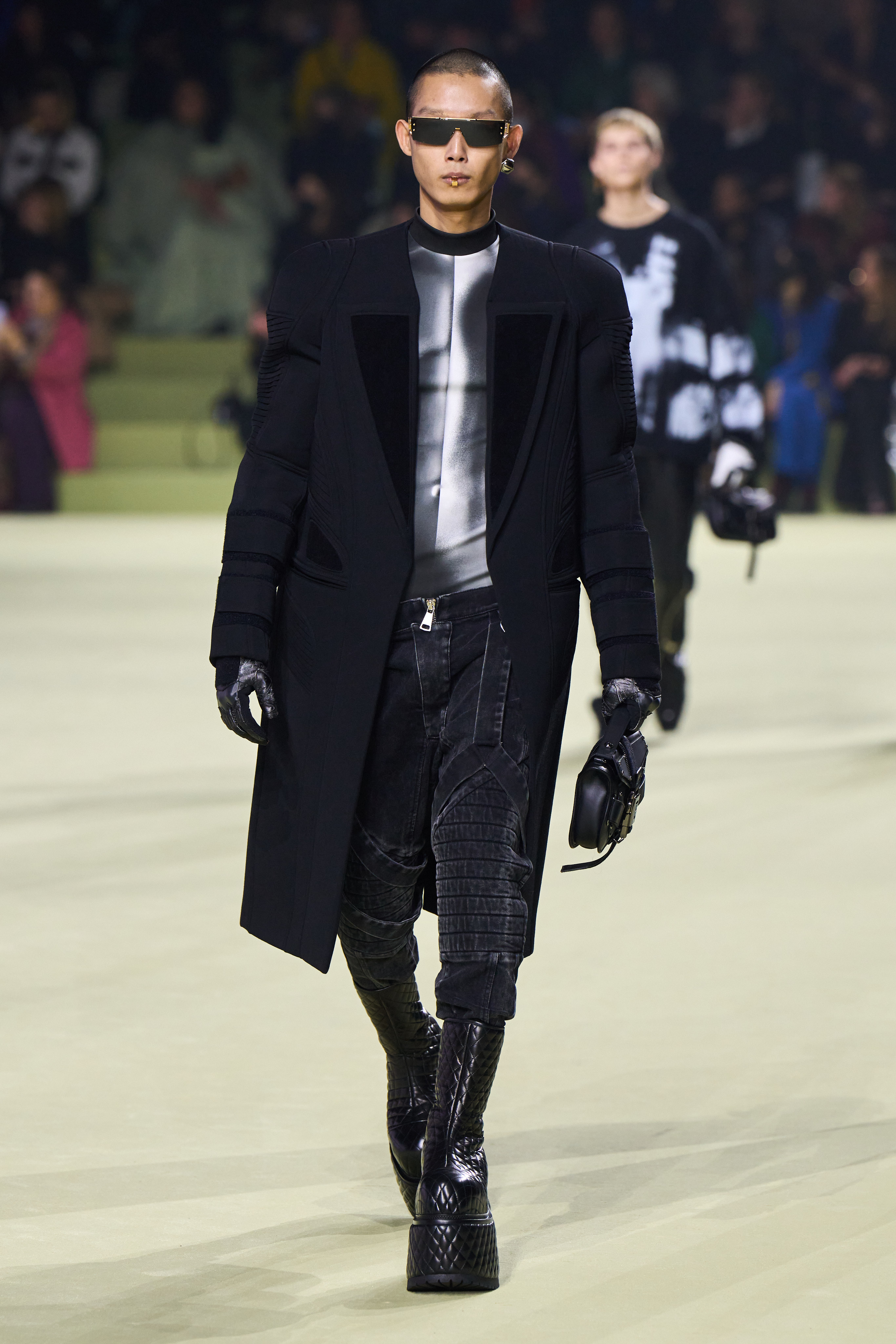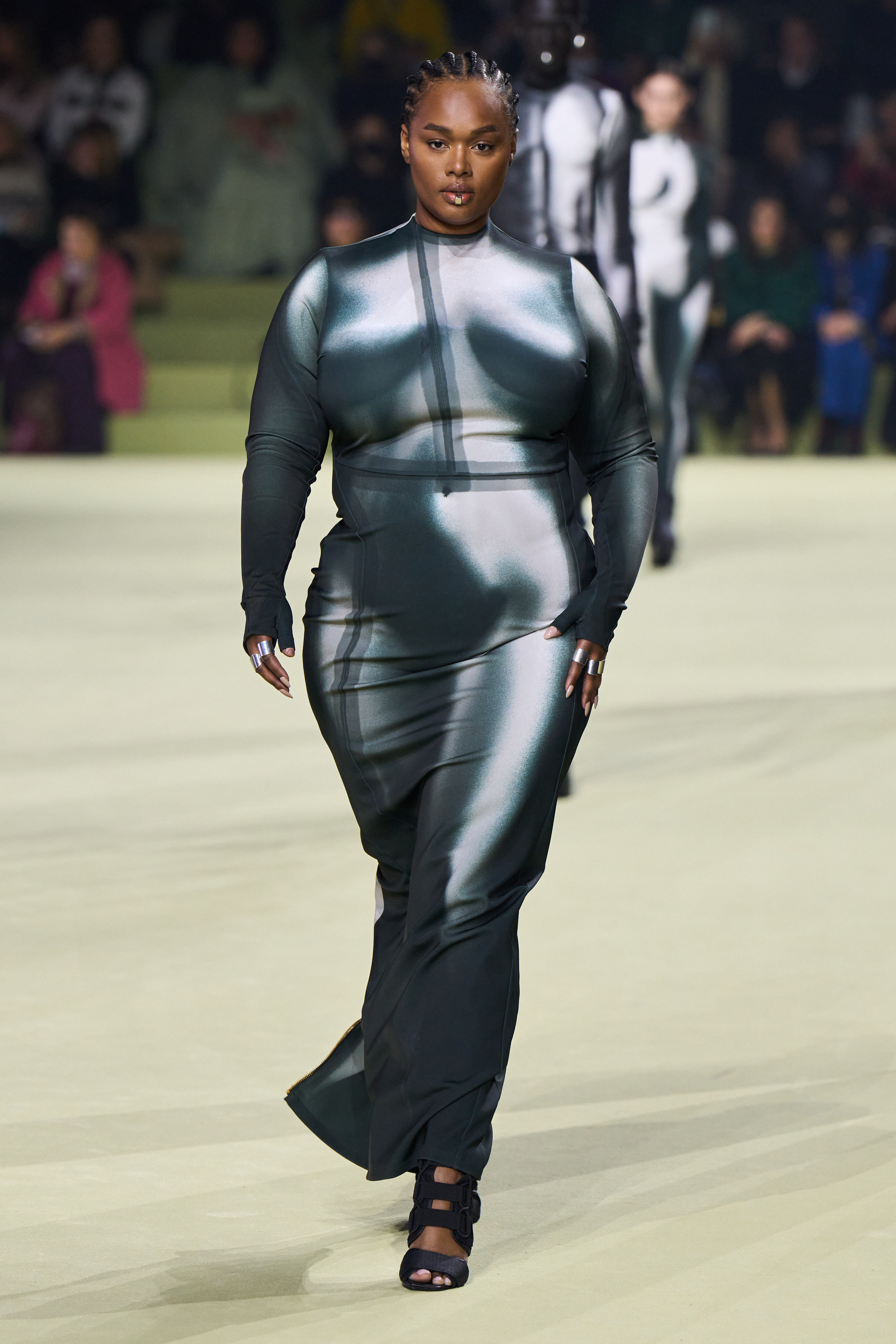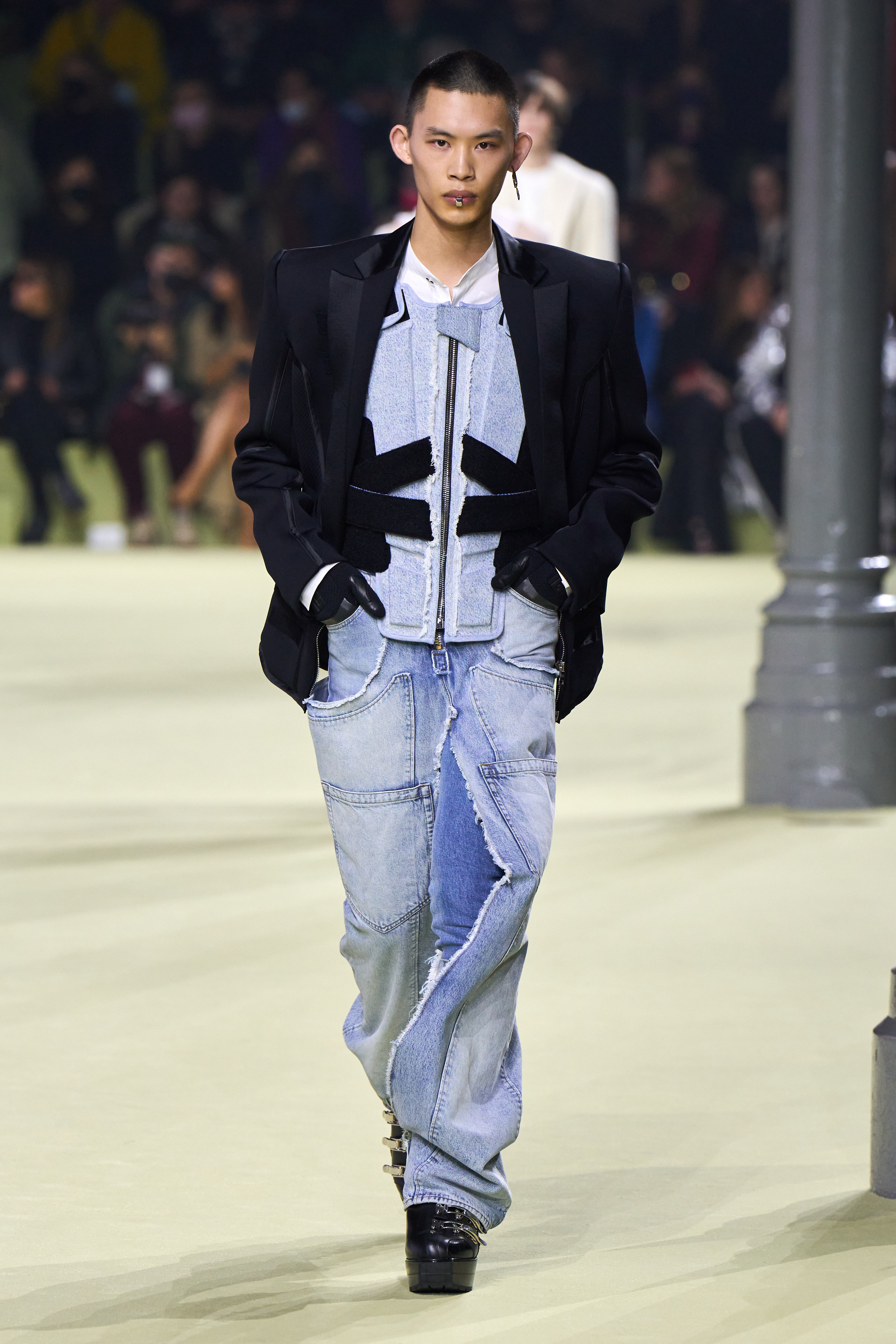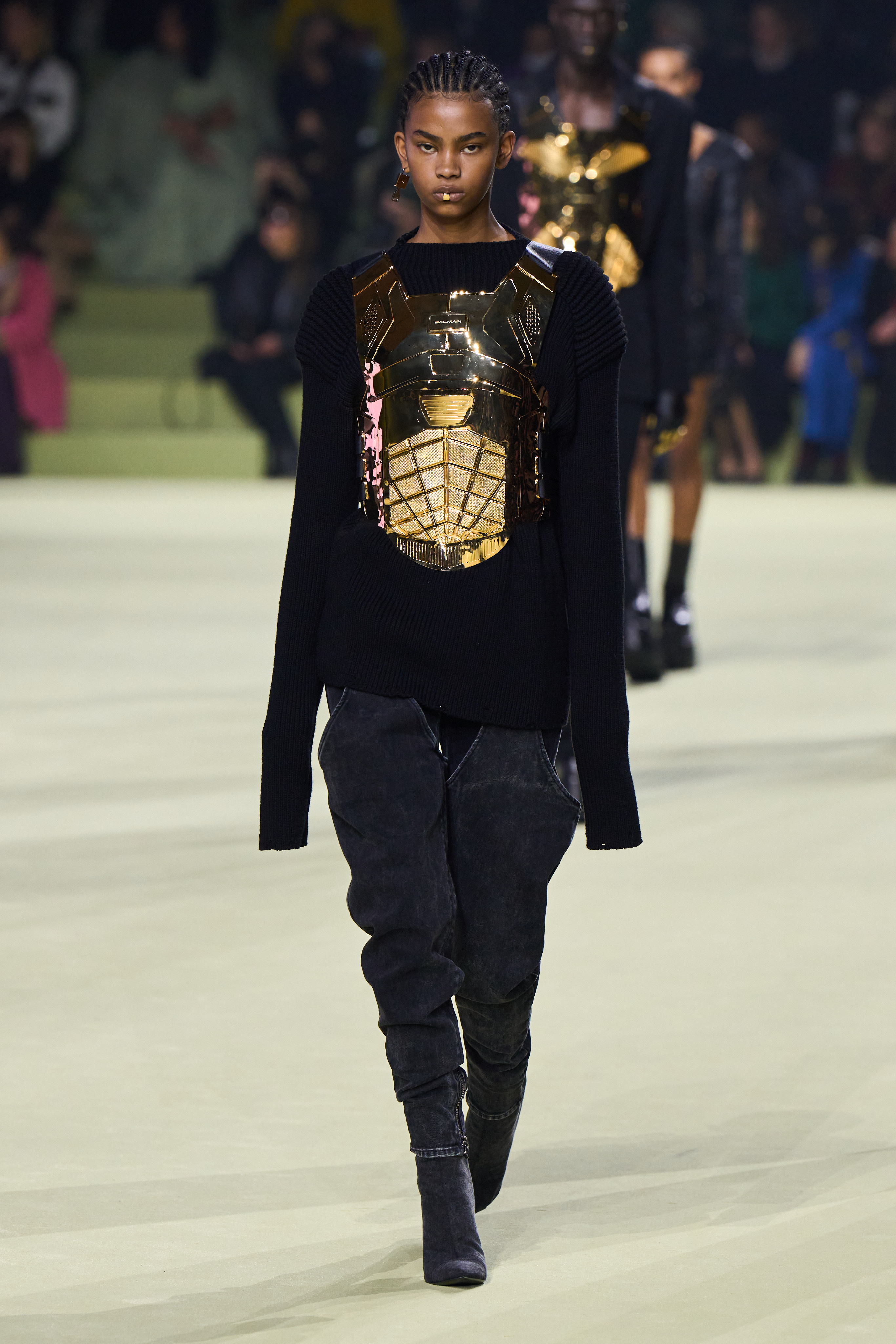 Acne Studios
Jonny Johansson has a cool word for fashion's current buzzword, 'upcycling'. "I was thinking about this idea of emotional patchworking," she said instead when it came to explaining his latest collection for Acne Studios. "When I was a kid, my journey into fashion started when I started cutting things up and putting them back together. This collection is about creating from what is around us, making something new from something familiar. It is about stitching, mending, and repairing." What followed on the catwalk — a stark white space with guests seated in carpeted conversation pits — was true to Johnny's words. For AW22, Acne Studios has all the hallmarks and naivety of cobbled-together clothes and repurpoosed pre-loved clothes and materials. At times, it was remarkable to see how pairs of jeans could be transformed into a metallic, or the jazzy elegance of what one would assume was piano shawls turned into a draped gown. There were even paper bags skirts, knitwear darned with crystals, furniture fabrics turned into cosy eiderdown coats (a new variation on the puffer) and old pairs of jeans — the thing that Acne Studios was initially known for — metamorphosed into everything from bustier tops to sweeping skirts, patchwork ballgowns and a slinky catsuit. Plus, there was more than just sartorial good deeds — the faux fur upholstery of the sunken pits that guests sat in will also be re-used in future collections and donated to students at the Parisian fashion school, Studio Berçot, and pioneering electro musician Suzanne Cian performed live. More impressively, however, was the notes on every seat that declared that Acne Studios stands in solidarity with Ukraine — and has donated a considerable sum to UNHCR and Unicef in full support. OA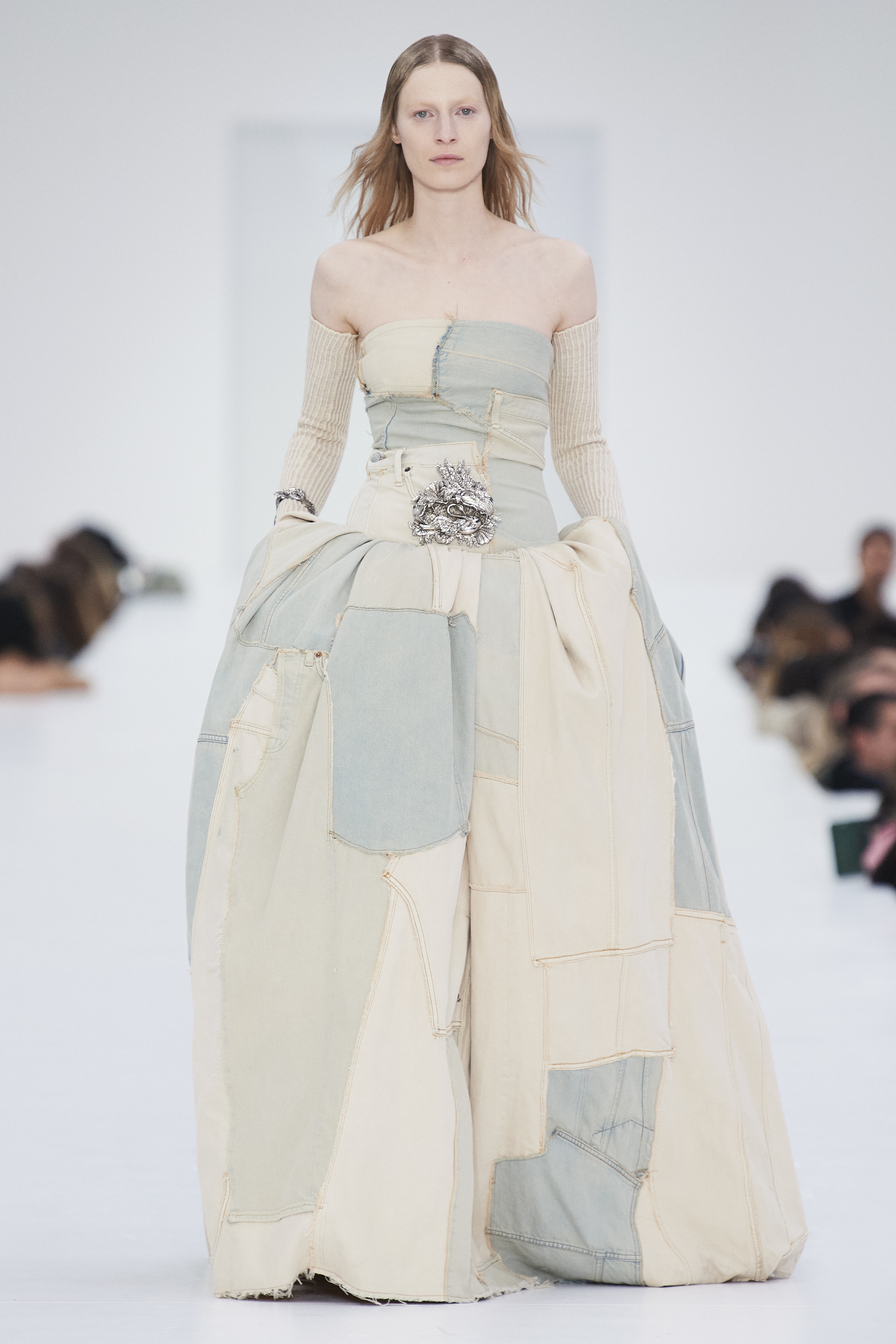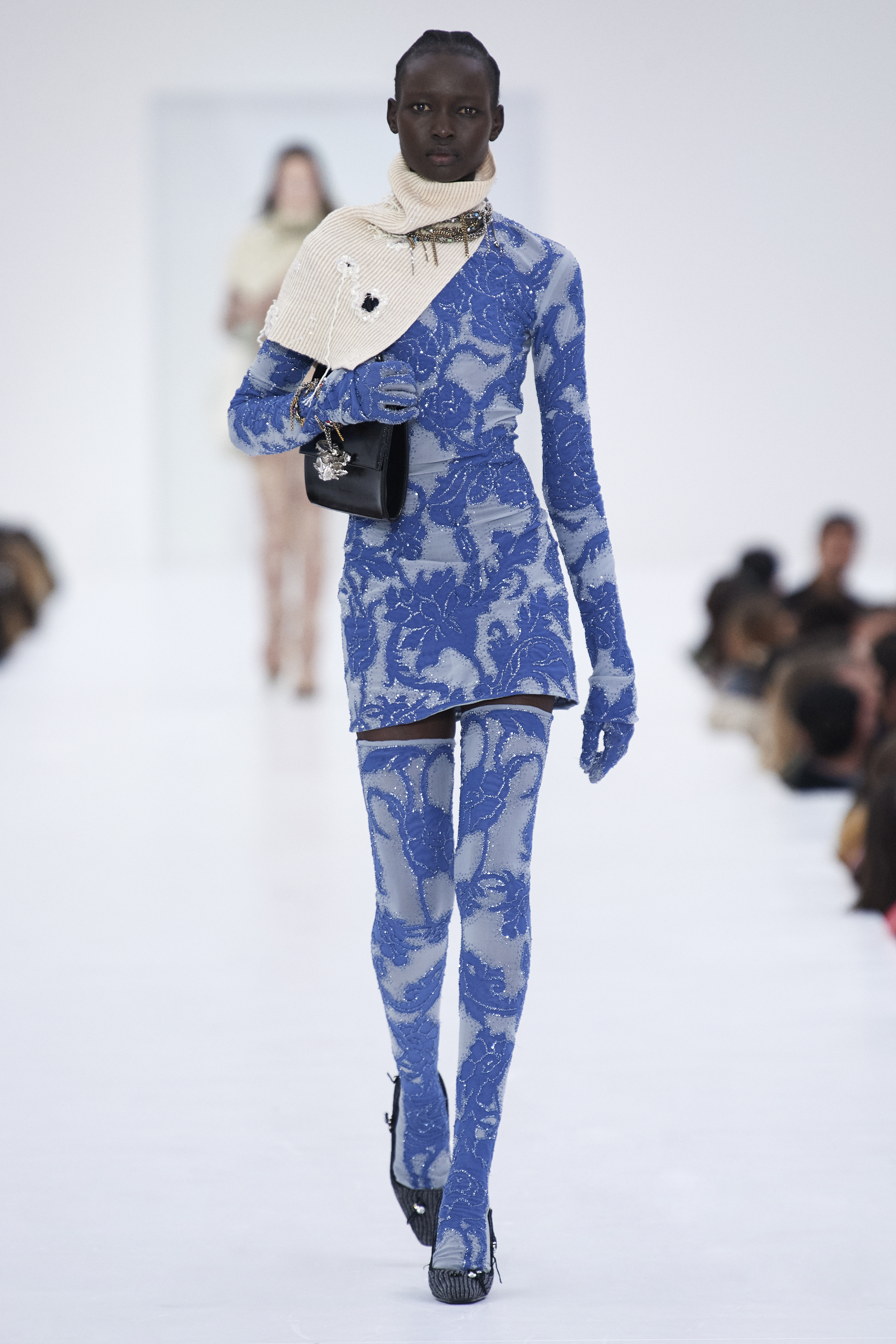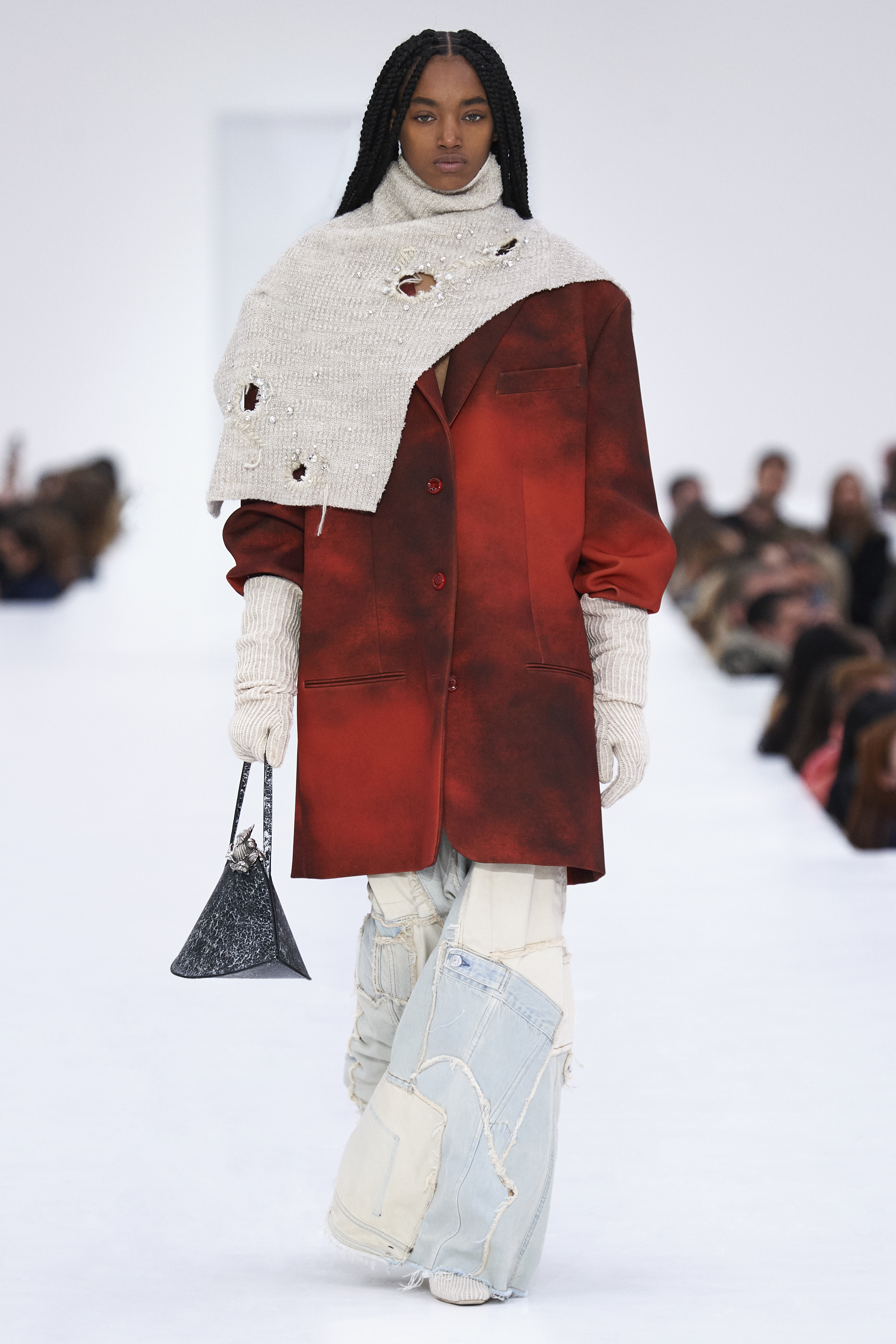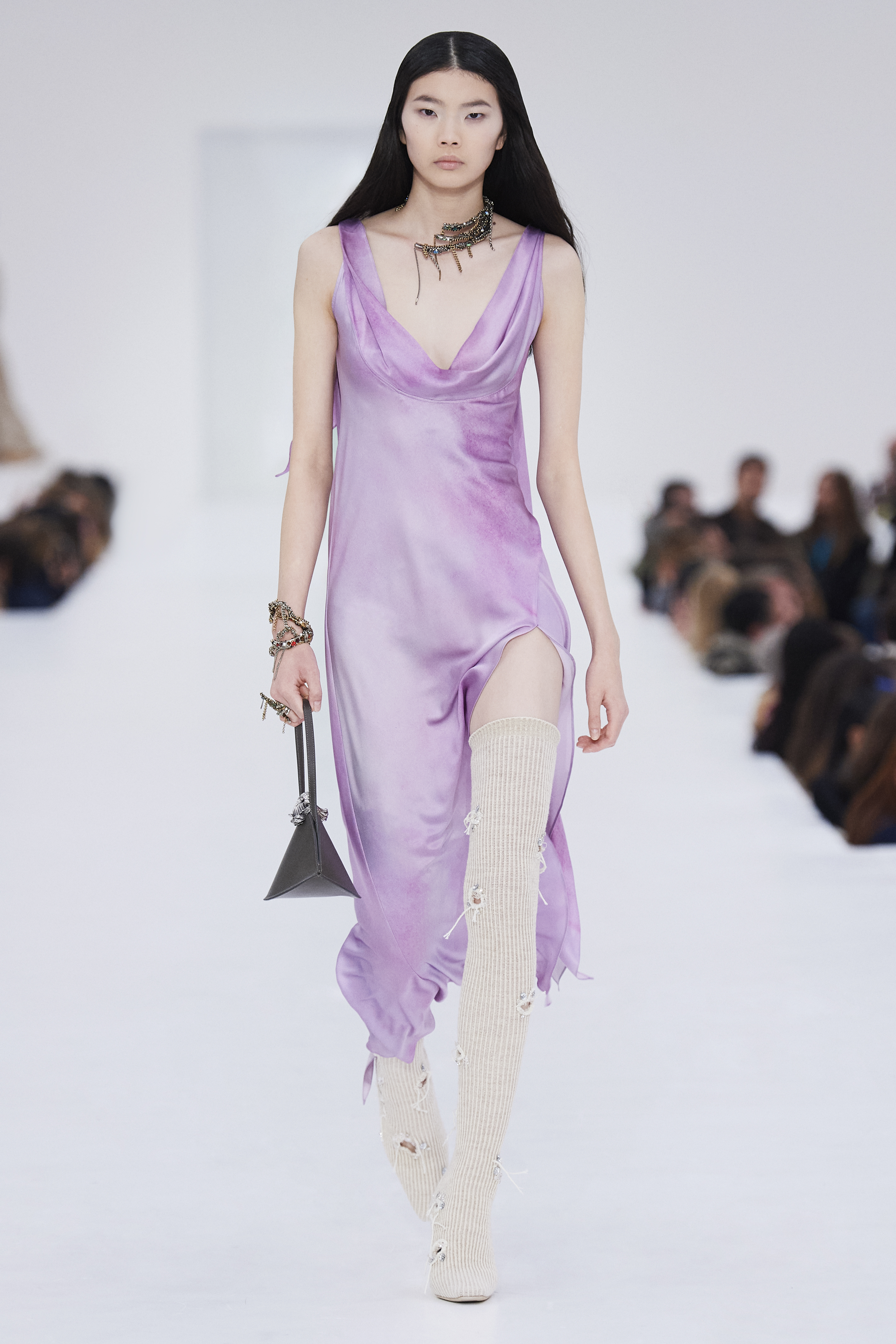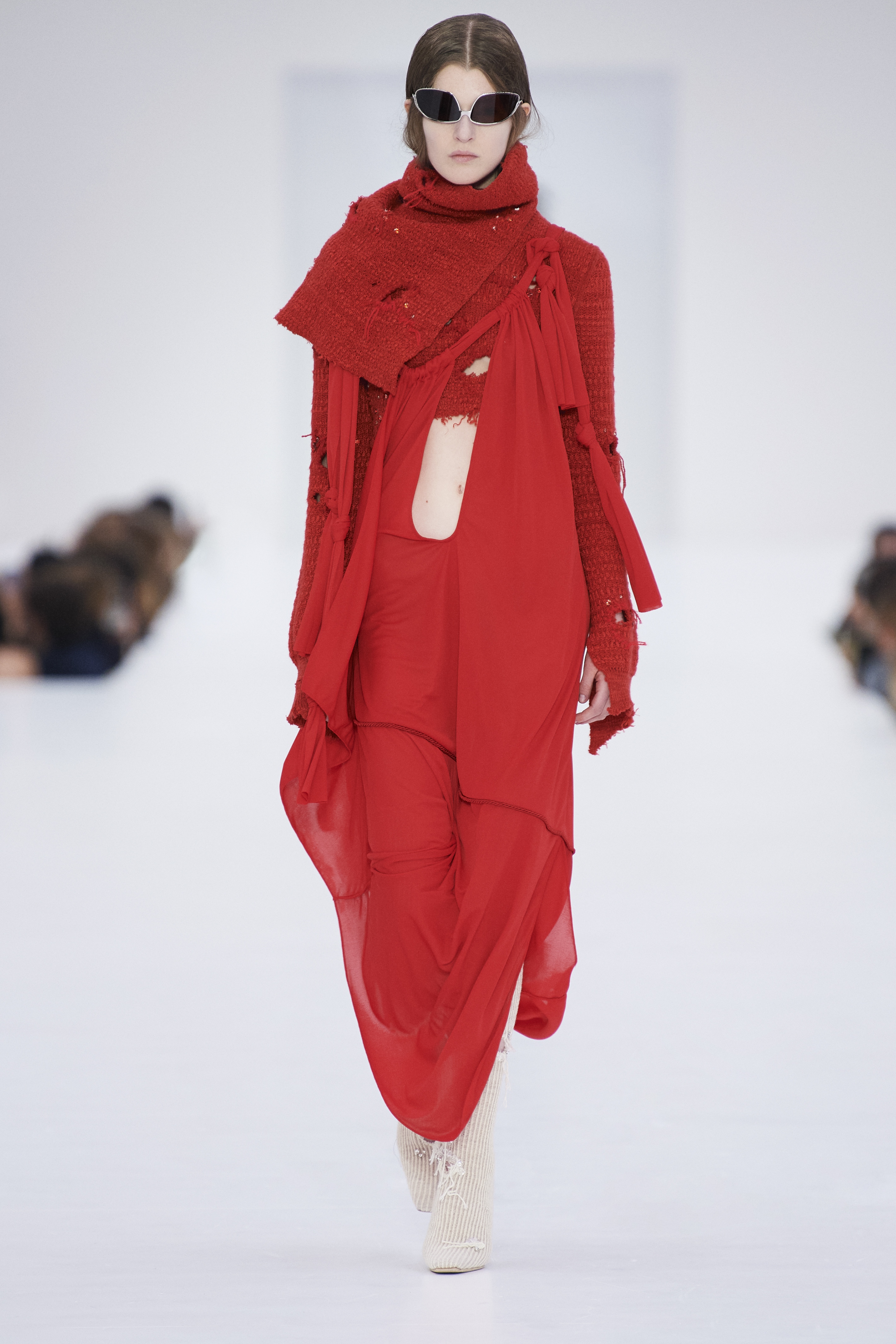 Dior
Designers in Paris often describe couture ateliers as laboratories — but Maria Grazia Chiuri actually looked to a real-life lab for her AW22 collection: the Italian tech company D-Air Lab, which develops body-mapping and ergonomic technology more commonly found in (extreme) sportswear. Given that she has been developing a line of athleisure and Dior-branded treadmills, surfboards and ski wear, it was inevitable that she would begin incorporating some of that high-spec utility into her typically romantic ready-to-wear collections. Hence, the show opened with bodysuits lit up by high-vis seams, mapping the geography of the body. It was temperature-controlled tech, designed to keep you warm when you feel cold, cool you down when you're feeling flustered — ideal for the extreme weather conditions we'll undoubtedly see as a result of you-know-what. The second look, the quintessential grey Bar Jacket, came with a puffed-up mesh peplum that was in actual fact a sort-of grisaille airbag designed to protect the wearer should she fall over. Yes, really. Read our full review here to find out more. OA
Saint Laurent
Sensuality — rather than an overt, skin-baring sexuality — seemed to be the order of the day at Saint Laurent. Or night, considering the nocturnal spirit of the collection. Plenty was left to the imagination, courtesy of covered-up silhouettes with the exception of the occasional plunging neckline, and heavyweight coats seductively clutched by the bare-faced models. Without pointing out the obvious, this collection felt softer and more generous than its predecessors — and not just because of the myriad fluffy textures on display. Here were longer lengths in ostensibly stretchier fabrics, and lower heels that allowed for the models to glide down the catwalk with the assured coolness that Anthony loves. The overall result was ease — not a word often associated with Saint Laurent — with a side order of bang-for-your-buck opulence. In other words, a guilt-free version of the glory days of fashion in the 80s and 90s — when richness and luxury were things to be proud of, rather than ashamed of, and you couldn't hail a cab in New York without a ginormous fur coat as a clear sartorial deposit. For everything you need to know, read our full review here. OA
Vaquera
We all love a debutante, don't we? Well, this season the honour of being the new kids on the block fell down to New York's enfants terribles, Patric DiCaprio and Bryn Taubensee of Vaquera. Making their first hop across the pond to present their AW22 collection in Paris, they took to the concrete bowels of 3537, the vast cultural space in the Marais owned by the powers behind Dover Street Market. On the opening day of Paris Fashion Week, the duo brought what many of those who'd flocked to see the show were hoping for – a rapturously camp flurry of voluminous looks; blurs of shimmers and lingerie frill storming down the runway, which, when paused revealed themselves to be eminently desirable clothes.
What was clear, though, was that Vaquera – a label that for so long has been pegged as a fixture of New York's coterie of iconoclastic 'young designers', is actually now all grown up. This season's scarlet quilted outerwear – cropped bombers, broad-shouldered double-breasted jackets, and belted overcoats – with acid-washed denim and oversized apron skirts demonstrated top-notch cutting skills, while gigantic angora cable knit sweaters struck a golden ratio between hug-me cosiness and a fashion-forward silhouette. Lingerie – a recurring motif in Vaquera's collections for some time now – figured in lacy trims on transparent rainproof sheet smocks and baggy nightgowns, while splashes of camp came by way of puffs of leopard faux fur, second skin PVC underlays, and pops of Westwood-y studded tartan kilts. For a label that's often described itself as a purveyor of 'fashion fan fiction', this felt like a collection that set them on their way to becoming a subject of the very genre they pioneered. MS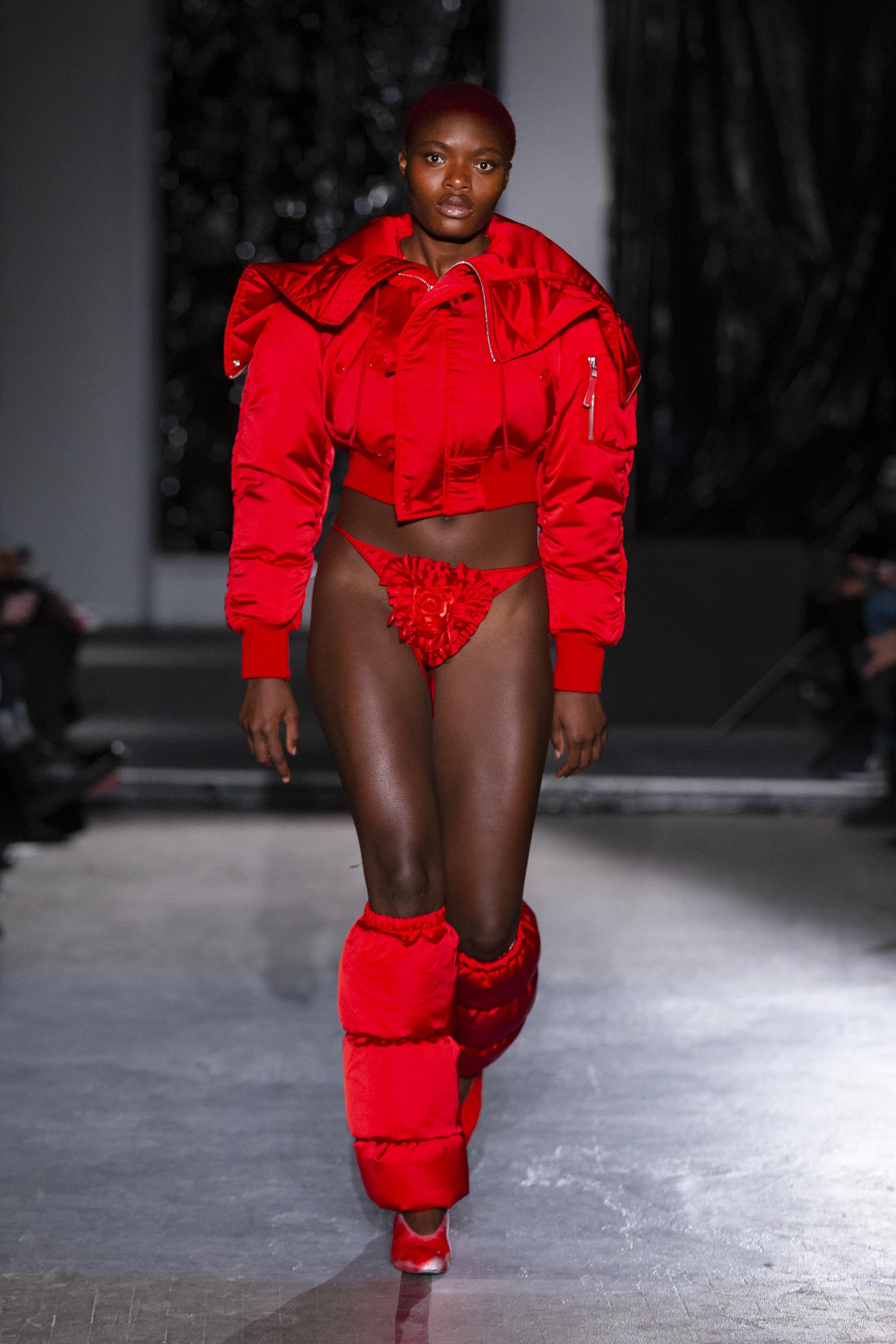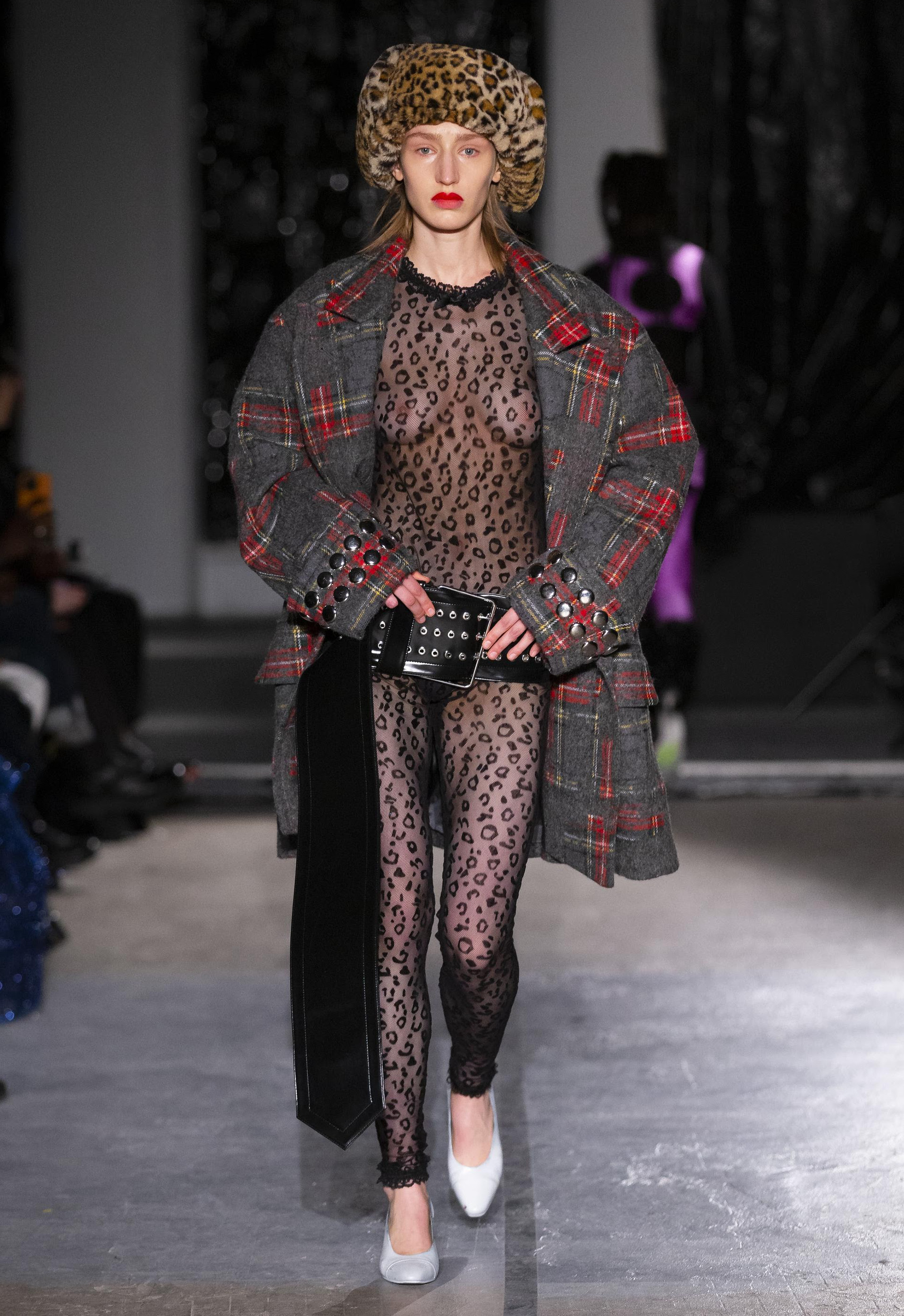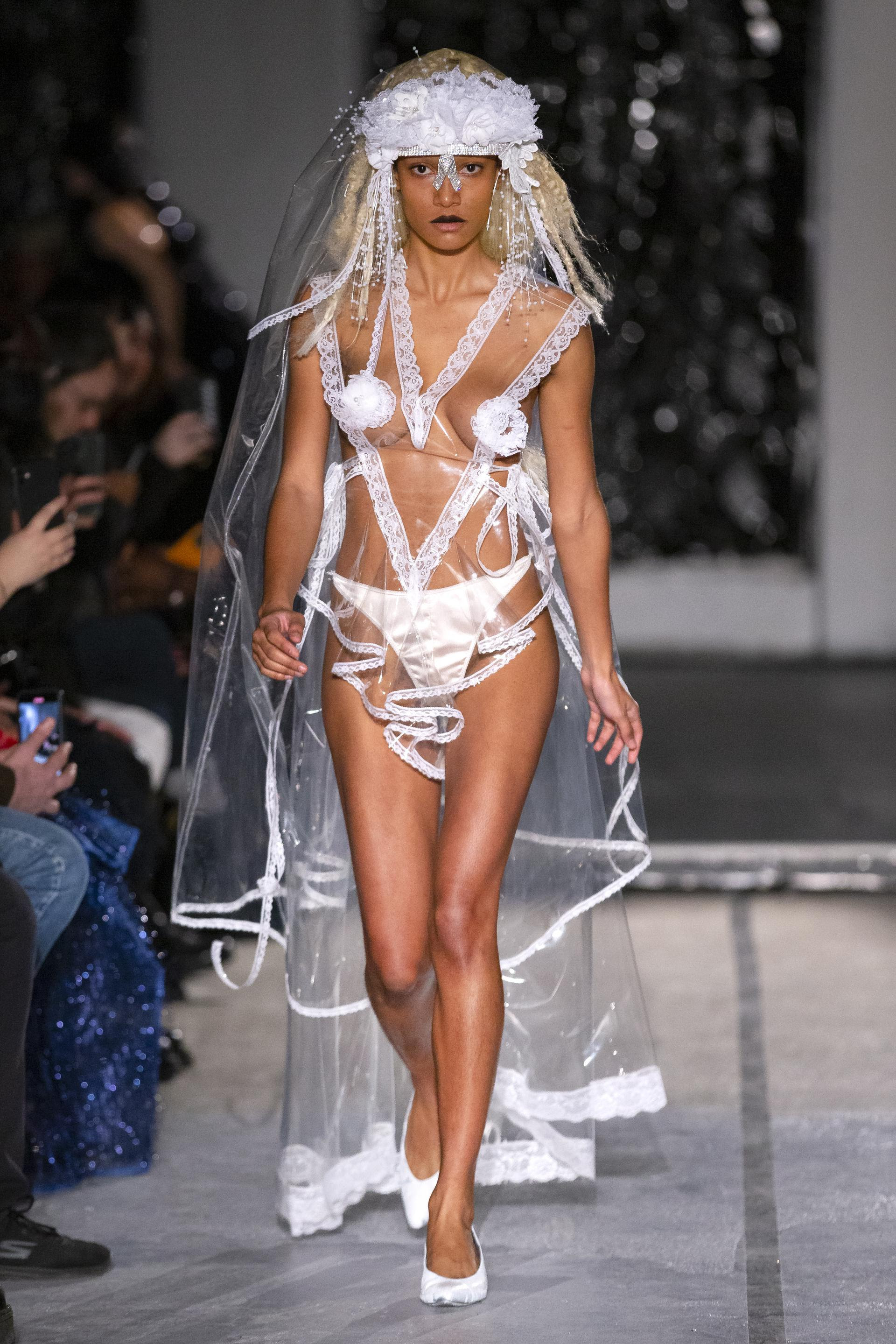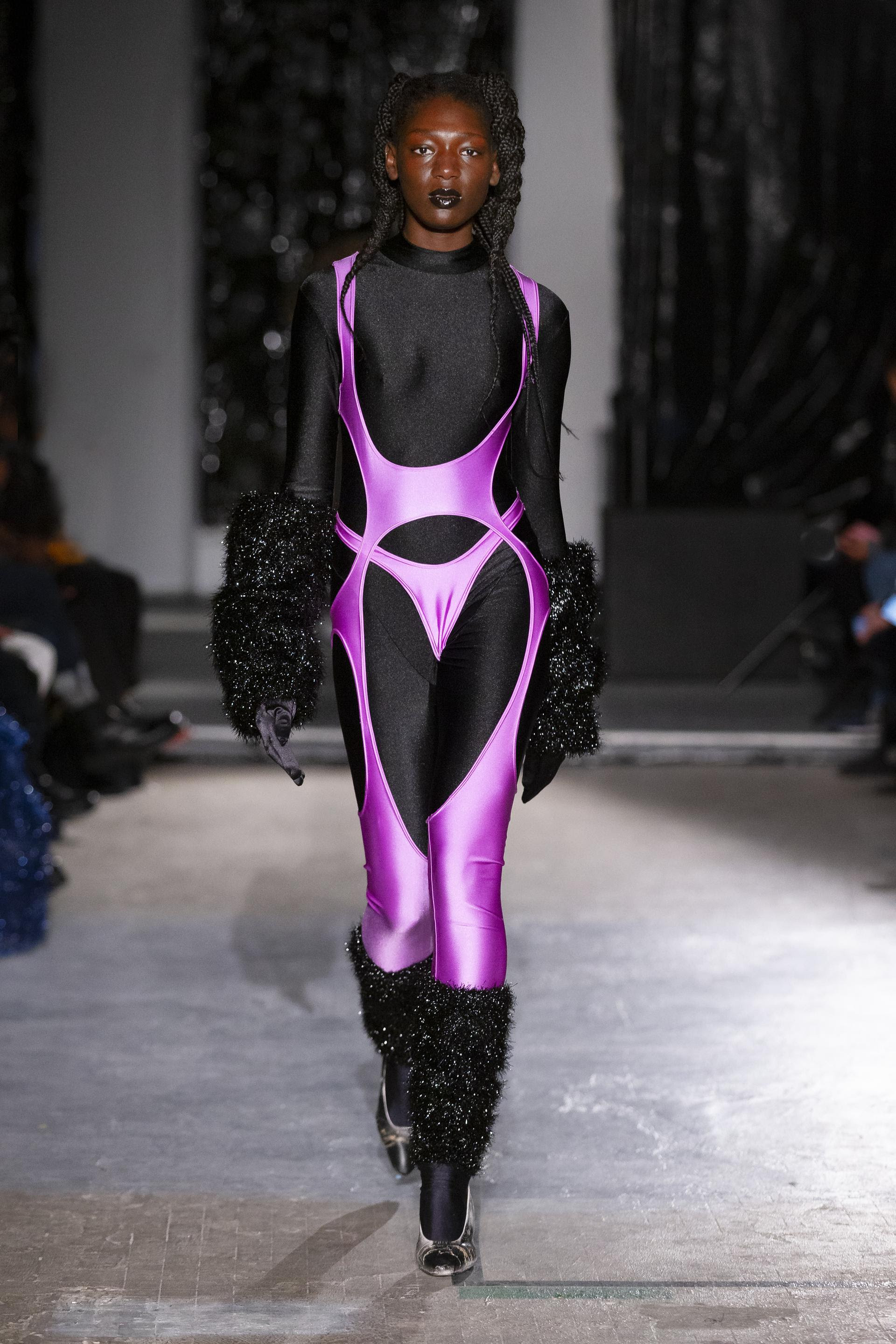 Botter
Just weeks ago, news broke that Lisi Herrebrugh and Rushemy Botter would be stepping back from their responsibilities at Nina Ricci to focus solely on the label they built together, Botter. Gauging by the collection they presented on the morning of the second day of PFW, it was a gamble that paid off, resulting in one of the pair's most intriguing collections to date. Titled "Caribbean Couture", it was an effective ode to the resourcefulness inherent to the island nations' culture – plastic lawn chairs were metamorphosed into desirable design objects, covered in wool plaid and faux furs that echoes fabric found in the collection. Tailored v-neck pullovers were cleverly repurposed from pairs of trousers, and halter tops and western shirts were fringed with cascades of beads recycled from ocean plastic – the latest in a series of moves made by the label to draw attention to the crises faced in our seas. MS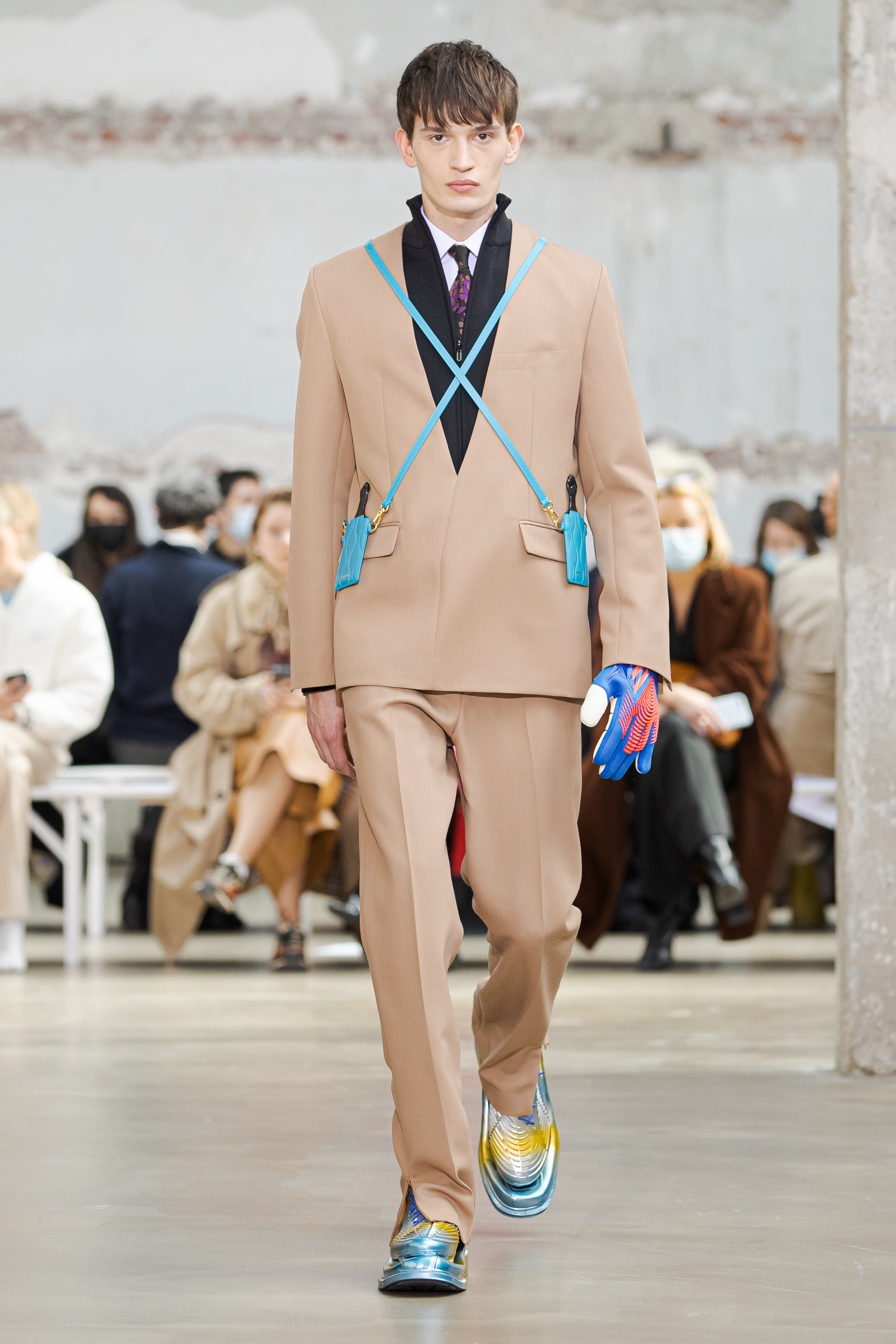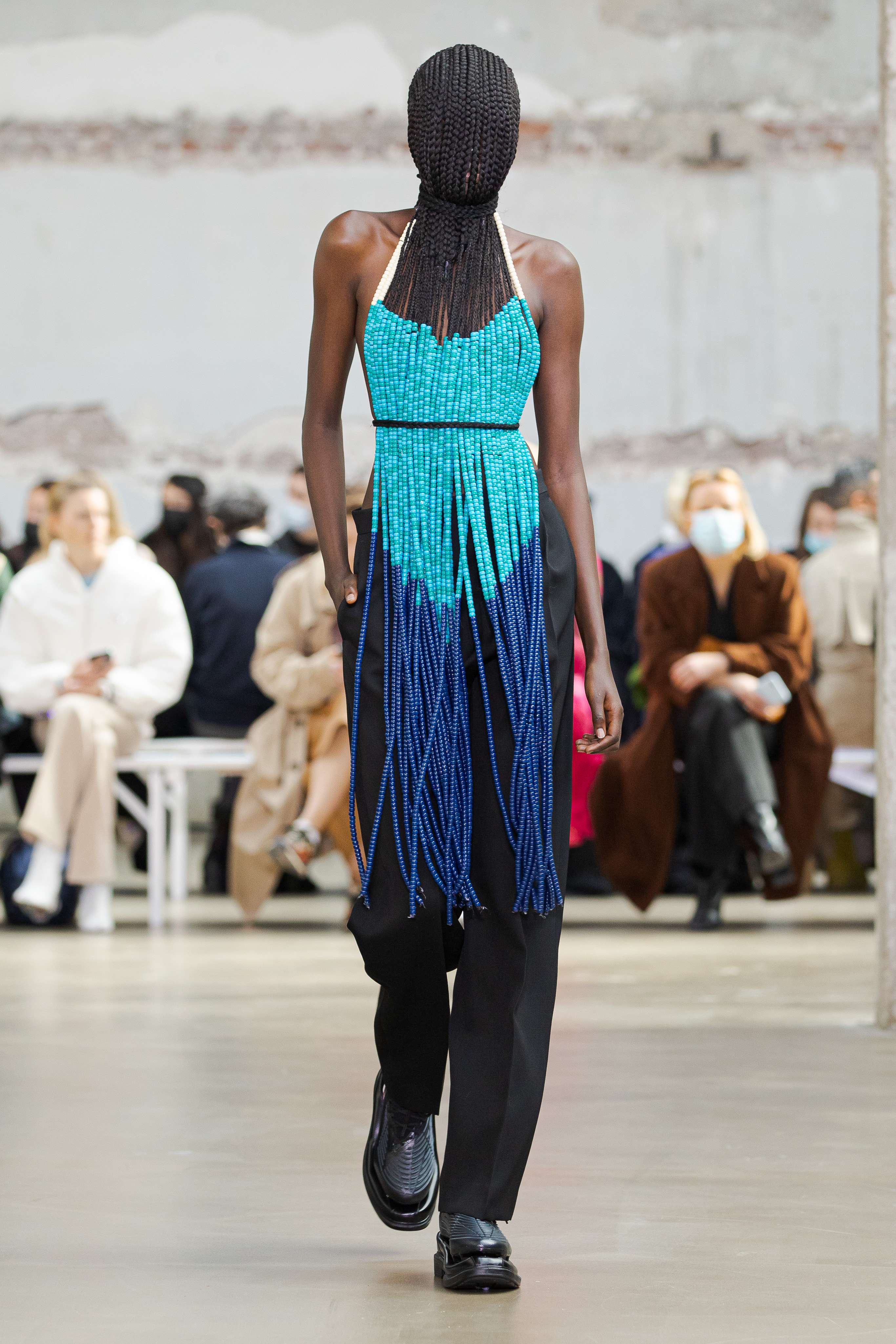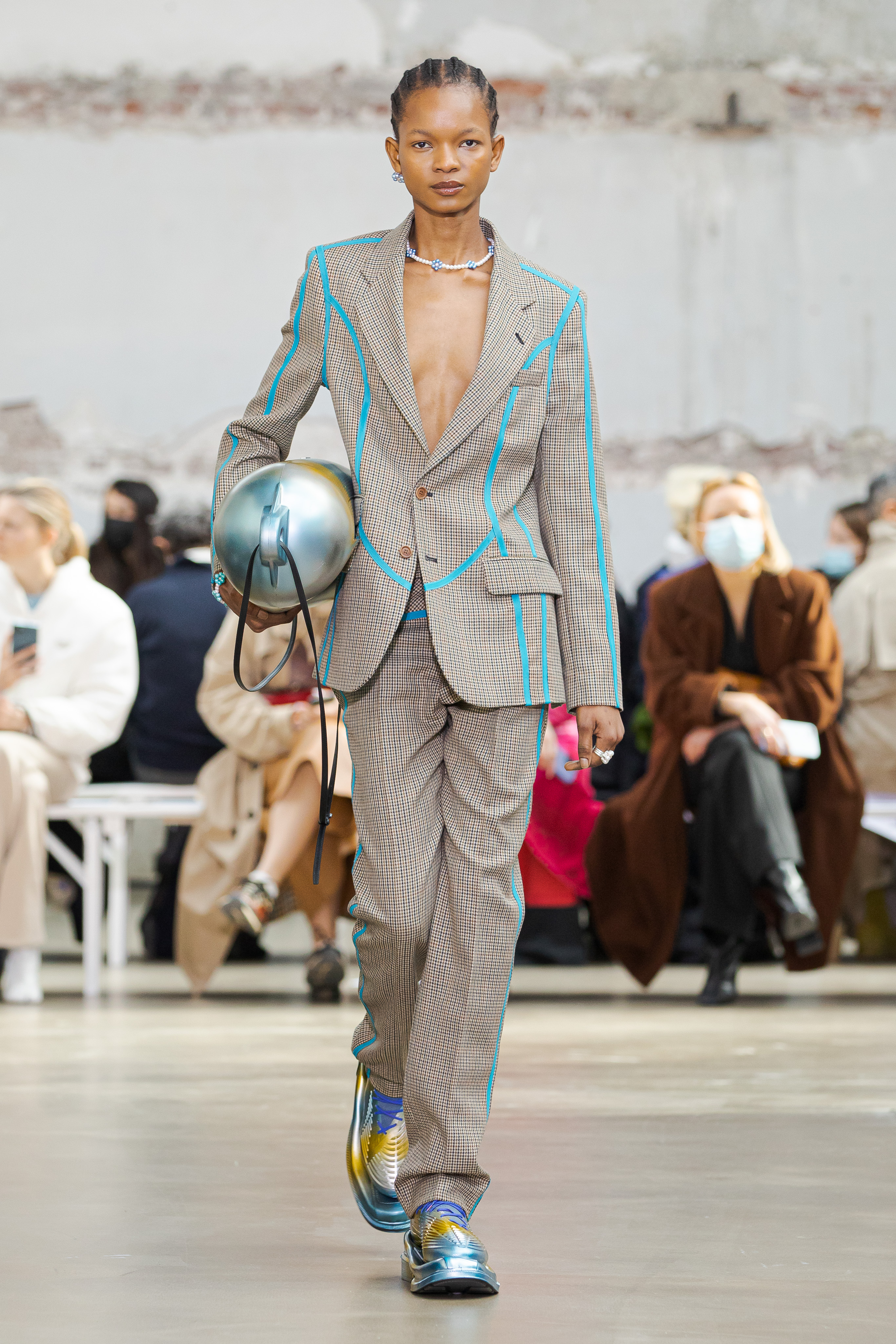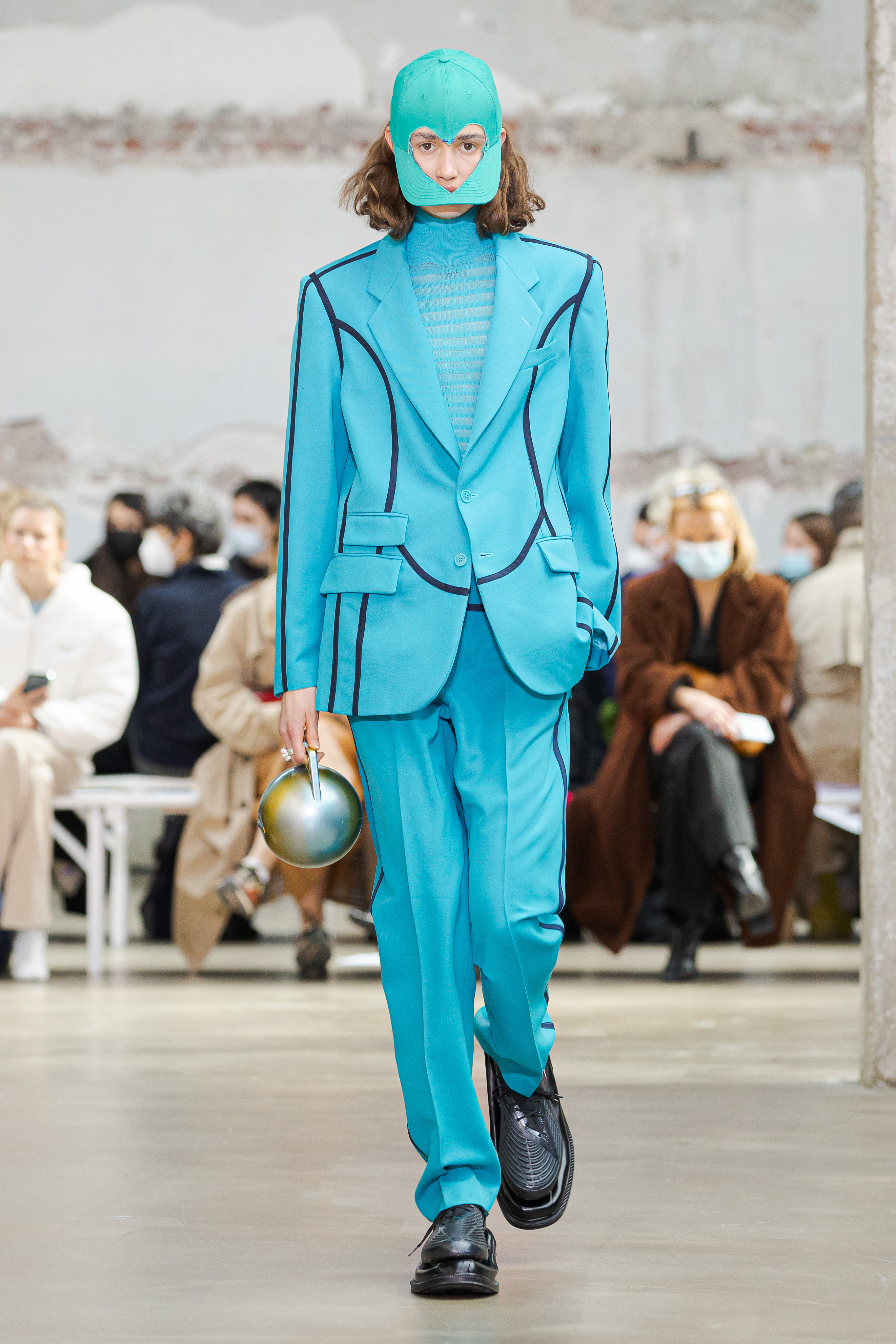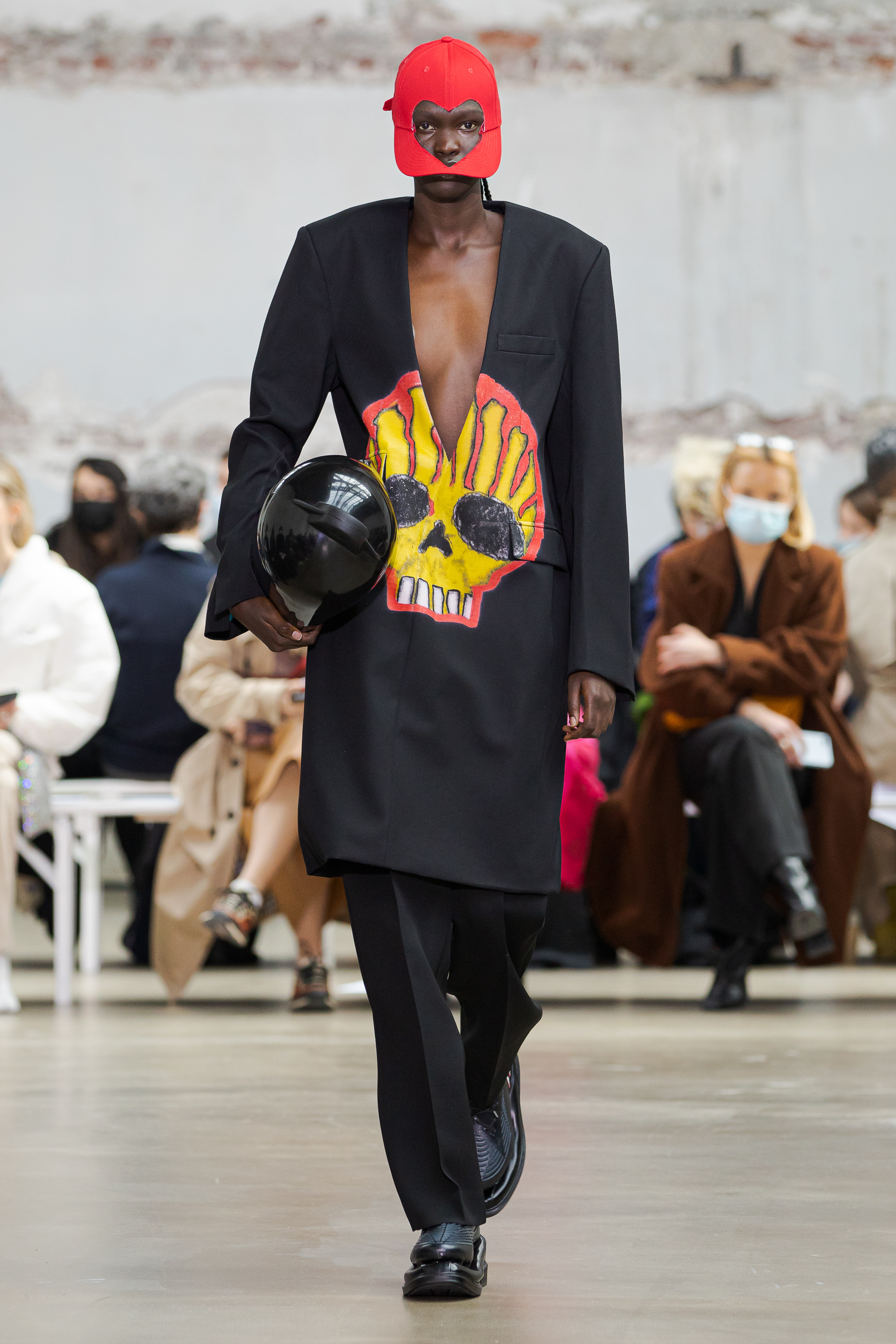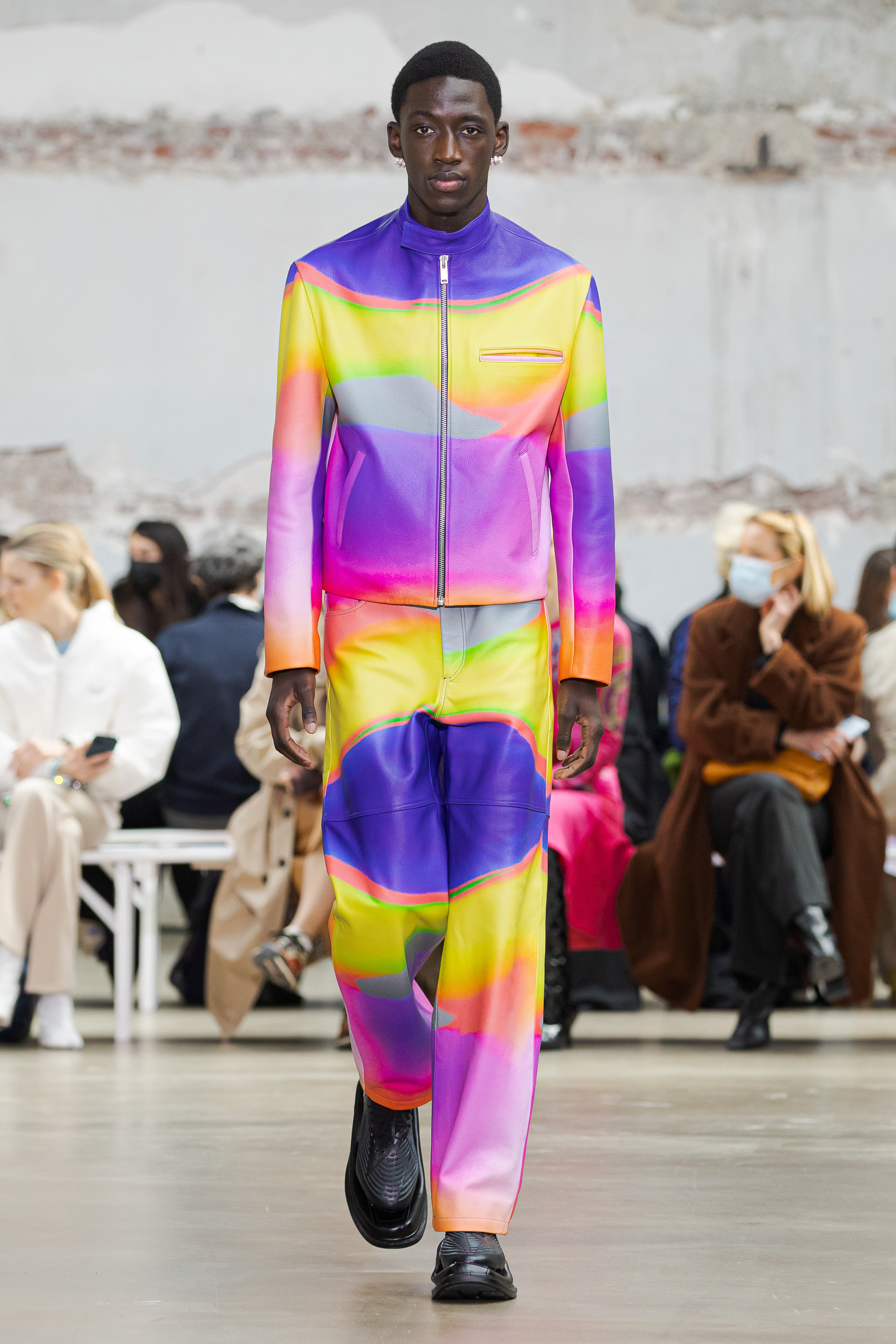 Off-White
Since the sudden, tragic passing of Virgil Abloh towards the end of last year, tributes to the creative legacy of one of fashion's most singular voices has been paid by way of two deeply moving Louis Vuitton shows. The first took place in Miami, just two days after the announcement of his death, with the second hosted in Paris during the city's men's fashion week in January – and it was in them that Virgil's final collections for the Parisian maison were shown. Last night in Paris, it was the turn of Off-White – the house that Virgil built from the ground up. The final collections of womenswear and menswear Virgil designed were presented around a giant chandelier installed at the heart of the Palais Brogniart and were imbued with a sense of forward-looking celebration. They nodded to Virgil's unspeakably powerful contribution to fashion history, and looked to the future with the same wide-eyed wonder that coloured his perspective. Read our full review of the Off-White show here. MS
Tagged: