The Spirited Away play will stream online
The popular stage production of the Studio Ghibli classic will be live streamed on Hulu this summer.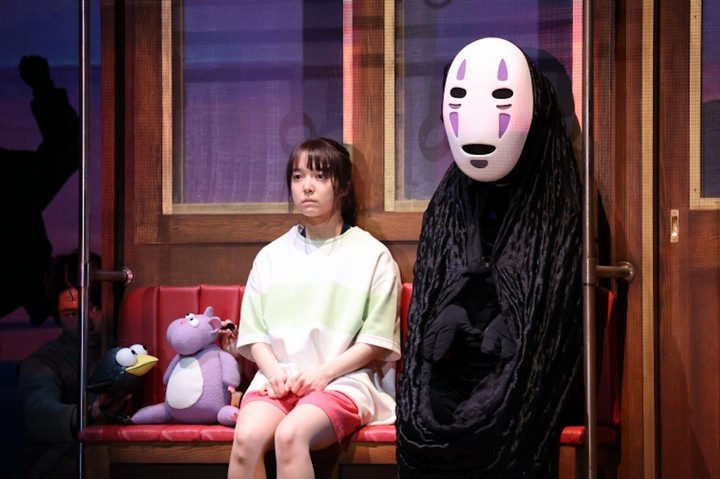 Twitter @enterstage_jp
The stunning new stage production of the Oscar-winning Studio Ghibli movie, Spirited Away, ended its month-long run in Tokyo's Imperial Theatre last night. Now, as it heads to Osaka, it's been announced that, for two days only, the show will be going international! Japan's Sora News reports that two of the show's final performances at the Misonoza Theatre in Nagoya in July will be broadcast live globally on streaming platform Hulu, finally giving us all a peek at the beloved anime come to life.
Hulu will be streaming the show on both 3 and 4 July 2022, each with a different cast since Japanese theatre is known for casting two actors for each role who then alternate performances. The play has been lauded for recreating the same magical level of details in its sets, costuming, makeup and props — including a jaw dropping replica of the white dragon Haku — that the beautiful hand-drawn Studio Ghibli movies are renowned for. No word yet as to whether Hayao Miyazaki himself has seen it, but we imagine he'd be happy with the results!
The play also follows the same wholesome story as the movie: about a 10-year-old girl Chihiro whose family moves to a new neighbourhood and ends up falling into the spirit world of Japanese shinto folklore. When her parents are cursed by a witch and turned into pigs, the now orphaned Chihiro goes on a quest, alongside the ethereal creatures No-Face, Haku and the Radish spirit, to free her family and escape the magical realm.
Sadly, the play is only currently planned to run in Japan over the summer, giving international fans less of a chance of seeing it in the flesh soon. But that's what the two live streams on Hulu will do for now. What's more, it's been rumoured many of the stunning set pieces will also be available to explore in the Studio Ghibli theme park opening this fall, so there's still the chance for us to be immersed in the Spirited Away world IRL.
Follow i-D on Instagram and TikTok for more on Studio Ghibli movies.
Tagged: