Images courtesy of Supriya Lele, Chopova Lowena and Simone Rocha
The best of London Fashion Week AW22: Chopova Lowena and Simone Rocha
Our must-read guide to the key shows of the season — as they happen.
|
23 February 2022, 3:00pm
Images courtesy of Supriya Lele, Chopova Lowena and Simone Rocha
'Ello babes! Welcome to London! Yes, it's already that time of year again, when our stunning hometown comes alive with style. A longstanding crucible of bold creativity and names-to-know, London Fashion Week's AW22 edition – the second full physical iteration since the you-know-what – is shaping up to be one of the most intriguing to date. With once-flagship presences absent from this season's schedule, the responsibility to dazzle falls firmly in the hands of a new generation of talents that we've been obsessed with since they first stepped out of school – names like Supriya Lele, Stefan Cooke, Ahluwalia, Saul Nash, Conner Ives, Feben… the list goes on!
Just like last season, the place to get all the must-know news on the hottest LFW meauxments is, well, right here. Each day over the course of the week, we'll be publishing a fresh batch of review, keeping you in the loop on everything you need to be able to tell you Nensi Dojakas from you Nicholas Daleys. Eyes peeled, lovies! xo
Chopova Lowena
Since founding their namesake label in 2018, Emma Chopova and Laura Lowena have struck a balance that few designers of their generation have managed to. Though the smorgasbord of references they draw upon is broad, and often esoteric – on it, you'll find nods to garden gnomes, Medieval corsetry, skydiving gear, Bulgarian folk festivals and much more in between – the aesthetic language they've built over the years is distinct, refined and inimitably theirs.
As die hard fans will know, every Chopova Lowena collection centres on a tension of visual registers – the unexpected marriage of two seemingly disparate worlds. For the label's AW22 collection, titled Kiss the Hare's Foot – "a Medieval phrase meaning to miss dinner, but savour the leftover scraps" a release reads – ice hockey met the kind of garments seen in Middle Ages imagery, balancing the former's tech-y hardness with the latter's courtly flair. The brand's repertoire of signatures – those instantly recognisable pleated skirts, floral flocking, talismanic hardware – naturally figured here, the true standout pieces were those that transposed them into entirely new categories.
Quilted outerwear, decorated with floral sketch embroideries and lined with acid hued fleece, effortlessly balanced winter-ready functionality with the aesthetic zing that stokes the enthusiasm of Chopova Lowena's cultish fanbase. DIY chains were built into garments, appliquéd to jacket collars or down the fronts of jeans. Tailoring and knit were also broached for the first time, resulting in velvet-patched skirt suits and weighty mohair cardigans. All the words we have to describe these clothes, though, won't quite measure up to just how striking they are to behold in the flesh – so that said, start saving and get ready to spend when it all hits the shop floors in the late summer. MS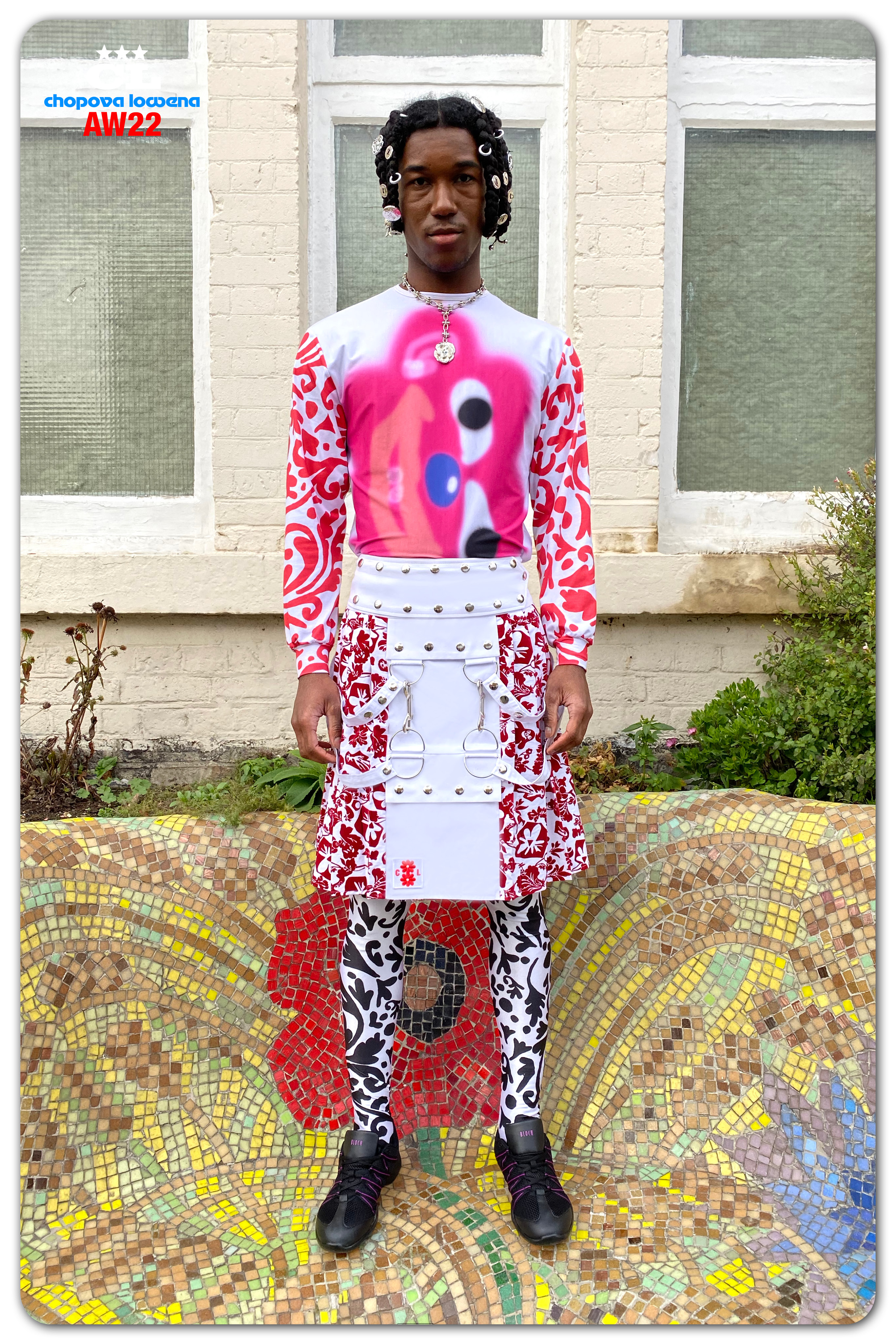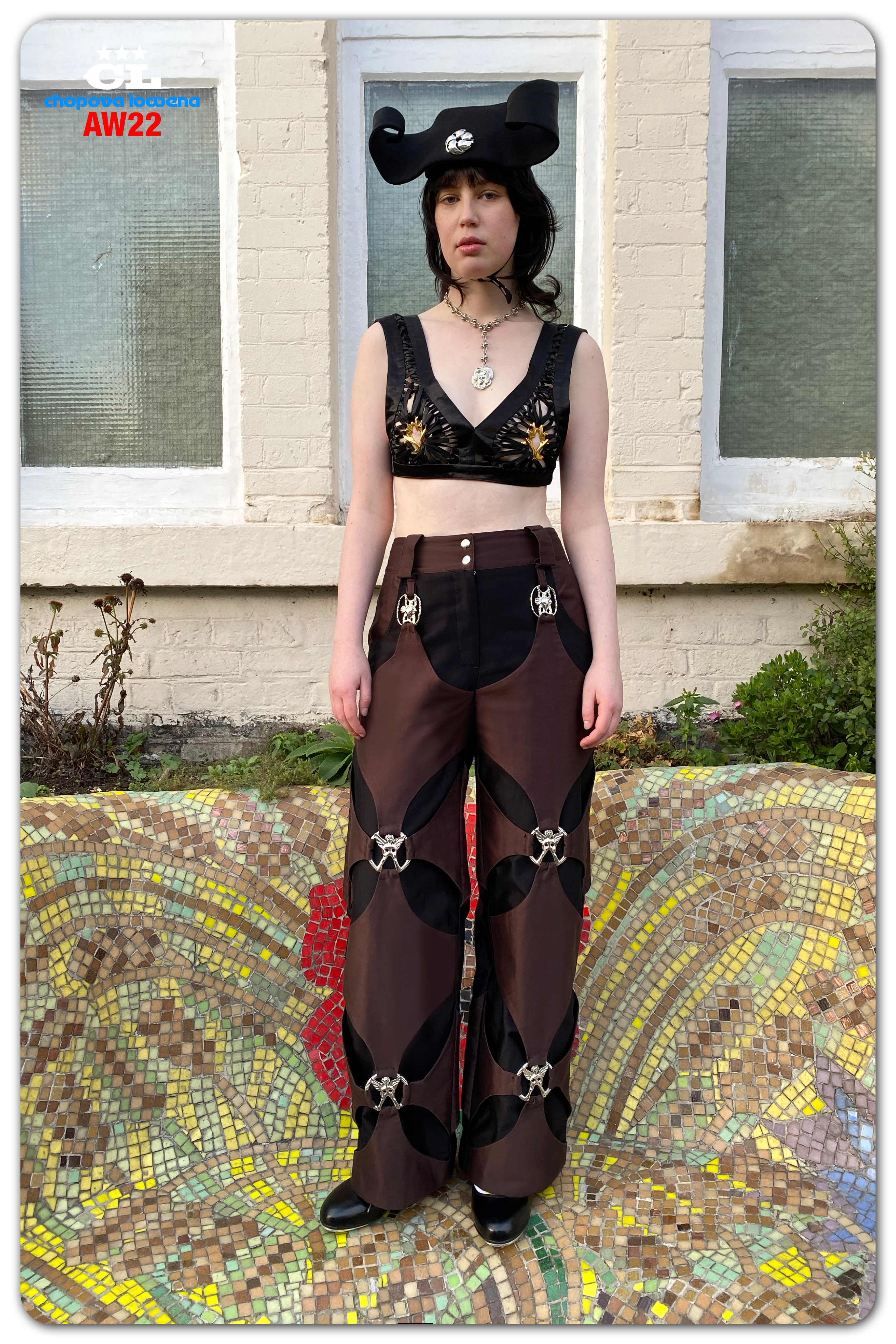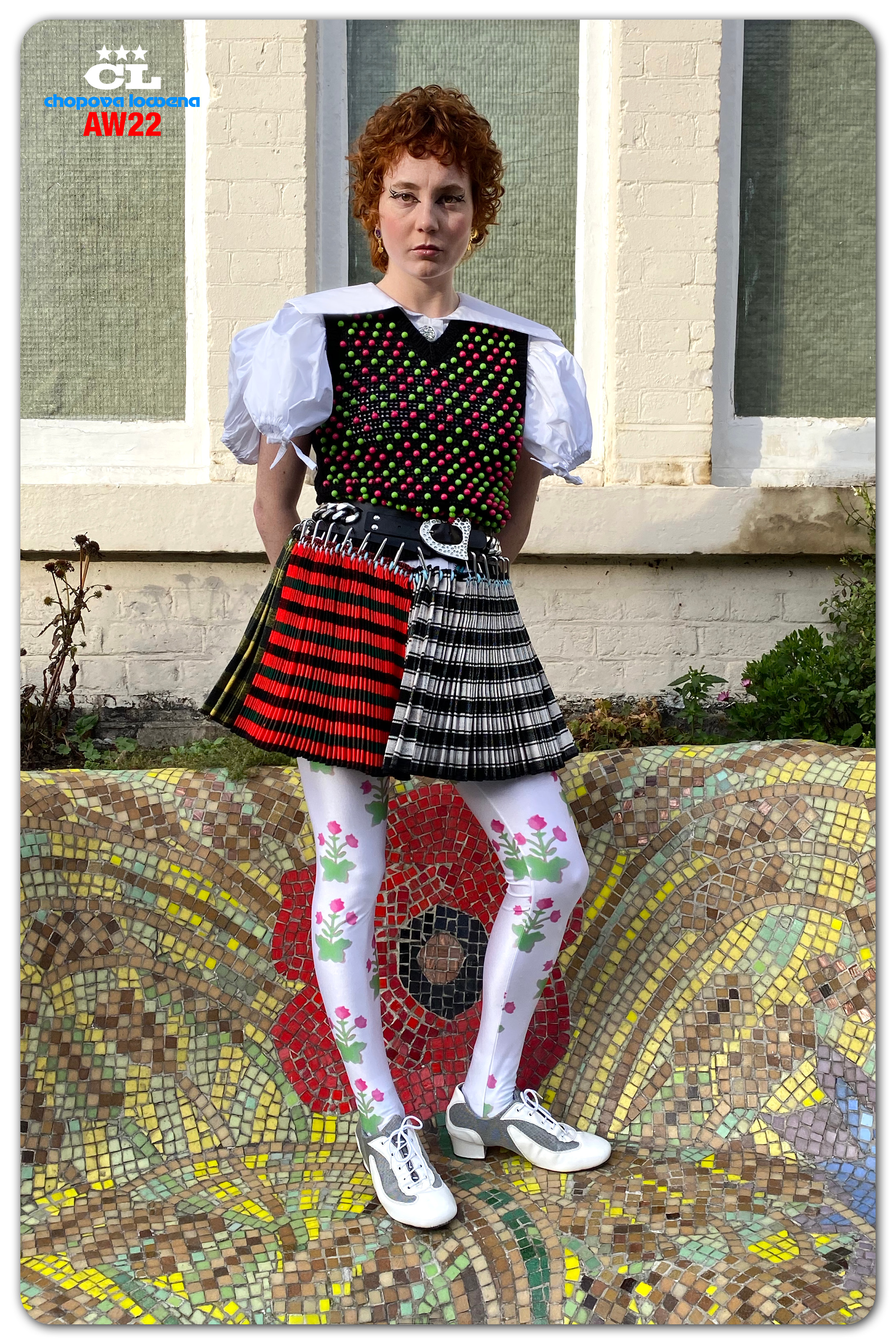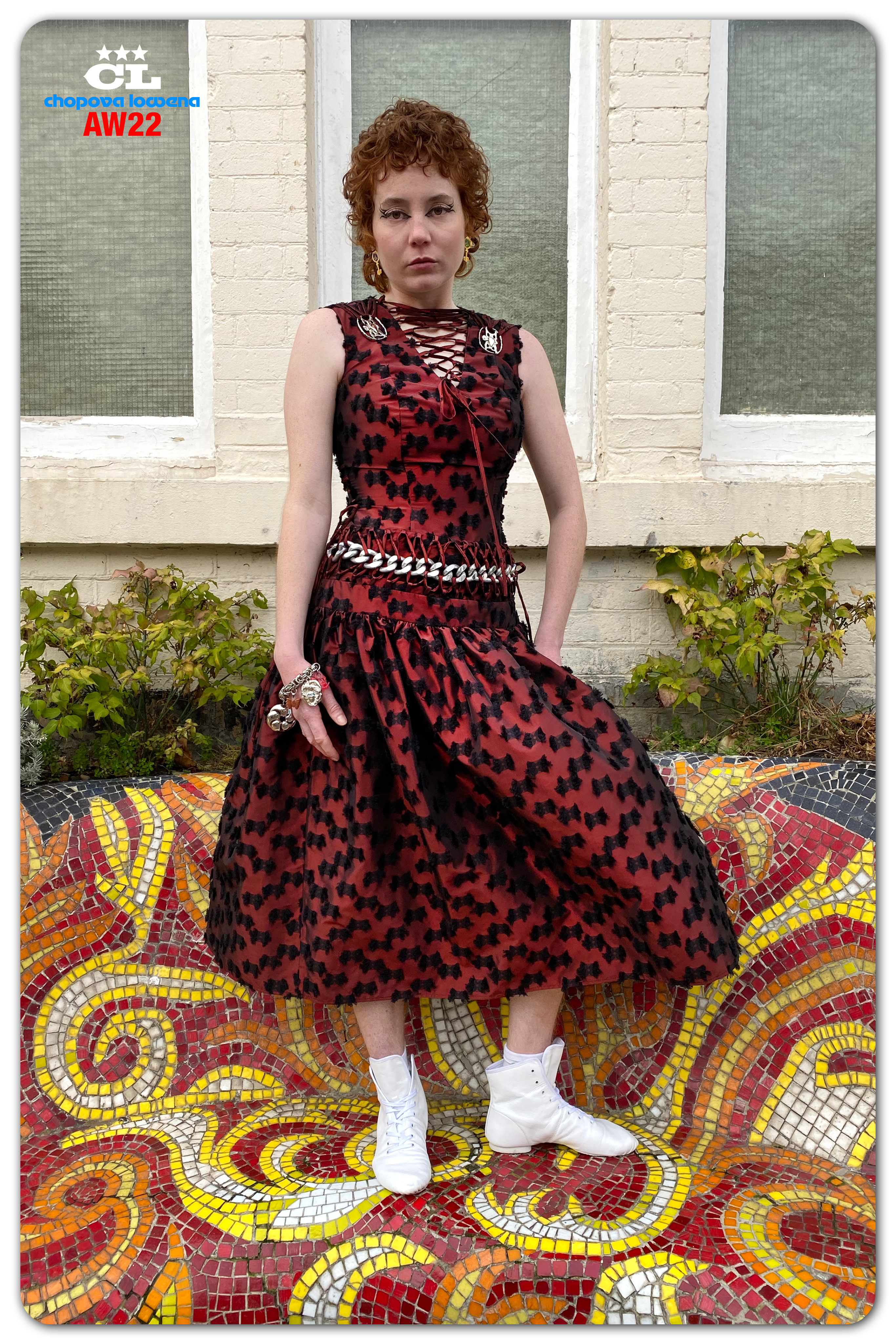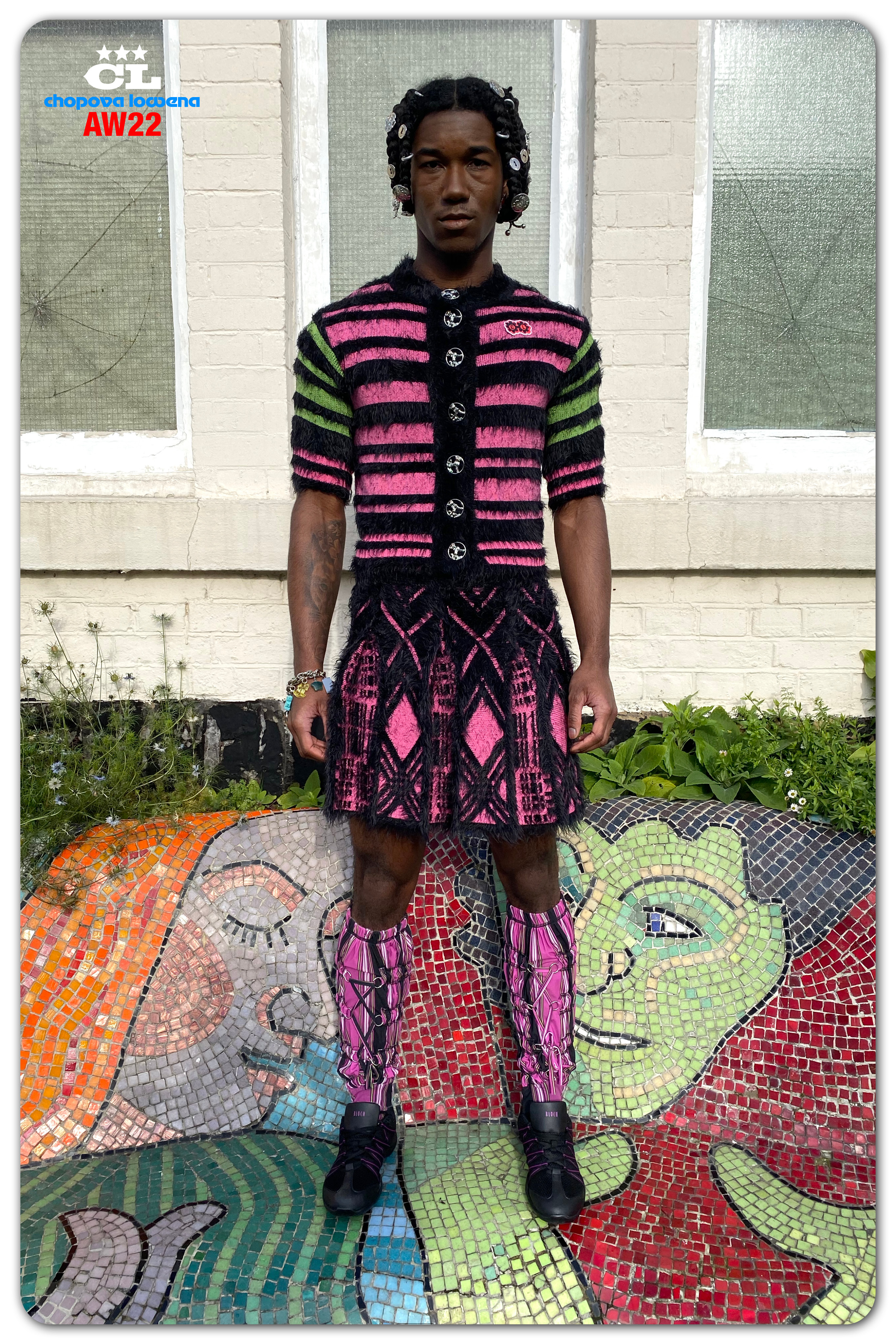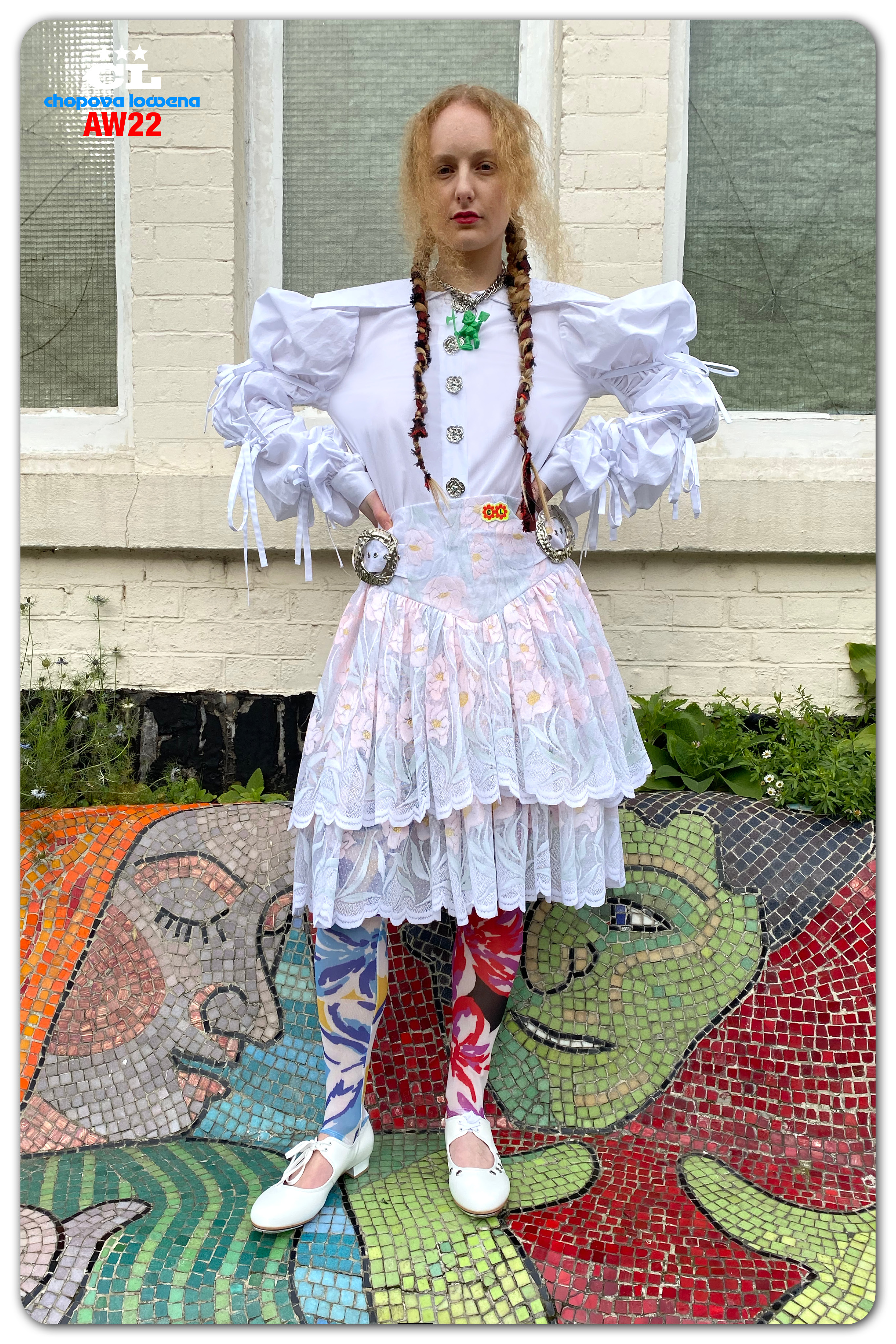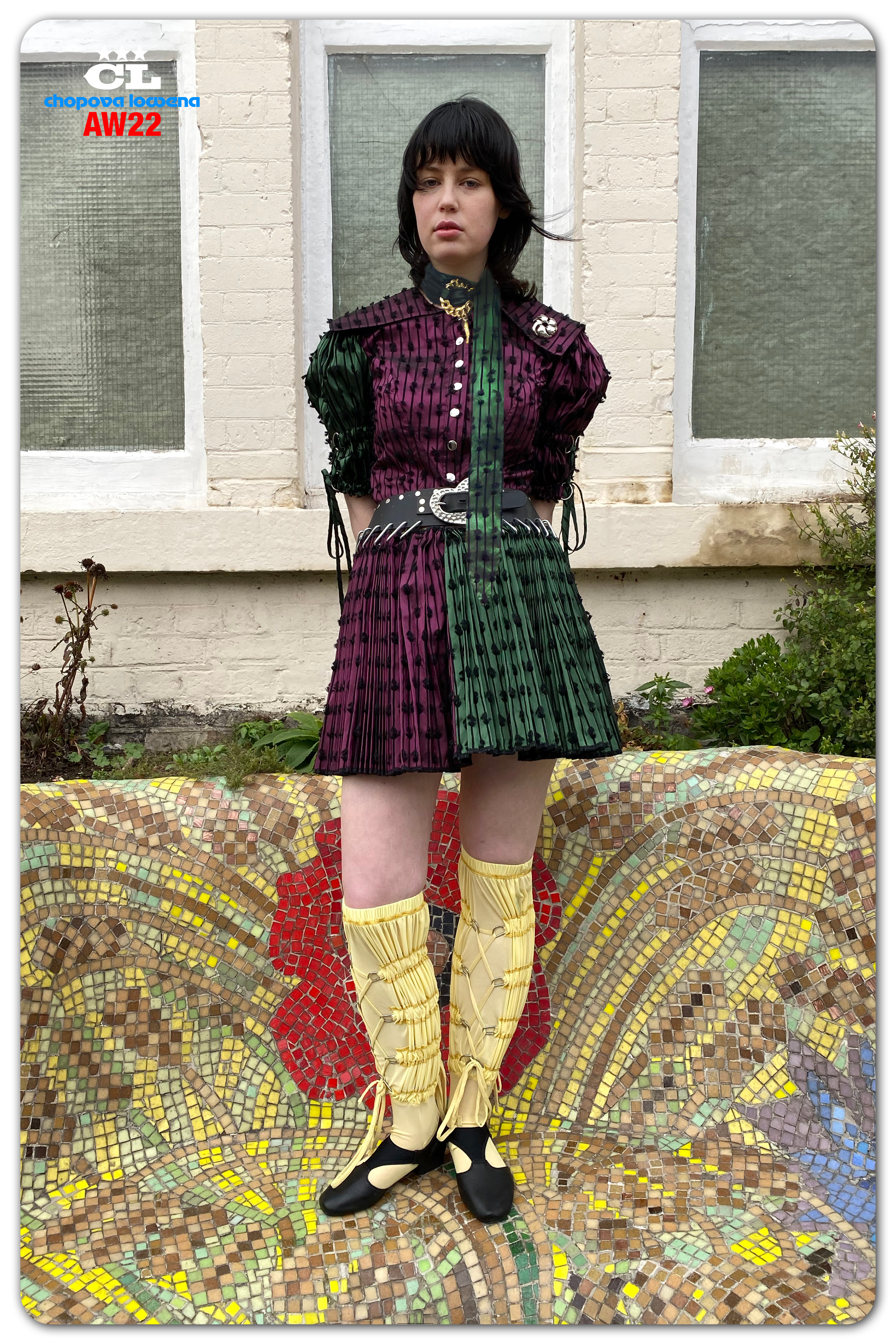 FEBEN
For her second season on the LFW schedule, and closing out the penultimate day of the week, FEBEN presented SKY, a poignant meditation on themes of personal and professional growth, and the task of finding light when things feel all too dark. Brooding as that may seem, the end result was hardly melancholy. Rather, the designer made ample use of her deft sense for texture, marrying dusky satin tailoring with ruched panels and beaded webbing. Outerwear with appliquéd faux-fur florals brought a sense of buoyant fluffiness, and pops of mustard scarlet and amethyst brought a joyful spirit of eclecticism to the table. These were accompanied by pieces that the designer is fast making her inimitable signatures – the puckered 'Twist' dresses, that almost look like they've been subjected to a cupping procedure; fused jersey trousers that draw their inspiration from packs of hair extensions; and 'F'-moniker beaded totes, created in collaboration with Ghanaian artisans. MS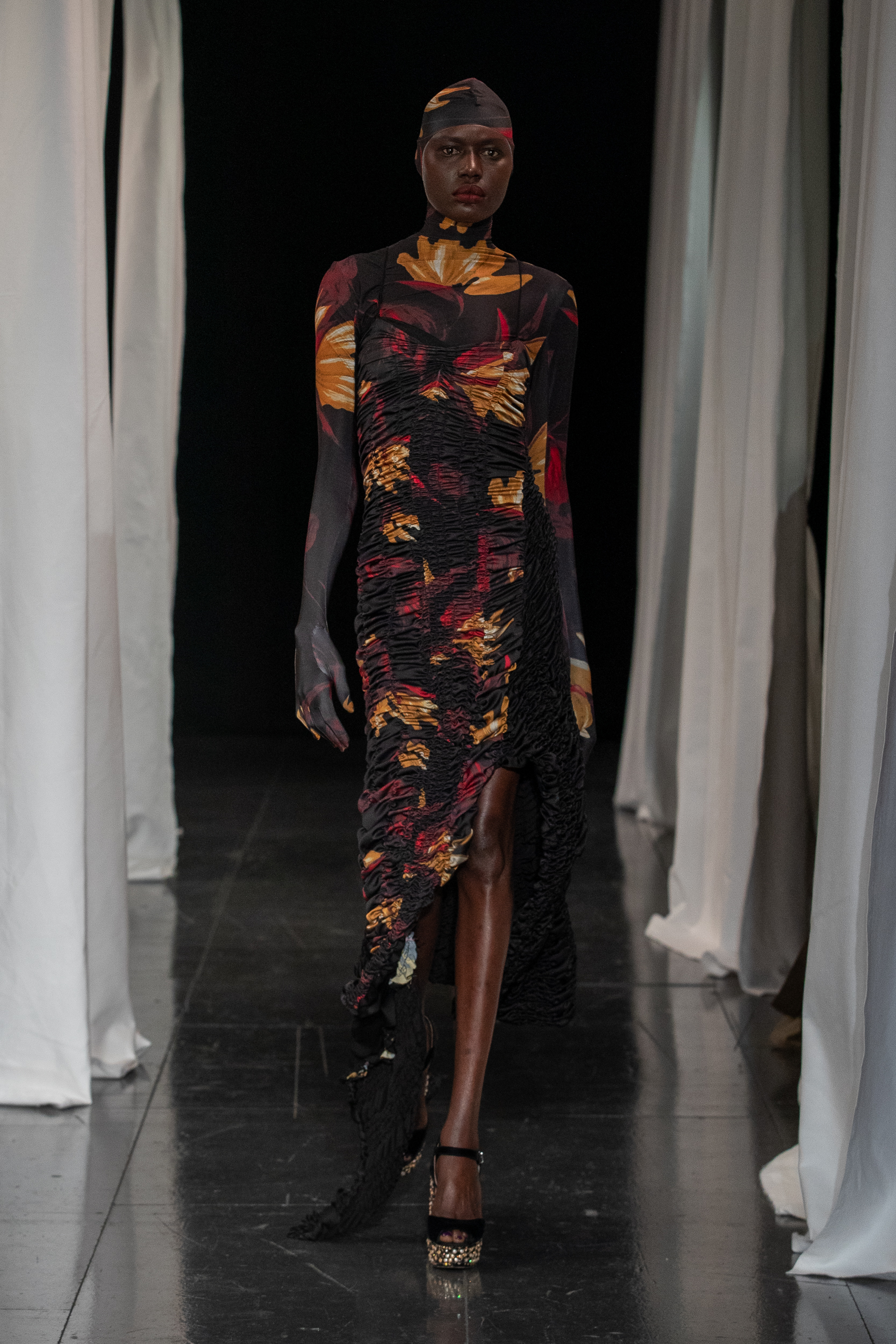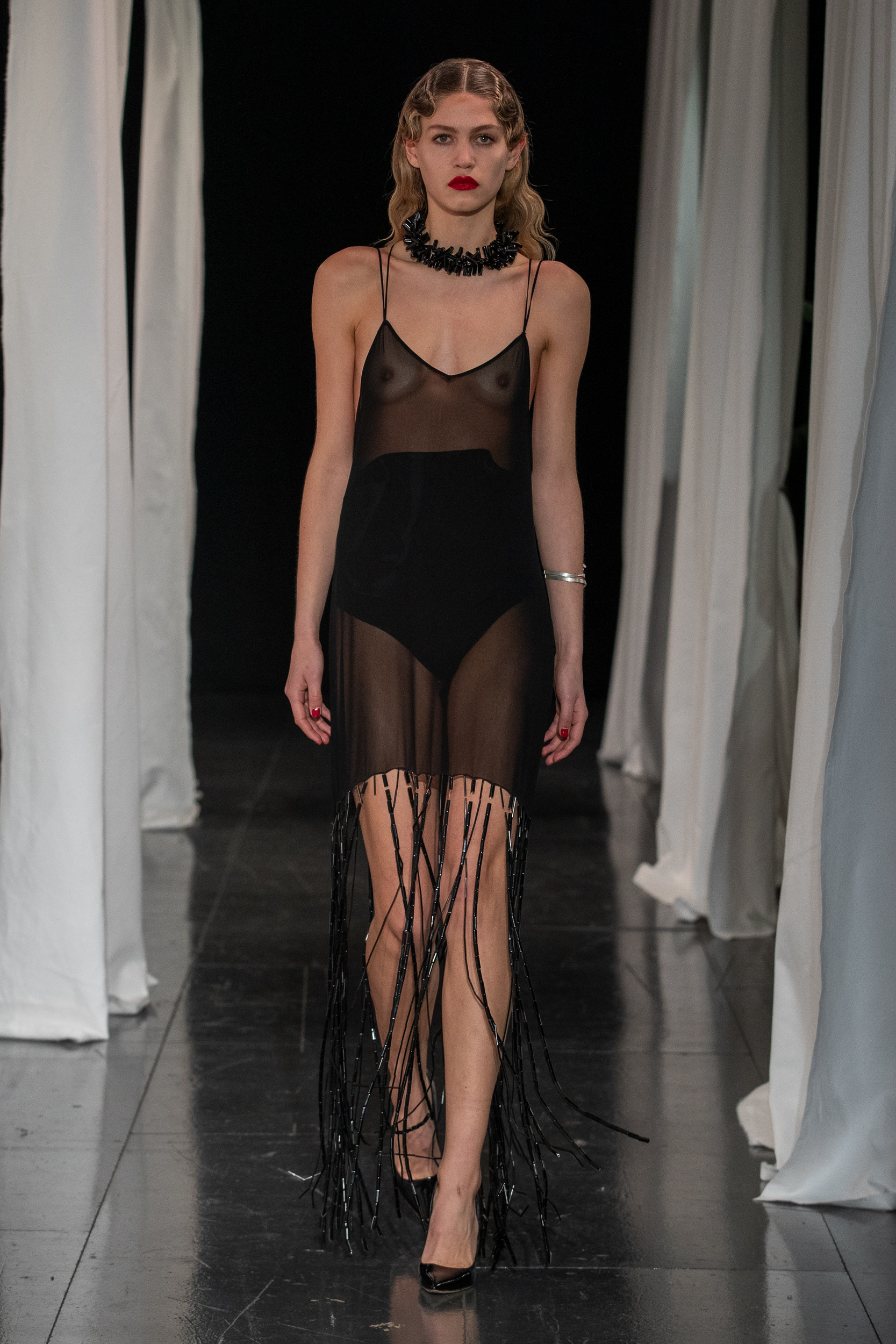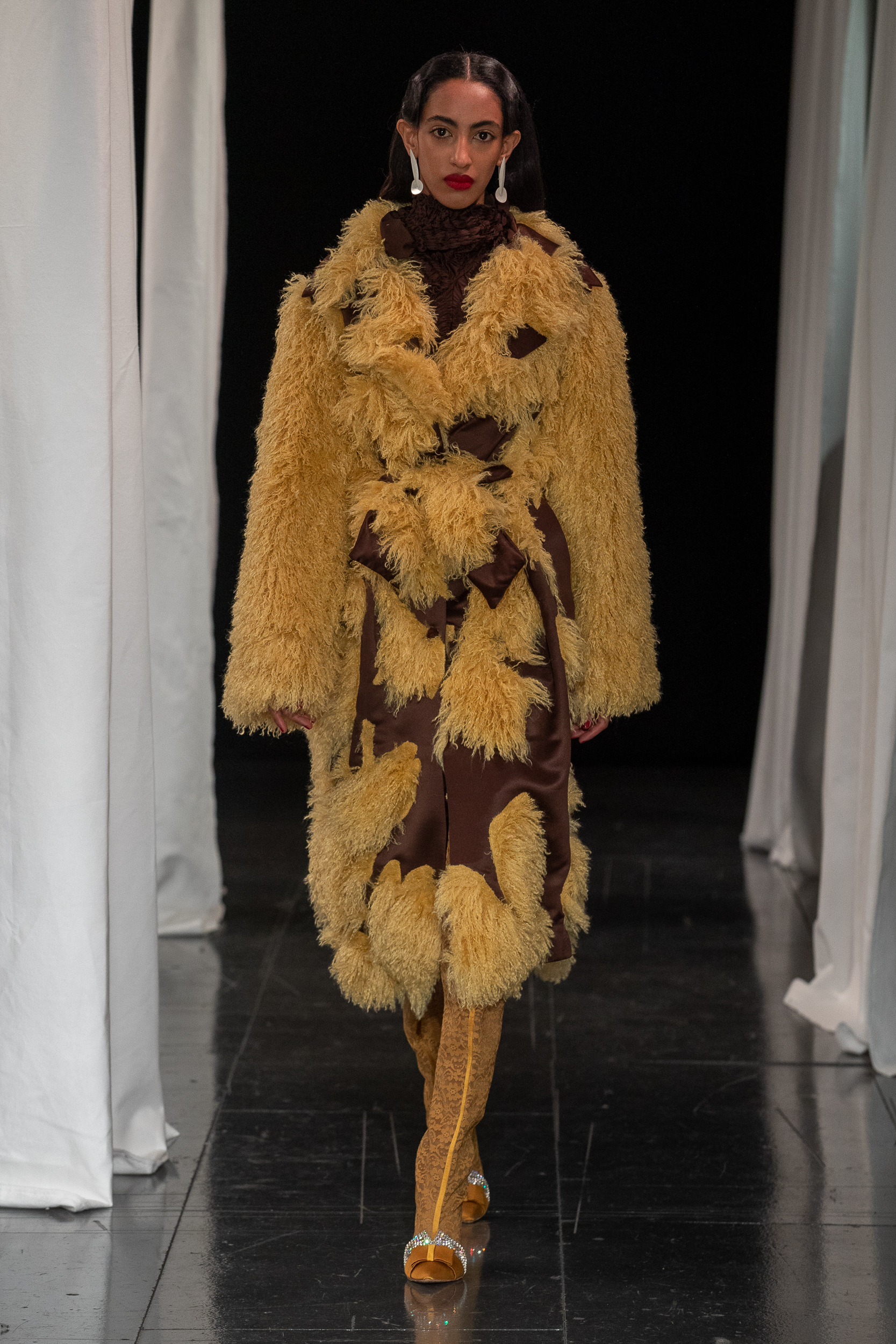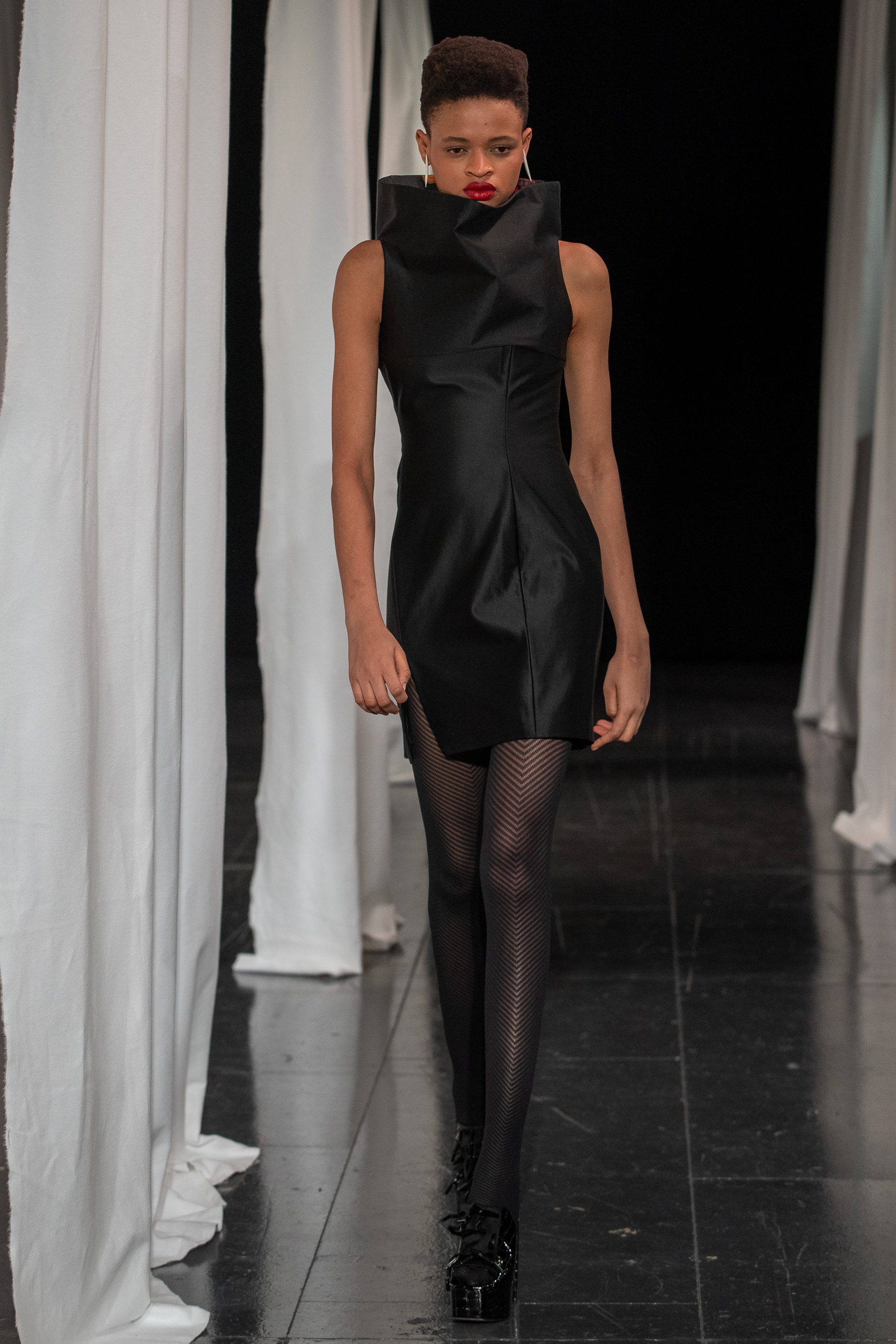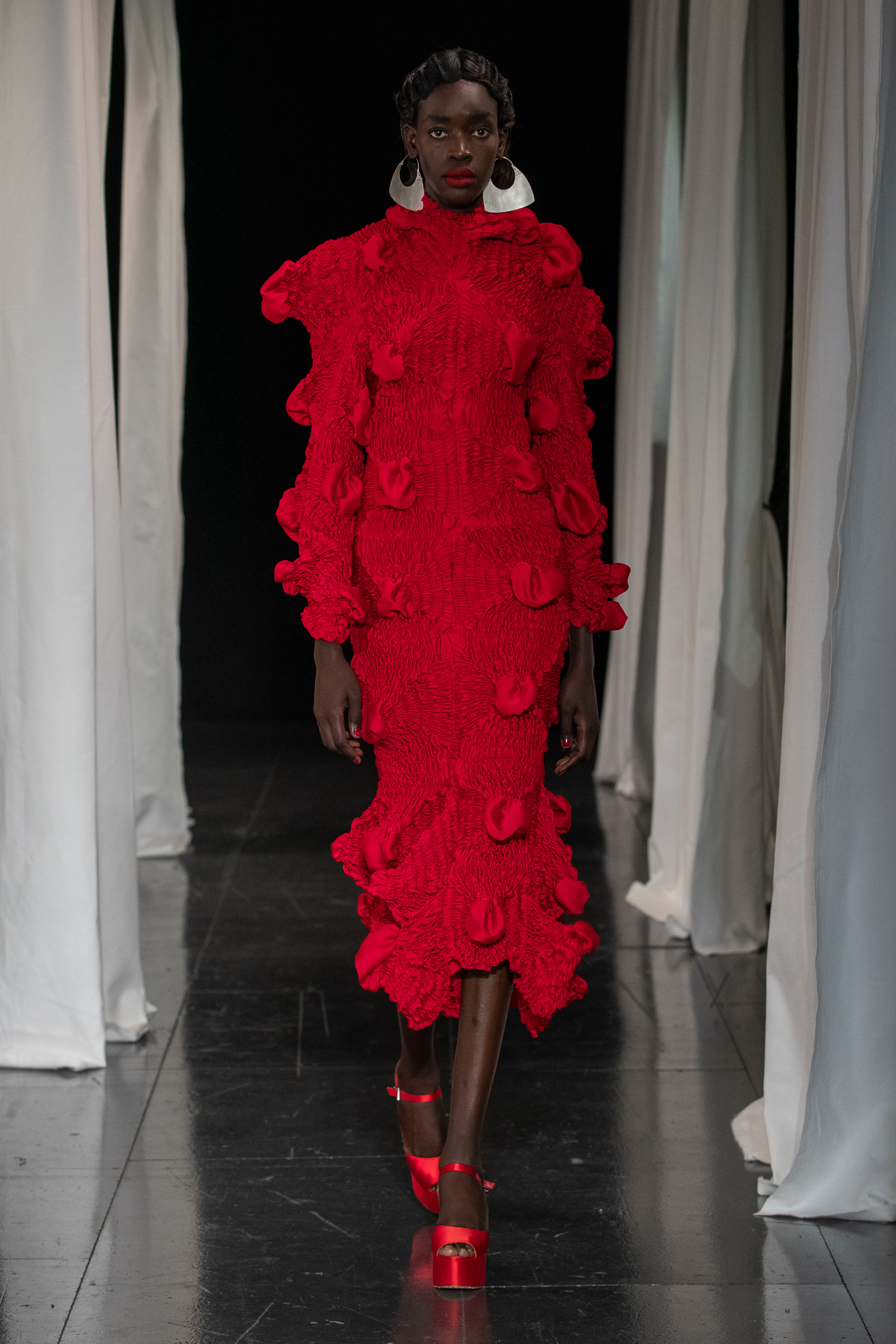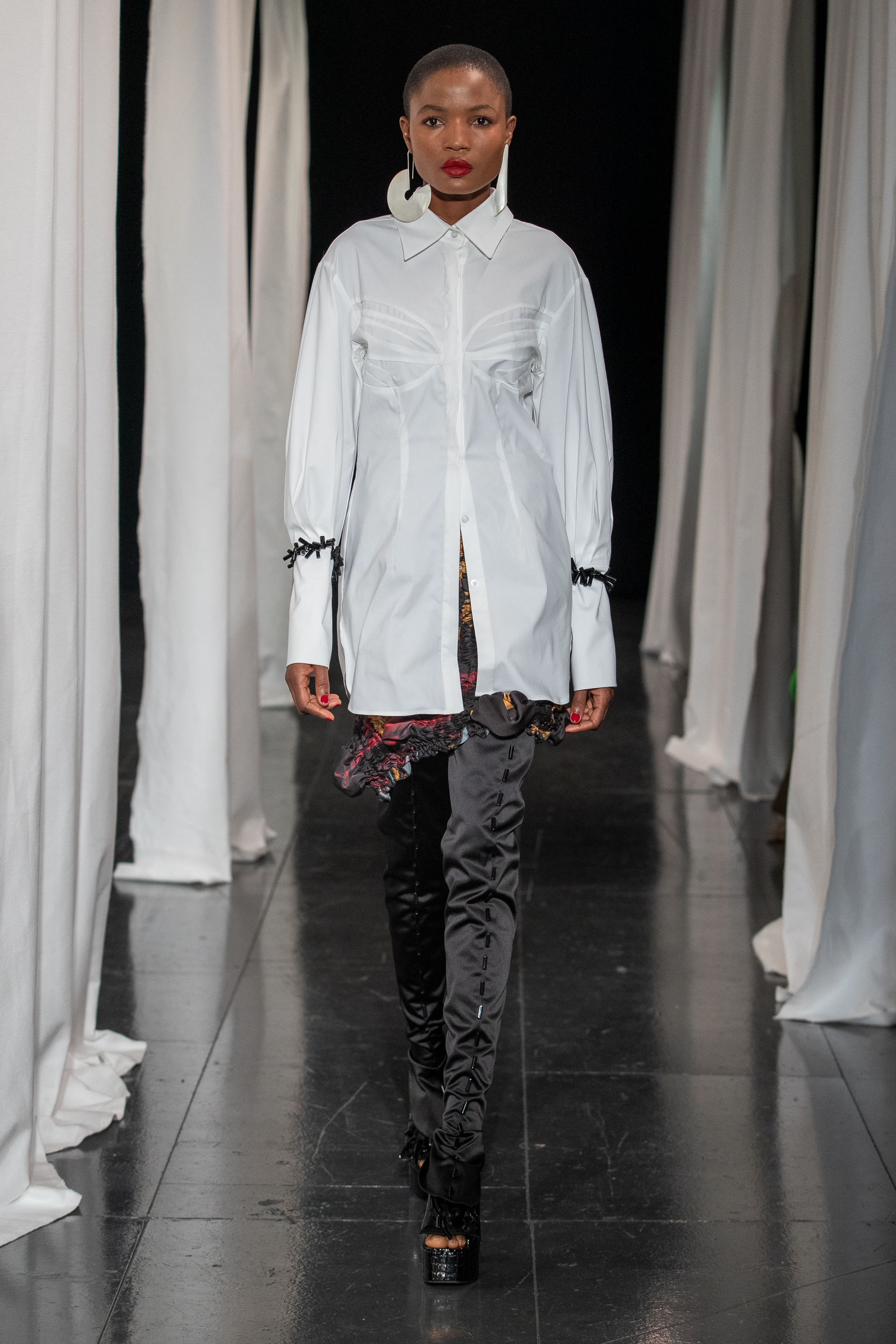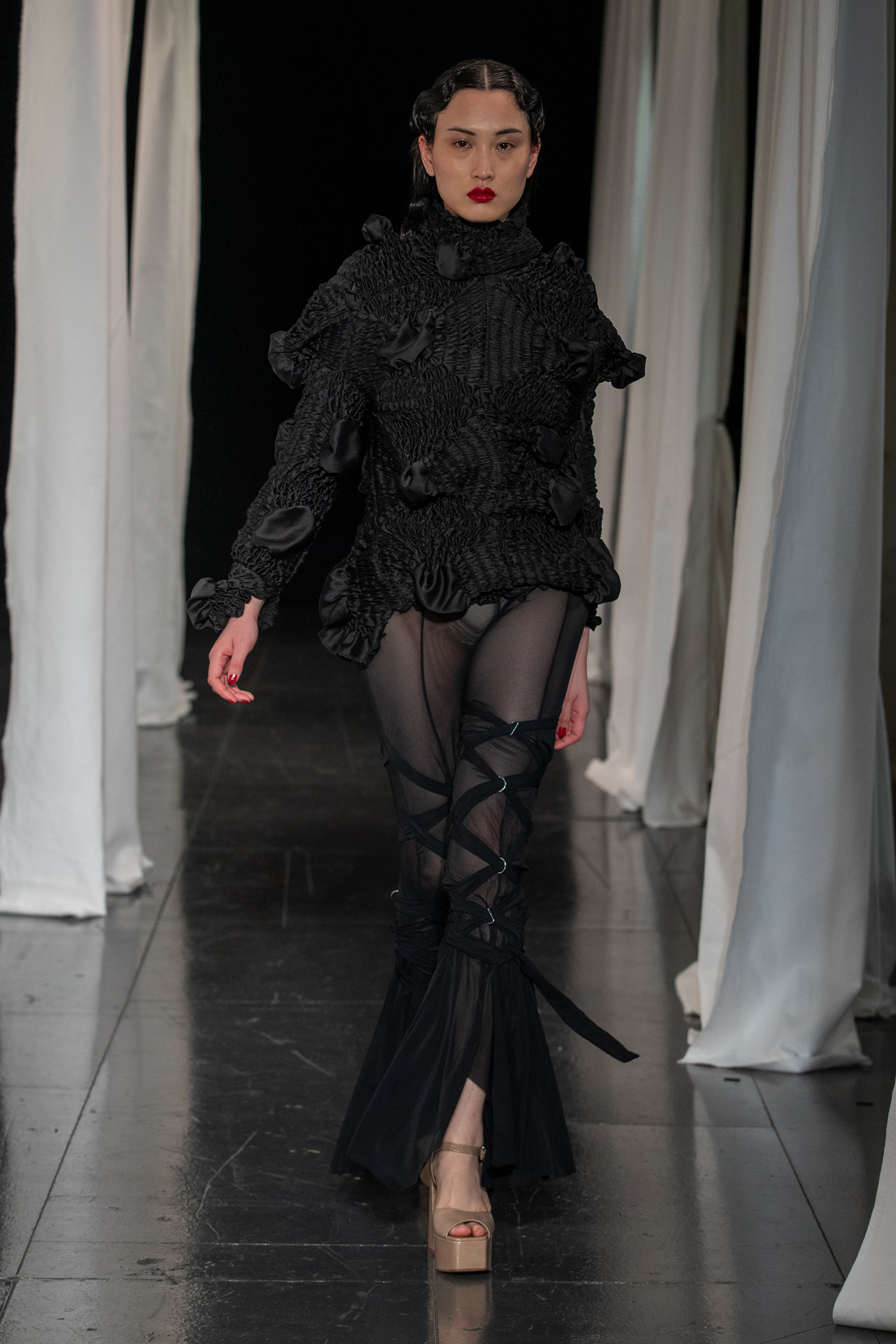 Simone Rocha
Simone Rocha's AW22 collection was inspired by a story about swans — and like most stories or myths about them, it was dark and deeply disturbing. The Irish myth of 'The Children of Lir' is a fable told to many Irish children about four daughters and sons of an Irish king who are turned into swans by a jealous stepmother, and must live across three lakes over nine hundred years. Eventually, when they do come back to human form, they die. It's more poetic than it sounds — a bit like a darker version of Swan Lake — but just like the ballet, somehow Simone managed to romanticise it with her ribbons and ruffles and lace, and embroideries and embellishments fit for princes and princesses.
Her incredibly ornate collection re-told the story in three parts. The first was the idea of humans metamorphosing into swans (crushed taffeta wings, top-heavy silhouettes, braided chains trailing from coats); the second was the what-lies-beneath quality of the lakes (inky blue velvets, exposed underpinnings on dresses, transparent organza midriffs and abbreviated skirt lengths); and finally there was looks inspired by the idea of their coming home (the security of blanket in quilted down shawls, the sudden violence of blood-red latex). A handful of looks were worn by boys, which Simone said felt like an organic addition to her repertoire — and all the menswear-inspired motifs like pinstripe shirts, workwear details, biker leathers in her work — and she cast the show as if it were a film starring a group of teenagers. Come to think of it, it's a movie we'd all want to watch.
Swans were an apt metaphor for Simone's work — they are often seen floating elegantly while their feet furiously paddle beneath the surface. At first glance, this was ostensibly a collection full of Simone's femme-pretty ribbons, organzas, ruffles and pearls — the kind that she has revisited time and time again, but never failed to refresh — but beneath the surface, there was something darker. Quite literally, there were void-black pieces, heavy drill workwear-inspired garments and mourning tailoring, all layered up into tiered proportions — but also dramatic revelations of bare legs and horror-flick flashes of blood-red. In other words, there's more that meets the eye to Simone's signature styles — innocent and naive, these frothy girlhood dresses are not. OA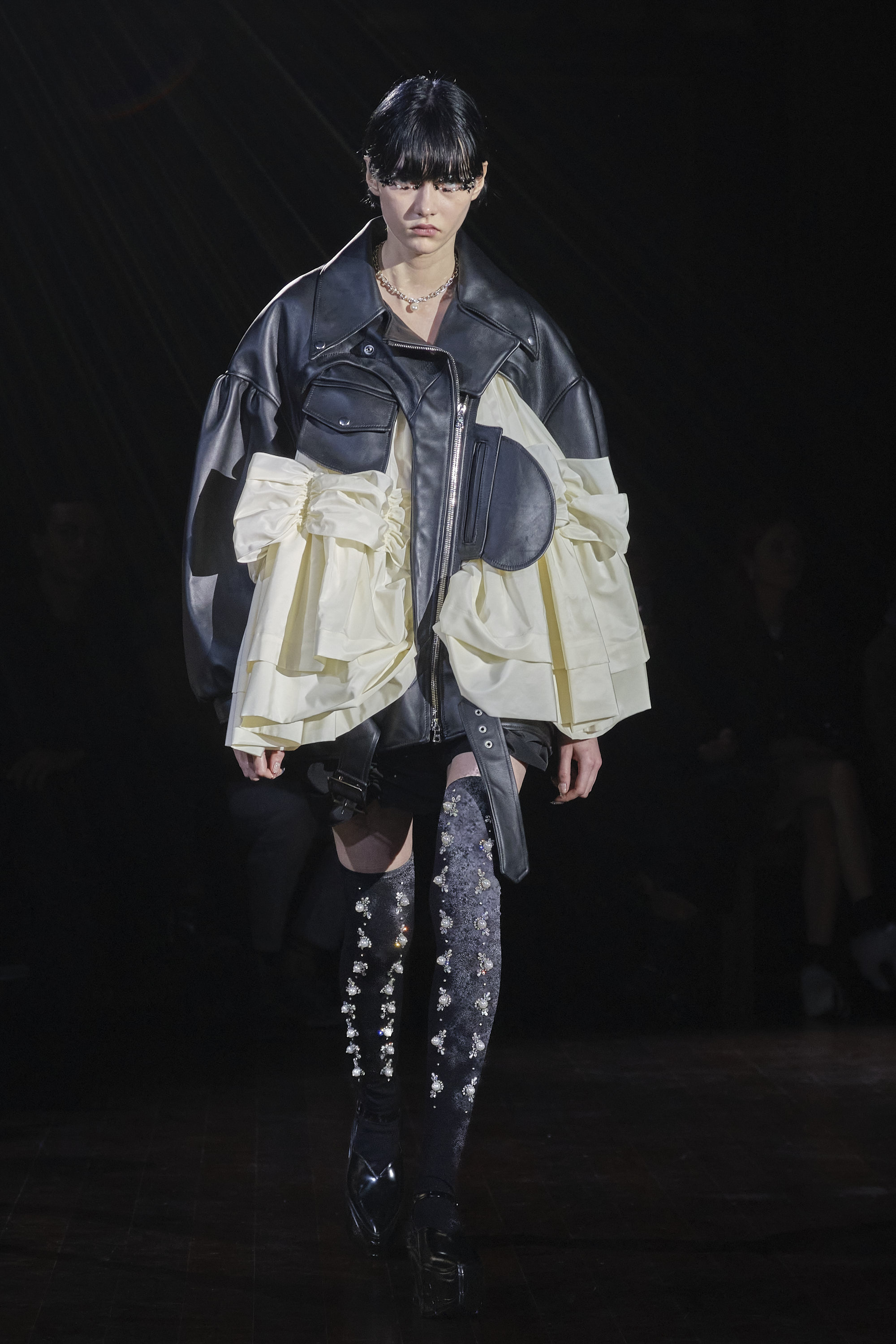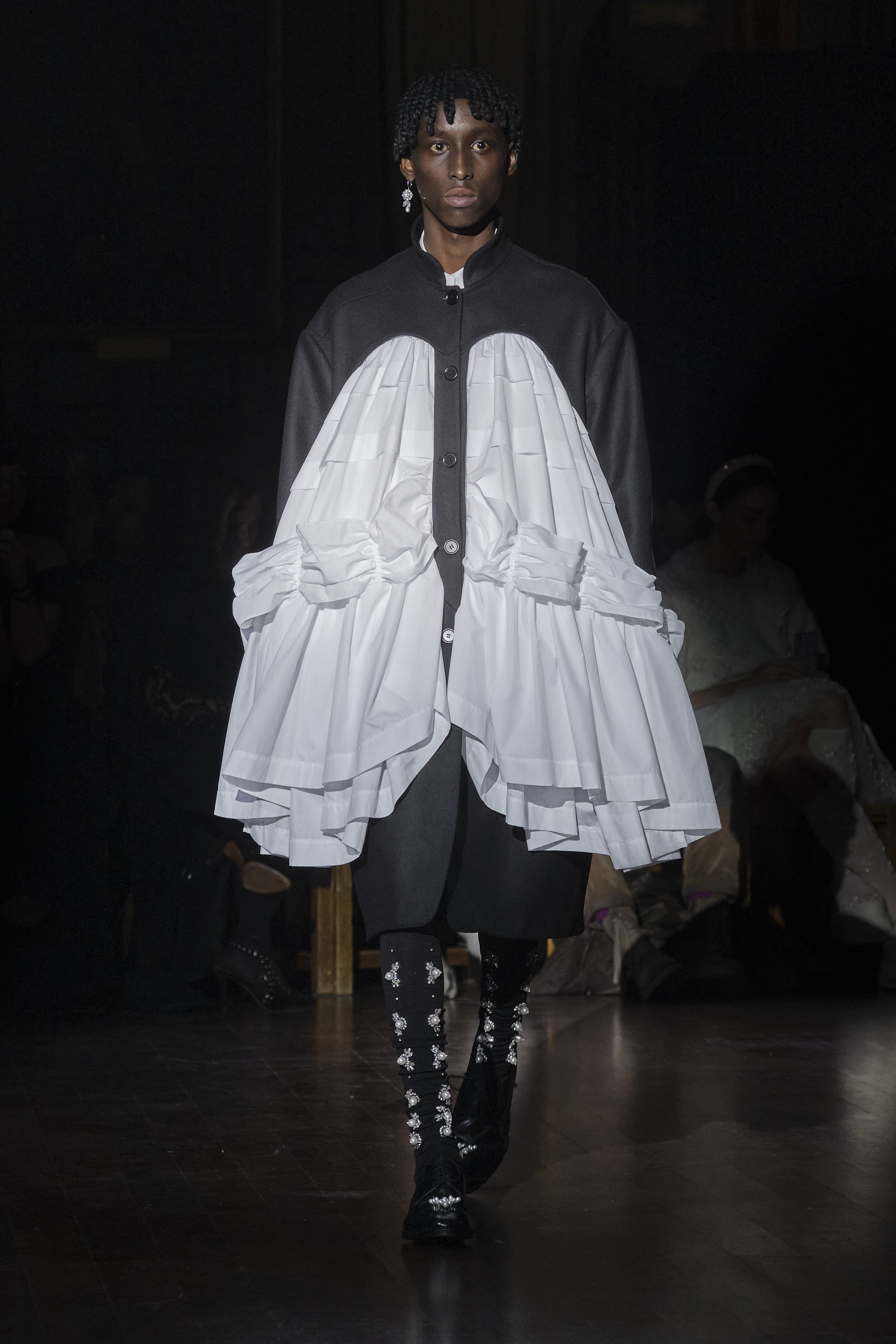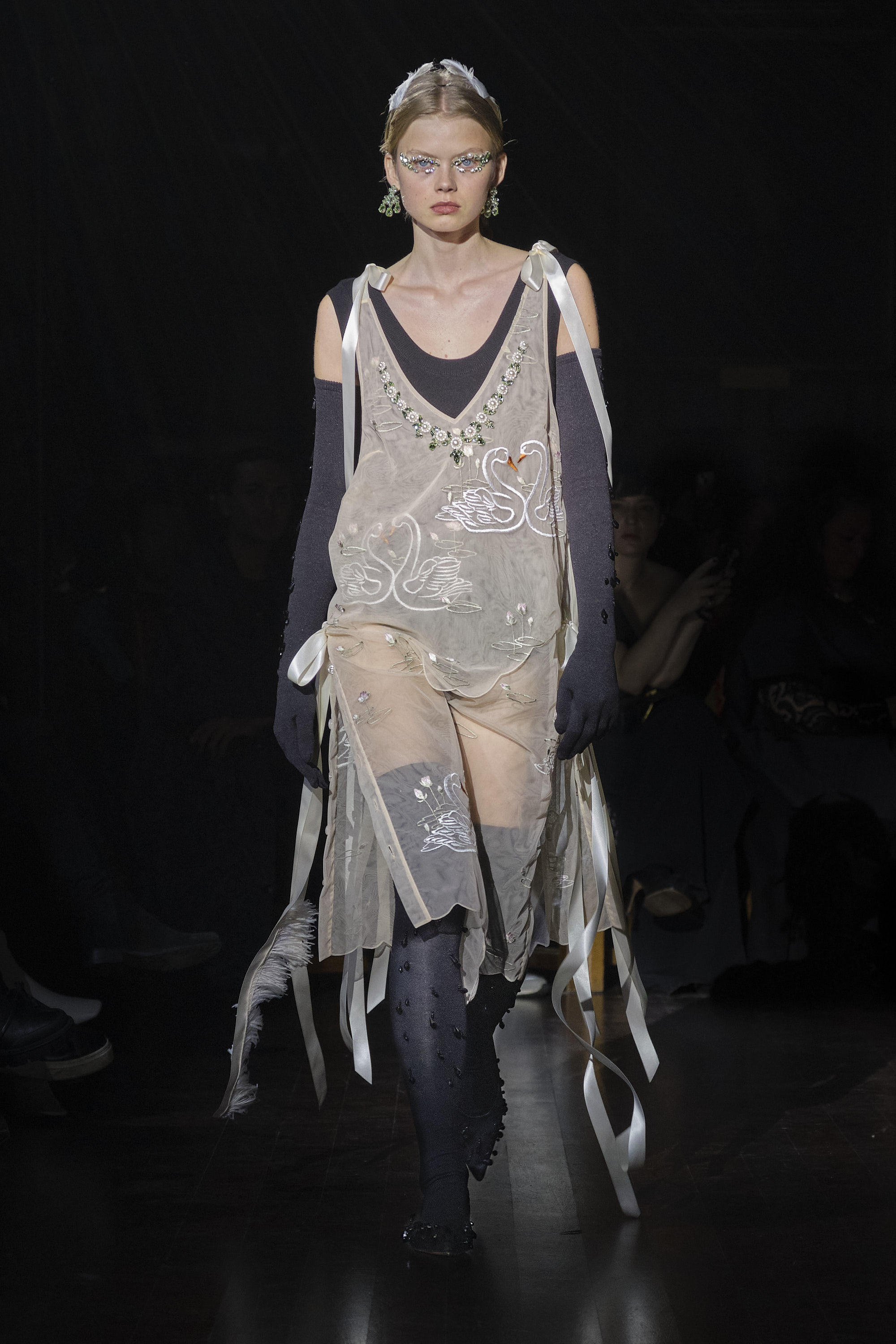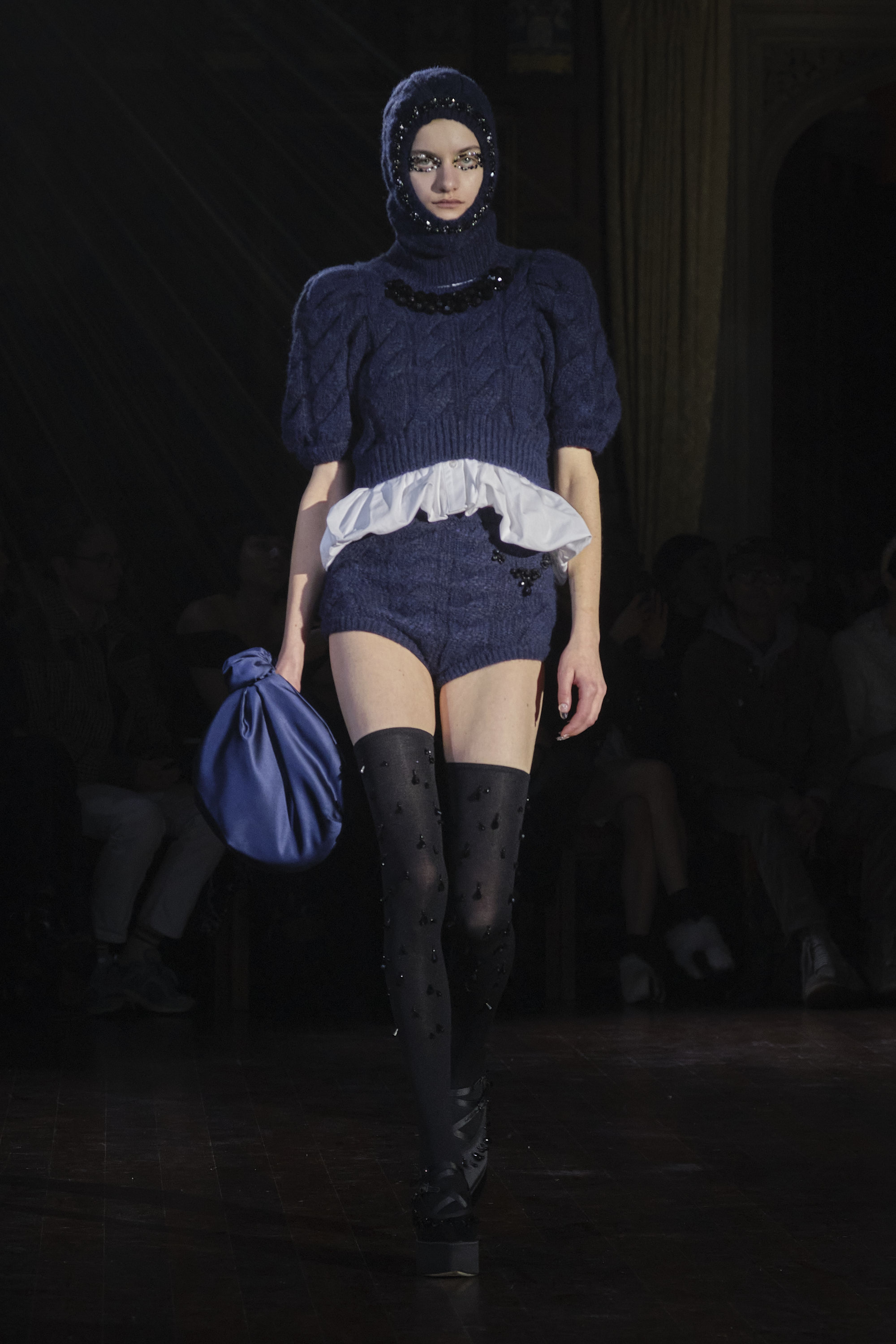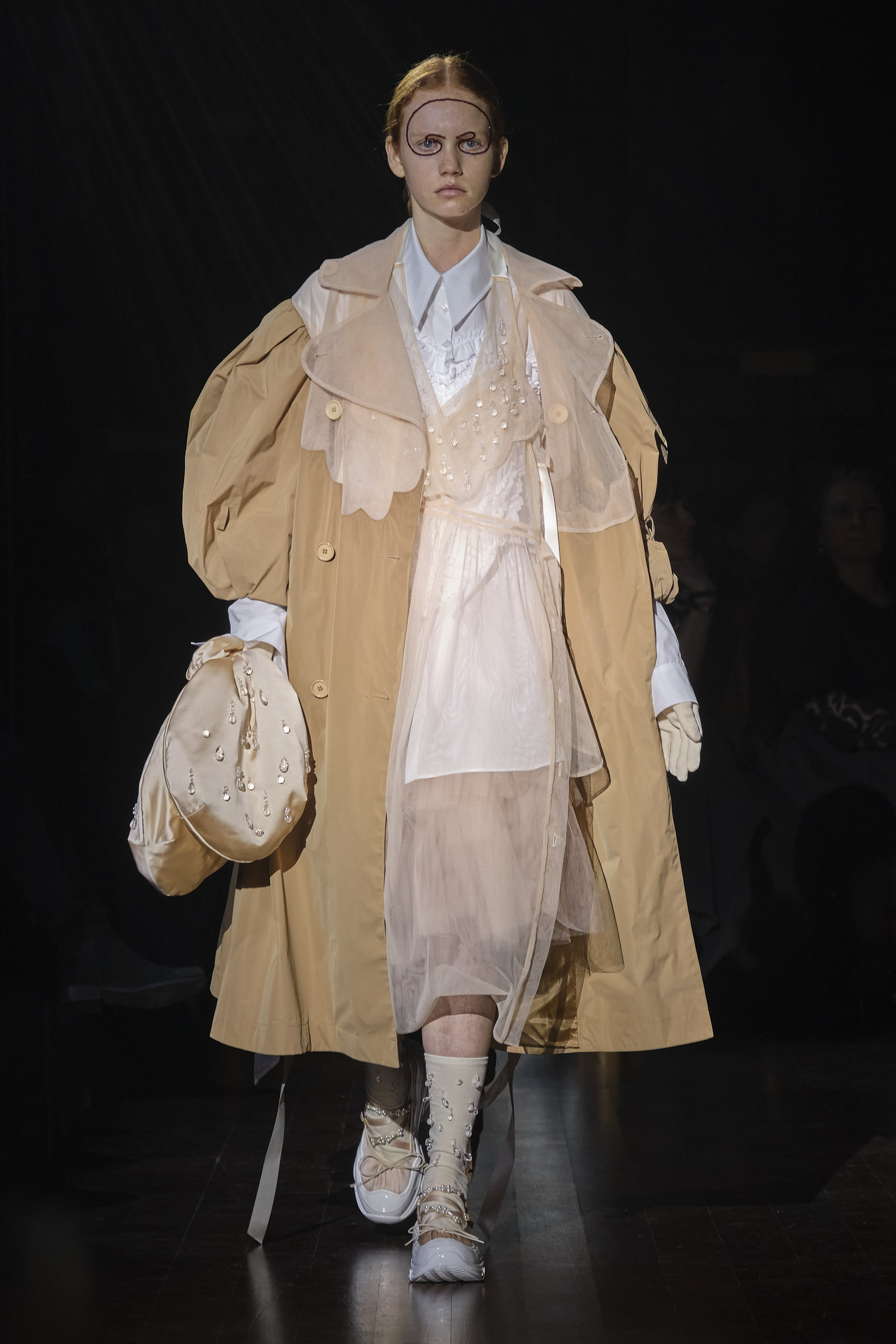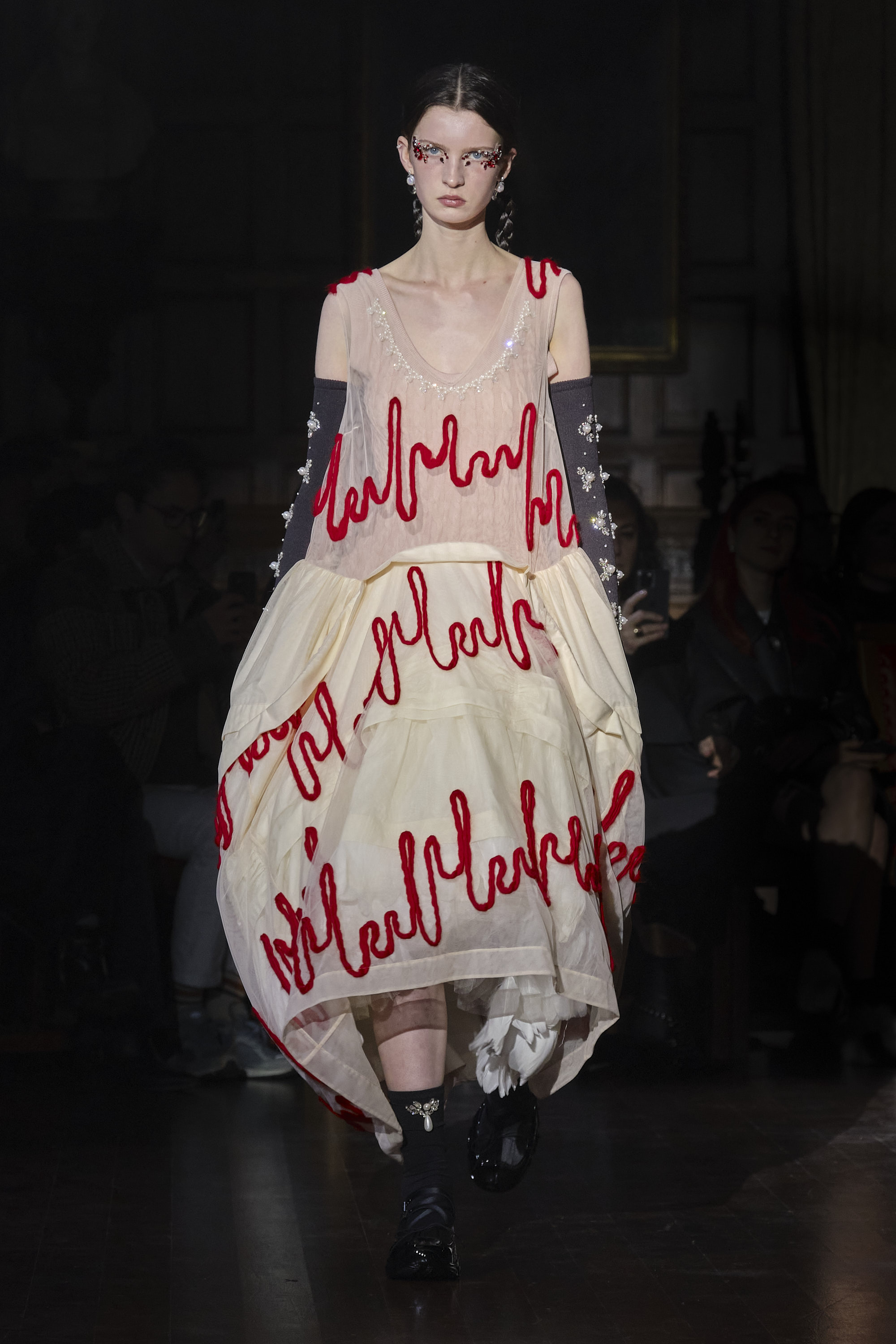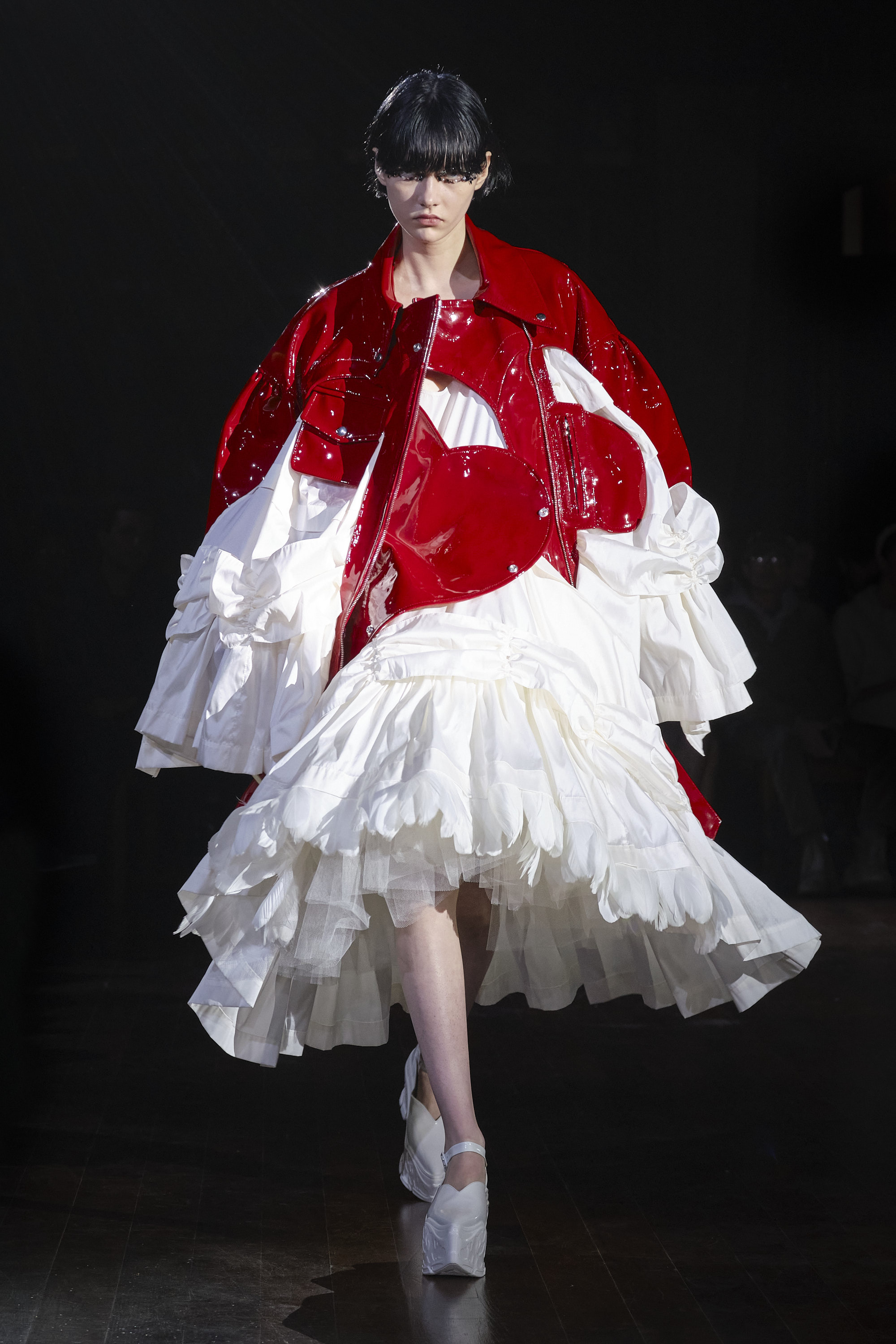 Supriya Lele
One of the key takeaways from the London shows has been a sense of development among London's so-called "emerging designers". Not quite nascent talents, many of them have been questioning and examining their own work — and coming up with collections that broaden their horizons beyond their comfort zones. Supriya Lele is one of them. By now, you will be familiar with strappy, sinuous dresses, which take their construction from the drapes and darting of traditional Indian sarees. Her latest collection introduced equally striking pieces to her canon, including leather outerwear —drop-waist trench coats in tubular columns, sporty zip-up styles, and a funnel-neck satin overcoats — as well as more off-kilter styles, like low-slung, pyjama-style silk cargo pants.
"I wanted to push other elements this season," she said backstage after the show. "Lots of it comes from my wardrobe. It's taken me a while because it's important to take the time to do these things properly — I've waited to do outerwear properly." Given that Supriya's south London studio is still only formed of a skeletal few, and she is a designer who has not yet been given a considerable cash injection, it's impressive what she and her all-female team can produce on a shoestring. One thing, for sure, is that they have mastered their bread-and-butter of twistedly-shaped fasten-and-tie dresses, keyhole bralettes and slinky crop tops — all of which came in a deliciously mismatched palette of chocolate brown, Kingfisher blue, canary yellow and cherry red. To see it being worn by women of broader sizes also reasserted the notion that though her vision of sexually-empowered skin-baring may be rooted in the lo-fi minimalism of the Nineties and Noughties — it is not beholden to those eras' beauty standard. In fact, it's resolutely modern in its service to all women, regardless of shape or size.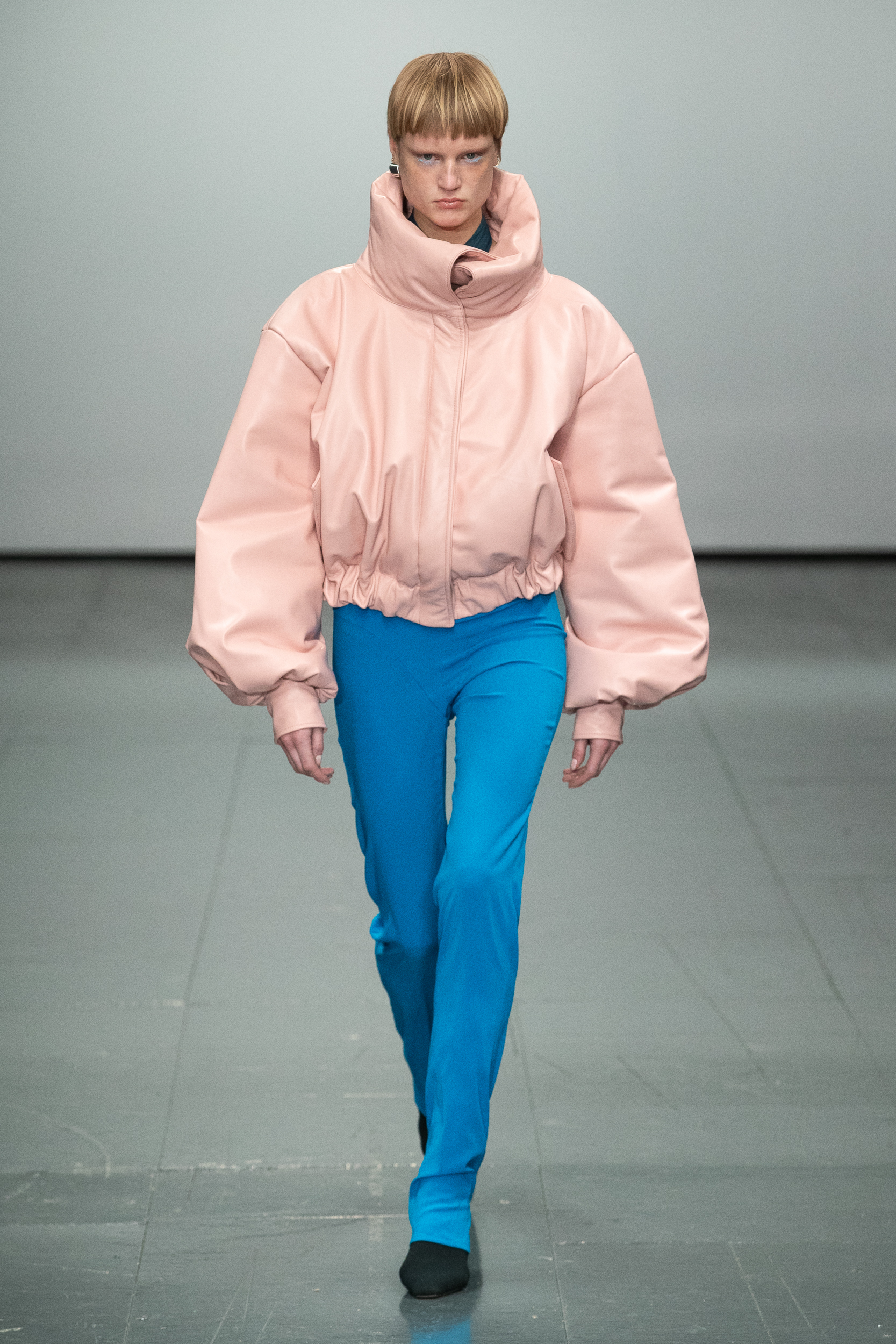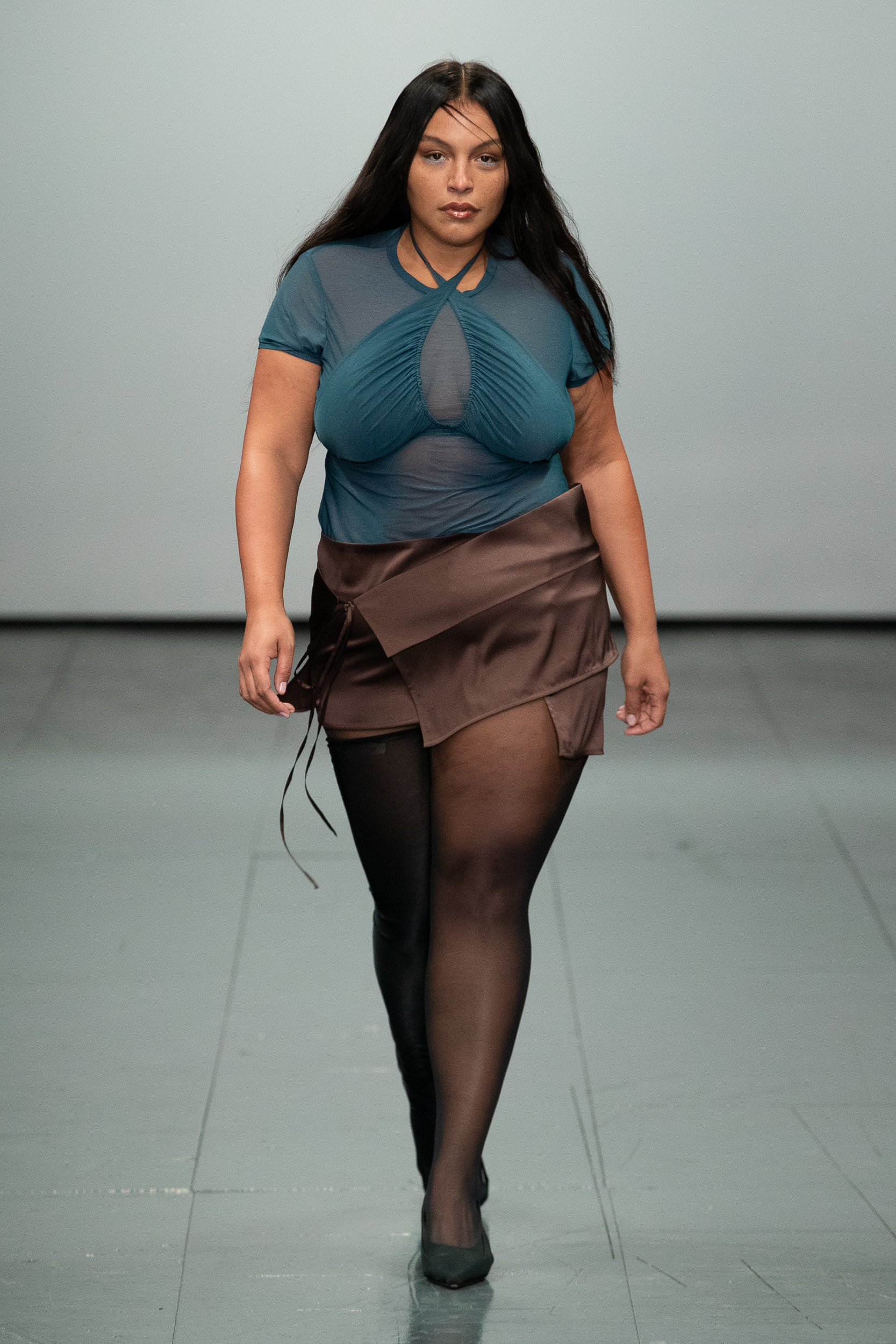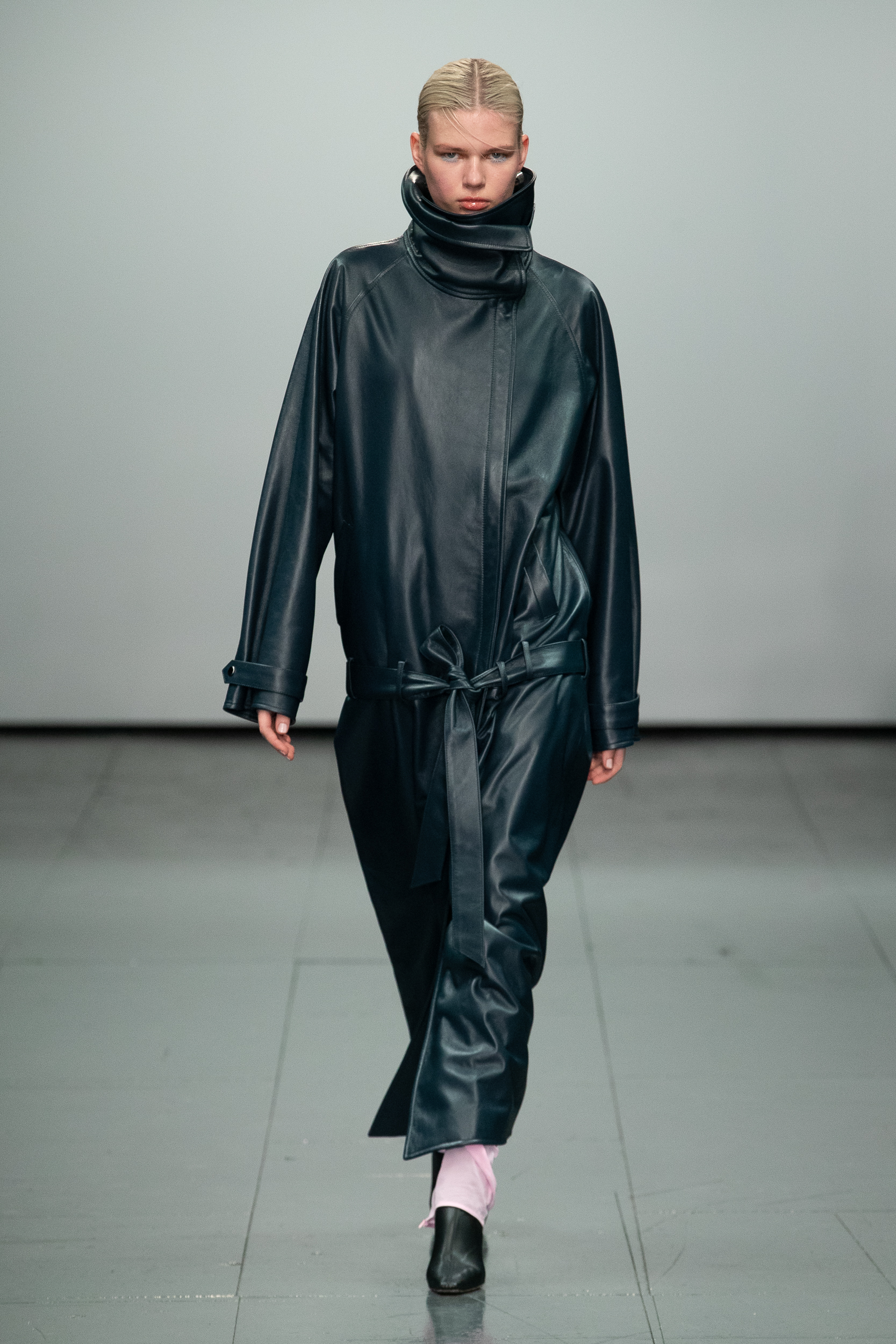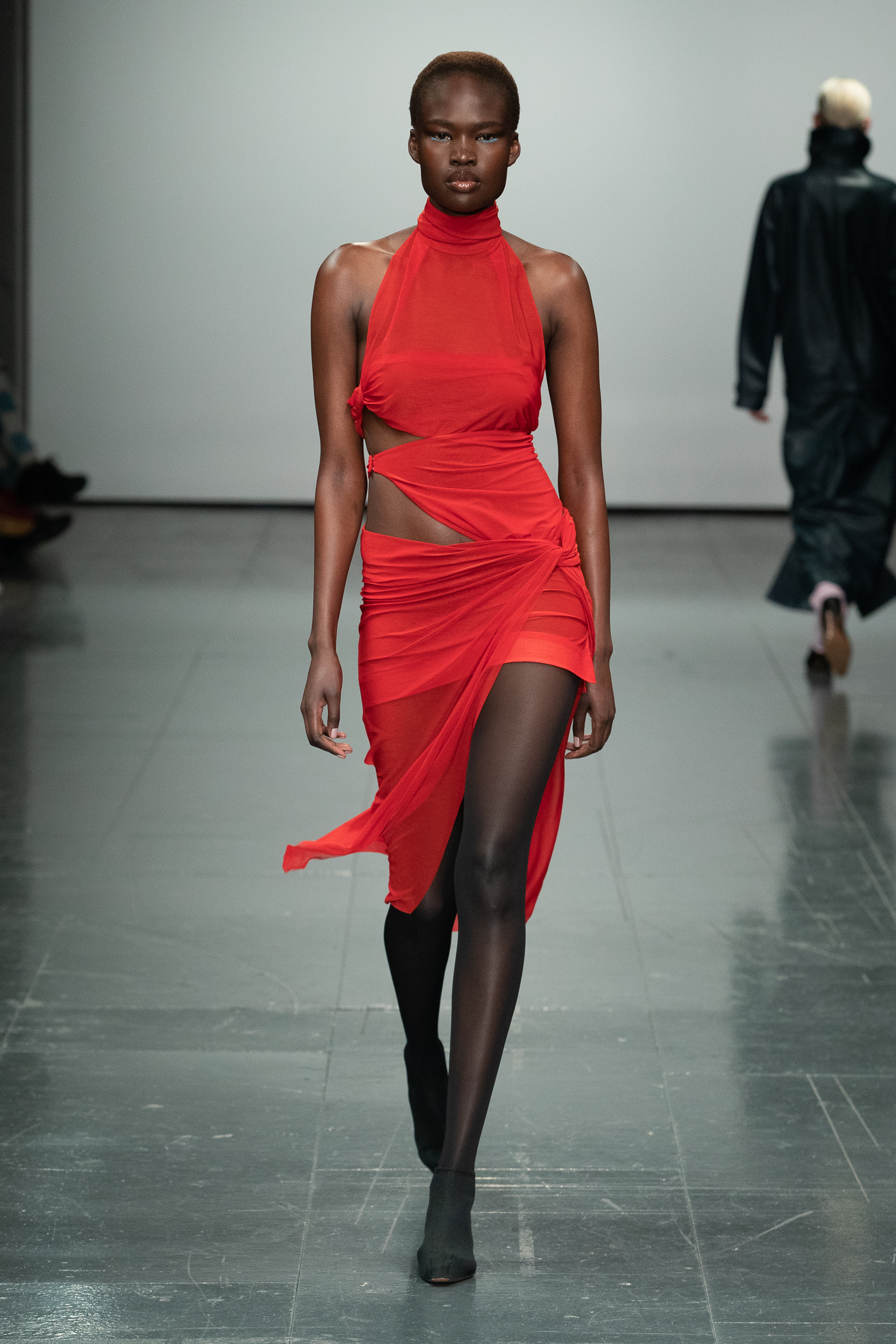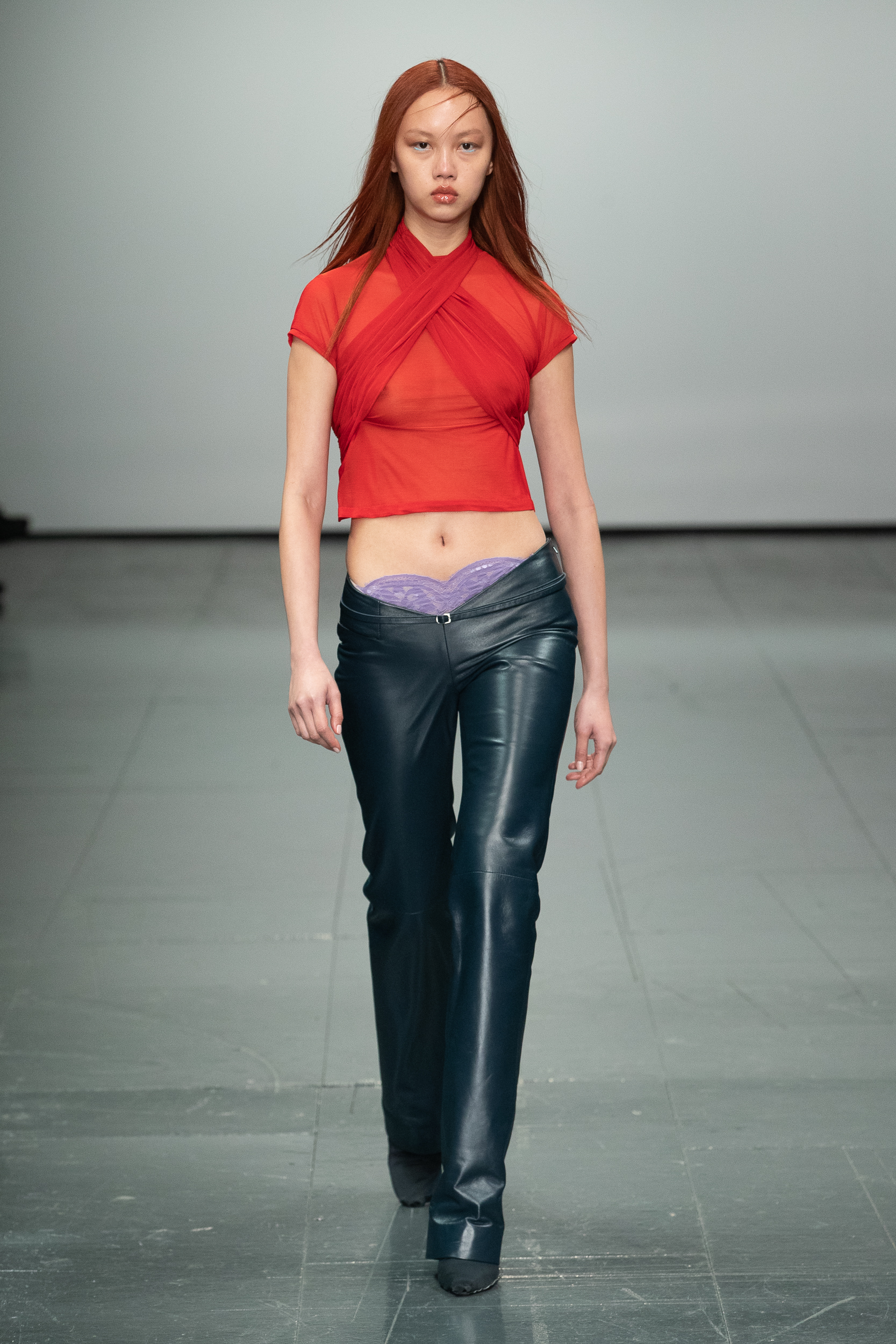 Erdem
Erdem presented his AW22 collection in the darkness of Sadler's Wells — bright spotlights illuminated the space from high above, as a dome of light left polka dot spots on the square show space. Annie Yim, a Hong Kong-born Canadian pianist, performed Glassworks, Philip Glass's hypnotic and moving piece of masterful minimalism. It proved the perfect backdrop for this show, which was equally about dissolution and resolution, decadence tinged with melancholy.
It was inspired by the European avant-garde women of the 30s — Erdem namechecked Jeanne Mammen, Madame d'Ora, Elfriede Lohse-Wachtler, Anita Berber and Valeska Gert in the show notes — and the unique atmospheres of the time that lead to a subversion of old ideas around gender, sexuality and identity; it led to Orlando and Radclyffe Hall, Cabaret and Christopher Isherwood. In the collection, this meant a juxtaposition and symbiosis between night and day wear, formal and loose, masculine and feminine, finding spaces in the clothes where these could all exist together in relation to each other. Whether that was in the masculine cut of an evening coat covered in embellishments, dresses that seemed to fade away in a glimmer of lace into the night, the exuberance of sequins and the heavy details of jaquards and embroidery.
The contemporary parallels to be drawn between then and now are obvious, but every generation, to an extent, has its own fraught sexual and geo politics. So rather than trying to read too much into the analogy, maybe it's better to just read it on its own terms as an exhibition of what Erdem does best: beauty and glamour. This season, it just happened to be anchored with a darkness, and was all the more vital for it. FP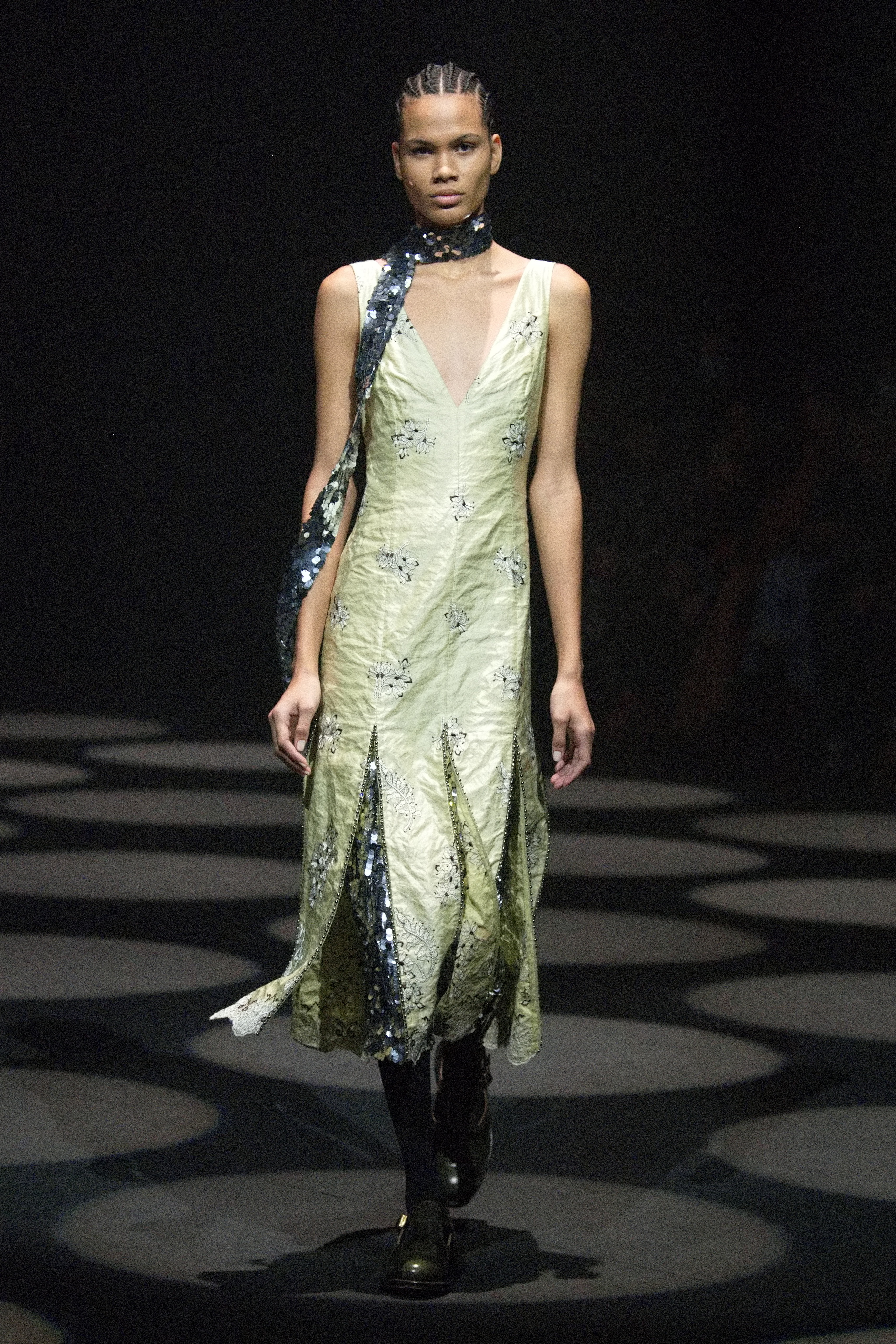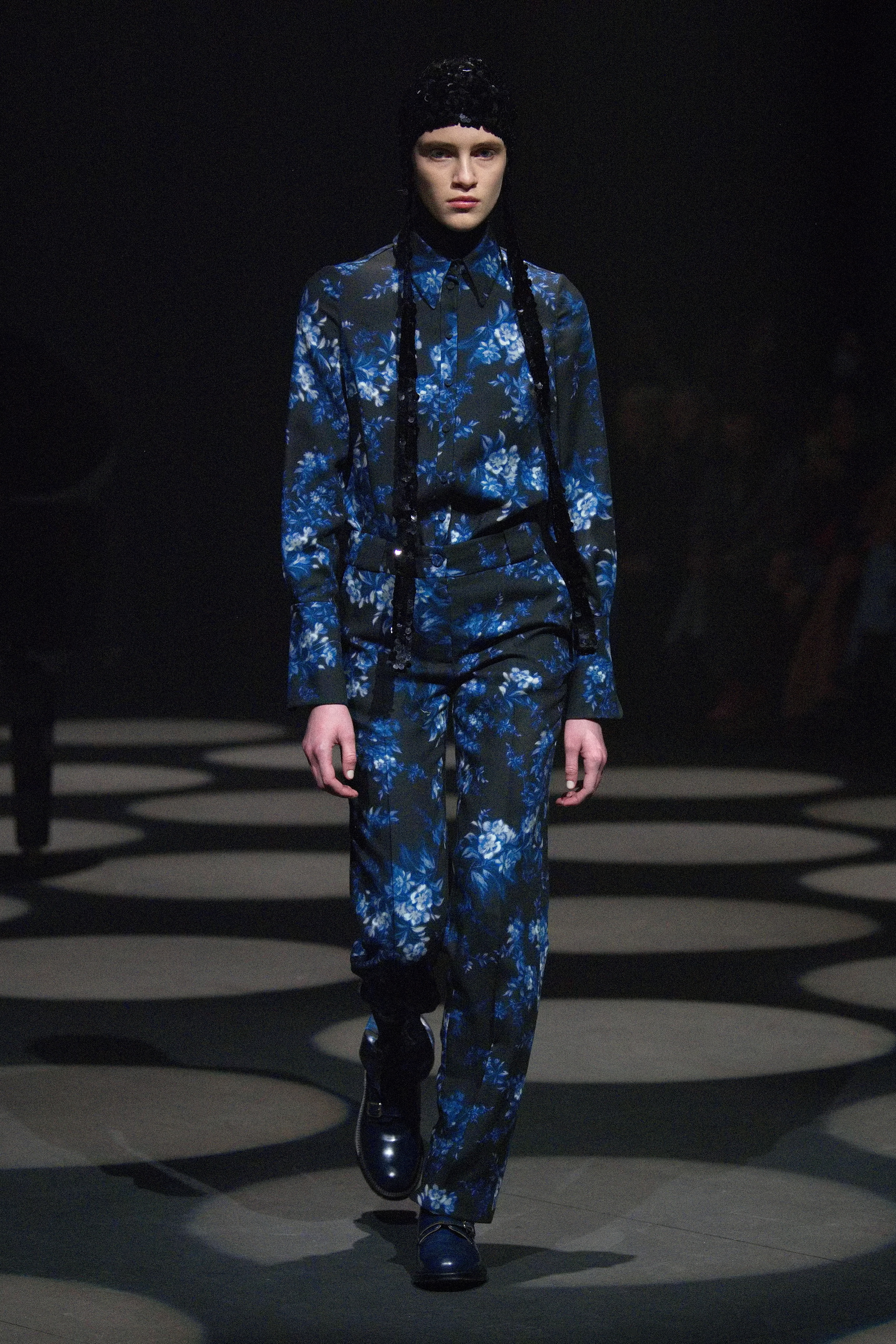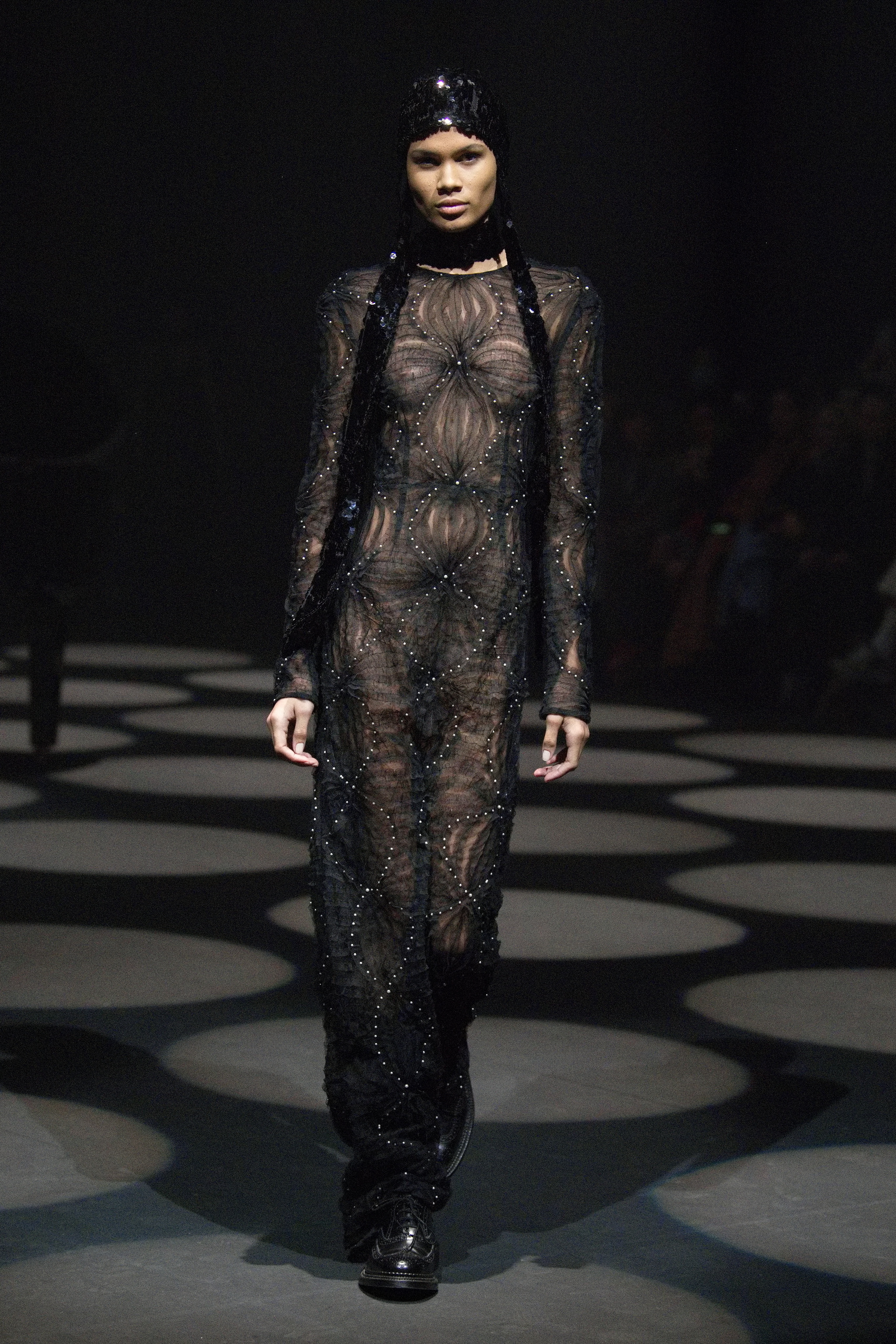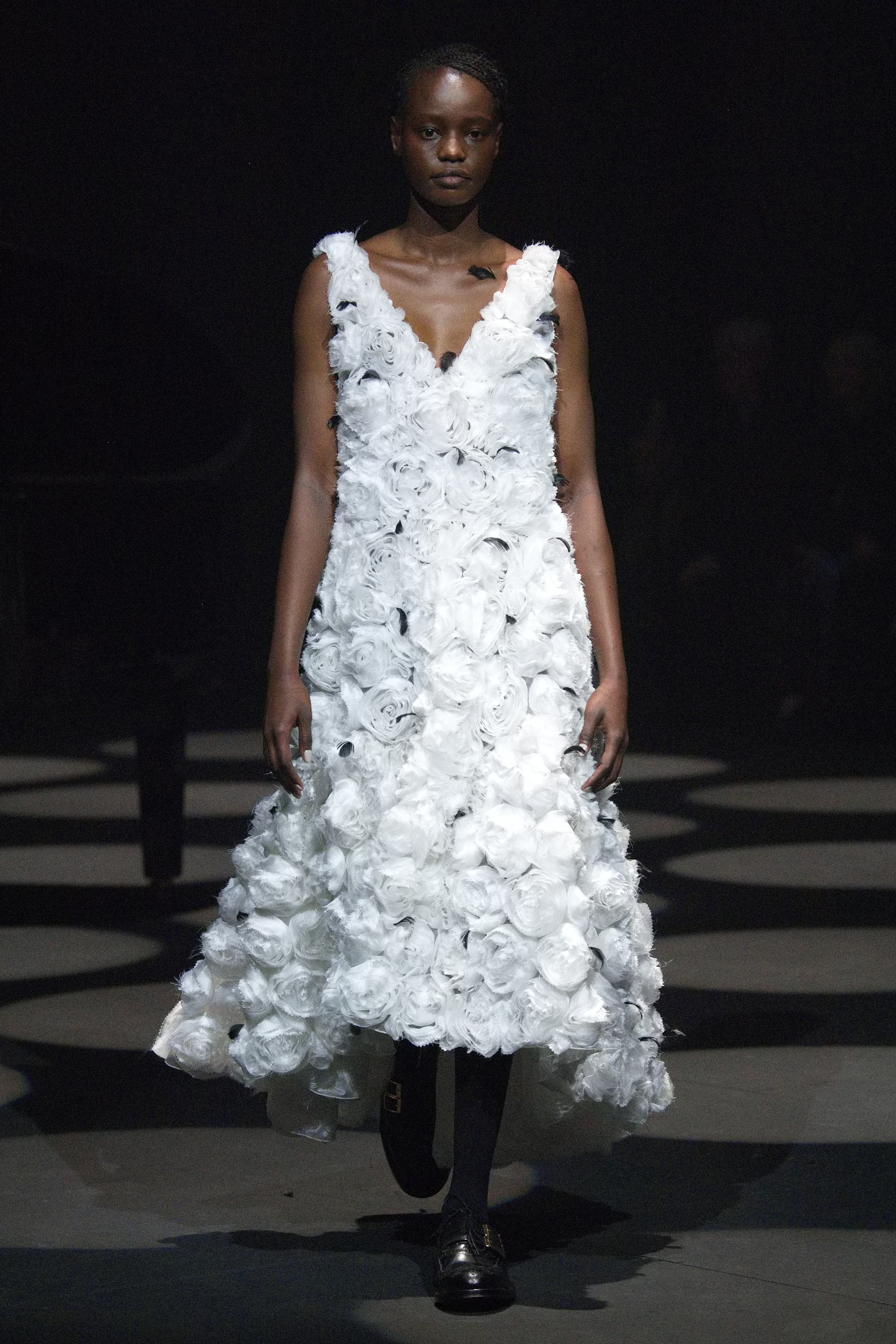 Marques Almeida
Although Marques Almeida did not stage a physical show this week, the previously London-based label's has launched an important platform that tackles fashion's longstanding sustainability issues. M'AKERS is "a research and mentorship initiative created to empower creative communities and preserve ancestral knowledge," in the words of Marta Maques and Paolo Almeida. "Its aim is to make sure artisanal techniques do not disappear with the passage of time and are instead celebrated and regenerated to extend their presence in our modern lives."
The duo invited a range of artisans and creatives into their fold: Aldevina Serpo, an Azorean artisan from Terceira Island; Sofia Afonso is an obstetric nurse and artisan from Trás-os-Montes; and designer Sónia Bárbara's brand from island of Terceira. The resulting collection, of sorts, is as bright and colourful as ones that Marta and Paolo would design to rally their devoted coterie of so-called M'A girls — full of psychedelic textures and netted dresses, collage-like graphics and artisanal embellishments. "To start a project like M'AKERS where we open the door to research and listen and learn from traditional artisans and craft makers and artists is incredibly inspiring and it makes us see collections and design in a much more exciting way," they explained. "We see how we can learn from these incredibly inspiring people and we see how we can do our part to preserve some of their spirit, their knowledge and their way of working."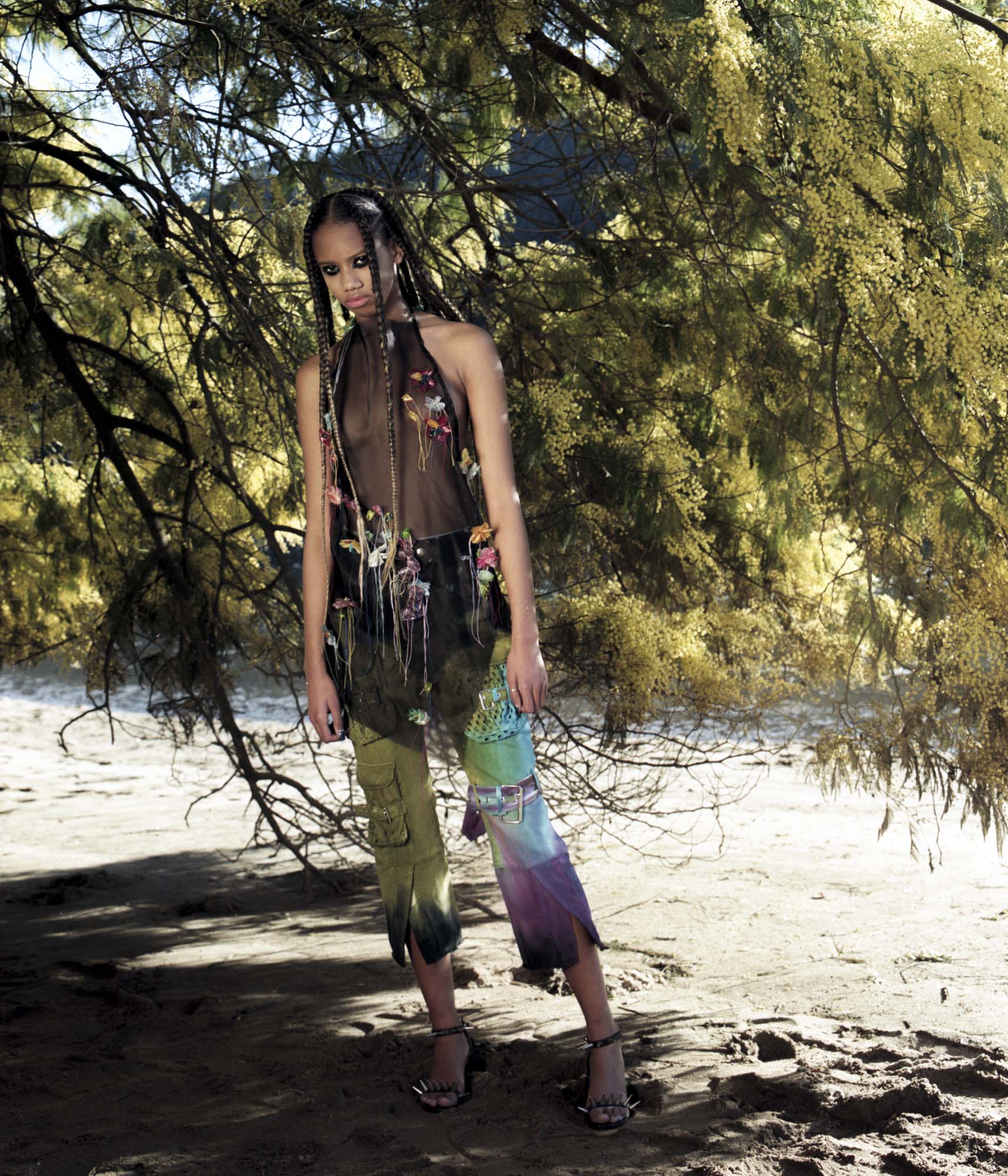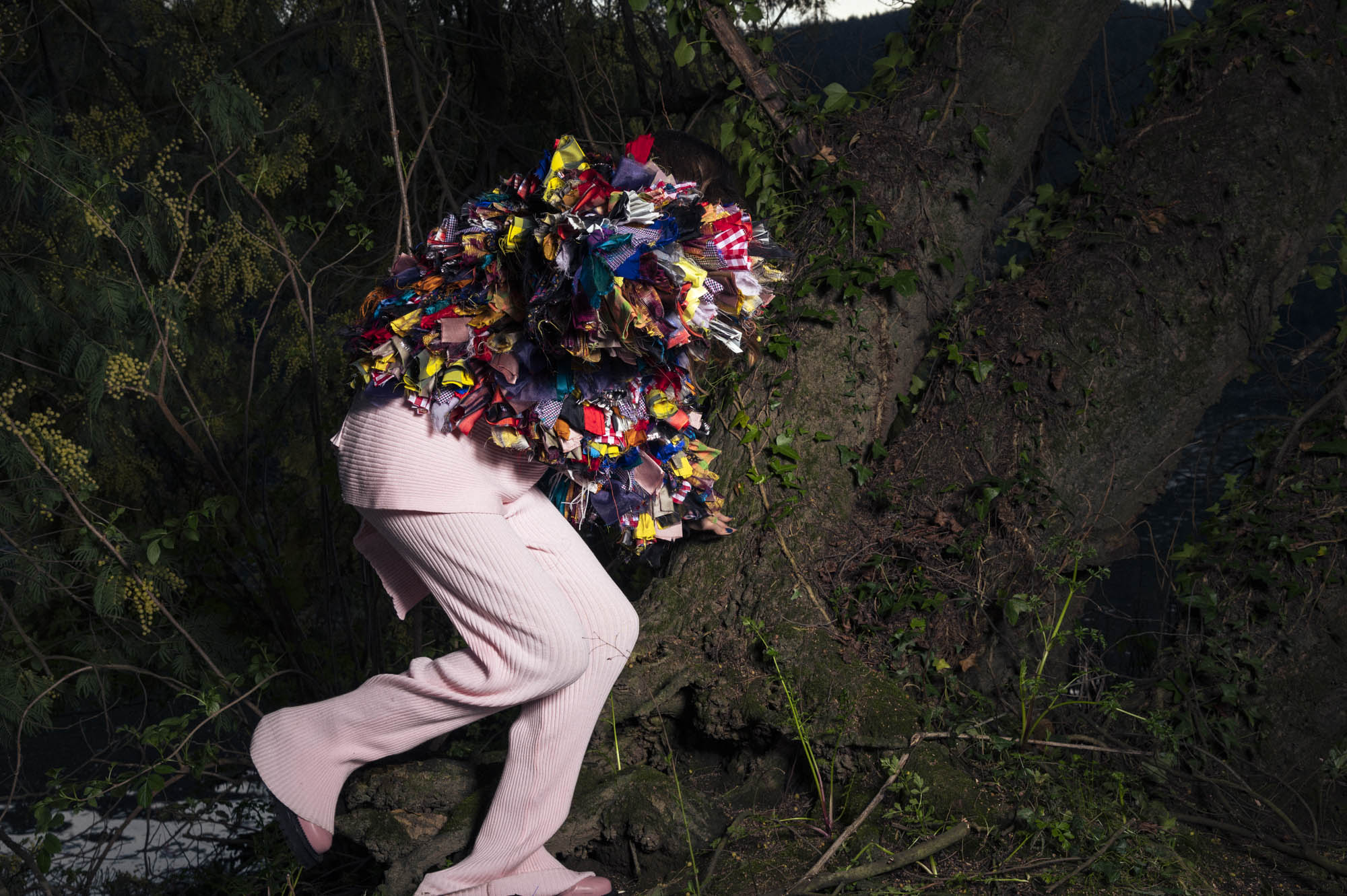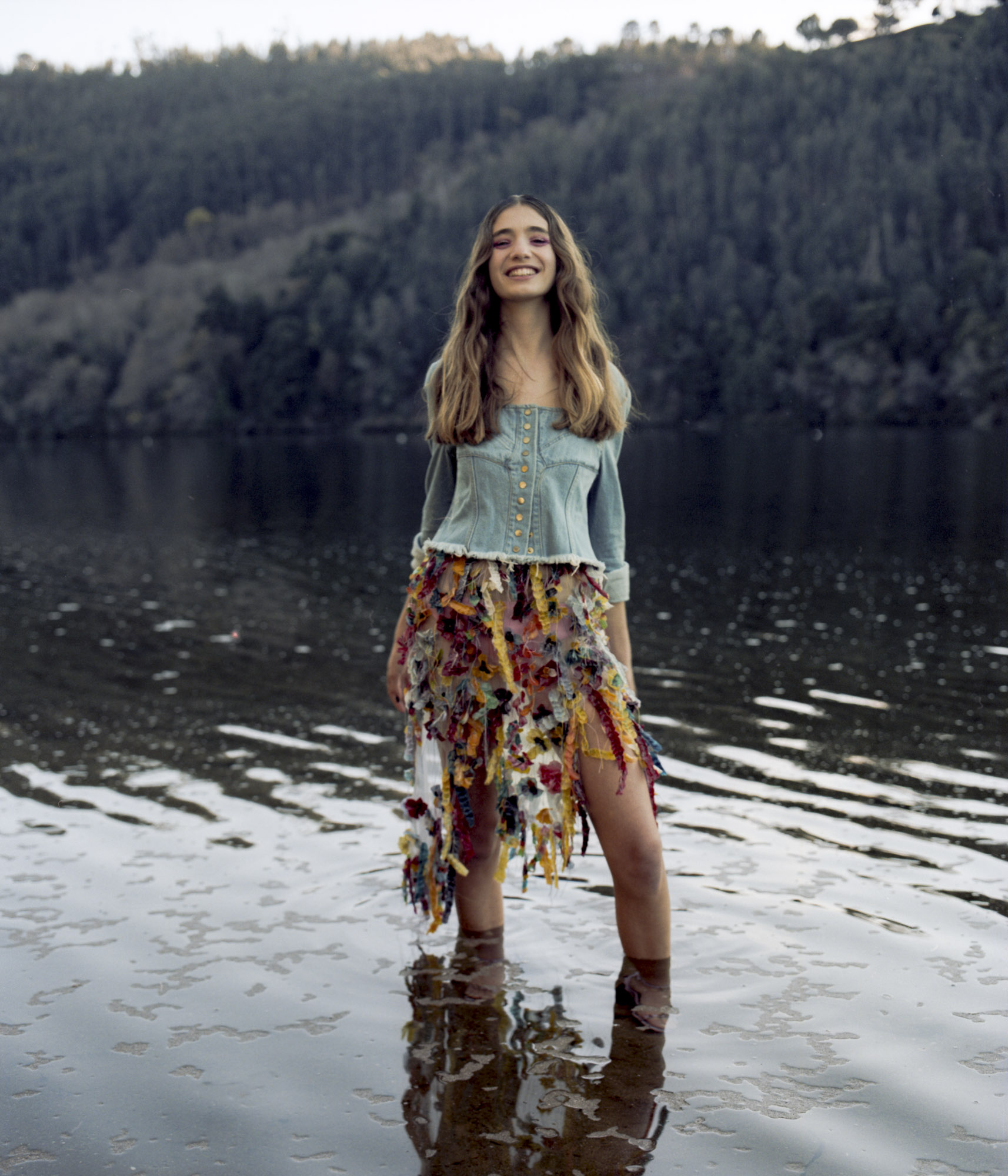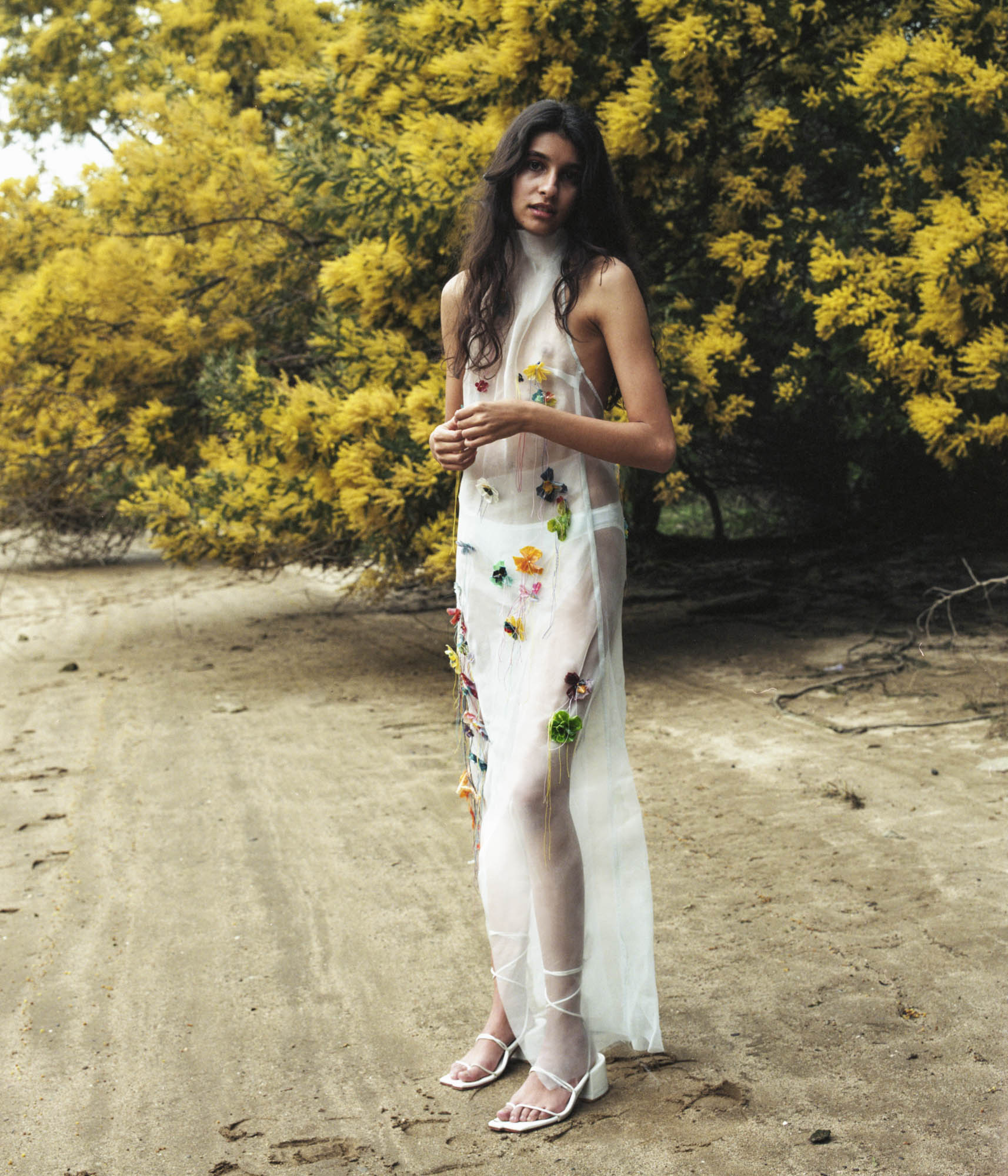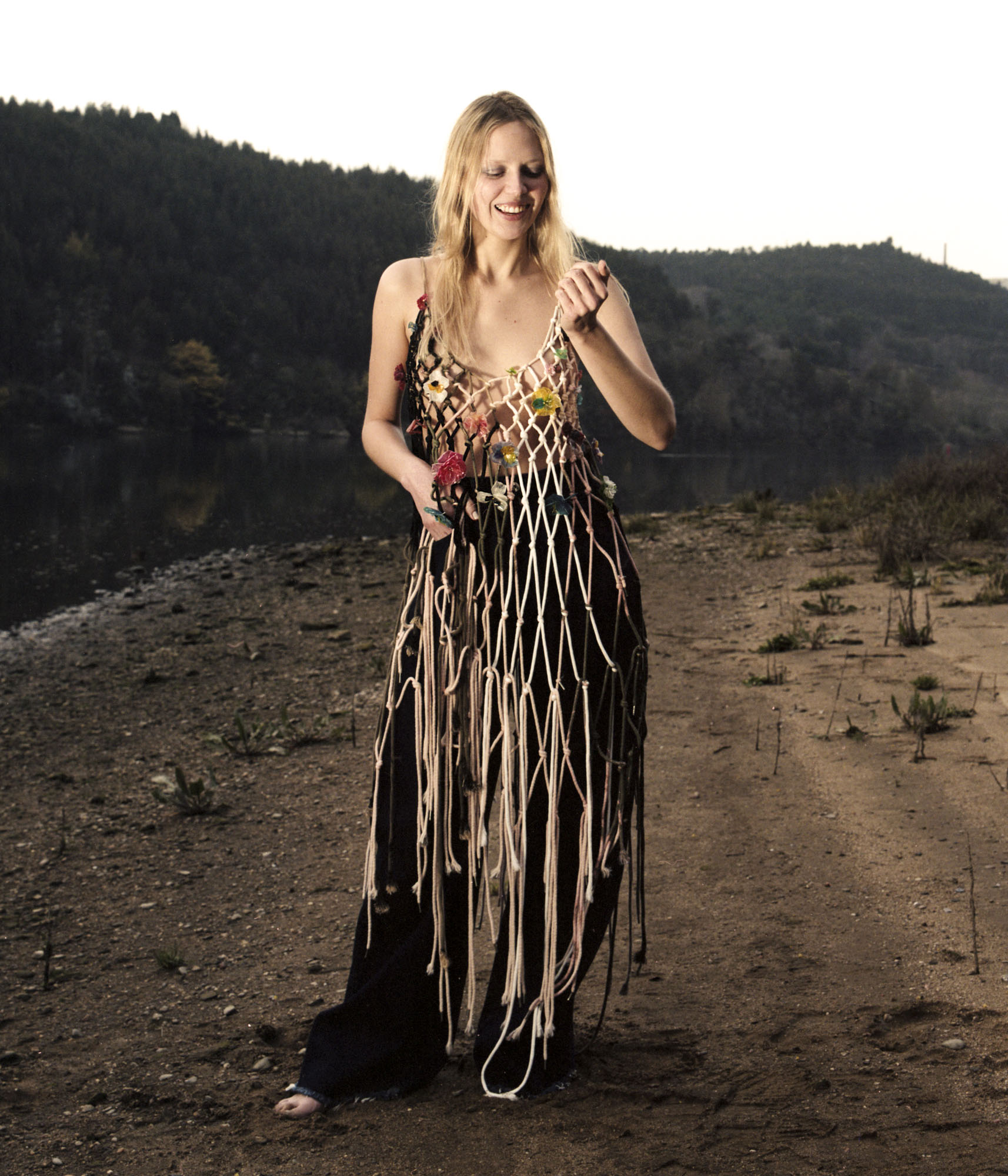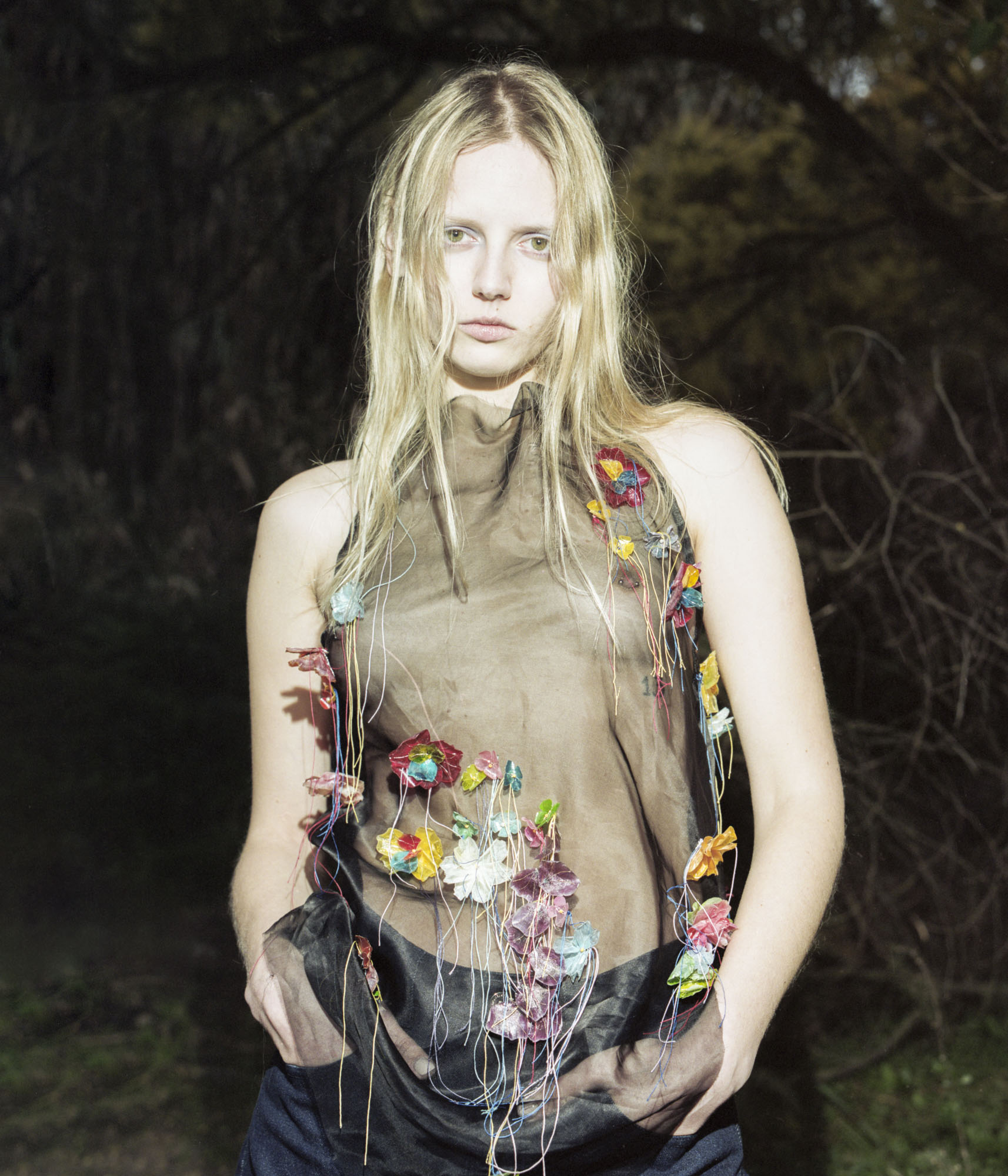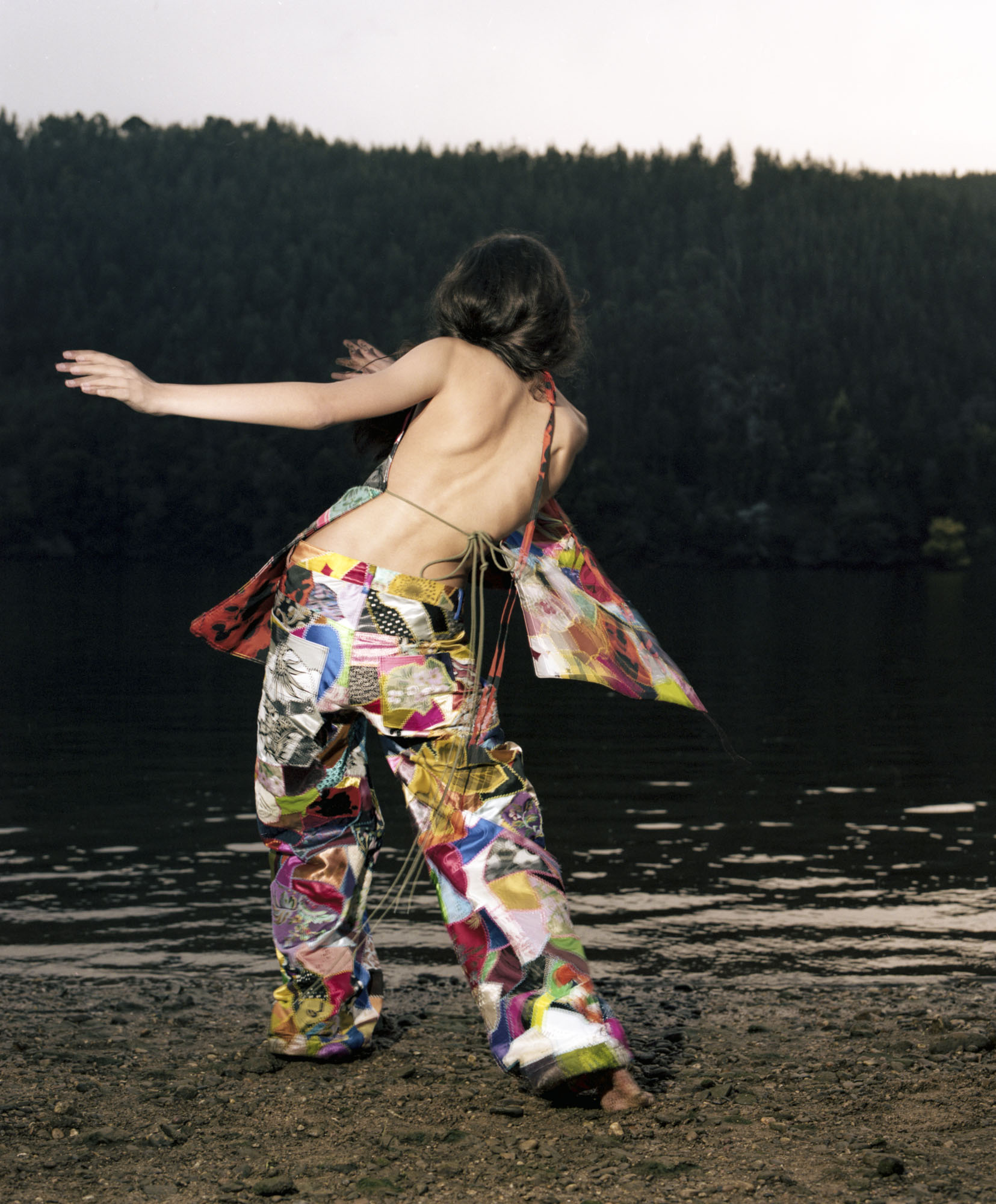 Martine Rose
Martine Rose has always made hyperreal clothes for hyperreal people. They tap into real life situations and expand them. Make them heroic. That's something she has spent our fashion-pandemic lives doing, honing her shows and collections and lookbooks in on the curious details of everyday life. How people actually wear clothes, how clothes become signifiers of identity and who we are.
For AW22, her collection was rooted in our new half-life of flexible office hours, almost-normality and the dissolution between office, home, work, routines, empty office blocks and Zoom conferences happening from a thousand bedrooms up and down the country: "Fun clothing for boredom, cosy clothing for recuperation, comfortable clothing for anxiety and TV marathons."
The collection was shot against the backdrop of office life, with Martine's men and women showing off their new wardrobes; flamboyantly ready for returning to real life but with a cosy and ruffled hangover from those enforced days at home. So, a suit is tailored from shell suit fabric, dressing gowns become formal suit jackets and scarves resemble old blankets you might coddle yourself in when hungover on the sofa. There's also a strain of practicality too. No one wants to expend too much effort on the perfect outfit anymore, so Martine has created full looks that can be pulled on like T-shirts, twinsets that get surreally reimagined in coats with extra layers, and double-sided garments, referencing the flatness of the life lived in computer screens — so the back of a coat could be totally different from the front.
"The Martine Rose man and woman have always been proudly, happily, and TOTALLY unprofessional" the press release stated, and lucky for us that's resulted in an incredible collection designed purely for our new world, but which still bears just an uncanny resemblance to our old one.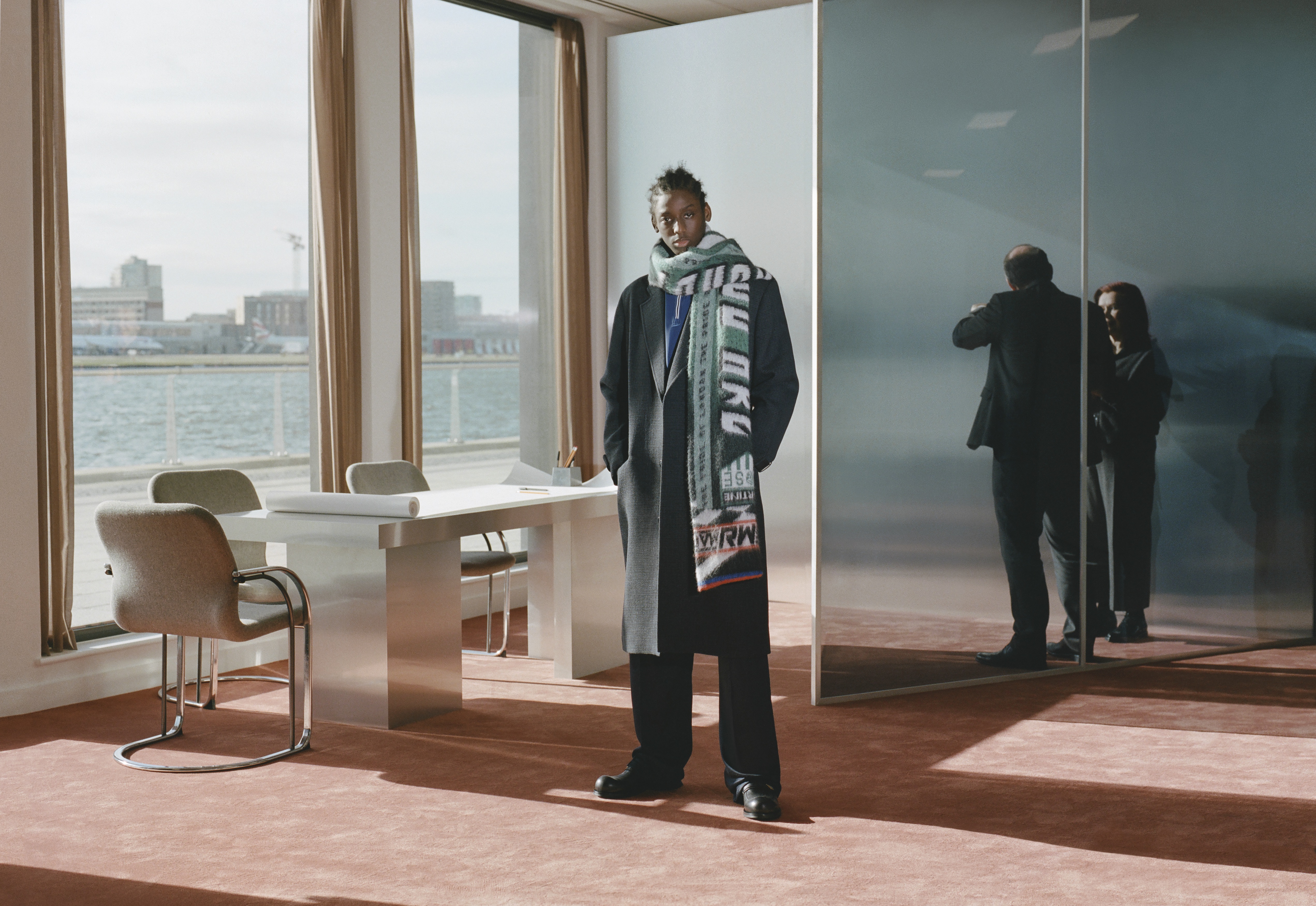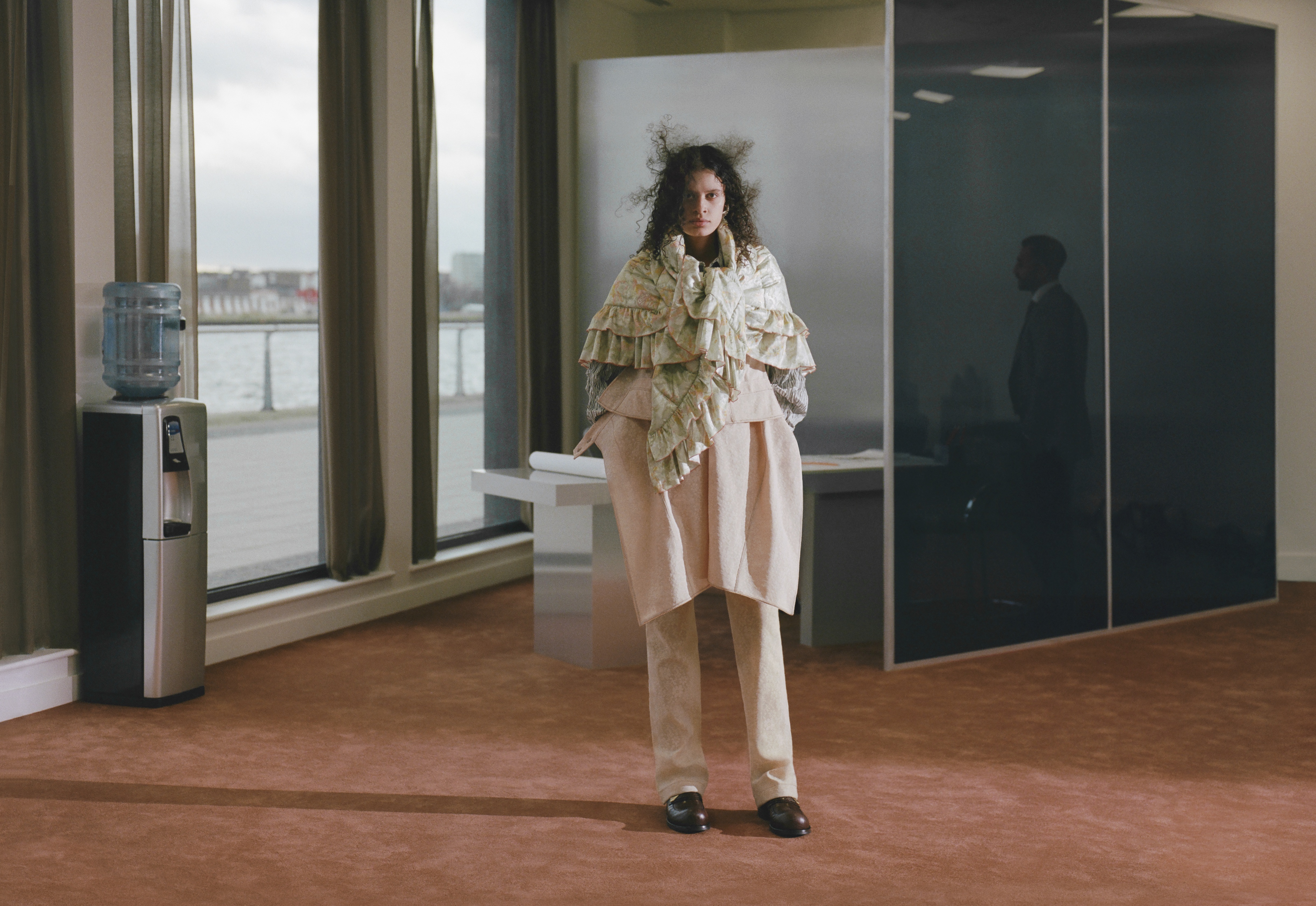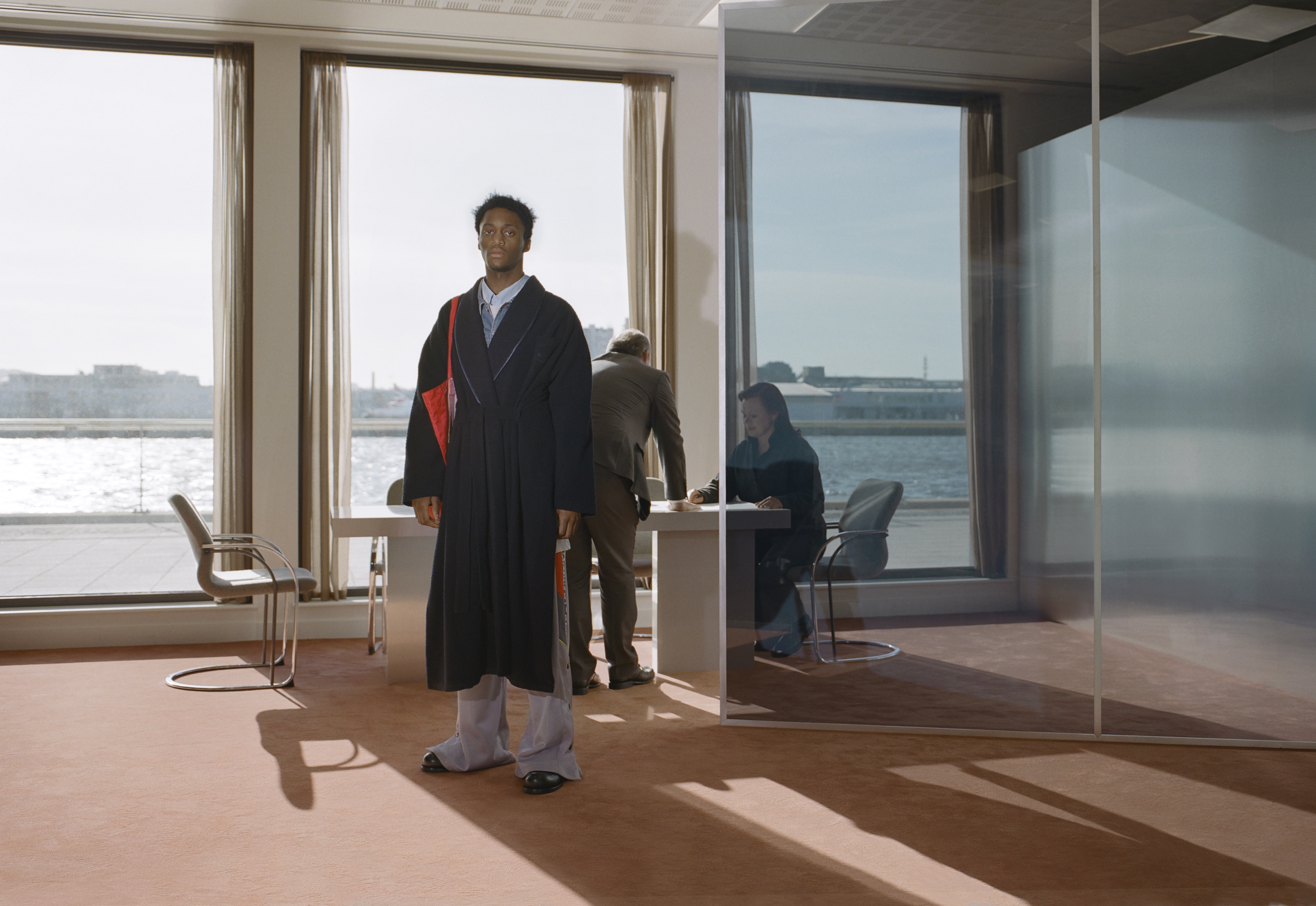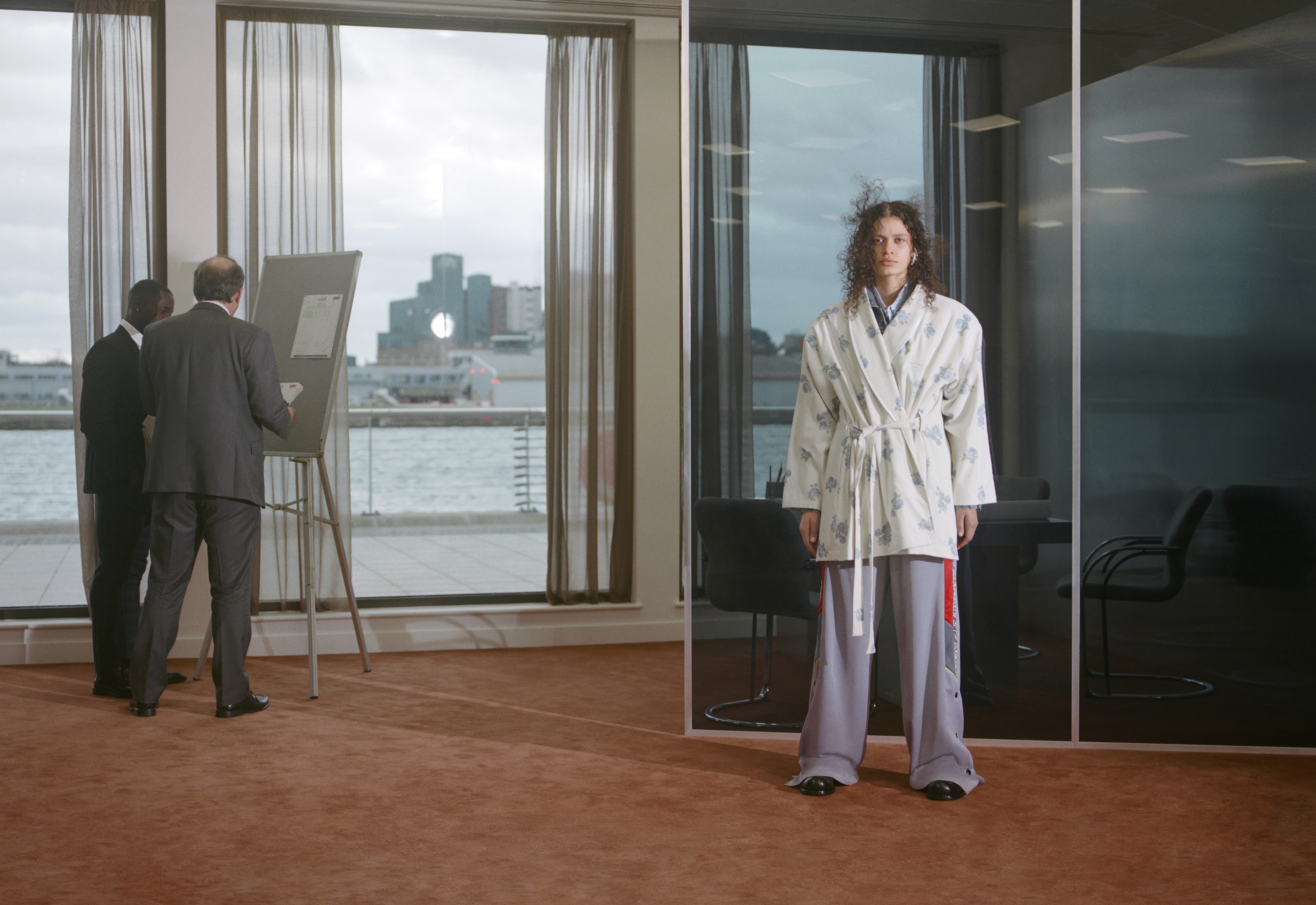 Stefan Cooke
Stefan Cooke's collections — though it should be noted that the label's the product of both its namesake and his partner Jake Burt — are committed to exploring the potential of clothing. That may sound obvious but so many designers don't look at the fundamental building blocks of a wardrobe — jeans, a knitted cardigan, a frock coat — and see in them a world of technical and emotional possibility. Last season, the pair riffed on British-ness, in an incredible Topshop-meets-Buffalo collection that was about the collision between mainstream and subversion: it was very Indie Sleaze pre-Indie Sleaze. This season expanded on that by looking to Hedi Slimane-era Dior Homme as a root of inspiration — the foundational designer of so much of modern menswear in a sense — and then pulled it to pieces, mixed it up with a detour through their archive, and then reassembled it with a flourish.
One thing they looked at this season was theatre costume archives, looking to the trompe l'oeils and the details of stage costumes for references. More than simply seek to pull apart specific references, though, they explored how those costumes so easily and quickly stand in for — and come to represent — a whole character. Here, that sense of persona development was accentuated by the label's technically accomplished signatures — slashed argyle knitwear and glimmering punched coin chainmails — along with knitted cardigan neckpieces, collars that came away from the garment, a tweed coat embedded with glittering sequins, tutu cummurbunds: garments that had elements exposed and reworked, referencing the constant customisation of garments created for the stage.
The highest highlight though was the corded denim, which found itself worked exuberantly all over on a jacket and then again as a motif reappearing on jeans. It somehow managed to feel both resplendently 18th century but also like the best pair of jeans you might find in a market stall, that kind of second hand item you can only ever dream of unearthing. And despite all the technical virtuosity on display, that's what truly defined the collection, you came out wanting to wear it all: on my way to the next show I quickly checked the prices online to see how much I might have to save up.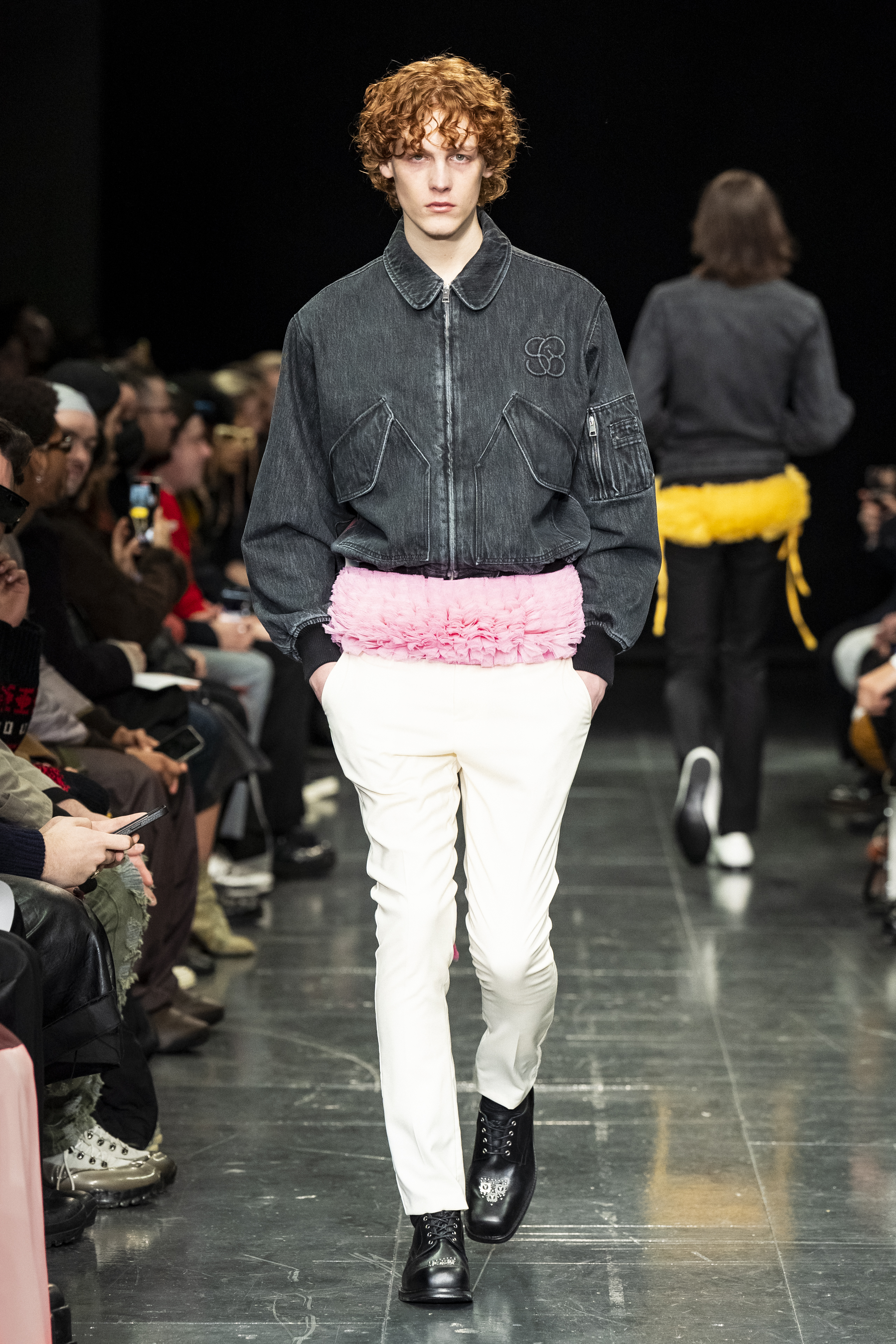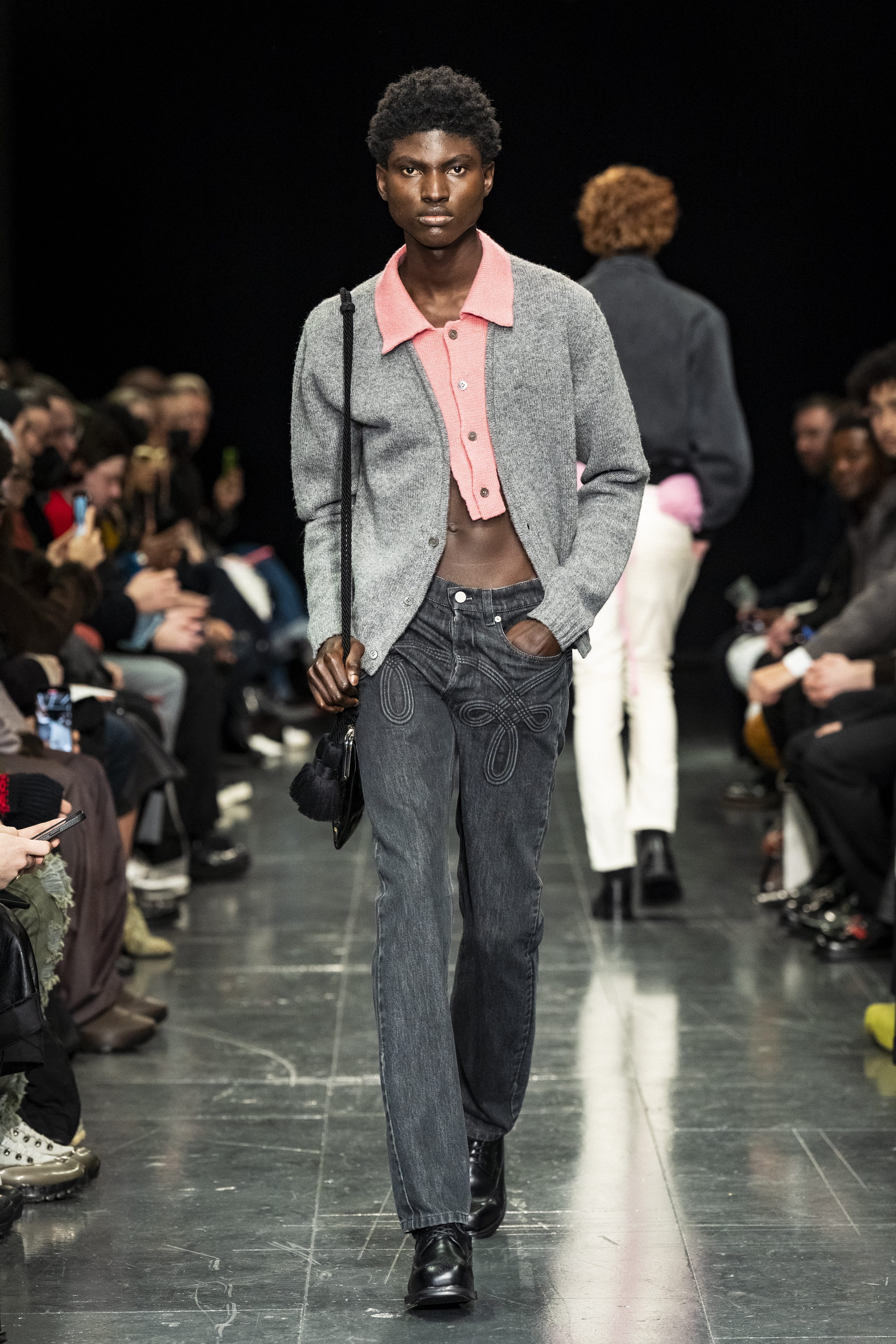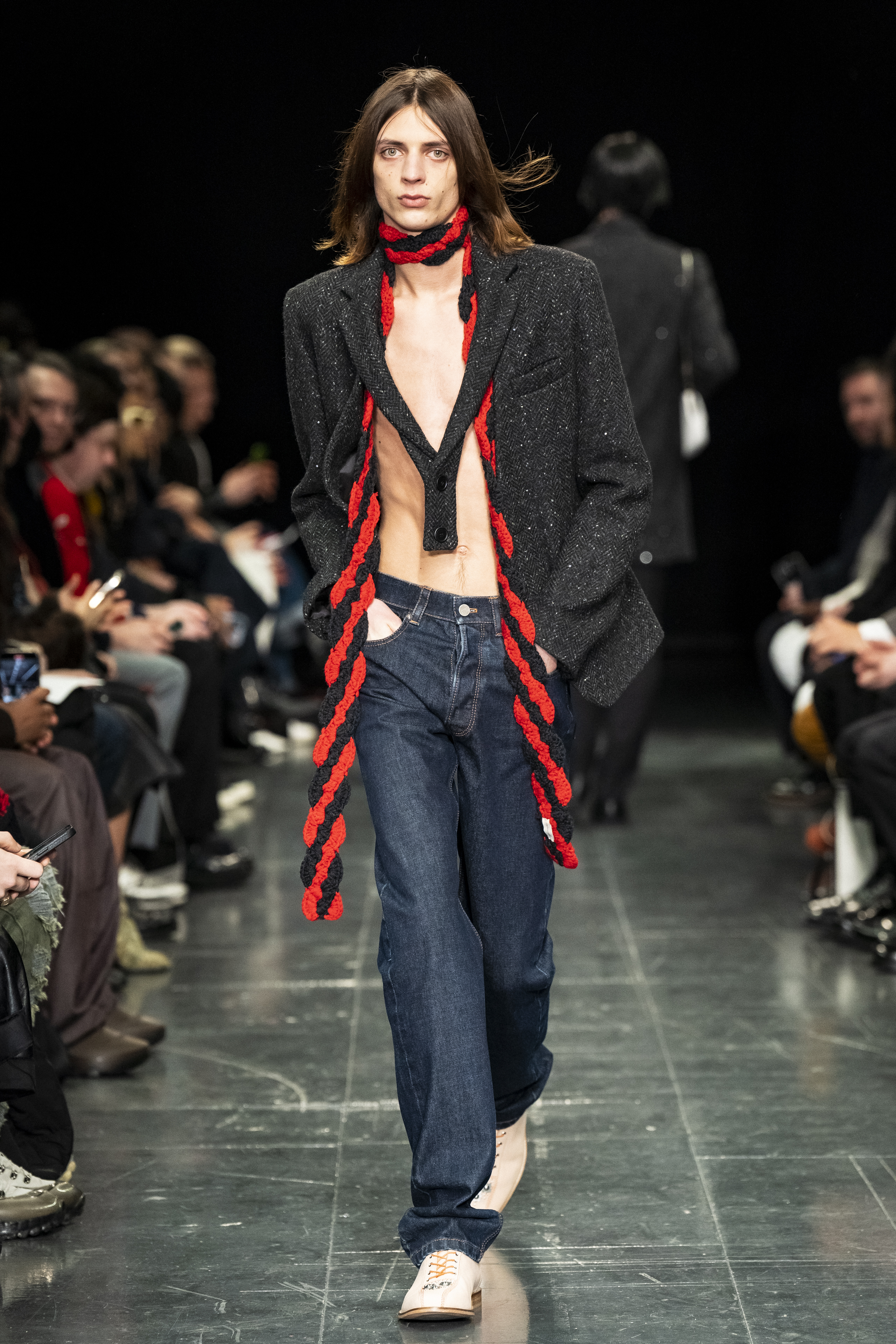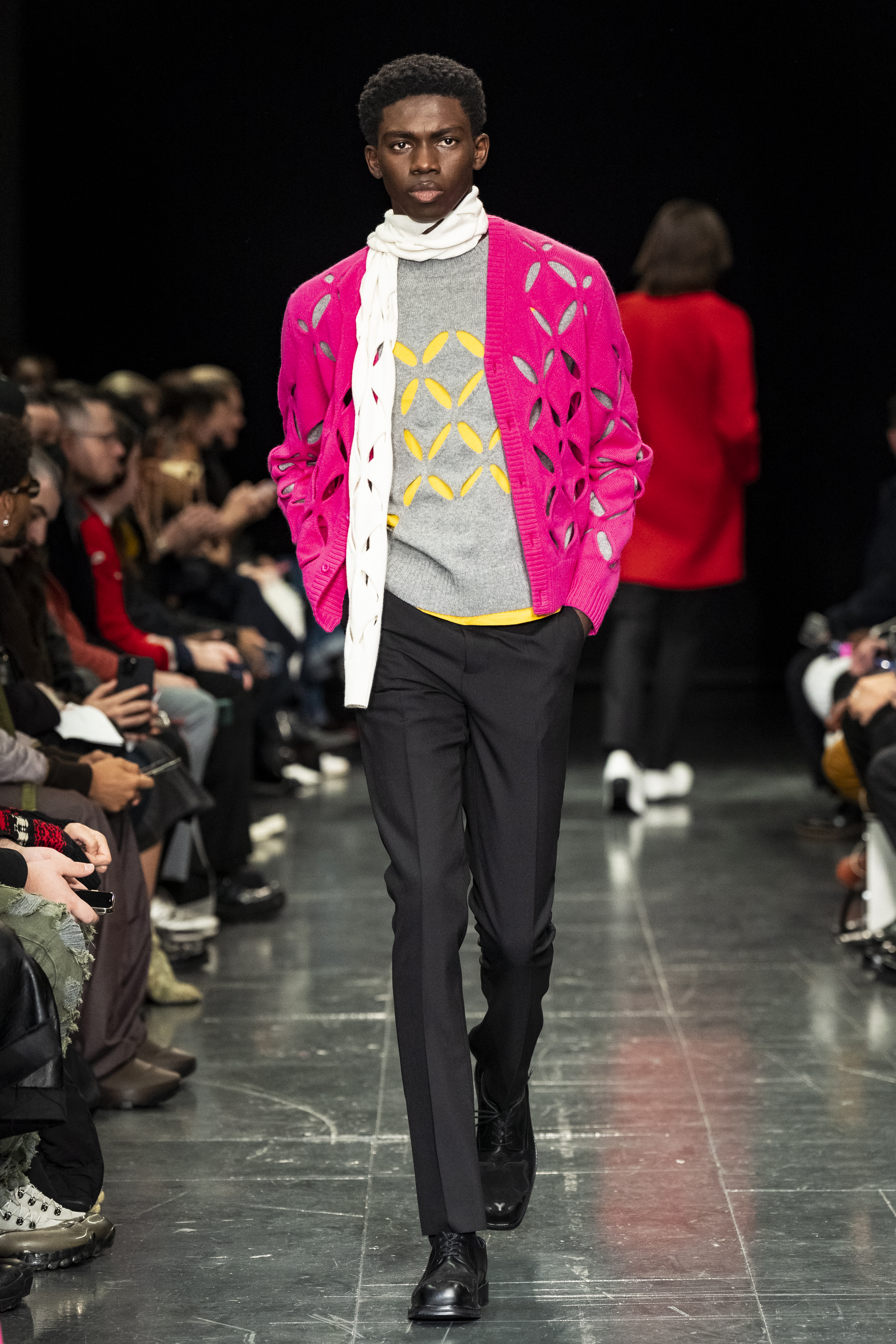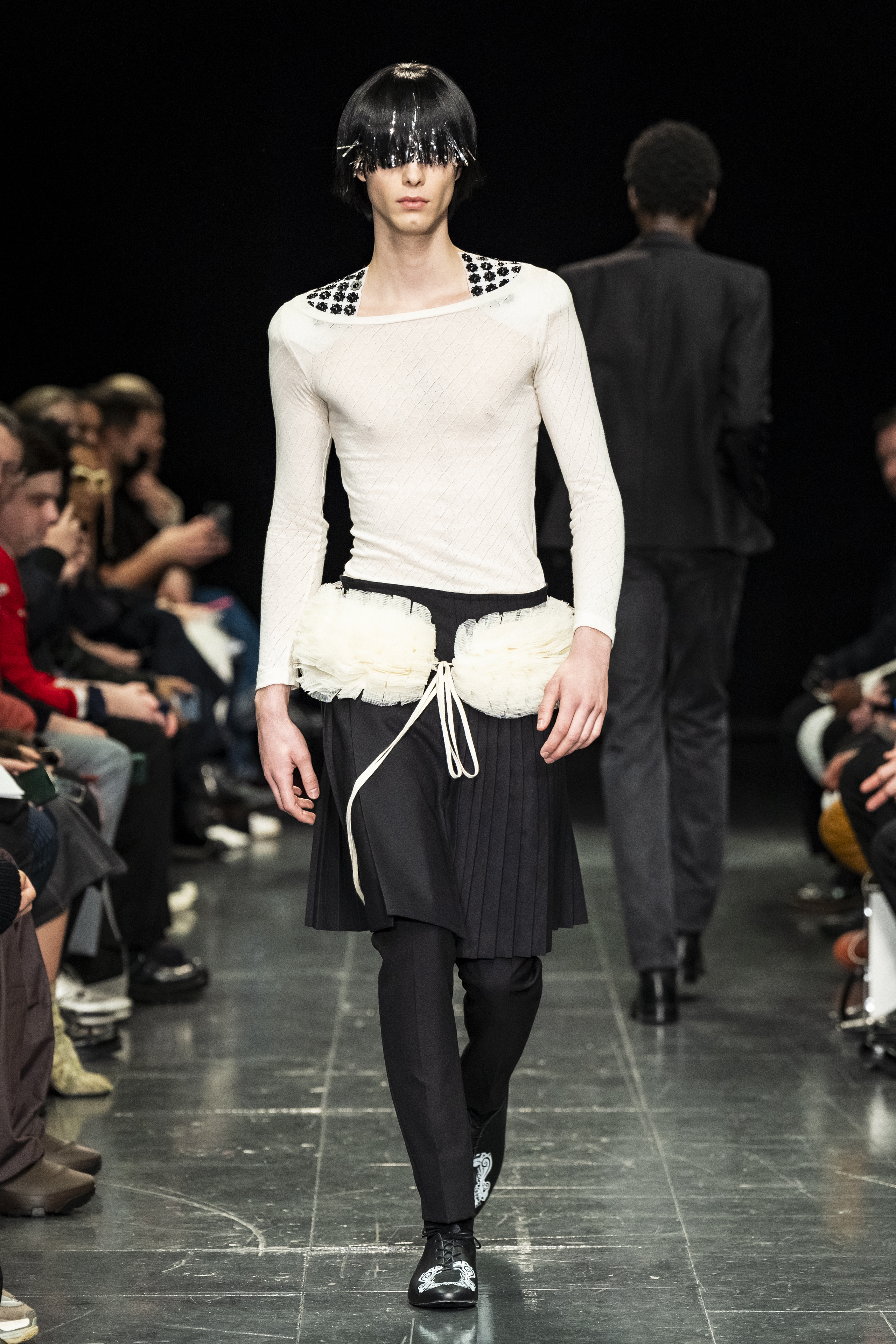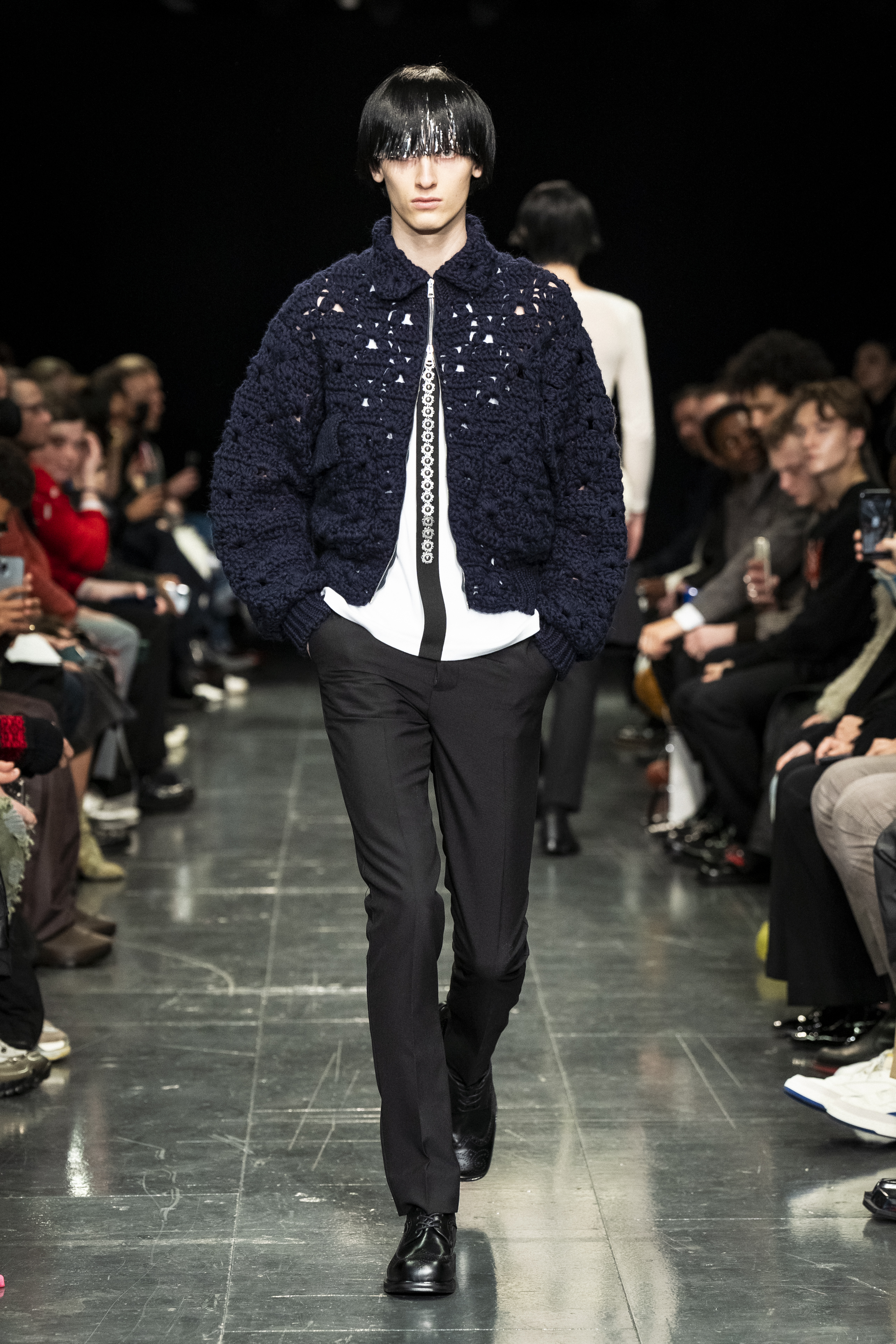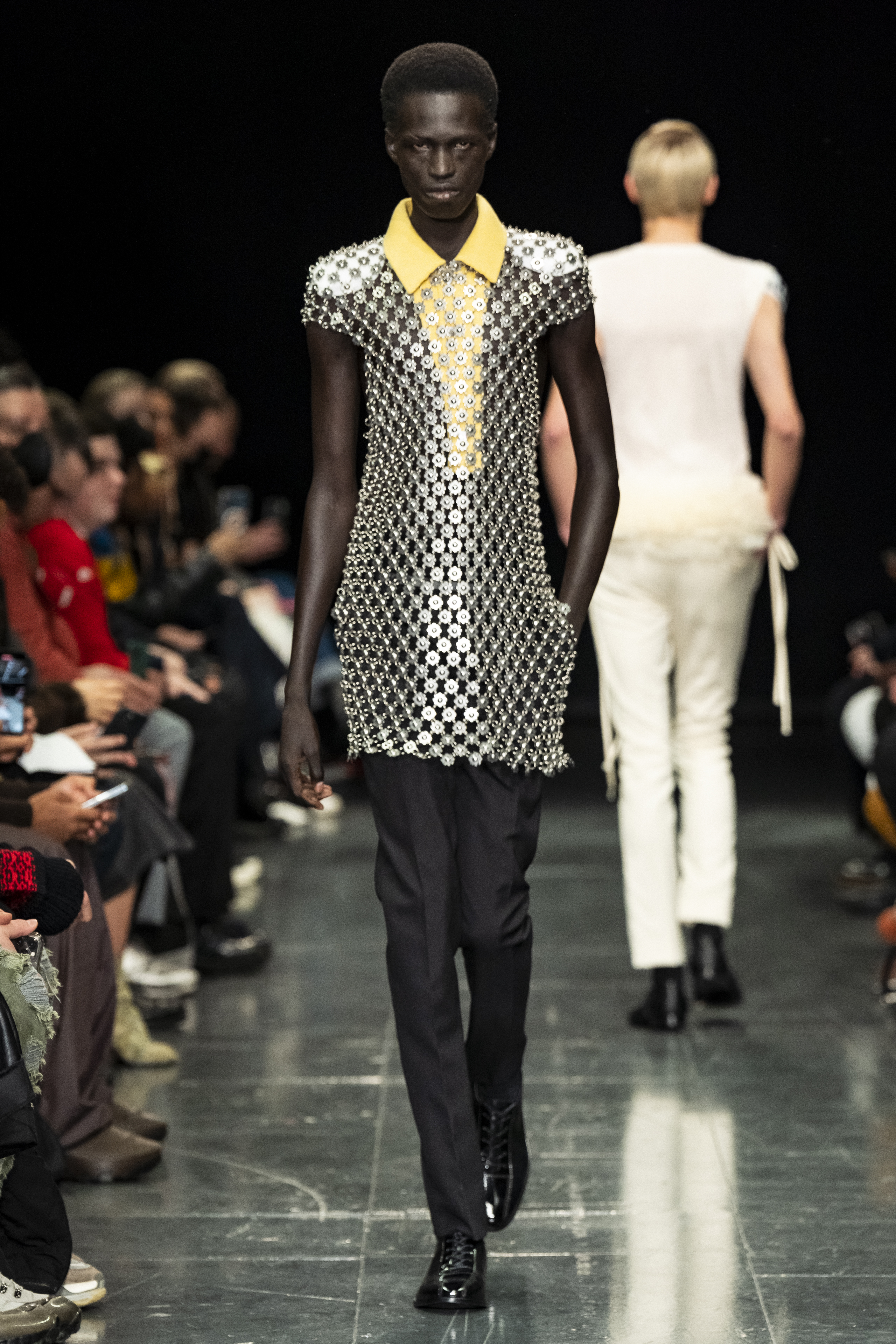 16Arlington
Towards the end of last year, the tragic news of the passing of Frederica 'Kikka' Cavenati, one half of the founding couple behind 16Arlington, came to light. At the time of her death, she'd been working on the collection that was presented today by her partner in both work and life, Marco Capaldi. Titled 'Tears', it was a 38-look tribute to the life and legacy of the late designer. Rather than mournful, however, it was a warm testament to her "playful wit" and luminous spirit.
"Kikka was lavishly, fabulously generous," read the show notes, and that was what that made itself felt strongly in the clothes themselves – garments from slate grey wool miniskirts and semi-sheer high-neck column dresses were spangled with crystals, with one sleeveless tunic so richly embroidered that it rustled with the model's walk.
The label's signature marabou feathers figured as elegant collar trims, their sumptuous flair complemented by shimmering sequinned string-tie tops, wide-leg trousers in exquisite leather, and the stomping wooden platforms worn throughout. When Marco came out following the final walkthrough, it was to a teary, standing ovation, fraught with a heady mix of emotions. Grief and mourning were certainly among them, but perhaps more strongly felt was the sense that, though Kikka may no longer be physically present, what was seen today is surefire proof that her spirit will live on. MS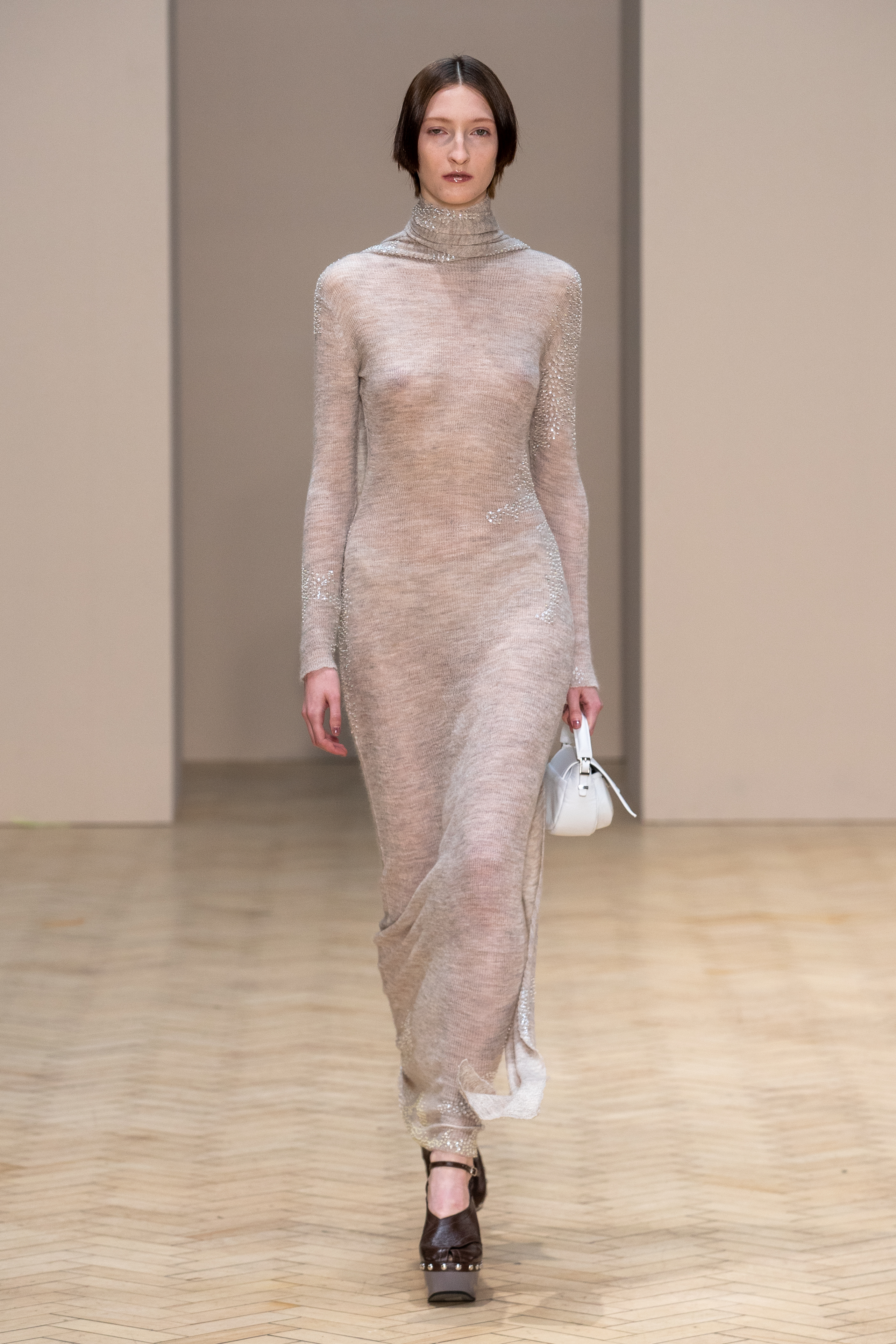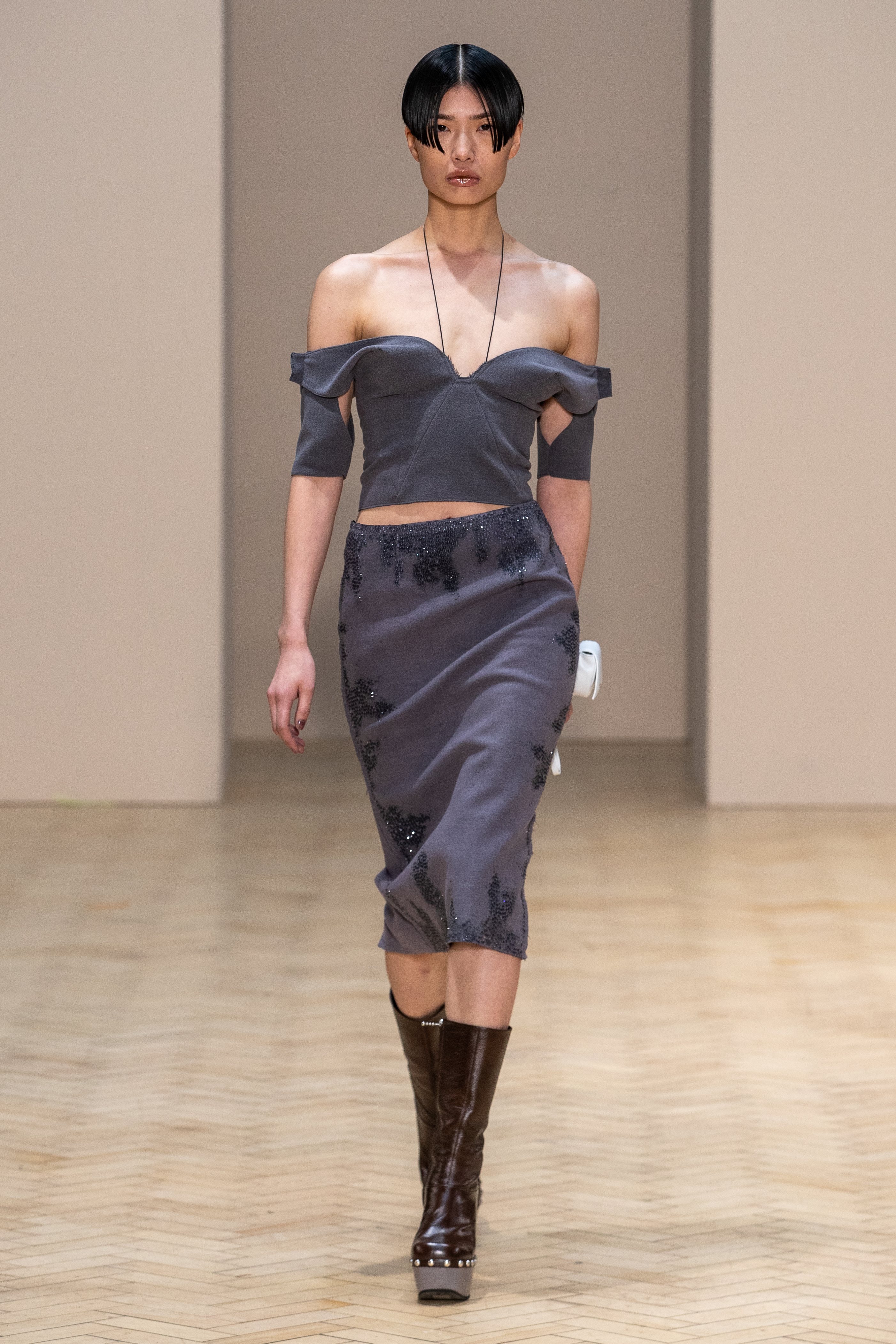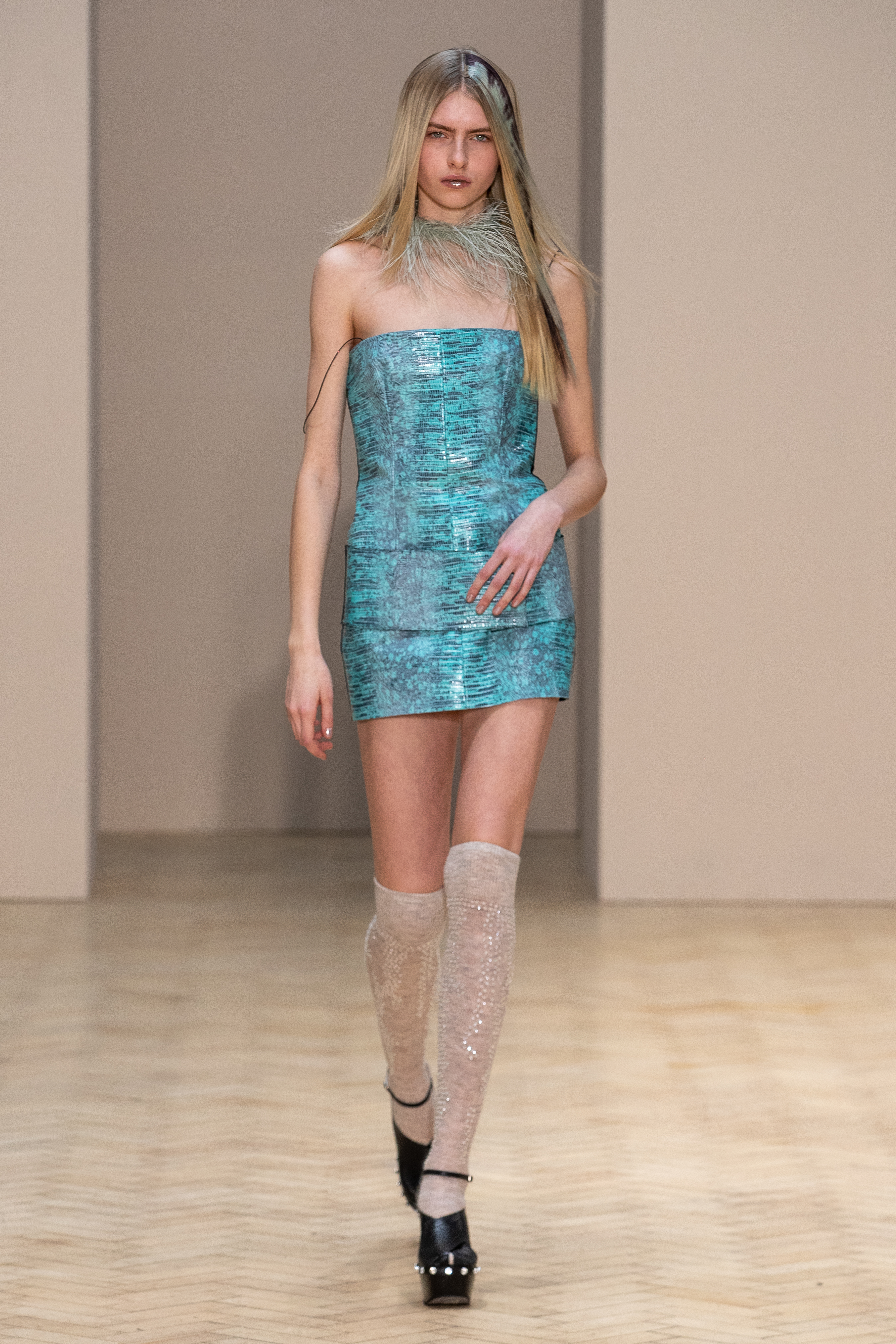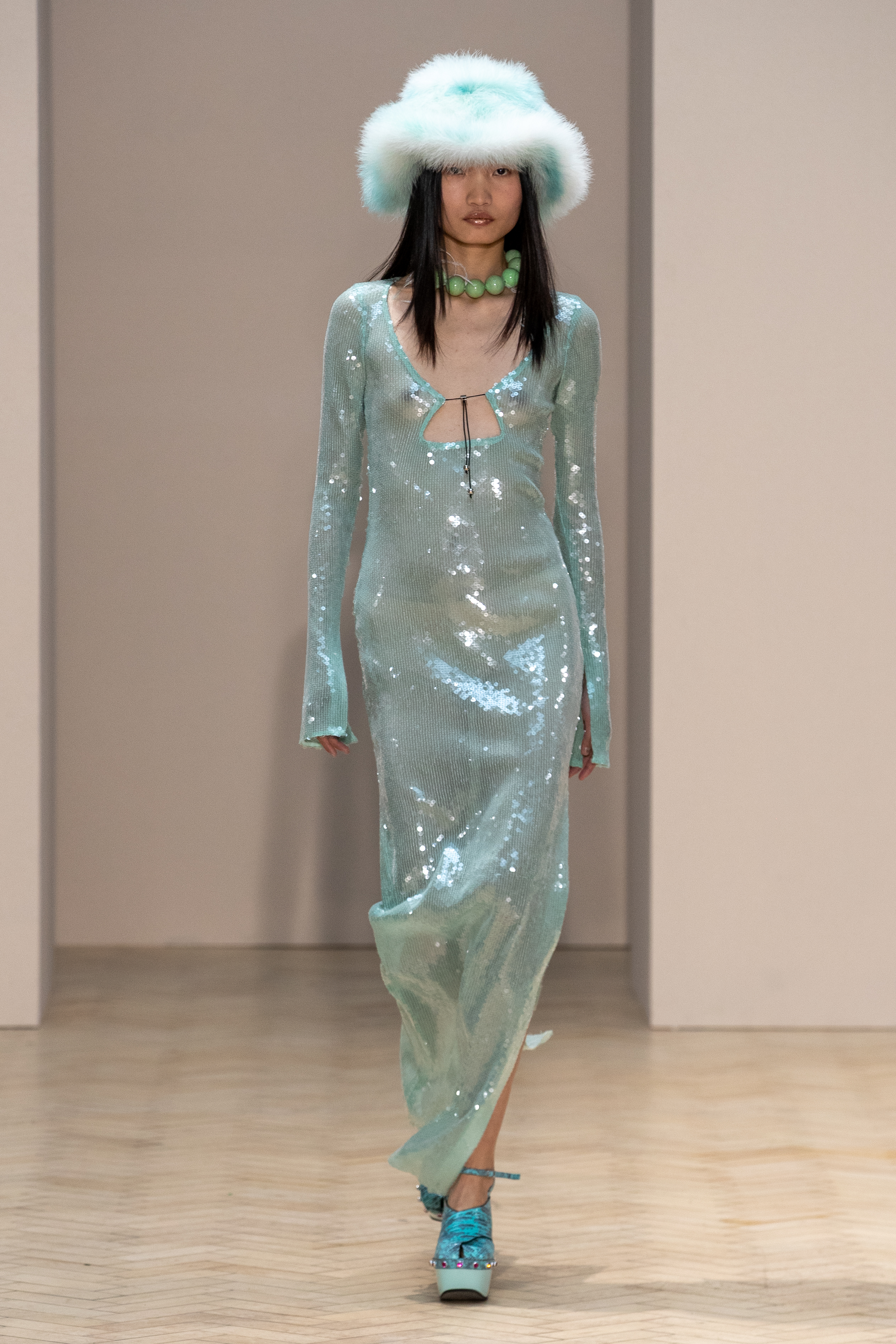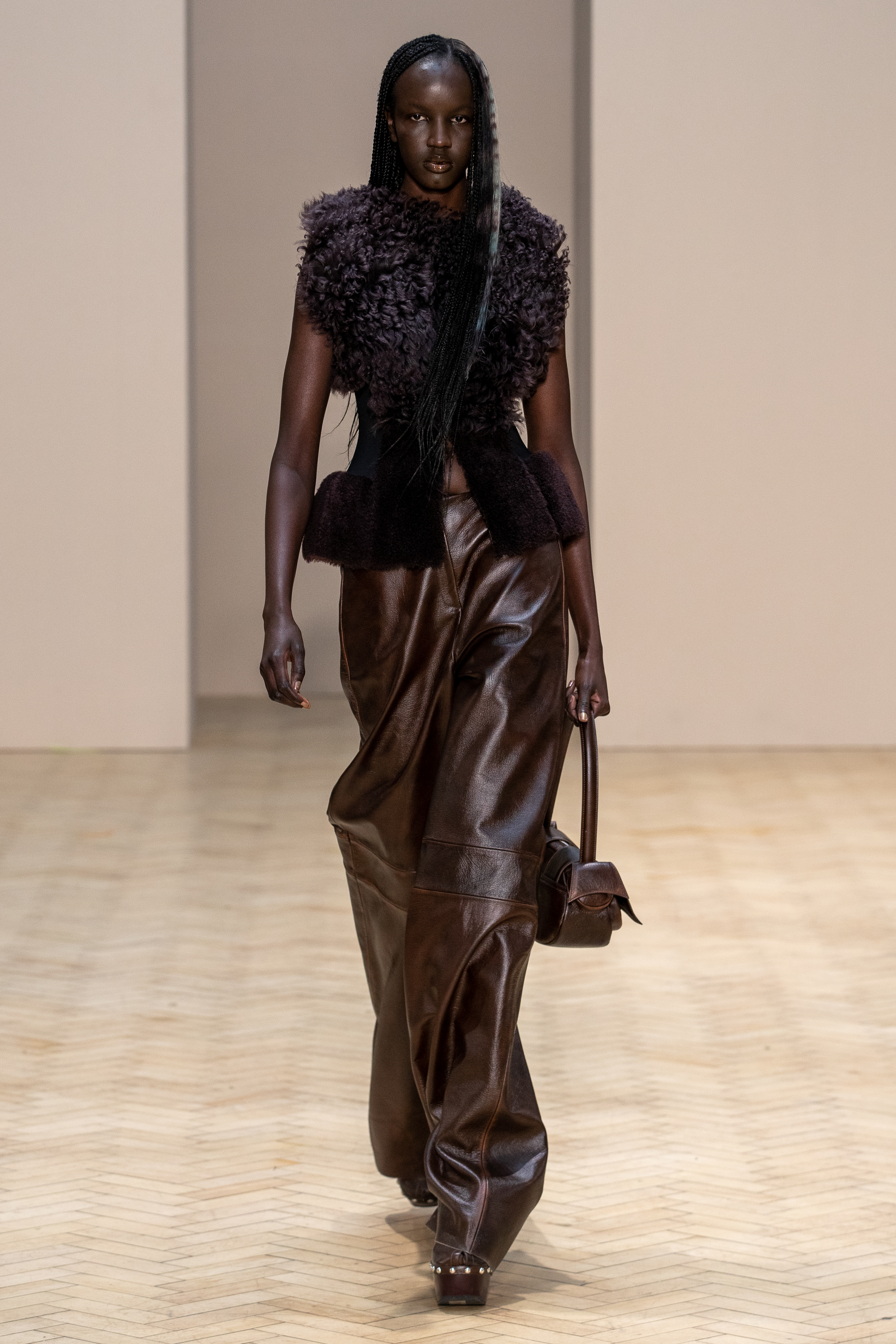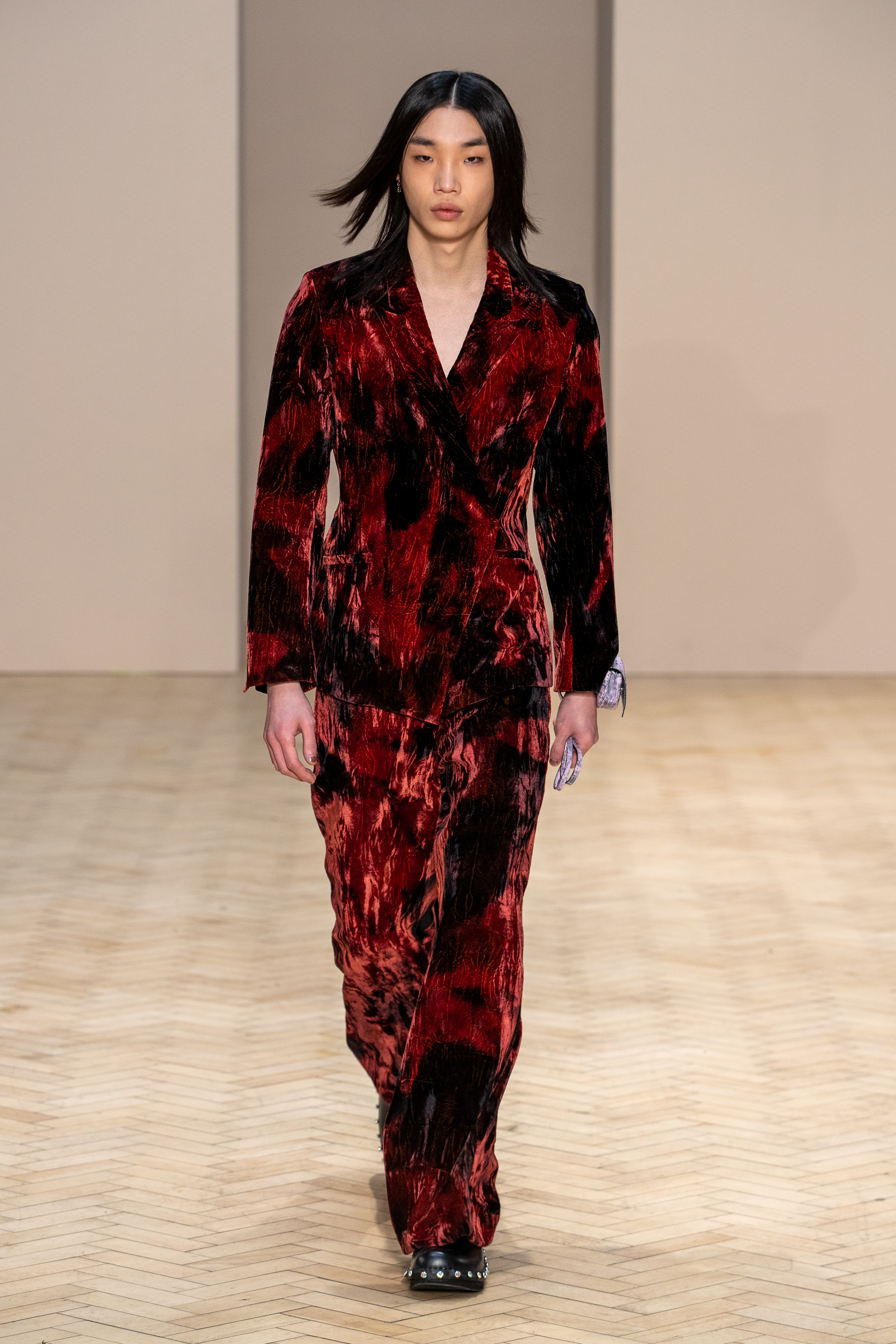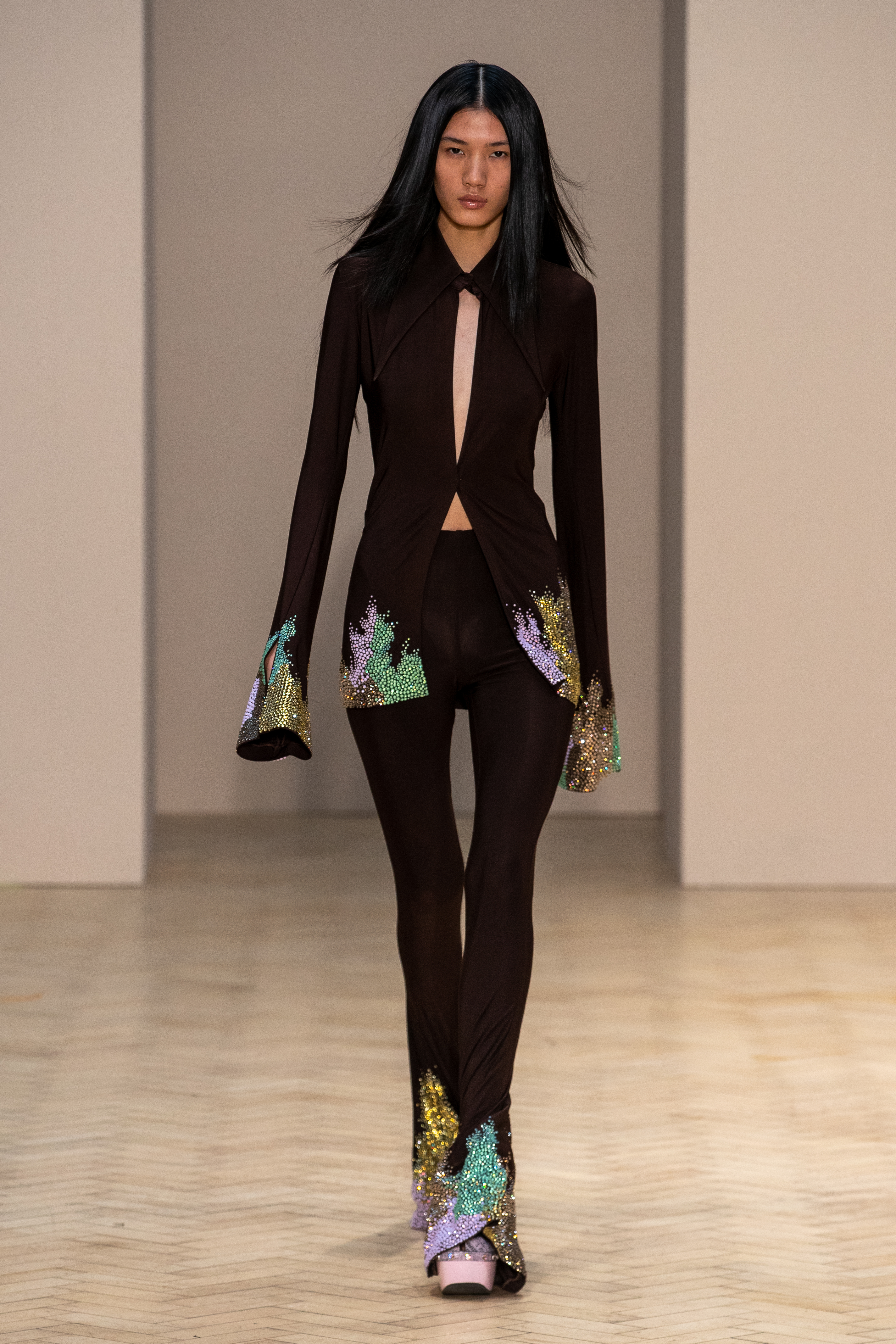 CSM MA
A show that should always be on your radar during the AW edition of London Fashion Week is the Central Saint Martins MA show. Known the (fashion) world over as crucible for talent that will go on to shape fashion's course, it's here that career-making debuts of designers from Lee Alexander McQueen and John Galliano to Craig Green and Simone Rocha have been staged. This year marked the first physical show the London school's MA course has put on since February 2020, and, as is only fitting, it was perhaps the biggest bumper crop in recent memory, with a total of 32 graduates showing their collections rather than the usual 20 so.
That very fact speaks to the calibre of the work produced by the Class of 2022. Menswear designers Aaron Esh – look out for his superlative tailoring, and quietly eccentric pieces like a stony leather bomber with moulded shoulders – and Juntae Kim – who presented a suite of looks that felt imbued in equal measure with a spirit of vintage Americana through the use of rugged leathers and expertly cut denims and punkish romanticism – presented clothes that felt like they could be lifted straight from the runway, plonked on the bottom floor of DSM, and snapped up within days. Elsewhere Charlie Constantinou, James Walsh and Joe Pearson demonstrated an enviable knack for experimental-yet-elevated silhouette proposals, while Edward Mendoza – one of two winners of this year's L'Oréal Prize, the other being Jessan Macatangay – presented an XXL-proportioned, kaleidoscopic "message of inclusivity to show representation to plus-sized guys and my family in the Caribbean and Peru," he wrote. MS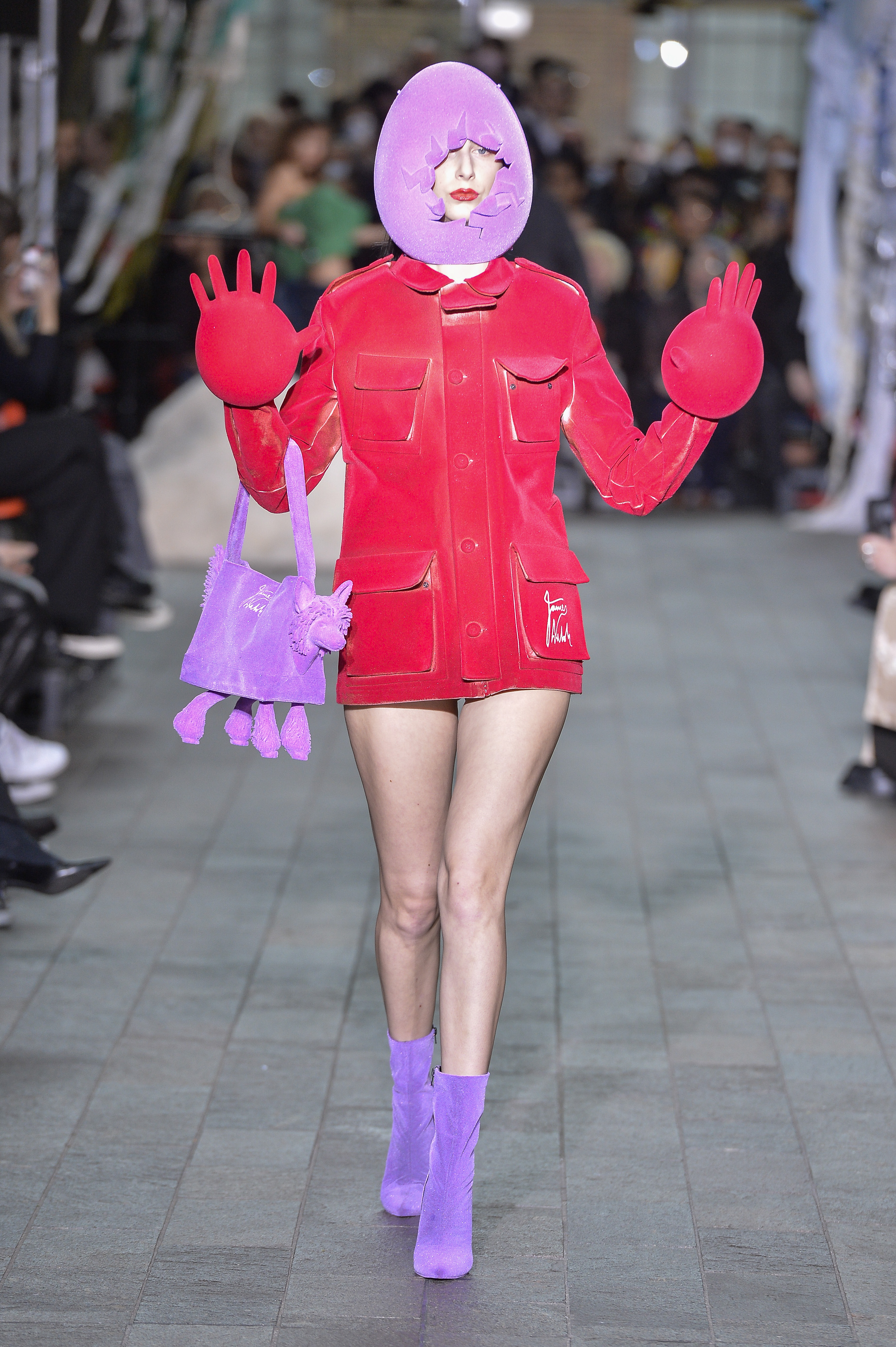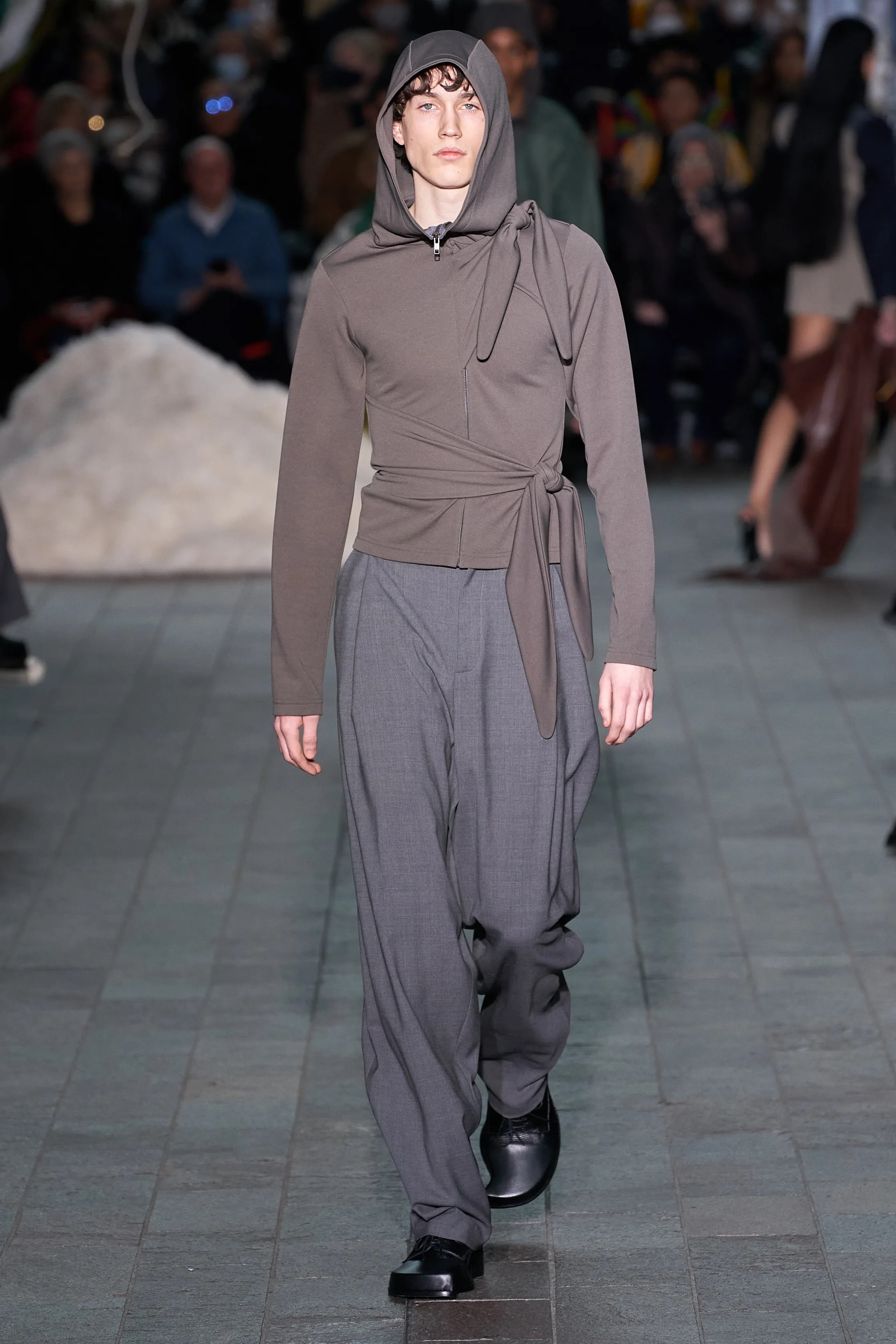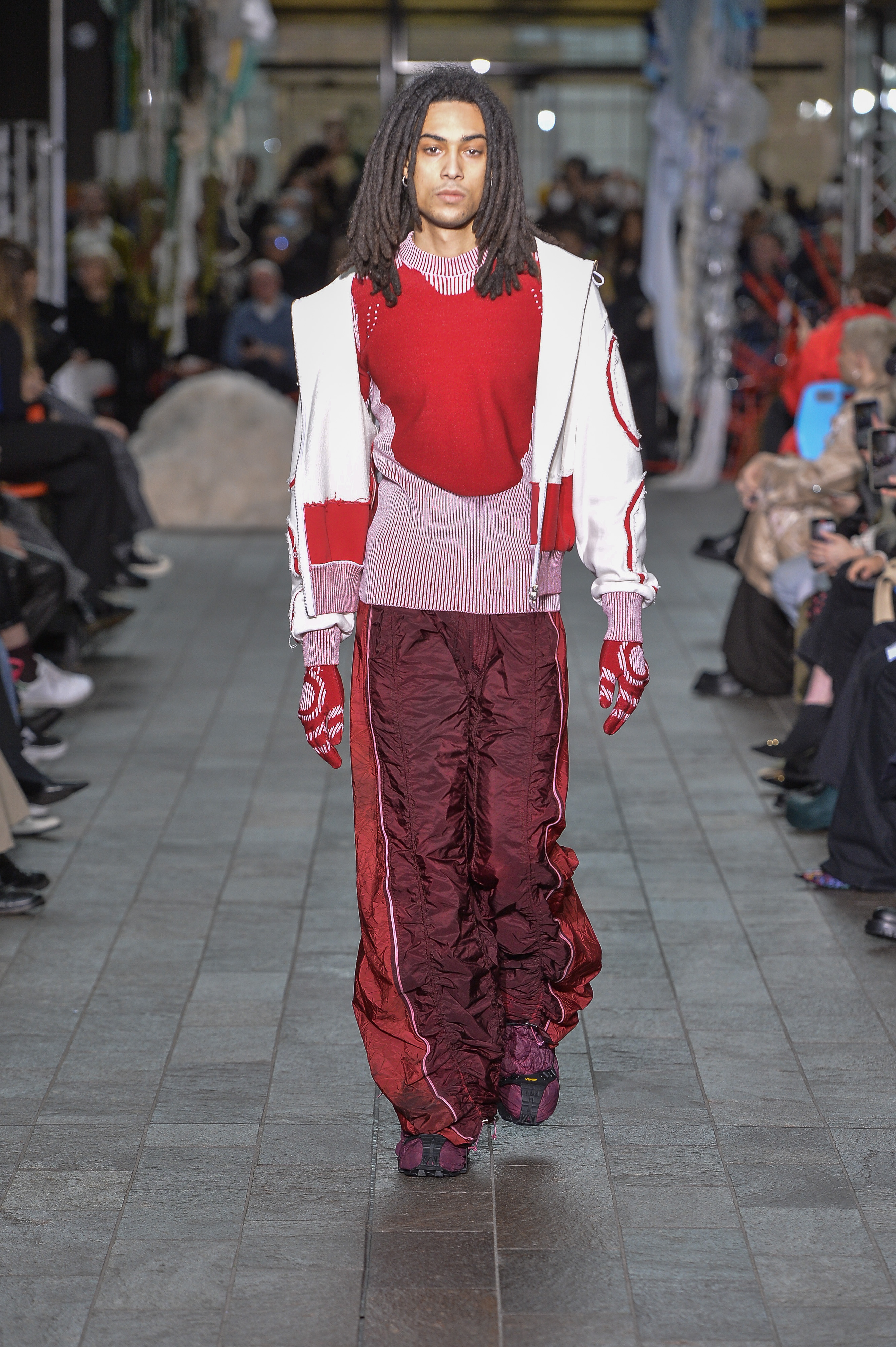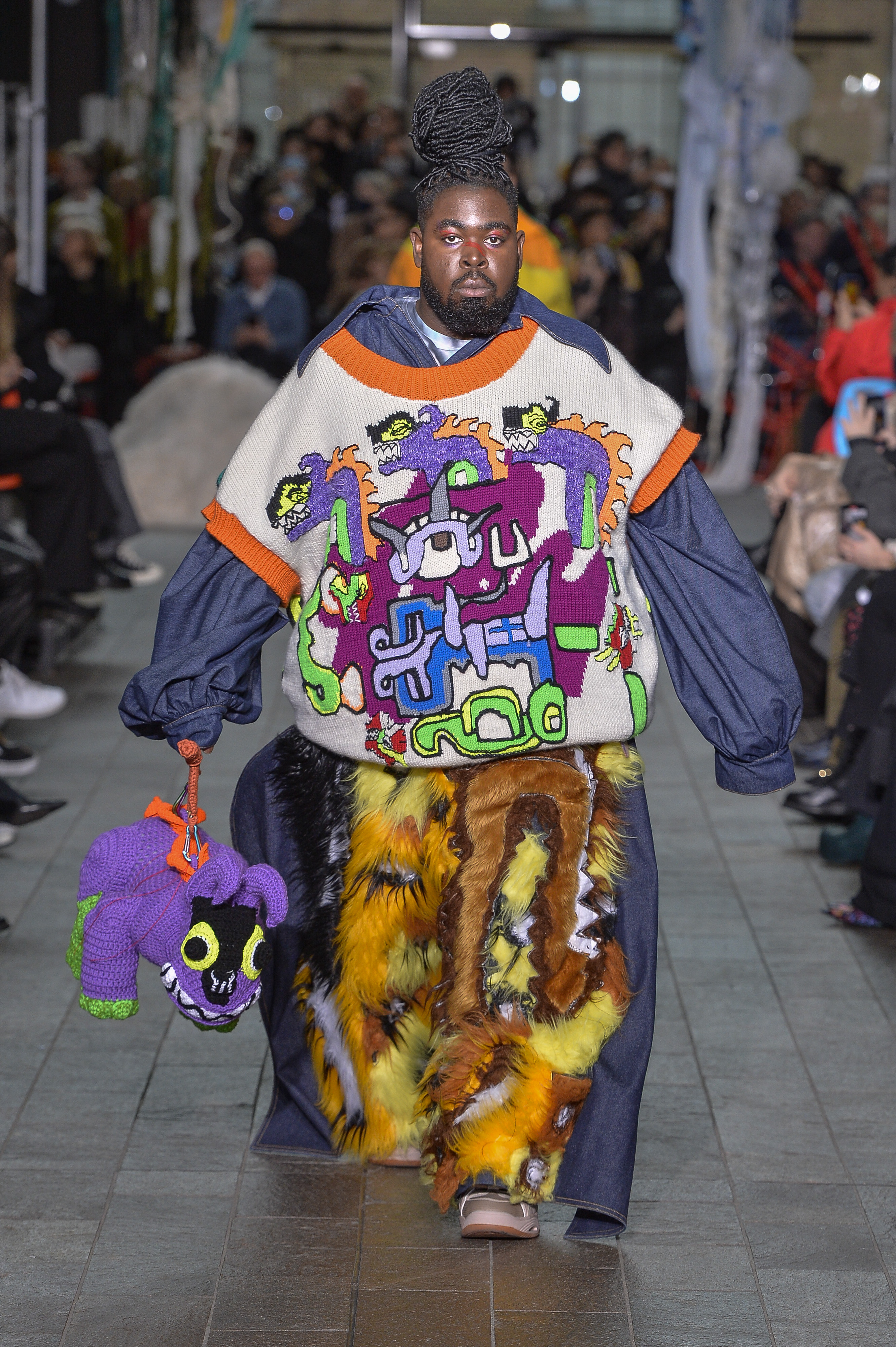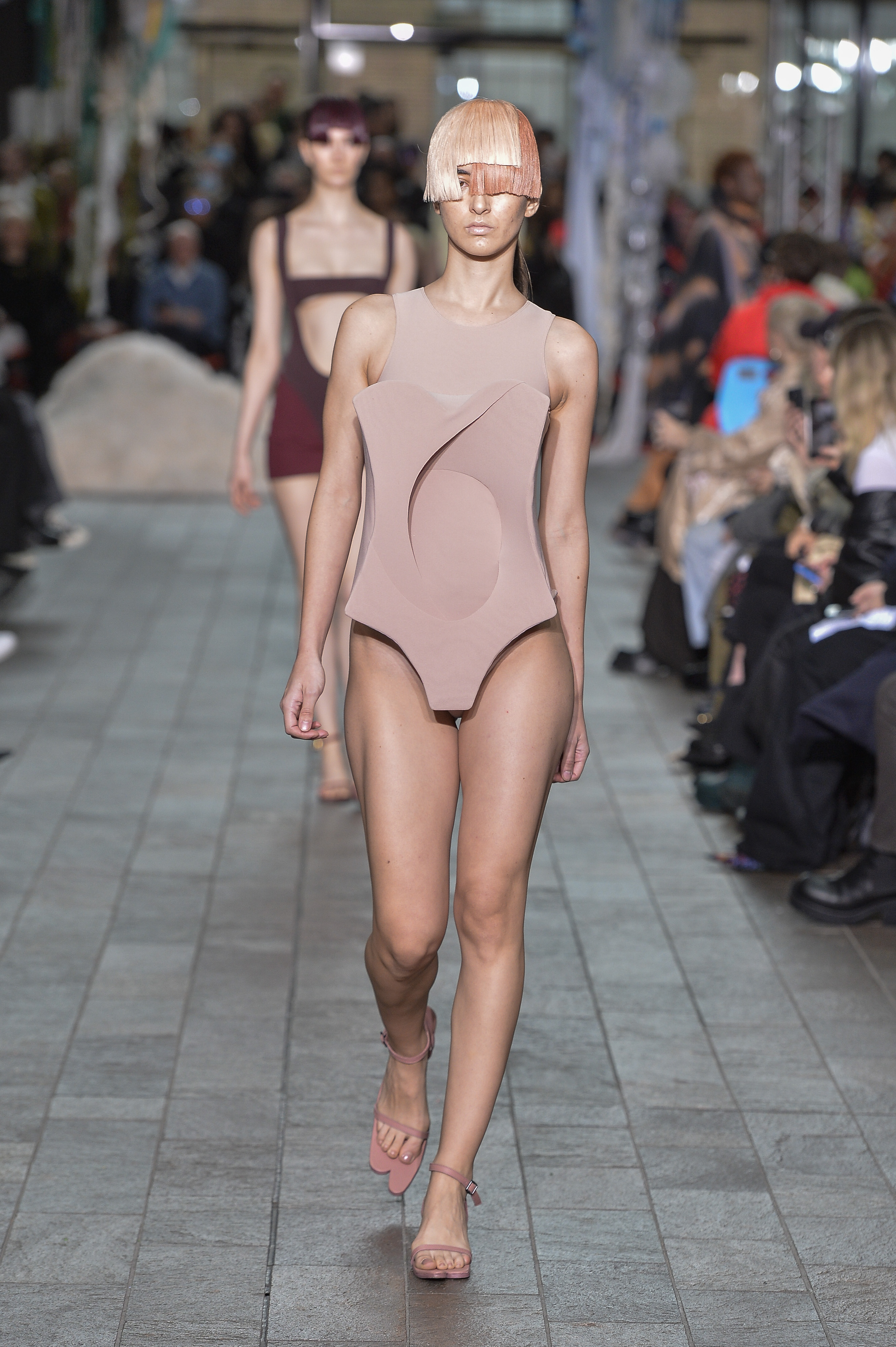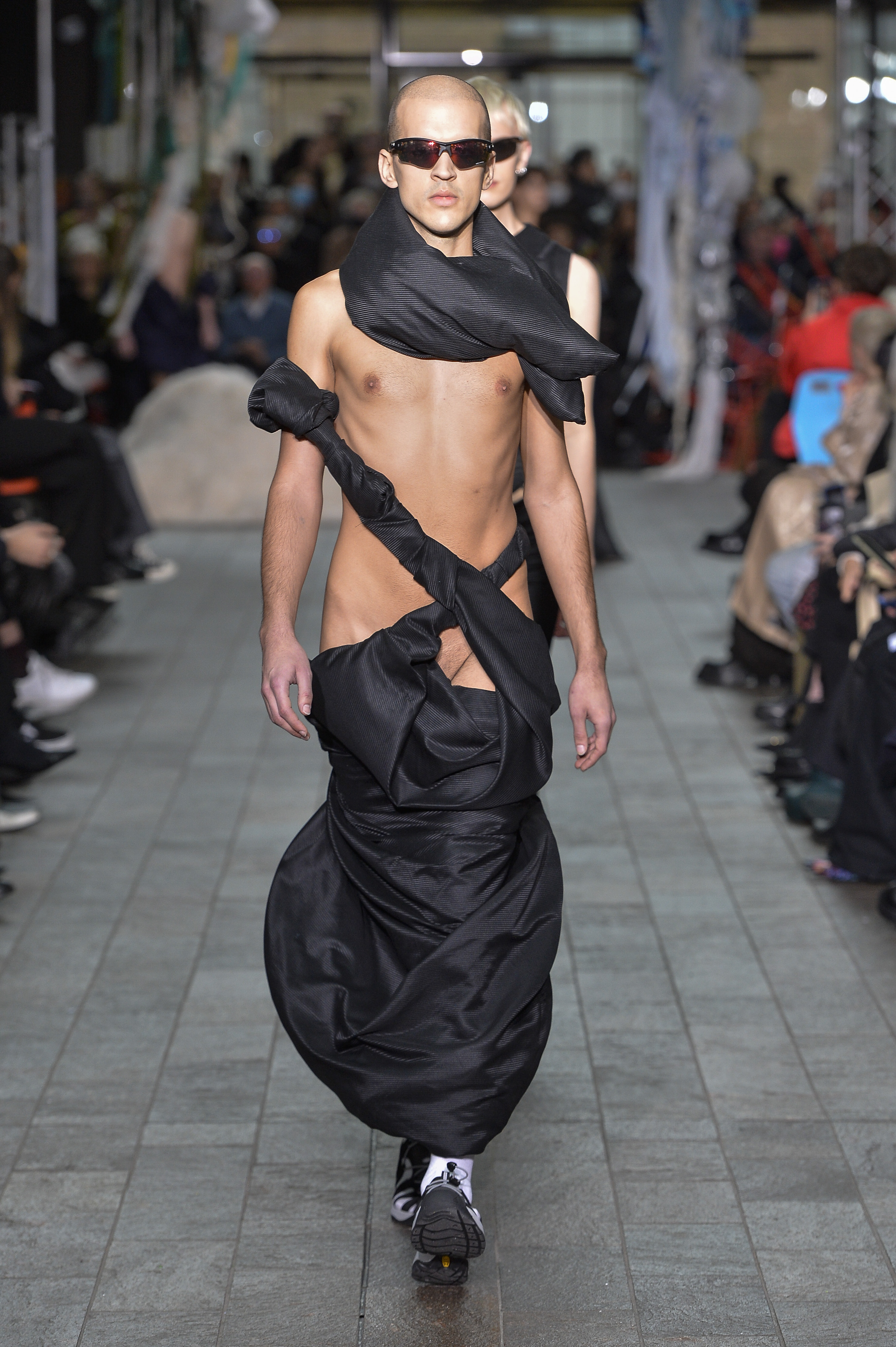 Fashion East
The incredibly high bar set by Fashion East over the last two decades was not dropped by the talent-incubator — that has nurtured some of the UK's biggest names in fashion — in their AW22 collections. Jawara Alleyne made his catwalk debut with safety-pin-held deadstock tops and up cycled windbreaker skirts defining his signature elegant menswear. Chet Lo partnered fluffy bubblegum hued faux furs with spike-edged tailored garments and LVMH prize finalist Maximilian finished his time at the fashion platform with a collection that explored contemporary Englishness and religious zeal. Click below to read our full review of London's most exciting show.
Richard Quinn
Heading back to physical shows has been an unspeakable joy for their attendees – as advanced as digital innovations may be, it just won't ever be quite the same as seeing the light shining from a candelabra glint upon polished latex, the intricate floral and feather embroideries in the flesh, or hearing hulking taffeta gowns crunch and rustleas they pass you by. In a stately salon in Pimlico with wall decked in powder pink velvet, that's just the sensorial buffet that attendees to Richard Quinn's show were served. Set to a score played live by a full symphony orchestra, he presented a no-holds-barred celebration of colour, handcraft and silhouette – a parade of rapturous textures and forms. The offer was, in and of itself, one that will be familiar to anyone who's previously followed the designer's work. Florals abounded, appearing as saturated prints, jacquard and painstaking embroideries that become mod-ish cropped-sleeve coats, pant-boot hybrids and enveloping cloche dresses. Silhouettes were dramatically enhanced, with exploded sleeve heads, bouncing crinolines, and wispy coque feathers creating joyful volumes. And latex – a salacious counterpoint to the petal-strewn romane – figured in second skin tops and, in two complementary looks, a domme-and-her-dog moment, with the latter role played by Violet Chachki. If there was one thing that we were missing during what felt like an unending era of virtual fashion weeks, it was a sense of spectacle – last night, Richard Quinn gave us just that. MS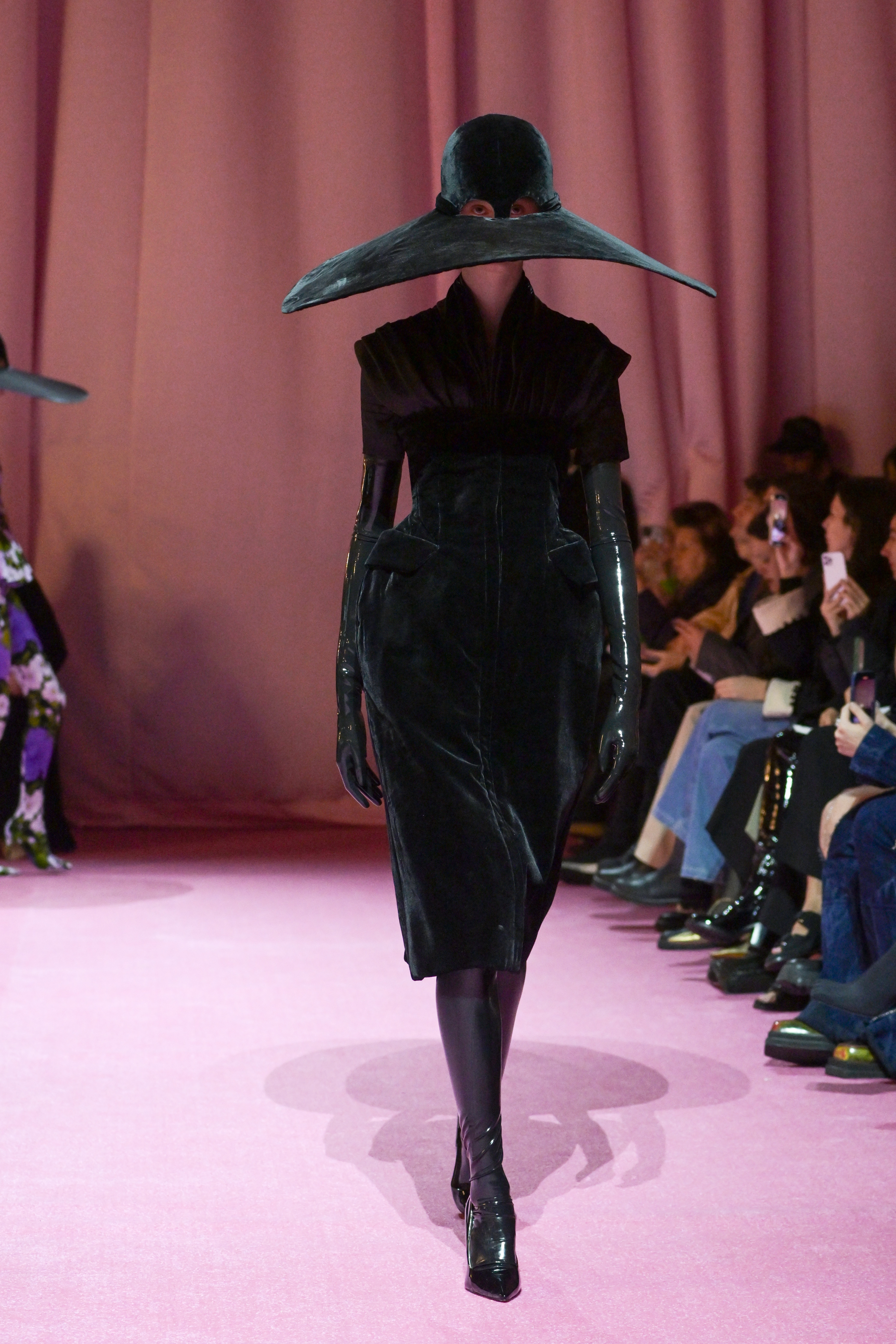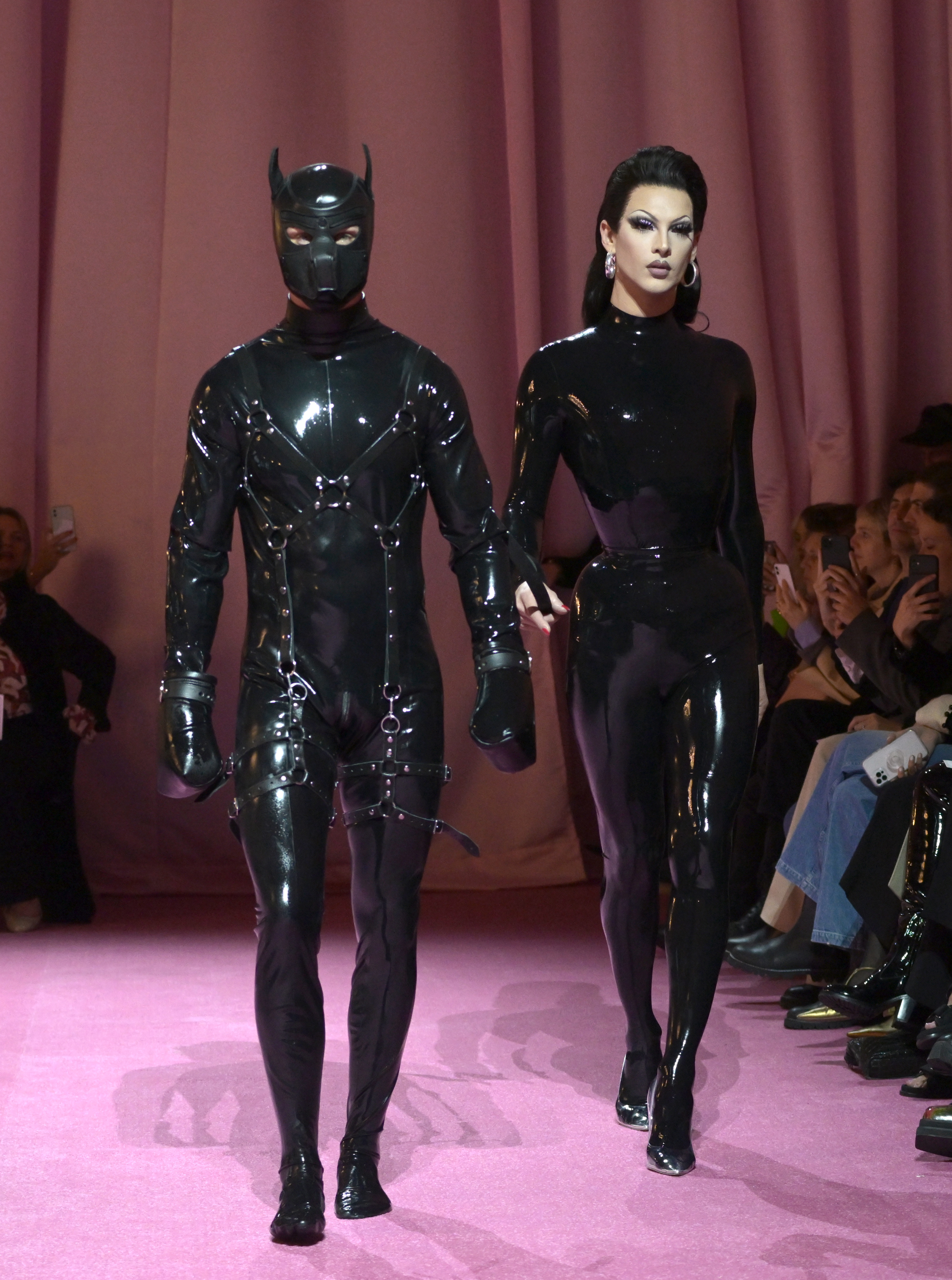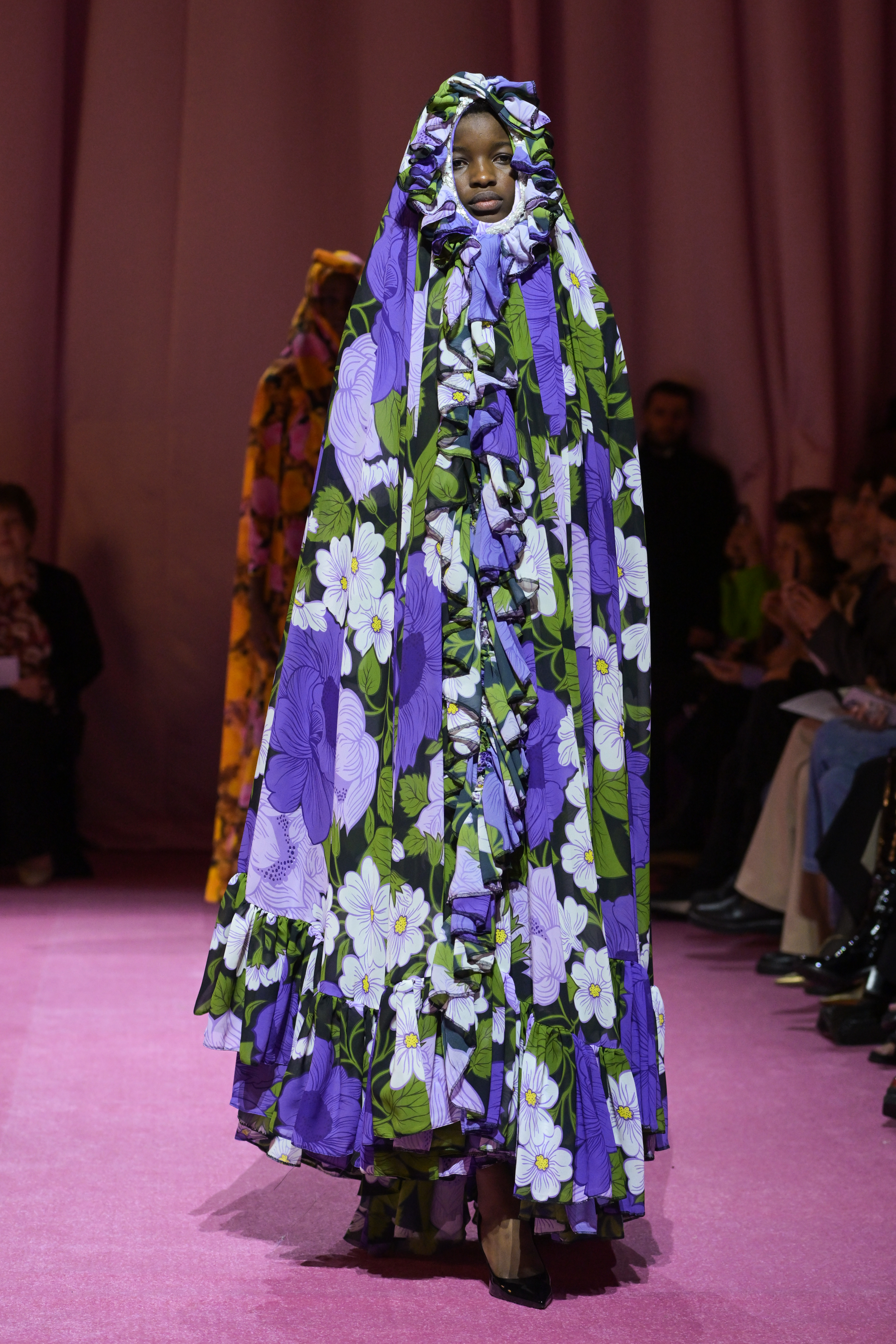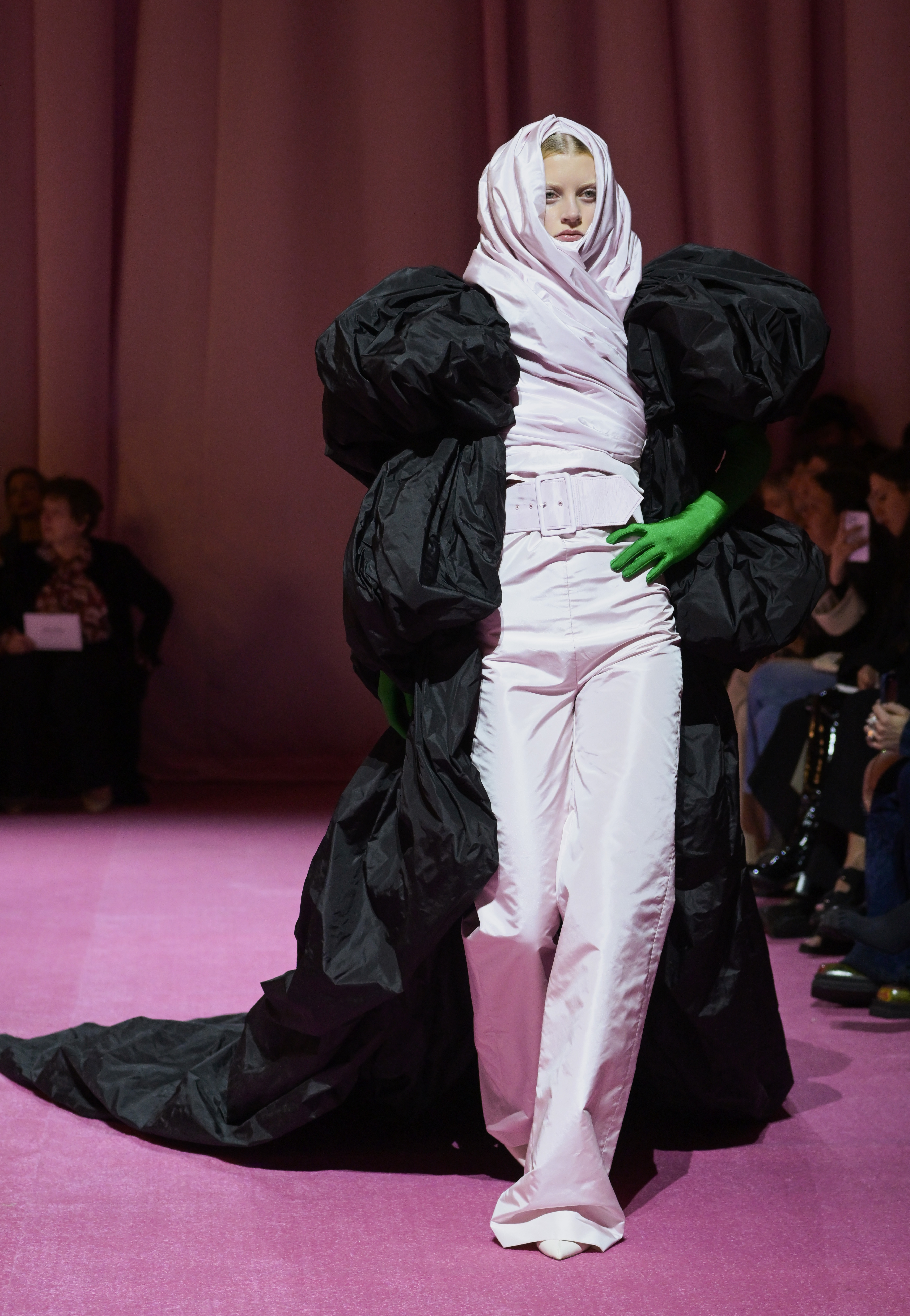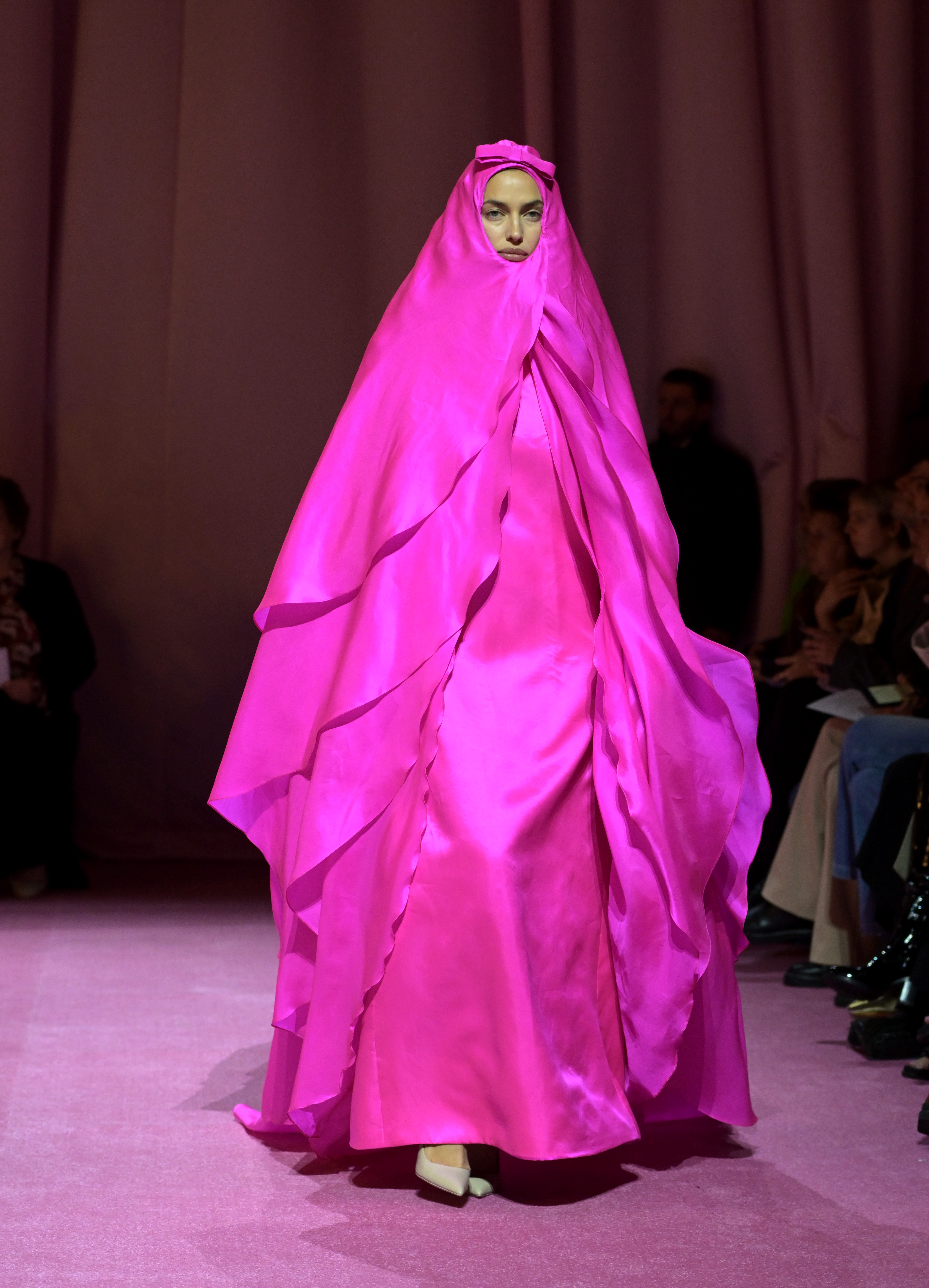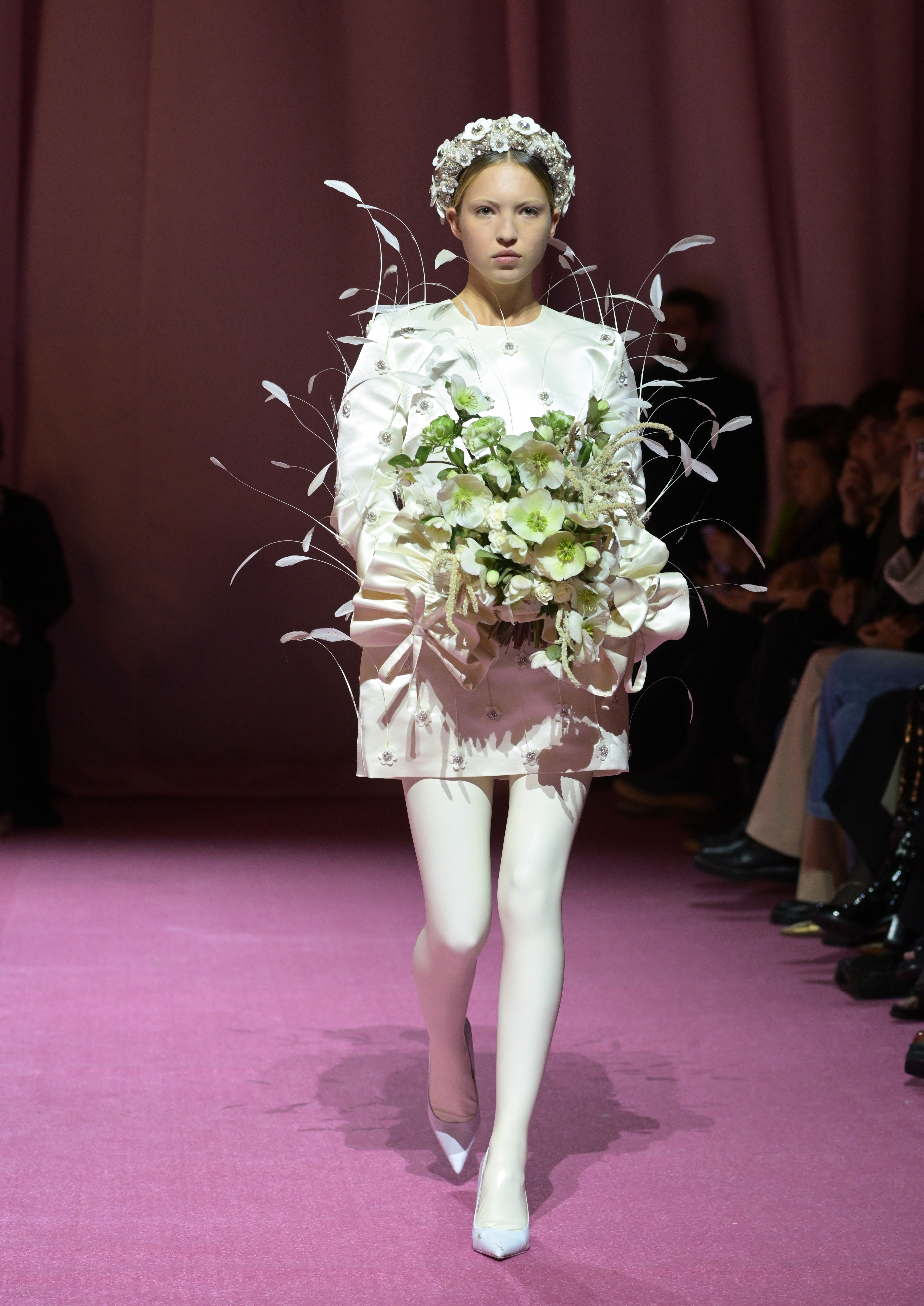 Robyn Lynch
Robyn Lynch's AW22 collection couldn't have been shown at a better time; partnering again with Columbia, these were the perfect protective outfits for the storms blowing and rains falling outside. But Robyn Lynch has always been about marrying that wholesome practicality with something a bit more flamboyant. She graduated from the menswear course at Westminster, and then went on to show twice with Fashion East. This was her first solo catwalk show and across the 19 looks she showcased she honed in on what makes her such an exciting young designer.
Half of those looks were devoted to the collaboration. Taking upcycled jackets created from deadstock fabrics, or crafted using nylons made from ocean waste, she then transformed them into cropped puffer jackets. But she also turned these technical fabrics towards more organic ends, working with beading and embroidery, and crafting some very cosy knitwear. The result is a collection that you can envision being worn on dancefloors or by youths hanging around and causing trouble at bus stops, as well as the urban gorpcore clique. FP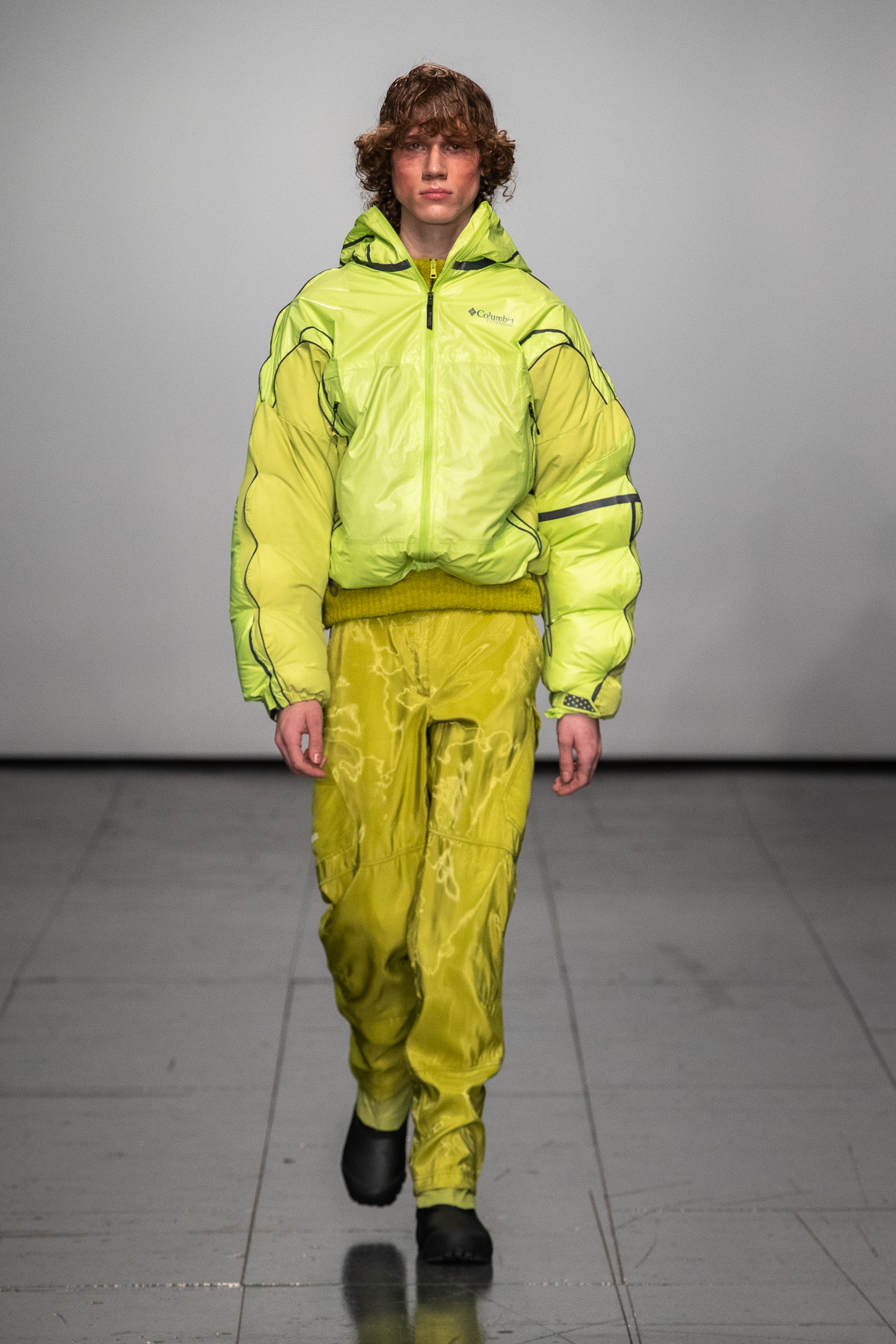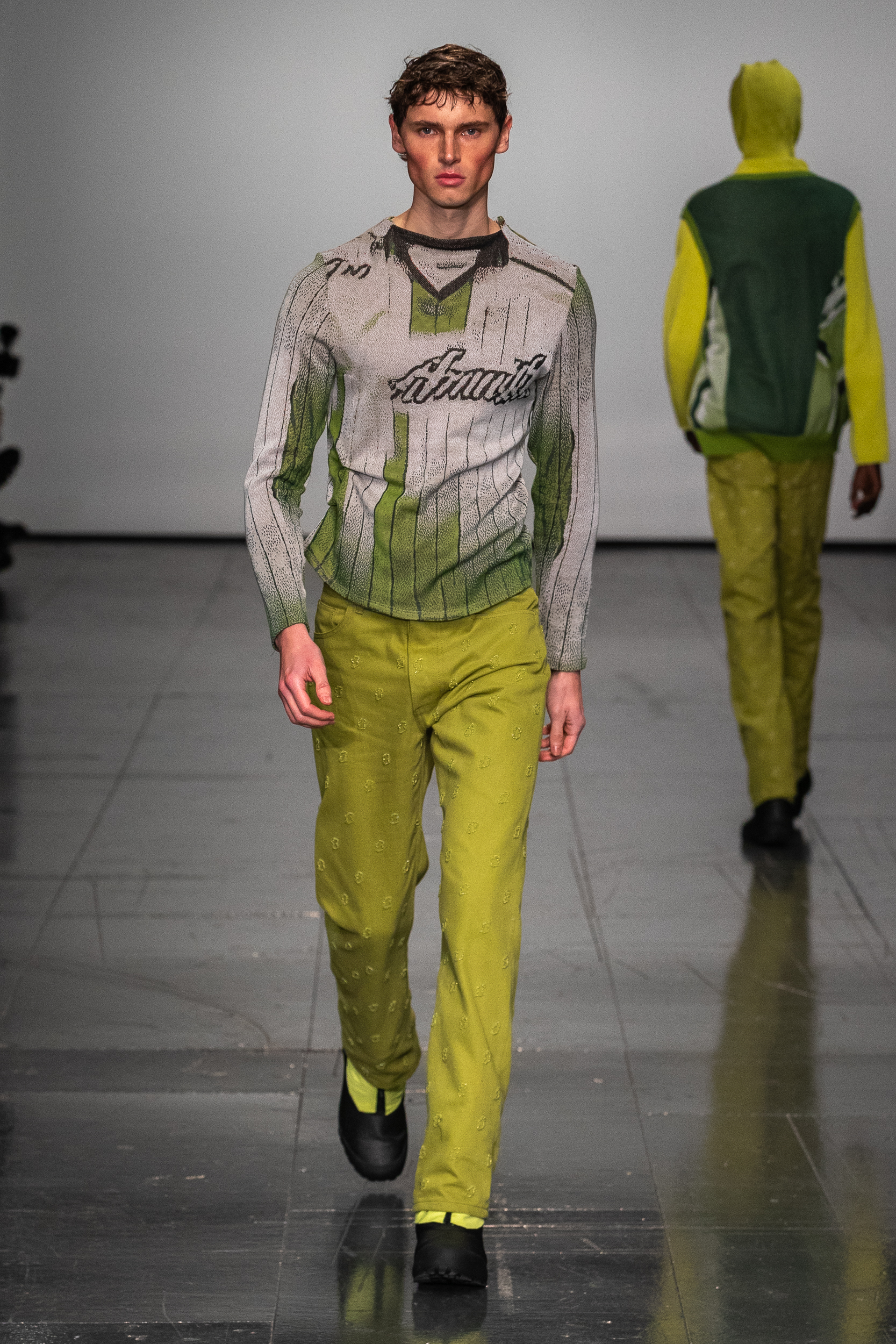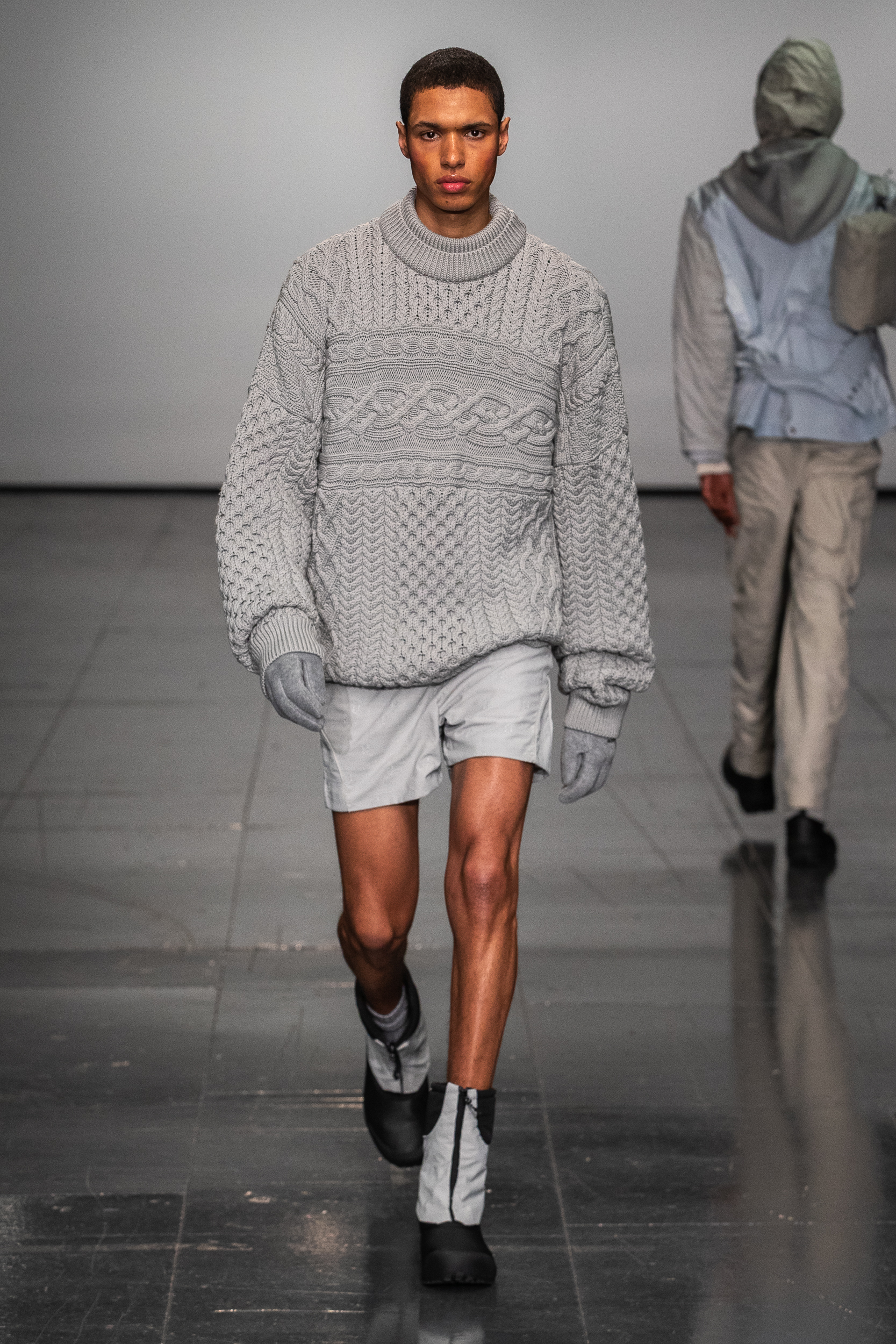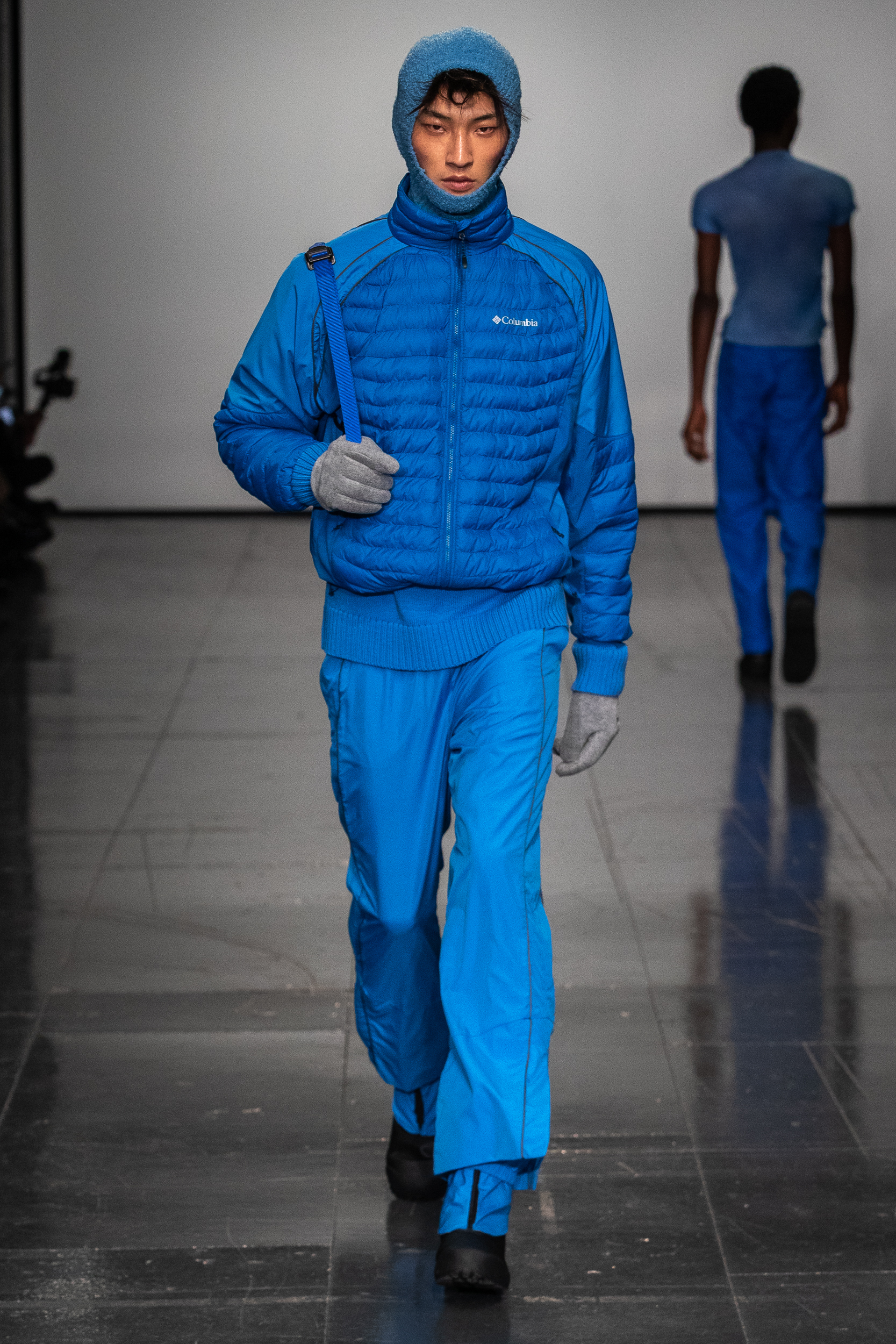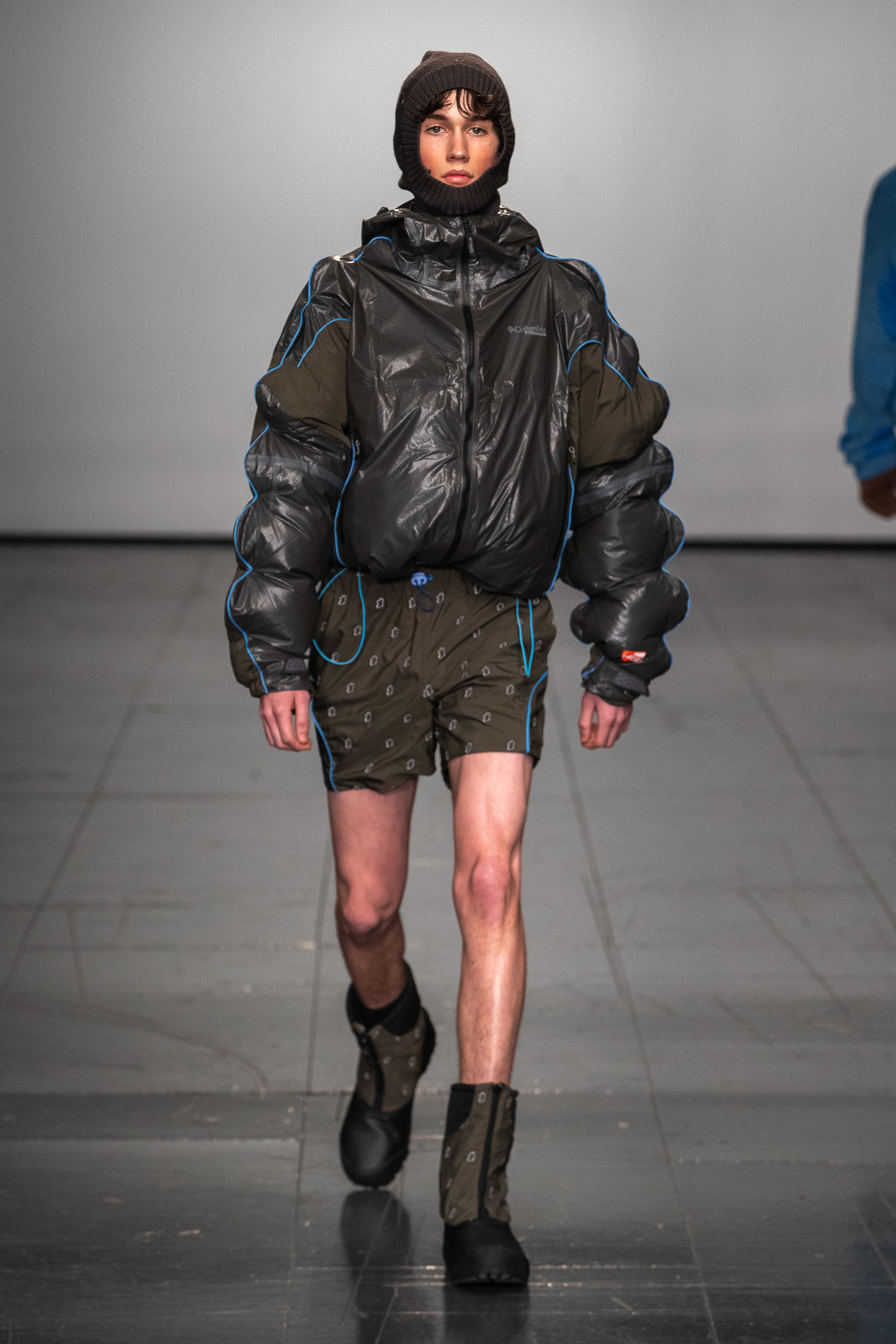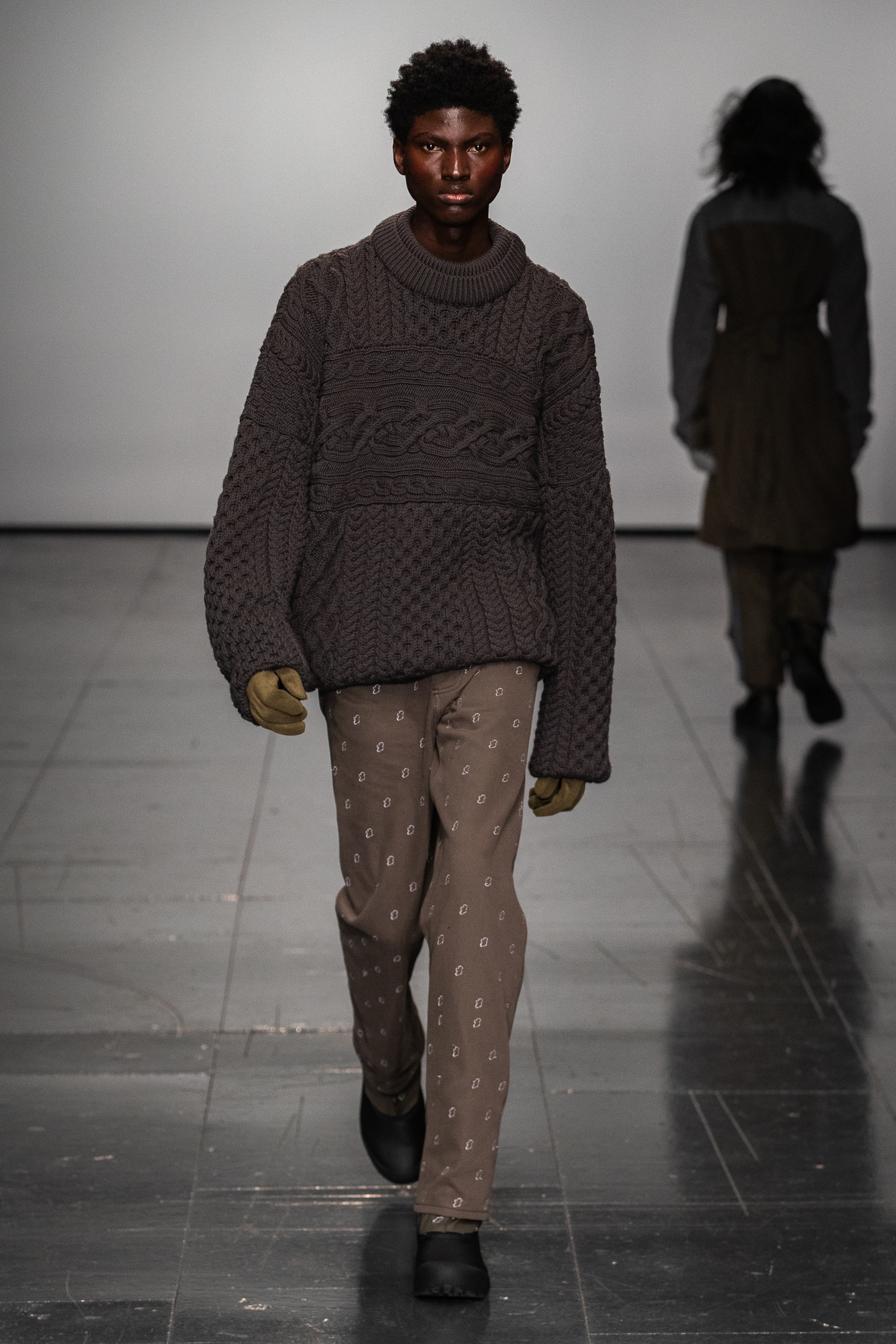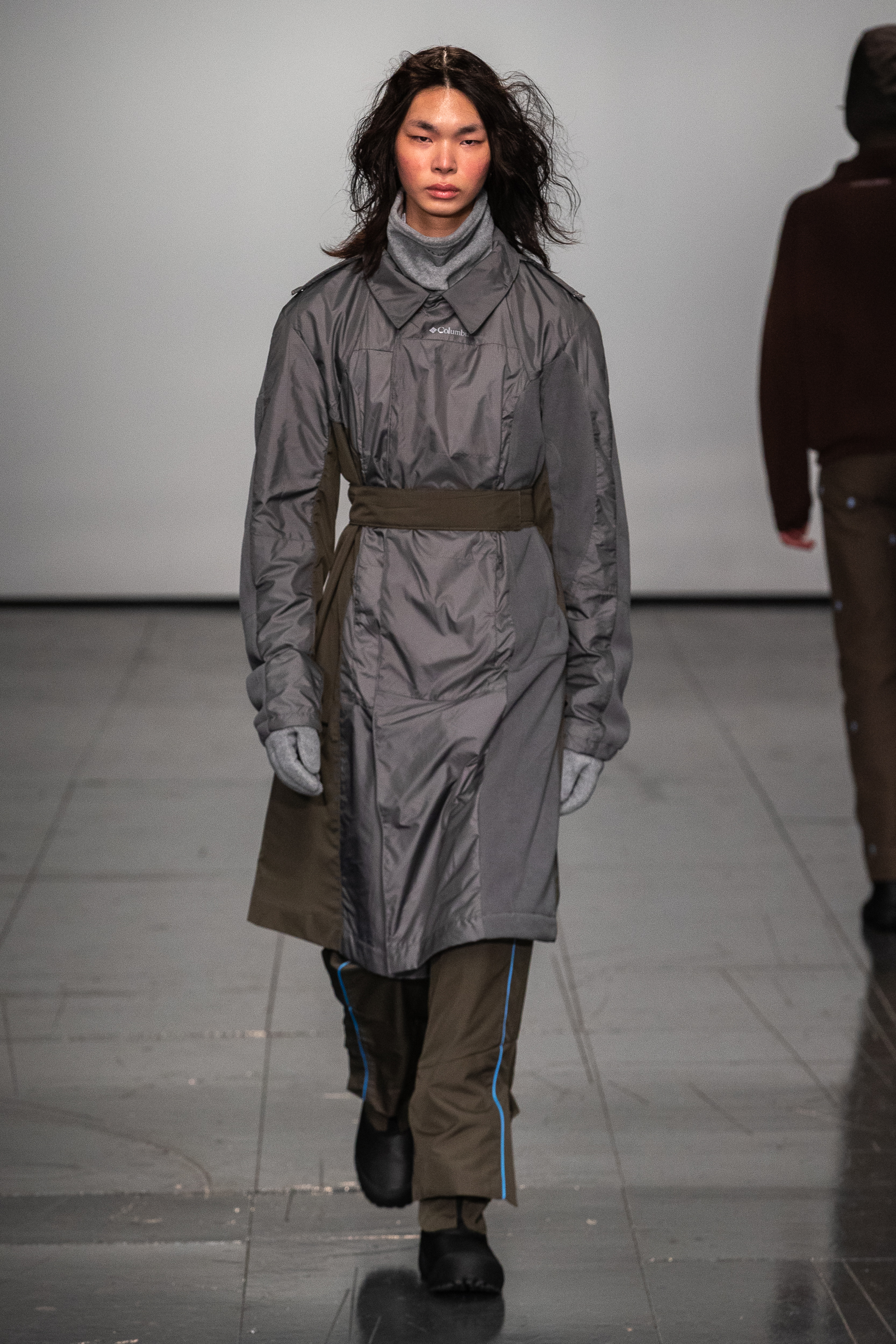 Molly Goddard
Making her catwalk return after a season of maternity leave — baby Goddard was in the audience today sat upon Molly's partner's shoulders — with a collection that was, more than anything, about joy; specifically the naive joy of dressing. "Fun was the operative word," Molly said backstage: "I'd forgotten how much work it takes to put on a show."
There's always a sense of childlike sincerity and excitement in Molly's clothes though, so it would be simplistic to say that was influenced by motherhood in any way. Instead it was inspired by Molly's own youth, Portobello market in the 80s and 90s and the London scene of that era — something between Marilyn Monroe and Mick Jones of the Clash, a bit 50s and a bit punk and a bit 80s glam too: "army jacket and trainers".
This translated into a collection of joyful separates and day wear and a virtuosic display of what makes Molly such a vital part of the London fashion scene, which is a mix of exuberance and wearability. The opening look defined the collection in a sense; it wasn't showy, a milky yellow two piece knit cardigan, cut long in the body, a frill of voluminous tulle skirting flowing from beneath. Practical but also fab.
Elsewhere there was lots of fair isle knitwear, big boots, cosy cardigans. Molly has made two colours her own throughout her career; that aforementioned soft yellow and a bright neon pink, and they ran through the collection. One highlight was a new silhouette, cut broader in the shoulders and flatter and nipped in at the waist, with a short tulle flourish of a skirt. And in a London season that felt a bit shorn of star power, it was a collection that reaffirmed what London and Molly does so well, which is more than just fashion, but personality and a sense of style.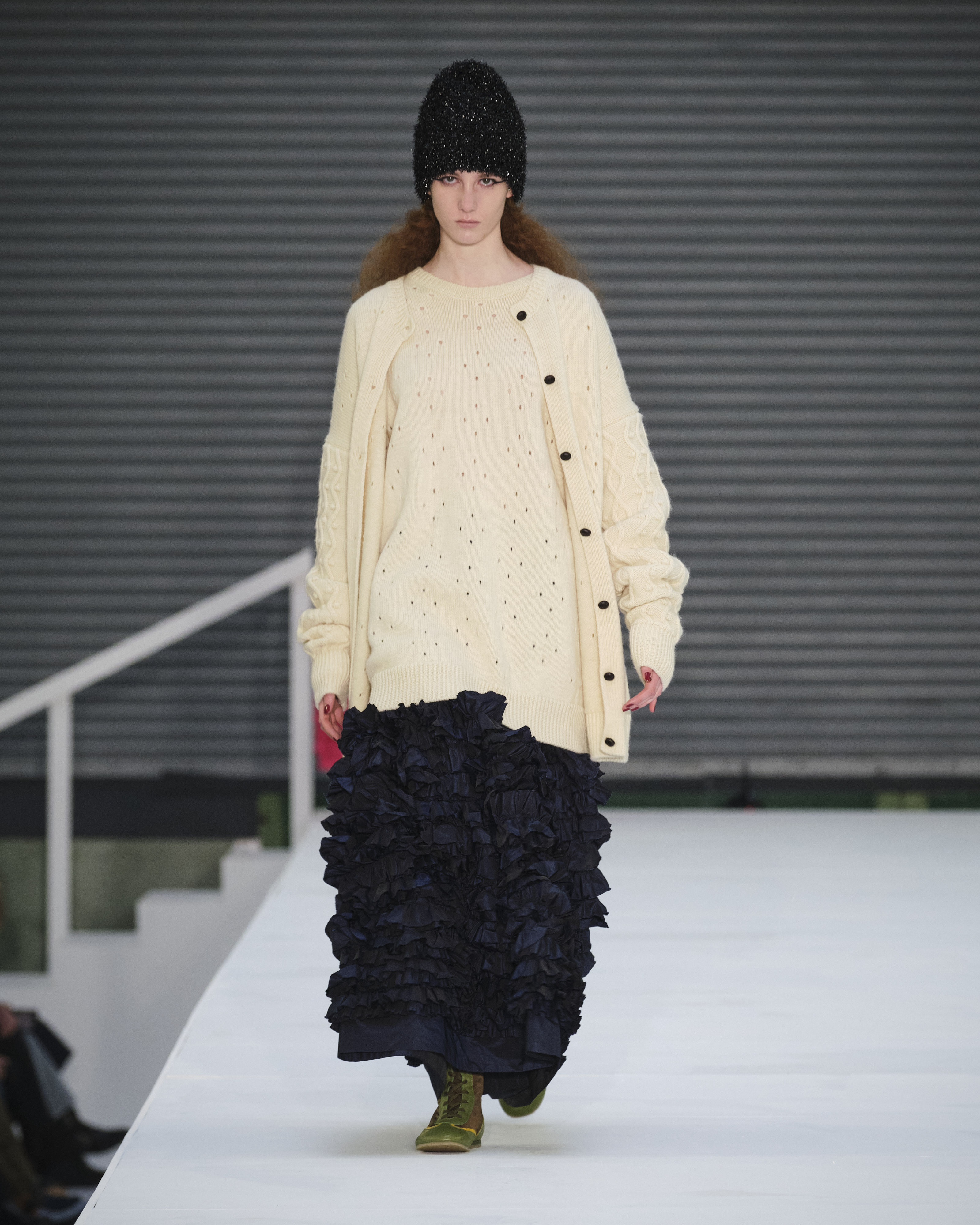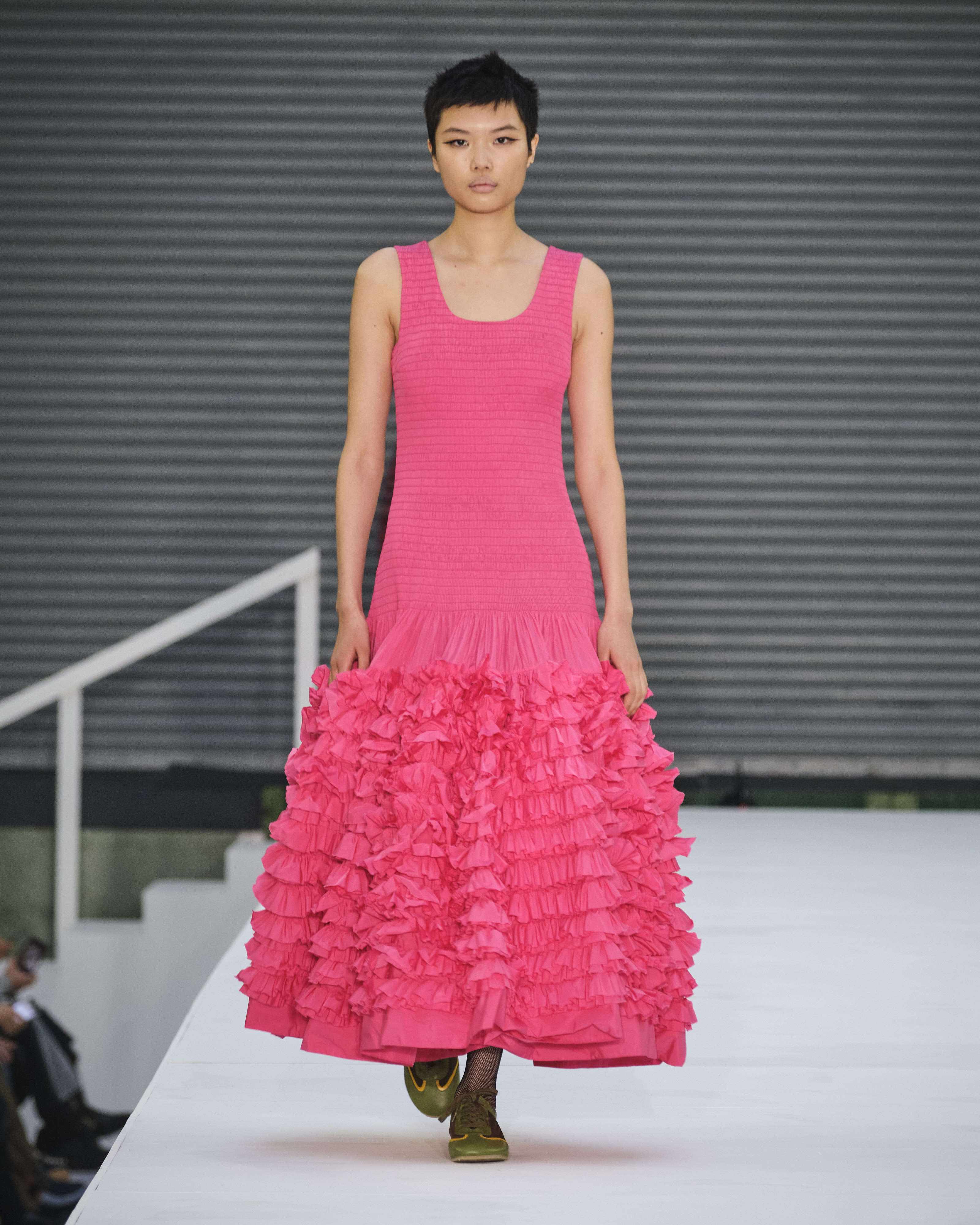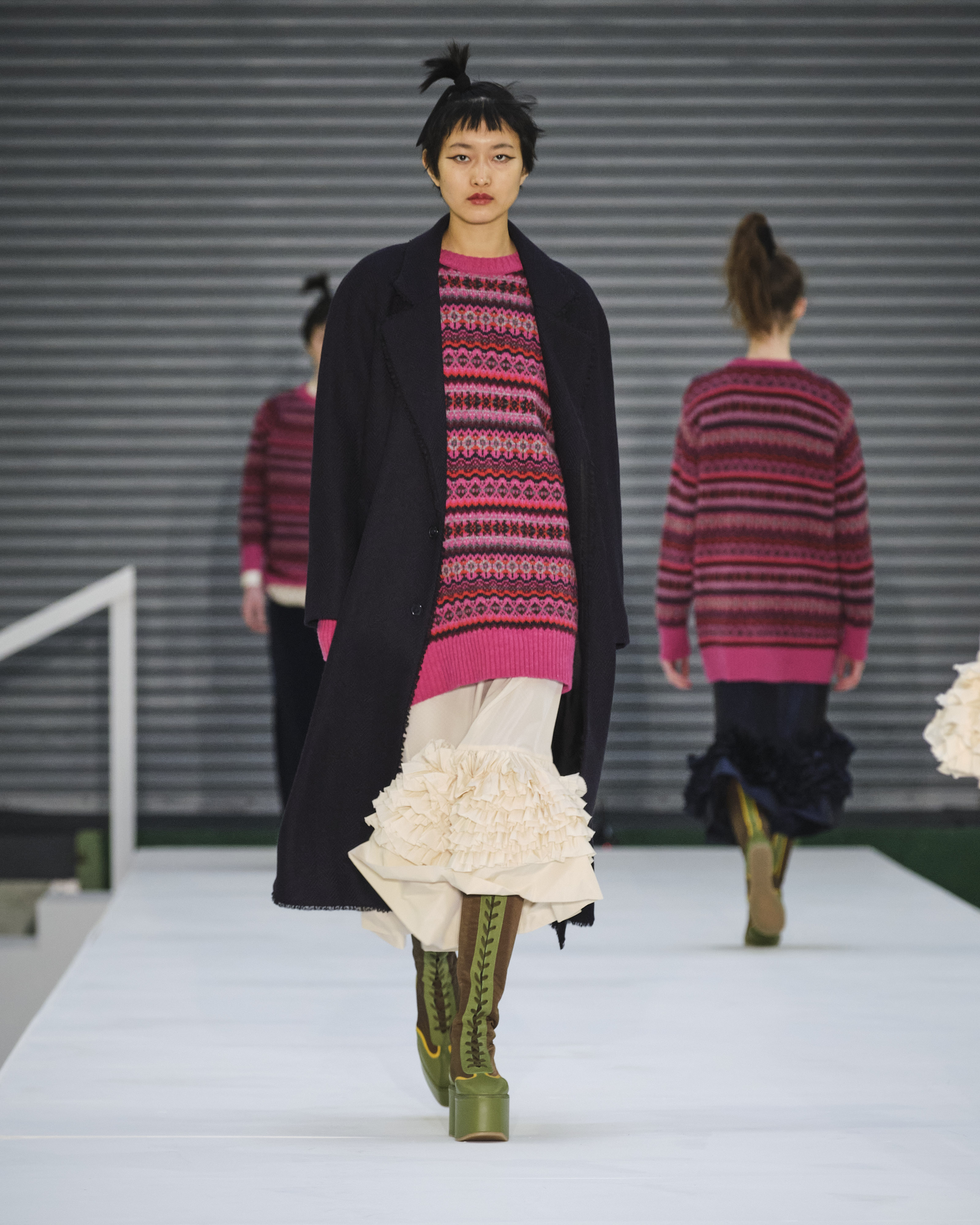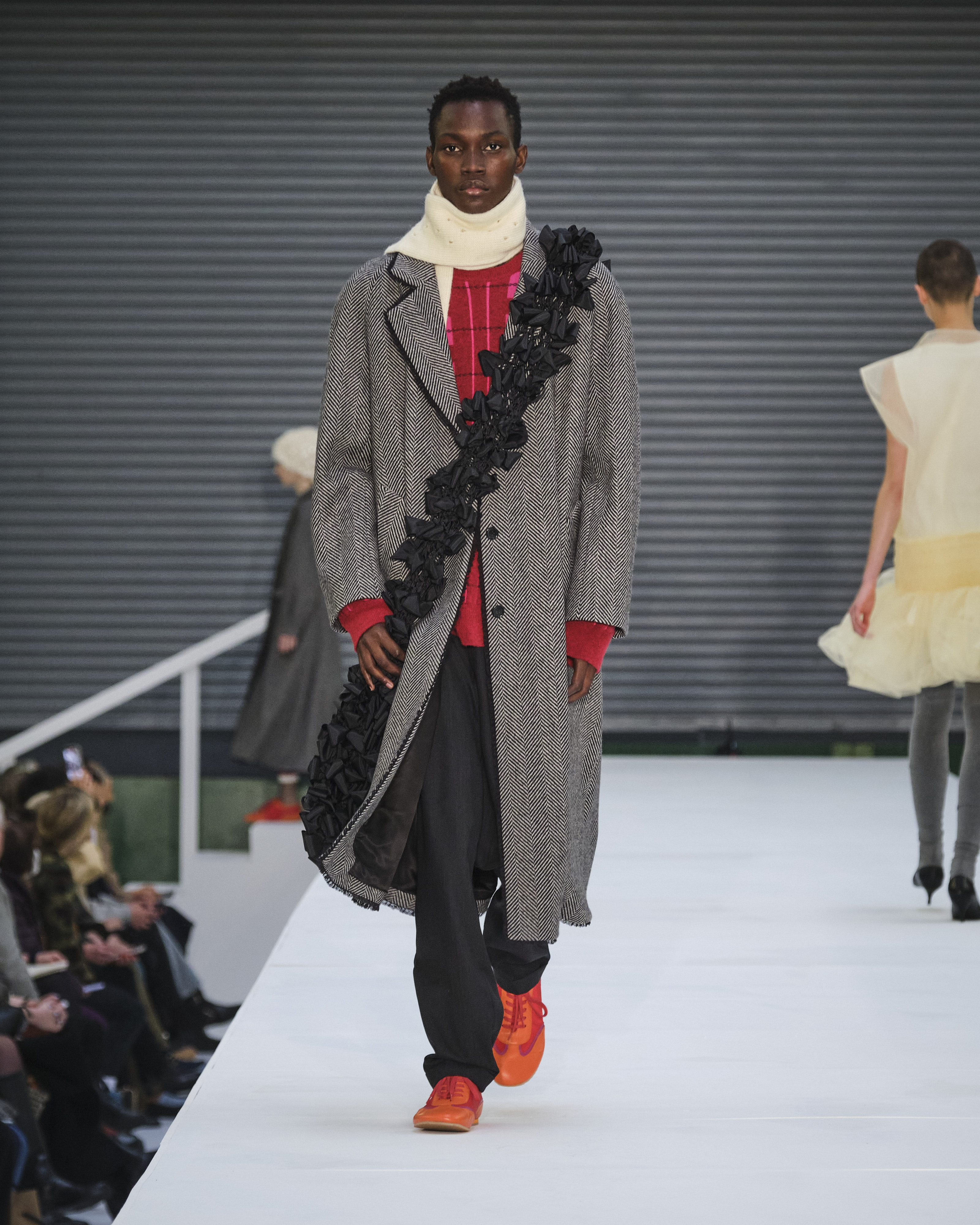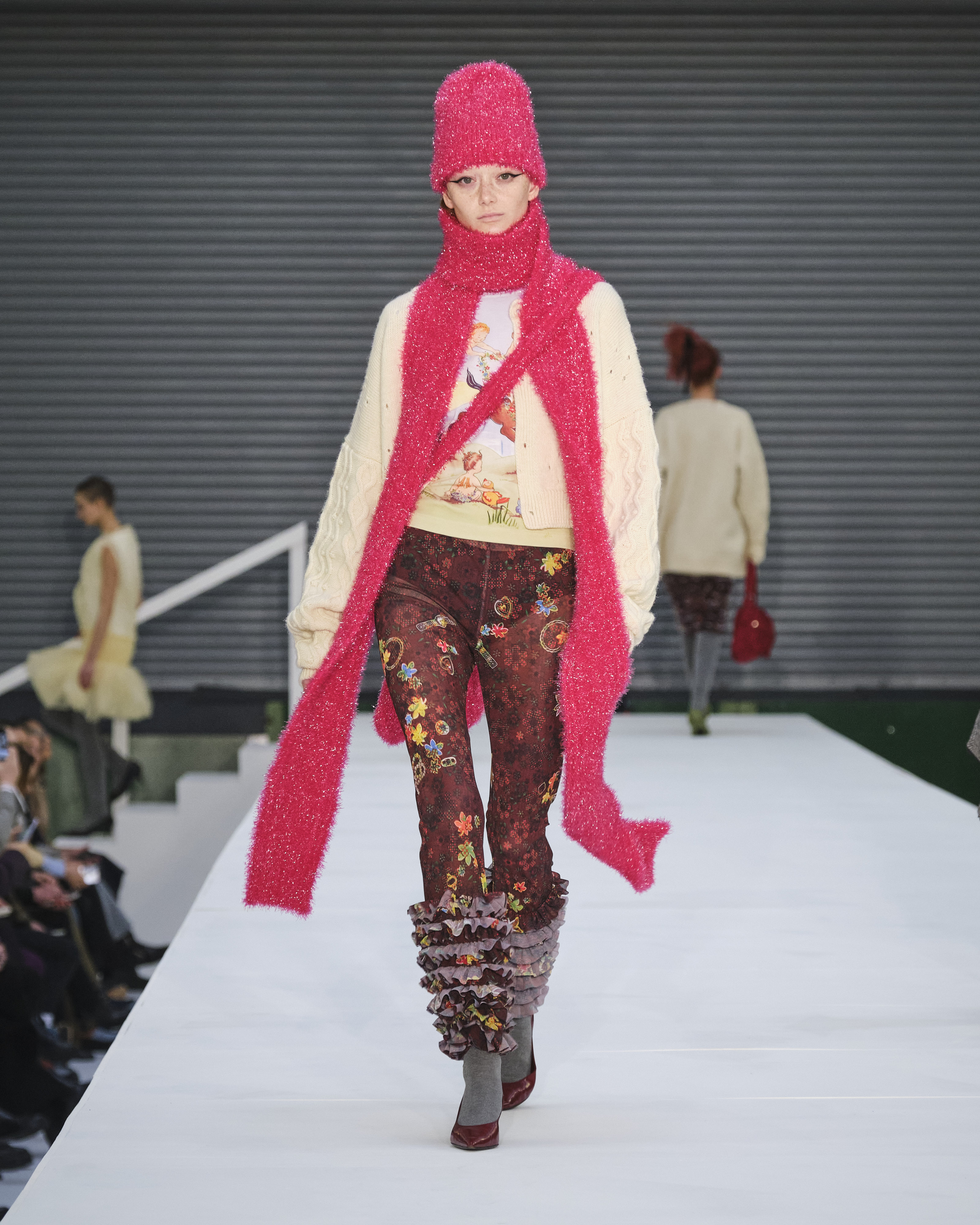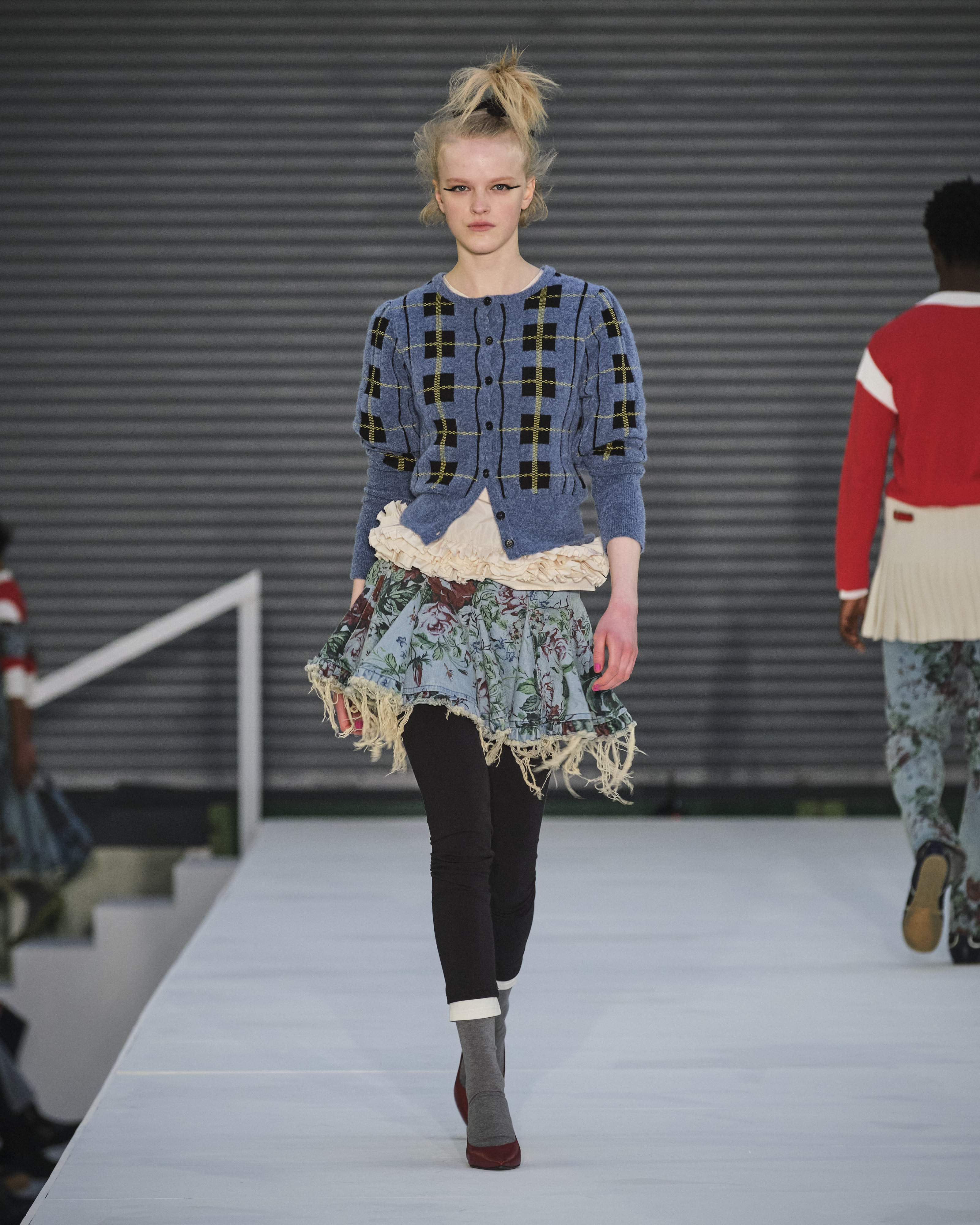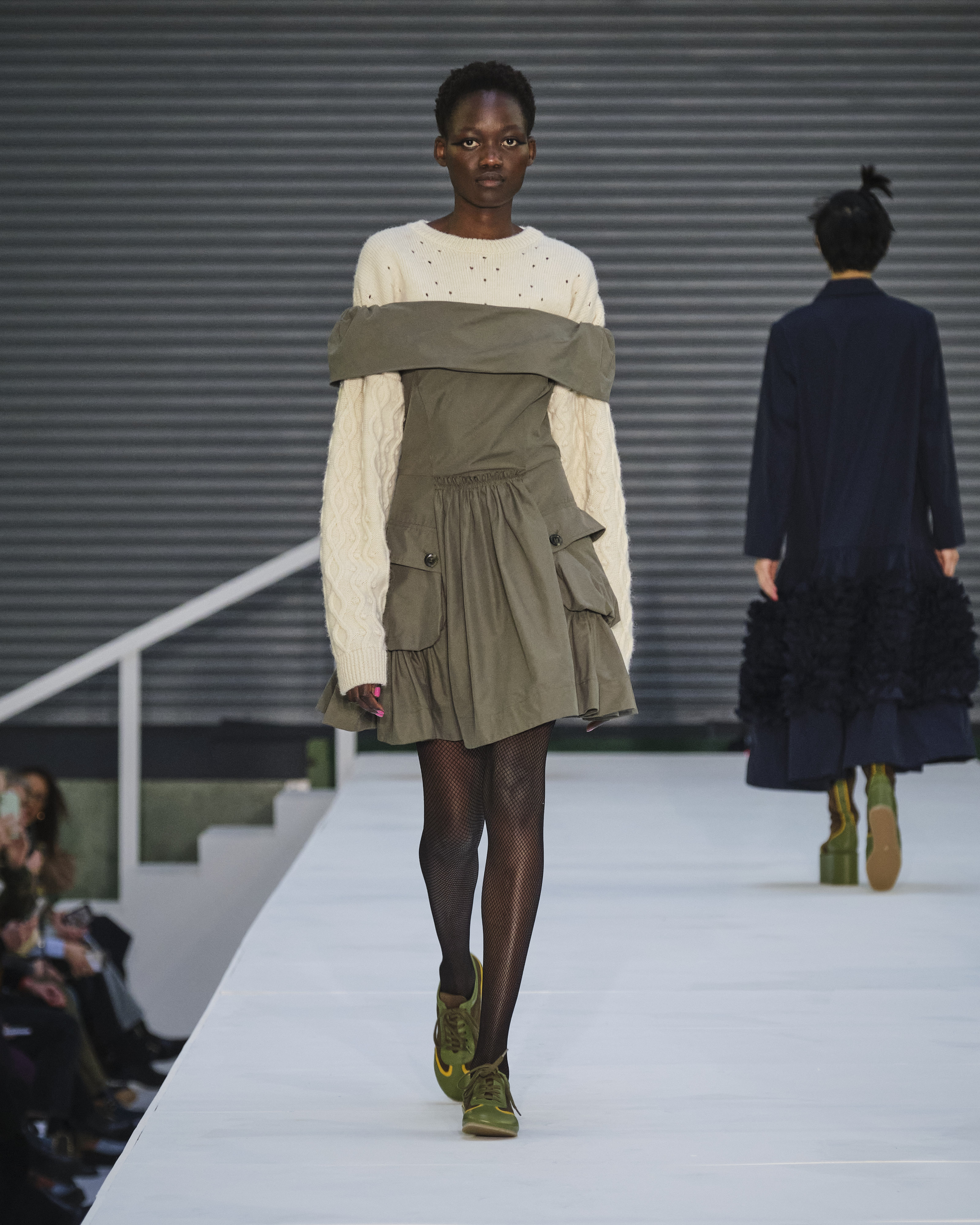 AV Vattev
Over the past four seasons, London-based designer Antonio Vattev has steadily built a repertoire of distinct signatures – think: boxy bomber jackets with twisted chevron fronts, innovative leather outerwear with overlapping diamond closures and aquatic graphic motifs inspired by the paintings of David Hockney. In his AW22 collection, however, rather than choose to expand the sartorial vocabulary of his semi-eponymous label, AV Vattev, chose to push the key motifs that he has yet further – pump up the volume, if you will. Titled Soul Control Vol. 2, the collection – which was presented as part of London Fashion Week's digital programme – is perhaps thought of best as the fashion equivalent of a greatest hits remix album. Pieces like the graphically cut Jukebox coat are reimagined as blazers, and what were once laser-cut motifs in previous collections now make a return in sensual, webby ribbed knits. A fusion of the glam-suffused spirit of 70s rock and the insouciance of 90s street style, it's a collection that speaks to the wider cultural appetite for nostalgia, but without feeling regressive in doing so. MS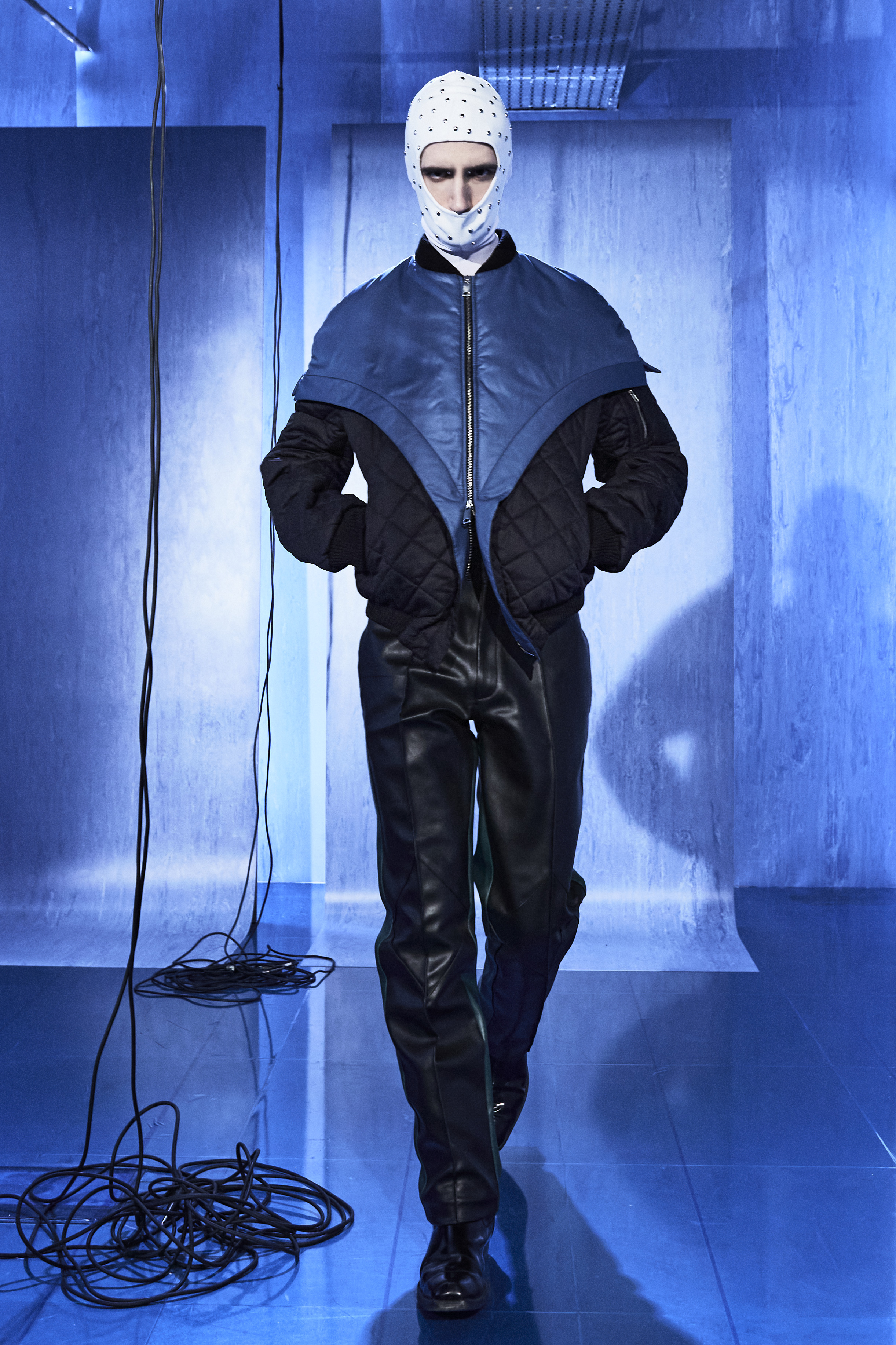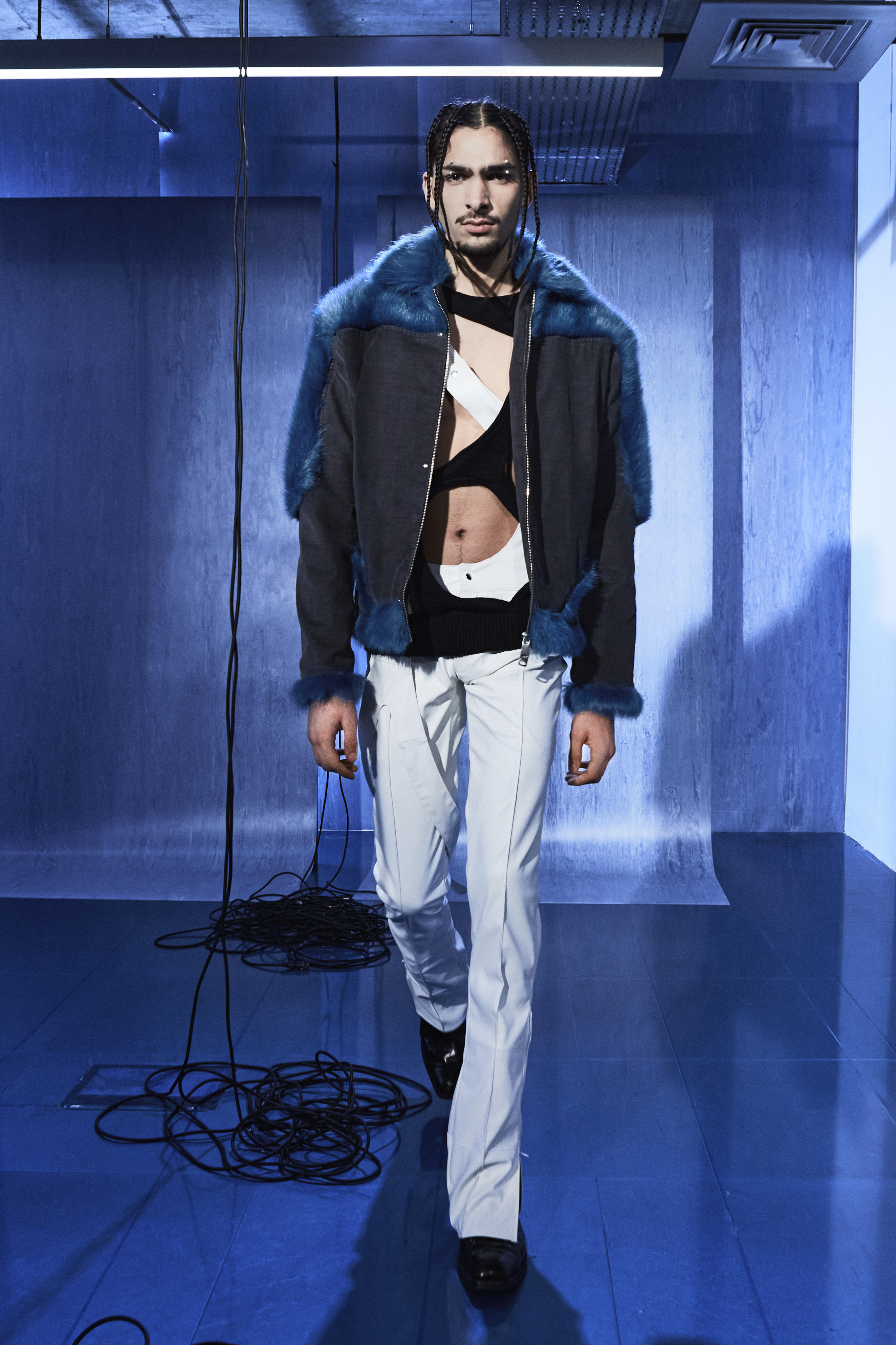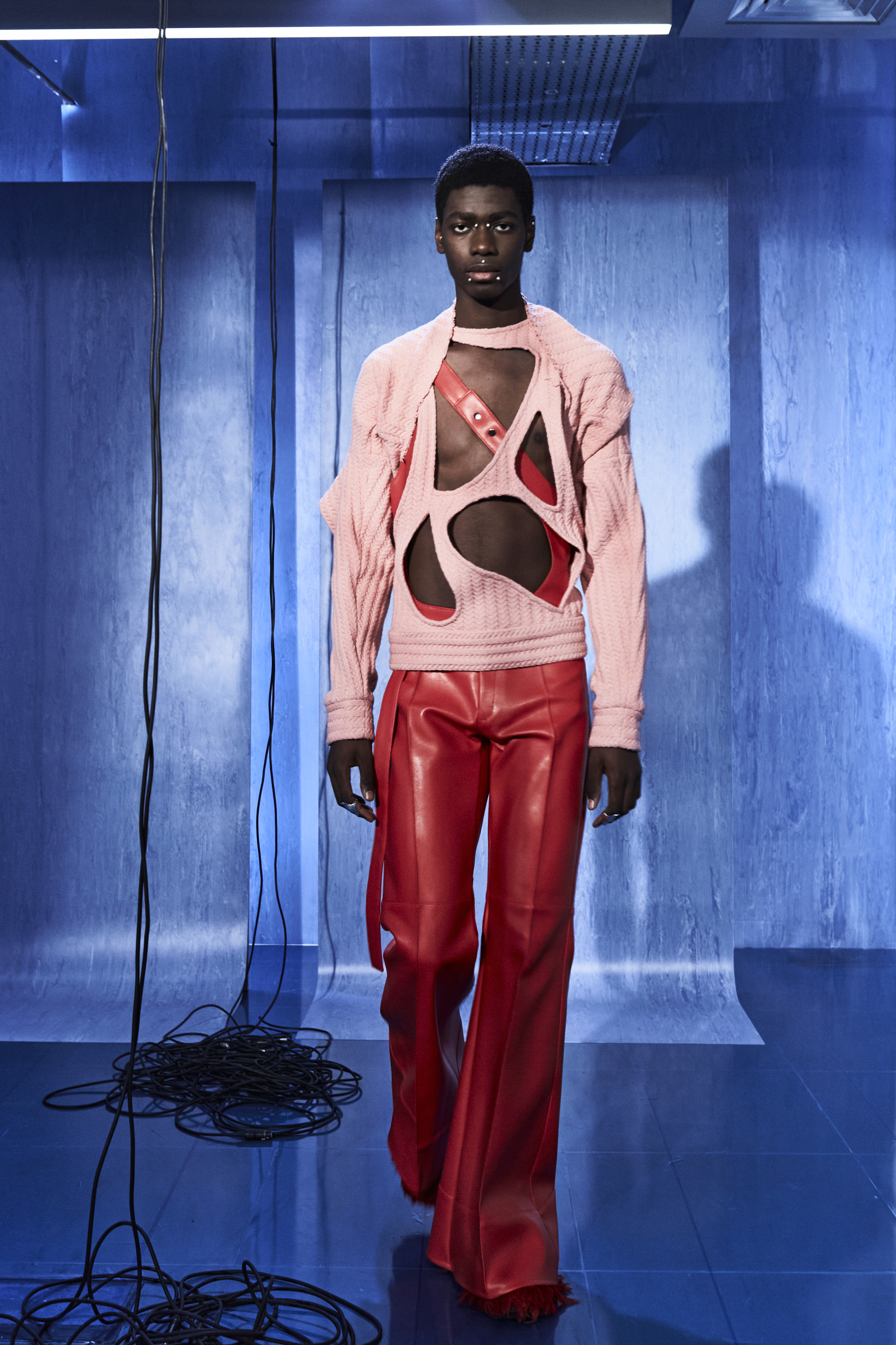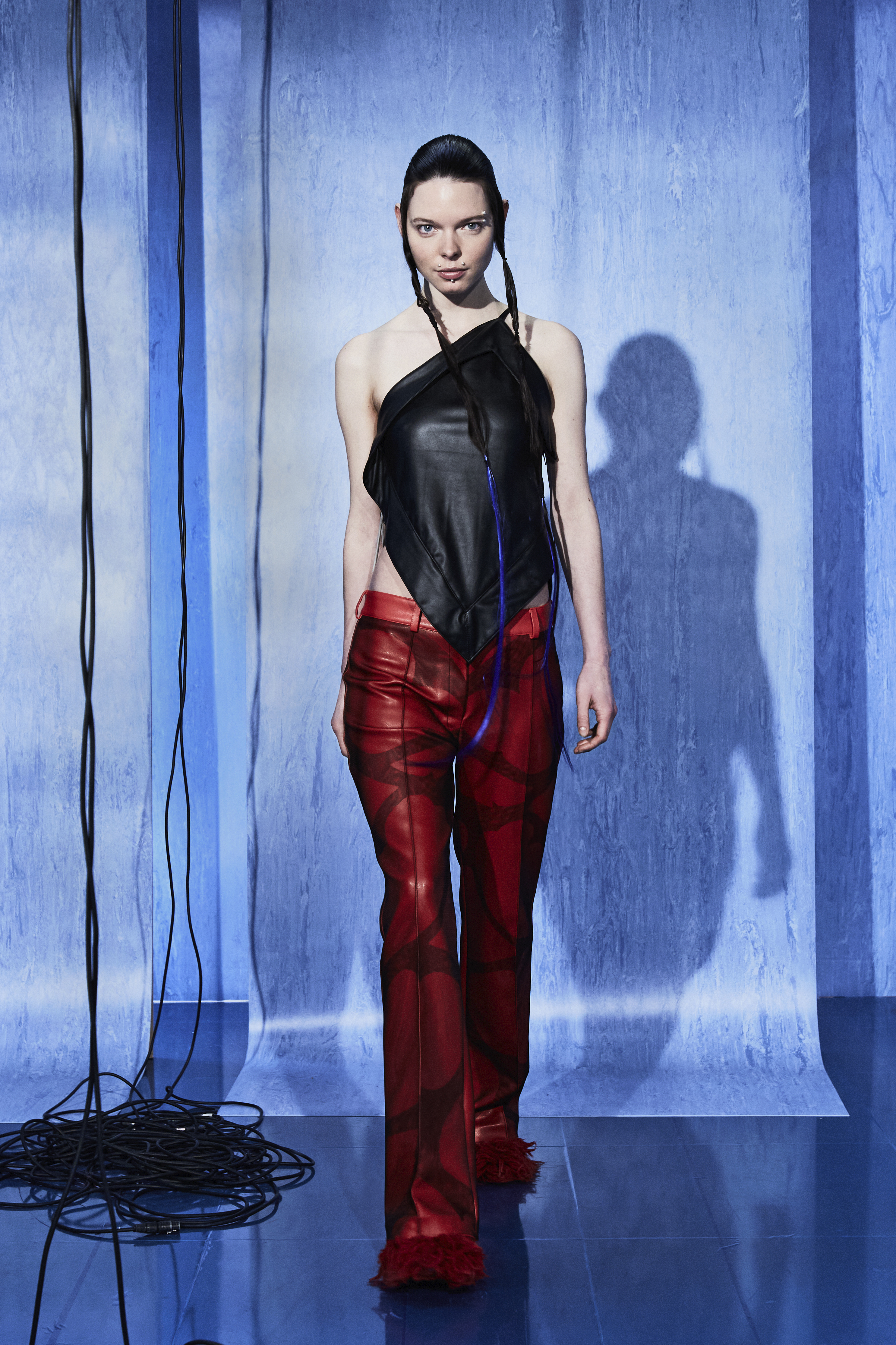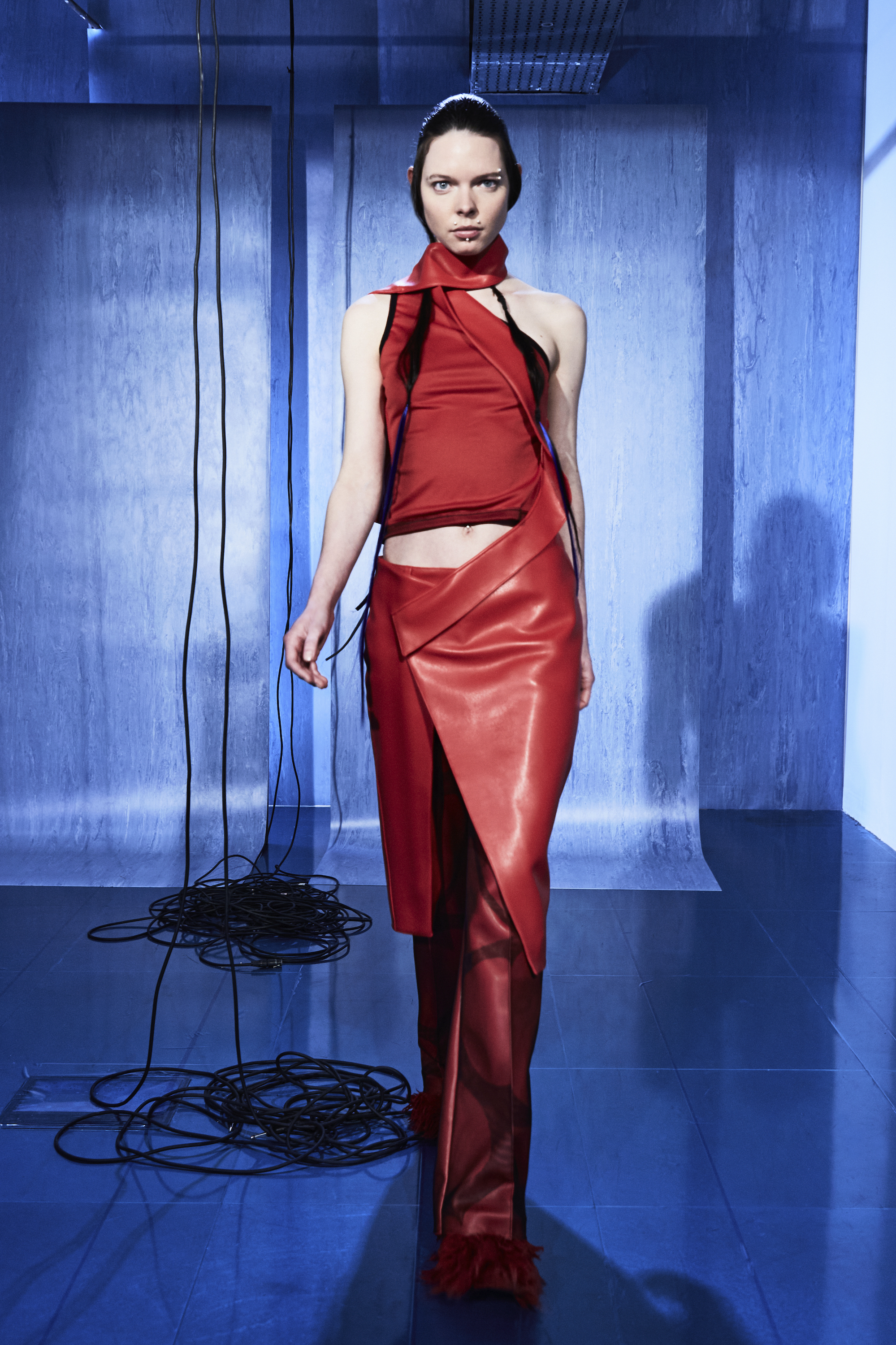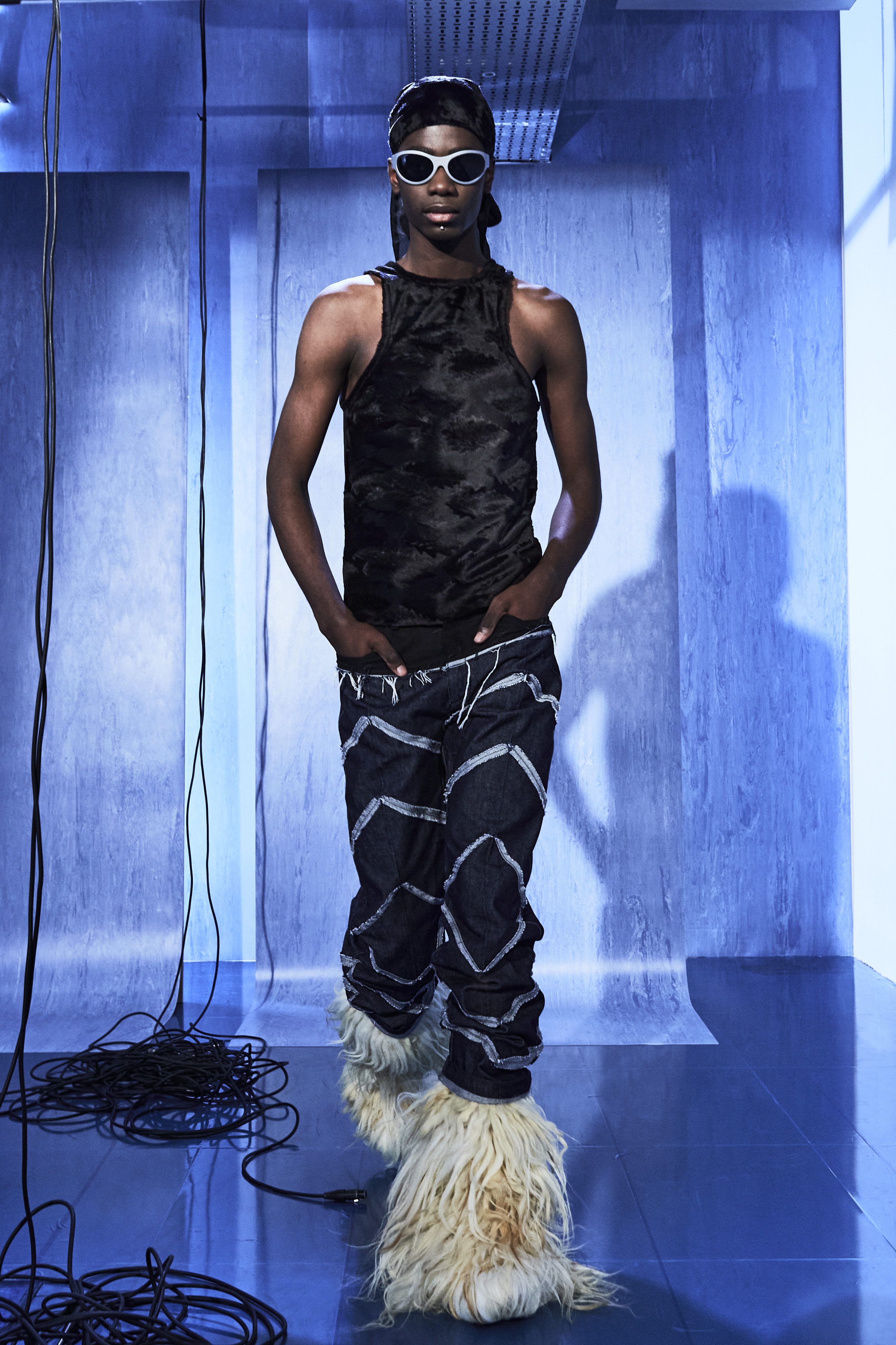 Ahluwalia
Fashion week goers love a debut, and this season in London, one of them we all were most excited for was Ahluwalia's. A fixture of the new guard of British designers that have brought a broad-minded, intercultural texture to the country's fashion scene, Priya Ahluwalia's IRL catwalk moment almost felt somewhat overdue. After all, she's a designer who's picked up a bevy of pretty coveted awards over the course of the past two years – including the BFC Fashion Fund and the 2020 LVMH Prize – and is also in the running for the Woolmark Prize later this year.
The collection she presented in the basement of 180 The Strand was a winner in and of itself. Titled 'From Nollywood to Bollywood', it was a sartorial celebration of the two behemoth film industries and their respective cultural impacts in films like Kuch Kuch Hota Hai and Games Women Play, spotlighting their similarities and differences, and the huge impact they had on the designer growing up.
Rather than get mired in the wealth of references available to draw upon, Priya demonstrated an unparalleled knack for reframing these narratives in a way that felt accessible, inviting and, above all, wearable for all. The mottled, hand-painted hues of Nollywood sets and posters were transferred onto glimmering silk shirts. Suiting with curvilinear lines that follow the contours of the body were darned with glittery pinstripes. Sari drapes were fused with the cropped, rara silhouettes much beloved by bold Nolly Babe protagonists, creating looks that subtly nodded to particular memories, characters and origin stories, but could be worn on a night out without looking costume-y.
Looking at the range of this season's offering, the breadth of her audience was evidently on Priya's mind too. From the aforementioned skimpy party-ready looks, through to a sumptuous coat panelled in varying textures of saffron, deepest navy and earthy brown velvet, this season's womenswear offering – a category Ahluwalia debuted last season – was notably expanded this time around, with similar range echoed in the menswear. Hungry for more Ahluwalia AW22? Well, here's a whole video about it (hosted by your fave fashion aunties, no less!), you greedy girls! MS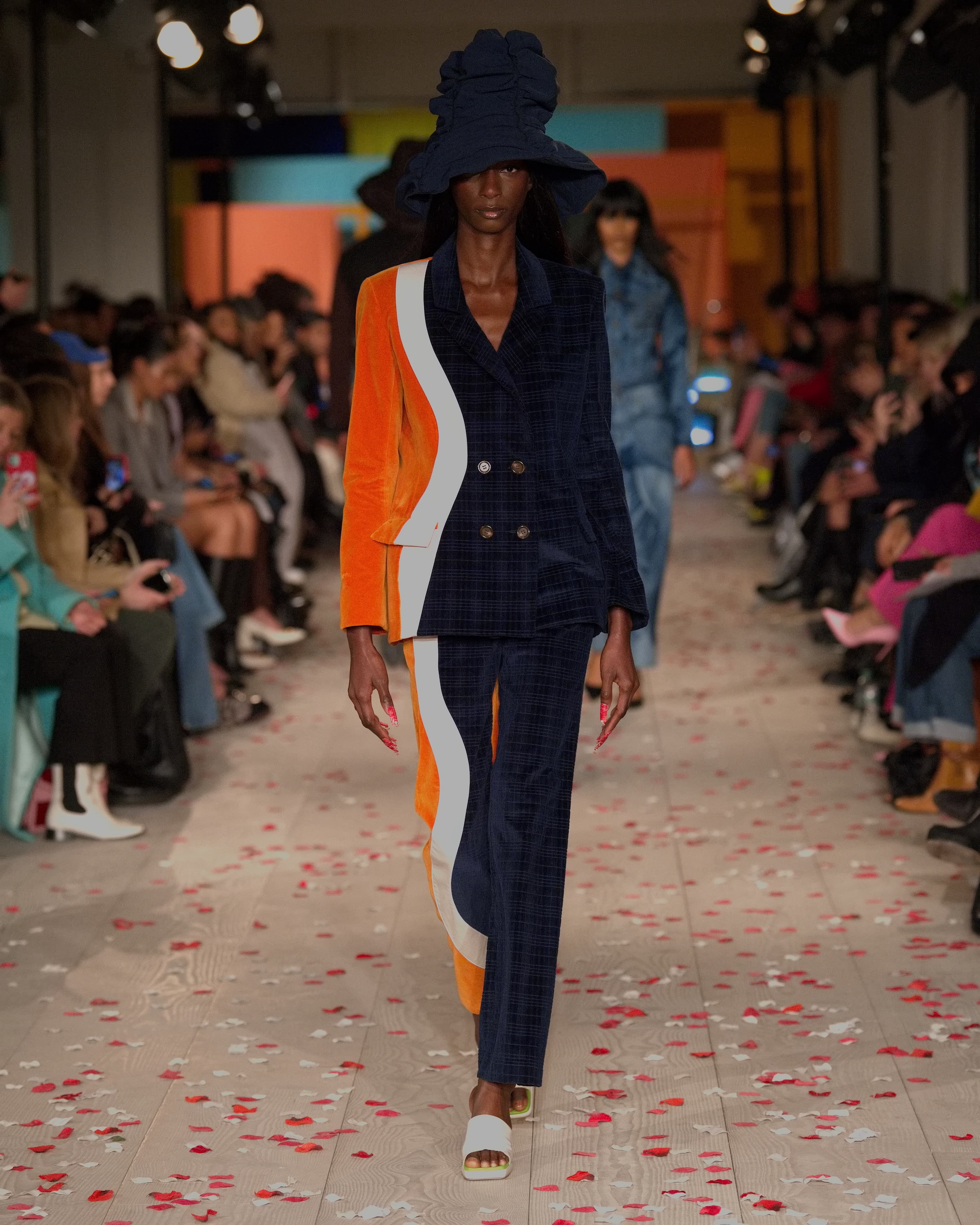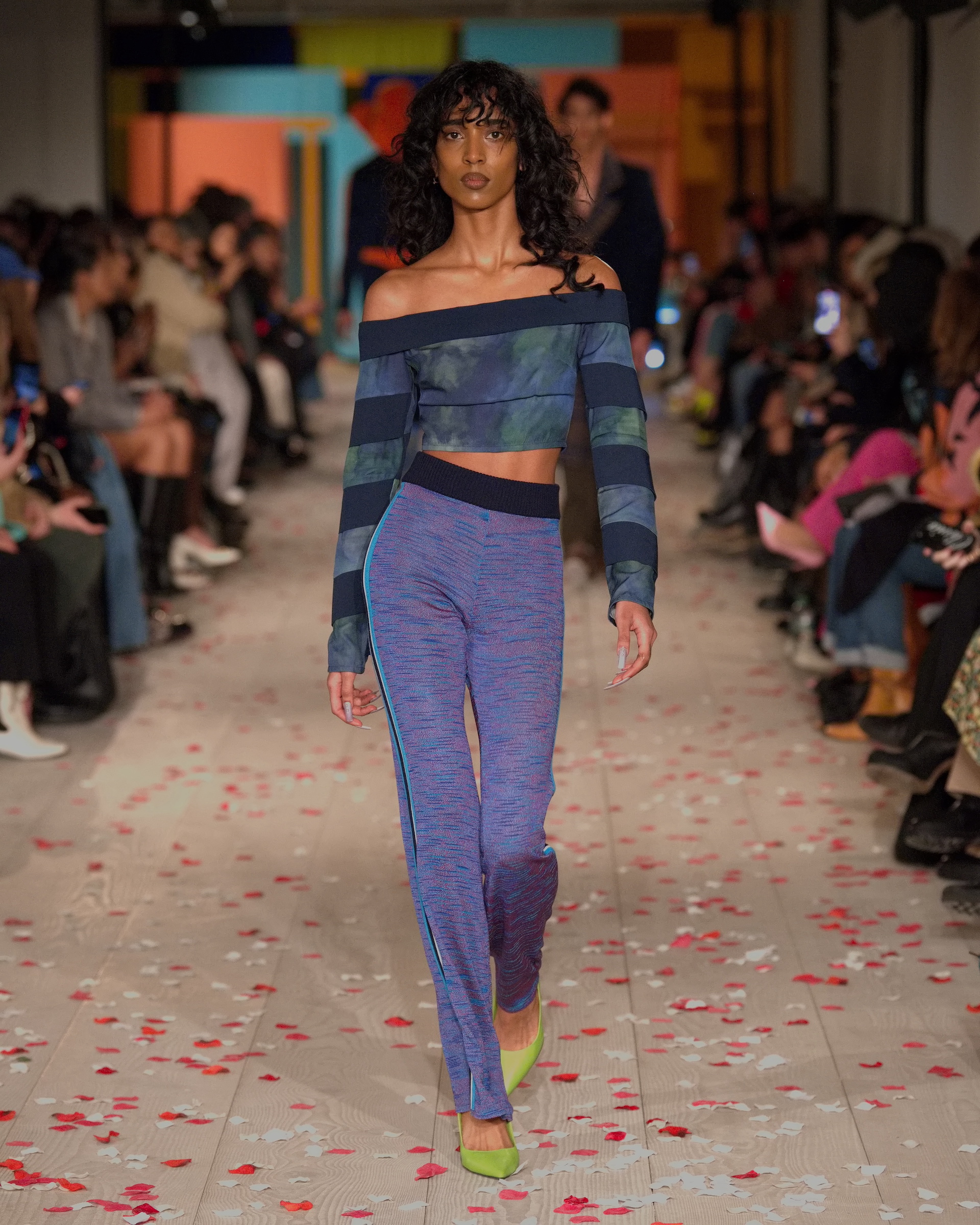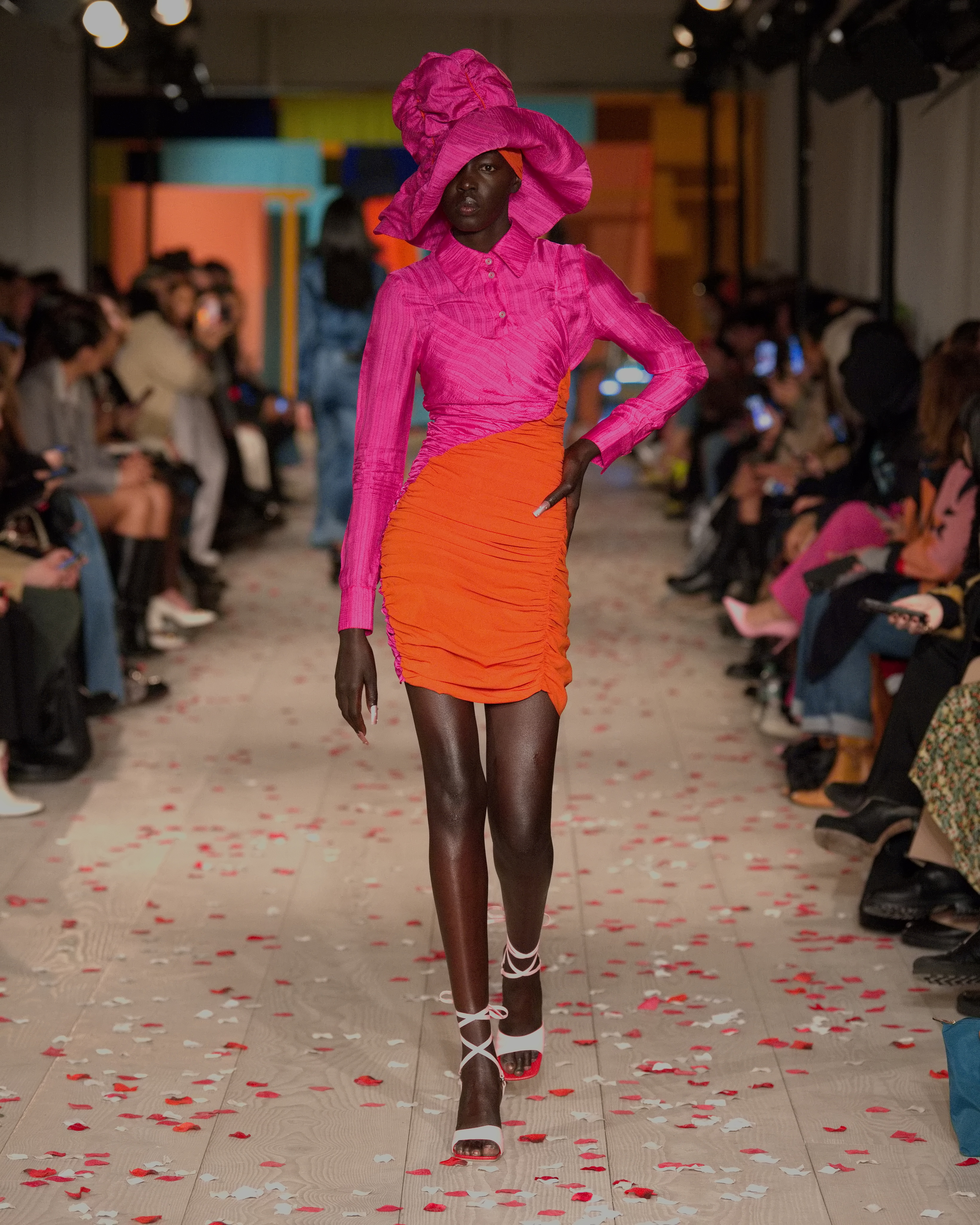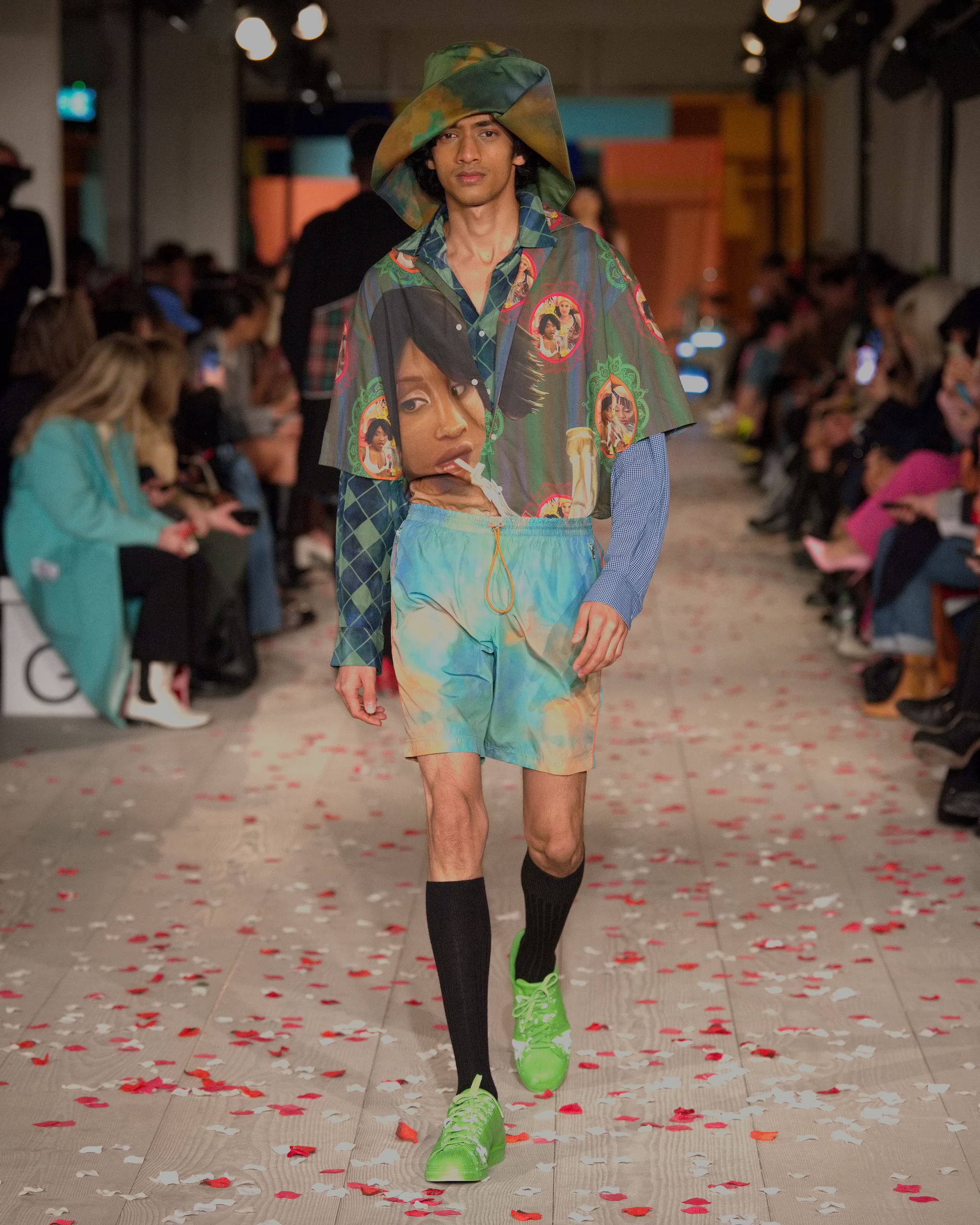 Nensi Dojaka
Nensi Dojaka is hot property right now. The most recent winner of the LVMH Prize — that's 300,00 euros awarded by the world's most famous designers, fyi — has captured the collective zeitgeist for slinky, strappy, lo-fi dresses that demand the sexually-brazen confidence in vogue among a generation of young women trying to forget lockdown. But, whereas previously her vision of sexuality has been as narrow as the hips of the models wearing them — this season, the Albanian-born designer elevated her offering and expanded her repertoire to be more inclusive, and therefore even more culturally relevant. In a beautiful parade of earthy-hued dresses, sculpted puffers and tailoring-over-lingerie — Nensi declared that her voyeuristically sexual dresses are for women of all sizes. Paloma Elsesser and a cast of curvier models hammered the message home, as did a pregnant Maggie Maurer in a sequined gown, thong glimmering from beneath the translucent fabric. It was practically calling out for Rihanna to wear it. As ever, straps and delicately-placed ruching outlined the geography of the female form — and the introduction of stretchier, softer fabrics allowed for a more forgiving ease to previous organza incarnations. Women who look sexually empowered, and feel comfortable in their second-skin dresses? Now there's an idea worth investing in. OA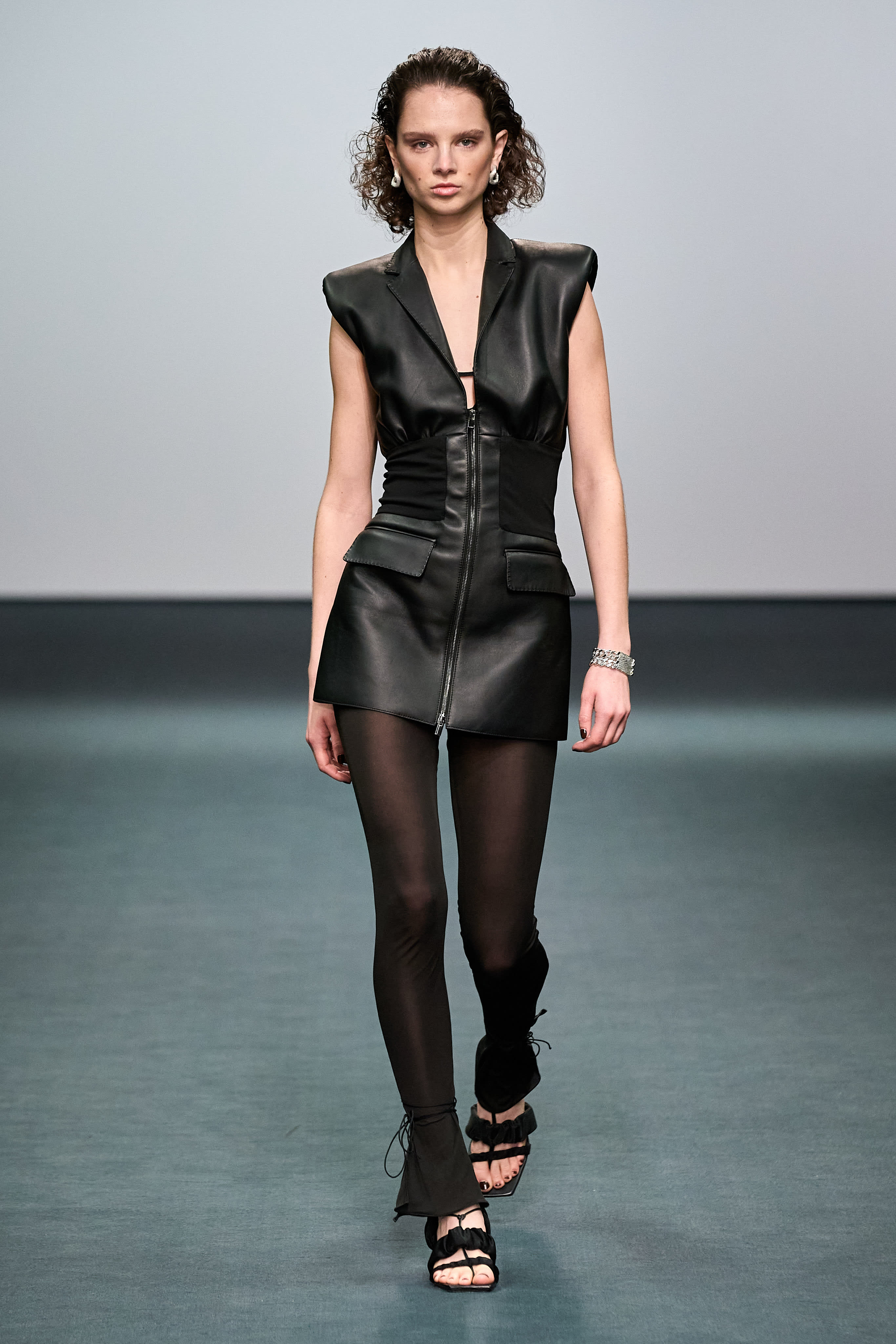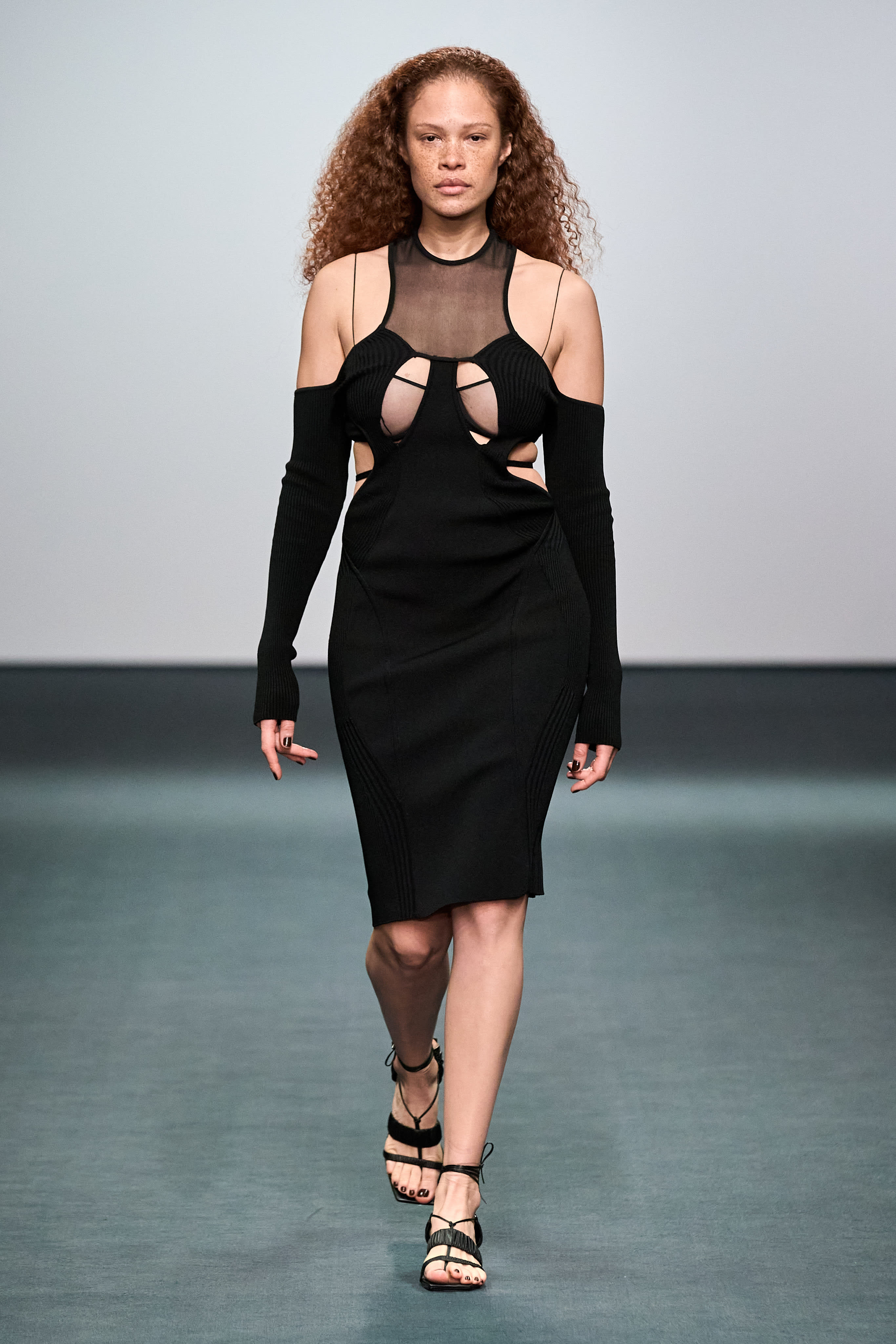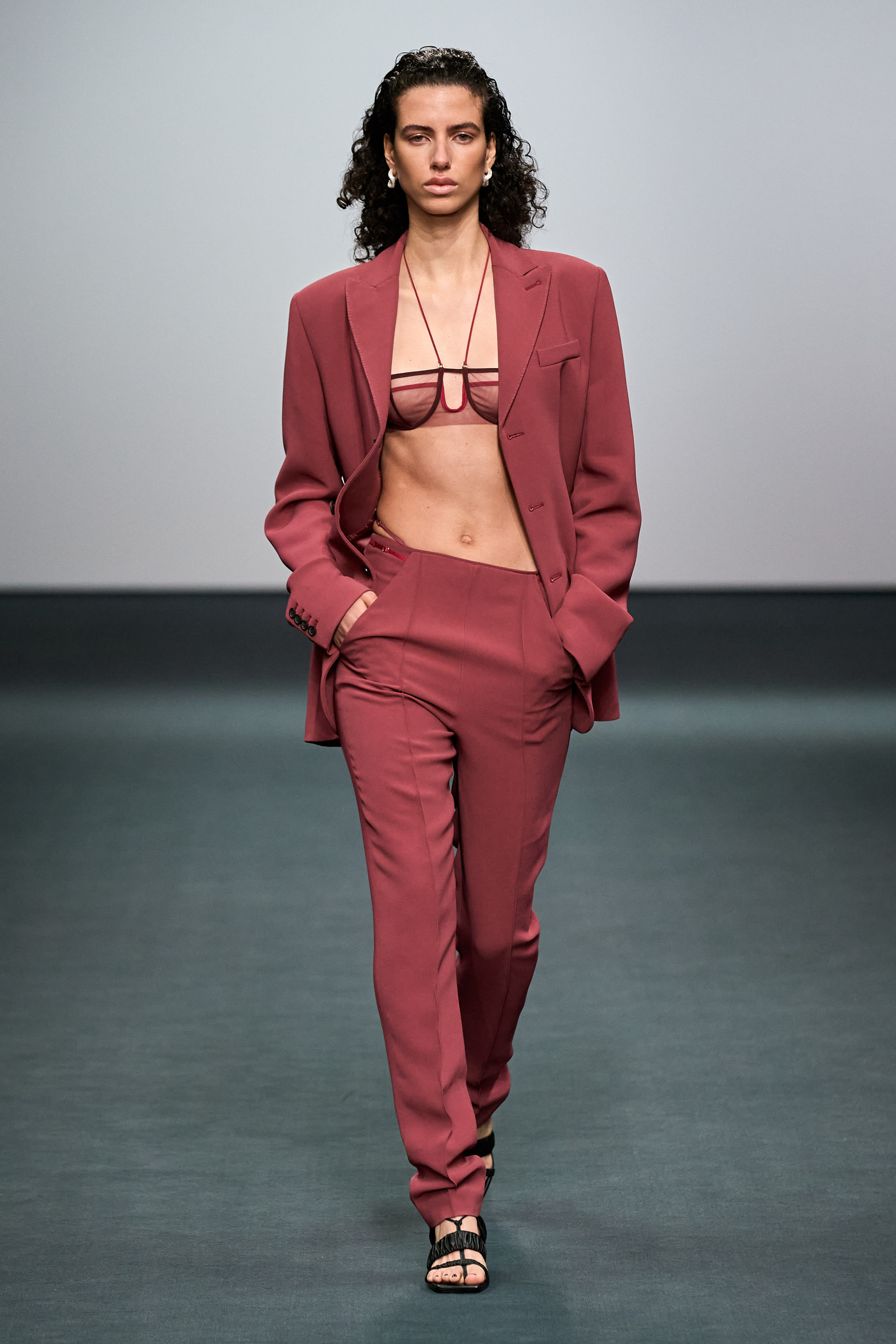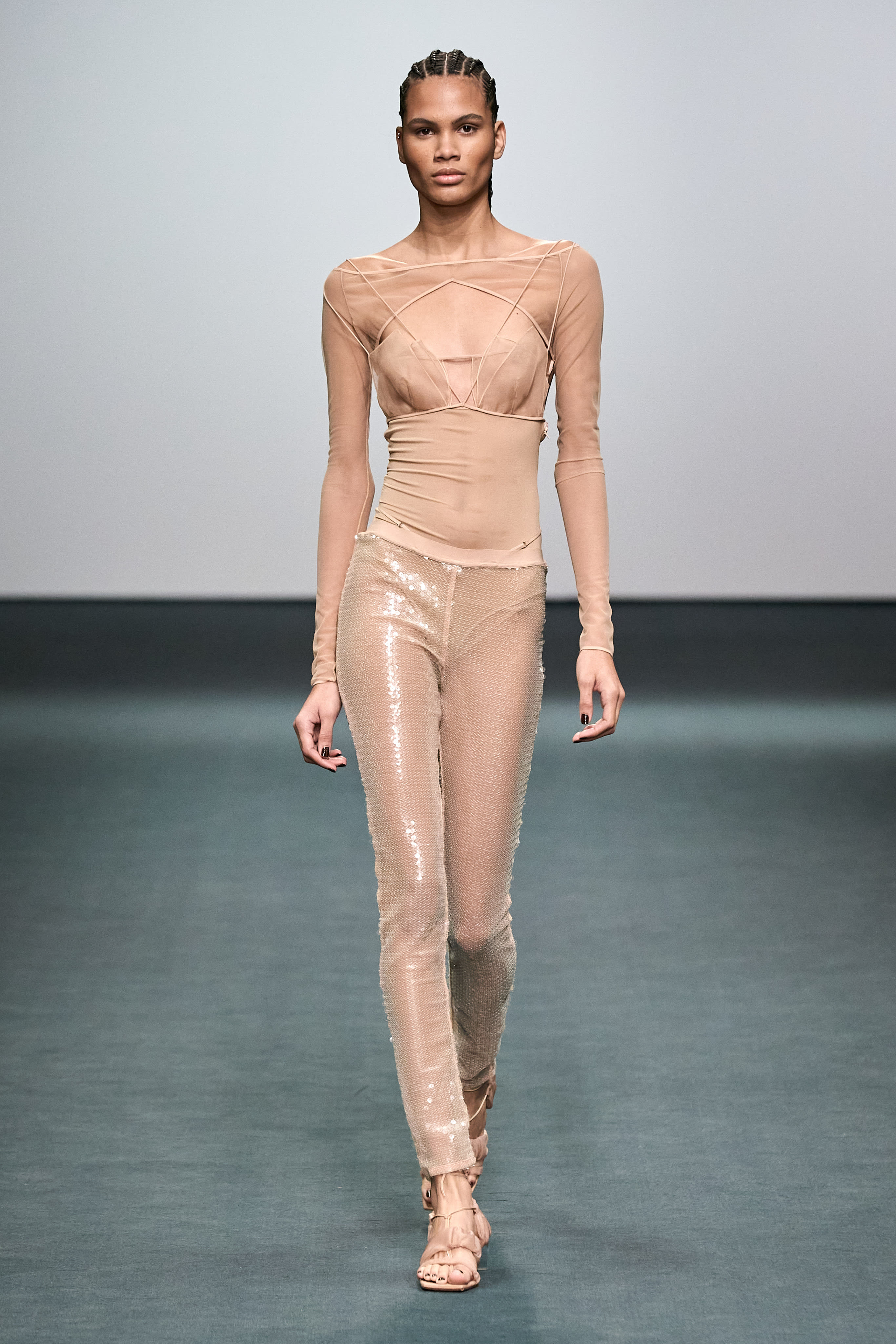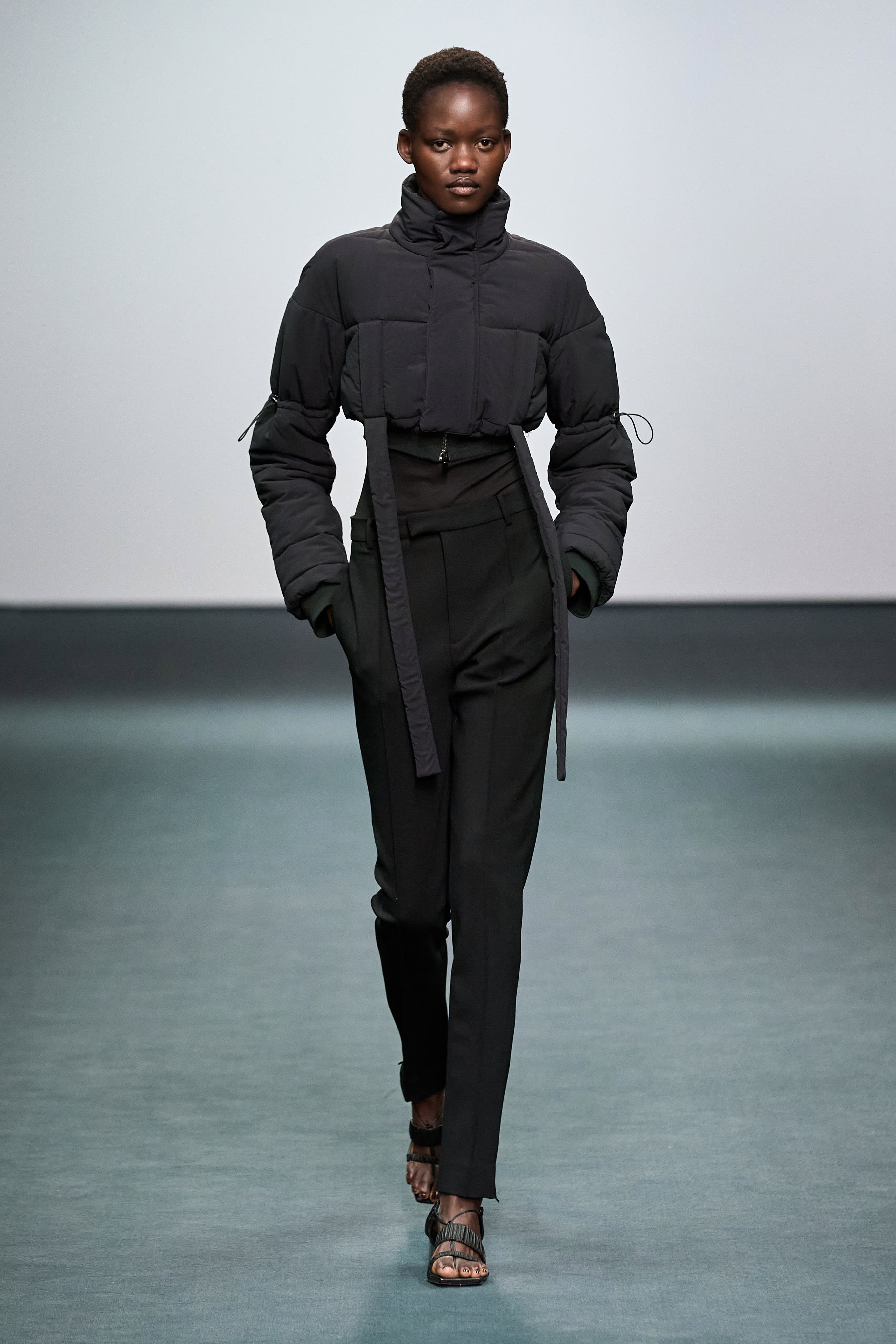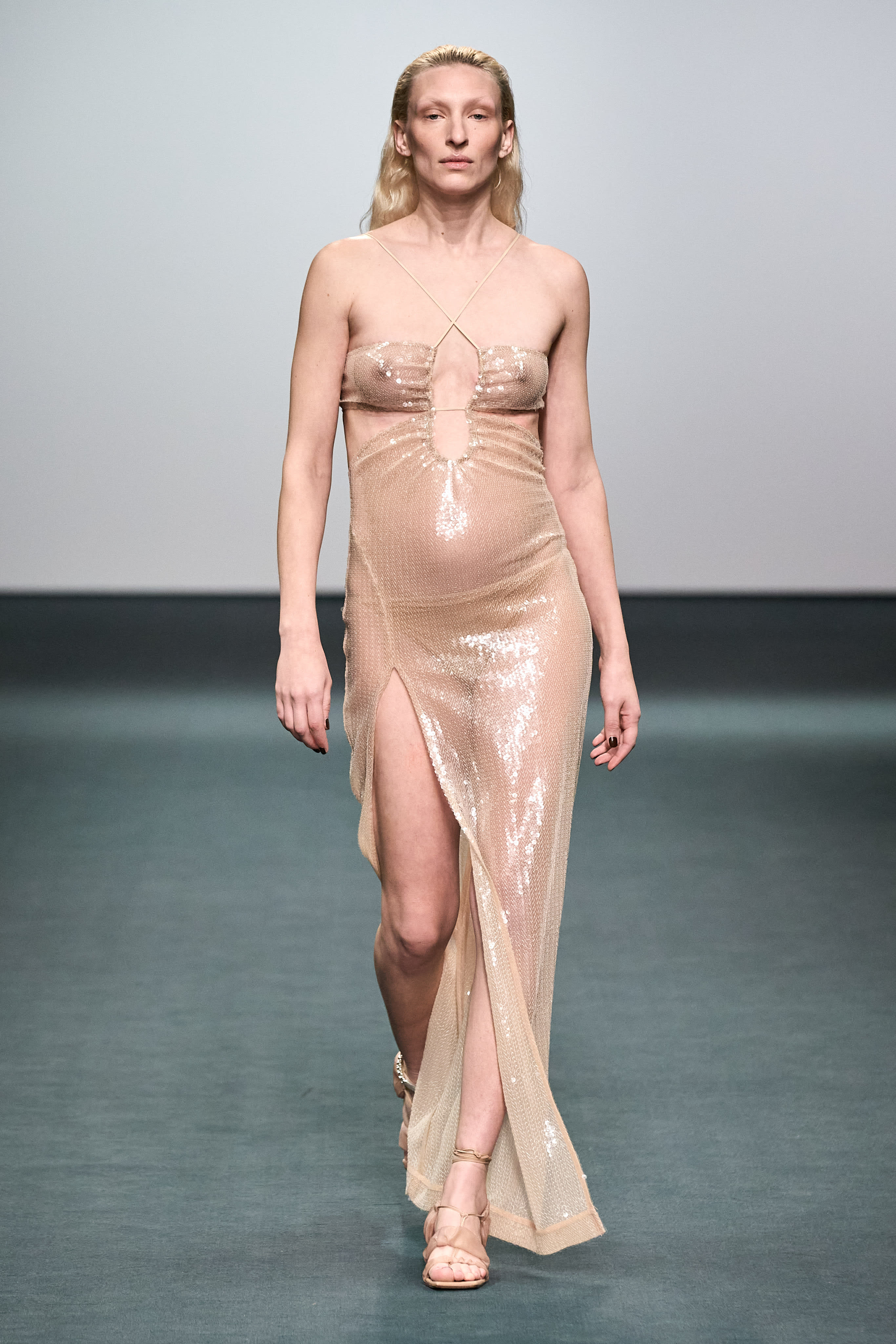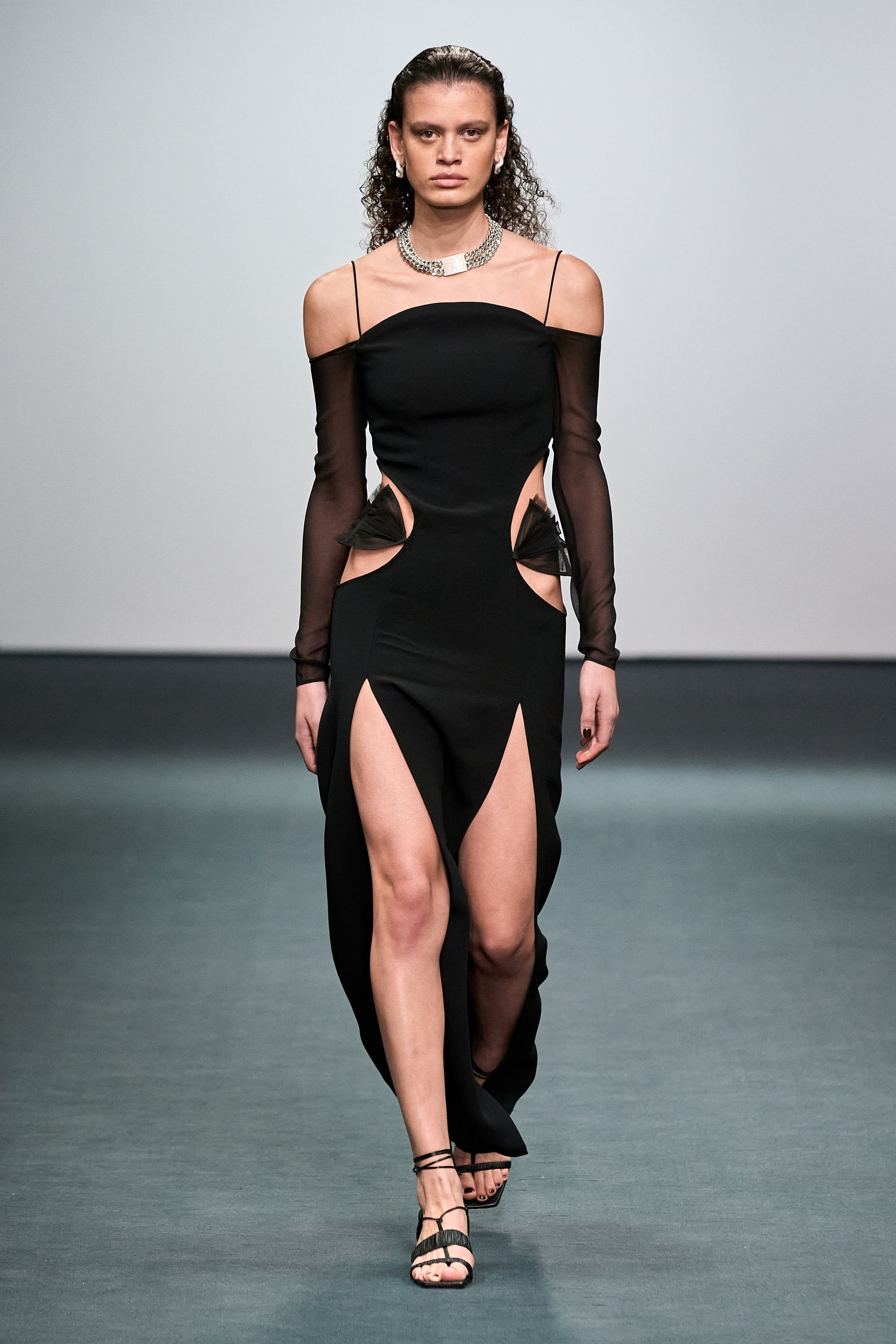 Matty Bovan
Matty Bovan is a very English designer in a way — not the eyebrow-raising, St. George's Cross sort of English, but the good kind. The kind that might make you proud of the small bit of its history he taps into. He's an obvious heir to Vivienne Westwood's Anglomania, but there's also a hint of the Jarman-esque in his work — a bit of William Morris, too. He manages to find radical angles on things that, at first glance, might not seem so radical: the local and handmade, the knitted and crafted, the dreaming. Which is all to say it wasn't very obvious for Matty to be dreaming of America this season.
Showing on the first day of LFW, it was Matty's first show in two years – an event made all the more momentous by the soundtrack he worked on for the show with Derek Piotr. He drew inspiration from time he'd spent in Connecticut, and at the Mark Twain Library, looking into American folklore and folk art for the inspiration for this AW22 show.
It resulted in a collection that explored the contested symbols of Americana; tight USA motif tanks, voluminous 'Stars and Stripes' tulle dresses, varsity jackets cut up and spliced together. Reworked Calvin Klein and Converse, denim and bomber jackets adorned broad shouldered jocks — not Matty's usual cast of supermodels — as they walked down the runway in the designer's diosyncratic bricolages. Save for one exception, the incredible Irina Shayk, who closed the show.
Ironically he'd titled the collection Cyclone — a reference to Covid-19 rather than Storm Eunice blowing outside. It was a nod to how the pandemic had brought chaos and destruction to the world. Still, it also brought some hope to Matty, hope that chaos and destruction can lead to beauty. That's something intrinsic to what he does; this collection was almost an assemblage of the wreckage of symbols — the archetypes of American fashion, pulled to pieces and then recobbled into a proactive whirlwind of positivity and beauty and craft. FP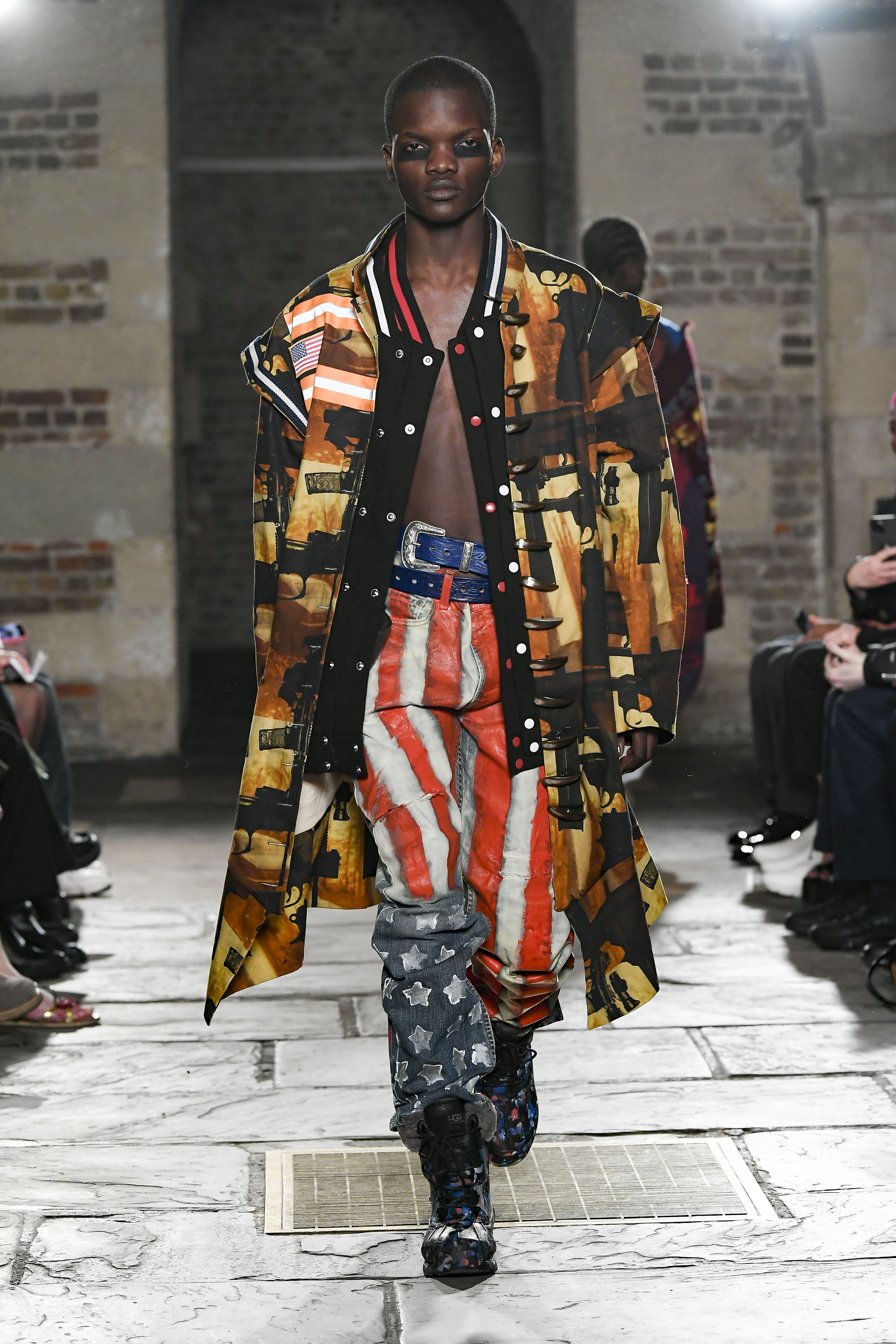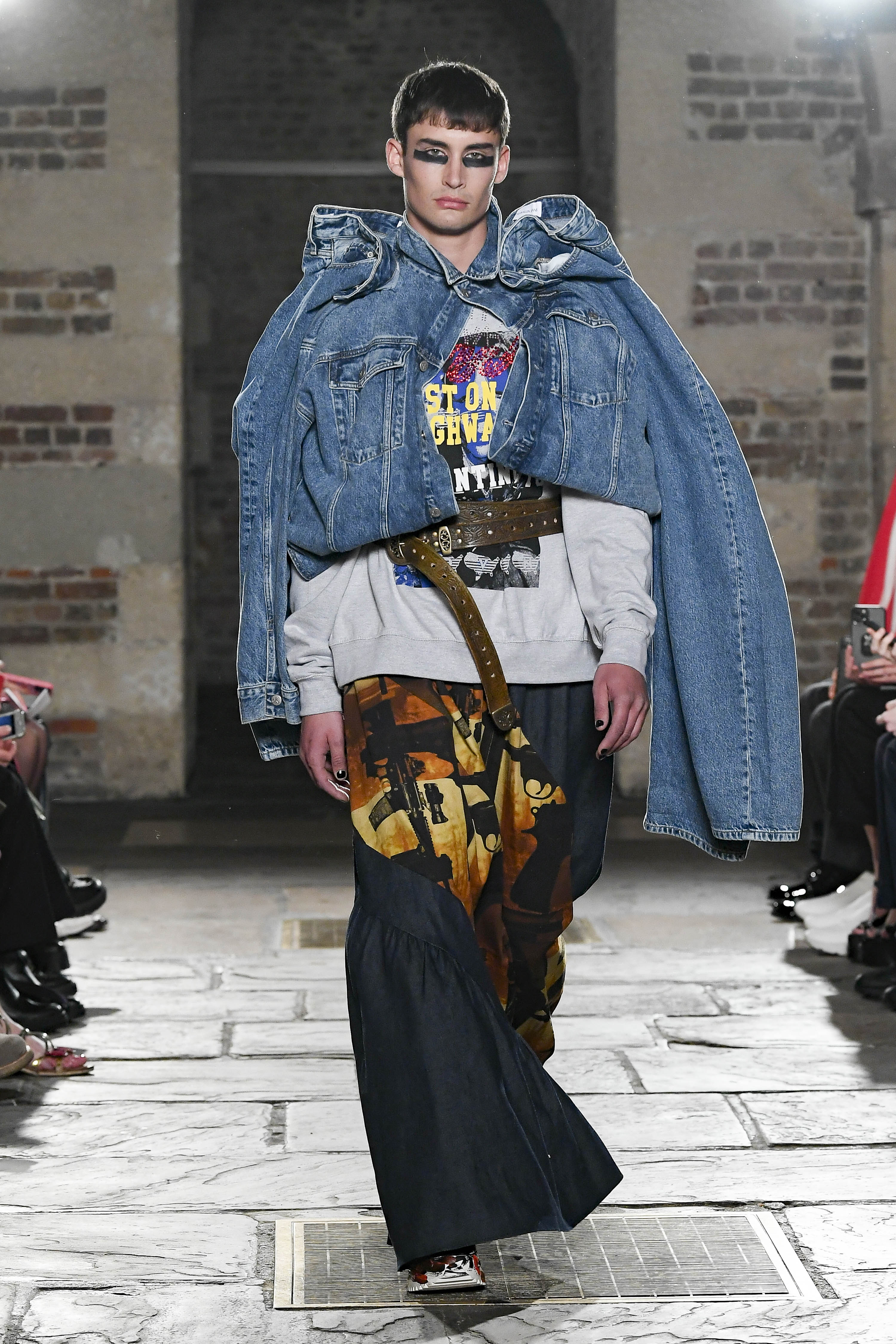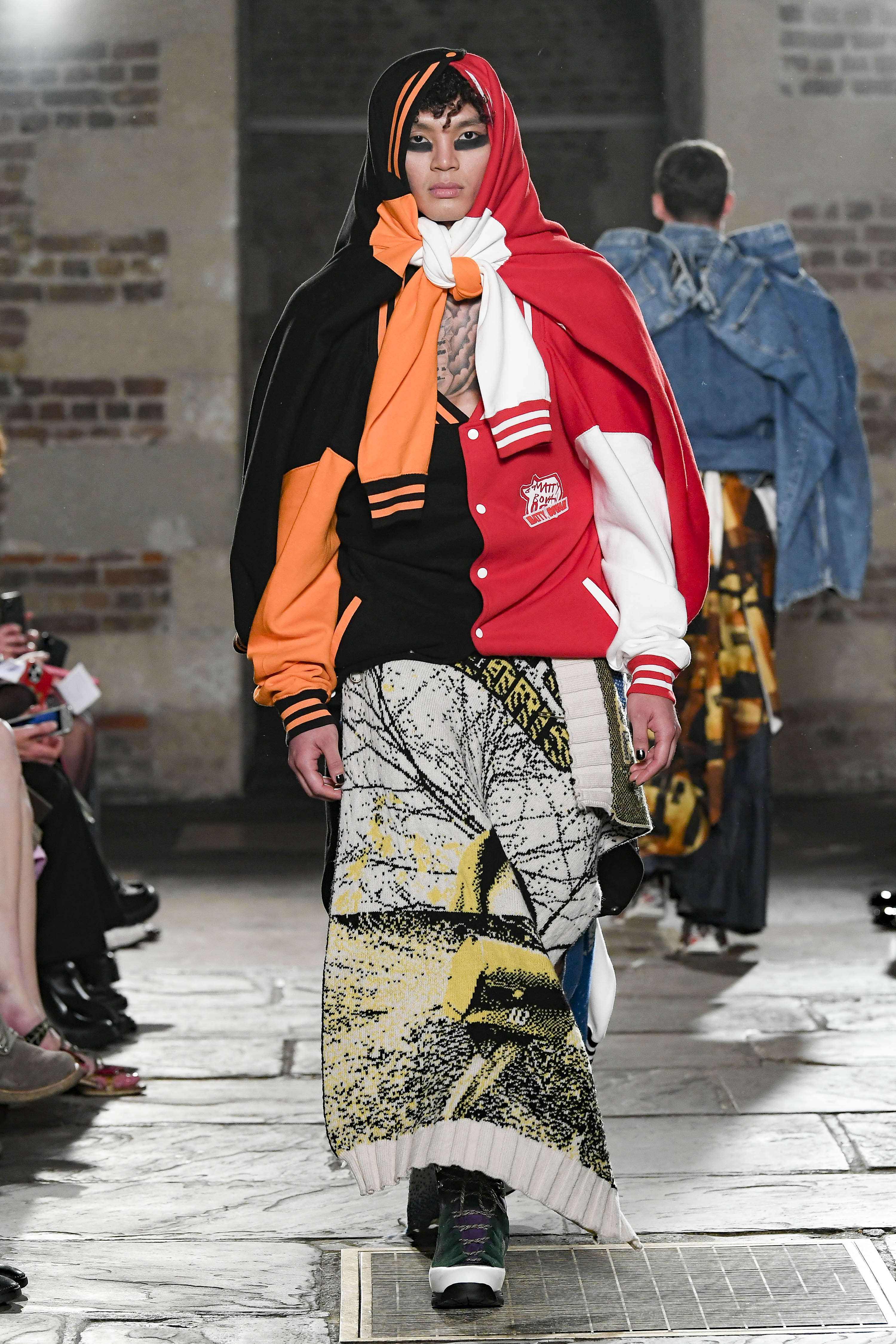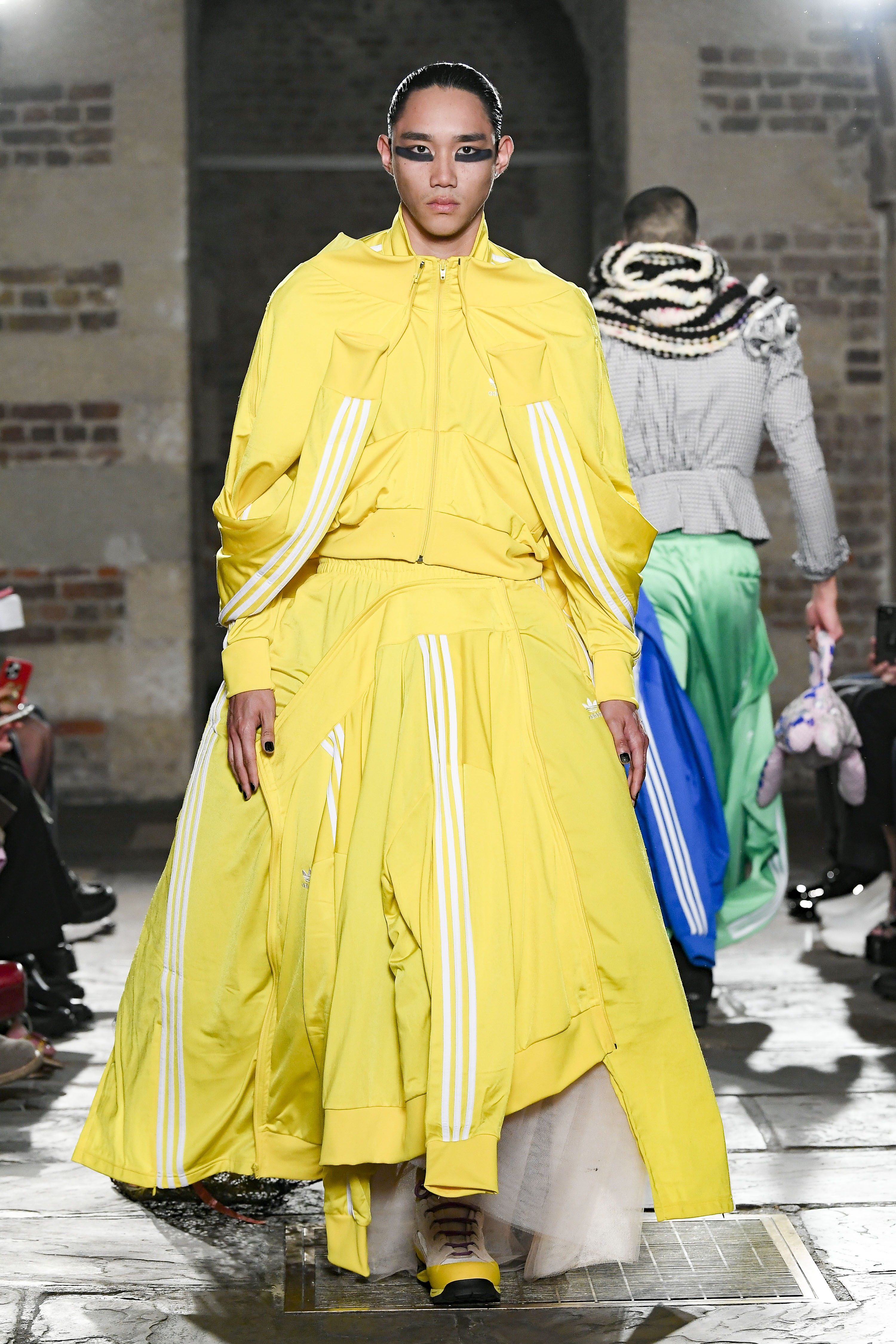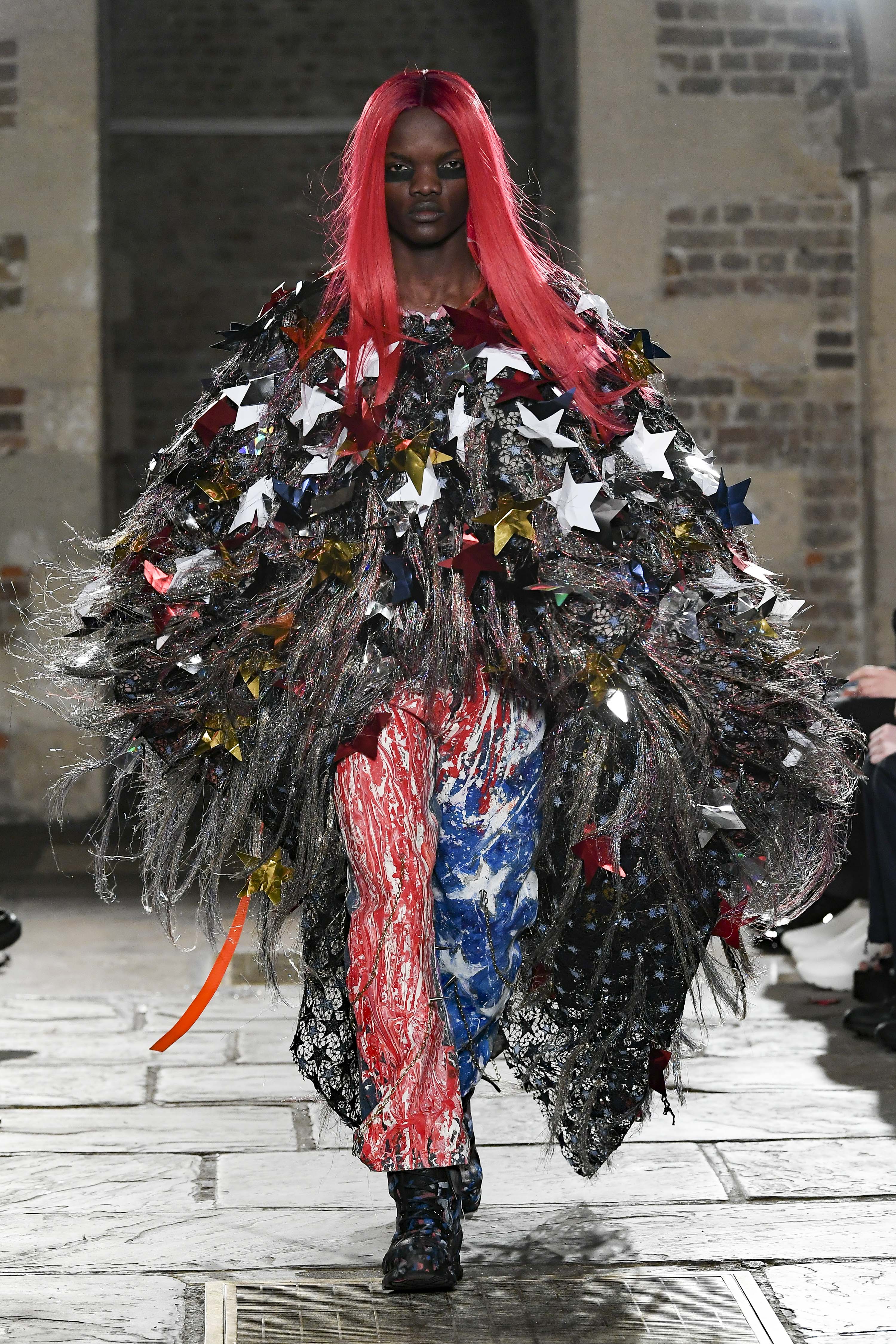 Conner Ives
Conner Ives graduated from Central Saint Martins at probably the most inconvenient time in recent memory. The world was entering lockdown, fashion weeks were on pause, stores were closed, and designers big and small were struggling to navigate the fractured supply chains and network of factories that make fashion happen. Though he managed to show his first collection online, yesterday marked the NY-born designer's debut catwalk show. Backstage, he said that he had been rewatching his favourite fashion documentary, Unzipped!, which documents the halcyon days of fashion in the 90s through the eyes of Isaac Mizrahi. "I wanted to do a fashion show," Conner exclaimed, excitement in his voice. "I wanted it to be fun, and fabulous — and celebrate the reason why we all started doing this."
Titled 'Hudson River High' — the predominantly upcycled collection riffed on the sentimental warmth of the mid-19th century art movement of the same name, but seen through the lens of reality television, high school dramas and Hollywood rom-coms. Conner is a twenty-something with an ironic sense of humour, but also a sincere appreciation for the diet of trash television, movies and Internet culture that he grew up on — that we all grew up on! So, although his designs are incredibly well-made and deserving of the catwalk, his collection was also a deliciously fun celebration of individual and quintessential American stereotypes. It was upcycled, in two senses: from deadstock materials and deadstock pop culture references.
Here was a cast of characters in Y2K-flavoured boot cut jeans, piano shawl skirts, shrunken patchworked T-shirts — and of course, as the models slinked and twirled, each look came with deliciously witty descriptions that nod to contemporary Americana tropes. There was "the Vogue Girl", a take on Anne Hathaway's character in The Devil Wears Prada, an eager New York career girl who matches her marigold page-boy cap to her double-breasted pea coat crafted from reconstituted Polish Military blankets (gold lipstick to match the buttons, of course). There was a nod to the hopefuls of America's Next Top Model: white camisole tops, bootcut blue jeans and stilettos (Nice top and jeans? So 2000s). There were nods to stay-at-home suburban housewives; 60s hippie hitchhikers; Madam Vice Presidents; cowgirls; Park Lane princesses and Motown honeys. There were even looks devoted to Jackie Kennedy, in a trapeze-shaped quilted gown, and her daughter-in-law Caroline Basette Kennedy's white bias-cut silk wedding dress. In other words, there was something for everyone — even if, in London, these chicks couldn't seem more exotic. OA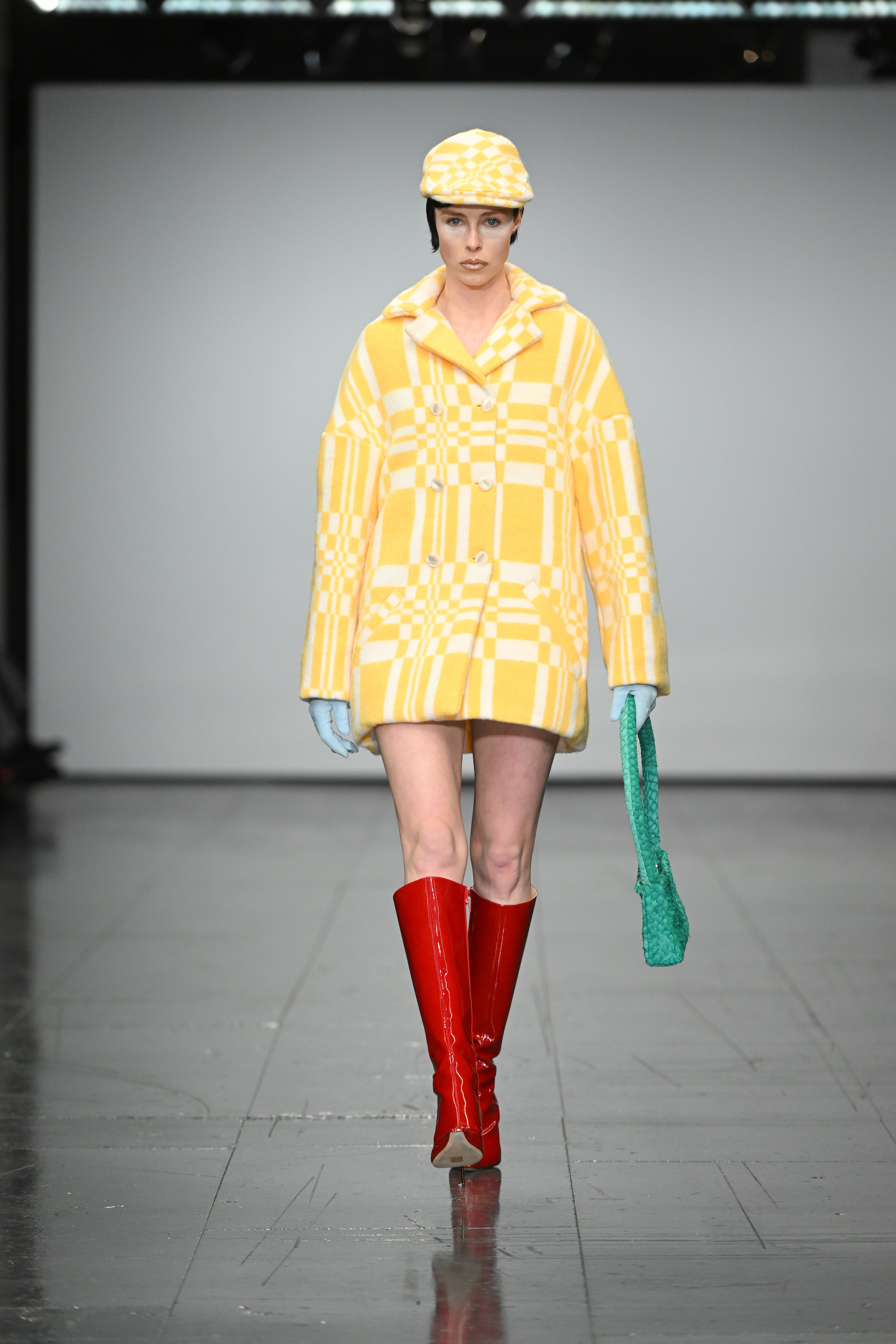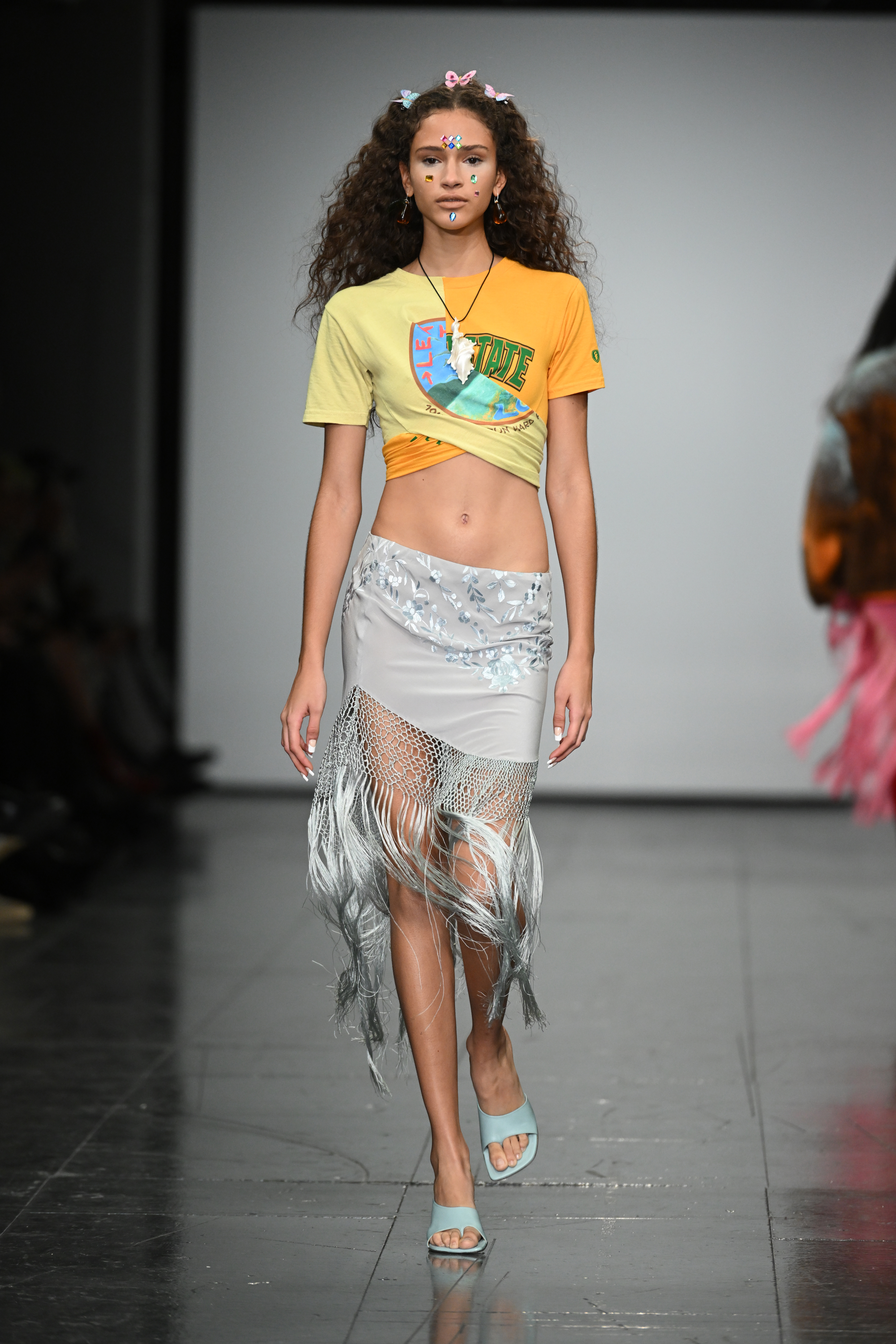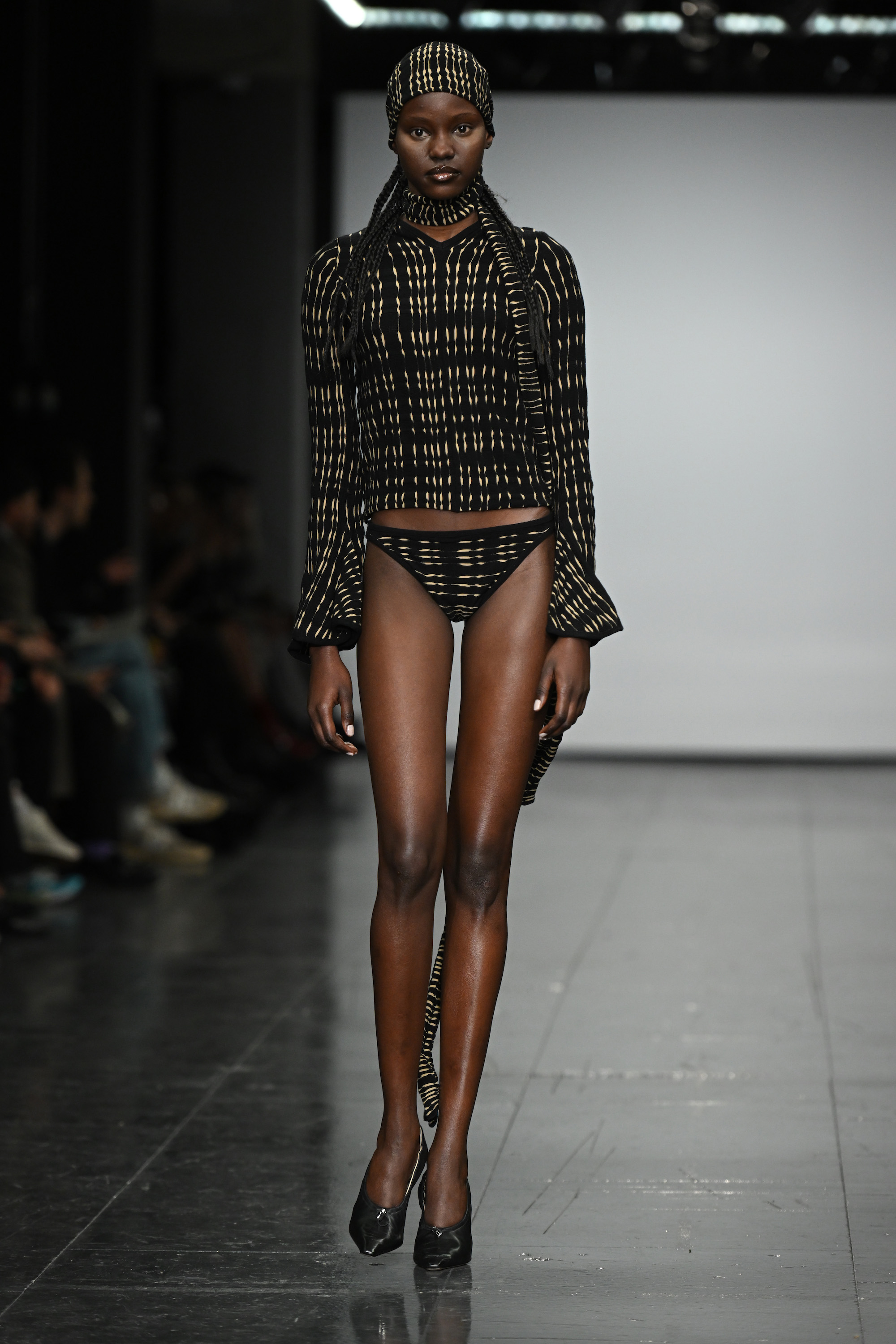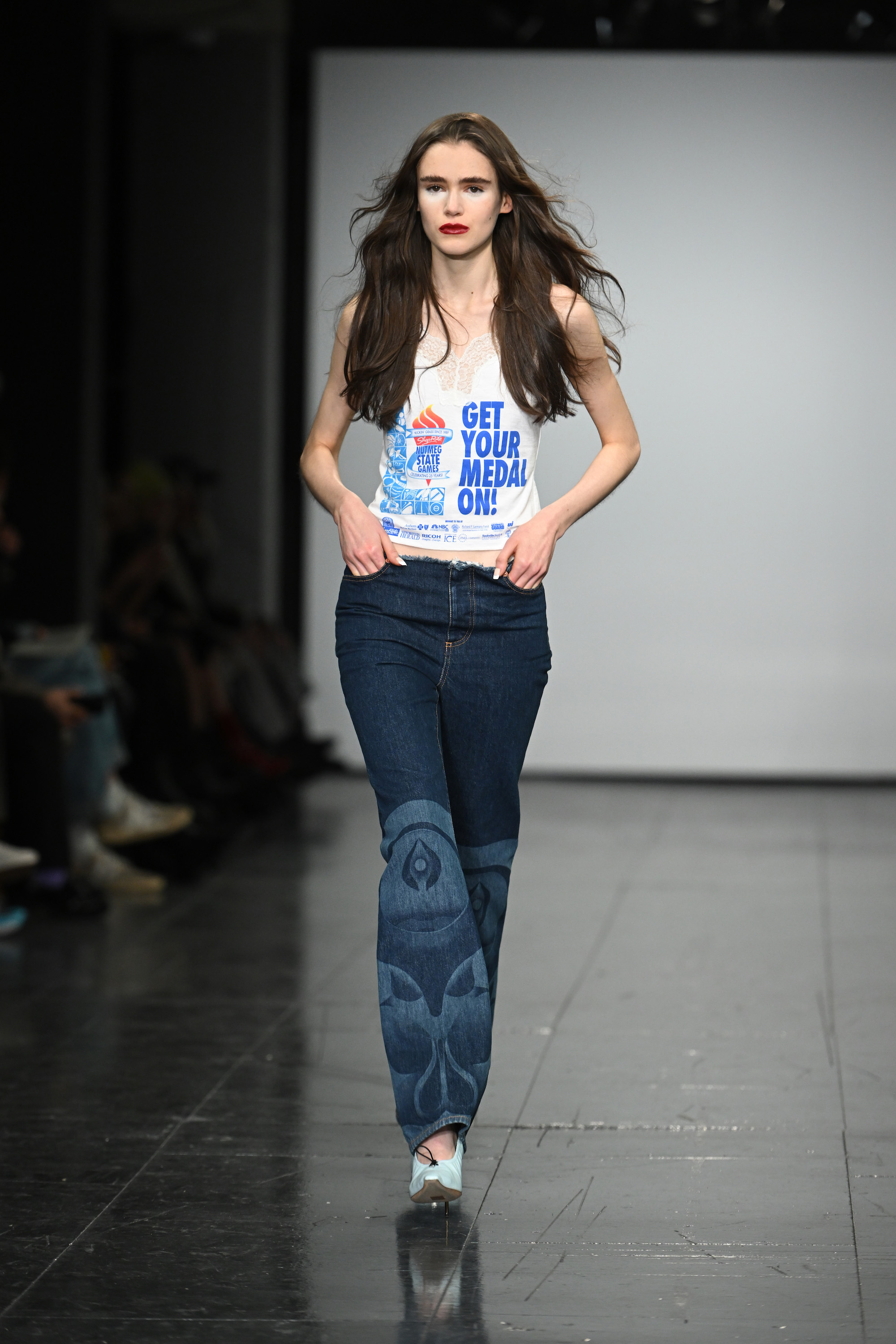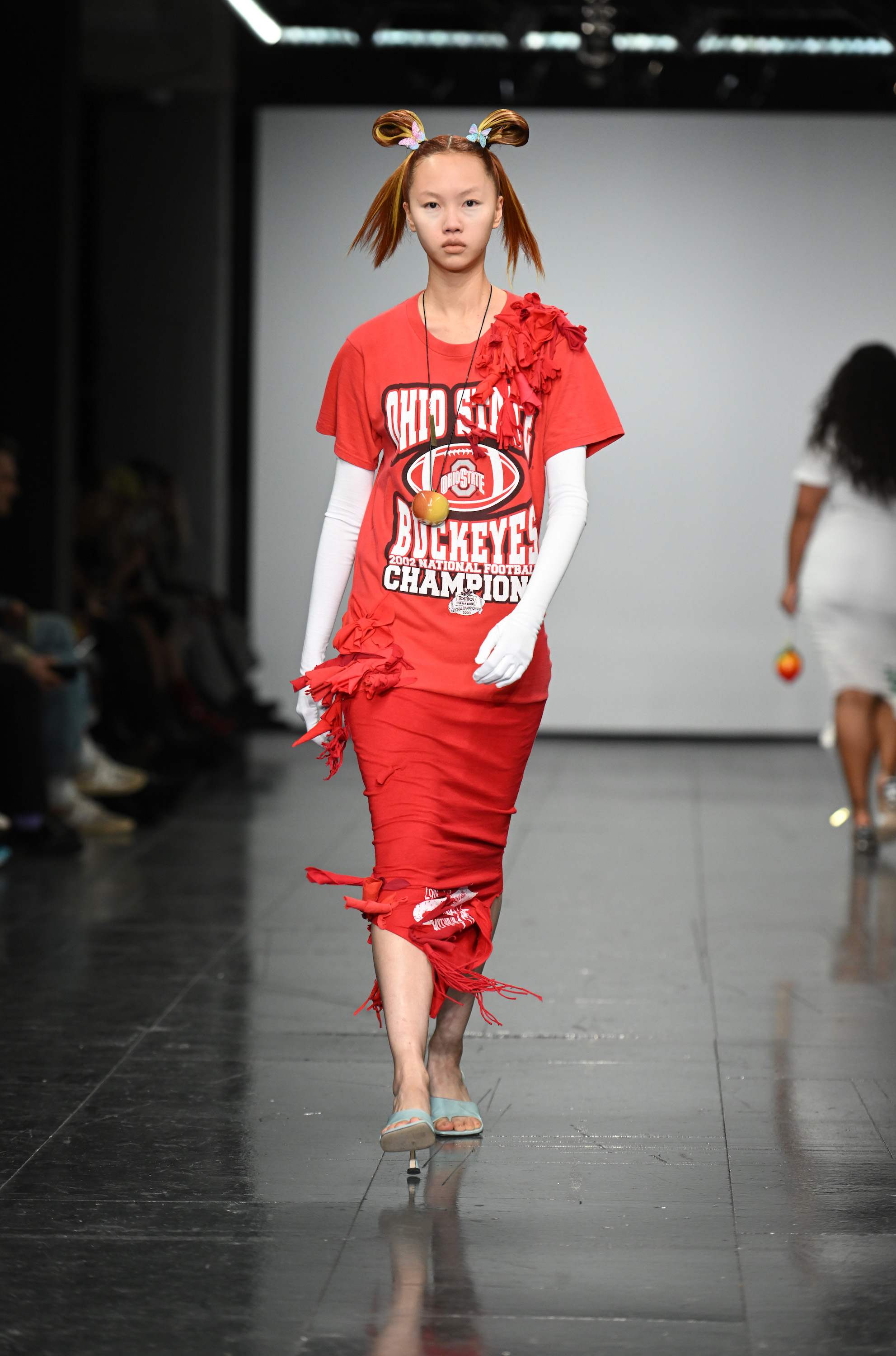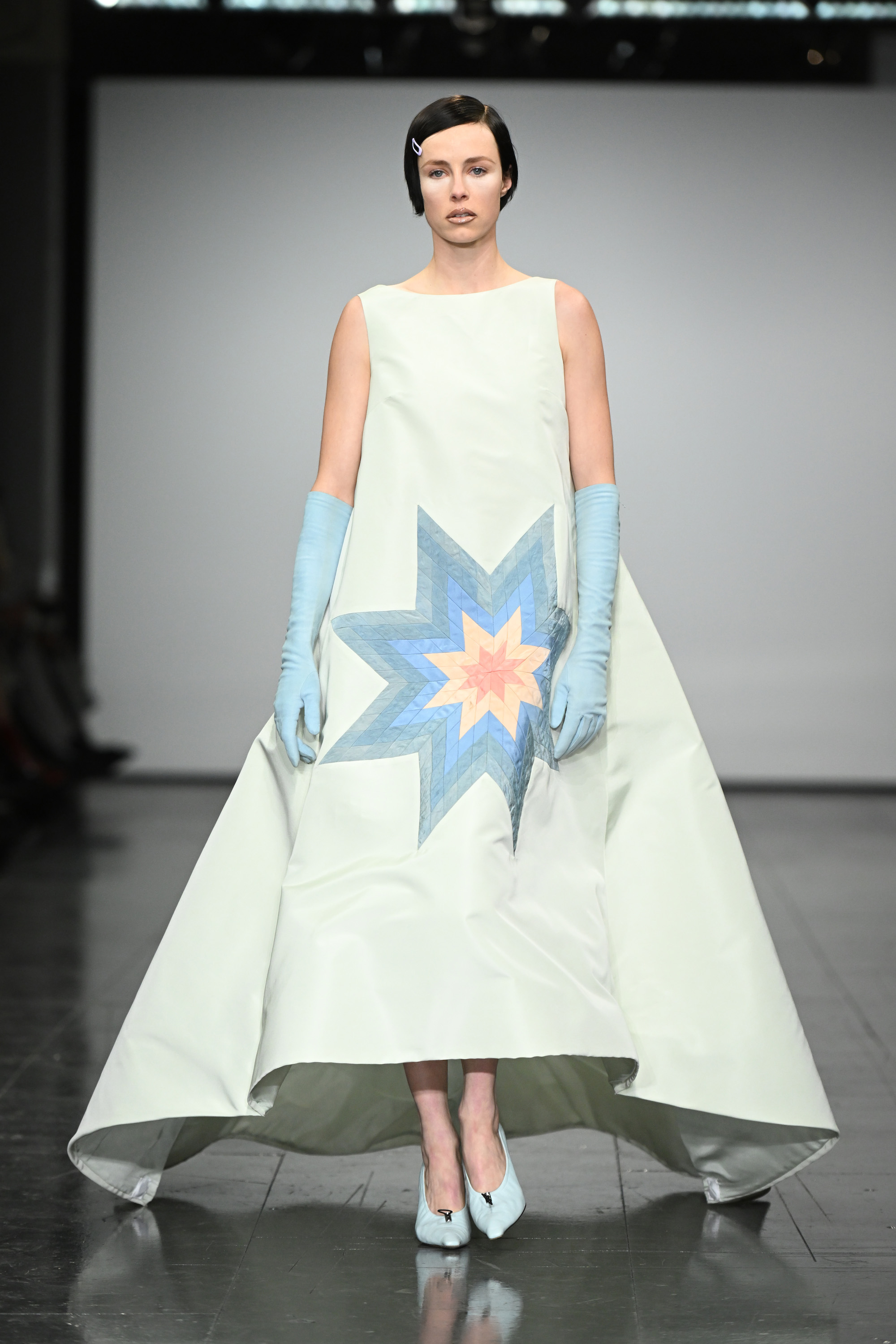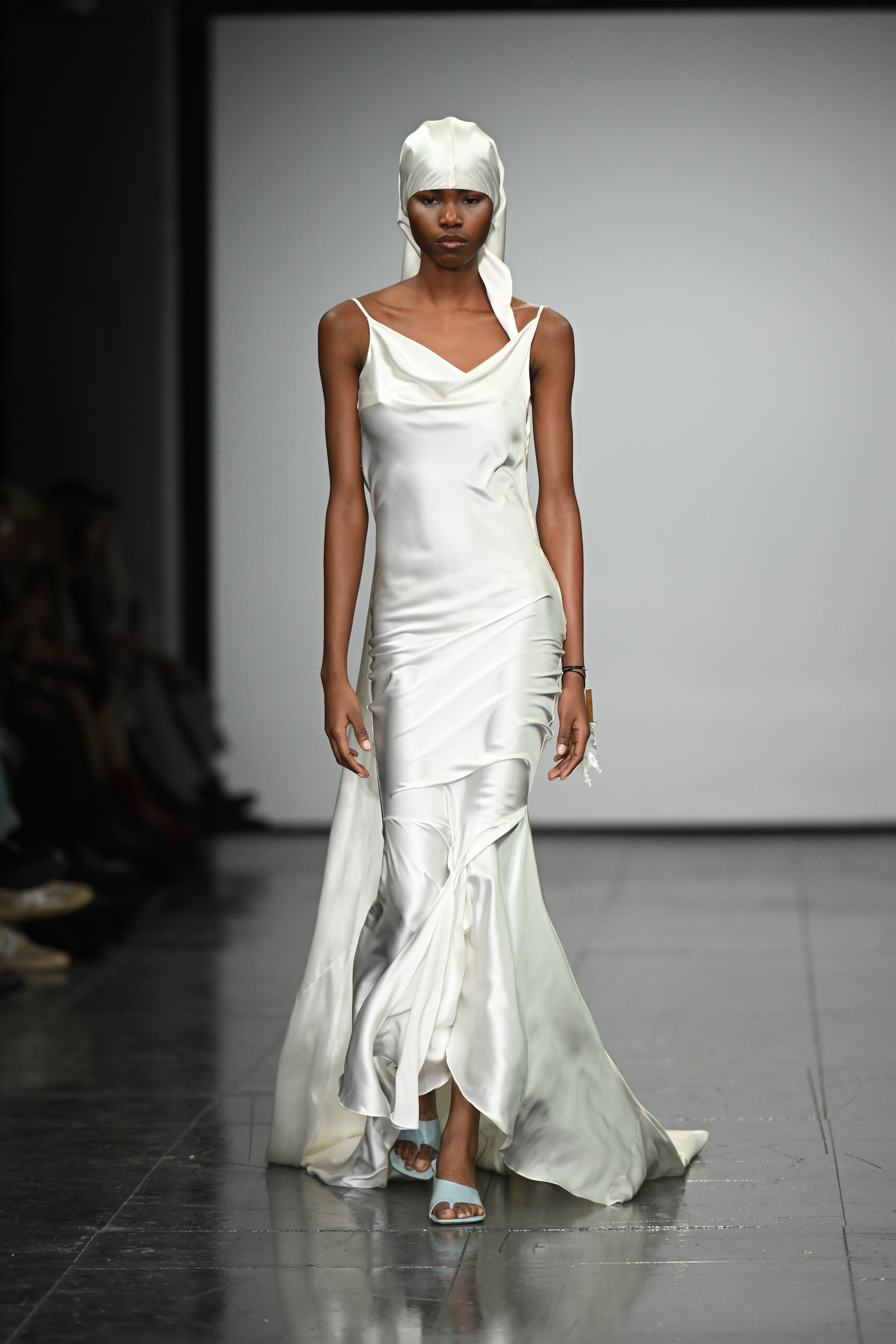 Nicholas Daley
Music seems to be on the minds of a fair few designers this season, Nicholas Daley among them. For him, however, the connection couldn't make more sense – both his collections, and the contexts in which they've been presented since founding his namesake label, have had sound and a celebratory spirit of performance at their very core. It's earned him a reputation for throwing some of the most reliably uplifting events on the London Fashion Week calendar. While he forwent a physical show this season, that energy nonetheless makes itself felt in 'Dark Haze', the designer's AW22 collection. A celebration of the guitar and its "otherworldly appeal', this season sees Nicholas explore the red-lit, fog-tinged world of punk and black rock in what is perhaps his moodiest collection to date. A fringed leather jacket and a panelled bomber convey a rock-y flamboyance, while earthy bouclé tartans, fashioned into boxy outerwear, skirts and even an oversized poncho, toe the line between proud heritage and punk-ish rebellion. Rock on come September, my dudes! MS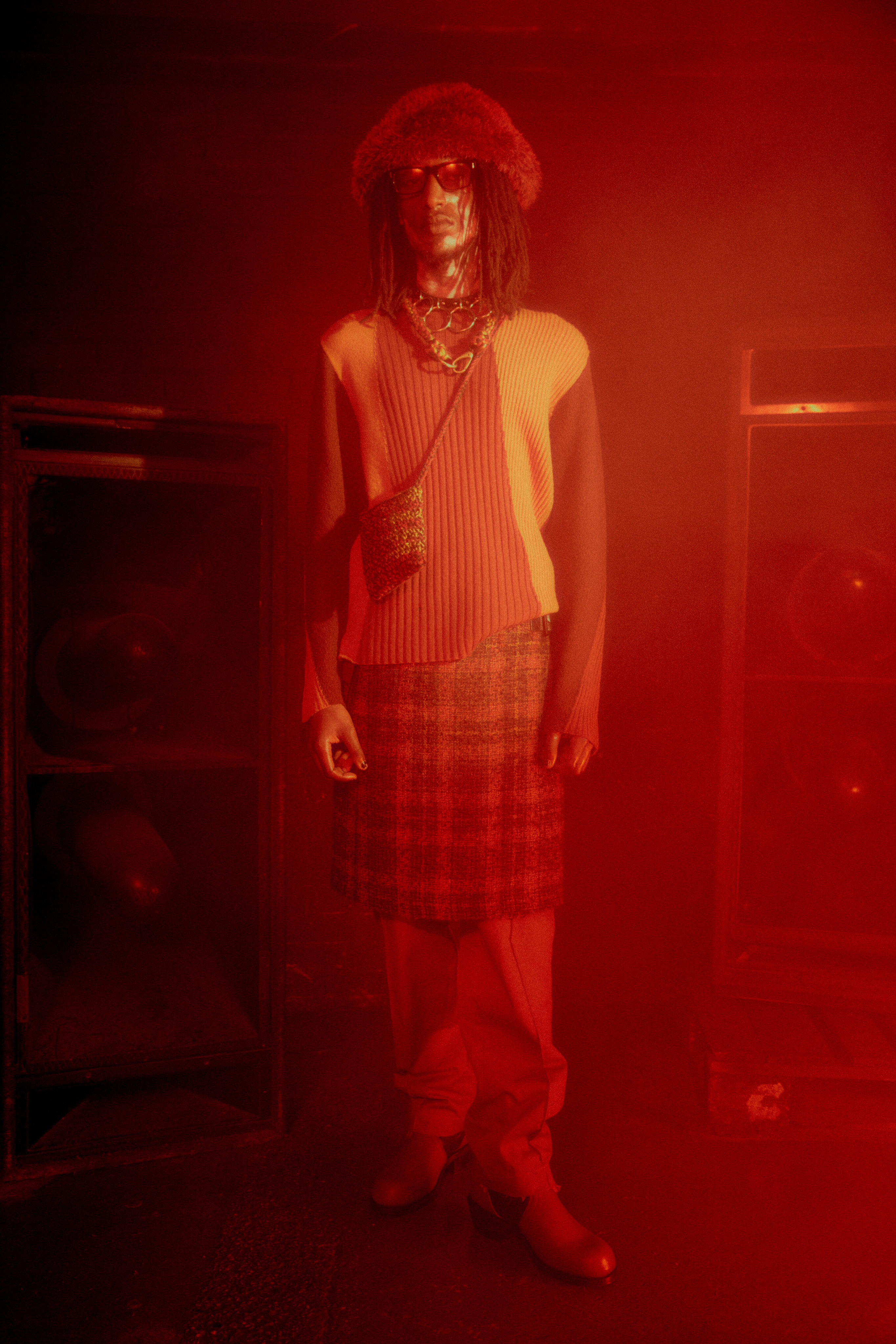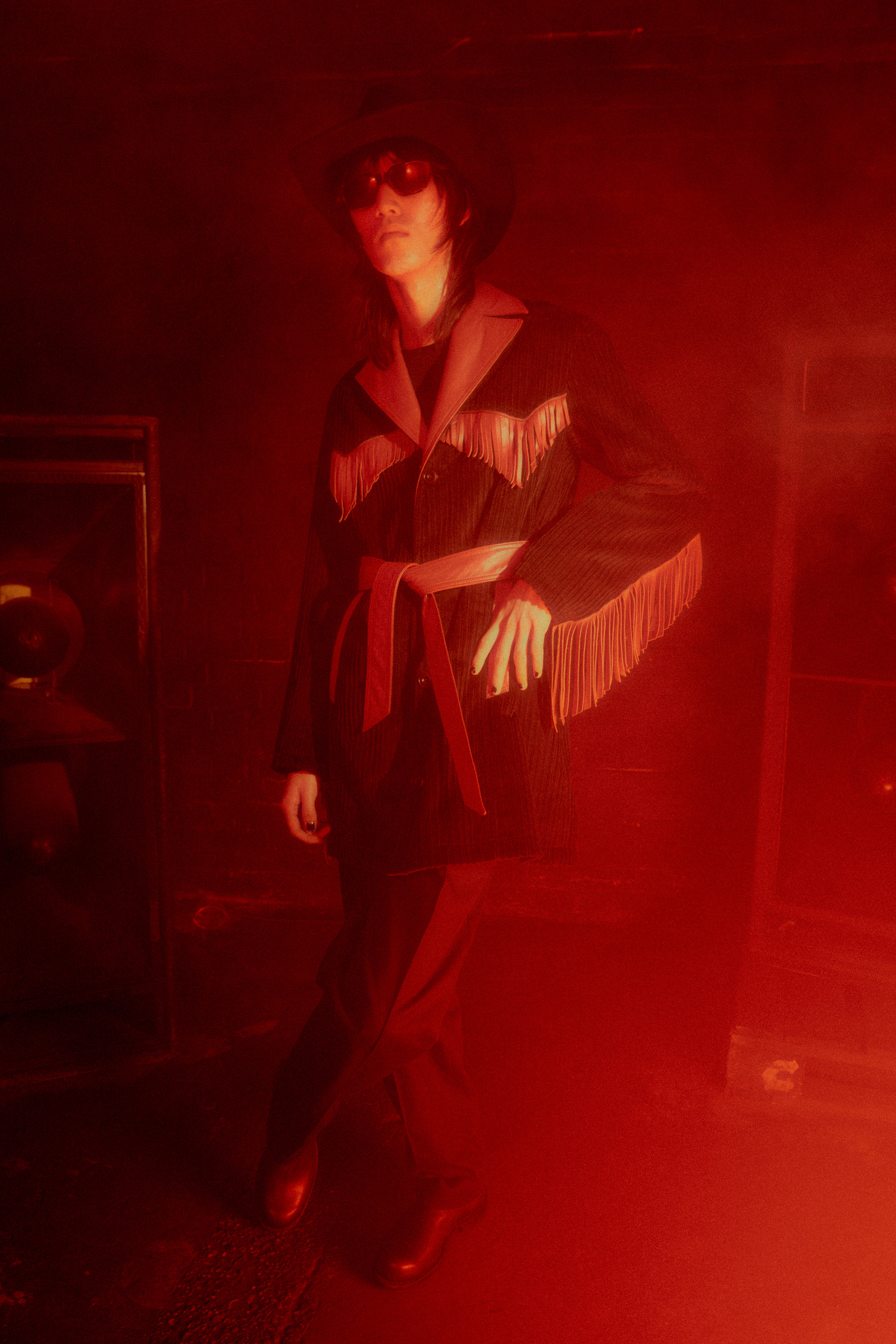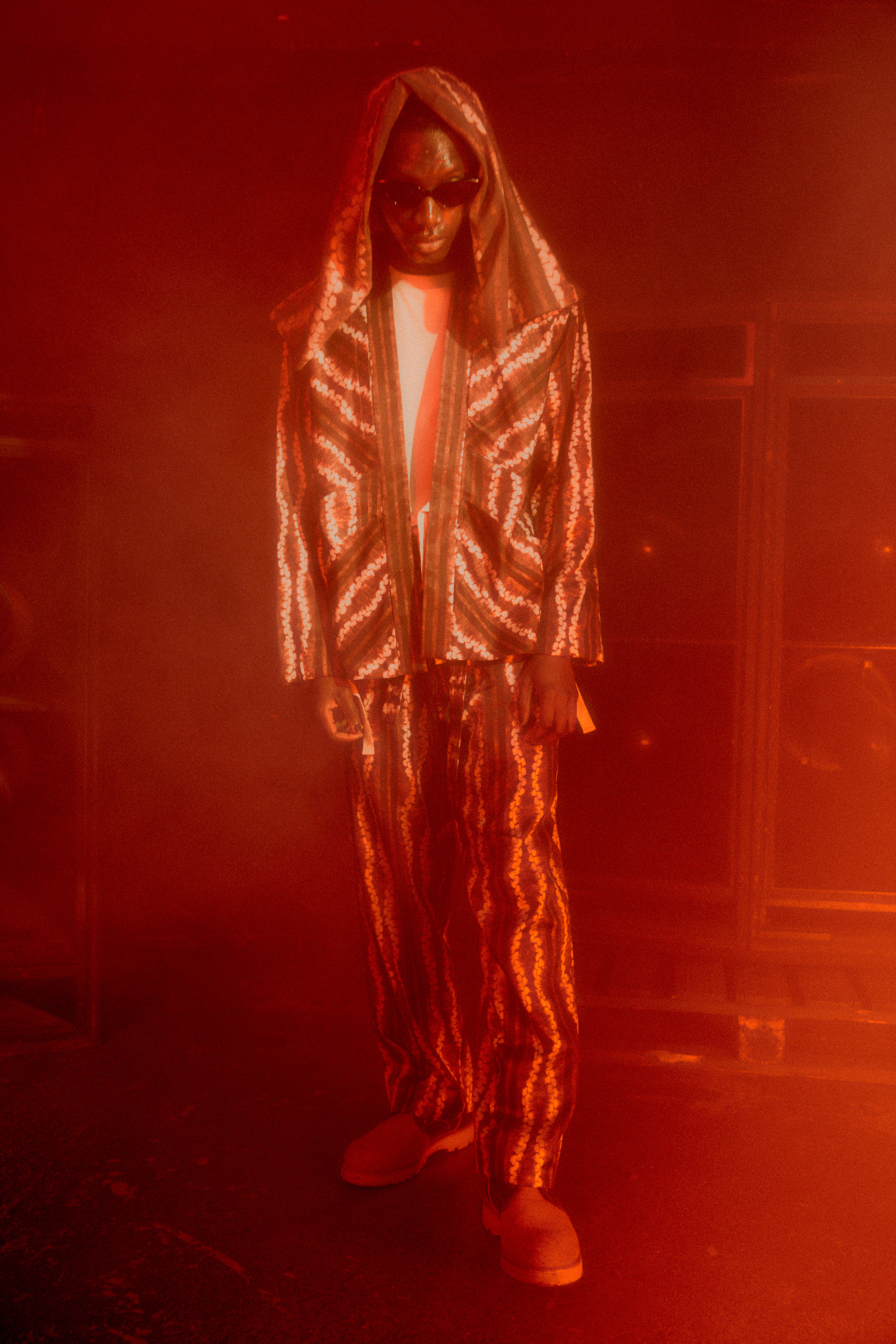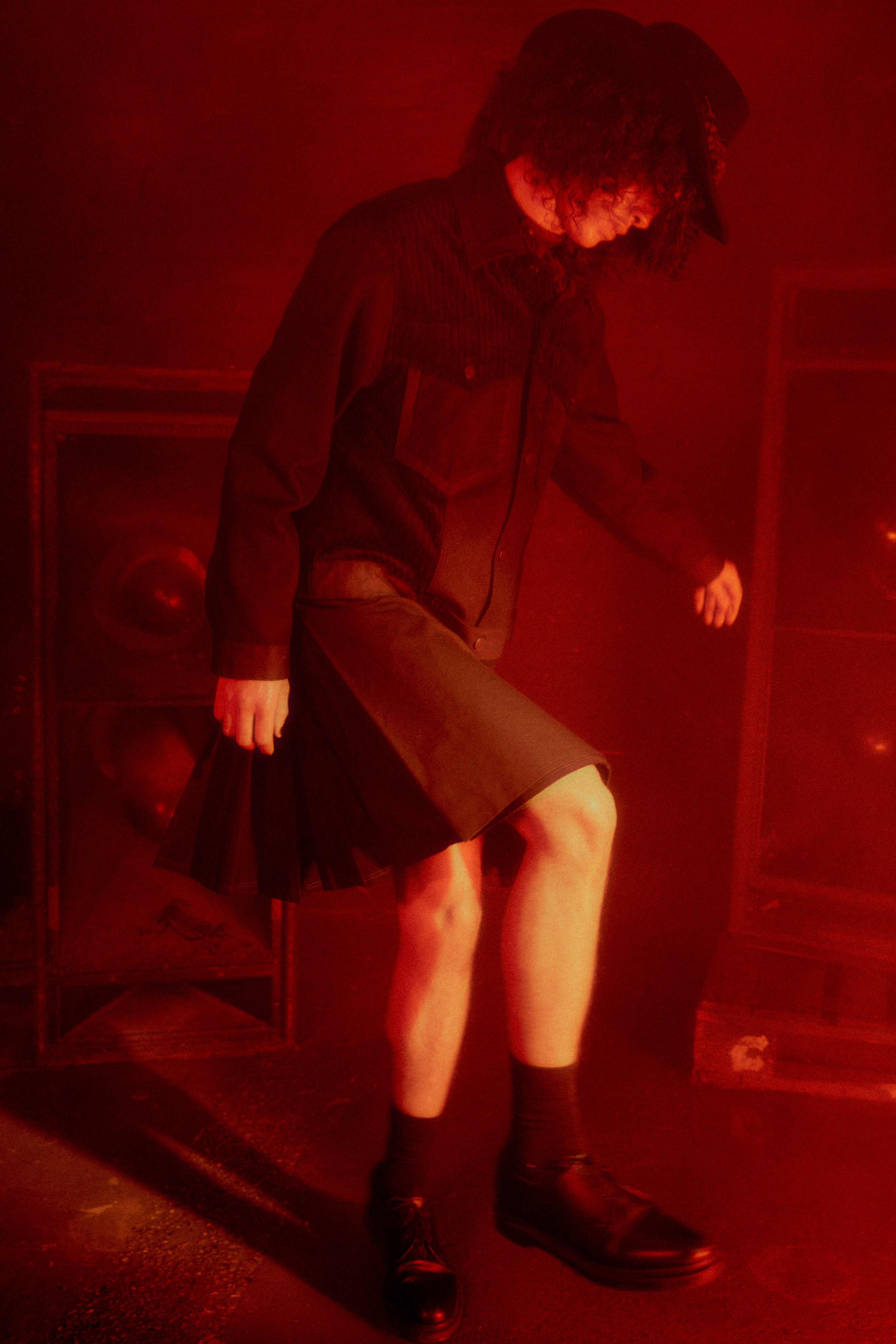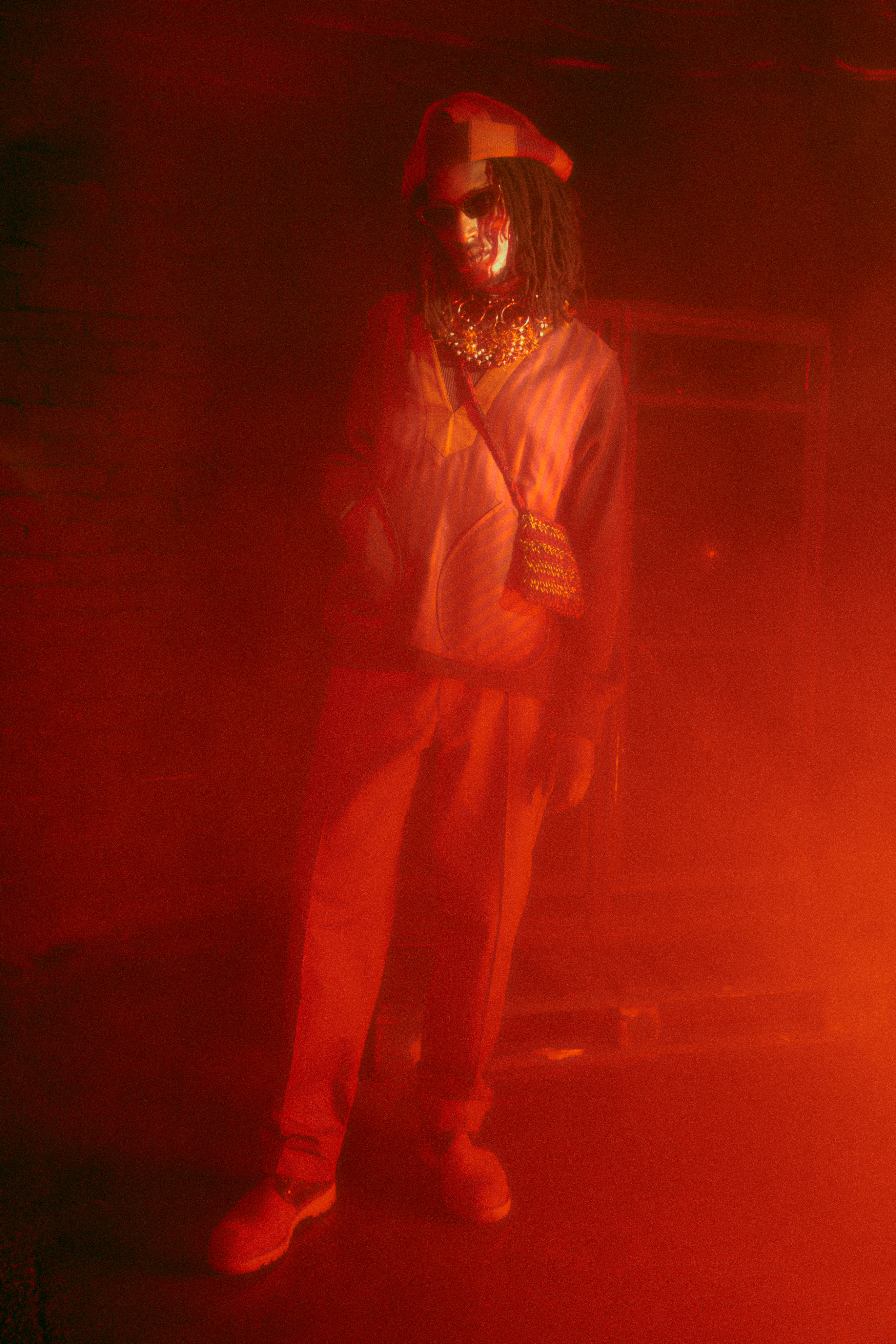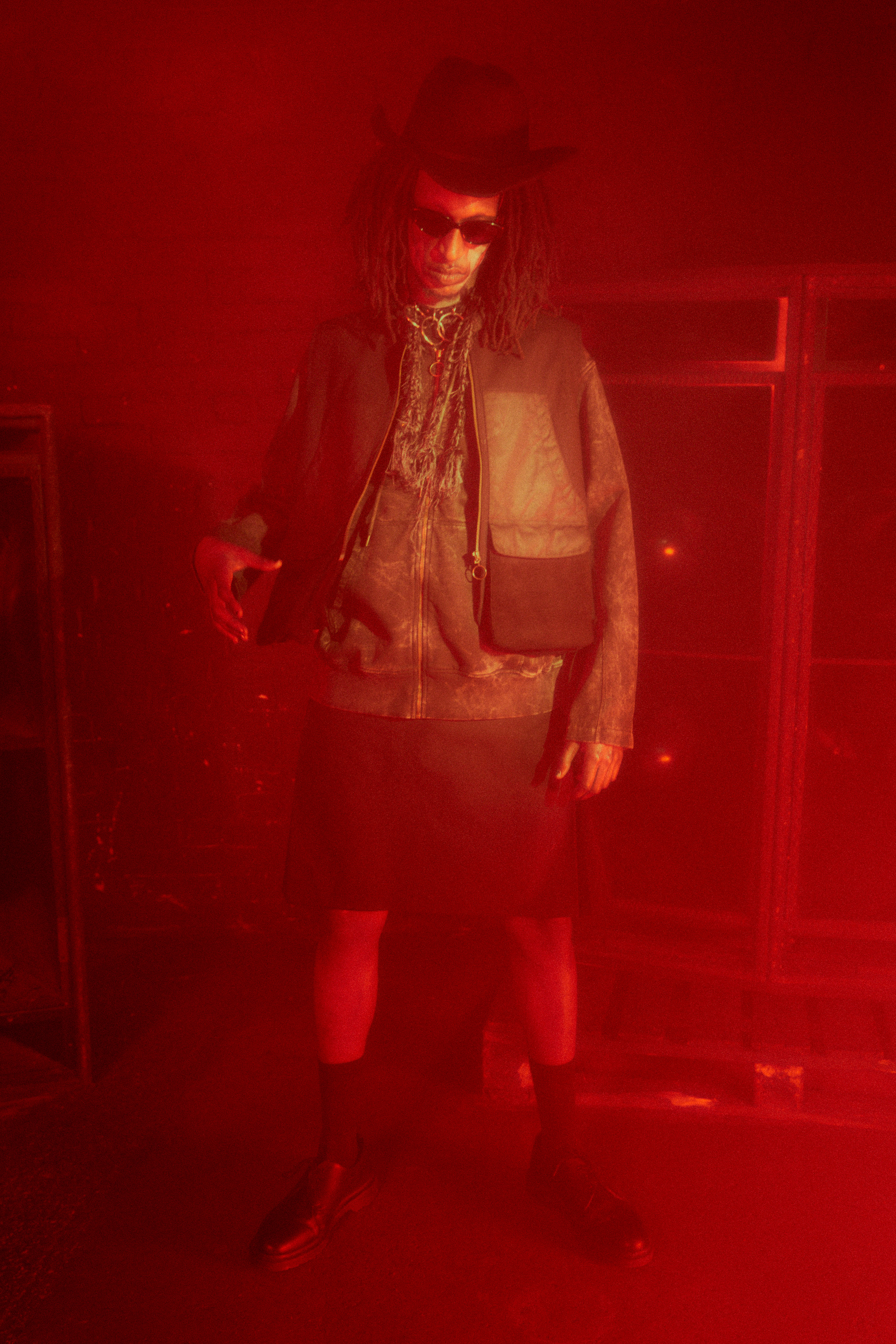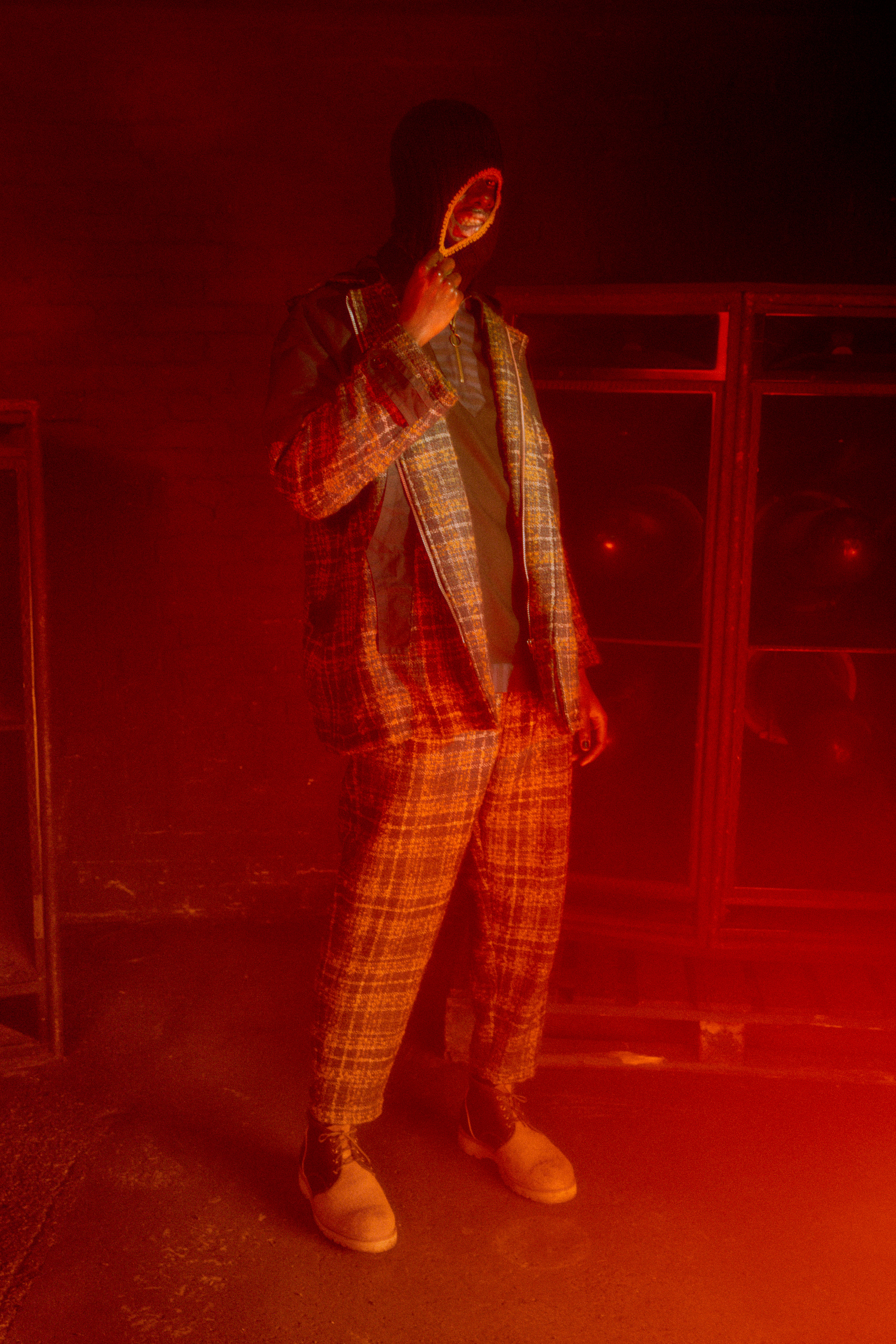 Saul Nash
Tasked with the honour of officially opening the week's proceedings was Saul Nash. Prefaced by a film by FX Goby – "exploring the spirituality and folklore that binds communities together," a release read, shot against the backdrop of a Kensal Rise barbershop – this was a collection that explored the emotional qualities that cultivate a sense of belonging. For Saul, that entailed an investigation of his own ties to Guyana, the country his mother's from, and whose culture has profoundly marked his experience growing up in North London. Sporty collarless tunics bore the country's name, twinsets came in blurs of palm greens, canary yellows and burnt umber, and prints representing Iemanja, a water deity that figures in numerous Afro-Caribbean folkloric traditions. Where the designer's greatest steps were made, though, was in the expansion of his sartorial remit to include tailoring, flexing his already well-proven cutting skills with his very first suit, a louche silhouette crafted from matte combat wool with detachable sleeves. MS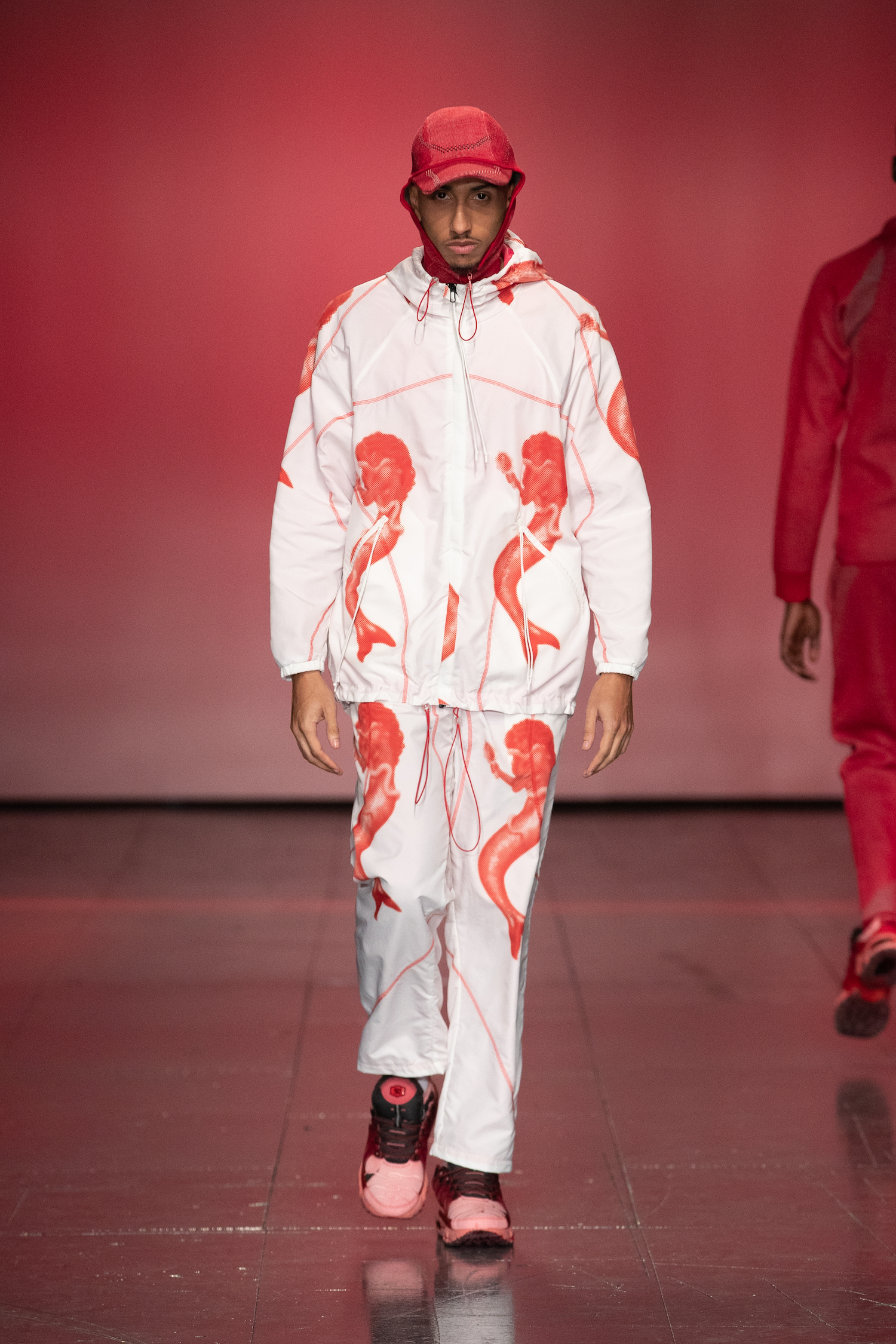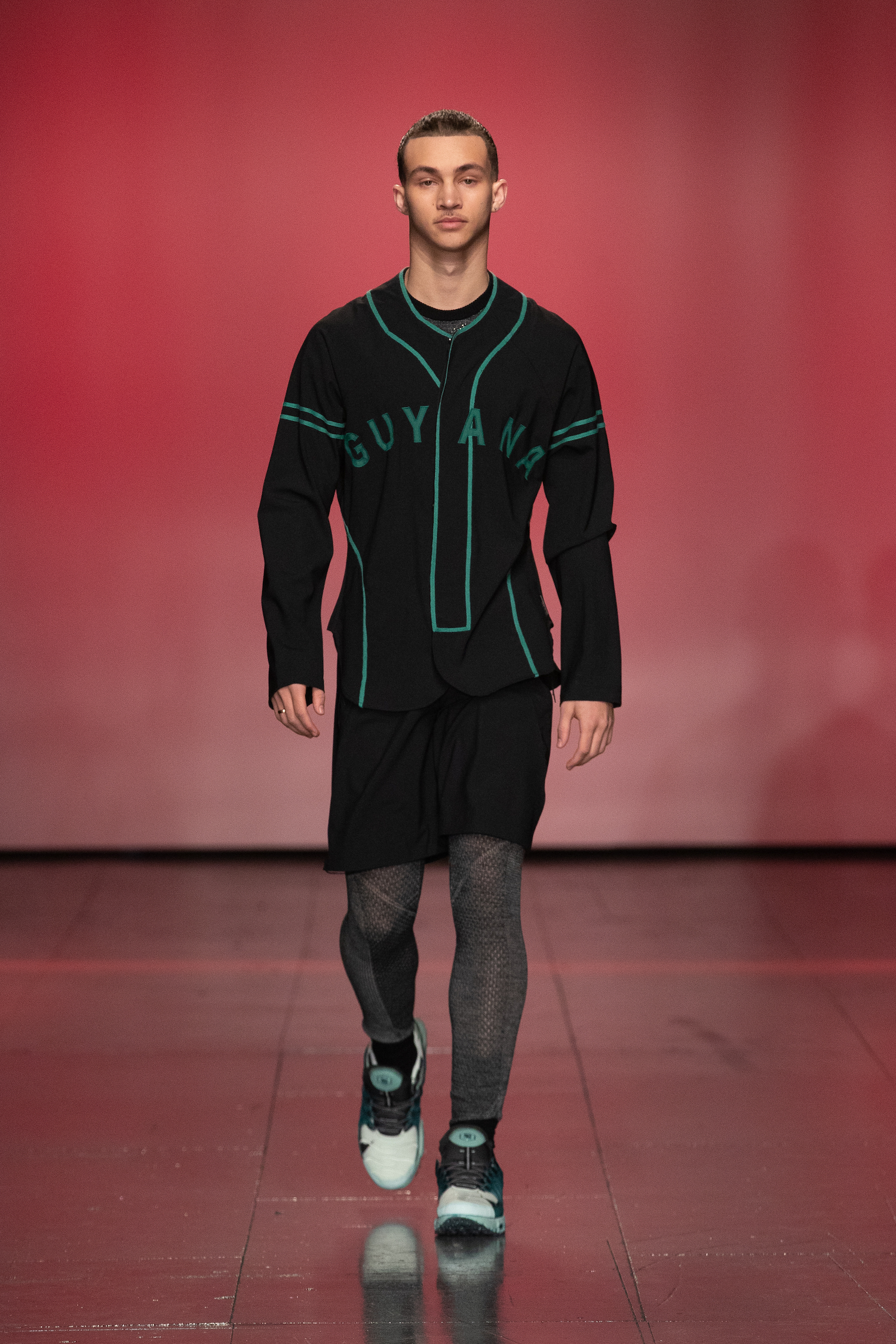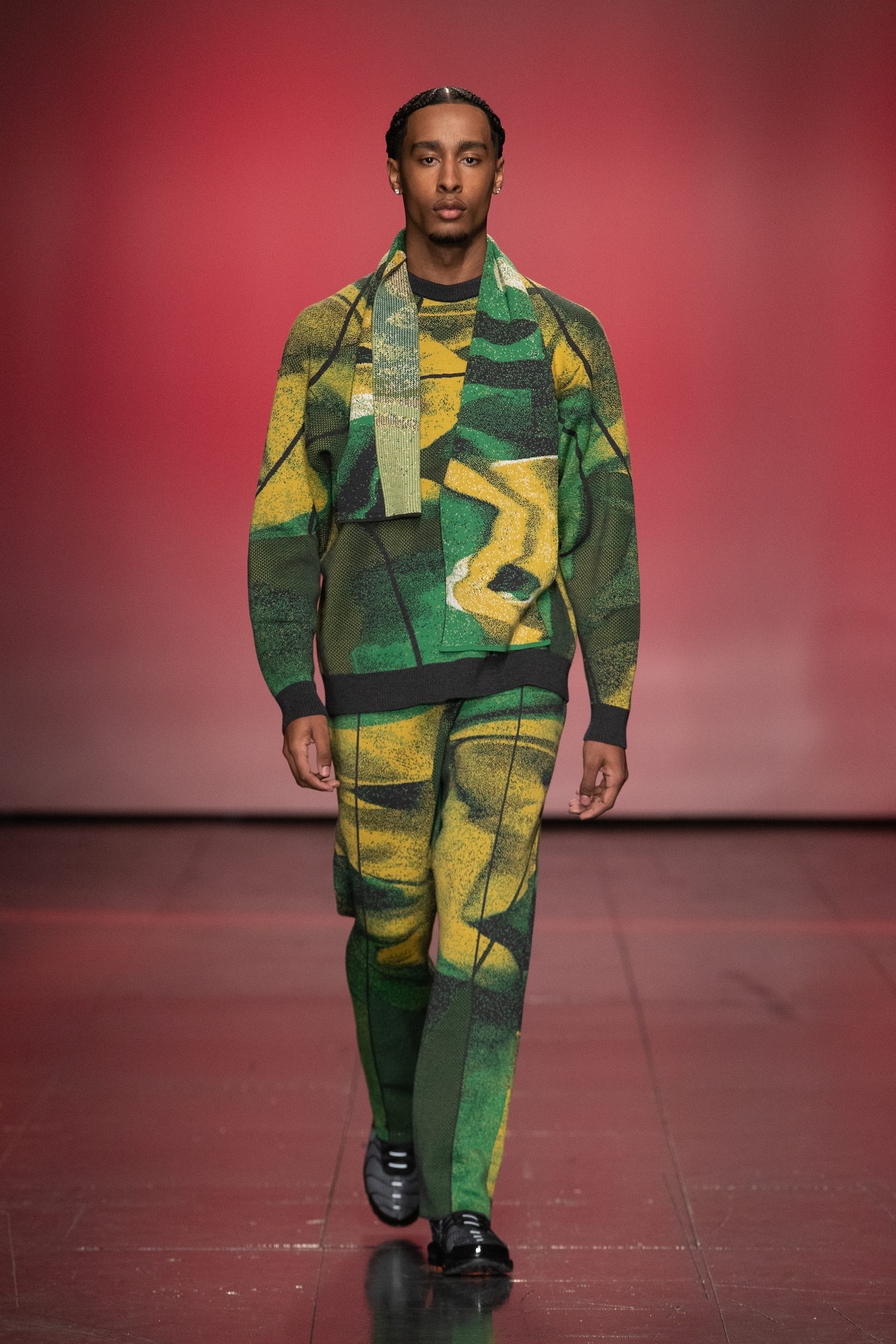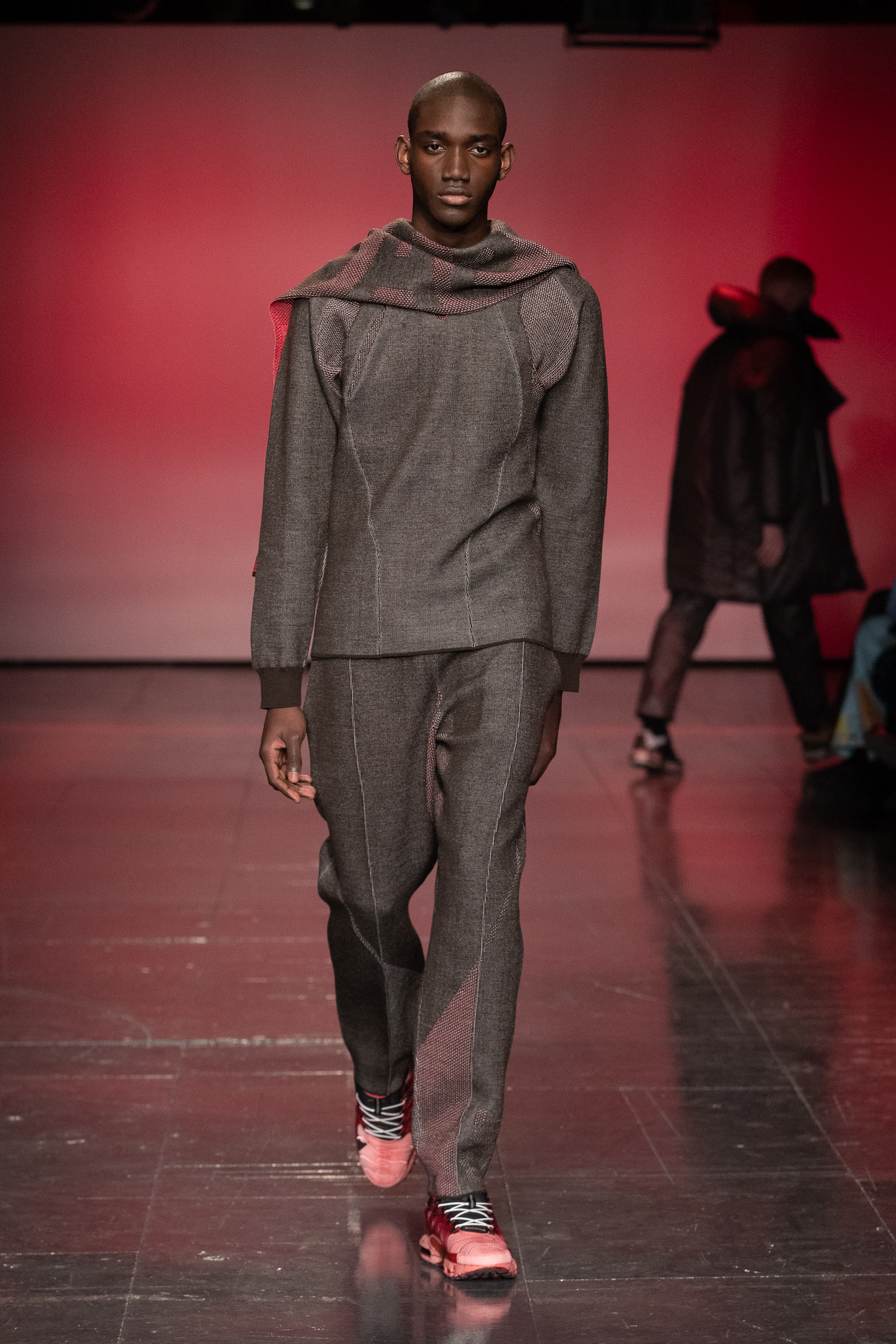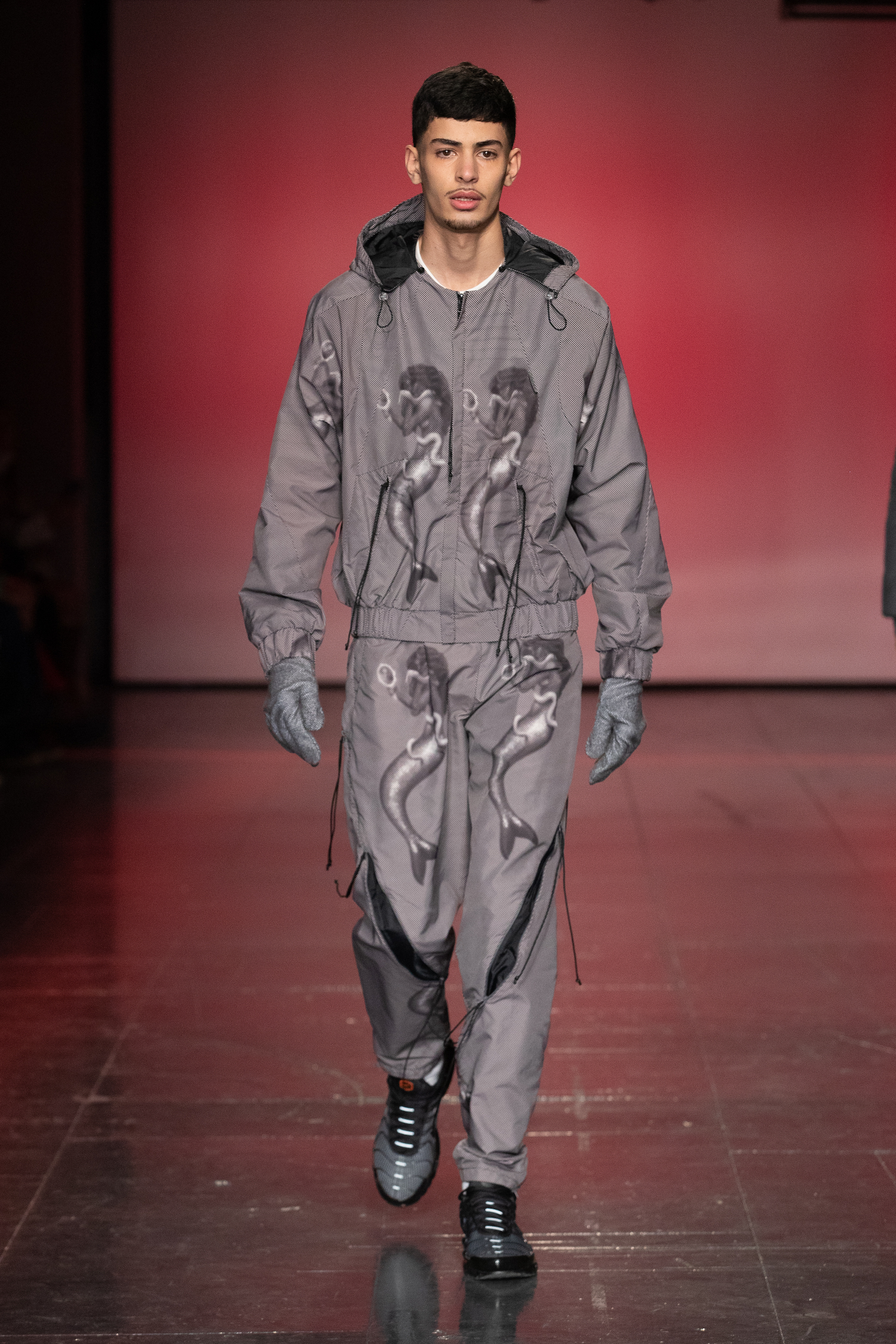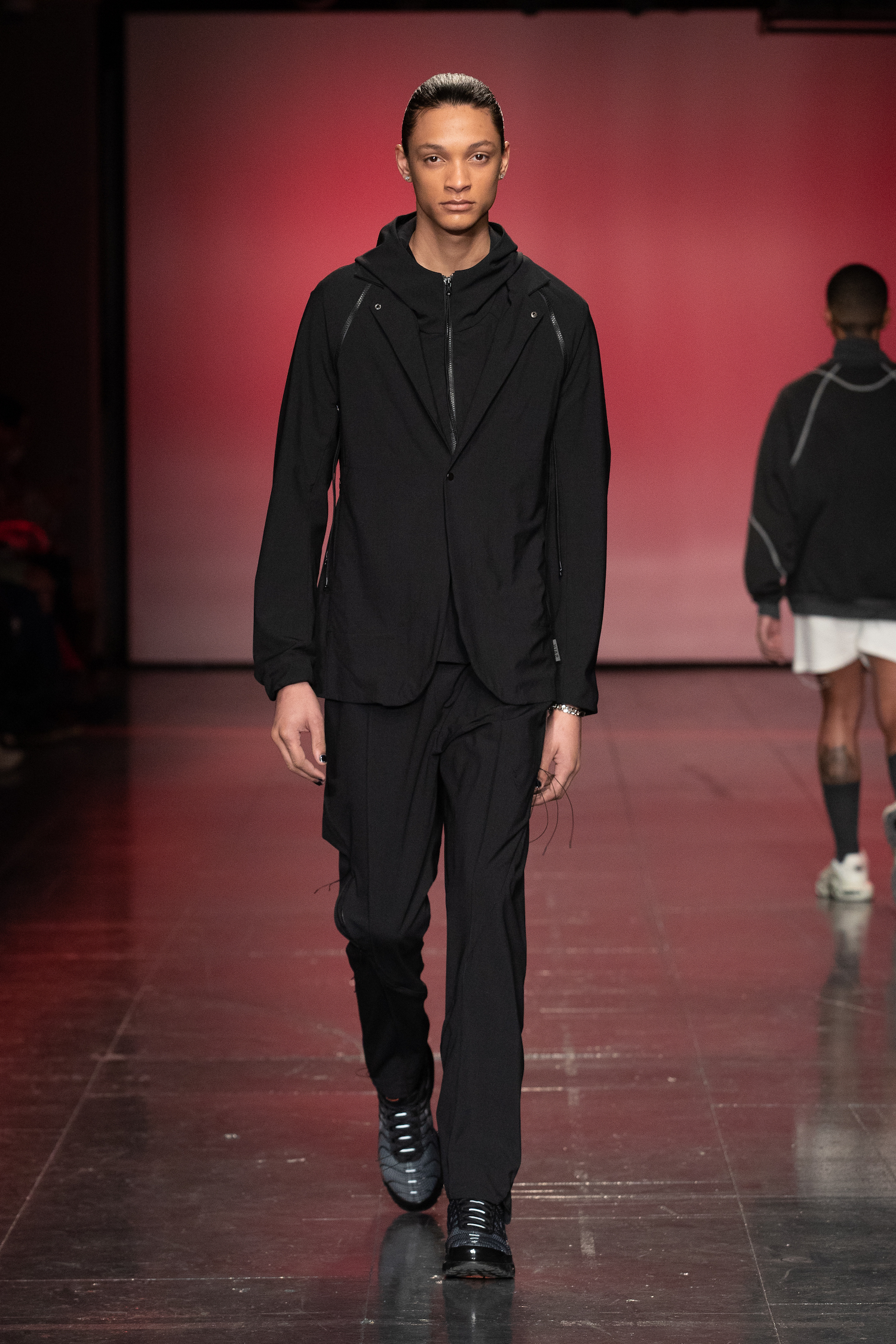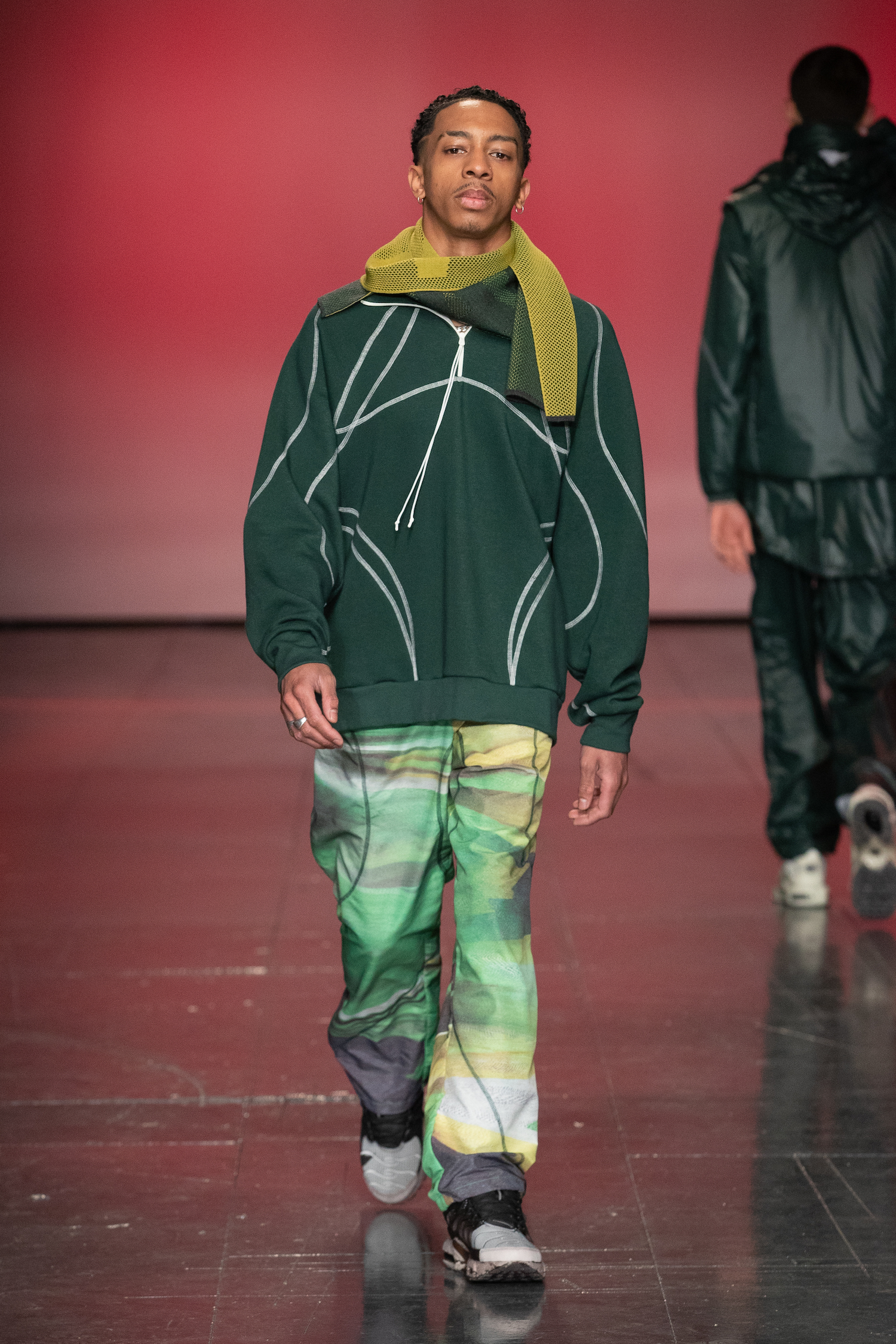 Harris Reed
Last night, ahead of the official commencement of London Fashion Week, Harris Reed staged his very own fashion spectacle. Sam Smith performed Desirée's Kissing You, while a symphony of models writhed and posed amid an Elysian set of stars and clouds. This was Harris' vision of fashion heaven, a place where trailing gowns are realised in sumptuous fabrics and worn by gender-fluid Glamazons. Now in his third season — although Harris no stranger to collaborations and one-off residencies — the collection marks a bold step in the development of Harris' namesake brand. Rather than designing ready-to-wear to be stocked in wholesale retailers, the California-born designer is building a couture-like business model, creating unique pieces to be sold as custom pieces for VIP clients. This collection, titled '60 Years a Queen', took its name from the 1897 book by Sir Herbert Maxwell on the reign of Queen Victoria. Hence, the sense of Victorian opulence: corseted silhouettes juxtaposed with wide-lapelled tailoring, (crown) jewel tones of, richly textured brocades and ginormous taffeta bows and even bigger hats. Remarkably, much of it was crafted from upcycled materials — albeit from the century-old Bussandri upholstery firm in Northern Italy. Part Glam Rock, part Victoriana — there's a sense of the Byronic revival seen in the 60s, when Mick Jagger et all donned Victorian ruffled and blouses as a way of reframing masculine identity. Today, Harris' designs speak to a conversation not just about gender-fluidity — but about the purpose of fashion within a wider cultural space. Sure, these clothes aren't for everyday life — and they won't form the foundation of a working wardrobe — but they will resonate through images and videos on the World Wide Web, and likely make appearances on red carpets come awards season. Up in the clouds is where these clothes belong! OA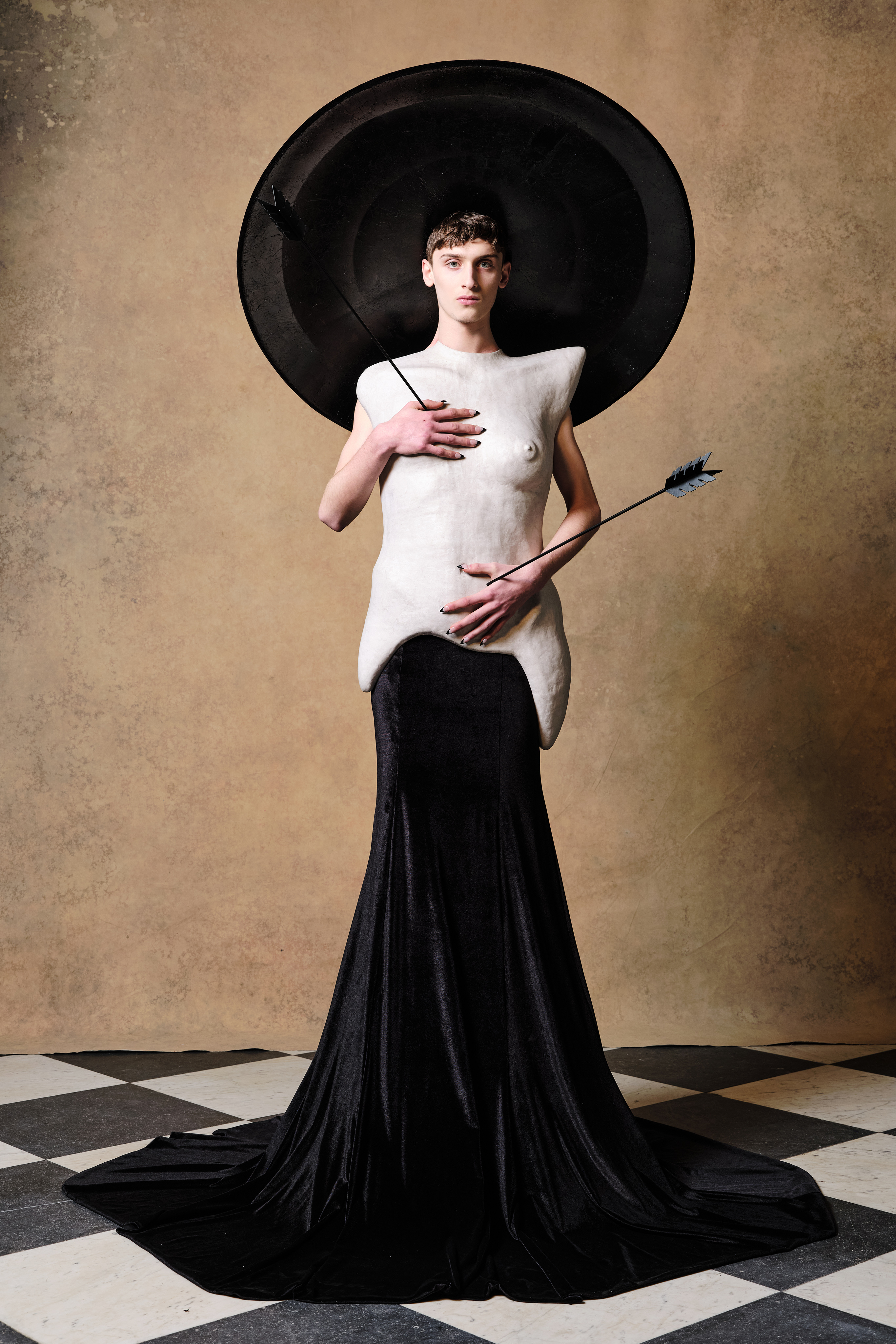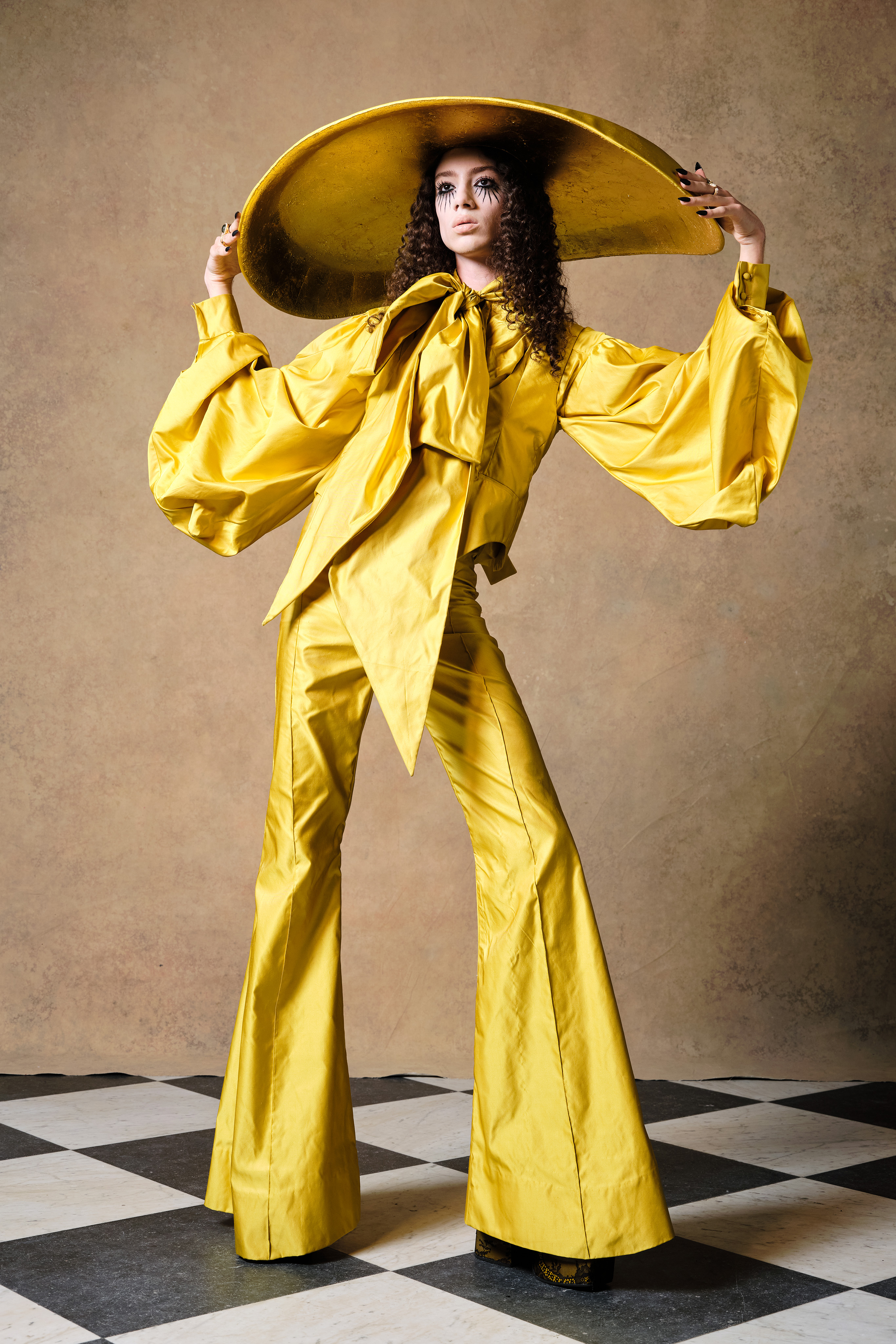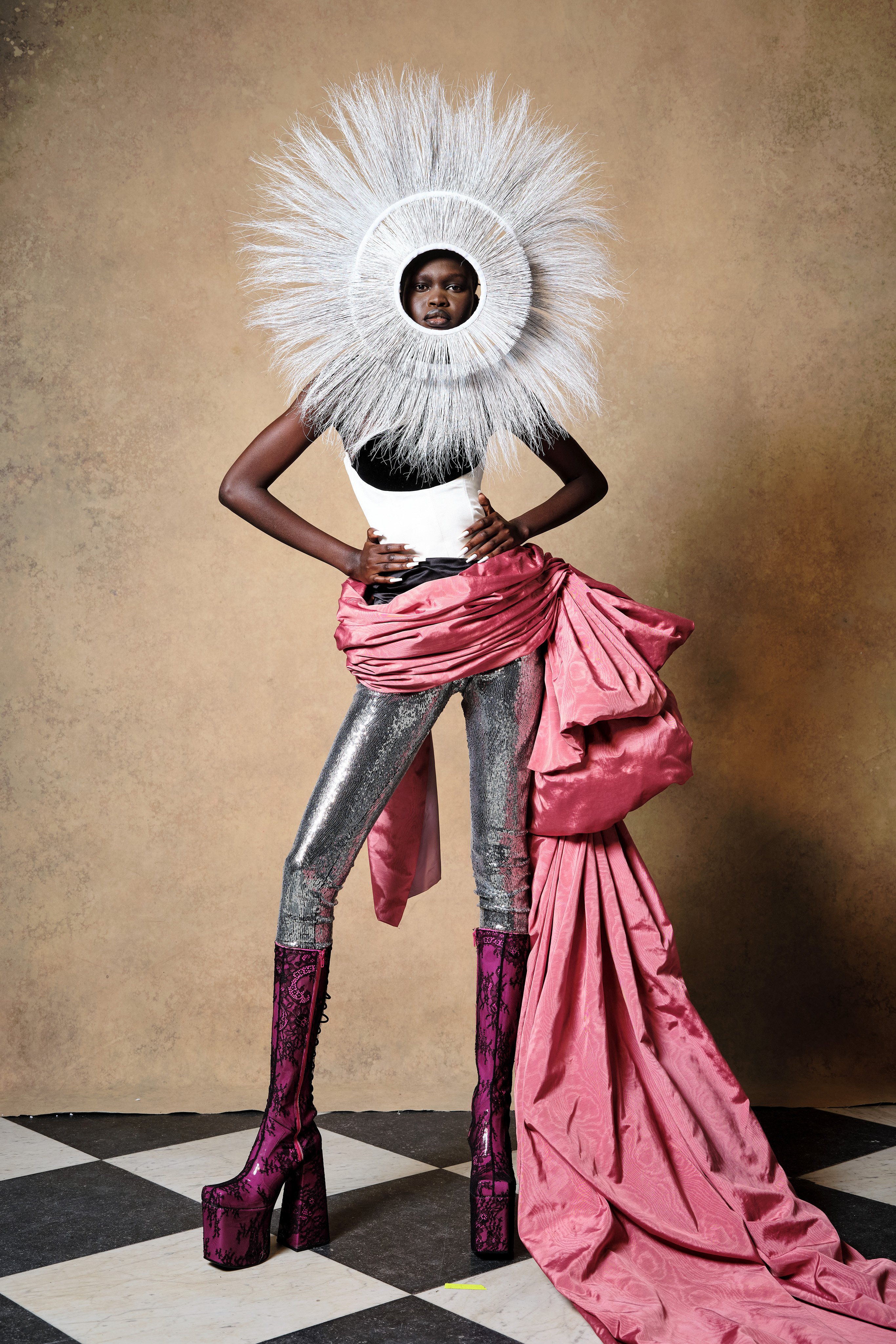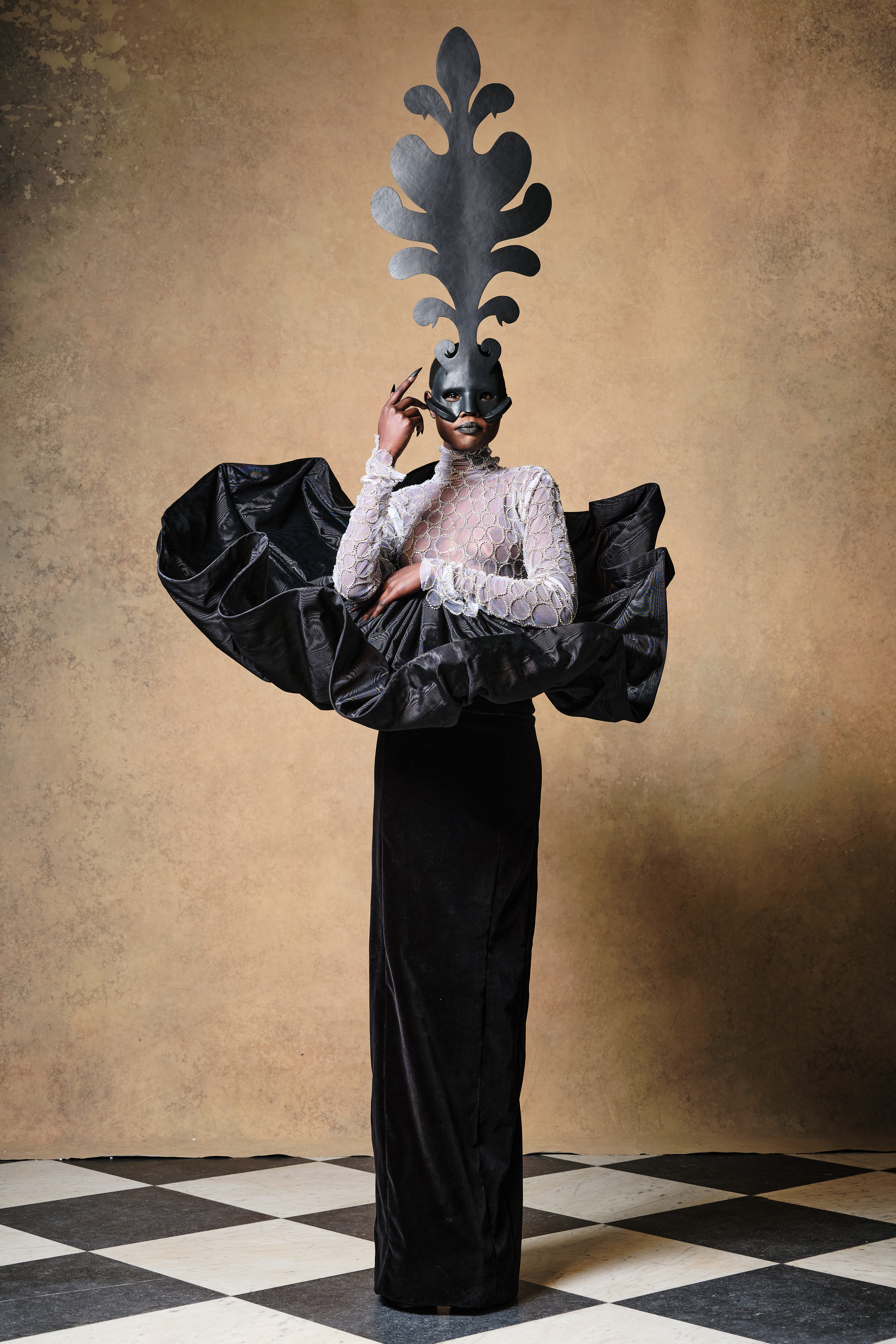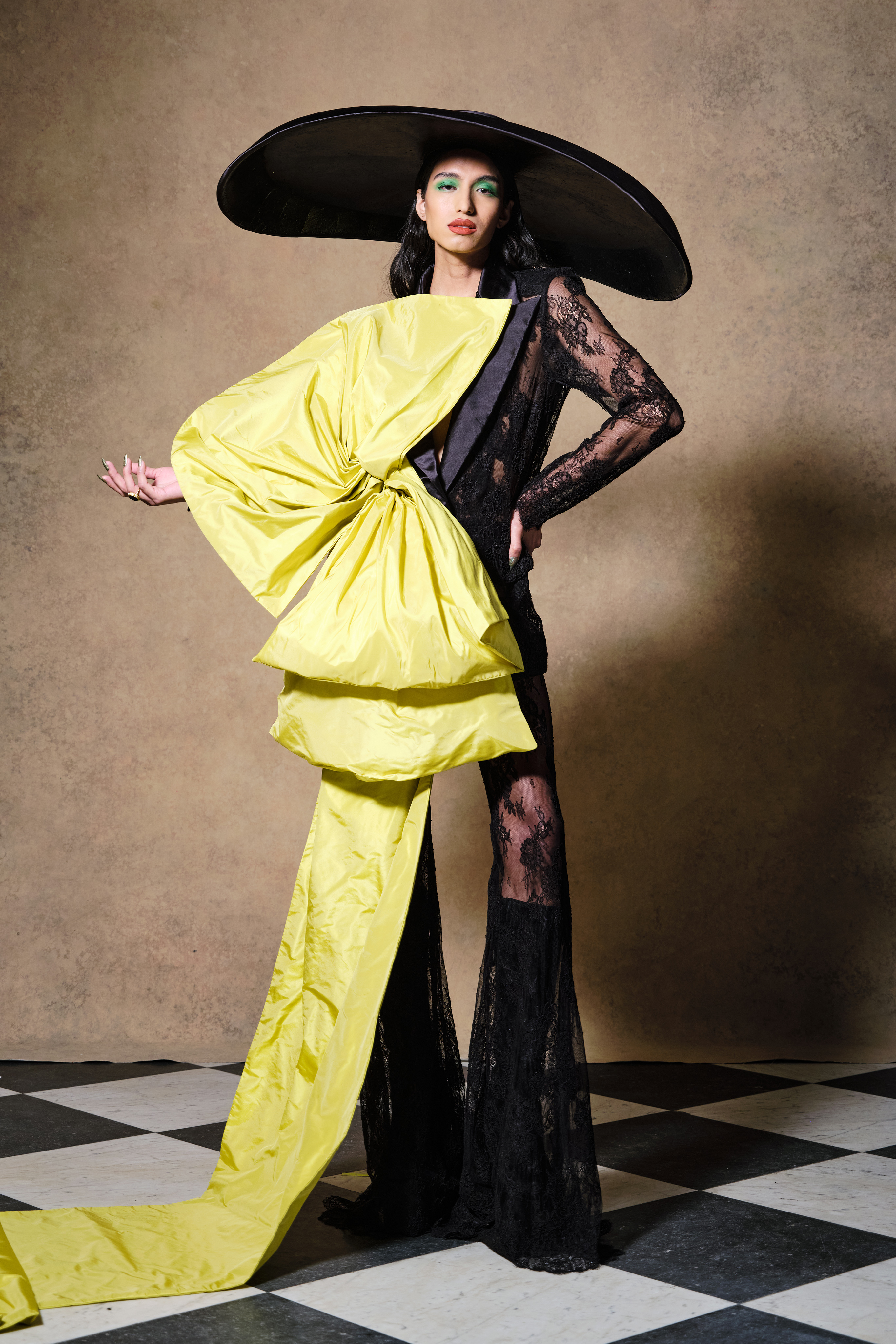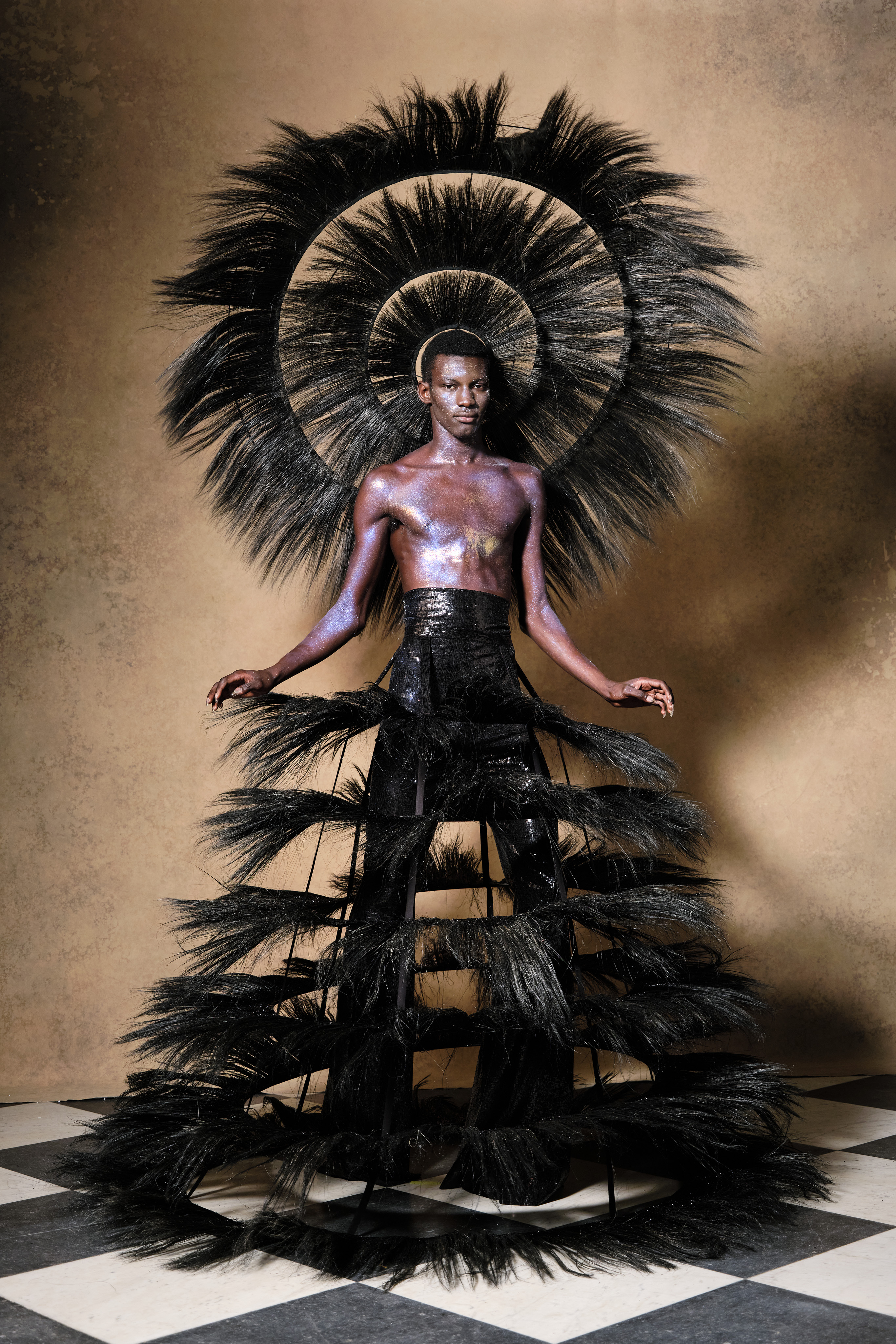 Charles Jeffrey Loverboy
Though it hasn't necessarily been at the front of the brand's messaging, music has always been a core facet of Charles Jeffrey Loverboy. From its early days as a sartorial ambassador for East London's rollicking queer basement parties through to its current status as one of the city's most ambitious young houses, the label's proudly extroverted looks – replete with its punkish house tartans, jaunty silhouettes and deliciously undone knits – have always been the sort that evoke a distinct affect – a sound that plays in your head. That's particularly true of 'Art of Noise', the label's expansive AW22 collection.
Taking Wild Combination: A Portrait of Arthur Russell, a documentary on the late artist and cellist, as a point of departure, this season sees Charles and his team explore the cultural and phenomenological spirit of music across a triptych of sartorial movement. 'The Physical' comprises looks that draw on the tactics of Cubist artists like Pablo Picasso and Claes Oldenberg, referencing the shapes on musical instruments to create the undulating contours of heavy wool plaid coats and a fluted tartan skirt. 'The Cultural' looks reference the lives of musicians themselves, particularly the iconoclastic No Wave artists like Lydia Lunch and James Chance, who came up in late-70s, post-punk New York. And then 'The Emotional' proposes what are by far the collection's most figurative pieces, each the product of an attempt to give form to the feelings that music awakens – think cropped sequin tops and boxy outerwear in primary-hued monogrammed fleece; puckered tartan separates and squiggly-embroidered flutters of tulle. MS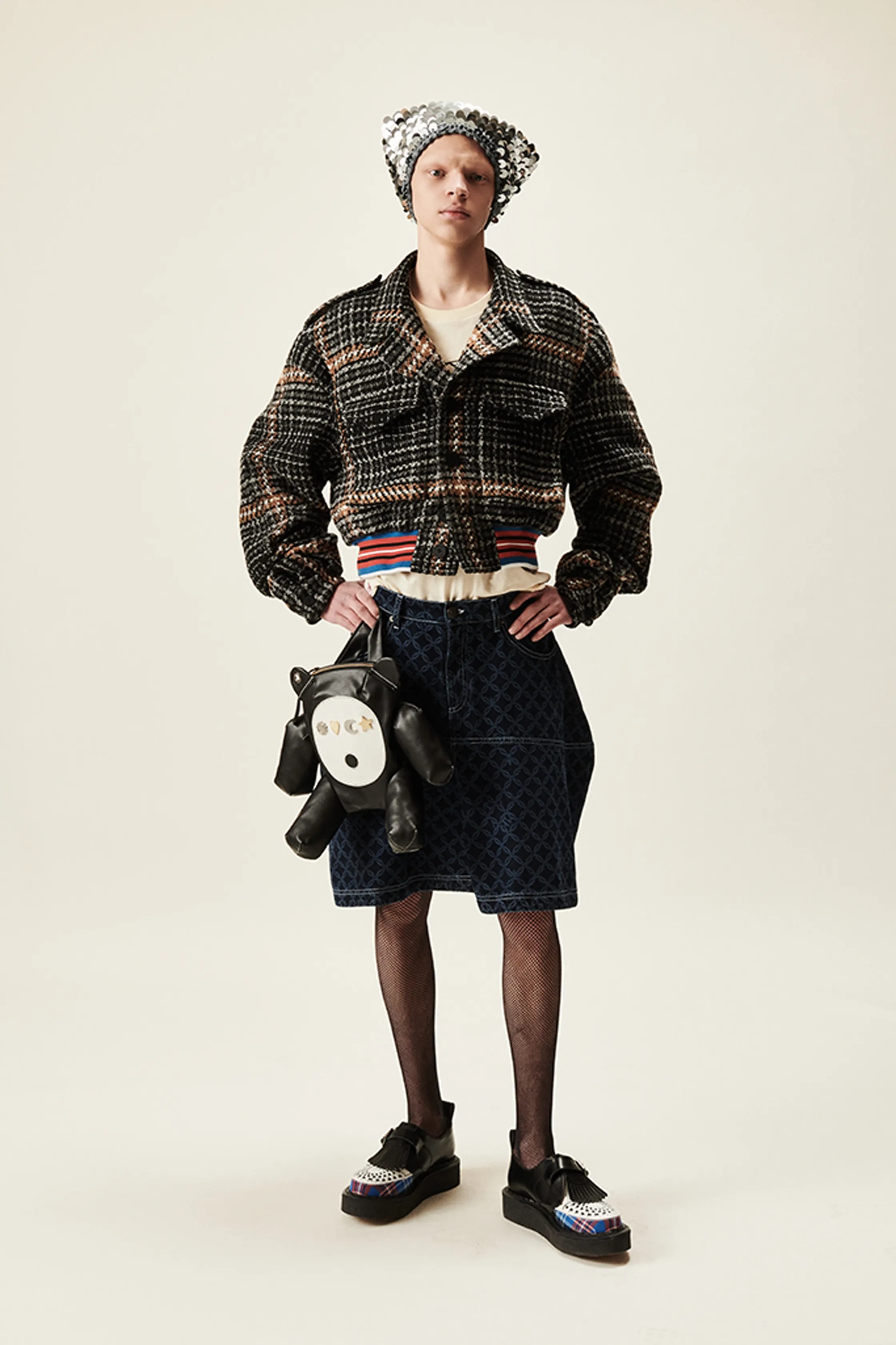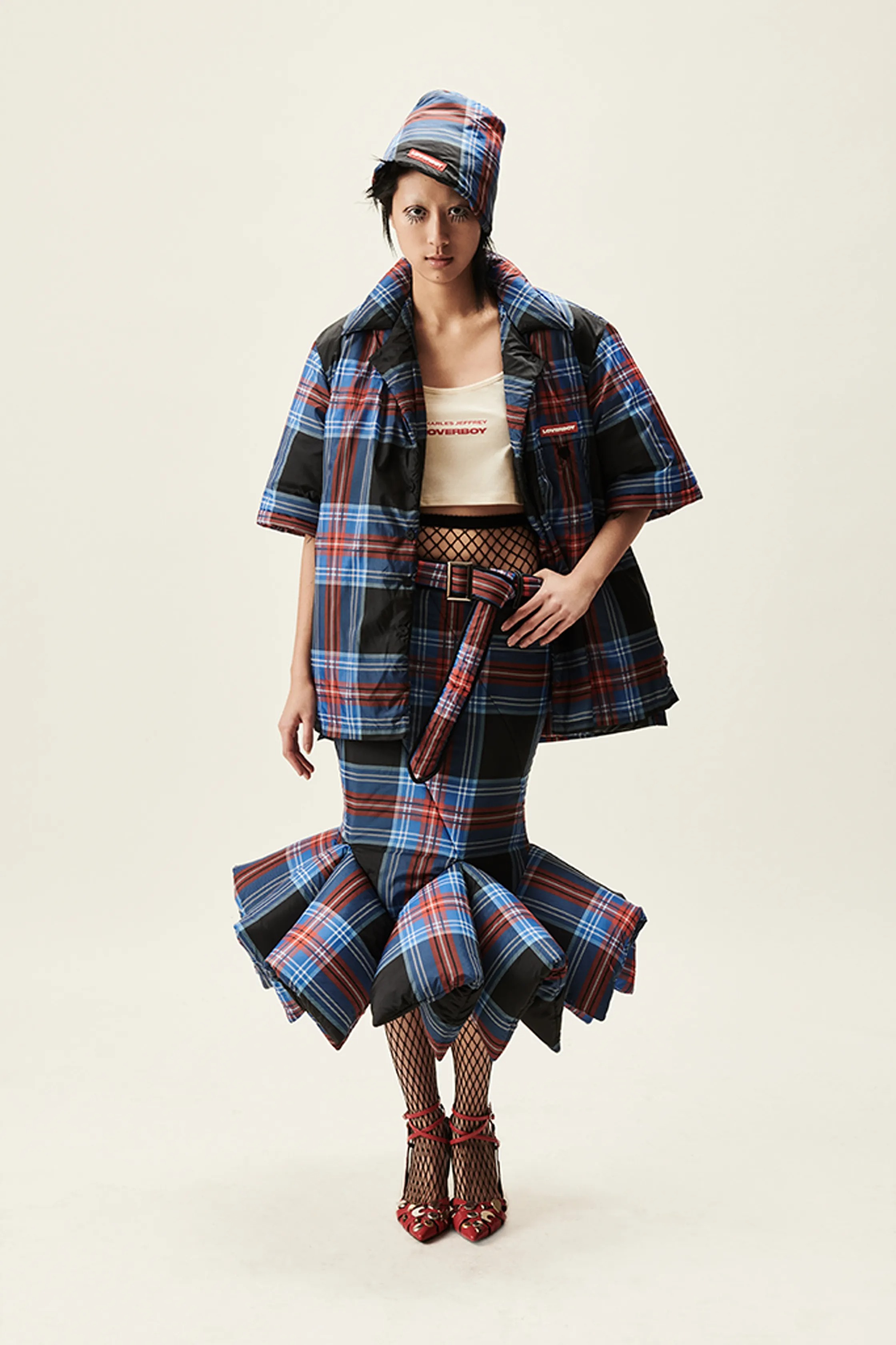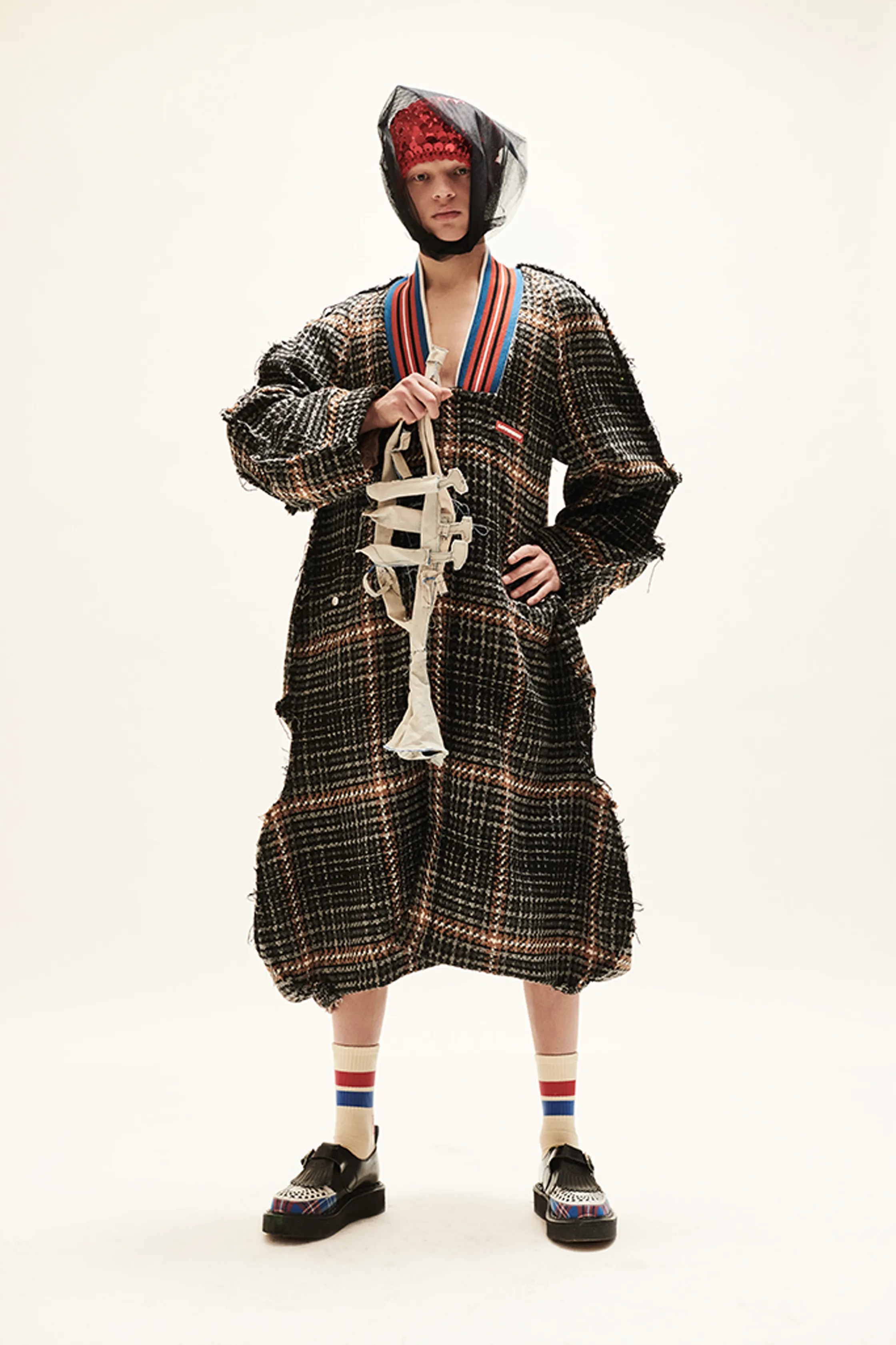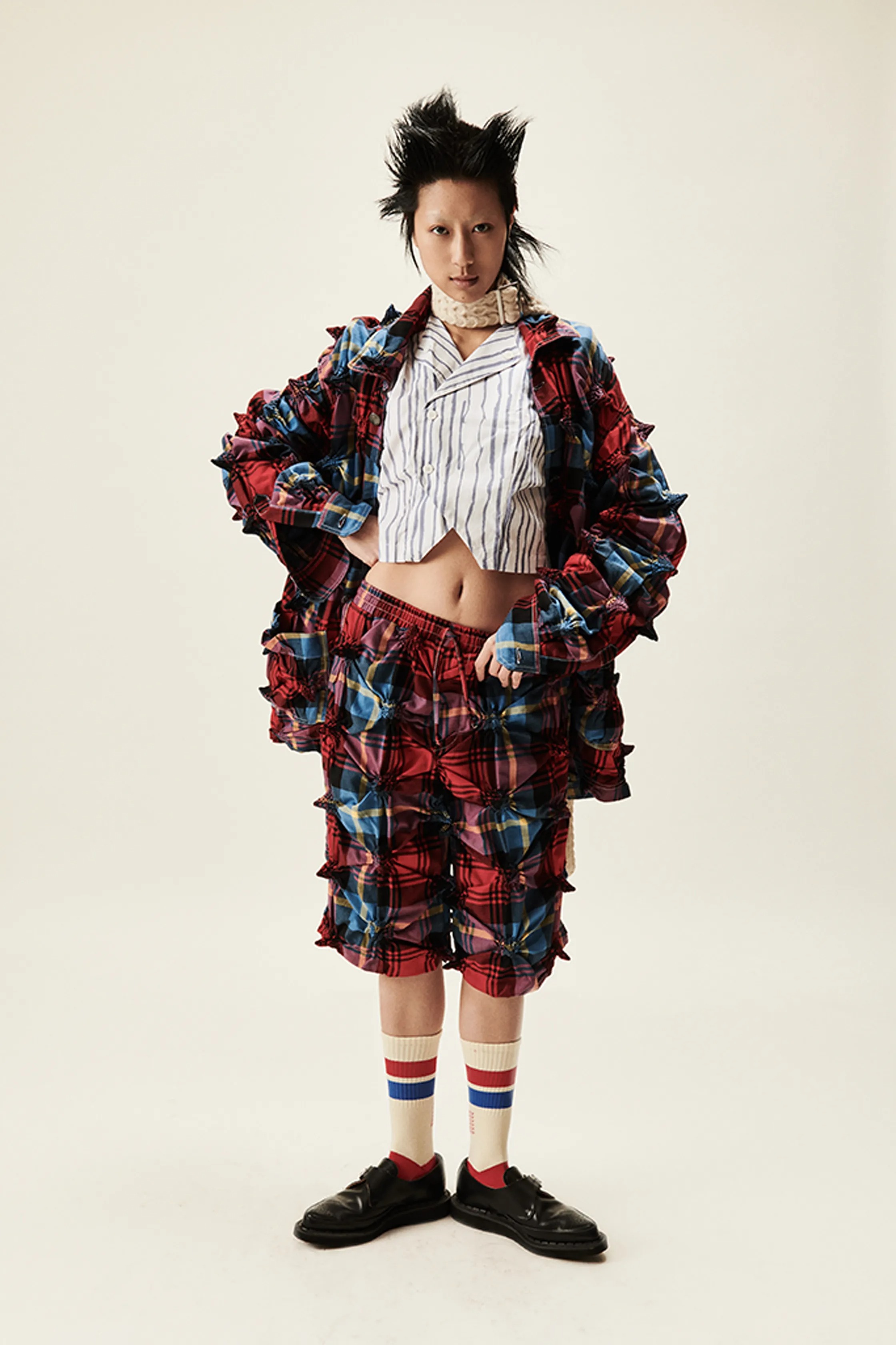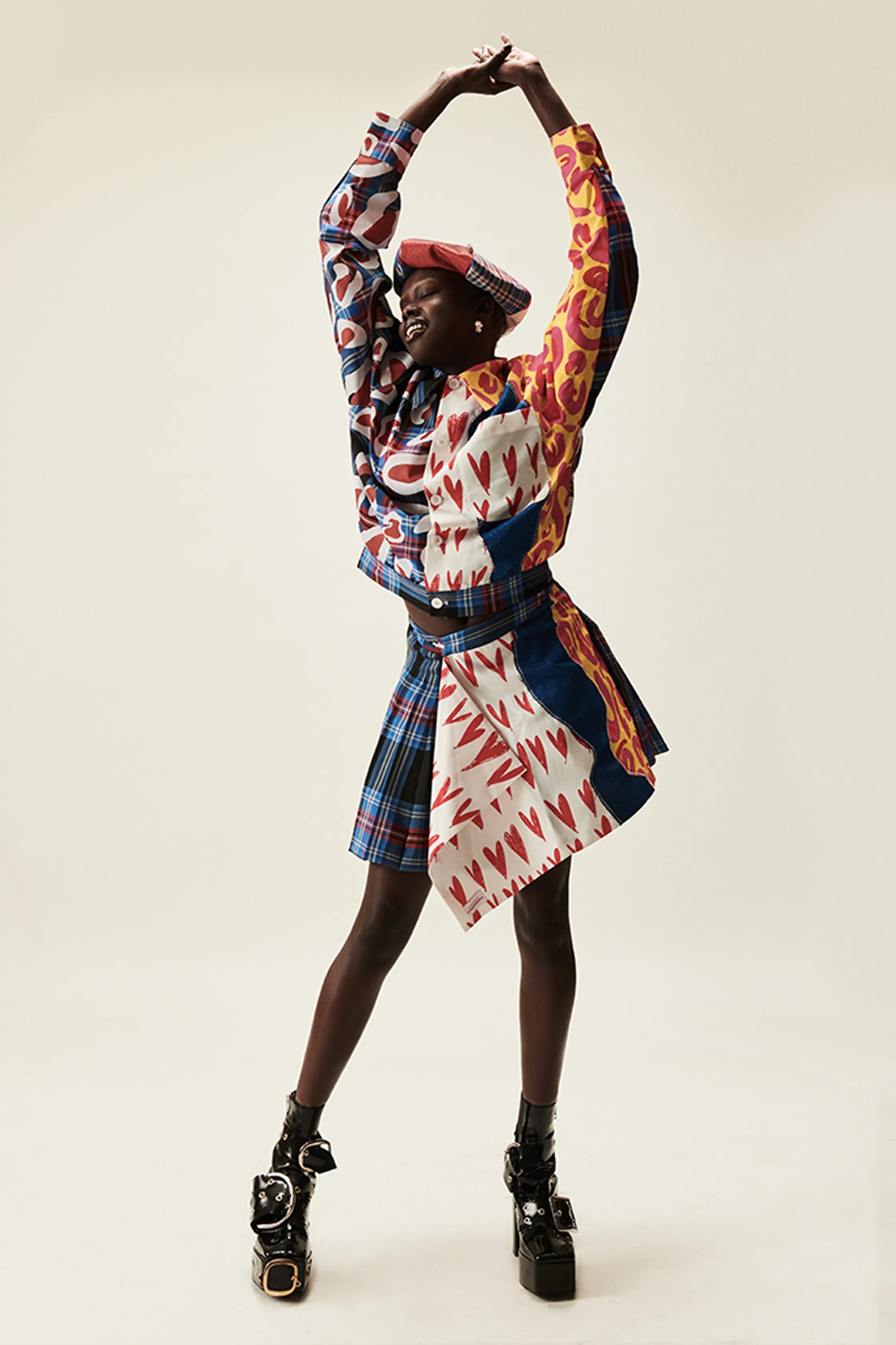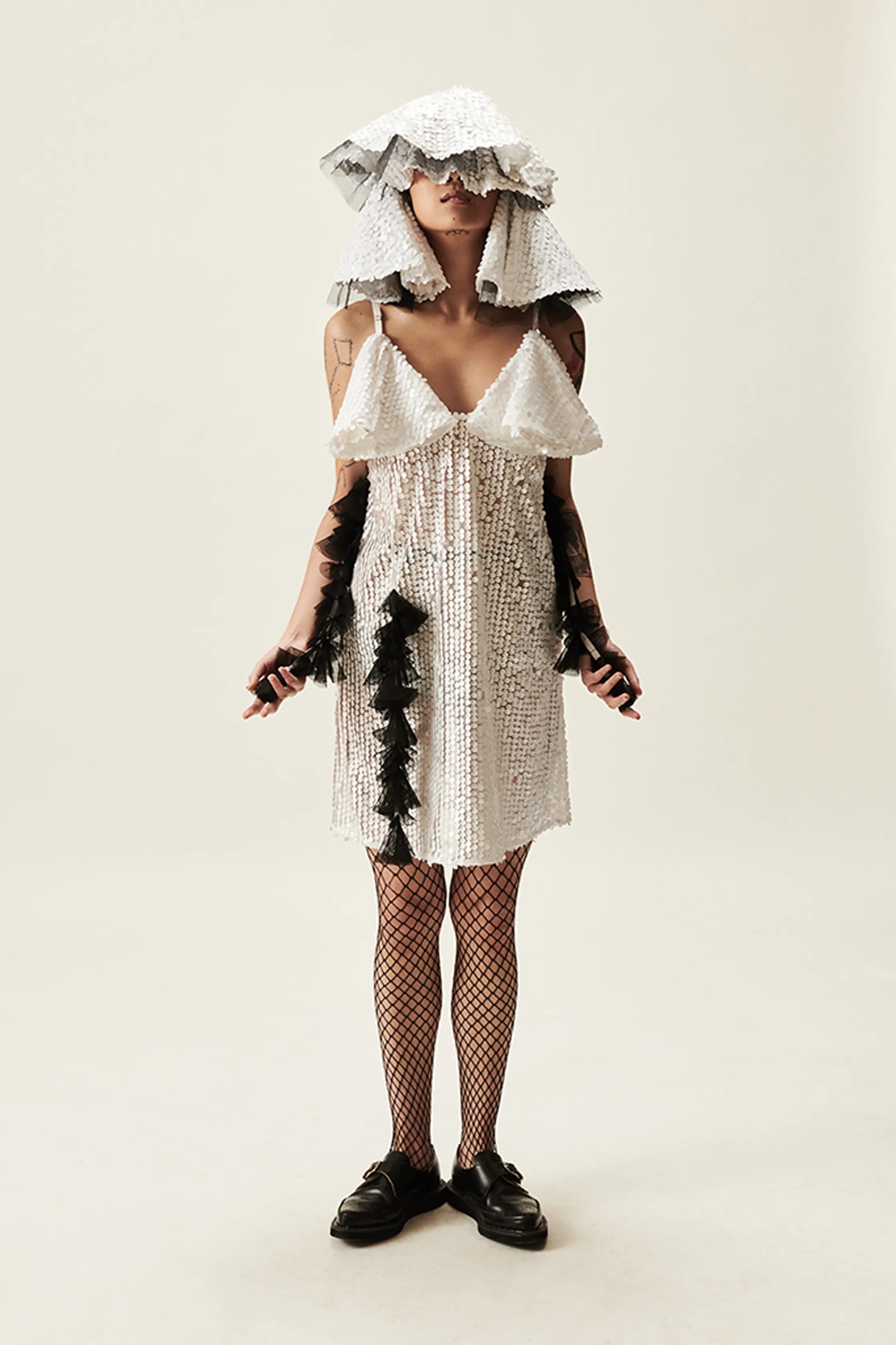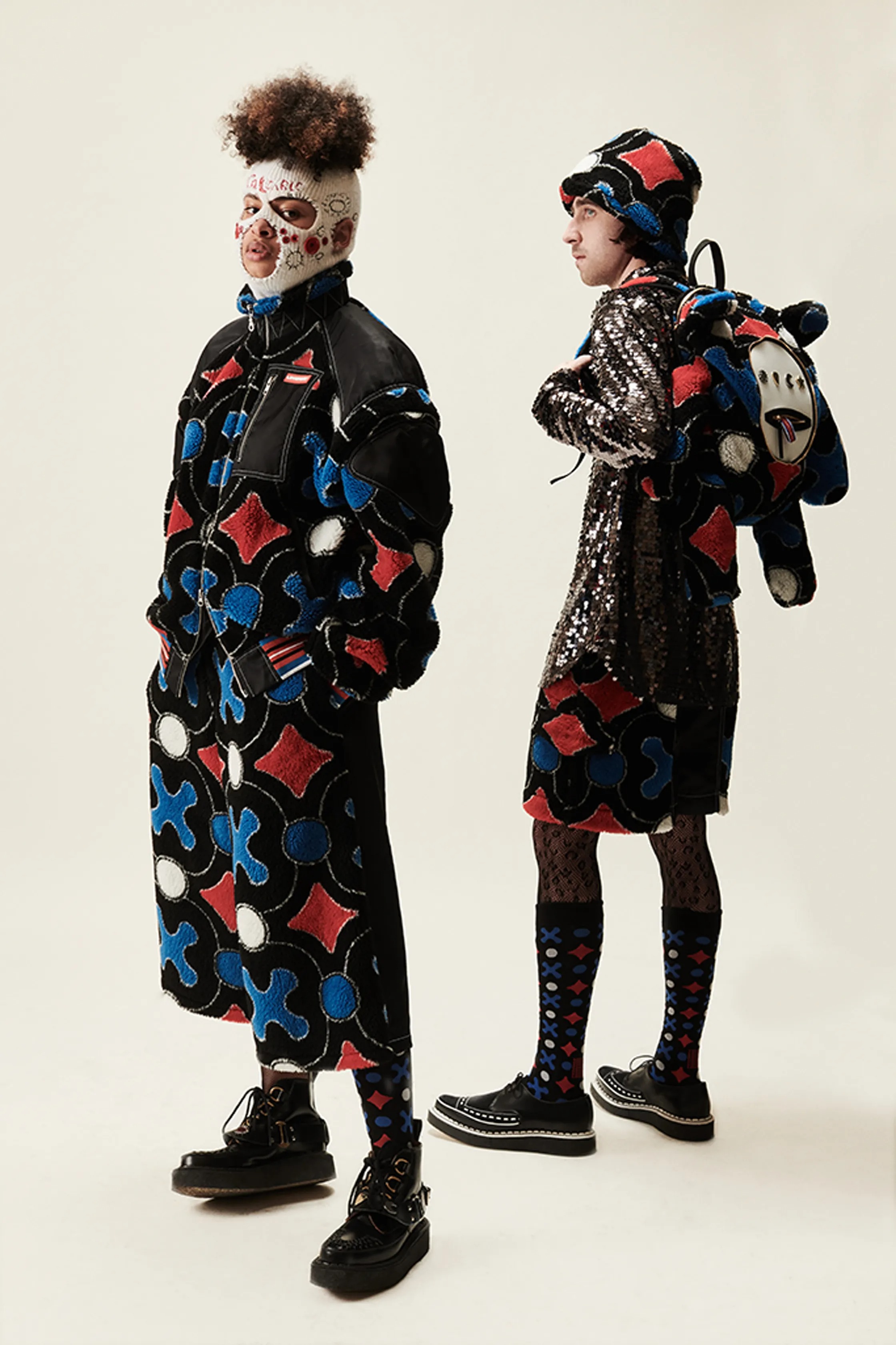 Paolina Russo
Two-a-penny suburban streets are hardly where you'd expect a Final Fantasy-style warrior princess to materialise, but in Paolina Russo's latest collection, that's just where she appears. Titled Relics, the London-based Canadian designer transposes the fierce video-game-tinged muse that's been at the heart of her creative vision onto the plain suburban streets that she herself grew up on. The designer's signature clingy ribbed knit bodysuits, leggings and long-sleeved tops have been reimagined in earthen-hued single fibre wool yarns that call the colours of churned-up turf to mind. Elsewhere, an athletic poise makes itself felt in low-slung mini and midi-skirts that jut sharply from the thigh and corsets upcycled from trainers, while cropped Fair Isle ponchos swaddle the shoulders like twee pieces of armour. Cosy and ready for combat? Now that's what we call chic. MS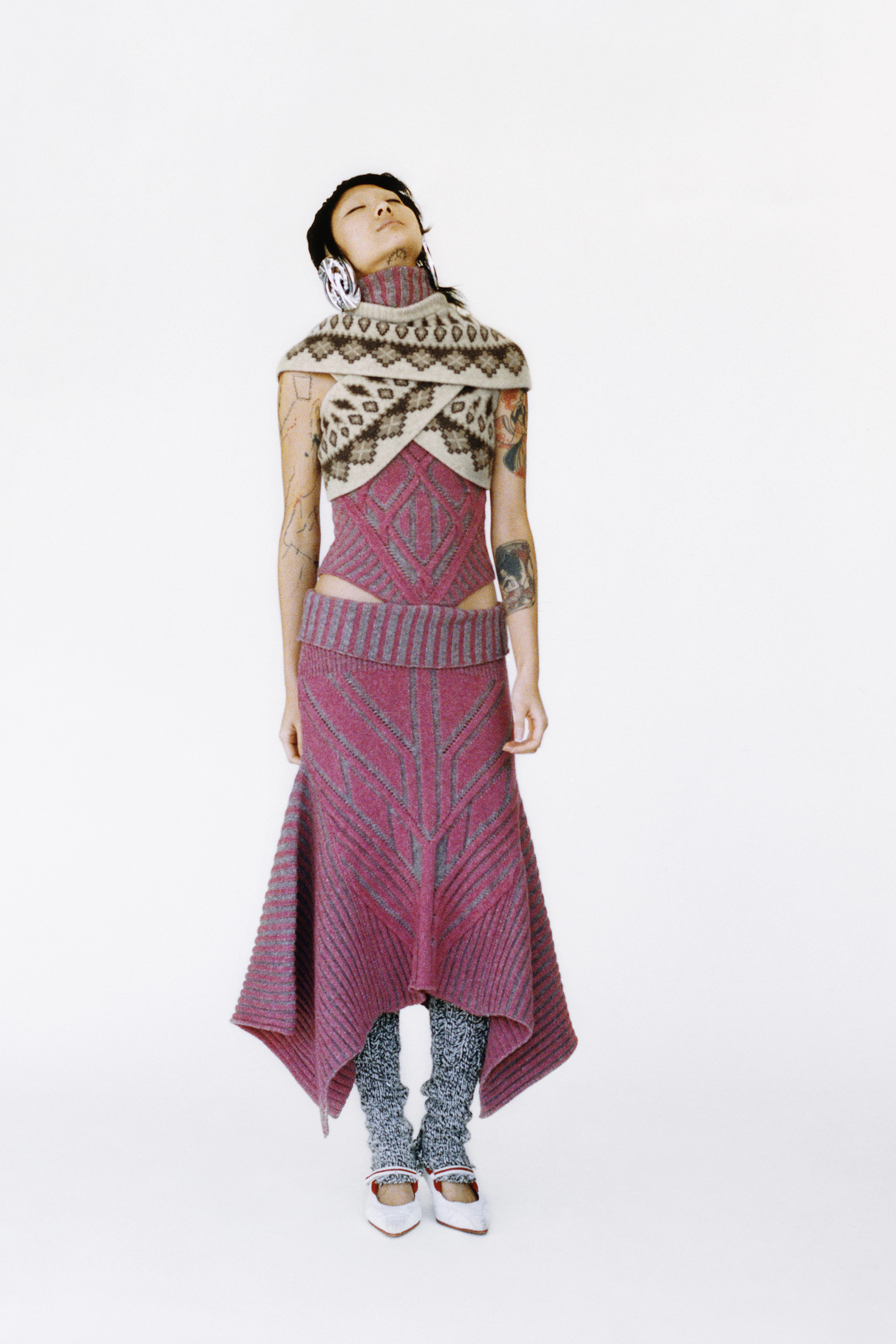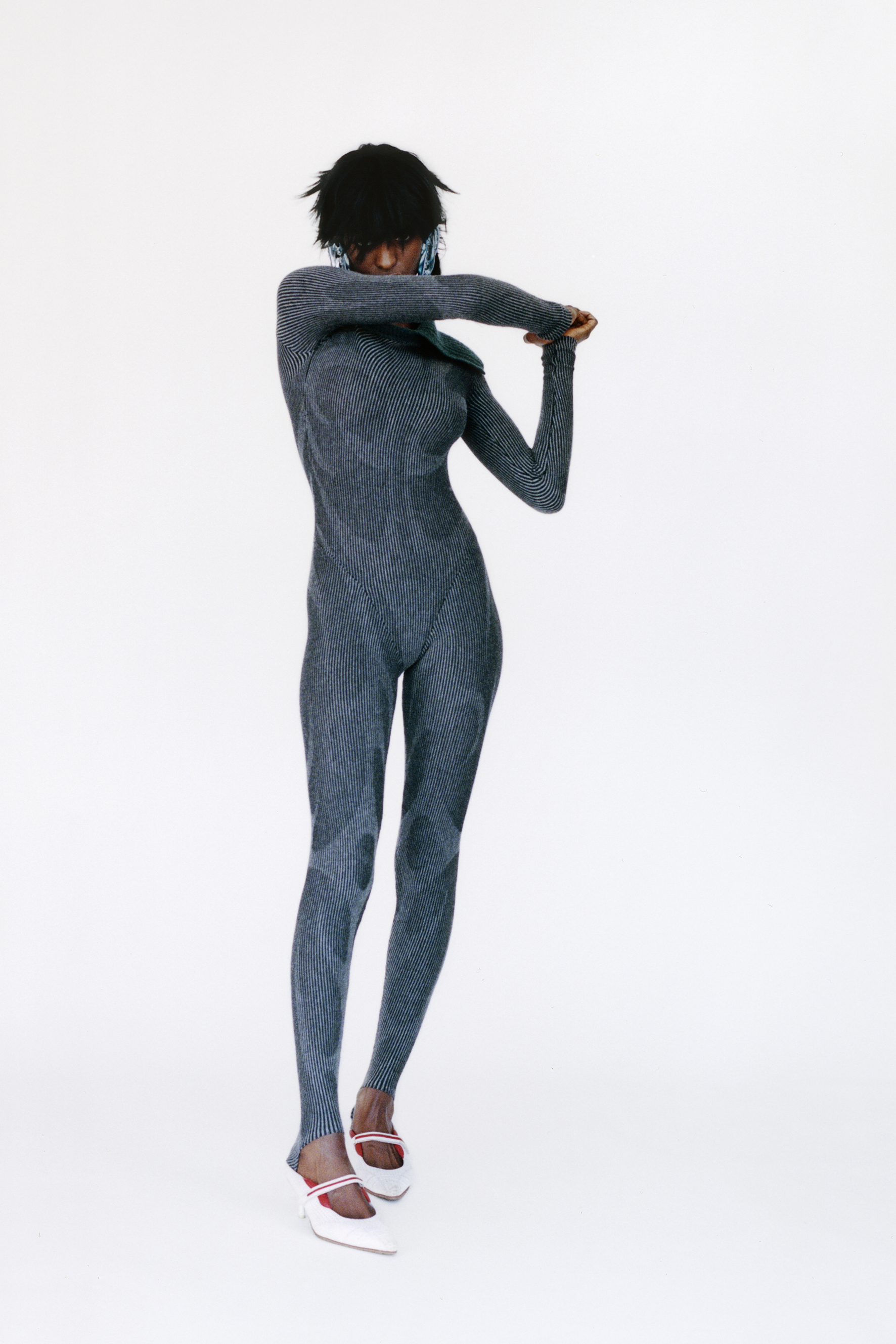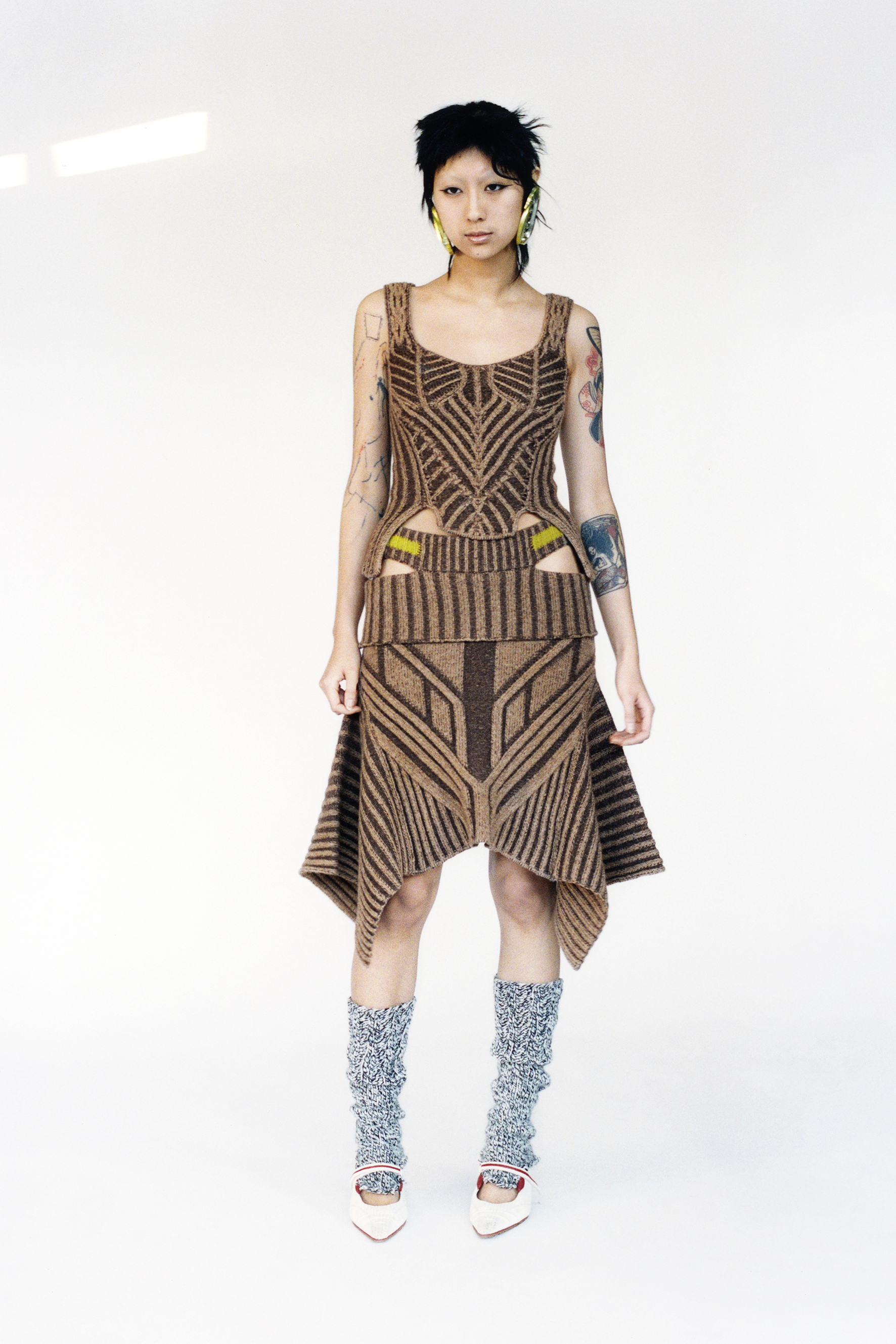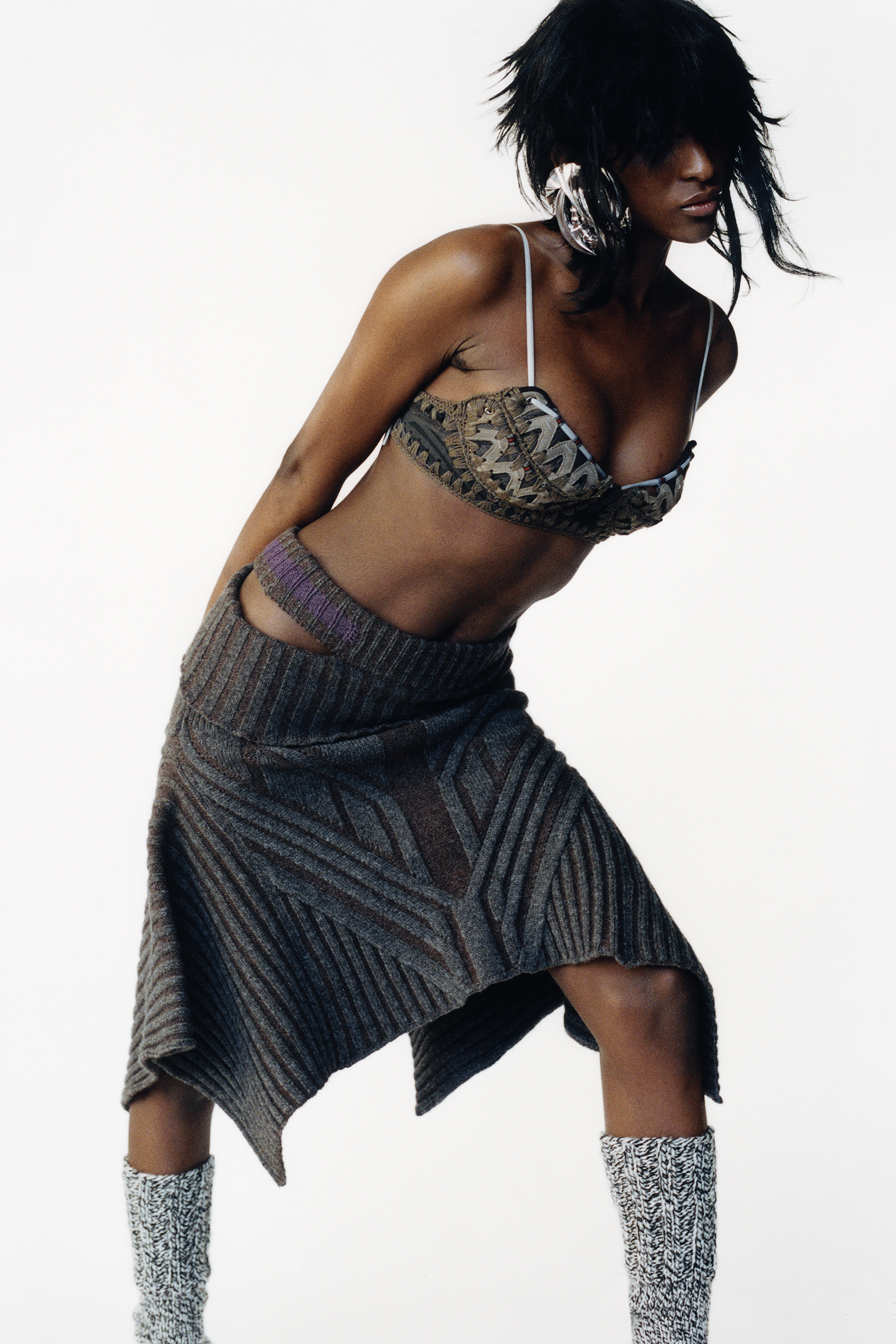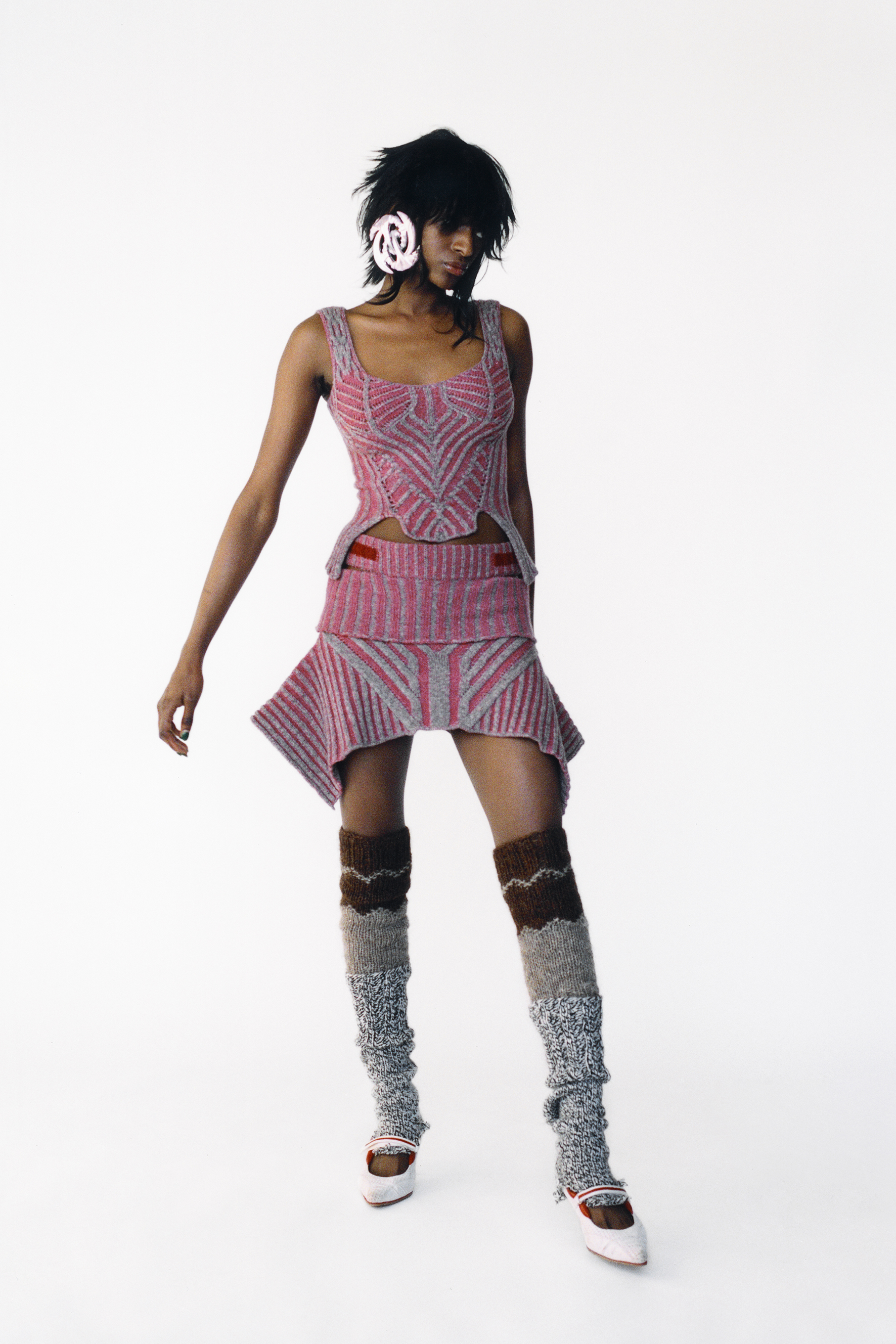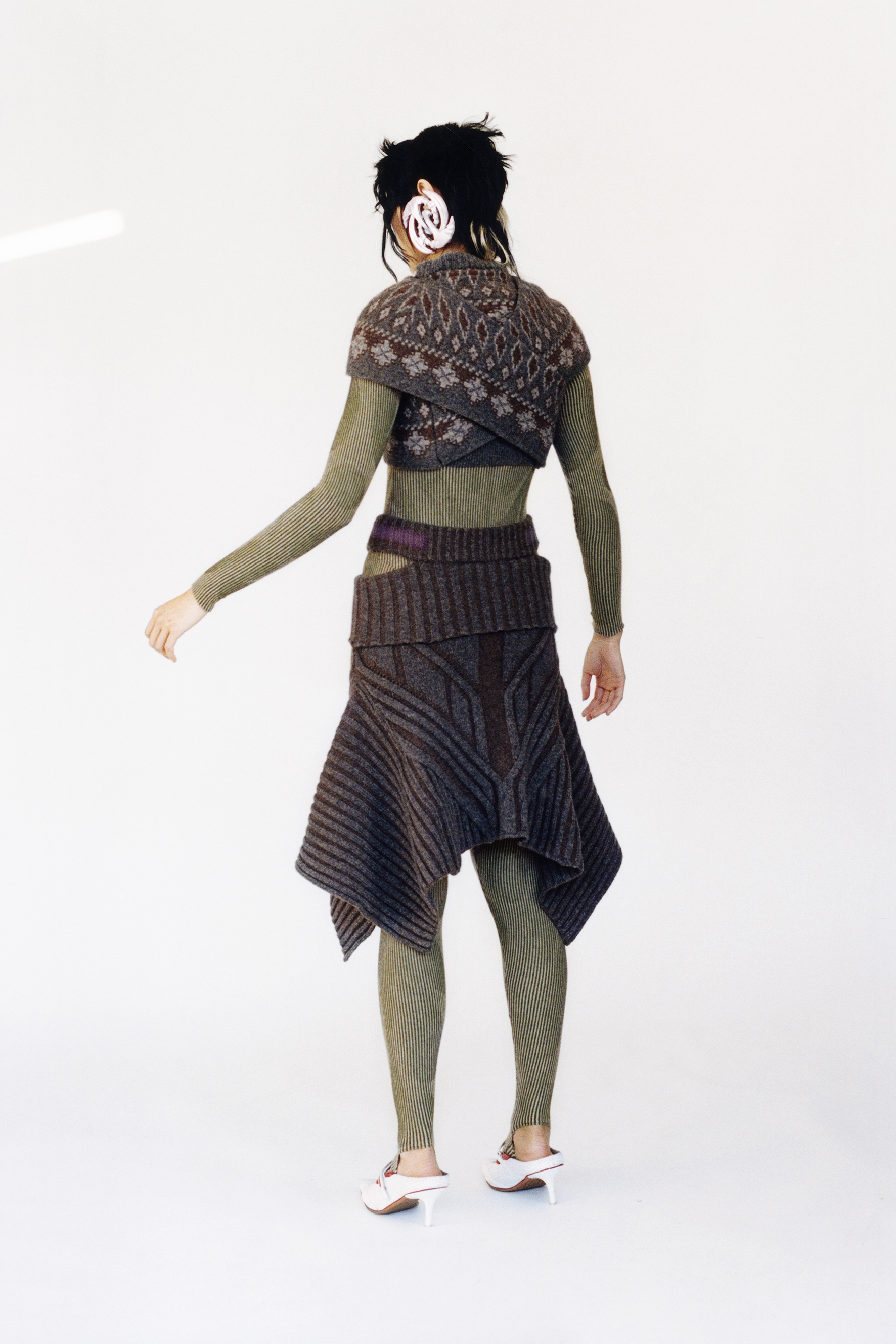 Follow i-D on Instagram and TikTok for more fashion reviews.
Tagged: