7 gory slasher movies to watch after Bodies Bodies Bodies
From a sexy, bloodthirsty, Brittany Murphy-starring mystery to massacres at a queer conversion therapy camp; add these horror films to your watchlist!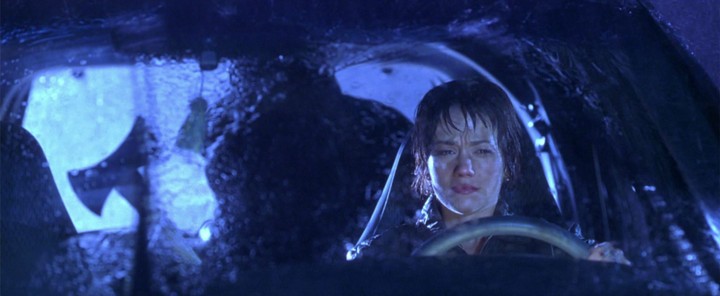 Still from Urban Legend
Today, the most anticipated slasher movie since the Scream franchise finally hits theatres across America. A24's Bodies Bodies Bodies follows a group of rich-kid influencer friends, and their partners, as they play a wink-murder-esque game during a house party during a hurricane, that suddenly takes a twisted, bloody turn.
Not only has the movie been receiving rave reviews for being a cutting critique of Gen Z internet culture, its stars are also being celebrated for their dark comedy and scream queen skills, in particular Amandla Stenberg, Maria Bakalova, Rachel Sennott and Pete Davidson. The movie is no doubt going to go down as a cult classic within the slasher horror genre.
After the slasher began to die out in the late 80s and early 90s, Wes Craven's 1996 magnum opus Scream is credited with revitalising the blood-sprayed style. The movie became the most successful slasher of all time and gained cult status for its young cast of up-and-coming stars and twisted reveals. Wes took a major risk killing off the movie's top-billed actor, Drew Barrymore, within the first five minutes but it worked, and the movie's iconic opening scene has gone down in history, homaged in the majority of teen slasher horrors since. Additionally, its nuanced analysis of contemporary culture and young people are something few horror directors have been able to replicate since quite as well.
Bodies Bodies Bodies certainly feels like it could satisfy all our unconscious desires to watch hot, rich people get terrorised but if that 95 minute watchtime is not enough murderous-content for you, here are some more tense movies to stream, filled with distressed teens meeting gruesome deaths, prom massacres and fatal mysteries of the past being avenged.
1. Cherry Falls (2000)
Considered one of the best high school horror films you've probably never heard of, Cherry Falls was meant to have a cinematic release that was cancelled due to censorship issues, making it the most expensive TV movie of all time. Directed by Geoffrey Wright and starring Clueless actor Brittany Murphy, the movie twists the age-old trope that virgins always survive in horror. Instead, the vengeful presence plaguing this small Virginia town is coming after the chaste teens and murdering fornicating couples right before they're able to do the deed. As sheriff's daughter Jody (Brittany), investigates the horrific crime committed by the local parents 25 years prior that became the impetus for the murder of her friends, her classmates organise a sex party to deflower them all once and for all, taking the target off their backs. However, little do they realise the orgy also becomes the perfect opportunity for the killer to finally get their revenge.
2. House of Wax (2005)
Yes, it's true. In 2005, Paris Hilton was a scream queen star of this creepy wax kink horror, was riding high on season three of The Simple Life, and a year later would release one of the best songs ever written ("Stars Are Blind", of course). Where is that queen's EGOT? Criminal. Starring alongside Paris in this movie is Elisha Cuthbert (The Girl Next Door), Chad Michael Murray (One Tree Hill), Jared Padalecki (Gilmore Girls) and Robert Ri'chard (The Vampire Diaries) as a group of teens whose car breaks down in the middle of nowhere and seek help in the nearby ghostly-quiet town. There they find a disturbing waxwork museum that holds a secret: it's incredibly lifelike wax figures are actually paraffin-embalmed humans and their macabre artist wants to add a Juicy Couture-clad Paris and her BFFs to the collection next! This deranged horror will have you throwing out that "dreamy summer nights" Yankee candle on your bedside table and cancelling that trip to see the Beyoncé figures at Madame Tussauds.
3. Freaky (2020)
Have you ever wondered what Freaky Friday would look like if Lindsay Lohan's character had switched bodies with Charles Manson rather than her mum Jamie Lee Curtis? Well, answering that question is 2020 slasher comedy Freaky. School loser Millie (Kathryn Newton of Big Little Lies), who apparently got the memo about the twee fashion revival before the rest of us, finds she has switched bodies with local murderer, The Blissfield Butcher (Vince Vaughn), after he stabs her with an ancient cursed dagger. With 24 hours to switch back before they're permanently stuck in their new bodies, she must convince her friends she's not the murderer, whilst stopping the real murderer from slaughtering all her classmates. Directed by Christopher Landon of Paranormal Activity and Happy Death Day fame, the Blumhouse movie has been saluted for its candy-coated chaos, slapstick humour and strong queer characters that aren't killed off within the first five minutes.
4. Prom Night (1980)
This Canadian slasher begins when a group of 11-year-old girls bully one of their classmates, which then leads to the victim's accidental death when she falls out a window. The girls vow to never speak about it again. But years later, as the popular teens – their lead it-girl Kim played by scream queen Jamie Lee Curtis – now excitedly prepare for their prom night, a creepy-voiced stranger calls who knows what they did all those years ago and secretly plans to use the school event to finally give the girls their comeuppance. Although a 2008 Brittany Snow-starring remake was universally trashed, the original Canadian slasher has become a cult classic of late, not only because of its creepy mystery killer and fun retro fashions, but for having iconic disco music soundtracking the high schoolers' torment.
5. They/Them (2022)
Winning the award for the greatest pun in a horror movie name — get it, they slash them… Genius! — is this Blumhouse movie released today on Peacock that also serves as James Bond and Gladiator screenwriter John Logan's directorial debut. At a religious gay conversion therapy camp led by Owen Whistler (played by Kevin Bacon) the horrors aren't just plaguing the abusive, entirely-legal practices under the guise of therapy; there's also a serial killer with a slashed face mask and an axe terrorising the young group of queer people. Alongside Kevin as corrupt camp counsellors are True Blood's Carrie Preston and Anna Chlumsky (My Girl), as well as a smattering of young actors that includes Theo Germaine (Ryan Murphy's The Politician) and Austin Crute (Booksmart).
6. Urban Legend (1998)
Starring 'cut me and I bleed parmesan cheese' Jared Leto, Alicia Witt, 90210's Rebecca Gayheart and Sharknado 18 icon Tara Reid, this 90s slasher movie riffs on all those horror folktales your classmates would tell you in the playground. Set on the campus of a New England university, a group of students find themselves plagued by a puffer coat, axe-wielding murderer whose MO is recreating urban legends. From the one about the killer hiding in the backseat of your car to Bloody Mary appearing in your bathroom mirror, each of the stories come to life. The students' only hope is their American folklore professor, who is also, conveniently, the only survivor of a campus massacre 25 years prior that may somehow be linked. Filled with cocky frat bro deaths, this fun, spooky slasher is made by the producers of I Know What You Did Last Summer.
7. The Final Girls (2015)
This meta-slasher comedy, that follows the likes of Scream and The Cabin in the Woods by lovingly mocking its own genre, stars American Horror Story's Taissa Farmiga as Max, the teenage daughter of a late great one-time scream queen actress. Every year on the anniversary of her mum's death, Max finds comfort watching her mum be terrorised, have sex and then be slaughtered in her famous 80s summer camp horror movie. Grief affects us all in mysterious ways, I guess? But while in the cinema, Max and her friends find themselves transported into the movie and must escape the machete-wielding murderer, all while following the plots' final girl – seemingly the safest way to make it to the credits alive. Maybe, Max thinks, they can protect her mum's character from meeting her fateful butchering. Absurd but fun, the twisty slasher also stars Nina Dobrev (The Vampire Diaries), Alexander Ludwig (The Hunger Games), Chloe Bridges (Pretty Little Liars) and Adam DeVine (Pitch Perfect).
Bodies Bodies Bodies is released in theatres in the US on Friday 5 August 2022, before it hits theatres in the UK from 9 September 2022. Follow i-D on Instagram and TikTok for more on horror movies.