Is Slag Wars TV's most inclusive reality show yet?
The Cock Destroyers-led talent series has been compared to 'Drag Race' and 'Love Island', but its casting is already much more progressive.
|
30 November 2020, 8:15am
From Love Is Blind to Selling Sunset, 2020 has shown us that if reality TV is available to binge, we will readily ingest it. But while watching rich women fight over Chardonnay, and couples agreeing to take on each other's student debut after four hours of knowing each other is all fun and games, the casting process leaves a lot to be desired. Predominantly cisgender, white, straight casts, lacking in real diversity, have become the norm. Thankfully, our lords and saviours the Cock Destroyers have arrived to de-spunk the world and open minds with Slag Wars — and it might just be the most inclusive reality show yet.
Queer icons and walking memes Rebecca More and Sophie Anderson — the queens behind that legendary "we're fucking cock destroyers, aren't we babe?" viral video — have at long last been granted their own show in the form of Slag Wars. Think of it as a sort of America's Next Top Model, albeit one with spanking challenges and gimp masks instead of smizing lessons. The premise is this: seven queer people from across the sex industry, ranging from porn stars to OnlyFans success stories and uberfans of Sophie and Rebecca themselves, compete in tasks to be the next Destroyer and international queer sex symbol.
Of course, this is the Cock Destroyers we're talking about so, obviously, the result is a cornucopia of all things camp and hilarious. The slags (a word wonderfully reclaimed) complete tasks like sexily trying to steal credit card numbers during dirty talk ASMR sessions and becoming instant pros in rope bondage. Sophie crawls off camera dressed as Harley Quinn after realising that, as hosts, herself and Rebecca have to eliminate contestants. Much like RuPaul's Drag Race, the show doesn't take itself too seriously. It's TV made to be watched with friends and a bottle of wine and a tweetalong.
But because the Cock Destroyers are sincere LGBTQ+ allies (their social media posts are often addressed to their "guys, girlies and non-binary friends"), Slag Wars is more than just fun reality TV trash. It's also one of the most genuine representations of sex workers and queer, trans and non-binary people ever seen on TV.
The refreshingly diverse cast includes a transgender woman, a Black non-binary person, and aspiring Destroyers from Scotland, England and Mexico, each appearing with their pronouns listed on screen alongside their names during talking head segments. This might not seem very radical, but it's the first of its kind in TV. Discussions about struggles in the LGTBQ+ community are not merely tacked on to 'main storylines' for additional screen-time, but instead woven into the very fabric of the episodes themselves, and pushed to the forefront.
British contestant Tyreece Nye, talks about being fetishised as a Black non-binary person, and hopes that the show will provide more of an understanding of what being non-binary means. "There's not enough representation for people who are of colour and are non-conforming," says the contestant. "No disrespect to anyone, but we see a lot of people who are androgynous. I'm male-presenting and I love the way I look, but mentally and how I identify is non-binary. I'm so thankful for people like Sophie and Rebecca who don't bat an eyelid, they're like 'ok, your pronouns are they/them, moving on'. My fashion fluctuates, it's nothing about how I look, it's how I mentally and spiritually feel, and I'm thankful that they respect that."
The acceptance the show affords its contestants means that Tyreece and the other slags can avoid the fetishisation and othering they might expect on a more mainstream or traditional TV programme. "I don't want people to have me being Black and non-binary as a fetish," they say. "'You know, 'I've never had a bit of that.' I don't want to seem like the forbidden fruit, I just want you to love me for me."
Another contestant is Nicky Monet, a trans woman and a burlesque and drag artist from LA. For Nicky, raising awareness of trans issues and the reality for trans individuals in modern America, not reality TV fame, was the main driving force behind her participation in Slag Wars. "I was kicked out at 14 years old, I was shunned, I still don't have family to this day," Nicky says. "It wasn't difficult to talk about because this is what I do… help others who are like me. I've talked about it so much that I'm like, meh. I'd rather educate at this point than cry about it."
Other contestants have similar personal reasons for joining the show. Cain, for instance, who has worked in studio porn, chose to come on Slag Wars to destigmatise sex work. "A lot of people have this preconception of sex work being ditzy, fun, silly, always 100% sexualised," Cain explains. "But I knew from working with Rebecca and Sophie in the past that everything they do has a message behind it, so I knew being on the show would never be just 'Cain is in the hot tub flirting with somebody's boyfriend'. I always knew it would be a chance to have a serious conversation as well as a camp bit of fun, which is what sex work is all about. It was so special and so fun, it's important to show that kind of sex work."
As new and exciting as the show is, contestants hope that its groundbreaking casting won't lead to a deluge of TV casting agents pursuing gender and orientation diversity as tokenistic methods of reaching a quota or virtue signalling. But Cain believes the competition could mark a change in how we view reality television. "When you look at something like Drag Race, over the years, the amount of contestants who are people of colour has definitely increased, for whatever reasons, but here there's diversity right from the offset," they say. "The cast includes people of colour, Nicky is trans, we're from different backgrounds, Kevin works in retail and had never really taken nudes before, Gustavo is from Mexico, we're all different ages… I think it will make some waves within the reality TV world."
One half of the Cock Destroyers themselves, Sophie, agrees with this assessment. "For me, there hasn't been any other show that has shown the trans community, the non-binary community, like Slag Wars," she says. "The show is a real ambassador in that respect."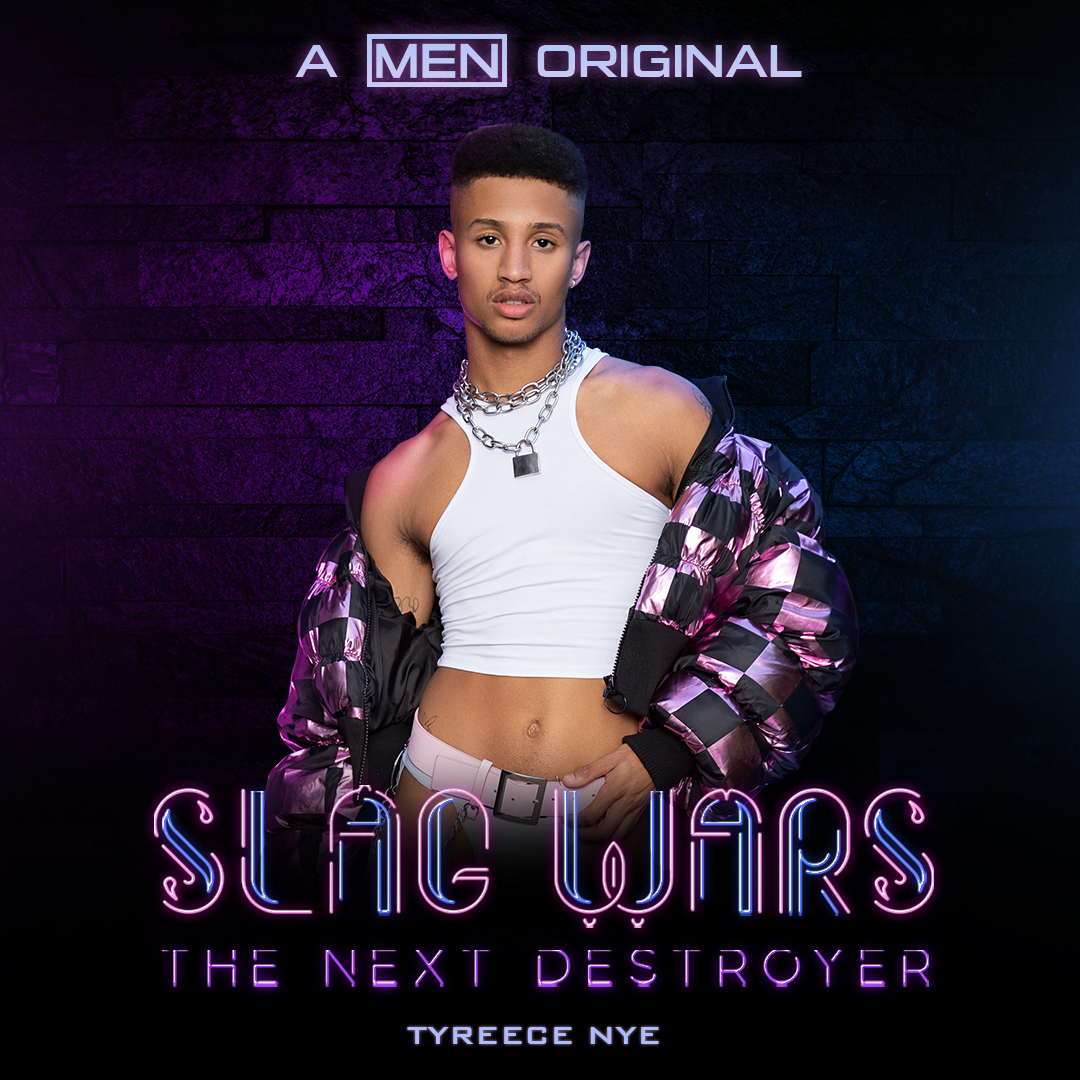 And of course, being a Cock Destroyers production, Slag Wars is inherently sex positive. Kinks are praised and salivated over rather than played for laughs or leered at. Prowess in dirty talk is applauded. Voiceovers explaining the key rules of consent are played as an adult star explains their love of being a domme. Rebecca and Sophie may now be gay icons, fashion designers and reaction GIFs, but their aims here are to entertain and normalise sex work
"All of my career, everyone's kind of gone, 'ooh, sex worker', really dismissively… and you always had to be an absolute superstar like Jenna Jameson to get over that dismissiveness," says Rebecca. "But now we're in a pandemic, and I've still been lucky enough that I can provide for my mum and my daughter. And I pay tax. And it's like, I shouldn't be feeling ashamed of my job. I shouldn't feel any shame at all, and we did for years."
With years of experience in the industry, Sophie and Rebecca both insulated themselves from that criticism by living "in a bubble". But, as sex work has become increasingly demystified and mainstream, they've leaving that self-imposed isolation to share their vision with the world. "We know how we feel and we know what we believe in, and we want people to believe in themselves too — whatever avenue they want to take, that's their avenue and there shouldn't be anyone else telling them how to live their life," says Rebecca. "You can apply that to sex work, or your sexuality, or anything. Your life and how you want to live it is your choice." Sophie chimes in, adding: "It's just about being open-minded and accepting of what people believe and what they find acceptable for themselves."
Inclusivity and sex positivity clad in latex truly makes Slag Wars something reality TV has never seen before. "I think Slag Wars is actually the start of something so much bigger, I really do," says Sophie, suggesting that aspiring slags of the world ought to unite for season two already.
"When Sophie and I want something, we will go and get it," Rebecca said. "We're so confident that once everyone's watched all four episodes, they'll want more. I'd like it to keep going until a new set of Cock Destroyers come out and take over and me and Sophie can retire and the world will have peace on earth and we'll all live happily ever after." The fairytale ending we've always dreamed of.
Slag Wars is available to watch on men.com or SlagWars.com (the latter is safe for work).