Black Lives Matter has been nominated for a Nobel Peace Prize
The movement has been selected in recognition of the huge "call for systemic change" that it's spread across the world.
|
01 February 2021, 12:03pm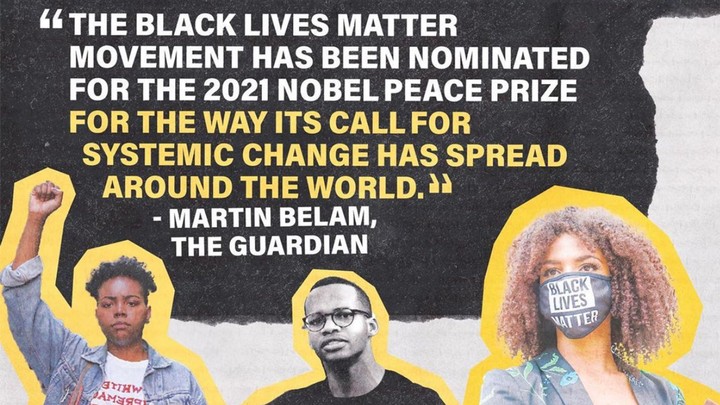 Image via Instagram
Just as much as it was defined by the pandemic, the past year has been shaped for the better by the resurgence of the Black Lives Matter movement. It swept the world and sparked a wave of global protests challenging systemic racism, first in the US and then beyond. Now, the movement's efforts have been recognised in the form of a nomination for 2021's Nobel Peace Prize.

Although Black Lives Matter existed pre-2020 -- it was co-founded in 2013 by activists Alicia Garza, Patrisse Cullors and Opal Tometi -- the movement, often abbreviated to BLM, grew exponentially last year, calling for justice in the wake of the murders of George Floyd and Breonna Taylor. It has since become the biggest activist movement in the history of the USA, and has inspired peaceful protests and marches in hundreds of countries across the globe.
In recognition of BLM's continued work in raising consciousness of racial injustice and mobilising people across the world, Norwegian MP Peter Eide has nominated the movement for 2021's Nobel Peace Prize. The politician told the Guardian: "They have had a tremendous achievement in raising global awareness and consciousness about racial injustice.

"I find that one of the key challenges we have seen in America, but also in Europe and Asia, is the kind of increasing conflict based on inequality," he continued. "Black Lives Matter has become a very important worldwide movement to fight racial injustice."
The Nobel Peace Prize, while sometimes associated with individual activists or political figures -- Greta Thunberg was nominated for the award last year, while Malala Yousafzai made history as the youngest ever recipient when she won in 2014, aged 17 -- can be awarded to wider activist groups and movements too. Most recently in 2020, for instance, the award was ultimately won by the World Food Programme for their efforts in combating hunger and promoting peace throughout the world.
This year's ceremony won't take place until 10 December in Oslo, so there is still a while to go to find out whether the Black Lives Matter movement will be this year's winner, although a shortlist is published at the end of March. Until then, the nomination is a much-needed recognition of the group's continued commitment to combating racial injustice. "If our movement wins the Nobel Peace Prize it's because millions of people, over the last 7 years, have showed up to continue the fight for Black liberation," Patrisse Cullors wrote of the news on social media.

"I'm grateful for all the organizations, and individuals that make up this movement. It took all of us. Every single one of us."
Tagged: