Photo by Jeff Kravitz/FilmMagic
7 of Kimora Lee Simmons' most iconic outfits
The model-turned-streetwear-mogul defined Y2K style, from Baby Phat to slinky red carpet dresses.
Photo by Jeff Kravitz/FilmMagic
Model, businesswoman, Y2K style icon. Kimora Lee Simmons has many monikers. The African-American-Japanese fashion mogul got her industry start modelling exclusively for Chanel, under Karl Lagerfeld, before gracing catwalks across Europe through the early 90s. By the end of the decade, Kimora pivoted from modelling to designing, changing the streetwear game with iconic womenswear line Baby Phat. Through the label, Kimora brought a unique women's point-of-view to the typically male-dominated industry, frequently drawing inspiration from her personal style through the design process. From head-to-toe Baby Phat to French fashion house fare to slinky red carpet dresses, Kimora is one of the Y2K era's foremost style icons. Here, we revisit Kimora's pioneering career with some of her most iconic outfits.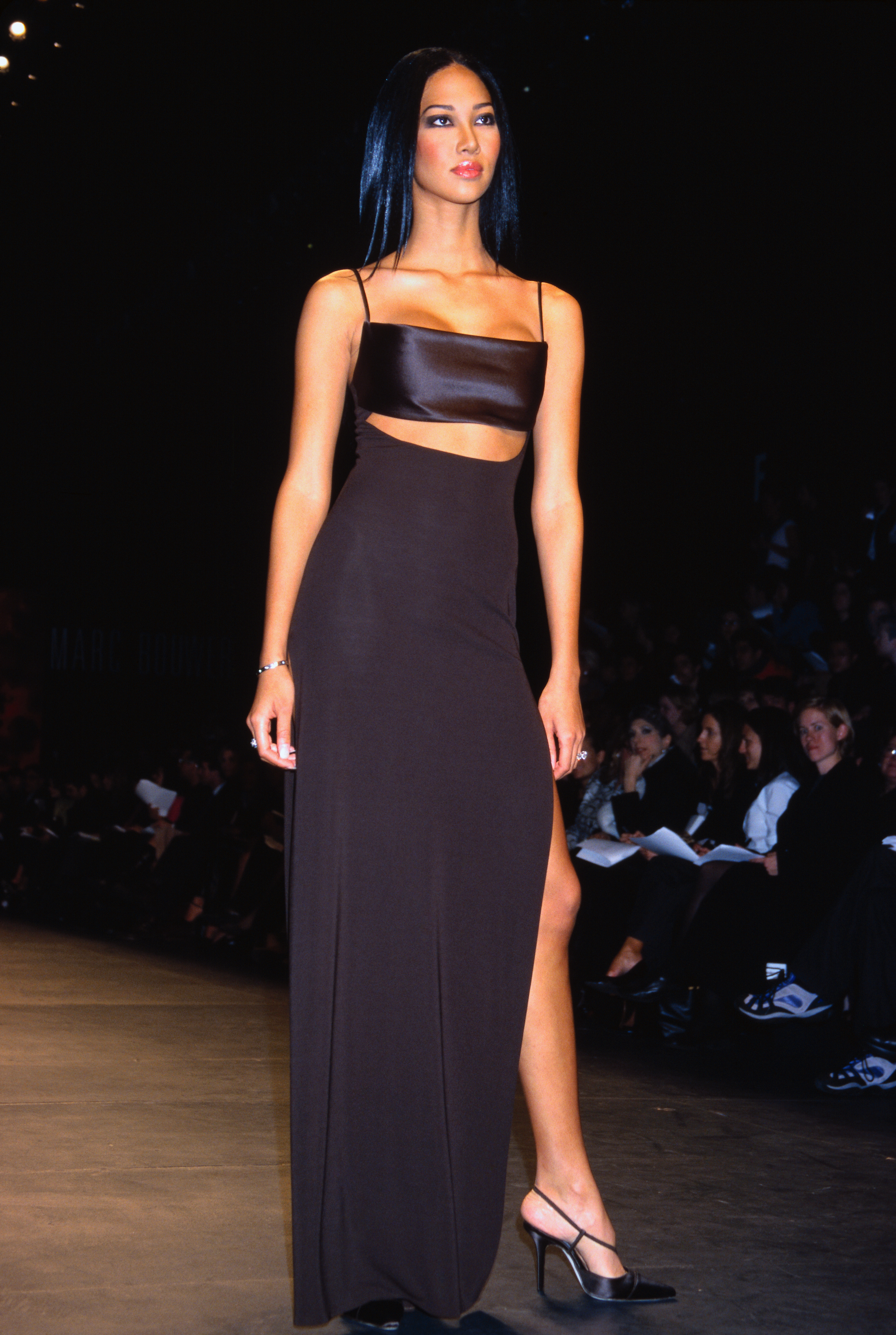 On the runway at New York Fashion Week, 1999
Before she founded Baby Phat, Kimora — known then by her maiden name Kimora Perkins — got her start in the fashion industry as a model. At age 13, she signed an exclusive contract with Chanel, then under the creative direction of Karl Lagerfeld. The French designer famously called her "the face of the 21st century." After her contract was up, Kimora walked the runways for many other prestigious French houses including Yves Saint Laurent, Kenzo and Dior. Here she is modelling a very 90s dress with underboob cut-out at NYFW, 10 years after she closed Chanel's couture show in one of the house's signature bridal looks.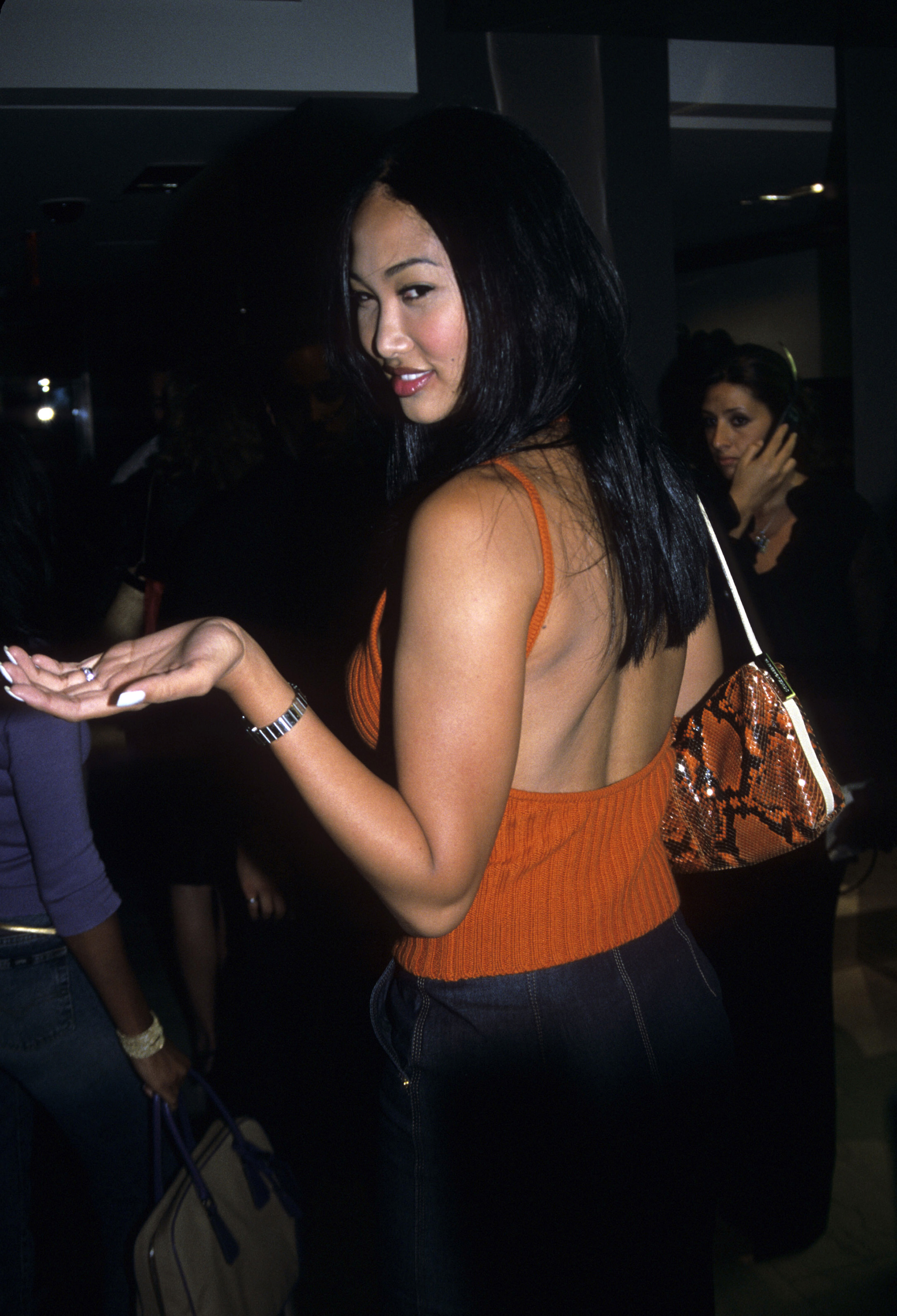 Out in NYC, 1996
Who says knitwear can't be sexy? Here, Kimora wears a backless, sleeveless turtleneck (note: collar not pictured) while out-and-about in New York City. She completes the very 90s fit with chic dark-wash denim (chic) and snakeskin baguette bag (of course).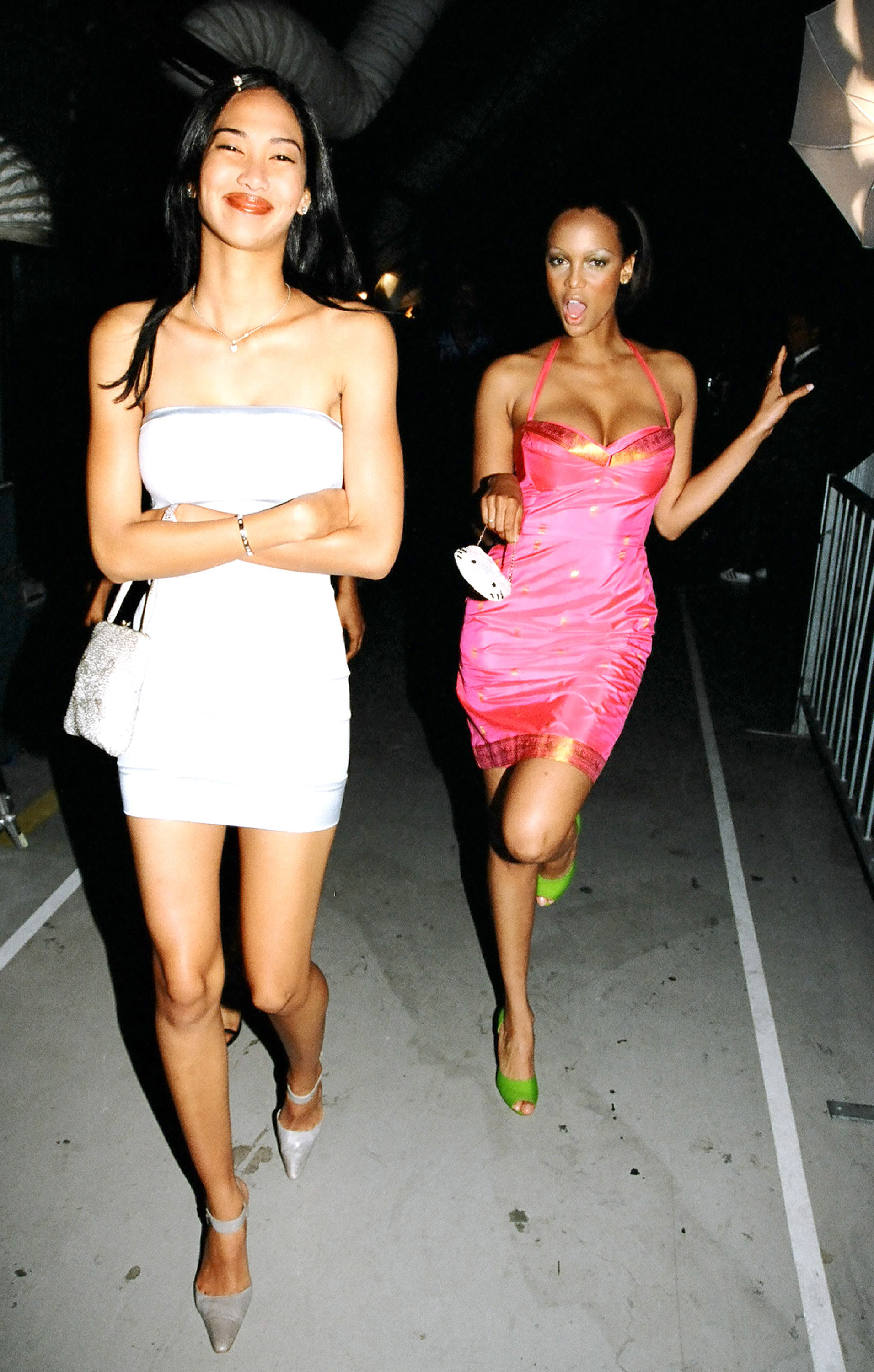 At the MTV Movie Awards, 1998
Kimora met Tyra Banks in 1990, when both were just beginning their respective modelling careers. The duo became fast BFF's. In fact, Kimora appointed Tyra maid-of-honour in Kimora's wedding to Russell Simmons and made Tyra the godmother of her daughter, Ming. Here, the friends mug for the paparazzi at the 1998 MTV Movie Awards, Kimora wearing a white jersey strapless mini dress with the decade's ubiquitous pointed heels, mini bag and jewelled barrette.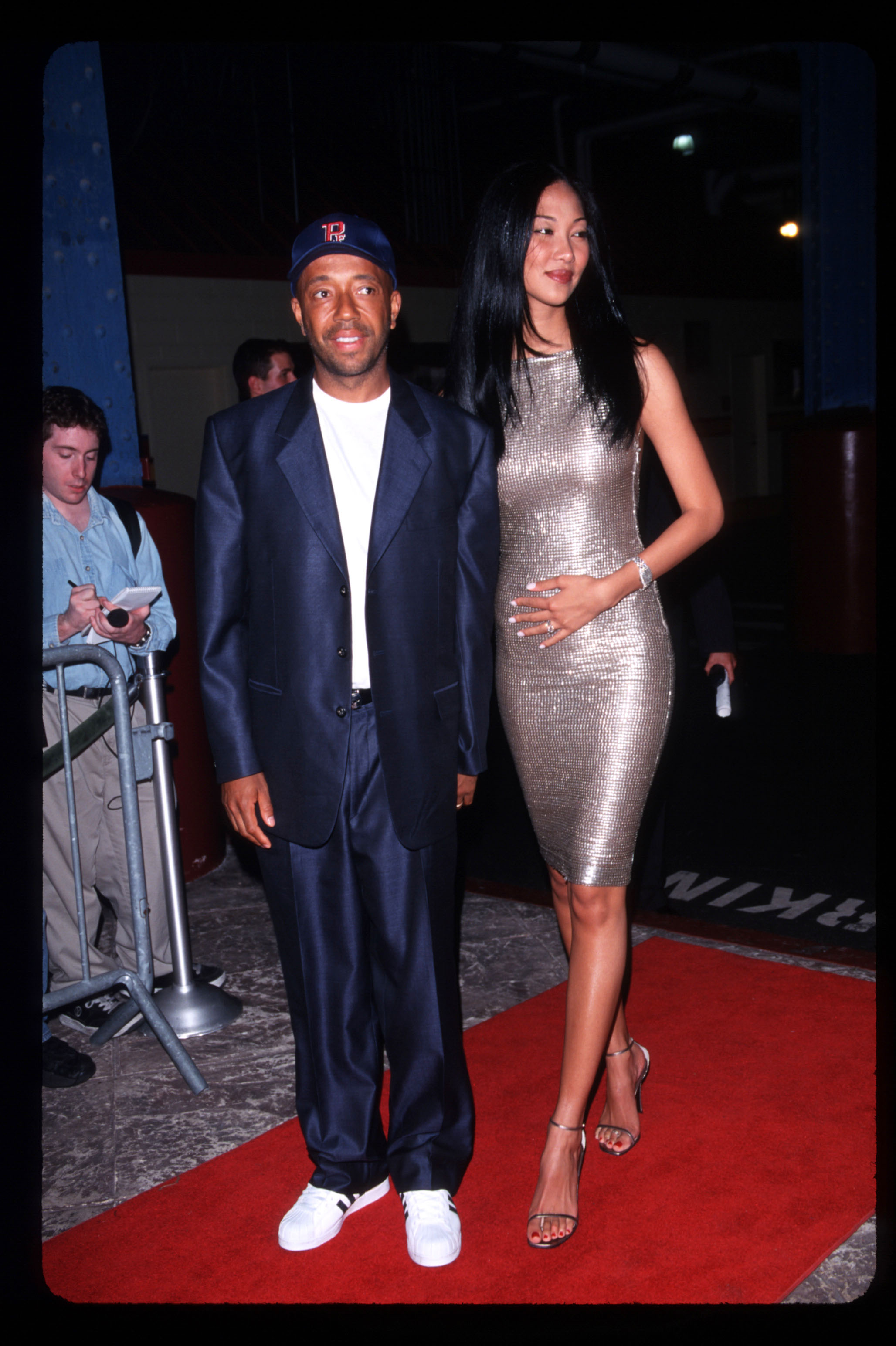 At the 6th Annual Rap Roast Honoring Russell Simmons, 1999
Rap superstar Russell Simmons first saw Kimora at a fashion show; it was love at first sight. The couple married five years later, in 1998. And just months later, the duo would become one of the biggest couples in the streetwear game. Here, the couple make a case for their titles as streetwear's king and queen, Kimora wearing a slinky sequin mini dress and matching "naked" sandals.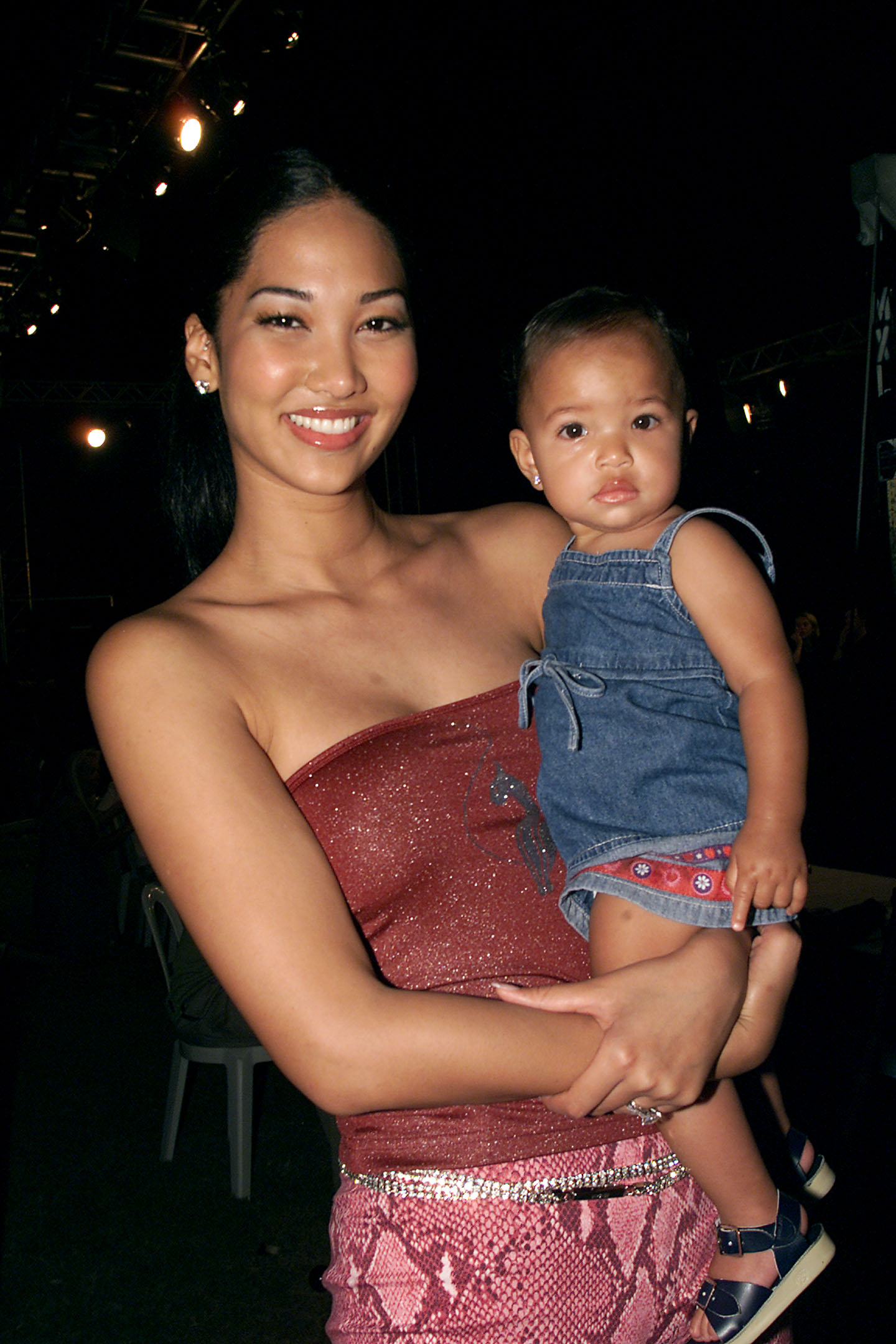 At Ford's Supermodel of the Year search, 2000
Just months after his marriage to Kimora, Russell Simmons sold Def Jam records and pivoted to fashion, founding streetwear label Phat Pharm. Within the decade and after huge success, Russell sought to create a womenswear counterpart for the label. Kimora took the reigns, founding Baby Phat — formerly Phat Fashions — in 1999. With Baby Phat, the model-turned-designer brought a singular women's perspective to streetwear, one that attracted fans across the realms of hip-hop, pop music, fashion and beyond. The label's bedazzled cat logo — modelled after Kimora's pet Siamese, Max — has graced the likes of Missy Elliott, Aaliyah, Britney Spears, Devon Aoki and more. Here, with her daughter Ming, Kimora wears one of the brand's iconic logo tops — a sparkly red tube top — with matching snakeskin trousers.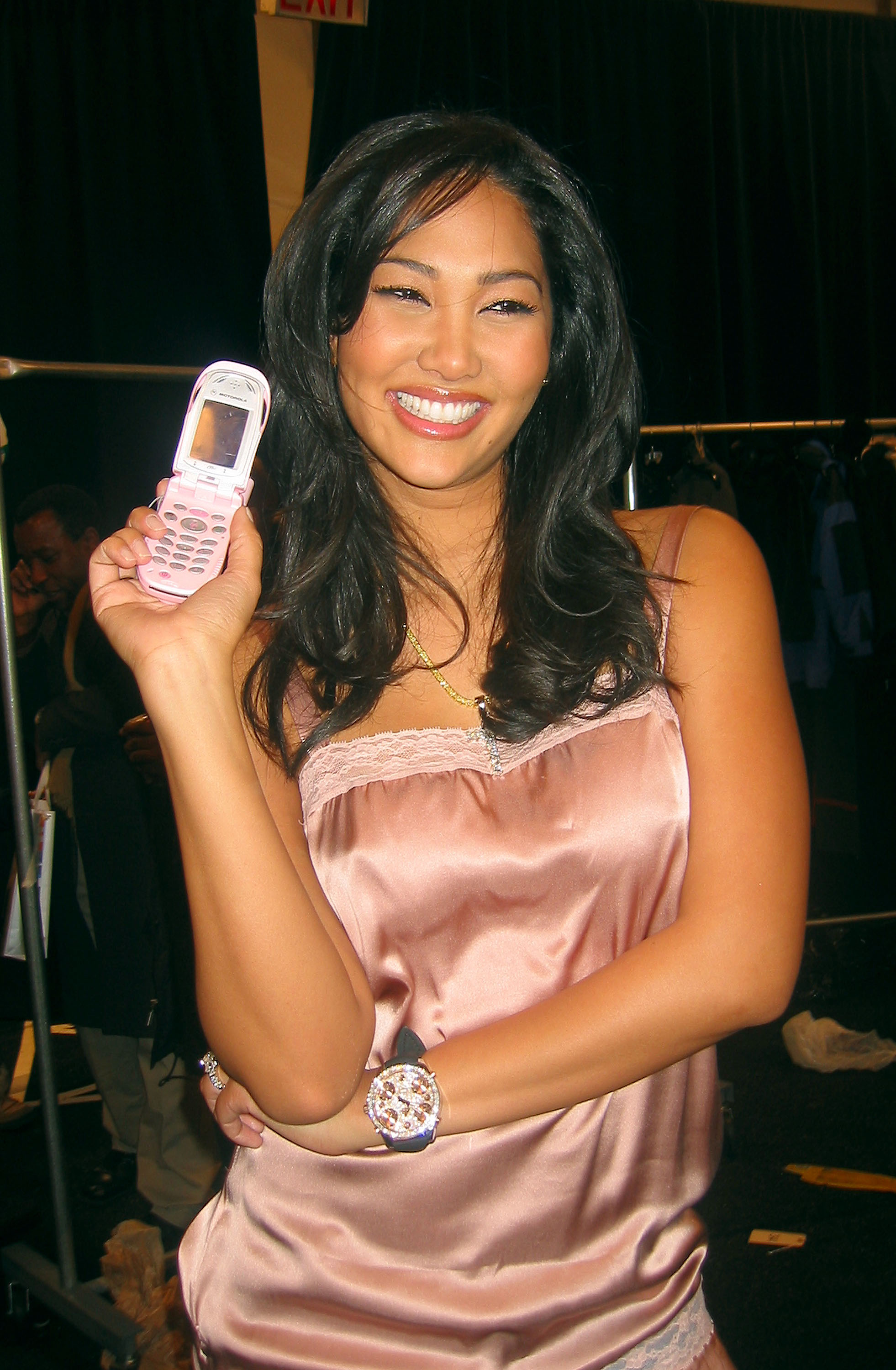 Backstage at the Baby Phat autumn/winter 03 show, 2003
As if shaking up the streetwear game with Baby Phat wasn't enough, Kimora is also responsible for the 00s' most sought-after tech-cessory: the Baby Phat Motorola flip phone. This cell had it all: a quilted baby pink shell, real diamonds, the satisfying "clat" of hanging up. Here, Kimora poses backstage at a Baby Phat fashion show with one of the iconic accessory's earliest models.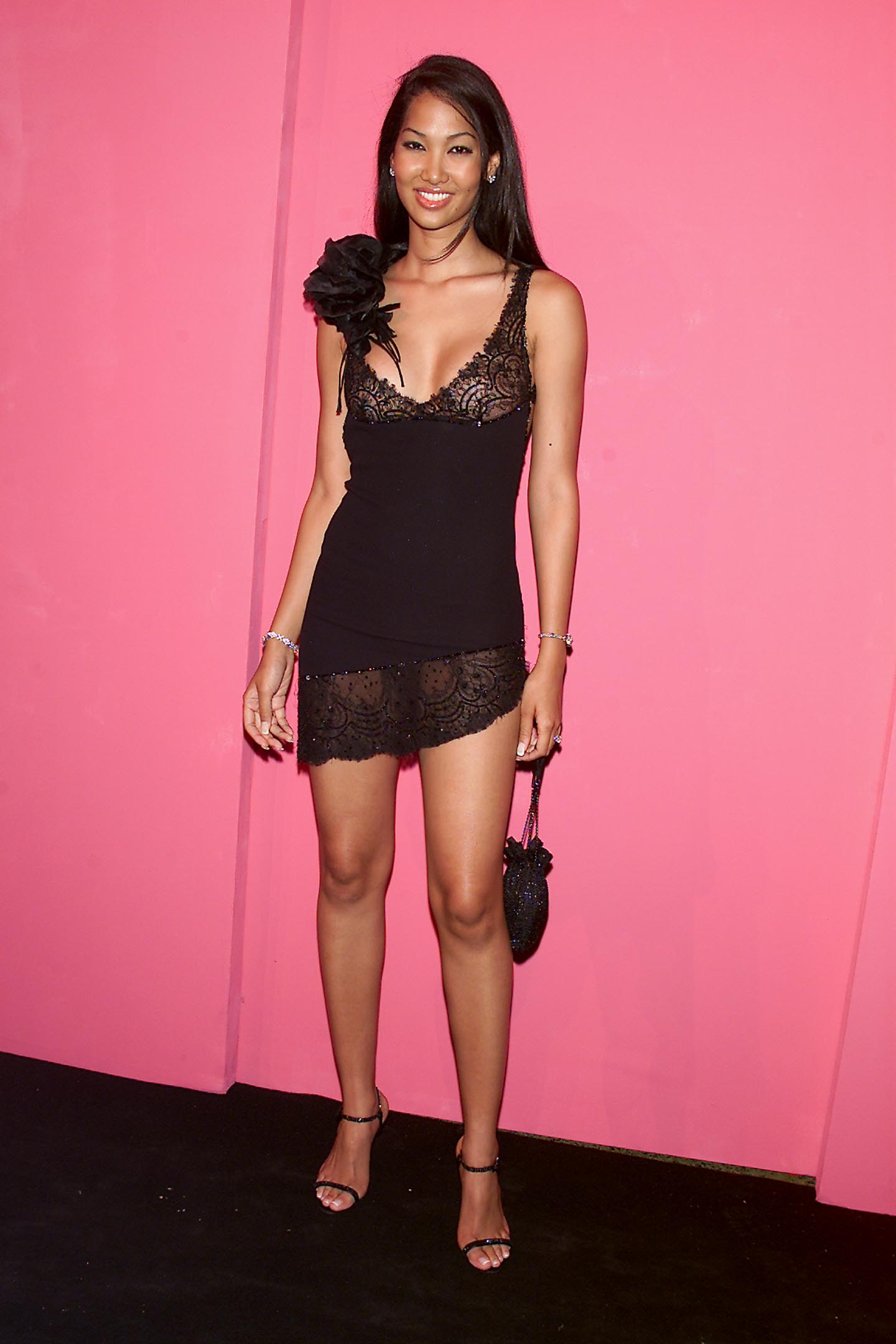 At the Ungaro 35th Anniversary Party, 2001
A Y2K party look for the ages. Here, to the 35th anniversary party for French label Ungaro, Kimora wears the kind of mini dress that transcends trends and decades: perfectly slinky, perfectly sheer, perfectly paired (always) with the decade's micro purse and barely-there sandals.