Pen pals are the wholesome hobby taking over social media
After nearly a year of pandemic, our idea of fun has gone from nightclubs and festivals to stamp collecting and snail mail. What a time to be alive.
|
26 January 2021, 10:51am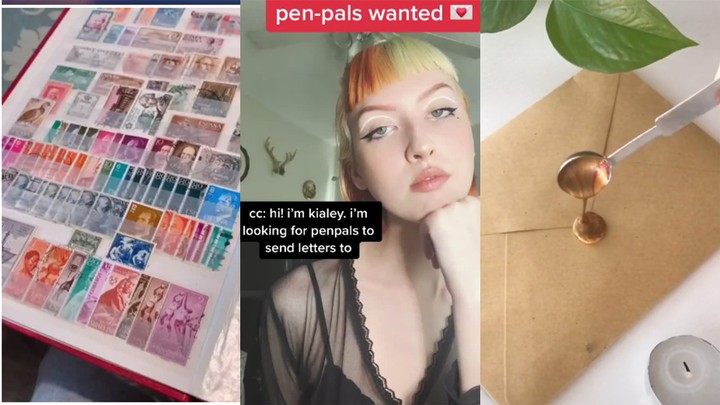 Images via @grilblunt @kialey@kaitlynbeeee
Almost 12 months of being stuck inside has left us with only one reliable domestic thrill: the pure joy of receiving post. Whether it's a phone bill, new slippers or a late-night impulse buy you can't quite remember making, nothing hits harder than the metallic bang of your letterbox and the thump of paper hitting the floor. Stuff, glorious stuff to break up the monotony of existing in 2021.
Although it's safe to say that we're all united in our love of posties (not all heroes wear capes, some wear red fleeces and/or navy blue shorts), Instagram and TikTok are, as usual, way ahead of the rest of us in their passion for snail mail. Search #snailmail on the former and you'll get 2.4 million hits, while on the latter, #stampcollection has over 1.3 million views. Scroll through the hashtags and you'll find artfully composed posts of pastel envelopes, stamp hauls and ASMR videos of people flicking through their letters. Letter sending, an activity so old-fashioned it's often threatened to go completely extinct in the digital age, is now thriving on social media.
"It actually started as a joke," says 22-year-old Amber, who posts popular videos of herself wax sealing envelopes on TikTok. "I had a competition with a friend to see who would be the first one to reach 10k views. I noticed people liked satisfying video, so I posted one where I did a wax seal and it blew up overnight and reached a couple million views."
Soundtracked by Outcast, SZA and Brockhampton, in her posts Amber mixes, melts and stamps wax onto envelopes she's decorated with her own art. "When you have pen pals you don't keep your art to yourself… you can share it with other creative people all around the world," she says, explaining why she's been posting illustrated letters for seven years now. "It's always a special moment when you see a hand-decorated letter on your doormat, it really feels like a gift."
Kahoko, based in Japan, first started writing letters to practice English, connecting with native speakers through Interpals, a social media platform for language practice. "Most of my pen pals are foreign people," she explains. "Letter writing means I can connect with so many people who I couldn't meet in real life." Now, Kahoko shares photos of her decorated and doodled incoming and outgoing postcards on Instagram. Although letter writing is more time-consuming than email or text, for Kahoko its slow pace is a positive. "I love handwriting because it's more warm," she says. "I can spend time thinking of someone. Sometimes we are too shy to appreciate someone who is close to us, like my parents. So I write letters when I want to appreciate them."
Similarly, for Paula who lives in Dublin, letter writing helps her to unwind. "There are still a lot of people that need that pause button and to enjoy the little things in life," she says. "Reading a long letter while drinking a cup of tea, or sitting down and putting all your thoughts and feelings to paper. It's a way of living and connecting, a way of meeting new people with the same passions as you, and a way to pause a bit in this crazy world."
Like many keen snail mailers, Paula's love of letters is one she inherited. "I started snail mailing when I was seven years old," she explains. My great grandmother had a postage stamp collection and she started sharing that passion with me by giving me all her doubles. I started my own collection and started writing letters with my summer friends. Then I stopped for some years but, when I was 18, my grandma passed away and I felt the need to start writing letters again and keep her memory alive."
Likewise, Amy, who is based in the Netherlands, grew up surrounded by stamps and letters. "My grandfather was an active stamp collector and I remember always looking through his stamp books when I was over there. I would imitate his stamp books with a little notebook where I stuck my stamps in with glue. My first pen pal was actually my grandmother! Recently my grandmother passed away and while cleaning her house I found all my little letters in a box, such great memories to keep, as I also kept her letters to me."
Although every few years newspaper headlines herald the death of stamp collecting — otherwise known as philately — the hobby has gained traction with millennials and Gen Z, but perhaps for different reasons than older generations. Rather than seeing stamps as investments, for this new generation of philatelists, nostalgia and aesthetics are as important as rarity. "I just love that you can have these mini pieces of art that are so accessible and affordable to pretty much anyone," explains Laura, a collage illustrator and stamp lover who posts her favourites on Instagram. "I've always loved all things graphic, vintage and creative — and you can find all of that in stamps. Every December I find a mixed lot of stamps as an early present to myself. It's so satisfying to sort through them, discovering some real gems along the way."
Laura isn't convinced by the argument that stamps and letter writing could be on their way out. "People are really wanting to connect with each other in ways that feel a bit more special and unique," she says. "Letters, postcards or even a little note in a card are so lovely to receive." Likewise, Amy believes that there isn't an email or Moonpig card in the world that could replace the simple joy of the real thing. "It's always in the news here [in the Netherlands]," she says. "The Dutch Post raises the stamp prices each year due to less mail being sent. But there will always be people sending mail; for some it's the only way of communicating with others. I think post organisations of each country will come up with new innovative ideas for sending mail in the future — for example, here in the Netherlands you can request a code online that you write on the envelope — but it will never have the charm of a real stamp!"
By sharing wax seal videos and photos of their stamp collections on social media, a new generation of passionate snail mailers are simply updating a much loved hobby, using it as a way to connect with strangers across the world. "Just like analogue cameras, people are starting to revalue the little, non-digital things that make life special," adds Amber who encourages anyone, regardless of age, to give it a go. "Especially during the pandemic, when people aren't able to see each other. A letter is a great replacement. It's more personal and creating them will keep you busy through these boring times."
Tagged: