Photo courtesy of Ágústa Ýr.
This spooky fashion film is an ode to a Real Housewives star
Produced by Icelandic artist Ágústa Ýr, Fabian Kis-Juhasz's SS21 presentation is the Halloween-fashion crossover you need to see.
Photo courtesy of Ágústa Ýr.
Given that it's a holiday near-exclusively dedicated to dressing up in full character, it's frankly a crime how rarely Halloween figures in fashion. This year, however, a handful of young talents are intent on remedying that and proving just how chic spooky can be.
A designer who's been carrying the pumpkin lantern for some time now is London-based Fabian Kis-Juhasz, who recently presented Kim Richards, the SS21 chapter of her ongoing haute-horror story, during Tokyo Fashion Week. An ode to the unintentionally disquieting Real Housewives of Beverly Hills star, it was produced in collaboration with creative director and visual artist Agusta Yr — whose haunting 3D scans you'll have seen everywhere from Yang Li's SS20 show to her collaborations with Remi.
"But wait, what does Kim Richards have to do with Halloween? Or fashion, even?" Well, both are about costumes and dressing up and performance. "Kim Richards, being an actress playing herself in a reality show, is the epitome of that," Fabian asserts. "Also my work celebrates eclectic, multifaceted women…"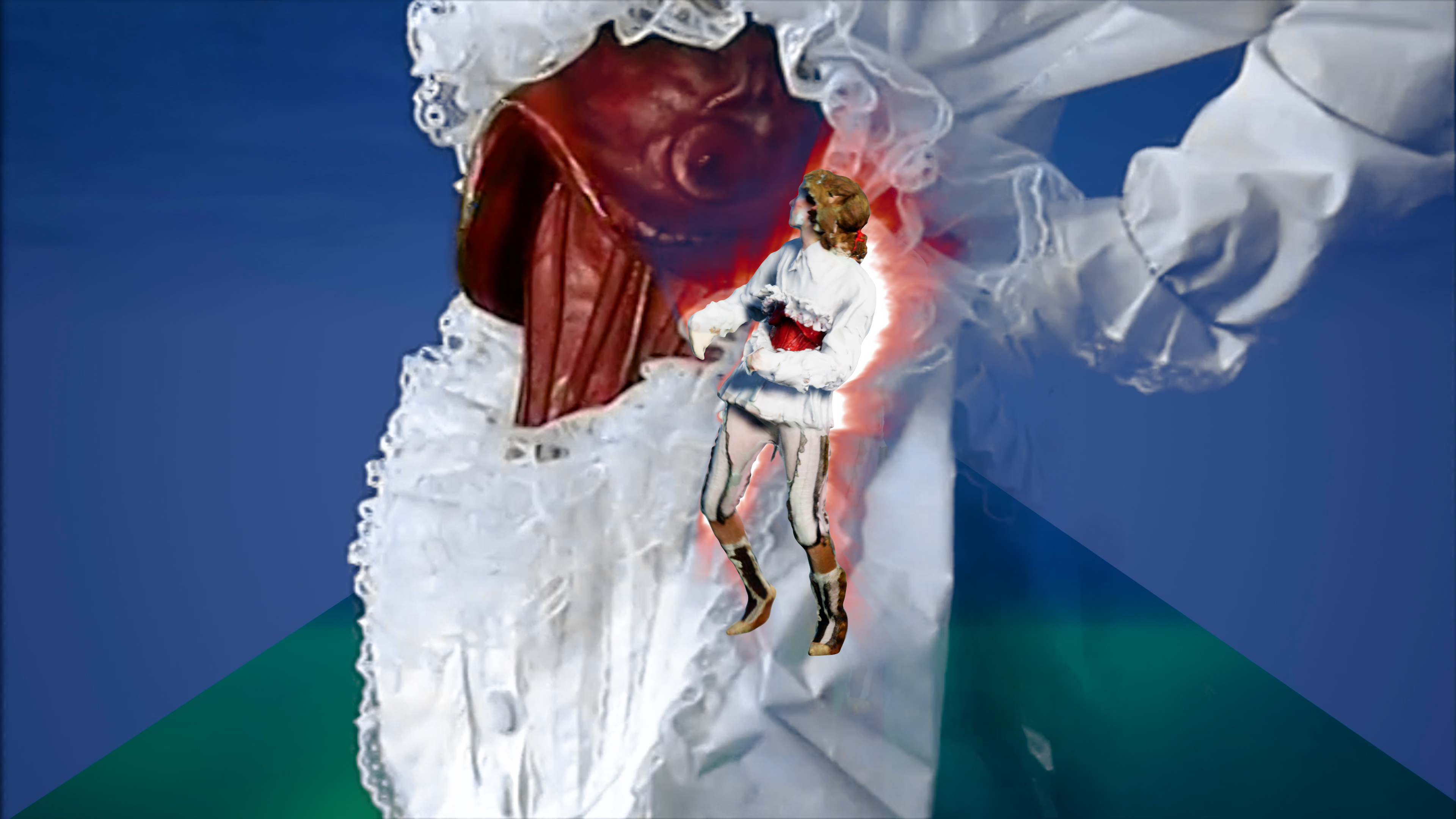 While Paris Hilton's dear aunt may not make a cameo, her ardent spirit is faithfully conjured by model Blythe, who hovers, stumbles and strides down a floating runway to a creepy soundscape of organ arpeggios and disembodied choral fragments. Shot on grainy VHS and rendered as Victorian doll-like 3D scans, they wear clothes from the collection that Fabian describes as "very costumey and silly, but are also invested with a lot effort and technicality" — waisted tailored jackets with hanging breast panels; dresses in swathes of silk, lace and tulle with used makeup wipe face prints, or carved pumpkin embroidery.
Not to give the plot away, but it all culminates in a scene that draws inspiration from 2013 sci-fi thriller Under The Skin, "specifically the part where Scarlett Johansson summons men into this weird black hole world," Agusta explains. "They're trying to summon Kim Richards," Fabian says. "Without me asking, Agusta made it look like some digitalised remake of Suspiria or something, which is really nice, because I've been really into circle dancing and summoning and harvest rituals at the moment."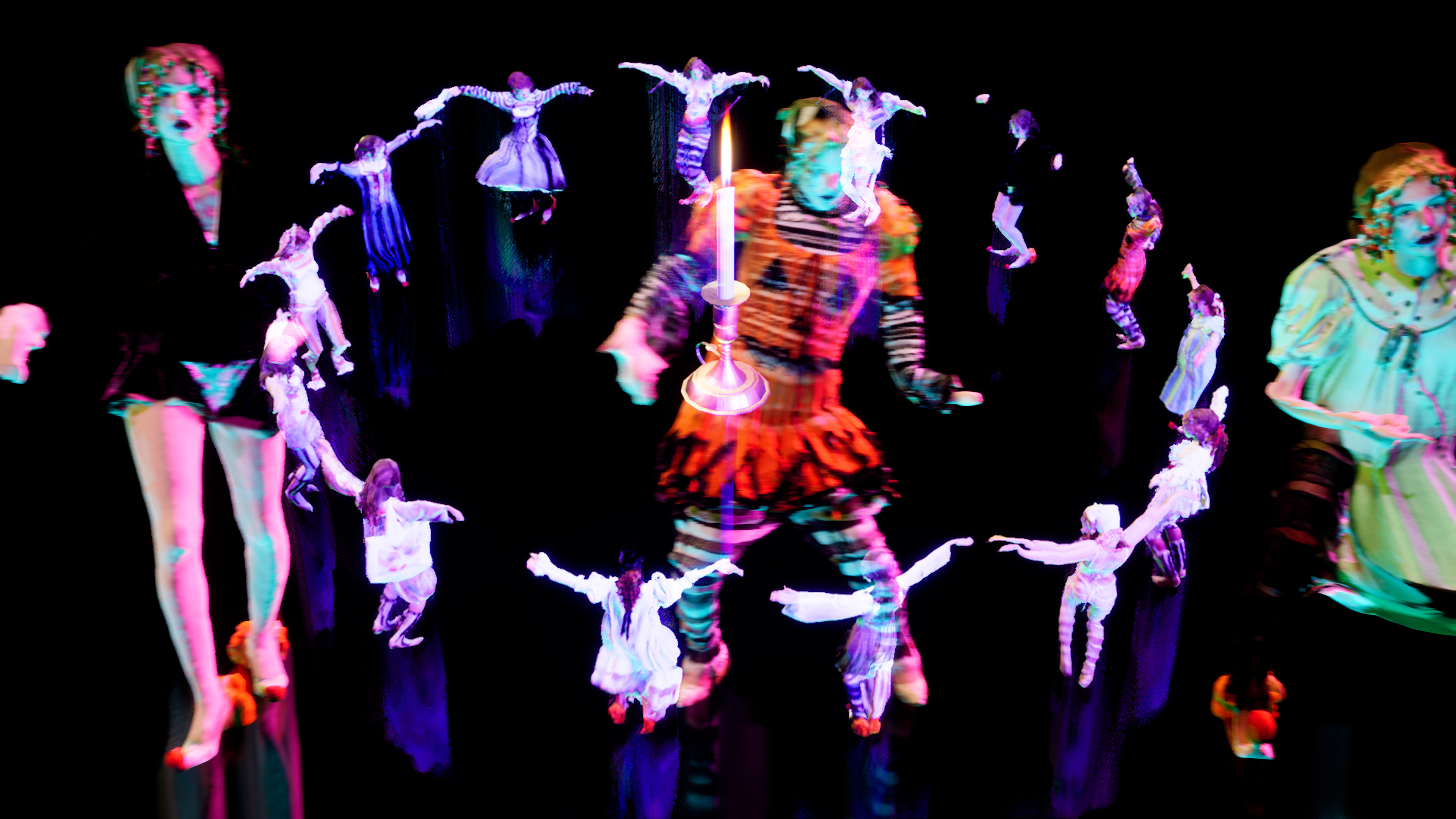 Beyond that, though, Fabian's deep-seated love for the spookiest time of the year owes more to the rare sense of belonging it offered her as a child. "Growing up as a kid who doesn't identify with your birth gender, this is your holiday," she says. "You're literally encouraged to dress up as whatever you want. It's the one time of the year where you can just say dress up as a princess and probably get away with it." It should be stressed, however, that despite what the carved pumpkin motifs and witchy overtones might suggest, Halloween wasn't actually the collection's intentional theme. "It just happened to come out at this time of year, but if it was in spring, it still would have been the same collection and film," she says. "Halloween's all year round for me!"
Credits
---
Styling Danielle Goldman @daniellegoldman
Talent Blythe @ WILD
Makeup Eszter Magyar @esztermagyarmua
Hair Sam Koroma @romansam
Nails @draculanails
Sound David Varhegyi @david_varhegyi
Jewellery Rebekah Bide @rebekahbide