Could Gen Z's future home be Antarctica?
Regenerative Futures asked a group of young creatives what the world needs to look like in order for us to save it from climate disaster.
|
16 December 2020, 1:56pm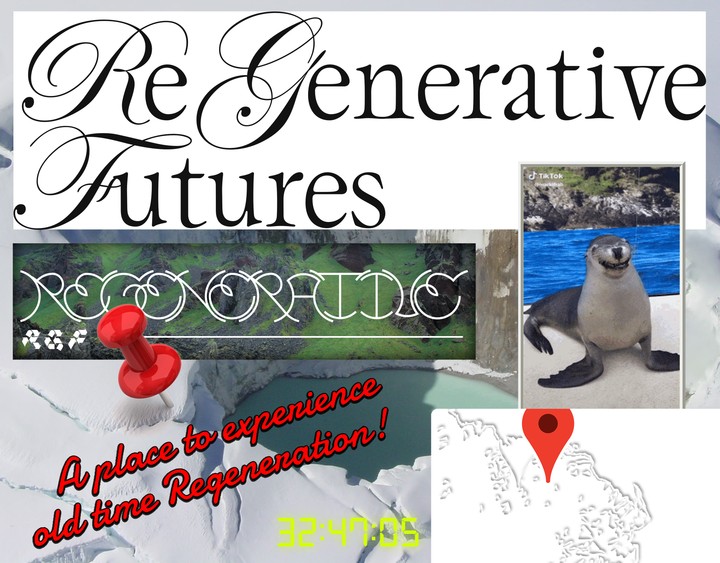 Courtesy of Irregular Labs
You may remember that back in summer we wrote about The Regenerative List, a Gucci and UN-supported endeavour that sought to find the young talents capable of using their respective practices to save the world and form a sustainable future. Not a big ask at all. Well, six months on, the fruits of their labour have arrived: The Irregular Report: Regeneration is the collective effort of the studio and think tank Irregular Labs, that Gen Z shortlist and the University of Southern California's Civic Paths group. Together they've hypothesised how we can change our lifestyles and save the planet from climate crisis in the process. Step one? Move to their fictional settlement in Antarctica, titled RGF_1.
The settlement has been dreamt up based on the key principles of Regeneration — Equity, Co-Creation, Inclusivity, Purpose, Creativity, Transparency, Circularity, Ephemerality, and Fluidity. Every component they've hypothesised ties back to one of those assets. The idea is that, whether we're starting with a blank canvas or reforming our existing world, the fate of our future lies in a communal set up like RGF_1. How you'll learn about it is equally innovative.
Irregular Labs have overseen the creation of everything from a digital hub for the settlement to a graphic novel, created by 21-year-old artist Jasmin Abdallah, that lays out RGF1's origin story and values. They've also compiled a list of principles that society should follow in order to point us in the right direction, as well as individual profiles that set out to champion the people involved in forming this settlement in the first place. These elements, known as 'Drops', will continue to be updated in future, informing us more on what RGF1's role could be in our own lives later down the line. Expect conversations with chefs operating in climate conflict regions, fictional product collaborations with world-famous conglomerates, and an architectural competition challenging next gen talents to create RGF_1's community centre.
If the stuffiness of thinktank reports have long deterred you from engaging with them, Irregular Labs' word with their Regenerative Gen Zers is the perfect antidote: a hypothetical, but still truly practical alternative to how we can collectively fight the climate crisis. "As Susan Sontag said, 'The only interesting answers are those that destroy the questions," Priyal Thakkar of Irregular Labs' Gen Z collective reminds us. "Who better to destroy and rebuild than my generation, Gen Z?"
To read more about what they're doing, head to the website here.
Tagged: