Dover Street Market links up with When We All Vote
Buy these T-shirts and hoodies by Marc Jacobs, Vaquera and Selena Gomez to support voter registration non-profits, and get out there and vote.
|
23 September 2020, 4:59pm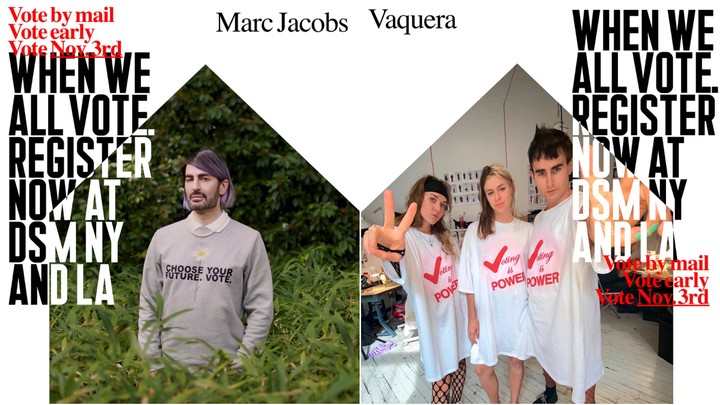 With less than 60 days until the US polls open, those who are keen to skirt another four years of political unrest are banding together to do whatever it takes to get the American people out to vote. What's more, there are swathes of younger eligible voters between the ages of 18 and 40 who have never registered; the exact same demographic who could swing the end results substantially.
The 2016 election in the US was decided by fewer than 80,000 votes in three states. Again, in 2018, two-thirds of young people didn't vote despite the election having the highest youth vote turnout in history. The potential for change lies in the hands of young people.
Enter Dover Street Market's collaboration with When We All Vote, a US non-profit that exists to help increase participation in every election. Together, they're launching a collection, both in-store at their New York and Los Angeles outposts and online, with some of fashion's most valued names. Essentially, DSM asked 26 of their closest creative friends and brands to create apparel tied to their own message of encouraging others to vote. Names include Marc Jacobs, Off-White, Stussy, Selena Gomez (!), Honey Dijon, Vaquera and i-D's very own Editor-in-Chief and Creative Director, Alastair McKimm.
The collection will drop this Saturday 26 September, and all profits from the pieces will be donated to When We All Vote, meaning that more people will hear that invaluable message -- both from them directly, and from the slogan emblazoned on the back of your new hoodie. Head to Dover Street Market's site to pick out your new piece, and put your name down to vote on Tuesday 3 November. It's important.