Why TikTok is celebrating Christmas three months early
Don't we all need a little festive joy in our lives right now tbh?
|
30 September 2020, 4:10pm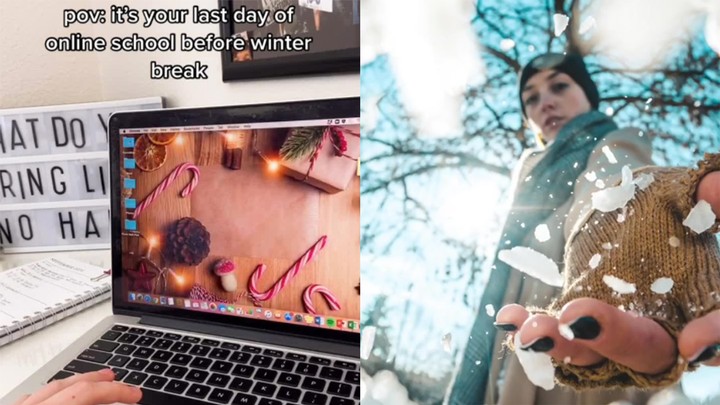 "SO MUCH SEROTONIN" one user exclaims. "It just makes me want to cry" adds another. These are just two of the 75,000 comments on Lilly James' first ever TikTok video. "POV: It's Christmas Eve", the caption reads. You would be forgiven for thinking that, with over 10 million views, Lilly's video was posted last December. The date stamp? 14th July 2020.
Since making her TikTok debut two months ago, California-based Lilly has amassed over half a million followers. The key difference between her videos and the WAP dances that have been plaguing our FYP for the last few weeks though, is that Lilly posts solely Christmas content. On her account, @.everythingchristmas, she posts short festive clips that include aesthetically pleasing POVs and festive recipes, many receiving views well over the one million mark.
"The day I made my account – on 13th July this year – I posted a Christmas Eve POV. When I woke up the next morning, it already had 300,000 views." she recalls.
Lilly says that her following quickly grew after posting one video, surpassing 500,000 followers just one month after making her TikTok debut. "I usually come up with a general plan, such as a POV theme, and then do whatever looks good while I'm filming," she notes. "My most popular videos are POVs, but my baking videos also do really well – I post more baking videos than any other topic."
Lilly is definitely successful, but she's not alone. TikTok's Christmas tag is home to over 12bn videos, the majority surfacing over the summer and posted by fresh accounts that have some form of reference to the 25th of December. @santa..baby joined the platform at the end of August and has already exceeded 150,000 followers after posting a handful of baking videos. With 1.4 million likes, their most popular video is a 60-second brownie recipe tracked to Queen of Christmas Mariah Carey's "All I Want For Christmas (Is You)" – the clean version, not the one that has had a Gen Z makeover. @.avastonek's first Christmas-themed video, a Christmas Eve POV, has 25 million views. The rest of her videos followed with the same success, resulting in her 320,000 strong following. In fact, Ava's content has become so popular, she has noted in her bio that it is being stolen and reposted by a copycat account.
But why are TikTok users extremely eager to spread the festive cheer so early? 18-year-old Alexis Byrne started posting on her TikTok account, @allexiiss, in May 2020. She originally started sharing lifestyle and positivity content but switched to the Christmas niche in August. "My content is very different to what is used to be," says Alexis. "My account obtained a lot more traction once I started to post Christmas videos."
"I take the romanticised ideas of the holiday season and turn them into reality," the LA based creator explains. "Since most of my followers are stuck at home doing online school, I thought, why not turn this into something enjoyable?" Like many TikTok creators, Alexis' most popular videos are her POVs. "I think people can relate to them and it gives a different perspective to what Christmas time could look like this year." she says.
Alexis believes this type of content is thriving on TikTok because of the joy Christmas brings to a time of uncertainty. "2020 has been a crazy year with so many unexpected tragedies. Most people just want something wholesome to look forward to," she continues. "I'm glad I can provide content that brings people happiness in the midst of such an unexpected time period."
It's not even just TikTok that's encouraging us to curl up with a hot chocolate and watch Miracle on 34th Street when we've barely left summer behind. Some of the biggest retailers have opened their online Christmas shops earlier than previous years in anticipation of the pandemic teaming up with the Grinch to steal the good cheer. Department store John Lewis & Partners launched its Christmas range earlier than ever, at the end of August, after reporting a 370% rise in festive searches compared to 2019 and a 119% increase in sales.
Friends Ashlynn and Avery, two teenagers from Massachusetts, gained almost 200,000 followers after starting their TikTok account, @mistle.tok, three weeks ago at the beginning of September. Their most popular video, a Christmas shopping POV, has over 15 million views. They say their followers find a lot of joy in their content and they look at what type of content their audience want to see. "Now that we have a bigger following, we do think more about the style of content we produce," they say. "Usually when we are brainstorming ideas, we will look through other Christmas content for inspiration – but we never copy. Our followers also let us know what they want to see on our account, mostly POV videos."
In a year that has been the ultimate rollercoaster ride, the friends note that many people are finding comfort in the little things, whether that be Christmas shopping that bit earlier or immersing themselves in 15-second snippets of festive aesthetics. "As we journey through the pandemic, many people are trying to focus on the positives," they explain. "The holidays can be seen as the 'light at the end of the tunnel' and Christmas TikTok gives people something to look forward and get excited about." It's enough to make you want to get the decorations and the eggnog out already.