9 of Euphoria's most iconic fashion moments
"So, I'm not supposed to be here right now because I'm dressed like a HOOKER and none of you like me."
This piece originally ran in September 2020, and contains fashion moments from season one.
Maybe it's the news that we're due some imminent bonus episodes, or maybe it's something to do with Zendaya's well-deserved historic Emmy win, but something about the changing of the seasons has us more obsessed with Euphoria than ever. Despite originally airing in June last year (the passing of time continues to boggle our little lockdown-ruined minds) the HBO series, which recently resumed socially distant filming on a delayed season two, has stayed with audiences and lived on through TikTok audio, fan edits and Labrinth-heavy playlists.
And surely part of the reason why our love of the show endures so much, even with only one season to go off, is Euphoria's instantly iconic fashion. The aesthetic of the show is so strong, each of its characters' beauty and fashion choices instantly recognisable (and tantalisingly easy to copy in a quick TikTok) that we're already buzzing to see what Rue, Jules, Kat, Maddy and the rest don for season two. As we wait and scour BTS pap shots on Instagram to find out, here's a look back at some of the show's most iconic looks so far.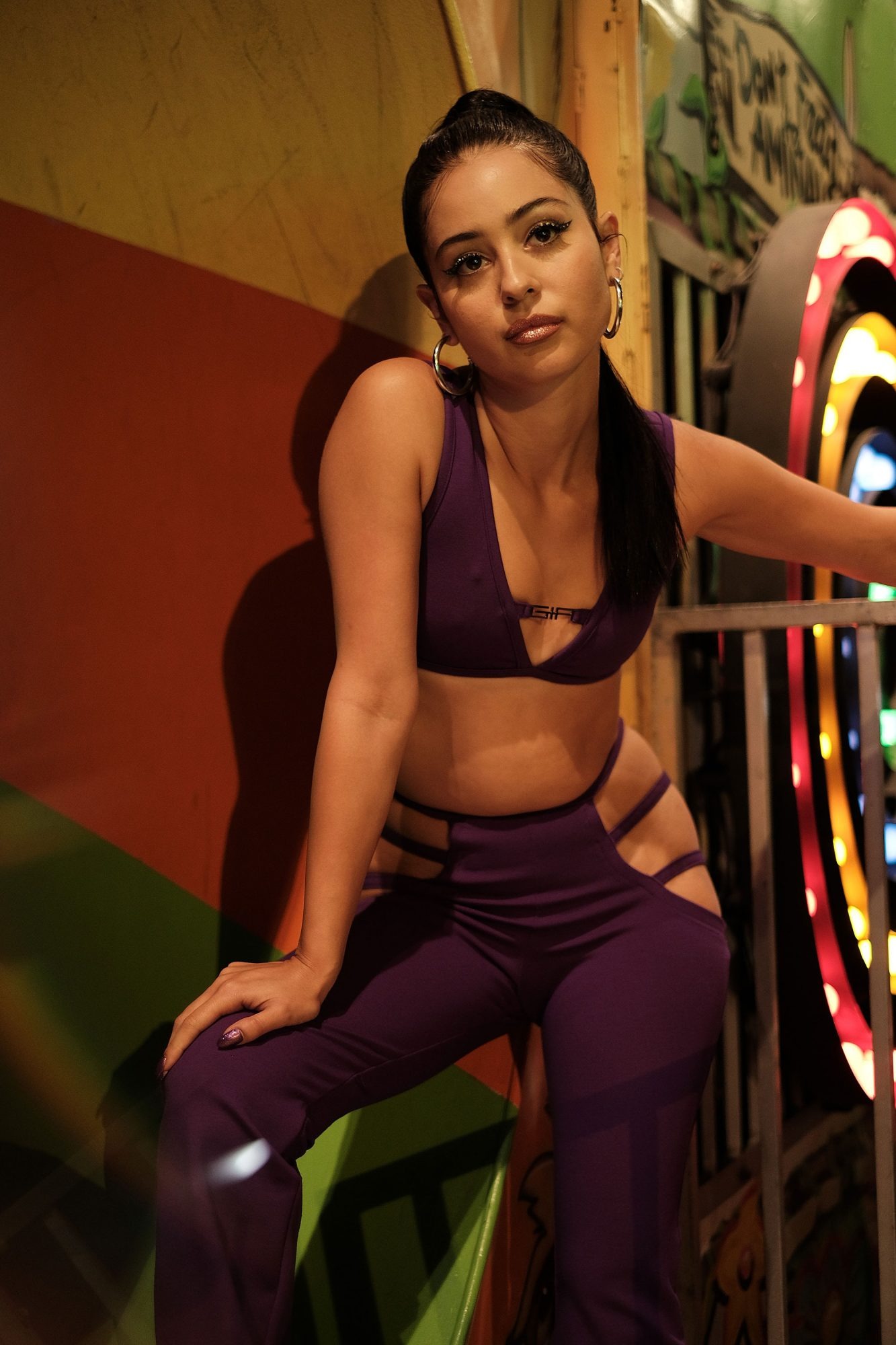 Maddy's carnival look
If there's one line that people remember from Euphoria, it's Maddy's legendary delivery of: "So, I'm not supposed to be here right now because I'm dressed like a hooker and none of you like me". Hear the line and you can instantly picture the outfit that accompanies it. The extremely extra purple I.Am.Gia set, with the cut outs? That's the one. While it might not be the most wearable IRL look (please sir, my hip dips, they're very sick) the two-piece sums up Alexa Demie's character, her identity and her ownership of her body and sexuality perfectly. A timeless look for an ageless queen.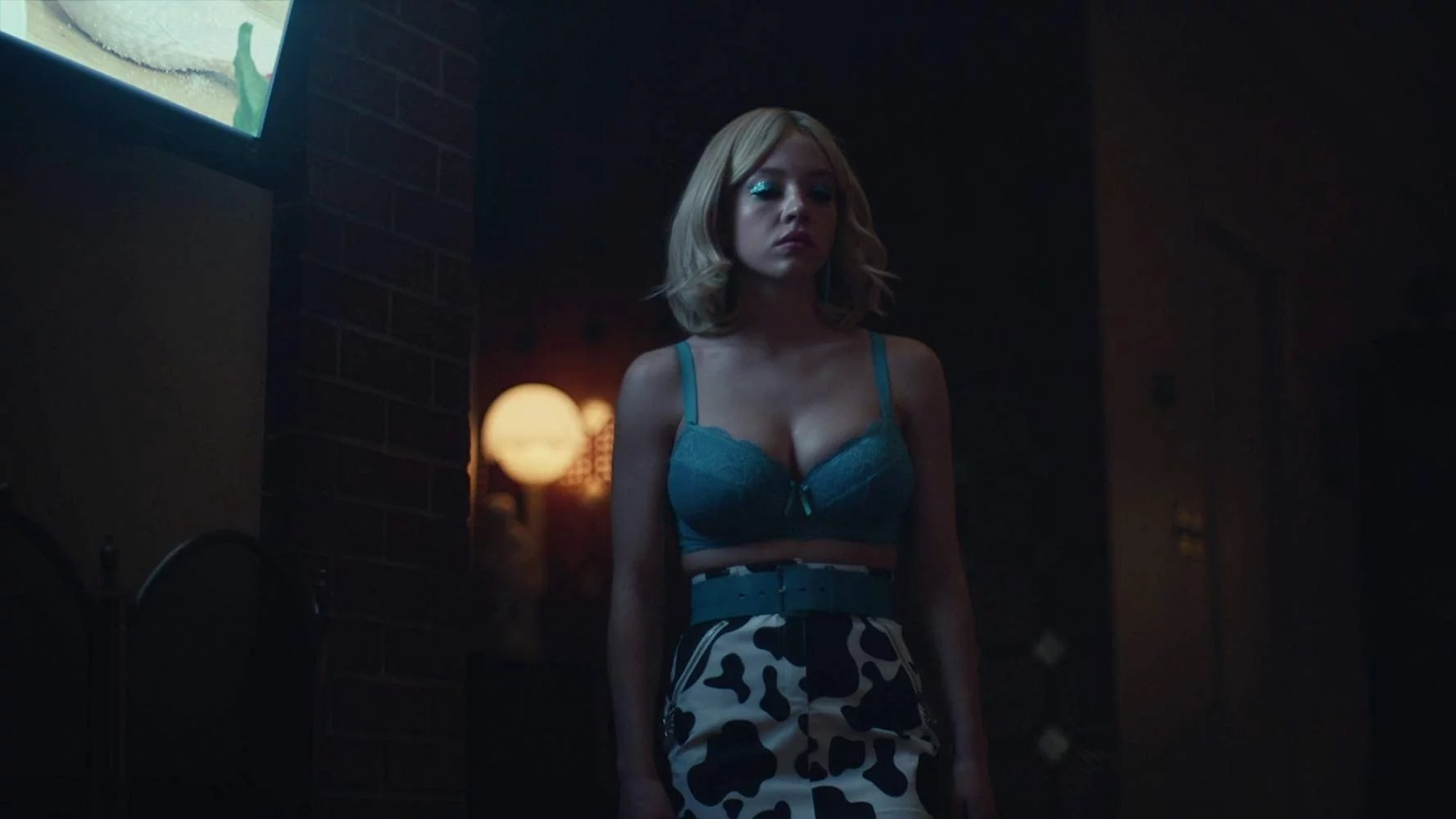 Cassie's Halloween costume
One of Euphoria's most heart-wrenching moments is when McKay doesn't appreciate his girlfriend Cassie's Halloween homage to 1993 crime film True Romance. The cult movie, regrettably directed by Quentin Tarantino, stars Patricia Arquette as Alabama Whitman, a former sex worker on the run from the Mafia. While it was a box office flop when it first came out, the 90s film has since become a cult classic, thanks in no small part to Alabama's outfits. Cassie nails the recreation all the way down to the very-2020 shag haircut, cow print skirt and blue balconette bra. Sadly, her boring boyfriend makes her change out of it and dress as a football player instead. Honestly, it's tied with (SPOILER, but that's your own fault) Rue's overdose as the show's saddest scene. We will not be taking any further questions or comments at this time.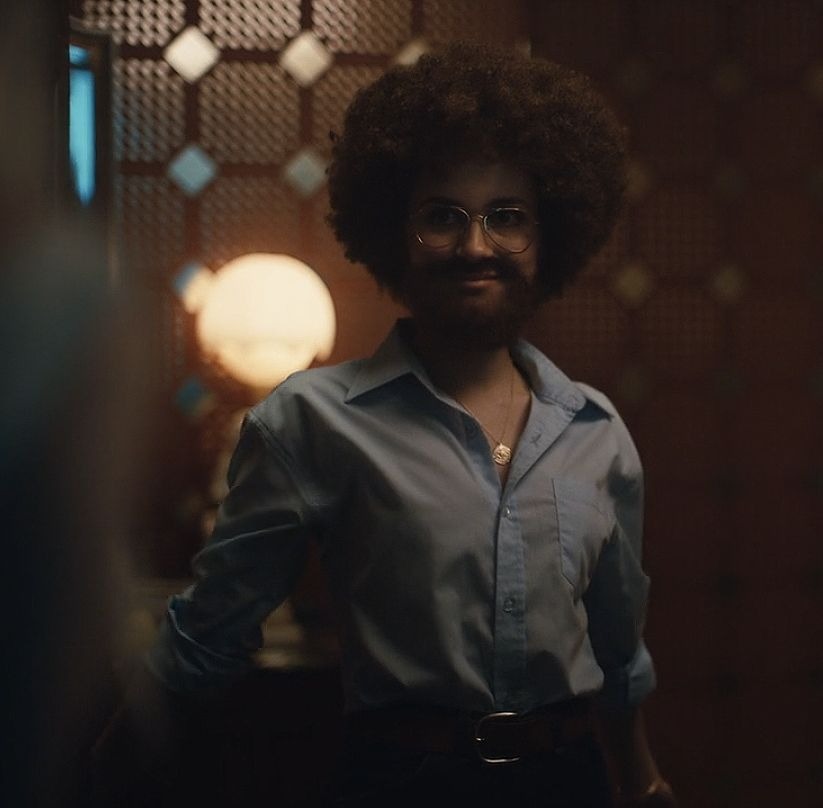 More importantly, Lexi's Halloween costume
Perhaps because Maddy, Cassie, Rue, Jules and Kat have such memorable looks over the course of Euphoria season one, Lexi's — Cassie's sister and Rue's day one BFF — is sadly sartorially overlooked. But she still turns out great looks, whether that's her daily dark academia-inspired school outfits of turtlenecks, sweater vest, corduroy and muted colour palettes, or her vintage-inspired print jumpers. Lexi's best moment though, is undoubtedly her Halloween appearance as beloved American artiste, Bob Ross. It's giving us a very 'Georgia from Angus Thongs and Perfect Snogging when she dresses as the olive and sadly discovers boys don't like girls for being funny' kind of vibe. Lexi and Georgia proudly dance to the beat of their own drum so we stan regardless. Also, great perm.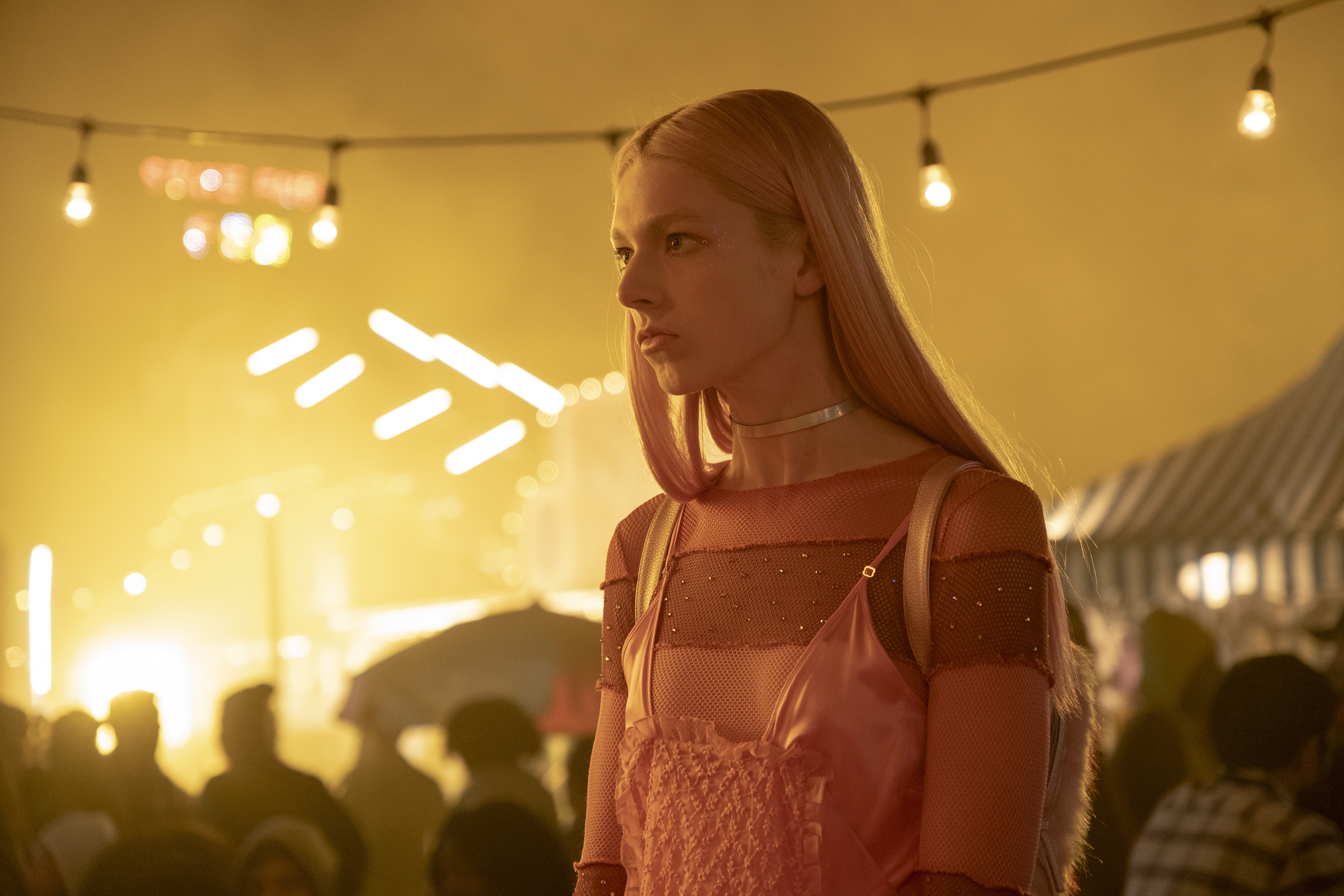 Jules' carnival look
From the beginning of Euphoria, when Jules is introduced to Rue looking like a Sailor Moon character, she appears ethereal, otherworldly, almost fairytale-like. Her carnival outfit, a typical Jules mishmash of glitter, silks, pinks and whites, is no exception. Hunter Schafer's pink slip dress, worn over a mesh striped long-sleeve and accessorised with matching pink hair and choker, is kind of anime heroine-meets-Carrie White: the perfect mid-point of lightness and dark, and the aesthetic equivalent of the show's spirit.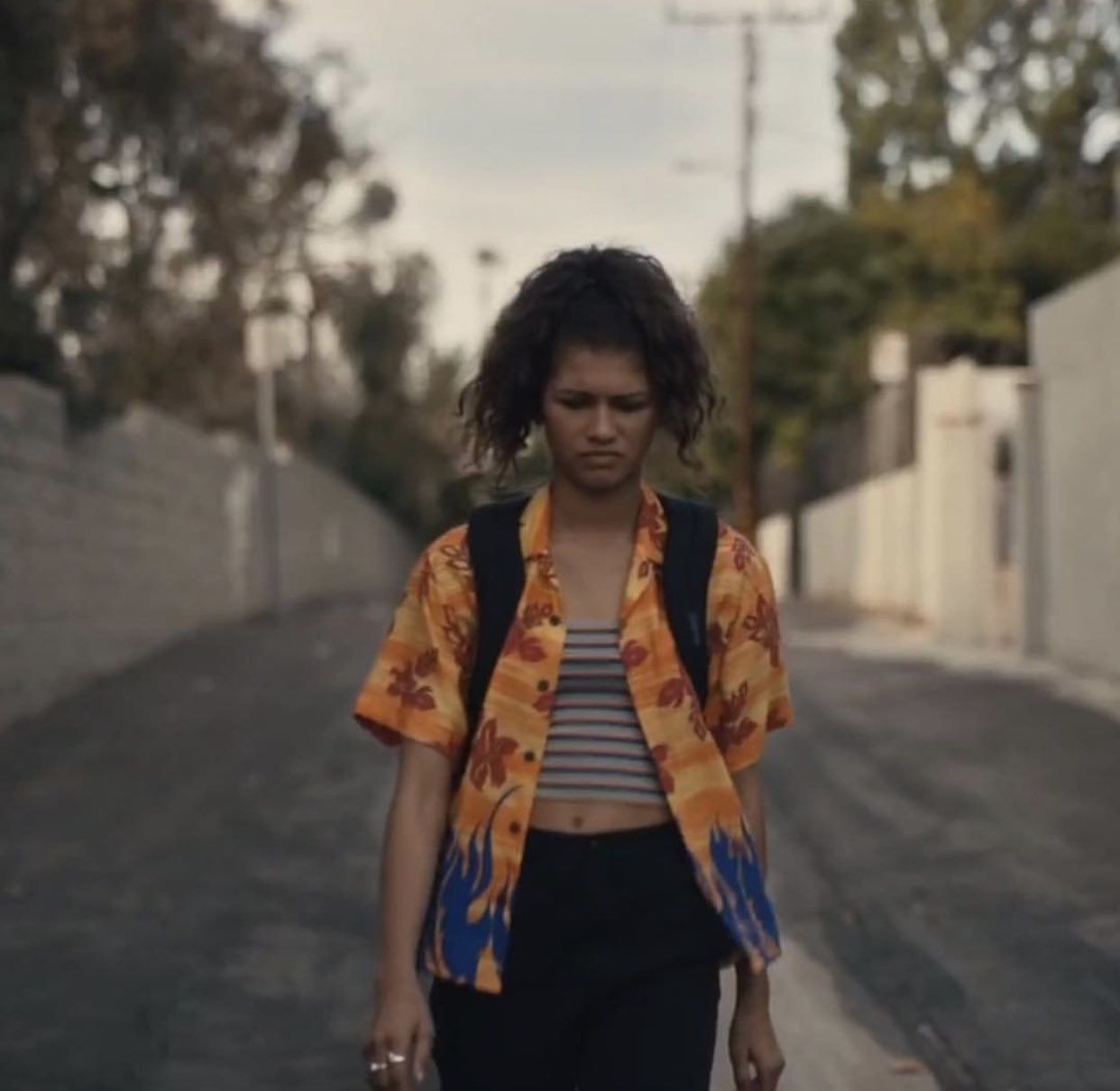 Rue's Hawaiian shirt
Jules might drag Rue for her Seth Rogen-esque fashion — and nowhere is that more accurate than in this Pineapple Express chic Hawaiian shirt moment — but honestly, we're kind of into it. Rue's wardrobe is full of androgynous, grunge-inspired pieces, and while it's mostly pretty understated, she occasionally brightens up her outfits with colours, mixed prints and cheerful patterns. It's probably no coincidence that this tends to happen, as it does on this occasion in episode three, when Rue is with Jules, as it's then that her personality seems to brighten too. Which is very sweet, actually.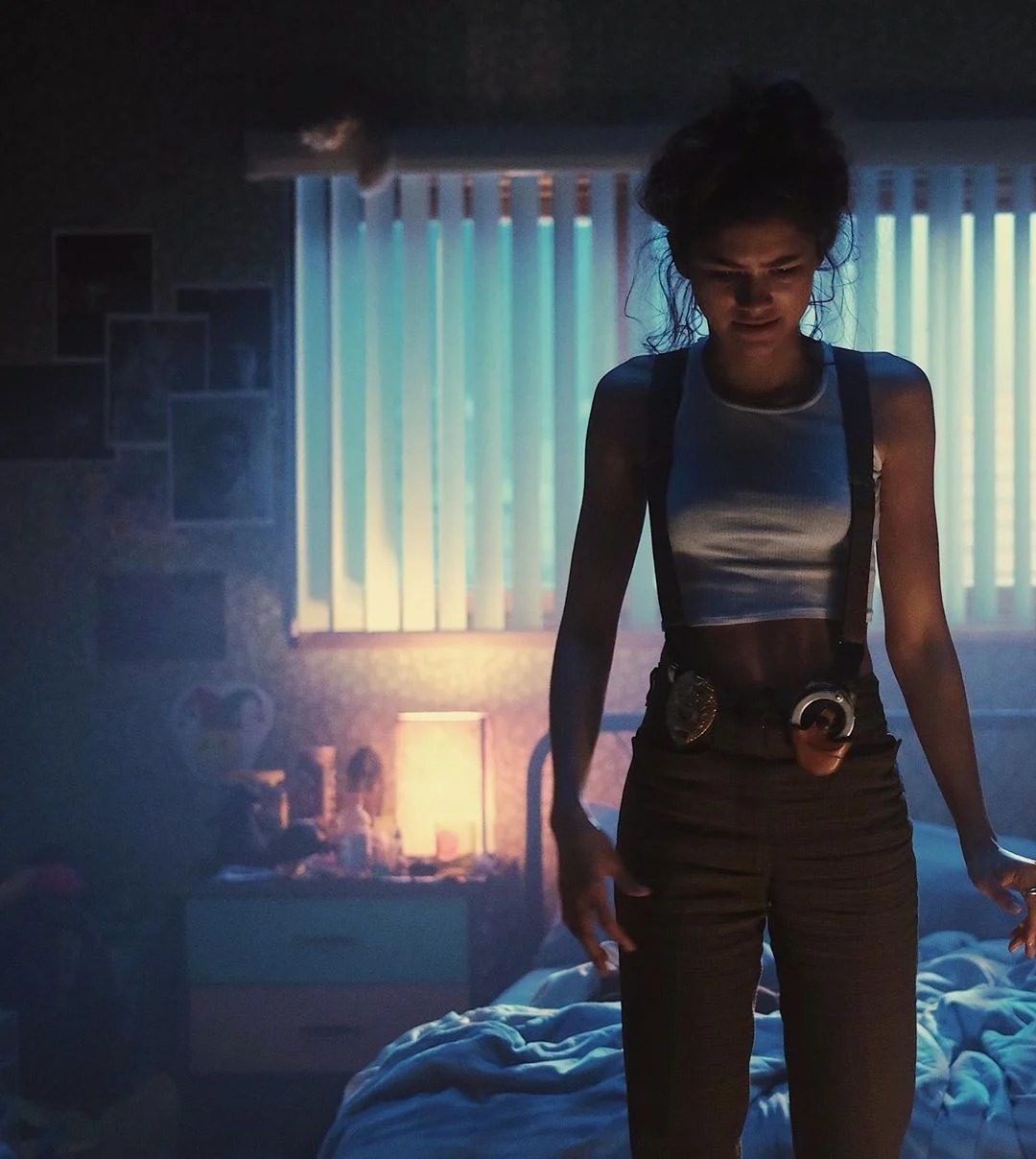 Rue's detective look
Obviously ACAB but we're quite into this True Detective look. It's very Pepe Silvia, but if he was hot and looked like Zendaya.
Kat's makeover
None of Euphoria's characters embark on an aesthetic journey quite like Kat's. While the character, played by Barbie Ferreira, begins season awkward and unsure of both herself and her fashion, she quickly undergoes a makeover (both in style and attitude) when she finds her niche as a findom sex worker online. She subsequently adopts a more risqué, BDSM look which we are astounded passed the uniform checks at Euphoria High. Nonetheless, it gave us this iconic slow-mo corridor walk to DMX, so can't complain.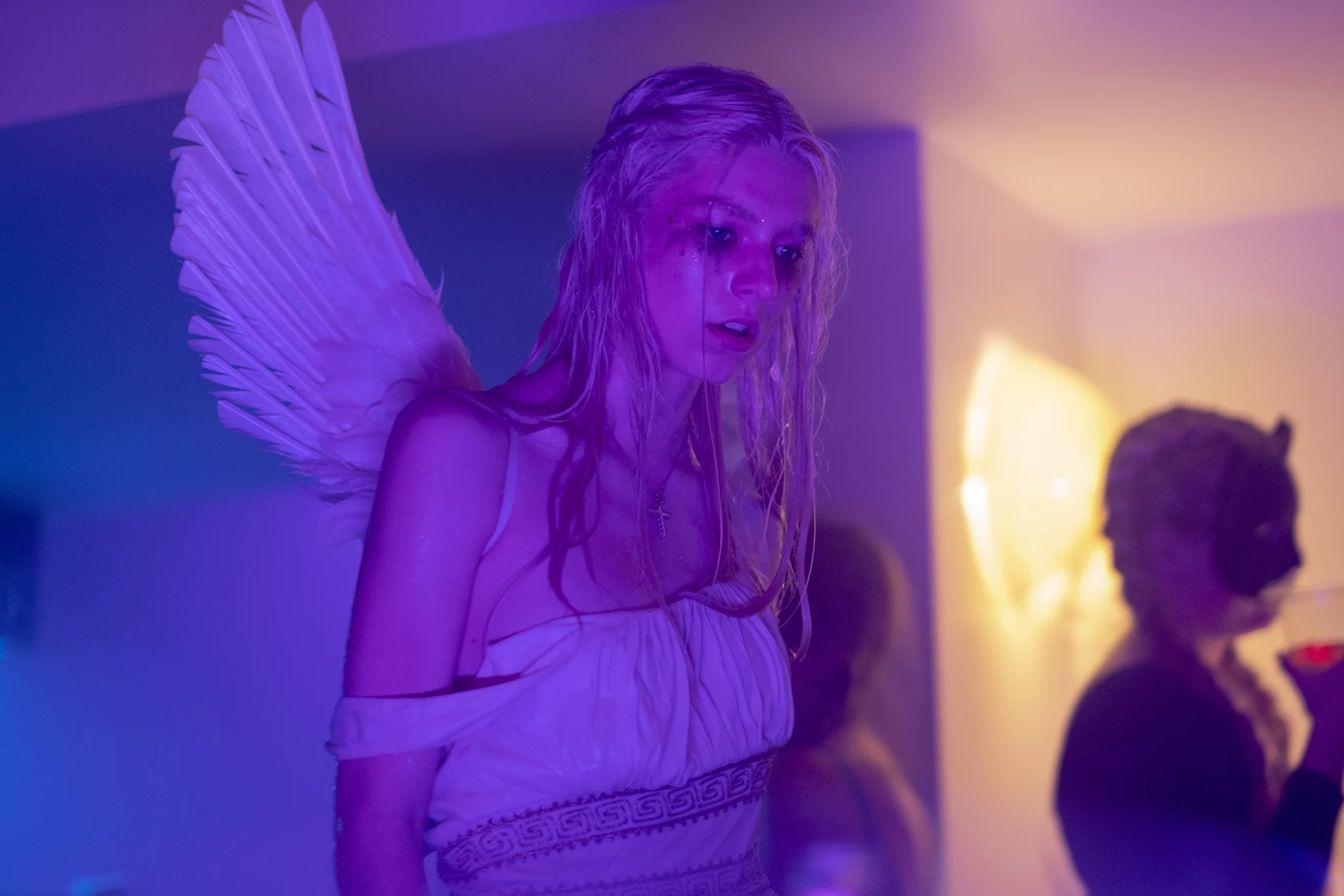 Jules's Halloween look
An homage to Baz Luhrmann's Romeo & Juliet, no doubt, Jules channels Claire Danes realness as a Halloween angel. While it has a suitably modern twist — Euphoria's trademark eye glitter is there, courtesy of iconic makeup artist Doniella Davy — Jules even takes the reference to the next level when she gets drunk and plunges into the swimming pool with a reluctant Rue, a callback to the famous pool scene with Leonardo DiCaprio in the 1996 classic (you know the one, Desiree's "Kissing You" playing in the background). Sadly, Rue is not feeling the romance as much as Leo and Claire, but we hope that's a sign that Rules will have a happier ending than their Shakesperean counterparts, at least.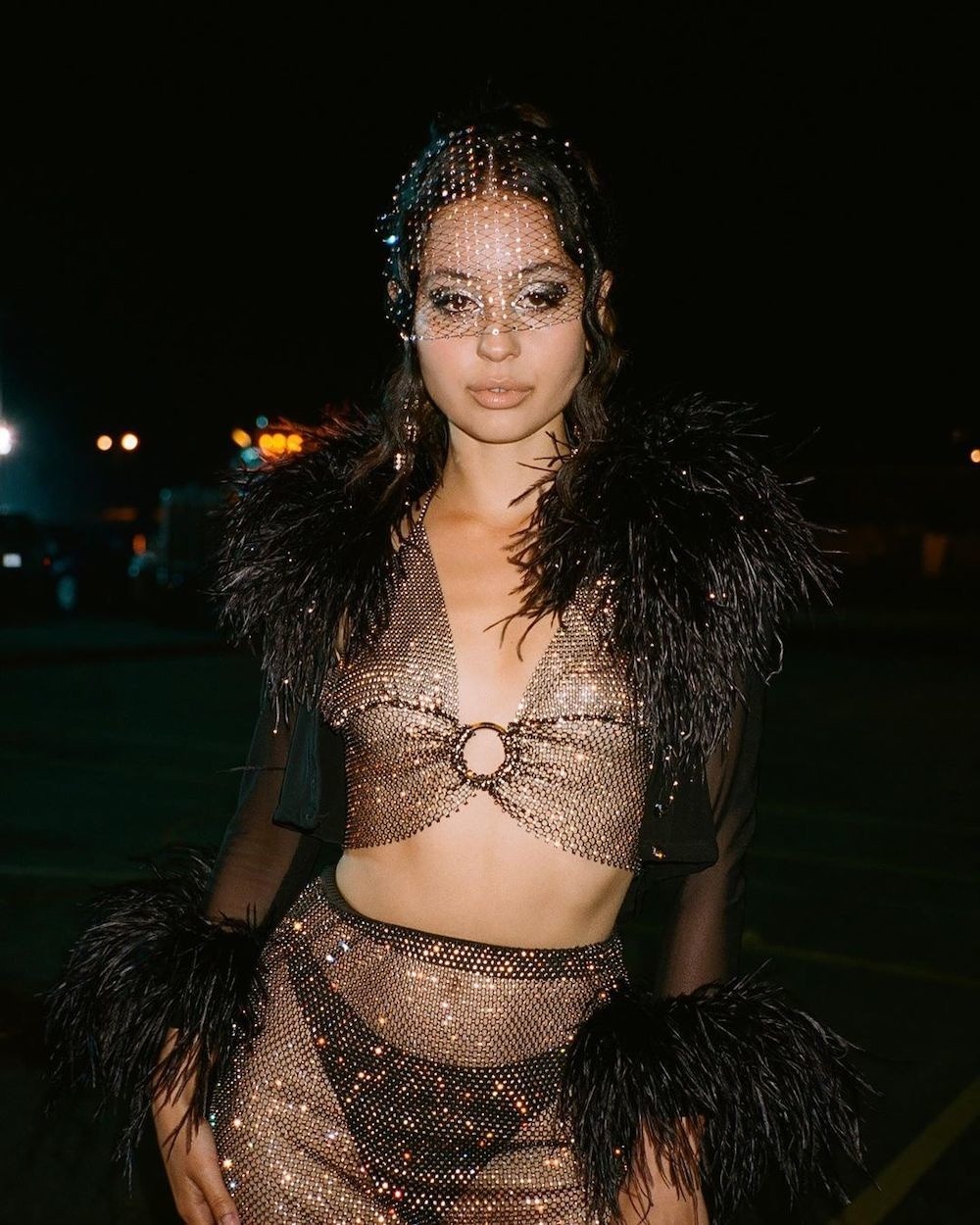 Maddy's winter formal outfit
I mean, no explanation needed.