10 things you need to know about Scuti and the new wave of UK rap
The south Londoner just dropped her debut mixtape 'This Is Skoo' and, despite pandemic-cancelled shows, still has massive plans.
Photo courtesy of Scuti.
19-year-old Scuti first appeared on our radar at the tail end of 2019, after releasing her insanely catchy debut single "Skoowup". On it, the south Londoner delivers Drake-referencing lyrics with a distinctive effortless cool, over sparse production by tn_490. Blending influences from across grime, UK drill and trap -- as well as her favourite artists Travis Scott and Young Thug -- the bass-heavy result grabbed the attention of American producer Kenny Beats, who has an ear to the ground for new British talent and quickly co-signed the young rapper.
Making music is nothing new for Scuti, who wrote her first bars as a child and already has the kind of vision and determination that some spend forever seeking out. Her earliest musical memories are of her parents playing gospel, ragga and rap around the house — something which she credits for her diverse style. But it was in 2018 when things began to get serious. "I started using my uncle's studio a lot and then shows started coming in," she says. "I did some features and since then, it's like time has moved super fast. It kind of feels like a big blur."
Following a series of impressive Boiler Room sessions and festival slots, things were starting to get even blurrier in the lead up to lockdown, which enforced a break from performing but provided the perfect opportunity to release her first mixtape, This Is Skoo. Across six confident tracks, Scuti spans topics including making money, loving girls and industry success.
Get to know Scuti a little better via these 10 fun facts...
1. Scuti named herself after a massive star… literally
"UY Scuti is 1000 times bigger than our sun. I always knew I was going to be a big star, so the name made sense."
2. She was born and raised in South London
"It definitely toughened me up, exposed me to many different cultures and provided me with friends that I now class as family. South London can make or break you, and as you can see, it made me."
3. Scuti wrote her first song aged 10
"The track was called 'Let's Get It Started' and it had a party vibe to it. I played it to my music teacher and he loved it, so I guess that's a good sign?"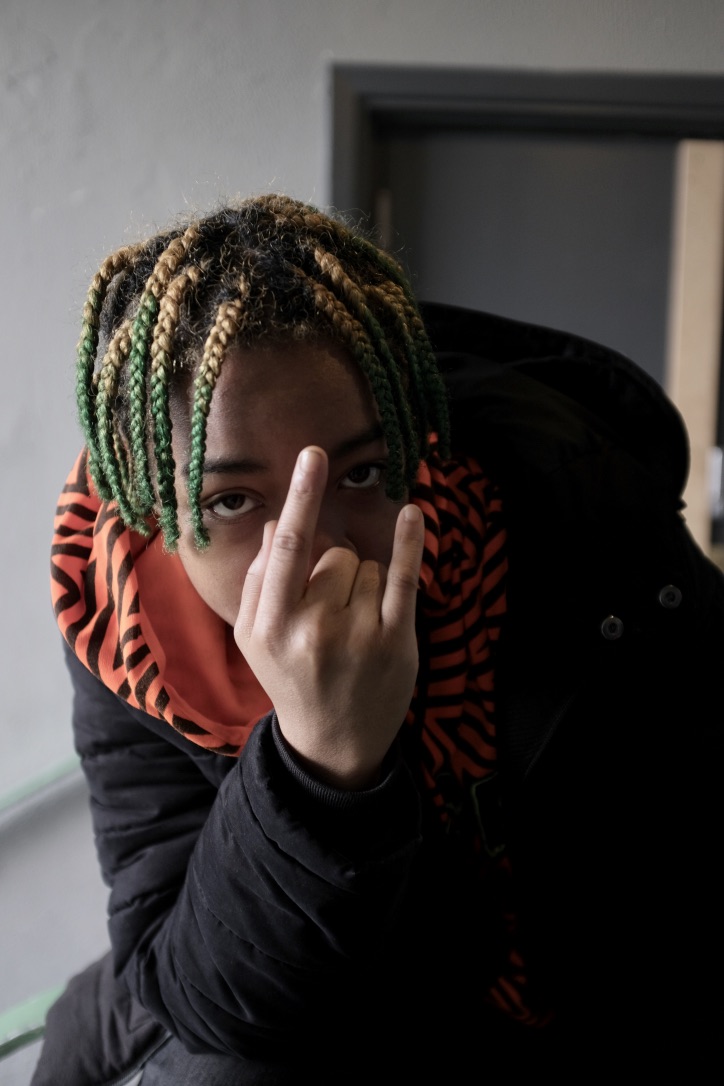 4. But she's now 19, and loves the freedom that brings
"I actually had to sneak into the first few shows I ever performed, as I was only 16."
5. People have said a lot of things about Scuti's music, but these comments stood out for her
"A supporter from France told me that my music has got them through some hard times… that stuck with me. And then my dad told me that my EP is revolutionary. That was hard!"
6. This Is Skoo is the world's introduction to her as an artist and individual
"I poured my heart and soul into this project. I had to go deep inside myself to figure out who Skoo really is. I saw this EP as the world's introduction to me, so it had to be done right. It has been a rollercoaster journey and I have learned so much, and I've been lucky to work with some super talented people."
7. And yes, the cute kid in the artwork is baby Scuti
"It was a picture from a family holiday in Barbados many years ago. That picture just sums me up: carefree, at one with the earth and eating."
8. Her video for new single "You Know" has a big Channel U aesthetic
"I grew up seeing the elders in my family watch it. The way kids look at Link up TV is the same way I looked at Channel U. Channel U was a massive part of the scene at one time and I grew up watching videos and discovering new artists there; some of the people I used to watch have gone on to be superstars."
9. She loves Rick from Rick & Morty so much she got a tattoo of him
"He just doesn't give a shit. He knows who he is and what he wants and he doesn't take any crap. Sounds like Skoo :)"
10. Her 2020 mission is to make sure the world knows who she is "Before Covid, I had loads of shows booked, a couple of festivals and other things but all of that has come to a standstill now. So my mission is the same, I've just had to change the steps I'll take to achieve it."