This London label is making business trips sexy
The trio behind Mainline:RUS/Fr.CA/DE talk performance art, intimacy and travel as a state of mind.
|
13 October 2020, 12:34pm
Photography Karl Felix
Upon first glance, the moniker of up-and-coming London label Mainline:RUS/Fr.CA/DE seems a cryptic jumble, perhaps written in code. When I ask Felix Karl, one the label's three creative directors slash designers, about the meaning behind the mark's name (and how to pronounce it), he laughs, "That's a good question." Turns out, it holds the key to the label's entire ethos.
The minds between Mainline:RUS/Fr.CA/DE, Felix, Alex Vincent and Zarina Bekerova, were all born on different continents. Felix and Alex met in Berlin, while Alex was completing her placement year at London College of Fashion, and Felix was studying photography. When the year was over, he moved with Alex back to London, where he was introduced to Zarina, one of Alex's classmates studying menswear at LCF. "RUS Fr.Ca DE are country codes," Felix explains. "Russia, where Zarina's from; French Canada, where Alex is from; and Germany, where I'm from. That was the starting point for us: that we're all in one place together, coming from different continents and working together, dealing with cultural gaps and language barriers."
Despite their cultural and linguistic differences, it's the notion of travel that unites the three creatives (pertinent given that business travel is more of a notion than a reality right now). And what better way to approach the theme of travelling than through the tens of thousands of people who until recently flew across the globe, daily, for business. "We wanted to start off from this business travel sensibility because you find it cross-culturally," Alex says. "But then give it our own twist." The label draws inspiration from the travelling businessman, Felix explains, "How they change before they get on the plane, then again before they go into the office. There's so much fun happening at the airport. But, let's be honest, tailoring is so uncomfortable to wear everyday, all the time. We want to make it a bit more fun, a bit more sexy, and a bit more intimate."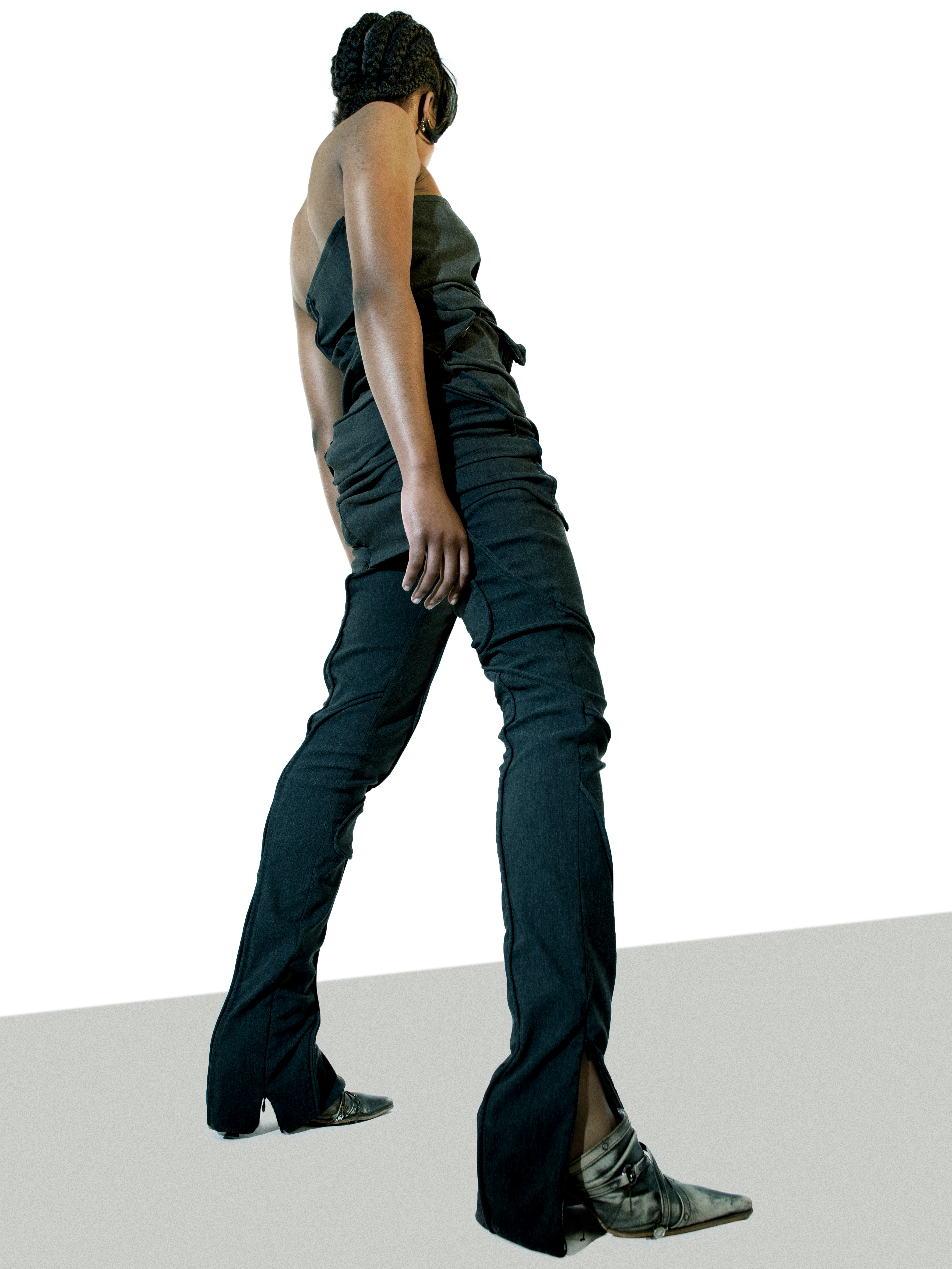 Drawing upon the roles and dress codes in a corporate framework — especially the stereotype of the sexy secretary — the trio create suiting for all-day wear, equally apt for red-eye flights, boardrooms and, especially, happy hour. Crafted from deadstock stretch fabrics and self-tailored with seams all over — "in uncomfortable places," says Alex — Mainline:RUS/Fr.CA/DE's blazers and dress pants look as though they've been slept in on a 10-hour, trans-Atlantic flight. Additionally, for their spring/summer 21 collection, the trio launched their first accessory: the pillow bag, in collaboration with metalsmith Rosie Grace Ward. If you've ever hopped an overnight flight, its use goes without saying. "On a long-distance flight, you can wear the suit, lay your head on the pillow bag, and then wake up and you're still business," Felix says.
For the trio, travel is less a physical endeavour than a state of mind. And it's conversations about this mental displacement that drive their explorations in design further, each season. "When I jump on a plane, I wake up and I'm someplace else, but I'm also different. There's a different me in London than back home. The mind changes with the ground you're on," Felix says. Travelling also drums up feelings of homesickness, makes us consider — and reconsider — how we conceptualize "home". It's this feeling, the salve of being home, that the trio also hope to capture through their garments. "Our clothes feel quite intimate. Some of our suits fit tight and you really feel at home, like someone's hugging you," Felix continues. Speaking further to travel-as-mindset, Alex adds, "When I moved to London, I was like 'No one knows me here, I can be whoever I want to be.'"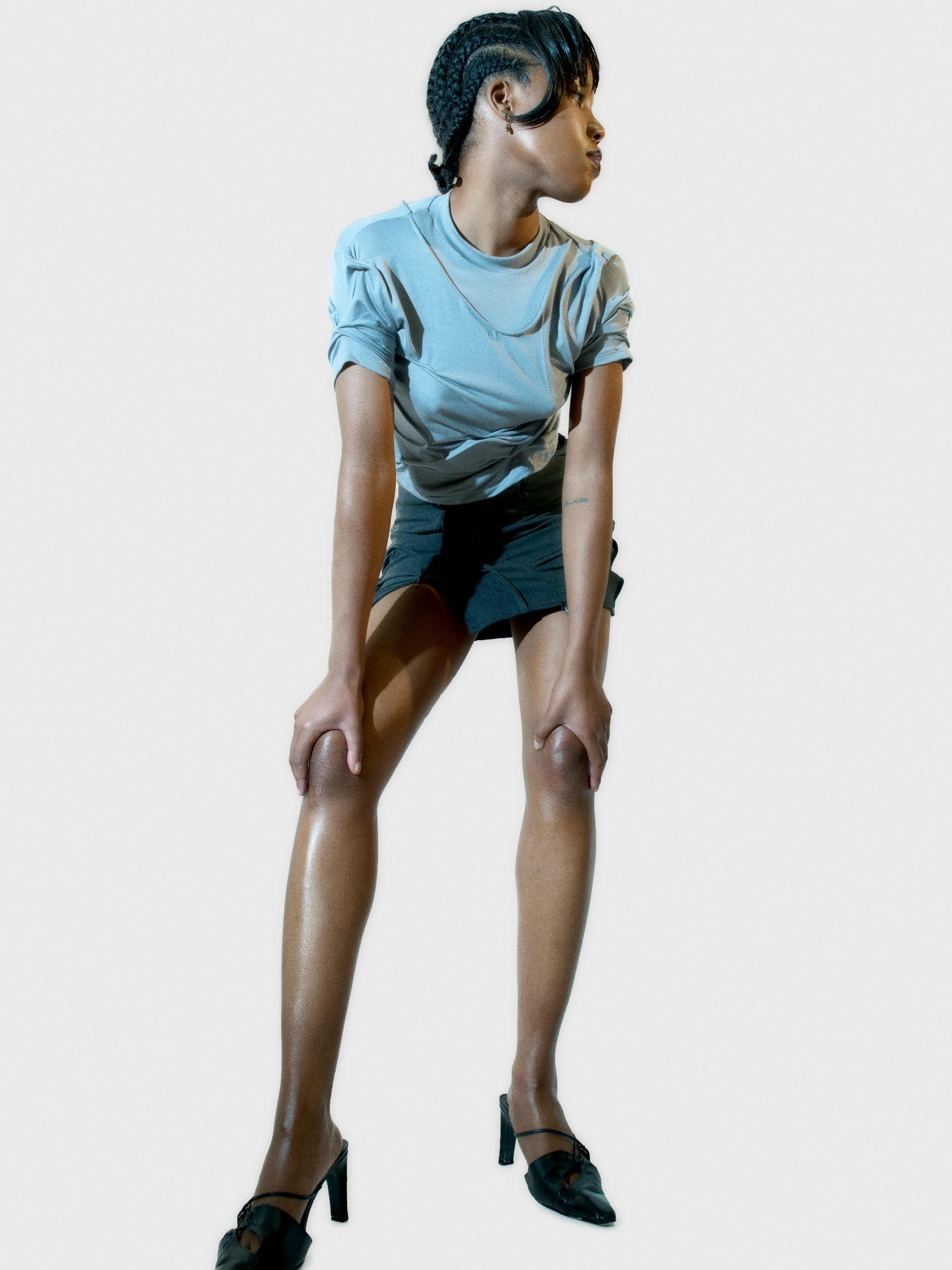 This expansiveness of identity is felt through the label's predominantly genderless offering. "We try to present our garments as much on men as on women," says Alex, referring to the label's lookbooks, performances, presentations. "We don't want to label anything. Basically, if our clothes fit, they fit anyone who wants to wear it or likes it."
Comfort and sexiness are two key pillars of the brand, but the designers at Mainline:RUS/Fr.CA/DE also want to make sexy dressing comfortable — in a metaphysical sense. "I love this idea that you can feel a certain way depending on how people look at you or react to you," Alex says. "You can be in your house wearing something, half-naked, super sexy and feel super comfortable. But when you go outside people are staring at you and you feel like you shouldn't be dressed that way. We want to bring that feeling outside of the house, so even though you're dressed super sexy, it doesn't matter how people look at you, you're feeling great within yourself."
The brand's conceptual approach extends far past their clothing, into how their garments are presented in space and time. "We're not interested in doing a classic runway show or basic presentations," Alex says. "We want to focus on the experience of the viewer, the experience of the performers and also the visuals. Performances make a lot of sense for us. They put our clothes into context. It makes us think more, it makes everyone else think more."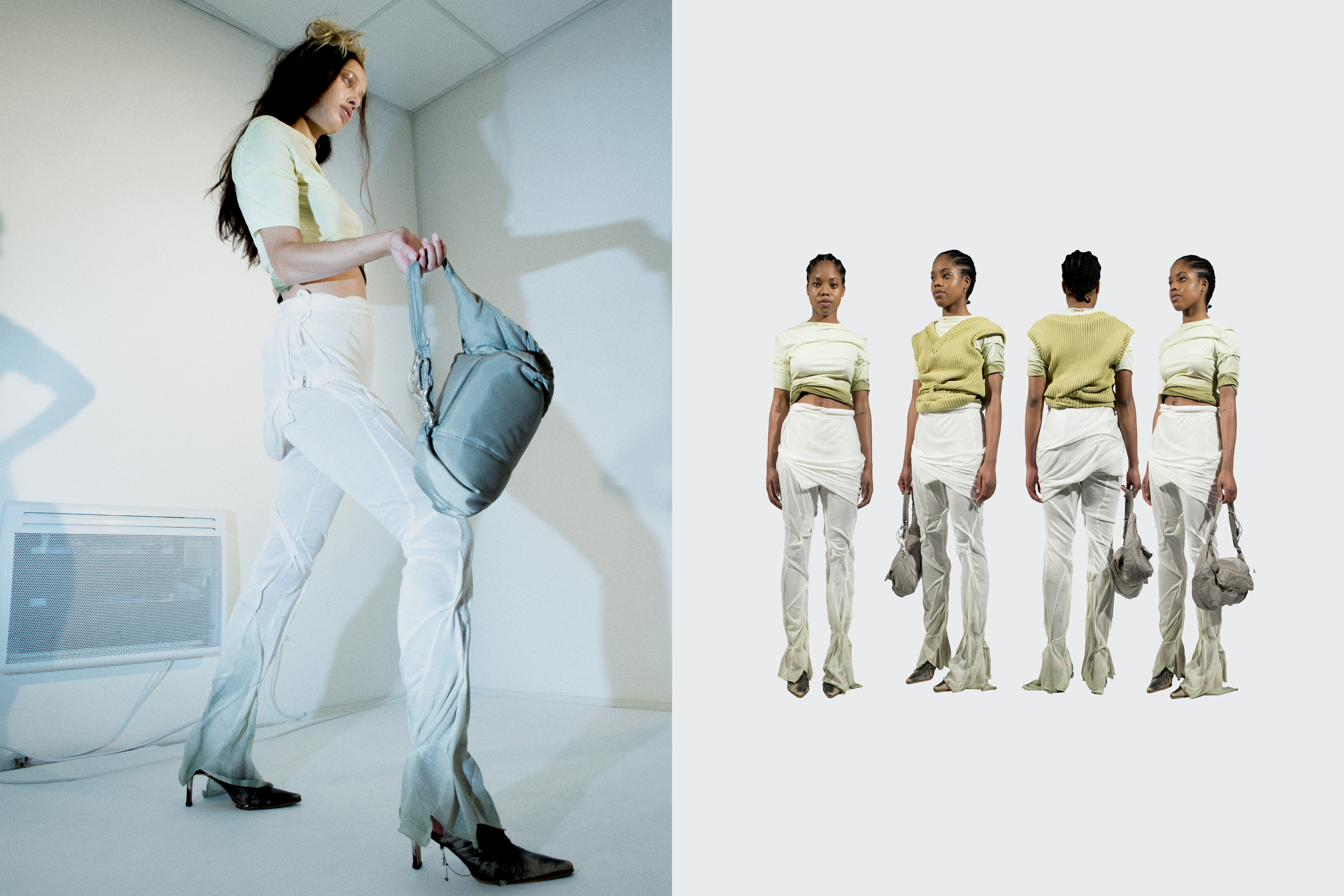 For their spring/summer 20 debut, the trio collaborated with Russian choreographer Asya Ashman on a performance art piece that brought together eleven performers (some professional dancers, some regular people) from different corners of the globe. "This is where we started with our concept of travelling as a mindset," Alex says, mentioning that the piece explores the many feelings associated with a trip to the airport. "It can be impatience, it can be relaxing, chaotic, running around and sitting down." In the piece, performers walk hurriedly amongst each other, connecting briefly before going their separate ways; they lay on the floor, knees in the air; they throw their hands wildly through the air.
For SS21, the trio turned to performance again, to mark the launch of their leather line. "We were always looking for opportunities to use leather, but because we're all vegan and into environmental and animal welfare, we're not interested in using leather from wholesale. We were looking for sustainable leather, which isn't easy to find. We had the idea to upcycle the things that were giving us daily support, the things we see in our daily lives and in airports as well — leather furniture, leather seats." For this new line, the trio hoarded unwanted, discarded furniture collected from the streets of London and Berlin, to create a series of one-of-a-kind leather jackets.
Staged at Voo Store for Berlin's Art Week last month, the performance piece, "Skin Me Tonight", featured artist Eliza Ozolite interacting with one of these found sofas: caressing its seams before hoisting it up onto the ceiling like a carcass on a butcher's hook and skinning it down to its bare steel structure. "This butchery, it's a disgusting act, but we wanted to bring it back onto the couch, which is just an object at the end of the day. The action and sound of it reminds people what happened to the animal before it became a couch," says Alex, before describing the trio's leather-sourcing process. "Skinning a couch is really difficult. Usually it's us three doing it and it takes time. But Eliza was doing it by herself. It started off fine, but you could see she was getting so frustrated, she was sweating, she was tired, she was pissed off. Then in the end, there was this moment of satisfaction."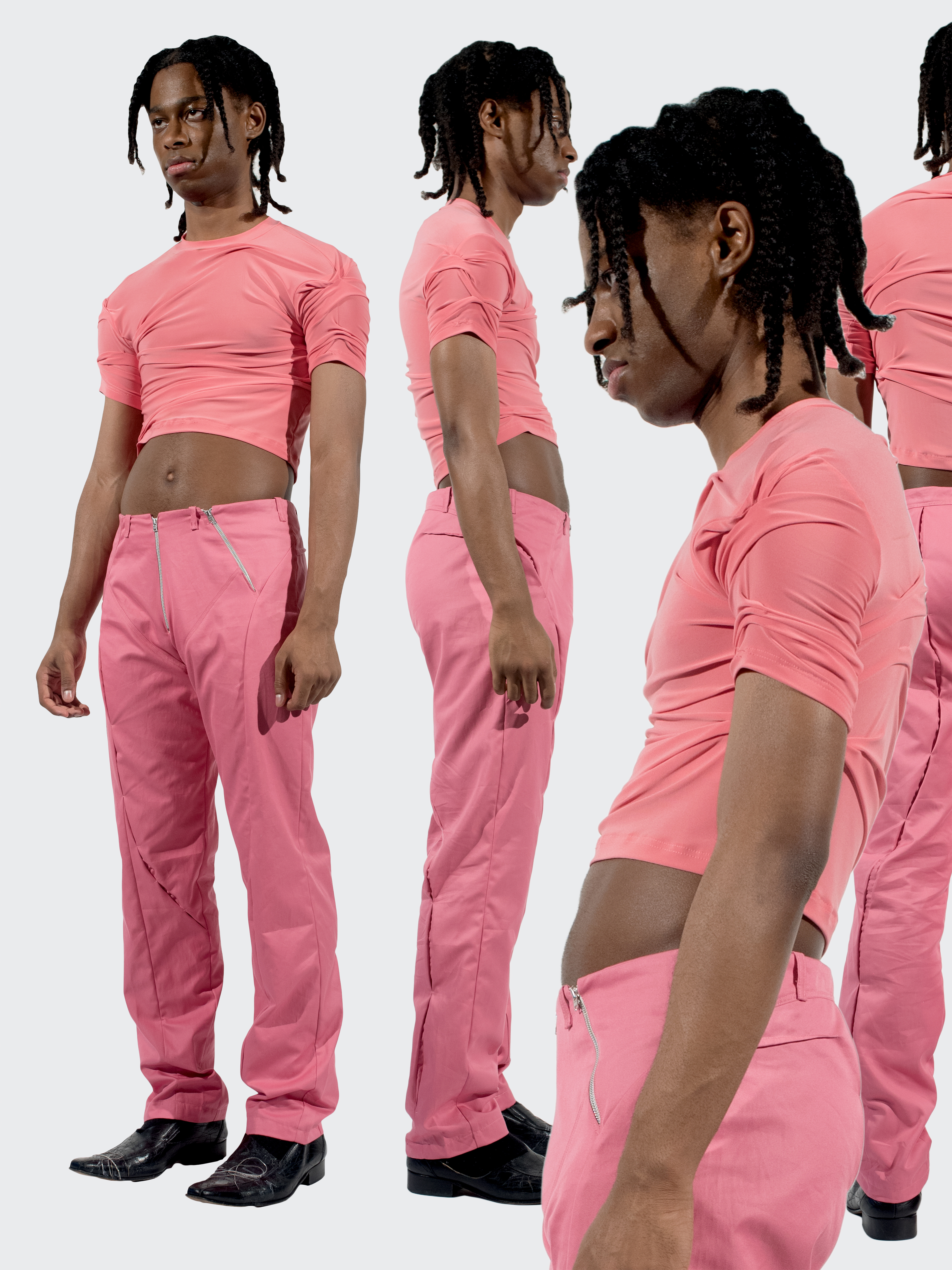 This high emotionality is a theme that has carried across the label's performance pieces, and it serves a purpose. "If we just did runways, there would never be these intense emotions for ourselves or for others," Felix says. "At the end of the day, just making clothes isn't the most exciting thing for us. It's about creating something to educate ourselves, educate others. This season we wanted to make the audience aware of how much leather our society consumes and how short the lifespan of these leather commodities are. Just for sitting in a doctor's office, at Ryanair, sitting anywhere, everywhere is leather. How many animals had to die for the leather seats in business class? At the end of the day, we're just making a leather jacket. But we want to tell the story behind the leather jacket, rather than just having people consume that garment."
Although the Covid-19 pandemic has slowed down international travel — an essential, both literally and conceptually, for Mainline:RUS/Fr.CA/DE and its three now land-locked creatives — the trio looks towards the future of the brand with the same energy that travelling has always inspired within them. "It's really good that the three of us are from different countries because we know people everywhere," Alex says. "We all speak different languages, which is really helpful when we travel." Felix adds, with a laugh, "Without Alex speaking French I think we would have been lost in Paris so many times. The Berlin performance would never have been possible if I wasn't a native German speaker. We're London-based, but we're spreading out our fingers and trying to do projects all over the world."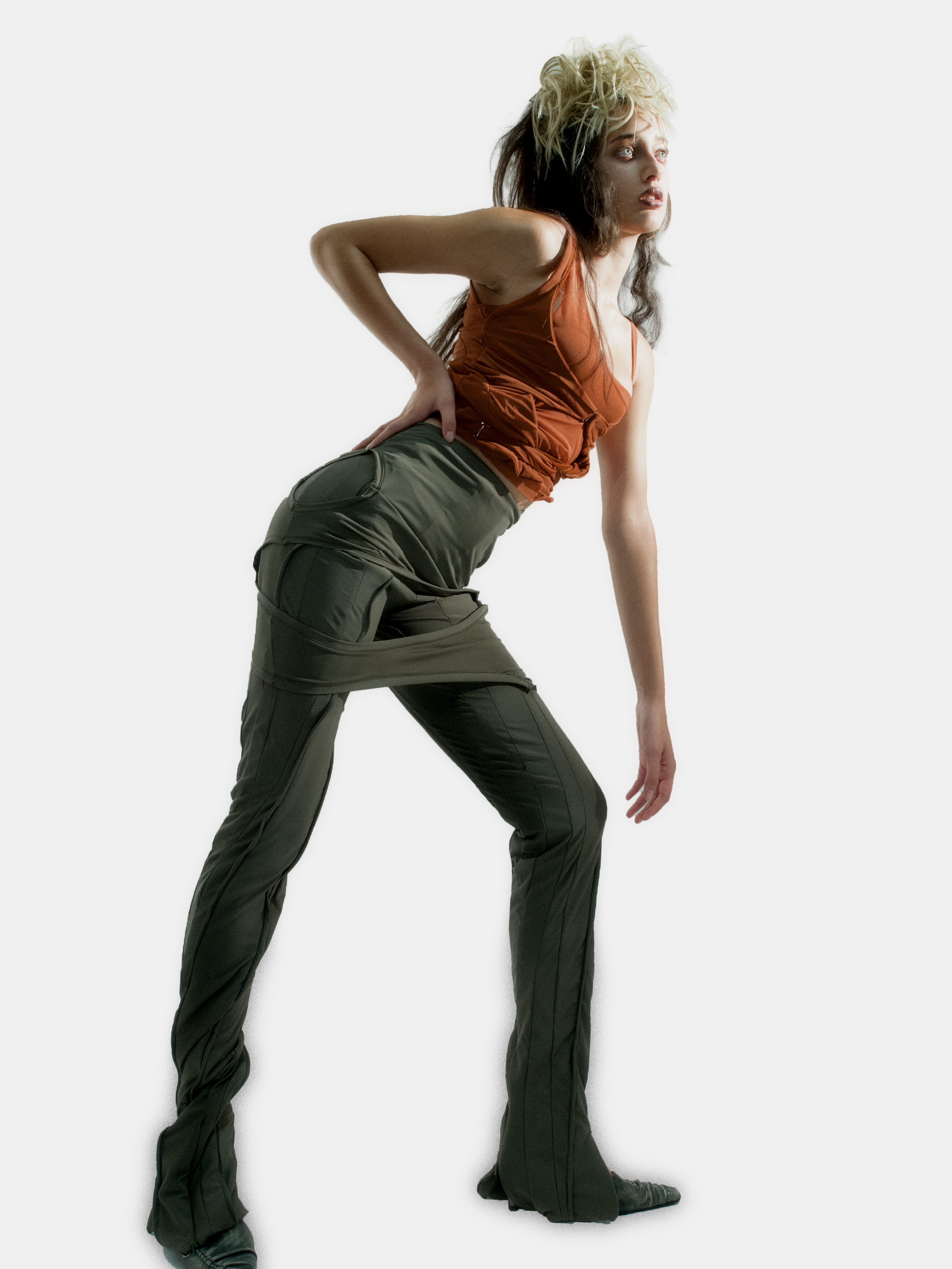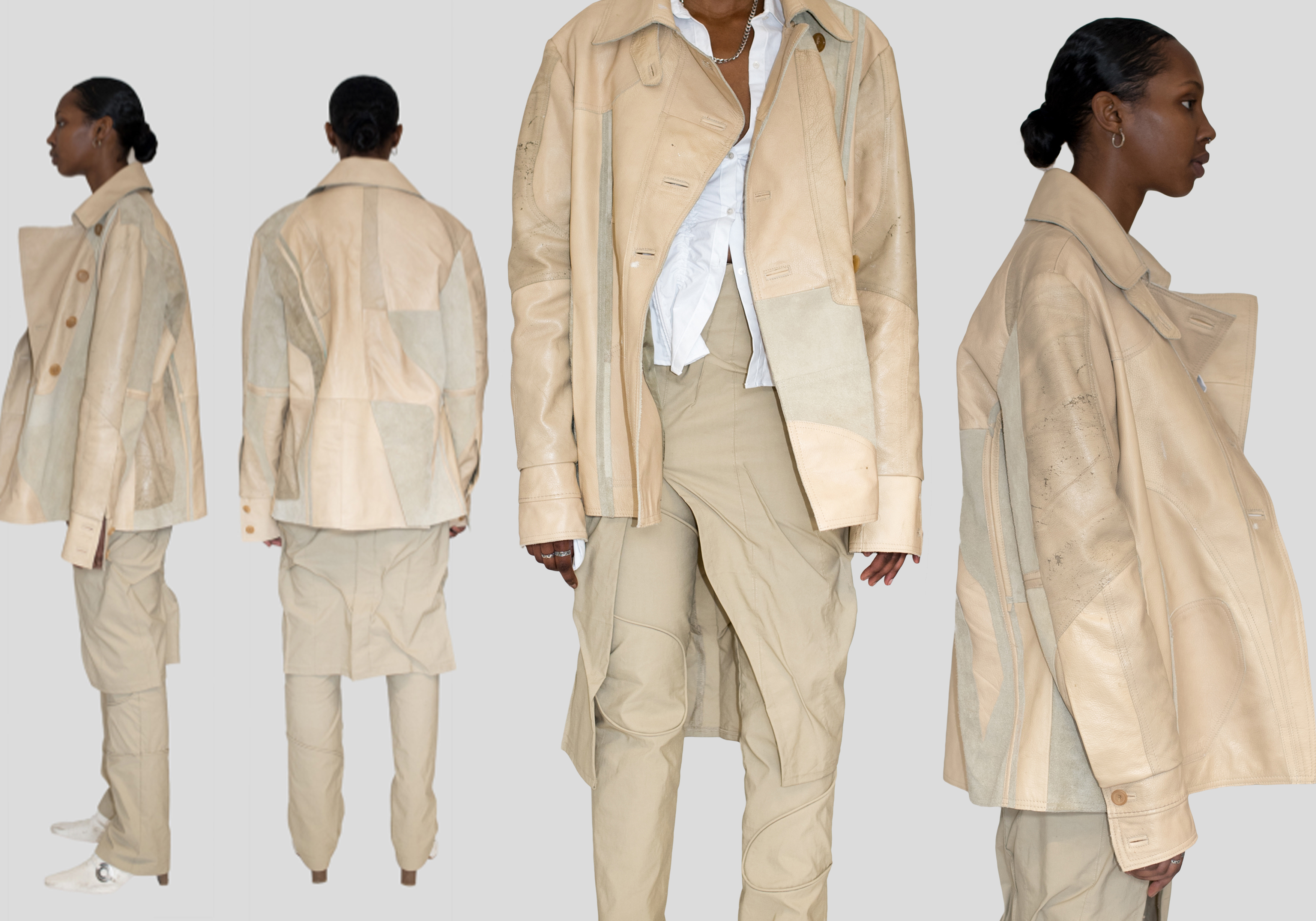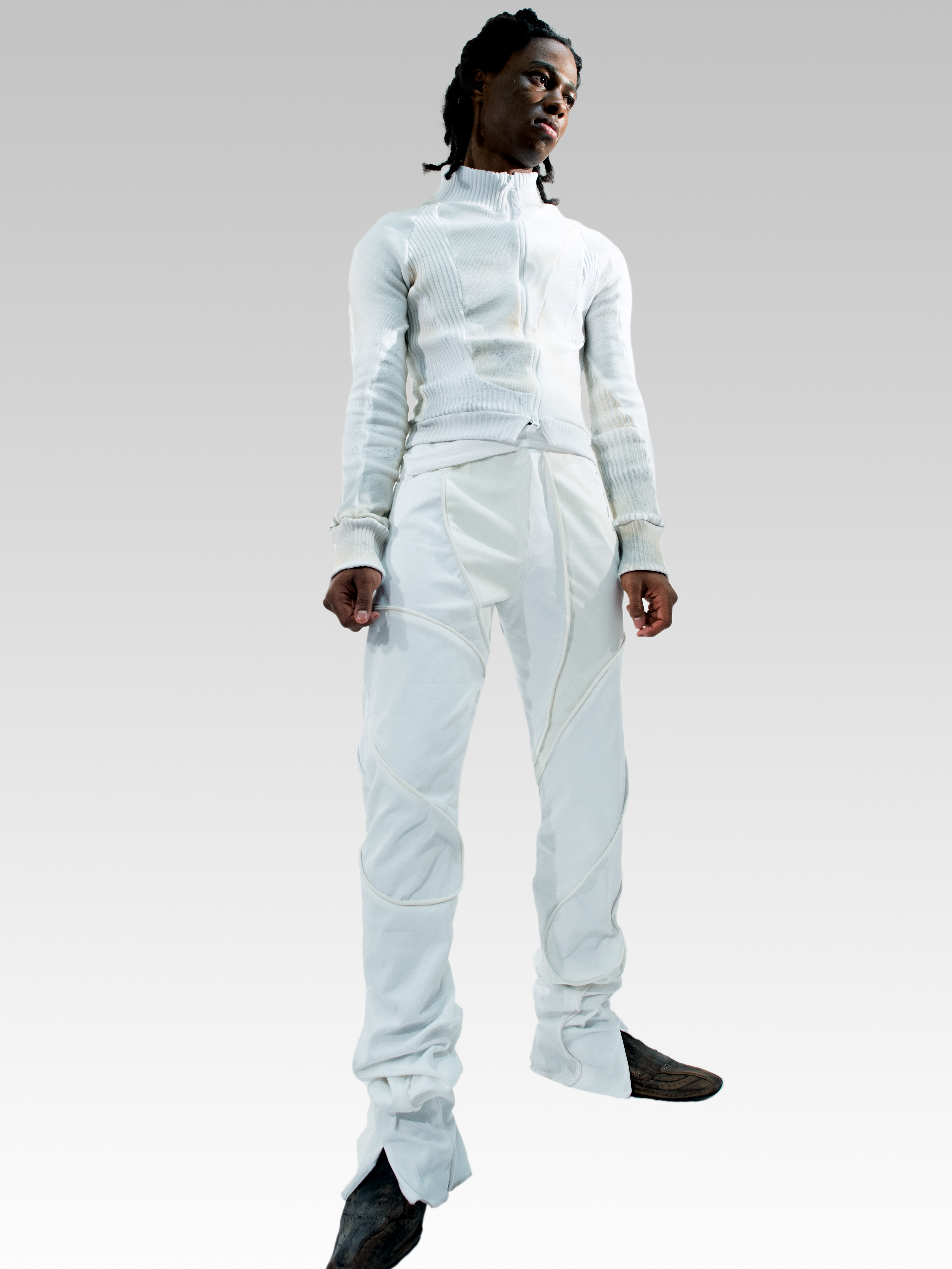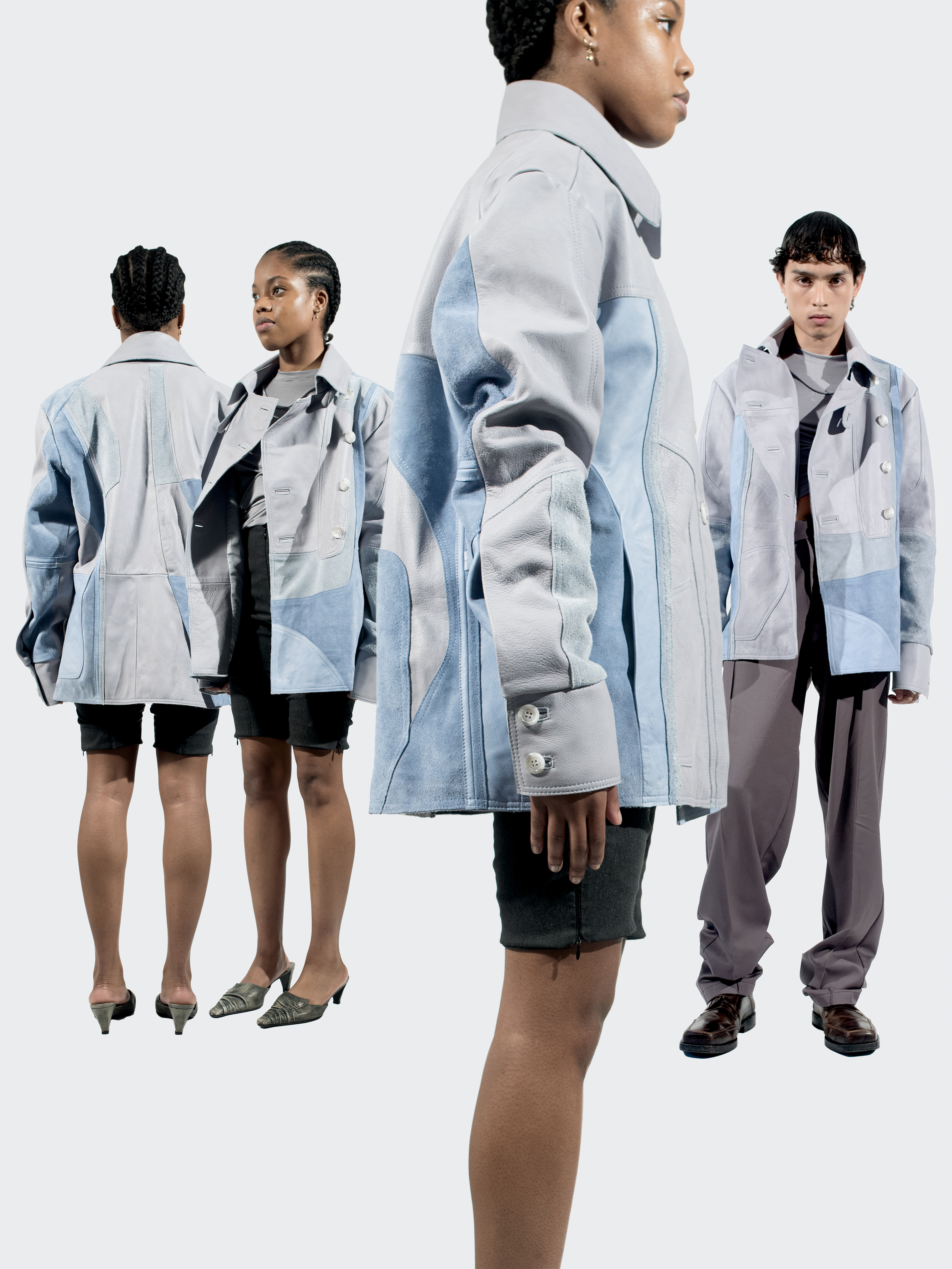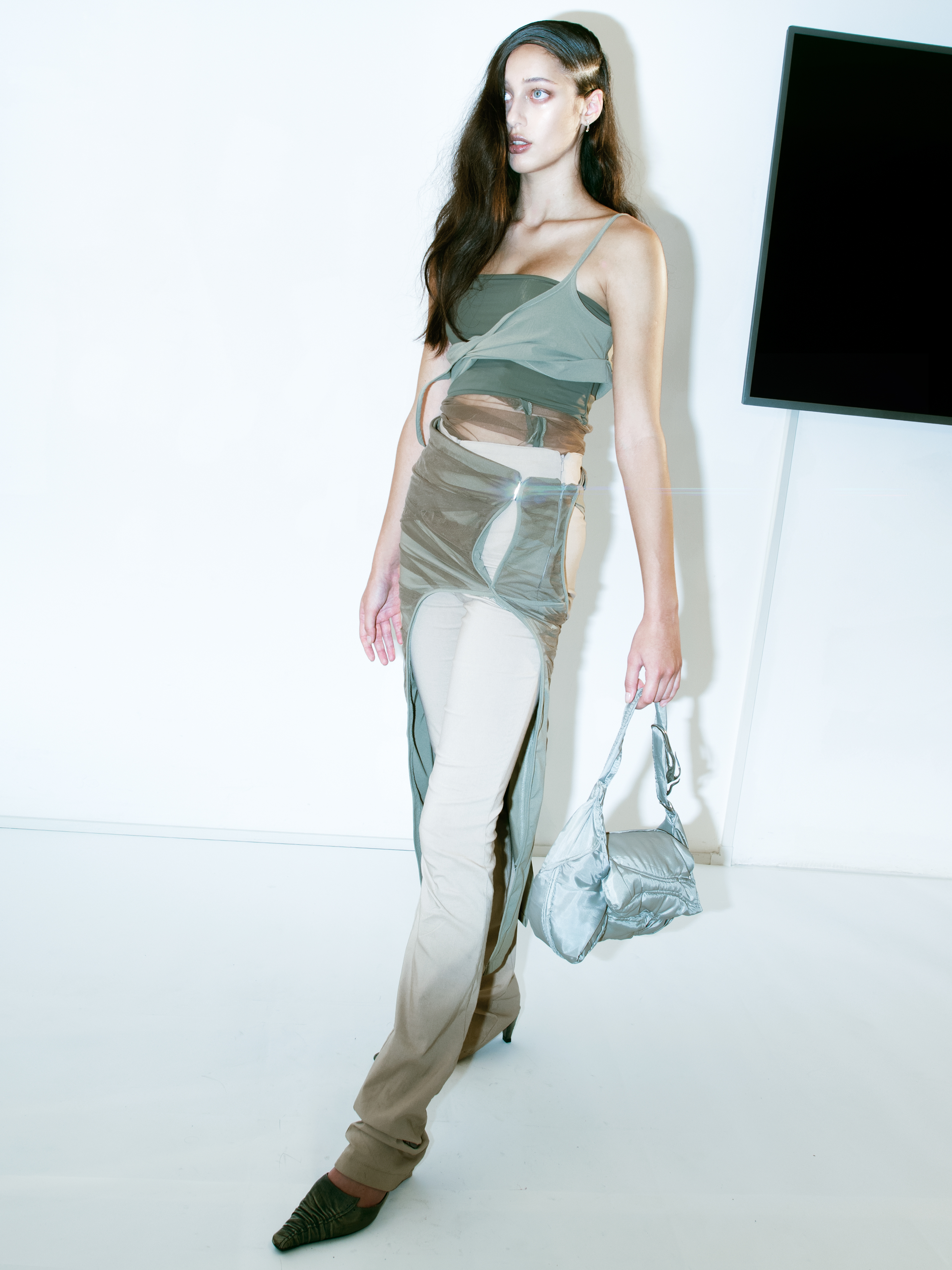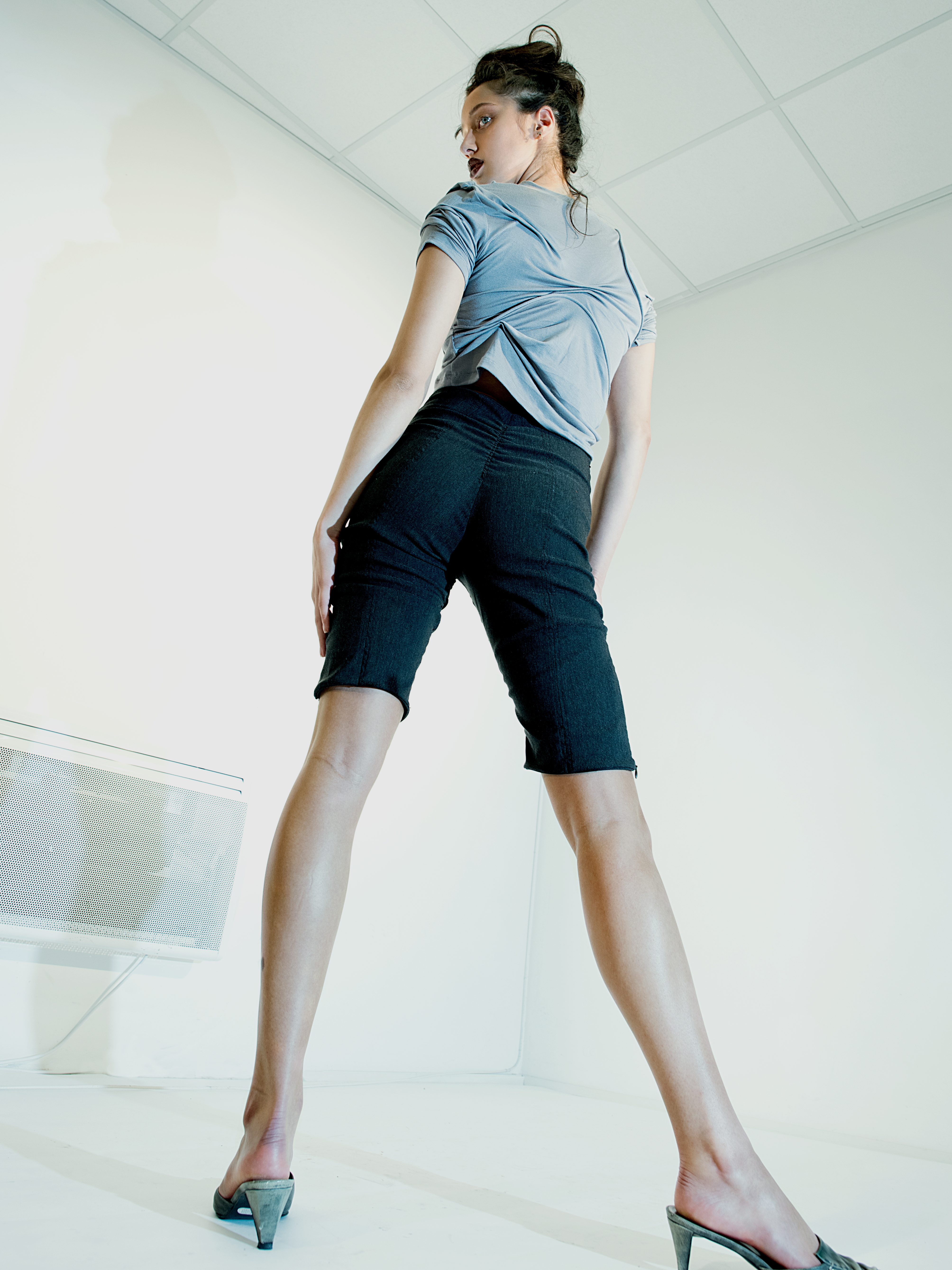 Credits
---
Photography Karl Felix.
Styling Alexandra Vincent and Zarina Bekerova.
Hair John Allan
Make-up Iga Wasylczuk
Casting Lucy-Isobel Bonner
Models Tonique, Idris, Emily and Den
Assistants Morgan Johnson and Tobias Goon
Tagged: