Why are Pose's trans stars constantly snubbed?
The Emmys are certainly not the first awards show to have consistently overlooked the performances from Pose's trans actors -- and they likely won't be the last.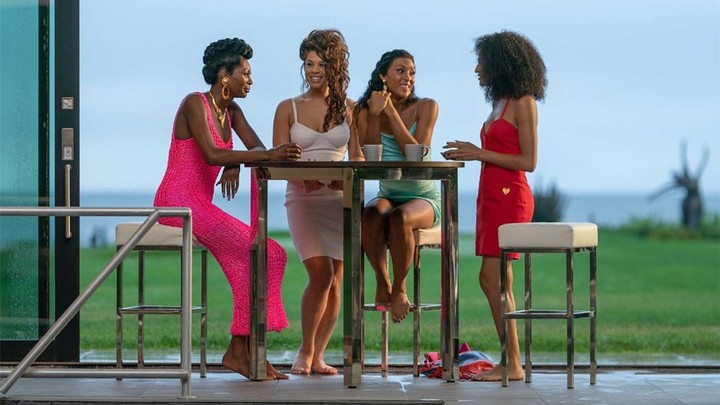 It's undeniable that Pose is one of the most groundbreaking and compelling shows on television right now. Not only does it centre the grossly underrepresented narratives of Black and Latinx trans women in the Ballroom scene during the height of the HIV/AIDS epidemic, but it has also offered a platform to actors from those same demographics; actors who bring their respective characters to life on screen with a great deal of skill and emotional complexity.
Angelica Ross' career-defining performance as Candy Ferocity in the iconic episode "Never Knew Love Like This Before", commended by critics when it aired, is the epitome of awards-worthy. As the show's key protagonist Blanca Evangelista, actor MJ Rodriguez has consistently delivered in her performances throughout the series, and certainly deserved some sort of official industry recognition -- a similar argument could be made, too, for all of their trans peers on the show. But when the nominations for the Emmys were announced on 29 July, their names were glaring omissions from the shortlist. Pose's cast earned one nomination overall: Billy Porter, for his performance as Praytell.
There has been a justifiable backlash in response to these Emmy snubs. George M. Johnson, author of All Boys Aren't Blue, took to Twitter to express his disappointment. He wrote: "[The Emmys] are never gonna celebrate [the] amazing work of the trans women of POSE. Which is why we must do so."
The Emmys are certainly not the first awards show to have consistently overlooked the performances from Pose's trans actors -- and they likely won't be the last. The NAACP Image Awards, the BET Awards, and the People's Choice Awards all have that cross to bear. The fact that Billy Porter -- the show's Black, cis, gay star -- consistently receives acclaim for his work in the series, proves the issue is not with the show itself. Indeed, Pose received five nominations overall, mainly in technical categories, doing an utter disservice to the powerhouse performances delivered by Angelica Ross and MJ Rodriguez.
Of course, Billy Porter deserves all of the recognition that he is getting for his role, but the real issue boils down to Hollywood's cissexism. Black, white, and otherwise, the industry has a glaring problem with trans people.
For the (woefully) uninitiated, cissexism is the prejudice or discrimination against transgender people, rooted in the belief or assumption that cisgender people's gender identities, expressions, and embodiments are more natural and legitimate than those of transgender people. It is the responsibility of cis people to consciously own and dismantle their cissexism by actively acknowleding its existence. Acknowledging the contributions transgender people have made to media and entertainment, particularly in the form of well-earned award nominations, is the very least they deserve.
The existence of cissexism is glaringly obvious in institutions like the Emmys: in a show that centres the narratives of Black and Brown trans women, the only Black cis-gay man receives a nomination in a main category for his role on the show. As former editor of Out Magazine Raquel Willis wrote on Twitter, "the disparity of support for cis gay men and trans women can't be ignored, especially at this moment. It goes beyond award shows. It's all over [the] media, in our workplaces, in our communities, and more."
Hollywood bends over backwards to celebrate and create space for cisgender actors who take on transgender roles. Two cisgender male actors have won Academy Awards for their portrayals of trans women -- Jared Leto for Dallas Buyers Club; Eddie Redmayne for The Danish Girl -- in the past decade alone. Just this month, Halle Berry was offered the role of a transgender man in an upcoming film, despite repeated criticisms of this practice by the trans community.
Cissexism is the reason that cisgender people feel comfortable to cosplay as transgender people; they have their performances literally awarded and lauded as "brave", while transgender actors have only a paltry offering of roles to choose from. And when the few opportunities that trans folk get to portray a complex character arise, one that is loved and appreciated, those performances are not considered worthy of celebration by those bestowed with the privilege and power to uplift them.
In the recent Netflix documentary Disclosure, which highlights the history of trans representation in media and film, a theme continually emerges: that transgender visibility alone is not enough. Trans visibility is not enough in a system and institution that has no intention to recognise the contributions of transgender actors. What good is being merely visible as a trans womxn, if you will almost certainly be denied the opportunity to be nominated alongside cis women in a category for all women, cis or trans?
I am not an actor, but I felt the pain of my sisters when they did not get recognised for their performances by the Emmys. I am an attorney, and as a Black trans woman, I know the excitement of what it is like to be the first to do something -- especially when you want to make an impact for your community. I know that pain of rejection; of being shut out from institutions because they are simply not ready to acknowledge the fullness of your identity in addition to the talents that you possess.
The transgender community must recognise that these are some of the painful losses that we all will inevitably take, being the first trans person in a field dominated by cisgender people. But there is beauty in this moment too: it serves as a reminder that Pose, and the larger ballroom community, still belongs to Black and Latinx trans people. We know how much the show means to us. We were healed when we were able to watch Candy reconcile with her parents who had abandoned her because she was transgender. We are able to experience peace when Candy lip-synced on screen, for the first and last time, to "Never Knew Love Like This Before" by Stephanie Mills.
To the Emmys, the Oscars, BET Awards, NAACP Image Awards, People's Choice Awards, and all of the institutions that exist to celebrate the arts, it is your responsibility to do better and do more for transgender actors and actresses. You have perpetuated these systems of cissexism and transphobia. The burden is on you to dismantle them, not us. The countless seen and unseen Black and Latinx trans actors have done more than enough to deserve that.
Bryanna A. Jenkins, Esq. is a civil rights attorney, writer and the co-host of the Box No. 512 Podcast: Grown Black Trans Women Talk.