Photography Txema Salvans.
These dystopian summer holiday photos spotlight the other side of paradise
Photographer Txema Salvans' sunbathers enjoy moments of tranquility in the post-industrial landscape of the Spanish Mediterranean.
|
02 September 2020, 7:00am
Photography Txema Salvans.
"We are heirs to the violence exerted on the landscape, and the Mediterranean has been deeply injured," says Spanish photographer Txema Salvans, whose new monograph Perfect Day captures sun-seekers relaxing in post-industrial wastelands. "The great paradox of the human species is that our incredible physical and emotional resilience allows us to adapt to any situation. Where other species would give up, we are able to hold out a little longer. We are opportunistic to the point of living on the edge of dystopia."
Although we're constantly fed images of holidays and secluded retreats — expansive turquoise oceans and powdery white beaches, the reality of daily life is excessive workloads and long hours in the office that leave much of society reliant on mass tourism and fleeting escapes. Often in places that are scraps of the former landscape, remnants of what was once an untouched coast now overrun by industry, housing developments, car parks and megastores.
Txema has spent the last 15 years documenting sunbathers in slithers of paradise that they've carved into the post-industrial landscape, during the heat of the midday sun. "The morning or afternoon light would not reflect the bleak character that I wanted to print on my photos," he explains. "There is no shadow to shelter in, there is nowhere to hide." With his back to the sea, Txema photographs the views his subjects are trying to avoid: neo-classical buildings left half built, rust-coated cranes, advertisements that scream about unnecessary products and scenery destroyed by concrete.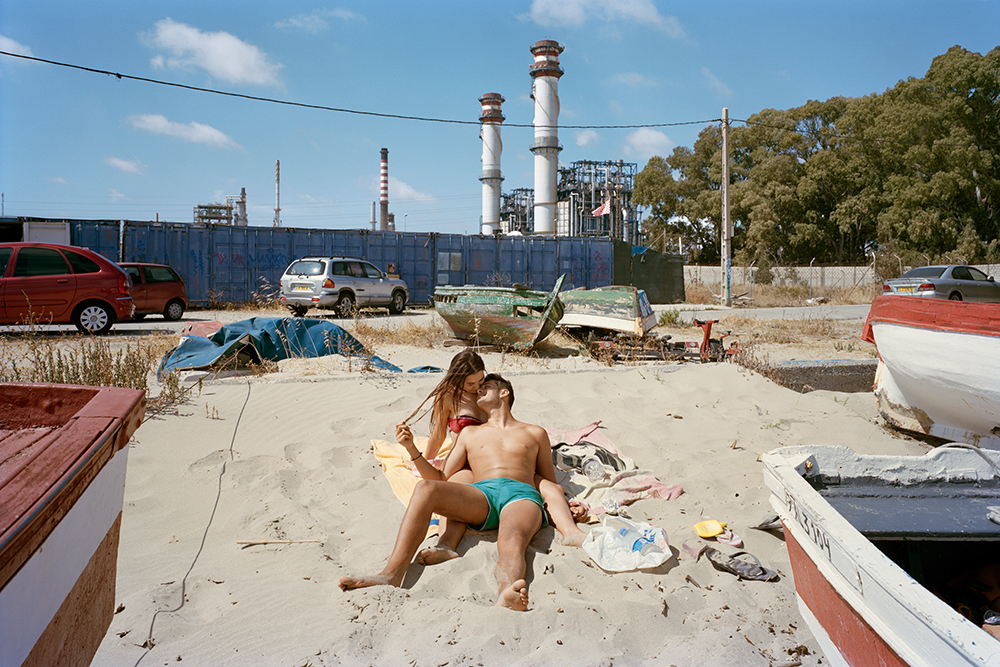 He uses a large format camera that looks too technical and complicated a device to be a threat to people basking in the sun, applying Schrödinger's paradox to minimize the attention his subjects place on him as a photographer. What results are empathetic images that do not patronise his actors for their desire to make the best of their industrial surroundings, but rather provide a stark commentary about our collective destruction of the natural world. Bleached by the sun, the images are saturated in pastel colours that feel either nostalgic for a more glamorous era when the Spanish Mediterranean thrived or artfully cinematic.
In the late 90s and early 00s, Spain saw unprecedented urban development that resulted in between 300,000 and 900,000 houses being built each year, mostly along the Mediterranean coast. Many areas were completely urbanized but not built upon, with a significant proportion of the houses that were erected remaining unsold because there was simply no market for them. "Thanks to the action of man and using its main construction element: concrete, the landscape is dead," Txema says. "It has no future."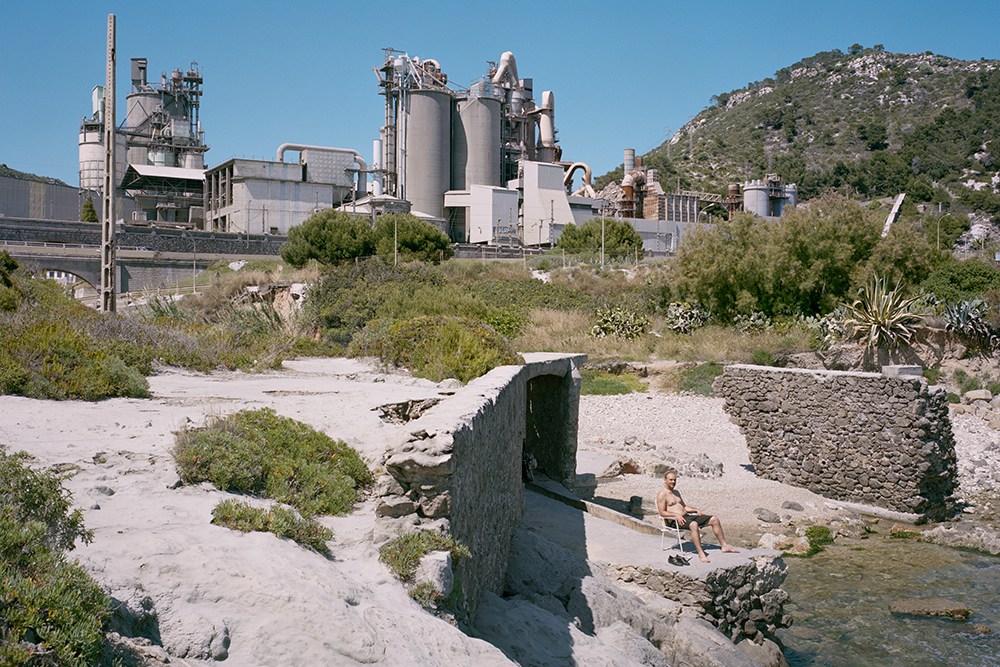 For the most part, the transformation is irreversible — three-quarters of the sand dunes on the coastline from Spain to Sicily have disappeared as a result of urbanisation linked to tourism development, while the Mediterranean sea receives 10 billion tonnes of industrial and urban waste per year with little or no purification. This has put wildlife and coastal ecosystems at risk, while mass tourism disrupts the culture of the Mediterranean.
But more than simply a series of photographs about the environment, Perfect Day is a commentary about human nature, free will and a symbol of the contemporary condition. His characters have freely decided to spend their leisure time in these post-industrial landscapes, but Txema asks, "are we really free?" We might be free to decide what we buy, he says, but not what we want. Especially when the pressures for productivity continually encroach upon our leisure time and popular culture feeds us images of things we don't need. "I think our freedom is similar to plankton: a living organism with little or no capacity for movement that's at the mercy of currents and tides," Txema says.
It's a concept that he has explored in his work before. His books The Waiting Game I and II, captured sex workers waiting for clients in the no man's land between the city and countryside — from Girona down to Algrecias. Like Perfect Day, they images are a study of people's relationships and interactions within a certain space but not the individuals themselves, who are simply at the mercy of the environments in which they live.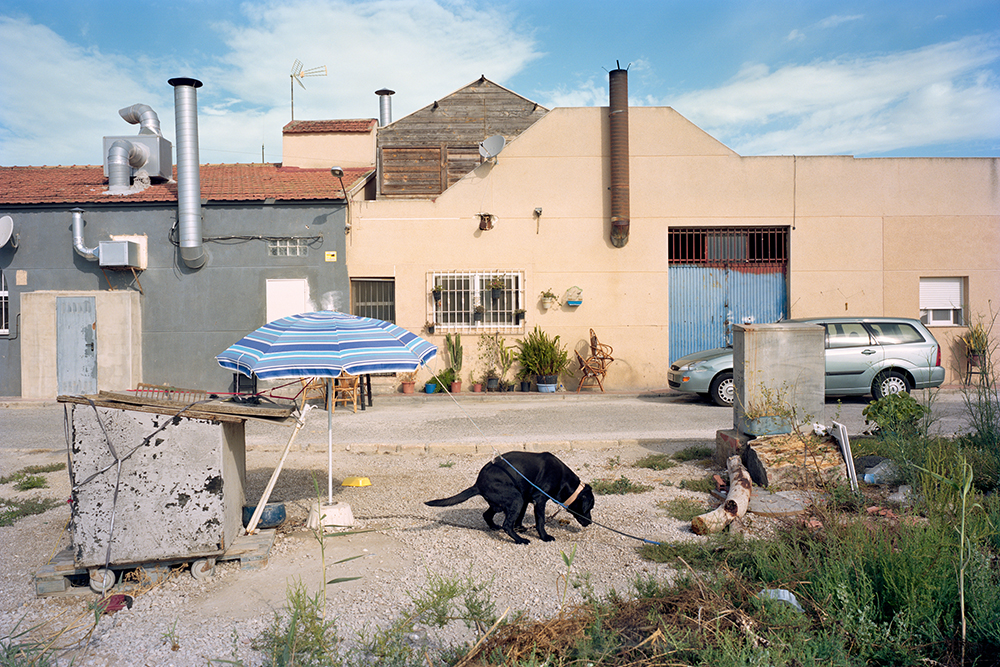 In The Waiting Game I, where the women sit is important, but the places where they perform sex work and even their sexuality, which they deploy to seduce their clients, are missing from the images — much like the shimmering sea in Perfect Day. Txema protects the identity of his subjects by photographing them from a distance, in landscape rather than in portrait. The characters help him reinforce the paradoxical status between what is shown and what is suggested. It's something that has evolved since he first started taking photographs, switching his focus from the gestures of his subjects to what he calls "the stage."
These long term personal projects that Txema has embarked upon are the result, he says, of a discipline that is not romantic. "One that smells of sweat and gasoline, of rough sleeps, saving money for photographic film and living in the skin of a pessimist, and hiding that from your children and friends." He's ironic, much like the title of the book Perfect Day, which is named after the 1972 Lou Reed song. "Our existence is framed between the highly improbable event of being born and the inevitable one that's death," Txema says. "From that binary perspective, every second of our life is a perfect day."