How Yorkshire's queer communities are celebrating Pride
Despite event cancellations due to coronavirus, LGBTQ+ communities in the North of England are finding innovative ways to rally together, proving they are stronger than ever.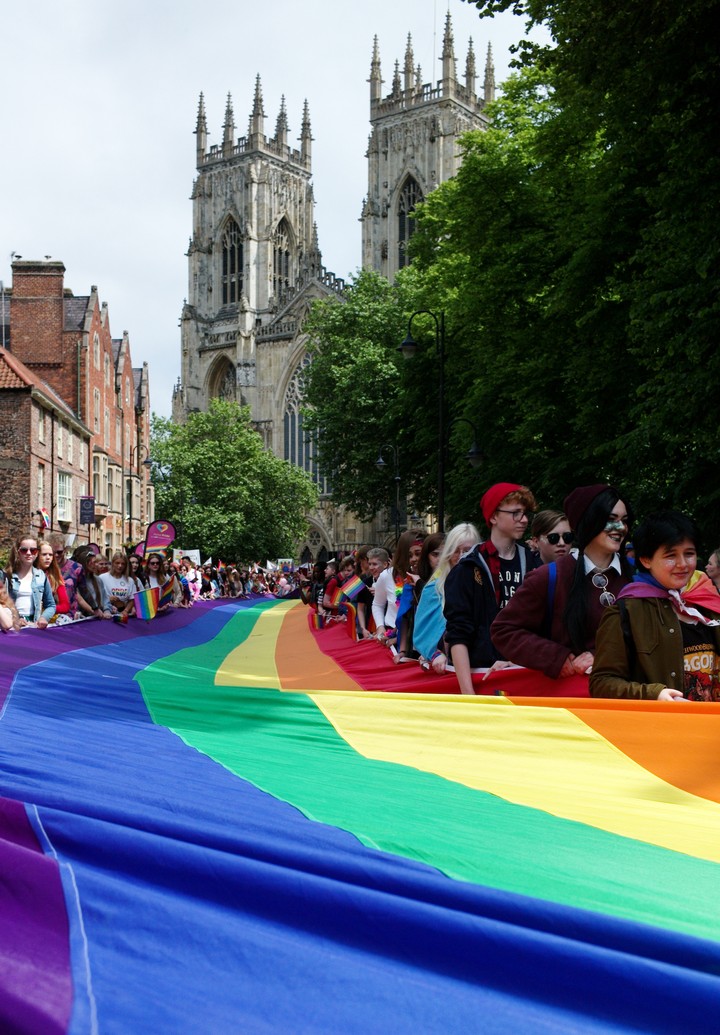 Whether you're clad in leather, dripping in glitter, or wearing a simple T-shirt and jeans, there's nothing quite like attending Pride. Under the glare of the summer sun, queer revellers and their allies enjoy parades, boozy after-parties and a few days of unadulterated celebration. It's a time for the community to come together and recognise how far the liberation movement has come, while continuing to fight for the recognition some members of our community -- particularly trans people, those living in marginalised communities abroad, and queer people of colour -- are still demanding in the fact of persecution.
In Europe, there's a long-standing misconception that queer life only exists in big cities, where LGBTQ+ populations are understandably more dense -- the comparatively liberal social values and diverse range of predominantly queer spaces and communities to be found in them have long been a draw for queer individuals. As such, many can't even imagine what queer life looks like in regions within commuting distance of London, let alone those further afield. But in Yorkshire, among majestic rolling hills and tranquil valleys, the queer community are rallying against coronavirus-induced cancellations, and taking pride celebrations into their own hands in the form of virtual sing-alongs and newly-created educational resources.
Tim Whitehead is the Chairperson for the Happy Valley Pride, based in Hebden Bridge, West Yorkshire. He and his team have been looking at ways to provide the pride experience while still adhering to social distancing guidelines. "I think it's vital for LGBTQ+ people to still feel a sense of community. Many of us, especially the trans community often feel isolated, so it's more important than ever to reach out at this time of enforced isolation," he says.
They've been holding those aforementioned online singalongs throughout lockdown, the most recent attracting over 180 participants. "We're still working on the week that the festival was due to take place, 20-26 July," he says, "but we have secured an exclusive online show for Happy Valley Pride from Jinkx Monsoon, and an online version of our info fair with local and national LGBTQ+ organisations."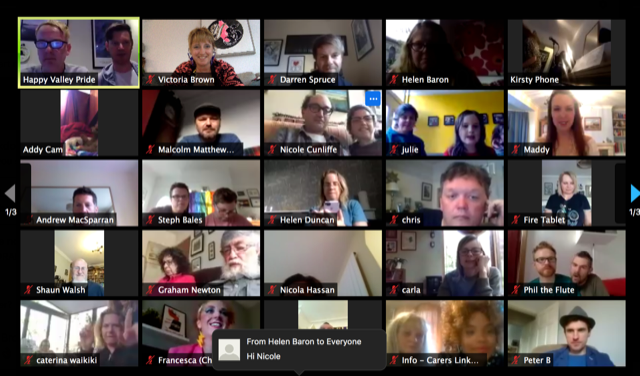 Kirsty Newton is the host of the sing-along sessions, and she's been overwhelmed by the response that these interactive activities have received. "A lot of people dress up and get stuck into it and there's a lot of families too," she says. "I think that a visible celebration of unity and togetherness, especially when we are all being kept apart, is an incredible way to stay connected and keep our wonderful LGBTQ+ community's spirits high during this strange time in history. A joyous, inclusive party where you can let your hair down and join like-minded friends and strangers in singing away the stresses of lockdown life."
Celebrations in regional towns and villages across Yorkshire are becoming more common year-on-year. These range from full-scale Pride celebrations with live acts and a parade, to lower-key one-off events and parties which spotlight the significance of Gay Pride. Beth Whittaker from Halifax is an avid Pride-goer. She usually attends parades in Manchester and Brighton, as well as the local events in her hometown. She admits to being "gutted" that she won't be able to attend the pride parades this year, but is thankful for the alternatives that have been put on offer in her local vicinity. "It's amazing that even in a pandemic, we can still continue to celebrate diversity through alternative events," she says. "It's great to see what people are doing to celebrate Pride, which is so important, now more than ever."
But Yorkshire's Pride celebrations aren't exclusively for the technologically able. Sarah Clayton is the manager of the Waterside Lodge assisted living facility in Todmorden. To mark the start of Pride month, she organised an event at the home, which was adorned in the iconic rainbow flag, with staff provided with sashes to wear on the day. "We did a group reminiscing session around 'courting', love and marriage, and then grew this into a discussion around how these things have changed over the years and what they look like in today's world," Sarah explains. "Reminiscing work is one of the most powerful tools that we have for caring for our elders, and at a time when visits and contact with loved ones has been so difficult and so heavily restricted, focusing on the memories of happier times is even more important. My idea around holding the Pride day was in an attempt to promote equality, diversity and inclusivity."

Understandably, there have been many who have been left disappointed by the cancellation of this year's Pride parades, particularly newly out members of the community who were looking forward to joining their queer siblings on the streets. 16-year-old Poppy Wilson had planned to attend Manchester and Brighton Pride with her friends. "I'm very disappointed as it is my first year being completely out and I was ready to celebrate!" she explains. "I'm sure the virtual events will be amazing, but it just won't be the same not being able to celebrate with everyone in person." Beth Pennington, also 16, echoed her views. She had planned to attend Manchester Pride but will instead be trying out the virtual events organised by Wigan Pride. "Wigan are hosting it over Facebook where everyone can join from home, so I plan on doing that with some friends. I'm glad that there is still a [virtual] Pride. Having these local events makes you realise that you're not the only one who is 'different' and there are lots of people in the same boat who are willing to support you."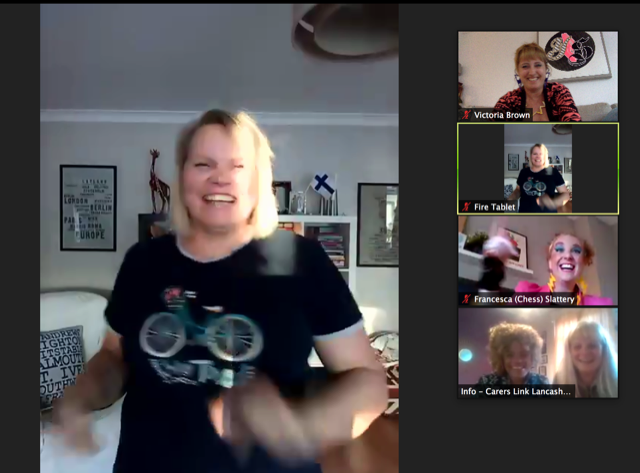 For many, this is an opportunity to think about the true meaning of Pride. While the community acknowledges that Pride month is a fun-filled opportunity to socialise and meet like-minded queer people, it's also important to remember those that paved the way; the reason that these events can happen. "I think the main thing to remember is that, although it is disappointing that parades are being cancelled, Pride season is still very much here and still happening. Let's embrace it in the best way we can whilst still keeping safe," Caroline Morreale, an LGBTQ+ Project Worker for Barnardo's Positive Identities Service says. Her role involves supporting young people and families with issues around gender and sexual identity in Calderdale and North Yorkshire. The organisation offers support to young people aged 5-25 through 1:1 work, family work, weekly youth groups, as well as school workshops and training for professionals.
Despite lockdown, she and her team have been pushing harder to ensure that they can support LGBTQ+ individuals during Pride month and beyond. This has included getting young people to create a collaborative video featuring poetry, art, animations and words that can be shown at Virtual Pride events across the county. Barnardo's has also approached local schools with Pride-themed workshops based around three LGBTQ+ books for them to distribute, as well as offering lessons on the history of Pride, exploring key figures like Harvey Milk and Marsha P. Johnson. "We can be creative in how we celebrate Pride: Virtual Prides are happening and they are fantastic," she says. It's imperative, Caroline adds, to "use this time to read up on queer history, watch queer films, listen to music by queer and ally performers. Reach out to friends and reach out to services like ours if you feel that you need support. But most of all remember that this will pass and at some point, we will look back and think to ourselves: 'That was a strange time, but we got through it and we did it well'."