@nolly.babes is the Nollywood fashion archive account you need to know
Documenting the most iconic looks and moments in Nigerian film history, the encyclopaedic Instagram account is an ode to the industry's biggest female stars.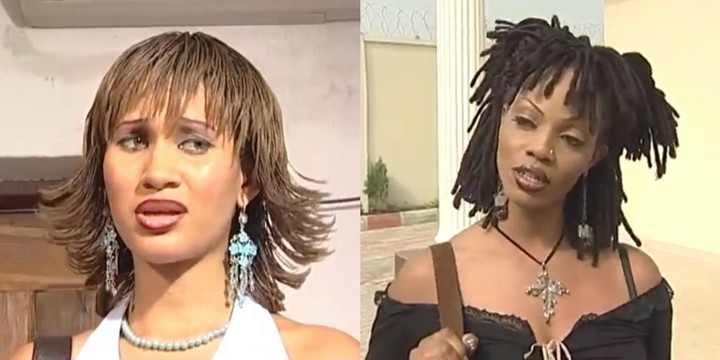 Left: Caroline Ekanem; Right: Thelma Okorie
Listening in on a street-corner conversation in Lagos, there's a good chance you'll hear use of the term 'razz'. It's a Nigerian Pidgin word used to refer to more or less anything considered 'local', corny, unsophisticated. For quite some time, however, it was often pinned to one of Nigeria's greatest cultural exports: Nollywood cinema. "Nollywood and 'razz' used to be peanut butter and jelly! It was really looked down upon as something to laugh at," says Tochi Anueyiagu, co-founder of @nolly.babes -- an account she and her sister Ebele founded in an attempt to flip that script.

For them, the early 00s canon of Nollywood, with classics like The President's Daughter, Keeping Faith and Girls Cot, was a source of fond nostalgia. Having moved from Lagos to Atlanta at the age of 13 and 10 respectively, each film they picked on their summer trips back to Nigeria was a cherished tie to their home country.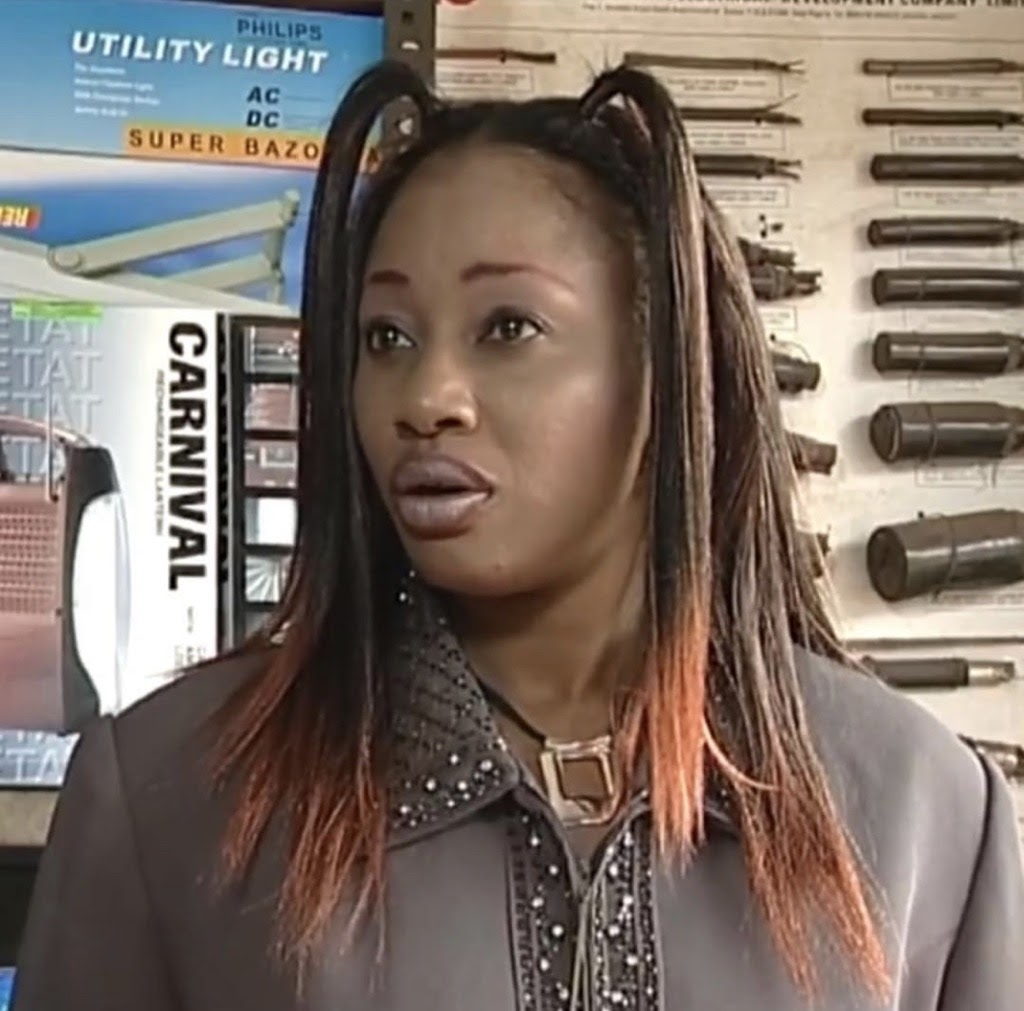 This deep-seated love has only grown stronger in the years since, so much so that the sisters founded @nolly.babes, a genre-spanning Instagram archive of some of Nollywood's most striking looks and moments. "I really felt like Ebele was the only person that I could share images with and be like 'Oh my god, this is so dope'," says Tochi . Then one day, Ebele was like, "I started an Instagram, let's put images on there', and we just started doing it for fun -- we never thought that other people would be this interested in them." But amassing close to 44k followers since its first post in December 2017, the encyclopaedic account has done well to disprove Nollywood's supposedly 'razz' reputation.
Featuring iconic actresses of Nollywood's golden age -- Regina Askia, Genevieve Nnaji and Clarion Chukwura among them -- @nolly.babes is in significant part a shrine to the singular fashion and beauty stunts they pulled off, which deeply influence Nigerian style today. Beyond it being an ode to Nigerian film's most iconic babes, though, the account also tackles some of the thornier discussions taking place in contemporary Nigerian culture -- both in the country and in the diaspora. A recent post, for example, was a screenshot from the 2006 film War Game explicitly condemning "the unwholesome act of rape." It's overwhelming tone, however, is an uplifting one, given a deserved pedestal to some of the most talented women in criminally undertold history of African cinema.

With plans to further extend Nollywood's reach into our lives through a line of @nolly.babes merch, and a potential clothing line inspired by the fashions of their favourite films in the works, we figured that now's the perfect time to learn a little more about the world's third-largest film industry from the two sisters who know it best.
So, what are your earliest memories of Nollywood films?
Tochi: Growing up in Lagos! A lot of our time together would be spent watching movies. We had one aunt in particular who always got them right when they were released -- she was our plug. It was something we always cherished and enjoyed growing up, but when we then became Nigerians in the diaspora, particularly when we moved to the States, we felt a lot of nostalgia for being in Lagos, and living in this new environment.
When we would go to Nigeria on vacation, we would have someone come to our house with literally hundreds of DVDs. This was around 2002 or 2003, and if you go to our page, you'll see that a lot of the movies that we throwback to are from that time. During those first years of moving to the States, these films became our way of remaining connected to a culture that we missed so much.
What is it that you're drawn to in the films, or even particular characters, that you enjoy?
Tochi: I think one thing is the range of beauty. There are plus-size Nolly Babes, skinny Nolly Babes, dark-skinned Nolly Babes, fair-skinned Nolly Babes. Also, though we haven't been able to prove it yet, we're pretty sure that the actresses use their own wardrobes. You can really see a continuous sense of style with one actress across different movies. That means that you have the established actresses, like Genevieve Nnaji, who's gonna pull up in a head to toe Gucci fit, but then you have the Nolly Babes who are also just making it work with what they've got. Regardless of those clear socio-economic distinctions, there's always a sense of beauty.
Ebele: Being in America as teenagers, watching people Lindsay Lohan, Paris Hilton, Britney Spears, Nicole Richie, we were seeing a very one-dimensional idea of what it means to be beautiful -- skinny, white and blonde. But watching Nollywood movies, we were seeing people that looked like us. It was a confirmation and affirmation of the beauty that we have as African women.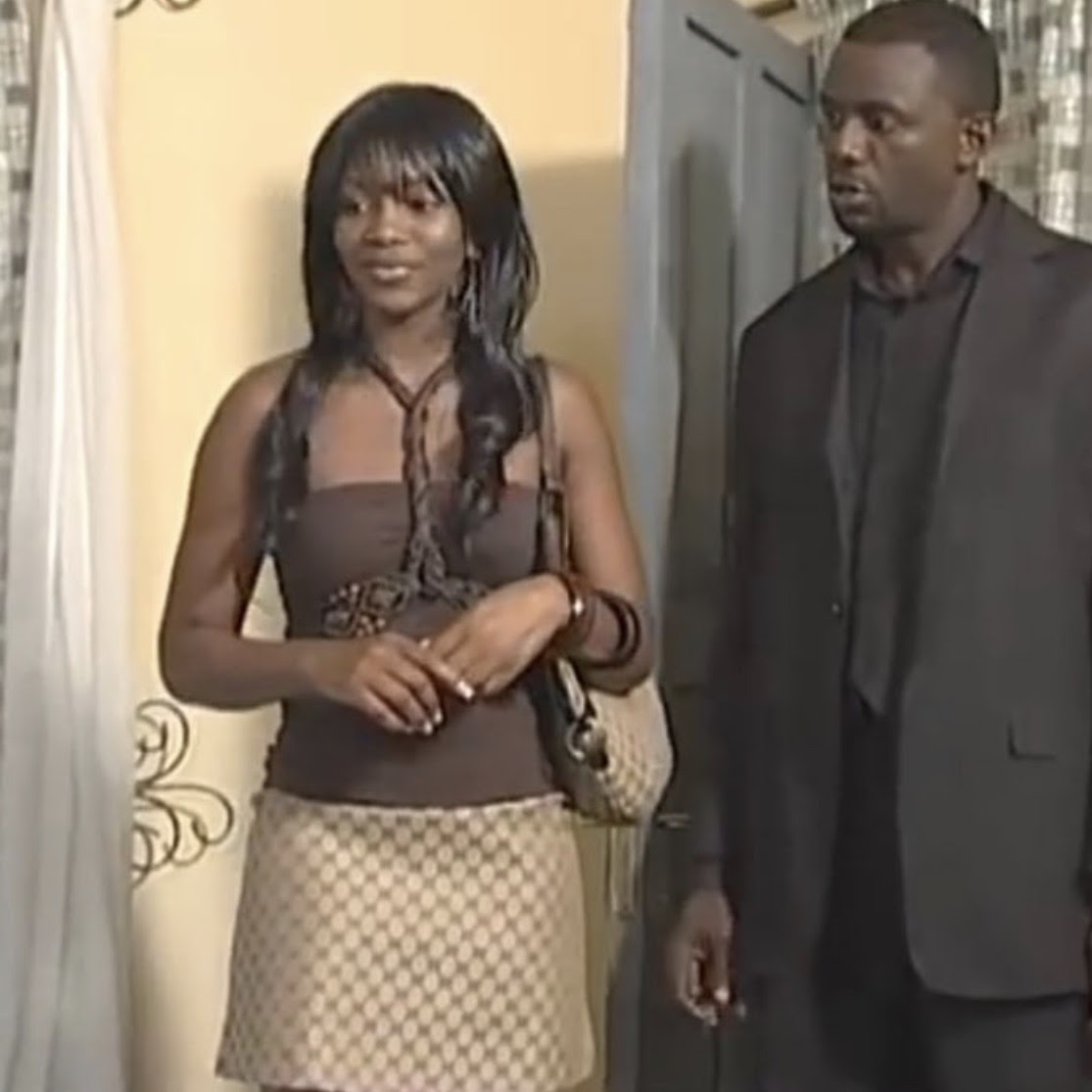 You've mentioned Genevieve Nnaji, but who else would you say is part of the Nollywood pantheon?
Tochi: OK, so there's Ego Boyo, who's actually a good friend and a neighbour of ours in Lagos. She filmed Keeping Faith, which is a true Nollywood classic, with Genevieve Nnaji and Richard Mofe-Damijo in our childhood home! Then there's Eucharia Anunobi. I don't even know where to begin with her, but she's Ebele's favourite.
Ebele: That's because growing up, I was the tall one, kind of bigger than everybody else. But seeing someone on screen who was also like that, who would always walk into the room in the most amazing outfits, it was so empowering and beautiful to see. She's definitely one of the best actresses in Nollywood.
Tochi: Yes, just her diction is incredible. If you give her a line, she will execute it from beginning to end. Then there's Rita Dominic, who I guess is like Nollywood's Angelina Jolie, if you will... But I hate that I'm giving these Western counterparts, but she's a bad girl. You're gonna find her smoking a cigarette looking at somebody else's husband seductively from across the room... she's that girl. Then there's Regina Askia, she's from an earlier stage in Nollywood. I'd say she was its reigning queen in the 90s, and is also a former Miss Nigeria. She's in an absolutely crazy movie called The President's Daughter -- it's quite an i-D vibe, I think. She plays a politician's daughter who goes to school in America, gets hooked on cocaine, comes back to Lagos and wreaks havoc everywhere! And only in the flyest outfits! If we're gonna talk about one guy, it has to be Jim Iyke! He is the bad boy of Nollywood. His style's also very heavily influenced by American hip-hop, but he puts his own twist on it. You always see him dying his hair different colours, like in blond stripes... it's hilarious.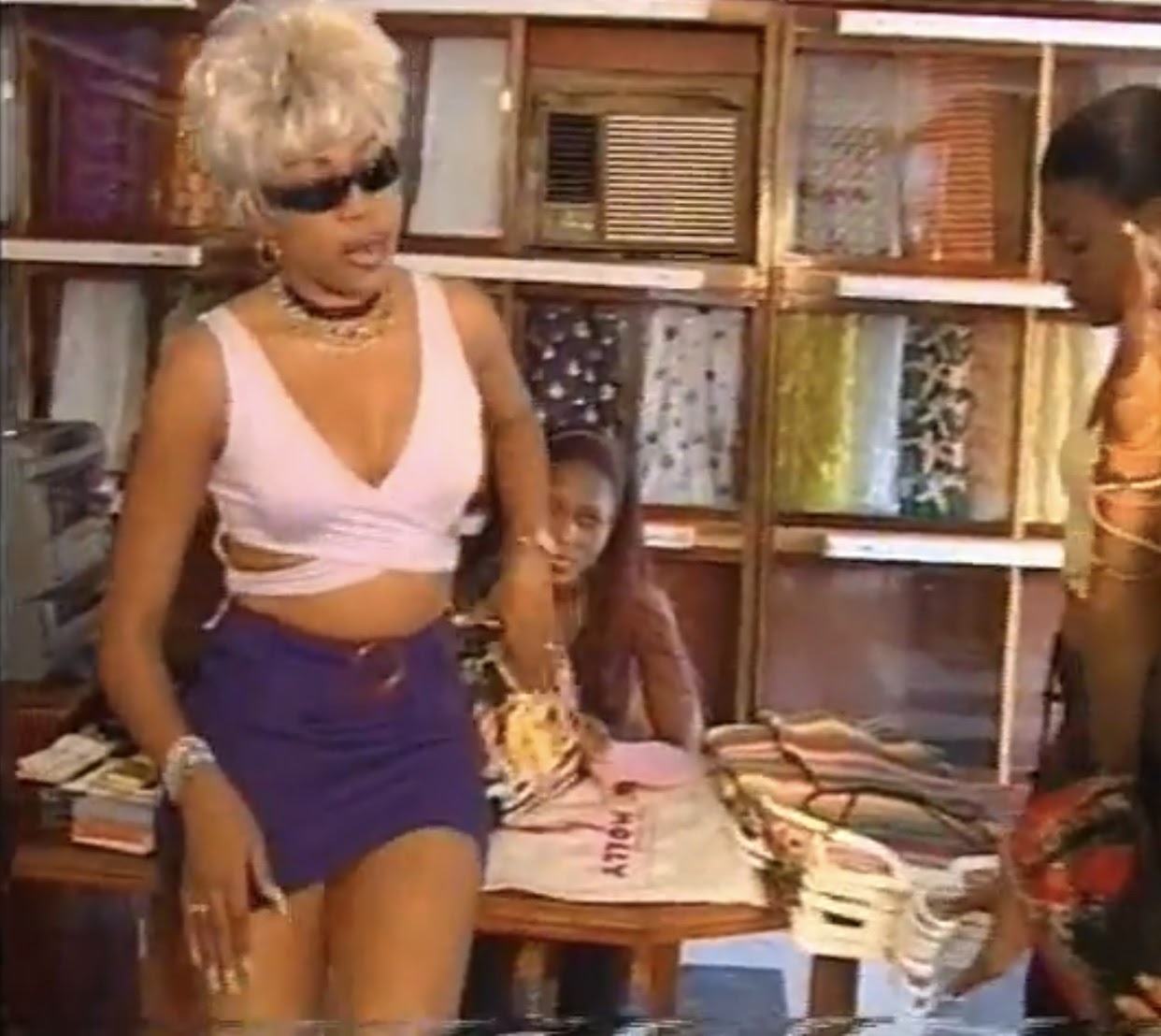 You spoke of some of the actors with reference to Western counterparts, but what would you say are the differences between what makes for a good film in Nollywood and Hollywood?
Tochi: I'm hesitant to define what makes a Nollywood movie good or bad according to the same criteria that, say, the Oscars would. During the era that we focus on in particular, it was about mass-producing movies really quickly. I think at one point, we were producing as many films as Bollywood, if not more. But for us, a movie has to have a good, believable plot that actually makes sense. It sounds like a low bar, but sometimes you're just like 'Where is this movie going??' And then there's the cinematography, which isn't necessarily about the quality of the camera. While they may not be churning films today at the pace they used to, resources are still limited when it comes to making films in Nigeria right now. Sometimes, the grainiest films are actually those that really touch the heart and have the best scenes. It's about the director knowing that a shot is beautiful, to get a body shot here, to linger on this or that a little longer.
What sort of social role would you say Nollywood has played, both in Nigeria and in the diaspora?
Tochi: I'd say that on the ground in Nigeria, it's given us our own stars to look up to and our own industry to laud. Through colonisation, both in the past or today, Western images and ideals have been forced down our throats. Even within our education system -- we went to British schools in Nigeria, and we learned more about Henry VIII than we did about any traditional Nigerian rulers. Nollywood gave us an industry where we get to dictate who we admire.
Another thing is that it really allowed Nigerians to learn about other tribes and cultures within the country, and for the removal of a lot of stigmas and stereotypes.
There are three main tribes in Nigeria -- Yoruba, Igbo and Hausa -- and a lot of Nollywood films are made in hubs in the respective home regions of each. Though each tribe sort of makes their own movies, there's a lot of overlap. You'll meet Yoruba people that love Igbo films, for example. Nollywood has had a really humanising effect and has really helped with a lot of the tribalism that we experience in Nigeria.
There's also how it interacts with topics like skin bleaching. Compared to the films coming out today, there was very little of that during the era of Nollywood that we focus on. Seeing women like Genevieve or Stephanie Okereke -- two gorgeous, dark-skinned women -- it really does something to any dark-skinned girls seeing that. They see the beauty of these women and clock, whether subconsciously or not, that they don't need to be fair-skinned or mixed race to be beautiful.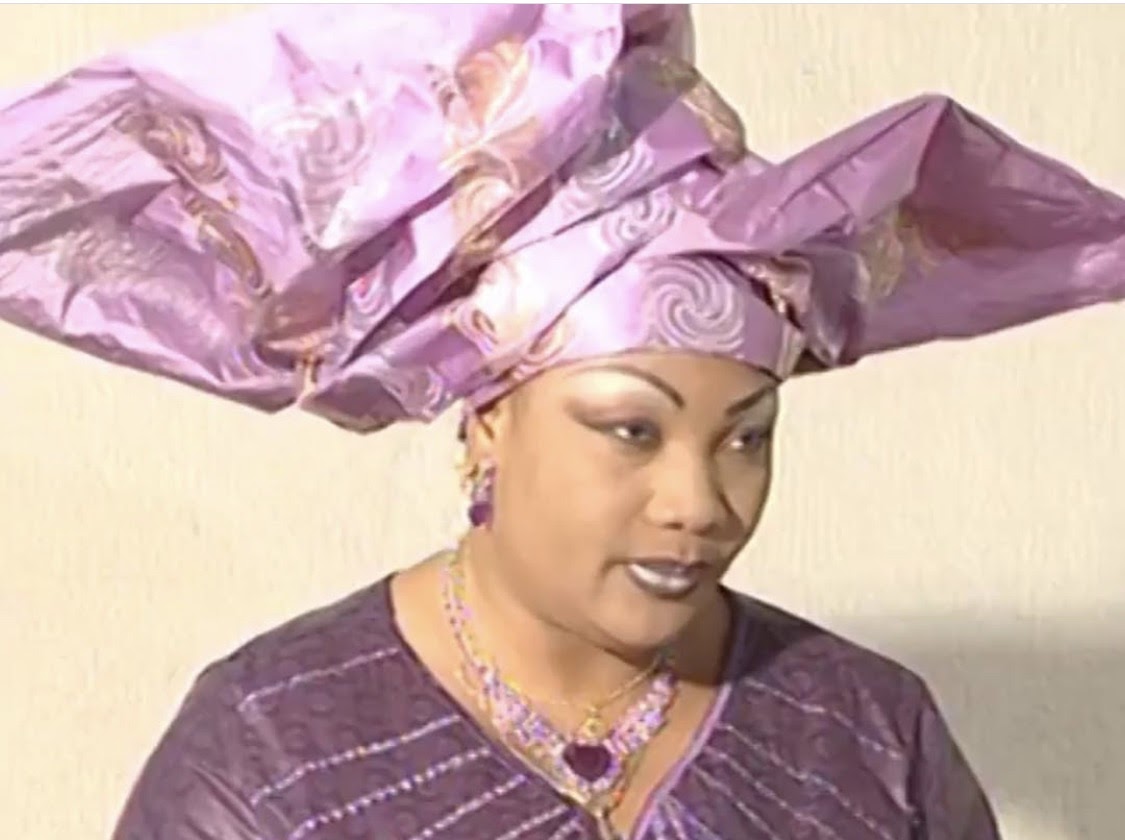 We're now touching on more explicitly sociopolitical issues, which you often comment on in your posts -- particular on the subjects of women's rights and feminism. Why do you think these issues are so important to discuss with your audience?
Tochi: Women's rights issues are something that we've been facing and dealing with since the founding of the country of Nigeria, and even before that. There's this sense that, if you're a woman, there are certain people that you don't question or accuse or go against men in positions of power, wealthy men and men in general. There's a subconscious understanding that, as a woman, you don't have a voice.
Over the past few years, though, there's been an emergence of people being outspoken about feminism, perhaps most notably Chimamanda Ngozi Adichie -- and she got so much backlash for speaking out. But Nigeria is really getting to a place where women are speaking up. I think that we're at such an important moment in time, and we need to make sure that everyone hears this message and that it's shared in a way that's easy to digest.
Ebele: I think that for a lot of Nigerians, the word 'feminist' means that you hate men -- but all it means is equality. We therefore take it upon ourselves to educate, not for any reason other than that these are the conversations that we find ourselves having with the Nigerian men in our lives. If we can tell that story through images and movies, then that's a win for us. If you're following @nolly.babes, you already love Nollywood, you're drawn to these images. If we can use that as a way to spoon-feed feminist ideals to people that wouldn't ordinarily be open to it, we're gonna do that at every chance we get.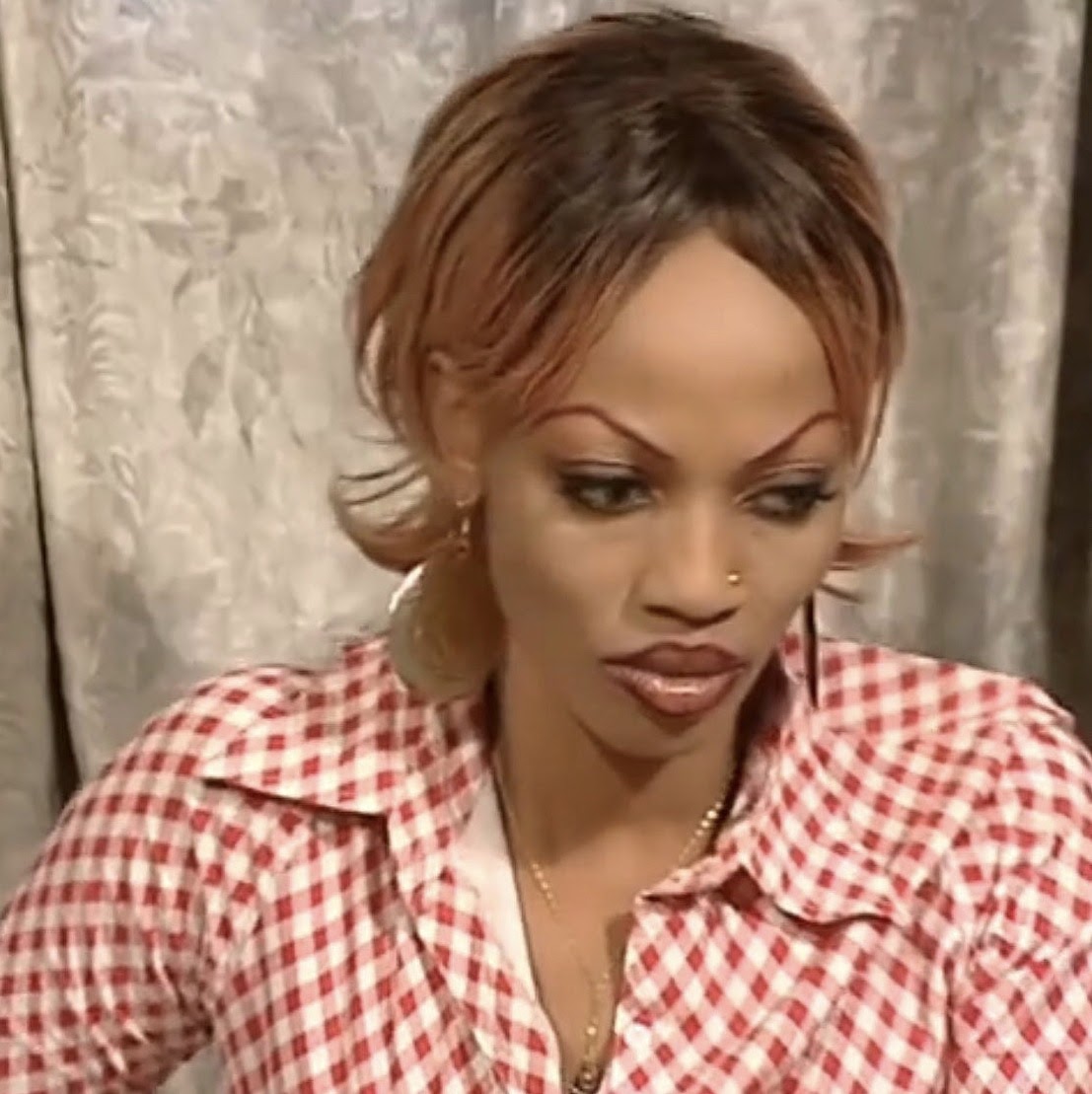 So do you feel that Nollywood has been a key vehicle for ideas that are perhaps quite new to contemporary Nigerian society?
Ebele: Unintentionally, yes. A lot of the actual storylines in Nollywood films can be very misogynistic. Because, while you might see a strong, empowered woman in a film -- a female matriarch, a female politician, a woman making moves -- a lot of times, the underlying message is that this is wrong. Often, they get punished for that at the end of it all.
Tochi: Exactly. But I would say that just the imagery of these strong, often sexually liberated women still gives a message that it's possible to be this way -- it shows that these do women exist, which is a lesson that people often just need to see.
Credits
---
All images courtesy of @nolly.babes