A round-up of more photography fundraisers you may have missed
From limited edition archival prints to iconic photographs by some of i-D's favourite collaborators -- make sure you get your hands on these prints.
Photography Jack Webb
Pics for the Kids
100% of the proceeds of this sale go to Avenues for Justice -- a programme aimed at finding more effective ways of youth crime prevention in New York. "It costs about $353,000 a year to put a youth in a New York State juvenile detention centre for a year, and only 25 per cent to 50 per cent remain crime-free when they get out," the team behind the programme say. "It costs only $5,200 a year to keep a youth in Avenues for Justice, and 90 per cent of program graduates stay out of prison." Find out more about Avenues for Justice here.
The list of contributing artists to Pics for the Kids is one of the best we've seen yet, including Inez and Vinoodh, Frank Lebon, Ib Kamara, Luke Gilford, Patia Borja, Campbell Addy, Brianna Capozzi, Pierre Ange Carlotti, Petra Collins, Johnny Dufort, Charlotte Wales, Leilah Weinraub, Richie Shazam and more.
Prints are available at Pics for the Kids's website. Every print is sold for $100, with all proceeds going directly to Avenues for Justice.
The Time Is Now
Galerie Number 8 and Paper Journal have collaborated on The Time Is Now: A fundraising initiative in aid of Black lives. To get involved, you can either purchase a print for €60 or €120, or buy a raffle ticket for €20 to be in with a chance of purchasing in four different categories. Photobook raffle tickets: Entering a draw to win a photobook. Merchandise raffle tickets: Entering a draw to win a T-shirt. Artist print raffle tickets: Entering a draw to win special, limited edition, signed artist prints. Or a general raffle ticket: A prize will be picked at random from our selection of photobooks, T-shirts and signed artist prints.
Bharat Sikka, Cecile Smetana Baudier, David Uzochukwu, Hajar Benjida, Jermaine Francis, Lola & Pani, Paolo Zerbini, Sakitey Tesa, Shaniqwa Jarvis, Stephen Tayo, Yannis Davy Guibinga and more have all submitted work. The proceeds will be split equally amongst the following charities and Not For Profit Organisations: Stephen Lawrence Charitable Trust (U.K.), Pay The Rent (AUS.), La Vérité pour Adama (FR) and the Marsha P. Johnson Institute (US).
Enter the raffle at The Time Is Now website. The fundraiser will run from 13 July - 10 August 2020.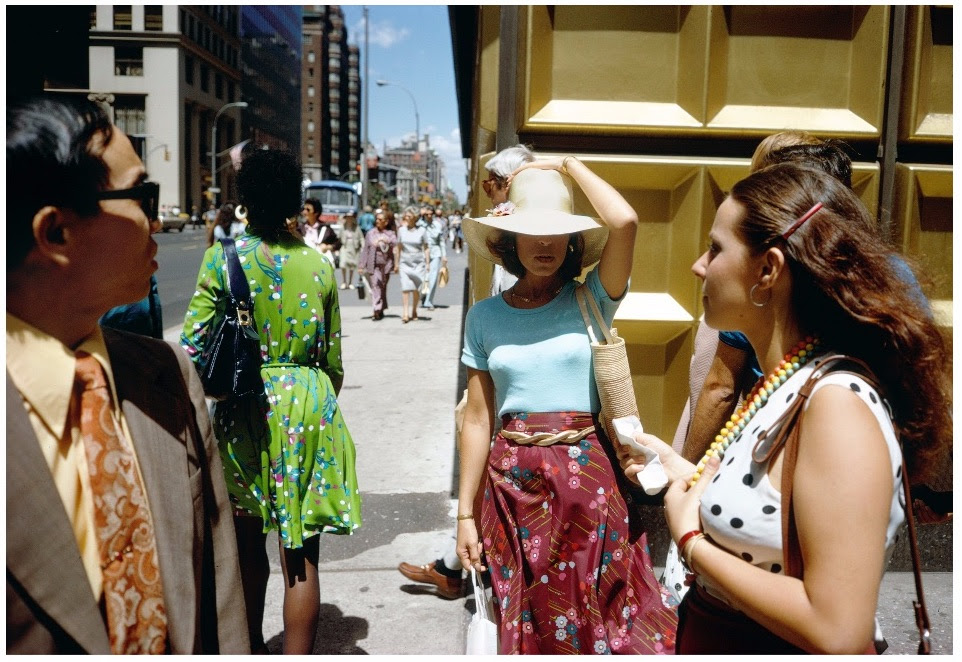 Three collectible prints by Joel Meyerowitz
The chance to purchase the work of New York street photography pioneer Joel Meyerowitz is too good to miss, especially when helping support an organisation fighting racial injustice. In partnership with Aperture, he's selling three prints from his archive -- taken in New York, Paris and St. Louis, Missouri -- the proceeds of which will be split between Equal Justice Initiative, an organisation that is doing critical work to challenge racial and economic injustice, as well as Aperture's not-for-profit educational, public, and online programming, and Joel's studio, for the undertaking the project of scanning 140,000 previously unseen Kodachrome slides from his early years.
Each signed 5x7-inch print will cost $120.20. The set of three will be offered at a special price of $300. The sale will run for ten days, from July 16 through July 26. Check the Aperture website for more information.