Ariana Grande is switching Positions with the US President
Dreams come true in our playlist this week.
|
23 October 2020, 12:33pm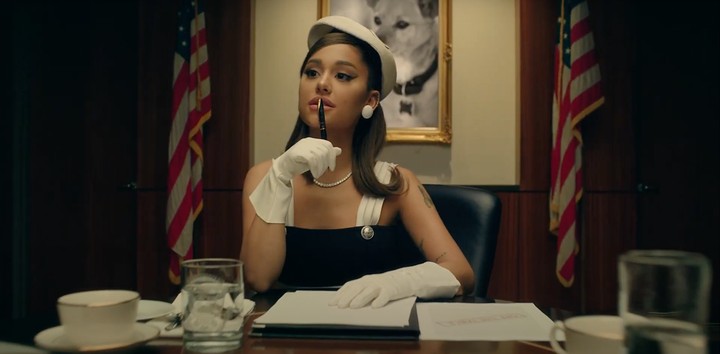 Aren't surprise albums the best? It was just last week that, sensing the world needed cheering up, pop queen Ariana Grande announced that she'd be releasing a new record before the end of the month. While the full unnamed gift is due to be delivered on 30 October, lead single "positions" is out today with a timely music video. In it, Ari switches positions with Trump and naturally does a much better job of running the country: White House aides -- predominantly women, including her mum and Victoria Monet -- are smiling, medals are awarded to members of the US postal service and the presidential looks are on point. Is it too late to get her added to the ballot? Yes? Ok, well make sure you vote (Biden) anyway. It's (probably) what President Grande would want.
After that exciting opener, this week's playlist dives deep into "Slime" by NUXXE's Shygirl, a late night creeper with sexy Goosebumps undertones and fleshy skin artwork. Then there's the great news that Flohio has teamed up with promising London artist Kasien on "With Ease", not to mention the fact that Yaeji has released a whole new brilliant album, WHAT WE DREW. We've selected the final track "When it's Summer, I forget about the Winter" today because, well, I think we're all feeling some level of misery with the changing of the seasons, aren't we?
Just five songs into the playlist we're giving you an enforced 10-minute relaxation break courtesy of Caroline Polachek. The other day she shared a stunning extended mix of "The Gate" that we highly recommend you hit repeat on and soundtrack the entirety of your working day with. There are birds! There are bells! There are crystalline vocals! But before you do that, be sure to check out the rest of our selection, which includes but is not limited to: "I don't talk about that much" by Smerz, with a video that sets traditional Norwegian dance to trance; M.T. Hadley's beautiful "Suddenly"; MorMor's insistent "Don't Cry"; Erika de Casier's very special "No Butterflies, No Nothing"; and H.E.R.'s "Damage". Enjoy!
Tagged: