Watch the trailer for HBO's new docuseries on QAnon
The six-part series will explore the conspiracy theory's journey from anonymous forums to the storming of the US Capitol.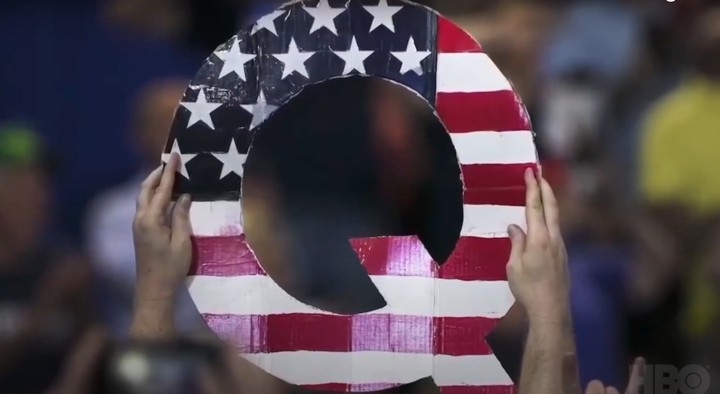 Still from Q: Into the Storm trailer
The trailer for HBO's upcoming six part docuseries on the rise and impact of the QAnon movement, entitled Q: Into the Storm, has just dropped. Directed by American documentary filmmaker Cullen Hoback, it follows the movement from its inception in 2017 by the anonymous 'Q' figure. What began as internet trolls posting satanic political conspiracy theories on the image-board 4chan, the documentary tells us, quickly spiralled out of control, culminating in the storming of the US Capitol at the beginning of 2021.
Attempting to get to the bottom of who 'Q' is, the series features interviews with key figures within the movement such as Jim and Ron Watkins, administrators of 8chan (the less regulated offspring of 4chan), 8chan founder and eventual QAnon denier Fredrick Brennan, along with journalists, experts and Q-tubers — that's QAnon supporting vloggers — exploring the conspiracies impact across politics and culture.
While some experts are worried about the possibility of the series sensationalising a group that US prosecutors have officially designated a threat, Cullen Hoback believes shining a light on the cult will undermine a group that thrives on misinformation. "QAnon derives its power from anonymity and secrecy, so I set out to unmask and demystify the whole thing, gaining access to key players over the course of several years," Cullen says in a statement. "Audiences can take an unfiltered look at what transpired behind the scenes and uncover the forces that drove Q's most ardent believers to storm the Capitol."
All episodes of Q: Into the Storm will be available to stream on HBO Max from 21 March and will also air weekly from the same date on HBO. You can watch the trailer for the series below.