Lady Gaga will perform at Joe Biden's inauguration
If only it were a bop from the 'Chromatica' era :(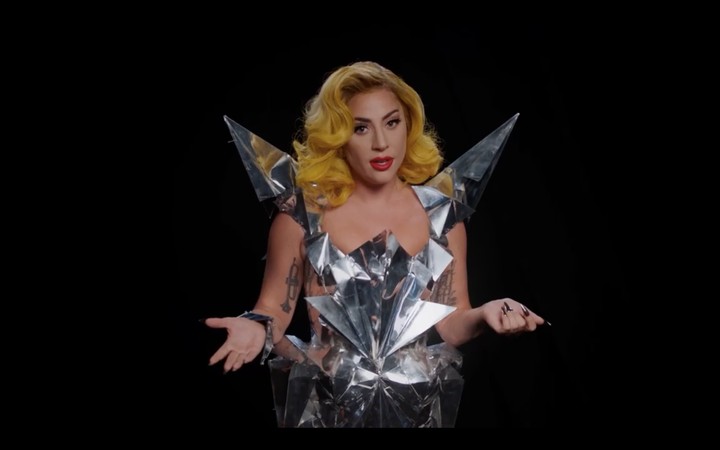 still from Lady Gaga's guide to voting
As a wise woman once said, there can be a hundred people in the room, and 99 don't believe in you, but all it takes is one. Lucky for President-elect Joe Biden, he had the faith of one Stefani Joanne Angelina Germanotta to propel him to victory. As well as, you know, the tireless efforts of community organisers, activists, and thousands of newly mobilised voters to help overcome deeply entrenched electoral suppression in the United States. But when you've got Lady Gaga backing you in head-to-toe camo, let's be real, you've already won.
Now, according to Variety, the chameleonic pop queen is set to perform at the inauguration of Joe Biden and Vice President Kamala Harris. Yes, Gaga will sing the national anthem during the swearing-in ceremony on 20 January. It's no "Sour Candy" (feat. BLACKPINK), but we'll take what we can get right now.
Tony Allen, CEO of the inaugural committee, said in a statement: "We are thrilled to announce an inspired group of dynamic participants for the 59th Inaugural Ceremonies. They represent one clear picture of the grand diversity of our great nation and will help honour and celebrate the time-honoured traditions of the presidential inauguration."
If that's not enough pop with your politics, Jennifer Lopez, Demi Lovato, and Justin Timberlake are also slated to perform. Of course, thanks to coronavirus and the ever-looming threat of a fascist uprising (what a time to be alive), the ceremony has been largely altered to accommodate an at-home audience and made more secure in the wake of last week's riots at the U.S. Capitol.