JW Anderson's AW21 menswear collection is his New Year's resolution
What do vegetables, Ryan Murphy's 'Ratchet' and 17th century Dutch Master still life paintings all have in common? JW Anderson's AW21 menswear collection, of course!
|
21 January 2021, 10:47am
Jonathan Anderson is not one for New Year's resolutions, but after the year that shall not be named, he wanted to start 2021 with a clean slate. Who can blame him? The Irish designer continued his innovative circumnavigations of physical fashion shows by releasing a series of posters exhibiting the AW21 JW Anderson menswear collection, photographed by Juergen Teller and starring none other than legendary British actress Sophie Okonedo, whose performance as Charlotte Wells in Netflix's Ratchet blew us all away last year. "I have spent a year of adapting to a situation that we're all adapting to, and I was thinking no matter what happens in the pandemic, it was the first moment to start thinking about my own self and my own aesthetic," Jonathan explained over a Zoom call. "What do I want to do for myself? How do I want to start the year? What is my New Year's resolution within a collection? I've never done that with fashion."
New year, new JW! For 2021, the answer lay in searching for "directness", "bluntness" and "honesty", in the designer's own words. Put simply, it came down to not over-intellectualising the collection, but simply celebrating it for what it is: great clothes with an optimistic energy. There are vividly-coloured trousers and neon mohair knitwear, robe coats with the comfort of dressing gowns, comically wide trapeze-shaped trousers, and cotton shirts and military jackets taken to ballgown proportions. It tapped into the spirit of his label's early days, when his collection blurred the lines between gender through unusual materials and silhouette — as well as more recent triumphs; there was even a new version of that democratic patchwork crochet sweater, made famous by Harry Styles and now in the V&A's permanent collection.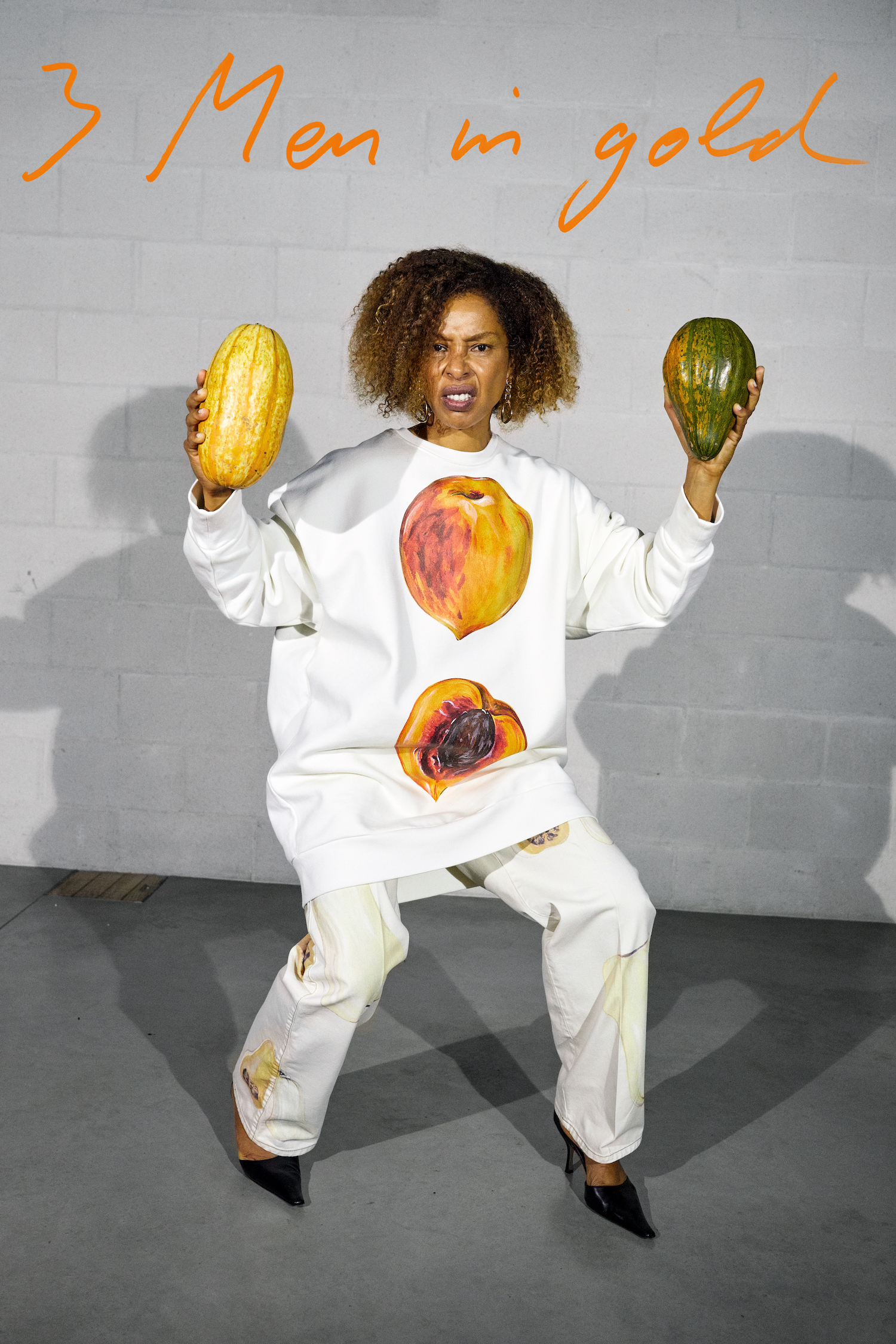 For Jonathan, the idea went back to the 17th century Dutch Master still life paintings he had been looking at while designing the collection. Hence why Sophie and the boys clutching a plethora of farmer's market finds, which are paired with hoodies and sweatshirts printed with painterly peaches, radishes and butternut squash. "We paint or we depict inanimate objects and we give them value, and the values of objects have changed," Jonathan pointed out. "Peaches were incredibly expensive in the 17th century, and now they are less expensive. They represent time immemorial."
His newfound sense of playfulness and irreverence is a welcome antidote to the doldrums that have kicked off 2021. Last year, Jonathan moved with the times and abandoned shows in favour of clever presentations of his collections that were just as impactful, but could be experienced from the comfort and safety of our own homes. What shines through here is the fun he had working on this collection, whether it was hand-dyeing surplus shearling or watching Sophie inhabit the character of Juergen Teller for Juergen Teller on set. There's still all the drama, glamour and sensory excitement that comes from a catwalk spectacle. "It's just a nice way to start the year," he added. "I cannot project myself on the sofa, or in my house, any more. We always talk about fashion as being about fantasy and beauty and escapism, but maybe we need to think about what that could be. We have to project being more positive this year, otherwise there's no point."