How a pandemic ban on NYE celebrations will affect young queer performers
"My friends are family to me: It seems obvious why I would want to spend every New Year's Eve partying with them forever."
|
30 December 2020, 9:00am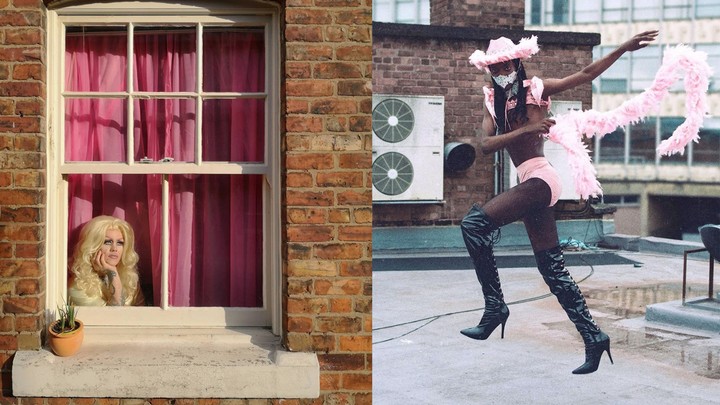 To say it's been a difficult year for nightlife in the UK - and worldwide - is somewhat of an understatement. As the pandemic has decimated the nightlife industry, with clubs, bars and pubs the first to shut and the last to open during different lockdown periods, thousands of young people who depend on the industry for income have been left in a precarious, miserable financial situation. And while furloughs and lockdowns have of course been a blow to the hospitality and retail industry as well as its patrons, the loss of partying and nightlife venues has been particularly harsh for the queer community.
For those that find themselves stared at in the daylight, othered in their conventional office spaces and under attack online and in real life simply for existing, nightlife has historically been a sanctuary. More than that, it's a safe space for many different kinds of queer identities. As well as the cathartic nature of the dancefloor, there is a camaraderie to gay club nights that has been sorely missed all year, making a negative impact on a community that needs these safe spaces in order to survive.
"Partying is so important in queer culture because its a place where we can be surrounded by people who support us and don't judge us and wanna snog us and dance and be free. Many queer people are from shit small-minded towns where people are bigoted and judgemental," Lill, a Manchester based drag queen and star of Channel 4's Drag SOS says. "Clubbing is a big brain orgasm to let go of whatever has been holding you back, you can just have fun and release your inhibitions without fear of ridicule or violence."
And though it seems a lifetime ago in the wake of even more depressing tiered announcements, back in Autumn, when lockdown appeared to be easing for good, many drag and queer performers were cautiously optimistic for the return of their income and creative outlet on the biggest night out of the year — New Year's Eve. Even for those who aren't relying on 31 December for income tell me how anticipating the chance to celebrate the end of such a shitty 2020 was a lifeline during the darkest moments of lockdown. For others, as well as the relief of a chance to celebrate, it's also a much needed opportunity to make some cash. "Because I am a full time drag performer I have been affected immensely by the current pandemic," says Black Peppa, a drag artist based in Birmingham. "Not only did it strip away the majority of my gigs and income, but it stole my joy and happiness that I get from nightlife. I'm sure many self-employed artists and creatives may not have realised how much we enjoy our profession until it is on a halt and everyone in our industry is stuck at home."
"New Year's gigs for me almost feel similar to Pride," Black Peppa adds, "but for one night only. This night in particular I am able to reflect on all of my achievements for the year and what I aim to achieve the following year."
The UK has flitted between tiers since summer and until the latest government u-turn this weekend, venues and event planners had been tentatively trying to organise socially distanced, substantial meal-ed, end of year events wherever they could. Regardless of whether NYE is IRL or URL this year, the effect still won't be the same for those who thrive off human interaction. "For a lot of our queer community who struggle at the end of the year, being estranged from family and loved ones, places like New Year's Eve parties are somewhere we can all connect and be in it together." Gina Breeze, a DJ for Manchester's HomoElectric and queer festival HomoBloc says. "I have friends I've met on the dance floor that I know will be there for life."
For performers like Black Peppa and Gina Breeze, the importance of queer nightlife is not just for financial gain or catharsis, but making a community for oneself. "I have personally experienced the best moments in my life through meeting incredible individuals by partying," Peppa explains. "Especially as a queer person, every time we enter a social setting or a room filled with people just like us who share similar experiences, we can learn and share our hearts. There is certainly a sense of acceptance and fulfilment in clubbing that cannot be explained."
For all the performers we spoke to, the overriding emotion was not one of sadness for a lack of income, but instead mourning for a community that has lost so many safe spaces, and stands to lose more if independent clubs and events struggle to survive post-lockdown. The focus on what is lost on the whole, and not on a personal level, feels emblematic of how important queer performers and event planners are for the LGBTQ+ sphere. Not only do they represent and entertain us at Pride events, on television programmes and on stage at New Year's Eve, they understand the necessity of making sure the queer community has a place to be themselves without inhibitions and without fear.
NYE is not just about the year ending, it is a celebration for our queer families making it through another year. "Almost everyone finds importance in New Year's Eve, but for queers who often make extended families for themselves through nightlife, it is more special," says Lill. "My friends are family to me: It seems obvious why I would want to spend every New Year's Eve partying with them forever."
It seems particularly cruel that this year, when our chosen families are more important than ever, and the threat of isolation looms ever larger, is one when NYE is all-but certainly off the cards. "This New Year's means so much to the queer community as we have suffered through a year of financial difficulties and a constant deterioration of our mental health," says Peppa. "It's no secret that a majority of the queer community works in hospitality and retail and these industries have suffered the most since the outbreak."
"Even outside of this year, NYE means a lot to the queer community as it is the one time where we can celebrate the holidays with our queer family. It is especially crucial for those who don't have the support or love from their biological families."
No matter how we end up celebrating the 31st December this year, in order to survive the queer community needs to lean into the fact that not only will the restrictions on nightlife not be permanent, but that our self made families and friends made on the dancefloor will be. Wherever we find our end of year joy - on drag livestreams or Tier 2 dinner tables - holding onto the hope that we will all be groping each other in a sweaty smoking area again at some point in 2021 is imperative to our survival.