Photos by Elizabeth Miranda.
Kablito wants you to make TikToks in quarantine
Watch the Ecuadorian alt-pop singer's latest music video 'Baby Bye Bye' which premieres exclusively on i-D today.
Photos by Elizabeth Miranda.
It was heartbreak that helped Kablito find her voice. In the wake of a breakup, and before quarantining in Los Angeles, the Ecuadorian Latin alternative singer flew to Miami to work with Tainy, the megastar reggaeton producer who helped shape the sound of urbano's finest, from Ivy Queen to Bad Bunny. He was the catalyst for Kablito to make the jump into a sound that leaned into her Latinx roots, after crafting music mainly drawing from R&B and indie sounds.
"He's a lovely person to work with," says Kablito of the Boricua producer. "I met him a couple of years ago at the Latin Grammys, but I felt like he was out of my reach. One day, I told him I was coming to Miami and he was like, 'Yeah come through the studio.' I thought we were just hanging out and then he said 'let's just make a song right now' and I was like 'Right now? At 10PM?'"
That late-night session birthed a reggaeton track that she's still working on and landed her in the studio the next day with members of Tainy's NEON16 collective, who helped her craft her latest single "Baby Bye Bye", which she premieres on i-D today. A reggaeton-tinged indie pop dream imbued with distorted guitar, Kablito affirms her independence and a new start after heartbreak. "Que bueno que ya no te vuelto a ver/ Que ya mi cuerpo no extraña tu piel" -- which translates to "Great that I don't see you anymore/ And that my body doesn't miss your skin" -- she sings, her voice floating over a refreshingly light, upbeat backtrack. Seeing the light after love never felt this jubilant.
i-D talked to Kablito over the phone about her new single and homemade video, why you should get on TikTok during quarantine, and about finding her voice in an ever-changing Latin music sphere.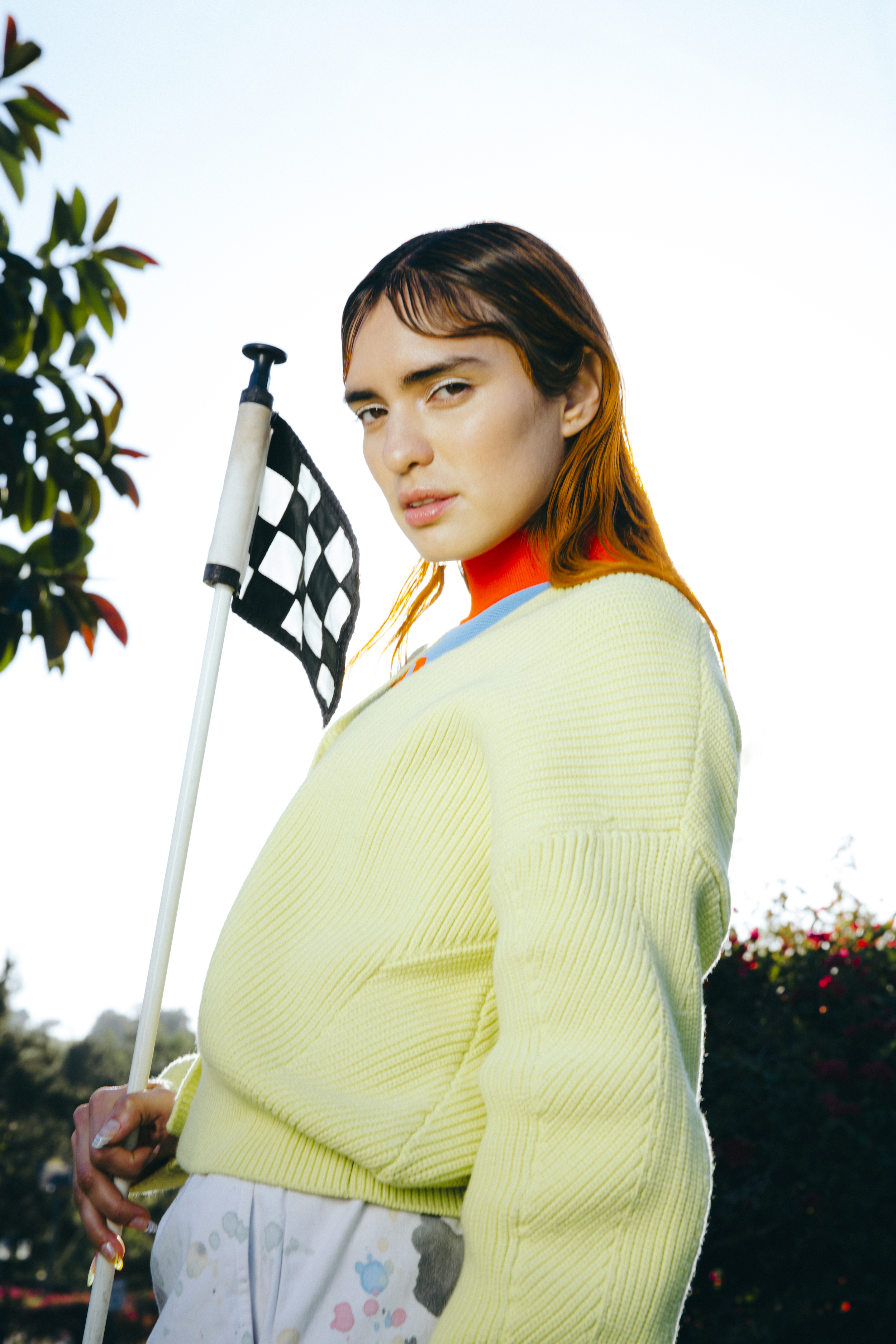 "Baby Bye Bye" is definitely a pop turn for you, but without losing that reggaeton element, which is also very much at the forefront here. How did you end up working with Tainy's people?
Exactly. We made something that's more reggaeton based and isn't out yet, but I got a session the next day with Jota Rosa and Albert Hype, the guys who worked on Bad Bunny's records and we made "Baby Bye Bye."
Can you tell me about the video? I know you had a whole plan for it and then we ended up in this unfortunate situation with the pandemic.
Me and Tiramisuave, my creative director had the idea to do a TikTok music video even before quarantine. We were gonna film at a golf course and I had all these dancers and TikTok influencers that were gonna come through. We were gonna shoot at a pool and a tennis court, just having fun making TikToks at this golf course.
And then...
Coronavirus happened! I knew this song still had to come out and I wanted to put it out because, now more than ever, we need fun upbeat music and to be feeling good. Me and Tiramisuave decided to just do it from home -- everyone's at home making TikToks anyway. Right now everyone's downloading it, so it's kind of perfect timing. Even the people that were against TikTok have TikTok now because they're so fucking bored. I'm obsessed with it. This is something I was doing everyday before quarantine since December. I think I made over 100 TikToks in two and a half months.
Woah.
I was doing TikToks all the time and I wanted to do a video that was true to my personality, and I feel like it is. I styled it with my own clothes and with my friends at Brain Dead and Noon Goons. Kyle Chan helped style it over FaceTime. The green screens that you see through the video are the actual shoot locations we would have been at; I'm in a bathing suit by a fake picture of a pool. My friend Symone Holliday and I made the dance together and then asked these TikTok-ers to record themselves doing it.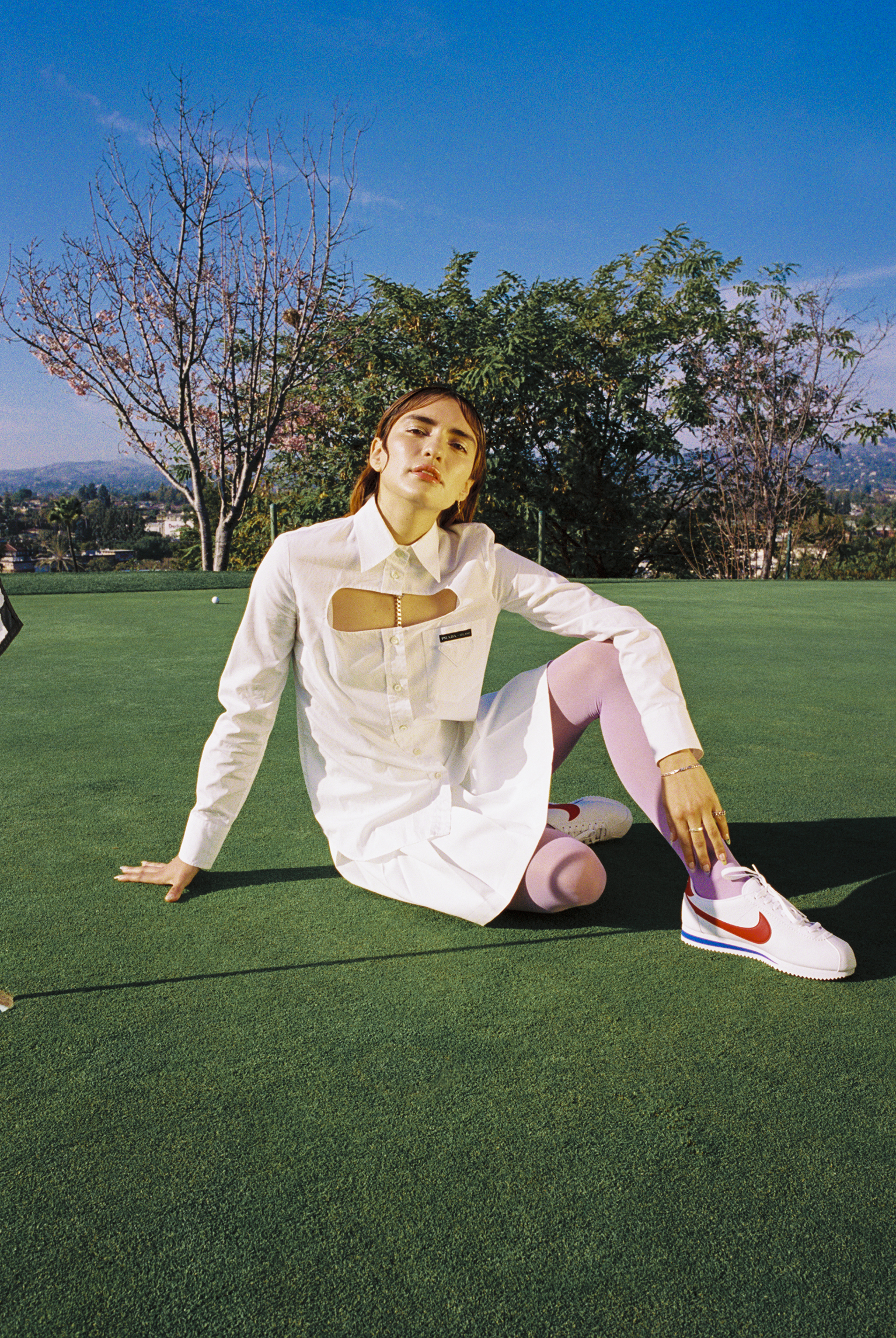 Can you talk about the song as it relates with the rest of your discography? Your first EP Telenovela was very much driven by themes of love and yearning. Then in 2019 you put out "Yo Nunca Te Quise", and this year "Corazon Partido" and this track, which are two very different vibes.
So, this next upcoming EP is called Sentimental. It's my second EP. When I wrote Telenovela I was kind of writing about previous experiences I've had in love and inspired by my friends and their stories, the over-dramatic aspects. This single and "Corazon Partido" are the most personal songs I've ever written. I had a really big breakup late last year that shook my core. I was very honest and vulnerable and I'm not the type of person to usually do that -- I'm an Aquarius, and I don't share my emotions, but I'm actually a very emotional person. In "Corazon Partido" I'm talking about those things, just having this hard shell but I'm actually a very vulnerable person who doesn't show those sides of myself. I wrote "Baby Bye Bye" a few months after my breakup, where"Corazon Partido" was two days after my breakup and I was a wreck. When I went to Miami, I had this moment of feeling better and being in a place where I was chasing my dreams, working with the people I wanna work with. It was a bittersweet and empowering moment to just be doing this for myself and not even be thinking about him, and just be out there doing my thing. This song is me choosing myself.
I love that this has a deeper core to it. At first listen, I was happy that the song was a fun respite from this heavy, strange moment we're all collectively experiencing. I wanna go back to something that you said before about wanting to make Latin music, and I'm wondering how you define that.
I'm thinking reggaeton beats. "Baby Bye Bye" is it's own thing, but it definitely incorporates those elements. I couldn't find producers for the longest time that made music like that. I'd go in for sessions with people and have to basically be like "this is what I'm listening to," and it was like Sech and Bad Bunny. They would try to recreate that sound, and I think something cool can come out of that, but the studio sessions I love most are the ones where I work with other Latinxs or people who make Afrobeat, producers who have this core of rhythm. So, definitely the beat, but also the fact that it's in Spanish.
As Latinxs, we're having a moment in the English-speaking music sphere where "Latin Music" as an umbrella is disassembling before our eyes. I think a lot about the wide variety of music that's come out of Latin America and how in the U.S. it's all jumbled up, and then with the rise of Rosalía and people calling her a Latin artist, it's this point of contention about what exactly the genre is as the definition evolves.
I agree! It's certainly a term that's evolving. With her specifically, I see people labeling her Latin because she's representing a Spanish-speaking culture. Artists like her, like Bad Gyal... these artists are expanding what it means to be a Latin artist. Bad Bunny does trap, and a lot of people say that it's Latin Music because he's singing in Spanish. For me personally, it comes down to the rhythm, reggaeton, music that makes you wanna dance. I'm excited to have an artist that sounds like Billie Eillish, but is a Latin artist. I'm excited for Latin music to get to that place where it's viewed more broadly. The definition has to continue expanding into the sounds we already know are there. I'm excited for people to make music that isn't just a reggaeton beat, for them to make shit that's fucking weird, and for it to be in the Latin Music sphere.
You specifically embody this vanguard in a way; despite saying you were waiting for the right producers and the right moment to make "Latin Music," all of the songs you've released so far are in Spanish.
I feel like the reason why I do it is because I feel like somebody somebody has to be the artist that made it out of Ecuador. If I were to be doing this in English, I wouldn't be helping that process. My music is Latin music, but it's alternative. My goal is to be one of those artists expanding the definition of what Latin Music is, not just another factory-made reggaeton. Just because it has that specific beat, it doesn't mean it's this thing other people are doing. It's not Latin Music, it's not R&B... it's a mixture. I wanna see an artist like a Childish Gambino for the Latin community with that much attention in an English-speaking space.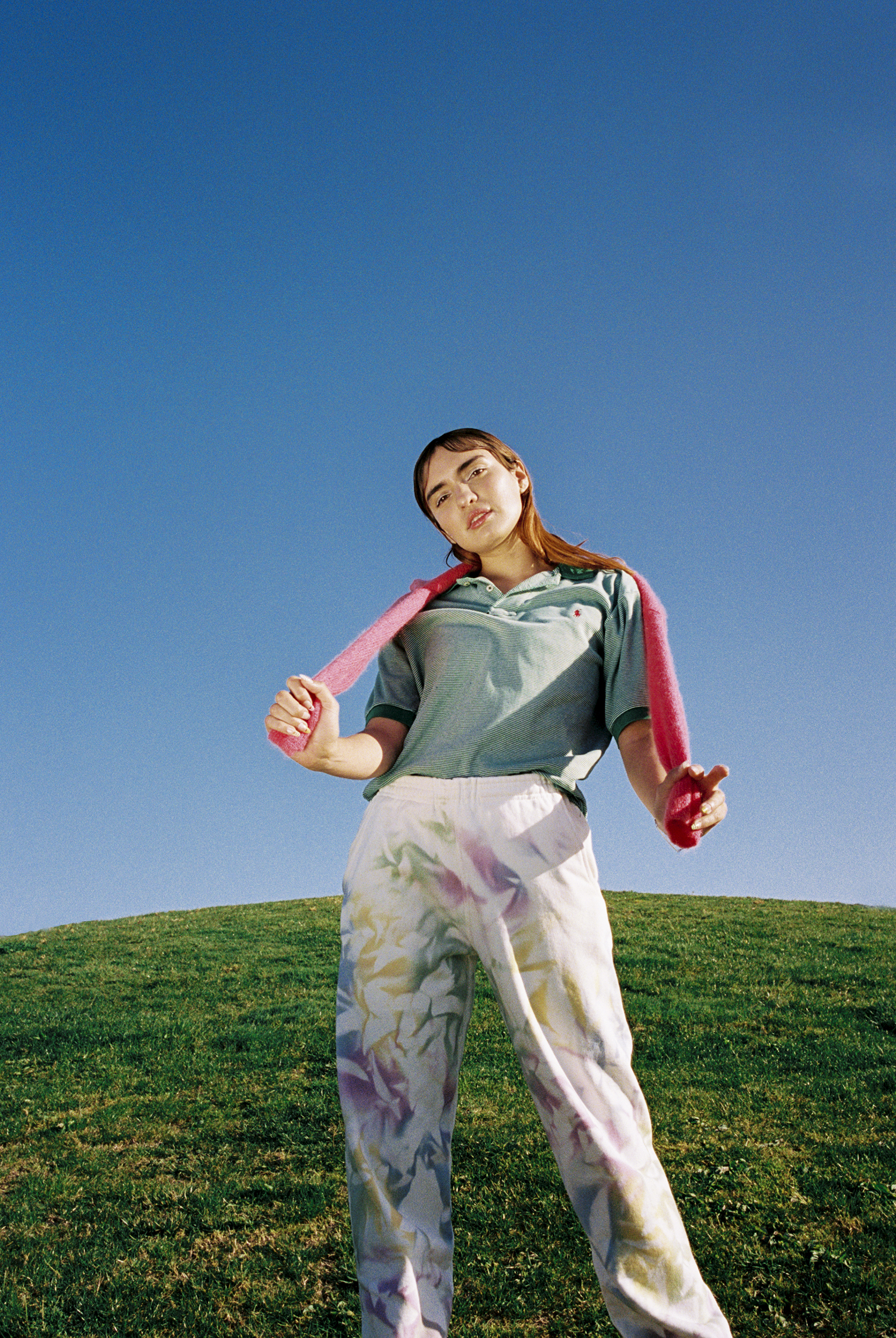 This interview has been edited, condensed, and partly-translated for clarity.