Images courtesy of Hurjaboy
Meet the designer creating custom jewellery for BTS
Hurjaboy is the cute and quirky Korean jewellery label creating a resin-bound wonderland.
Images courtesy of Hurjaboy
"I like things that are cute," says Jayoon Hur, founder and designer of semi-eponymous jewellery brand, Hurjaboy. "Cute means different things to different people, but I think the word encompasses a range of types of beauty. For instance, something ugly could be called cute, too." Hurjaboy, a one-woman operation run out of Hur's apartment in Seoul, is a collection of playful and quirky jewellery that are, honestly, best described as cute.
Hurjaboy started out with earrings and brooches in 2018, catching the eyes of local fashion editors and K-pop stylists and quietly appearing in high-fashion editorials before garnering more attention. Hur's jewellery saw a spike in popularity after being worn by BTS rapper J-Hope, the brand's most famous client to date. "His stylist saw my work at a pop-up shop and asked me to customise some pieces for him," Hur says of the experience. J-Hope appeared in his 2019 Chicken Noodle Soup music video with Hurjaboy's chunky resin rings, a pearl-beaded "HOPE" bracelet, and crystal-studded pendant necklaces that contained a baby photo of himself.
The name for the label is a play on Hur's nickname "Hurja," and "boy" is attached as an homage to Comme des Garcons, her favourite brand. "I wanted to remember the boyish and youthful quality of CdG," she explains. "I aim my jewellery to be 'cute,' but I myself prefer to be gender-neutral and boyish."

While pursuing a Bachelor's degree in Food Engineering at Korea University, Hur followed up with her childhood passion by minoring in Fashion Design, a decision that led to her becoming a buyer upon graduation. She worked at Koon With A View, a now defunct concept shop known for being one of the first stores to bring brands like Dior to South Korea. "Working as a buyer was really tough because it was so sales-oriented and it didn't allow me to express myself as much as I wanted," Hur reflects. For a much needed refresher, she packed her bags after four years and set out for London, where she stayed for 10 months interning at Saatchi Gallery and taking courses at London College of Fashion.
After returning to Seoul, Hur worked for two more years as a buyer before calling it quits. "I thought it was my last chance to try something I wanted," she says. "I'm 29 years-old. It's now or never."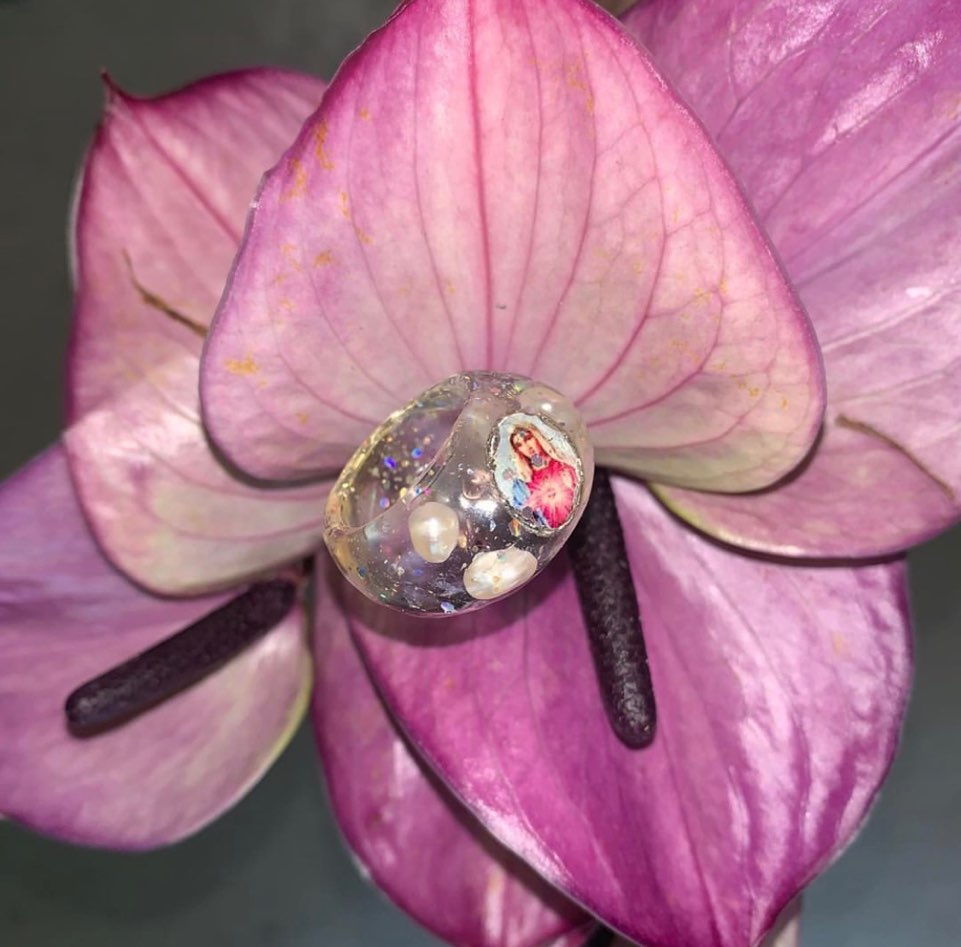 Not having a full education or proper training in fashion design, Hur chose jewellery as her point of entry when founding Hurjaboy. Intrigued by the physical transparency of resin, she consulted YouTube tutorials to study how to mould, coat and dry plastic, starting out with custom pieces made for friends. On average, it takes Hur about two days to handcraft one piece of jewellery, which ranges from $22 for small earrings to $113 for necklaces. She sources most of her material from Seoul's wholesale markets, and constantly scavenges the Internet for special gems and hardware.
The label's signature piece is its chunky resin ring, a clear and sparkly number encasing colourful beads or other tiny objects that altogether resemble vintage Bakelite rings. Besides jewellery, Hurjaboy also sells made-to-order accessories like key-rings, smartphone cases, and ashtrays.
Growing up in the '90s Hur is always inspired by nostalgic themes and references like Sailor Moon and Barbie. "When I was little, my mom used to style me with big beaded hair ties and giant ribbons," she says. "I still have dozens of Barbie dolls piled up at my parents' house, and I recently started collecting Ty toys." The inspiration for her latest collection of pearl jewellery was fittingly inspired by retro games like The Sims and Bejewelled.
Although she's based in Seoul, Hur's eccentric pieces have been most coveted by US customers who make up about 70% of her online orders. "About 20% of orders are from Europe and Asia. Korean customers probably make up less than 10%," she estimates. "I think the driving push for international orders was BTS." Hurjaboy has seen success in the K-pop market, and Hur still dreams of customising pieces for other international artists some day. "I am especially inspired by Bjork, Arca, and Rina Sawayama. Making something for them would be my life's dream come true."

While dipping into a bit of personal styling for DJ friends, Hur also juggles her time as a certified nail artist. "I want to try making wearable nail art, like fingernail jewellery." Her eventual goal is to turn Hurjaboy into a full-fledged brand, with not only clothing and jewellery but also pet accessories. "When I'm stressed, I spend all day scrolling through puppy Instagram accounts as a way to heal myself," she confesses with a laugh.
Whether it's pet jewellery, a Bjork necklace, or more Sims-inspired gems, Hurjaboy is just getting started.