Ralph Lauren reimagines its signature polo for Earth Day
The brand has released a new capsule collection of environmentally friendly Earth Polo shirts.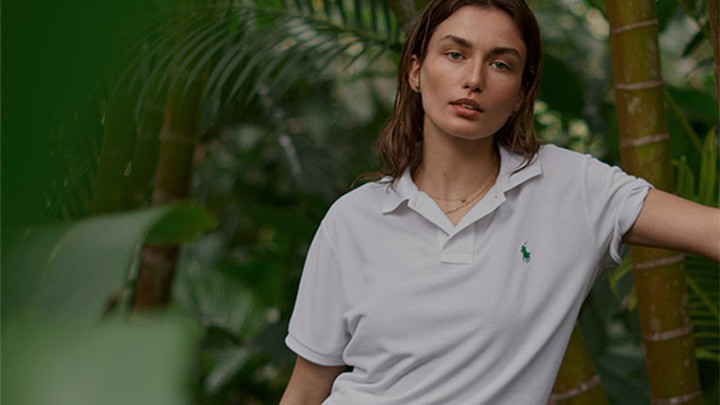 For the 50th anniversary of Earth Day, Ralph Lauren has an sustainably-made quarantreat for you. Ladies and gentlemen behold: the new Earth Polo, an eco-friendly reworking of the company's signature polo shirt. The classic design was updated in collaboration with First Mile, a US-based recycling company, and its material is made from the plastic of about 12 recycled bottles that would have otherwise ended up in landfill. The fabric is then dyed into one of four fresh, earthy colourways -- green, white, navy, or light blue -- using an innovative, waterless dyeing process. The future is now, people.
"When Ralph founded our company more than 50 years ago, he did so with the idea that whatever we create is meant to be worn, loved, and passed on for generations," said Halide Alagoz, the Executive Vice President and Chief Supply Chain and Sustainability Officer. "It's with this spirit of timelessness that we approach sustainability."
The sustainability of the Earth Polo is in line with the brand's other eco-goals, namely its commitment to protecting the environment by using 170 million plastic bottles by 2025 in its products as well as its packaging. But Ralph Lauren's dedication to making the world a better place doesn't stop there. Last year, they pledged to achieve zero waste to landfill across their distribution centers by 2023 and, by 2025, reduce water waste across their operations by a minimum of 20%. The company also recently donated $10 million to support coronavirus relief.
"Changing the way we innovate, design and produce our products is the first of many steps we are taking as a company to be more sustainable. For us, it all started with the Earth Polo," said David Lauren, the company's Chief Innovation Officer. "Ralph Lauren will commit to removing at least 170 million bottles from landfills and oceans, and will convert the use of all virgin poly-fiber to recycled poly-fiber by 2025. Plastic waste is a major issue threatening the environment -- we want to be part of the solution and utilize an innovative approach to create something valuable."
Tagged: