LEYA is the ambient DIY duo making transcendental punk music
From collaborating with Eartheater to scoring Brooke Candy's porn film, LEYA are breaking the mold and shaking up the Brooklyn music scene.
|
18 February 2020, 3:00pm
Photo by Larry Bovik.
When you hear the words harp and violin you probably think of something angelic, gentle, and soothing to the ear. But Marilu Donovan, who plays harp in the New York duo LEYA, thinks that's a bit ridiculous. "Any instrument can sound any number of ways, it depends on the player and what is happening creatively," she says of the assumption most people make of her music.
Despite their glossy instruments, Donovan and Adam Markiewicz (violin and vocals) are not your typical classically trained musicians; instead of writing symphonic masterpieces, they write transcendental punk music—it just doesn't sound like the type of punk music you're used to. The duo trade loud guitars for ambient experimental soundscapes using a tuning system that Donovan devised herself and Markiewicz's wispy violin and monk-like voice. It's supposed to be enjoyed like pop music—they want you to feel something and to interpret it in your own way.
The duo met roughly eight years ago—they can't remember exactly when—but it was likely at one of the Brooklyn DIY spots they frequent. Since then they've been performing together as LEYA and working individually with some of New York's best underground talent; Donovan with Azealia Banks, Julie Byrne and Zsela; Markiewicz with PC Worship, The Dreebs and Guerilla Toss.
In 2018 they released LEYA's debut album The Fool—an eight track meditation that's equally dissonant and harmonic—and a short time later were asked to score a Pornhub film directed by rapper Brooke Candy. Several tracks from the film appear on Flood Dream, their new album out March 6 via NNA Tapes. In between projects they also found time to record and release a collaborative EP titled Angel Lust with the experimental composer and vocalist Alex Drewchin, aka Eartheater. The trio are longtime friends and have performed together and collaborated before, notably on Eartheater's career-defining album IRISIRI. Their rich arrangements and enchanting vocal melodies sound heavenly together.
Ahead of LEYA's new album, we sat down with Donovan and Markiewicz at a bar in Ridgewood, Queens to talk about Flood Dream, Eartheater, Brooke Candy's porn film, and the music video for their new single "INTP" which is premiering today on i-D.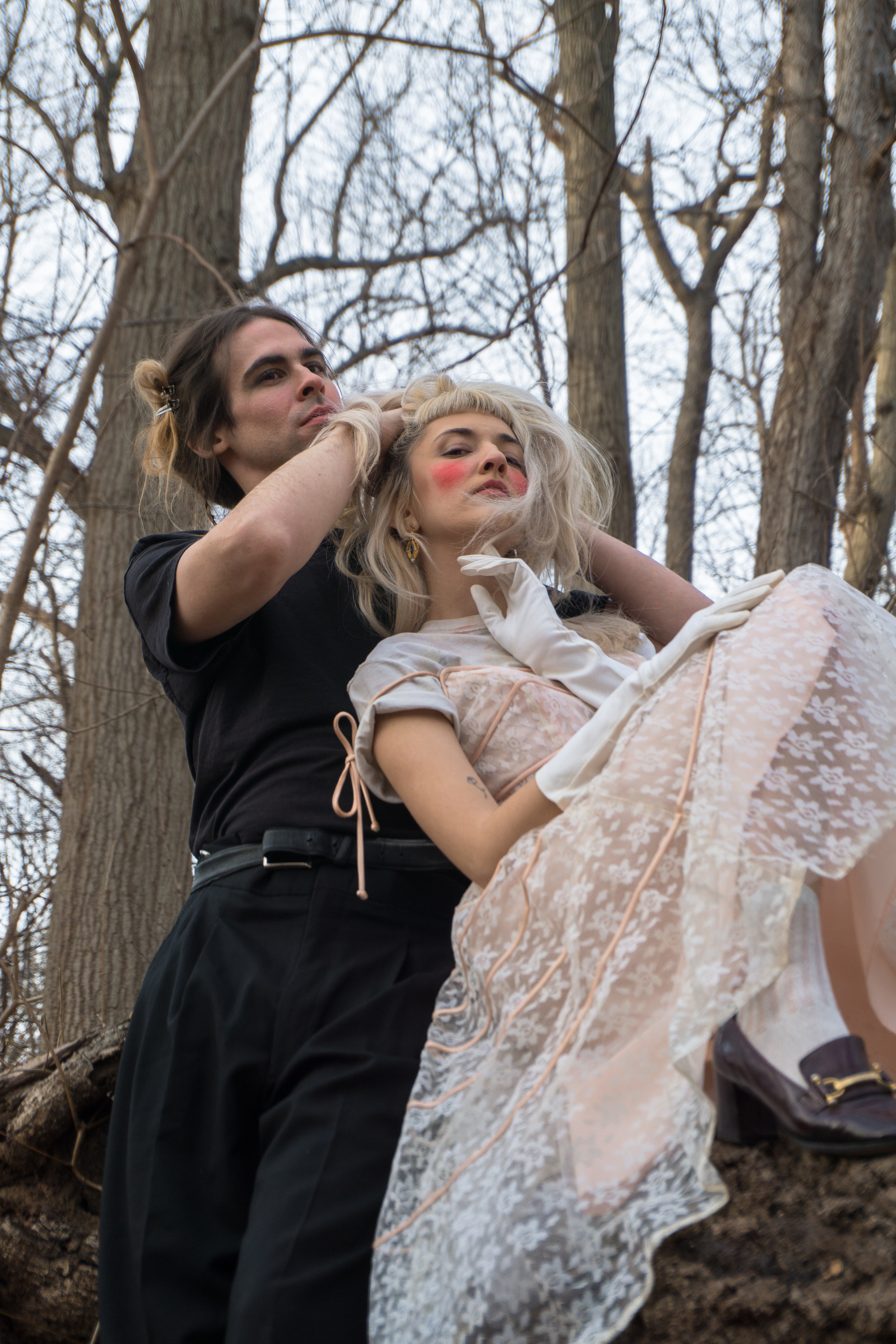 Where did you grow up and how did you end up in Queens?
Marilu: I'm from Houston, TX. I never really wanted to live here, but I did my undergrad in Toronto and my visa expired so I drove to New York. I had friends here and I just ended up staying.
Adam: I grew up in the Boston area. When I was 17 I came here for school and I've been here ever since. I have a similar background to Marilu. I grew up playing classical music and I came here to go to jazz school—I went for a couple of years and studied jazz violin. Then I stopped going and got into the noise rock scene.
Your new album Flood Dream contains nine songs and each has a one word title. Is there something that connects them all?
A: Marilu and I deliberately stray away from making a song about something, because music's a bit more basic for us than that. I take inspiration from people like Cocteau Twins and Joni Mitchell—like them, I've always composed with sound first and as a singer just had vowels and sounds in my mouth that I'll alliterate and repeat. It's often more based on sounds, so the meanings of these songs could be anything from a more direct reading to something a little more general to something just based on the sound of the word itself. The song titles are often very short because it's not there to tell some explicit story. [Our music has] always been based around sound because ideally, I want everyone to be able to feel something together. It's better if you can put your own meaning to it.
In December last year you released an EP with Eartheater titled Angel Lust. What can you tell us about that?
A: On our first record we had an instrumental song ("666") that we decided to have her sing on just for the fun of it. She did three takes, stitched it together, and we were like 'holy fuck dude, this is so good.'
M: Then we performed it with her and people freaked out. So we thought OK, let's make an EP.
A: We get into these collaborative zones. There is this core LEYA music that we make and then it's interesting to take that and put it into a different world with someone who makes a different type of music. The experience with Alex was super transcendent. She's an amazing artist and is one of the people whose music excites me the most right now.
You also did the score for a pornagraphic film titled "I Love You" that was directed by the rapper Brooke Candy. How did that opportunity come about?
M: We had just released our music video for "Sister," it was the only thing we'd released and this woman had seen the video and she DMed me from London. She was like, 'I work with Brooke Candy, we want you to do this thing with Pornhub,' and I thought it was a joke.
A: It was through this art director named Claire Barrow who is based in London. She has done a lot of beautiful work. It was really cool, there was a lot of freedom in the project and it ended up being a really beautiful thing.
M: We are in the film. It was so fun.
A: It was just so loving and positive, and Brooke really cultivated that. It was a really talented eclectic group of people. Initially we were going to play live in each shot, but when you go to edit that you can't really do sequential music in the room and then have that end up being the soundtrack. We devised this plan whereby we would pantomime and then put the soundtrack over it afterwards, but then we thought we can't actually pantomime the music either. So, we arrived at this thing where we just posed totally still in the feature and it ended up being a cohesive idea.
Today i-D is premiering the music video for your song "INTP." What can you tell us about making such a glossy visual?
A: It was made by our friend Kathleen Dycaico who made our first video for "Sister." I credit Kathleen with providing the vision that connected us to the Pornhub thing.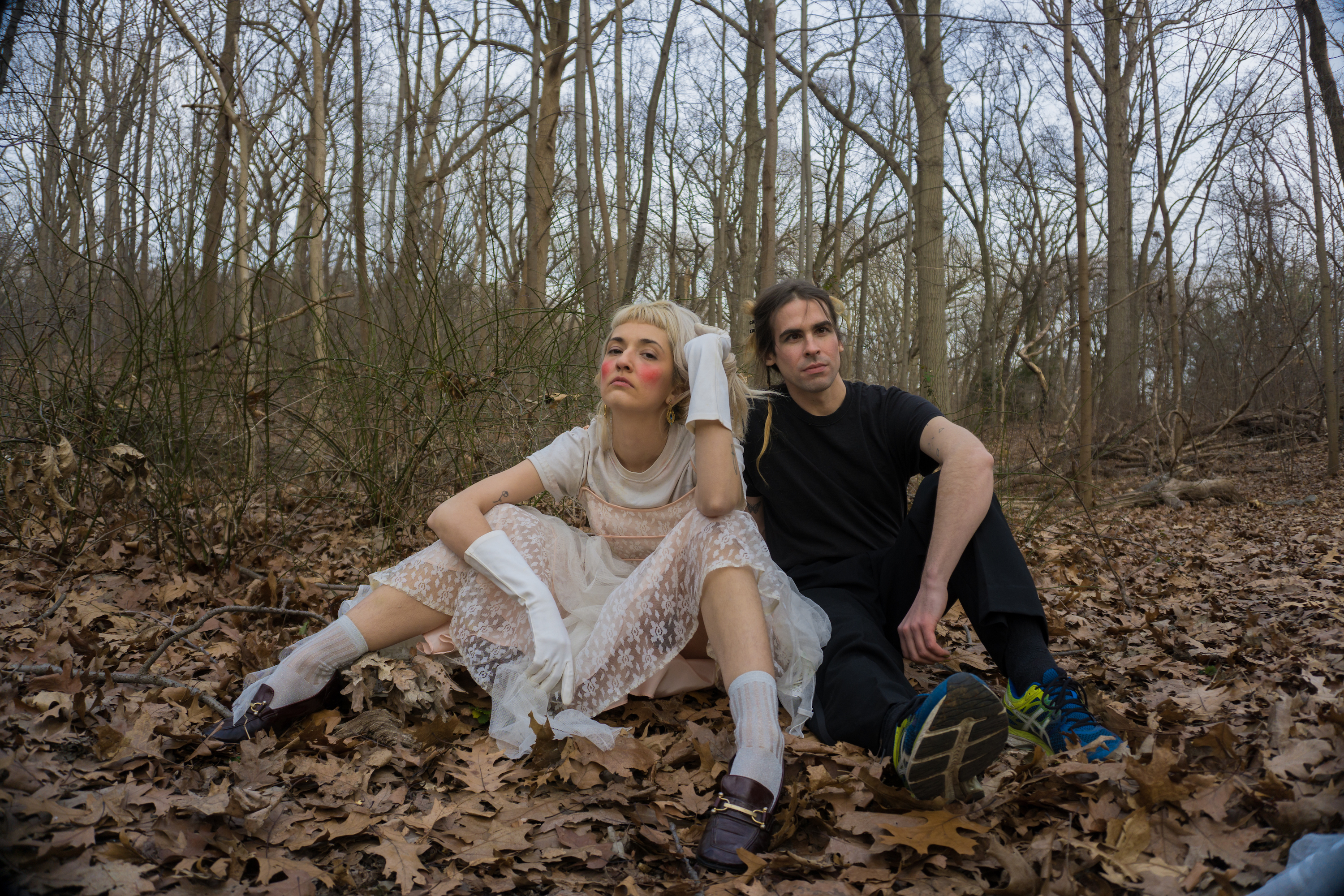 It looks a little like a fashion commercial, or a scene from the movie Wild Things. Was that the plan?
A: That's the vibe. Kathleen would love to hear that reference.
M: We didn't come up with the concept, that was Kathleen. It was filmed at our friend's house in [Greenwich] Connecticut. We rolled up in this spray painted van and did our thing—we did two overnight shoots. I thought it was going to be more wild, but it was very professional. There were lighting people, makeup, hair and costume people, and a cook. It's a crazy energy having that many people working on one thing, especially when you realize it's for your song.
A: We're not used to any gloss, so it's a new thing for us. For that weekend we got to borrow the studio magic of some real professionals.
M: Our instruments are way glossier than us.
Are there any tips you can give us on how best to enjoy your music?
A: LEYA is for the people, it's meant to bring people together, we want to be able to make music that improves some state or some moment. I really encourage people to come see the band live, to have a moment in a room with a bunch of people and connect to something really still and special. Come see two hardcore bands, somebody playing disco and a pole dancer, and then sit down for 20 minutes and have a moment with yourself in a room and just listen quietly.
We're really after those types of weird moments where we all just get to be a little vulnerable. I really prescribe to this idea that punk music comes as absolutely everything. It's very simple, it's about kindness and connection. When we play live we're spreading out. It's simply about having a moment with everyone and maybe having a little cry.