H.E.R.: "When I see Tommy Hilfiger, I think of Aaliyah"
The award-winning R&B superstar on music, Stormzy and making her design debut with the American fashion brand.
|
18 February 2020, 5:30pm
H.E.R. seldom takes her shades off. They seem to be a safety barrier for the R&B artist: a way of ensuring she can disconnect from the heady world of celebrity at the right time and slip into the life she lives outside of the spotlight, making music that lets her bare her soul on her own terms. It's no coincidence that her stage name stands for "Having Everything Revealed".
Since she re-emerged back in 2017, the singer -- real name Gabriella Wilson -- has been admired by the upper echelons of the music industry, her style inspiring a fanbase who've found catharsis in her unhurried, sensual songs about heartbreak and overcoming it. She is, in many ways, the embodiment of a gen Z creative: smart, strong and unafraid to try new things. That strength is, perhaps, what compelled Tommy Hilfiger to ask her to design a capsule collection that would debut at the brand's London AW20 show. The Tommy x Lewis x H.E.R capsule, designed in tandem with racing driver Lewis Hamilton, is a neon-flecked tribute to the star, her songs and the message she wishes to put out into the world. On many pieces, her lyrics are emblazoned on to the sleeves of tees and legs of sweatpants.
The day before the show, she arrives at the Tommy offices in a flurry, a little jet lagged and held up by the storm making fashion week wet and windy this season. But she seems upbeat and keen. In this conversation with i-D, she unpacks how the Tommy x Lewis x H.E.R collab came together, working with Stormzy on Heavy is the Head, and what her fans should expect from her new music.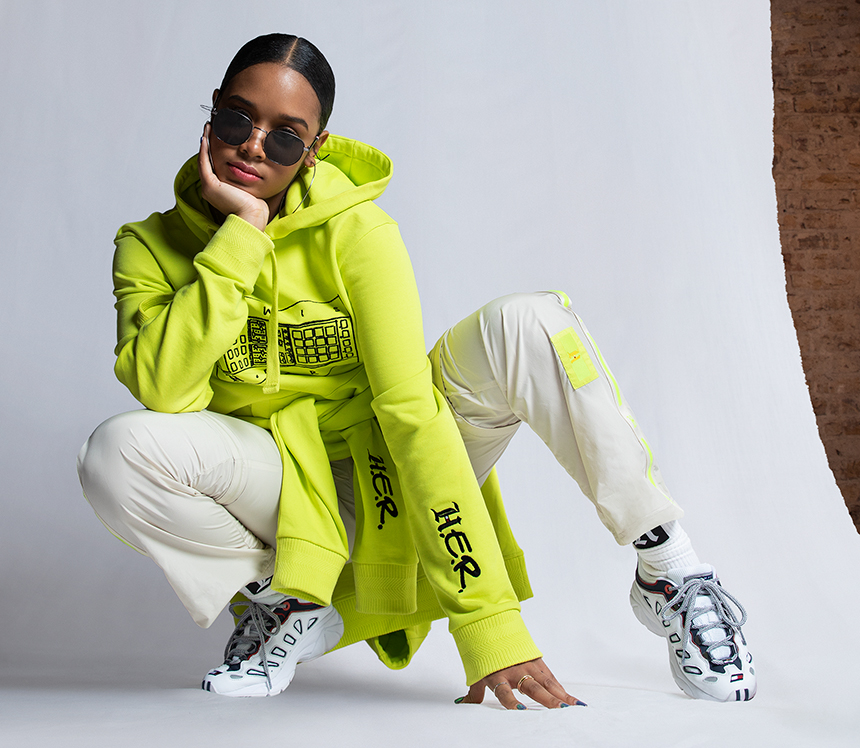 You're in London for the Tommy Hilfiger runway show -- do you come here often?
I do actually! It seems like I'm here every month doing something. Last time I was here, I performed with Sting at the Royal Albert Hall. That was incredible. He's a freakin' legend.
He is! So what was your immediate reaction when you were asked to get involved in this collaboration with Tommy?
I literally was like, "Me? Really?" I'm so new to the fashion world so the fact that somebody noticed my personal style was great; something everybody, when they're growing up, is trying to figure out and is unsure of. It's an honour for me to be recognised for it.
What sort of memories did you have of Tommy as a kid?
I always think of Aaliyah! I'm half Filipino, and it seems like so many Filipinos really love Tommy Hilfiger! If you go there, so many people wear their designs. I have pictures of my mother in the cutest classic Tommy jeans and a matching top when she was my age. It was everywhere in my life.
What does your mum think of you now collaborating with them?
She can't believe it! It doesn't make any sense to her.
Do you have a favourite music T-shirt in your wardrobe?
I feel like everyone has a Nirvana T-shirt in their closet, right? I don't know why, but they do. I have a Lauryn Hill T-shirt that I really love too. It was a gift that a friend gave to me a few years ago. I think it's one of those T-shirts you get on the street in Harlem. Those are the best ones -- whether it's vintage or… you know...
A knock off?
Exactly!
How important is the formation of an aesthetic in your musical narrative?
Everything is a mood. I'm very specific, but at the same time I've become so many different things to so many different types of people. Lately, I've performed with all kinds of people; someone like YG and someone like Sting, and yet somehow it all works. That's the beauty of what I do, who I am and how much I love it. The fashion world's the same thing. The fact that I can make something really [versatile], like a jumpsuit you can rock with heels or sneakers, that you can wear on-stage or everyday.
Does prepping for this catwalk moment carry the same kind of pressure as a live show?
A little bit. When it comes to me and shows and music, when I'm performing, I've worked so hard on something that's so special to me. It's like my baby, so to present it to the world it's sort of like, no matter what happens, I did this and I'm proud of it. That's the same mentality I have for the show, because if no one's wearing the pieces, at least I will be!
About 18 months ago, you said you found making music therapeutic. Your success has only grown since. Does that affect your relationship with it?
I don't think so. It's important to step out of your comfort zone. I'm never afraid to do something different, and try to not let the pressure of deadlines, or coming up with the best project ever, get in the way of how creative I can be. Once you have the attention on you, it's easy to freeze and compare your path to somebody else's. You can't move forward if you stop for the little things that don't matter. I'm actually going to be in the studio tonight. I'll be working on a song that feels more bluesy, which is a side of me I don't think many have seen yet.
Do you believe in creating music in eras, or is it far more fluid than that?
No, it's a lot more fluid. I never stop creating until the album is about to drop, so anything can change. Even when I have an album out, I'm still in the studio – or if I'm on the road I'm making voice notes on my phone. The real process is getting it down to what represents me, and sequencing it. Everything is pretty easy. I'll make 100 songs before I decide on 10.
You worked with Stormzy on a track for his new record. What was that like?
He's incredibly talented. He asked me to come to the studio to hear the record and so I did -- I was so happy to just be a part of what he does. He has a real message and something to say. You'd be surprised -- not many musicians love music as much as you'd think they do, but he really is a music lover. We bonded through that.
Is there a stage in the creative process that you find the most gratifying?
I miss the studio when I'm on stage and miss the stage when I'm in the studio, you know? With songwriting, it can take a minute to unlock those emotions; it's not always there, you sometimes have to force it out and talk yourself through it. That might be the part that feels the best, because it's like, 'Okay, now things can start going and we can get into the actual music'. Unlocking those things that you really want to say.
What's one question you've never been asked but have always had the answer to?
I'm an open book, but I love to not share everything. So I guess I never want to have the answers until they're asked for.
Tagged: