Photography Jacopo Raule and Kate Green/Getty Images; Sylvain Gaboury/FilmMagic
7 of Tilda Swinton's most iconic outfits
Wes Anderson's fave does bold colours, statement pieces and androgyny like no one else.
Photography Jacopo Raule and Kate Green/Getty Images; Sylvain Gaboury/FilmMagic
Did you know that for one strange week in 1995, Tilda Swinton spent eight hours a day sitting, sleeping and simply existing inside a glass case at London's Serpentine Gallery? The actor – who was probably then best known for the 1992 adaptation of Virginia Woolf's beloved queer masterpiece Orlando – called the performance piece 'The Maybe' and did it wearing a shirt, slacks and a pair of slip-on Vans. Other lesser-known Tilda tidbits include the fact that the Oscar-winner comes from Scottish nobility and was literally in the same class as Princess Diana at boarding school.

Something you likely did know about the 61-year-old Wes Anderson fave is that her fashion choices never fail to impress. Whether in a tailored suit or a bold colour-clashing ensemble, Tilda is always red carpet-ready with zero chance of rocking up to find that somebody else wore the same thing. And the range! Her eclectic aesthetic – underscored by her cropped blonde or fiery red hair – is as versatile as her filmography.

Before all you Tilda fans rush out to watch The Souvenir: Part II, which previews in UK cinemas today before being released on 4 January, let's revisit some of the actor's most iconic looks.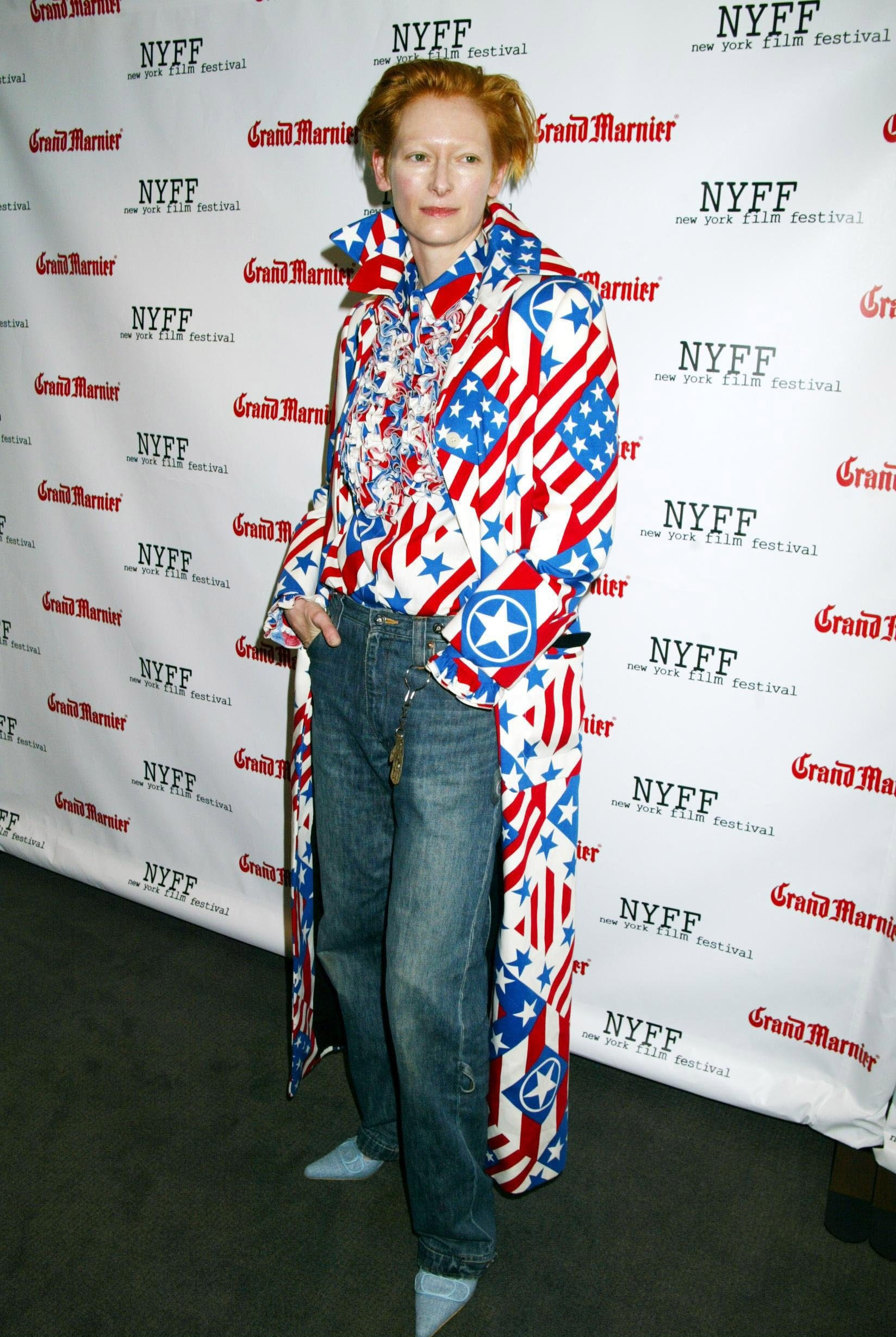 At the premiere of Young Adam, 2003
Nope, we haven't seen it either. Young Adam, it transpires, is a "British erotic drama film" by David Mackenzie in which Tilda stars alongside Ewan McGregor. It boasts sex, thick Scottish accents and potentially even murder, so maybe we're all missing out on a hidden gem here. Premiering at Lincoln Center as part of the New York Film Festival, Tilda opted for a furiously patriotic Captain America-goes-to-fashion-school matching shirt and jacket combo. She tones the drama down with a pair of classic baggy jeans and simple, slicked-back hair.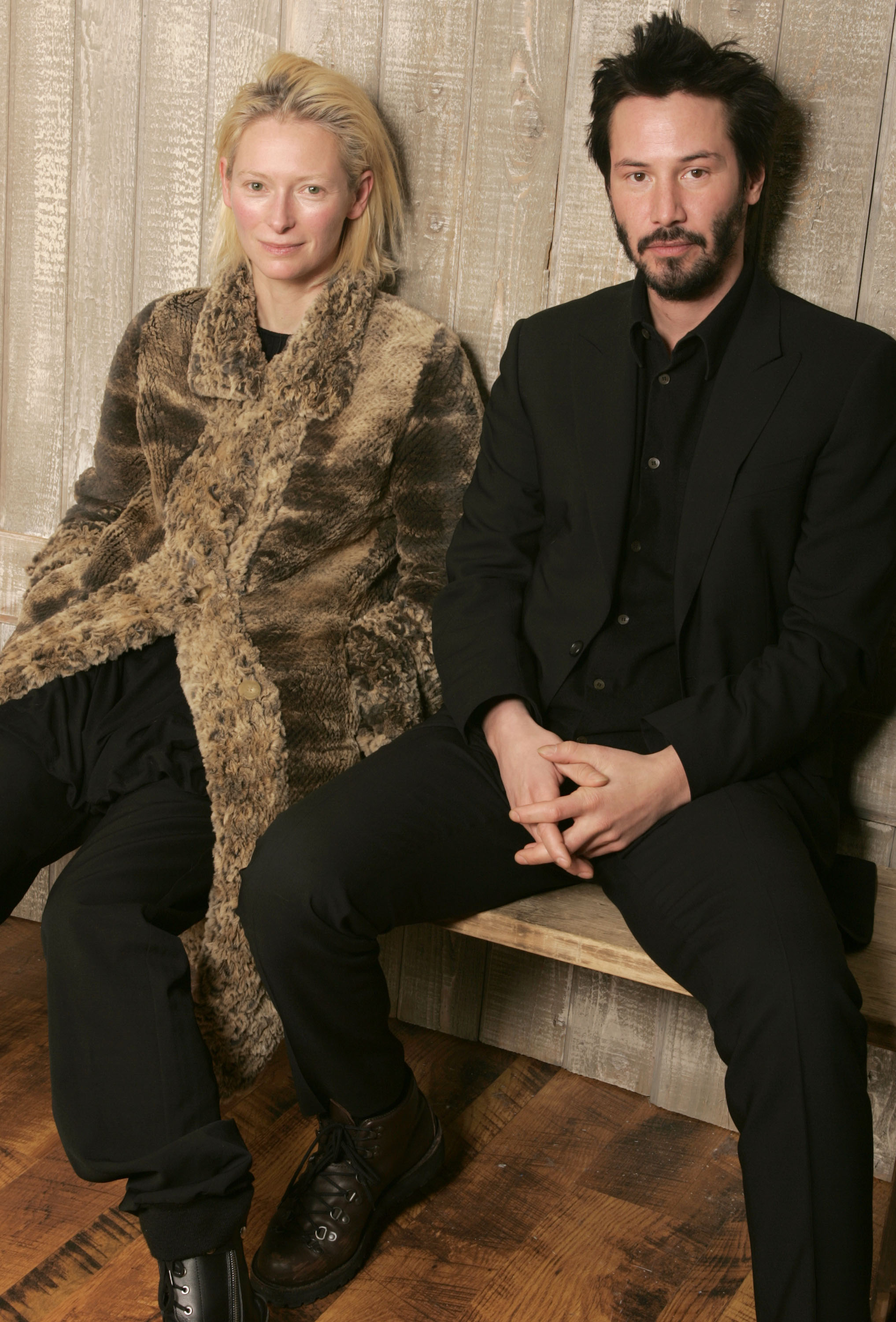 Keeping cosy with Keanu at Sundance, 2005
Two legends together! This pair came together to star in the cute coming-of-age comedy Thumbsucker, in which Tilda Swinton played the teenage thumb-sucker's mom and Keanu Reeves, his orthodontist. The film premiered at Sundance Film Festival, which is where the actors were photographed manspreading on a wooden bench. Keanu had already made all-black his go-to formal look by then, while Tilda made the call to wrap up in a grungy, fluffy coat. With her usually cropped hair at almost-shoulder length, this is IRL Tilda like we've never seen her before.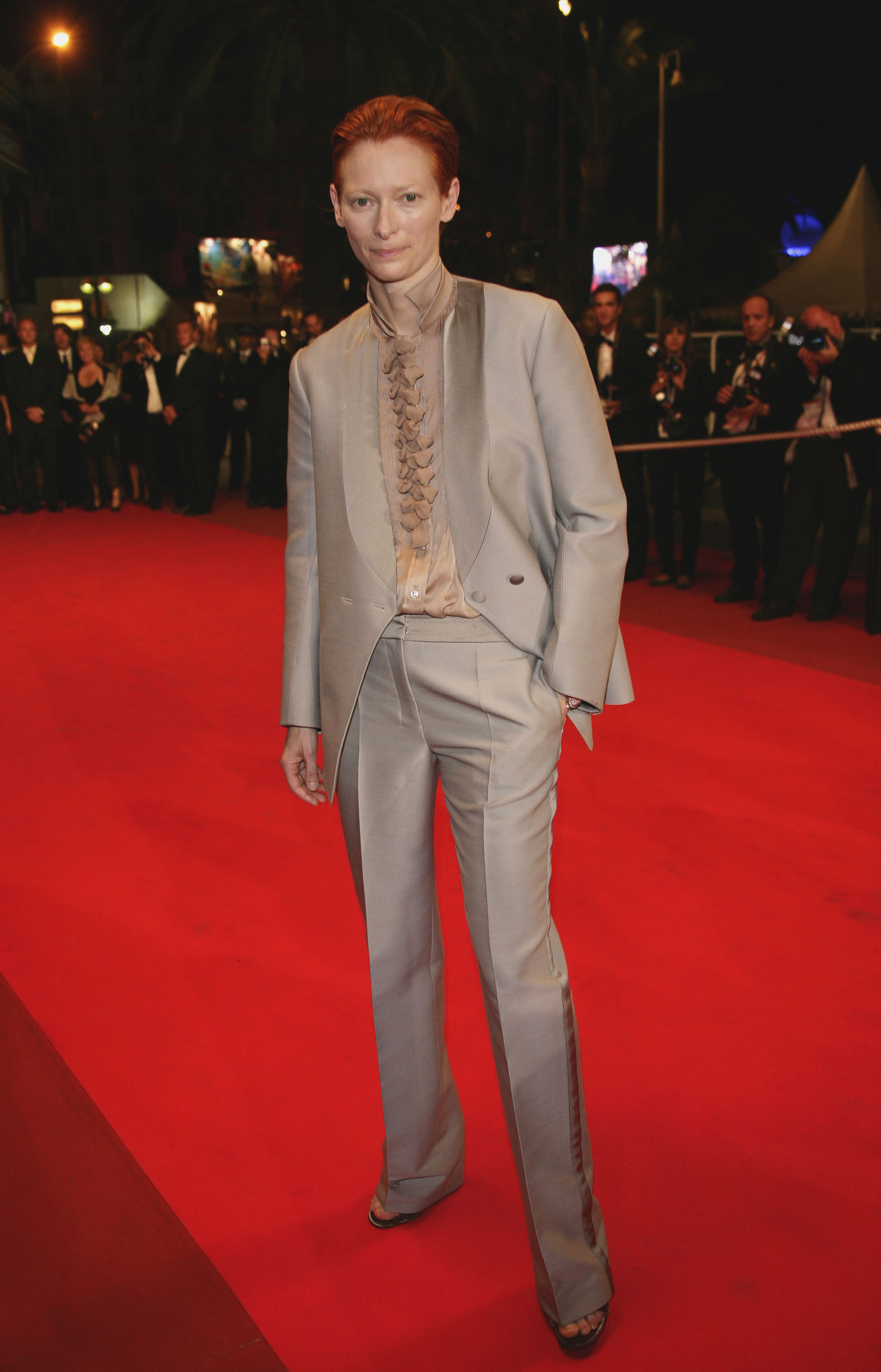 At Cannes, 2007
The Guardian once described Tilda Swinton as "the offspring that would result if David Bowie's alien in The Man Who Fell to Earth mated with Elizabeth I," and well, yes. Serving androgynous realness at the 60th edition of the Cannes Film Festival, Tilda was in town for the premiere of 2007's The Man From London. The black-and-white Hungarian arthouse film stars Tilda as a male railway switchman who witnesses a murder and ends up in possession of a briefcase full of money. Pure crime, much mystery. Seriously great suit.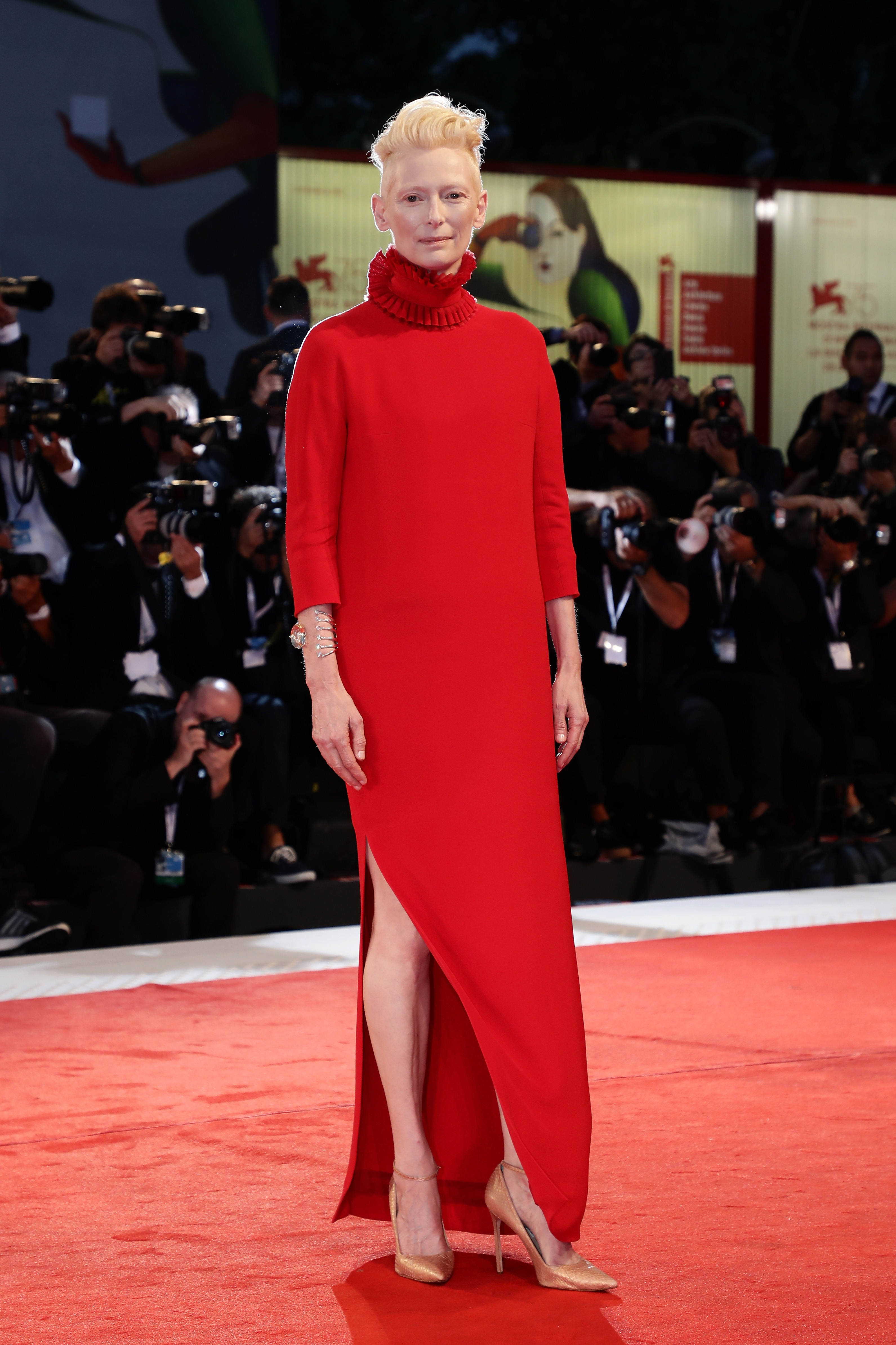 In Venice for the Suspiria premiere, 2018
Yes, Tilda! The thigh-high slit, the ruff-like neck, the bleached brows. Tilda just landed from another incredibly chic planet wearing Haider Ackermann and we're fully prepared to bow down and make her our leader. Walking the red carpet before a screening of Luca Guadagnino's supernatural horror Suspiria, she looks every bit the boss of a secret coven.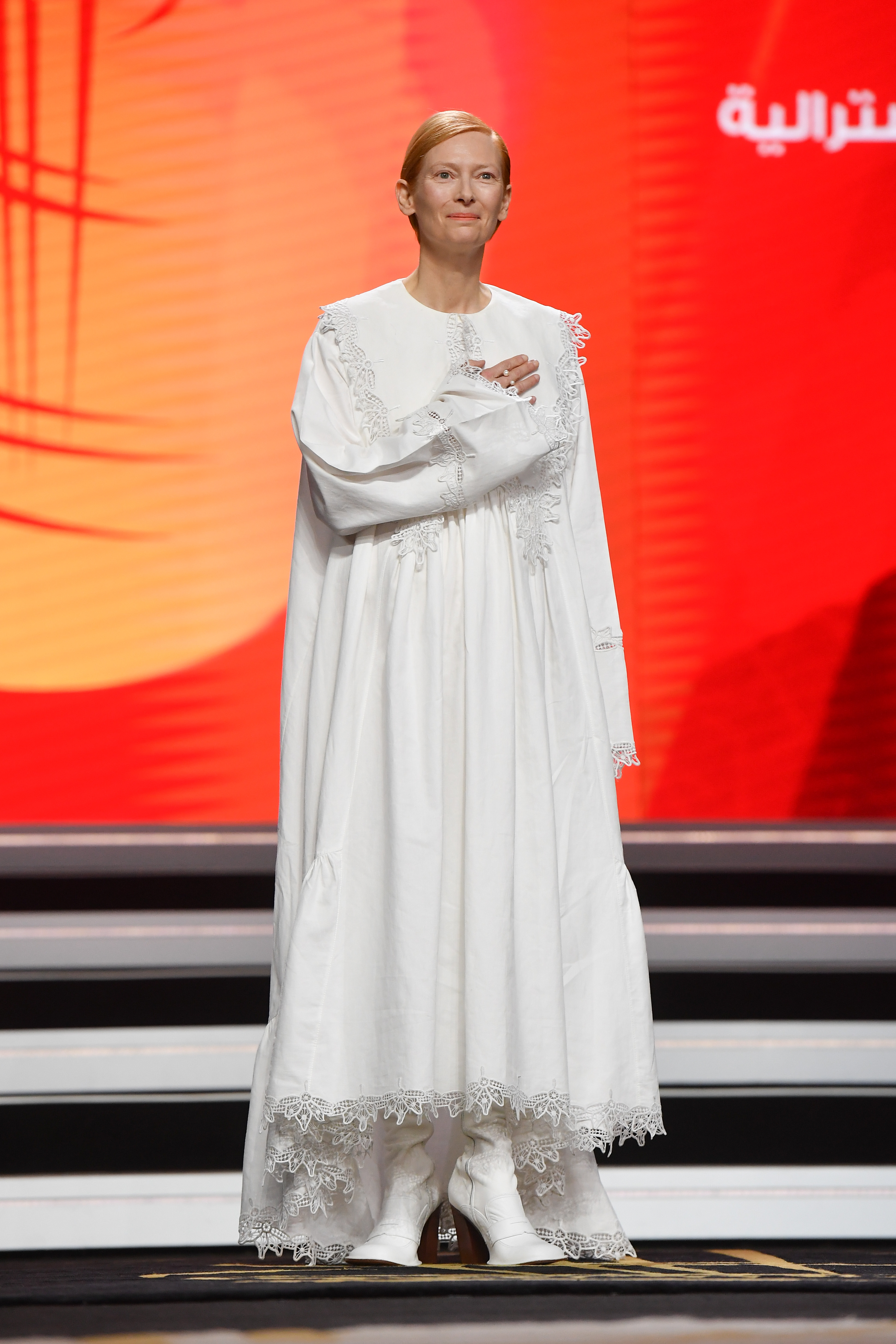 At Marrakech International Film Festival, 2019
Giant Christening dress? Elevated nightshirt? Tilda's bright white Loewe gown with its beautiful lace detailing and oversized collar gives off big guardian angel vibes. Her neat hair and minimal make-up follow suit, while the chunky white boots are a reminder that this is no costume — this is fashion, and she knows exactly what she's doing. After all, what else would you wear to a Moroccan film festival's inexplicable Tribute to Australian Cinema event?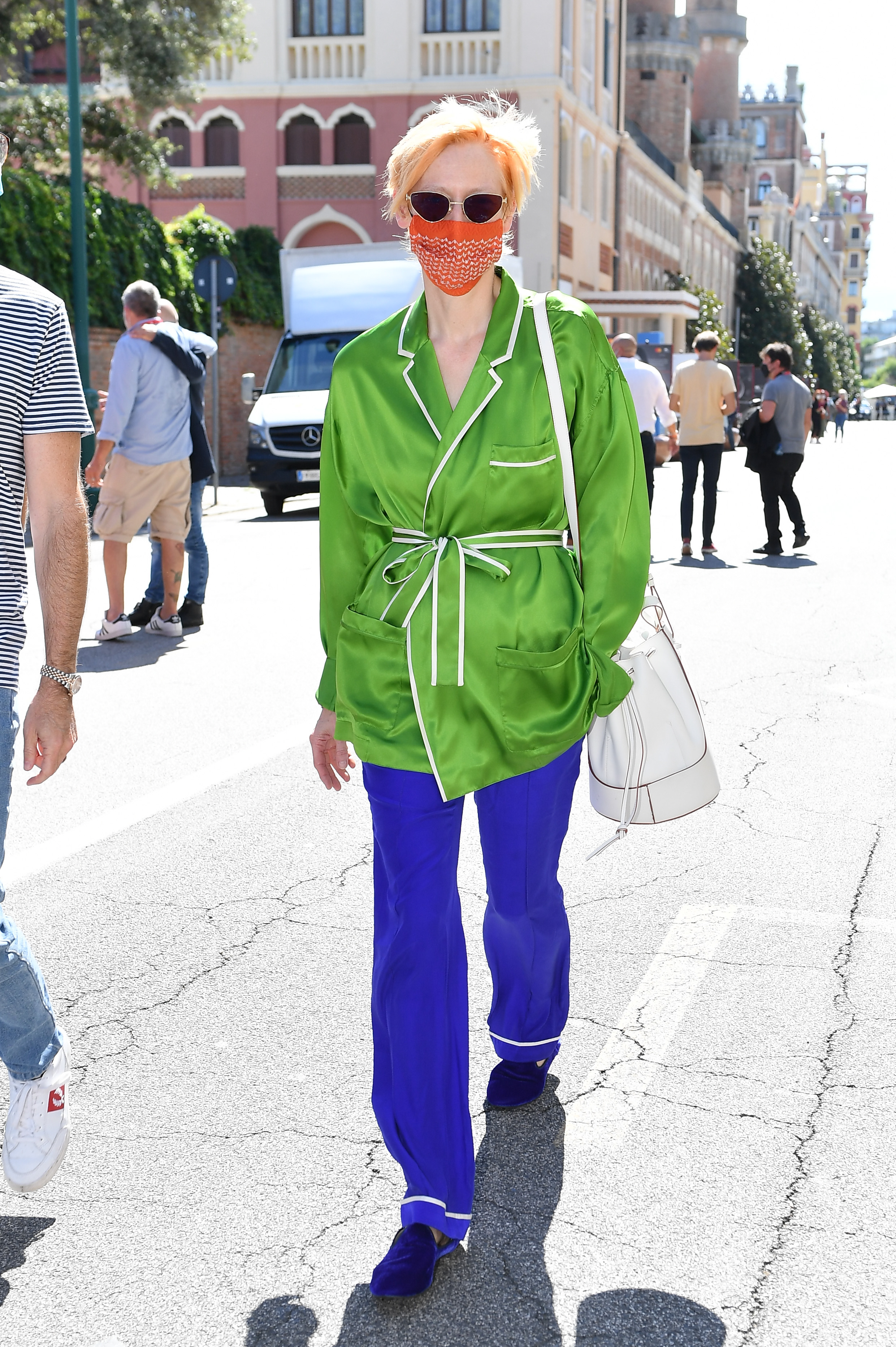 Covid-safe in Italy, 2020
In Venice for the 77th edition of their annual film festival, Tilda is seen here doing what she does best – bold colours and statement pieces – but making it seem casual. Not everybody can pull off a silk pyjama suit (Haider Ackermann, again) — especially not when paired with velvet slippers, but of course she can. Topped off with a white Loewe Balloon bag, a patterned silk face mask and a pair of cat-eye sunnies, Tilda looks so good it's hurting our feelings.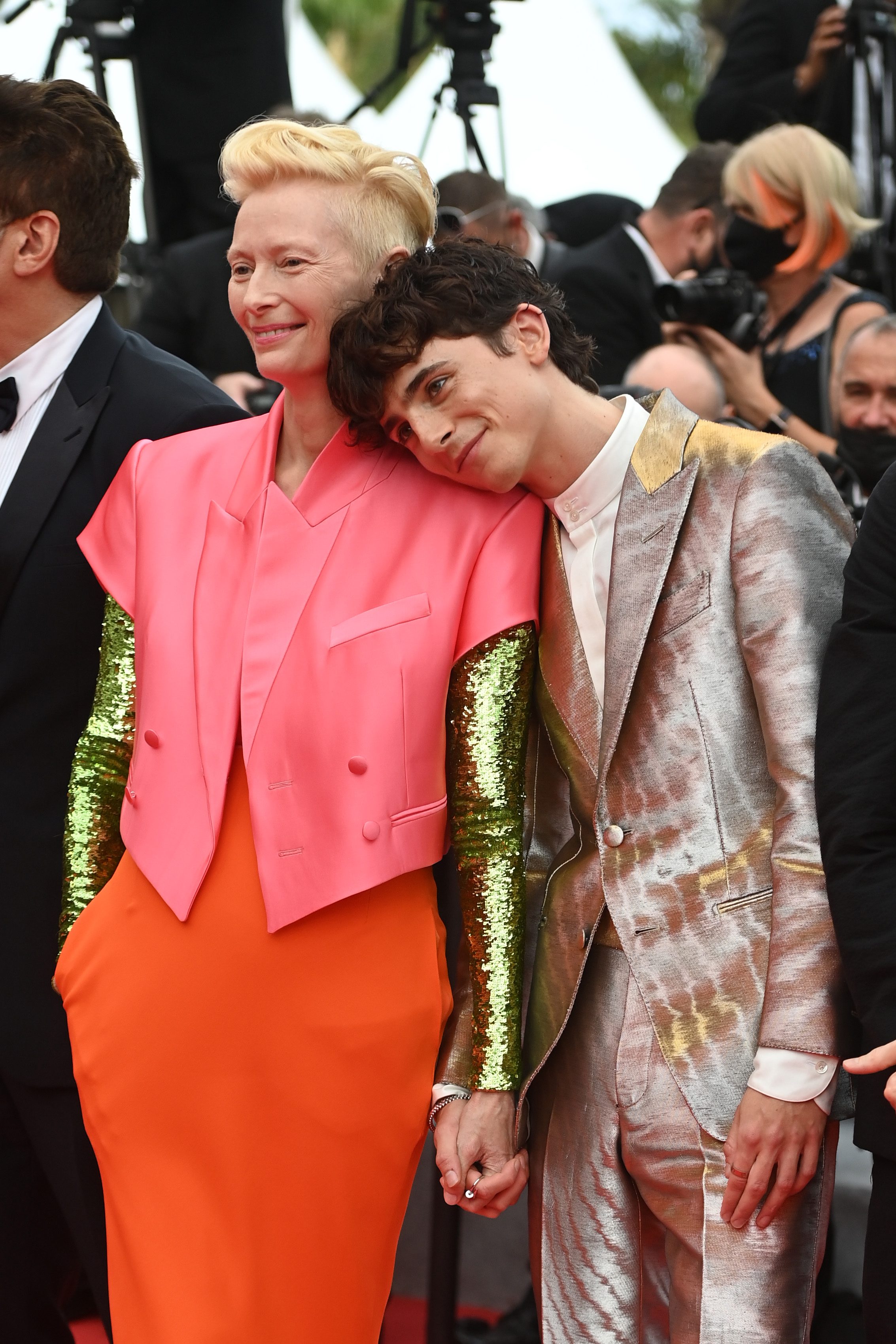 With Timmy C in Cannes, 2021
The bold fits. The hand-holding. His head resting on her shoulder. Some (us included) might find this entire scenario far too much to handle. Pictured here alongside their The French Dispatch co-stars at Cannes, Katherine Matilda Swinton and Timothée Hal Chalamet are like a work of art. His shimmering Tom Ford suit compliments her sequinned sleeves, which somehow don't look completely ridiculous with her Haider Ackermann ensemble. There's a lot going on here but we're sure you'll agree that it's all completely iconic.

Follow i-D on Instagram and TikTok for more fashion.
Tagged: