Photography Tyrone Lebon, courtesy of Miu Miu.
Sydney Sweeney on her new role as Miu Miu muse
The 'Euphoria' star tells us about her new Miu Wander bag campaign, book styling, and what Cassie would wear from the house's iconic SS22 collection.
Photography Tyrone Lebon, courtesy of Miu Miu.
While you probably don't need to be told that Sydney Sweeney is on a meteoric rise, we'll rehash it here anyway. Over the past year, her return to the role of Cassie – the chaotic sad-girl villain of season two of Euphoria – and starring as the bristly Olivia Mossbacher in The White Lotus, have propelled her into public consciousness and established her as a veritable pop-cultural icon. Looking for further proof of that? Well, there's been plenty in just the past week! This Monday saw her turn up to her very first Met Gala, and then today saw the reveal of the 24 year-old actor's very first global campaign for Miu Miu.
As the face of the new Miu Wander handbag – a matelassé leather hobo silhouette that embodies a spirit of playfulness, elegance and exploration — it marks her first major engagement with the house, cementing her as a bona fide Miu Miu girl — something she tells us has been a long standing dream of hers. To toast the occasion, we hopped on a call with the new face of one of the hottest brands in fashion right now to hear all about her first Met Gala, what Cassie would wear from Miu Miu's iconic SS22 collection, and the books she'll be styling with her Miu Wander bag.
Hey Sydney! How are you? And how was your first Met Gala?!
I had the best first Met experience! I was hanging out with the table I attended with, which was amazing, and then of course I had to try and find my way to Maude, who was wearing such a beautiful Miu Miu dress.
Well, that leads us very smoothly onto why we're chatting – your fabulous appearance in the new Miu Wander campaign! Before we talk about that, though, I wanted to ask you a bit about the brand itself. Do you remember when you first came across the house? What were your first thoughts and feelings?
I think I first started learning about Miu Miu once I started going to red carpets and being introduced to fashion. There was always that phrase, 'Oh, she's a Miu Miu girl', and I was always fascinated by the enigma of what that represented and meant. The girls always looked beautifully effortless, but incredible at the same time. And I was like, 'Oh my God, I hope I can be a Miu Miu girl one day!'
There's a femininity to the designs, but then there's also rule-breaking, utilitarian sides to them, too. I always say that I have multiple different sides to myself. There's the glamorous Sydney Sweeney that you see on red carpets, and then there's Syd that's in overalls, or jeans and a t-shirt. Miu Miu has such a beautiful array that covers both of those sides. I'm really able to express my full self — my different interests and loves — and explore who I am through it.
So how does it feel to be the face of the campaign for the new Miu Wander bag?
It's such an incredible, incredible dream come true! It was honestly such a beautiful shoot, there was such a strong narrative behind it to play with.
What were those narratives? And what sort of energy were you channeling to deliver the characters that we see in the images?
There was definitely this mysterious girl-next-door, tomboy-ish spirit to it. I really wanted to put a bit of a rebellious twist on what a luxury handbag campaign usually represents — for there to be this idea of a youthful girl-next-door, but you're not quite sure what she's gonna do next. She's someone who's wandering around for her freedom — getting ready to go nowhere and everywhere at the same time.
Mysterious indeed! Speaking about Miu Miu more generally, though, one thing that everyone's been talking about recently is the house's SS22 collection. What have you been wearing from it?
Well, I am obsessed with all the pillowy surfaces of the accessories! I've been traveling everywhere with them. And I'm also obsessed with the cropped button-down shirts and the jackets, I've basically been living in them!
And what are you styling Cassie in from the collection?
Ooh! There are definitely a few looks to choose from — like the bedazzled two-piece outfits that I think she would love to wear for Nate in a dream sequence! I also have to ask: What's your favourite "I've never ever been happier!" meme?
Oh gosh! I don't know if I can pick out a certain meme. I just see the picture everywhere, but it's kind of odd seeing yourself crop up like that, so I usually just scroll by. Though maybe I'll start slowing down a little bit!
Last question: book styling. This is something that you really brought into public consciousness through your turn as Olivia Mossbacher in The White Lotus. So I have to ask — what books are you styling with the Miu Wander?
Ooh, good question… Well, I am obsessed with Sally Rooney.
I mean, Normal People was really good, but probably Conversations with Friends. But, I'll probably actually be styling it with scripts I'll be carrying around!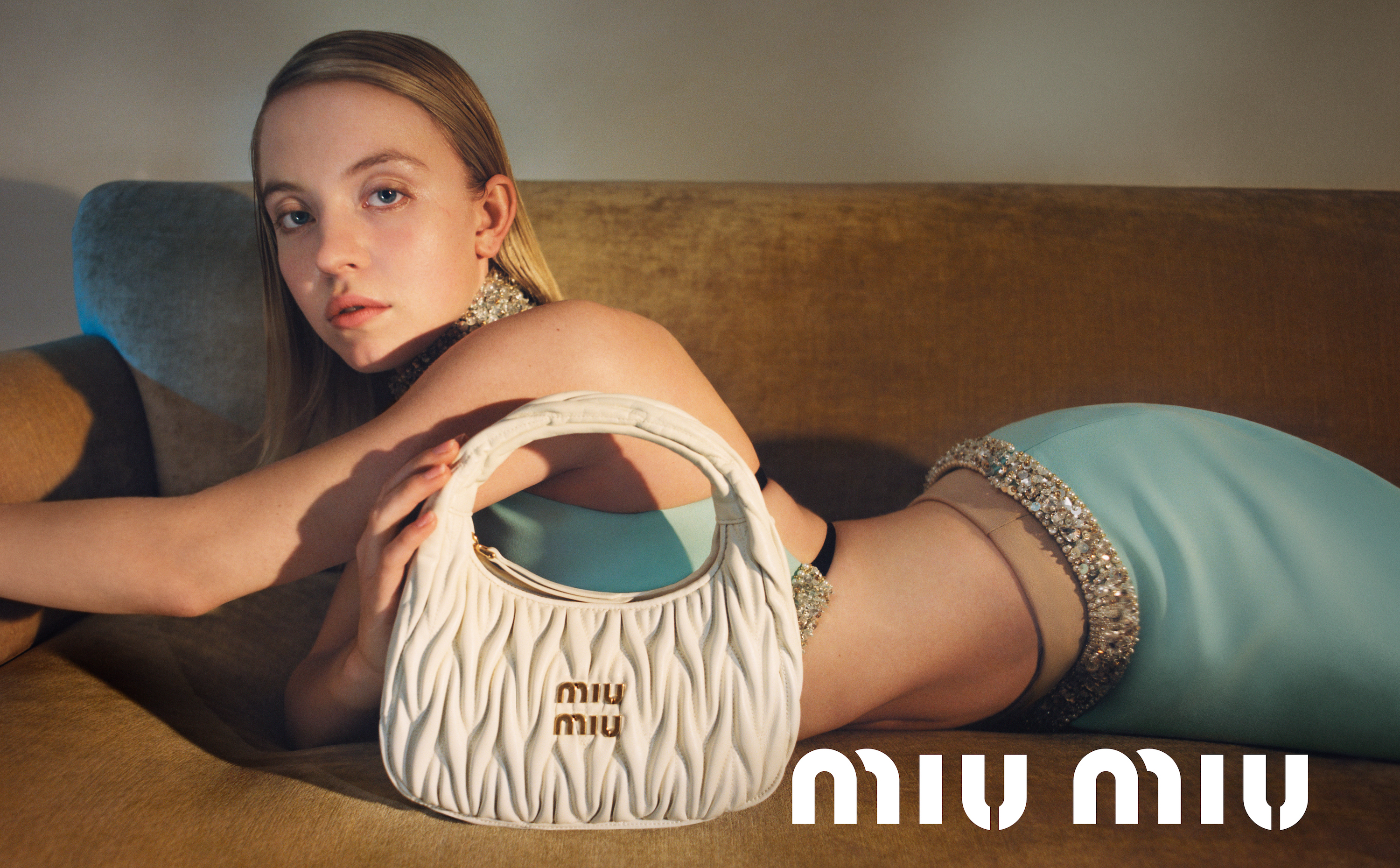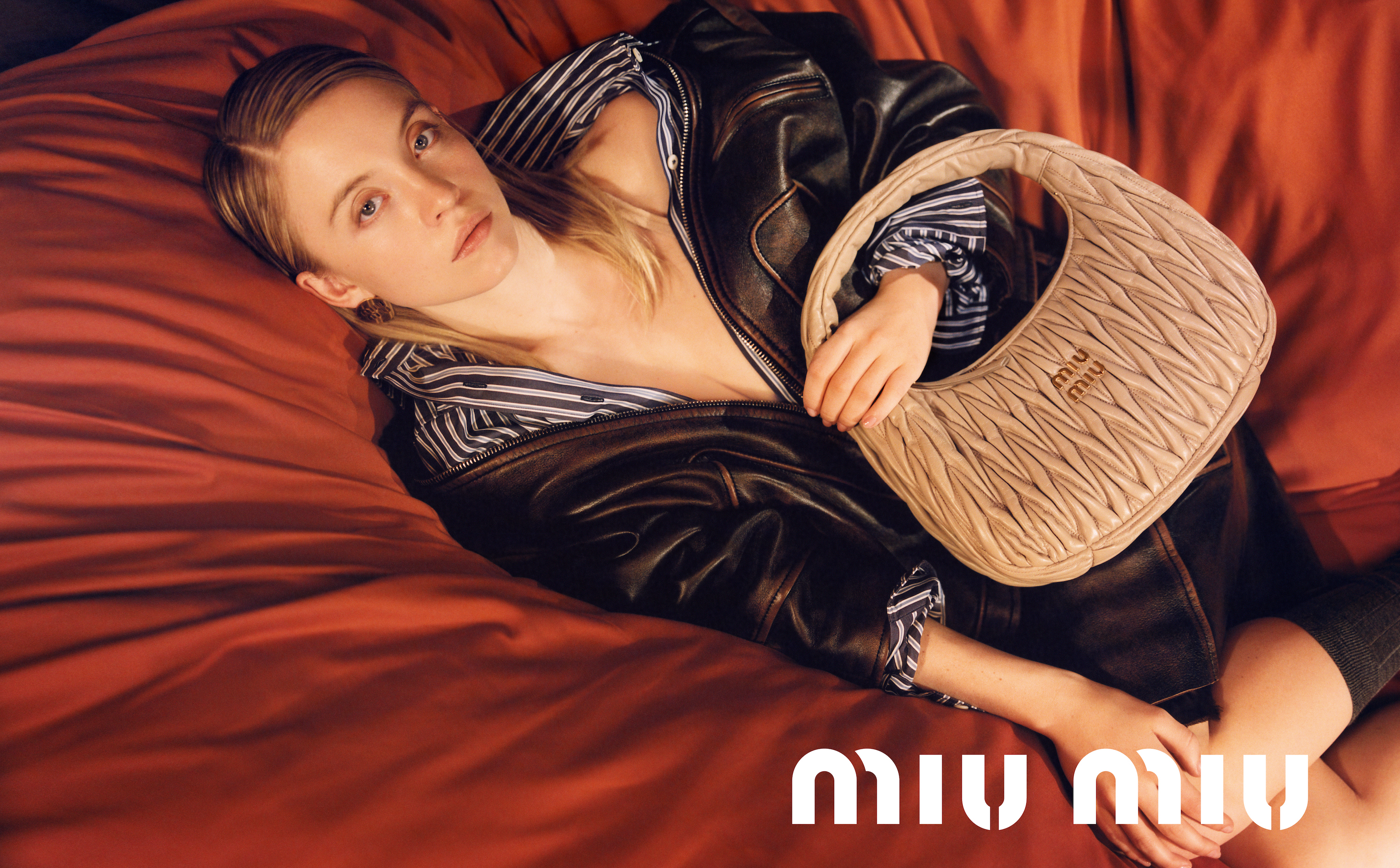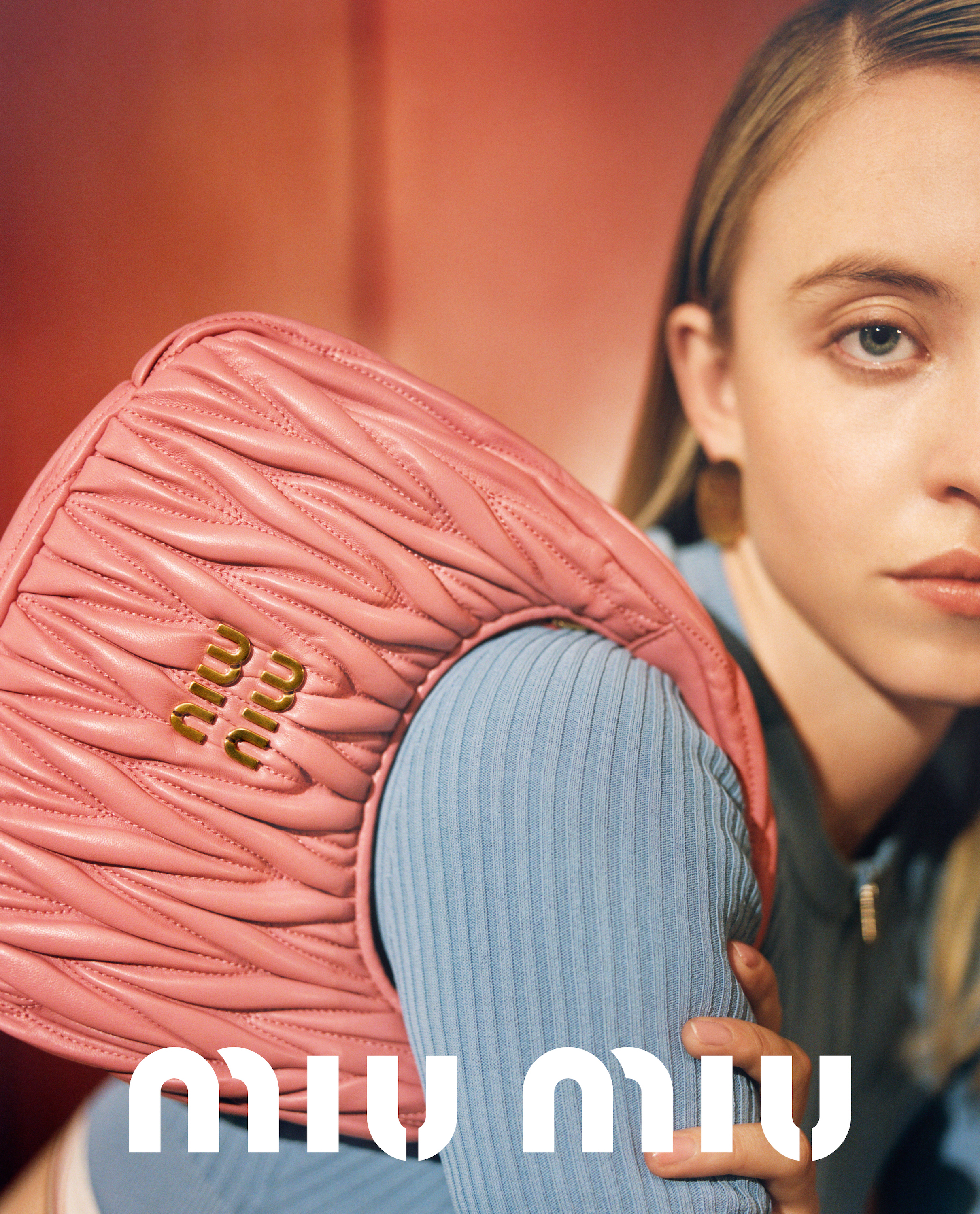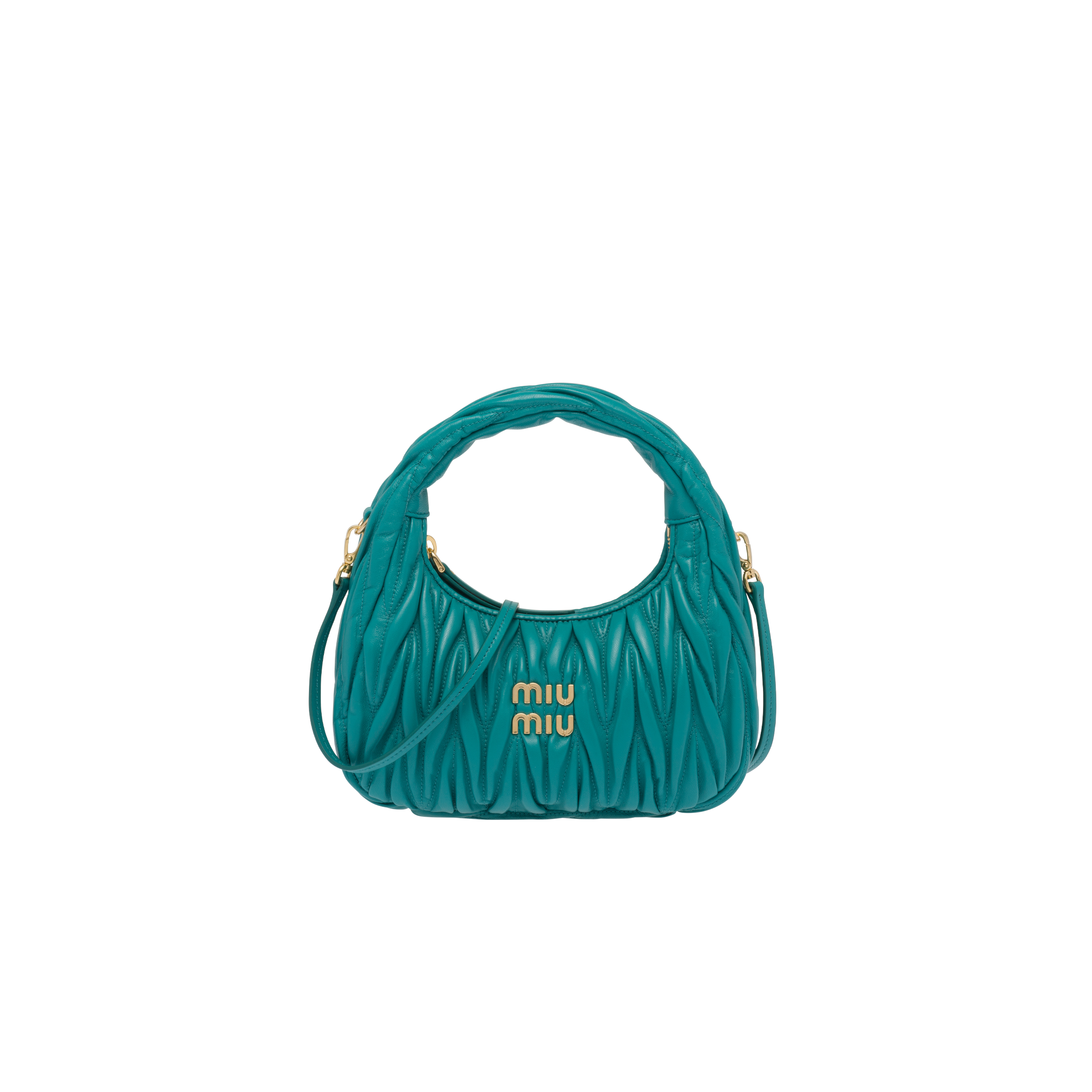 Follow i-D on Instagram and TikTok for more on fashion.
Credits
---
All images courtesy of Miu Miu.