The trailer for A24's porn horror just dropped
Starring Mia Goth and Kid Cudi, the 70s-set project is coming this year.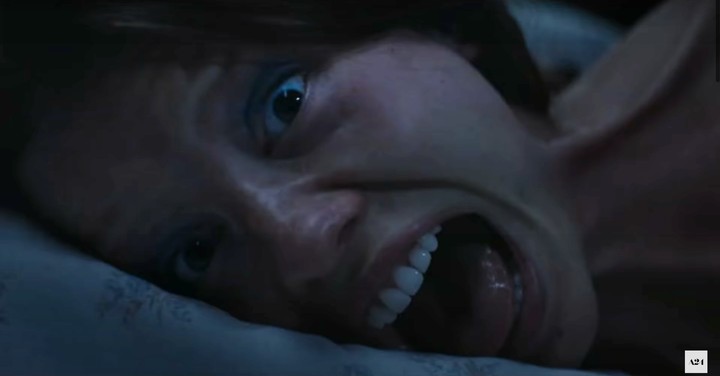 A24
There is nothing quite as old school in Hollywood as a secretive, concealed plot. It's been a go-to tactic to drum up hype for horrors in the past (remember Cloverfield?) and seems to have worked for the latest A24 movie too. Knowing nothing but its cast, director and the fact the cult studio was behind it, X has had a mysterious presence on the 2022 movie calendar. Now we've got our first look at its trailer and plotline, giving us more pieces of the puzzle.

X is directed by Ti West, an American filmmaker with a prolific back catalogue of B-movie horrors, most famously his 2011 ghost story The Innkeepers, and 2014's The Sacrament, a horror film in which two Vice journalists help find their co-worker after she flees home to join a religious cult. They both racked up a handful of awards at festivals like Toronto Film Festival and SXSW. More recently, he's been roped in to direct episodes of TV horror shows like The Exorcist. X marks his first crossover with A24, and was shot in New Zealand last spring.

The film's now unveiled plot line is as follows: "In 1979, a group of young filmmakers set out to make an adult film in rural Texas. But then, their reclusive, elderly hosts catch them in the act. The cast soon find themselves in a desperate fight for their lives."

Mia Goth plays the star of the adult film the team set out to make, and so our bets are on her being the movie's final girl. Alongside her, Brittany Snow of John Tucker Must Die and Pitch Perfect fame makes an appearance, as well as You's Jenna Ortega and Scott 'Kid Cudi' Mescudi.

The trailer shows the crew rocking up to a rural Texas house rented by a creepy pensioner and his housebound wife, who live next door. Their plans to shoot the porn discreetly seem upended by the fact that, in the trailer, we see the geriatric housebound grandma in bed with Mia Goth, creepily stroking her leg.

For those left fucked up by movies like Hereditary/any horror where pensioners play the antagonists, this 70s porn-horror cross will be right up your street. It hits cinemas on 18 March 2022.

Follow i-D on Instagram and TikTok for more on horror movies.