7 queer TV shows to stream (that aren't Drag Race)
From a sapphic alien thriller to the new Sally Rooney adaptation, here's some of the most anticipated queer content coming to our screens this year.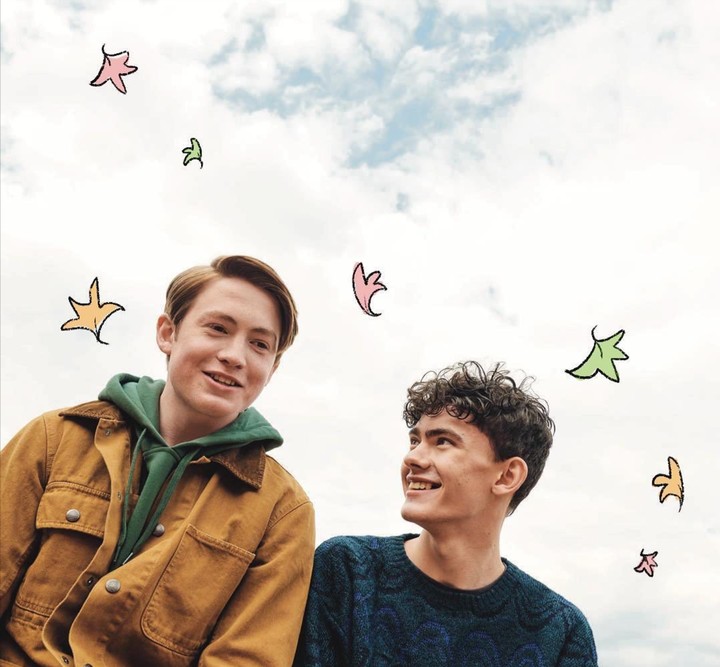 Photo via Instagram
Did you know there was not a single week last year where an episode of a show from the Drag Race universe didn't air? The drag queen reality competition show hosted by RuPaul began as a small budget LGBTQ+ series 13 years ago, filmed in a basement where the queens stood in a corridor during the judges deliberations and the control room was a broom closet. Now, it's a million dollar franchise, spanning multiple international variations, all stars seasons, celebrity specials and a live singing spin-off. It's pretty incredible!
While the show has been momentous in bringing queer culture to the mainstream, it's also been criticised for showing a very limited subsect of the LGBTQ+ and drag communities — it is slowly but surely getting better at this though. In the meantime, 2021 saw a major increase in queer content: from the groundbreaking AIDs drama It's A Sin and the biopic of fashion legend Halston, to the bisexual polyamorous trysts creating chaos on the new Gossip Girl reboot and a final goodbye for the beloved Pose. This year, we can also look forward to the return of some exciting favourites such as the much-anticipated second season of Euphoria and the fourth and final season of Sex Education.
But if you're looking for some fresh LGBTQ+ viewing, here are seven new series coming to streaming services this year: including a pansexual Sally Rooney book adaptation, teen dramas with gay billionaires on the run, and a queer TV classic remade with non-binary leads.
Rebelde
Netflix's new telenovela follows on from the the early 00s Mexican TV series of the same name. Set at the Elite Way School, an esteemed private boarding college that supports those financially struggling, the original show followed six students who formed a band (the actors themselves were also in an incredibly successful Latin pop band called RBD). However, the group also finds themselves up against La Logia, a secret society within the school looking to preserve the upper class purity of graduates by tormenting all those who got in on scholarships. The reboot picks up years later with a new, more diverse class entering the school, and La Logia once again start to ruin everything for everyone. Having landed on Netflix 5 January, one of the most iconic things about Rebelde is the Gossip Girl-esque adapted school uniform fashions, often with fun, queer and punk twists.
Conversations With Friends
Two years after we all got insatiably horny watching the drawn-out love affair between Marianne, Connell and the latter's sexy silver chain in Normal People, another of popular millennial Irish author Sally Rooney's books is getting a Hulu x BBC adaptation. Based on her 2017 debut novel, Conversations with Friends, the 12-episode series follows Dublin University students Frances and Bobbi, ex-girlfriends turned besties turned spoken word duo, who become intertwined in the love life of an older married couple, forcing them to confront their boundaries, their sexualities, their friendship and their loyalties. Starring Alison Oliver as Frances in her screen debut alongside Sasha Lane (Loki) as Bobbi, and Jemima Kirke (Sex Education) and Joe Alwyn (Taylor Swift's Folklore co-writer / boyfriend) as married couple Melissa and Nick; we're already gearing up for the series to be just as raunchy as its predecessor when it's released later this year.
Chosen
A sort of contemporary Danish Stranger Things, Netflix's Chosen is set in Middelbo, a quiet unremarkable town that gets put on the map when it's hit by a meteor. 17 years later, queer teen and school outsider Emma discovers that there are many mysteries plaguing her town and that the crater left by the meteor may not have been from a meteor at all, but a spaceship. As Emma, her love interest Marie, and a group of rag-tag alien conspiracy theorists get closer to the truth, a nefarious and nebulous local conglomerate called Astraeus are looking for world domination. From the producers of popular post-apocalyptic thriller series The Rain and with a young Danish cast, the series will be available to stream on Netflix from 27 January 2022.
Heartstopper
Beginning as a wholesome YA webcomic on Tumblr by Alice Oseman, the story of Charlie, an uptight openly gay kid who becomes attracted to sweet-natured seemingly-straight rugby player Nick, quickly became the obsession of online gays and girls everywhere. Then, early last year, Netflix bought the rights to Heartstopper, with Alice penning eight half hour episodes for the first season to go under the streaming platform's family banner — meaning it will be one of the few queer series not to be deemed "adult content", and will be marketed to audiences of all ages. Pretty groundbreaking! Starring an oversized cast of young newbie actors, Deadline reports that the cute show airing later this year will not only follow Charlie and Nick's new friendship and the feelings they discover through it, but encompass "all the small stories of Nick and Charlie's lives that together make up something larger".
Queer As Folk
Though we may miss her in the Sex And The City sequel series And Just Like That, Kim Cattrall stays booked and busy after it was recently announced she was cast in the Queer As Folk remake, scheduled to be hitting our TV screens in spring 2022. Based on the Y2K British show from It's A Sin creator Russell T. Davies, the new iteration, coming to NBC's Peacock, promises to be more diverse as it follows a new set of LGBTQs exploring New Orleans nightlife and the support they receive from the community in the aftermath of a tragedy. Kim reportedly plays a "martini-soaked, high society Southern debutante with trailer park roots" alongside show writer and main actor Ryan O'Connell (Special) as a pop culture loving gay with cerebral palsy. Rounding out the main cast is Johnny Sibilly (Pose) as a seemingly well-to-do lawyer, Fin Argus as a cocky teen, Devin Way (Grey's Anatomy) as a chaotic commitment-phobe, Candace Grave as a non-binary punk professor and Jesse James Keitel (Alex Strangelove) as an undisclosed non-binary character. Additionally, expect appearances from YellowJackets' Juliette Lewis as a cool mum not a regular mum and internet star Benito Skinner as an obnoxious influencer.
Tom Swift
From The CW, the network behind Riverdale and The Chilling Adventures of Sabrina, comes new series Tom Swift, expected to debut summer 2022. The science-loving teen genius and inventor Tom — a character created by famed writer Edward Stratemeyer in the early 20th century — spends his time exploring the realms of technological possibilities while protecting his inventions from villains looking to use them for more sinister reasons (yes, we know it sounds like Phineas and Ferb but stick with us). Fans of The CW series Nancy Drew might recognise the name from S2 when the character made a cameo. Remodelled as a Black, gay billionaire inventor played by Tian Richards (Dumplin'), the episode became a backdoor pilot for his own official series. According to Deadline, the spinoff will focus on the disappearance of Tom's dad that forces the rich kid to leave behind his comfy wealthy life and run head first into a world of sci-fi conspiracies, unexplained phenomena and Illuminati-esque cults.
Trixie Motel
Although the biggest star to come from the Drag Race franchise, Trixie Mattel's new Discovery+ series Trixie Motel is completely her own. Buying up an abandoned, rundown motel in the heart of Cali gay travel destination Palm Springs, the All Stars 3 winner, UNHhhh star, beauty brand CEO and musician will drag up the seven rooms, pool area and commercial kitchen into her renowned pink Barbie doll house aesthetic. Giving the place "a sense of diva", she's helped along the way by hotel heiress Paris Hilton, Schitt's Creek creator Dan Levy, reality star Tiffany Pollard and masked country singer Orville Peck. The Trixie Motel is a genuine business run by the drag queen's partner and according to it's Instagram account will be available for your West Coast getaways very soon! In the meantime, we have eight hour-long episodes to watch the grotty, unloved space get a camp makeover when the series debuts early this year.
Follow i-D on Instagram and TikTok for more on LGBTQ+ culture.