Ronan McKenzie's Gucci takeover and Dior's new face: What's in fashion?
Your one-stop-shop for this week's fashion news to know.
|
17 December 2021, 5:55pm
Image courtesy
Well, what a year it's been! After what feels like an endless torrent of fashion news dispatches, here we are writing the final installation of 'What's In Fashion?' for 2021. Of course, none of this would be possible were it not for you, dear reader, and so for this week's edition, we're sending you off into the holiday period with a big ol' festive feast, with a stylish gift guide to start, reviews of Louis Vuitton and Givenchy's new pre-collections, and a look Ronan McKenzie's takeover of the Gucci Circolo Shoreditch space for the main, AND a hot slice of Parnell Mooney's saucy SS22 collection for desserts. You want more?? Well, there's plenty where that came from – you'll have to read on to find out what's in store, though! Here's what's in fashion.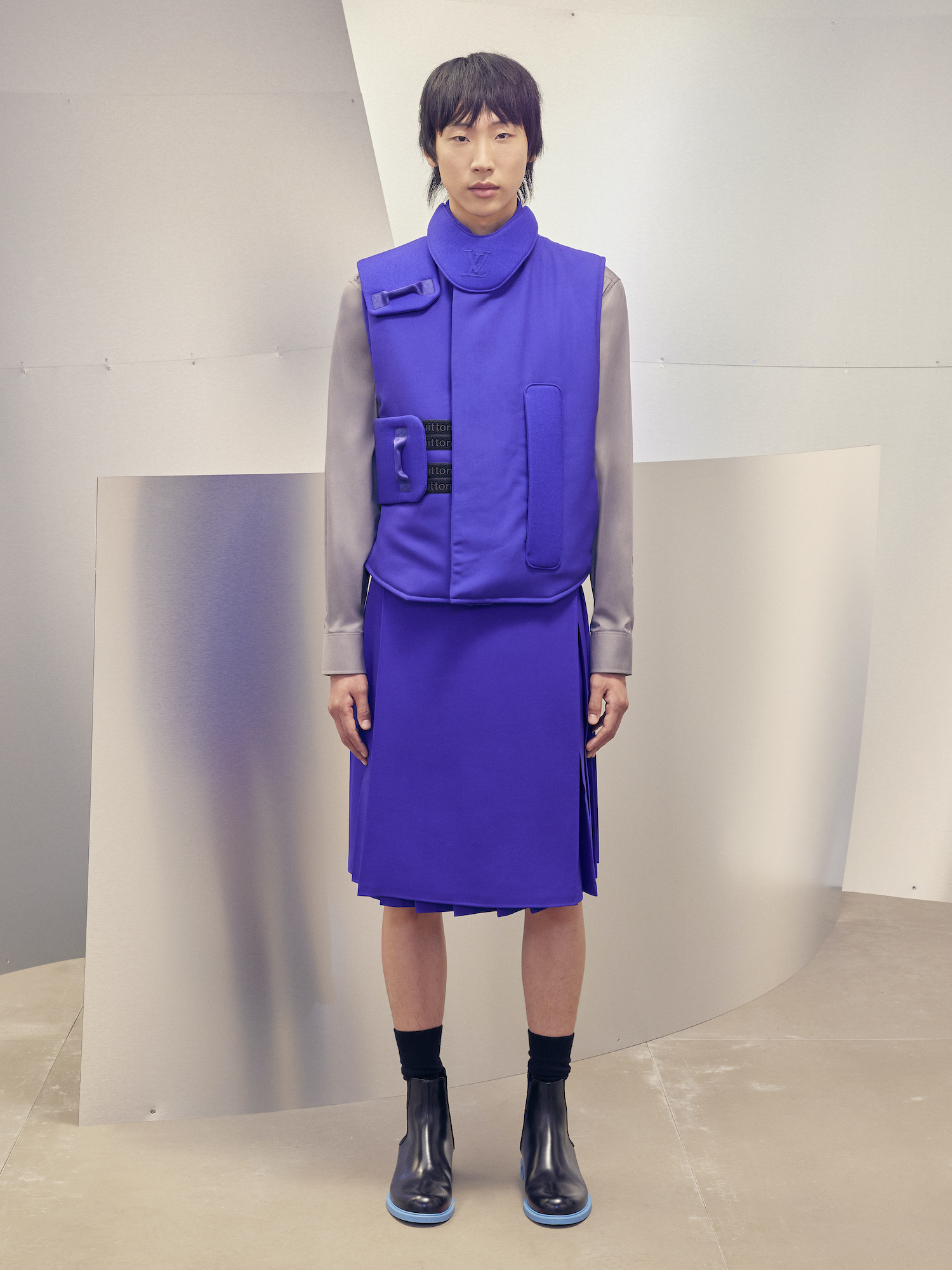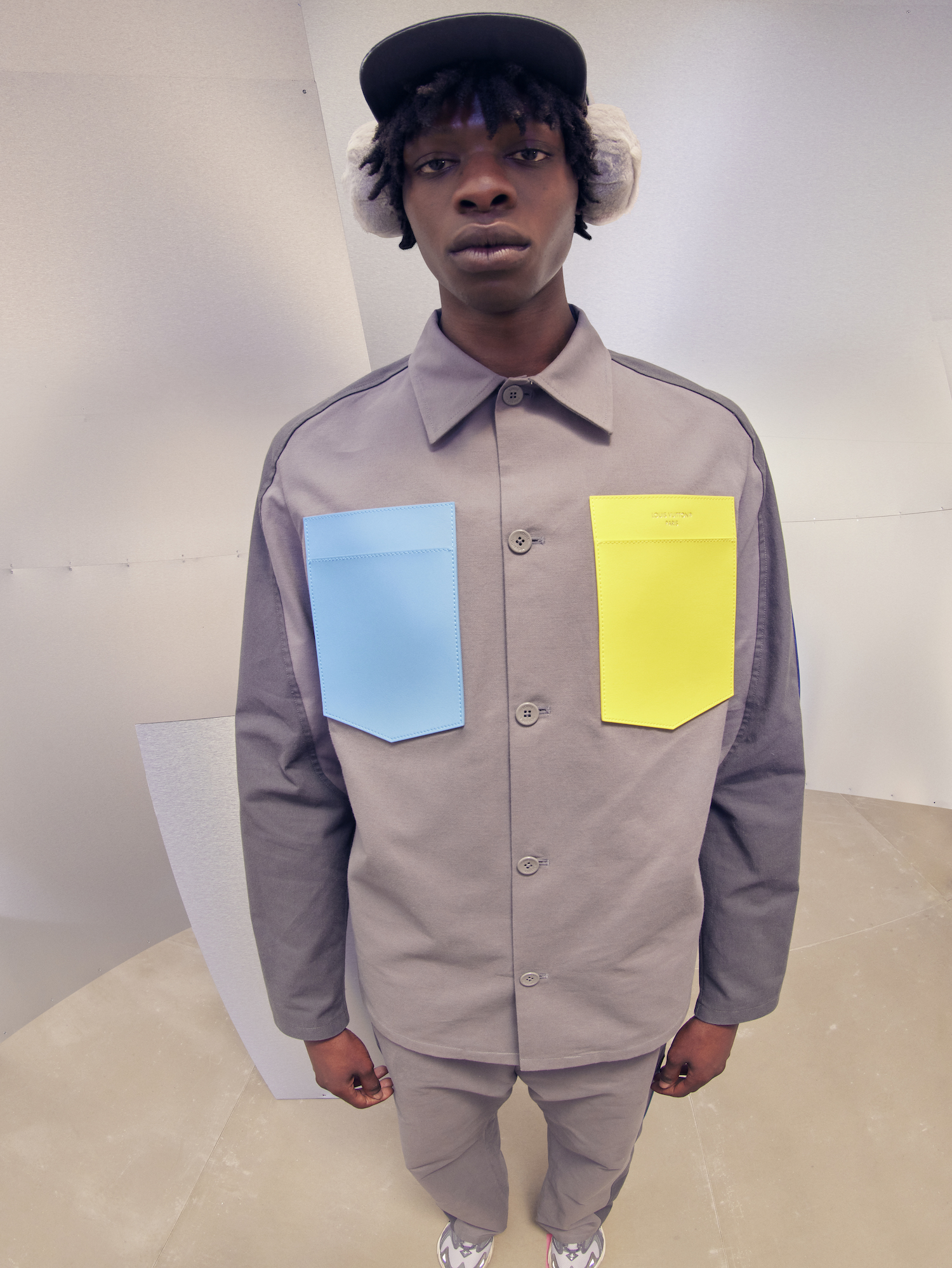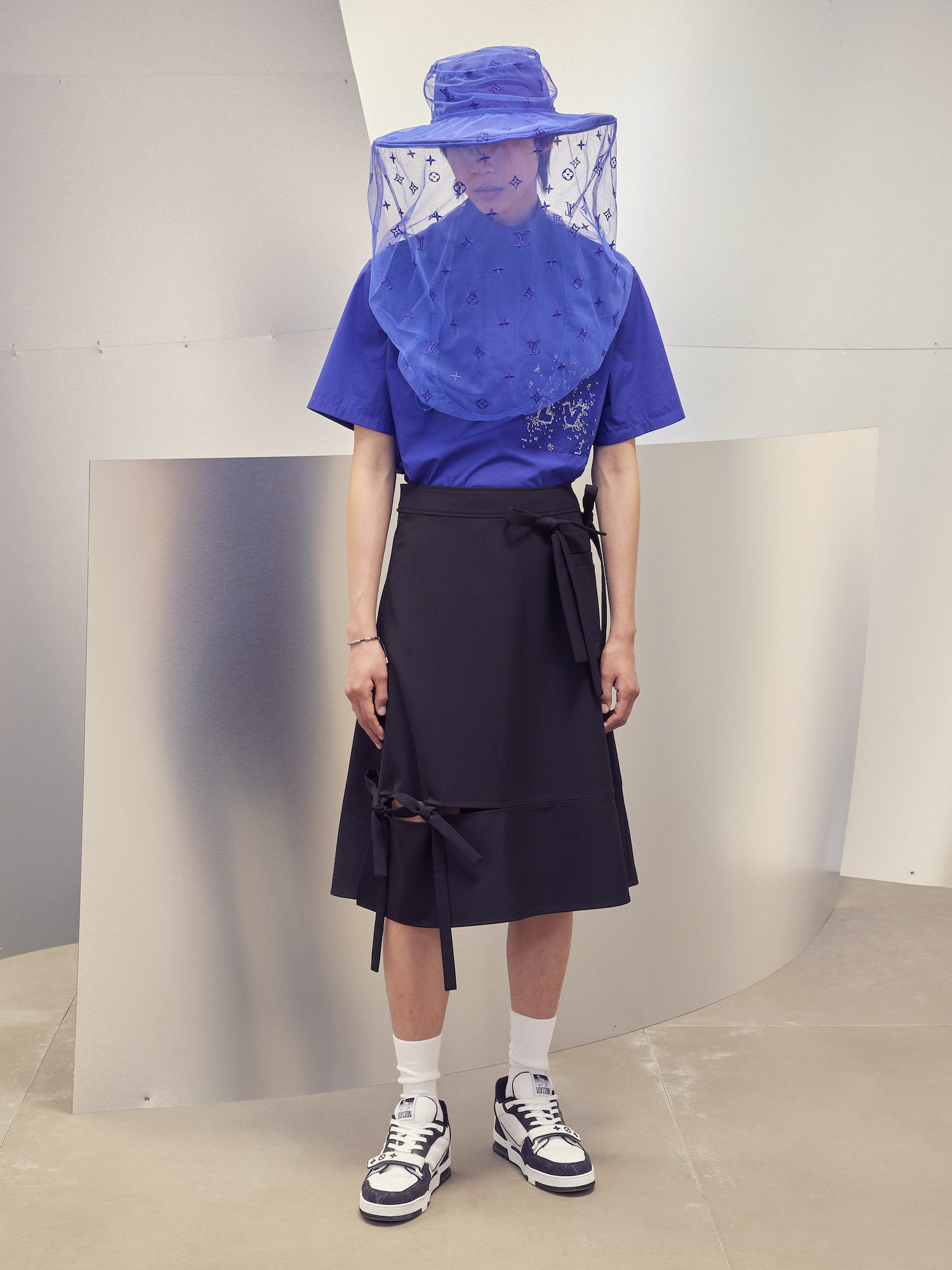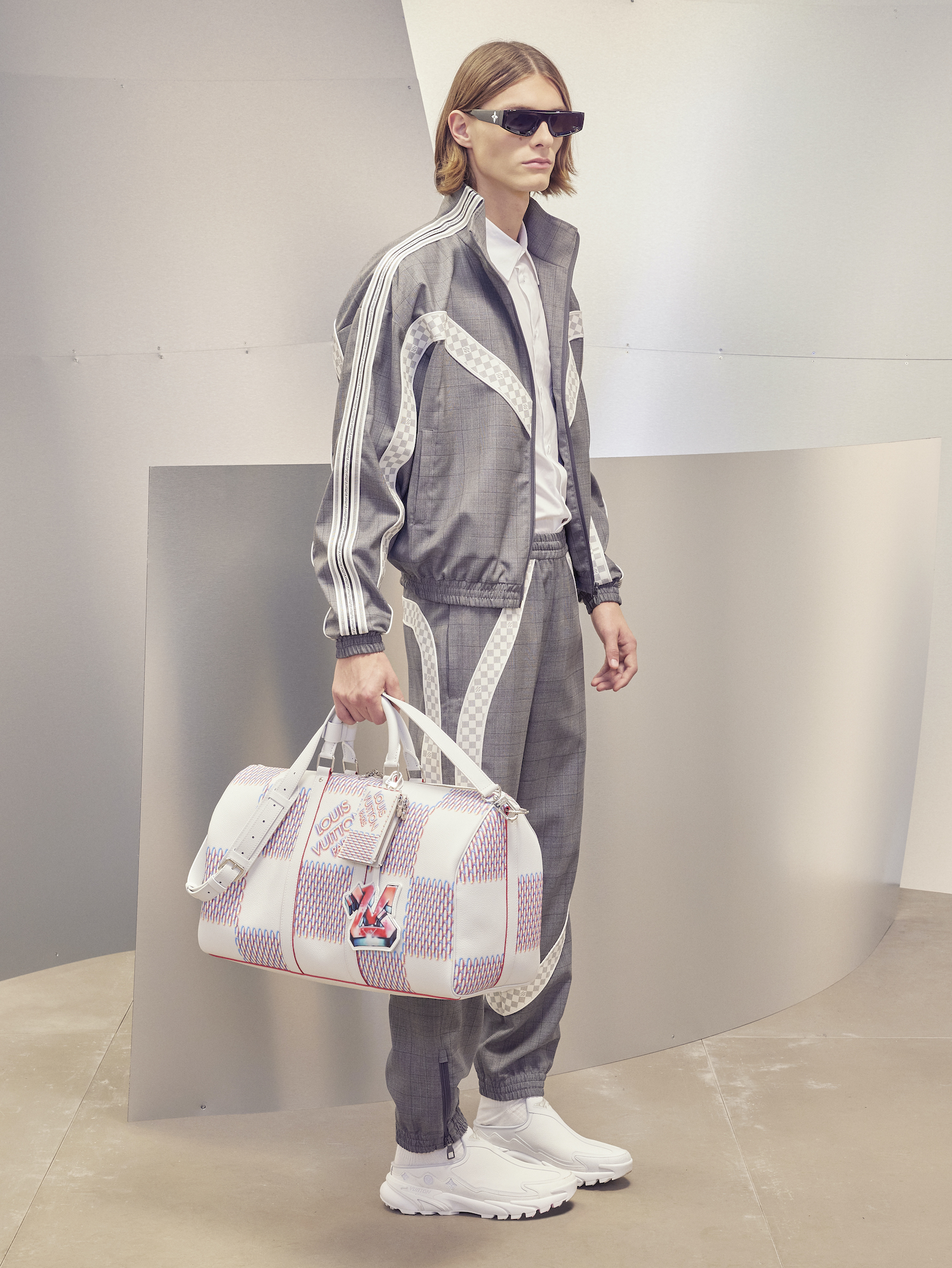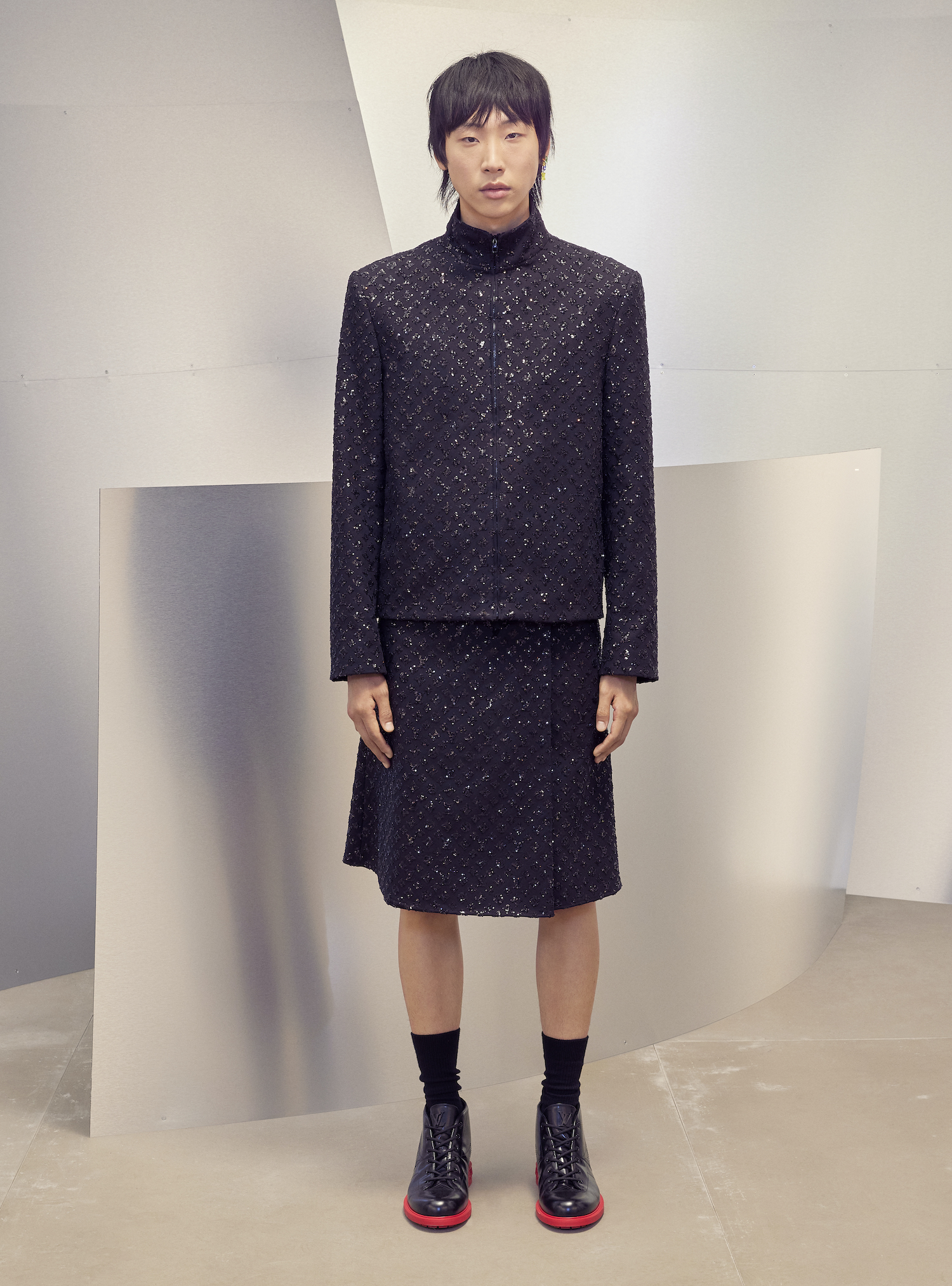 See Virgil Abloh's final pre-collection for Louis Vuitton
While many in fashion think of pre-collections as playing second fiddle to the no-holds-barred spectacles of those shown during fashion weeks, during his tenure at Louis Vuitton's Men's Artistic Director, Virgil Abloh approached his with the same conceptual rigour as those he presented on runways. He was fascinated by their "normalcy", he said, and driven by a desire to "celebrate the idea of commercialism rather than deny it the way fashion tends to." This week, the penultimate chapter in his mission was released: Louis Vuitton Men's pre-fall 2022 collection.
A witty, joyful interrogation of the components that make up the modern man's wardrobe, the collection is filled with traditional staples like the three-piece suit. Playfully reimagined, a waistcoat is subbed out for a knife-pleated apron skirt, and a blazer becomes an action-ready tactical vest, both in extroverted royal purple wool. Nehru-collar jackets are spangled with embroidered-sequin LV monograms, and tracksuits are cut from tailoring wool.
Beyond these flip-it-on-its head tricks, you'll also find pieces that speak to the wide-eyed 'boyhood ideology' that made Virgil one of the most soul-lifting designers of his time – bags and easy-wearing in the designer's hallmark cosmic dégradé effect (fusing monogram and paisley square prints), as well as bright beekeeper hats, acid-hued mountain-range friezes across shirts and trouser hems, and 'handwritten' 'LOUIS VUITTON' embroideries arranged in the form of the Maison's iconic Damier check. Reverent of history and heritage, though never beholden to it, playful yet entirely earnest, it's a holistic testament to the wide-angled brilliance that defined Virgil's creative vision. MS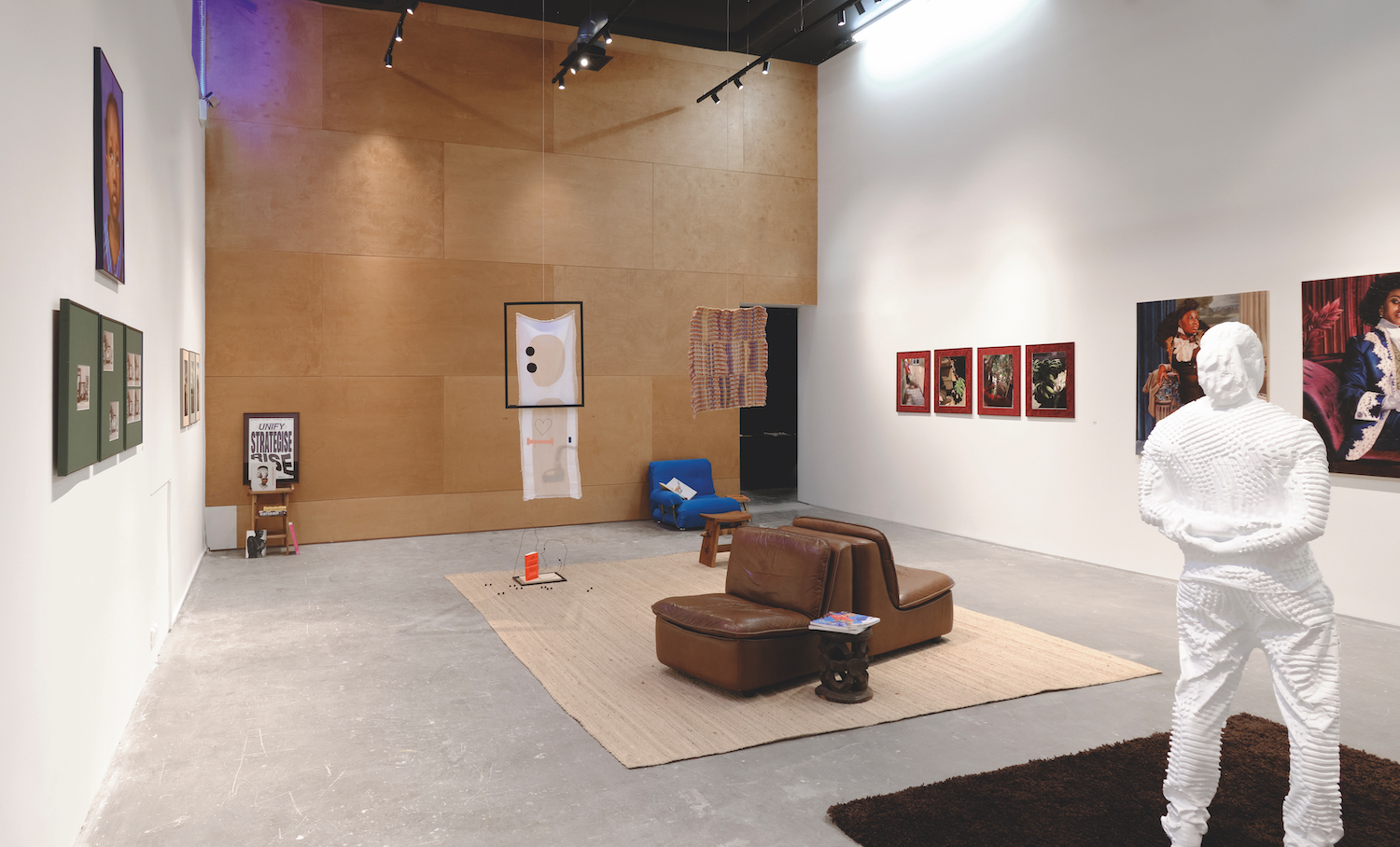 HOME by Ronan McKenzie gets a new home at Gucci
A couple of months ago, we brought you the news that Gucci had a new East London home on Redchurch Street, which some are going as far as calling the new Old Bond Street. The Sir David Adjaye-designed 'Gucci Circolo Shoreditch' — sometimes a store, sometimes an exhibition space — has been home to the brand's viral Hacker Project, as well as a vintage bookshop, a listening room filled with vinyls curated by legendary pop stars, and now, the latest iteration of HOME by Ronan McKenzie. The creative space and collective was launched by Ronan (who you may know as a photographer) last year, and is one of the few Black-owned art spaces in London, staging exhibitions and cultural programming, as well as offering grants for BIPOC artists. For ten days this month, HOME has taken over Gucci Circolo Shoreditch with a multimedia exhibition titled 'Collective Processes', featuring 15 Black women artists, whose works span sculpture, painting, video, installation and photography. Even the facade of which has been reimagined by artist Joy Yamusangie. It's free to visit — and really, you ought to — but even better, Gucci has partnered with HOME to offer five grants to Black Women-identifying Artists based in the UK, aimed at helping artists to develop a series of work or projects already in progress. If that's not Christmas cheer, what is? OA
Eckhaus Latta, PHIPPS and Labrum give Grenson boots a makeover
New year, new me, as the old saying goes. After the chaotic hellfire that has been much of 2021, we're all looking forward to a fresh start – and an even fresher new look – for 2022. Grenson, the 150 year old British heritage shoemakers, certainly agree. For their do-over who, they've handed over some of their best-loved boot styles to some of three of the most exciting independent labels around, resulting in a capsule of Future Shoes (no they don't have self-tying laces or 5G). First up is bi-coastal American label Eckhaus Latta. Known for their playfully cerebral, off-kilter fashions, they gave Grenson's Chelsea boot a bright-and-bold makeover, splattering a yellow-bodied with black paint. 2019 LVMH prize finalist Phipps has brought their nature-minded approach to the Sh*tkicker: a punkish leather boot that laces up to the knee with a marbled copper side panel and soft chocolate suede cuff. Finally, there's Labrum's revamp of the brogue boots, using a unique mix of notched, embroidered and sleek leathers to pay homage to both Labrum's West London origins and its founder Foday Dumbuya's Sierra Leonean heritage. Available now exclusively from brownsfashion.com, Grensons have promised there may be some further eras for the classic boots also coming in the new year! 👀 TG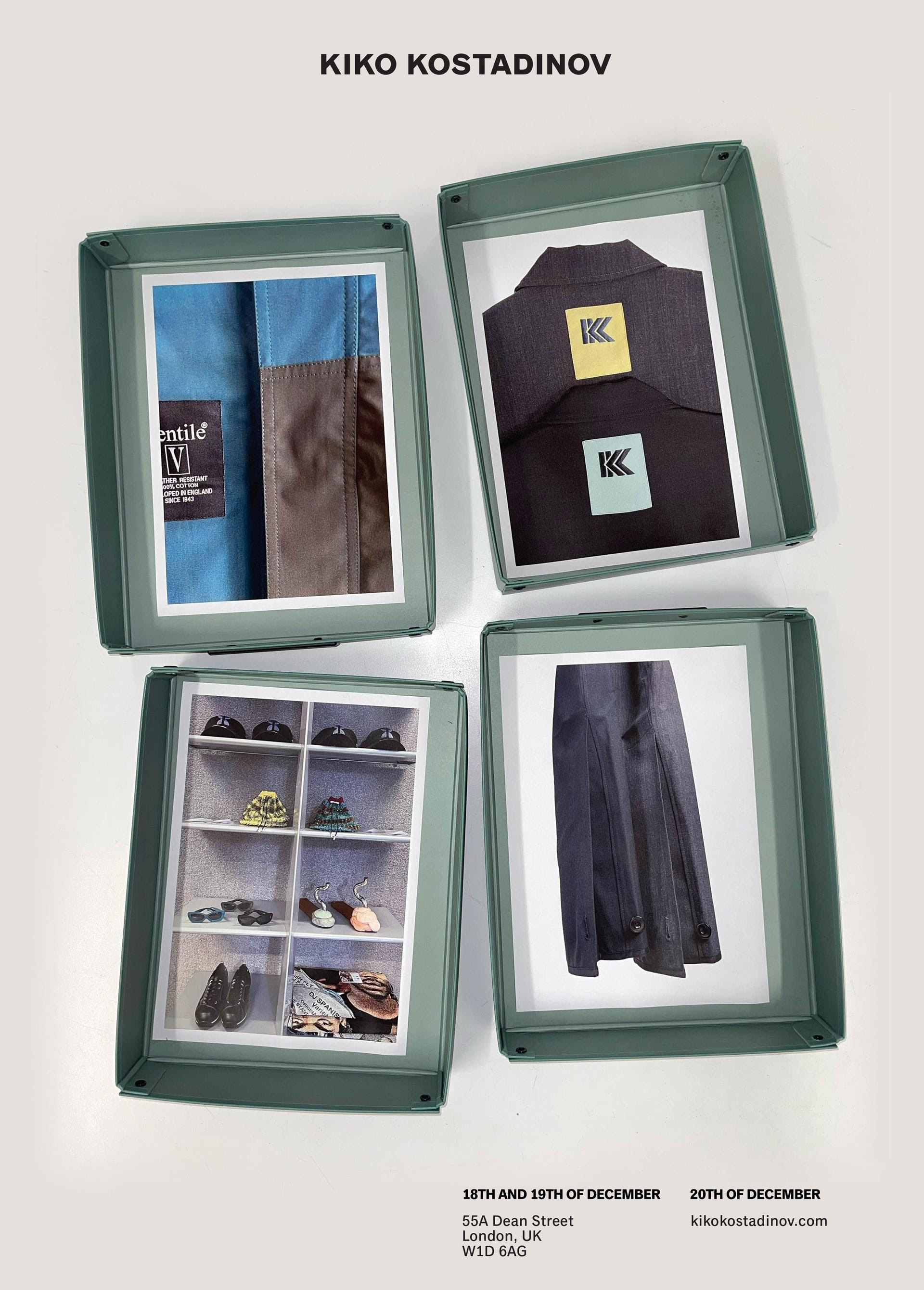 Kiko Kostadinov sets up shop in Soho
55a Dean Street is the place to be in London this weekend. No, not for the clinic next door (though do pop in for a full screening while you're there – health is wealth!), but rather for the first-ever physical pop-up of one of the city's best-loved menswear labels – Kiko Kostadinov. Instead of the usual seasonal offering, the two-day store will be stocked up with an exclusive array of pieces that transcend the SS/AW paradigm, revisiting shapes and materials from the label's archive and reimagining them in fresh contexts. Created in collaboration with local suppliers using end-of-roll fabrics, each item is available in extremely limited quantities – though if you're not in London and you can't secure a proxy, then you'll be thrilled to hear that anything remaining will be put up for purchase on the Kiko Kostadinov website from 6pm GMT on Monday 20th. Cards at the ready, lovies! MS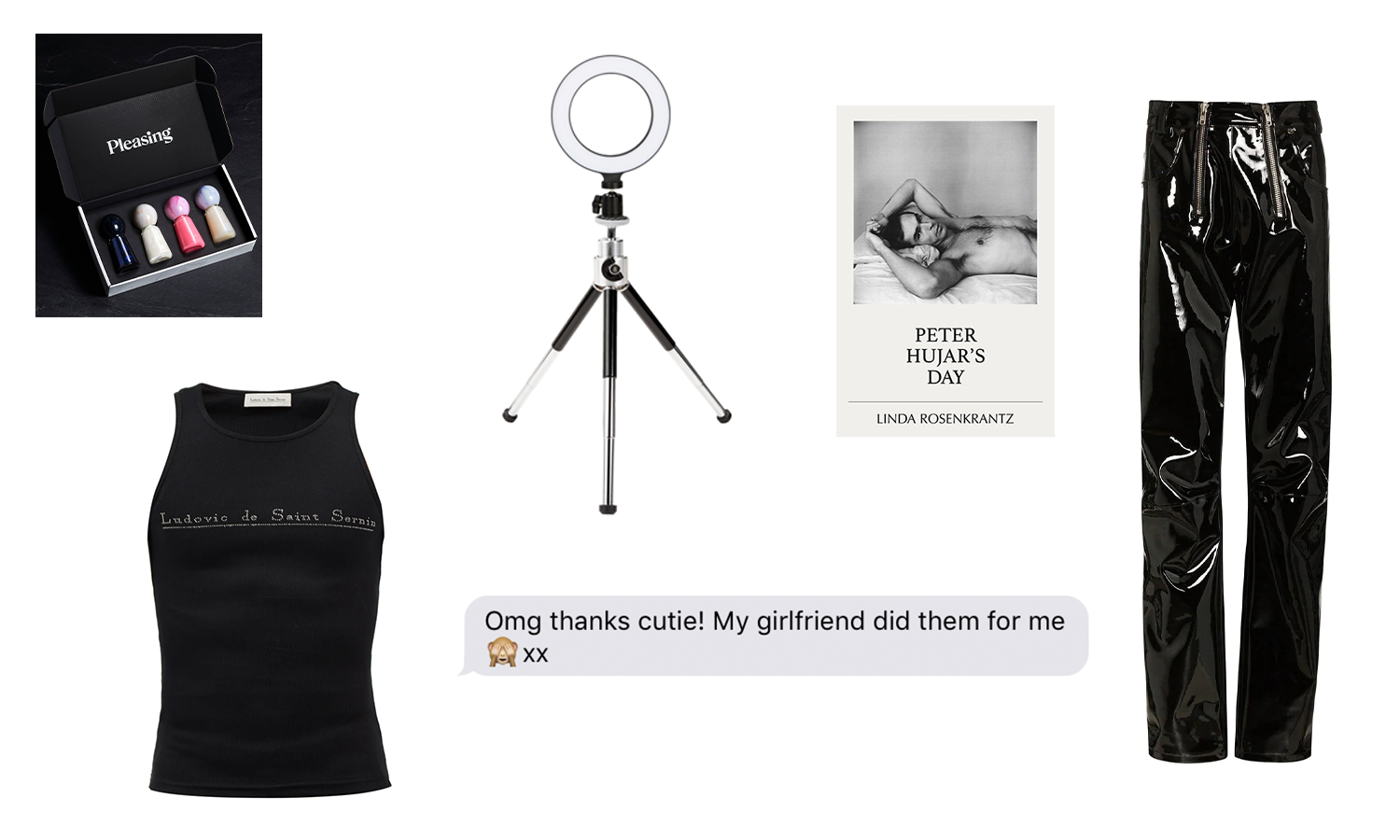 Great gifts for fussy fashionistas
Dear lord, just over a week to go till the big day and you haven't bought a single gift! For shame! It's ok, though, we're to help. This year we've put together what is incontestably the ultimate gift guide for Christmas 2021– even better, it's specifically aimed at helping you shop for all your impossible-to-please fashionista friends, lovers and family members! From your swampcore girlfriend to your sugarbaby bestie, your twink-for-clout TikTok-er nephew to your gorpcore beau, head here for the lowdown on the prezzies that'll keep them pleased this year.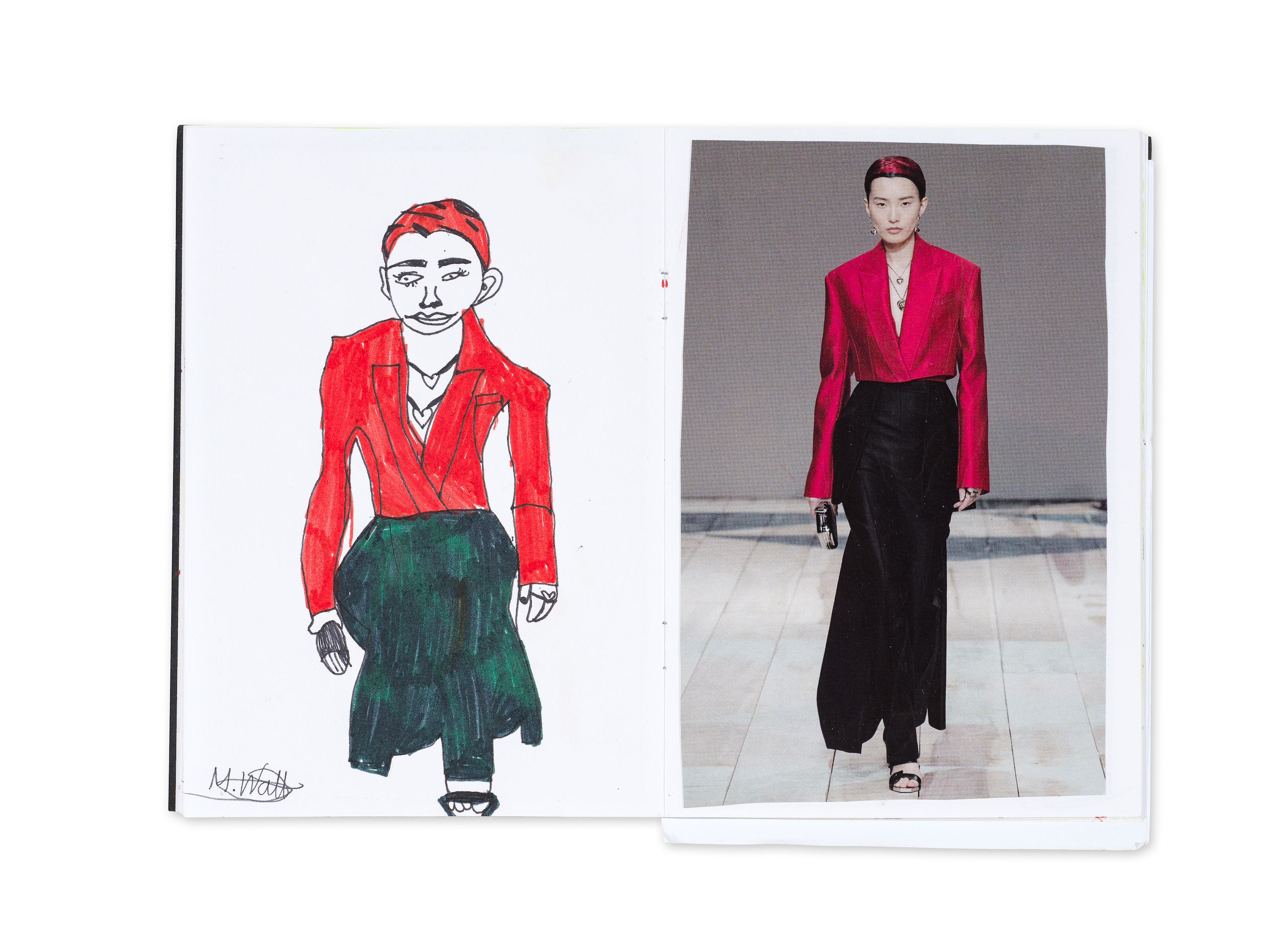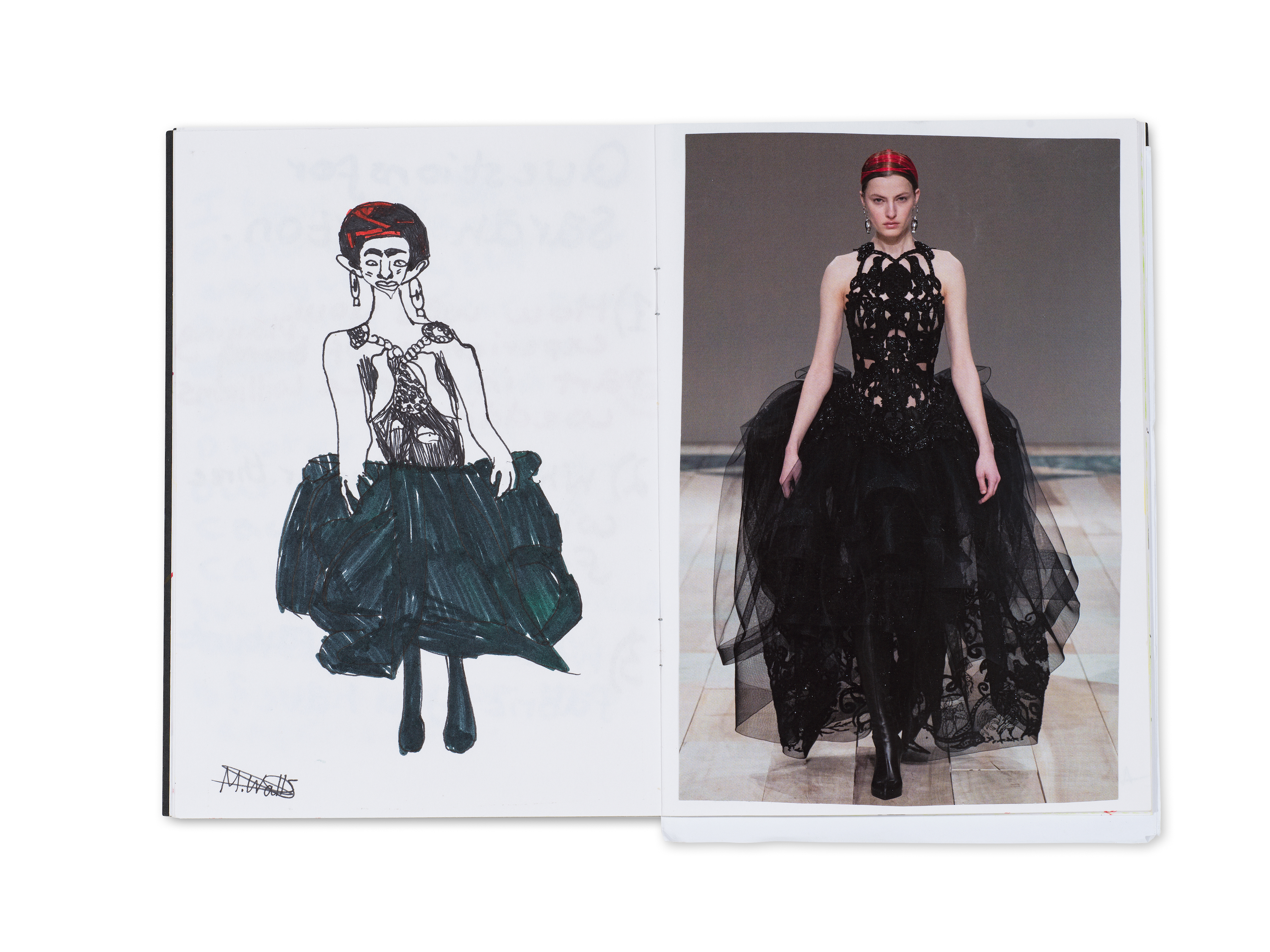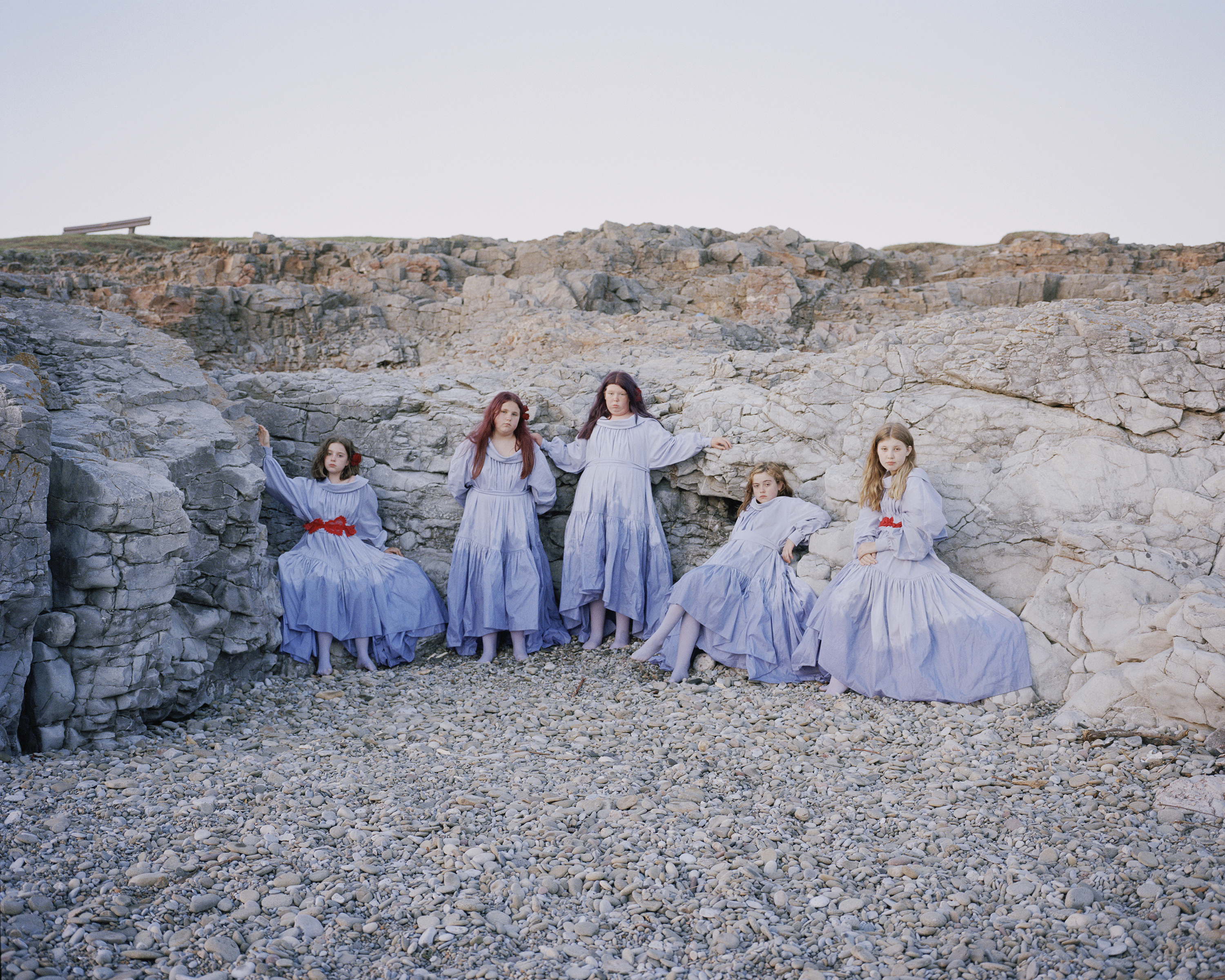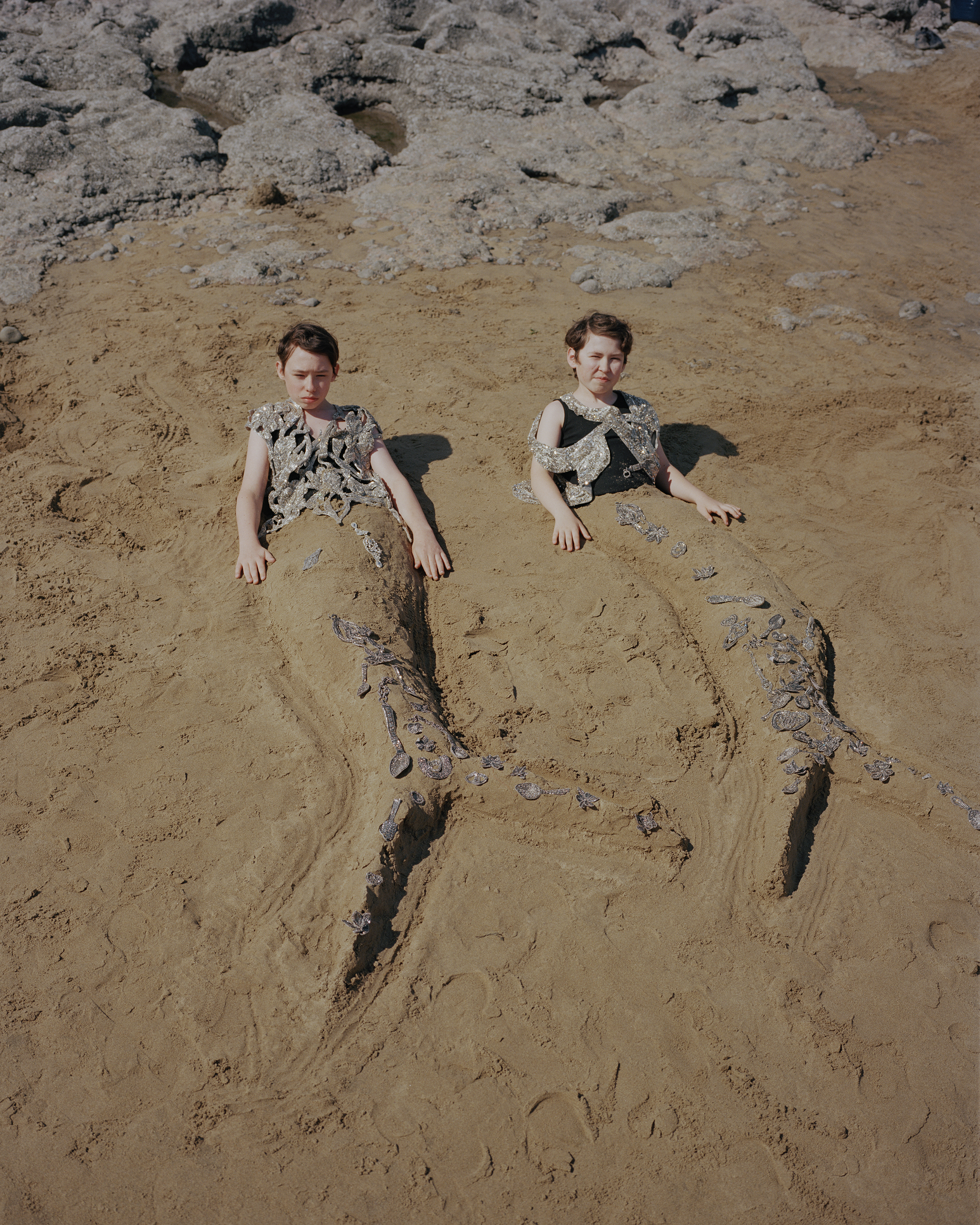 The story behind McQueen's accidental kidswear
Sarah Burton is known for her seasonal explorations of British craft, but in recent years, she has looked to young kids for just as much inspiration for her Alexander McQueen collections (if you don't know about Alexander McQueen's extraordinary education program already — and really , you ought to – then read all about it here). Case in point: when she and her team visited Wales last year for a research trip for their AW20 collection, they came across a local community project, Ffasiwn Studio, which offers free creative workshops for children across the South Wales Valleys led by filmmaker Charlotte James and photographer Clementine Schneidermann and chronicles it through documentary-style imagery. They worked together on a photoshoot featuring the kids wearing custom AW20 McQueen looks, scaled down to smaller sizes, and also introduced a programme of workshops on casting, creative writing, embroidery, styling and photography during which they could use McQueen's materials, be mentored by McQueen's studio team, customise their pieces and be photographed alongside their friends.
Now, the result of the months of members of the McQueen team travelling to Wales to collaborate with the group of twelve-to seventeen-year-olds (during on-off restrictions, no less) can be found in McQueen's new book, titled The Last Summer. It documents the entire project and the young people's responses, through their sketches, research, embroidery samples, photographs, and the four-day location shoot that it all culminated in, shot by Clémentine and Charlotte in locations across Wales. "We've all been inspired by the experience of being able to make a practical connection with this collaboration with young people in Wales," says Sarah. "Community values and the belief in offering creative opportunities to young people are at the heart of what we believe at Alexander McQueen, and this record of what we all learned together last year is a testament to what transformative things can happen everywhere when empowering equal access to creative ideas." OA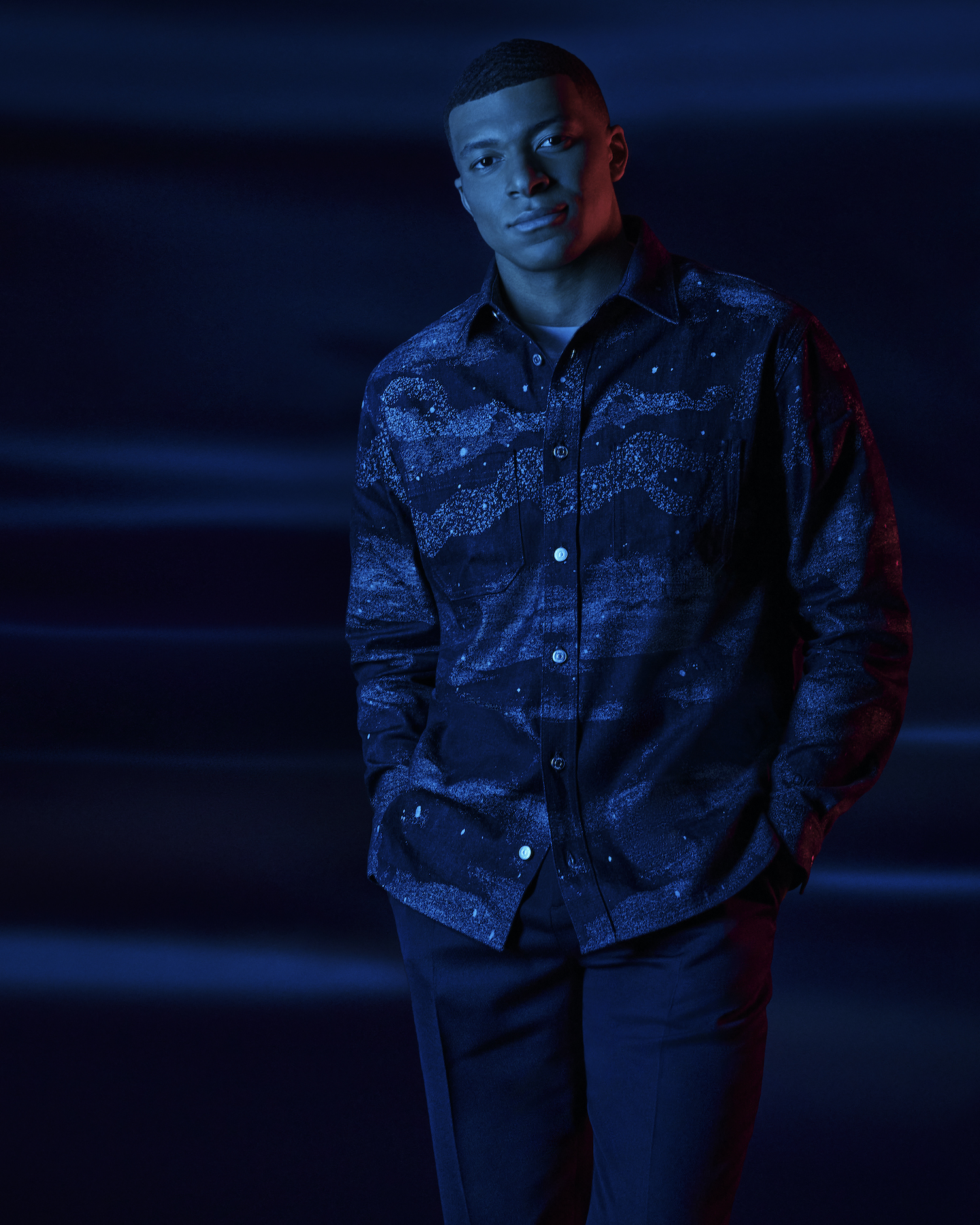 Kylian Mbappé is the new face of Dior
If ever you're after proof that football is the most fashionable sport of them all, then look no further: today, striker for Paris Saint-Germain and the France national team, Kylian Mbappé, has been announced as a new global ambassador for both Dior Men's and the Maison's legendary masculine fragrance, Sauvage. More than just a pretty clotheshorse, at just 22 years old, he's distinguished himself as one of the foremost players in the game, picking up FIFA's Best Young Player gong and the KOPA Trophy for Best Under-21 Player of the Year Worldwide in 2019. Just as admirable as his skills on the pitch, though, is Kylian's giving spirit. A benefactor for numerous charitable initiatives, last year he even launched his own — Inspired by KM — dedicated to inspiring children to reach their goals. Skilled, charming and charitable — a real hat-trick! Congrats, Kylian — we can't think of anyone better to carry the flag for Kim Jones' vision for the house. MS
Bottega Veneta is coming home
While it may not be the vibe you're getting from current headlines, trust us when we tell you that there's still plenty to get excited about in 2022! Top of our list? Well, it's hard to choose, but one of the things up there has to be the dawning of the Mathieu Blazy era at Bottega Veneta. Set to show his first collection as head honcho for AW22, we're already chomping at the bit for the quirkily chic, artisanally-minded luxury that he's sure to serve up. What makes his debut even more exciting, though, is that his first show will mark a homecoming for the house, which – after 'Salon' presentations in London, Berlin and Detroit – will be returning to Milan! Set to take place on Saturday 26th February, it's set to be one of the indisputable highlights of the city's fashion week – alongside the return of Kering stablemate Gucci to the calendar, that is. While we'll have to hold out a couple more months to see what Mathieu and his team have in store, something tells us it'll be well worth waiting for. MS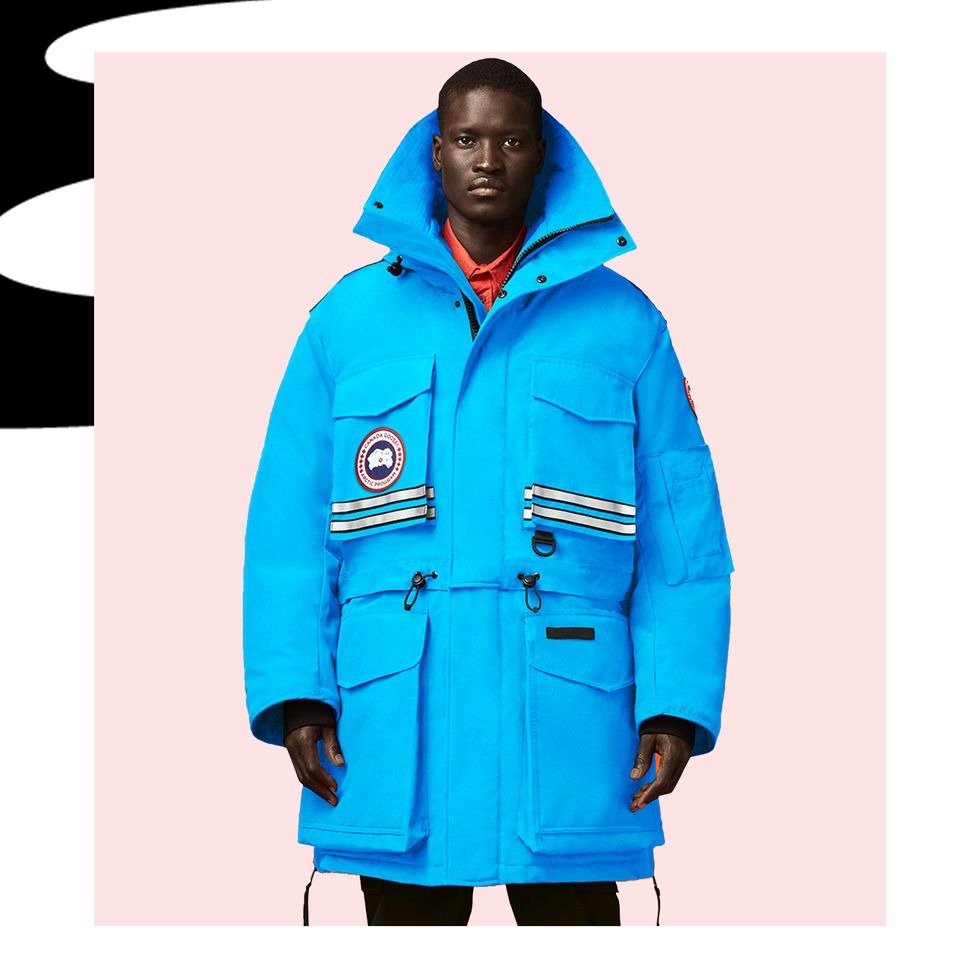 Angel Chen designs trans-seasonal outerwear for Canada Goose
Ever innovative fashion designer Angel Chen, has partnered with sustainable alpine brand Canada Goose on an edit of pieces that'll keep you safe and dry, no matter the elements. Designed with everything from chilled late summer adventures to crisp autumnal walks and wrapped-up outings in the depths of winter in mind, the capsule features reversible designs, hoods that unzip into chic collars, oversized shoulders, and even bag that goes from crossbody to clutch. What's more, adjustable nipped-in waists on parkas and belted jackets keep the cold out whilst creating silhouettes cinched for the gods! Currently available from the Canada Goose online store, WeChat and TMall the collection is here to end seasonal shopping forever! TG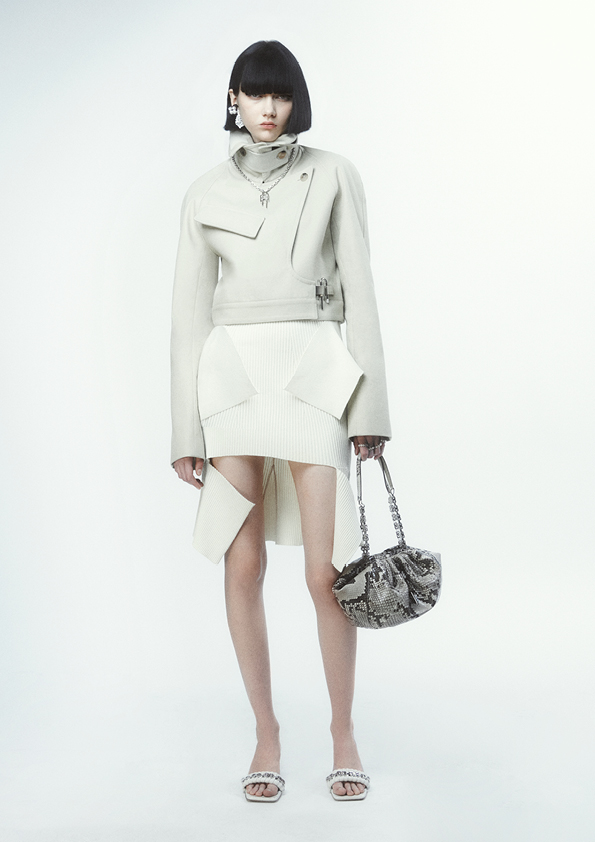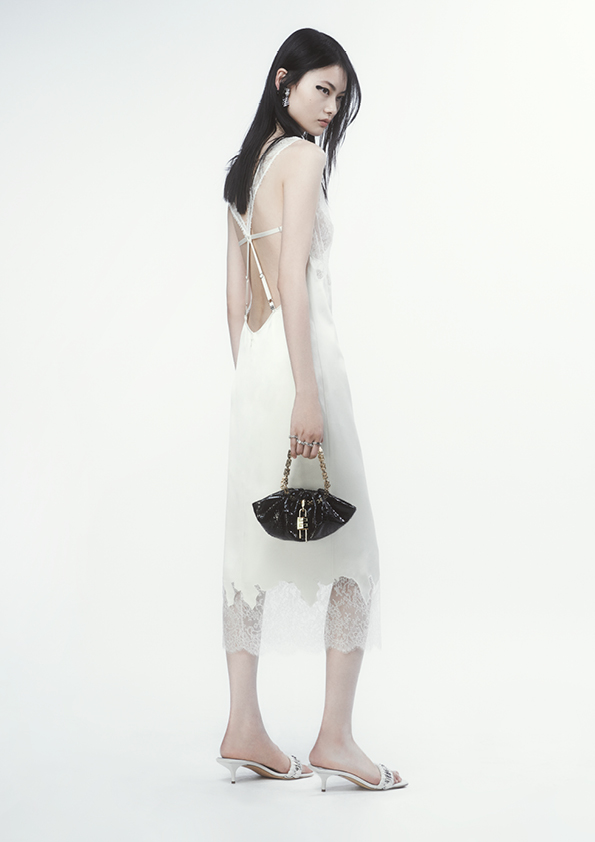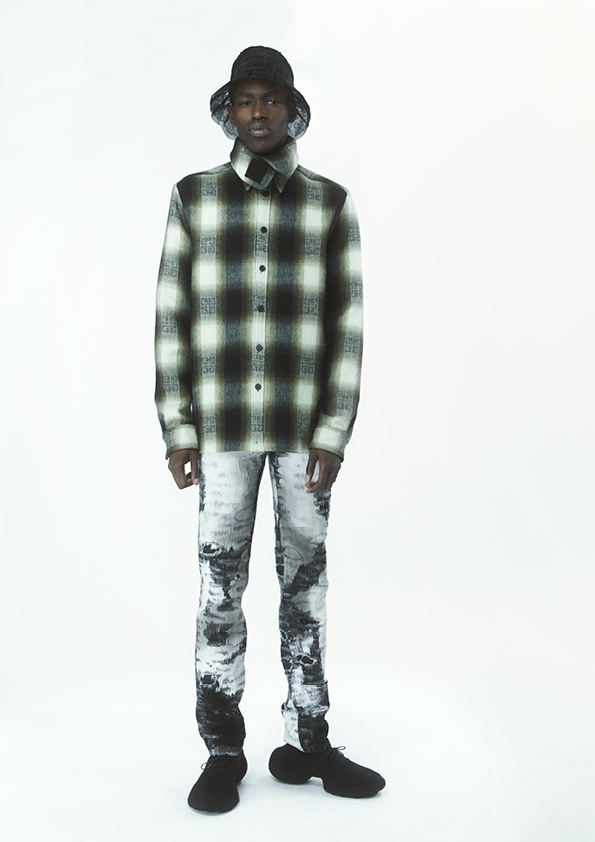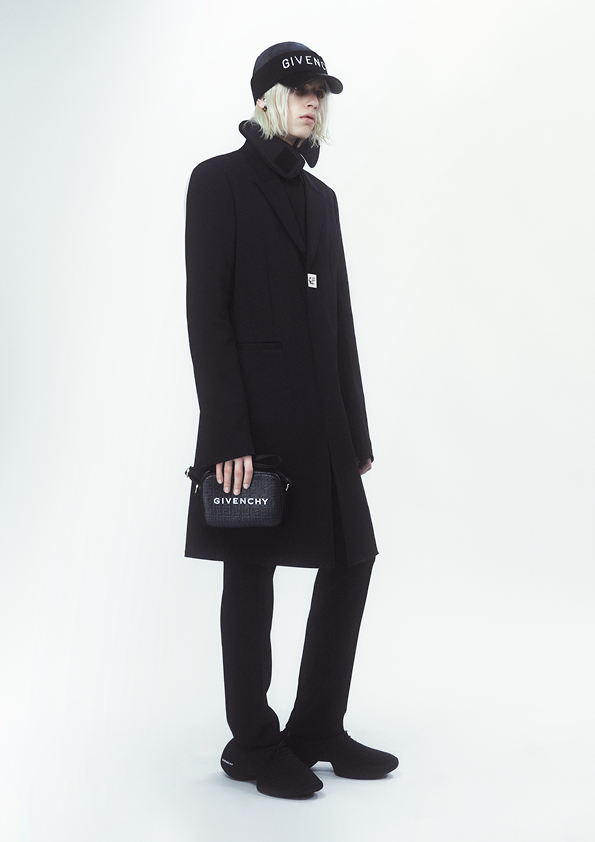 Givenchy's new collection is the calm before the storm
In October, Matthew Williams staged his first IRL catwalk show for Givenchy, an epic production that featured 72 looks that veered from urban monochrome, to spliced-together arts-and-crafts, to an angelic chorus of all-white looks with couture-like ornateness. His Pre-Fall 2022 collection, by comparison, is much more concise, almost like a palette cleanser. The predominantly black and white collection feels like a reset, or a reminder of the backbone of a house that has a complicated heritage: Audrey Hepburn elegance, uber-luxe sportswear, and some of the most fearless creative directors in history (Galliano, McQueen, Tisci). That's not lost on Matthew, who is just as much a curator as he is a creator. "I am really focused on exploring Givenchy's heritage while also looking toward the future," he explained.
"I believe fashion is relevant when it reflects what it means to live today; there's a constant tension between everyday reality and the precision, elegance and extravagance of the couture tradition." Hence, within this collection, there is the former: lumberjack plaids, bleached denim, baseball caps, those knitted TK-360 sneakers. Then, there's the latter: sleek, super-sharp tailoring that would slice through any wardrobe, be it a gym locker or cedar walk-in. Occasionally, the two convene with industrial hardware finishings and slouchy nappa silhouettes, hoodies work under suit jackets, or buckles cinching neat wool skirts and formal blazers. With more IRL shows to come next year, and an impending couture debut, this feels like a gasp of fresh air before Matthew's big plans for Givenchy circa 2022. OA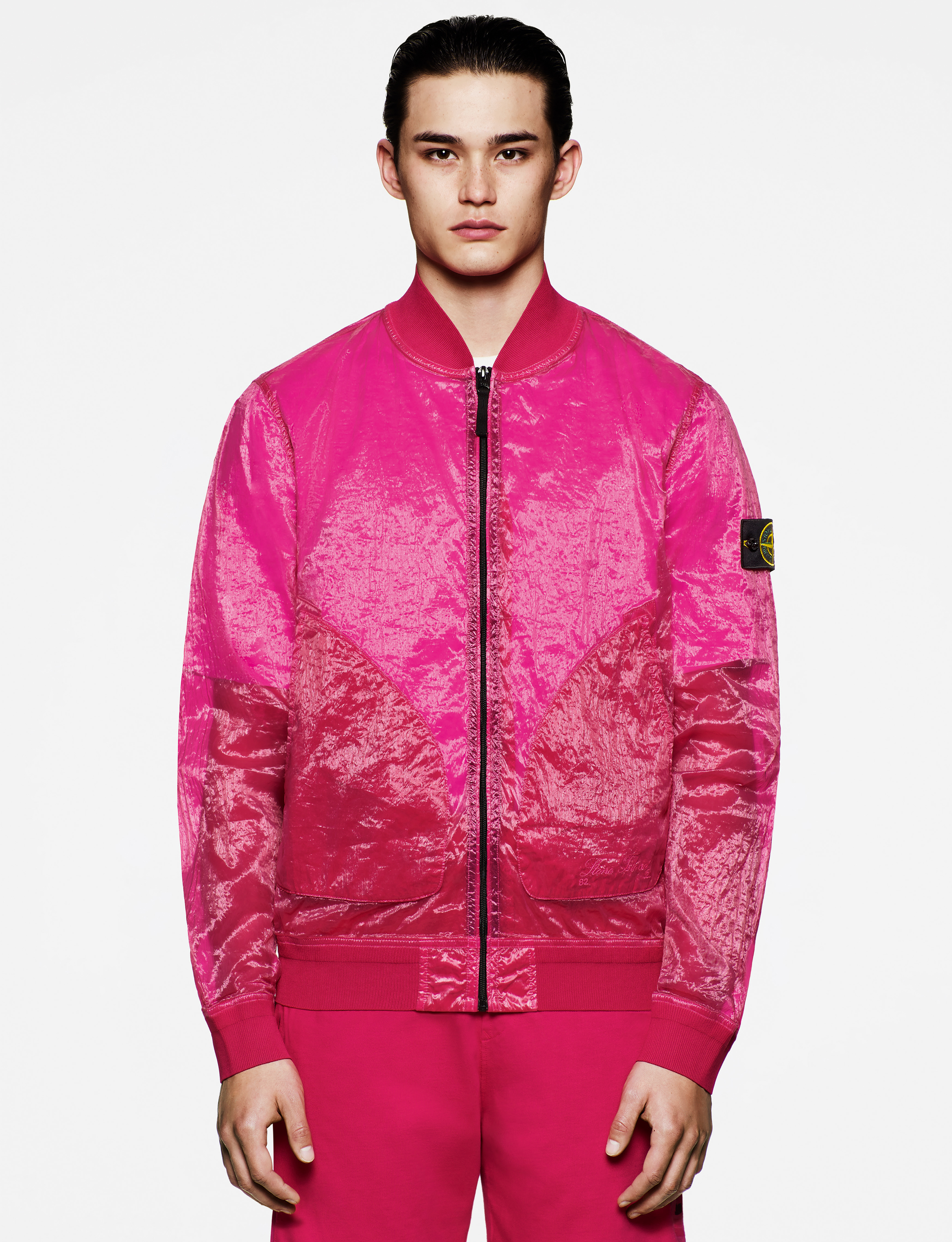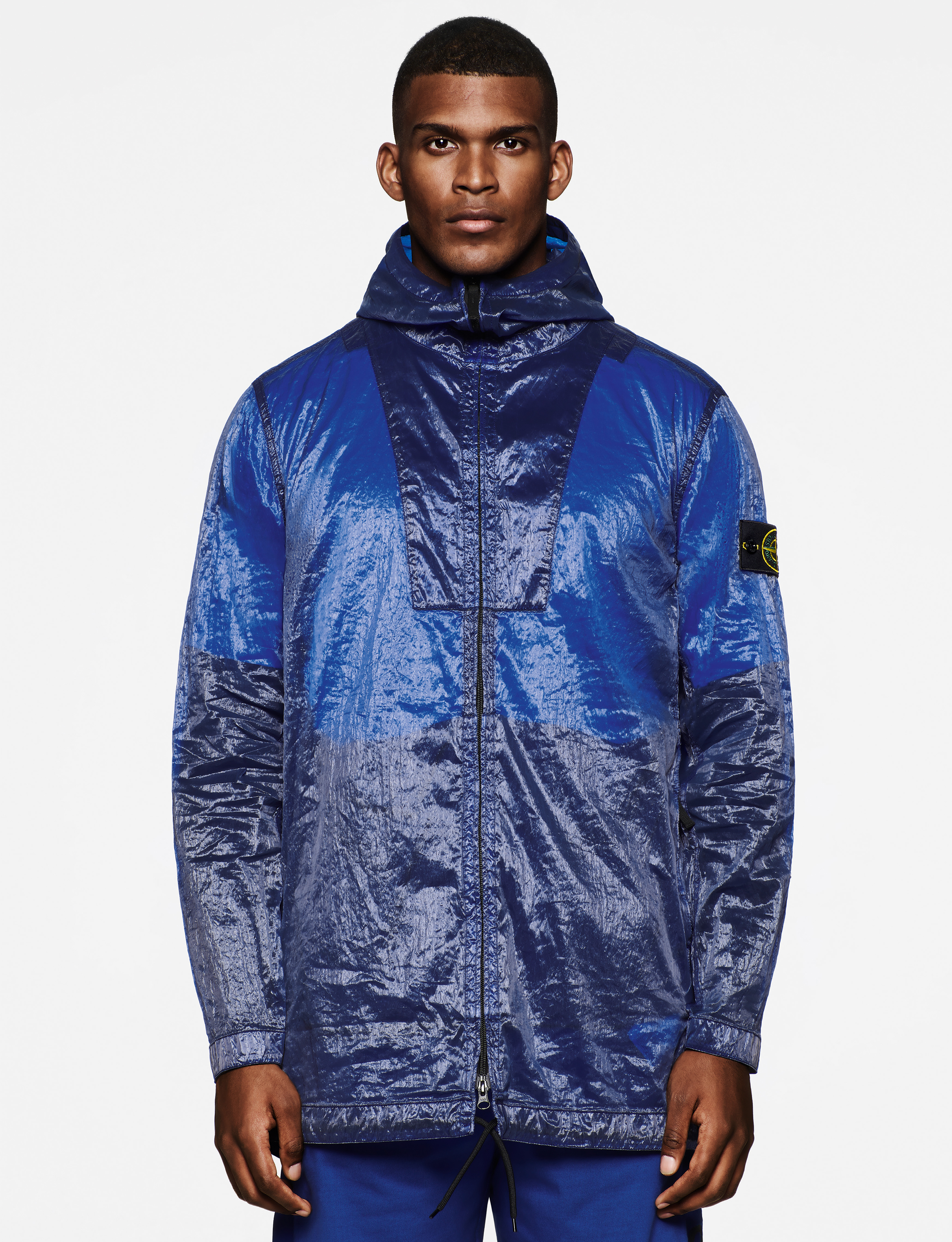 Stone Island SS22 gives its 80s styles a techy update
Coming up to their 40th anniversary, Italian luxury brand Stone Island have decided to mix the old and the new for their SS22 collection, taking archival menswear styles and updating them with new technologies and treatments. Outerwear comes in neon fuschia, orange and lemon nylons, as well as marbled blues and whites that mimic the ocean's depths, while mesh pullovers, cosy hoodies and uber-pocketed overshirts come in claret and scarlet red. Elsewhere thermo-sensitive polyurethane film and intensely soft stretch lyocell cottons are used for sweaters, trousers and tops – granted, we're only half-sure what exactly that means, but what we can say is that it's comfy AF! Launching in the new year, check out the full collection on the Stone Island website. TG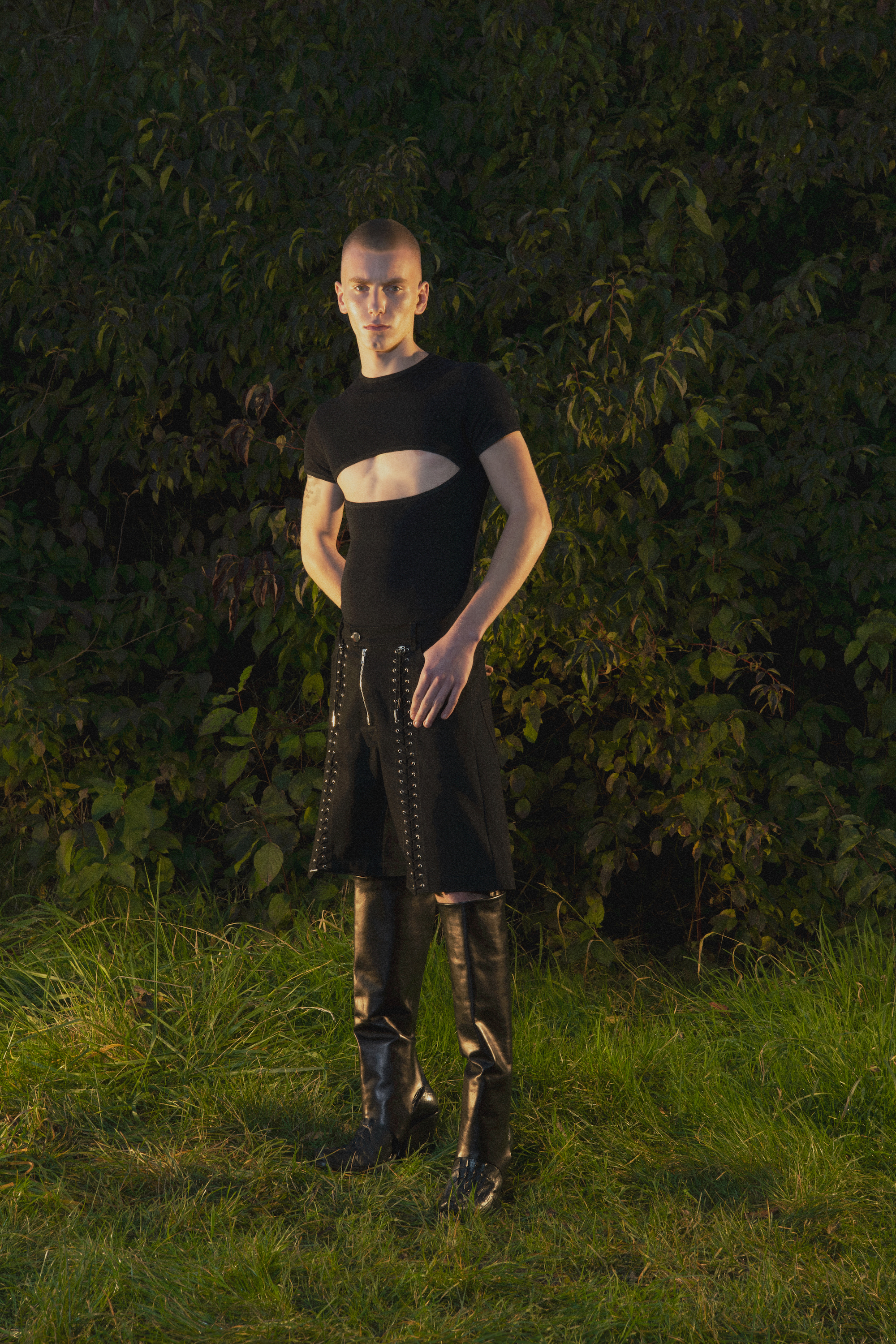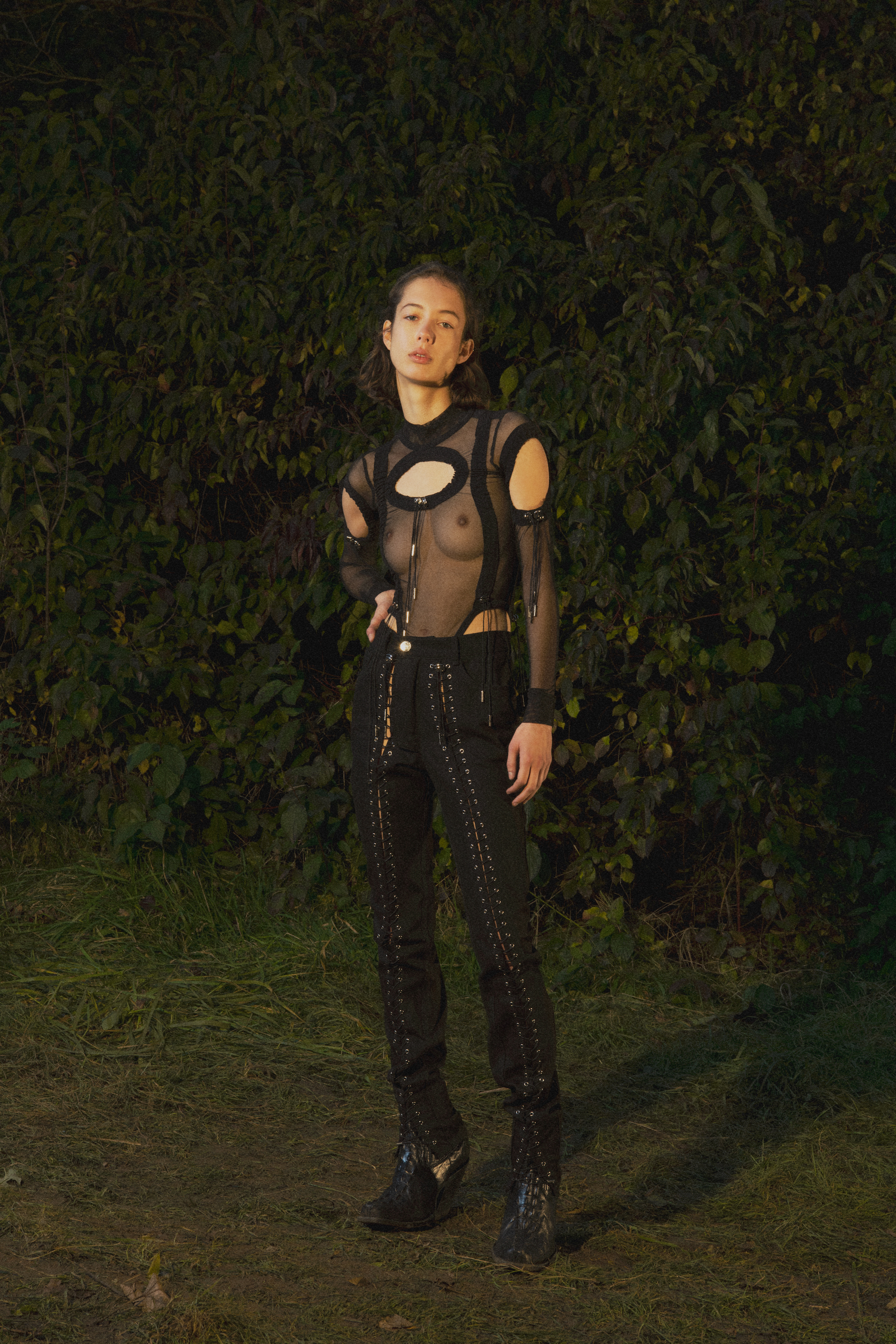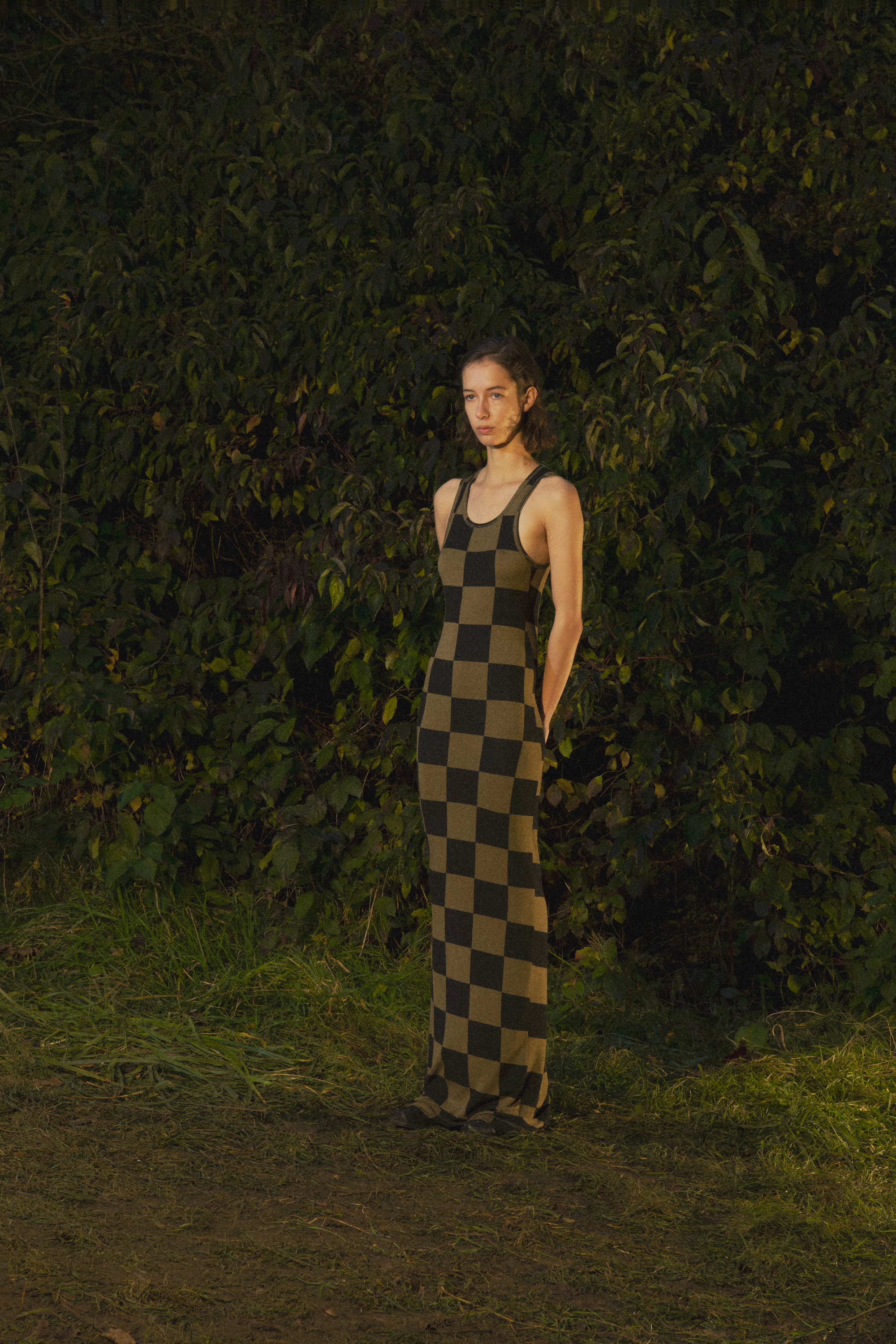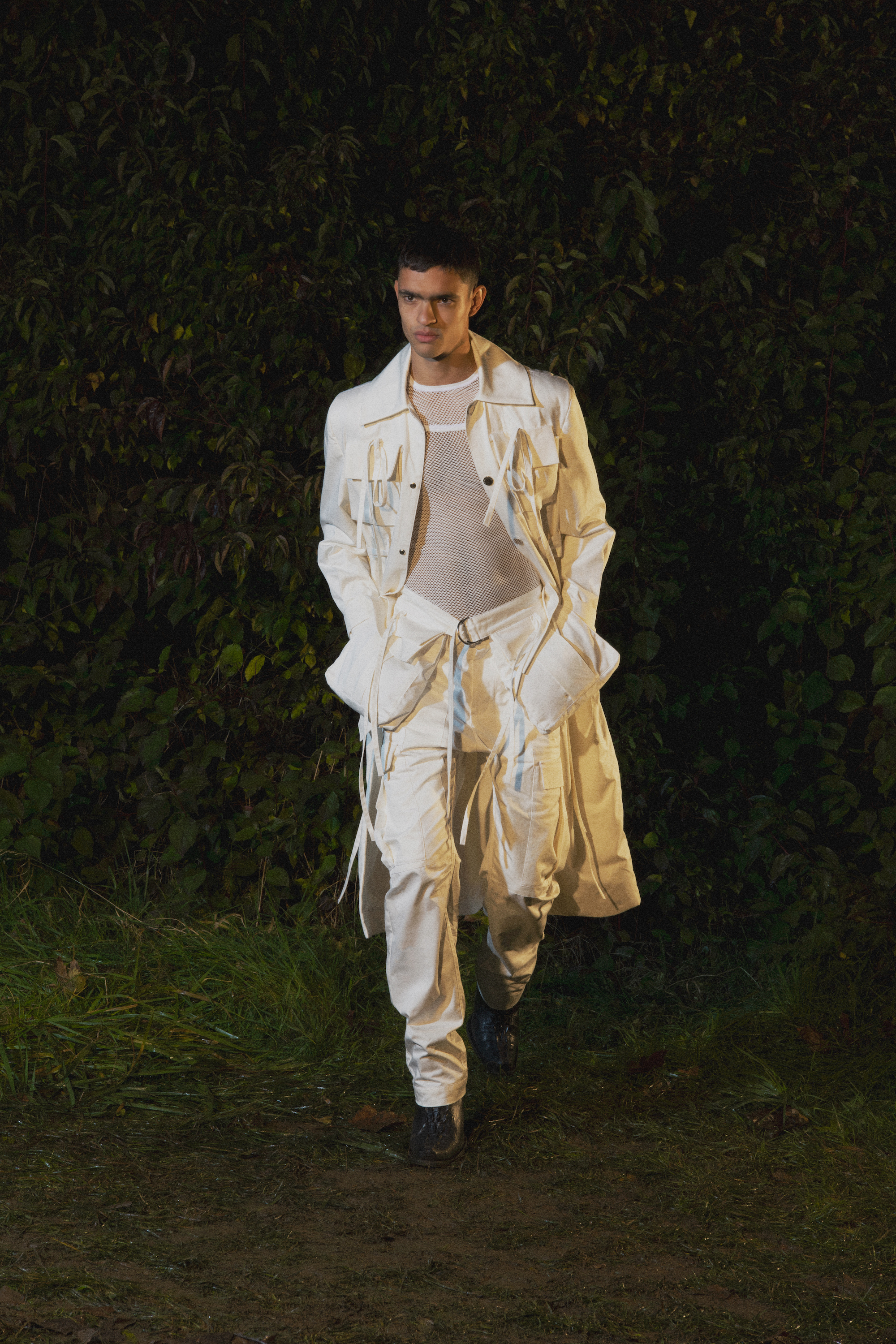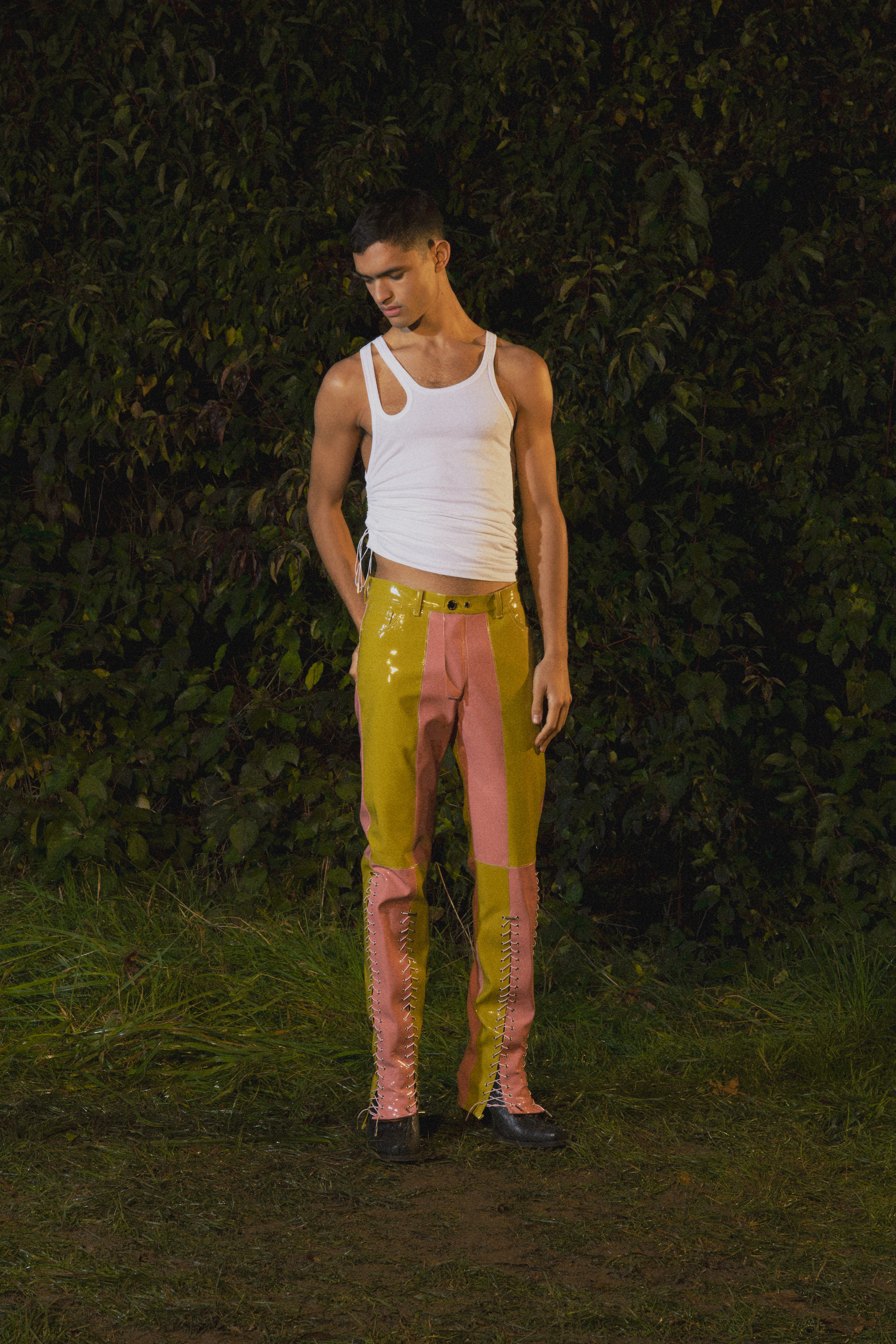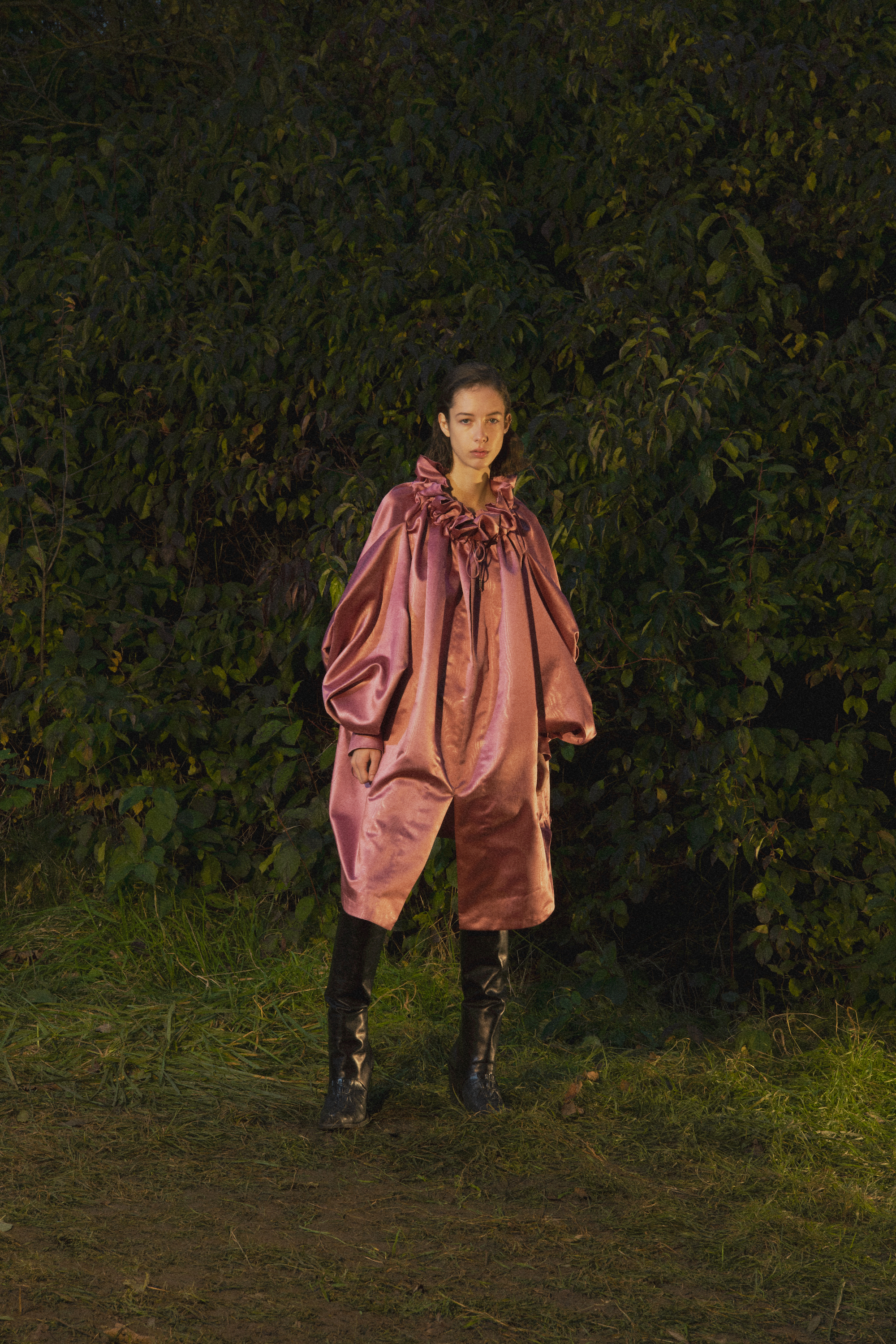 Parnell Mooney has a collection for those of you on the 'Naughty List'
Yes, Christmas is upon us, but so is New Year's Eve. And for those of us averse to frumpy jumpers and red-and-green, Rory Parnell Mooney has just the collection for the more hardcore festive bunch gearing up to see in 2022. The London-based Irish designer has been quietly marking his territory on the ever-so-kinky, lace-up latex market, with squeaky-clean, smut-inspired clothes for the likes of Dua Lipa, Olly Alexander and club kids raving in warehouses across the world. This week, he launched his SS22 collection — and it doesn't disappoint. Think micro-fishnet vests, slinky cut-out tops and enough eyelets to make a dominatrix blush. Clothes for those of you on Santa's 'Naughty' list. We caught up with the designer to find out more…
Hi Rory! What's the story behind your new collection?
There's a lot of very disparate references all layered on top of one and other, almost like a montage of different films all played at once, military elements beside religious references, couture details beside the everyday. Dressing up. Feeling sexy.
What were you looking at listening to while working on it?
Since Covid, I work almost fully alone when designing the collection, so what I'm listening to can be really varied, HÖR Radio, Radio 3 lunchtime concert, Rammstein, System of a Down but also like Reba McEntire or Kate Bush. The Spotify Wrapped is a real mess.
What's your idea of a great night wearing these clothes?
The most important part is that long ritual of getting ready to go out – putting on these pieces and pulling and twisting them, fitting them to your body. It's like using clothes as an armour of confidence, and that ritual of getting dressed and getting ready is when you're building it.
You've just set up an e-comm site. What have people been buying?
Lots of lace-up jeans and skimpy see-through vests and sheer underwear.
You said that you feel more connected to the wearers of your clothes – how does that influence the way you design them?
I love seeing people wear my clothes and feeling good. It's an amazing feeling as a designer to know you change how confident and powerful someone feels about themselves. This kind of feeds back into the design, like what lines on the body work best and what pieces people really loved, and then taking those as the beginnings of the next season. I'm never reinventing the wheel, I'm adapting and perfecting and experimenting.
You've added womenswear for the first time. What's that been like?
I kind of see the women's pieces as having always existed to be honest, it just took me a long time to figure out how to shoot it and make it sit in harmony with the men's. I think now it feels like a group of friends all sharing and swapping clothes. A kind of kindred or cult
Last but not least, any favourite Irish holiday traditions?
Christmas Eve lock in, does that count?