9 on-screen couples with wild sexual chemistry
No, *you're* having heart palpitations!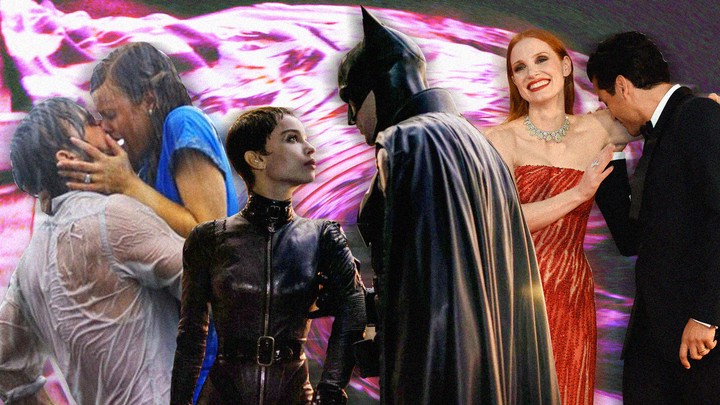 Image credit, right: Marilla Sicilia/Archivio Marilla Sicilia/Mondadori Portfolio via Getty Images
Whether you're a lover or a hater of the new Batman movie, there's one thing no one can deny: that core relationship between Catwoman and the titular man-bat emanates the kind of rare sexual energy few actors manage to capture on screen.
In so many instances, actors playing love interests have failed to pin down the alchemic ingredients of what it means to be in love. Instead, they end up replicating the traditional hallmarks of romance without accessing any of the deep, gut-wrenching emotions that makes it feel real. Robert Pattinson and Zoë Kravitz, of course, have that down, sparking "bisexual panic" in the process. Off-screen too, the pair's chemistry has found its way to the covers of magazines; the pair recently captured in deep, sexy embrace.
Anyway, with this in mind, here's a few more actor duos that hit that sweet spot. Gird your loins!
Batman and Catwoman (Robert Pattinson and Zoe Kravitz) in The Batman
Where better to start than the pairing that instigated this current conversation in the first place? In Matt Reeves' The Batman, R-Patz and Zoe Kravitz play a pair of animalistic vigilantes to whom revenge means different things. That mix of conflict and connection makes them the ideal romantic pairing, and the duo -- individually two of modern culture's most lusted after individuals -- pull it off perfectly. While past instalments seemed sort of sexless (the otherwise excellent Nolan trilogy) or too comic book-ish to cause any real movement downstairs, The Batman works because it's a movie about two very lost and sexy souls with only each other to rely on.
Ally and Jackson (Lady Gaga and Bradley Cooper) in A Star is Born
Again, A Star is Born is famously about the birth and dissolution of a tumultuous relationship, and Lady Gaga and Bradley Cooper nailed the ups and downs of it all. When it was hot it was hot, and when it was messy, by god, it was messy, but much like Oscar and Jessica, it was the campaign trail that made the whole situation so perfect! Everything from the way Gaga shared glances with Bradley on the press tour, right down to the intensity of that Oscars performance, was enough to force Bradley to formally address it in the press. They were not dating, but god they were good enough actors to make us think they could.
Adele and Emma (Adèle Exarchopoulos and Léa Seydoux) in Blue Is the Warmest Colour
Of course, it's harder now to celebrate the masterful parts of Blue Is the Warmest Colour knowing its two lead stars, Adèle Exarchopoulos and Léa Seydoux, had a hellish time making it. But it's a testament to their skills that the whole film, about a teenage girl and an older woman falling violently in love with each other, rests on how believable that core relationship is. And it is: for three hours, Adèle and Lea (playing Adèle and Emma) manifest a kind of overwhelming sexual and romantic energy that both makes you feel jealous for what they have and terrified by how it might all end.
Queen and Slim (Jodie Turner-Smith and Daniel Kaluuya) in Queen and Slim
The nuanced socio-political framework of Queen and Slim -- in which a first date segues into a self defence killing into a cat-and-mouse-chase across America -- is deftly intertwined into its core love story. Released to an unfairly muted level of fanfare, this smart drama about a man and woman falling in love as the world seems to turn in on them is punctuated by one of the best sex scenes, for our money, of the past five years. The two embrace inside the very car they've used to escape from hysteria, their bodies locked and lips touching, skin exposed. Then director Melina Matsoukas splices scenes of sexual climax to flashbacks of the shooting that forced them to flee, the pair's carnal synergy intertwined with the lived experience they share as Black people in America.
Allie and Noah (Rachel McAdams and Ryan Gosling) in The Notebook
The straightforward romantic genre has been on a hurtling decline since the early 2000s, and we suspect that's because producers saw Rachel McAdams and Ryan Gosling in The Notebook and thought, "Shit, we will never be able to match that". The proudly cheesy 2004 film, which launched its two stars into new levels of fame, follows two teenage sweethearts whose romance unfurls at a summer carnival and then stretches across several years, as they're parted by war. It's a typical old-school Hollywood romance, but its the kiss in the rain that made this a cult classic. It might have been maligned by critics, but there's one prize that really matters, and that Rachel and Ryan possess: the Best Kiss gong from the MTV Movie Awards 2005.
John and Jane Smith (Brad Pitt and Angelina Jolie) in Mr and Mrs Smith
It was a bygone Hollywood era, that late 90s-early 00s moment, when couples would form on film sets and go on to become tabloid gold. Of course, the recent resurgence of J-Lo and Ben Affleck, and Ana De Armas and, em, Ben Affleck, has brought it hurtling into the 2020s again, but there really was nothing like the brilliance of Brangelina, formed on the set of Mr and Mrs Smith, a seminal film about a couple who secretly moonlight as assassins, unbeknownst to the other. The chemistry is lethal in more ways than one. We were, and still are, obsessed.
Mallory and Mickey Knox (Juliette Lewis and Woody Harrelson) in Natural Born Killers
Speaking of murderous on-screen connections that double up as aggressively sexy, you have the Bonnie and Clyde-esque contemporary blueprint in Natural Born Killers, movie based on a Tarantino script about two lovers bound by their killer obsession. Juliette Lewis and Woody Harrelson in career-best turns meld the horny and horrifying as Mallory and Mickey, the intensity of their connection heightened by their shared penchant for murder. What's more, they look hot doing it.
Ronit and Esti (Rachel Weisz and Rachel McAdams) in Disobedience
Though Blue Is the Warmest Colour is vastly more sexual, this lowkey tale of two lesbian lovers in a Jewish community in north London similarly relies on the believability of that core relationship. Ronit, played by Rachel Weisz, is returning to the place where she grew up, and rekindles a decades-old love affair with Esti, a childhood friend played by Rachel McAdams. They feel like the real deal.
Hypothetically, Tom and Patrick (Harry Styles and David Dawson) in My Policeman
Okay, we're just speculating here, but our excitement for this film has us hypothesising over wether the core love story could be a revelation in on-screen sexual chemistry. After all, Harry Styles slips on his gay shoes in a film first! Set in Brighton, My Policeman is the story of a marriage between Tom, a closeted gay policeman, and a straight woman schoolteacher, Marion. Their loveless affair threatens to be blown apart by Tom's covert relationship with a male museum curator, Patrick. Based on fans who've managed to catch early screenings, we know there's sex scenes (we only see arse, they've said), and it promises to be steamy! God help us all the day this movie drops!
Special mention: Jonathan and Mira (Oscar Isaac and Jessica Chastain) in Scenes from a Marriage
Anyone who knows the plot of Scenes from a Marriage, be it the 70s original or the 2021 HBO reboot, knows that it's hardly sexy: it's about marriage turning romance into a vacuum, peppered with heated arguments and affairs. (The original led to a spike in divorce rates.) But what we're talking about here, specifically, is the chemistry that blossomed between its two leads, Jessica Chastain and Oscar Isaac on the red carpet. Of course, the vibe between them at the show's Venice Film Festival world premiere was tabloid gold; the famous arm kiss sent the internet into a spiral.
Tagged: