Kim Jones gives Dior Men a beatnik makeover in London
Inspired by Jack Kerouac's 1951 book 'On the Road', Dior Men's latest show brought Beat Generation style and a collection of rare books to London.
|
10 December 2021, 12:39pm
Image courtesy of Dior
When Christian Dior died in 1957, a 21-year-old Yves Saint Laurent took the reins of the world's most illustrious couture house. After a handful of typically elegant collections, he matched Monsieur Dior's revolutionary 'New Look' with a Beatnik-inspired collection of black couture motorcycle jackets. It didn't go down well, horrifying the Dior establishment and its conservative clientele, and earning young Yves a reputation for being the enfant terrible of haute couture. He was inevitably fired, but that simple act changed the course of fashion history and prefaced a future of designers elevating counterculture and street style to the lofty realms of the catwalk. Just over 60 years later, Kim Jones has brought Beatnik style back to the forefront of Dior, staging a show in London last night that took its cue from Jack Kerouac's 1951 novel On the Road.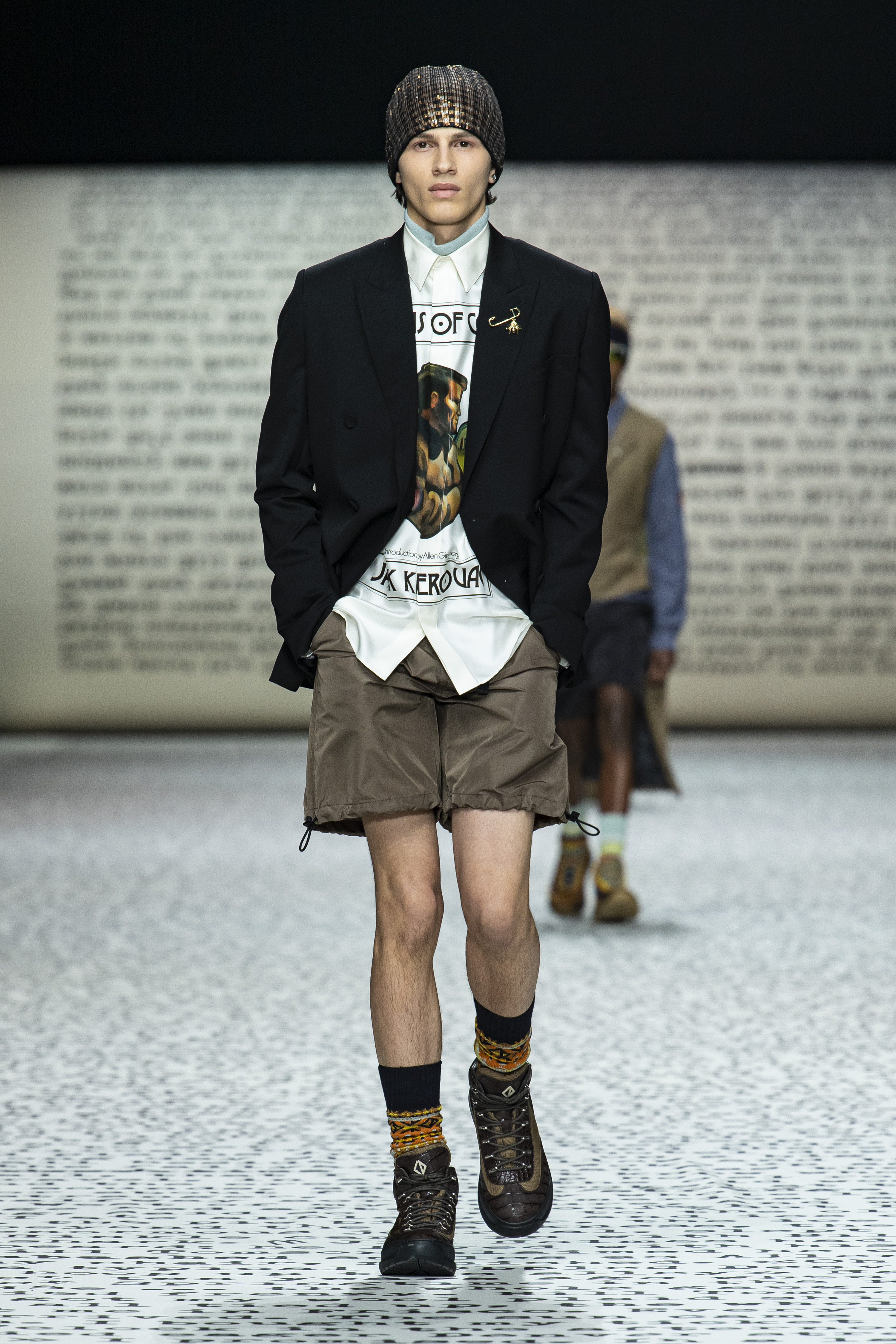 A bit of context: Jack Kerouac is widely considered the voice of a generation, and his autobiographical, stream-of-consciousness book has inspired everyone from Bob Dylan to Mick Jagger, Andy Warhol to Patti Smith — and now, Kim Jones. It tells the tale of restlessness and an unbridled desire to experience the Beat counterculture of a Jazz-fuelled post-war America, following the journey of Sal Paradise (a character based on Kerouac) and his friend Dean Moriarty (based on Kerouac's friend, Neal Cassady) as they ramble back and forth from the hot July streets of a New York City summer to the whiskey bars and wheat fields of Middle America to the cedar forests and citrus trees of the Pacific Coast, drinking, listening to jazz and having affairs.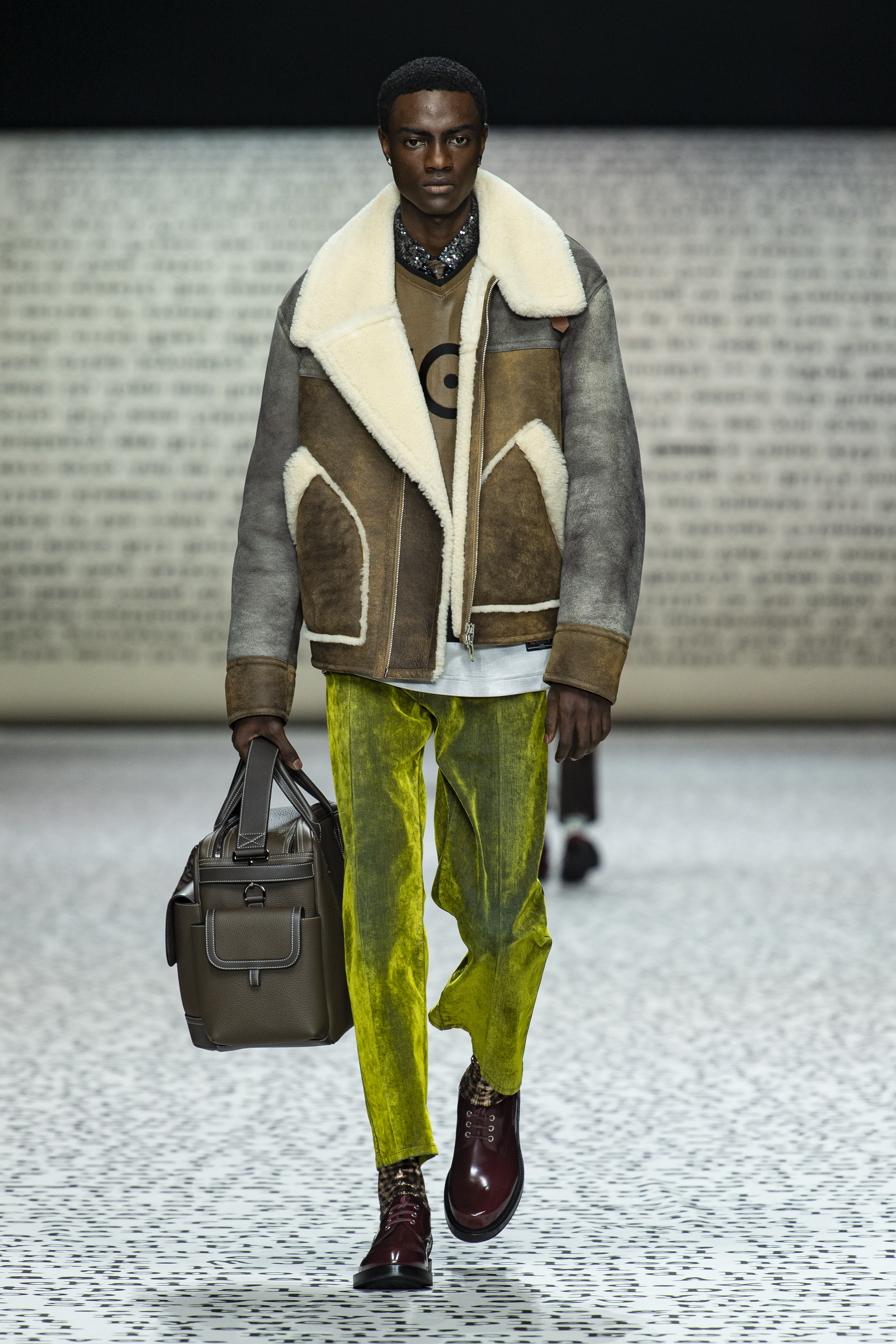 As so many do, Kim Jones first discovered the book as a wanderlust-struck teenager, and given that he is an avid collector of things — books, art, streetwear, pop culture memorabilia — he embarked on acquiring as many letters, first-edition books, personal objects, inscribed manuscripts that pertained to the Beat Generation as he could. When Covid hit, and his regular schedule of travel was grounded, he looked to his own library for inspiration, sowing the seeds for a collaboration with the estate of Jack Kerouac.
Considering this is Dior's first show in London in a while, Kim wanted to make it extra special, so he decided to display 60 books (from his collection of over 100 Kerouac first editions) in an exhibition entirely devoted to the Beat Generation, aptly titled 'Nowhere to go but Everywhere' (Dior is a global brand, after all, and Kim is a frequent flyer). Guests to the show entered through the extensive display before witnessing a giant typewriter unravelling a giant replica of the full manuscript of On the Road, so that it actually resembled, well, a road — one that leads all the way back to Paris.
"On the Road was actually written in Paris in the '50s, while Christian Dior was still alive, and he was doing radical new plays for young people, and living a radical life that still inspired young people today," Kim points out during a preview of the collection. Of course, Kim was fully aware of the Yves-era Dior connection to the Beats, but he always wanted to delve deeper into an imagined dialogue between Kerouac and Christian, and their "simultaneous life". Plus, Kim has collaborated with artists, musicians, and even other designers, so a writer was only inevitable. Read into that what you will — perhaps it's a reflection of young people switching off from the digital world and getting their heads stuck in books.
What about the clothes, you ask? The idea for the collection was a suitcase filled with clothes, picked out for a long road trip and styled in different ways on different days. "It's not necessarily classic American sportswear, but a modern interpretation of it, taking things in the archive of Dior and bringing it into that as well," Kim explained. Trench coats were hybridised into backpacks, Fair Isle sweaters and knitted beanies were given the shimmer of Parisian paillettes, and shirts came with strips of glitter and skinny ties repurposed from vintage foulards. There were even slouchy stone-washed jeans — a surprising first for Kim, who typically prefers a more formal look — as well as worn-in shearling aviator jackets and tweed jackets (the kind that Kim first discovered in the Beat Museum in San Francisco) paired with rolled-up silvery velvet cords and heavyweight hiking boots. Clothes for intrepid adventurers, albeit in Dior's luscious fibres and precision-cut silhouettes. Yves would be proud.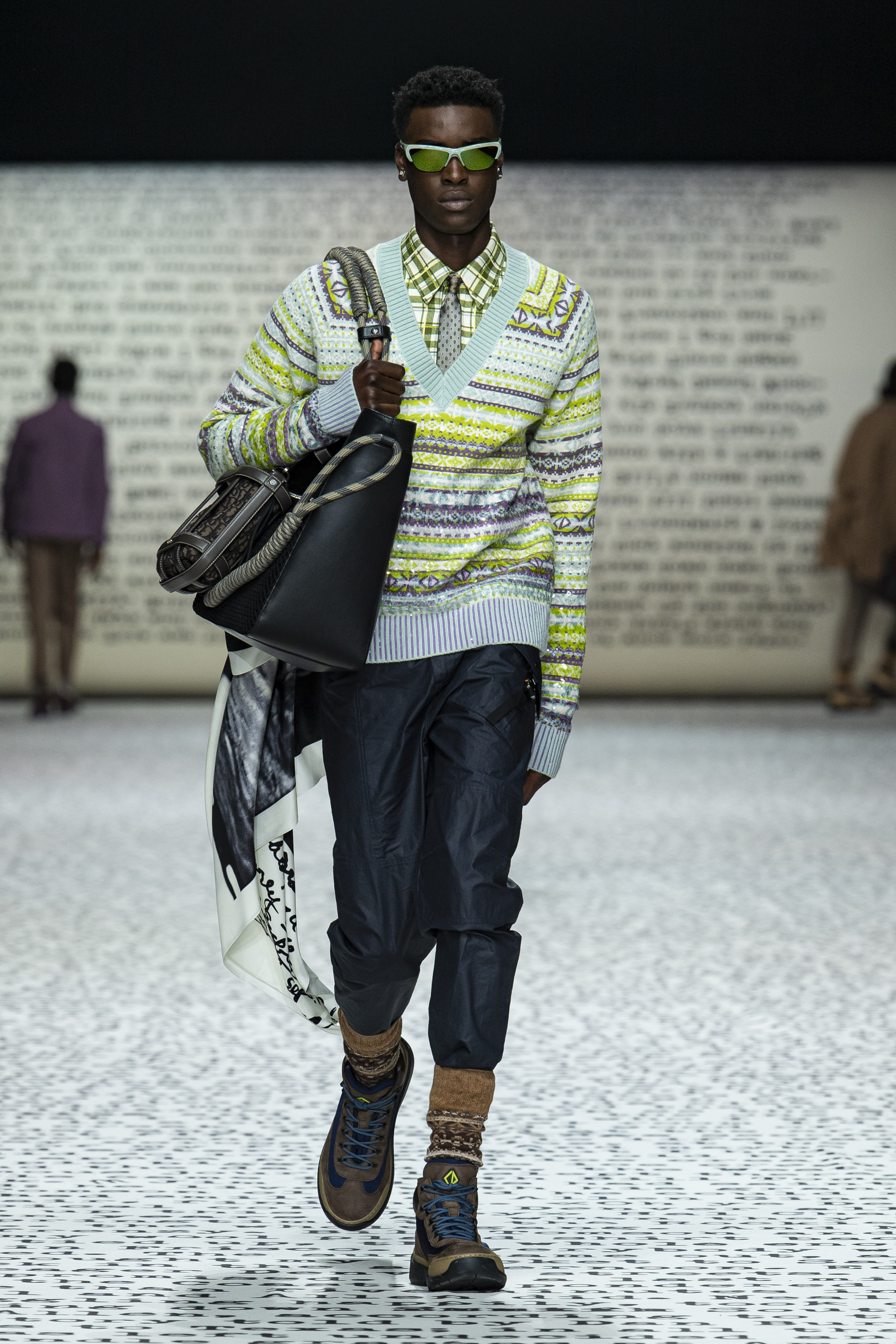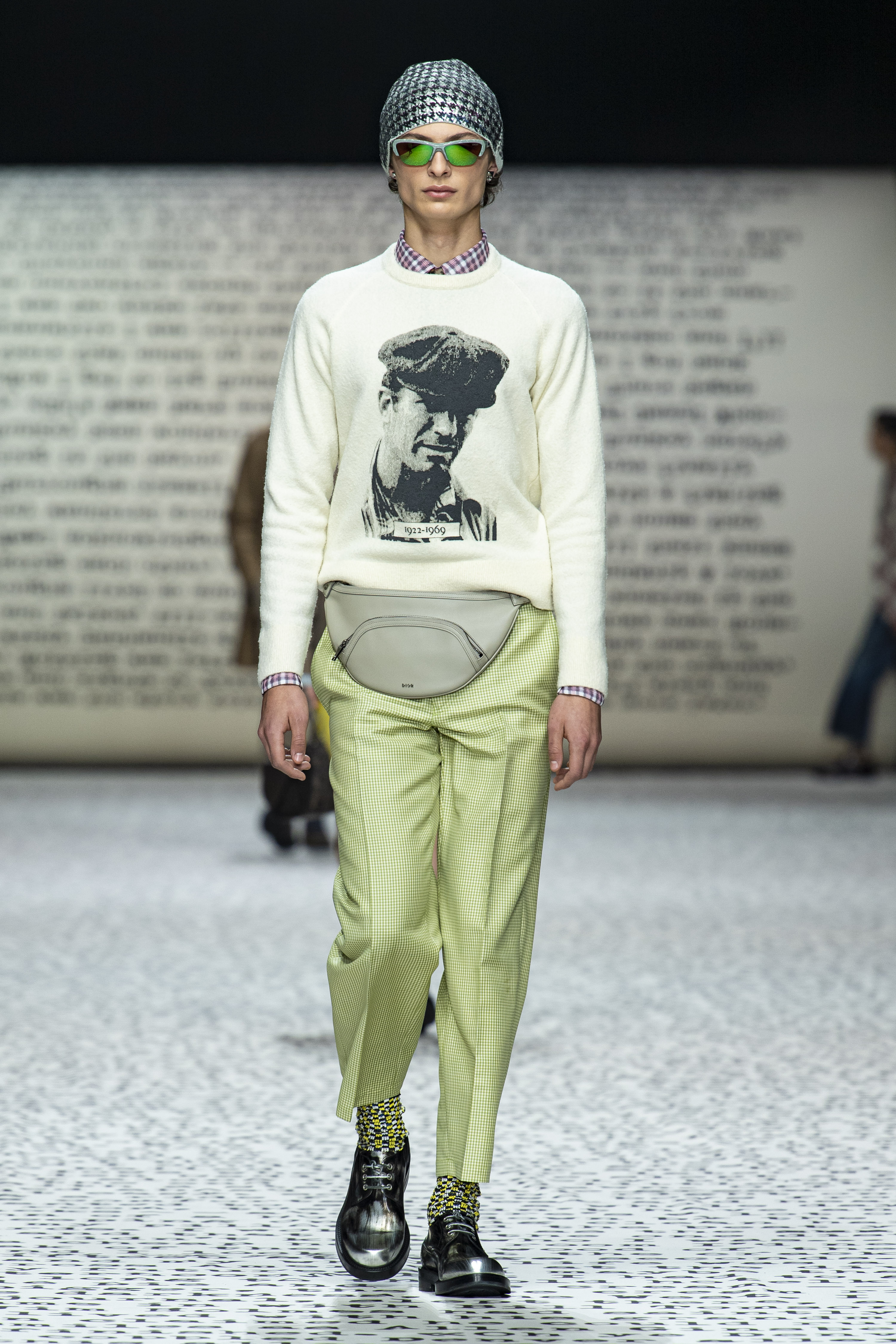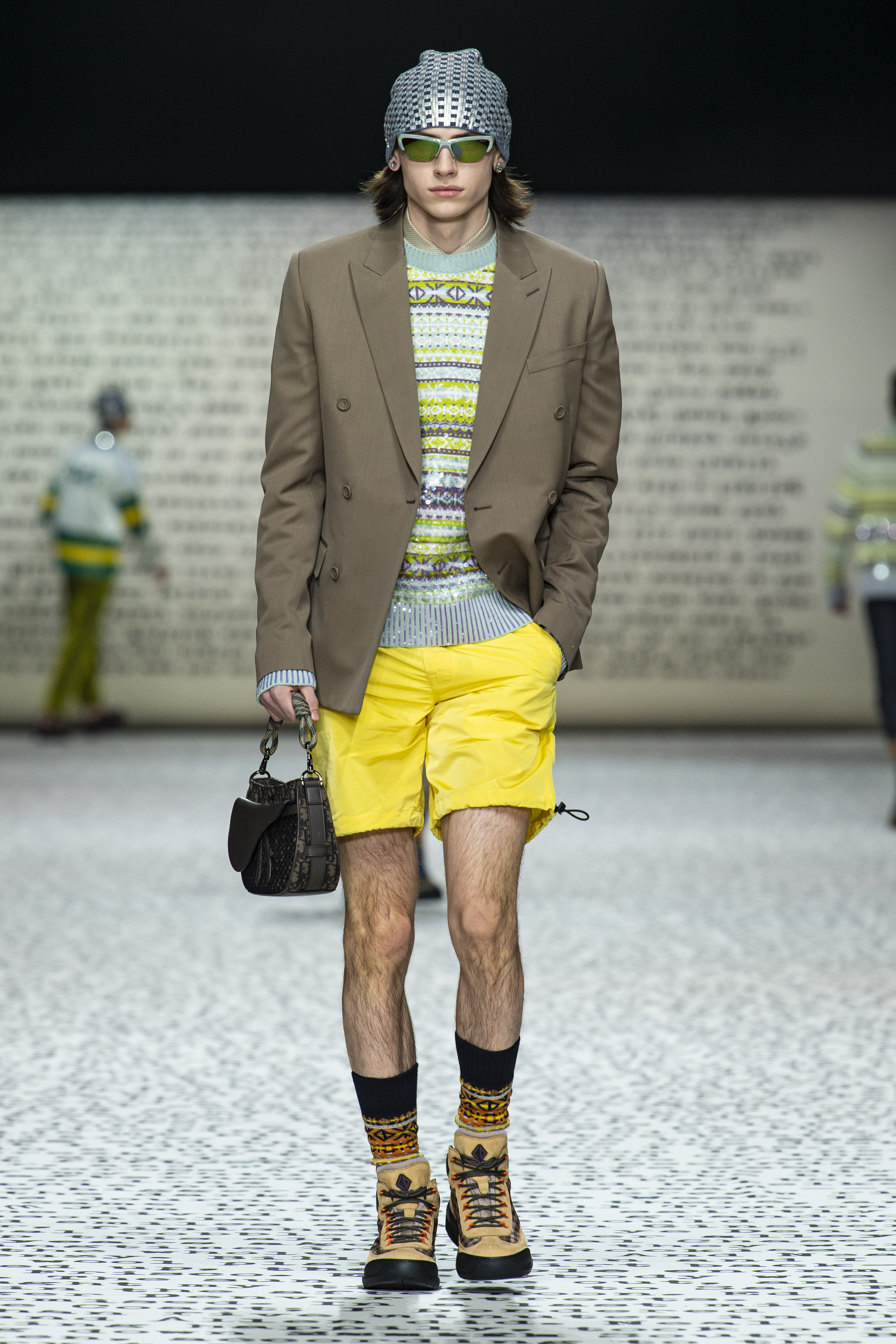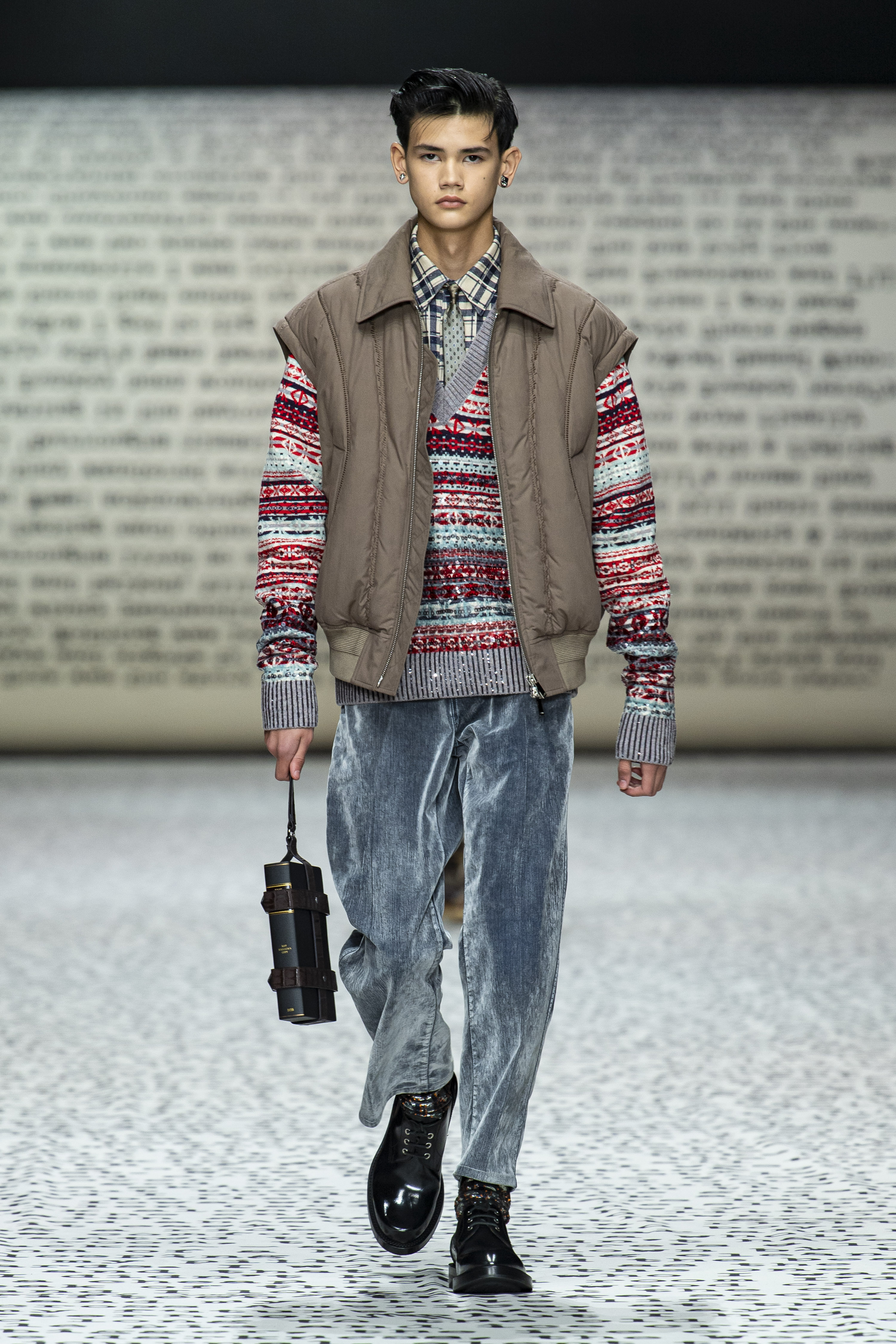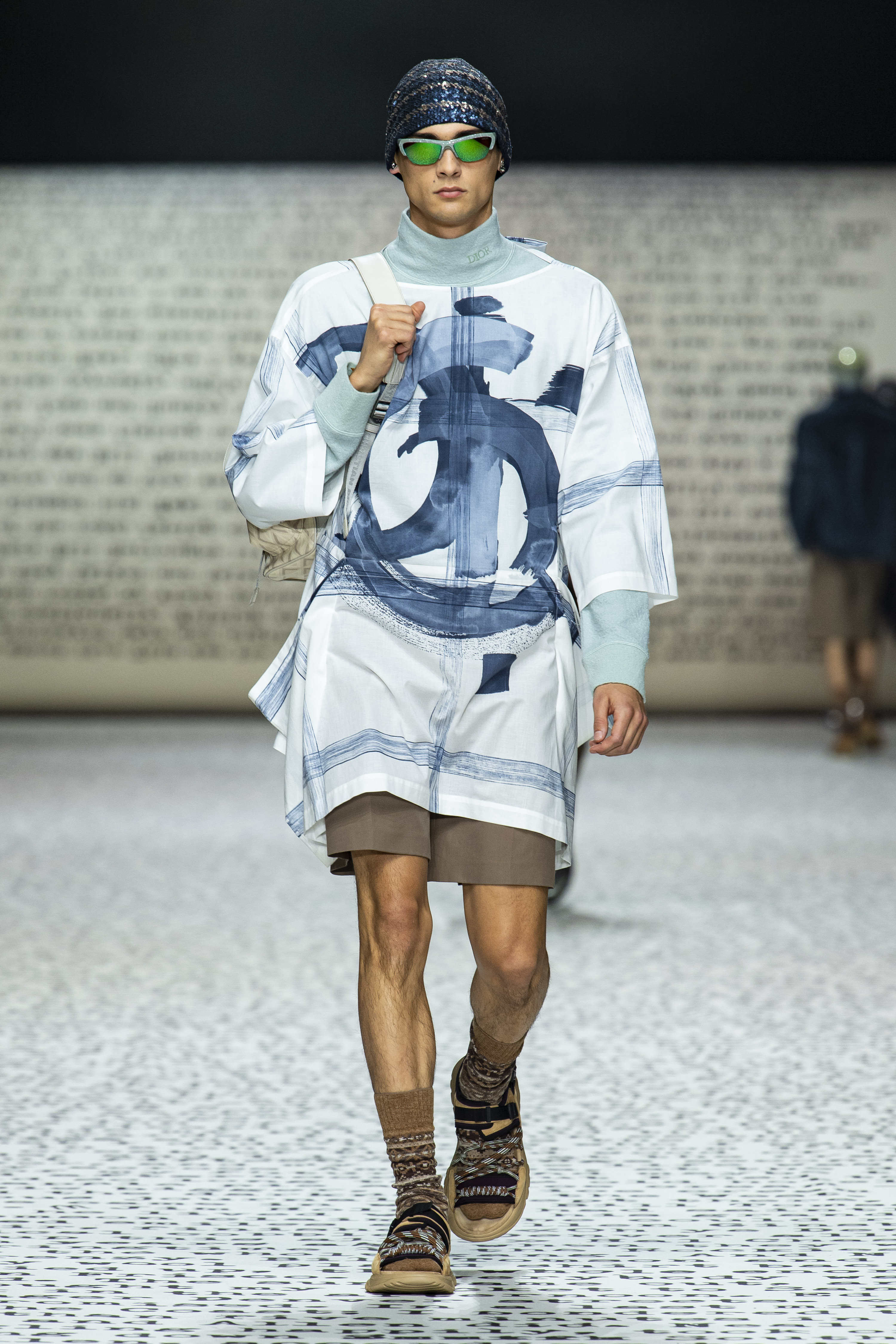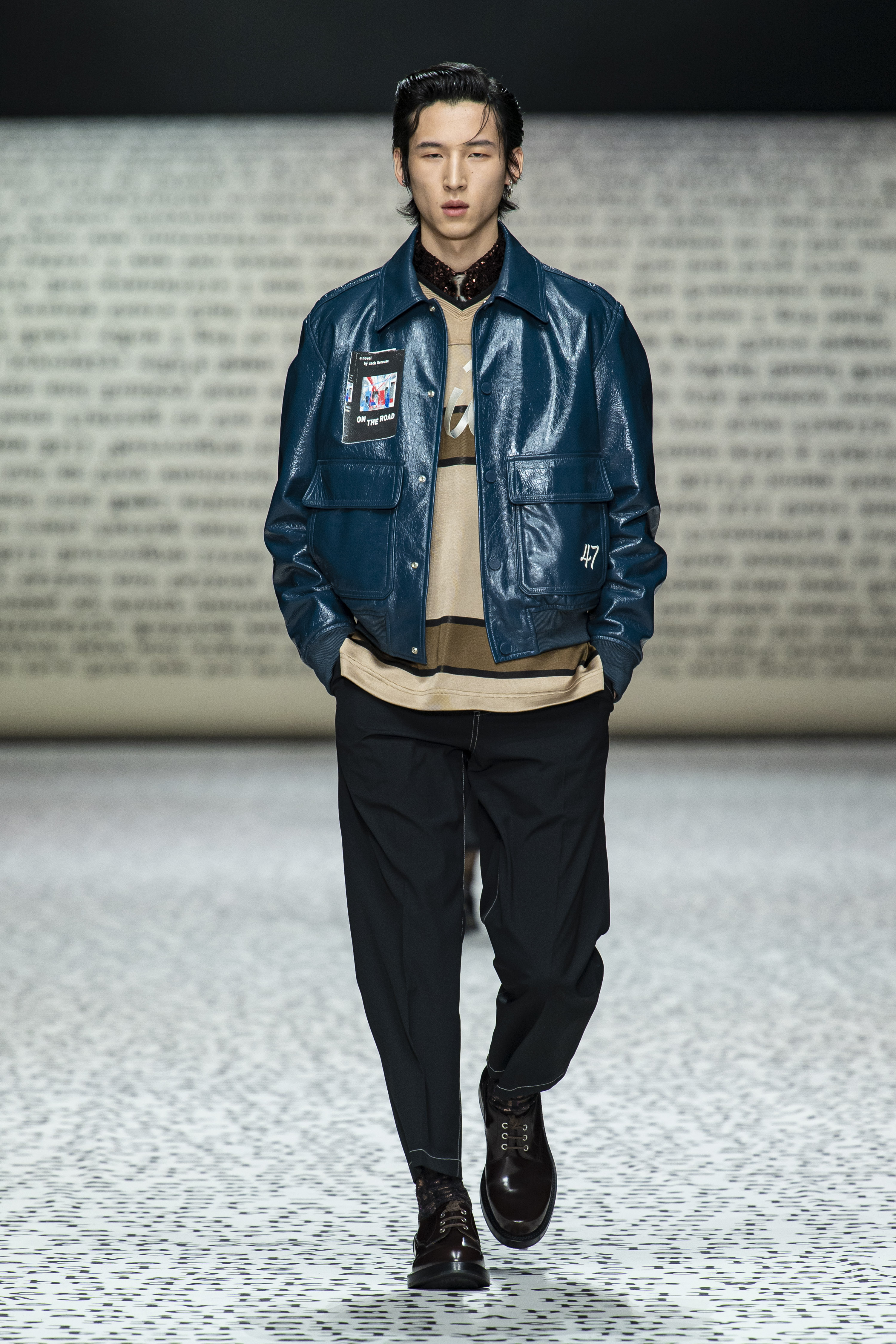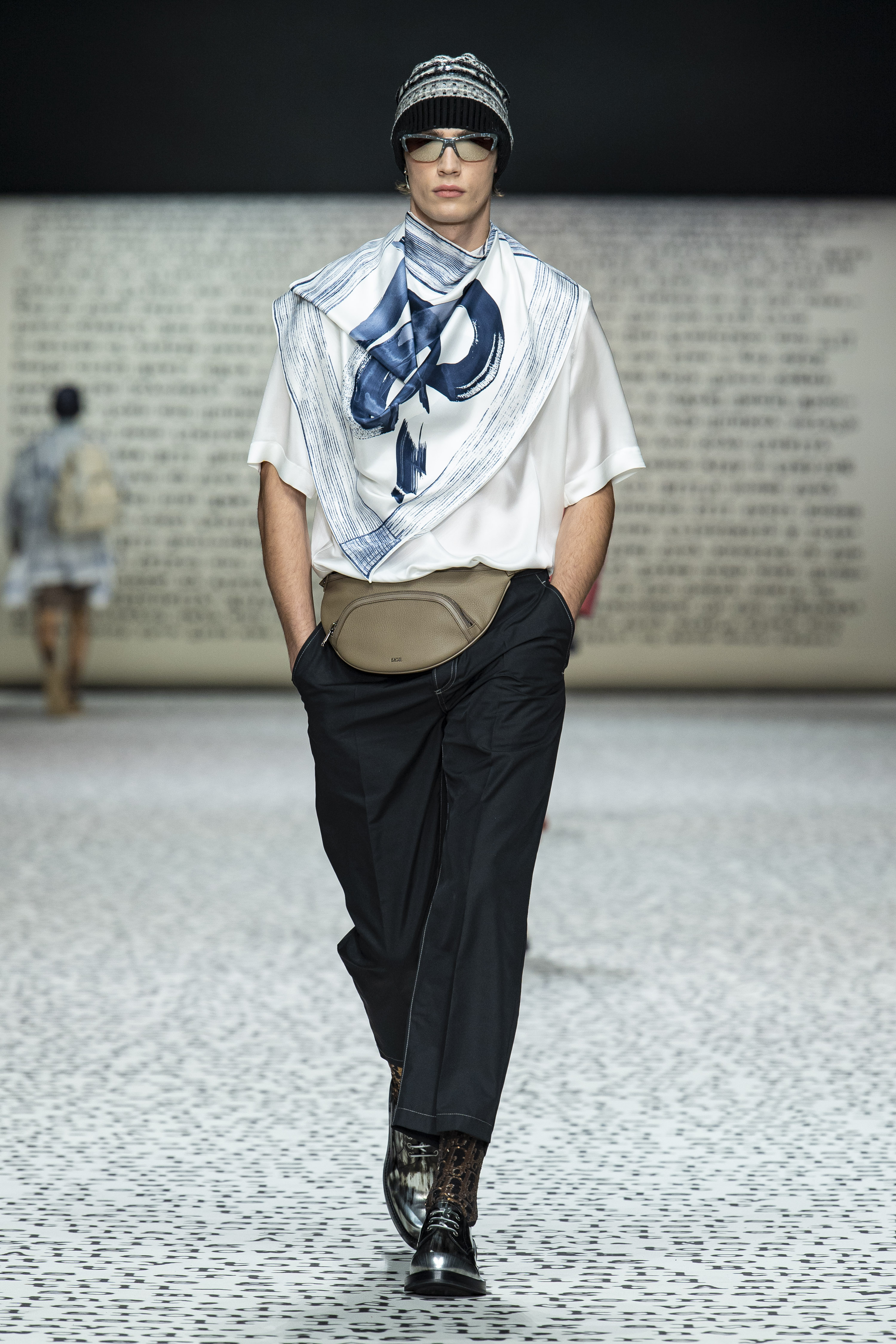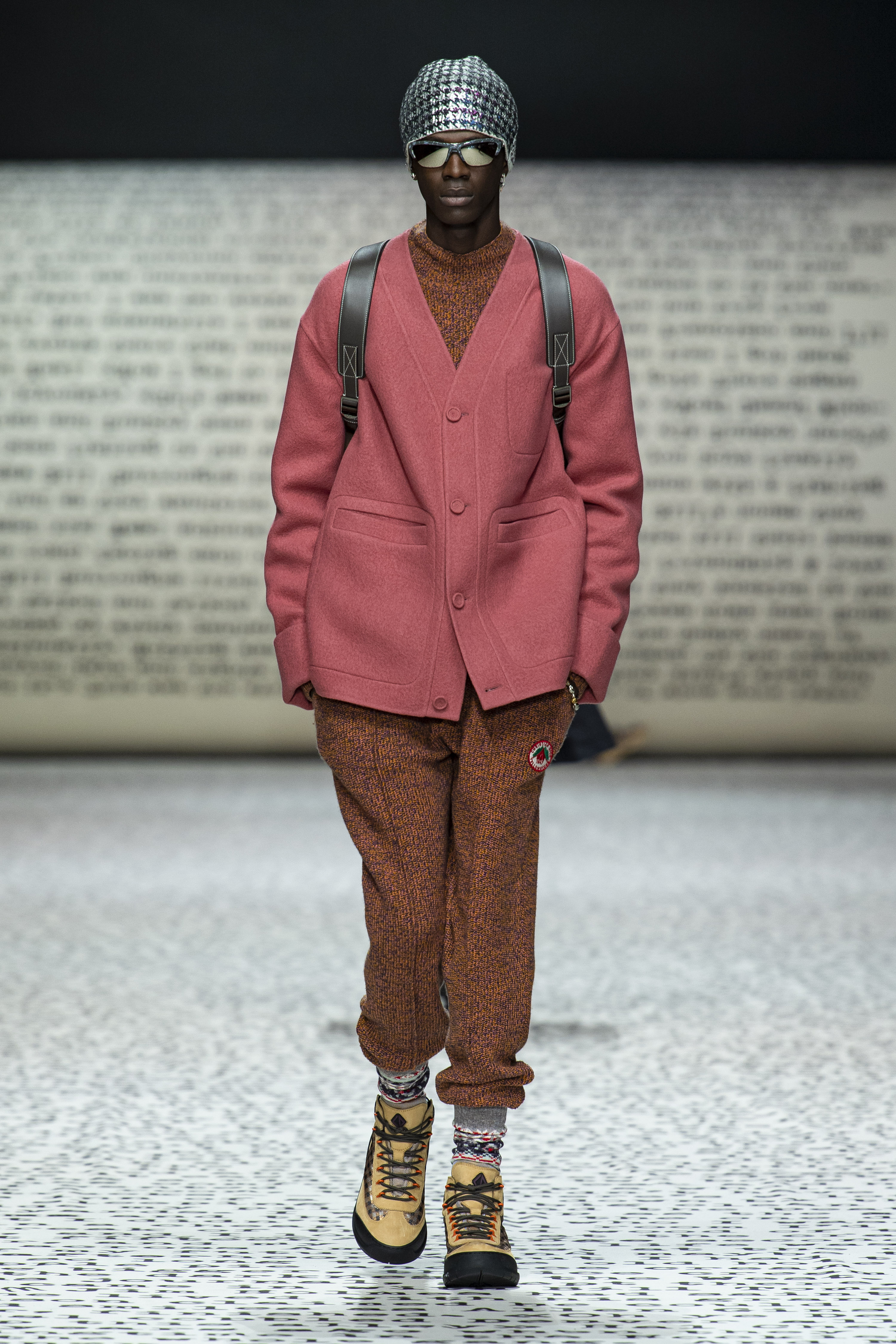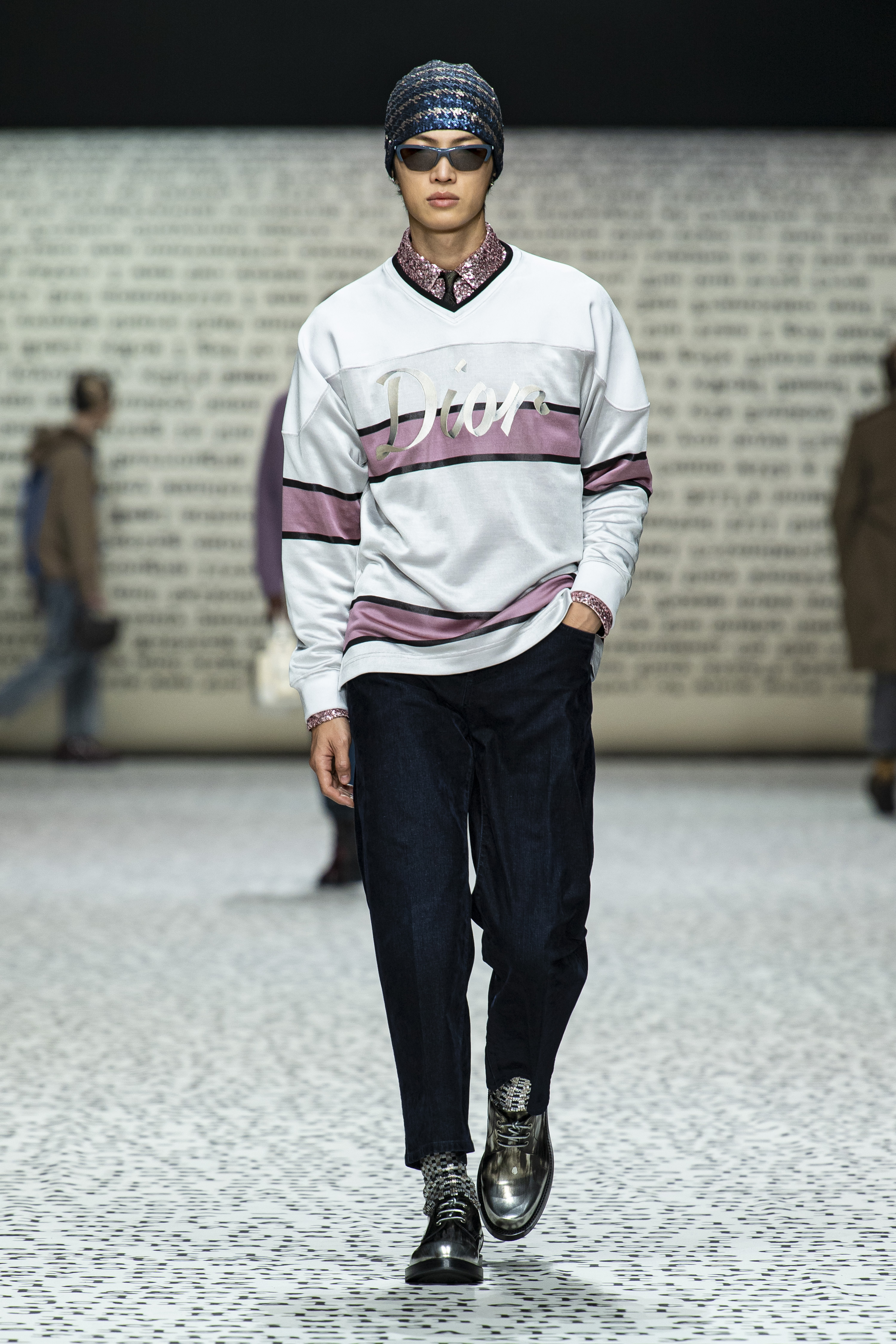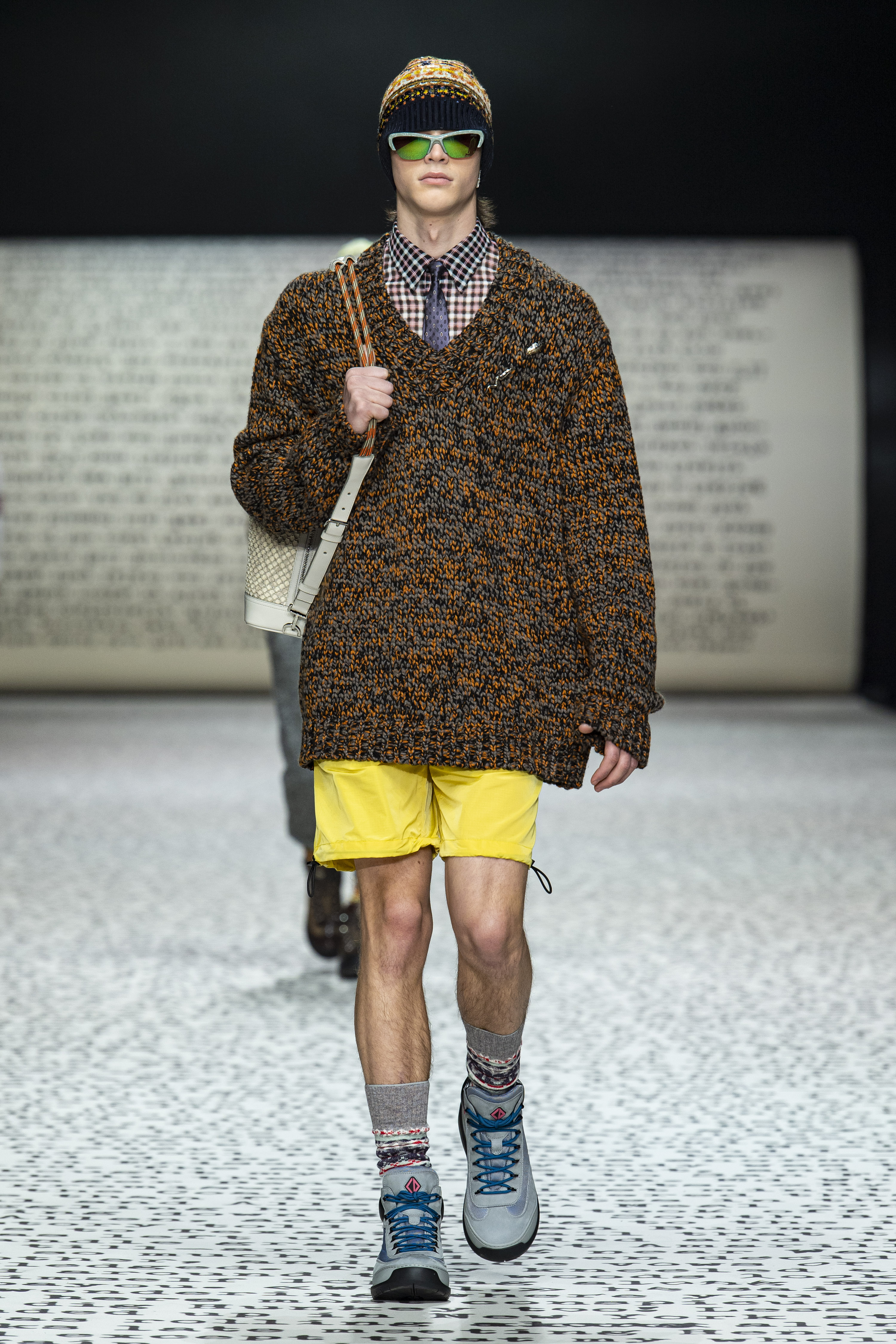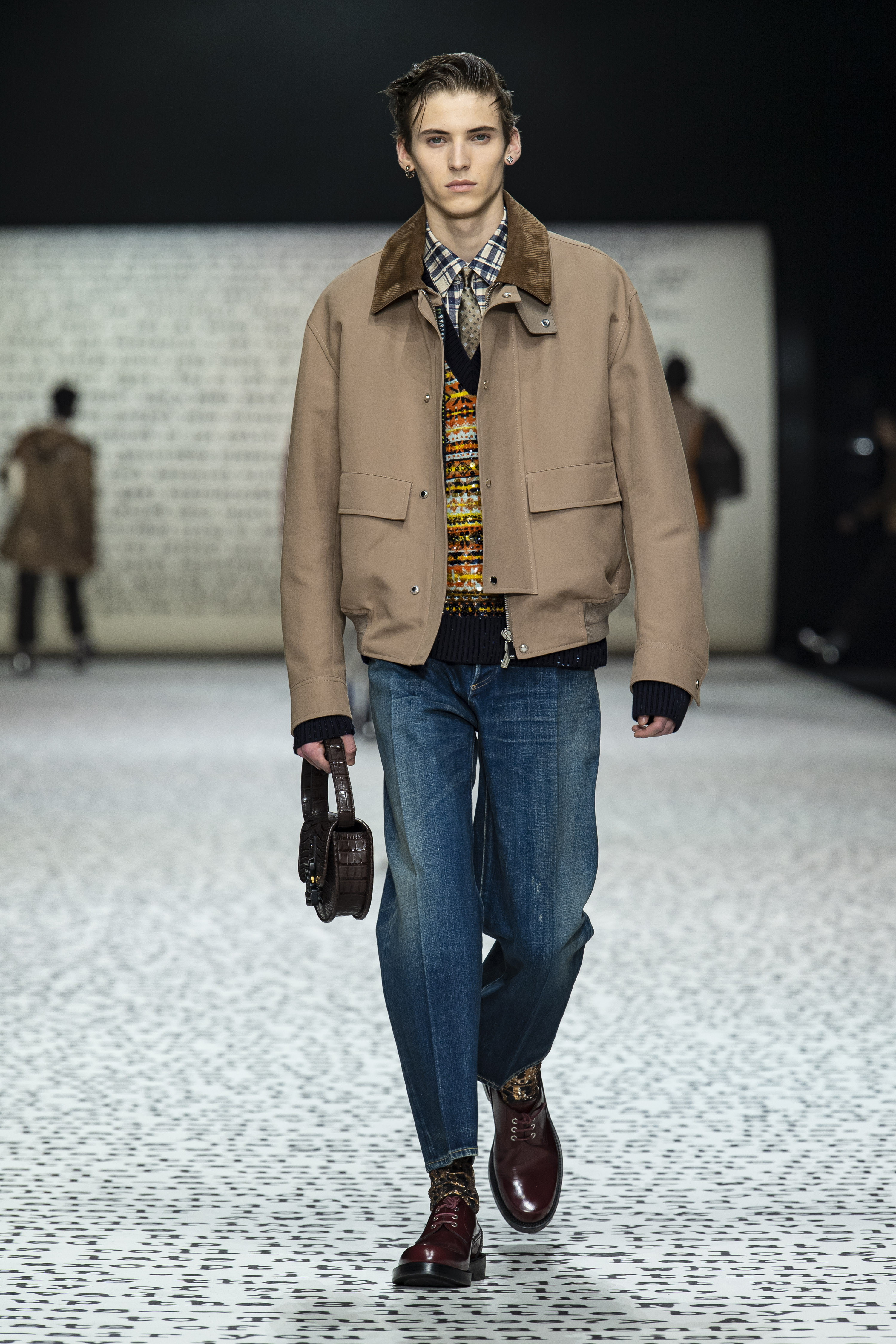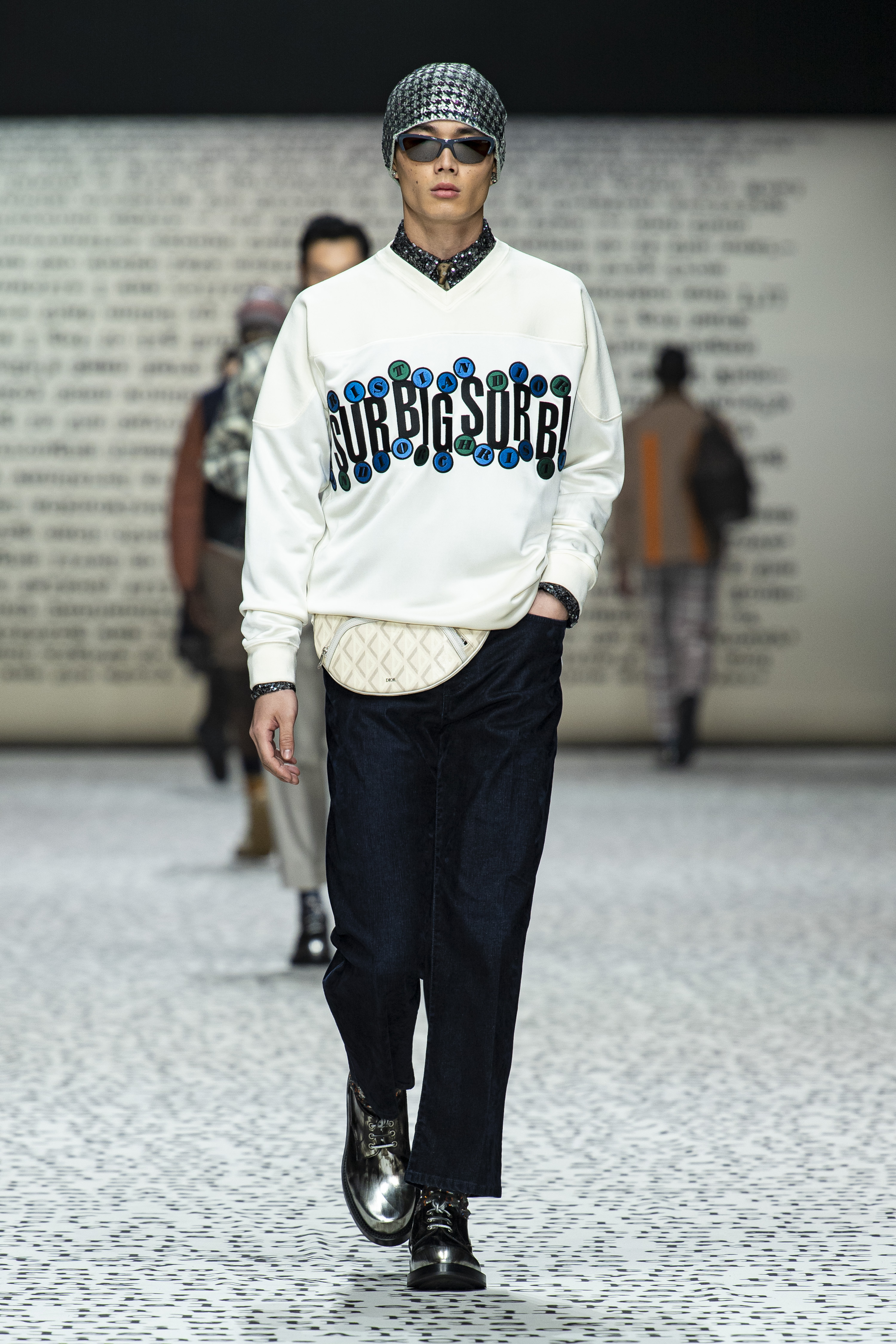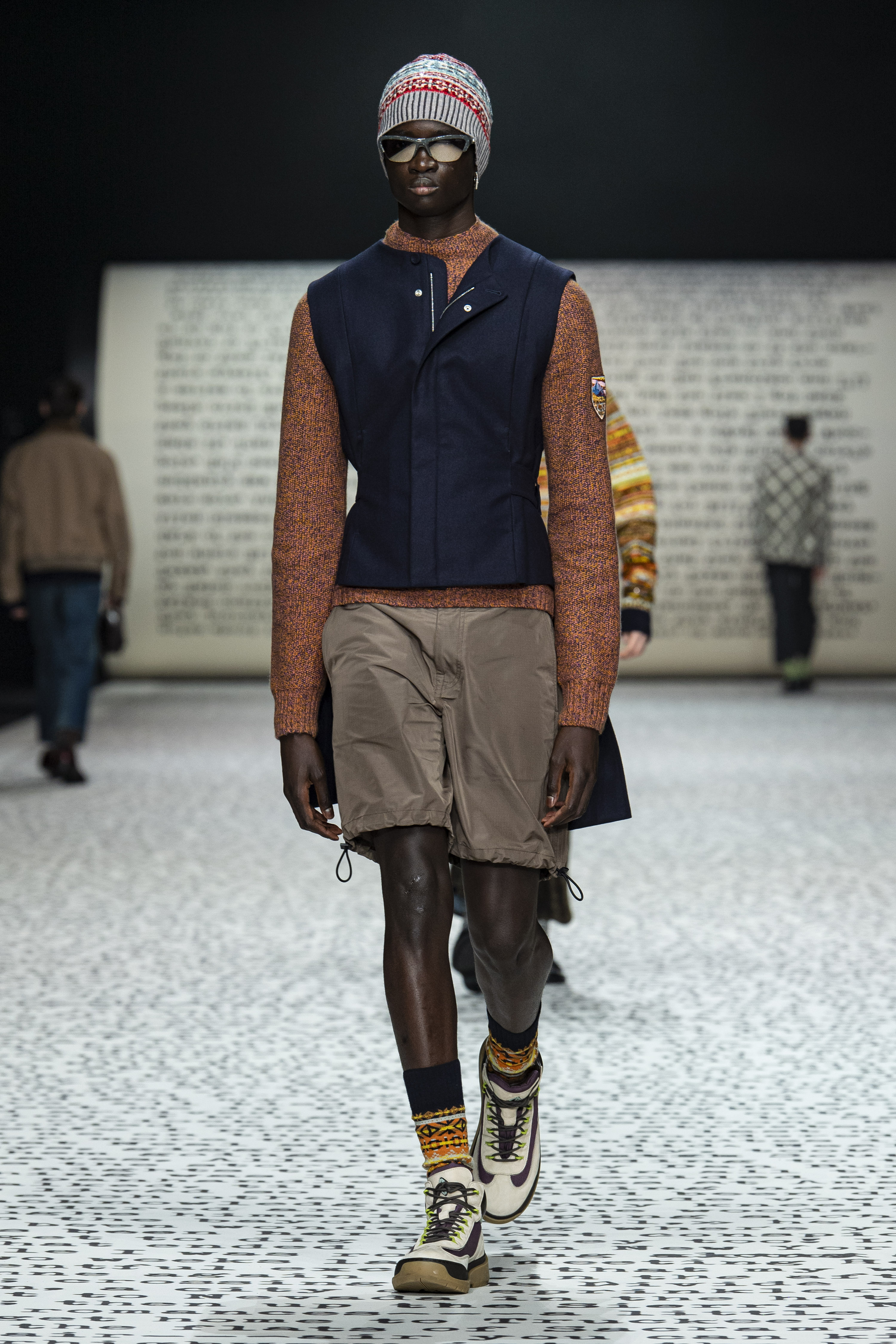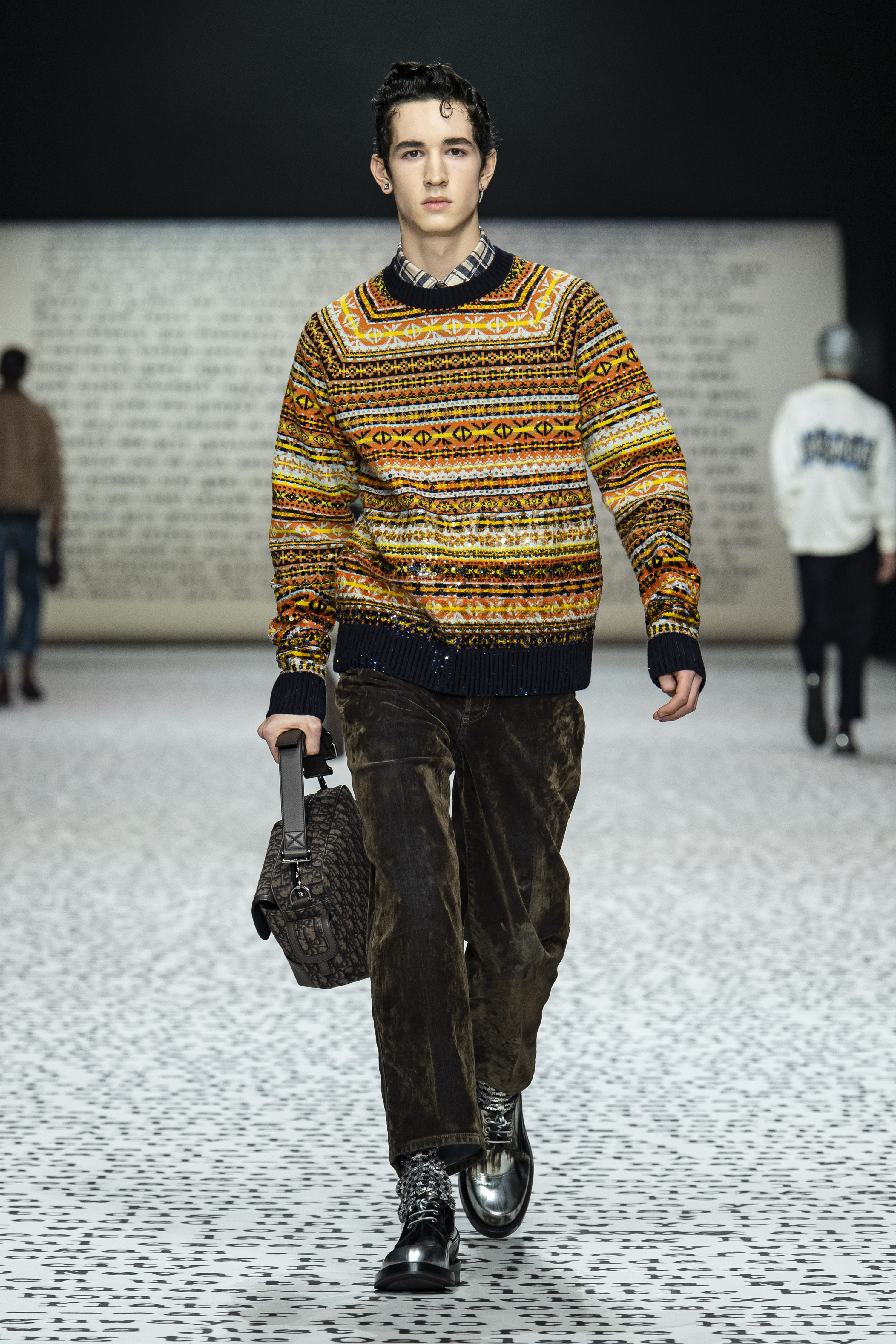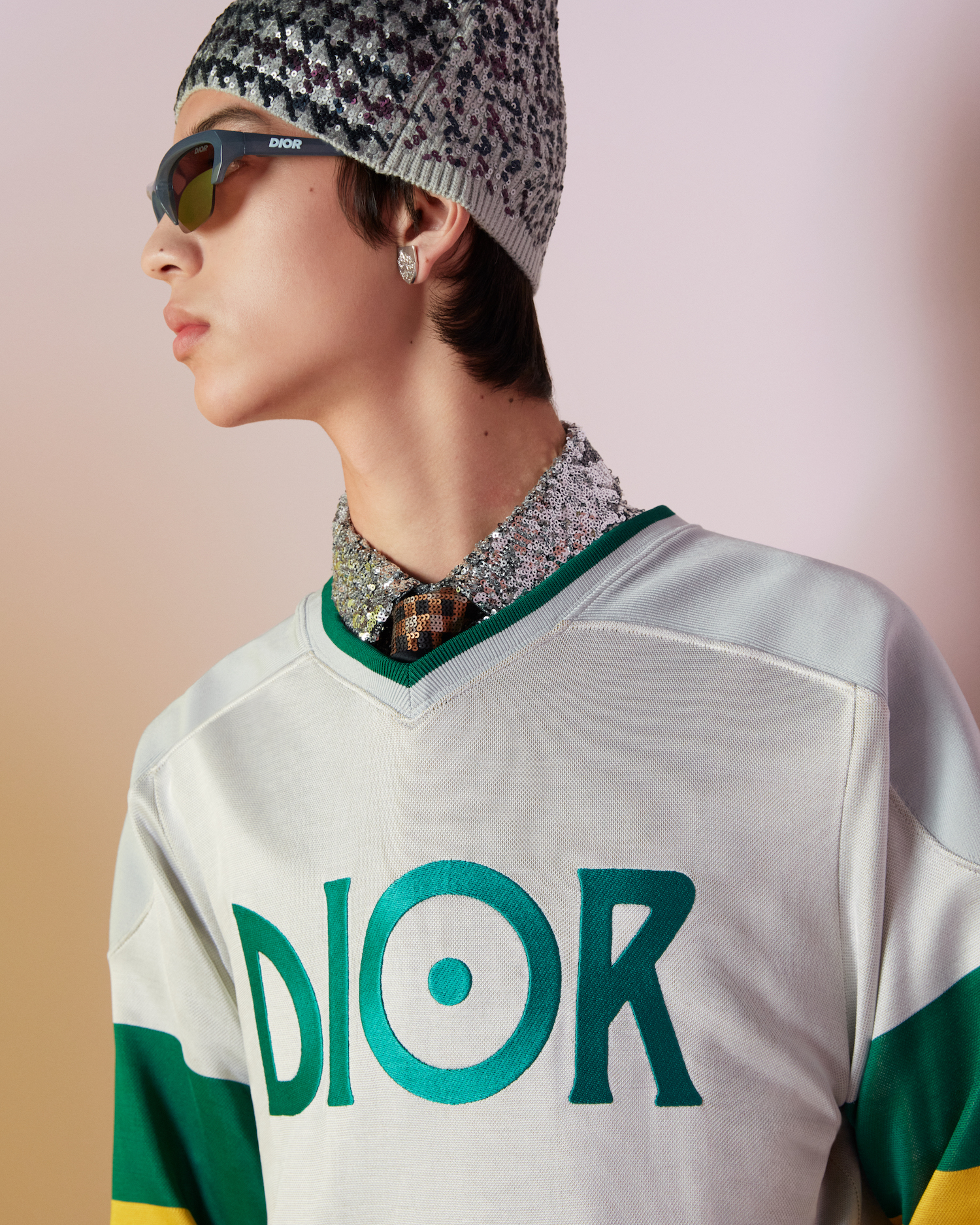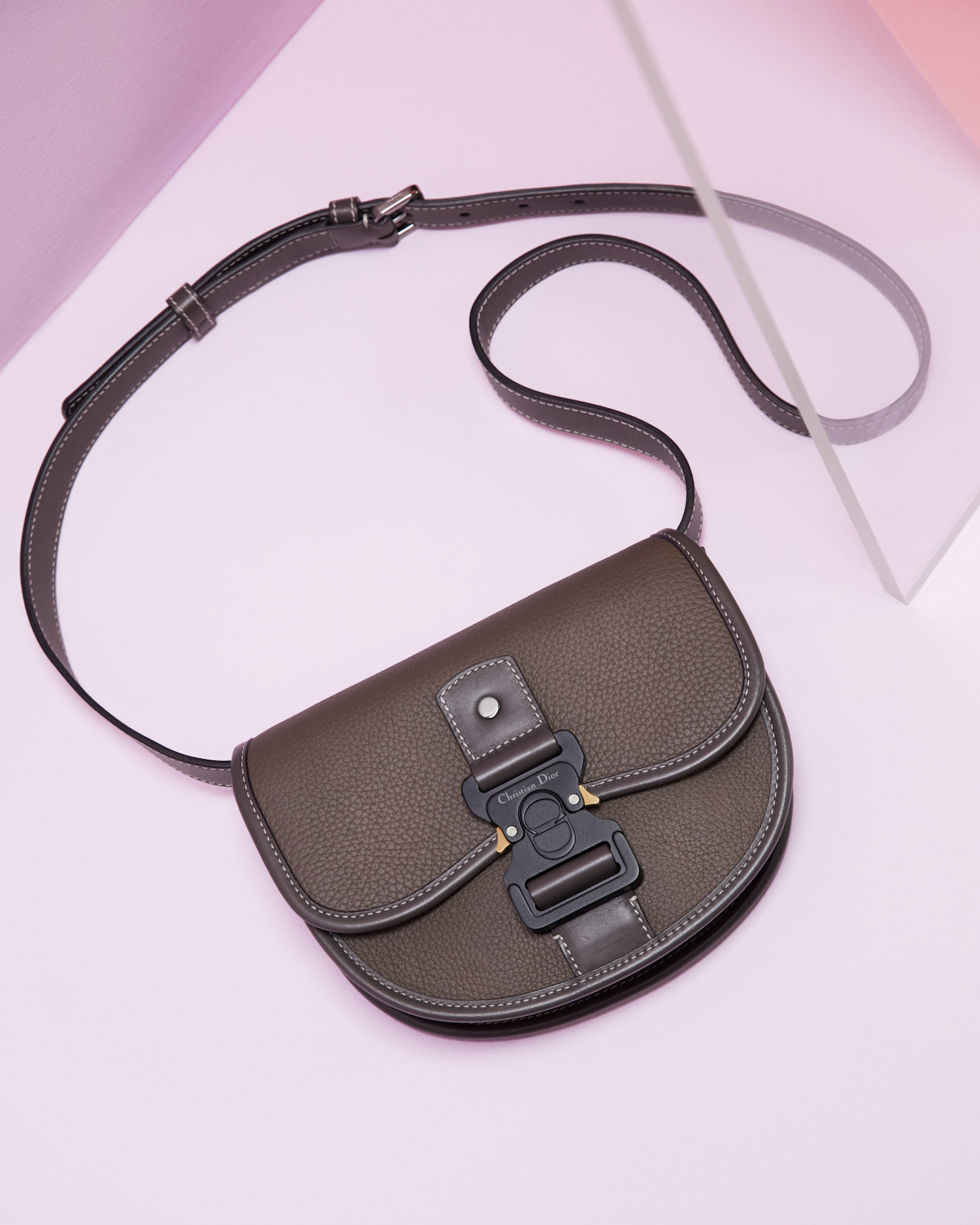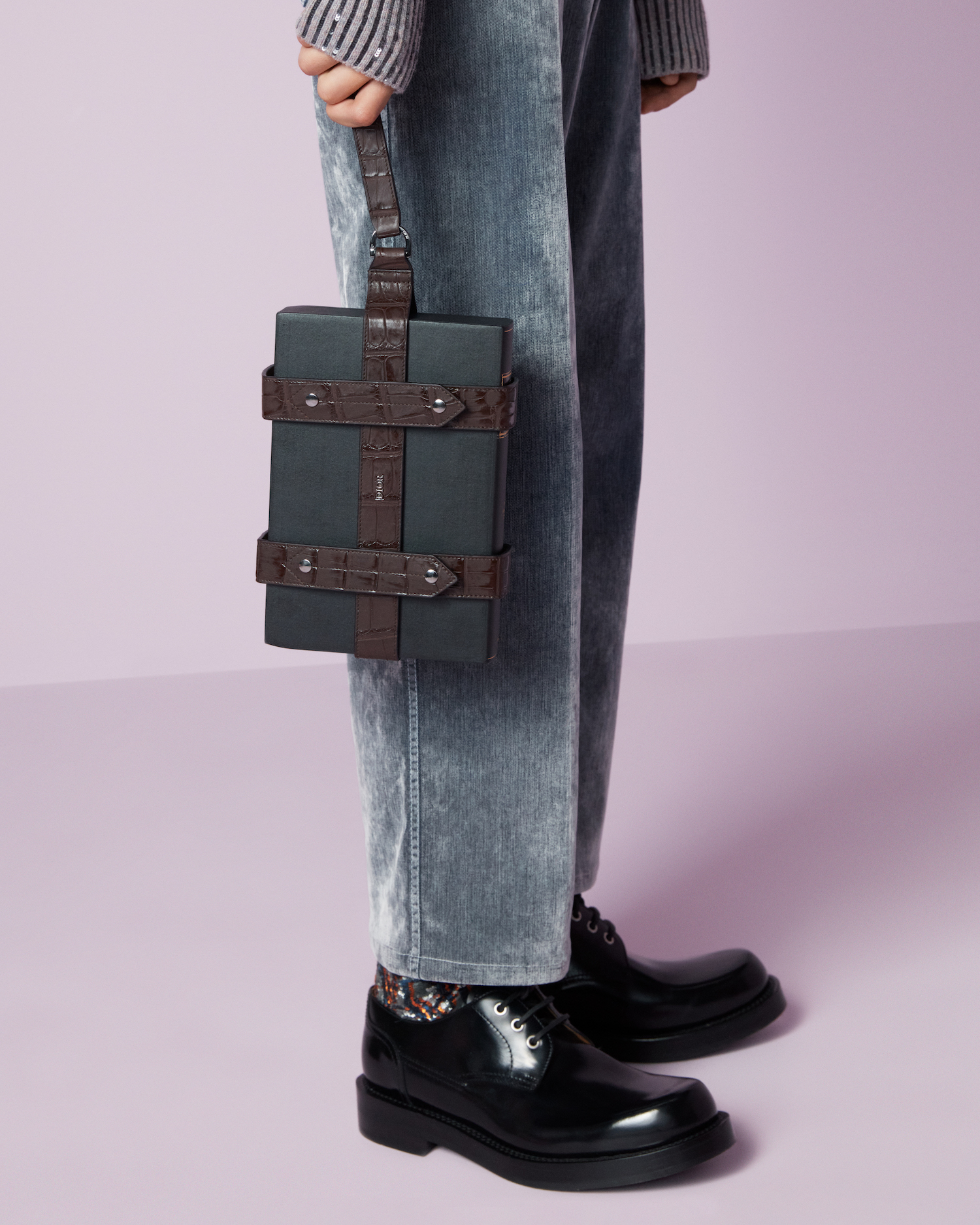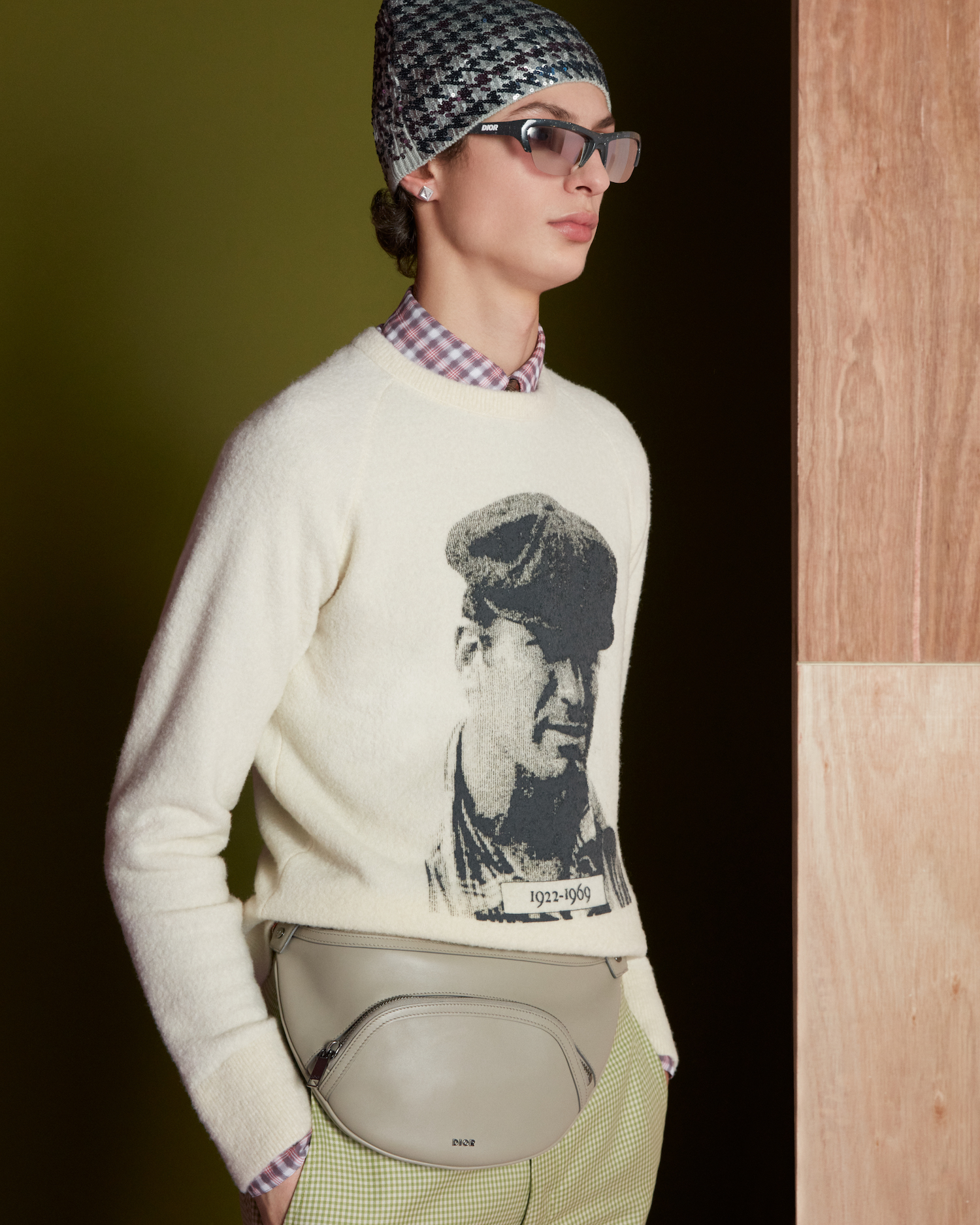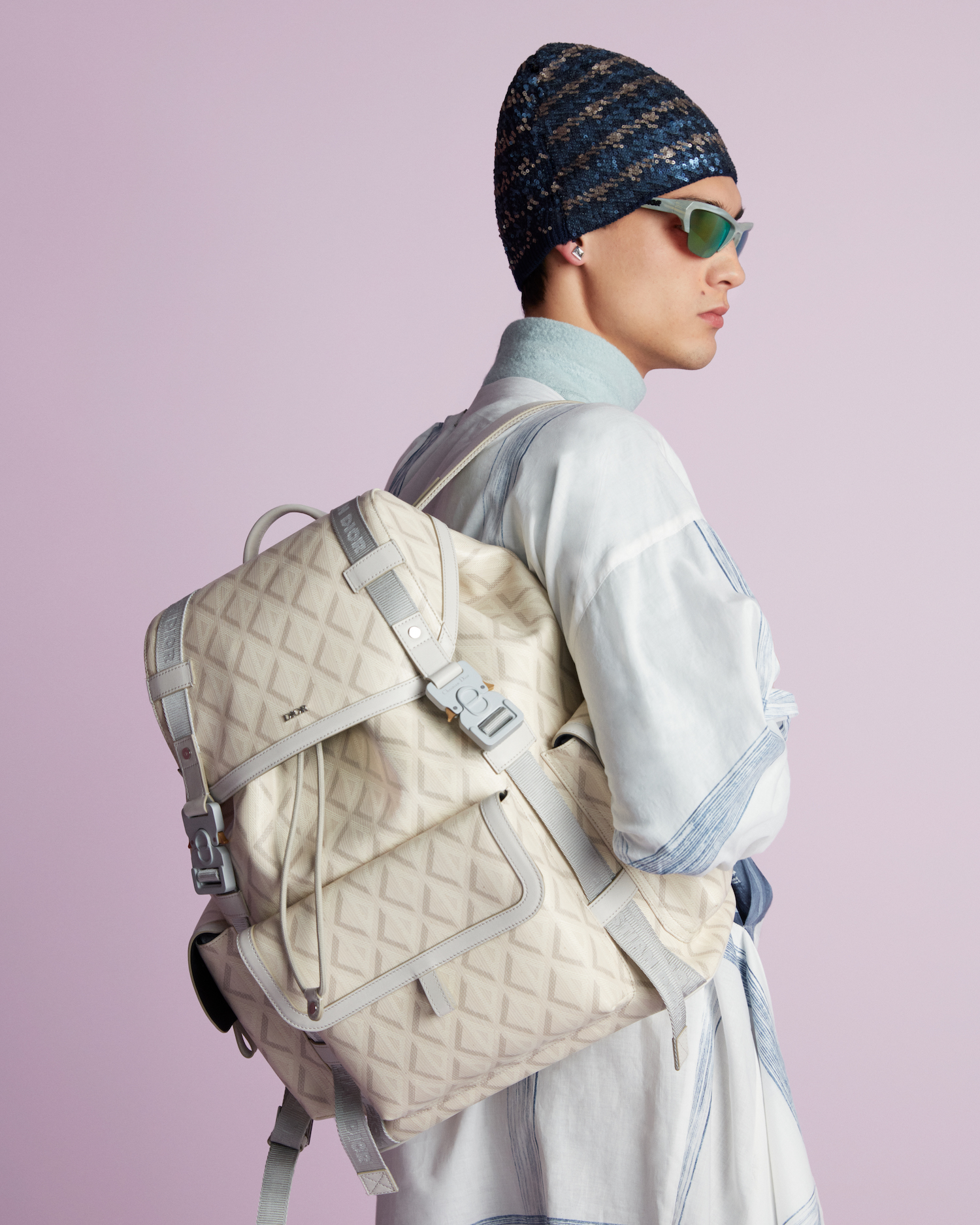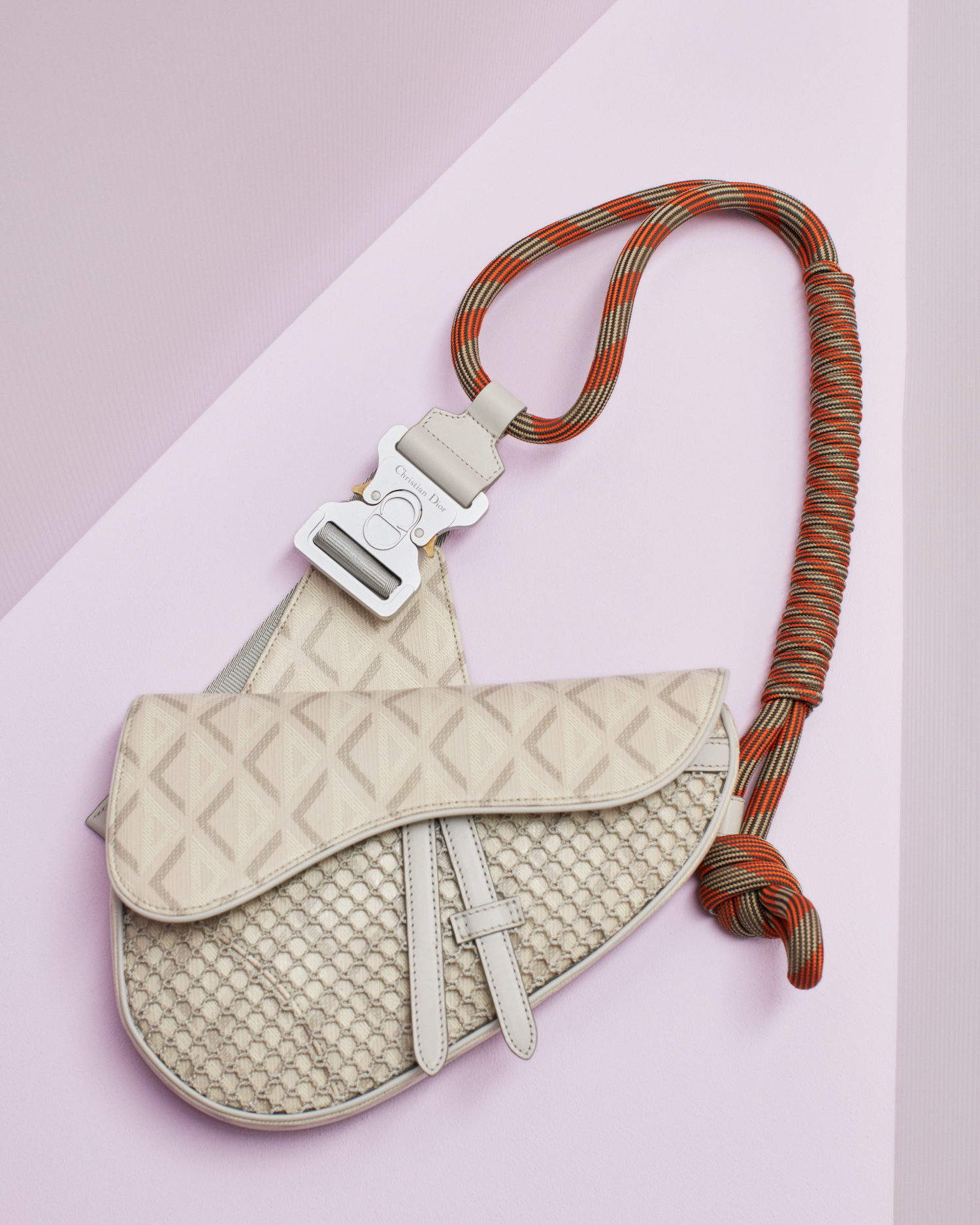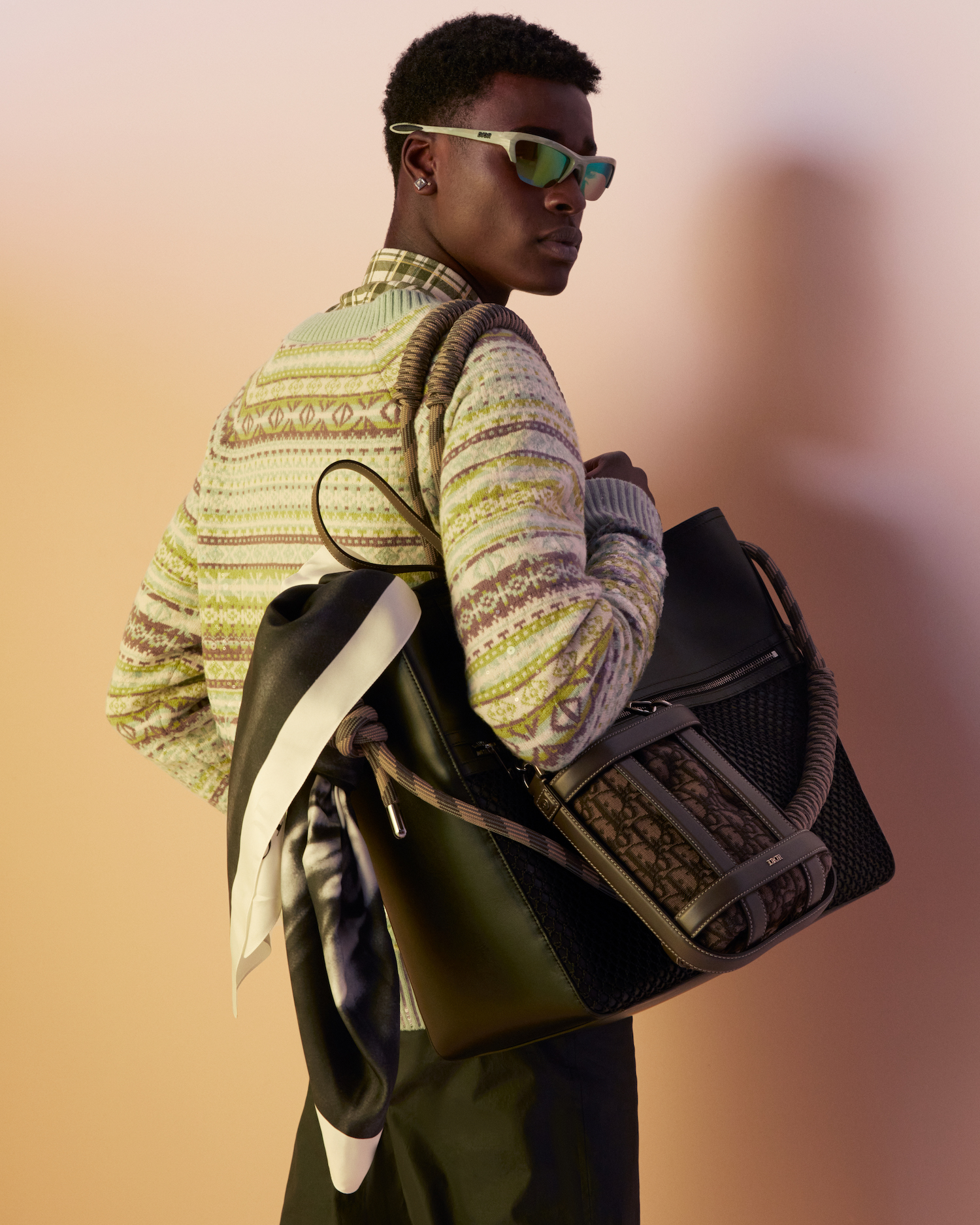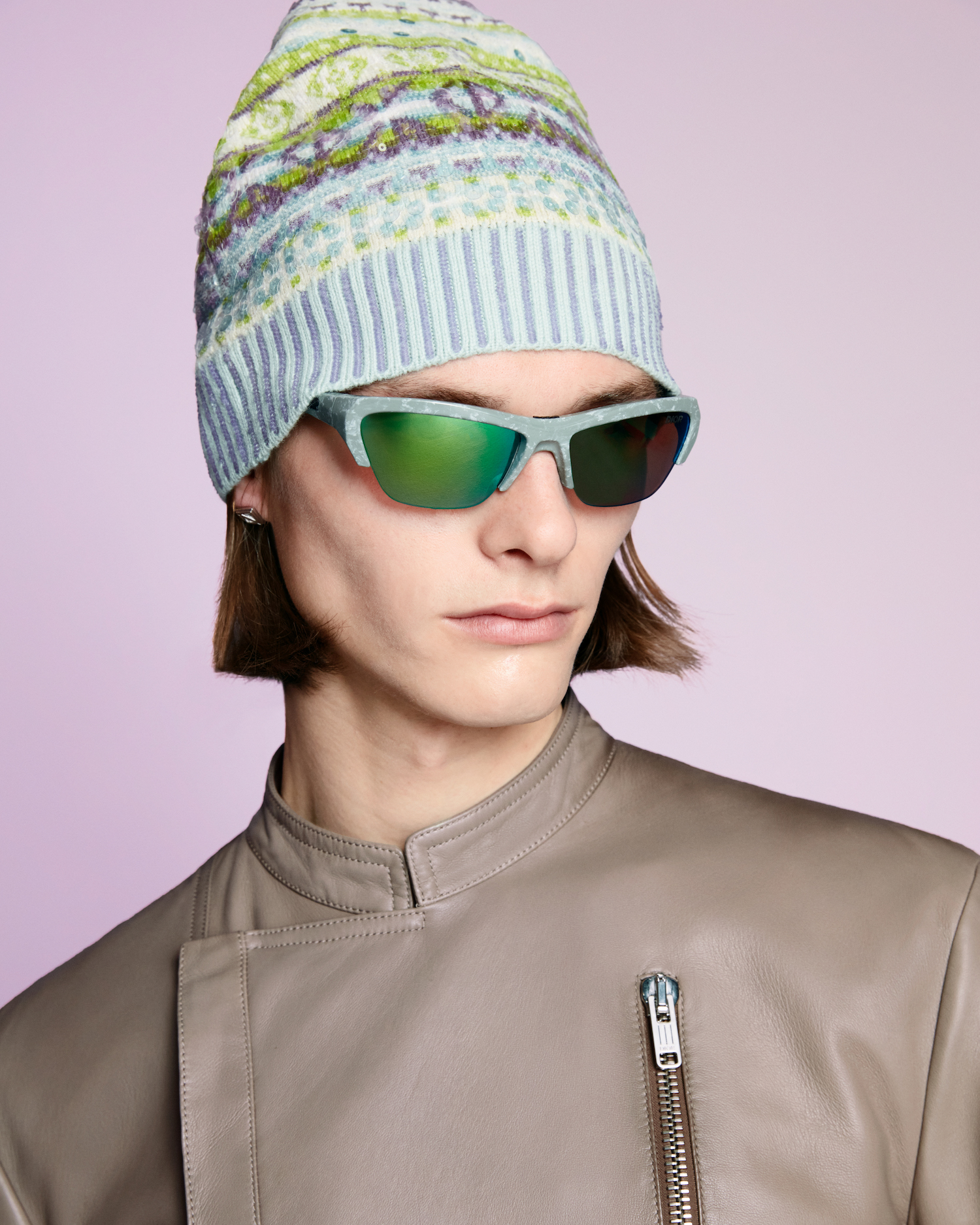 Follow i-D on Instagram and TikTok for more on fashion.
Credits
---
All images courtesy of Dior