Photo by Alessio Botticelli/GC Images, Taylor Hill/Getty Images, Gregg DeGuire/FilmMagic and LRNYC/MEGA/GC Images
A guide to Zoë Kravitz's style evolution
The effortlessly cool actress has embodied downtown dressing since 2007.
Photo by Alessio Botticelli/GC Images, Taylor Hill/Getty Images, Gregg DeGuire/FilmMagic and LRNYC/MEGA/GC Images
Zoë Kravitz is the embodiment of downtown cool. Since coming up in New York City in the late 00s, the actress slash i-D cover star and her ever-evolving style have captured the city's distinctive undercurrents as they ebb and flow with the times. Think 2008's Tribeca Film Festival twee and 2009's Brooklynite hipster to Alexander Wang's off-duty uniform and High Fidelity's trend-setting slacker styling. And beyond: Zoë's also been the face of some of the most aspirational red carpet moments of the last half-decade. Remember the stunning Saint Laurent half-naked dress at the 2018 Met Gala? What about the gold bra she sported to the same year's Academy Awards? And that's not to mention her Audrey Hepburn-inspired wedding dress or summer 2021's viral slip skirt-ed looks. Here, we take a look back at how Zoë's become one of the internet's most beloved fashion icons. This is Zoe Kravitz's style evolution.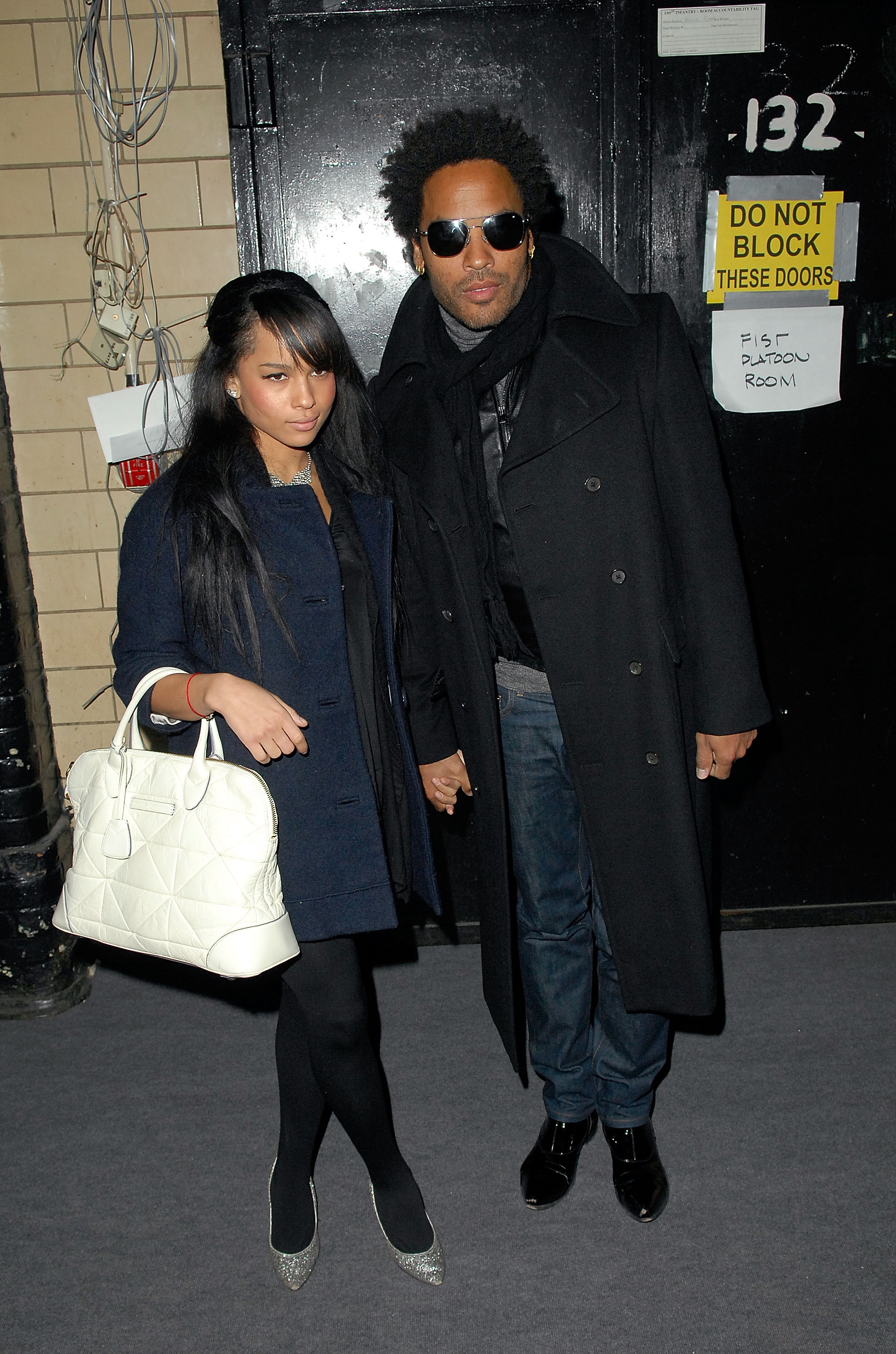 Leaving Marc Jacobs AW07 show, 2007
Before beginning her acting studies at New York's Purchase College, and while still in high school, Zoë landed her first acting gig: a bit role opposite Catherine Zeta-Jones in 2007 rom-com No Reservations. With her star firmly on the rise — and invitations to film premieres and NYFW shows rolling in — Zoë adopted a formative iteration of the downtown, it-girl wardrobe. It was 2007; Gossip Girl had just hit the airwaves; and Zoë, then 18 years old, was decked in the era's satin Prada headbands, brocade minidresses (paired with black Mary Janes), platform peep-toes and side-bangs. Here — to the Marc Jacobs AW07 show — she wears the quintessential Blair Wardolf-lite outfit: classic peacoat, opaque tights, sparkly pointed toe pumps and a big bowler bag nestled perfectly in the crook of the elbow.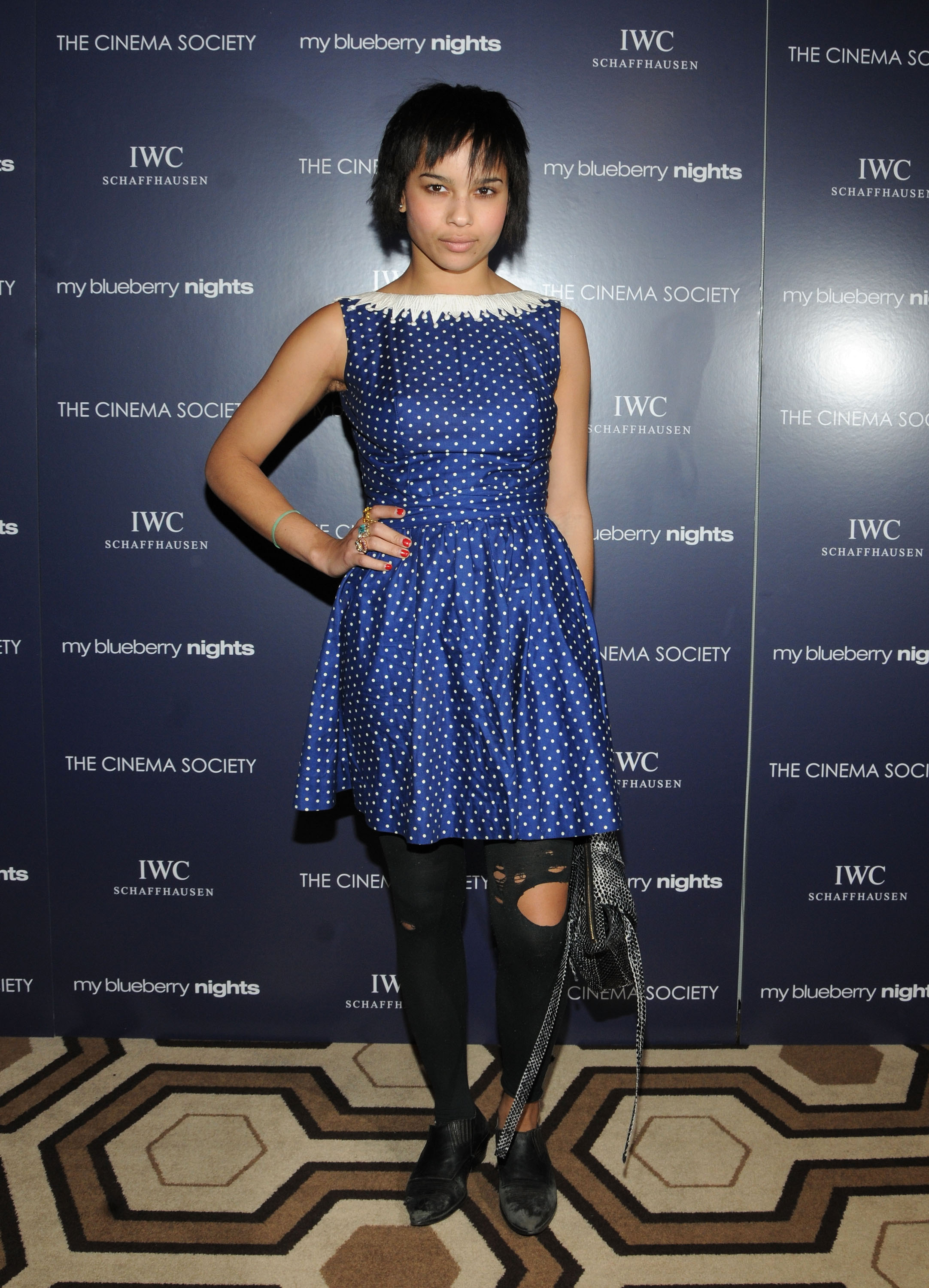 At the My Blueberry Nights premiere, 2008
In 2008, Zoë took supporting roles in back-to-back independent films Birds of America and Assasination of a High School President. The actress attended that year's film festival circuit (Sundance, Tribeca, et al.) with a new look befitting of a fledgling indie darling. Zoë's edgy take on the era's boho-grunge style took in lots of layering (massive scarves and red carpet coats), vintage pieces (kiss lock purses and cocktail dresses) and heavy distressing (moth-bitten wool sweaters and torn-up leggings, seen here), all alongside a new chopped 'do.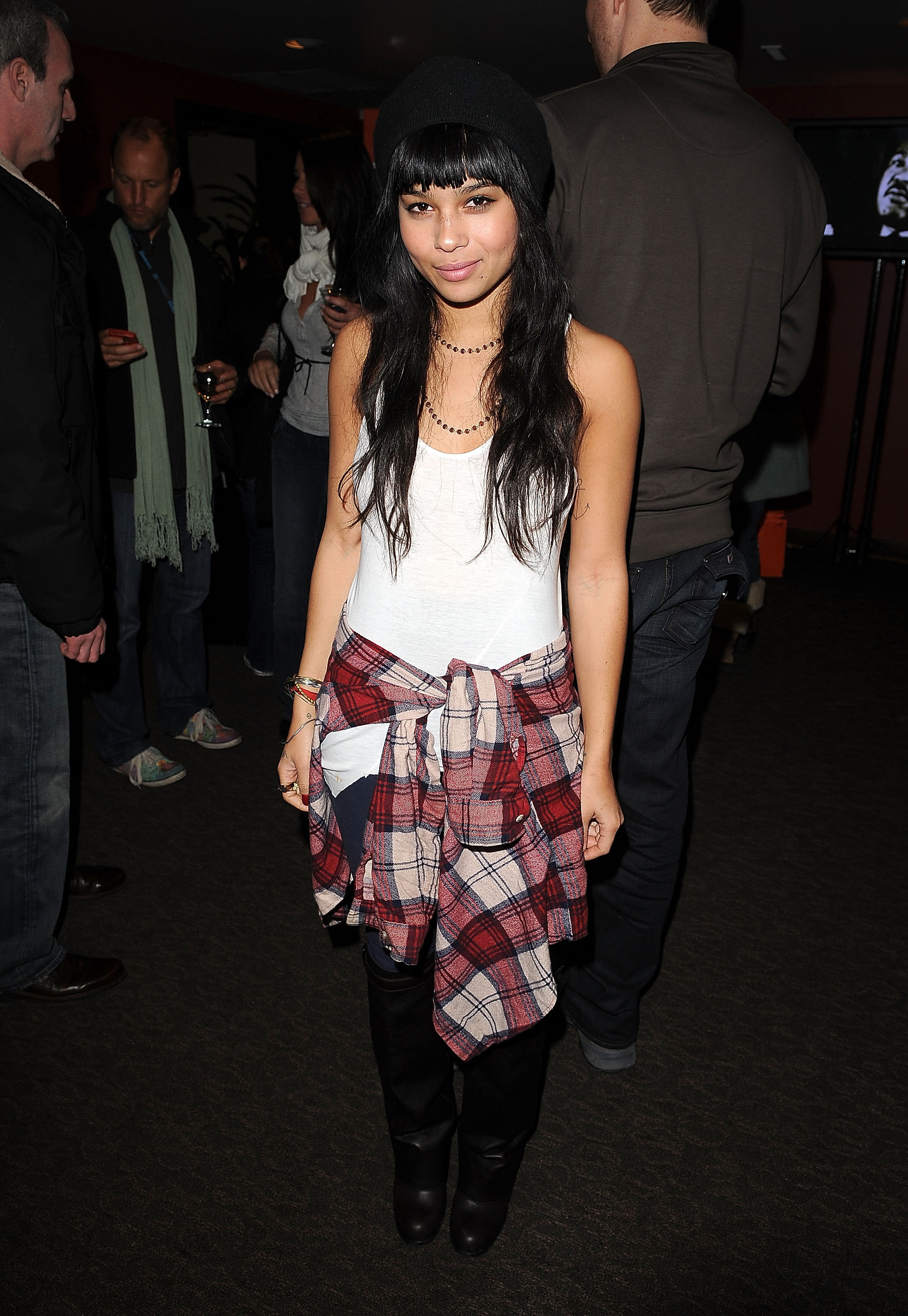 At a party, 2009
By 2009, Zoë had — like many of us — transitioned from boho-grunge to full-on hipster style. You know the look: overlong tanks with denim cut-offs, plastic rosary necklaces and turquoise rings, American Apparel lace bras and floral headbands, and tight Lurex minidresses. Here, Zoe wears one of the era's quintessentials accessories: a plaid shirt tied casually around the waist.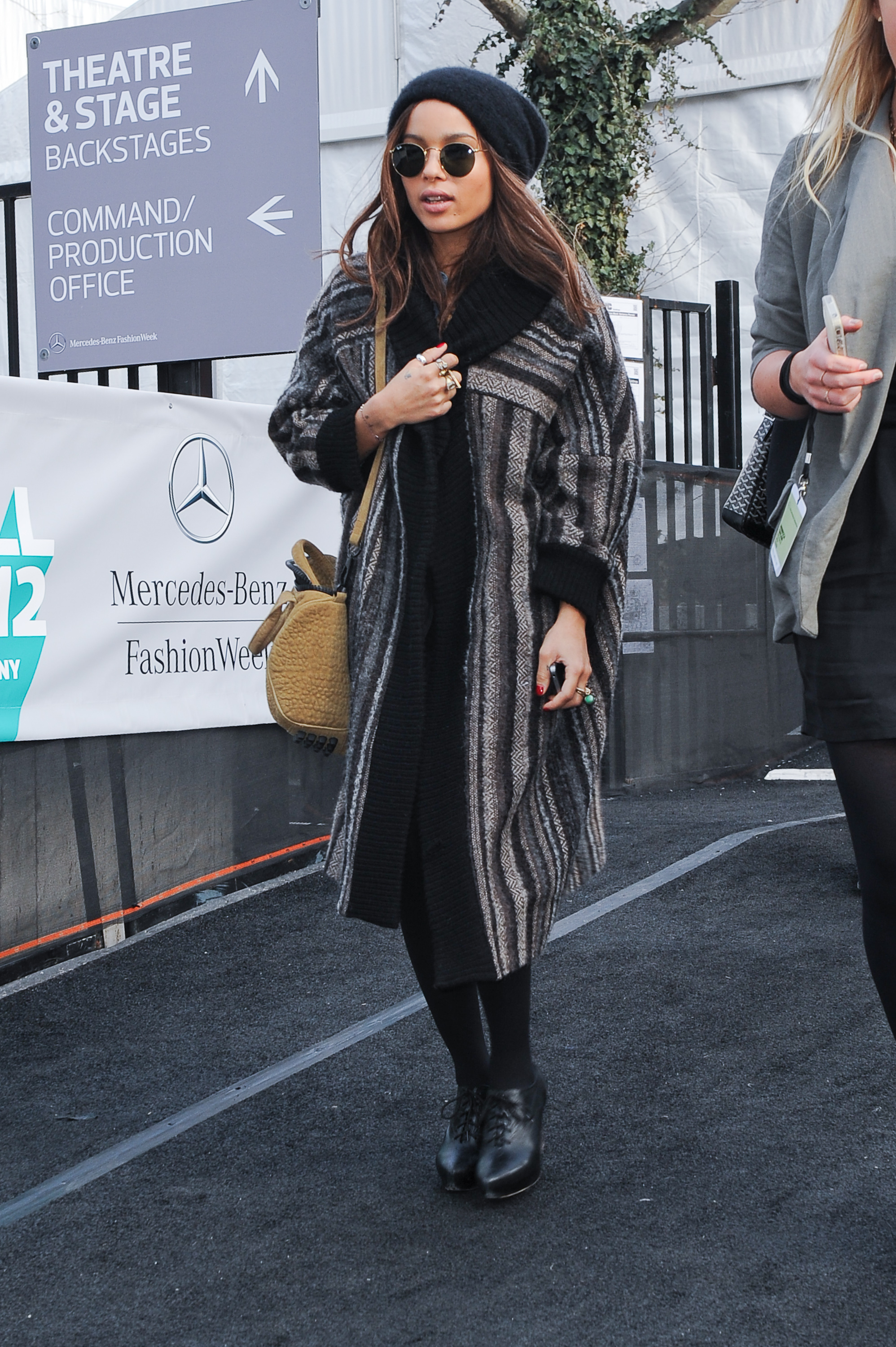 Off-duty in NYC, 2012
Zoë's hipster phase was short-lived and in the early 2010s, she returned to her boho-grunge roots with a series of seriously bundled off-duty looks. Whereas her early foray into the 00s trend was coloured by a salient twee-ness, this era was marked by a more sophisticated vibe, which saw the actress pairing rugged wool coats and beanies with platform booties and designer 'it' bags.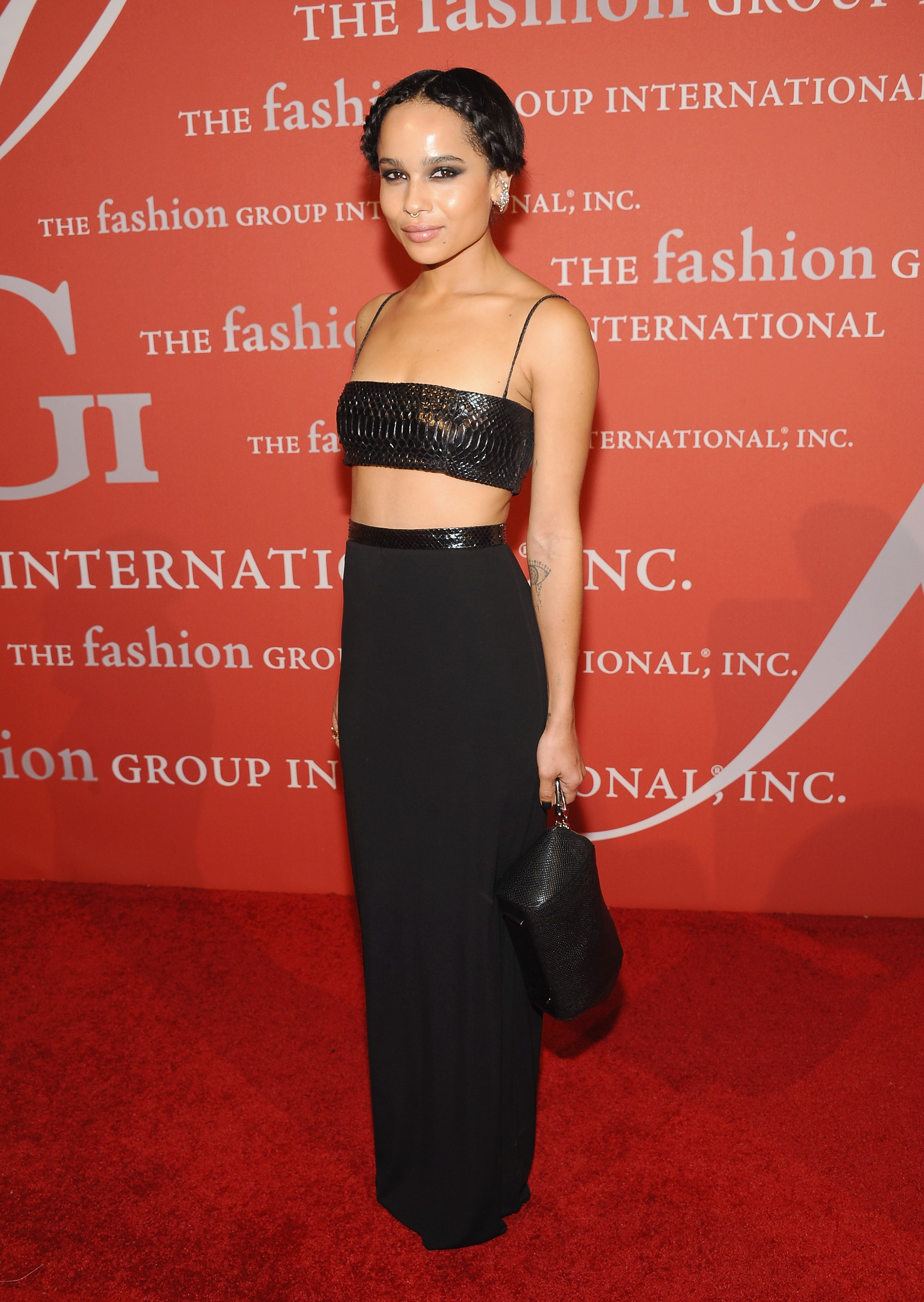 At the 30th Annual Night of Stars, 2013
Around 2009, Zoë Kravitz met Alexander Wang. Their meeting marked not only the beginning of a long-time friendship but of a collaborative relationship that would transform Zoë's personal style, as well. Throughout the early 2010s, Zoë wore head-to-toe Wang to nearly every red carpet she set foot on: a casual tuxedo to the 2010 Met Gala, a leather mini to the 2011 CFDA Awards, a proto-naked dress to The Dark Knight Rises premiere and a velvet slip dress to the premiere of X-Men: First Class, worn here. At the time, Alex was credited with single-handedly shaping the decade's downtown look. And, together, the duo elevated Zoë's style from boho-grunge to downtown-chic, both on and off the red carpet. Here, the actress wears a crop top and column skirt ensemble, a silhouette that would become a red carpet staple of hers to this day.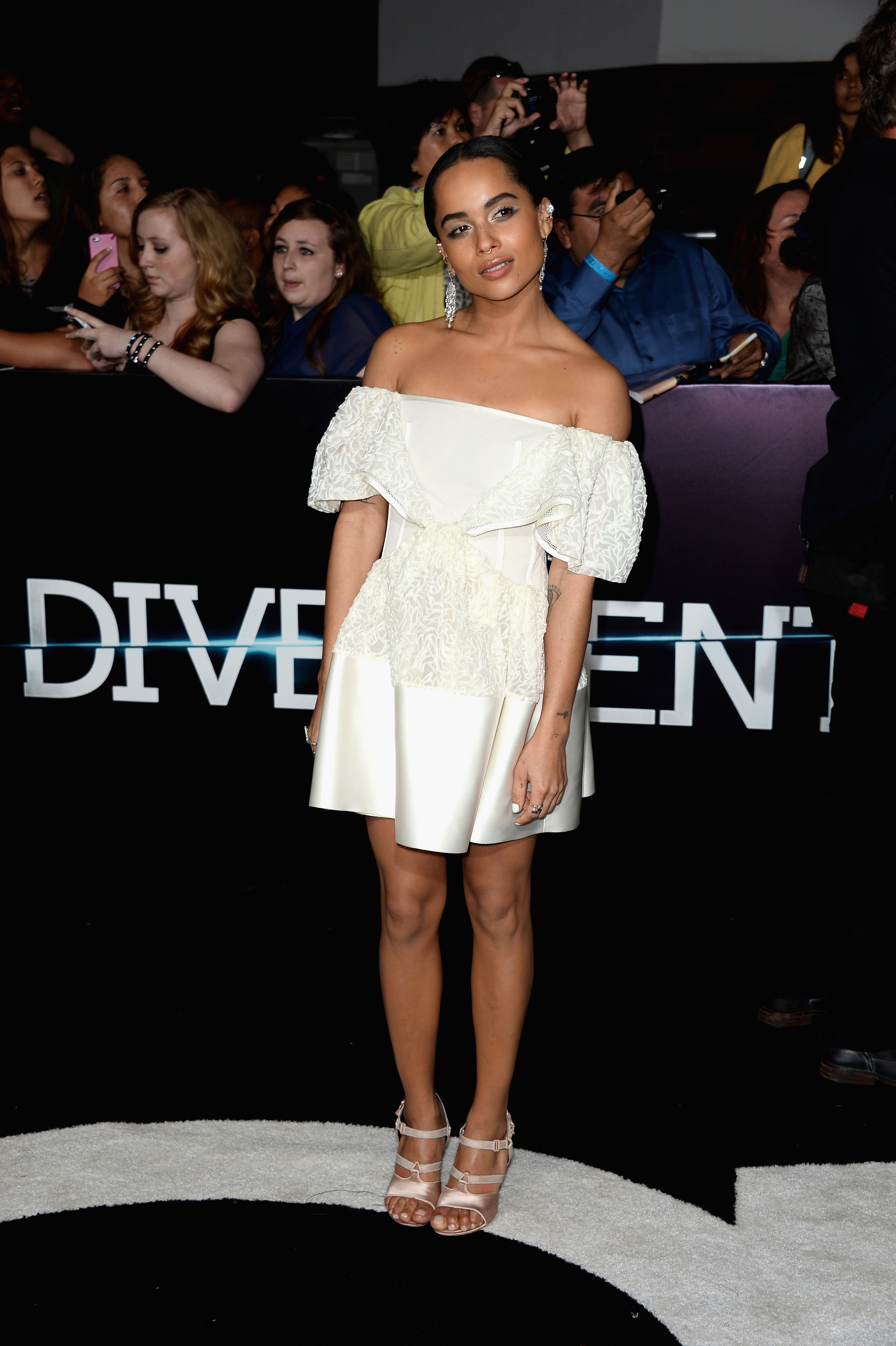 At the Divergent premiere, 2014
A front-row staple and Chanel ambassador since her teens, Zoë is no stranger to the world of high fashion. However, in the mid 2010s, the star's red carpet style got a little more haute. Friend and frequent collaborator Alexander Wang had just been appointed as creative director of Balenciaga. Naturally, Zoë began wearing his sculptural designs for the French house on her movie press campaigns. Think trapeze minis, futuristic rompers, high-low hemlines and flouncy jellyfish dresses, like the one pictured here.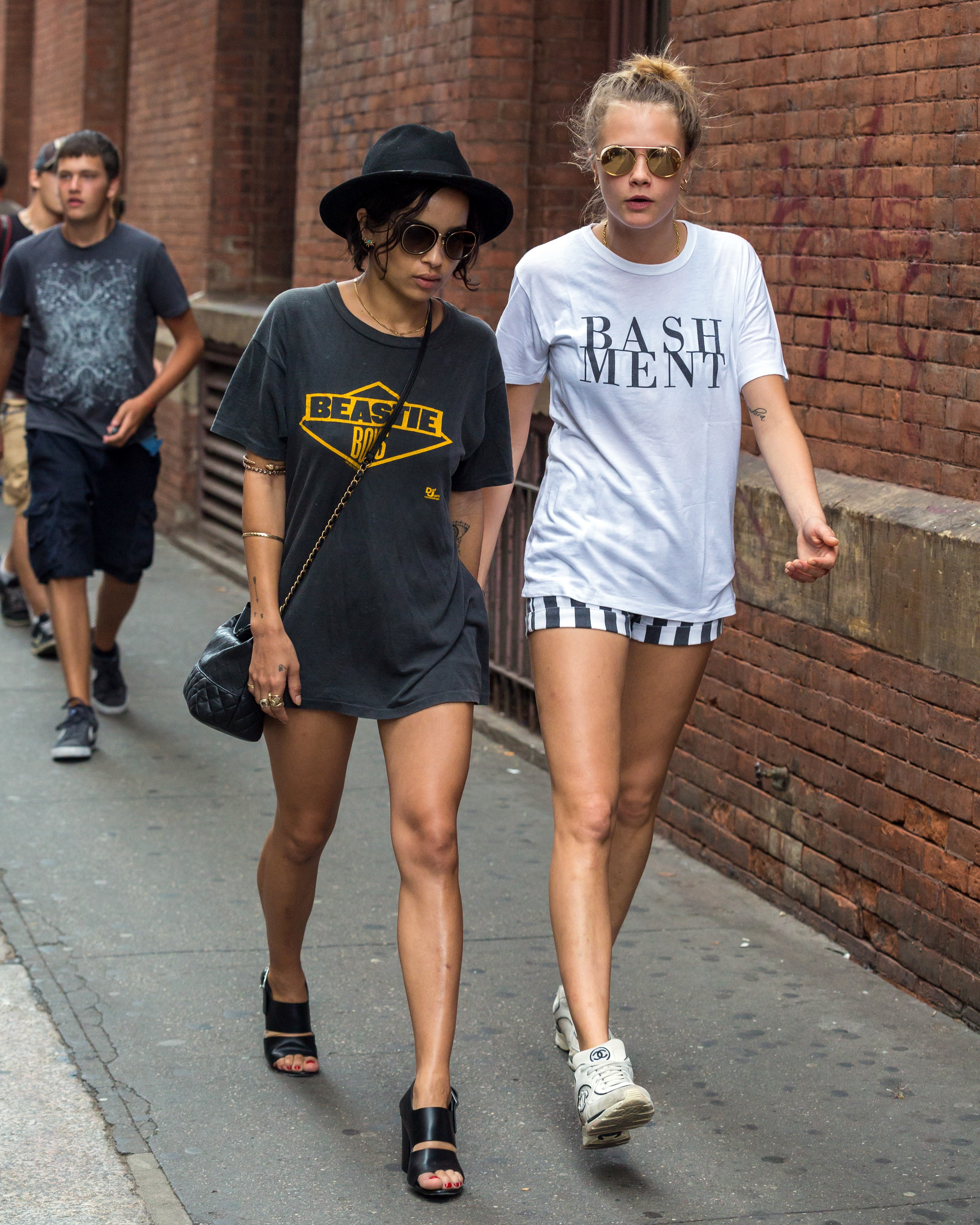 With Cara Delevingne in NYC, 2014
Today, Zoë's off-duty style is characterized by tiny tanks and flat footwear. In 2014, however, it was quite the opposite. During this era, Zoë had a penchant for massive graphic T-shirts, frequently worn as dresses, and heeled shoes, usually of the brogue variety. Here, she wears her infamous Beastie Boys T-shirt (you know, the one that reads "Get Off My Dick") with her quintessential fedora. Since the mid-2010s, graphic tees have become a staple of Zoë's off-duty style, and this very T-shirt even made an re-appearance, on-screen, in Zoe's Hulu series High Fidelity. But more on that later…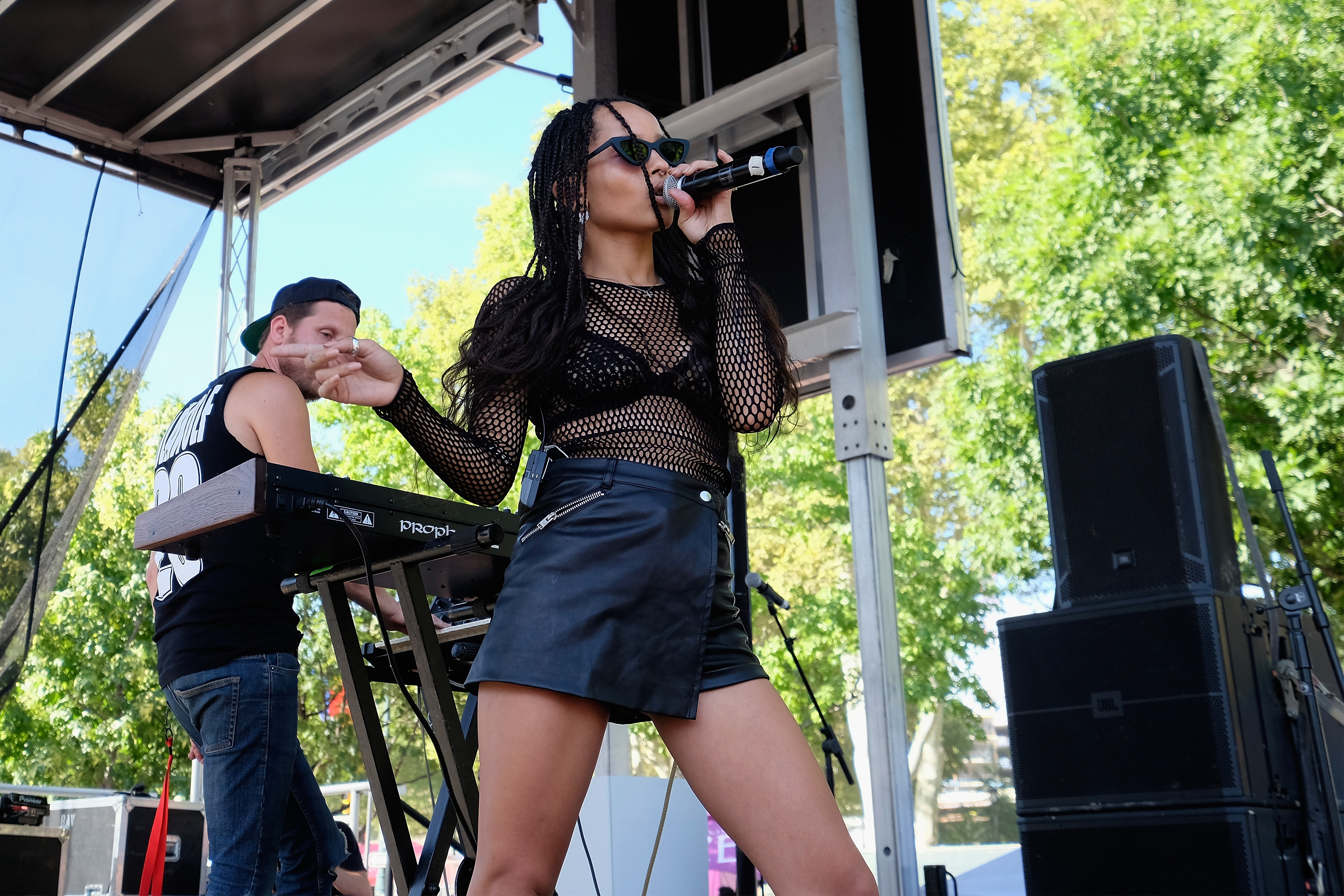 Performing at Made in America festival, 2015
Did you know that Zoë began writing music at the age of 16? In 2009, she fronted the short-lived Elevator Fight and, in 2013, went on to form electropop group Lolawolf. From 2013 to 2016, Zoë toured internationally with the band, playing American festivals like Lollapalooza and SXSW, and opening for Miley Cyrus during the Australian leg of her Bangerz tour. On stage with Lolawolf, Zoë wore fun, bold pieces befitting a bodafide electropop frontwoman: metallic minidresses, opticpatterns, chokers, crop tops and lots of mesh, as seen here.Photo by Raymond Hall/GC Images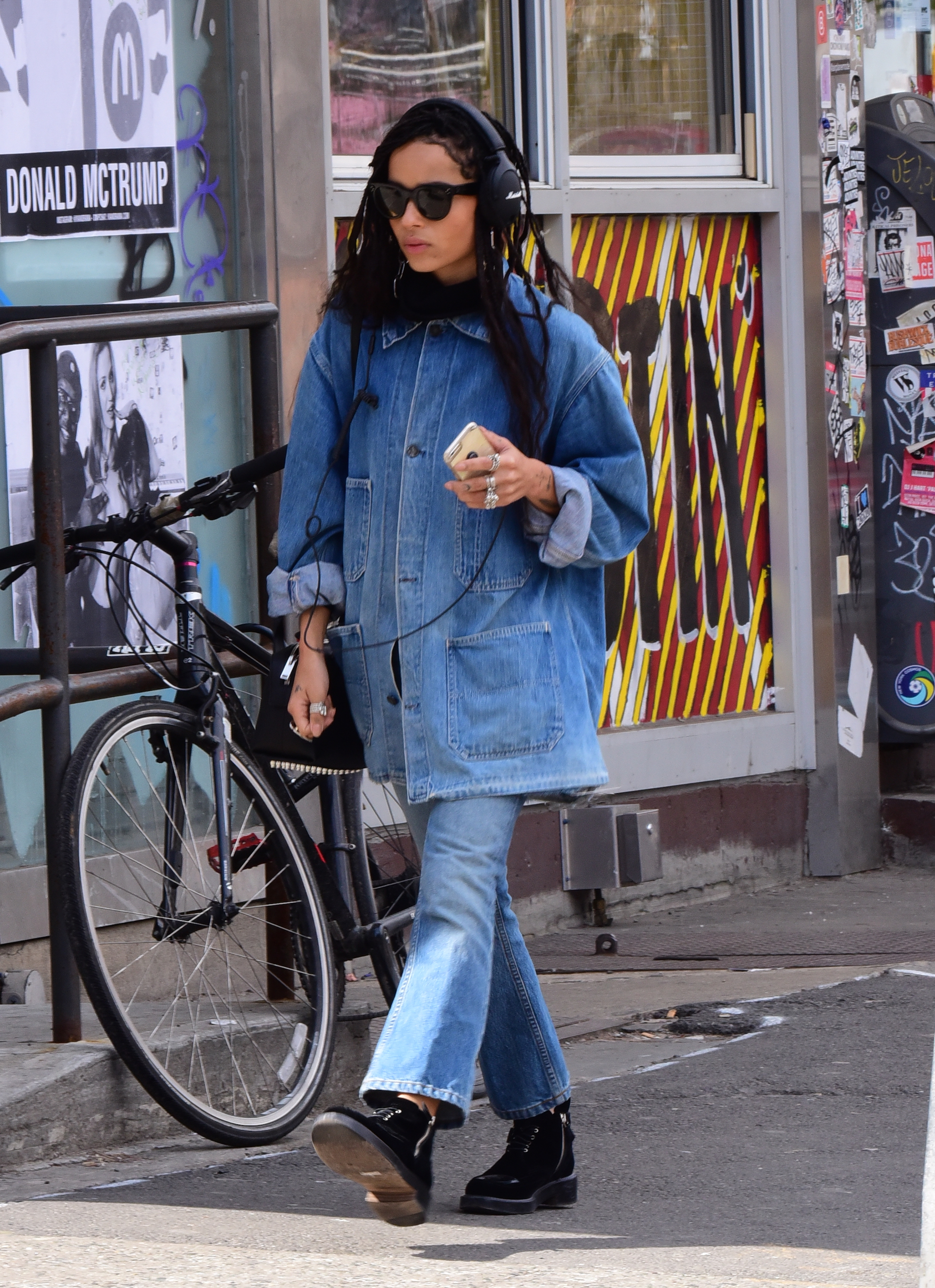 Walking in NYC, 2016
2016 was the year of denim: the Levi's resurgence, Vetements' couture jeans, the kick flare, Canadian tuxedos. We were all wearing the beloved blue fabric in its every iteration — Zoë included. From 2016 to 2017, the actress was papped sporting denim dusters, stove pipe styles (with the era's ubiquitous hoodie), oversized denim jackets and myriad takes on the Canadian tuxedo, as seen here.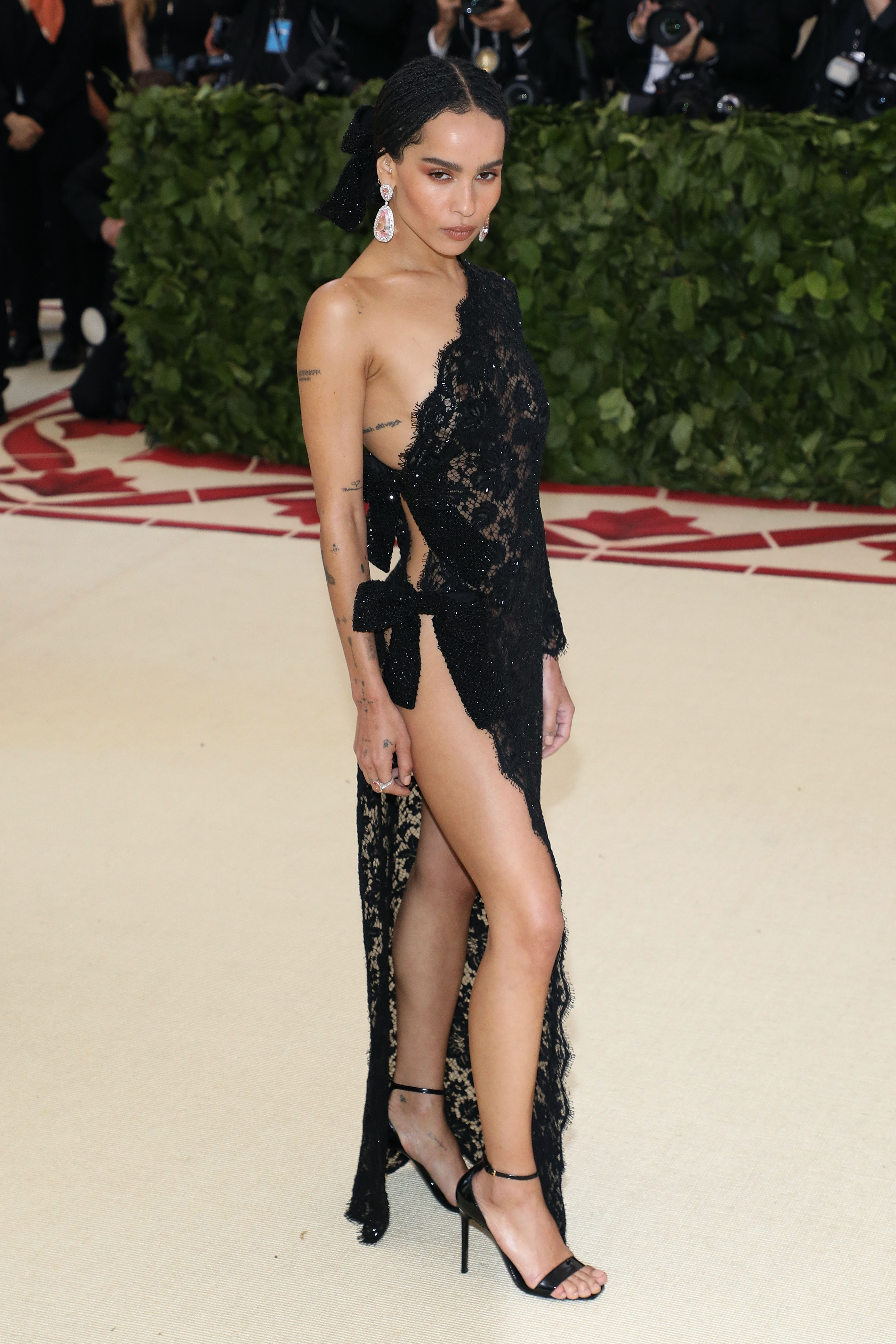 At the Met Gala, 2018
With 2017's Met Gala, Zoë broke from the ultra-sleek, avant-minimalist fare (Wang, Raf, Versace, et al.) that had defined her red carpet style since the 2010s, opting, instead, for a pillow-y, pink look from Oscar de La Renta. The move marked a shift in Zoë's style — or a return, perhaps — towards a more playful, vintage-inspired look. Think nightgown-esque slip dresses and sequincolumn gowns all with a heavy 70s tilt. No other look from this era embodies Zoë's vintage-glam vibe than this half-naked dress from Saint Laurent, worn to the 2018 Met Gala.
At the Academy Awards, 2018
If one leg of Zoë's style was rooted squarely in the 70s, then the other was planted firmly in the 90s. When she wasn't wearing sequins, lace and bows, the actress was reaching for the latter decade's seriously simple styling. And one silhouette in particular: the crop top and low-rise column skirt, whether designed by Prada, Saint Laurent (as seen here) or by Alexander Wang, for her wedding afterparty.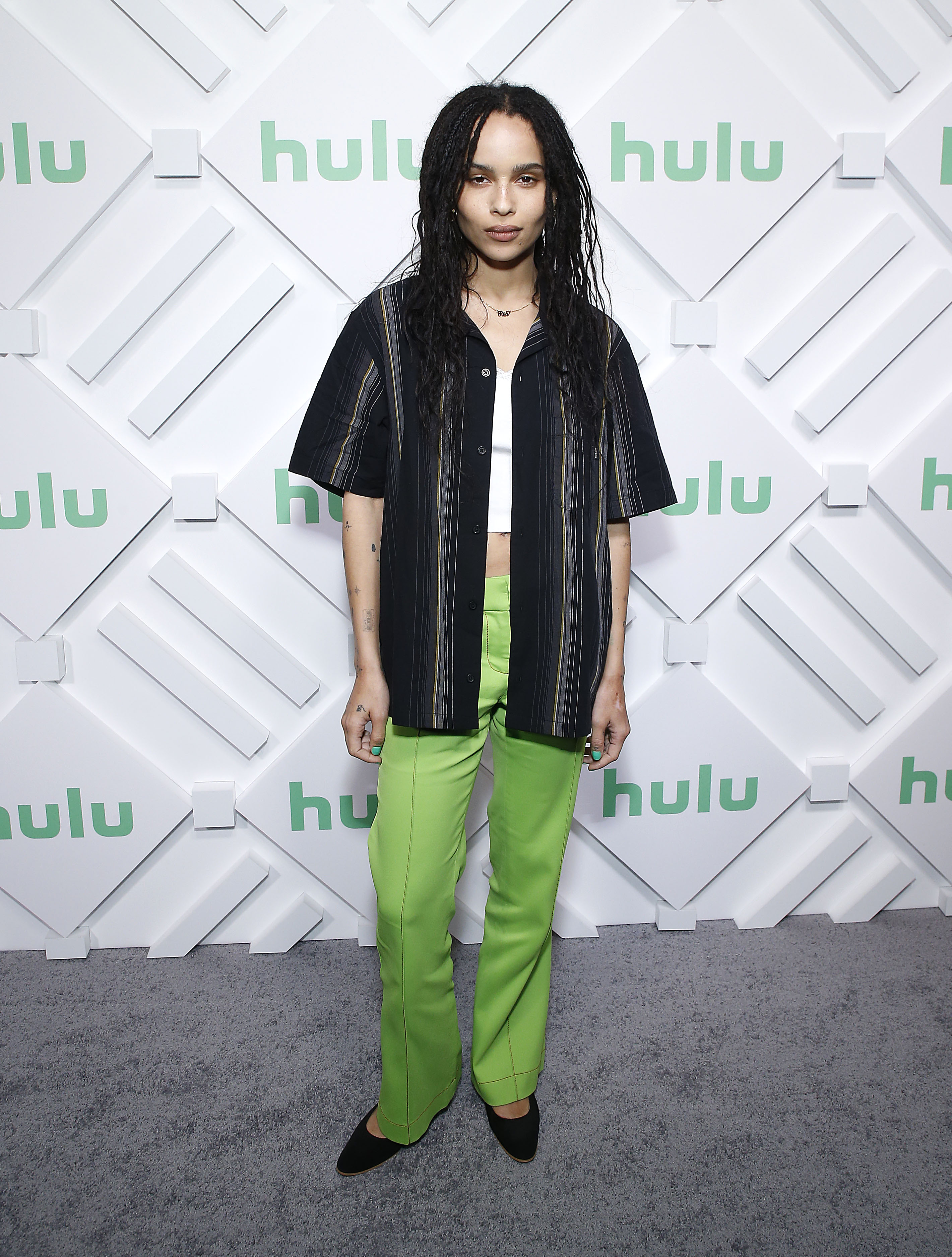 At a Hulu event promoting High Fidelity, 2019
Remember the Zoë Kravitz look that single-handedly launched 2020's sweater vest craze? The look didn't quite belong to Zoë, herself, but her character in Hulu series High Fidelity. Inspired by the Nick Hornby novel of the same name, the show centers on Zoë's Rob, a record store owner with a penchant for Hawaiian shirts, leather car coats and band tees. During the filming and promotion of High Fidelity, Zoë's style shifted to match that of her character, taking in bowler shirts (seen here), tiny tank tops (now a staple),and sneakers. It shouldn't come as a surprise though: according to the show's costume designer, Laura Laux, Rob's wardrobe was directly inspired by — and sometimes literally pulled from — Zoë's own closet.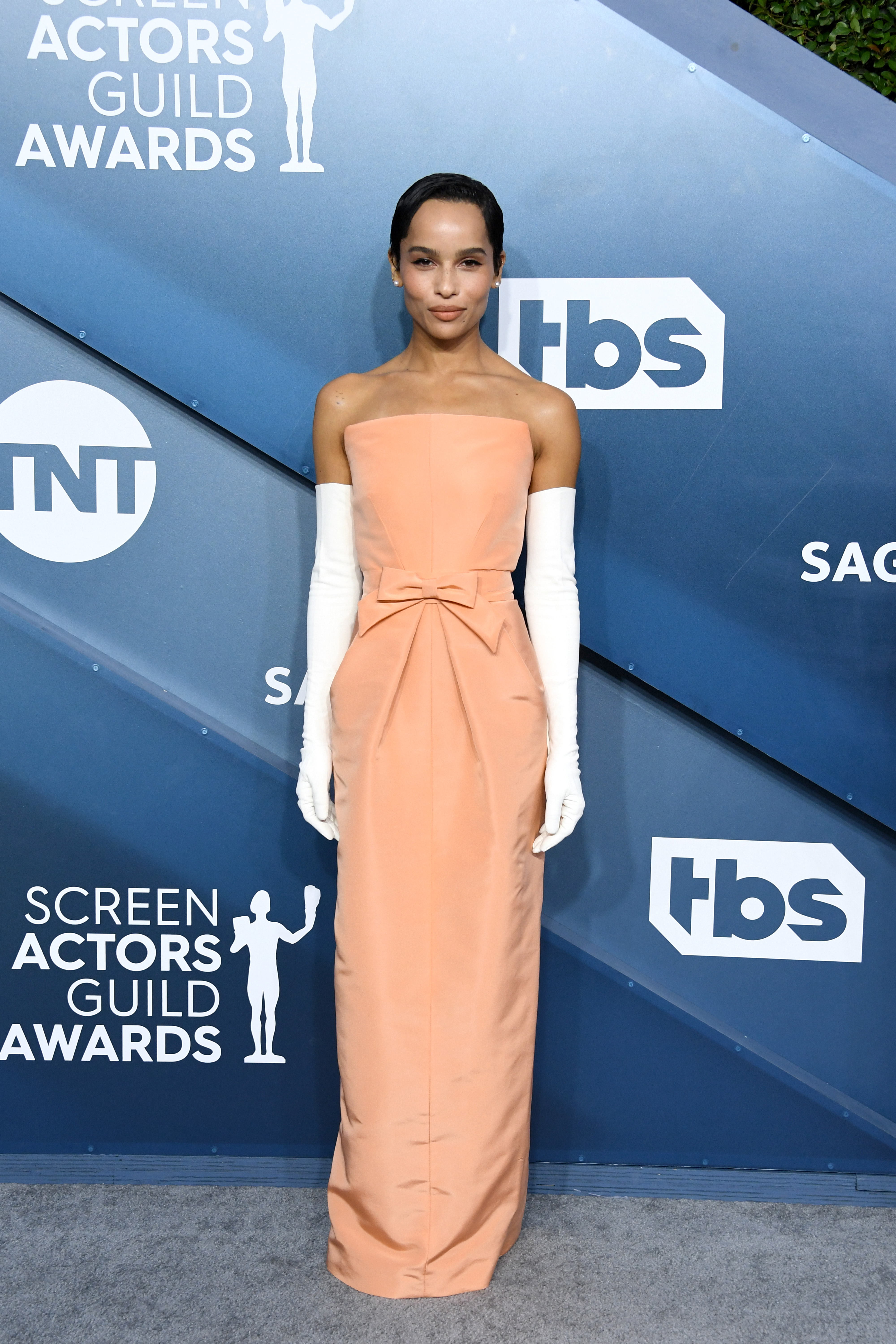 At the SAG Awards, 2020
In 2020, Zoë went from 70s-chic to full Old Hollywood glamour on the red carpet. In fact, this Oscar de la Renta gown, worn to the SAG Awards, was inspired by Audrey Hepburn's iconic Breakfast at Tiffany's look — a reference that makes perfect sense to fans of Big Little Lies, the show for which Zoë was nominated that evening. The reference, however, is also one that's close to Zoë's sartorial heart. Her very own wedding dress was a replica of the one worn by Audrey in Funny Face.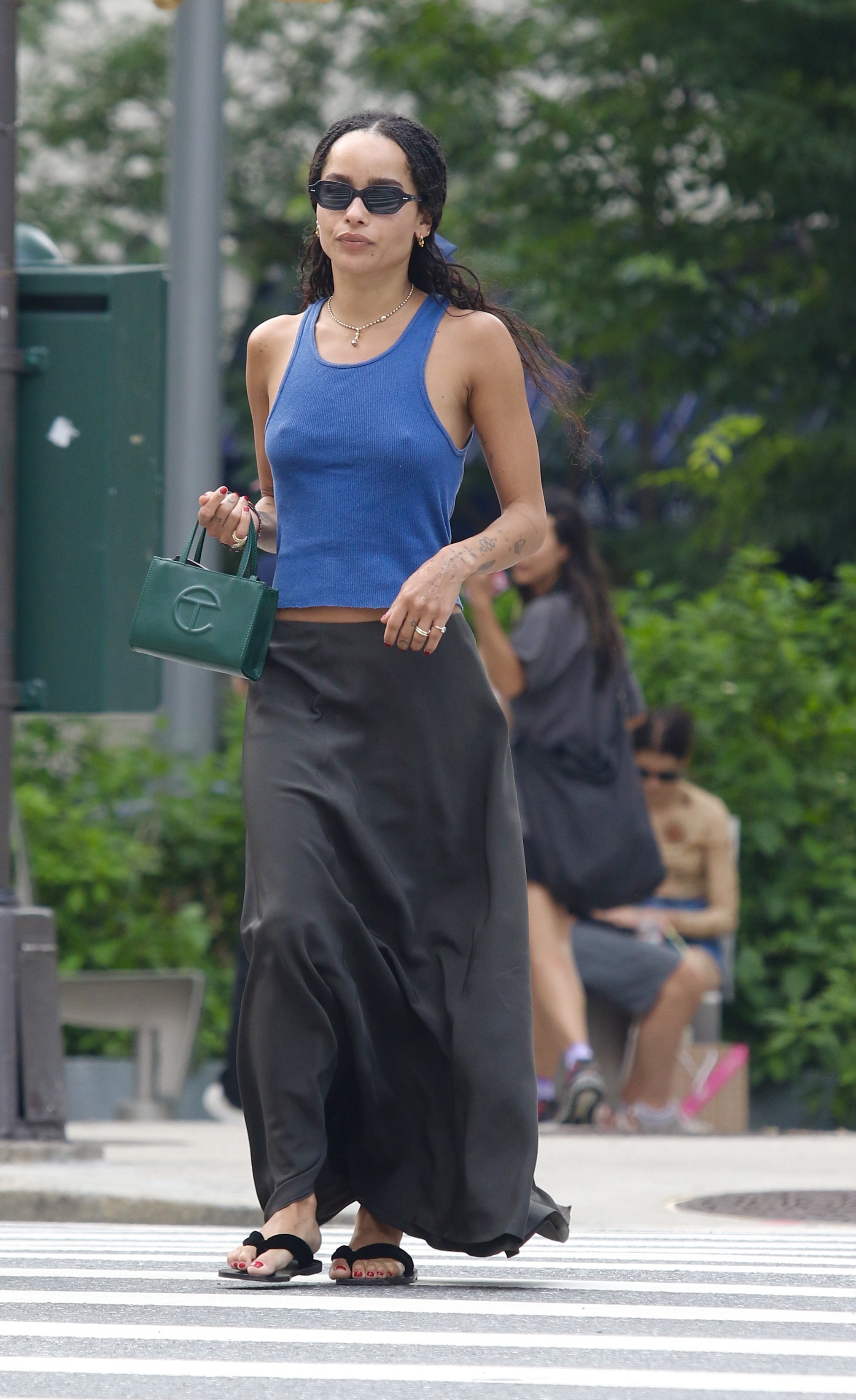 Street style in NYC, 2021
Into 2021, off-duty photographs of Zoë are few and far between, compared to other style plate celebrities. When they do surface, however, they tend to have the internet abuzz. Case in point: this look from late July, the definition of effortless in a teensy Hanes tank, low-slung slip skirt, velvet flip flops, hair bow and a tiny version of the ubiquitous Telfar bag. The perfect downtown look for downtown New York's coolest girl.