You can now play as Zendaya and Timothée Chalamet on Fortnite
The video game will be releasing Dune character skins and props soon.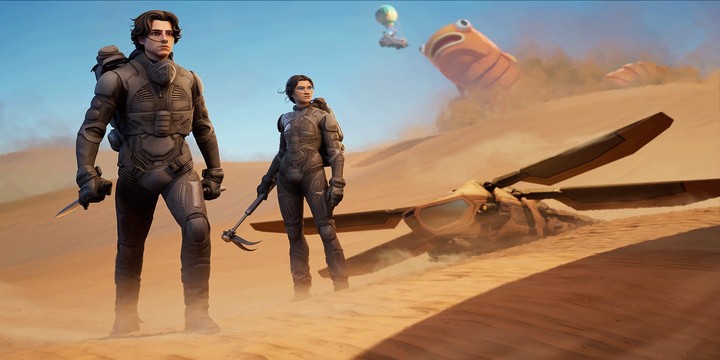 Twitter @HYPEX
Let's be real, wouldn't you like to live life like Timothée Chalamet or Zendaya for a day? Well, here is your chance to make that fantasy a reality. Fortnite, if reputable gaming bloggers are to be believed, are releasing a bundle based on the upcoming sci-fi epic Dune that features the Wonka and Euphoria actors respectively.
Earlier today, Fortnite content creator, partner and news provider @HYPEX leaked the information on Twitter, sharing 360 views of Dune main character Paul Atreides (played by Timothée in the movie) and Chani (Zendaya), his love interest and expected lead of the sequel, as skins that users can purchase within the game. Unlike many of its other film-inspired skins, both characters seem to be pretty accurate to their IRL actors who play them, and alongside them is a range of props to accessorise each character with, including hooks, gliders, blades and backpacks. Unfortunately, no peaches.
There's also a screensaver image of the two looking broody as one of the giant sandworms that live beneath the desert planet rises in the background. Later, the leak seemed to be verified, with Timothée posting about the new Fortnite features on his own Instagram story, before playing a preview version of the set with Fortnite aficionado Nate Hill during a press junket in London.
This isn't the first time Timmy's Dune character has been turned into a playable version either, with a seven-inch action figure released late last year.
The Dune bundle is set to be sold at the price of 4,600 V-Bucks (that's roughly £30) and will be available from Chapter 2, Season 8 of the game. Though no release date has been announced as of yet, with the film hitting cinemas 22 October 2021, it's likely the Fortnite bundle will drop not long after.
Follow i-D on Instagram and TikTok for more on movies and gaming.
Tagged: