Martine Rose: "We found new ways of telling stories"
The category-defying designer on how she found a way to bring community and curiosity to her immersive digital show.
All clothes Martine Rose
How best to describe the work of Martine Rose? It's a truism but it defies easy categorisation, or at least the categories you could slot the work into fail to do it justice, reduce it to less than the sum of its parts. We could say it's a label inspired by clubbing or community or music or subcultures or sportswear. And those things are true to an extent, and those descriptions root it in a very specific kind of London fashion and style scene, and place it in a continuum of London fashion history. It's all correct but it's more than that.
The label began life as a shirting brand in 2007 and it has grown methodically and organically over the last 14 years into maybe the most exciting, interesting and thought-provoking menswear label that London (probably even the world) has had the pleasure to wear.
"Constant curiosity," Martine says, when asked to sum up what is at the root of her creativity. "I'm motivated by curiosity; in the way we see things, see ourselves, the way we wear things, in what fashion means and challenging how we see ourselves in the fashion industry. In the broadest sense, curiosity is at the heart of everything."
That curiosity leads, in part, to the fantastic inventiveness of her designs, which have always been about twisting those subcultural ur-garments into something new; archetypes get twisted, fused together, reborn and remade. Football hooligan meets New Romantic; junglist meet City Boy; Buffalo meets mods or rockers or spivs or B-Boys, or any combination of these. It's a fantasy or a dreamworld, a harmonic coming together of every single one of London's style tribes.
So it's a London story in a sense, or a retelling of London's style history, and her work is a chaotic anthropology of the city's underground, it's in love with the idea of clothing as signifiers of identity. It's rooted in fashion history but it is also a living history in that it is an exploration of the underground as it exists now. Even as so many fret about the death of subculture in the internet era, Martine has willed her own back into being, forming her own tribe and community around the label. And it's important to stress how important that community is to her. "Although I don't think about it that much," she says, of building and nurturing that community, in a typically humble fashion. "It comes from genuine interest in people and our environment. Talking about curiosity as a predominant part of the label, relationships aren't manufactured; they come from a real connection to people, places, communities, from everything."
We're here to discuss Martine's latest project/show/collection. It was presented this February in the middle of the third lockdown in the UK, when we had been stuck indoors, on and off, for just under a year. The show was titled What We Do All Day? and it was a reaction to that enforced homeboundness. The show dropped you into a virtual, computer generated housing unit, created by International Magic, which formed its own enclosed world, and where you could move between rooms and observe Martine-clad people at work or play, lounging around, drinking wine, watching football, cutting their hair. These people were everywhere from Palestine to Mexico to London. Essentially, it was a collage of 24 short films, presented as a one off event, that tenderly explored how we are living right now, offering a glimpse into Martine's audience, which could well be anyone. And it came back to that idea and ideal at the heart of the label: community and curiosity.
"At the beginning, I was very hesitant," Martine says, about the show, and working in a digital realm to present a collection. "We've always been attached to reality, going into spaces and utilising the atmosphere and environments. We had to ask ourselves, with the absence of this physical element, how we could get that atmosphere, texture and warmth in a digital way? Once we really developed these questions, we worked out how the digital environment could be used to punch holes into reality. We found new ways of telling stories, of showing the collection and drawing people in."
It's easy to question fashion's relevance and use at a time like this, especially the luxury fashion industry of branded, expensive products. The last year has been a lockdown-induced limbo of no new clothes and nowhere to wear old ones anyway. The irrelevance of the old system – the tyranny of superficial newness – increasingly feels out of joint with the times. Martine, however, is happy to stand apart, take things slow, or at her own pace, to revisit ideas again, return to old collections, garments, slogans, and to continually find new ways to illuminate those "old" ideas.
Martine has never been that obsessed with fashion's blunt seasonality. She shows once a year, maybe, or drops off from the schedule for a few seasons. Maybe she only shows one look and that's the show, or she releases collaborations in unusual ways – a Nike drop over Craigslist for instance, or for a Napapijri collaboration she took a load of people to Ayia Napa for the weekend and put on a club night. It takes incredible confidence to do this, to do what you want, how you want, to stay true to yourself over 14 years when the rest of the industry demands you force your creativity to work in certain, reducible, identikit ways.
And when Martine does show, she creates the most incredible experiences, emotional love letters to her hometown and its residents. She shows, famously, in "unusual" locations, but really they are just the places that she lives and works in because that's where these clothes make sense; an indoor market on the Seven Sisters Road, a climbing wall in Tottenham, a cul-de-sac in Kentish Town, her daughter's school. The shows are about fashion as something real because Martine is a designer who understands that fashion only becomes real when it's inserted into the everyday lives of people.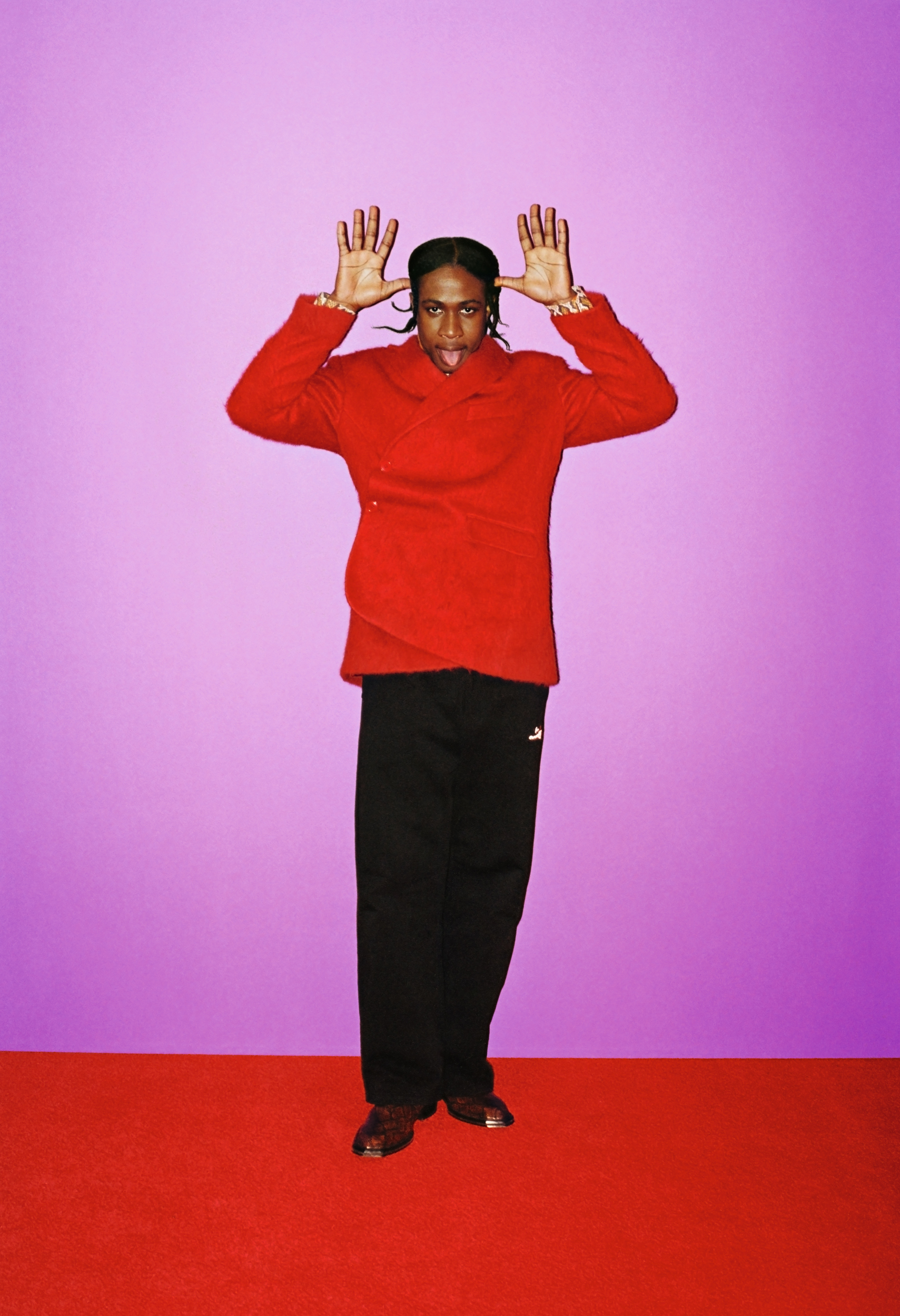 Ultimately, Martine is inspired by those people, too. She's always been adept at reworking garments that are already there, finding inspiration in the kind of things that her friends might be wearing, or remembering the garments of her older brothers or cousins and their friends, and drawing rose-tinted inspiration from the wardrobes of those slightly older, slightly cooler people we looked up to when we were younger. The way one of them might layer together something as simple as a jumper and a shirt and reveal something new about both, how a jacket could be tied around the neck maybe, or what shoes they wore with what jeans, or the clash of formal and informal in the way clothes are worn. Tracksuit bottoms with loafers, maybe, or cycling shorts with a silk shirt. The rare beauty of the coat pulled from the obscurity of a charity shop rack that doesn't quite fit right but it's wrong in an amazing, unique way. And all those emotions tied to the clothes we wear find their way into Martine's designs.
Her personal history provides much of the inspiration for what she does. Situated in it are a few foundational myths, like clubbing at 14 in Vauxhall, or dancing on Clapham Common in the dawn light during the Second Summer of Love. But within this specificity there is a universal appeal, because there is a universal nostalgia for a moment of belonging, for something bigger than ourselves, for community and curiosity. Martine's shows and clothes are about that moment of belonging, bringing people together. It's about situating the magical nature of fashion – it's transformational abilities – in reality.
So Martine's clothing is about magical realism in that sense. Or maybe we can call it the subcultural baroque in the way that it's about elaboration and symbiosis and mutation. It's about how that ordinary garment, that pair of trousers, that jacket, can hold so much heroic weight, so much mythology. Then Martine takes that sartorial mythology and twists it around. "I guess I like the familiarity," she says, of taking a garment apart and rebuilding it. "There are rules and parameters that come with familiarity and archetypes that really resonate with me. The garment must stay recognisable which gives me specific parameters to play with. That's what first attracted me to menswear – there's certain rules and I like the challenge that they bring. And applying this to something as iconic as a football top, for example, which is not only a garment that everyone knows but one that people have an emotional attachment to, gives it even tighter parameters for recreation. It makes even more interesting."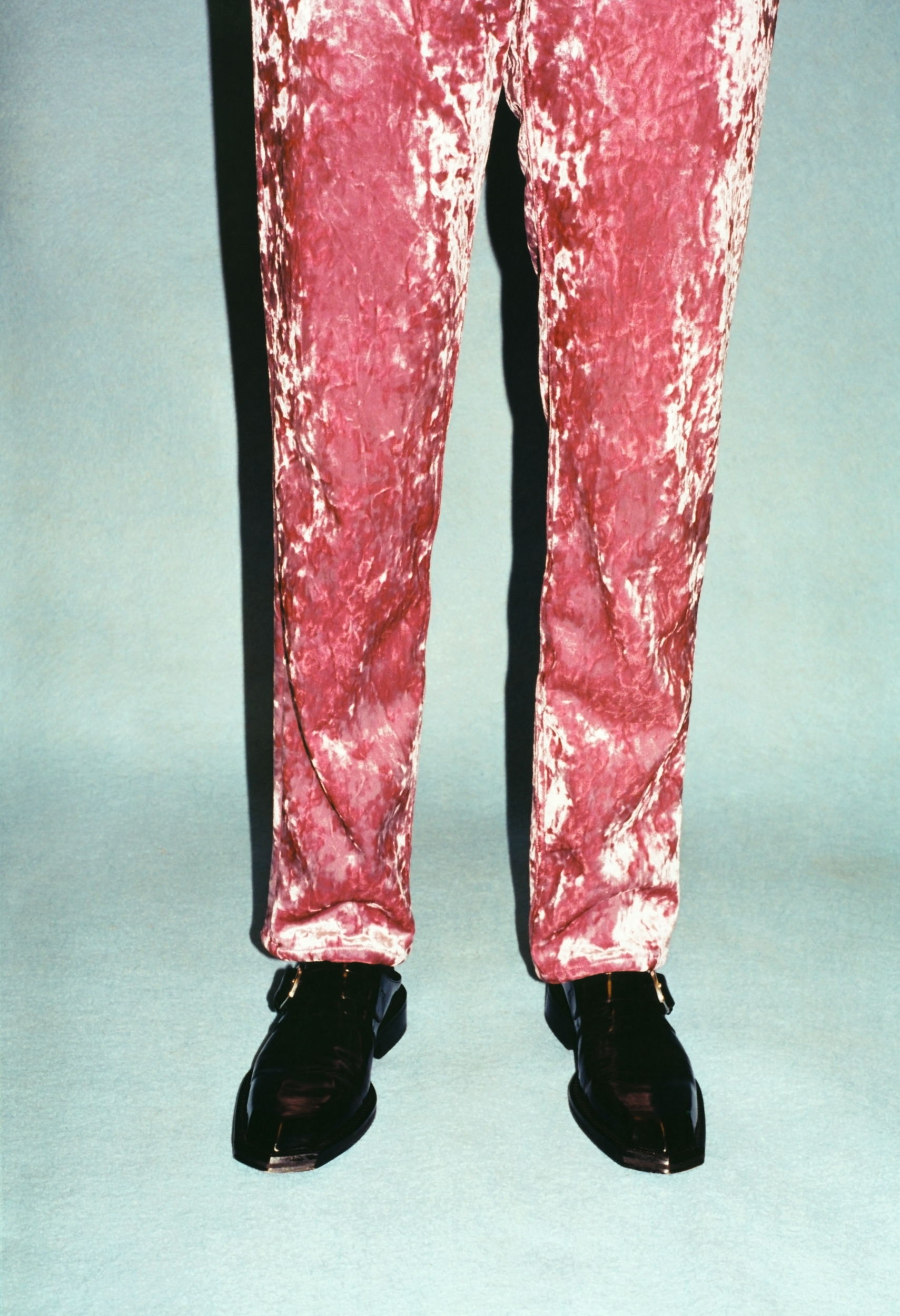 Which is what I mean by describing Martine's clothing as a kind of magical realism, these clothes which we know so well – the trench coat, the tracksuit bottom, the loafer etc – that are inflated, made heroic, made magical, without losing their reality. And fashion is usually so exclusionary, and that is part of its magic too, but there's a confidence in letting people into your world, a confidence in what you do in allowing so many different people to take to it and become part of that world. It comes back to that idea of community. And ultimately, that's about people (some of whom we interviewed below, people Martine works with, her collaborators, friends, accomplices, fans, models) and Martine Rose is the people's designer.
Carlo Tinelli, Slam Jam
How did you meet Martine? We met at her atelier in North London to discuss the Napapijri project back in 2017. It was her birthday. Describe Martine in four words… Talent, family, identity, Janet Kay - Silly Games. What makes Martine such an important designer?Her way of blending cultural references together into a dream parallel universe. Do you have a favourite Martine moment? On top of every single show I must say the Ayia Napa trip. That was epic.
Carla Valdivia Nakatani, Designer and model in her AW21 show
How did you meet Martine? A few years ago I met Tamara here in Mexico and through her, I met Martine. Describe Martine in four words… Crazy, sexy, boy, woman. What makes Martine such an important designer? I take away so many personal reflections from Martine's pieces and I think other people do as well.
Max Clark, Senior Fashion Editor at i-D
How did you meet Martine? We met via Max Pearmain when he was styling her first collections. What makes Martine such an important designer? She represents the things I find most exciting about London. She blends so many different cultures in music, wicked style, ethnicity and that's what makes London what it is. Do you have a favourite Martine moment? The show in a cul-de-sac in Camden summed up everything she represents DIY, street culture, unpretentious, inclusive and modern.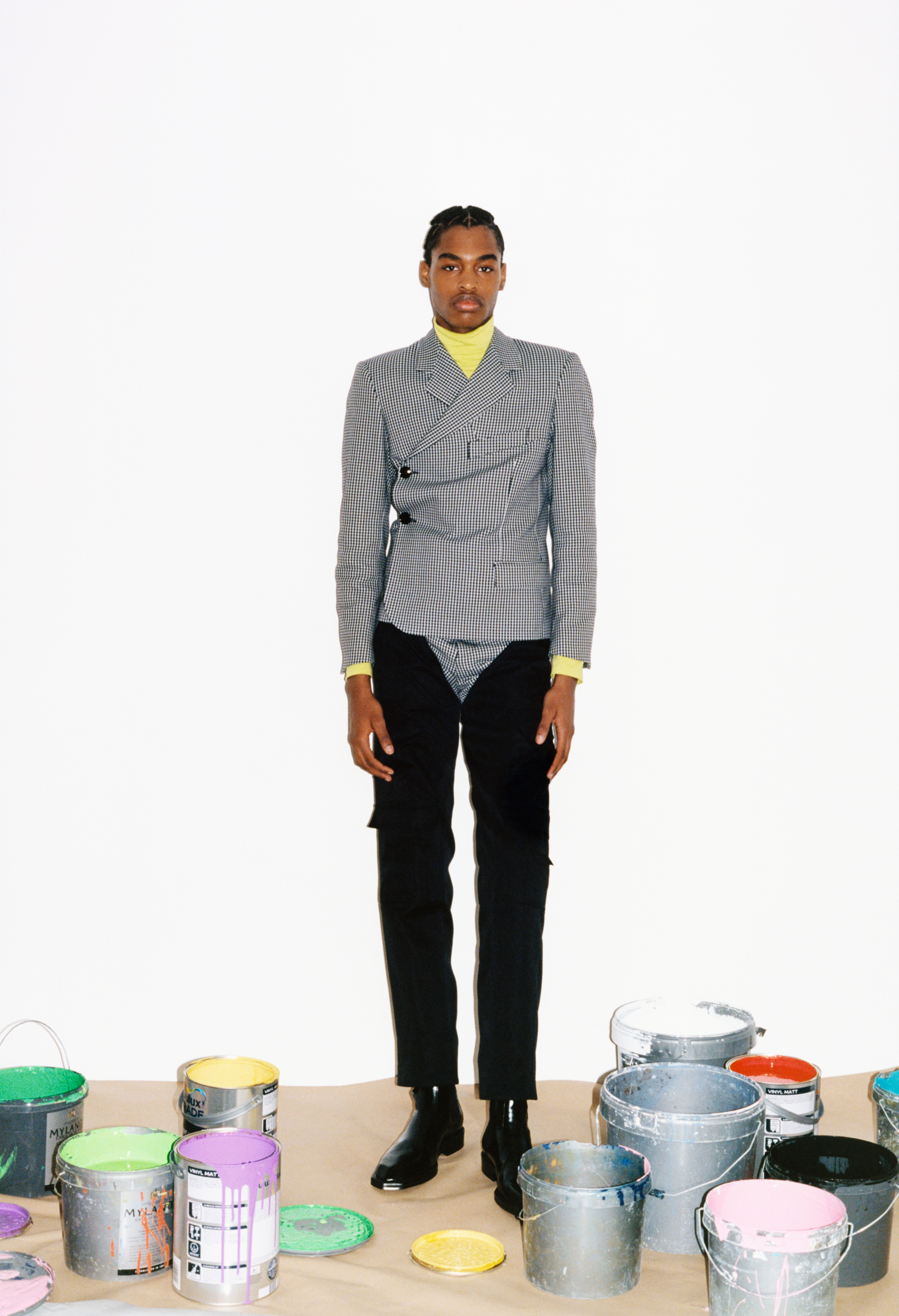 Adam Rogers, Intelligent Magic
How did you meet Martine? Martine was introduced to our work by a mutual friend, and we had a call together the next day and started working together. Describe Martine in four words… Fearless, considerate, consistent, real.
Steve Terry, Wild Life Archive
How did you meet Martine? Through a combination of my wife Ebru and mate Max Pearmain who were both already friends with Martine. Describe Martine in four words… I'll do it in three: Down. To. Earth. What makes Martine such an important designer? Right now it's her ability to maintain her own label and express herself freely. How would you describe the creative community at the heart of the label? Everyone gets to bring their own individual style to the studio while contributing to Martine's wider creative vision for the label. Kiran, Meera, Sasa, Lulu, Roxy, Sharna, Daniella to name a few, all lovely people.
Harry Fisher, owner of H-Town
Describe Martine in four words… Authentic, nurturing, nonconformist, humble. How would you describe the creative community at the heart of the label? Eclectic and global. The brand is relatable to so many different groups of people and ways of life. Do you have a favourite Martine moment? The Martine Rose x Napapijri Ayia Napa trip we went on in 2019 was one of the best moments ever. It was so fun, and we all made some great memories for life!
Zainab Jama, PR for Supreme
How did you meet Martine? I met Martine in the dance, at our spiritual home, Plastic People. Describe Martine in four words… Fun, Smart, Dynamic, Considered and Considerate. What makes Martine such an important designer? The exceptional taste and very rare, special and unique way Martine centres her community to bring her vision and execution to life. How would you describe the creative community at the heart of the label? Like a family that always gets on! I've been lucky enough to work with Martine on a few projects, her team and collaborators are an extension of her wonderful self.
Isabel Bush, casting director for Martine Rose
Describe Martine in four words… Warm, genuine, kind, perceptive. How would you describe the creative community at the heart of the label? They really value the individuals they work with, and give people the space to flourish while still maintaining a really distinctive creative vision. It feels very genuine and open.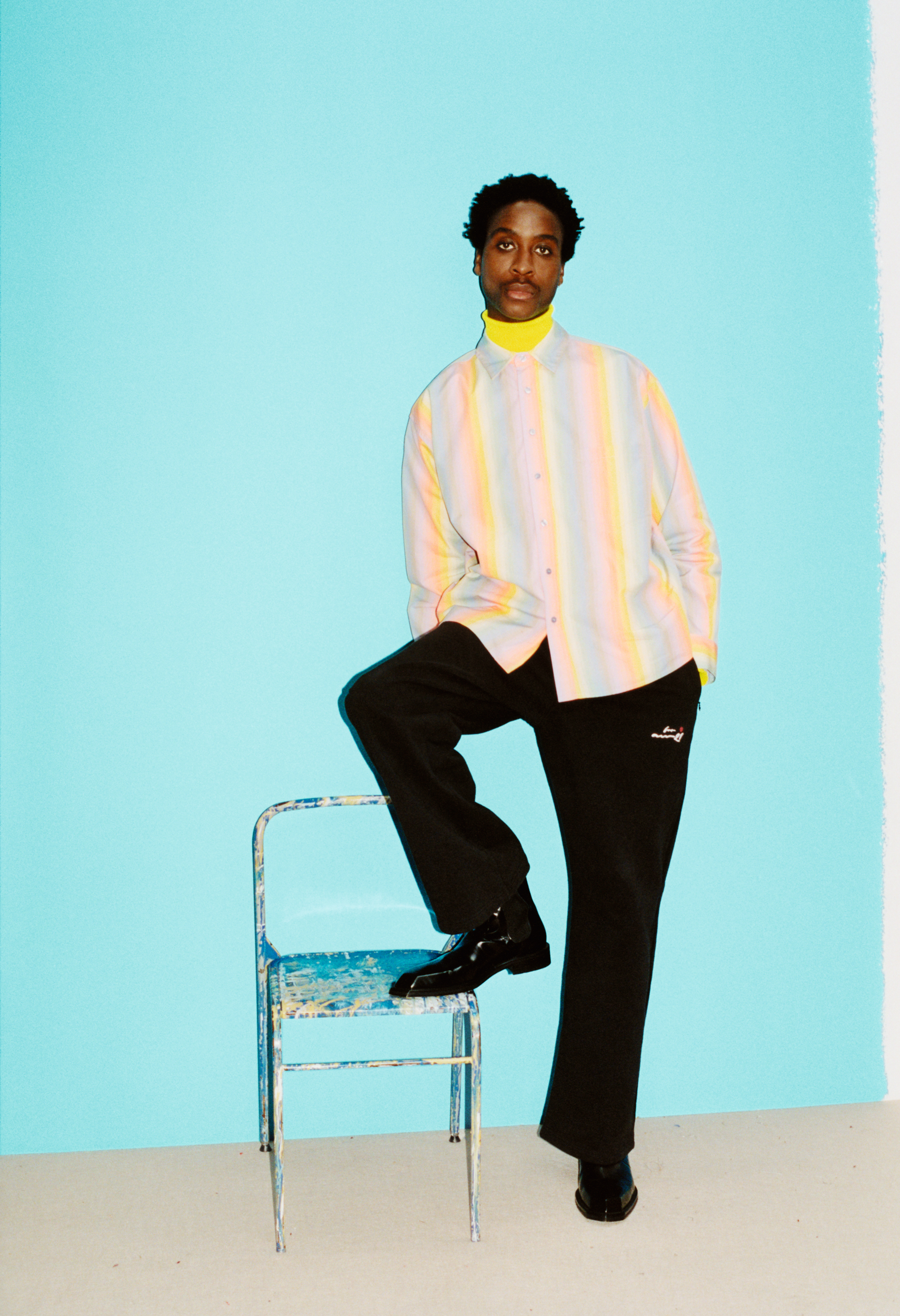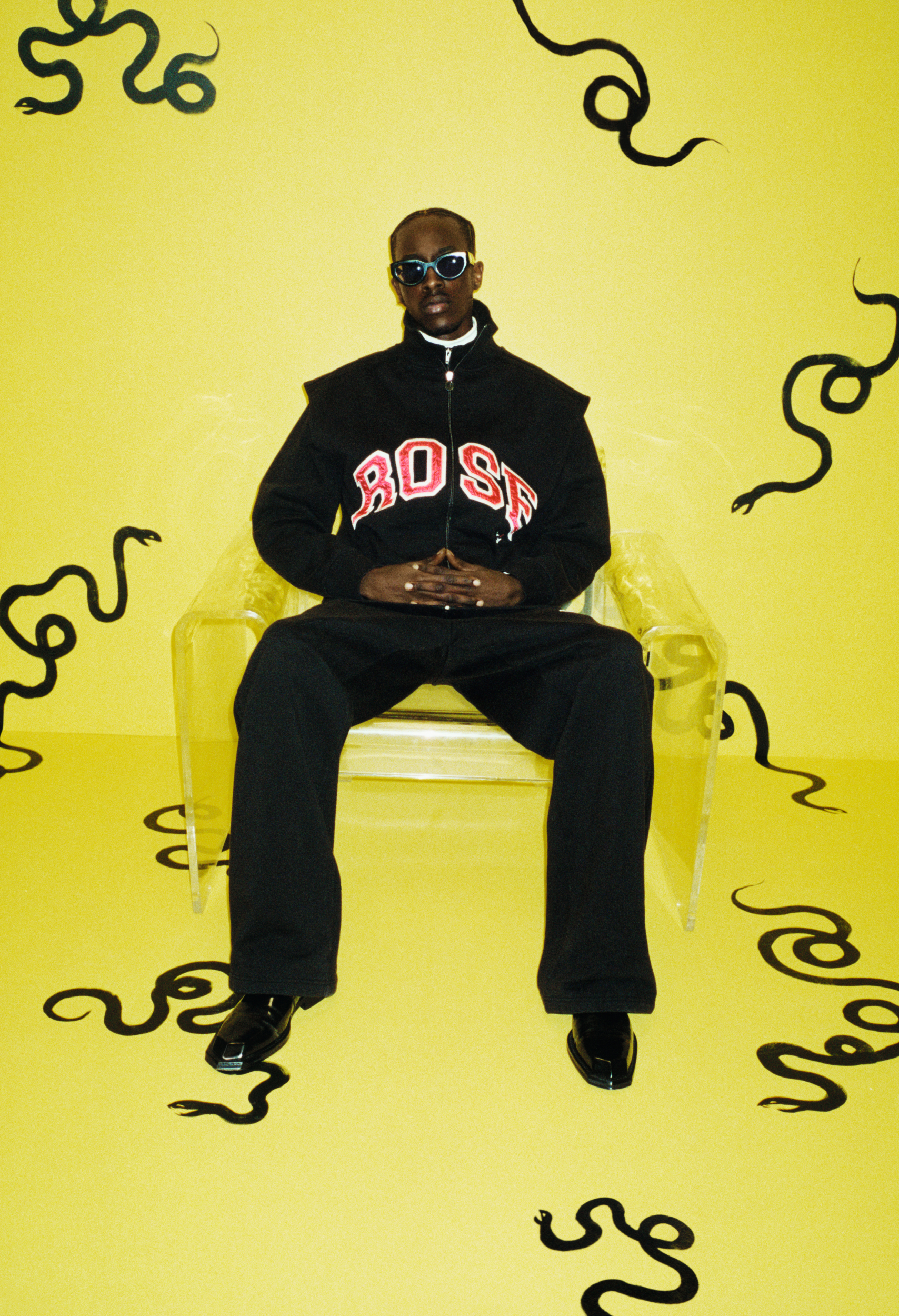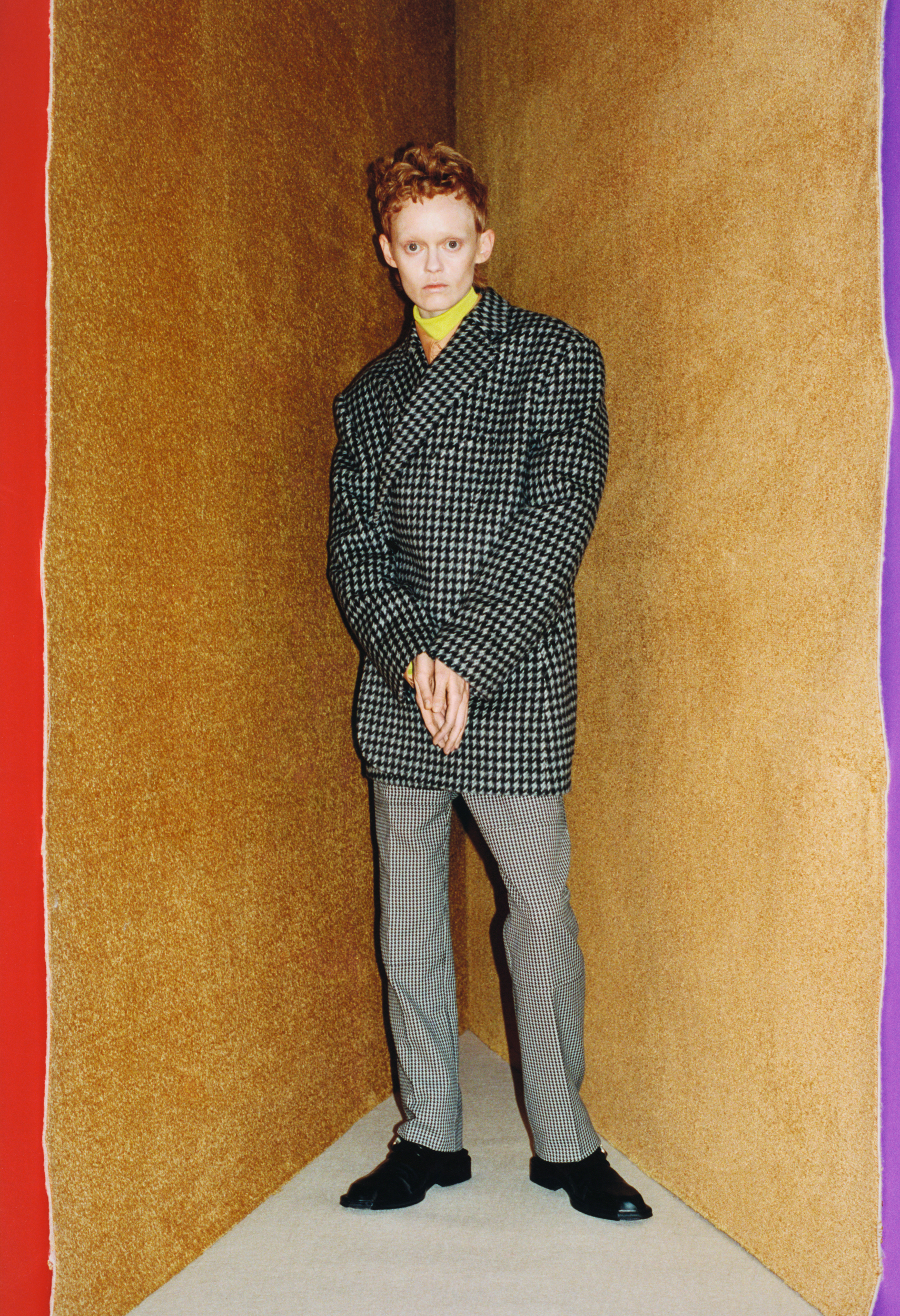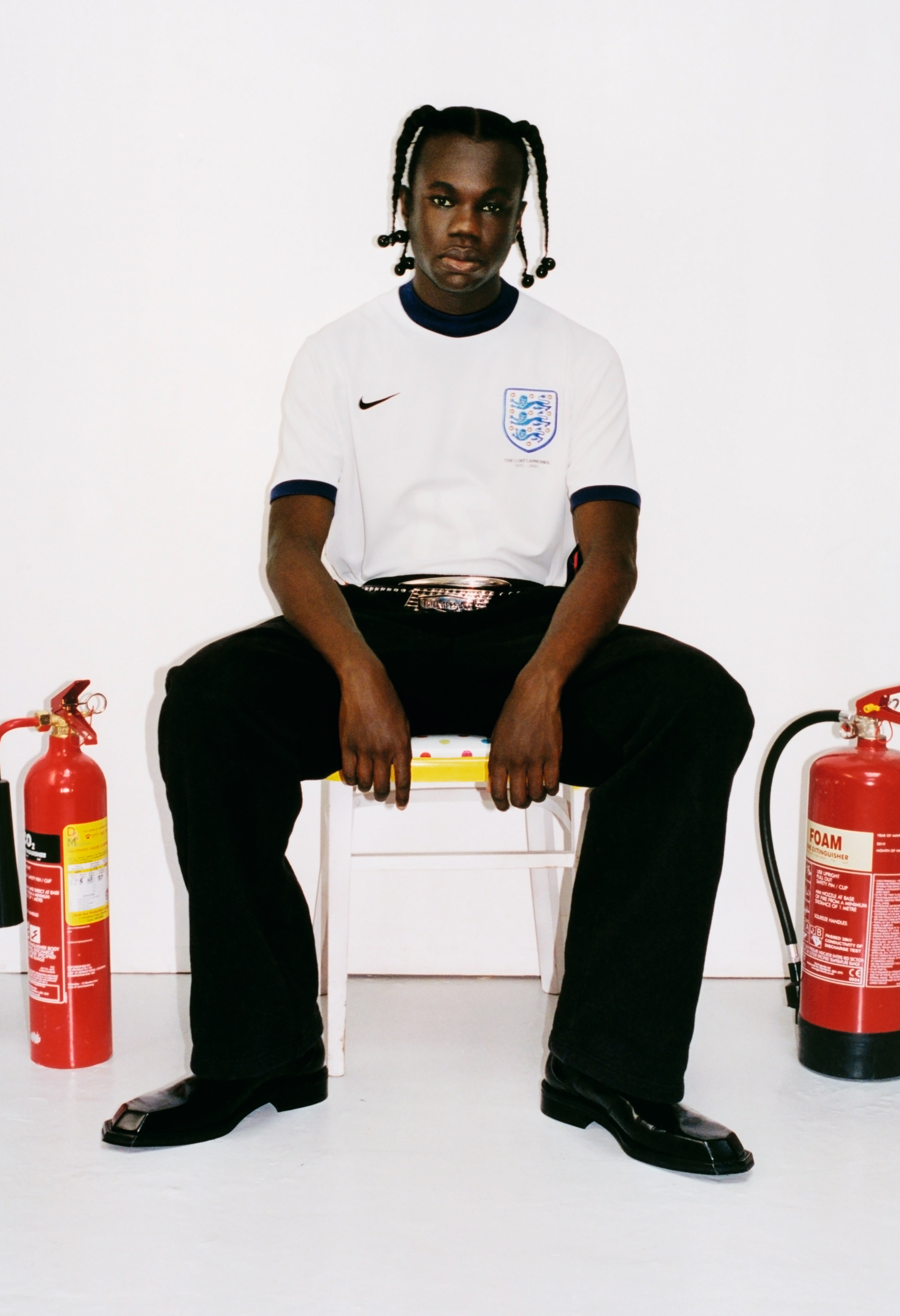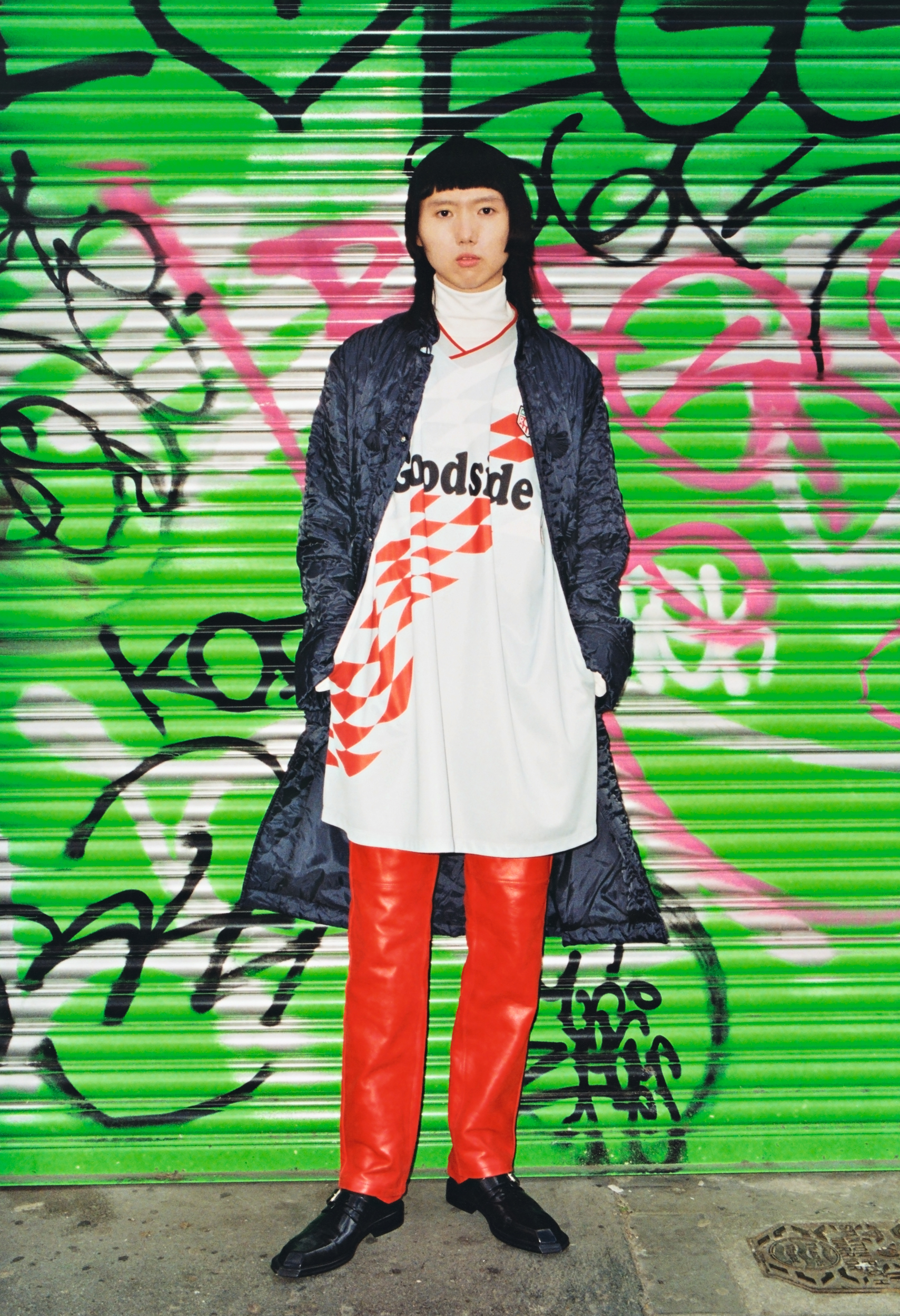 Credits
---
Photography Chris Rhodes
Styling Max Clark
Hair Amidat Giwa at Bryant Artists using Oribe.
Make-up Ninni Nummela at Streeters using CHANEL Les Beiges Summer Light and Boy de CHANEL Anti-Shine Toning Lotion.
Set designer Samuel Overs at The Magnet Agency.
Photography assistance Terry Broadbent, Celine Bodin and Sophie Goulliart.
Styling assistance Marina de Magalhaes.
Hair assistance Avrelle Delisser.
Make-up assistance Lesley Vye.
Set design assistance Mitchell Fenn.
Production Thea Charlesworth at The Arcade.
Production assistance Ash Thomas.
Casting director Samuel Ellis Scheinman for DMCASTING.
Casting assistance Alejandra Perez.
Models Yu Chao and Sebrina Auma at D1 Models. Joel Del La Paz at Kult London. Kyra Kaur at Lorde INC. Soyara at XDIRECTN. Liz Ord at Storm. Jonah Dan-Othman at Brother Models. Unknown T. Seb Tabe. Leo Iheagwam.
Tagged: