7 movies for a sapphic summer
Female sexuality is explored under the beating hot sun in these queer films to watch.
My First Summer (2020)
This year, hot girl summer is for the girls who like girls. Joining Billy Eichner running down New York City's streets, we're yelling: "Let's go, lesbians!"
There's no better way to get stuck into a summer of queer yearning than with movies that capture the tantalising prospect of a sun-soaked season of heady sapphic desire. While there is no shortage of lesbian movie recommendations -- like Carol for a cosy winter viewing or Portrait of a Lady on Fire when you want to escape to an island with a distinct absence of men -- the summer setting has always had a magnetic allure for queer stories. The chance to bare skin and bask in long warm days is an intoxicating promise and a perfect opportunity for female sexuality to blossom.
Princess Cyd (2017)
If we can have a summer like Cyd's (Jessie Pinnick), maybe not all hope is lost for 2021. Vacationing at her Aunt's (Rebecca Spence) Chicago home, the headstrong teen's burgeoning summer of sunbathing, sex, spirituality and soirées unfolds at a blissful, leisurely pace. A meet-cute with a Mohawked barista (Malic White) kickstarts a queer romance punctuated by beach trips in bikinis and long nights where skin sticky from a cocktail of seawater and suncream glows at sunset. In this collection of films, Princess Cyd is the only one created by a man. Stephen Cone has quickly become a darling queer filmmaker with eight titles under his belt that wonderfully explore the multifaceted journey of coming to terms with one's sexuality in his signature attentive style.
Rafiki (2018)
Despite an initial ban that prohibited screenings in Kenya for the film's positive depiction of lesbianism, Rafiki made its premiere at Cannes Film Festival as the first-ever Kenyan film to appear in the festival's program. Wanuri Kahiu's drama charts the romance of two young women in the summer before leaving high school, set against the backdrop of familial pressures and a polarising political climate in Nairobi. Brought to life by the remarkable Samantha Mugatsia and Sheila Munyiva, Rafiki is wonderfully optimistic and unequivocally focused on accentuating a pervasive hopefulness that radiates as strong as the midday sun. With a flurry of neon pinks and bold yellows, the story of two star-crossed Nairobi lesbians is both deeply intimate and quietly revolutionary.
Cocoon (2020)
The sun is practically its own character in Cocoon. The heat of Berlin's boiling hot summer is palpable in this tale of a quiet girl's coming-out. A beautiful ode to the seismic revelation of lesbian infatuation, Cocoon showcases the mesmerising Lena Urzendowsky as Nora, an inquisitive young woman whose awkwardly charming advances are blanketed by a gorgeous honey-dipped golden glow. With nights too warm to sleep, oversized patterned shirts and a rite-of-passage queer haircut, Cocoon captures a pivotal summer of change for Nora. The needle drop of Alice Phoebe Lou's "She" is the cherry on top of this spellbindingly sweet film.
My First Summer (2020)
Fair warning, this saccharine cottagecore drama is so wholesome it might melt you before the sun has the chance. With candy necklaces, lollipop rings, and sweet forehead kisses galore, Katie Found's enchanting Australian indie beautifully champions the power of soft femininity. Claudia (Markella Kavenagh) is like a forest nymph dressed all in beige before Claire (Maiah Stewardson) comes dancing into her life with a colourful rainbow of accessories. No pastel aesthetic is spared in this stunning, 80-minute slice of a sun-kissed summer. A dreamy portrayal of two smitten lovers existing in their own undisturbed world of adoration, My First Summer is a remarkable debut that captures the rose-tinted intensity of falling in love for the first time.
Ellie & Abbie (& Ellie's Dead Aunt) (2021)
Monica Zanett's debut is another tale of lesbians under the Australian sun. This film, however, is a more lighthearted showcase of teenage sapphic infatuation. The premise alone is amusing: the rambunctious Ellie (Sophie Hawkshaw) is trying to pluck up the courage to ask her crush, Abbie (Zoe Terakes), to the school formal when Ellie's dead Aunt Tara (Julia Billington) appears as her lesbian fairy-godmother with questionable dating advice. With red cheeks from both the midday sun and being flustered in Abbie's presence, Ellie's character offers some kindhearted representation of an introverted and socially awkward lesbian. It's an easy watch with a delightful message of poignant solidarity between lesbian generations.
One in a Thousand (2021)
Clarisa Navas' returns to the housing projects where she grew up and borrows from her own experience to inform her triumphantly immersive sophomore feature. Amid societal pressure and familial conflict, Iris (Sofia Cabrera) gravitates to Renata (Ana Carolina Garcia) while local gossip swirls around them. Sleeveless shirts and basketball shorts are their outfits of choice as the pair shelter in the shade to avoid the blistering Argentinian sun and the watchful eyes of their neighbours. As Iris' attraction lingers like simmering heat after sunset, this tale of lesbian tenderness has plenty of drama to go around.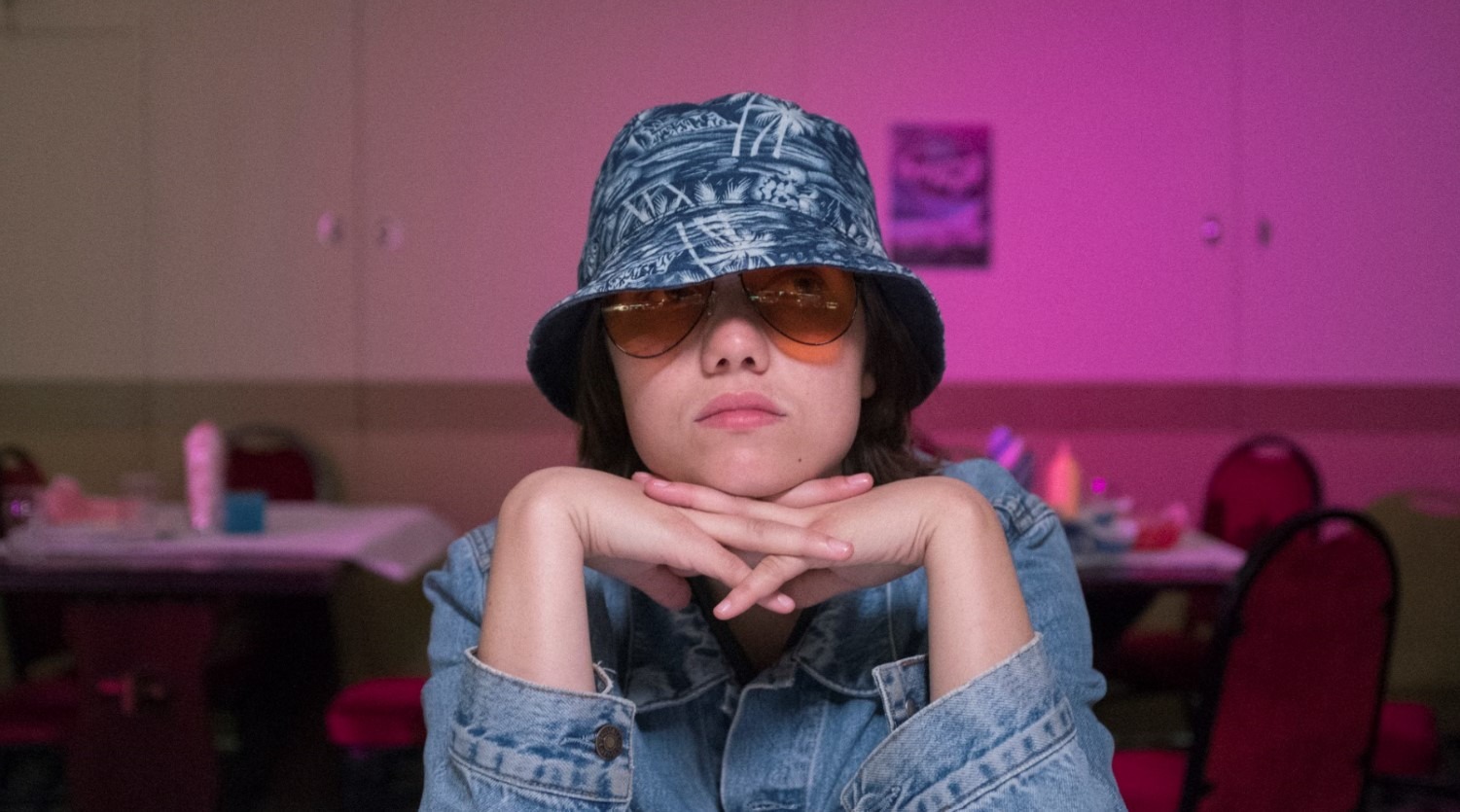 Sweetheart (2021)
A hit at BFI Flare and Glasgow Film Festival, British filmmaker Marley Morrison delivers a real crowd pleaser with Sweetheart. On a family holiday at a seaside caravan park, teen angst personified: AJ, played by the brilliant Nell Barlow, meets a local lifeguard (Ella-Rae Smith), who throws a spanner in AJ's summer plans of moping. Come for the cheap beers and late-night, all-inclusive entertainment; stay for the brazen and heartfelt lesbian romance on the coast. Quintessentially British, where the sun's presence is both fleeting and glorious, Sweetheart is a gem that will be released later this year so keep an eye out!